Livspace interior designers in Mumbai have decorated this home to perfection.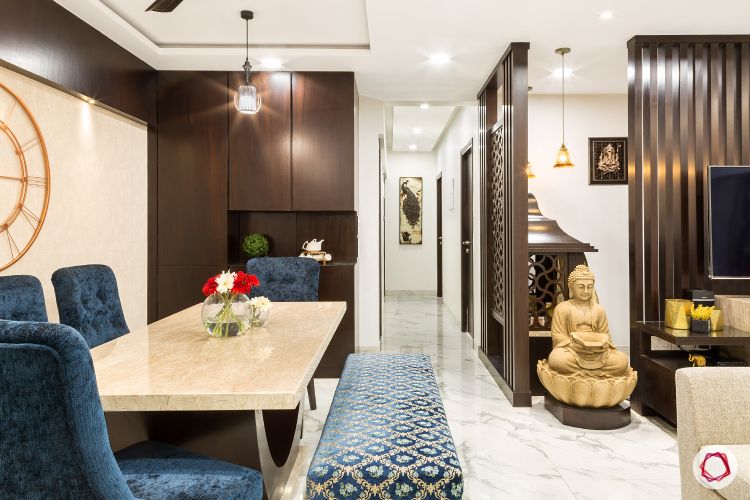 ---
Who livs here: Sandeep Sharma with his wife Renu Sharma and two sons
Location: Raheja Ridgewood, Goregaon, Mumbai
Size of home: A 3BHK spanning 1,900 sq ft approx.
Design team: Interior Designer Sameena Shaikh and Quality Manager Santosh Vishwakarma
Livspace service: Full home design
Budget: ₹₹₹₹₹
---
Originally hailing from Rajasthan, Sandeep and Renu Sharma always wanted a home that is filled with unique elements. A chartered accountant by profession, his work takes him places and that's what this home design is inspired by. Complete with a fireplace, a life size Buddha waterfall statue and a world map wallpaper for the kids, this home is a celebration in itself!
When the couple said that they wanted pops of colour at home, Sameena played smart and decided to give them splashes of colour in upholstery. Keeping the walls neutral was a conscious choice, and it worked wonders for the home. So, get ready to set sail on a journey that will leave you wanting for more.
Nude and pop living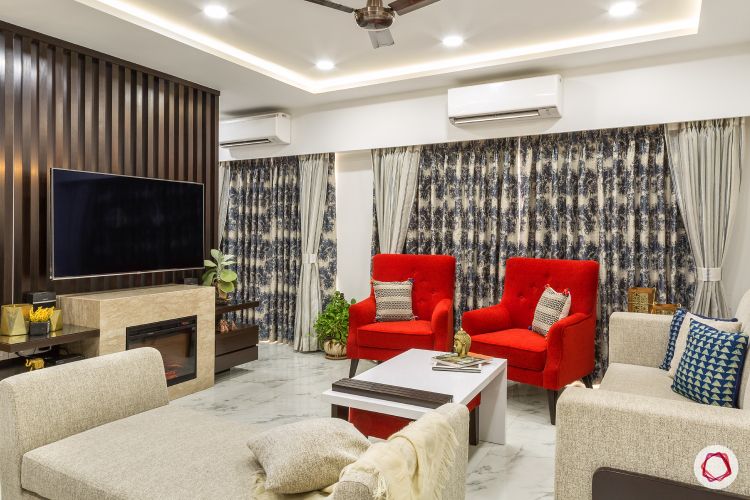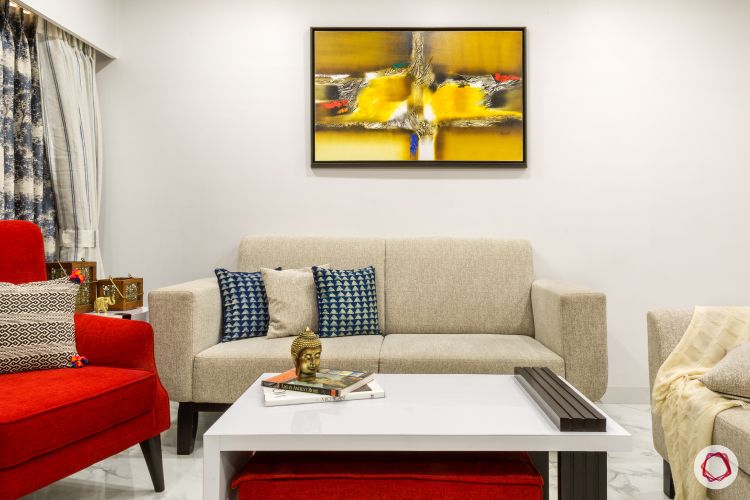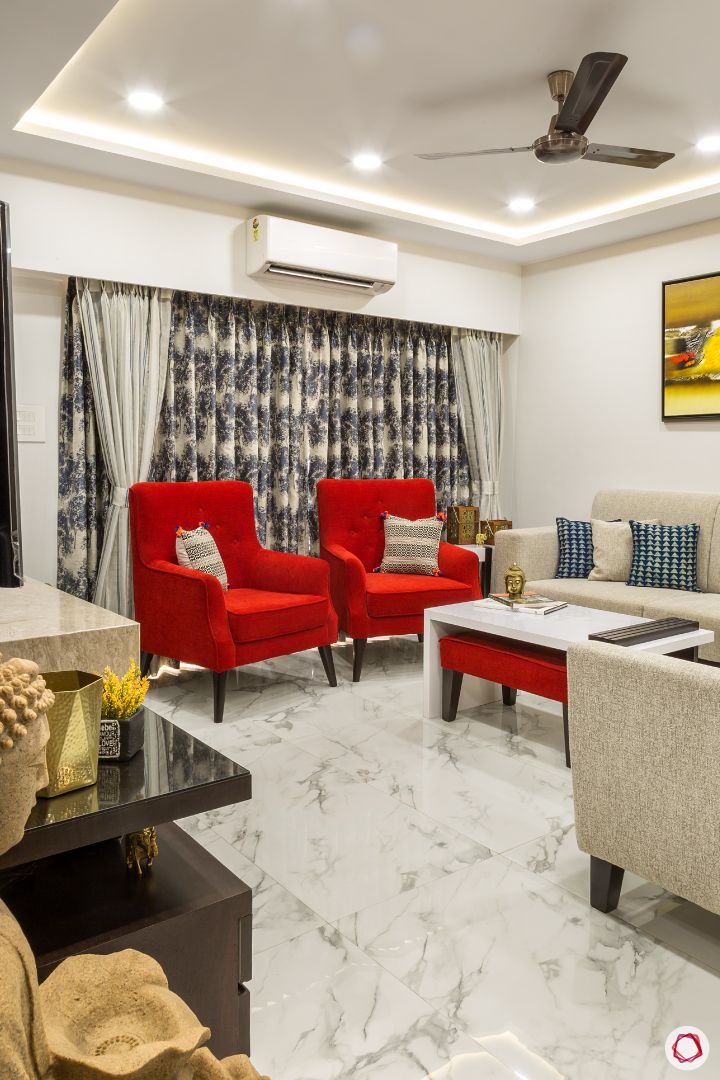 Anything regular was not going to convince Sandeep and Renu, since this is their dream home and they wanted everything to look unique. When Sameena Shaikh, their designer, met them, they told her not to give them boring colours or regular seating in their living room. So, she gave them pop red colour accent chairs and a bench, paired with a loveseat. This room exudes a fresh and vibrant vibe!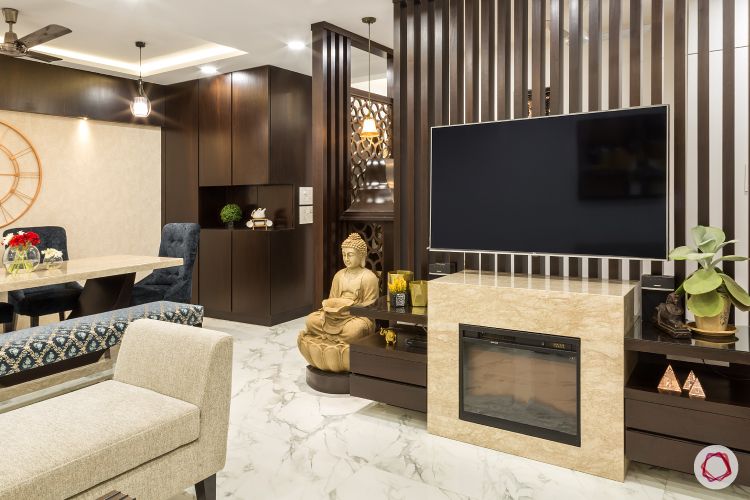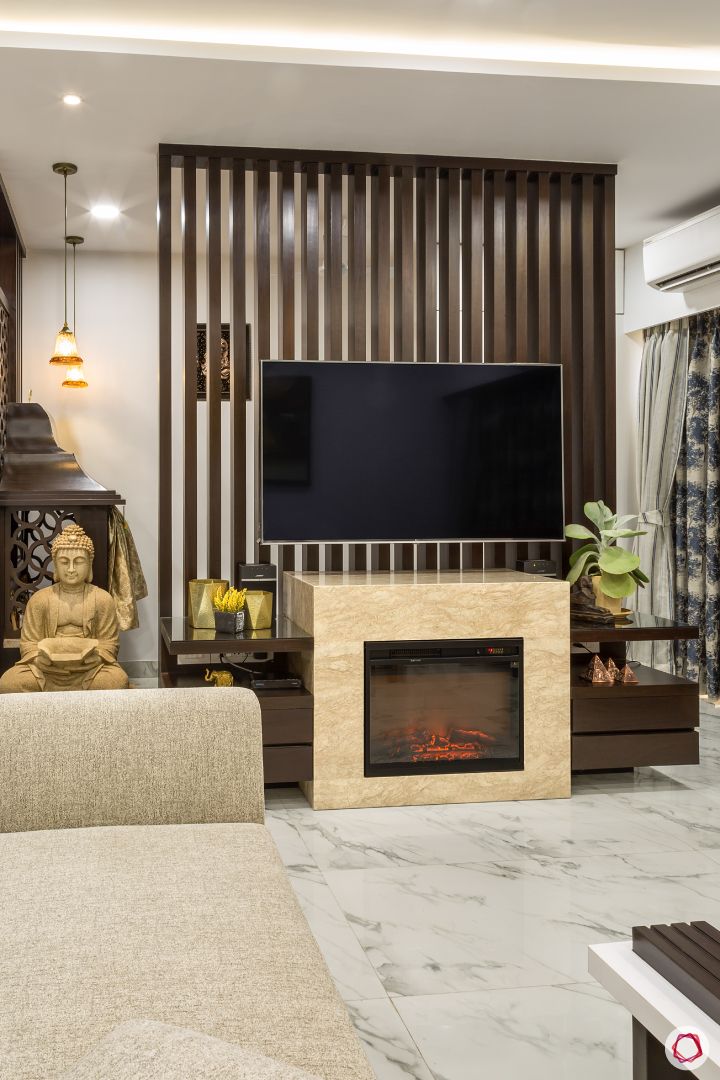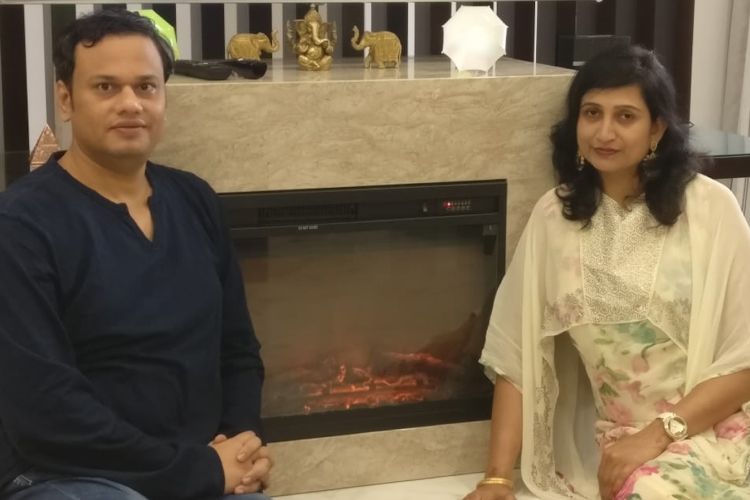 What is the single most significant feature of this living room? You will notice it the moment you enter this home! It is, indeed, the fireplace. Sandeep travels extensively for work and has visited almost every continent, but Europe is where his heart lies. The couple always wanted a fireplace, inspired by European design, in their home. So, Sameena imported this one and placed it where they could enjoy it with family! Veneer fins behind the TV ensures that it acts as a partition between the mandir and the living area.
Simple and elegant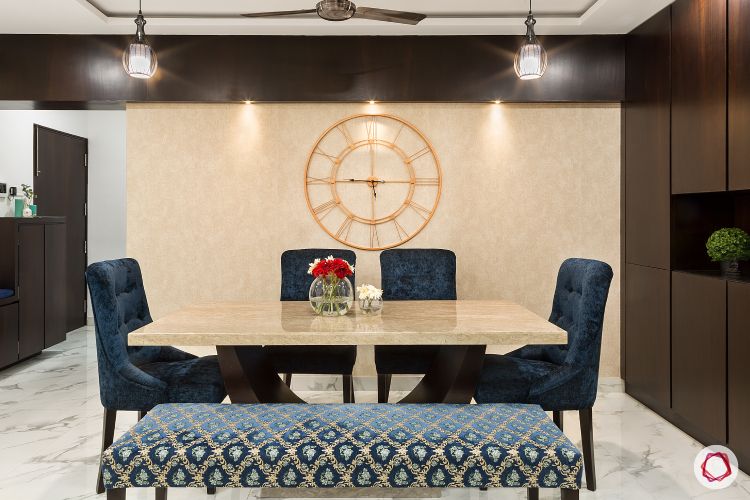 This is not an ordinary dining room. Sandeep and Renu's love for colours resonates in the dining area, with plush blue suede upholstered chairs and a patterned bench. Being a religious family and one of those households that holds an elaborate Ganesh puja on ganpati, the dining table is the center of all the activity on those days. Therefore, Sameena gave the couple a sturdy marble top table, that plays match with the textured wallpaper. The wall-to-ceiling storage unit in veneer has a niche, so it looks stylish and makes for a functional piece.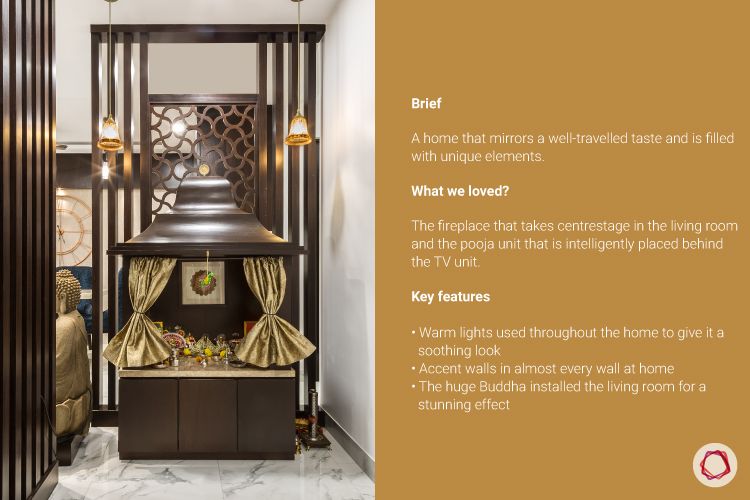 Wonder in Wood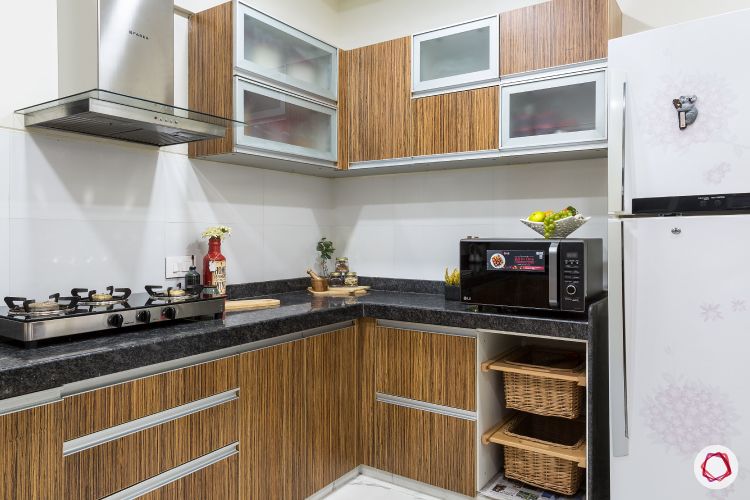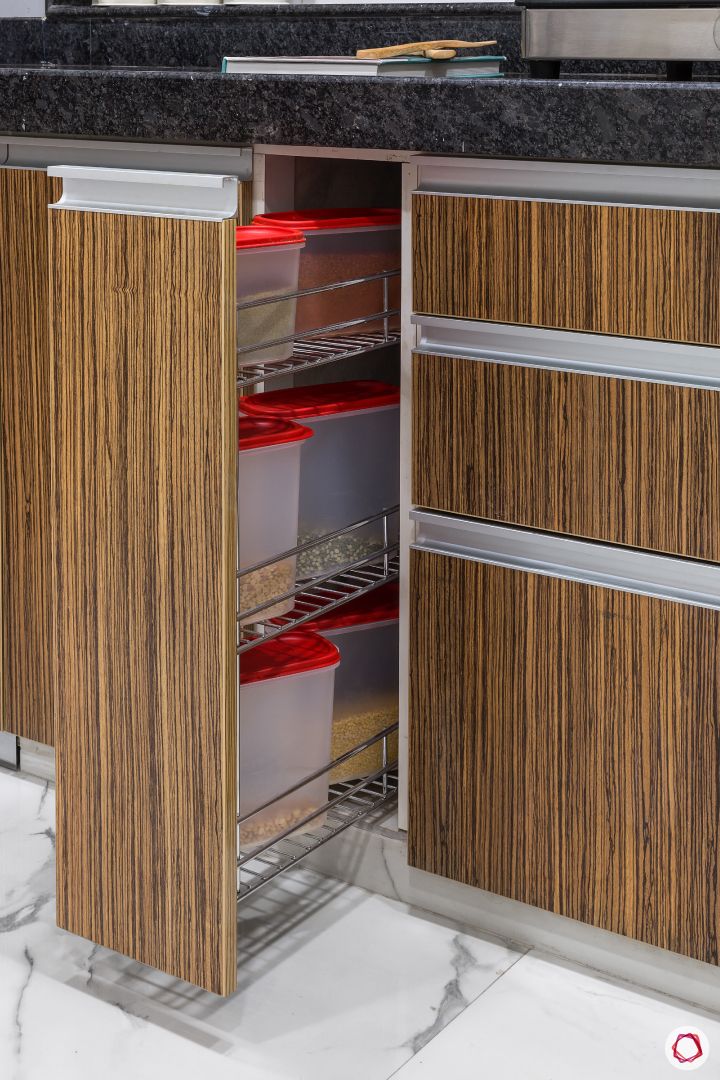 The kitchen in this home is a wonderful sight, with a wooden finish and fitted with the basic modules that a modern family needs. With roller shutters, pull-out pantry units, wicker baskets and frosted glass shutters, this kitchen is fully functional and easy-to-work-in.
About textures and colours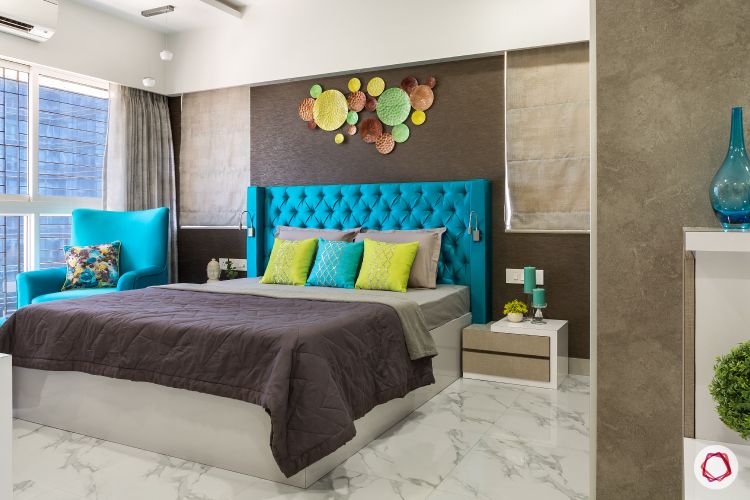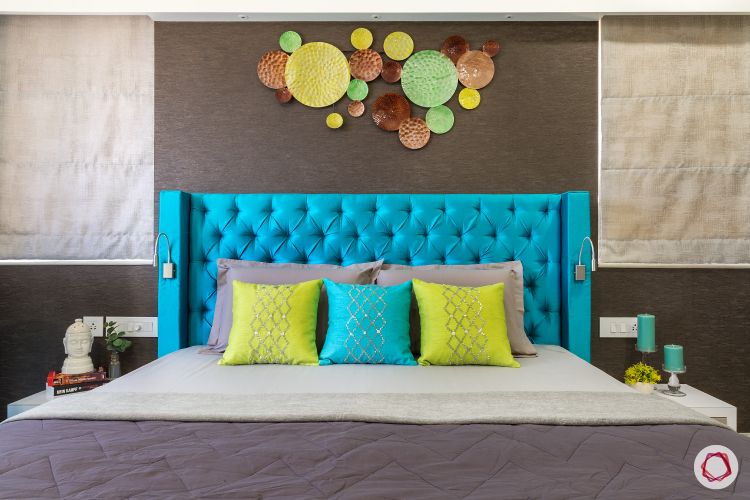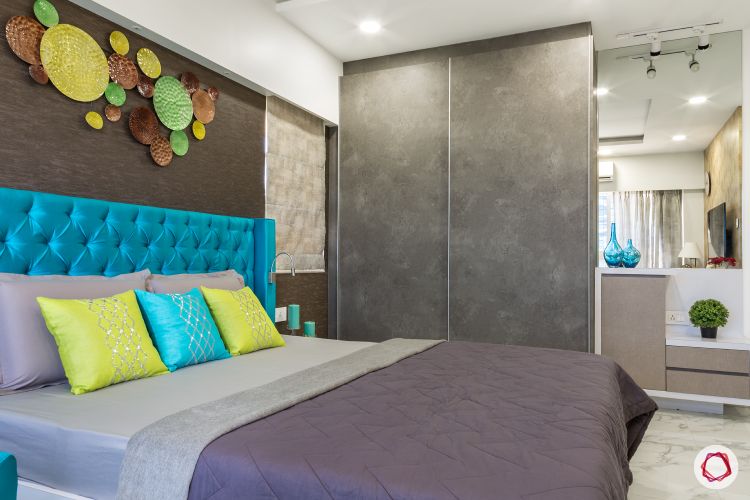 In the master bedroom at the Sharmas home, too, you can see specs of bright colours. Since the couple was so particular about using colours in their home, Sameena gave them a bright turquoise blue headboard and an accent chair in the same colour. Grey wardrobes and a textured wall tone things down in this room. Also, statement artwork finds the perfect spot above the bed.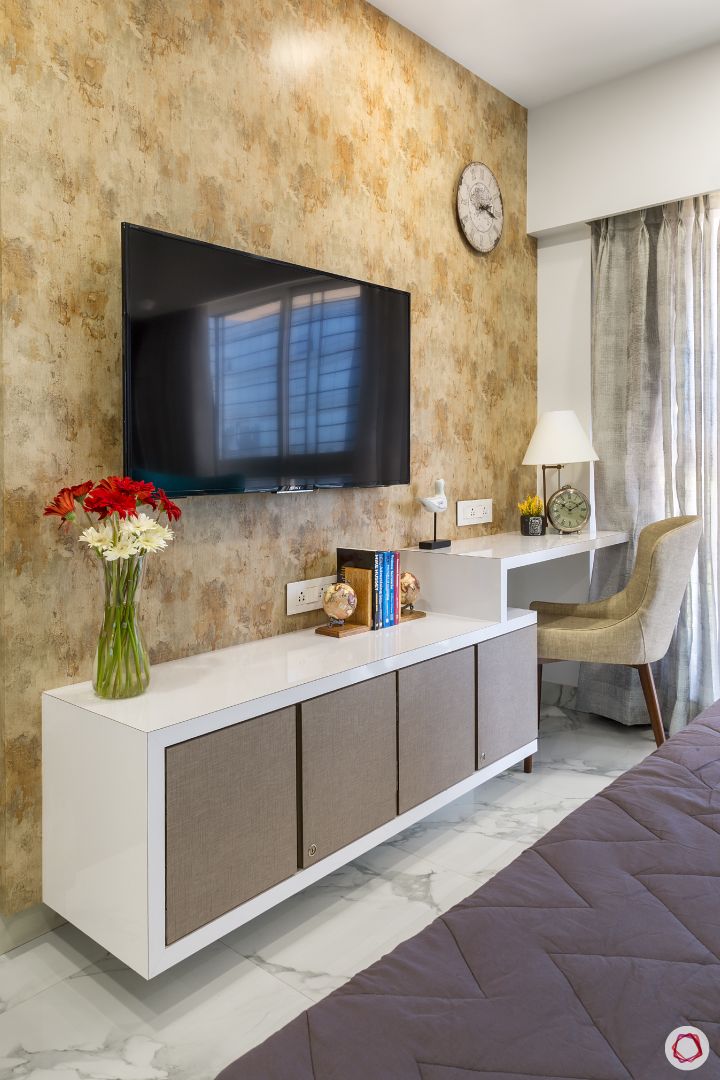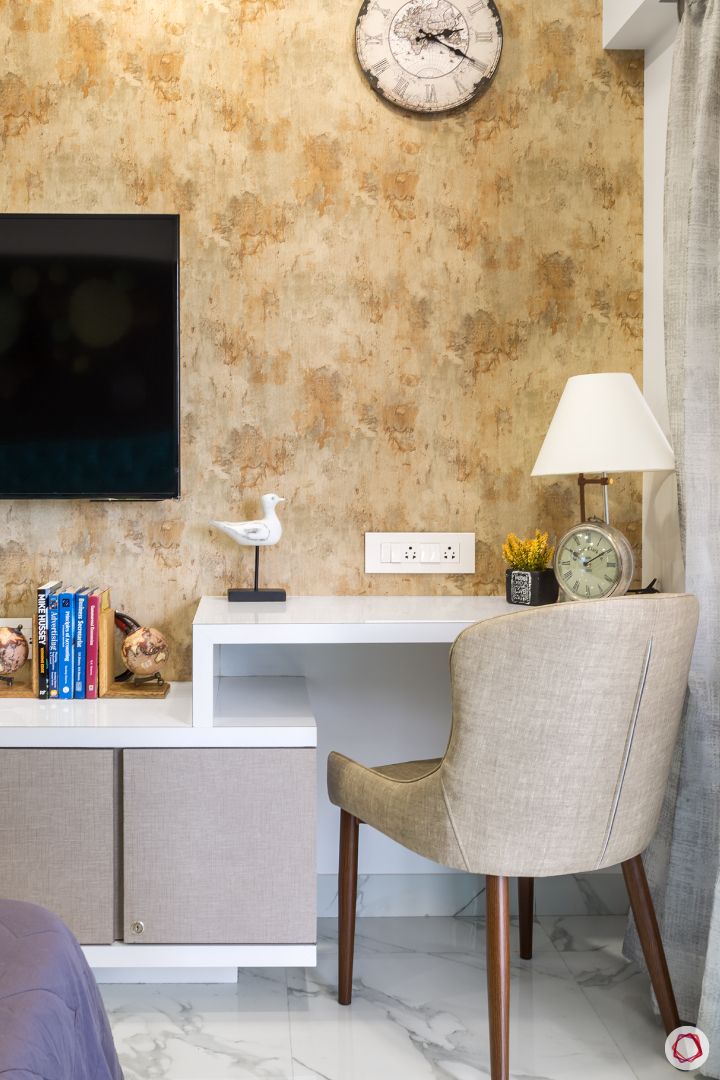 The wall opposite the bed is done up brilliantly in brown textured paint and the TV unit borrows its colour from the grey wardrobes and accent wall. A cozy study corner is also carved out in the same TV-cum-storage unit, which Sandeep utilises when he's working from home.
The world is your oyster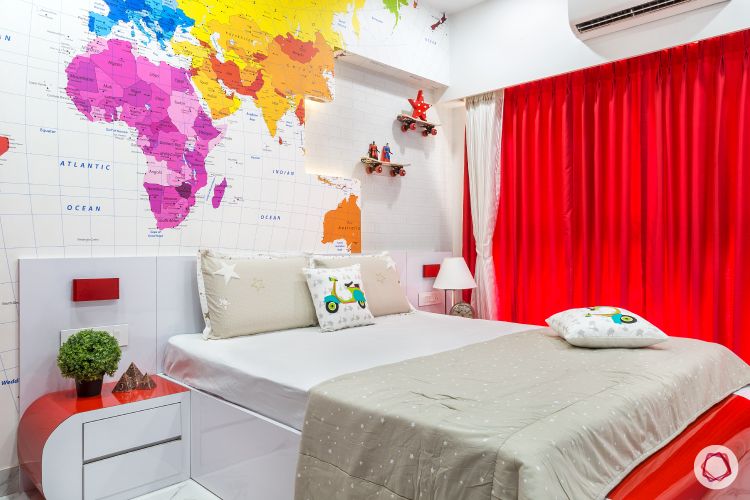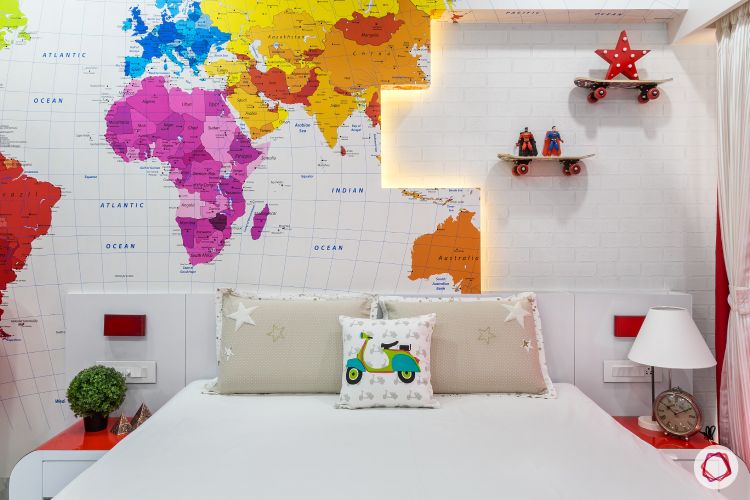 This is how a kids room should be — bright and chirpy! The first thing you notice about this kid's room is the colourful atlas wallpaper. Since, daddy keeps travelling around the globe, he wanted his sons to know exactly where he is. This is such a creative idea! The boys are also very active ad love playing sports, therefore, Sameena gave them an exposed brick wall finish on one side, with skateboard-style racks. The bed has rounded edges for safety and to add an element of uniqueness to the room.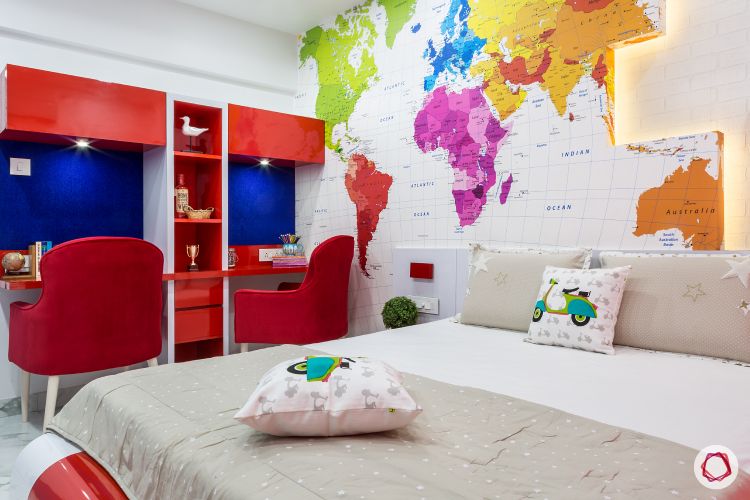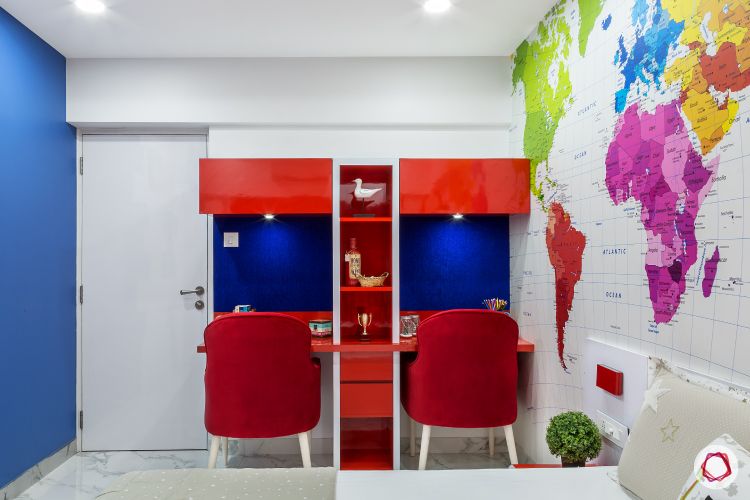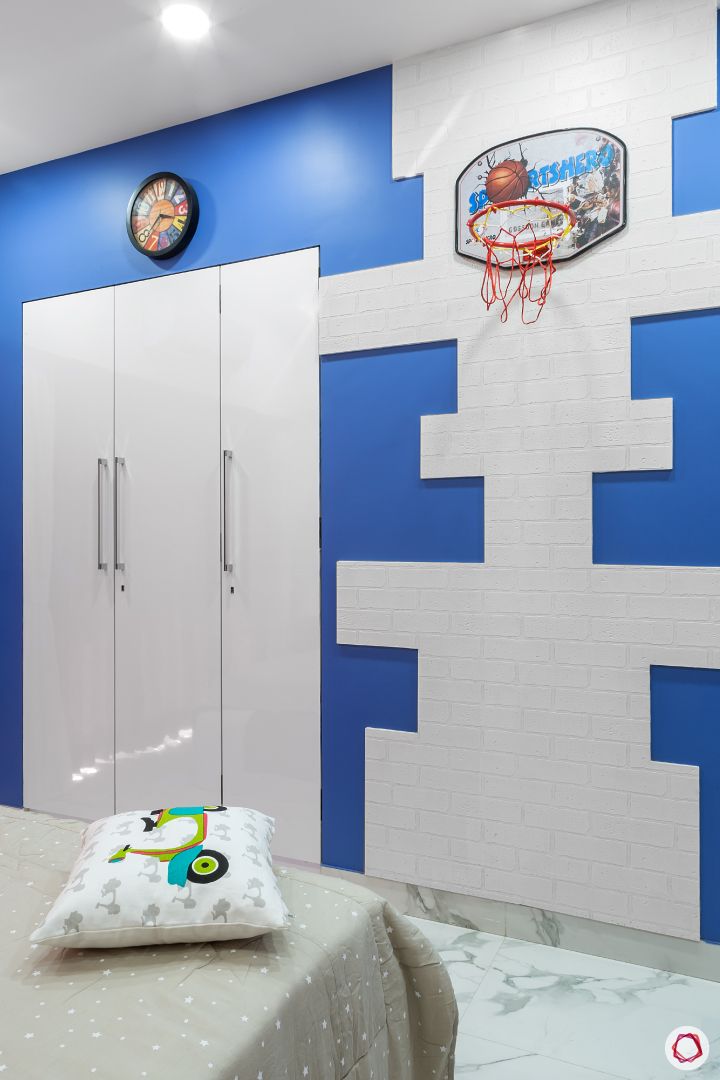 The room follows a theme of red, blue and white, since "papa" wanted it to be painted in blue and mumma wanted red! So, Sameena decided to give a combination of both these colours and break it with white. The study table has two distinct sections, with open shelves in between, to keep books and toys. Another striking feature of this room is the basketball hoop opposite the bed, to allow them to toss the ball around at home!
Chocolate and créme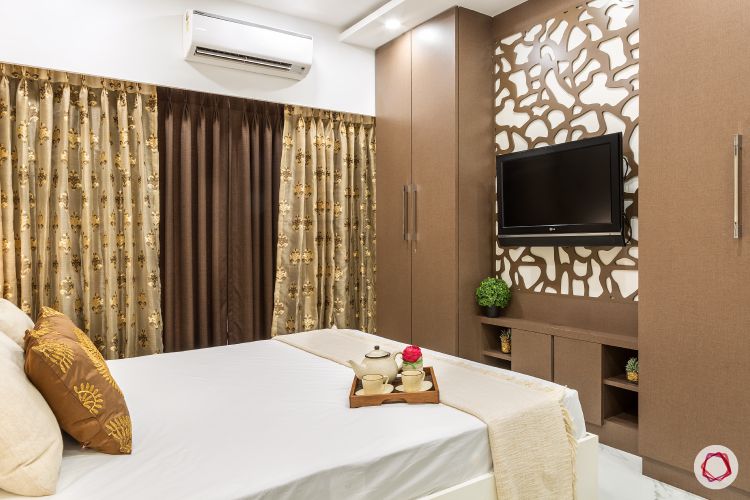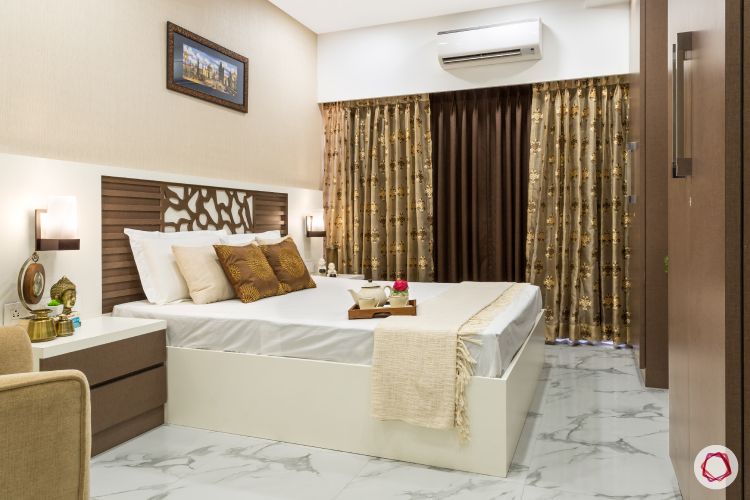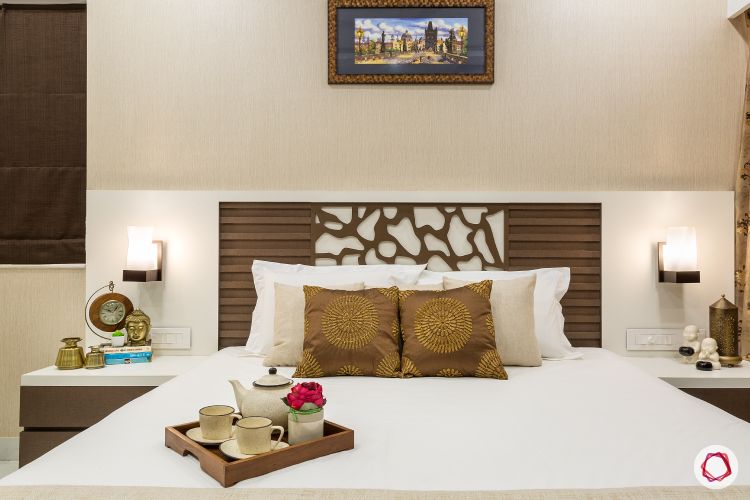 Sandeep's parents visit them quite often, and this room has been designed for them. Instead of giving an upholstered headboard to the bed, Sameena designed a jaali patterned one. Keeping the usage of this room in mind, the colour palette has been kept soothing and neutral. The same jaali is borrowed for the TV unit, which has wardrobes on either side.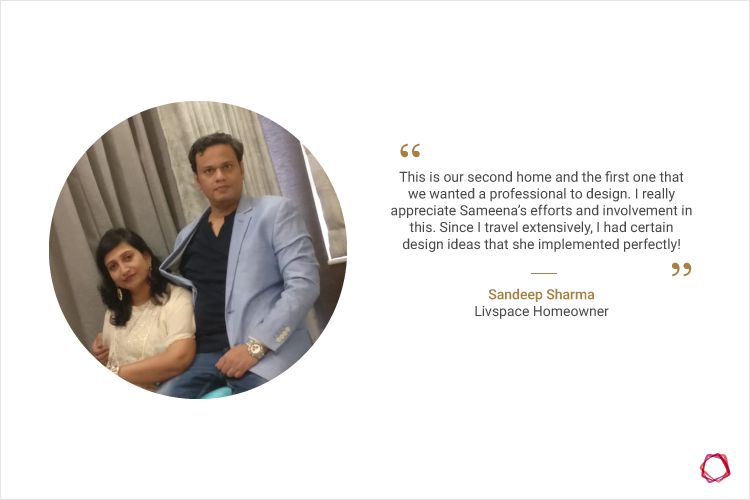 ---
"Sandeep and Renu had complete clarity in terms of design and colour scheme. They had good knowledge about interiors and knew what they wanted. I love how dedicated they were through the entire process. It was a great experience to design for this family!"

– Sameena Shaikh, Interior Designer, Livspace

---
Do you want some more inspiration to design your home with maps? We have a collection of amazing travel-inspired decor, just for you!
Send in your comments and suggestions.