Bengaluru flat gets stunning and inviting interiors!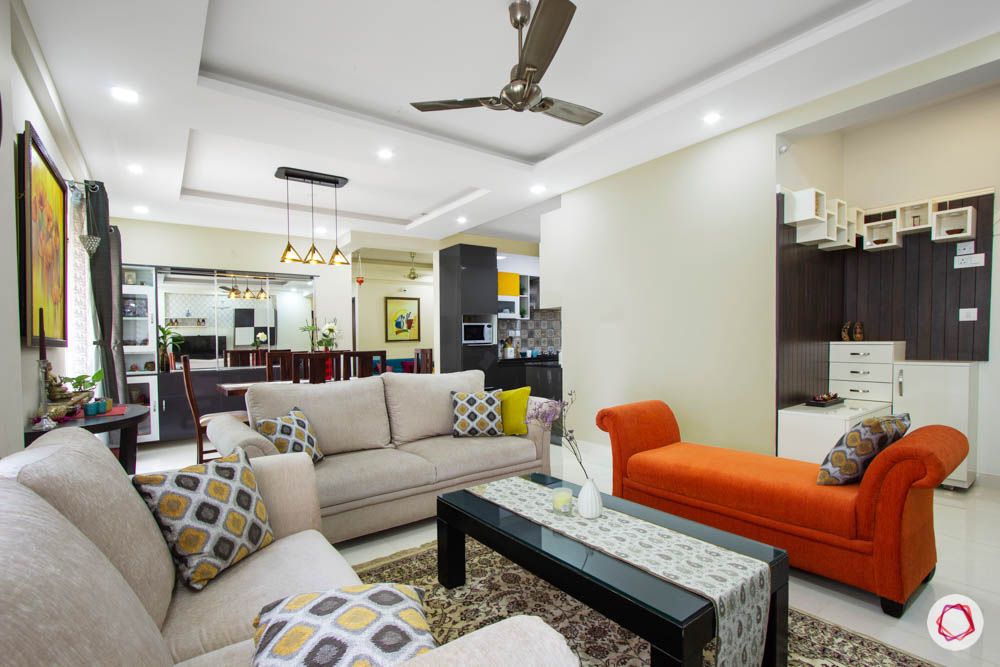 ---
Who livs here: Shikha and her husband Sandeep Jain with their son Saksham and daughter Simran
Location: Vaswani Brentwood, Whitefield, Bengaluru
Size of home: 3BHK spanning 2,000 sq ft
Design team: Interior designer Vimla Suresh
Livspace service: Full home design
Budget: ₹₹₹₹₹
---
A sprawling home with lots of cosy nooks? Yes, please! When Shikha Jain and her husband bought their new flat at Vaswani Brentwood, they had a mix of ideas of what sort of interiors they should get. While Sandeep preferred lots of grey and cool-toned colours, Shikha wanted more lively hues for their 2000-odd sq ft Bengaluru home. Our designer Vimla Suresh decided to shake things up and put in both personalities.
The outcome? A gorgeous grey-toned home with a pop of colour in every room and topped with intriguing wall treatments. We especially love all the cosy seating options that makes you feel right at home. Let's walk right in!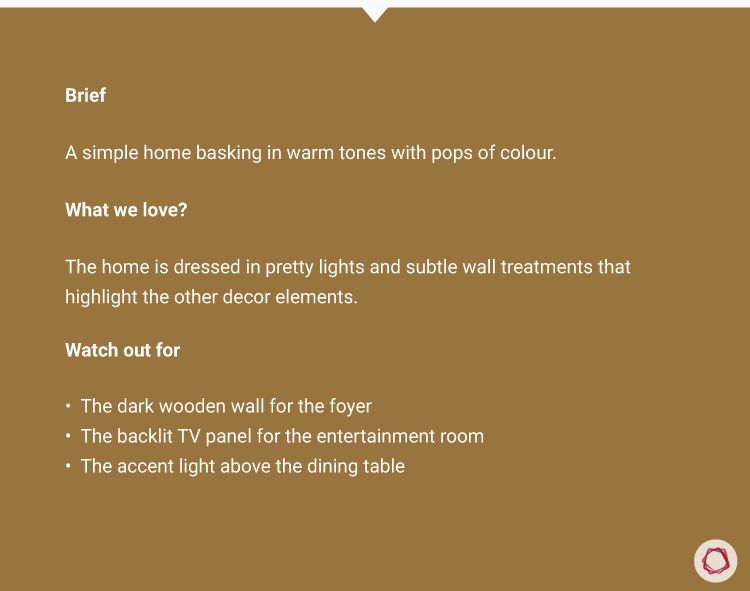 Vaswani Brentwood Flat Inspiration: A Warm Entryway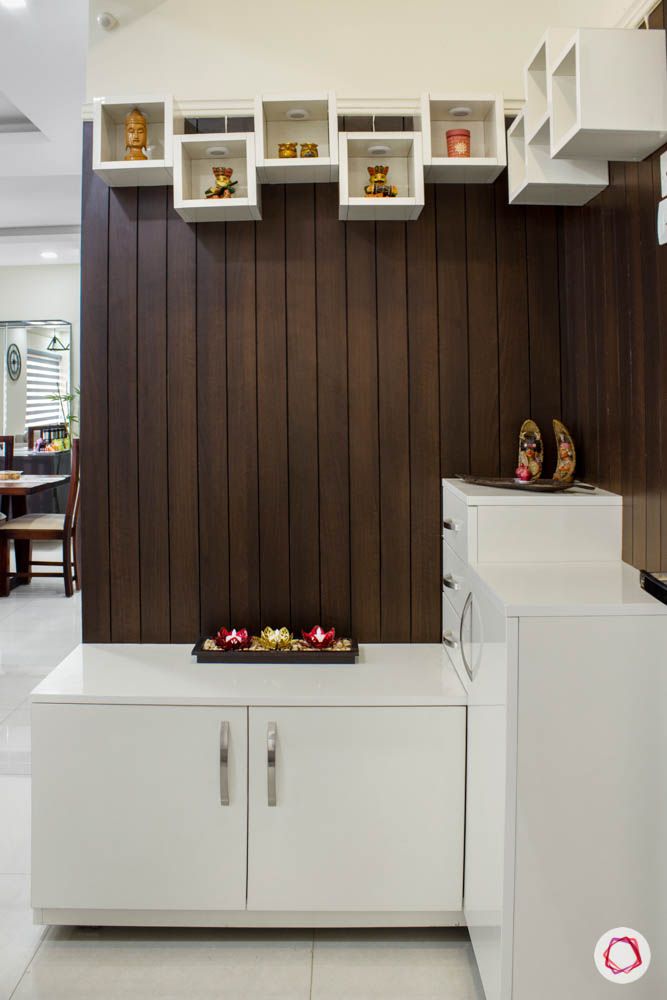 Vimla reveals you shouldn't be greeted by a bare wall when you enter a home. As a result, she switched things up and turned the empty white wall into a wooden wall for a touch of warmth. Shikha was particular that she wanted a space to display artefacts and other collectibles. So Vimla crowned the top of the wooden wall with open shelves and put in spotlights as well. The white laminate shoe cabinet offers ample storage and features a seating option too.
Vaswani Brentwood Flat Inspiration: A living room with substance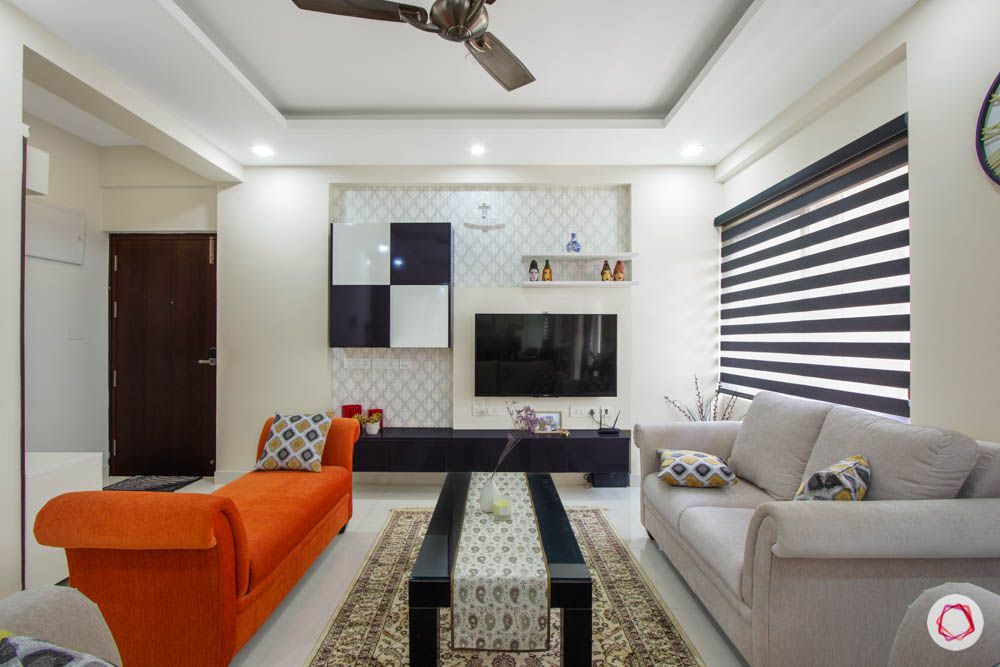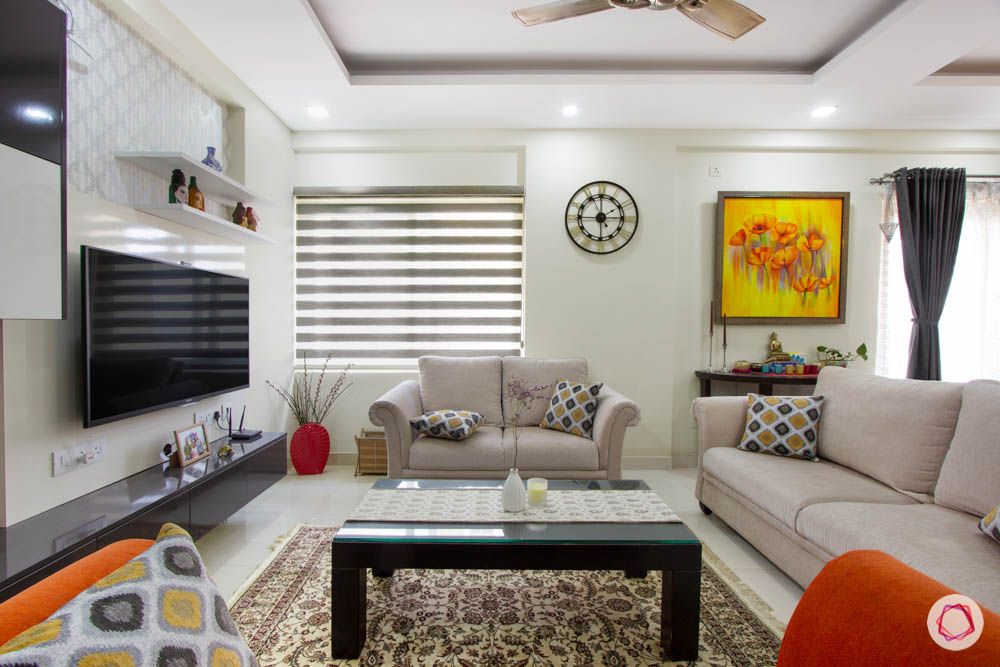 The living room is inviting at its best. While the family retained all their sofas, they decided to refurbish the divan into a striking orange pop. Of course, the next thing that catches your eye would be the accent wall flaunting a subtle wallpaper, a glossy storage cabinet, ledges and a sleek TV unit. All the modules have been topped with laminate finish for easy-maintenance. She centered the space with a patterned rug and dark coffee table.
Also, Vimla thought it was better to put in blinds than regular curtains to not lose out on all that abundant sunlight pouring into the home.
Vaswani Brentwood Flat Inspiration: A comfy entertainment nook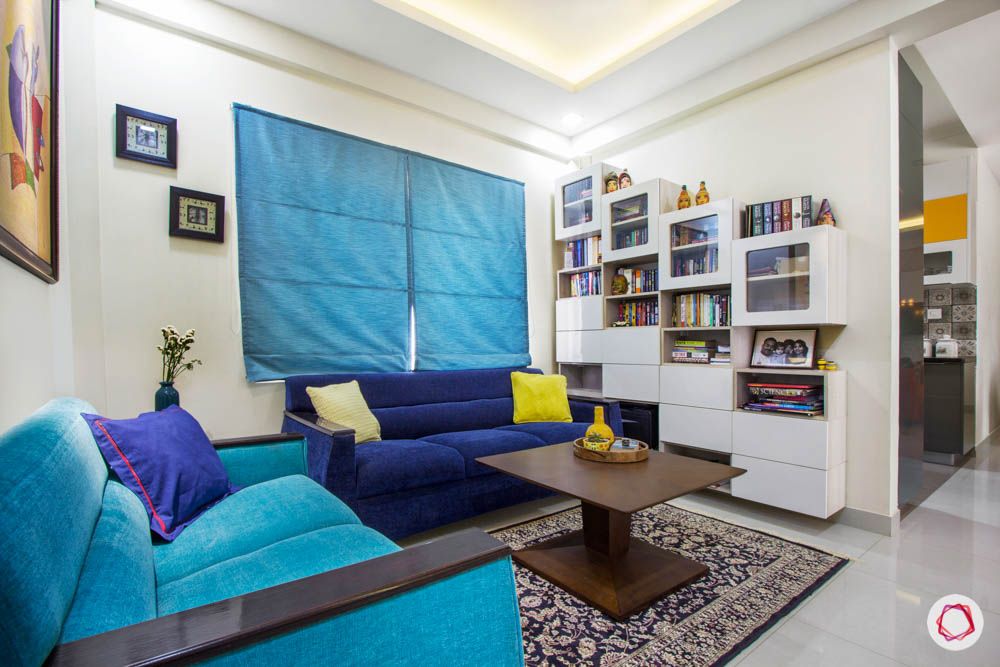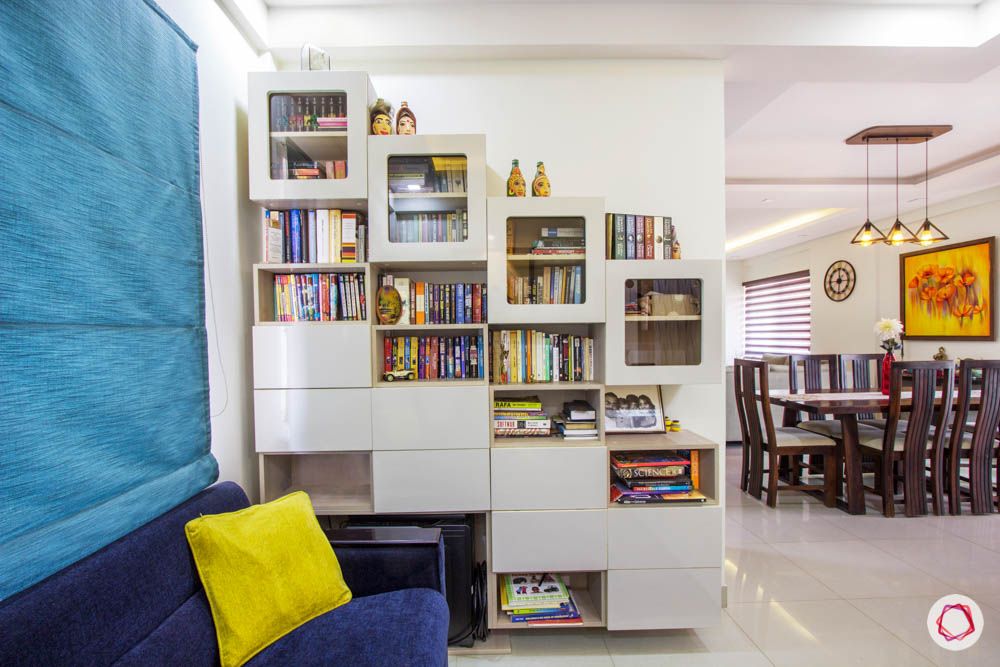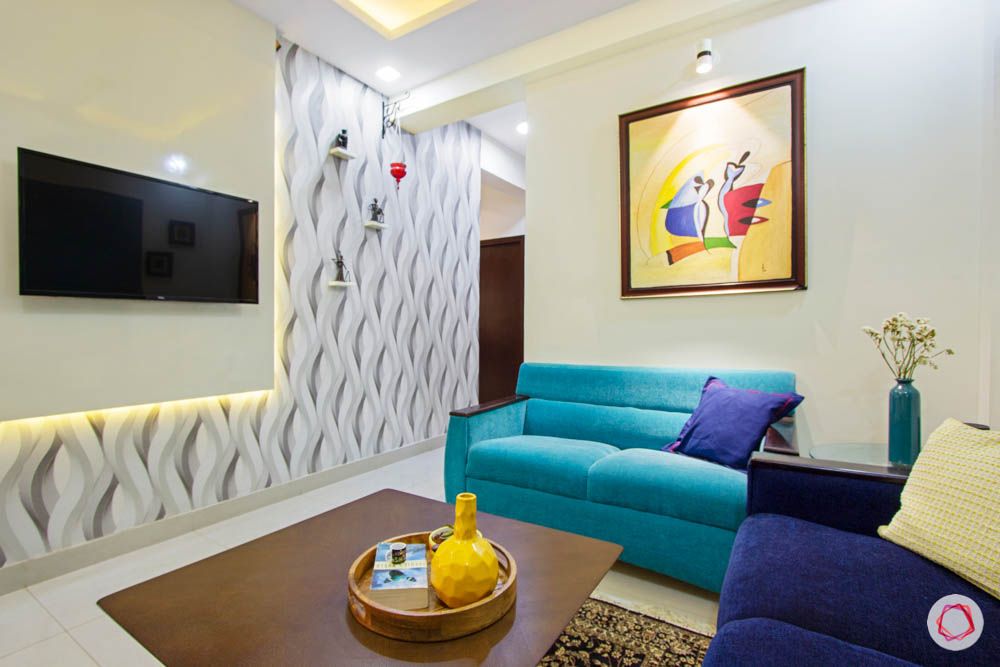 Sandeep was particular about having a dedicated space for his video games that he plays with his son. Being ardent readers, the family wanted a reading nook as well. As a result, Vimla crafted the perfect space for them with a large bookshelf. With jump-right-in sofas and a large bookshelf, who wouldn't want to unwind in this space? Moreover, a wide teal shade makes the room even more snug!
Of course, the highlight of the space is the accent wall done up in an intriguing wallpaper and a backlit TV panel. This been cleverly done to conceal wires and power sockets.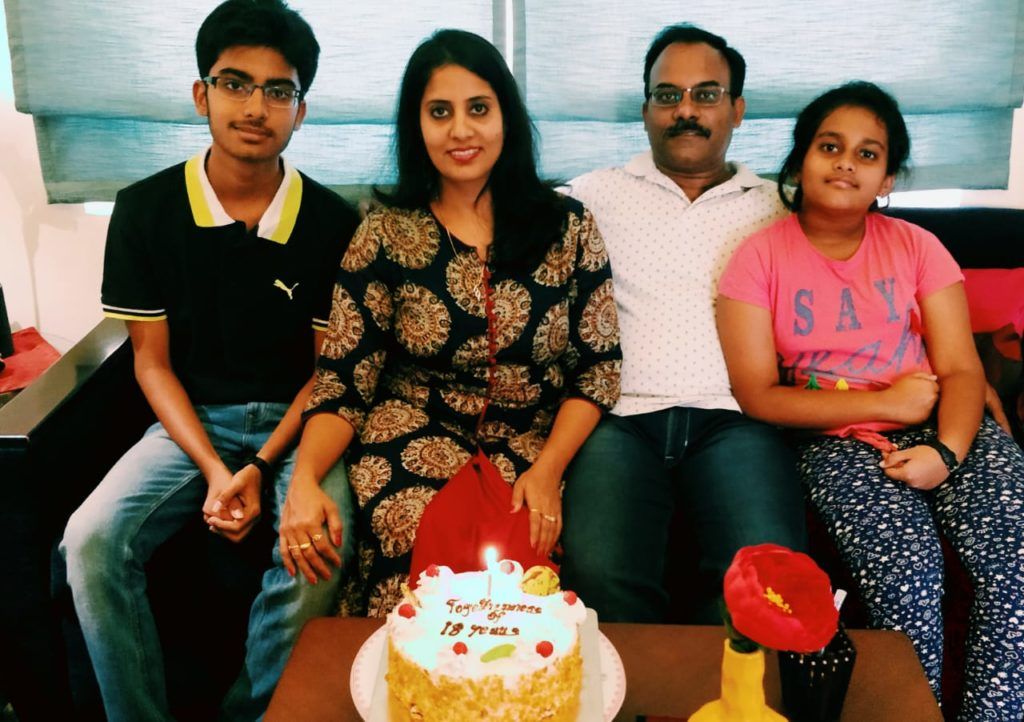 "We wanted a designer's touch to our new home. That's why we approached Livspace. After reading reviews, visiting the Experience Center and talking to our designer Vimla Suresh, we were very impressed. It's hard to pinpoint my favourite part of the home because I love everything that has been done. But if I have to say I love all the cosy nooks!"

Shikha & Sandeep Jain, Livspace Homeowners

Vaswani Brentwood Flat Inspiration: Wooden warmth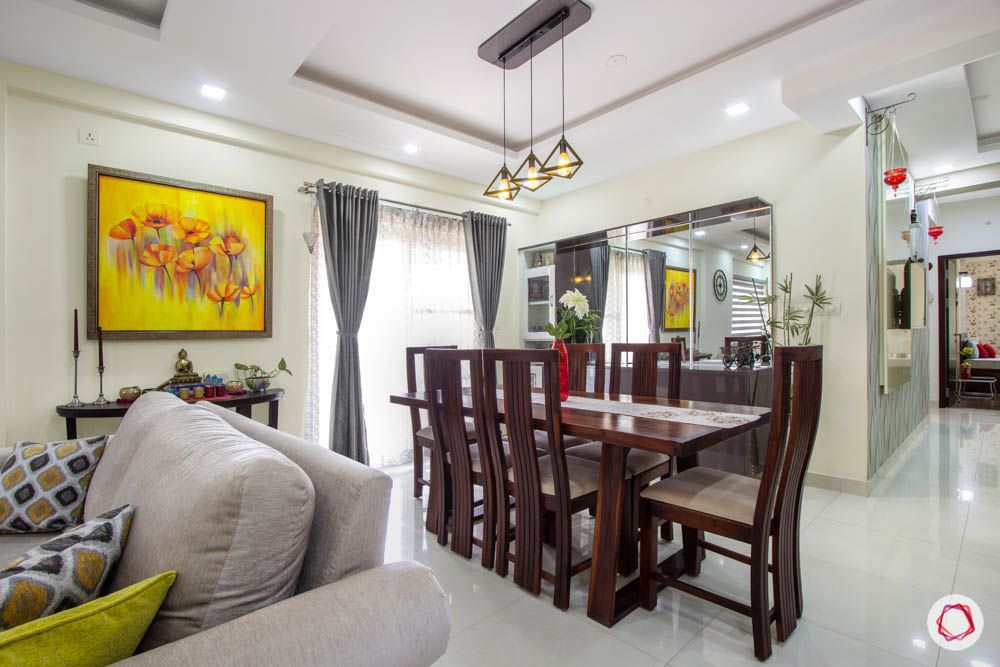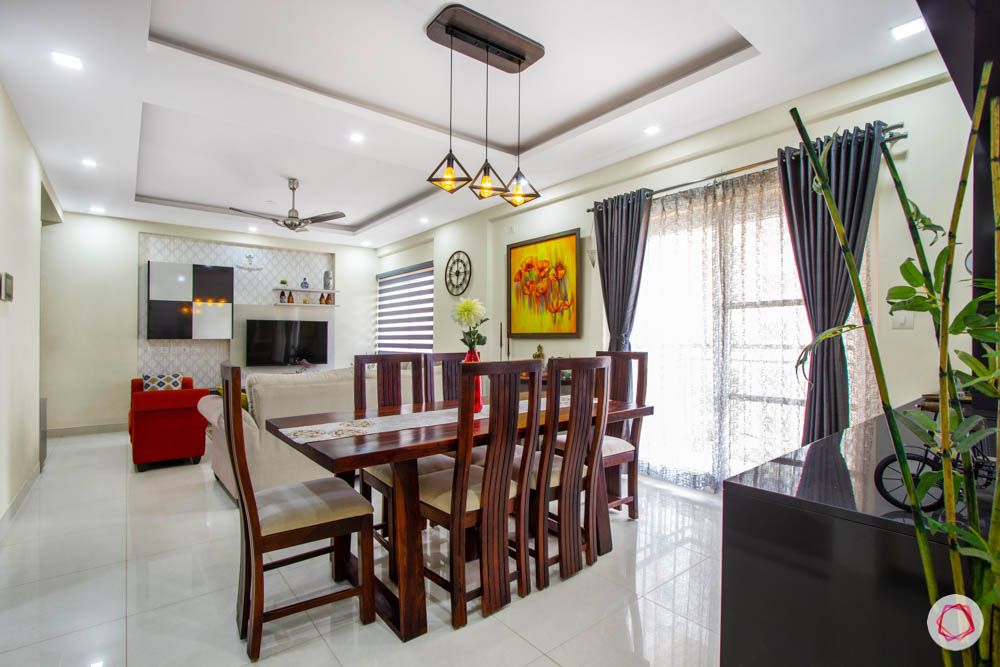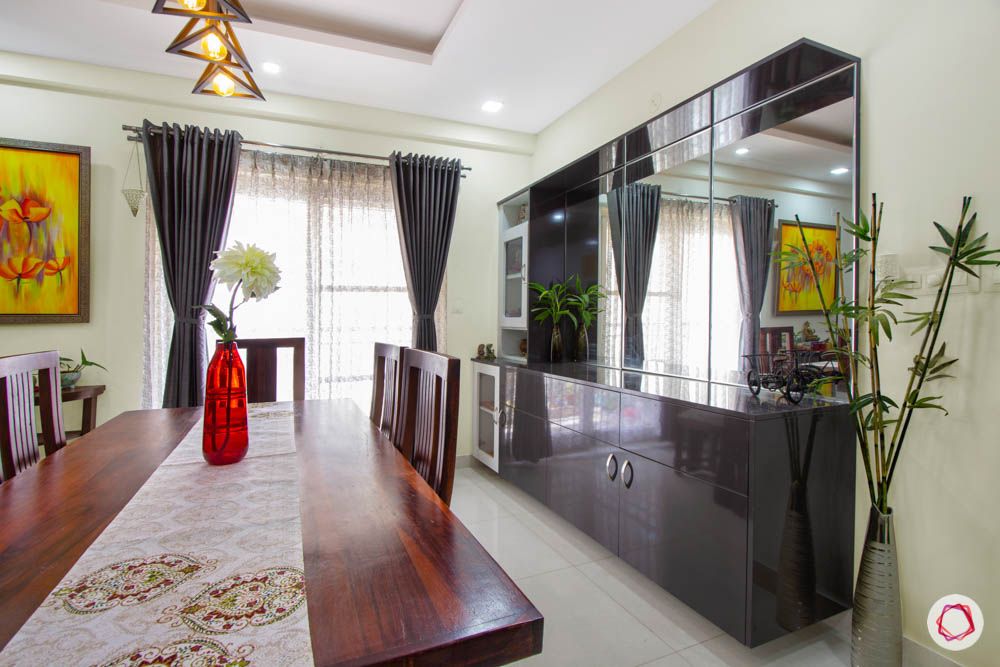 For the dining space, the family wanted to retain their existing wooden set of table and chairs. To jazz things up, Vimla added custom-made accent lights above the dining table. A crockery cabinet in laminate slate grey stands beside the table with mirror panels. It's been fitted with profile handles to create a seamless look. In addition, Vimla also put in a pooja unit in one end of the crockery unit.
Vaswani Brentwood Flat Inspiration: Gorgeous in grey kitchen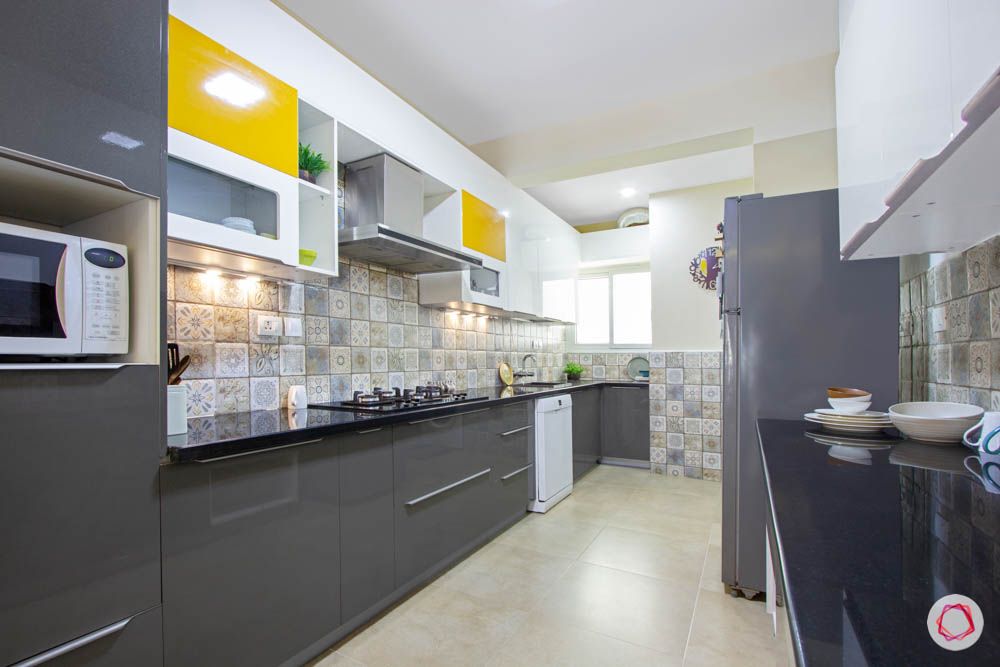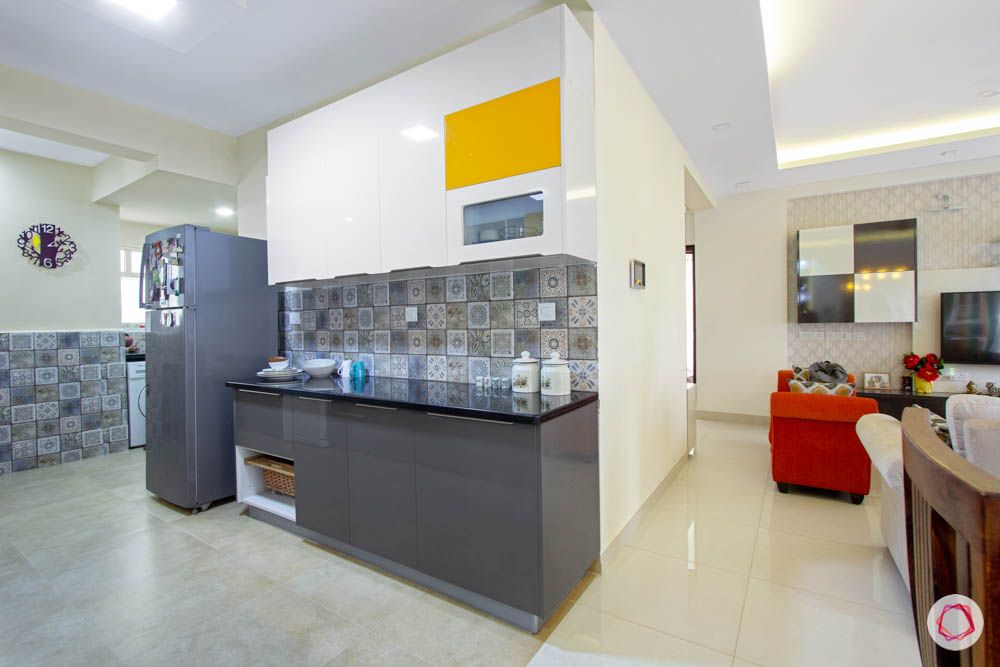 The kitchen, of course, is the heart of the home. And this kitchen had major civil changes to be perfect. A utility room was part of the kitchen which Vimla broke down to put in more space. In addition, they rearranged several working stations for optimum use of space.
There's plenty of storage all around, which was a priority for the family. While the upper cabinets are in sparkle white membrane, the lower cabinets are in sparkle grey membrane. It complements the granite countertop that was provided by the builder. For a pop of colour, Vimla used an orange Duco paint for some of the lofts overhead. She also added patterned dado tiles to keep things interesting.
Vaswani Brentwood Flat Inspiration: Functional Passage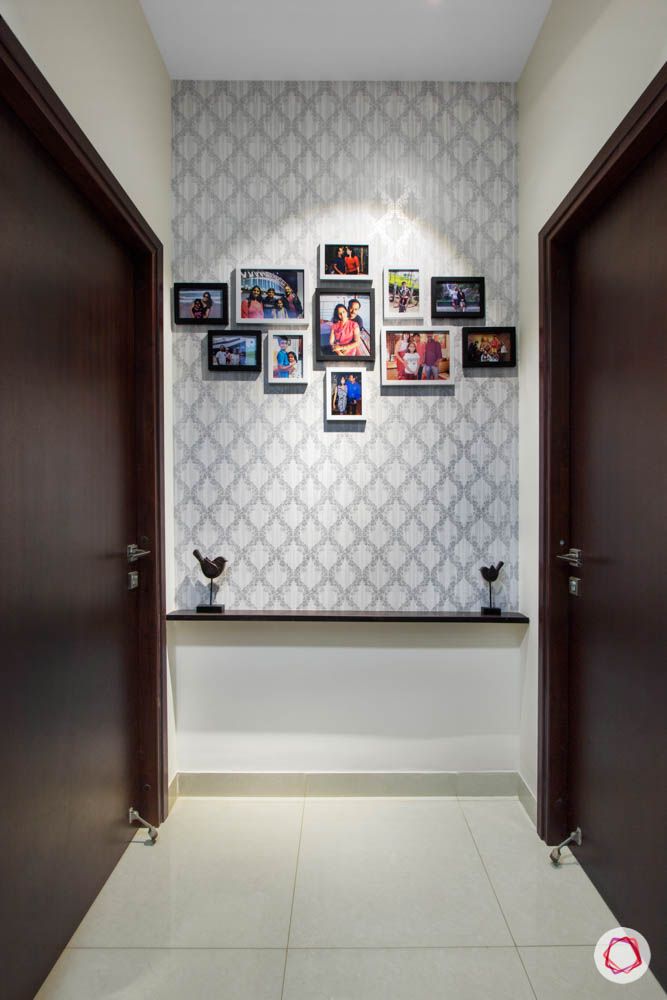 People tend to overlook the passage to the bedrooms and leave it bare. But the Jains wanted a personal touch to the space. As a result, Vimla put in an elegant wallpaper and a lone ledge to display collectibles. The family dressed the wall with photographs and now the space will definitely attract a closer look!
Vaswani Brentwood Flat Inspiration: Floral Dreams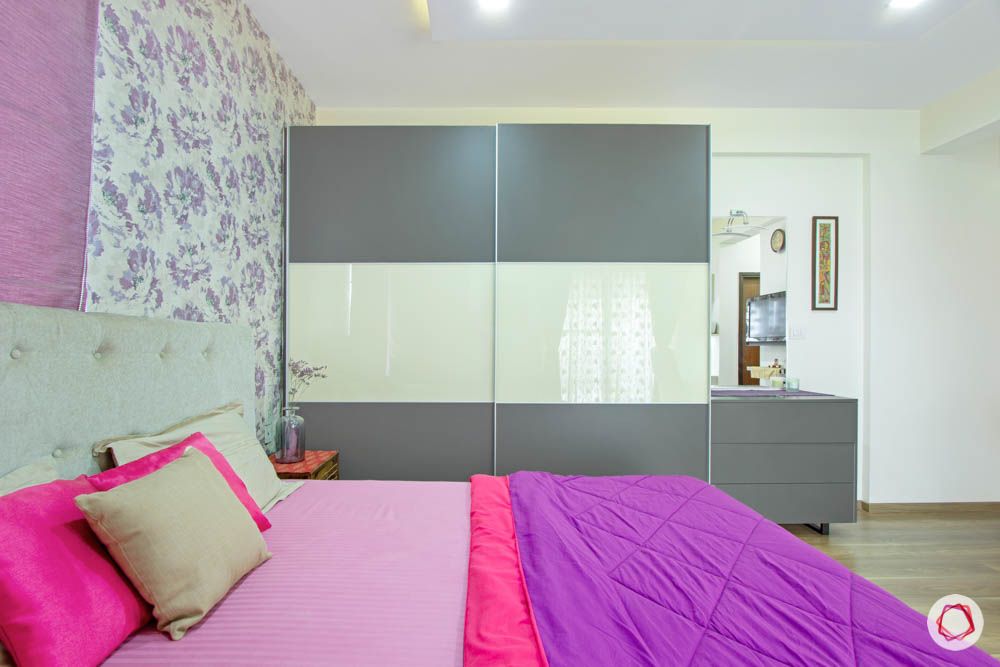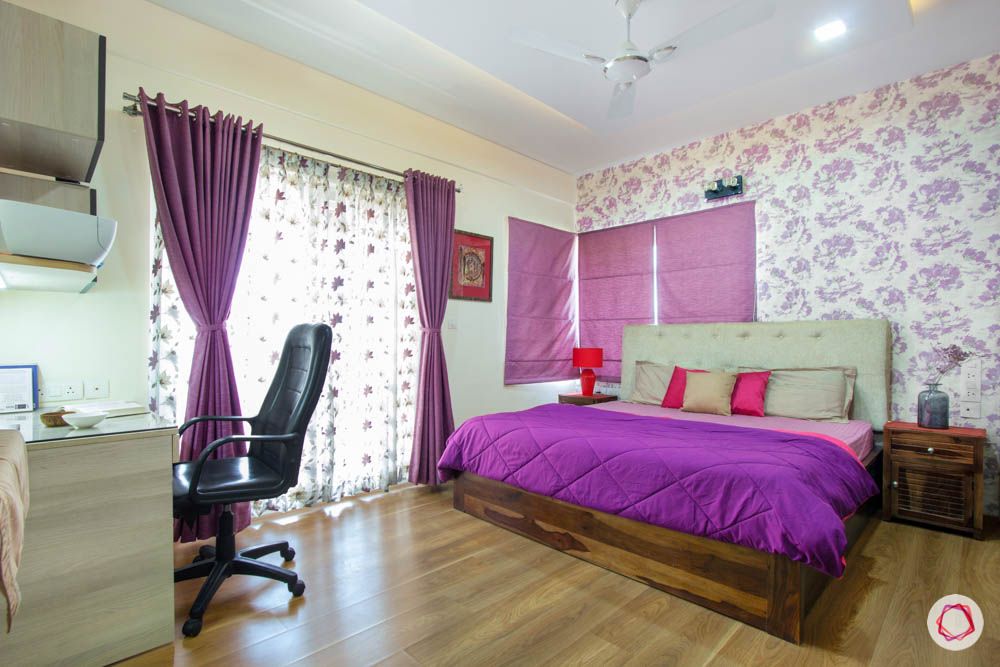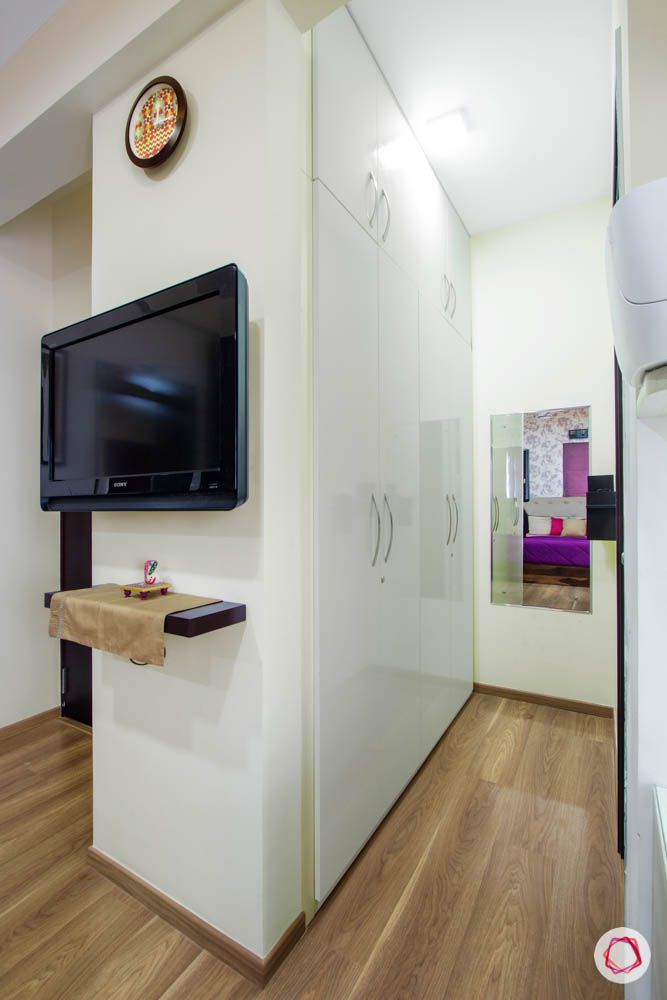 The master bedroom basks in beautiful greys, browns and purple. Shikha loves all things floral. As a result, Vimla used a soft floral wallpaper for the centre wall. To complement this, she picked purple for the curtains and other fabrics. "We used purple for soft furnishings so that the couple could have the option to change the colour in the future," explains Vimla.
For storage, the couple has a sliding wardrobe in membrane and lacquered glass along with a walk-in wardrobe in white laminate. Since Sandeep wanted a study nook, Vimla added a fuss-free working station tucked into a corner with mounted wall cabinets.
Vaswani Brentwood Flat Inspiration: Plush Pops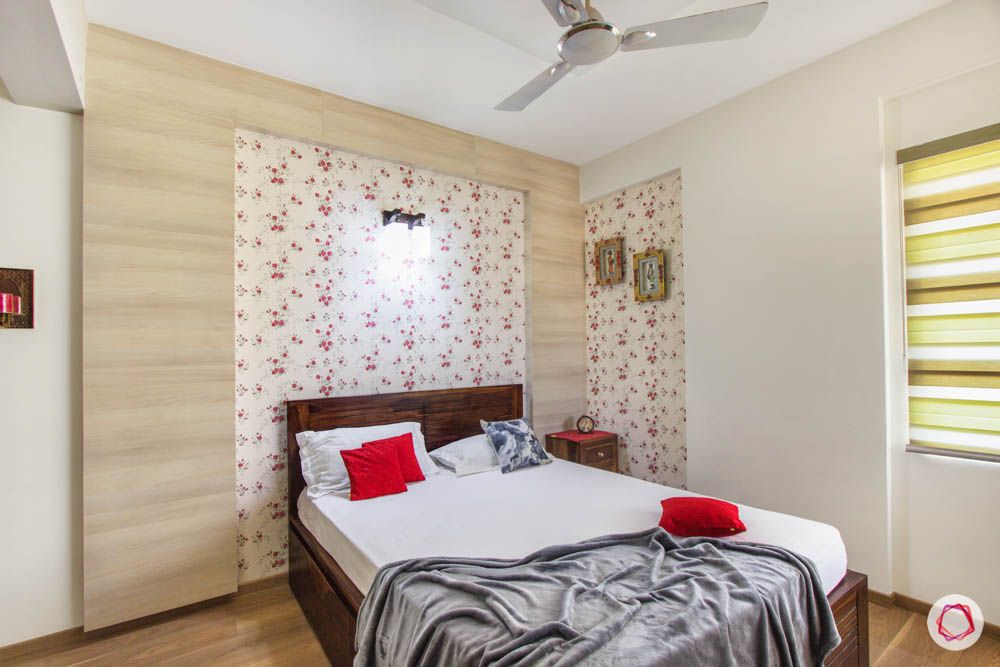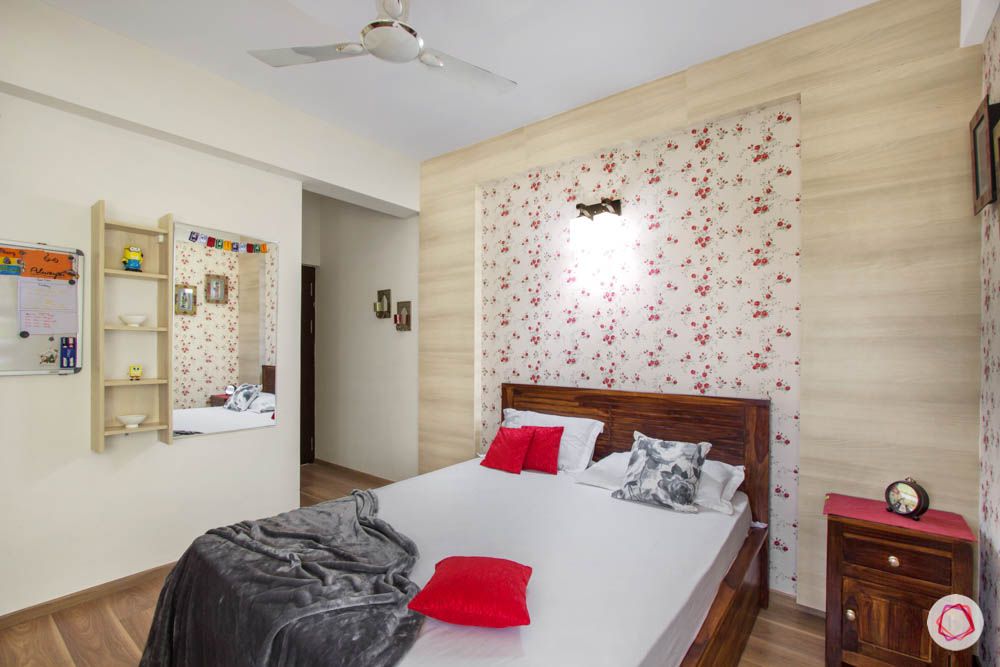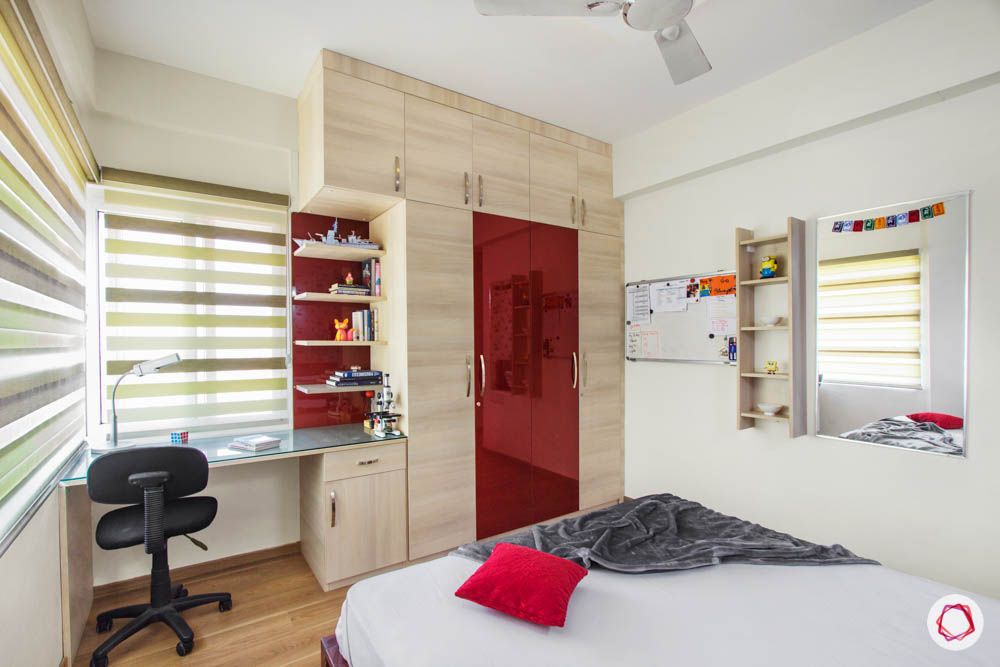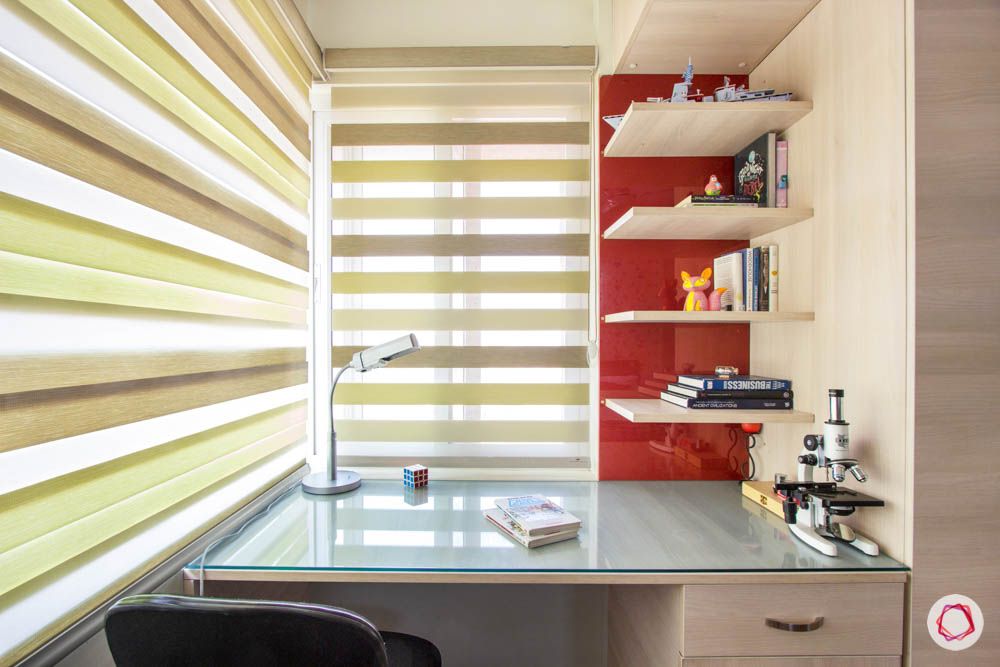 Much like the master bedroom, Simran's room is doused in light wooden hues with a pop of colour. This time in fiery red!
The centre wall of the bedroom is a mix of a laminate panel and floral wallpaper. This was done to conceal wires and cords. On the opposite side, stands a wardrobe in acacia laminate with lofts above. We especially love the pop of glossy red in the middle. A study unit is tucked perfectly beside it with a glass top. It flaunts the same polished red as a panel with mounted ledges to stash essentials. Moreover, the choice of intriguing blinds offer a sense of drama to the space as well.
Notice a ladder display unit beside the mirror? This doubles up as a dressing unit.
Vaswani Brentwood Flat Inspiration: Minimal Bedroom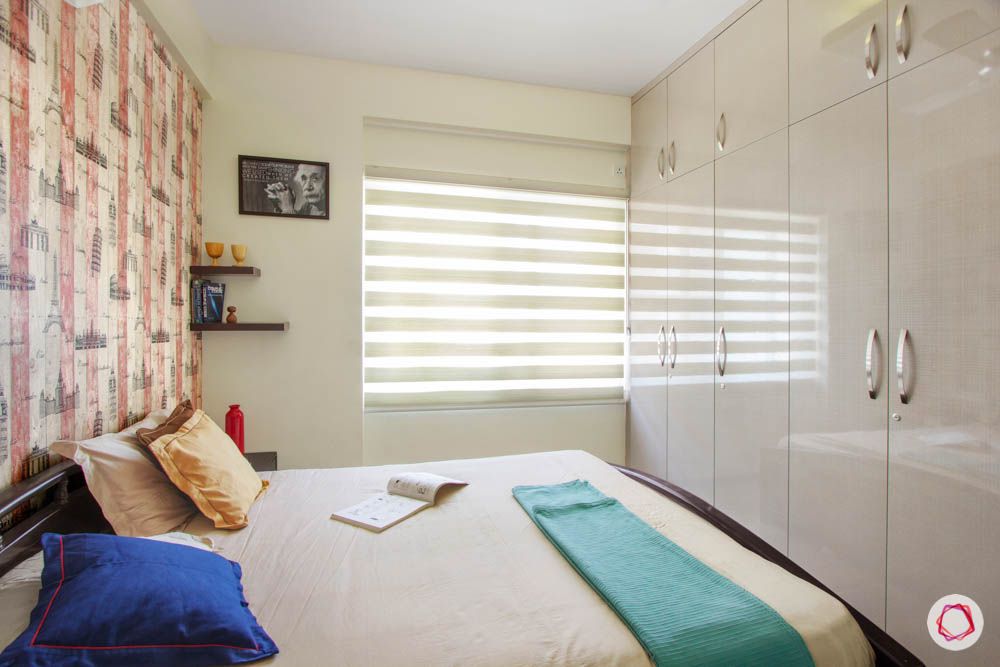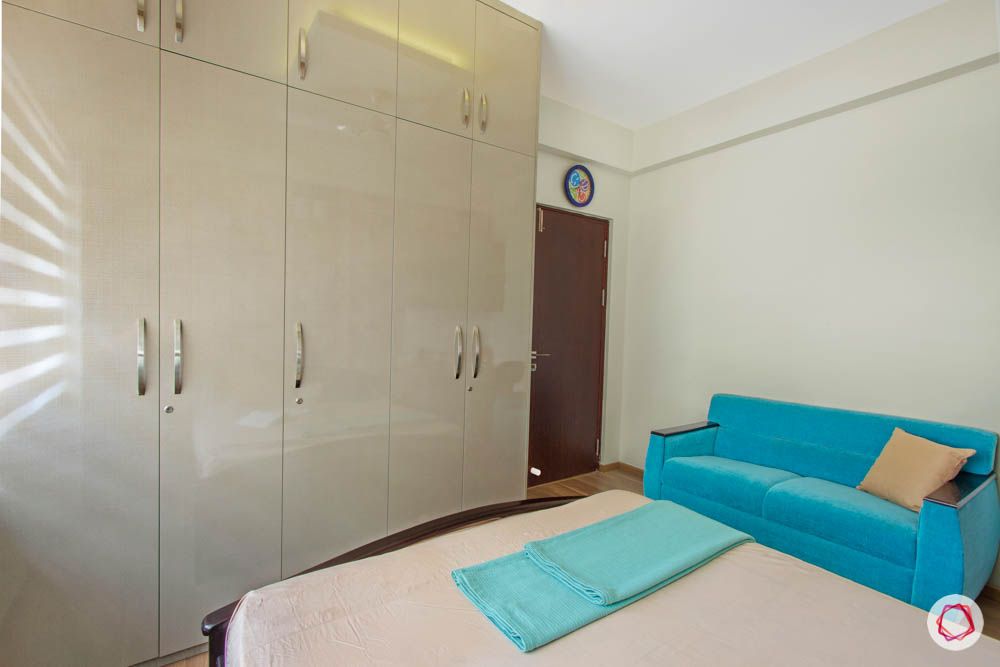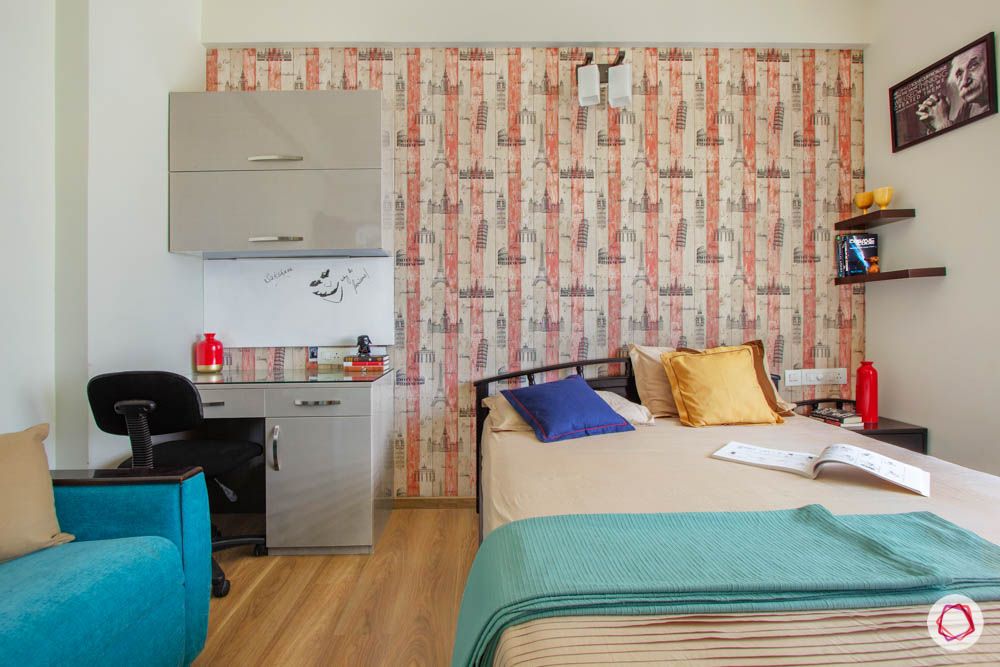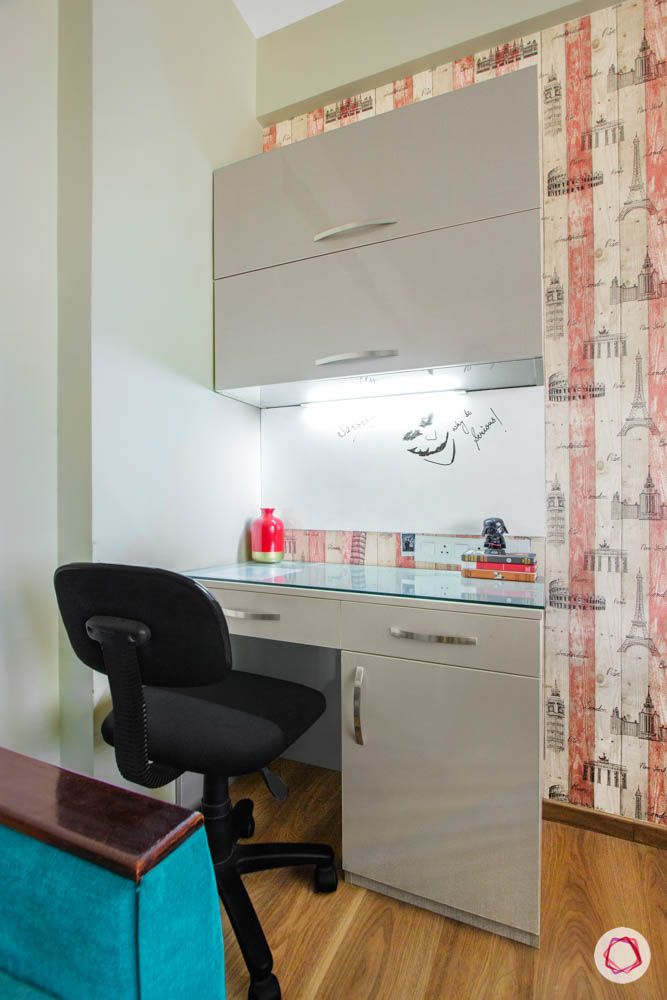 Saksham's bedroom is straight to the point. With a massive floor-to-ceiling wardrobe in Cappuccino grey and a matching study table in the corner, this room is functional at its best. To break the monotony, Vimla put in an artsy wallpaper for the centre wall. In addition, for an extra bit of seating, they added a teal blue sofa as well.
"In my 21 years of career, Shikha and Sandeep are one of the best clients I have worked with. They were friendly, understanding and extremely cooperative. I loved the experience of designing their home!"

Vimla Suresh, Interior Designer, Livspace
Also, if you liked this home, take a look at This 3BHK at Oberoi Esquire is Classy for more inspiration.
Send in your comments and suggestions.