This 3 BHK flat is full of little surprises!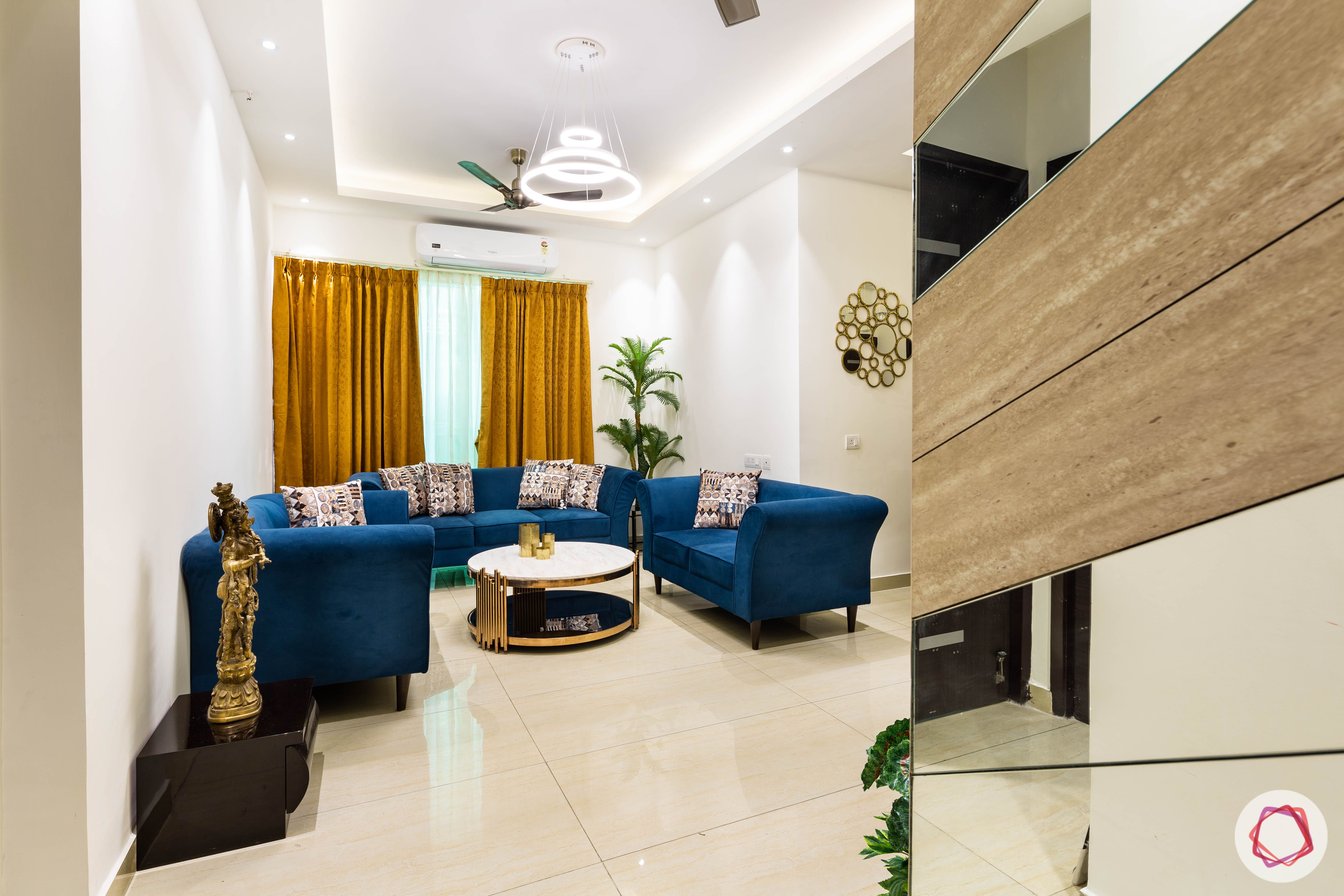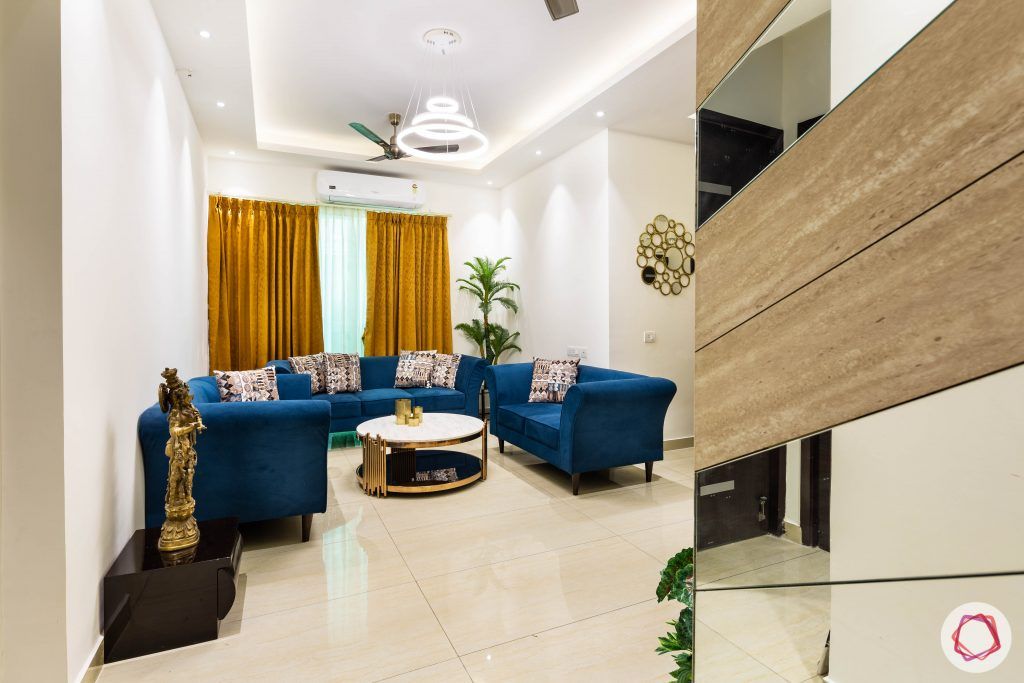 ---
Who livs here: Pulkit Mohun, his wife Isha Kansal, his sister Kahish Mohun, his parents Charu Mohun and Devender Mohun and their dog Bruno
Location: Gaur Saundaryam, Noida extension
Size of home: A 3BHK spanning 1,800 sq ft approx.
Design team: Interior Designer Ashima Razdan and Project Manager Prateek Upadhyay
Livspace service: Full home design (kitchen not included)
Budget: ₹₹₹₹₹
---
Warning: you might want to pack your bags and move to a home that looks exactly like this. For Pulkit Mohun and his family, scouting the internet was the most viable option while looking out for interior designers for their home. They visited the Livspace Experience Center and were instantly impressed by the approach we took towards their dream home. This journey started on a high note and ended on an even higher note.
In a casual banter, Pulkit exclaimed that they always wanted a home that looks like a hotel. Even while interacting with the team and their designer, Ashima, they were clear about the sort of look they wanted. This simple family of six love striking elements and wanted each room to flaunt at least one of those.
While the family likes chilling in different rooms at different times, Bruno, their dog, loves to admire himself in the mirror in the foyer. That is his favourite pass-time! Read on to see how this home was personalised for each member.
3 BHK Flat: A Remarkable Entrance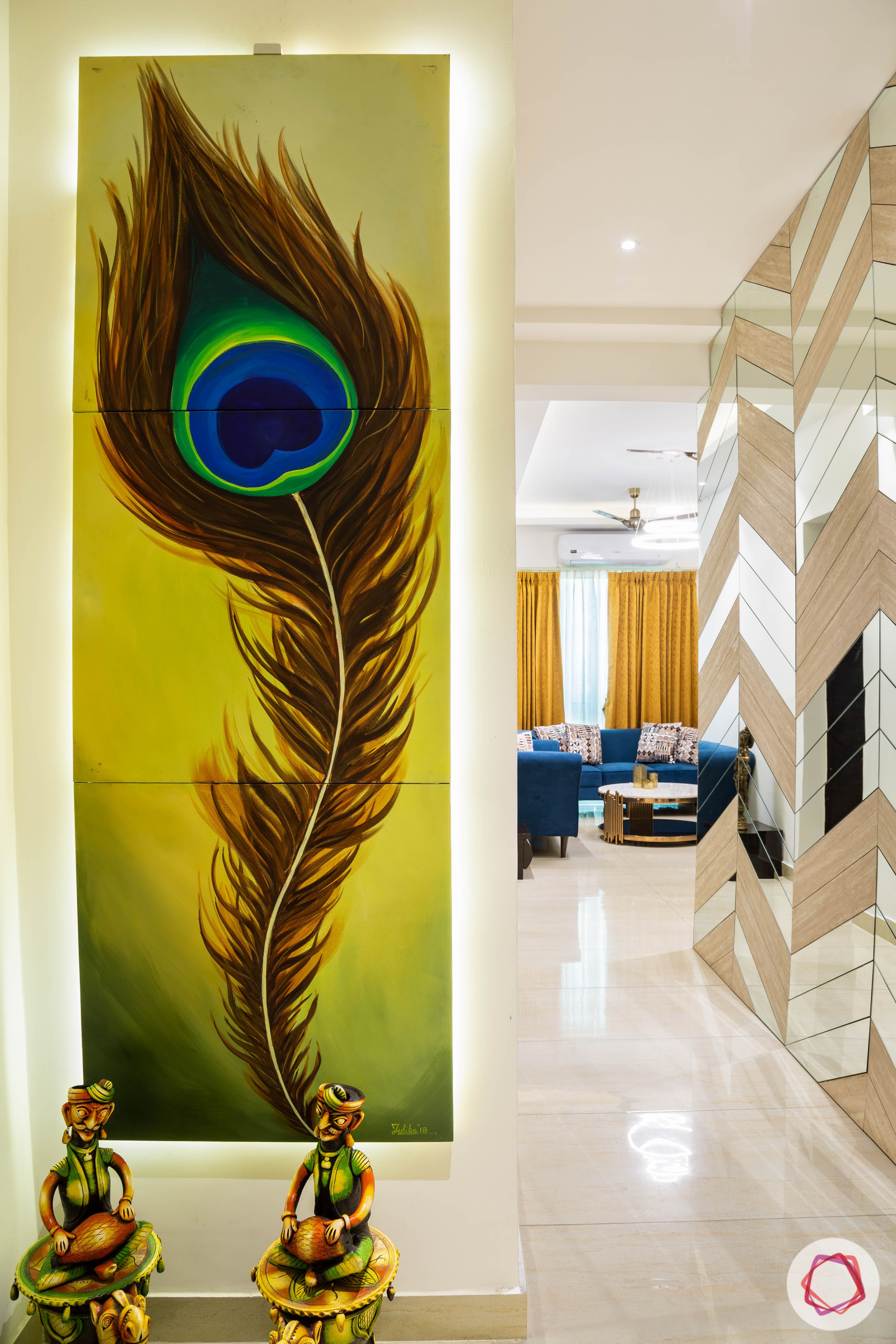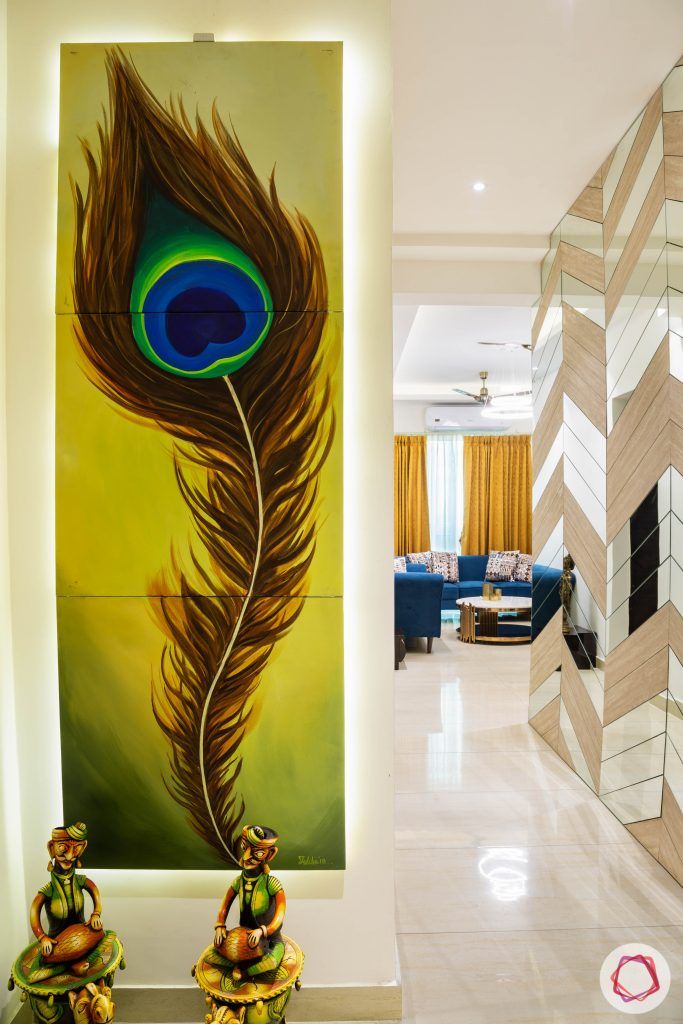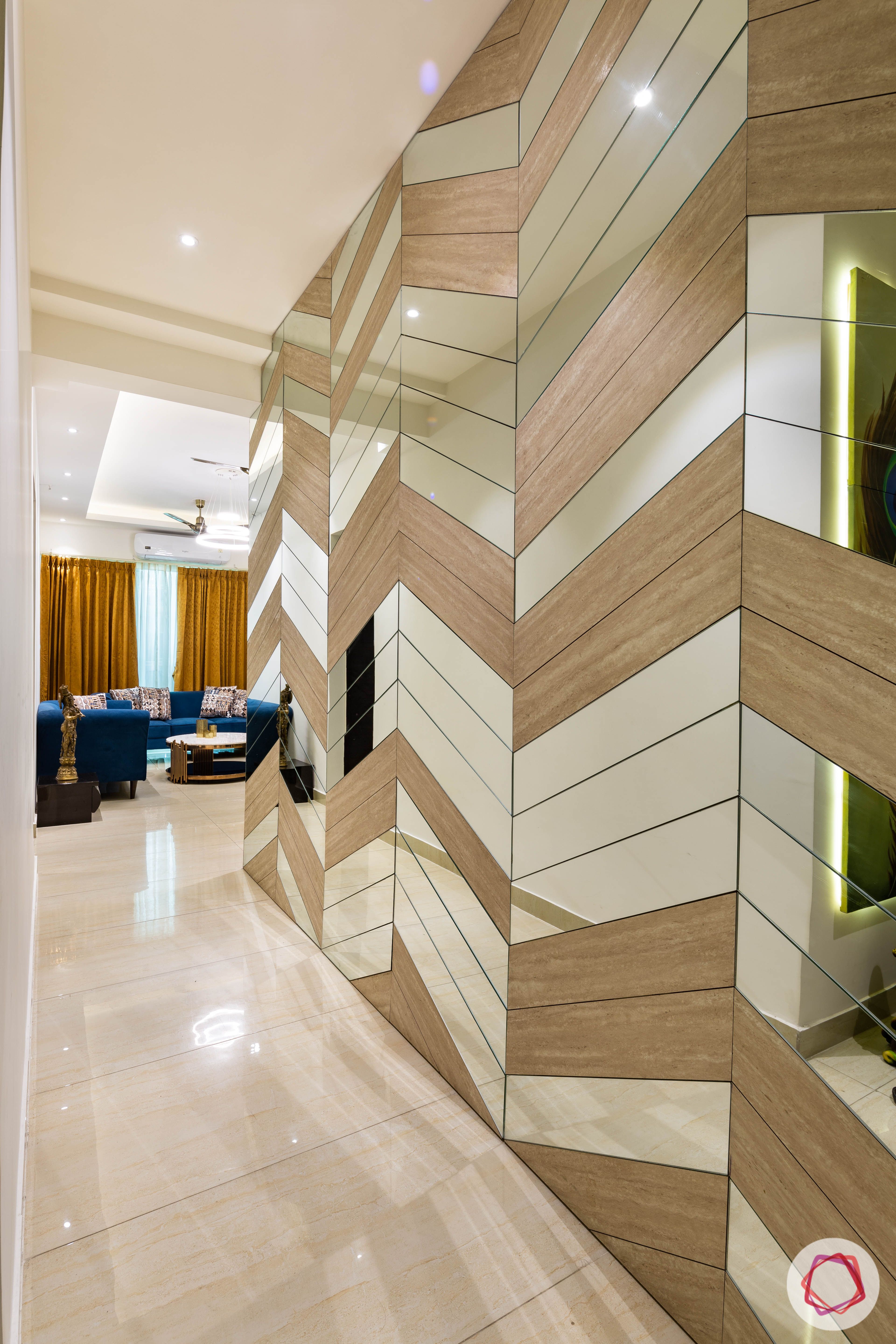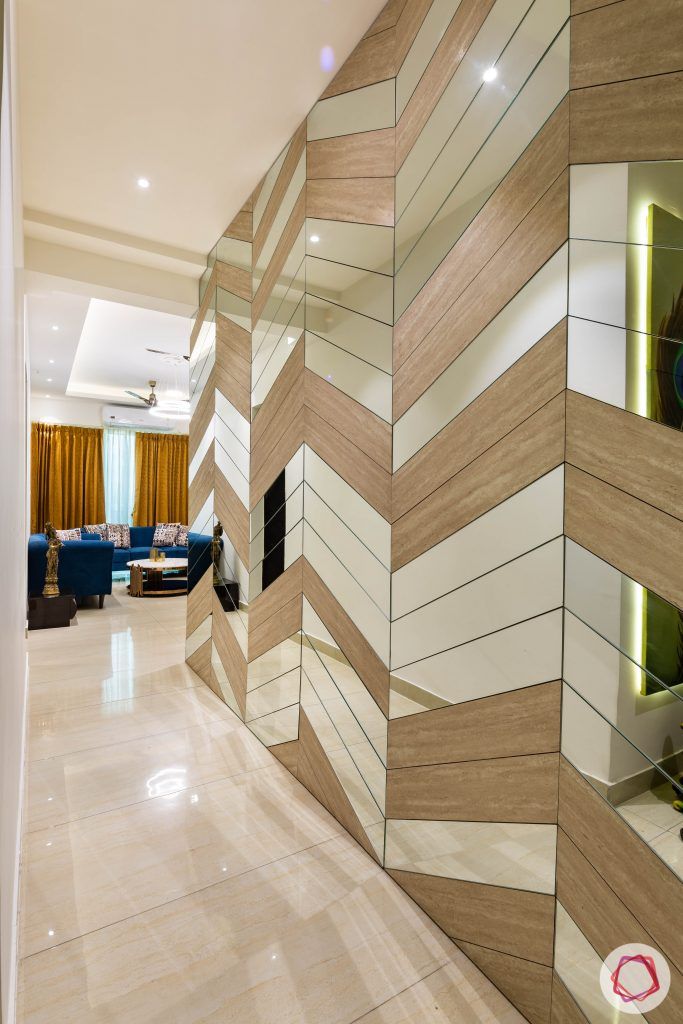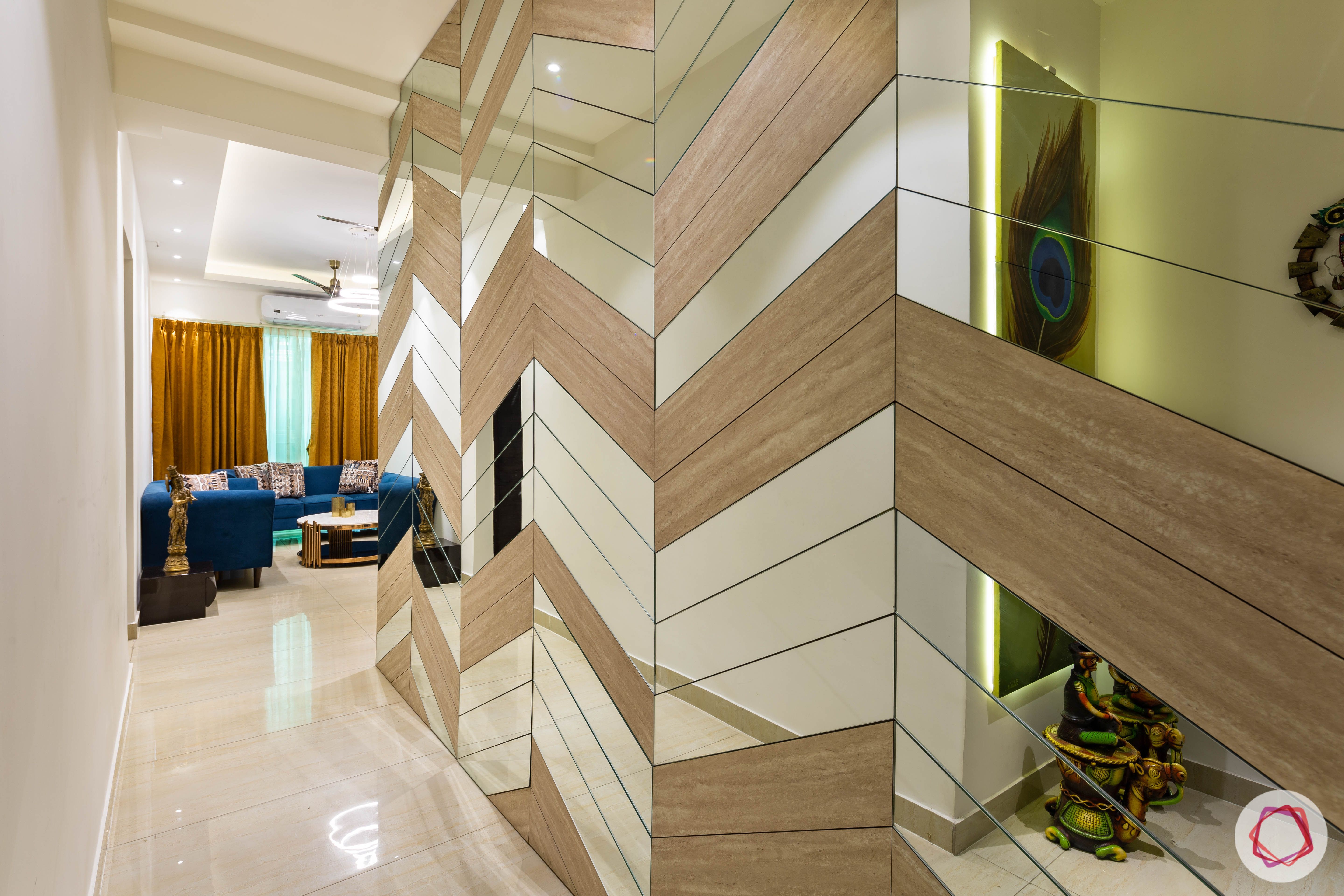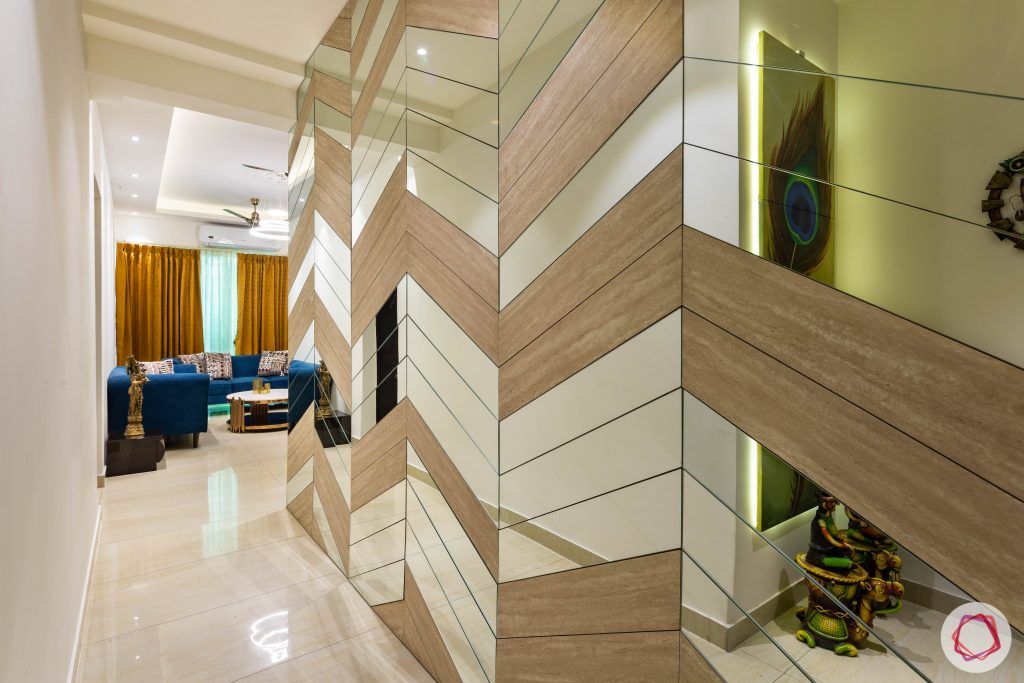 They say that the first step into a home should feel warm and inviting. This 3 bhk flat welcomes you with a stunning foyer. This family dreamed of having an entrance that stands out from the rest of the home. As soon as you enter, this pretty customised, backlit painting of a feather greets you. On your right, a chevron pattern wall with an interplay of mirror and laminate creates a gorgeous accent wall.
---
3 BHK Flat: Colour-blocked Living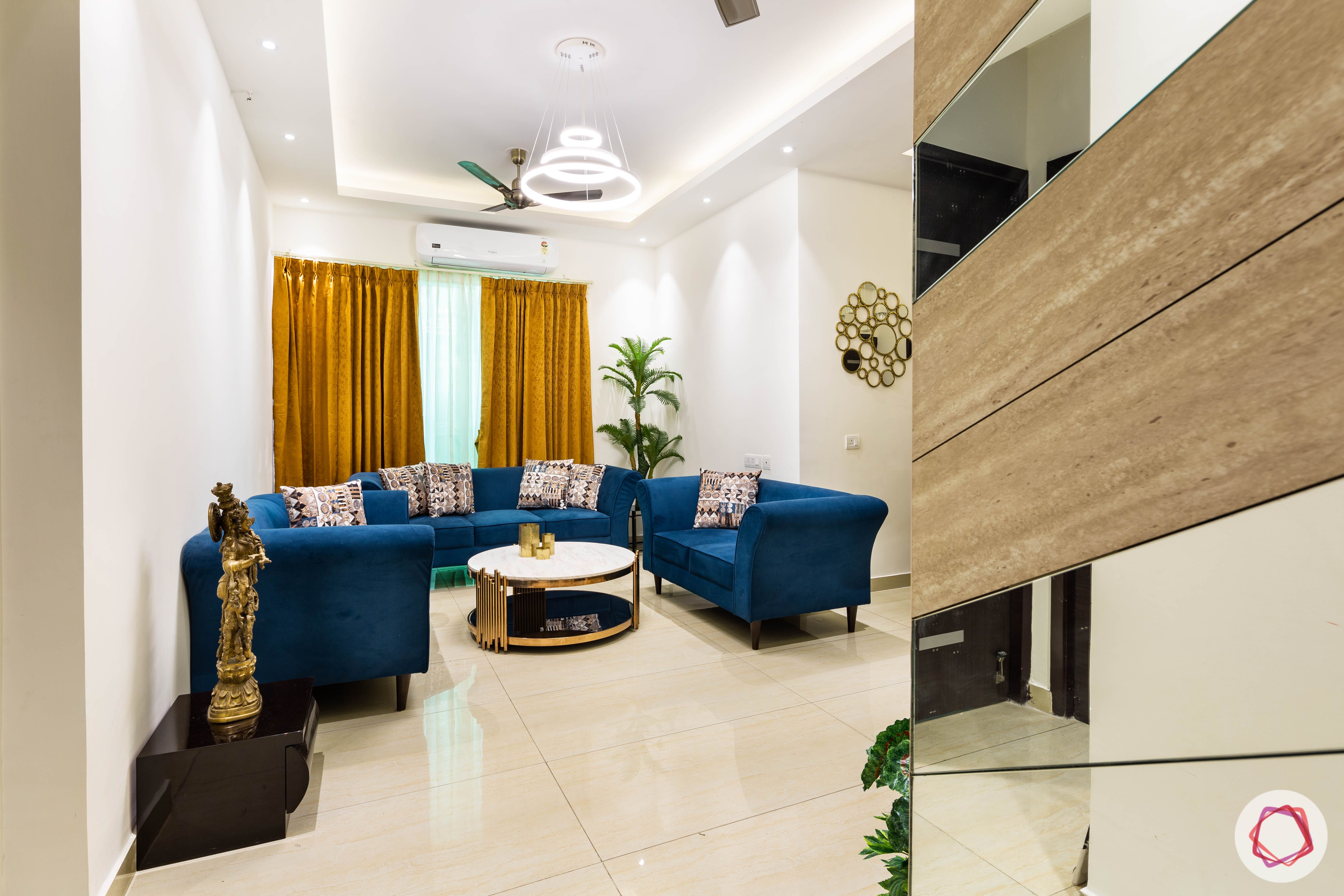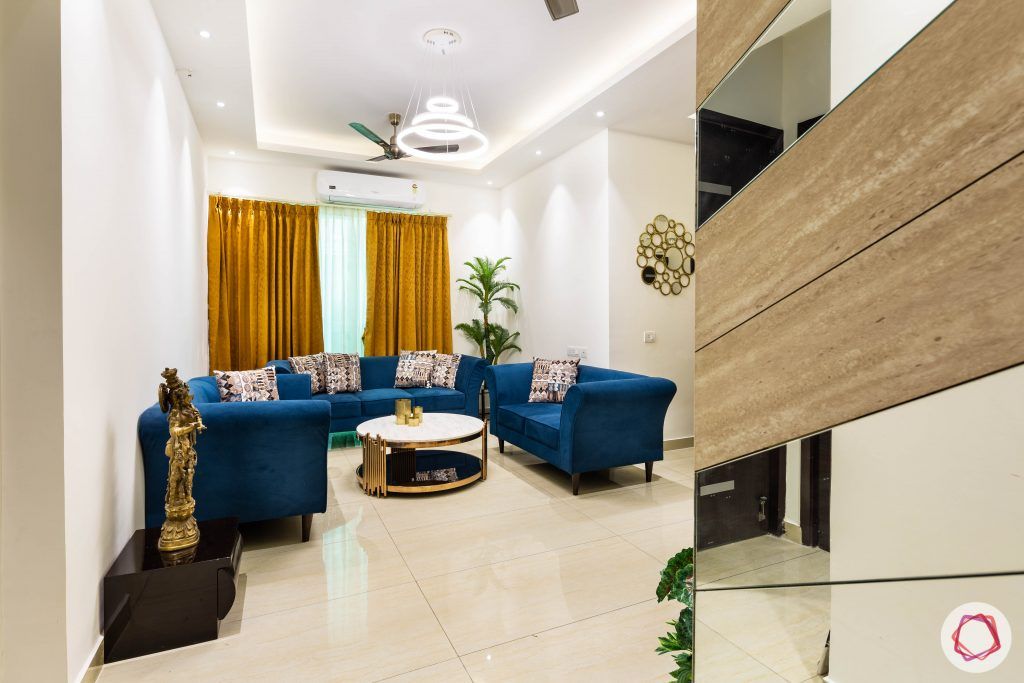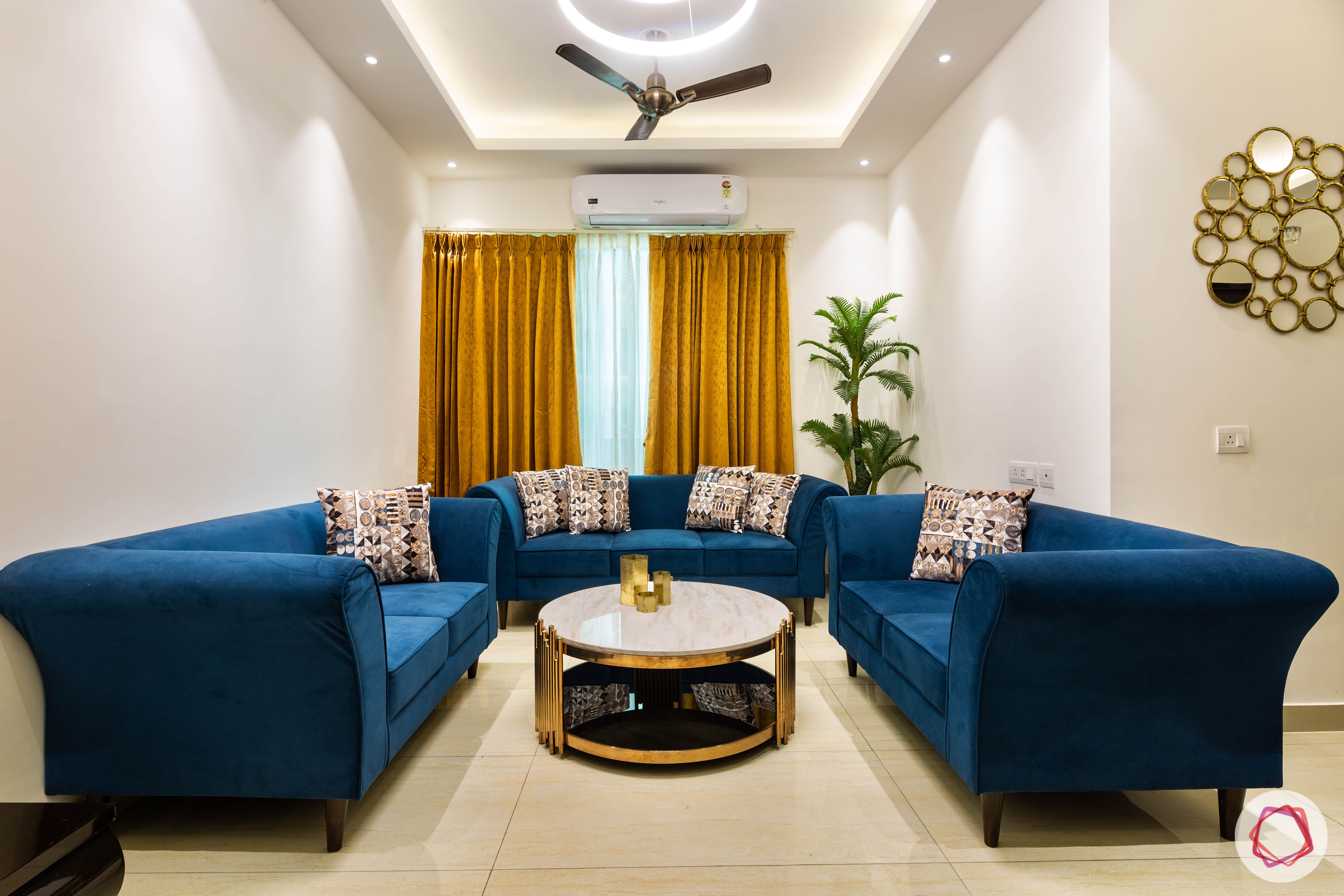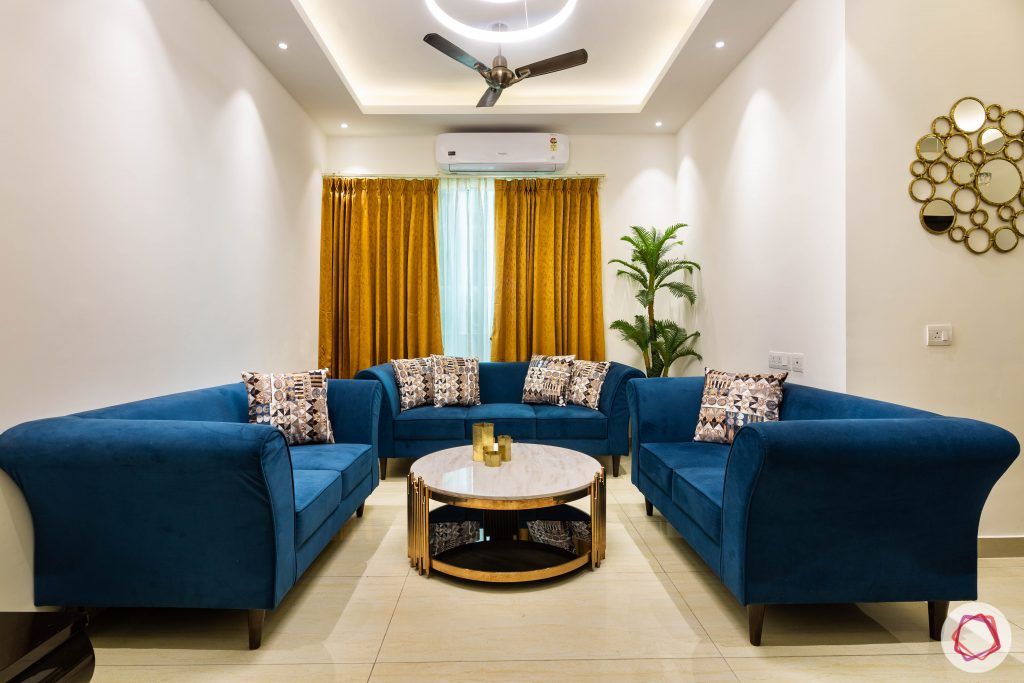 The Mohuns wanted an open layout for their living room in this 3 bhk flat, since clutter is not their style at all. Ashima suggested them to go with a contrast combination of navy blue and butterscotch. These pretty blue sofas mounted on tiny legs makes cleaning a breeze on a daily basis. A fresh green plant in one corner and layered drapes set the vibe for this room.
Do not miss the marble-top coffee table with tinted glass shelf at the bottom and shiny bronze trims on all sides. It plays match with the wall accent piece on the adjacent wall in this 3 bhk flat. The lights on the false ceiling too are not regular cove lights. The family wanted focus lights that create a sort of a highlight on the walls.
---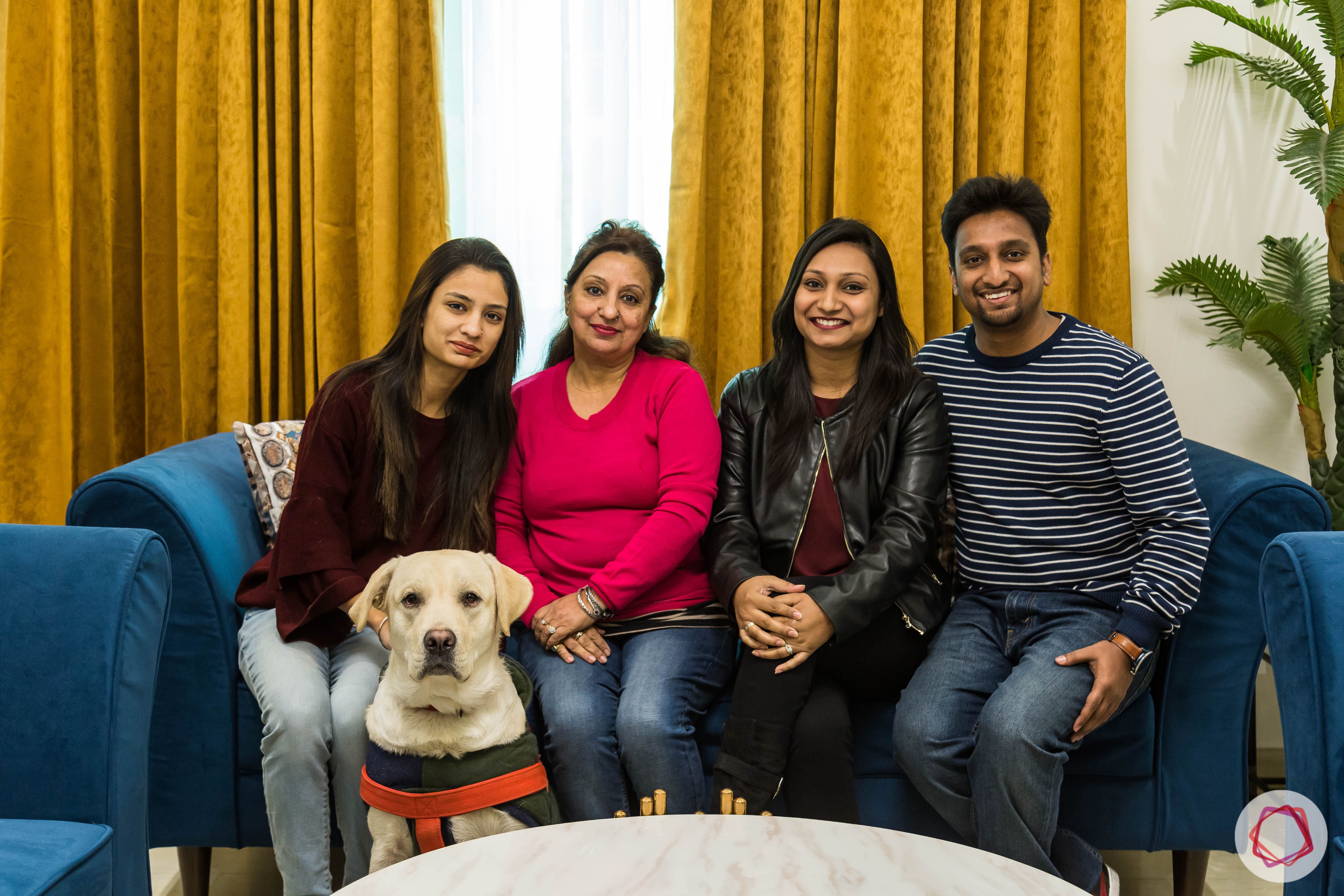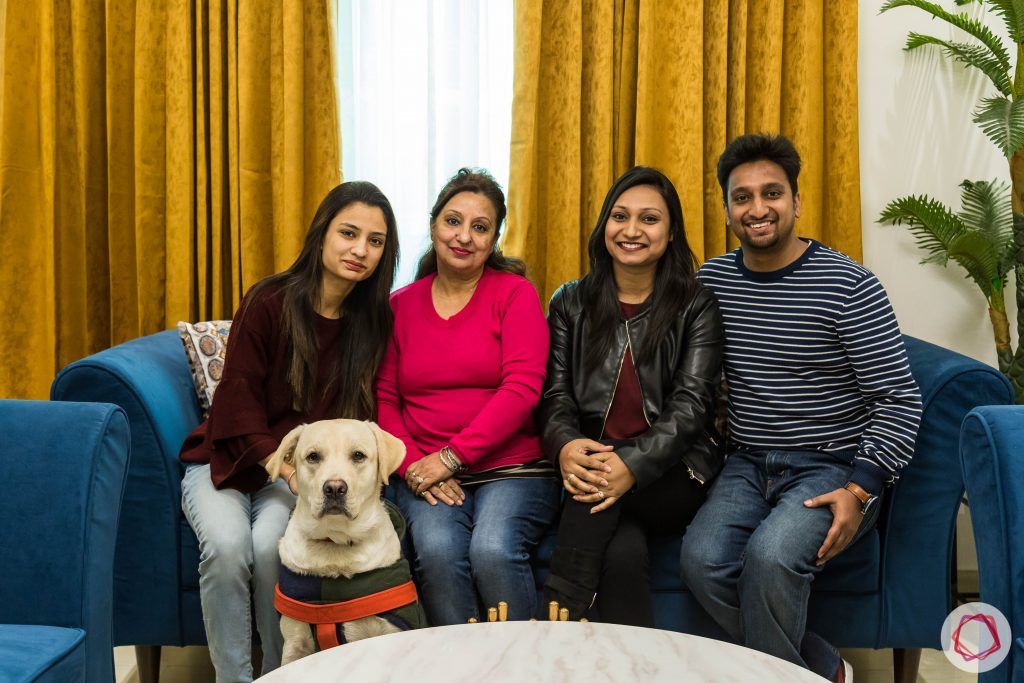 "We wanted a design that looks like a hotel but feels like home. That was exactly what we told our designer. With Livspace it was a wonderful experience and our home was ready well within time. We love spending time at home and enjoy the compliments we receive from everyone who visits us. I would definitely recommend Livspace to anyone who is looking out to get their home interiored."

– Pulkit Mohun, Livspace Homeowner

3 BHK Flat: A Divine Room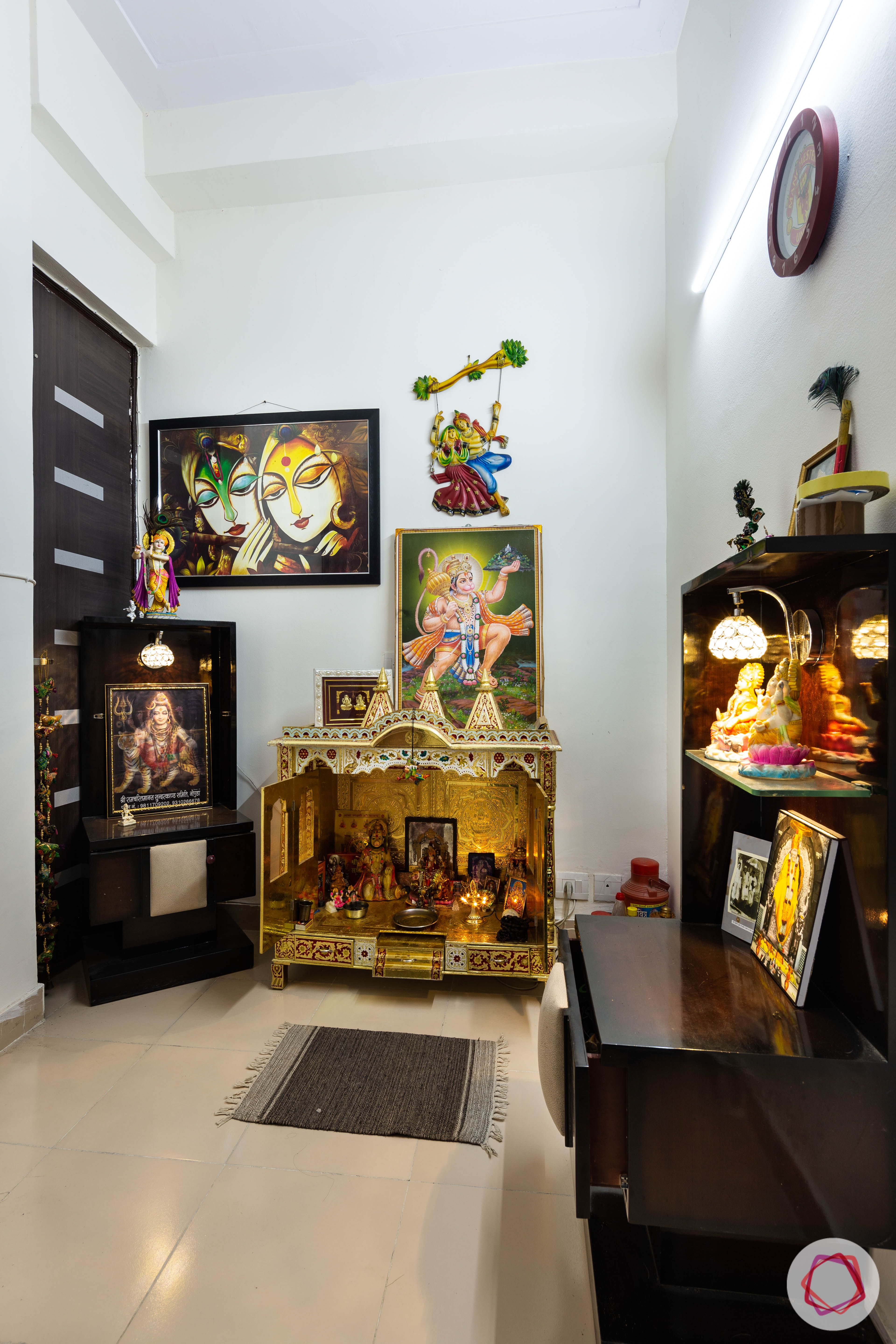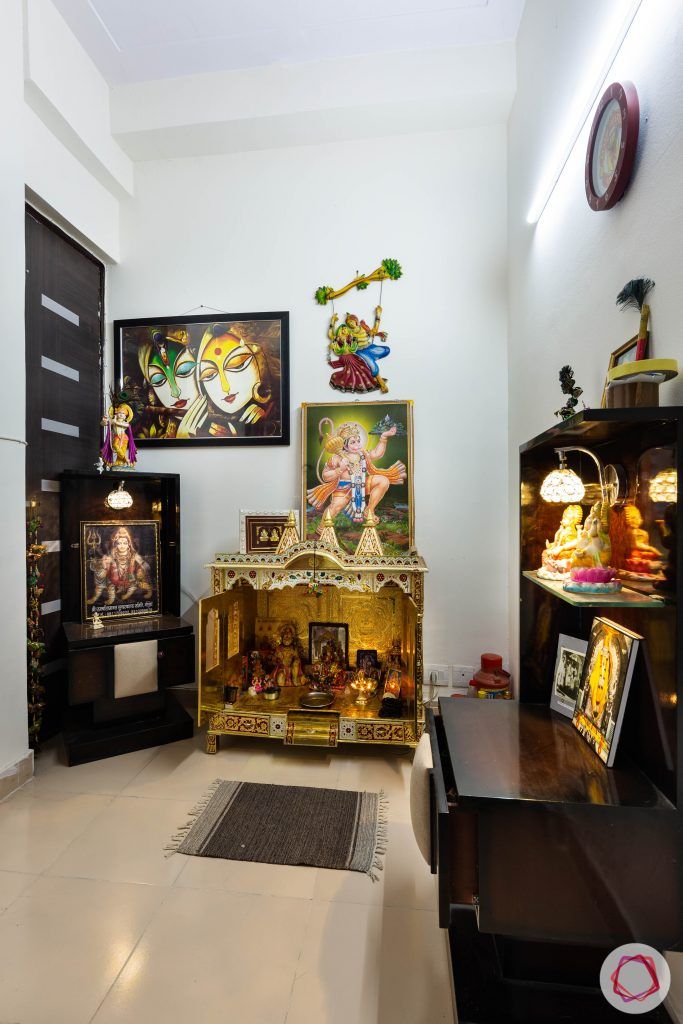 This room in this 3 bhk flat is a true representation of the faith that the family instills in the almighty. Ashima made sure that the floor looks neat and clean. She replaced the old flooring with cream colour tiles to refresh the space instantly.
---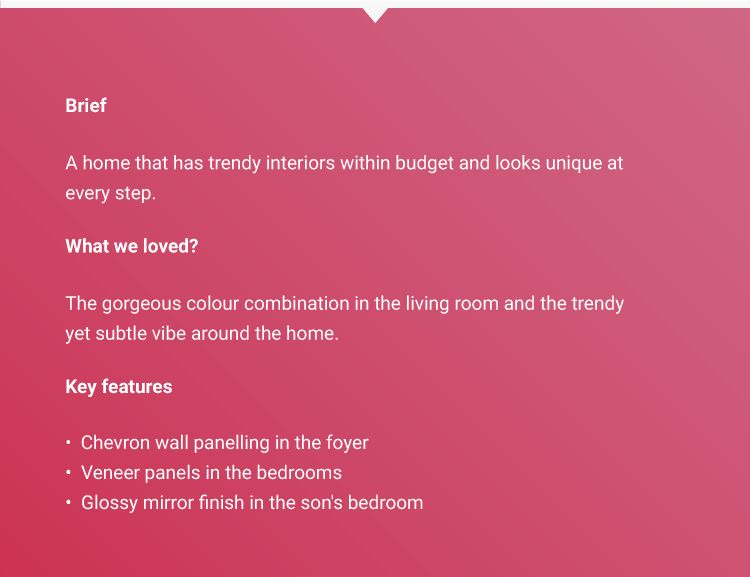 ---
3 BHK Flat: Simple & Airy Master Bedroom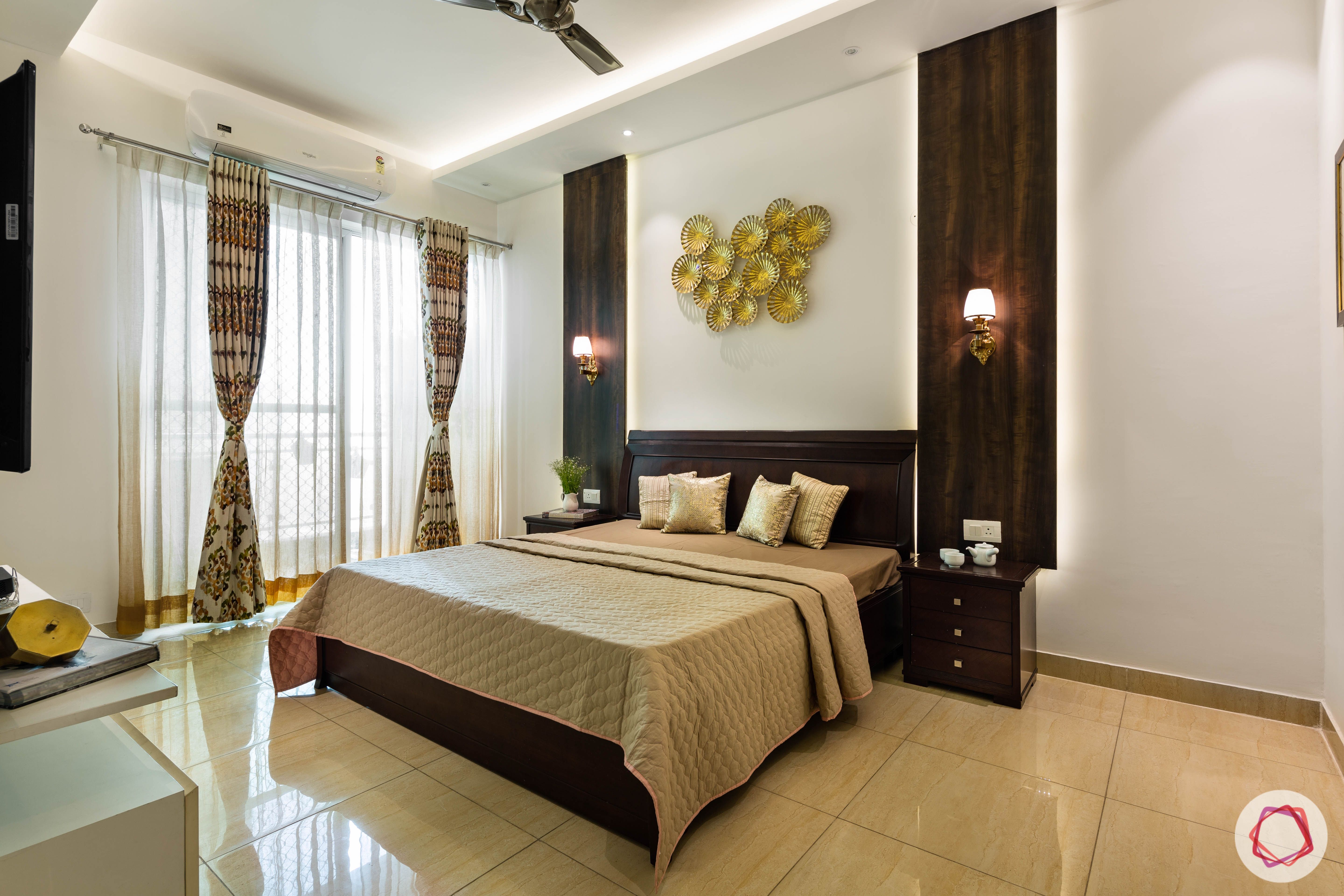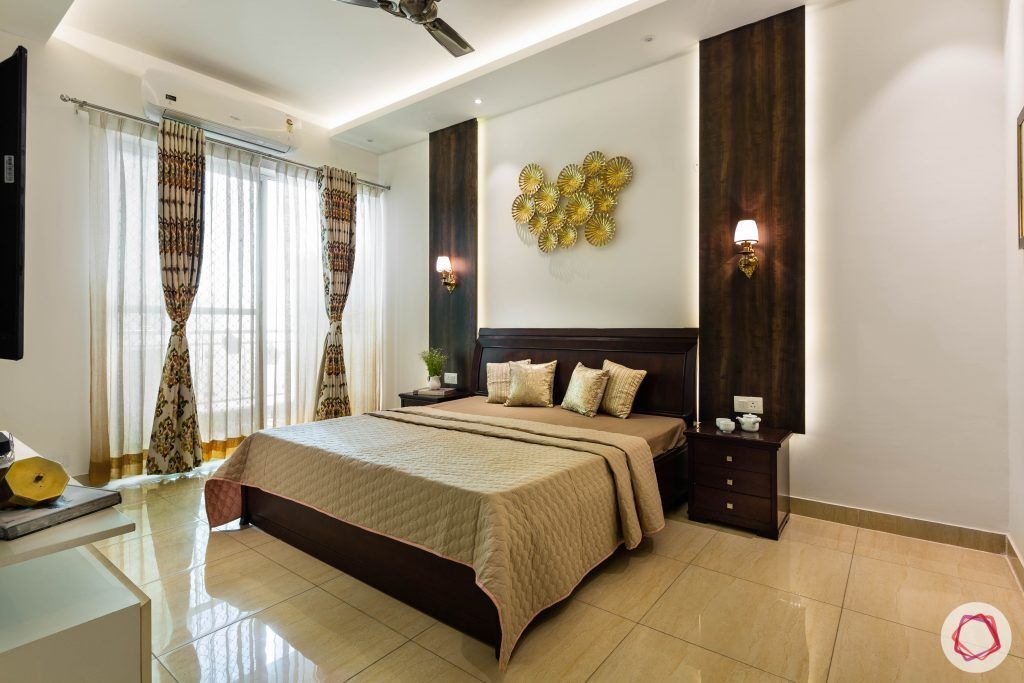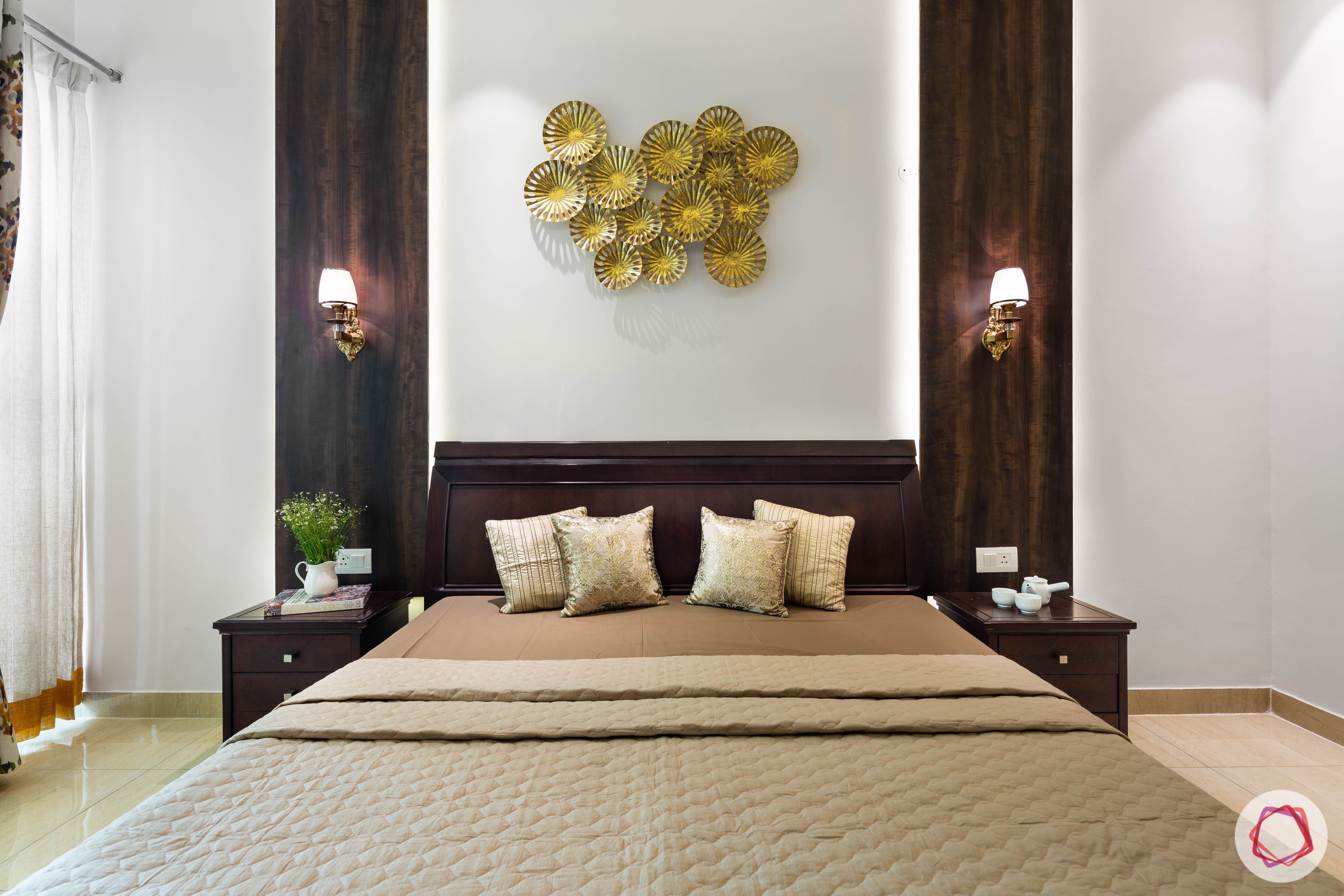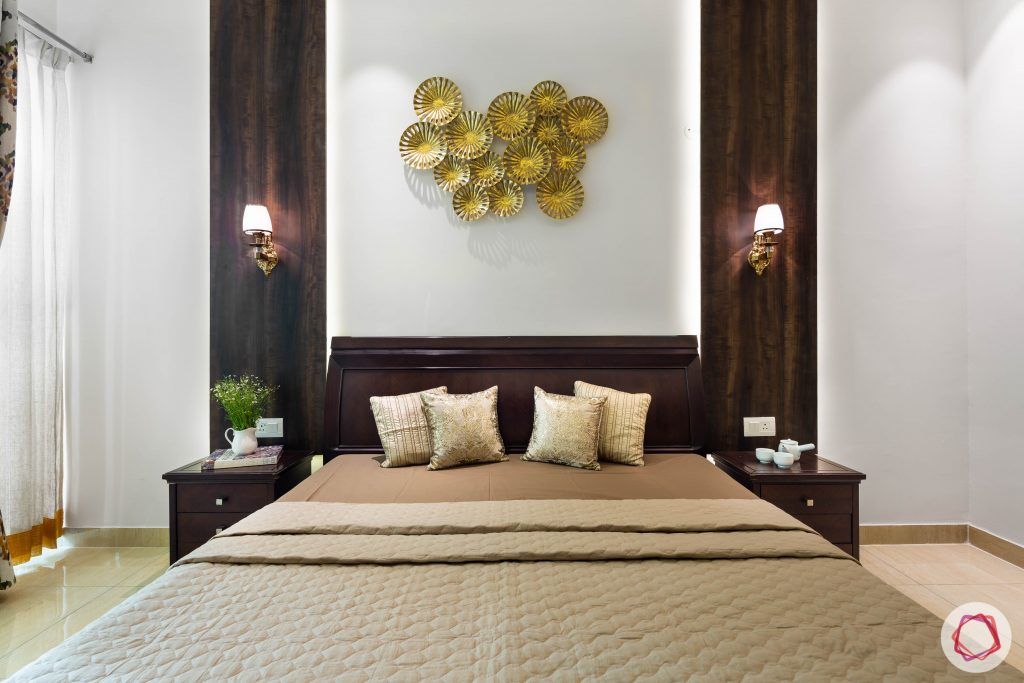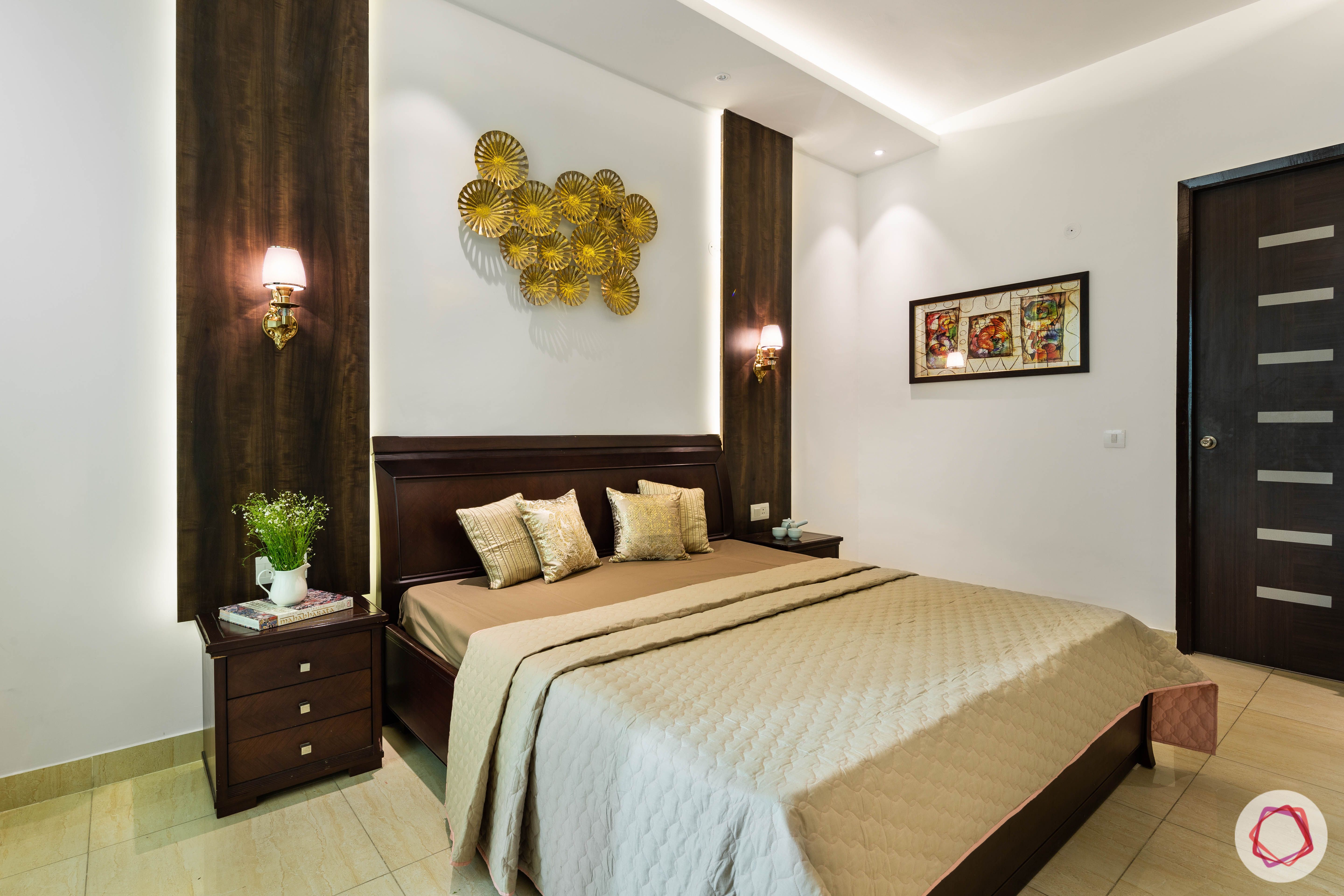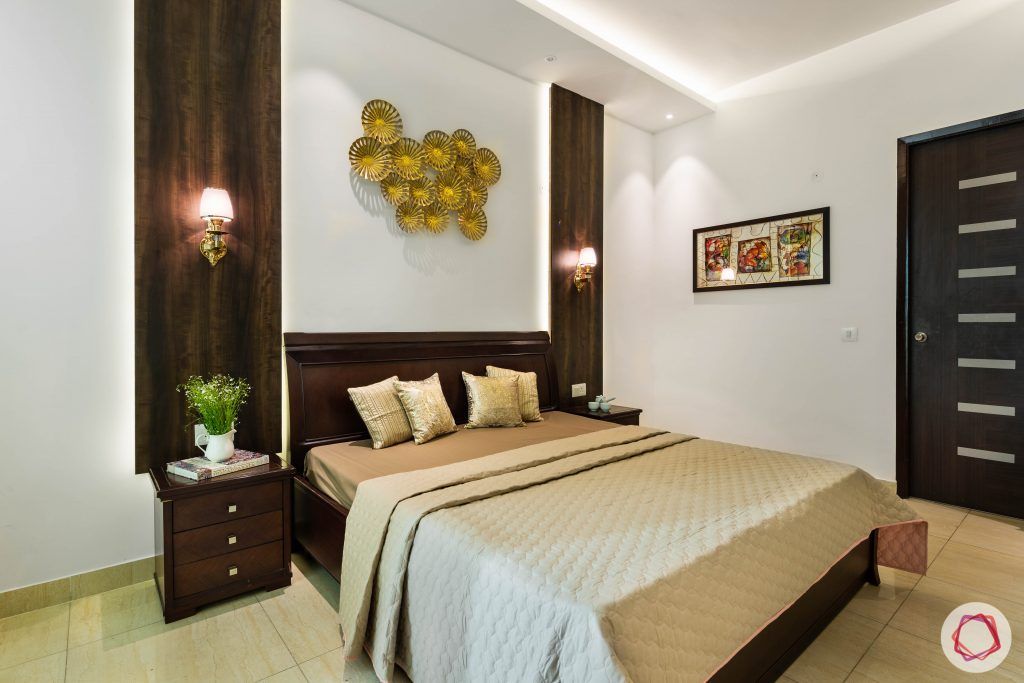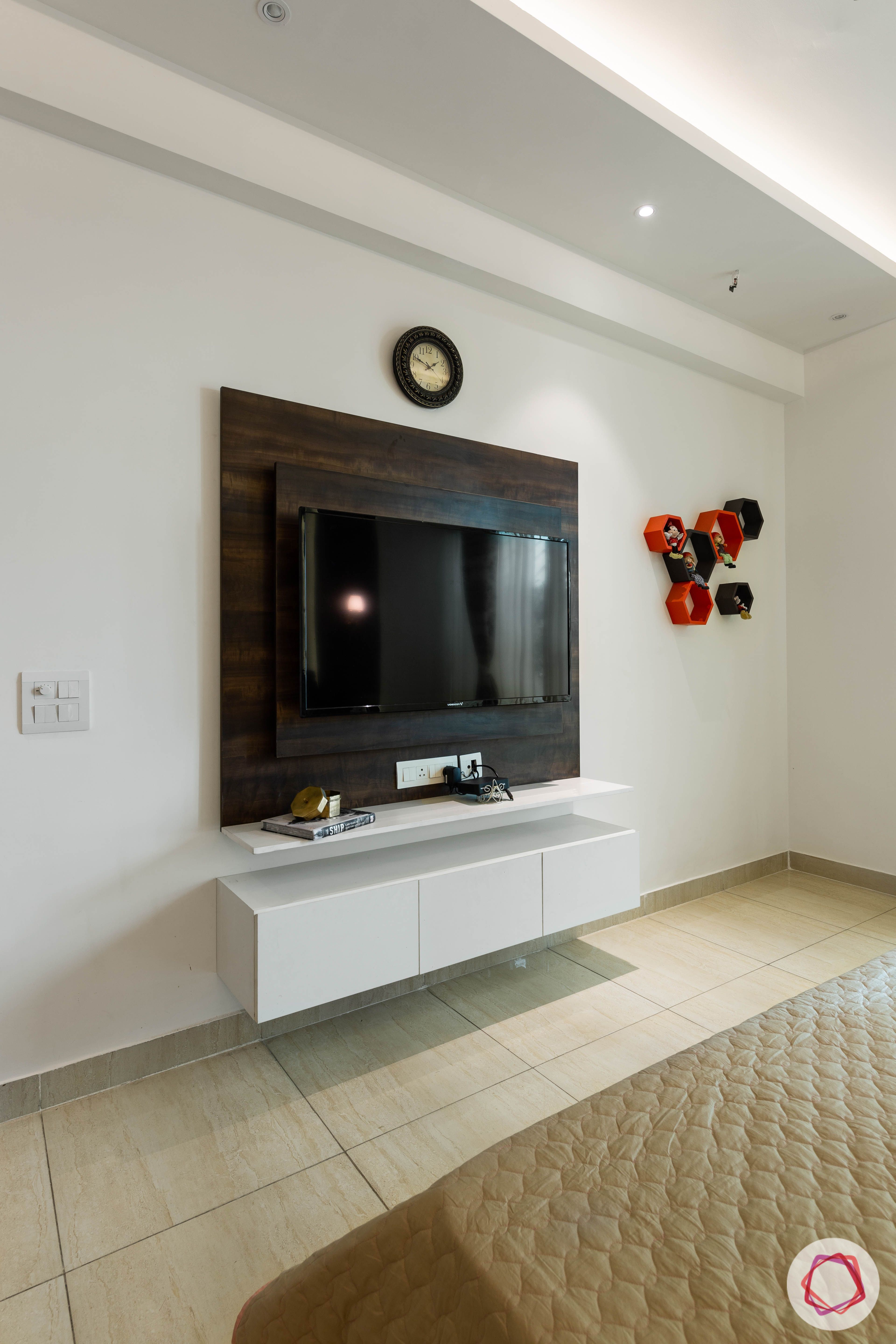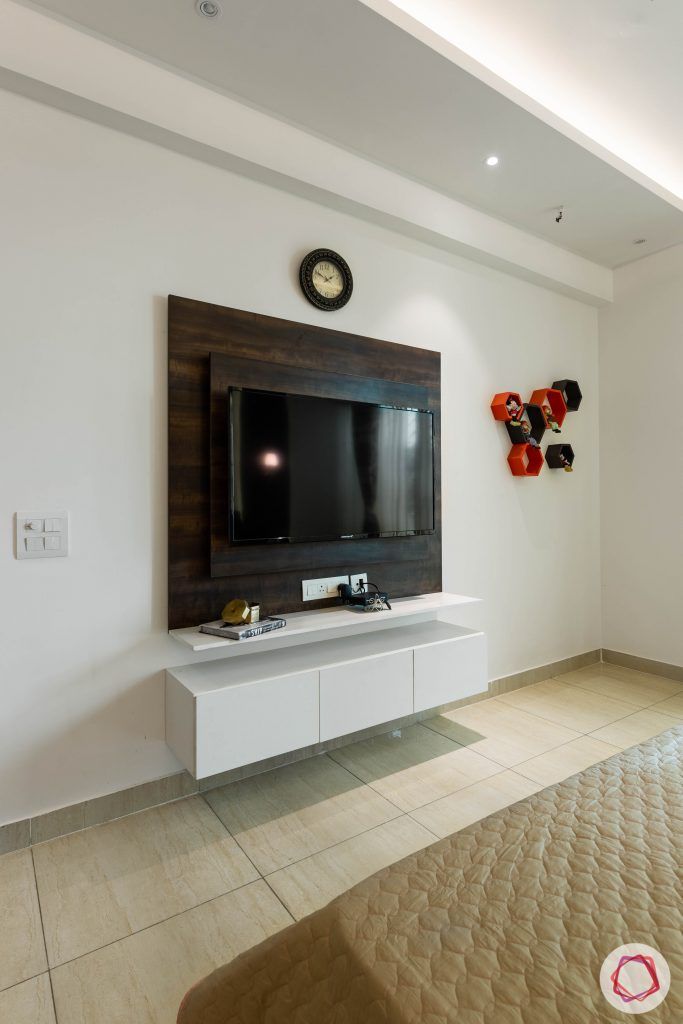 This bedroom in this 3 bhk flat is the best example of how a space can look classy while keeping budget in mind. Wall panelling is a sureshot way to ensure that plain walls do not look boring. Since the bed was an existing one, Ashima had to make sure that the panels on either side of it match the finish of the bed. Ashima added that using veneer is a great way to save cost.
The same veneer has been carried forward to the compact TV unit. With PU finish base units and a cavity in between, for the set-top box and peripheries, this unit is self-sufficient. Red and black hexagonal shelves add an interesting element in this room.
---
3 BHK Flat: Serenity Speaks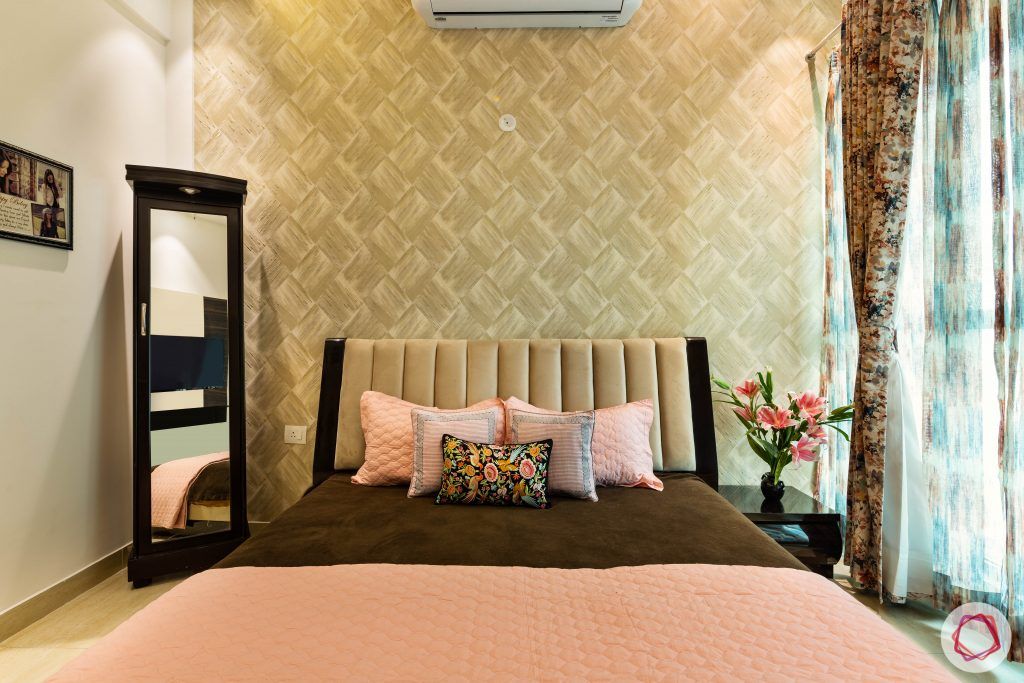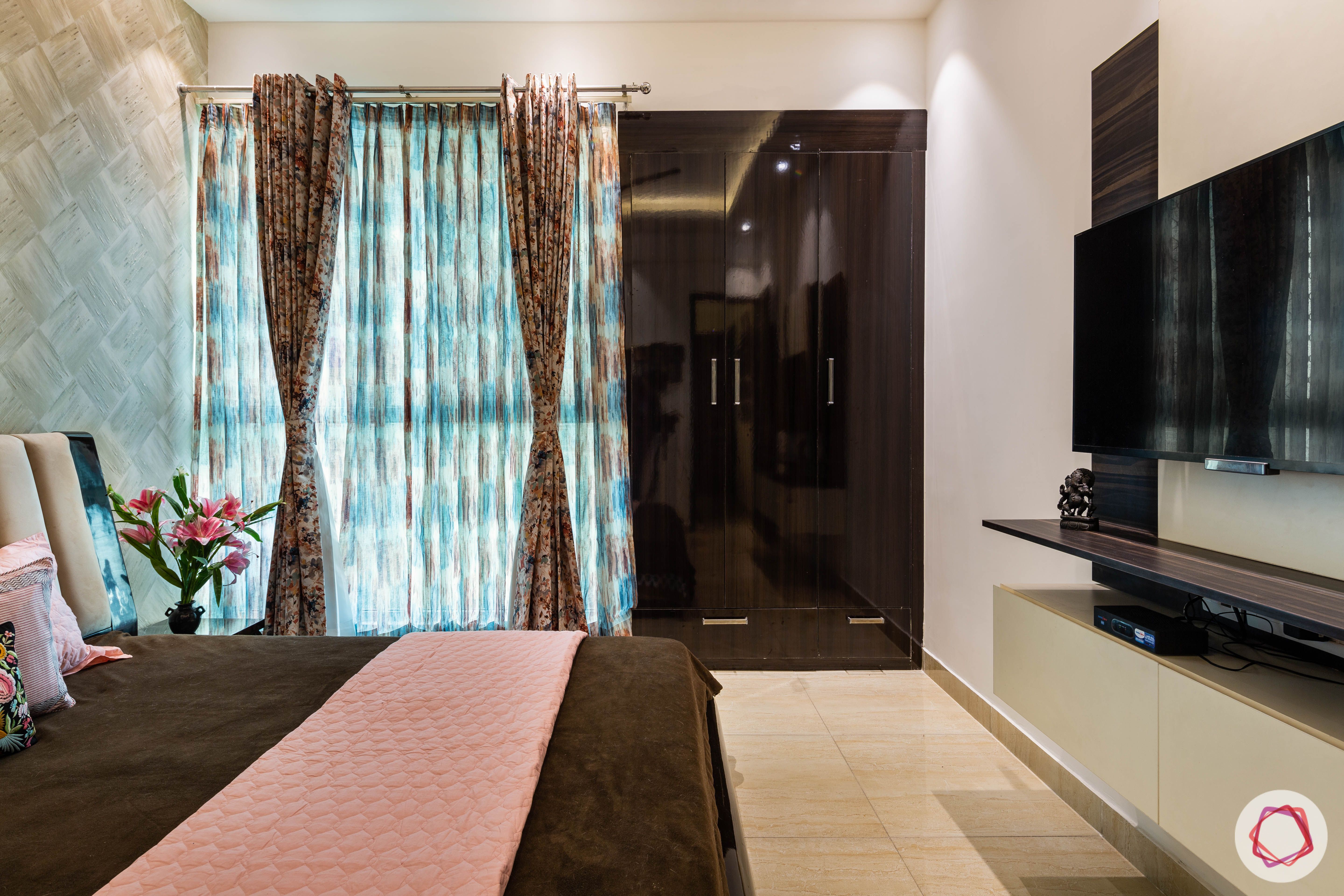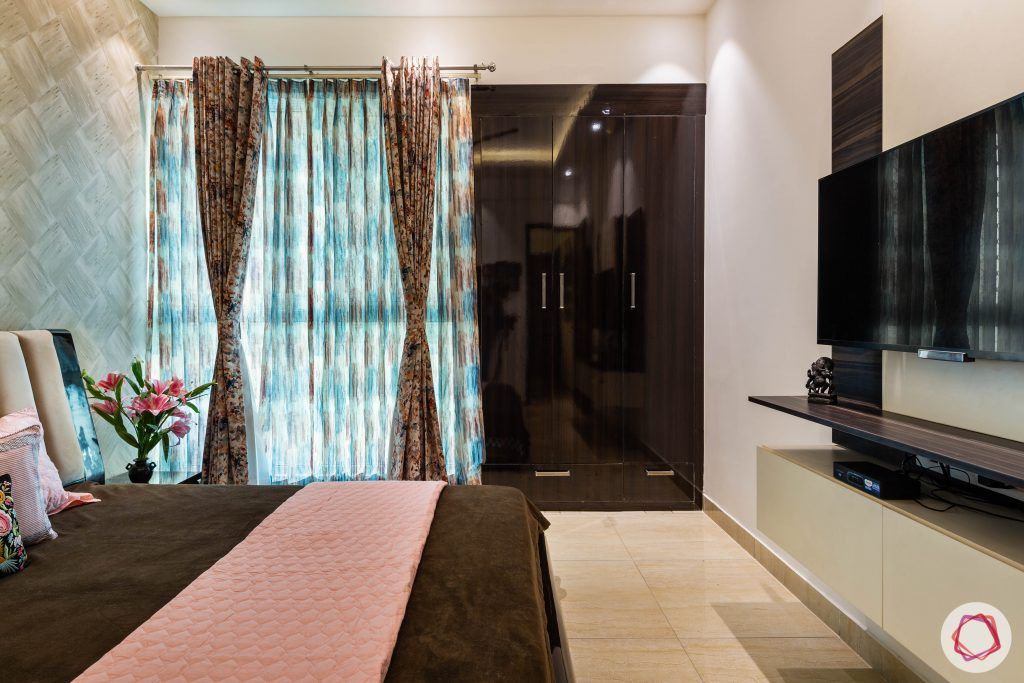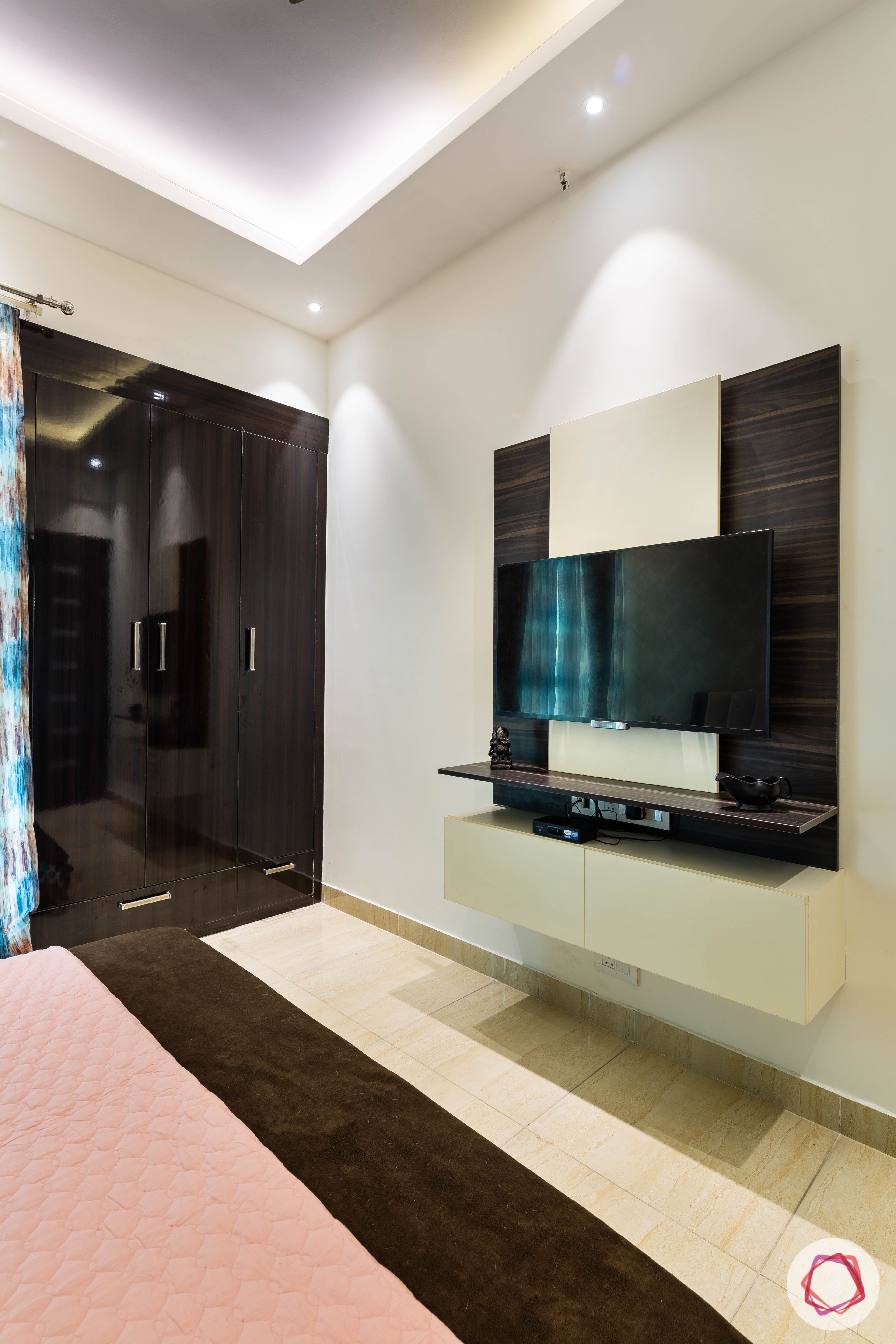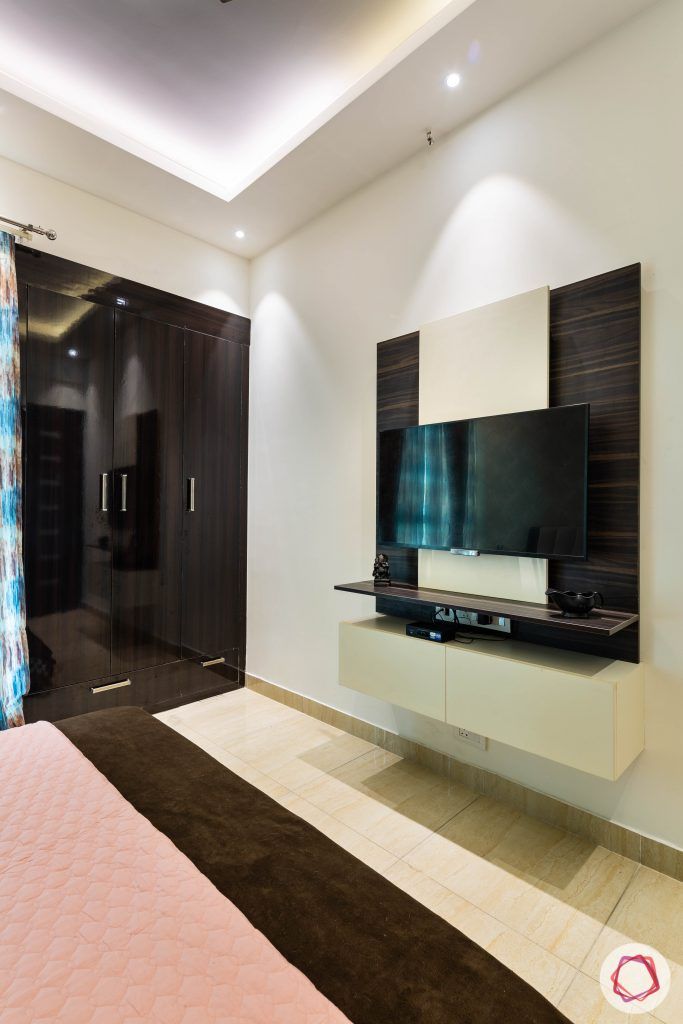 Pulkit's sister is very fond of prints, hence, this is the only room in this 3 bhk flat that flaunts a wallpaper. A sandcastle hued, abstract print wallpaper adorns the wall behind the bed. Colourful but serene drapes cast a spell in here. A contemporary dresser finds its way next to the bed.
The TV unit has a lovely combination of veneer and PU finish on the back panel and the base unit. This unit is ideal for anyone who wants a television in the room but does not want to obstruct movement.
---
3 BHK Flat: Purple Pleasures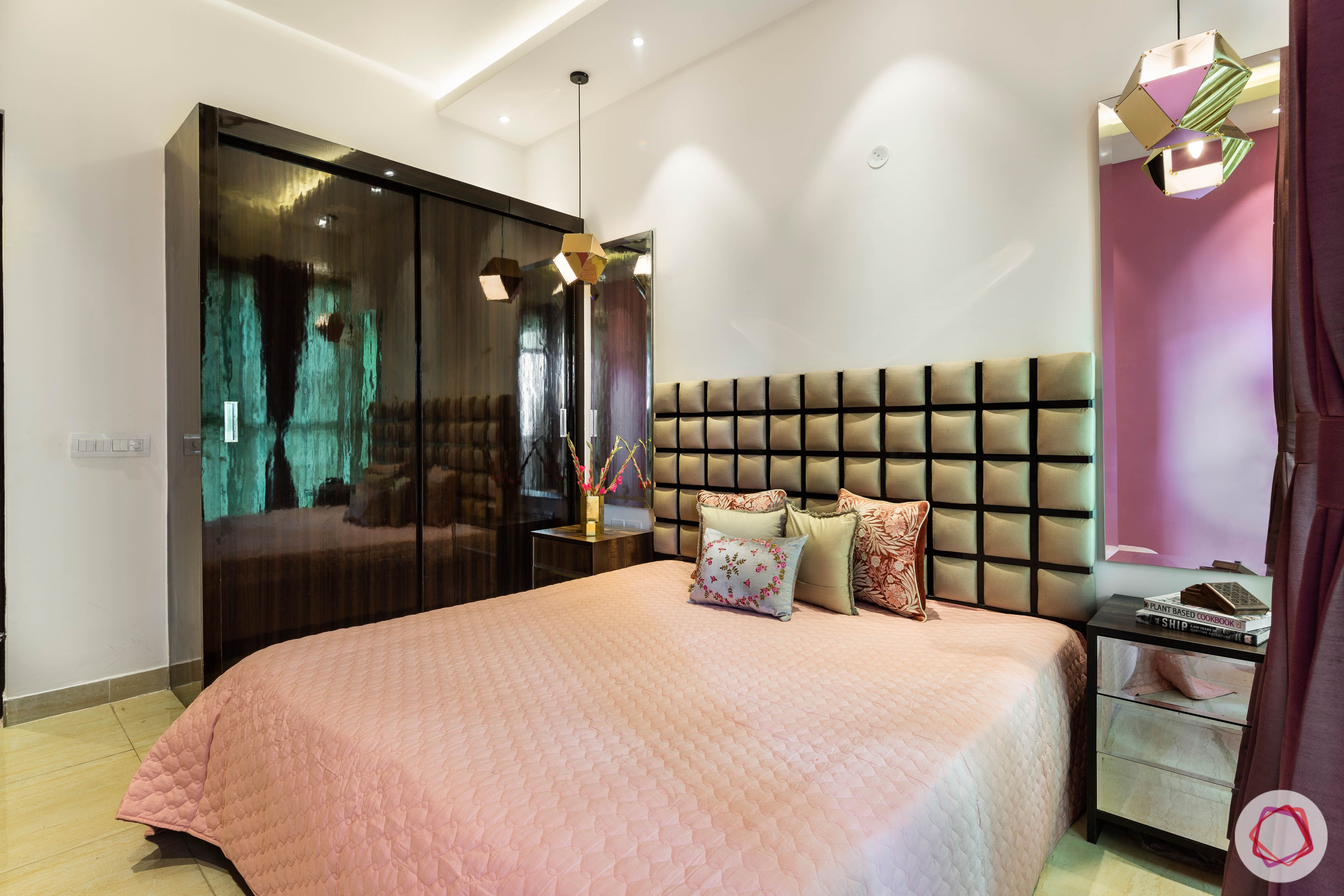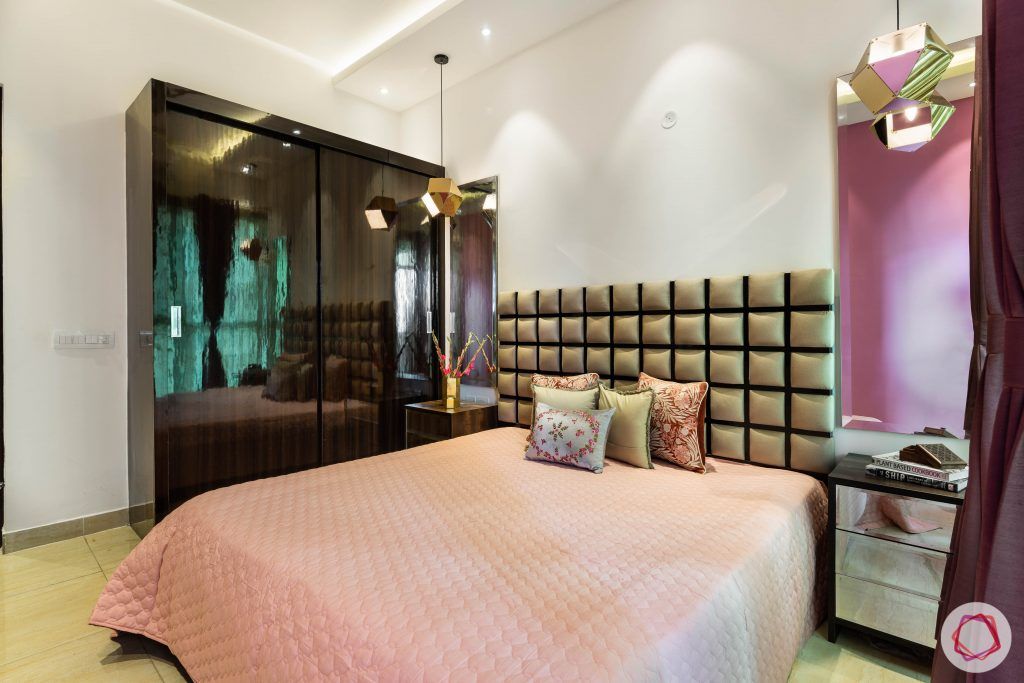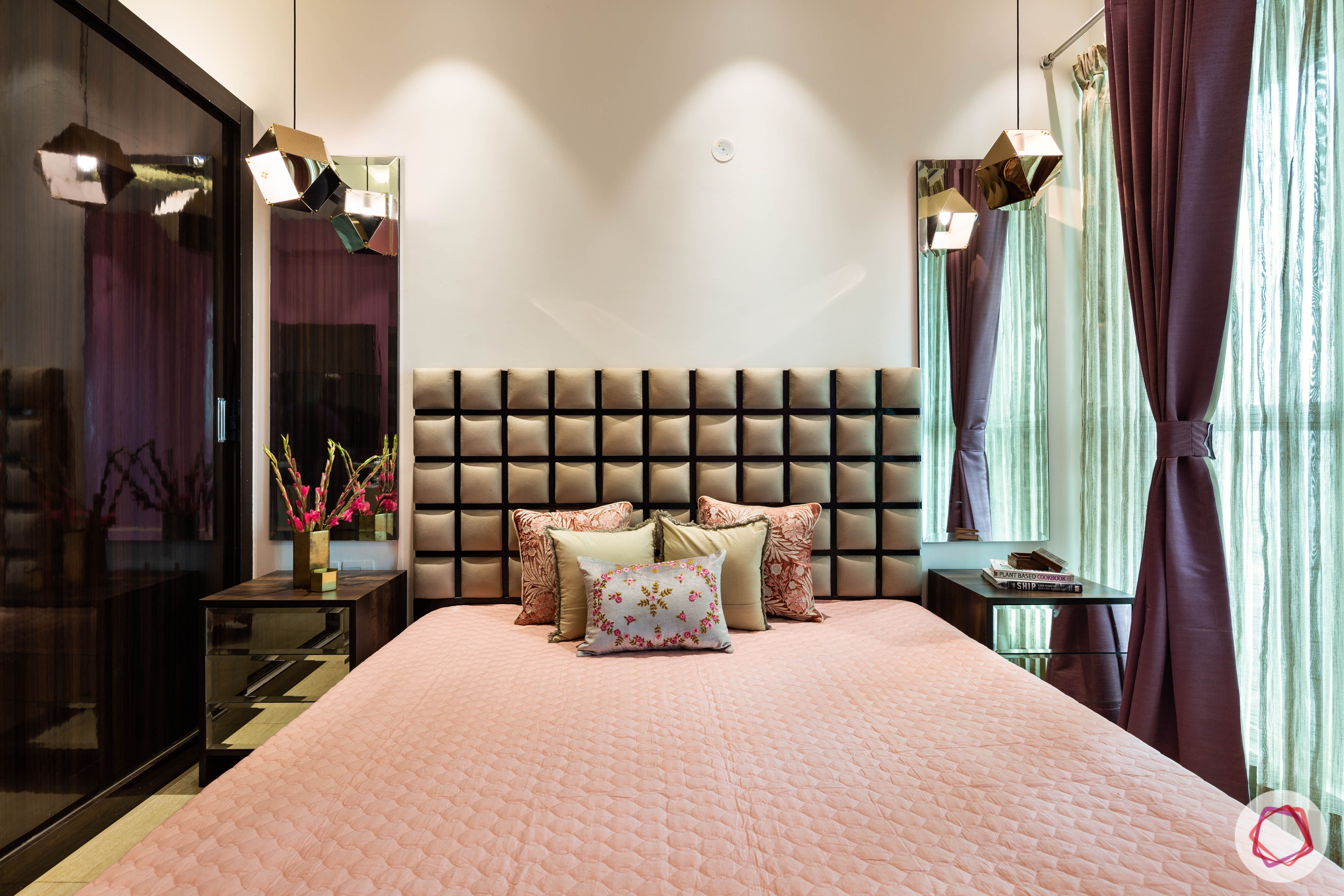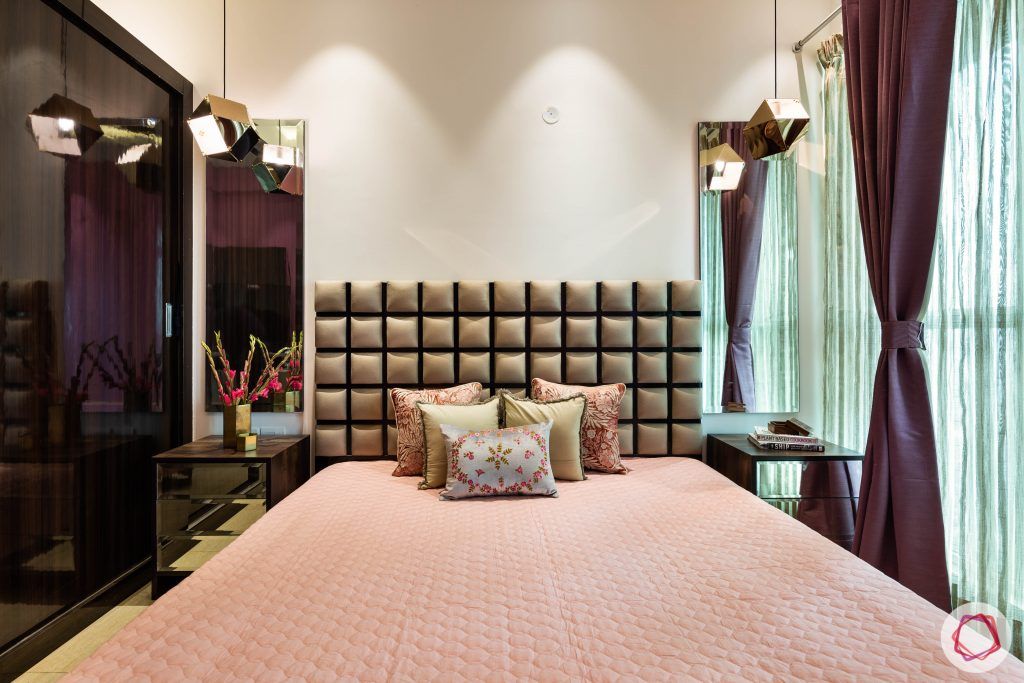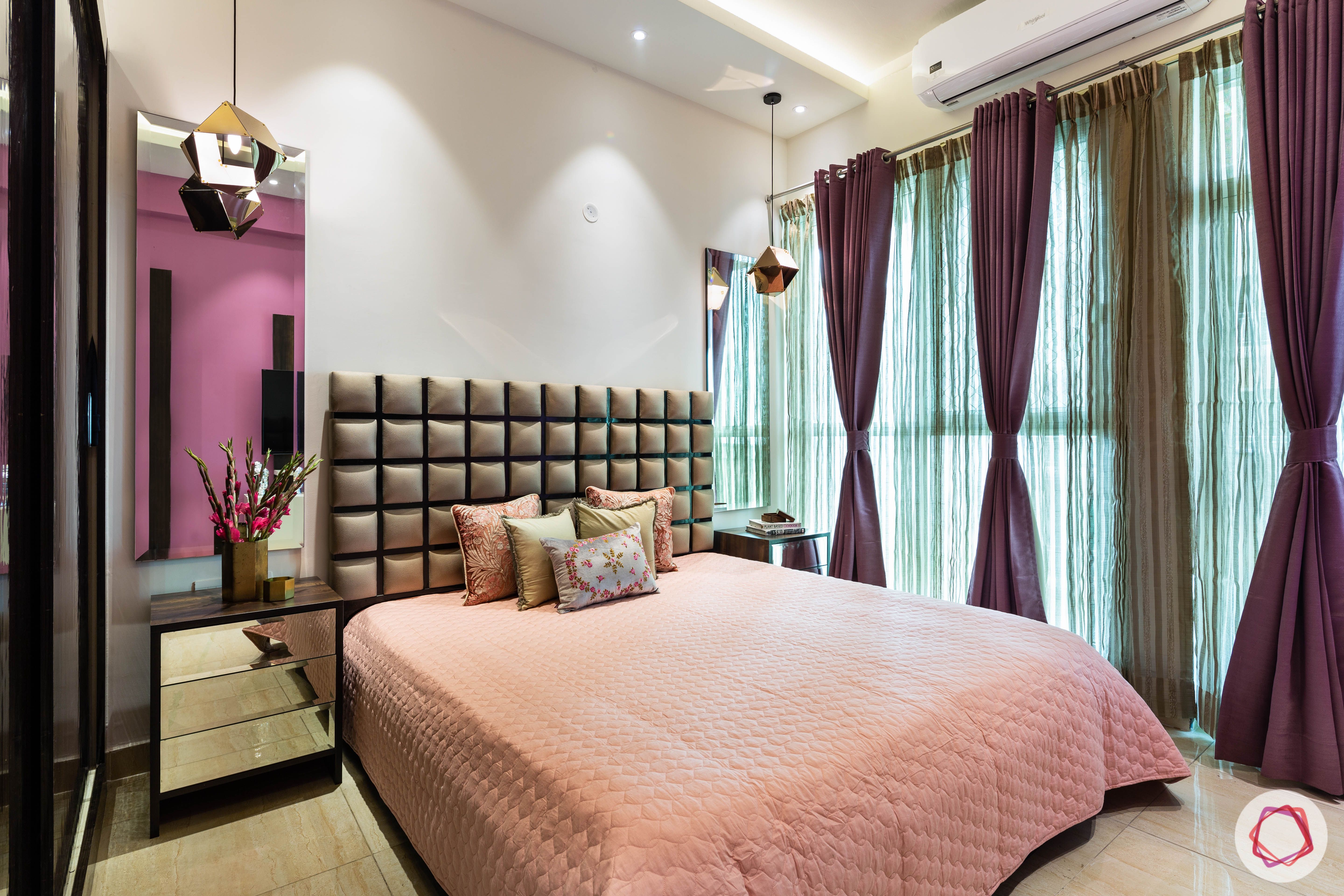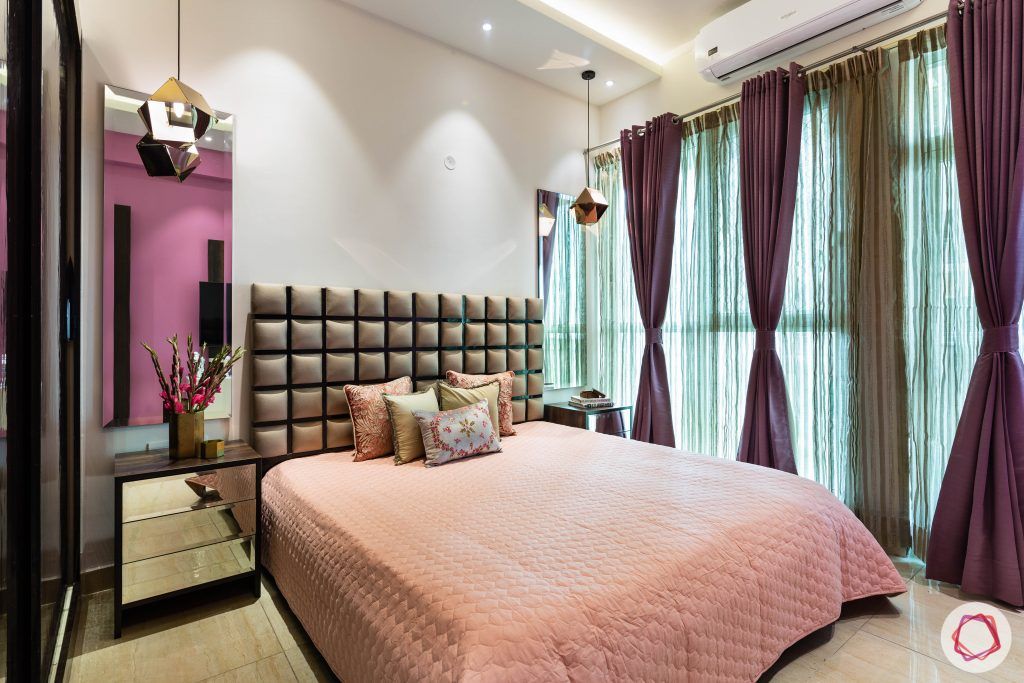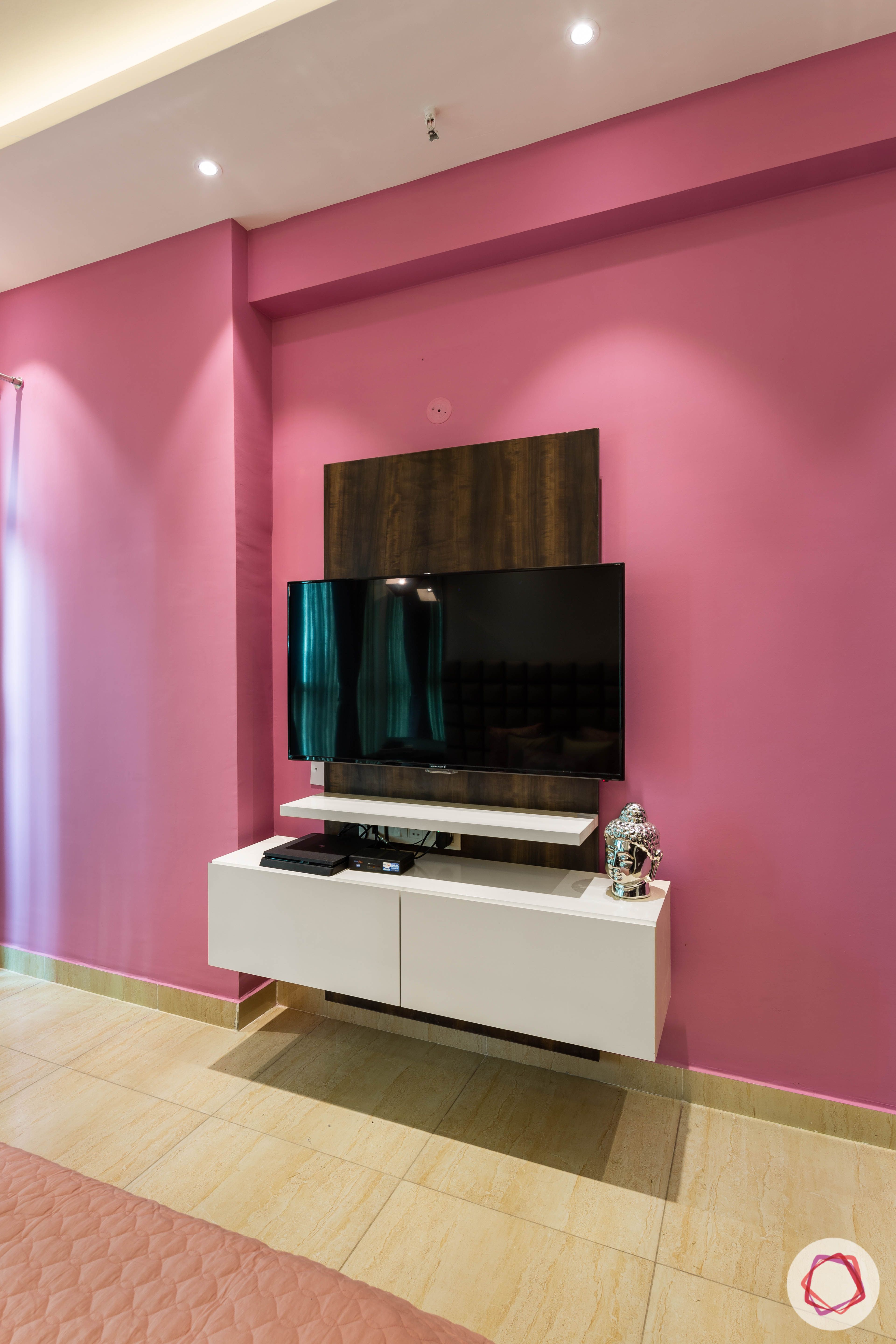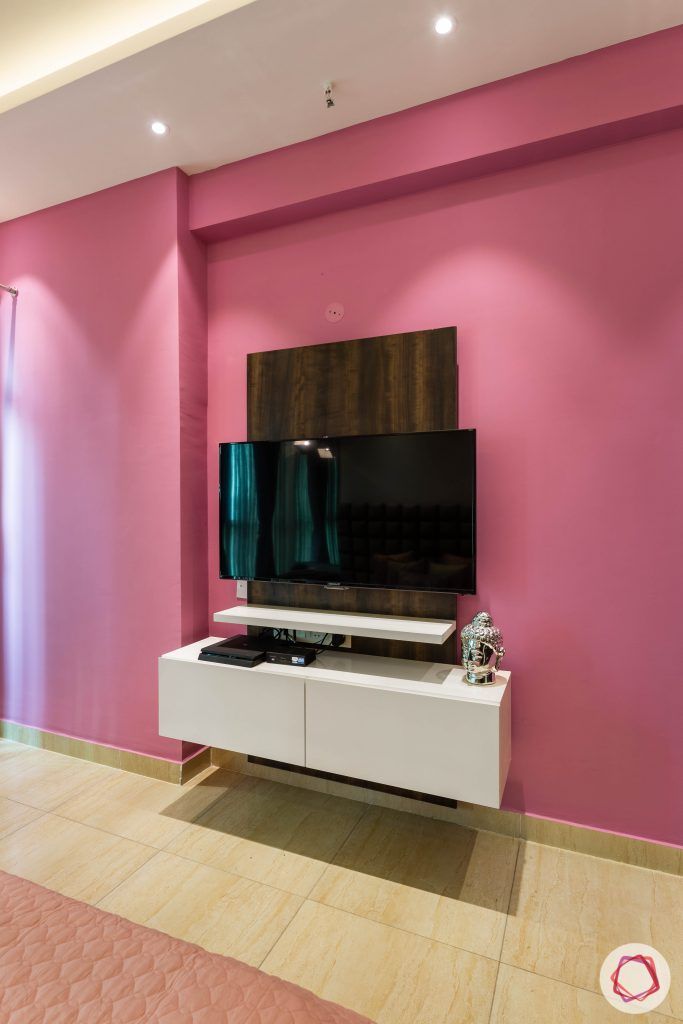 This is such a bright and happy room that it is giving us positive vibes. Instead of adding a bright wallpaper, Ashima gave them a budget-friendly option — wall paint. A pretty purple-pink wall on one side and a subtle cream wall opposite it is all that is required to make this room in this 3 bhk flat come alive.
This room belongs to Pulkit and since he was going to tie the knot soon, Ashima made sure that it is designed accordingly. Hence, you can spot side tables with full size mirrors and tinted glass finish that act as dressing corners for two people. Glossy pendant lights complete the look of this room.
---
"The clients were very easy to deal with, since they knew what they wanted. They were open to new ideas and concepts. As a designer it's great when we get to experiment and use our creativity. The only tricky part was to finish everything within budget and we managed to do it. I'm glad that the home looks so pretty and the clients are satisfied."

-Ashima Razdan, Interior Designer, Livspace
If you enjoyed reading how this home took shape, do not miss out on Why We Love This Luxe 3BHK!
Send in your comments and suggestions.