This 4 BHK flat design strikes the balance between comfort and elegance.
From vibrant colours to bold prints, the Emaar Palm Hills home has it all! Filled with desi elements, it is a reflection of the owners' personality, and we can't help loving it.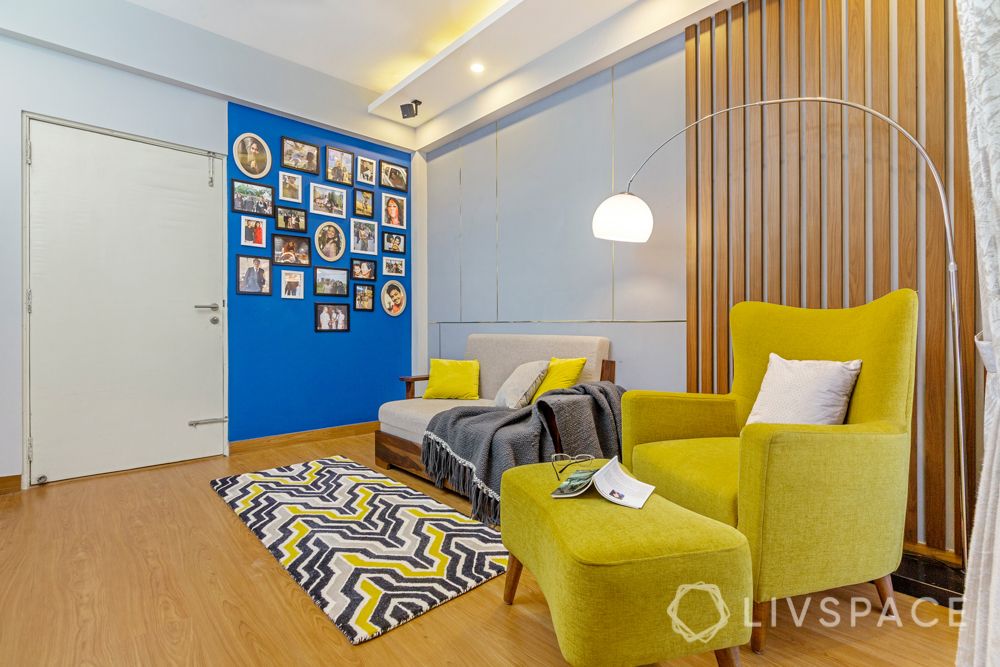 ---
Who livs here: Niveditaa Pal with her husband Malay and their two children
Location: Emaar Palm Hills, Gurgaon
Size of home: 4BHK spanning 3,500 sq ft
Design team: Interior Designer Bhina Agnihotri & Project manager Tarun Suri
Livspace service: Full Home Design
Budget: ₹₹₹₹₹
---
When the Pals approached Livspace Gurgaon to craft the interiors of their brand new home in Emaar Palm Hills, they were sure of what they wanted – a vibrant and cheerful home that had plenty of wooden elements as well. Moreover, some of these were heirloom pieces as well! So, with their appreciation of all things bright and beautiful, they had a unique requirement. They needed their interior designer to come up with a design that showcased the best of their personalities and cultural heritage. But they did not want to go overboard!
So Livspace designer Bhina Agnihotri took upon herself the challenge of designing the Pals' dream home. It's gorgeous yet functional, and has the right mix of desi and modern designs. Finally, the Pal home has a cheerful yet relaxed feel. Step in this 4 BHK flat design and check it out for yourself!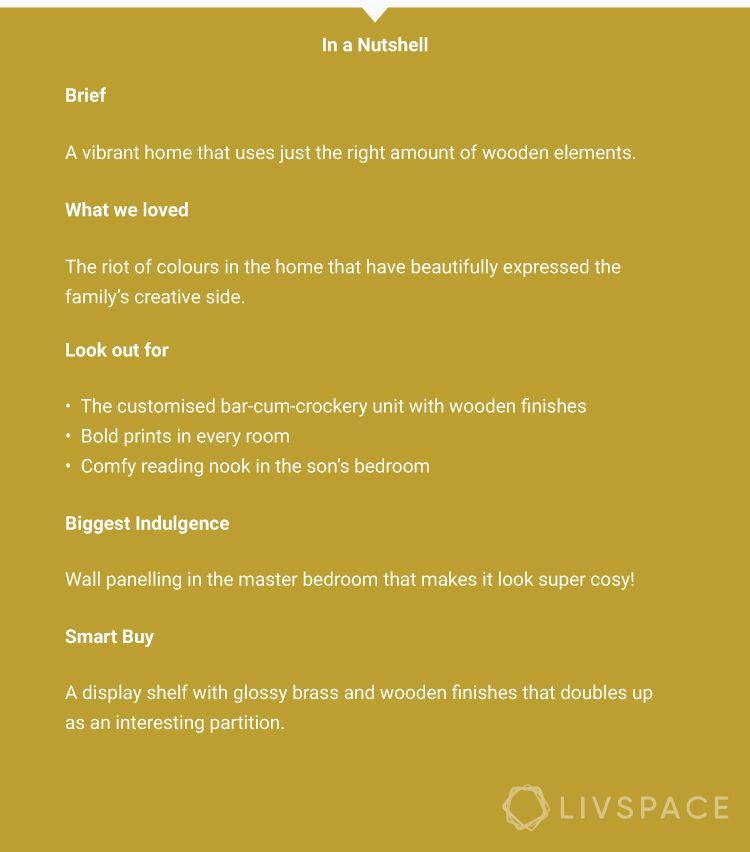 Range of Storage Options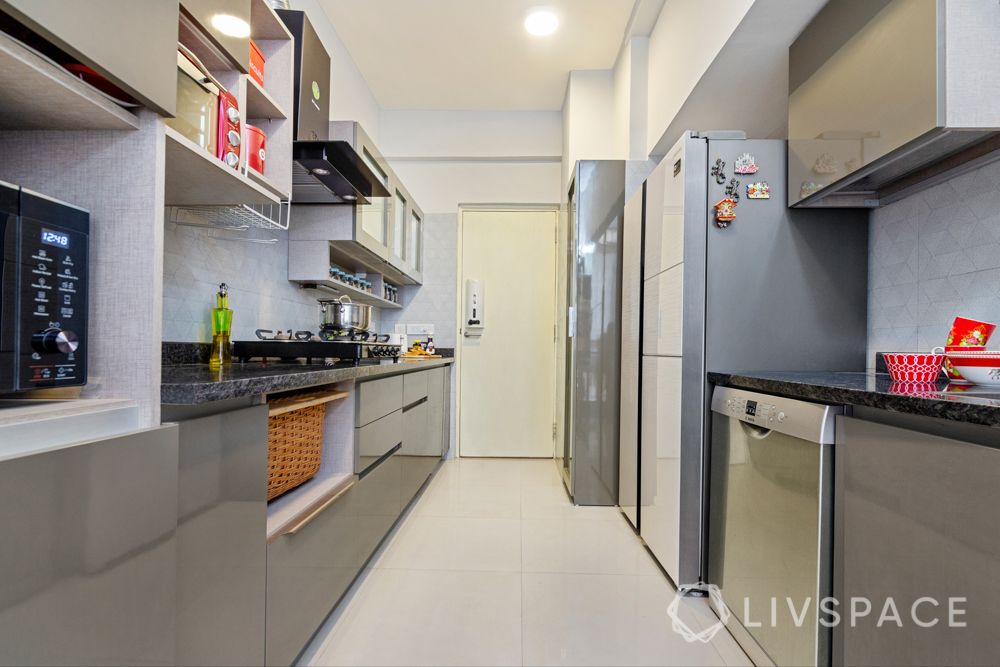 The new kitchen at the Pals' Emaar Palm Hills home comes in soft neutrals, with a granite countertop and subtle patterns on the backsplash. Moreover, it has frosted glass shutters on the wall cabinets and drawers in place of base cabinets. The Livspace team has also thoughtfully included a wicker basket for storing fresh produce. Lastly, a plethora of open shelves hold spices, while wire racks and hooks round up the storage essentials in this kitchen.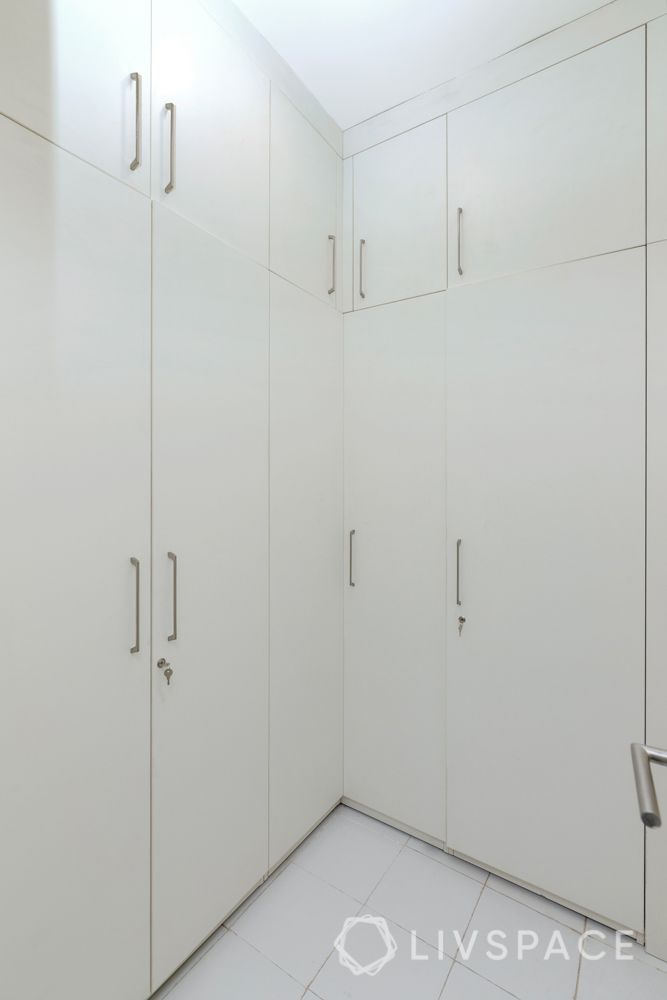 Nothing screams "luxury" like a walk-in wardrobe! Nestled in a nook at the far corner of the master bedroom, this white walk-in wardrobe in laminate finishes makes the space appear larger than life!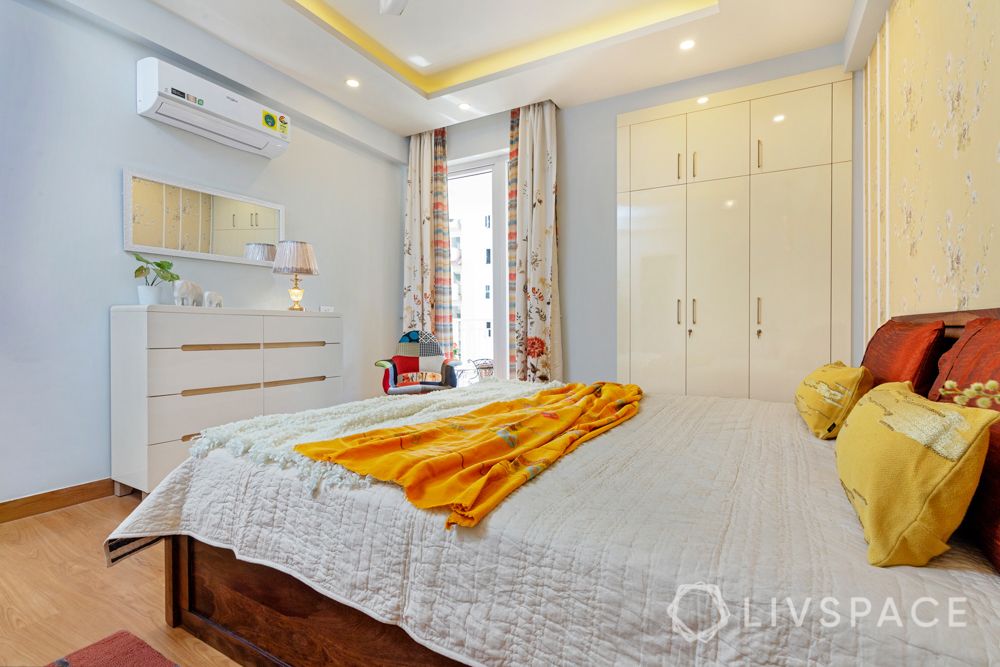 In their daughter's bedroom, Malay and Niveditaa loved the idea of high gloss laminate finishes on the wardrobe and dresser. The choice of light colours also makes the room look as spacious as can be!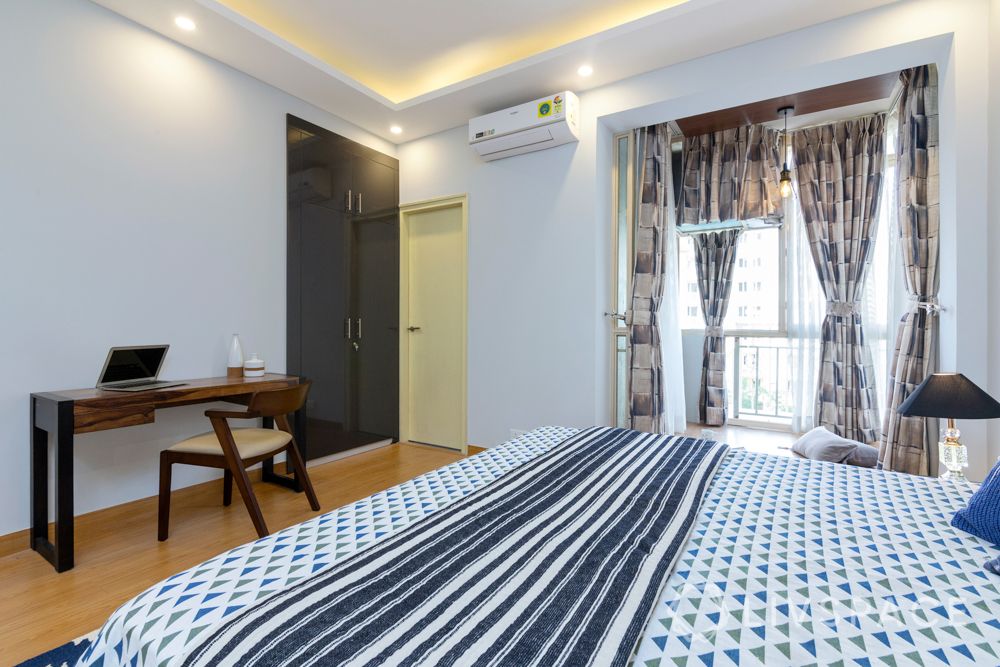 Stepping into the son's bedroom in this 4 BHK flat design, you can see the wooden finish wardrobe beside the study table. This glossy laminate finish wardrobe also blends seamlessly into the room. However, can you spot the other wardrobe? This sliding wardrobe with mirror panelling not only adds to the storage space in the room, but opens it up, making it look large and spacious.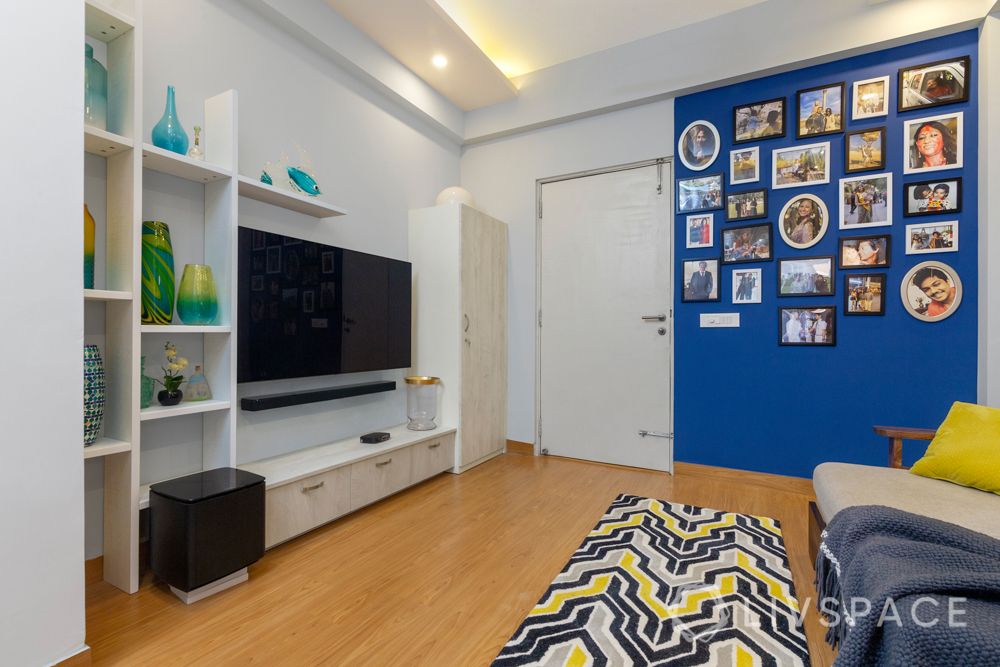 This elaborate TV unit in white laminate fits seamlessly into a brightly coloured room. So, the Pals can display their accessories here. Moreover, with closed cabinet and drawers, they can keep things away as well!
Personal Spaces Customised in Style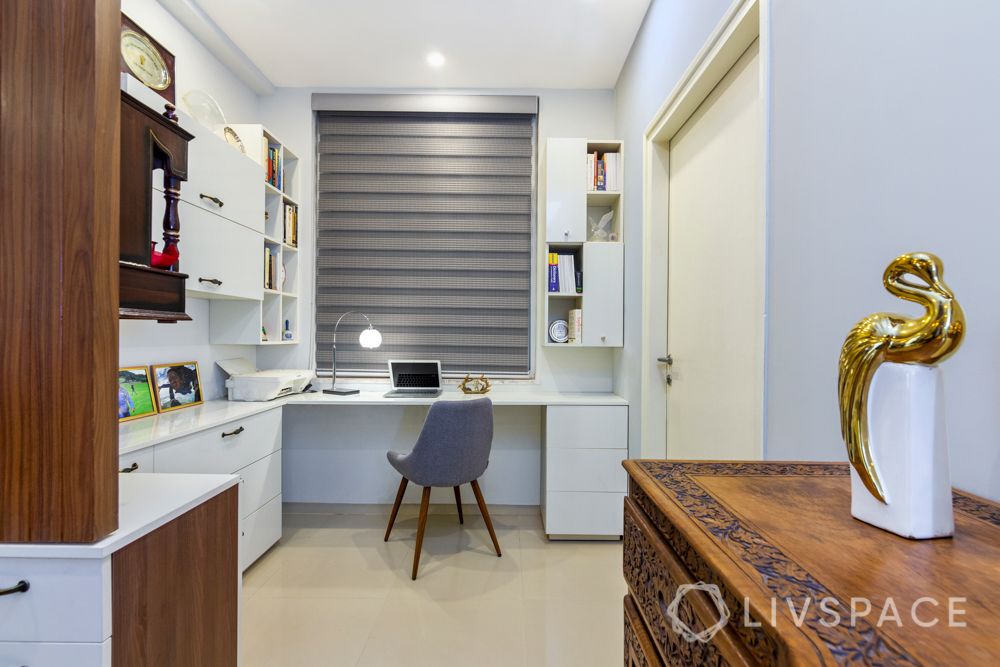 The Pals wanted a dedicated study at home – a quiet space where they could work in silence. So the Livspace Gurgaon design team came up with this design. Having partitioned a section of the dining room, they crafted this space in glossy whites and greys. Do not miss out on the amount of storage packed into this tiny space! And by isolating the area, the team ensured that you can work undisturbed for as long as needed!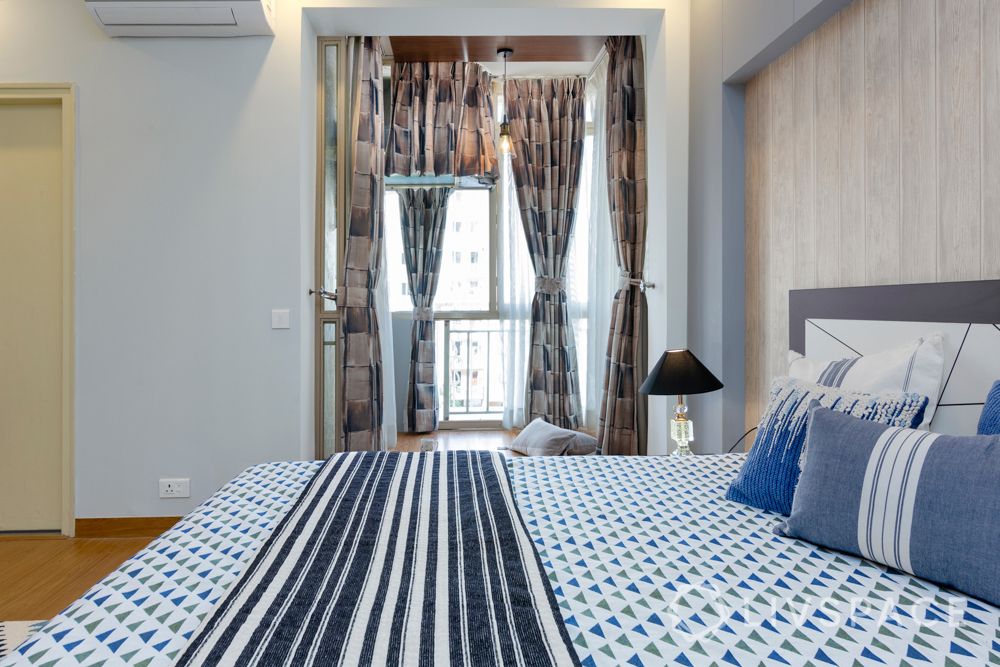 This cosy nook is every bookworm's dream! Instead of using furniture in this narrow space, the Livspace team has designed this space specially for floor seating. With a single bulb above to provide a warm glow, this is the perfect place to snuggle up with a book!

Go Bold with Prints and Patterns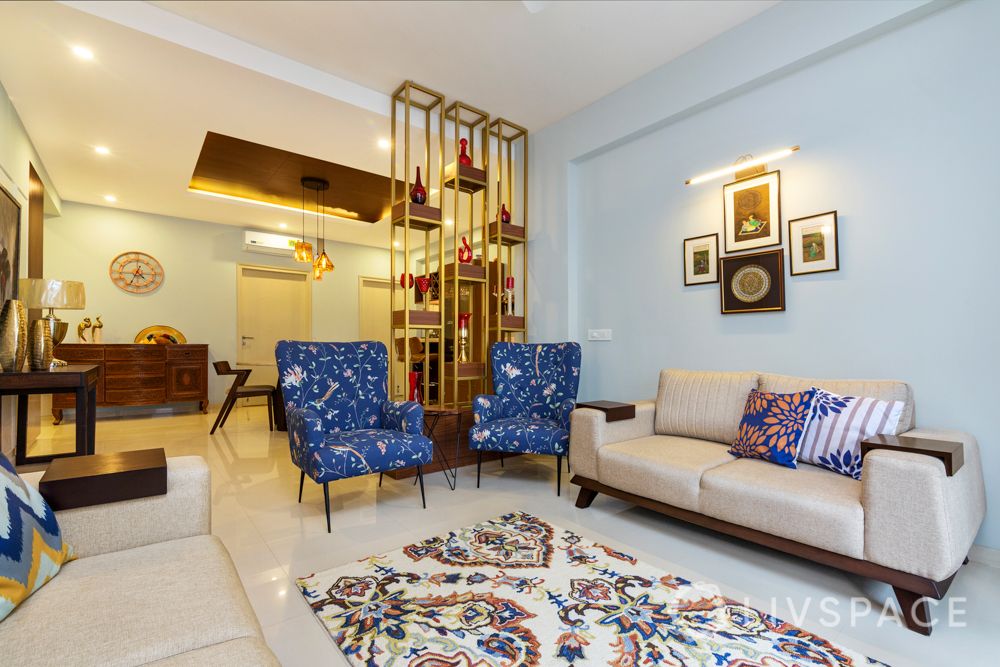 While the Pals wanted to go bold with colours, they still wanted their 4 BHK flat design to look modern and elegant. Tasked with balancing the two, the Livspace Gurgaon team came up with this design for a living room with delicate sky blue walls, with an off-white loveseat placed against it. She then amplified the vibrancy of the room with bright blue accent chairs with floral upholstery from the Livspace catalogue. The colours of the room find reflection in the carpet with desi motifs on the floor, as well as the cushions scattered on the sofa and the couch.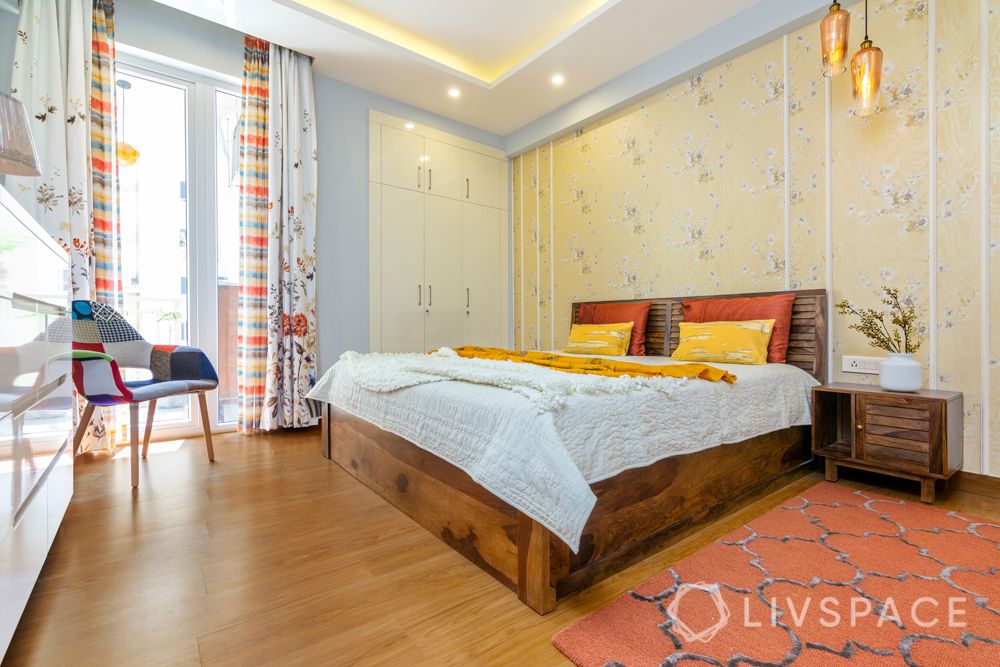 For their daughter's bedroom, the Pals settled on a pastel yellow wallpaper with floral motifs. This simple yet soothing wallpaper adds some vintage charm to the space. Doesn't it transport you to another era?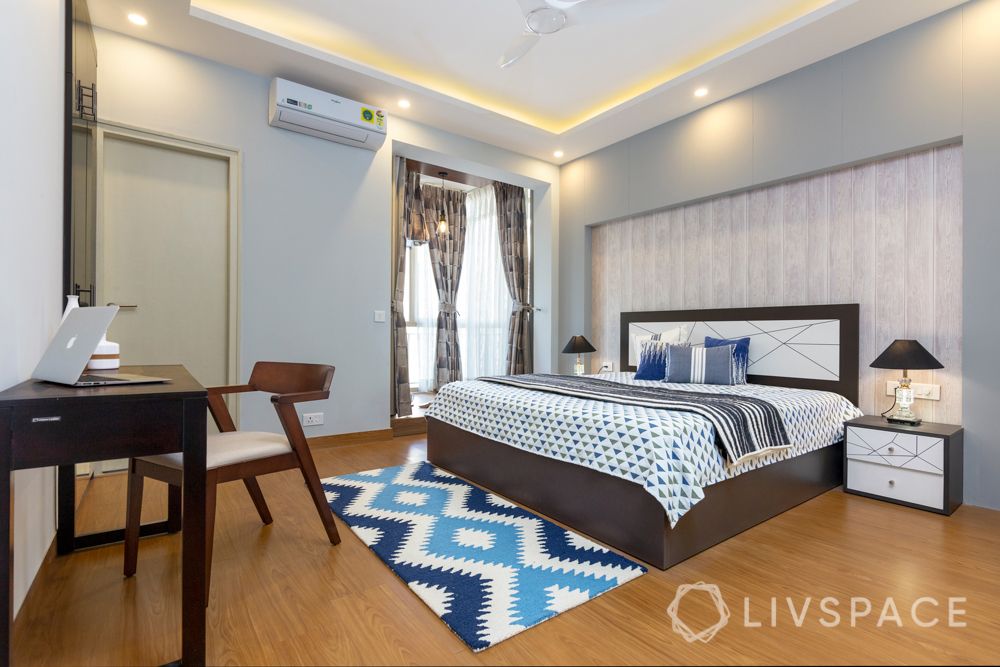 In the otherwise muted son's room, the rug creates a splash with its bright blue prints! The combination of zigzag lines and geometrical shapes creates a pattern that is at once bold and uncluttered.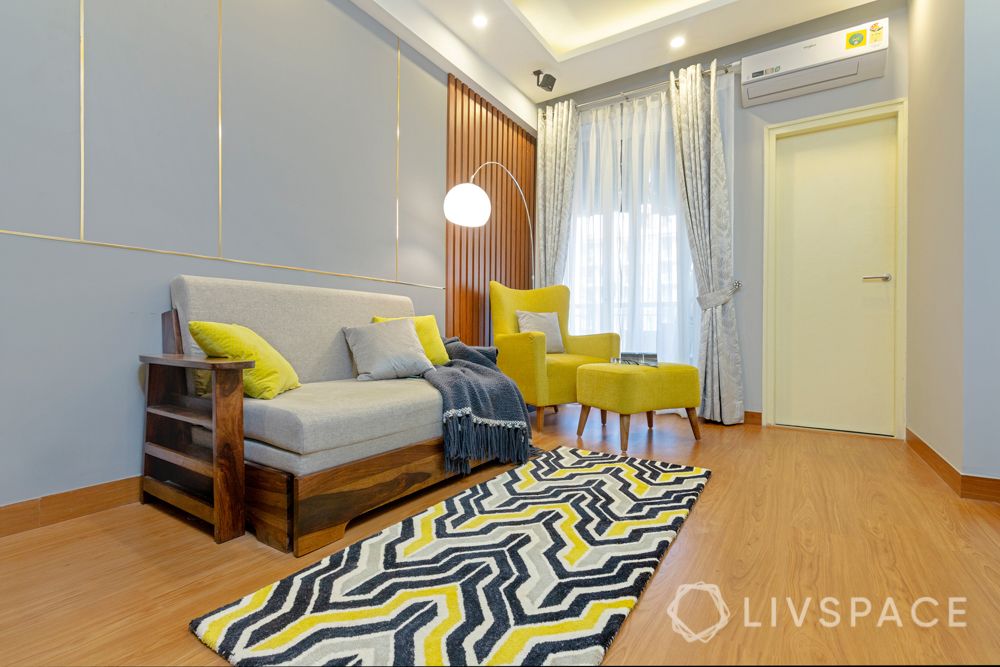 Grey walls with metal strips and a yellow accent chair make for an eccentric combination? Tie them together with a rug that spices the entire room up! With the jazzy print on the carpet, this room looks modern and inviting!
What's a Home Without Wooden Elements?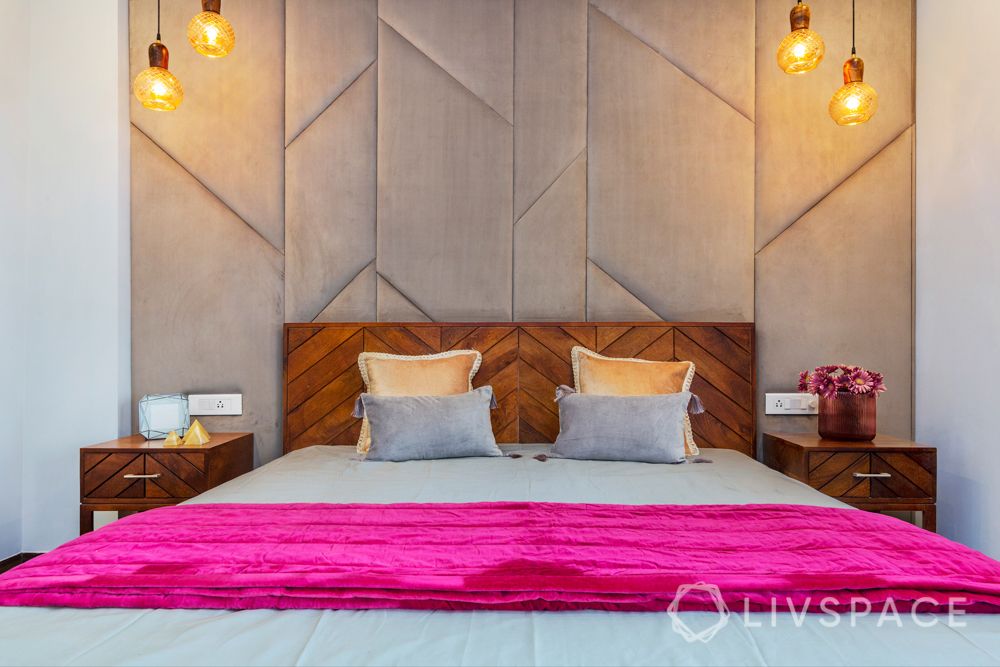 With the Pals' fondness for wooden furniture, how could you expect the master bedroom to be bereft of a few eye-catching pieces? The wooden bed and side tables from the Livspace catalogue standing against a luxe fabric wall panel make this bedroom an oasis of traditional Indian charm. Moreover, when you bring in the Pals' existing wooden wardrobe and TV unit, and the place looks like a dream. And when happens when you add an antique carved floor lamp as well? Simply put, the bedroom in this 4 BHK flat design looks ready for royalty.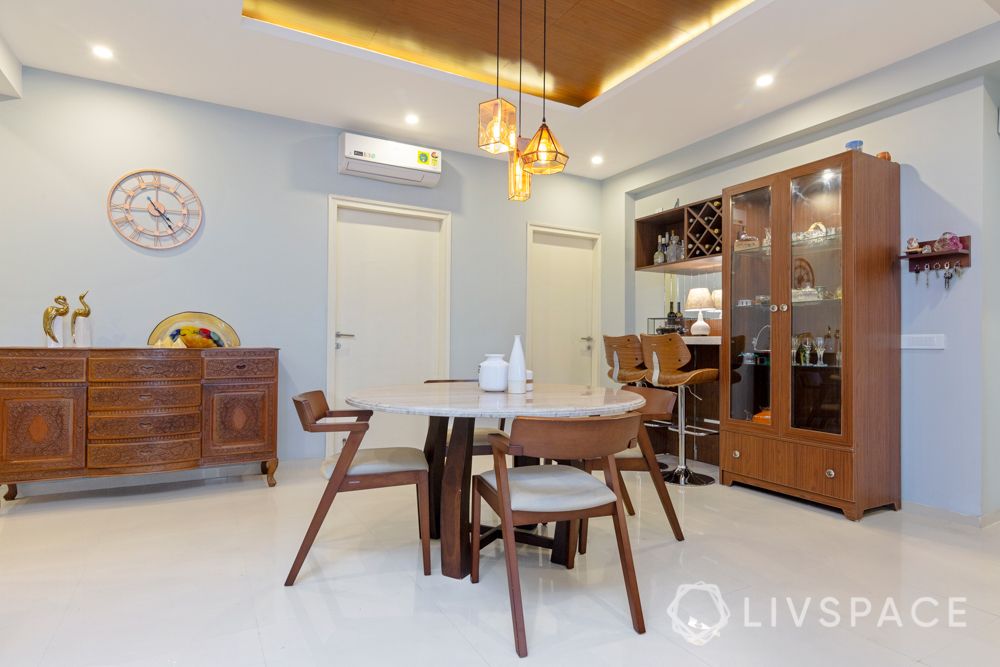 From the wooden false ceiling that lends a traditional vibe to the place to the round dining table and modern dining chair design, this room has wooden elements aplenty. Moreover, watch out for the carved crockery unit behind the dining table – it adds to the desi charm!
And how can you miss out on the custom crockery-cum-bar unit in wood in this space? It comes complete with a counter with seats for two. Overall, it looks like a snug spot for the family to unwind over a drink!
Light up the Home Right!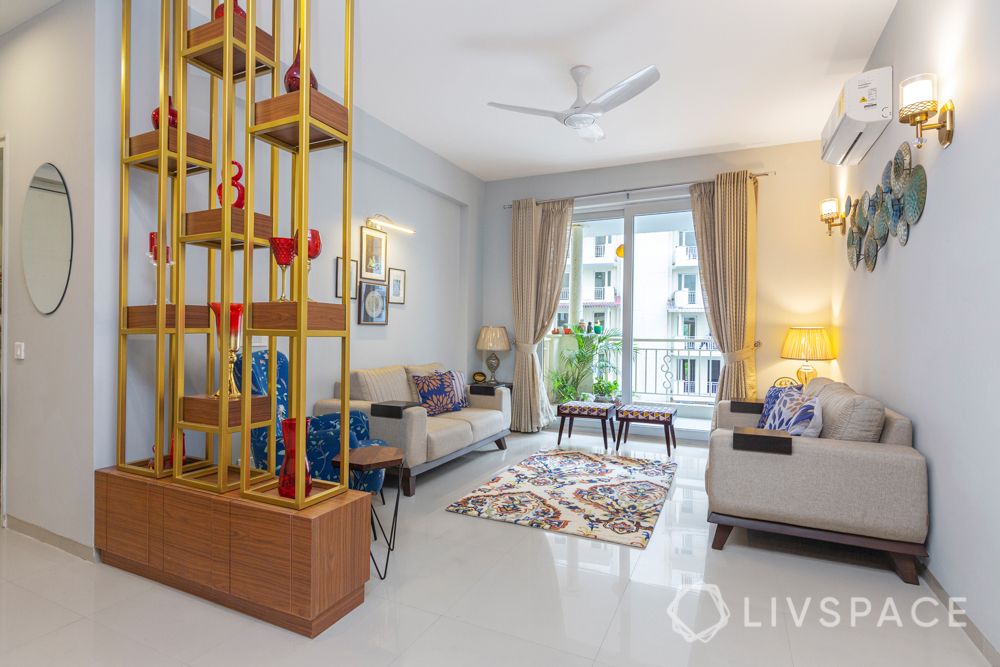 You can take a tip or two from the lighting in this living room! Above the paintings, the Livspace team has positioned a picture light. On the opposite wall, we have wall sconces. Do not miss out on the table lamps either! So, no matter what conversation goes on in this space, we're sure the Pals will have the right light for it!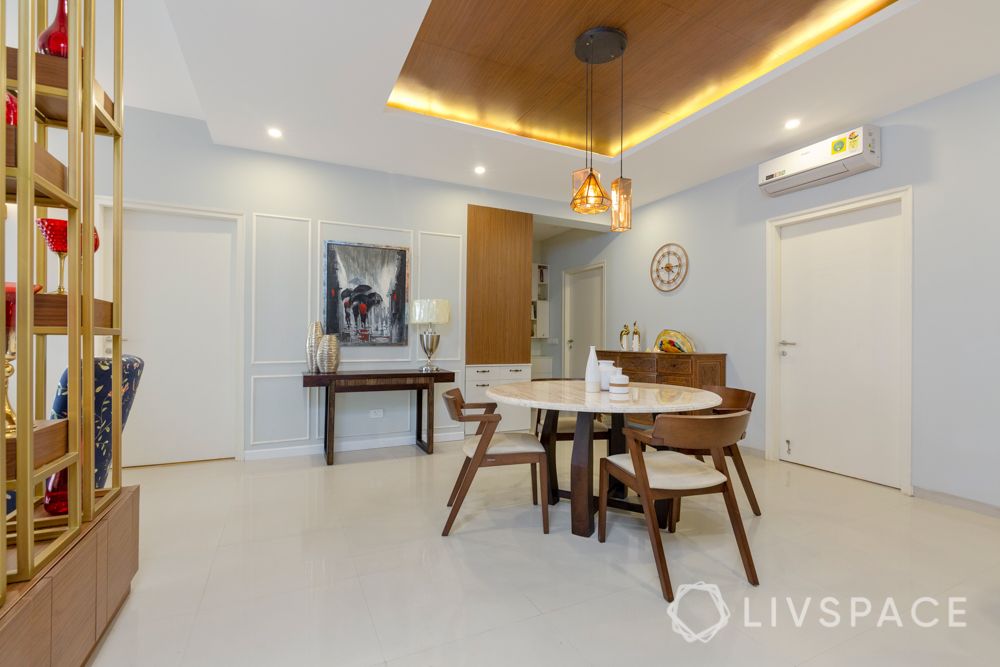 What pairs better with a wooden false ceiling than a cluster of lights, giving off a warm, golden glow? This dining room, with its wooden false ceiling, is enveloped in the warm glow of the cluster of pendant lights. Moreover, it easily forms the focal point of the dining room in this 4 BHK flat design.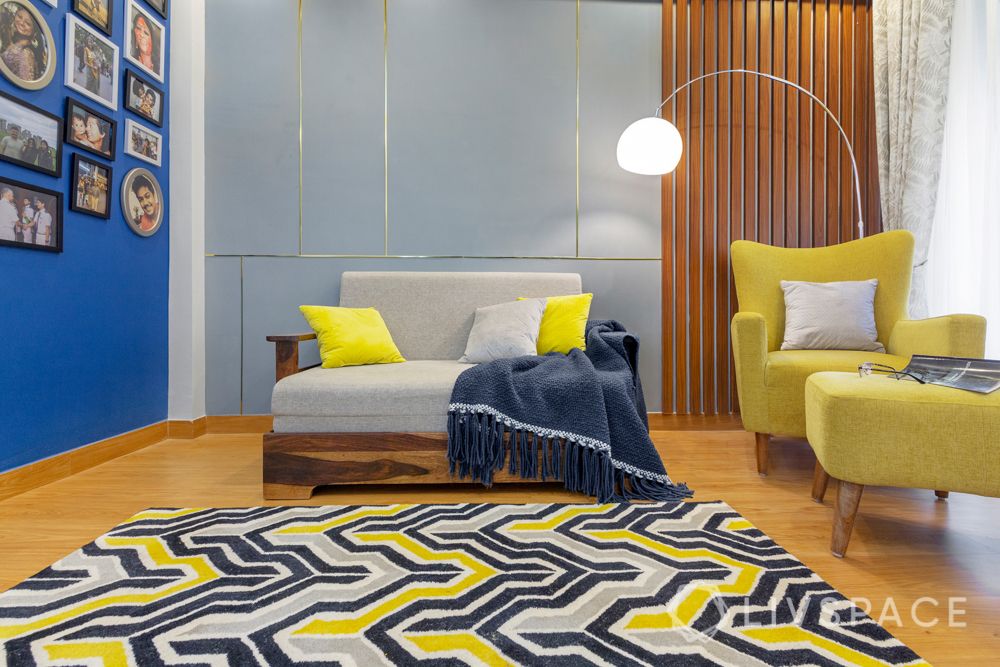 A simple flexible floor lamp sets the mood for those movie nights in this foyer. Bend it down to the right height, and set the mood for binge-watching shows, catching up with the family, or just unwinding in silence.
Like the living room, this bedroom comes with different kinds of lights. Firstly, we have cove lights built into the false ceiling in this space cover the basics. A pair of pendant lamps with glass shades on either side of the bed envelop the room in a soft golden glow, setting the mood for pillow talk. Against the fabric-panelled wall, this creates a cosy, desi effect that we can't help loving.
Lastly, don't miss out on the floor lamp in this room. Made of carved wood, this antique piece stands right next to a rocking chair and can also set the mood for quiet contemplation in semi-darkness.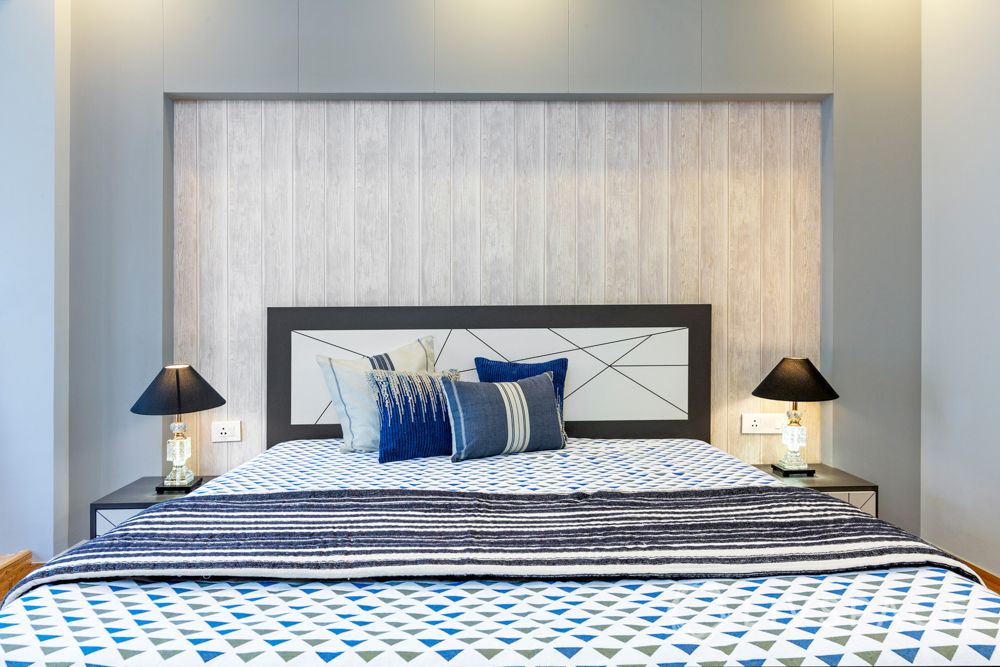 A pair of table lamps on either side of the bed caught our eye in this room. These lamps with black shades seamlessly tie in with the modern vibe of the room. What's not to love about it?
No Space for Bare & Boring Walls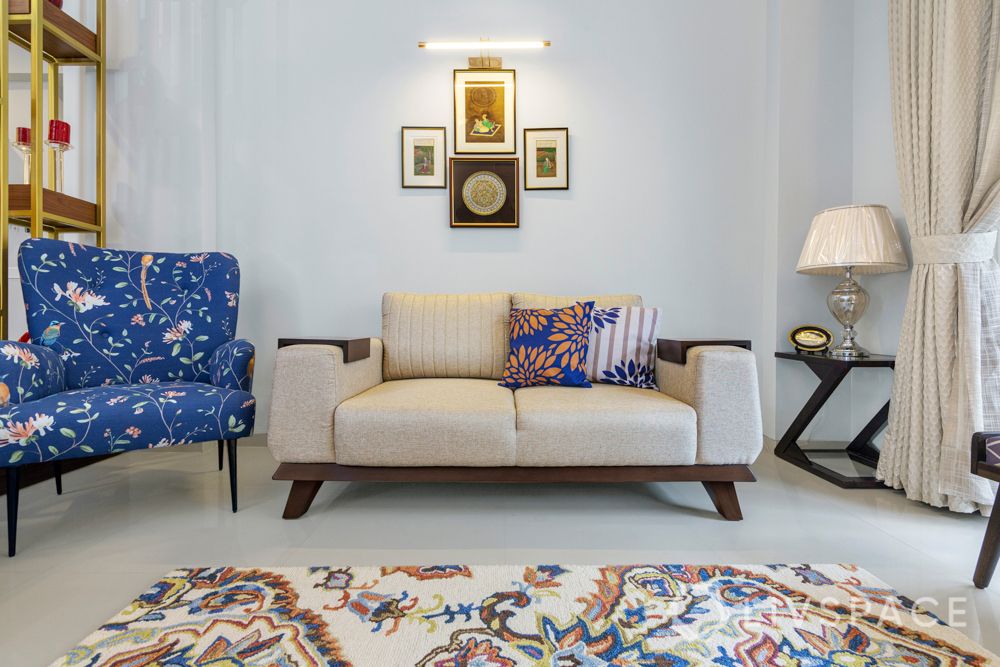 Malay and Niveditaa's mind decked up their sky blue living room walls with some artwork. With Rajasthani paintings, the room looks so traditional! On the other wall, we also have metallic accessories that add to the desi decor in the room. Doesn't it look grand?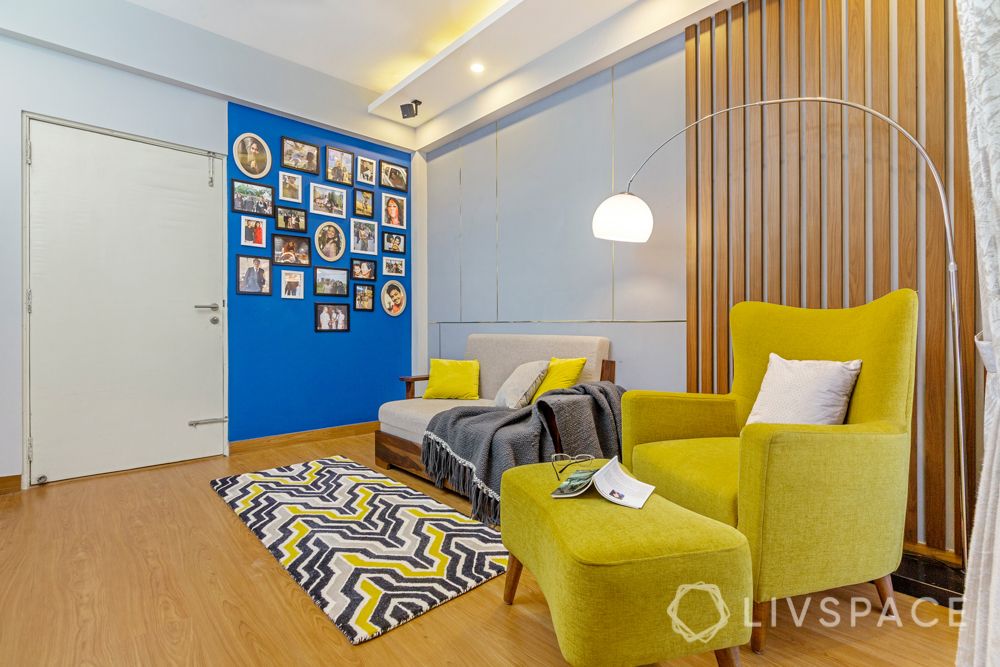 Why not create a gallery wall to fill up an empty wall? So, in the family's lounge, the Livspace team suggested a bright blue wall that serves as the perfect backdrop for the Pal family's memories.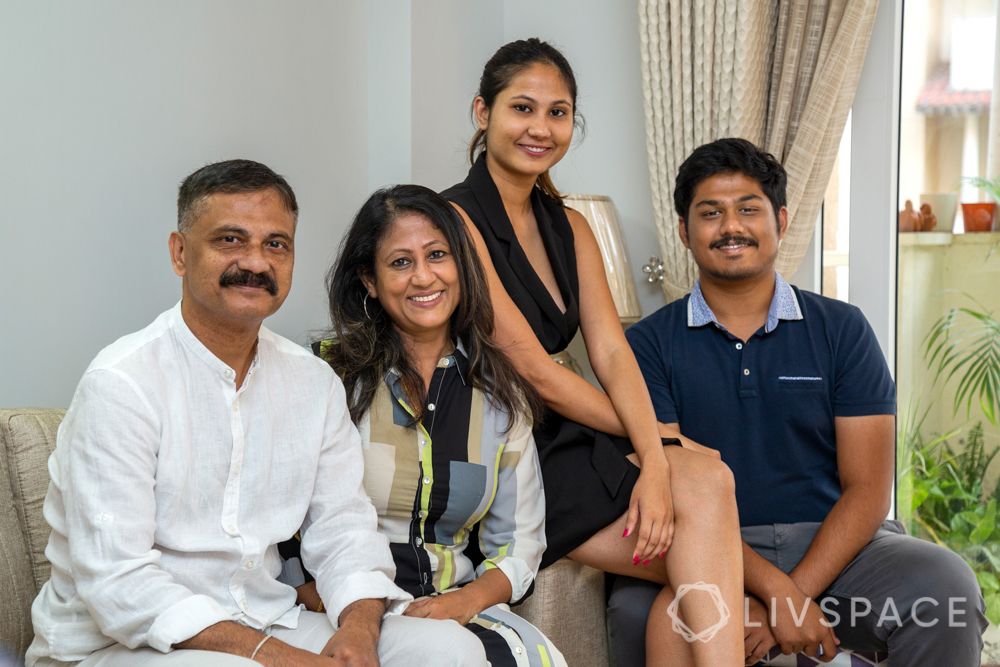 "The Pals wanted a bright and cheerful home that had its fair share of traditional elements, but with the right modern touches. Since they were also keen on using their existing furniture, we wove this 4 BHK flat design around it and they were happy with how it turned out!"

– Bhawna Kalra, Design Manager, Livspace
Want to peek into another Gurgaon home with a mix of decor styles? Check out Creatively Crafted 3BHK for Newly-weds .
Send in your comments & suggestions.