2 BHK flat interior filled with lovely mirrors!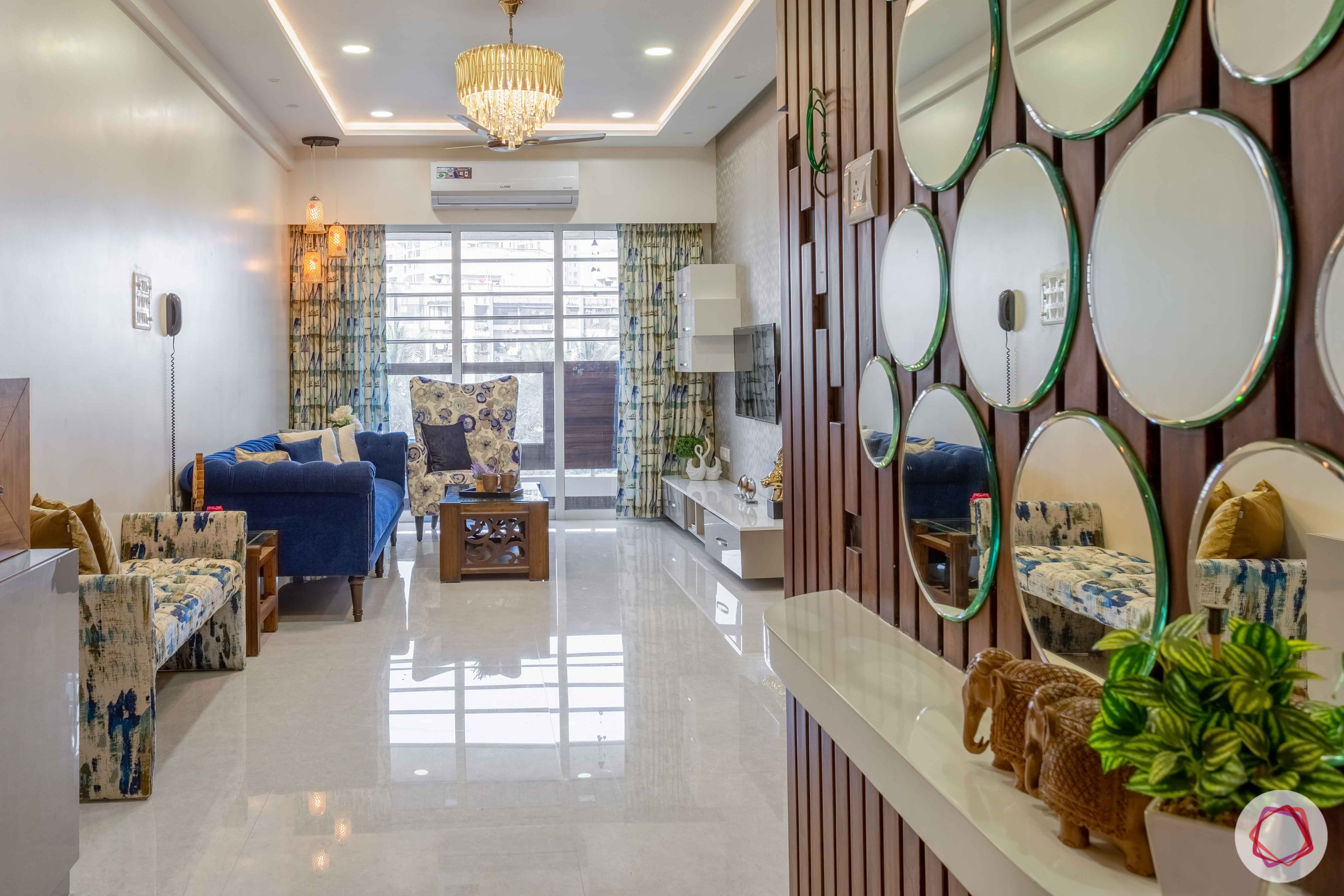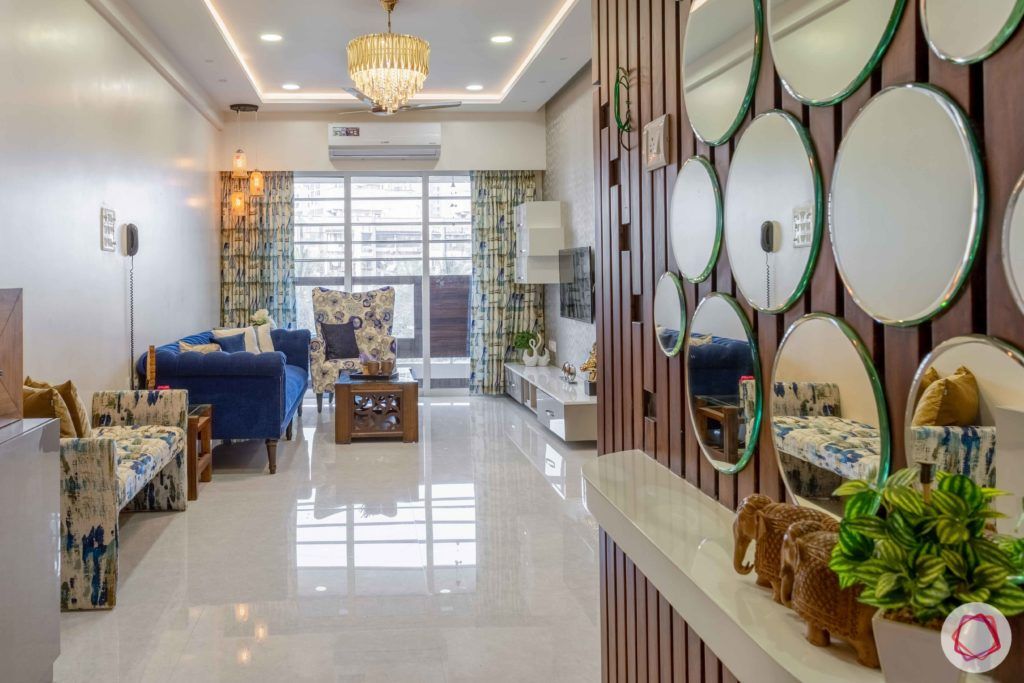 ---
Who livs here: Darshana Tendulkar with her husband, their son and parents-in-law
Location: Gundecha Trillium, Borivali East, Mumbai
Size of home: A 2BHK spanning 900 sq ft approx.
Design team: Interior Designer Yogita Itkarkar and Project Manager Mridul Nair
Livspace service: Full home design
Budget: ₹₹₹₹₹
---
Curating a beautiful mirror-filled home is an art. It is easy to go overboard and ruin the look. But this one just nails it. This 2 BHK flat interior is as close as it can get to perfection. The Tendulkar family moved to Gundecha Trillium so that they could reside in a better locality and enjoy a bigger home. Hence, they wanted their home to be designed professionally.
It was time for Livspace to step in and Yogita Itkarkar became their designer. She is a good listener and picked up all the cues during their design discussions. Mirrors are something that the family loves and she made sure she used them judiciously wherever possible. The foyer houses a wonderful collage of tiny circular mirrors to start with. You will be amazed by all the elements that stitch this house together. Take a tour.
2 BHK Flat Interior: Mirrored Entrances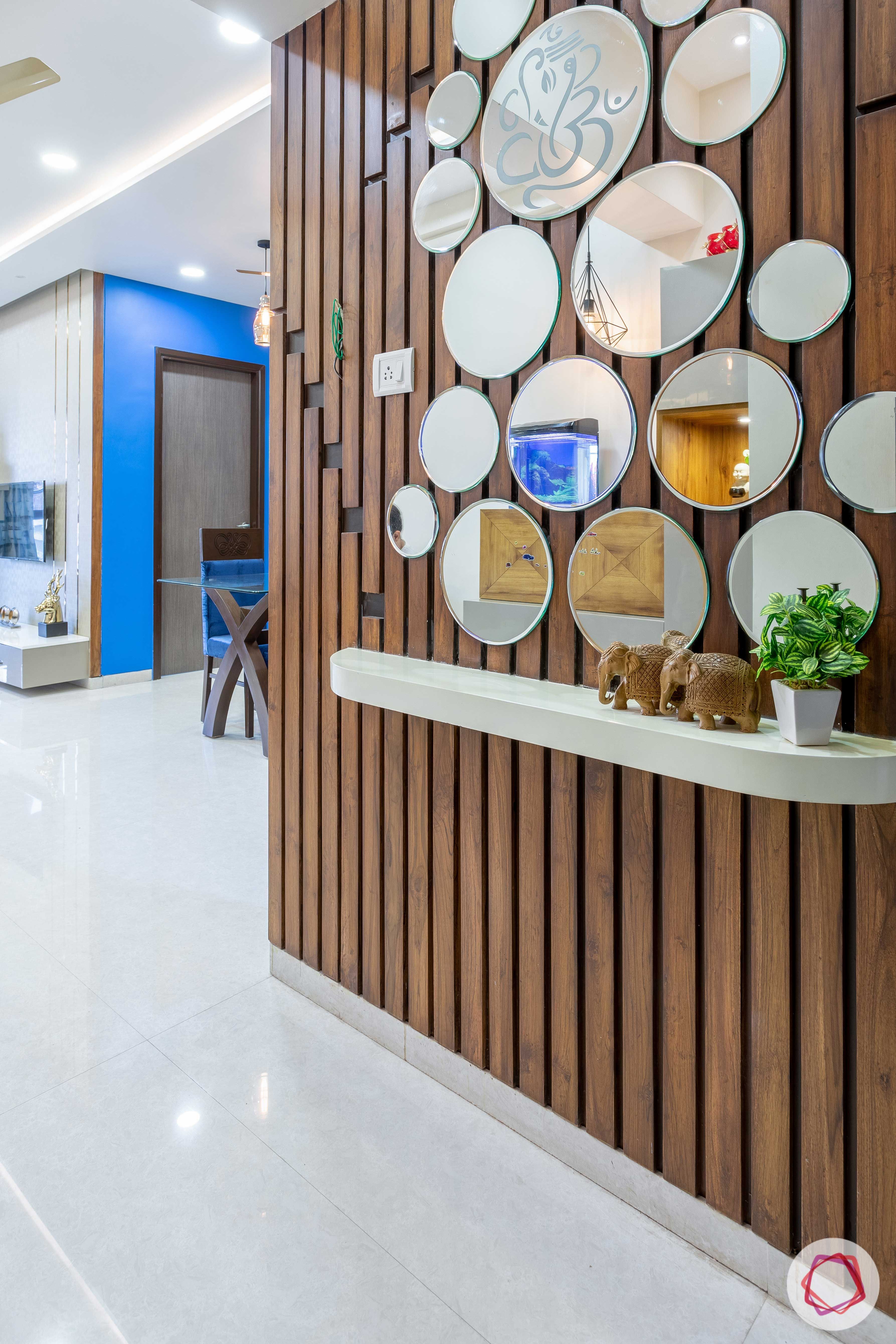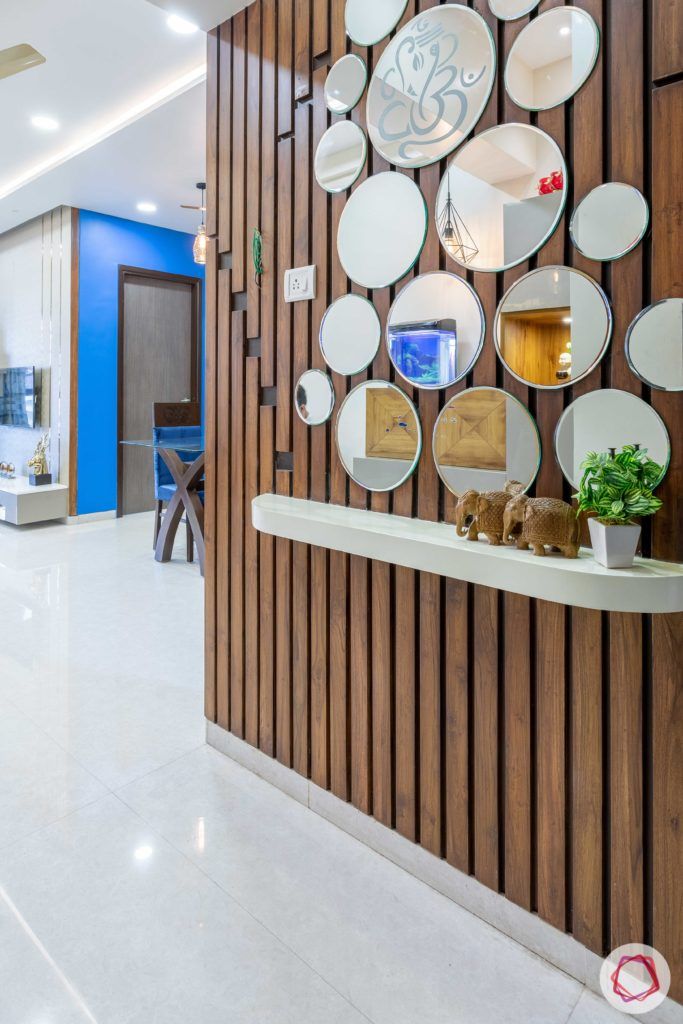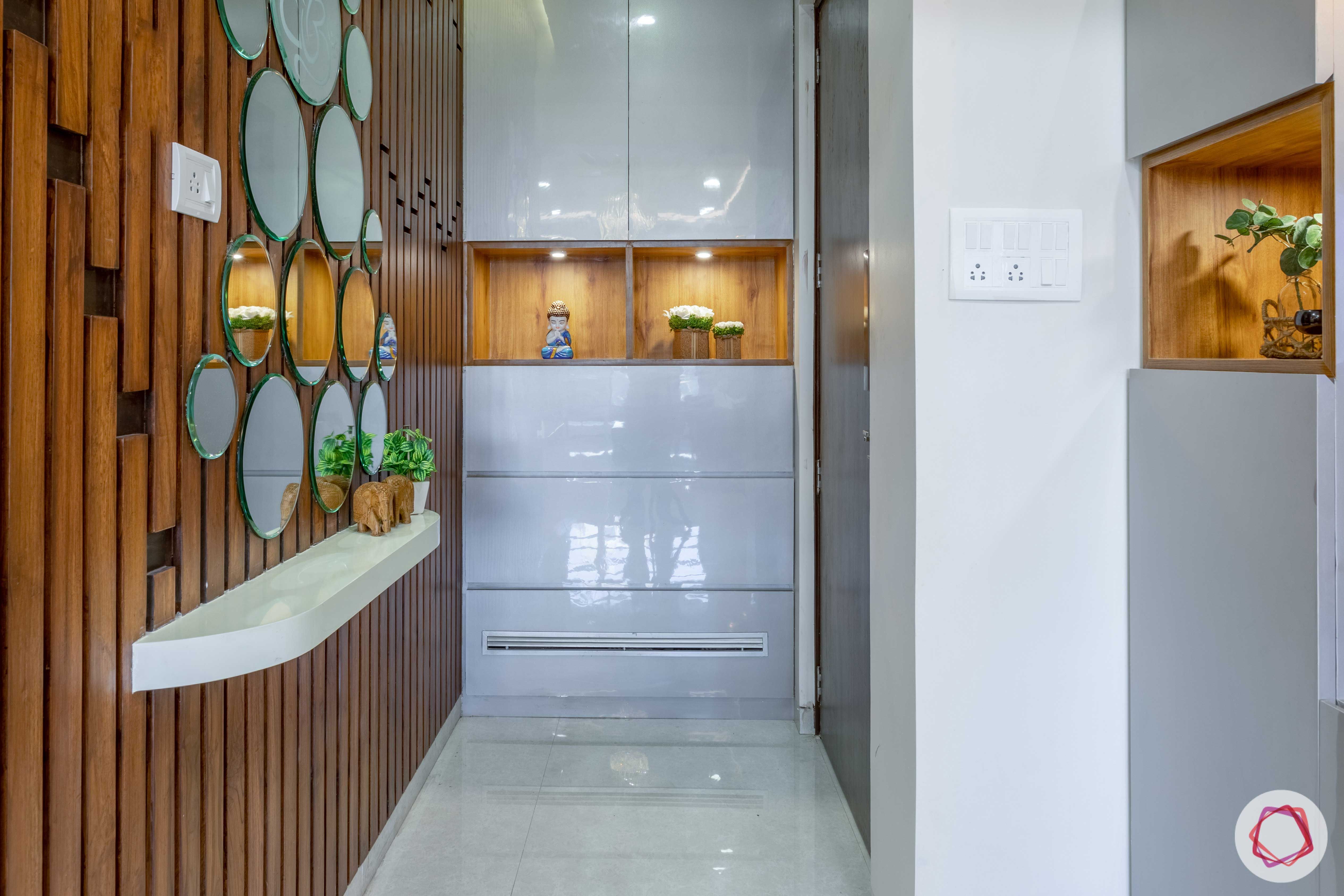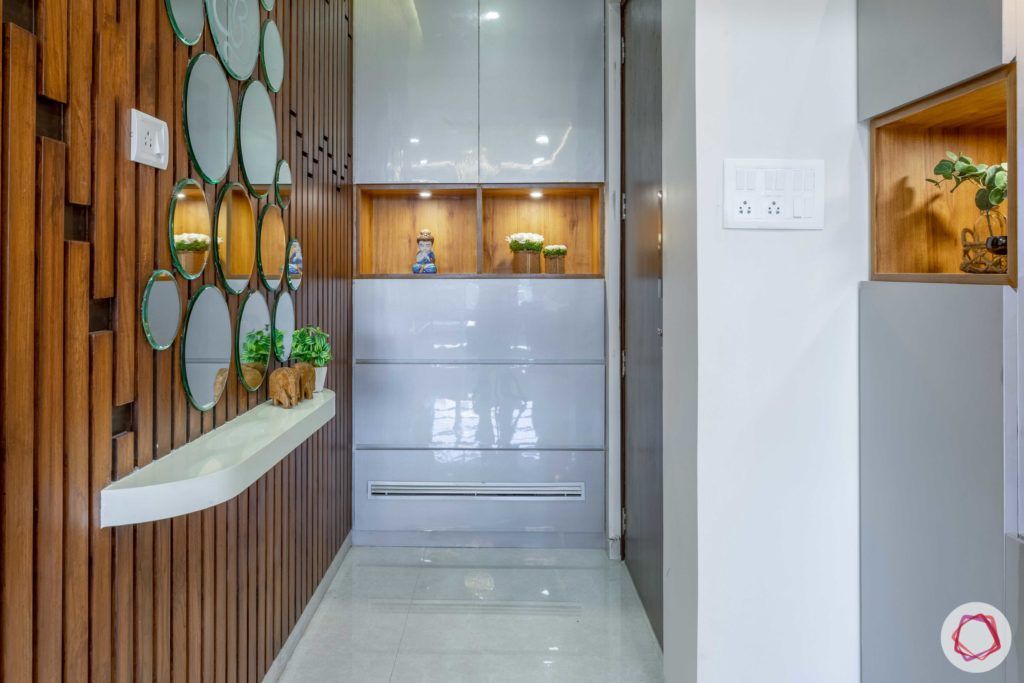 The entrance to this spacious home tells you exactly what you should be looking forward to. The highlight of this space has to be the wooden patti with the tiny circular mirrors that form a collage on it. The family also wanted a Ganesha idol here and Yogita came up with an intelligent solution. She carved an outline of the deity on one of the mirrors.
You can also spot storage units next to this accent wall. Complete with wooden niches and spotlights, this is the right place to display coveted curios!
2 BHK Flat Interior: A Comfy Living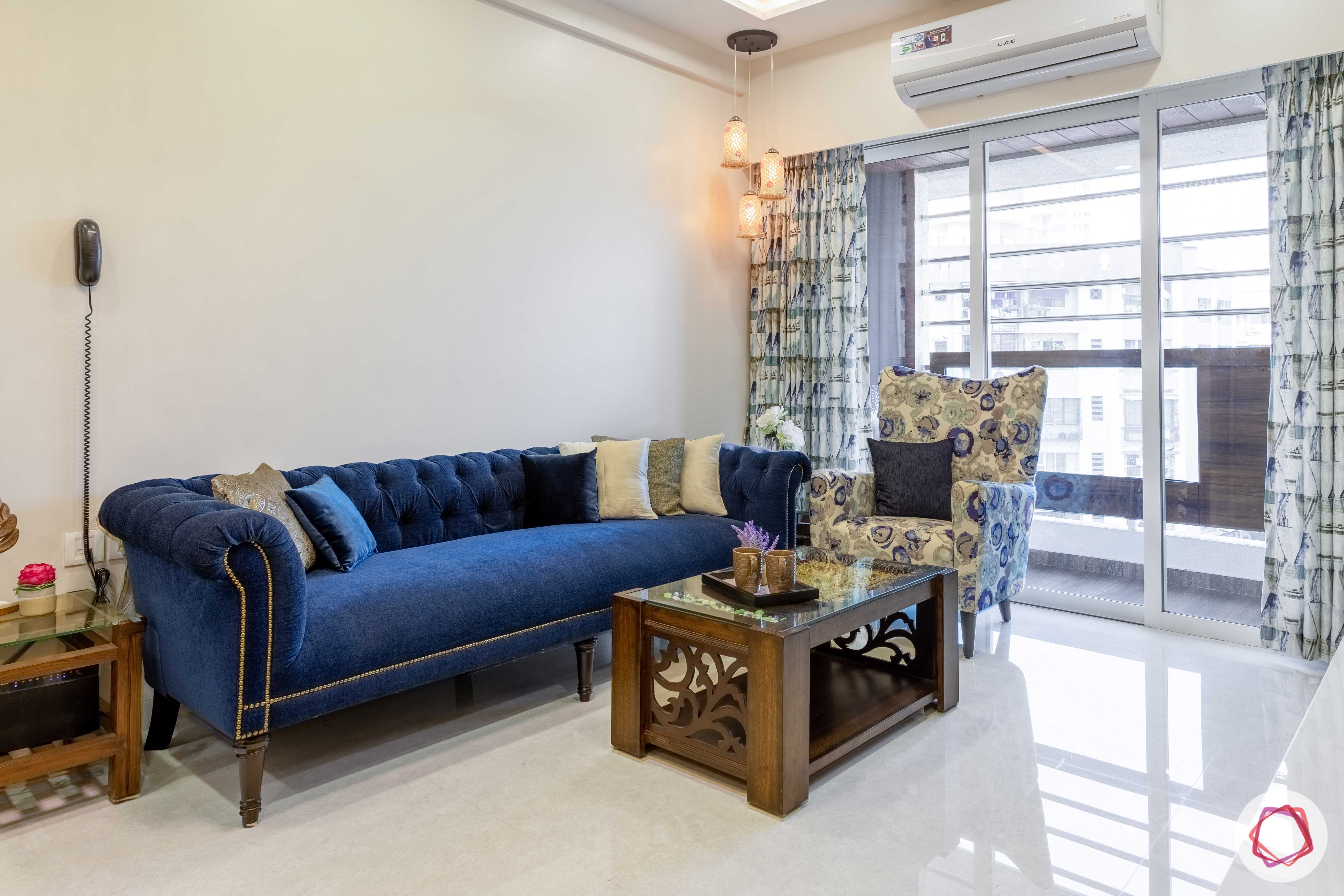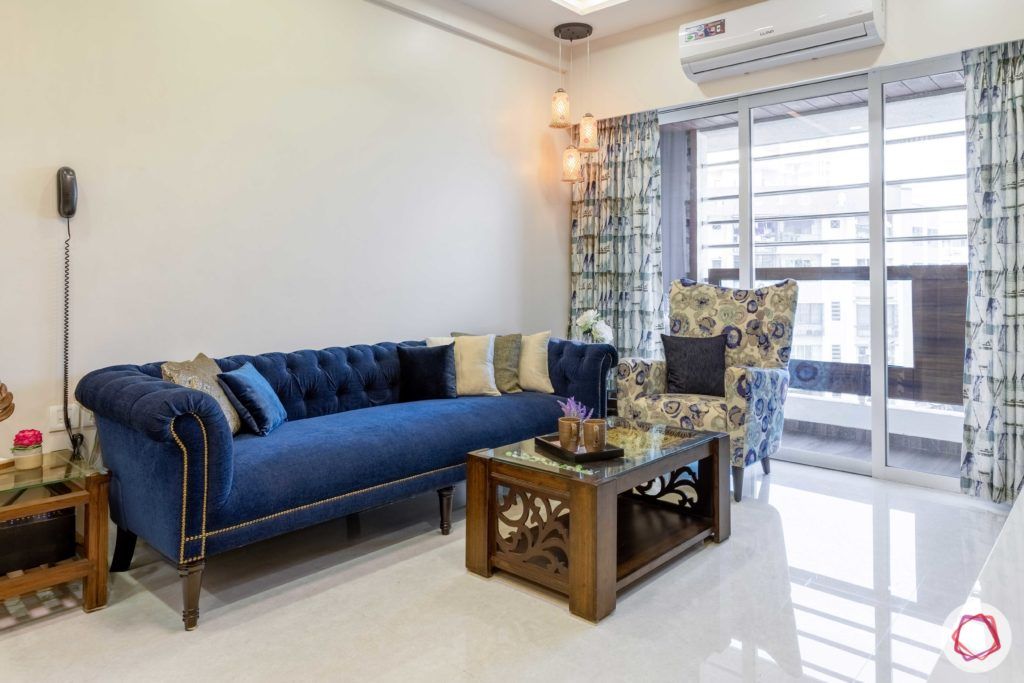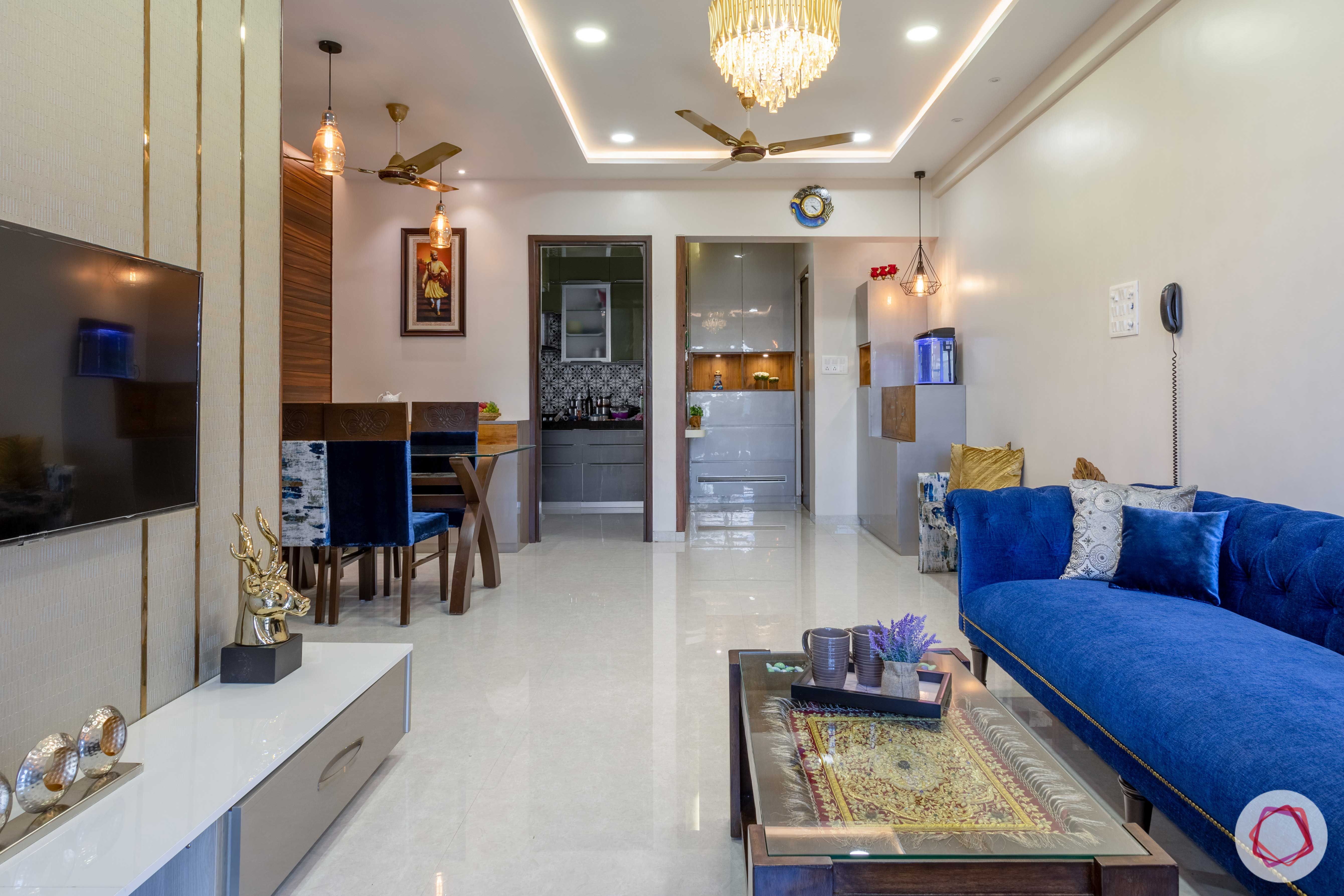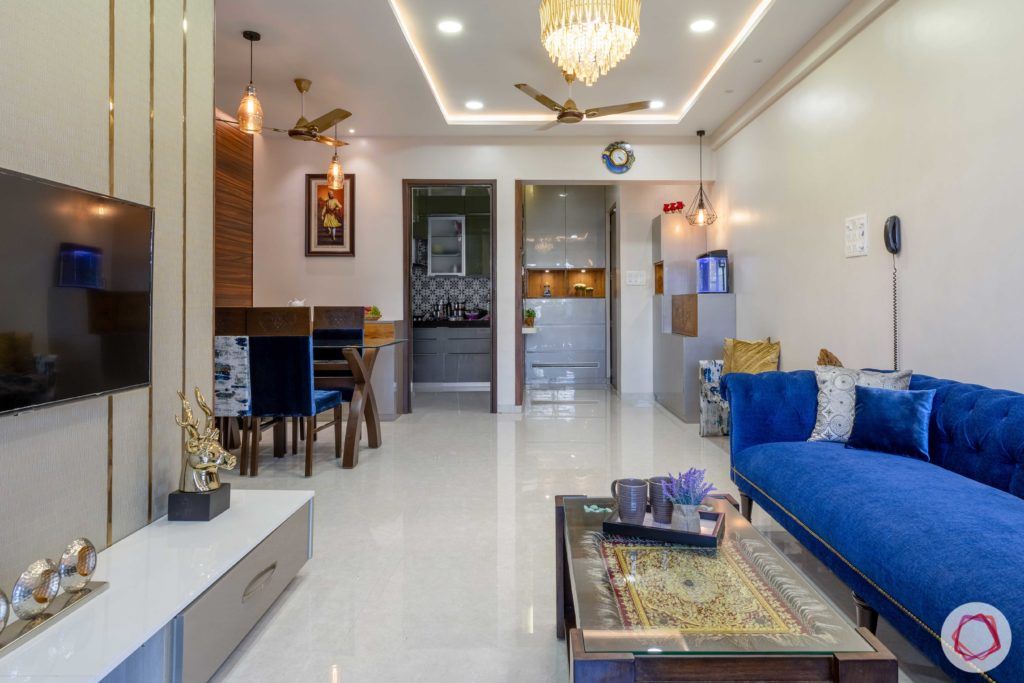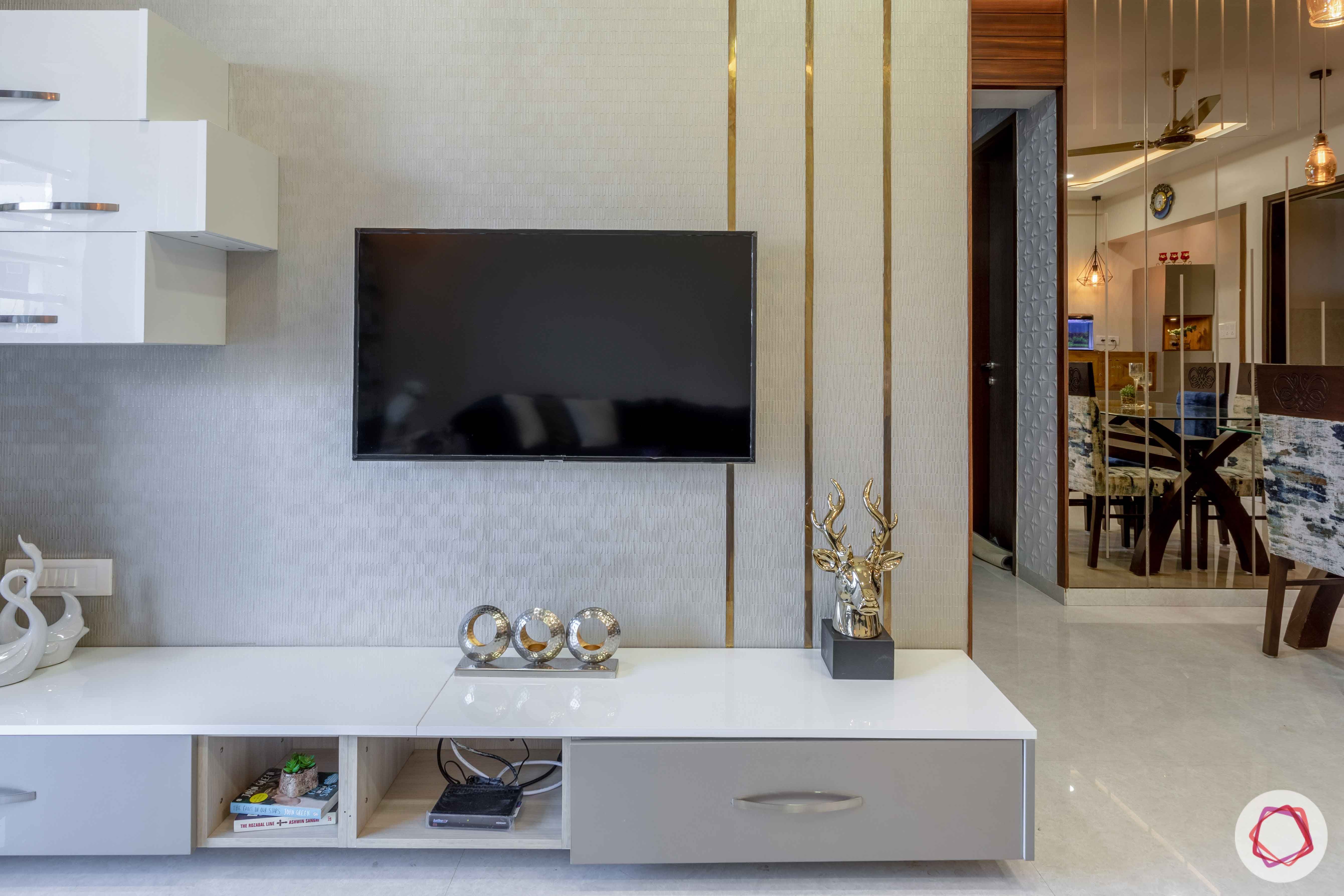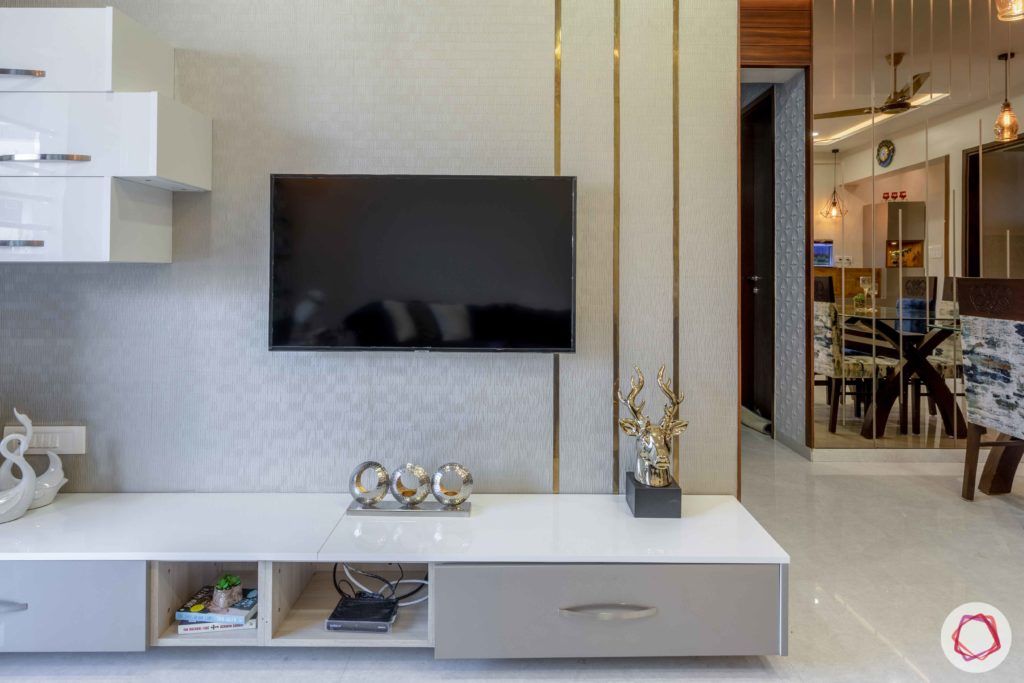 The living room is made completely for entertainment. While briefing Yogita, Darshana was clear that their living room had to have enough seating for guests. Therefore, she gave them a blue Cassandra sofa paired with a matching, printed accent chair. Wooden centre and side tables impart a contemporary vibe to this place.
Storage was another criteria that Yogita had to fulfill and you can see that clearly in the TV unit as well. You can spot box-style wall mounted drawers in acrylic finish. The base unit also has drawers and open shelves with a spacious top. The shimmery beading on the textured wallpaper complements the mirror in the dining room.

2 BHK Flat Interior: Mirror, Mirror on the Wall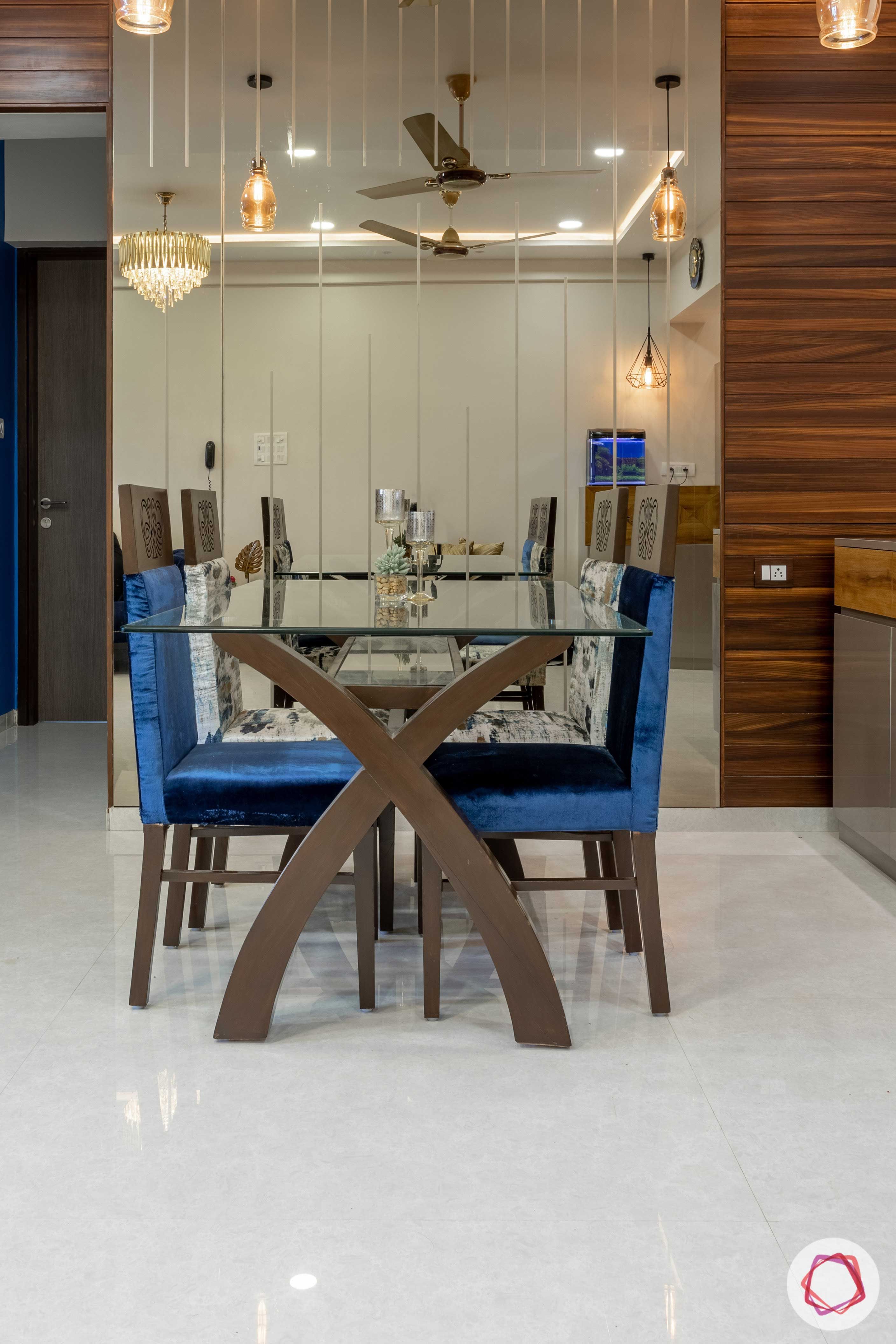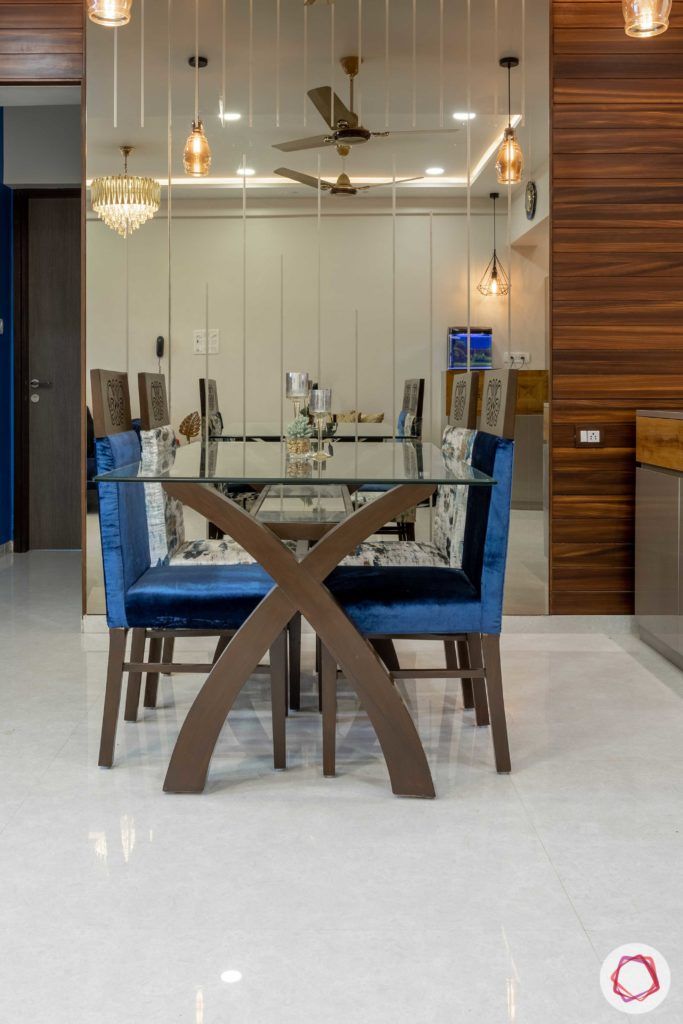 The dining area again features copper mirror panelling with cove lighting on the false ceiling. The wooden panel you see next to it is built to cover up a maintenance window. The dining table has a lovely glass top and chairs are upholstered with the same fabric as the sofa and accent chair in the living. The sideboard is another functional addition to this space.
2 BHK Flat Interior: Of Lime Green Kitchens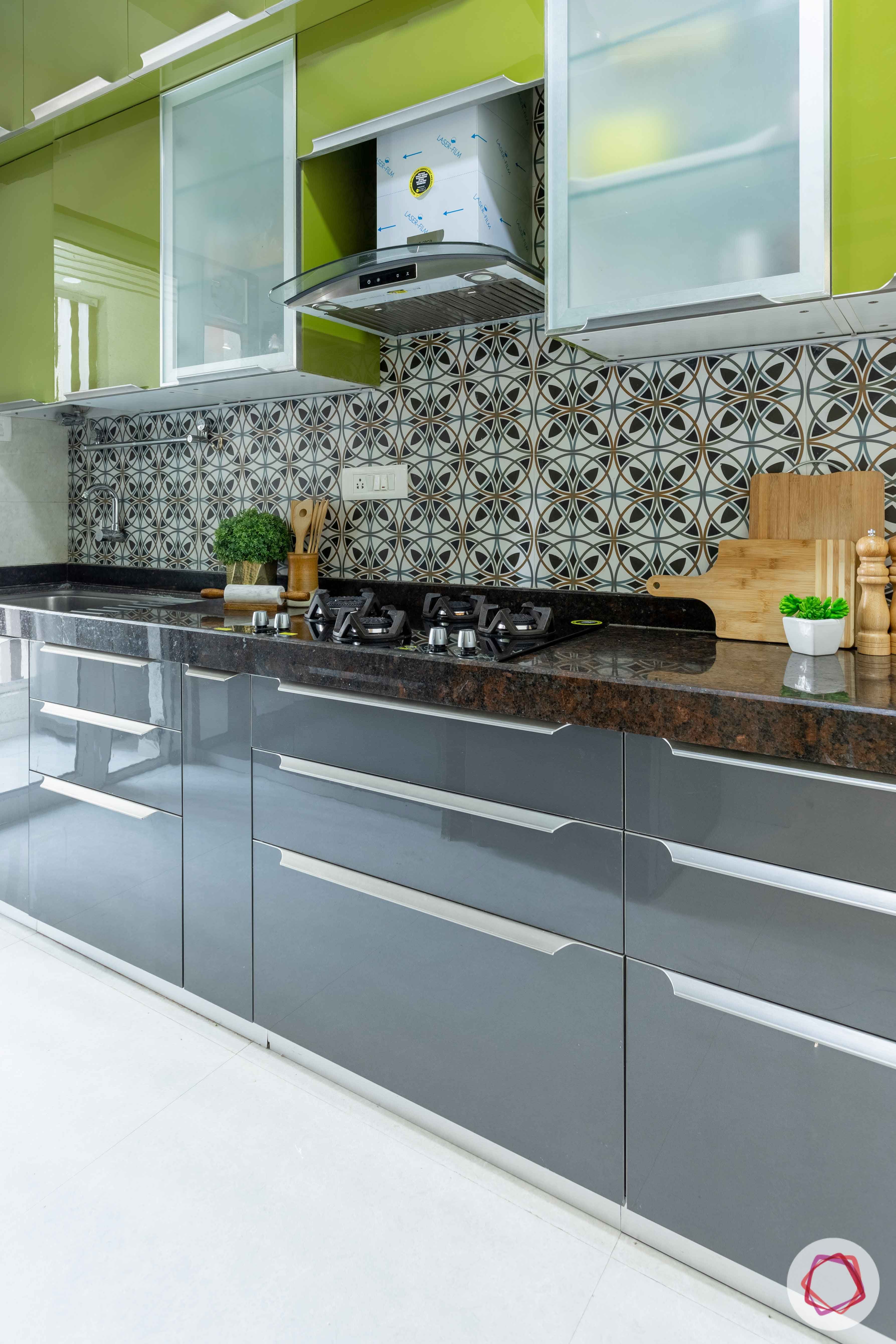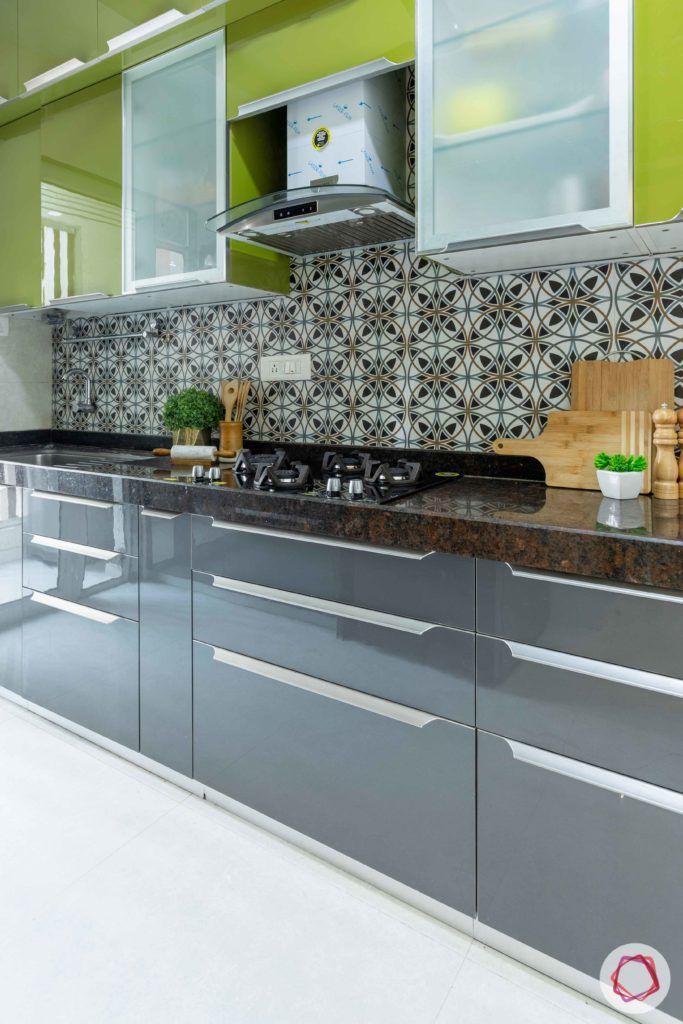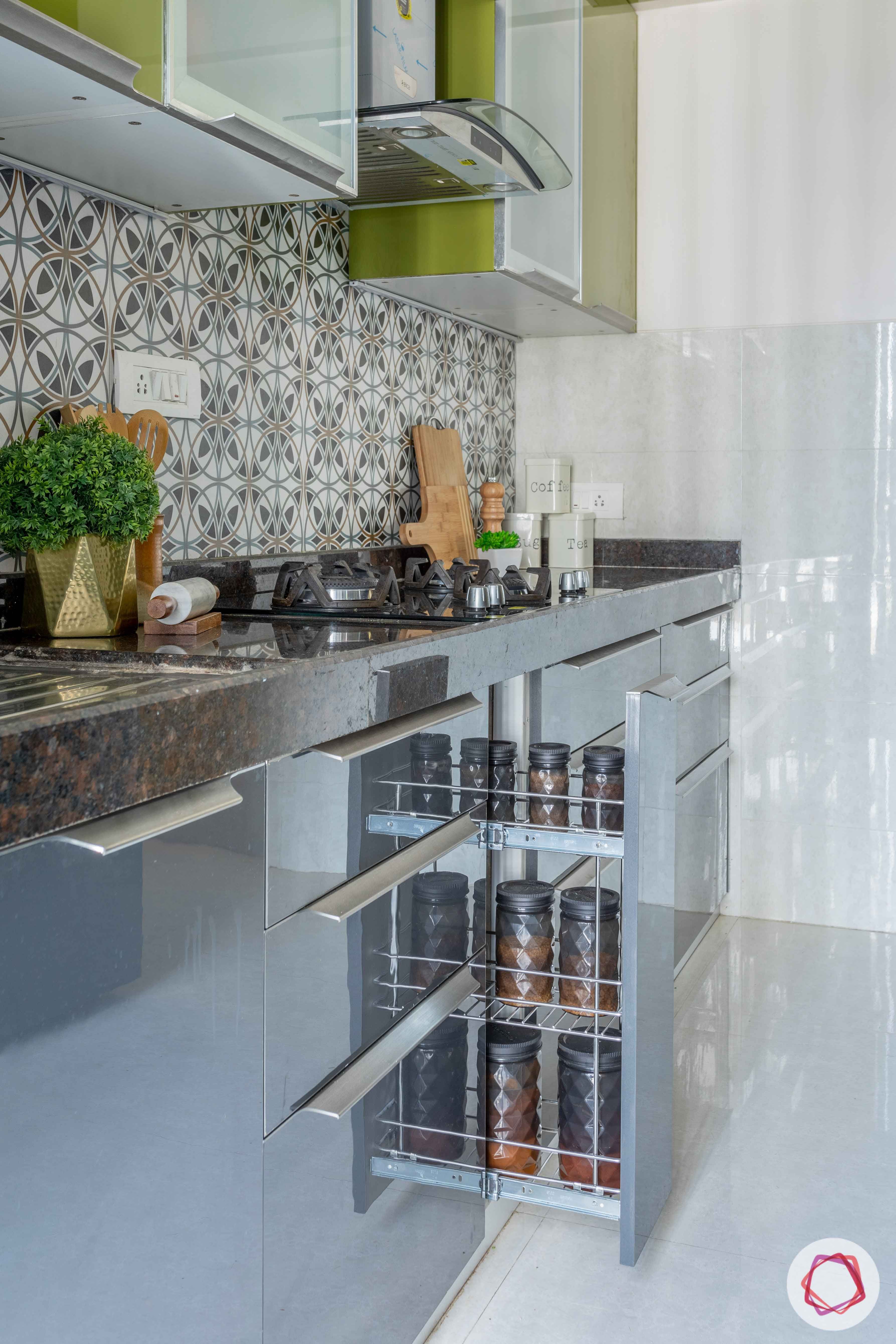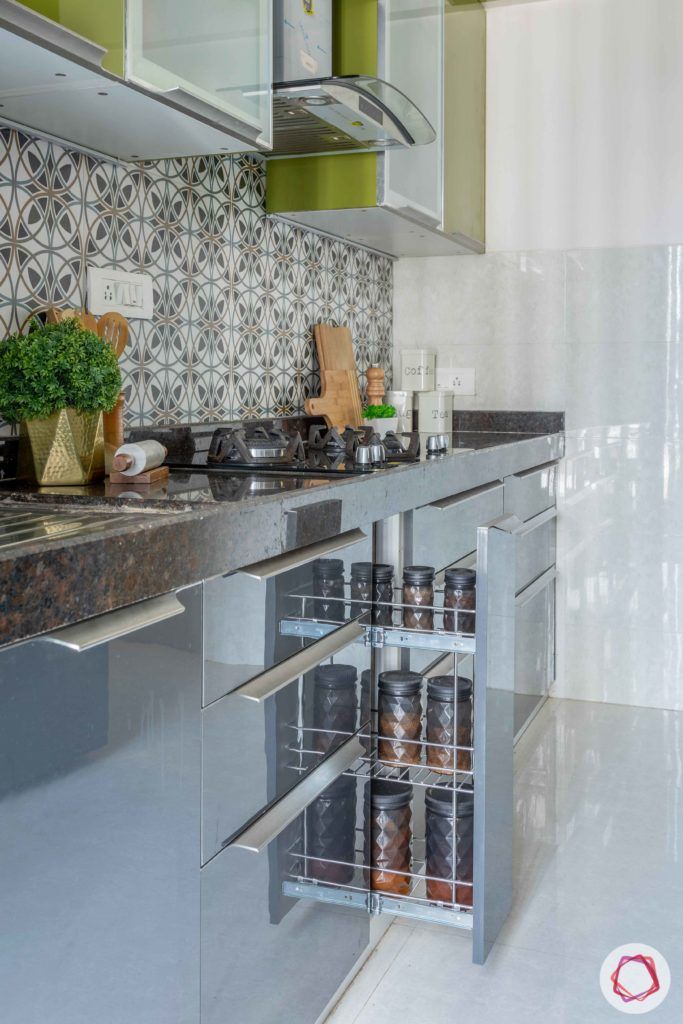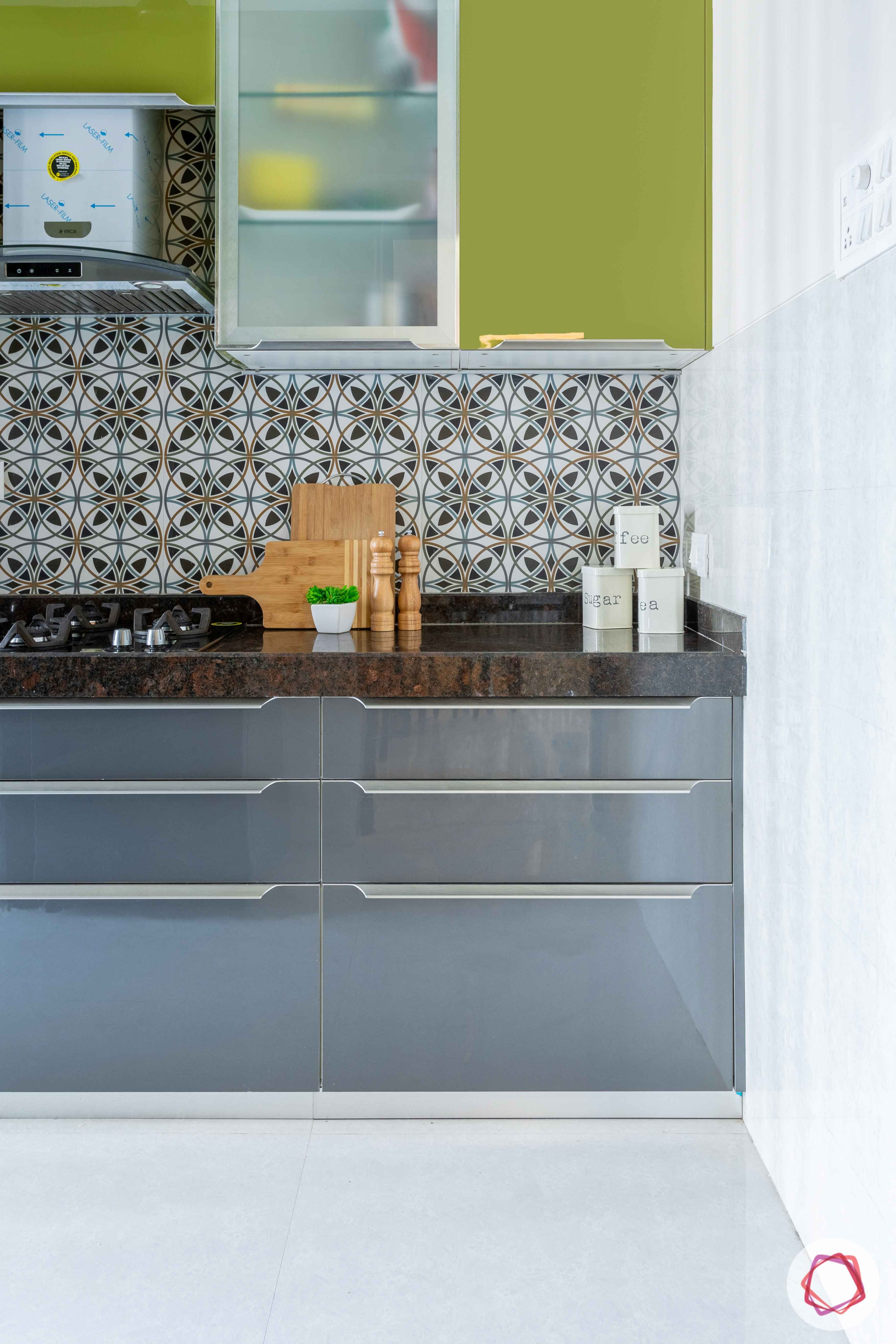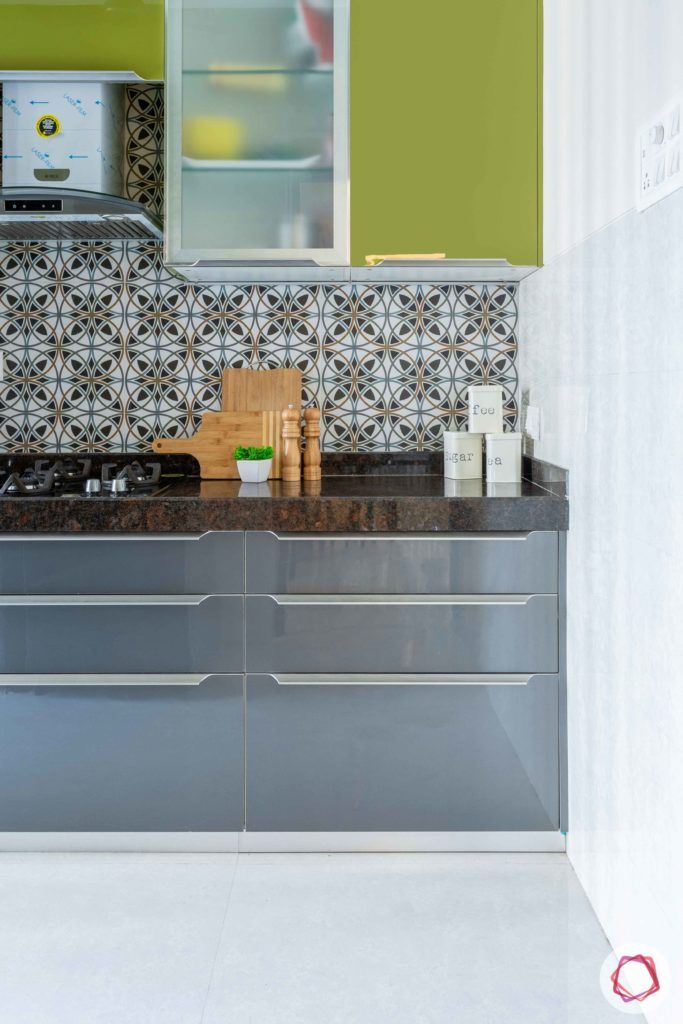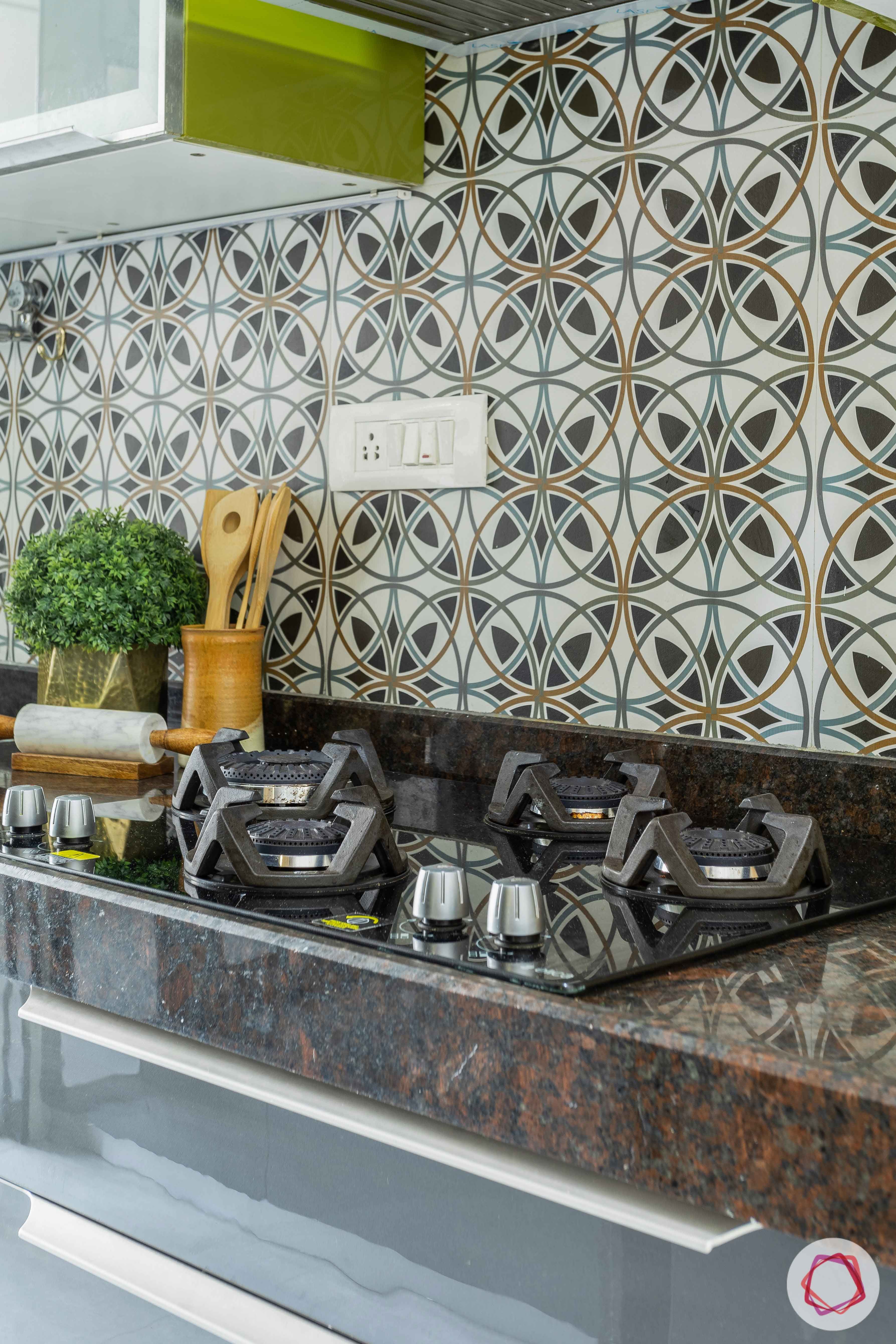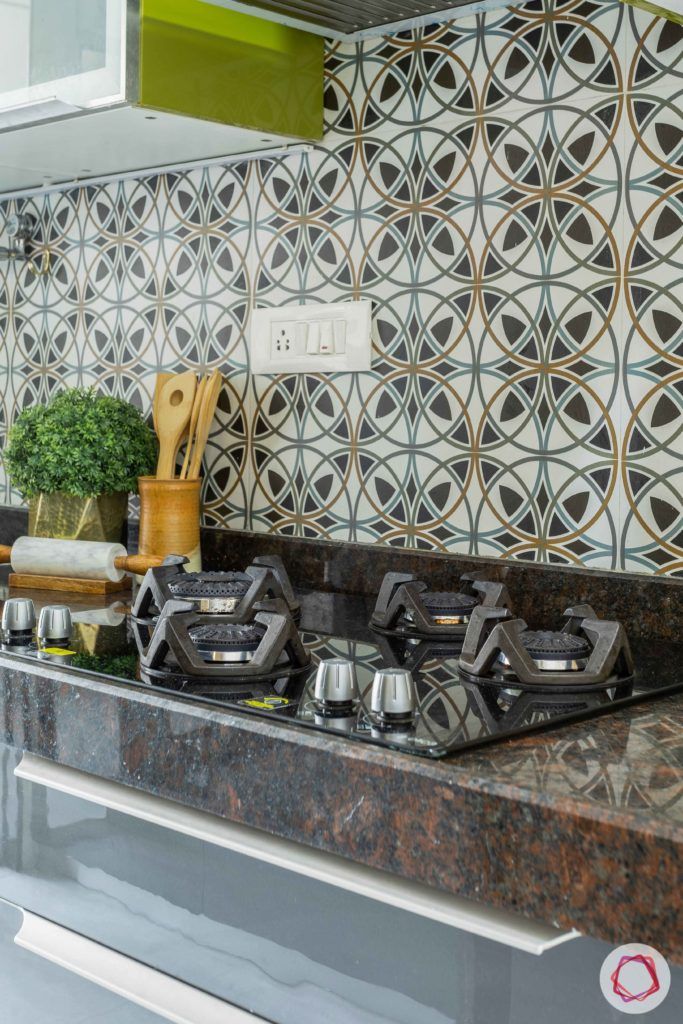 Doesn't this kitchen refresh your senses instantly? A dash of lime green is what Darshana wanted for the kitchen of her 2 BHK flat interior and Yogita obliged. She did not let the colour seem overpowering by giving both, wall and base units in the same colour. She offset the bright colour with silver-grey acrylic finish on the base units. Also, do not miss the tiles on the backsplash. They act as the right highlight in this kitchen.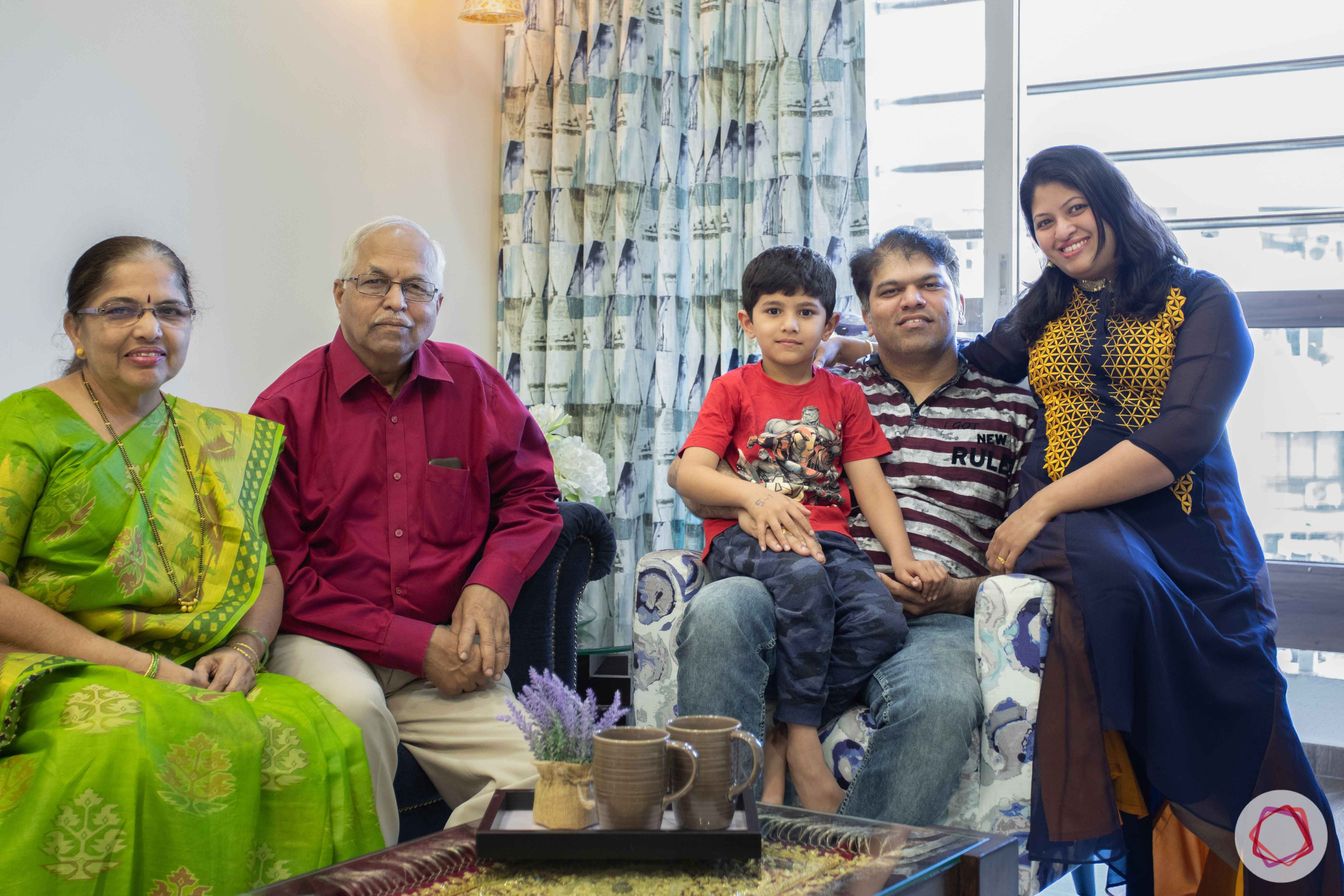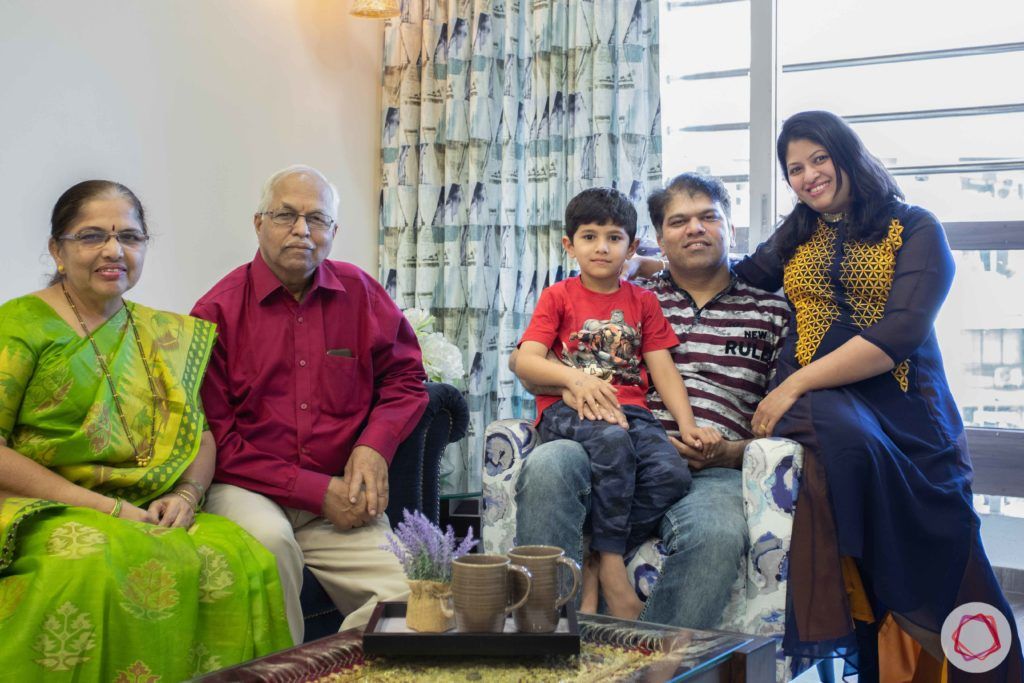 2 BHK Flat Interior: Purple Tones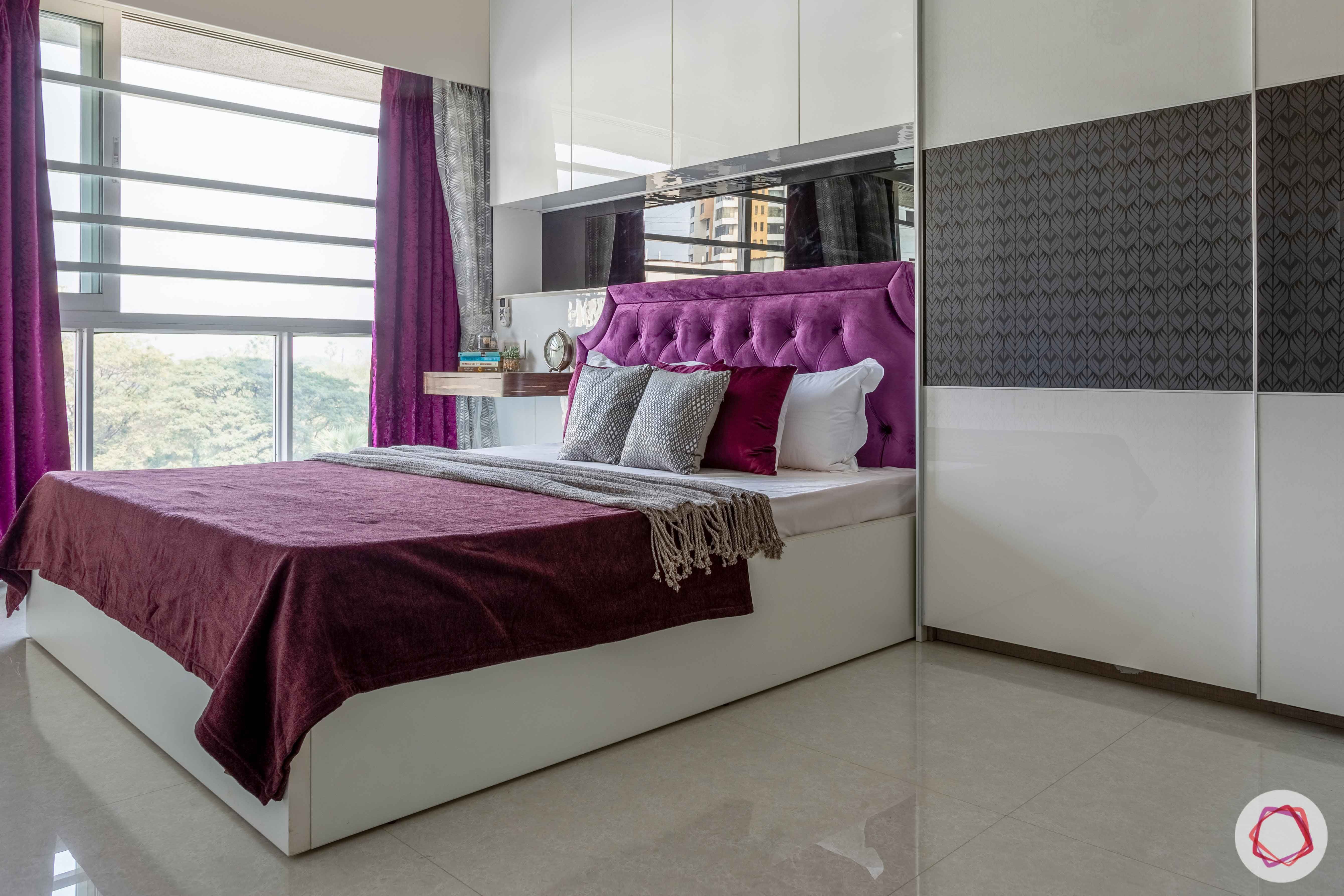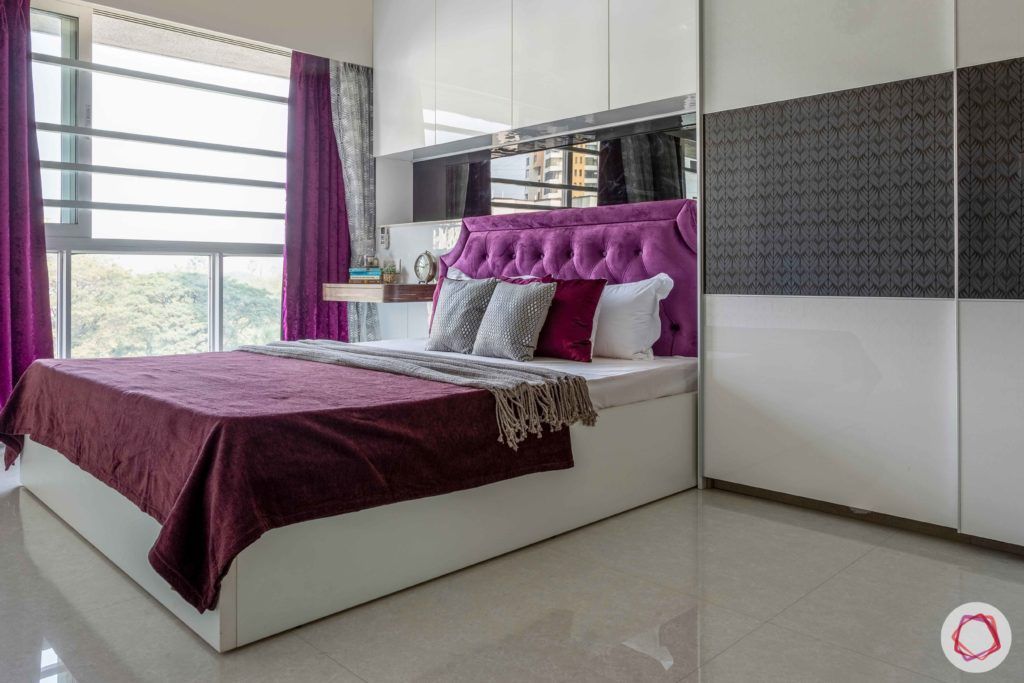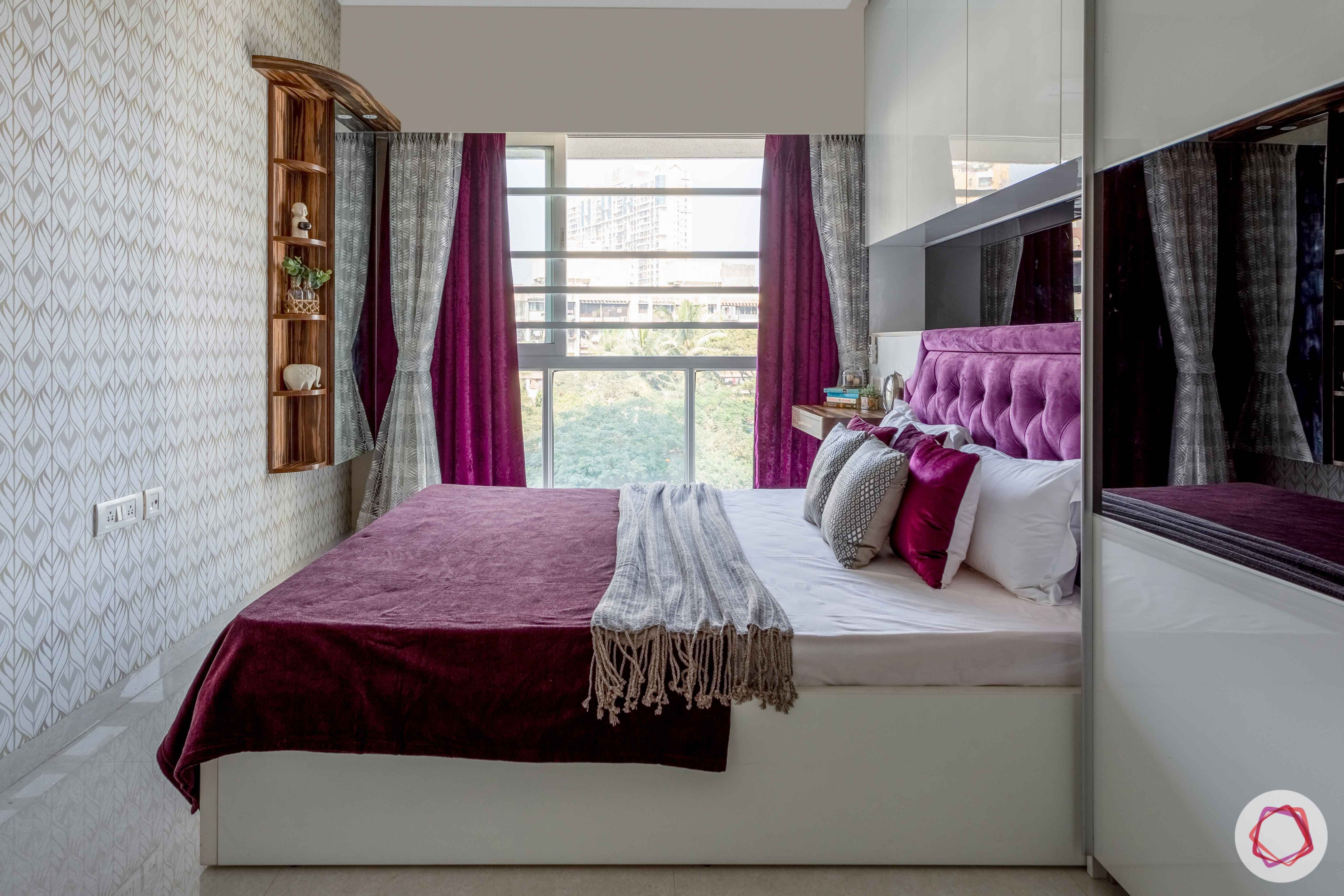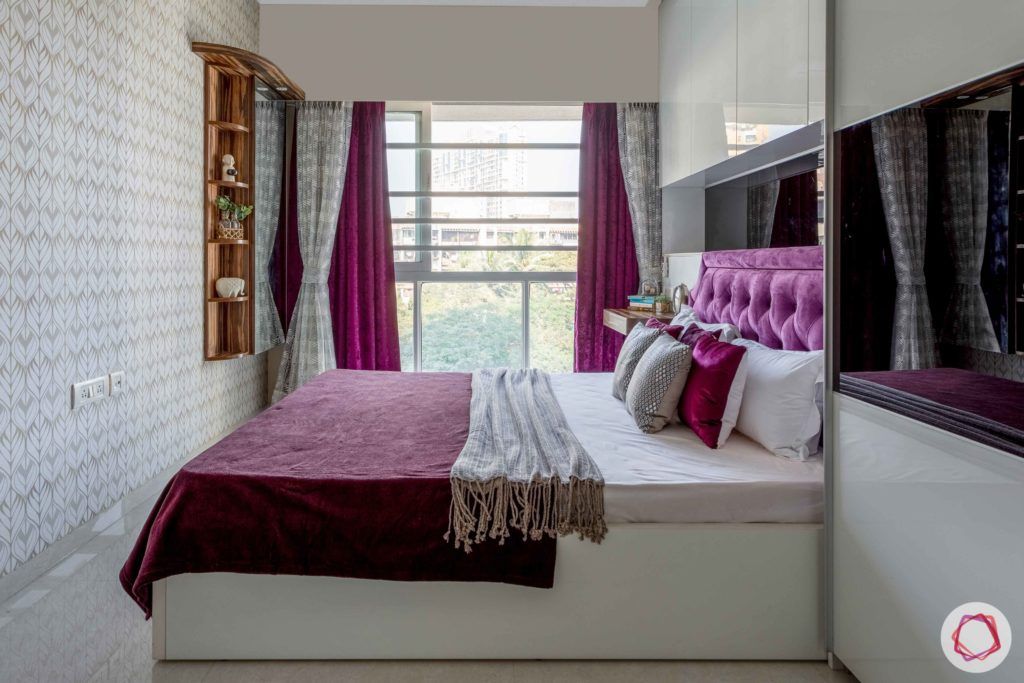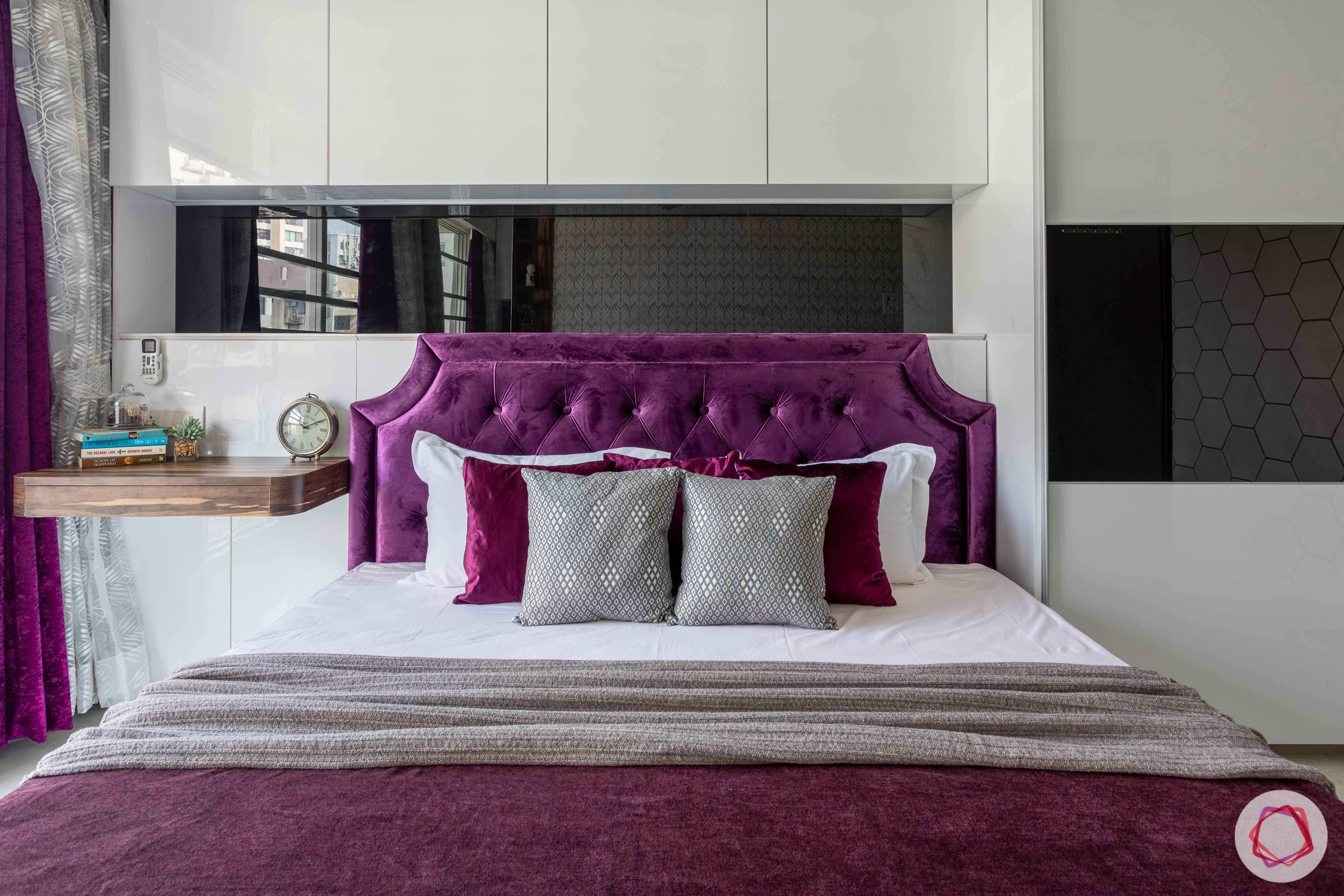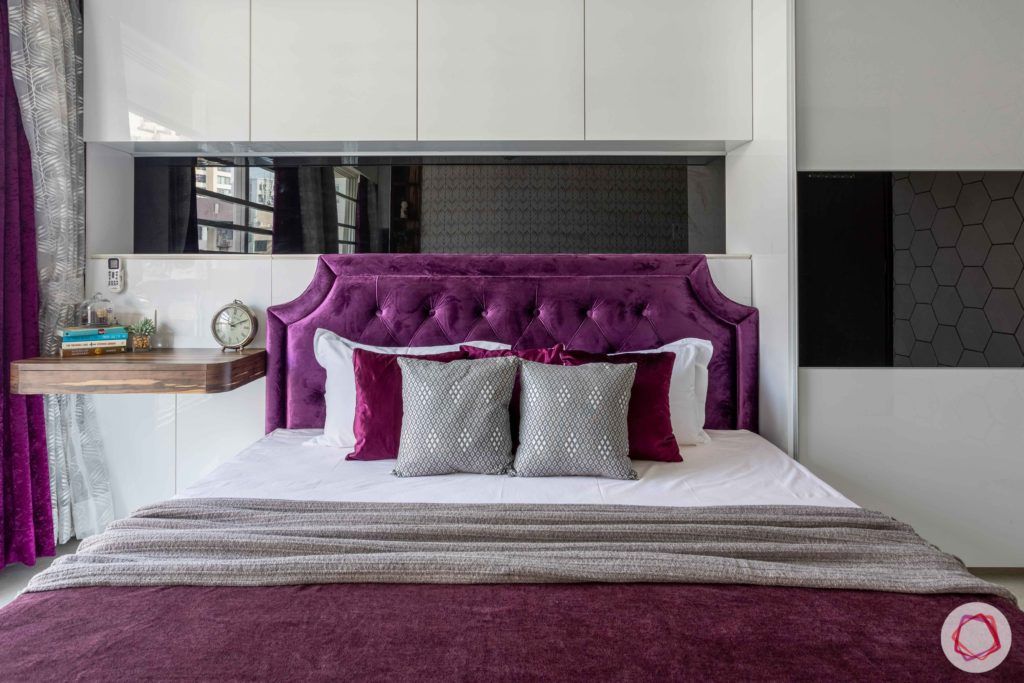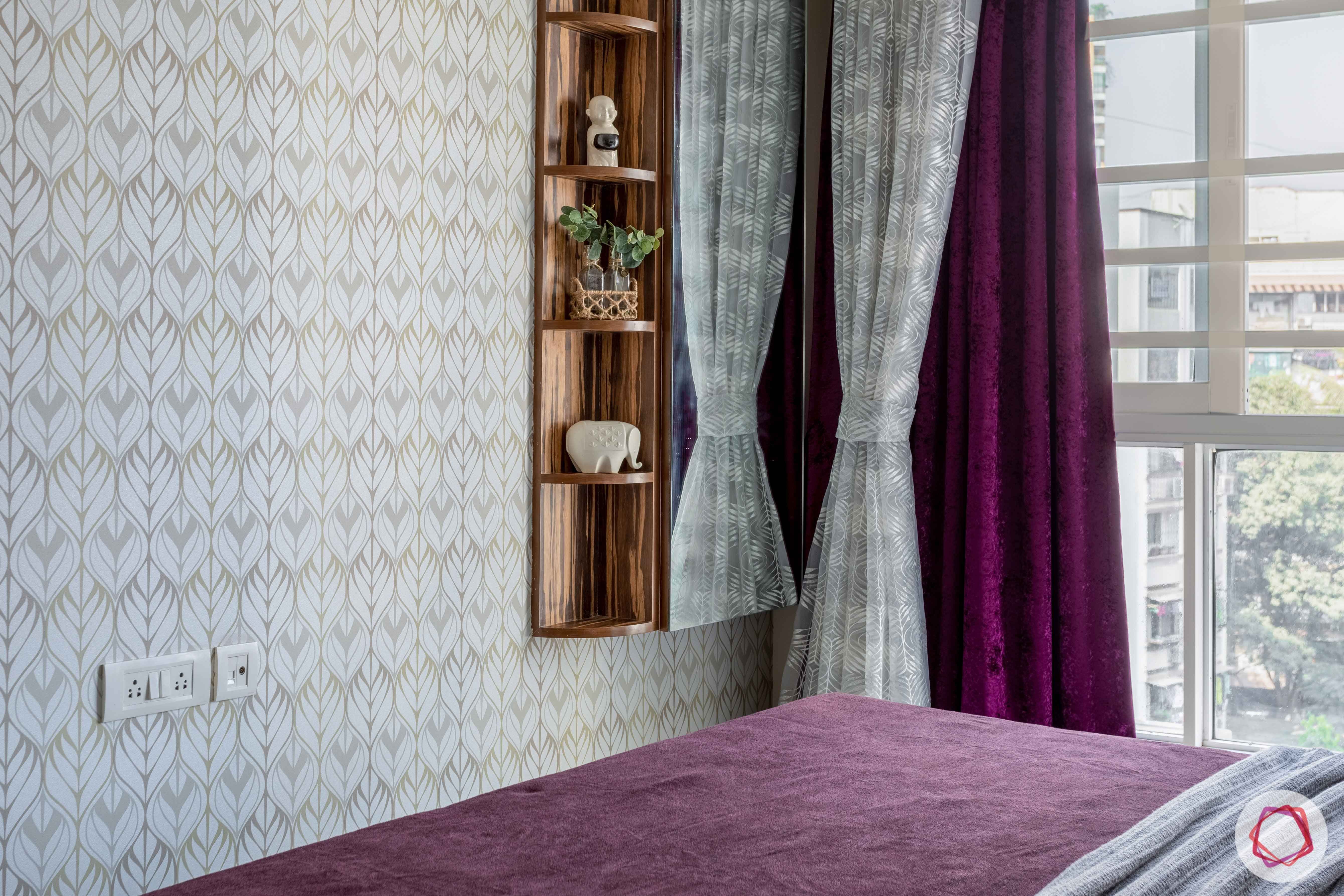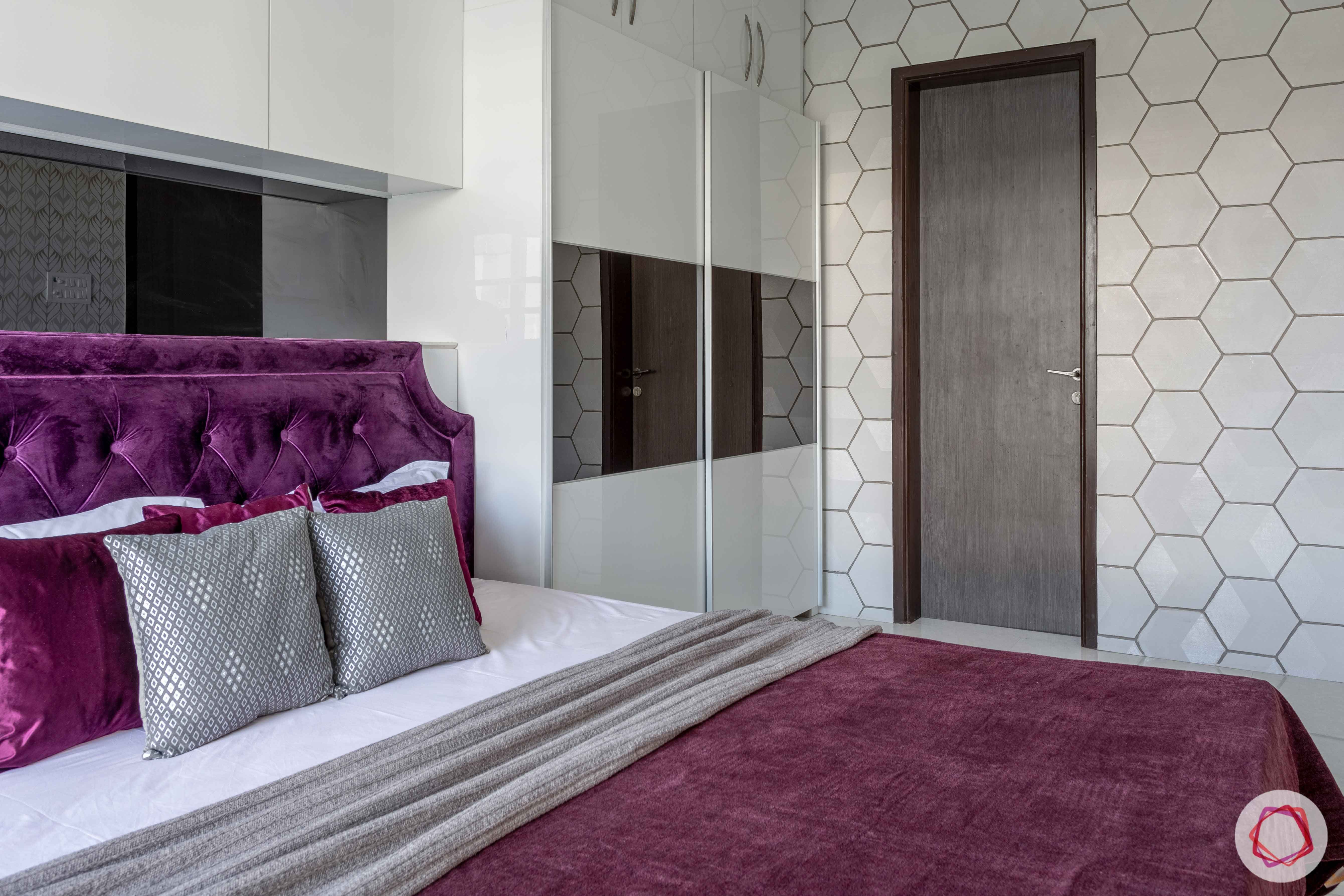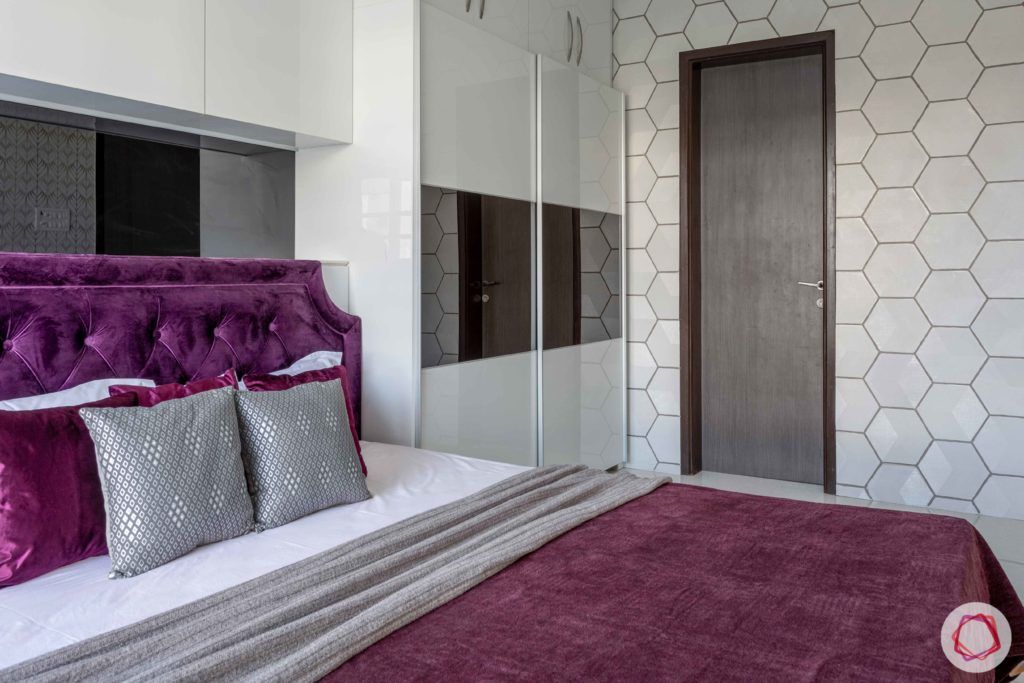 Welcome to the master bedroom in this 2 BHK flat interior. There are so many elements that we want to highlight here. Let's talk about the obvious first — the bed and wall behind it. The white bed with the purple upholstered headboard looks fetching in this classy bedroom. Since the couple wanted a lot of storage, Yogita gave them push to open cabinets above the headboard. Also, since there was limited space for a bedside table, she gave them a wall mounted table with rounded edges for safety. This is used by Darshana when she's working.
The dresser on the opposite wall comes with storage and display shelves in classic wooden finish. Talking about the walls, on one of the walls Yogita has given them a stylish wallpaper and on the other you can spot hexagonal tiles.
2 BHK Flat Interior: Neutral Elegance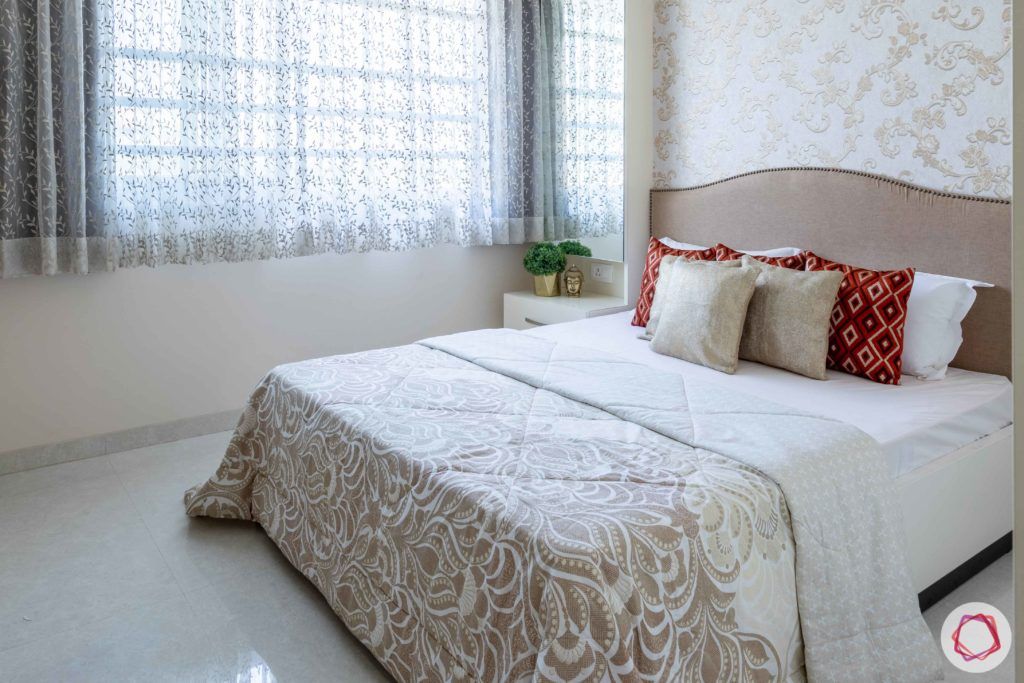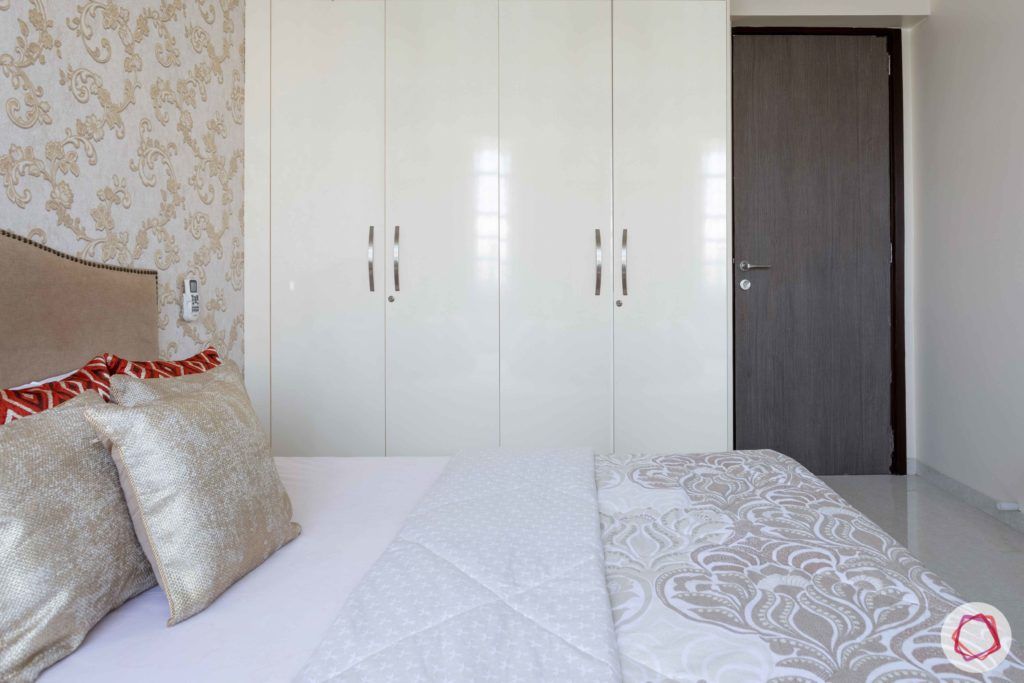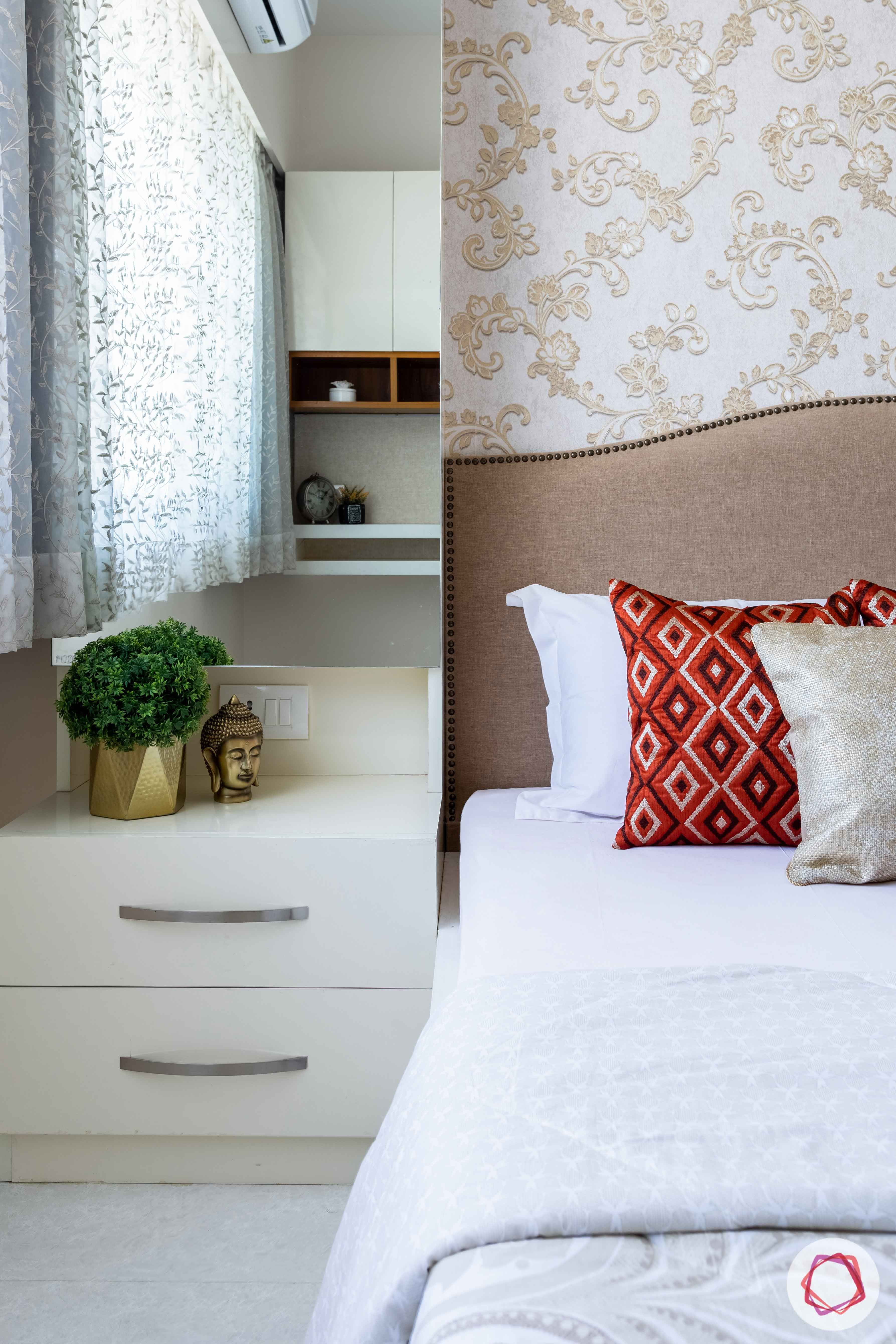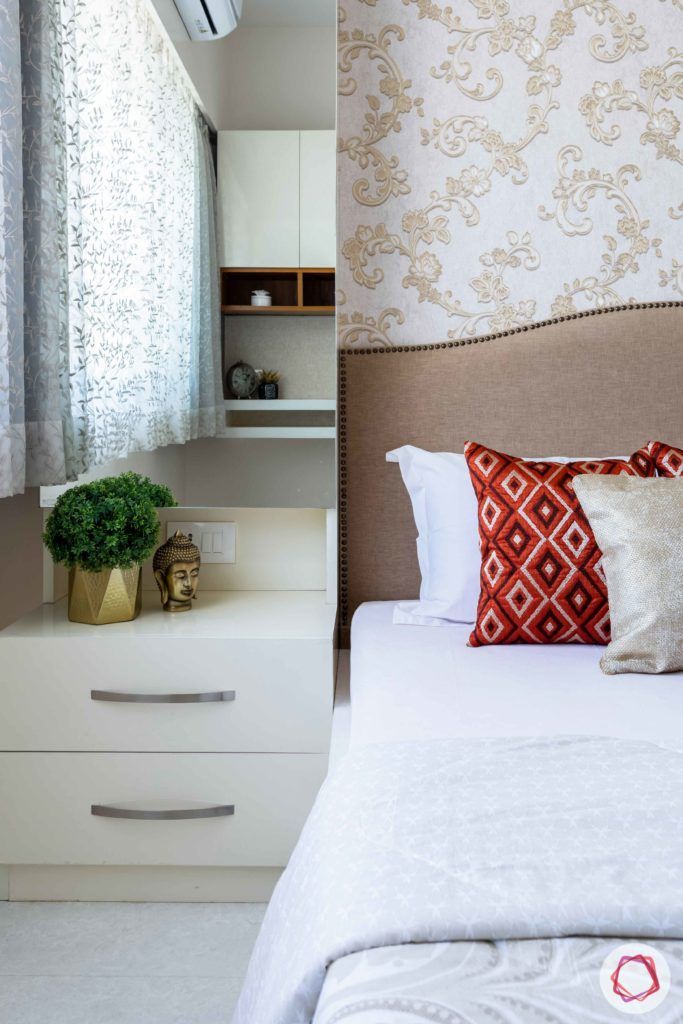 The guest bedroom paints a pretty picture in your head the moment you look at it. Subtle beige colour scheme accented by a simple printed wallpaper are heroes here. A white, swing door laminate wardrobe takes care of storage and a compact dresser finds place next to the bed.
"The best part about working with Darshana was that she was open to new ideas. They gave me complete freedom to work on designs for their home and that opened up so many avenues. I could experiment and give them fresh designs. It was a joy to work for this family!"

-Yogita Itkarkar, Interior Designer, Livspace
If this home inspired you, then do not miss another home we designed for this cheerful couple in Mumbai: 600 sq ft of Comfort on a Budget.
Send in your comments and suggestions.