This 4 BHK flat in Mumbai has been specially crafted combining two flats. The design caters to each member of the house too. It also flaunts a mix of classic and contemporary interiors.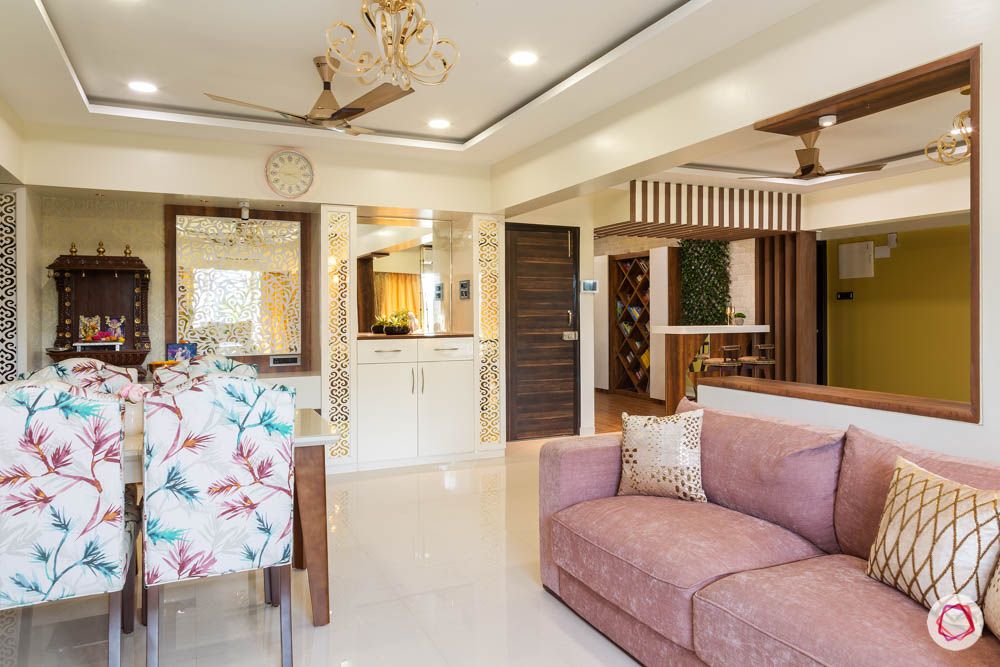 ---
Who livs here: Mr. Joshi with his wife, their son, daughter-in-law and grandson 
Location: Vile Parle East, Mumbai
Size of home: A 4BHK spanning 1,800 sq ft approx.
Design team: Interior Designer Yogita Itkarkar and Project Manager Usman Khan
Livspace service: Full home design
Budget: ₹₹₹₹₹
---
It is always a special feeling to move into a bigger home and for the Joshi family, this was one such celebration. Having done the interiors of their previous homes on their own and through contractors and carpenters, this time around they wanted professional help. They purchased two flats in Vile Parle and decided to combine them to make it a big 4BHK for the family.
This home has been designed under the expert supervision of designer, Yogita Itkarkar and she has put her heart and soul into it. After meeting the family, she figured that each member of the family had individual needs and preferences, and she had to cater to each one of them. While the overall theme of the home is contemporary, she makes sure that there is an element of colour in every room. Read on to find out how she went about designing this brilliant home.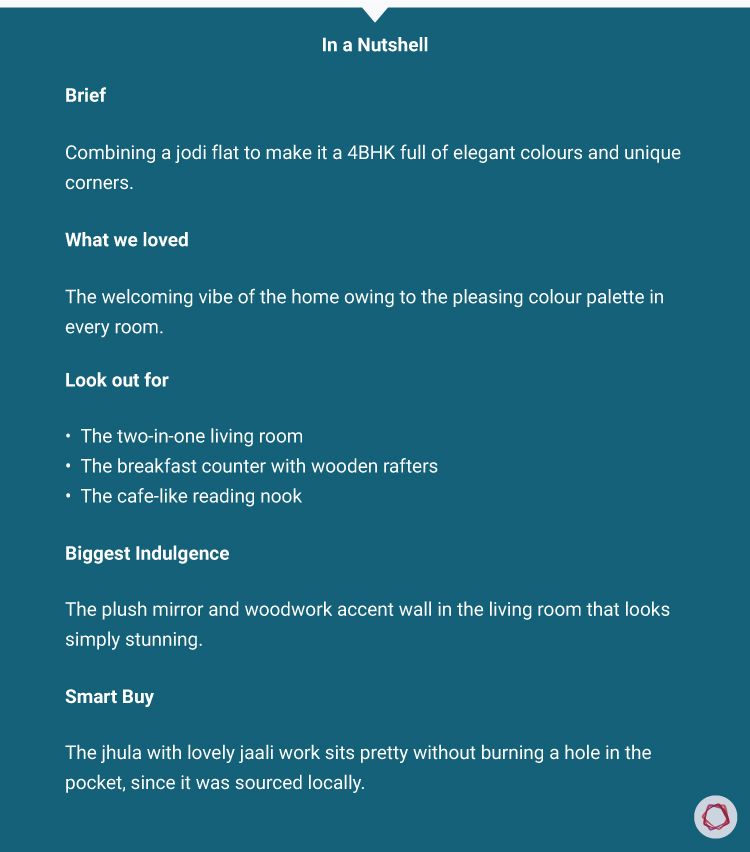 Dual seating living room for this 4 BHK flat in Mumbai
Once you enter this huge home, you will realise the beauty of combining two flats. The living room is so spacious that Yogita could create two separate areas. Mr. Joshi prefers watching television and relaxing by himself while he's at it. Therefore, Yogita divided the living room in such a way that he gets to enjoy his own space peacefully.
The other half is the formal living room where the family entertains guests and friends. Here, you will spot a pretty wooden jhula that they purchased locally and it adds a charming detail here. She has also given them a cosy sofa and two turquoise blue accent chairs that add to the seating. We love how welcoming and cosy this space looks, despite the fact that it is a vast area.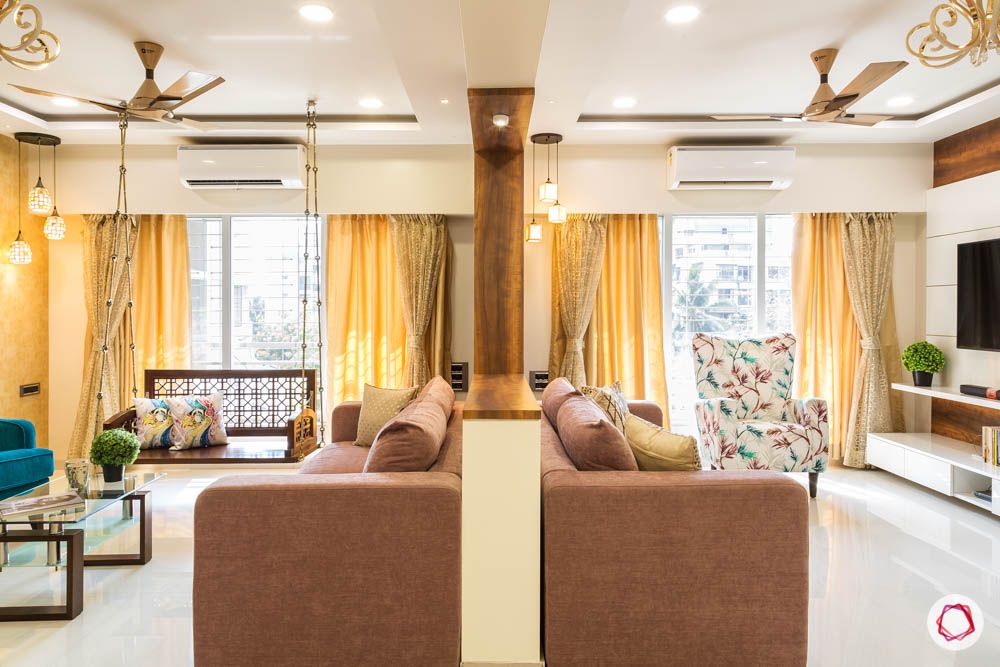 4 BHK flat in Mumbai gets a chic breakfast counter
The family really likes the concept of having a breakfast counter and the space at their Mumbai flat interior allowed for it. Yogita has demarcated this space with wooden rafters on the ceiling and partition. A compact breakfast counter for two, with wooden and mirror work panel and two bar stools complete the look of this space. It is the perfect spot to enjoy a morning cuppa or a drink with friends! An interesting feature here is the artificial grass panel that is quite popular among homeowners in Mumbai.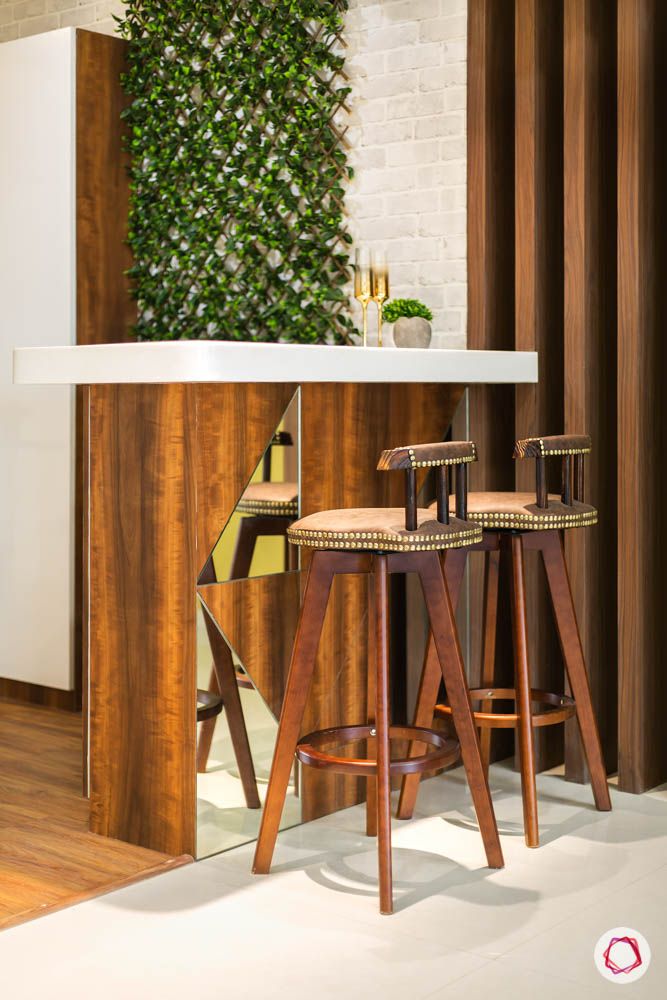 Dedicated reading room at this 4 BHK flat in Mumbai
What do you do when you are a book-loving family and each member wants to read in peace? If you're lucky like the Joshis, then you will get a pretty reading room for your Mumbai flat interior. We are totally in love with this concept of a cafe-style reading zone, which Yogita has equipped with a stylish bookshelf. The wall is highlighted with an exposed brick wallpaper and the ceiling has a dreamy look to it.
"We were in a hurry to get our home designed and Livspace proved to be the right choice. Yogita, our designer, was very prompt in giving us the designs and we took decisions quickly. From the colours to the decor, she helped us get the exact look that we wanted for our home. We especially love the reading area and we get a lot of compliments for the same. It was a great experience for us!"

-Mr. Joshi, Livspace Homeowner
Compact kitchen in this 4 BHK flat in Mumbai
The kitchen in this Mumbai flat interior is as simple as a kitchen should be. A striking red and cream colour combination adorns the cabinets and simple modules make it functional. Bottle pull-outs, tandem drawers, shelves and cutlery units define the modules here, while a jet black granite countertop completes the look.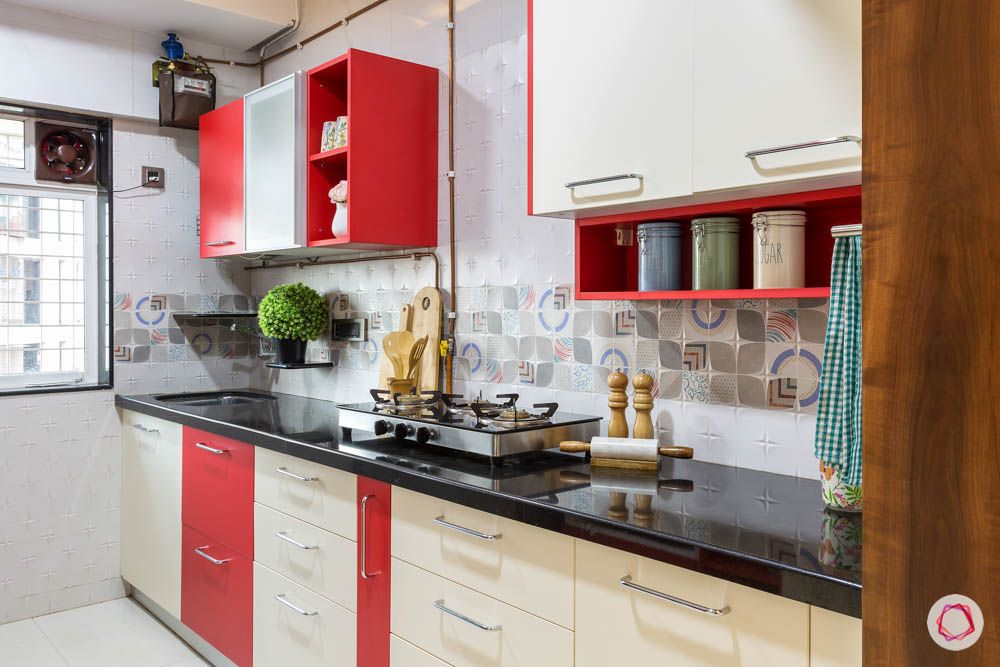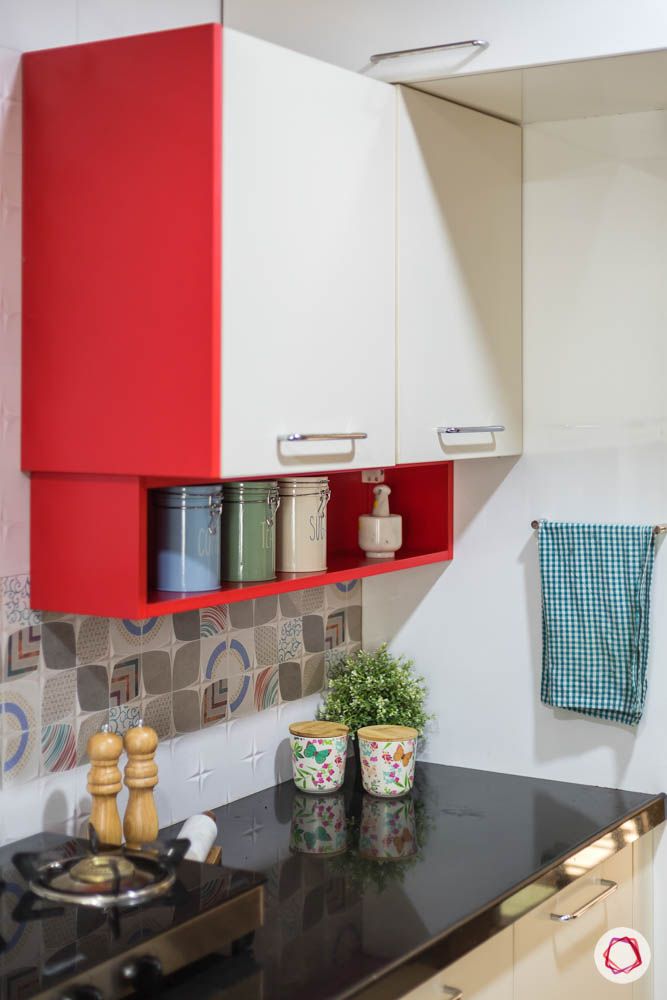 Plush master bedroom for this 4 BHK flat in Mumbai
A master bedroom should be two things — elegant and classy. This bedroom ticks all the boxes when it comes to this. A plush purple headboard with a subtle printed wallpaper in the background looks fetching. If you look further, you will spot a foldable desk that is ideal for a compact space like this one. Yogita has kept the wardrobes simple, with laminate finish swing door shutters. Also, the dresser unit comes with storage behind the mirror and in the form of drawers.
Turquoise wonder at this 4 BHK flat in Mumbai
Every room in this Mumbai flat interior sports a colour scheme and the guest bedroom has a cool vibe to it. Thanks to the turquoise blue headboard against the floral wallpaper and matching curtains, this room revels in serenity. The swing door wardrobes come with loft storage and built-in dressers to save space and still not compromise on functionality.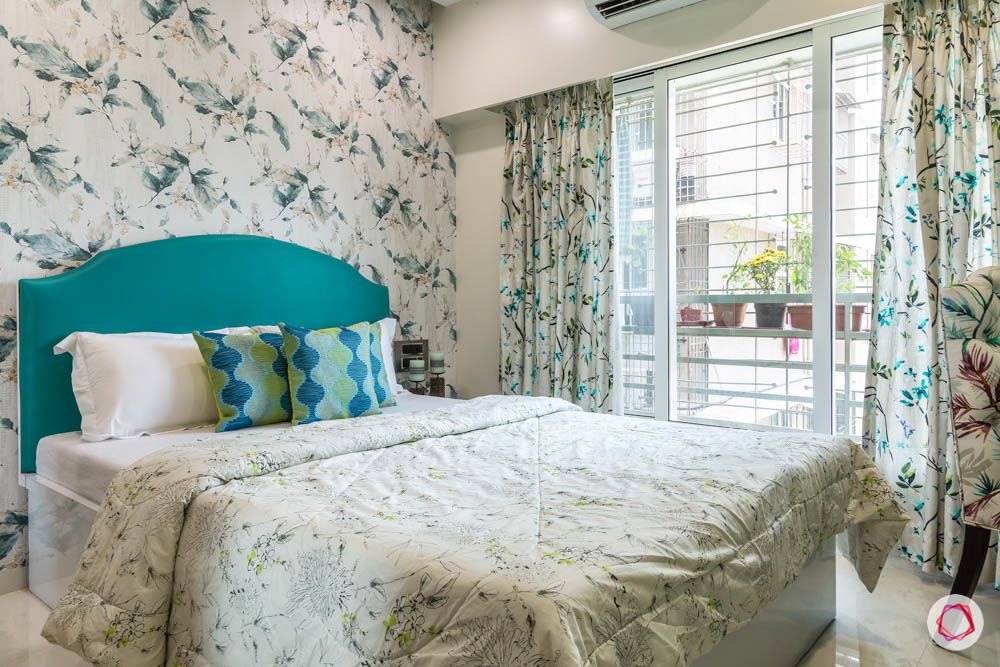 Soothing tones for this bedroom in 4 BHK flat in Mumbai
Mr. Joshi wanted a room that has ample light and air, and a small desk space. Therefore, Yogita gave this room a nice rust orange colour scheme and toned it down with a flamingo print wallpaper. The specialty of these wardrobes lie in the fact that they are Godrej wardrobes with a laminate shutter in front. It keeps the look consistent and harmonious.
4 BHK flat in Mumbai gets a bright bedroom
Mr. Joshi's grandson wanted a bright room and Yogita experimented with a chirpy yellow and grey colour combination for this one. She created highlighter walls with honeycomb pattern paint on one side and a splash of yellow on the other. The bed is a trundle bed that makes for extra space when the family has guests over.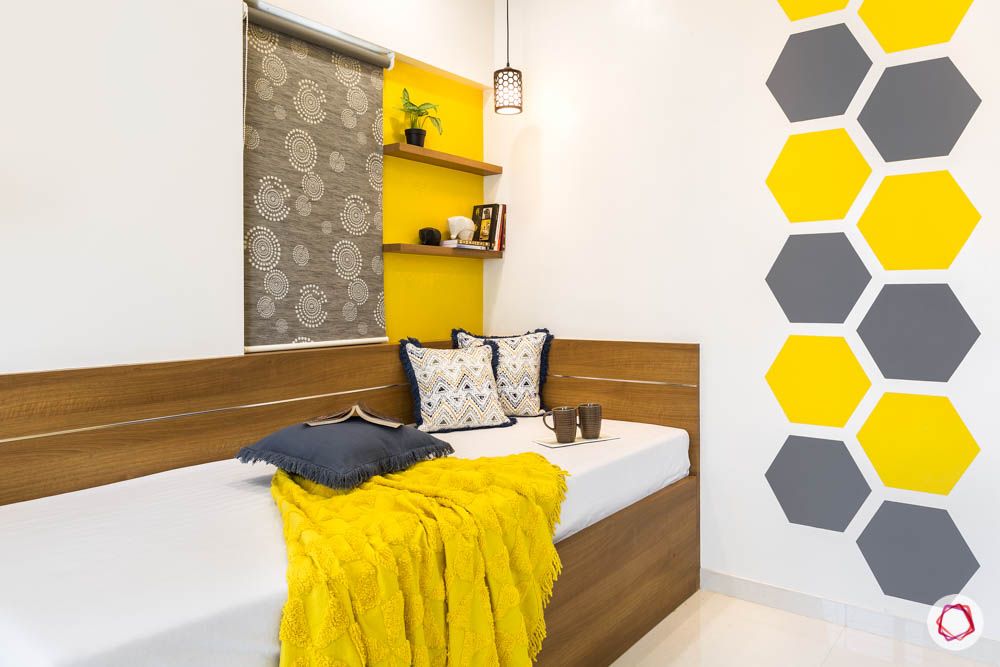 ---
"The Joshi family was very cordial and easy to work with. Since they had a set budget in mind, it was simple to come up with ideas. I decided to give a colour scheme to each room and add an element of pop everywhere. I enjoyed designing this home thoroughly!"

-Yogita Itkarkar, Interior Designer, Livspace
---
Want to see another stunning room makeover in Vile Parle? Take a look at this: Budget Revamp for a Kid's Bedroom.
Send in your comments and suggestions.