This 3 BHK flat design is replete with smart storage ideas.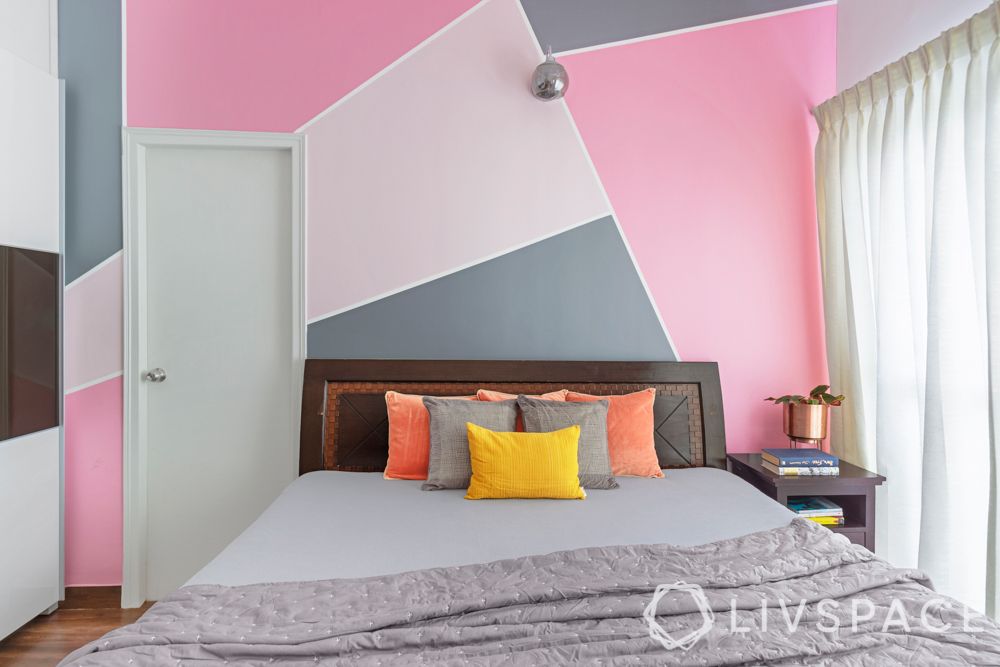 ---
Who livs here: Deepak & Sheeba with their son & daughter
Location: The Green Terraces, Electronic City, Bengaluru
Size of home: A 3BHK spanning 1,200 sq ft approx.
Design team: Interior Designer Shirali Maher and Project Manager Siddharth Saurav
Livspace service: Full home design (excluding one bedroom)
Budget: ₹₹₹₹₹
---
Sugar and spice with everything nice, that's what good homes are made of. And in this case, also some very smart design choices. After all, Deepak and Sheeba chose from among the best interior designers in Electronic City to furnish their home. So the 3 BHK design for their Green Terraces home was done by Shirali Maher, who partners with Livspace.
Apart from being a kaleidoscopic visual treat, this home also includes some very critical design choices. And it all contributes to making it just right for a young family. Let's take you through the details.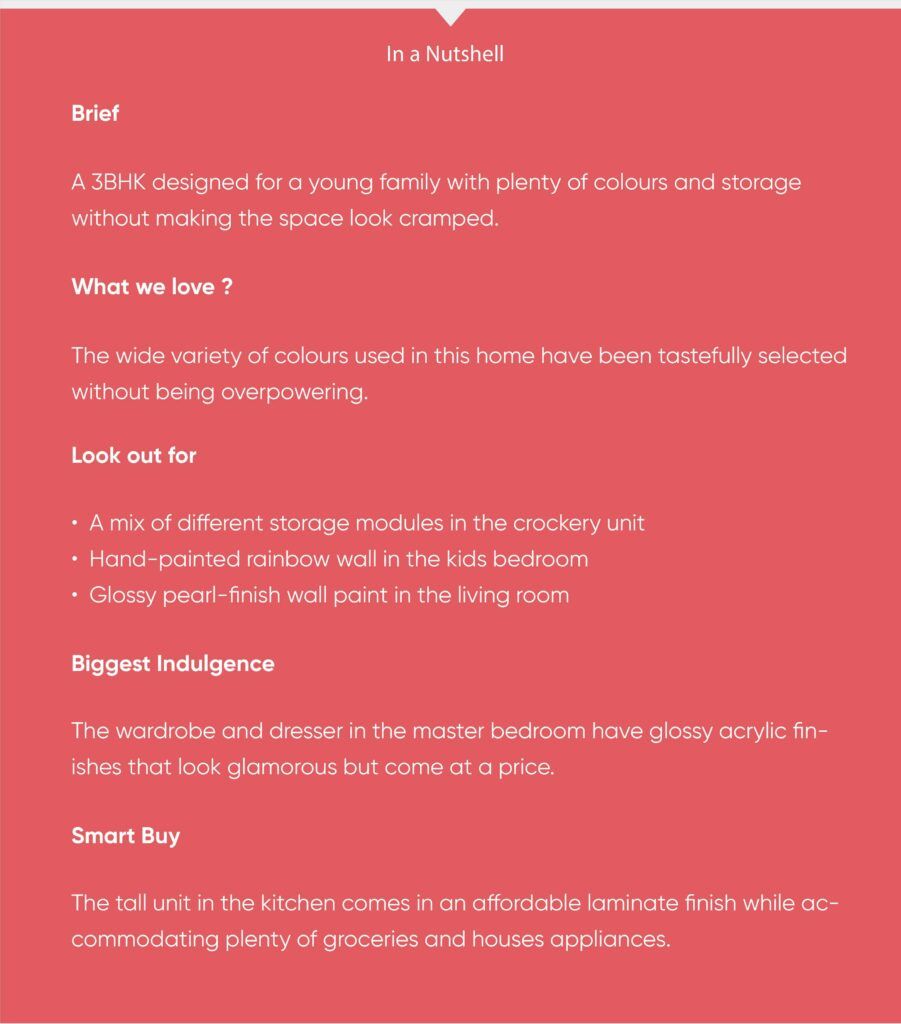 A Colour Scheme of Plenty
Deepak and Sheeba wanted their home to be full of colours to ensure their little ones have a vibrant space. They wanted to experiment with shades and tints but didn't want anything too loud. So the responsibility to maintain a balance of colours rested squarely on Shirali's shoulders. But being one of the best interior designers in Electronic City, she remained undaunted by the task!
We see plenty of colour in this 3 BHK flat design; the living area itself has three different wall paints. But nothing hurts the eyes. We are particularly enamoured by the soothing shade of blue used in the foyer and behind the TV unit. It presents a stark contrast to the sobriety of the grey wall in the dining space.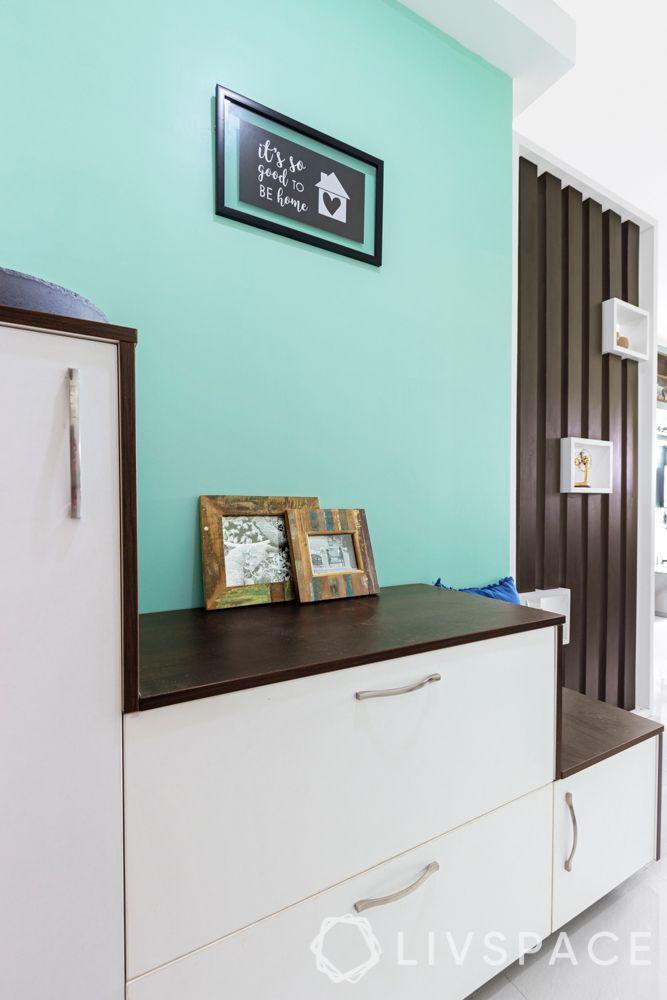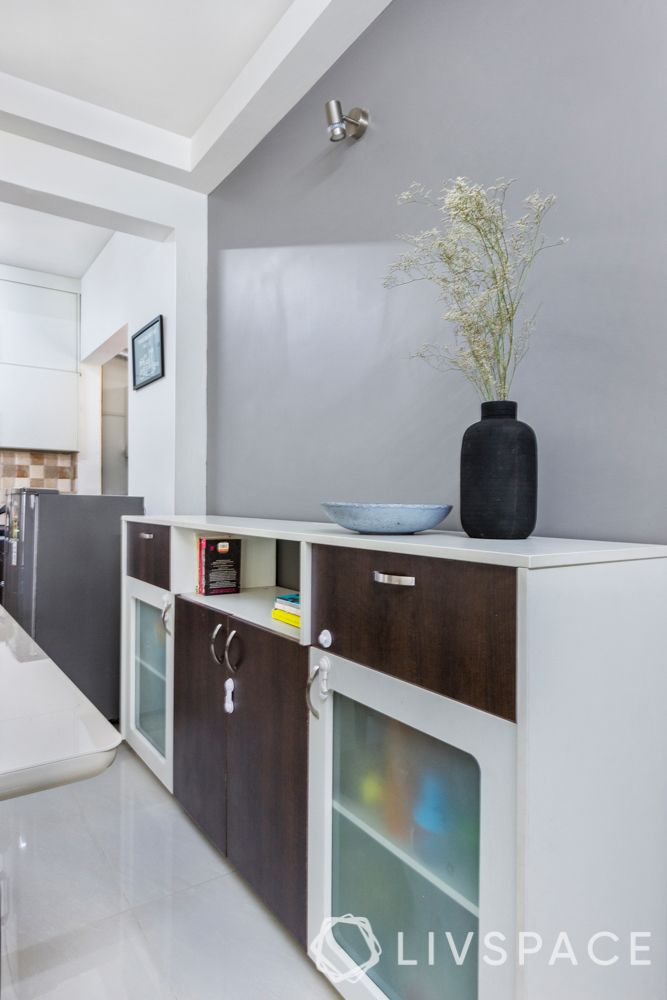 Sheeba wanted a pink colour theme for her bedroom as it's her favourite colour. Now designers will tell you that pink is one of the toughest colours to pull off on a wall. If it's too bright, it looks childish and if it's too light, it fails to make an impact. But Shirali has used an ingenious way to use pink in this 3 BHK design with a multi-coloured wall. So we see two different shades of pink balanced with a soft shade of grey. Moreover, this statement wall has an excellent visual effect adding texture to the space all at once!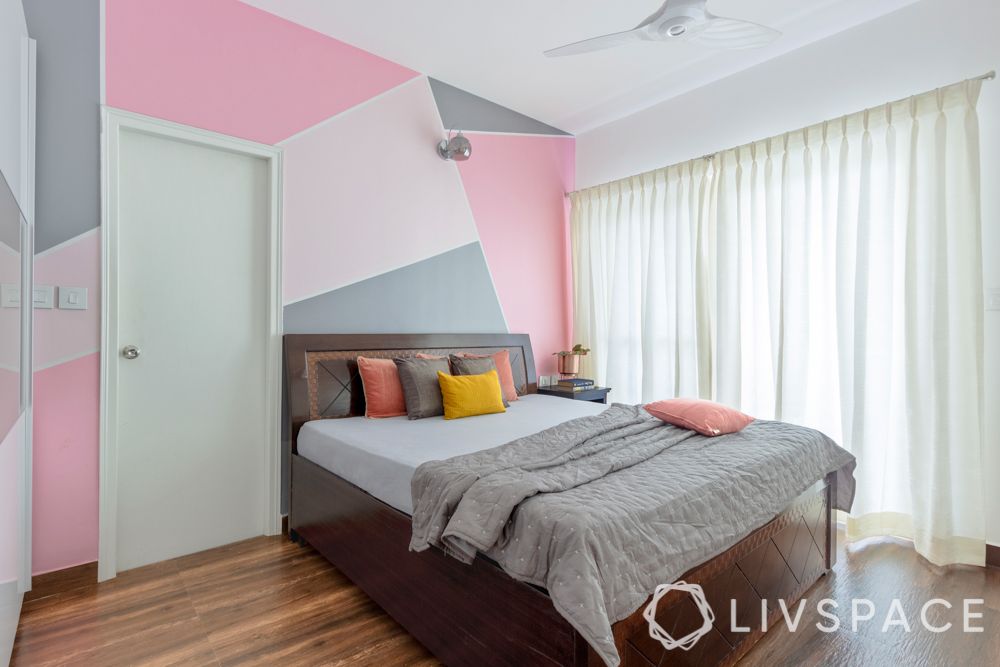 Not Stuffed With Storage
It is an universally accepted fact that a family's need for storage grows fourfold with every child. But in spite of having two toddlers at home, Deepak and Sheeba didn't wish to go overboard with storage. They wanted their kids to have enough space to move around freely. And Shirali supported their choice by designing sleek yet sufficient storage units.
As the foyer was part of this 3 BHK flat design, she used this space to install a shoe cabinet that emulates steps and offers seating space by virtue of its design. The low-height crockery unit is a mix of different modular storage units from the Livspace catalogue. This unit covers an entire wall but because it is not tall, it does not eat up vertical space.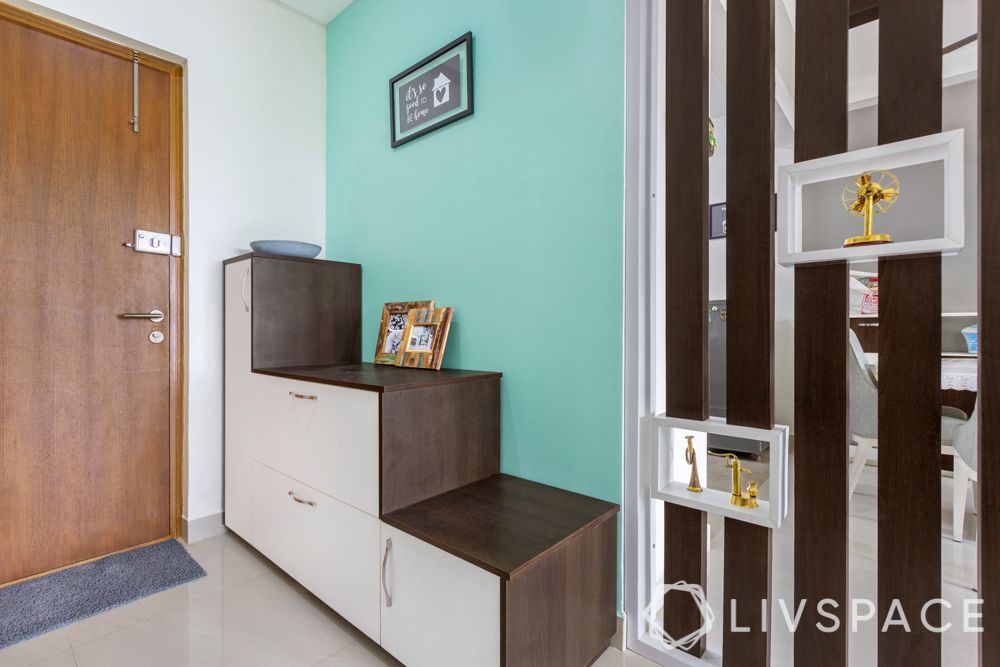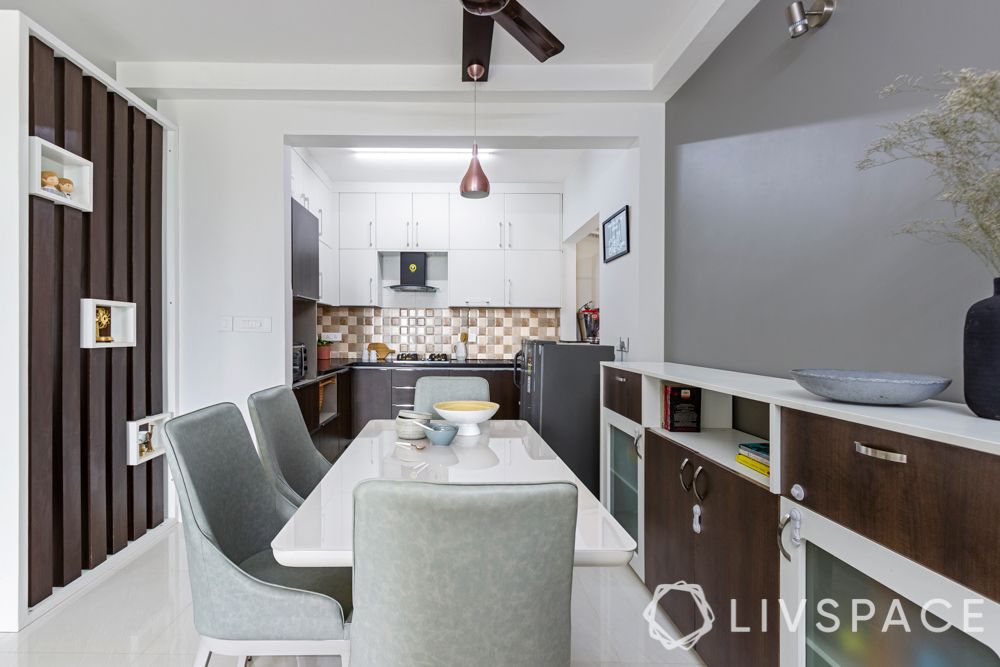 The showstopper among storage units is installed in Deepak and Sheeba's bedroom. And it is a shimmering white wardrobe in classy acrylic finish from our catalogue. To match it, there is a white dresser at the other end of the room. In the kid's bedroom, Shirali opted for a sliding wardrobe to keep some free space and installed a rack beside it for stowing away toys.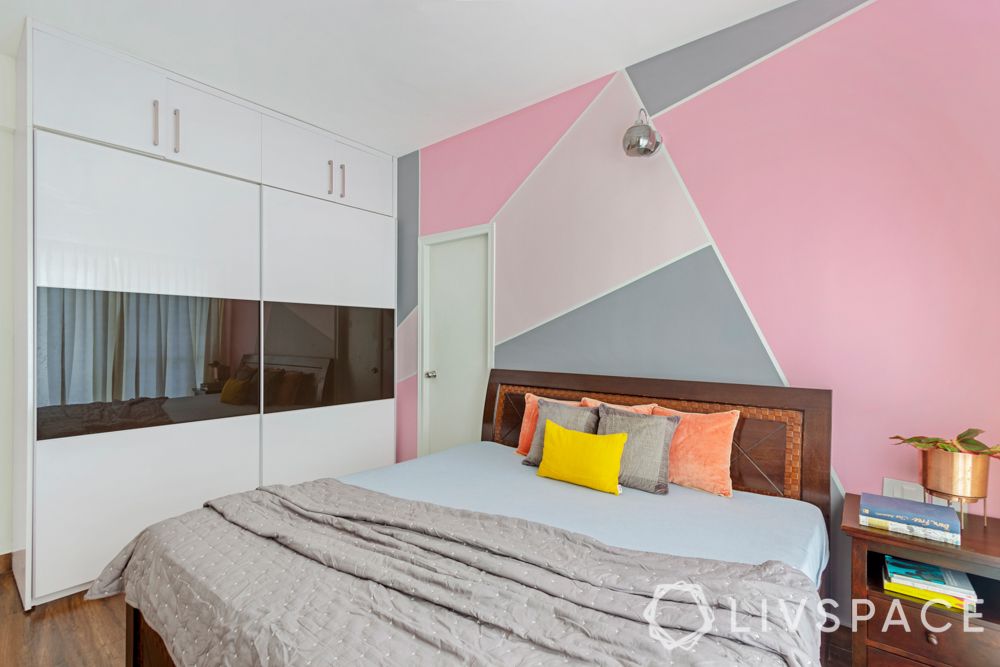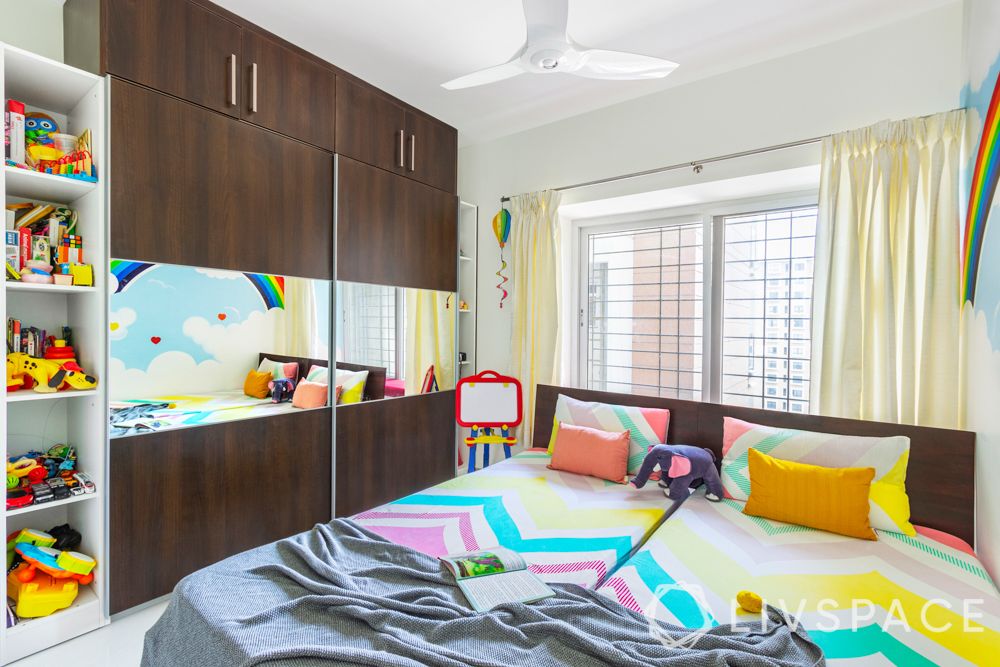 A Mixed & Matched Kitchen
The kitchen is a functional space and that's just how Sheeba wanted her kitchen to be. She wanted plenty of storage, easy maintenance and accessibility to be the priorities. Shirali followed these guidelines to design a kitchen with wall cabinets and lofts to provide extra room for storage. The brown wooden finishes are laminate while the white ones are membrane. The mix provides a rather earthy vibe to the kitchen. Moreover, Shirali has also included a variety of accessories like wicker baskets and an open tall unit into the scope of the kitchen.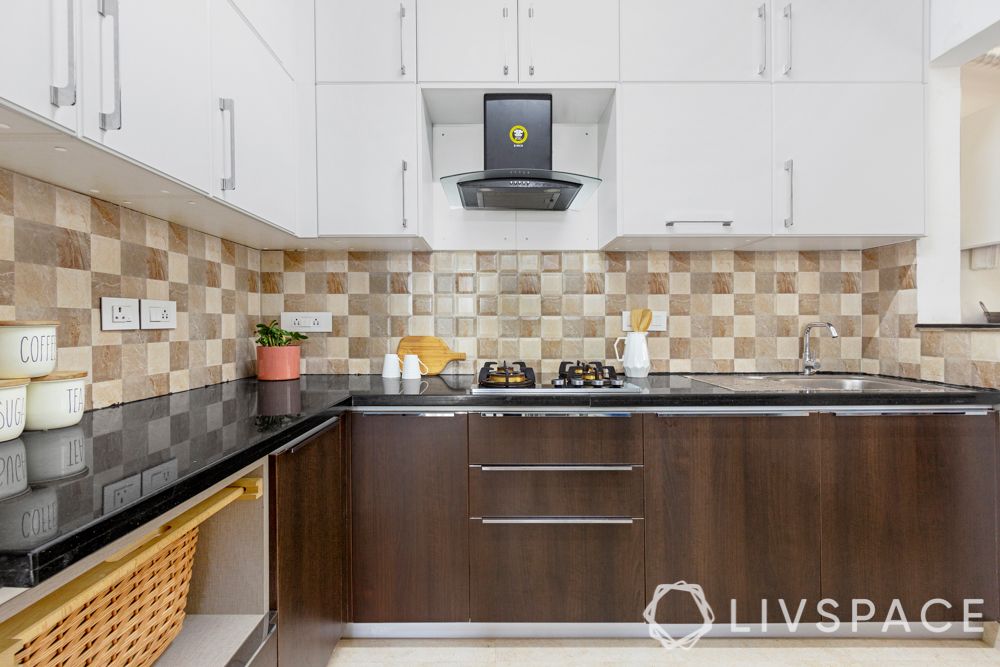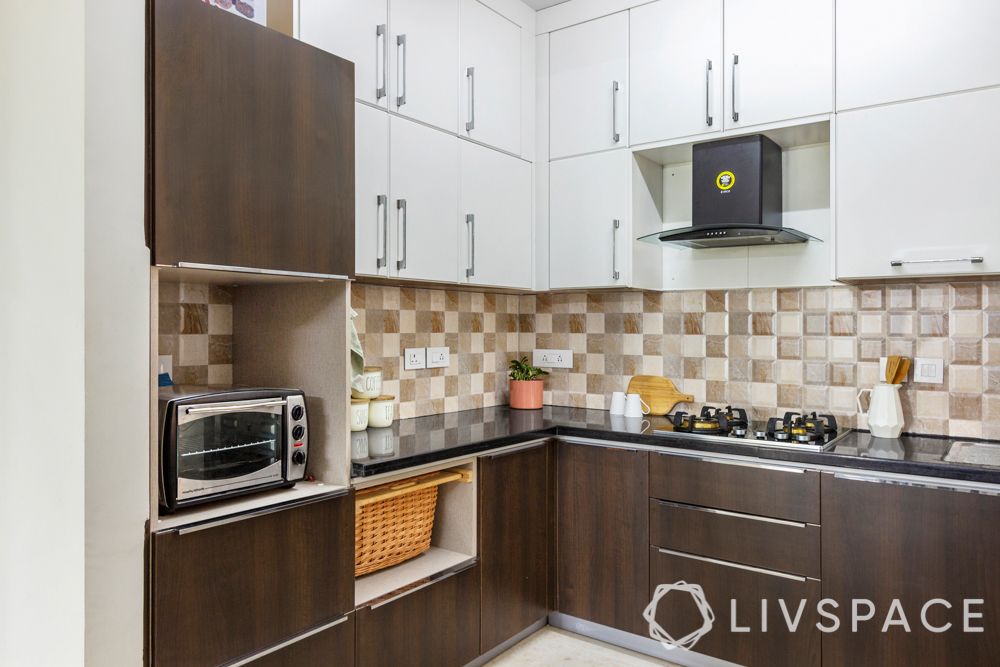 A Fine Eye for Furniture
As one the best interior designers in Electronic City, Shirali has a rather refined eye for furniture. And Deepak and Sheeba seemed to match her taste in kind. It's interesting to see that the wall colours in this 3 BHK design don't pop because Shirali has balanced them with furniture in the same shades. The dining space with grey suede upholstered chairs is a fine example. Moreover, we love the contrast of the acrylic finish base cabinet and the laminate finish shelves that comprise the entertainment unit.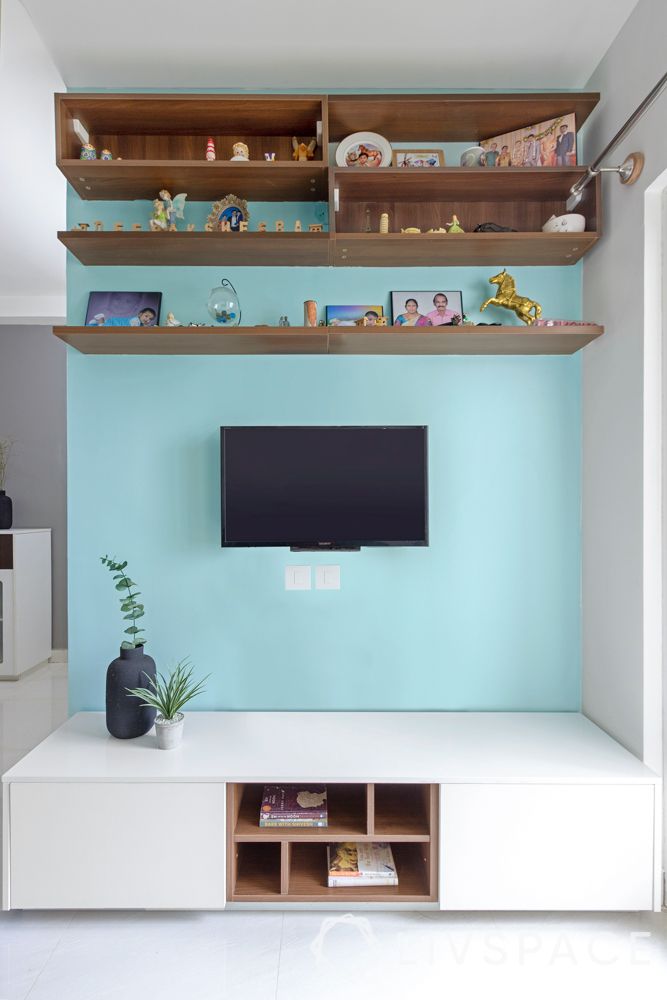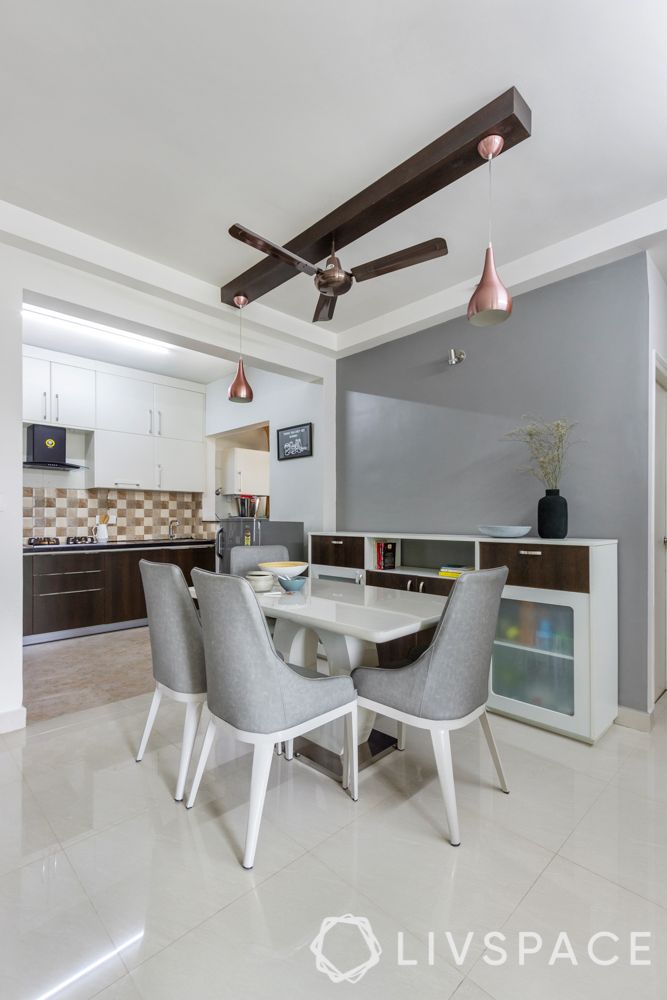 Speaking of Bespoke
The couple wanted to spare no efforts when it came to their kids' room. So instead of painting the walls, Shirali employed a local artist to create a painting on the wall. It sure is a blessing to grow up amidst rainbows and sleepy clouds.
The other custom element in this 3 BHK flat design is the partition in the living room with inbuilt shelves. It is segrates space quite effectively while making a statement by itself.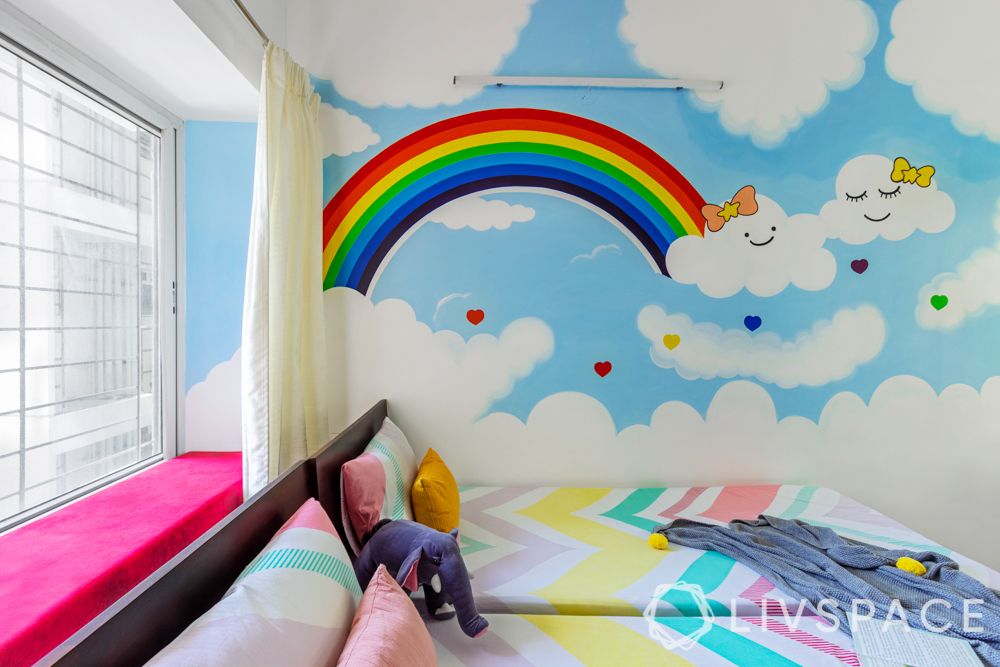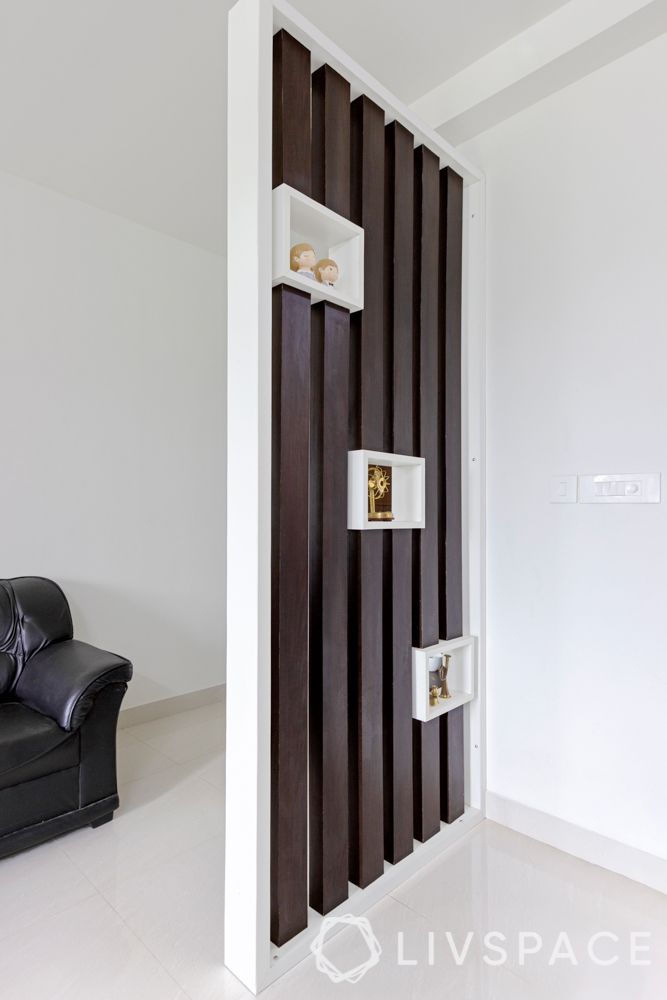 Designer Speak
"Deepak and Sheeba were very sensible about how they chose to design their home. I really appreciated how they understood the importance of free space and did not stuff their home with storage. It was a pleasure to work with this rather adorable family."

– Shirali Maher, Interior Designer, Livspace
If you enjoyed reading about this 3 BHK design, also explore some of Our Best #LivspaceHomes in Bengaluru.
Send in your comments and suggestions.