Perfect to unwind in, this charming address is #goals!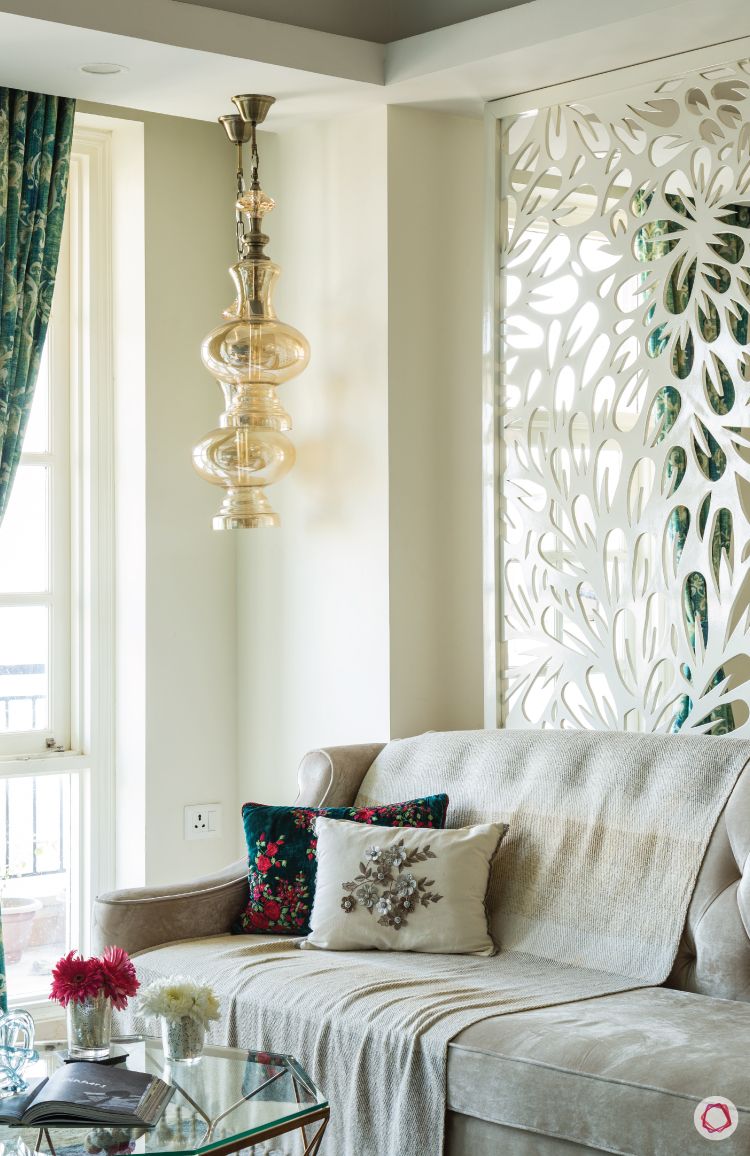 ---
Who livs here: Aman Bhargava, his wife Tanu and their son Rushil
Location: Charmswood Village, Faridabad
Size of home: 3BHK spanning 1,380 sq ft
Design team: Interior designer Kajal Sood and Project Manager Vishesh
Livspace service: Full home design
Budget: ₹₹₹₹₹
---
Homes are all about settling into your comfort zone. After a long day at work, who wouldn't love to come back home, dive into their space with their family and feel relaxed? When Aman Bhargava and his wife Tanu bought a swanky new flat at Charmswood Village, Faridabad, they agreed on one thing: they wanted an expert to design an ultimate unwinding loft for them. Afterall, with Aman running a business and Tanu being a consultant, they wanted a feel-good home that was perfect for the couple and their 14-year-old son, Rushil.

One meeting with our interior designer, Kajal Sood, and they knew they found the right person. While the home was originally a 3BHK, Kajal thought extending the living room by using up one of the bedrooms would suit the family's lifestyle better. And indeed, the Bhargavas say they love the large living room!

With soft hues, accent lights and cosy nooks, there's no denying Kajal crafted the perfect space to unwind. Here's the tour.

Flats in Faridabad: First Impressions are Everything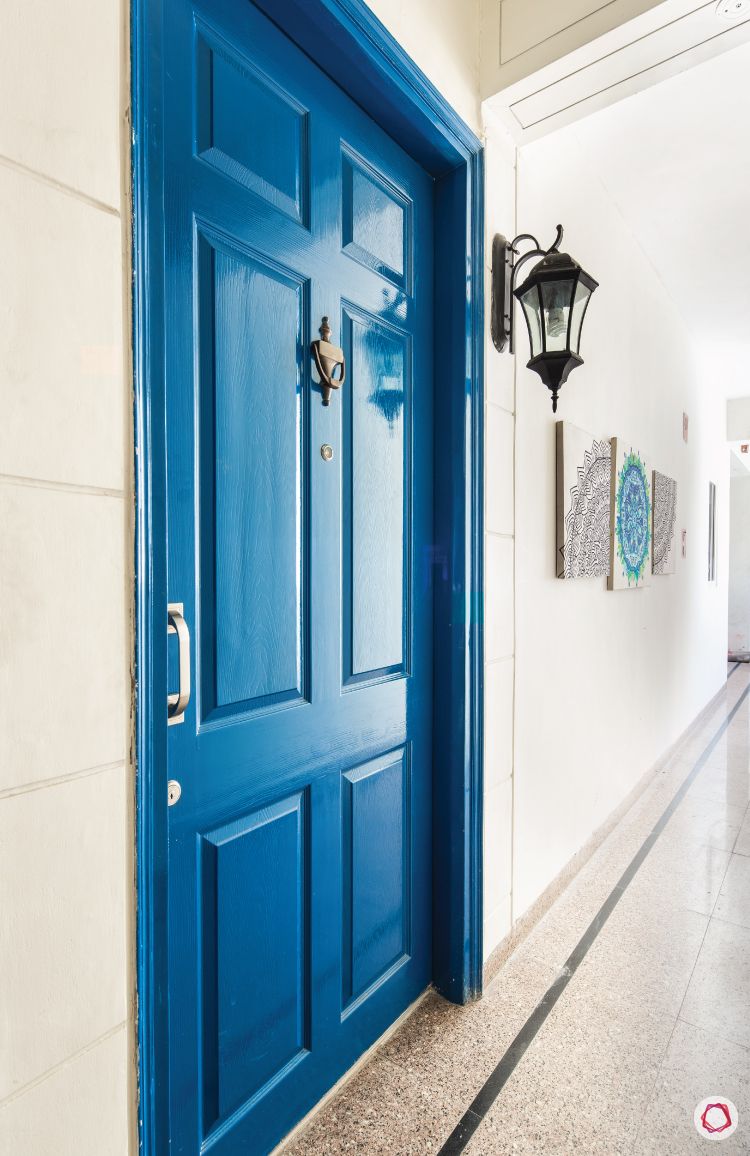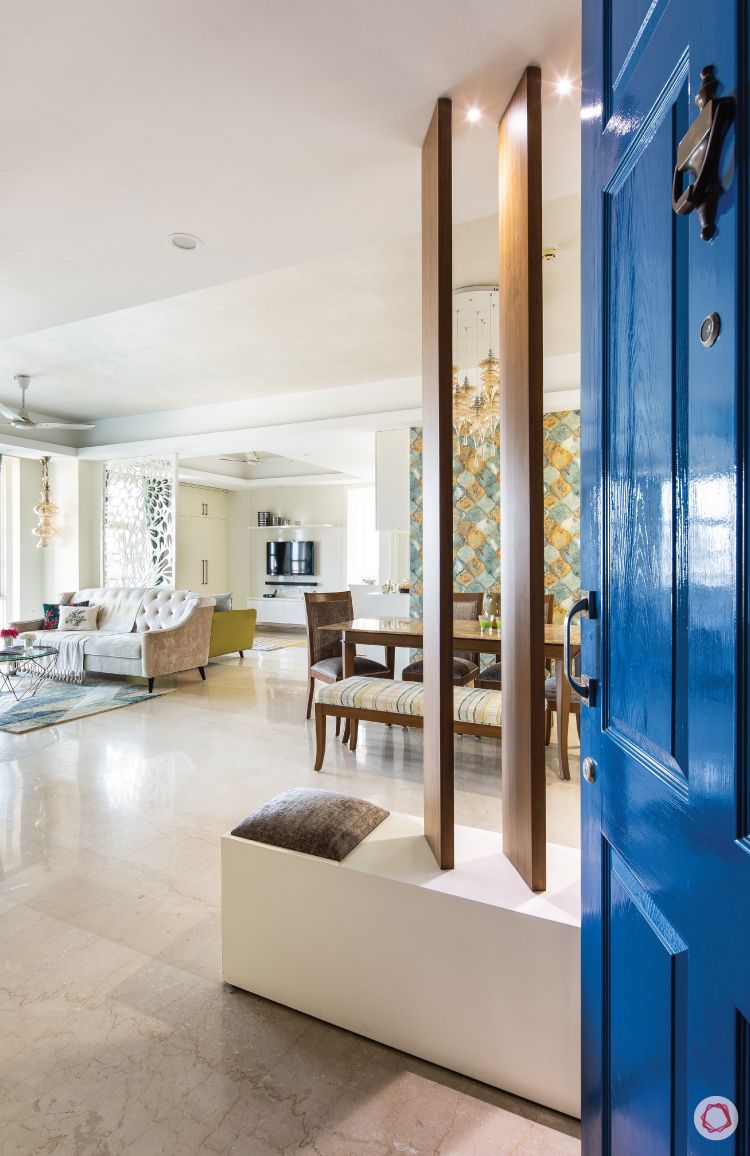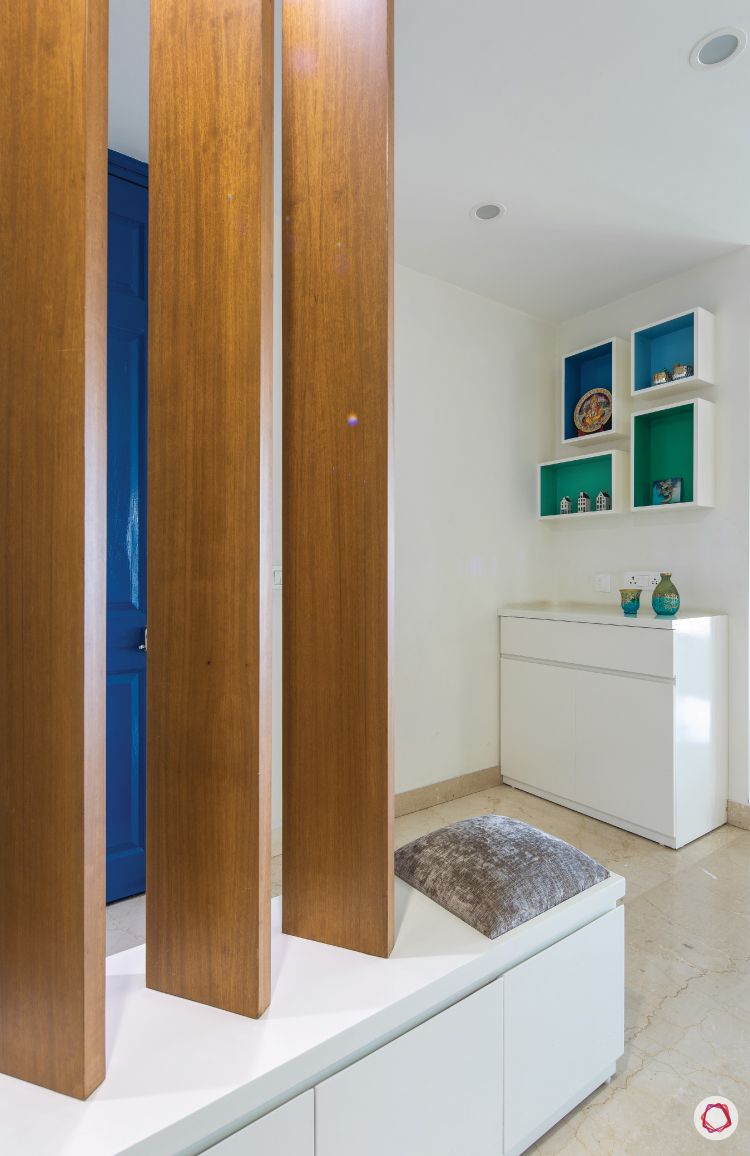 A royal blue English door is the first thing that greets you before entering the home. Paired with a night lamp, the entrance scores big on first impression. "Our home is all about good vibes and we want people to feel the same too when they come over," says Tanu.

On entering the home, you'll see a shoe rack done up in white Duco paint and wooden rafters occupying the foyer. After that, for an additional bit of storage, Kajal put in an extra cabinet with a drawer on top to stash keys and other essentials. The open shelves mounted on the wall above it are painted in the family's favourite colours: teal and green.

Flats in Faridabad: A Living Room on Fleek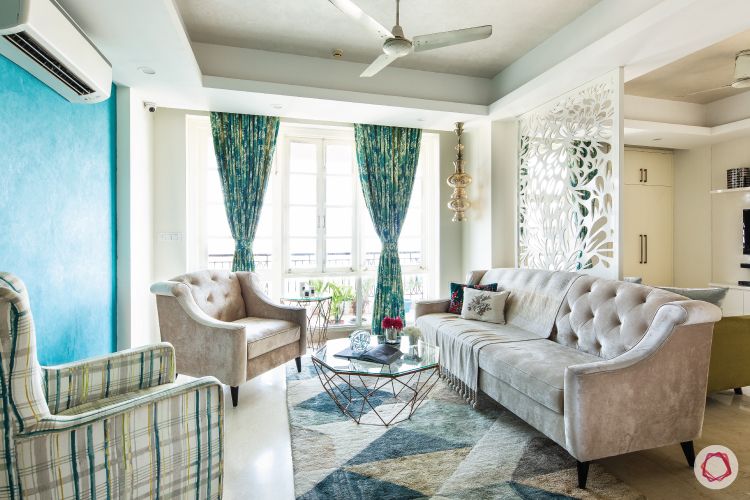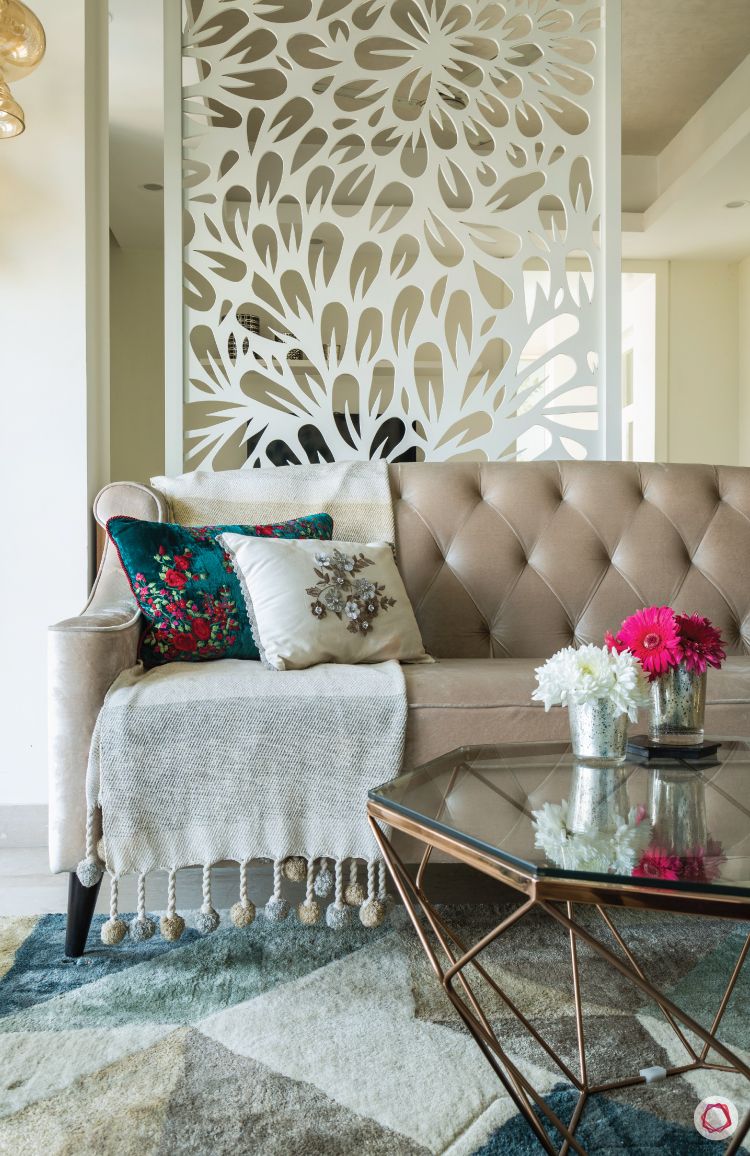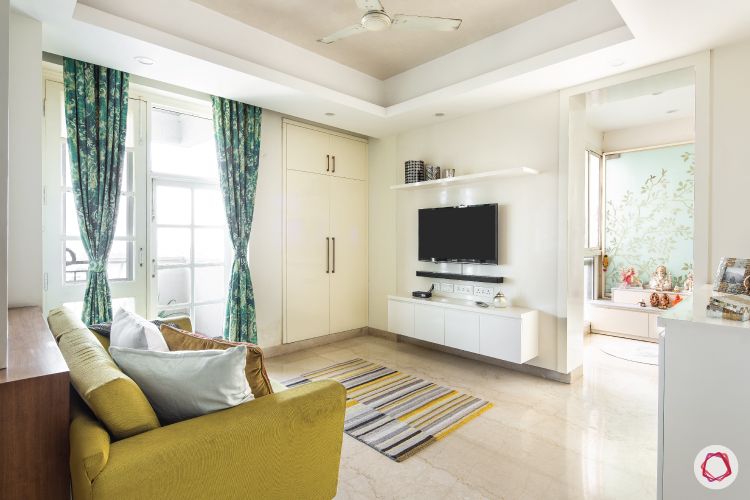 The living room is every bit of refined elegance. While one section of the large living hosts comfy sofas to entertain guests and a happy blue wallpaper, the other flaunts a single yellow sofa for the family to lounge in and watch TV. We love the pendant light in the corner of the formal living that acts as a focal point. Also, notice how the two living rooms are beautifully divided by a dainty white jaali.

In conversation with us, Tanu reveals the informal living is the family's favourite part of the home, "It's unbelievable how much time we spend together in this room just as a family. We especially love unwinding here. Aman, Rushil and I come here at the end of every day, talk to each other about our day or just watch TV together. We think Kajal's decision to extend the living is one of the best parts of the home."

The TV unit here is a soothing white laminate that's been mounted on the wall for more floor space. Since this part of the living area was originally a bedroom, Kajal retained the inbuilt wardrobe here and revamped it with white membrane.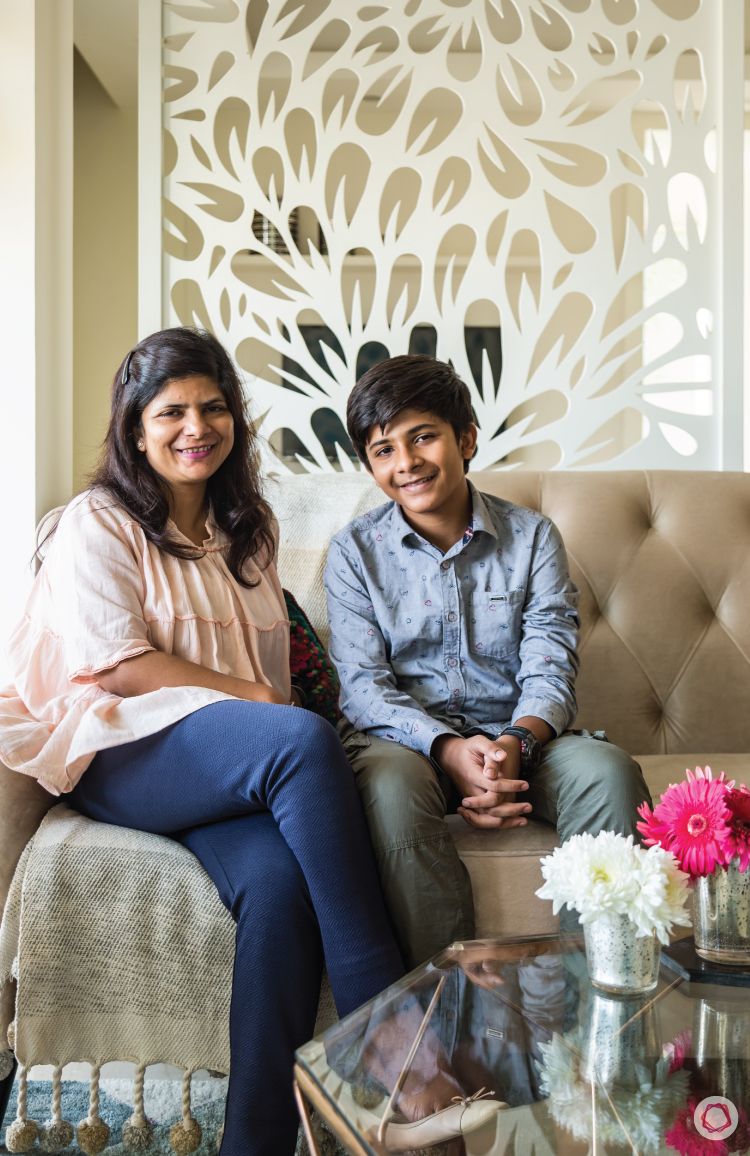 "I think our designer Kajal did a fabulous job. Everything was personalised. Right from the curtains to the flooring, I love how everything came together. We enjoyed the Livspace experience."


– Tanu & Aman Bhargava, Livspace Homeowners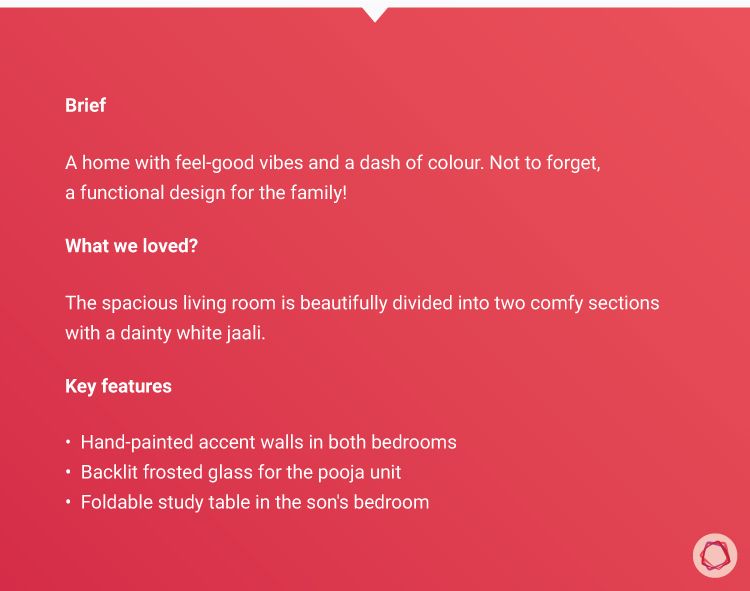 Flats in Faridabad: Comfy Dining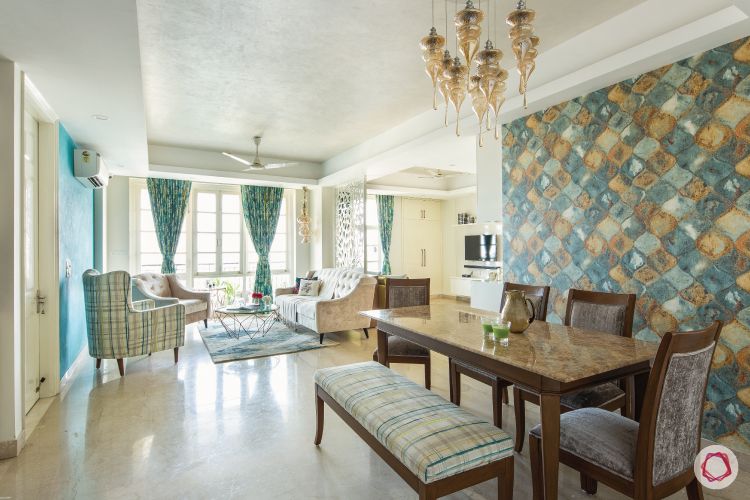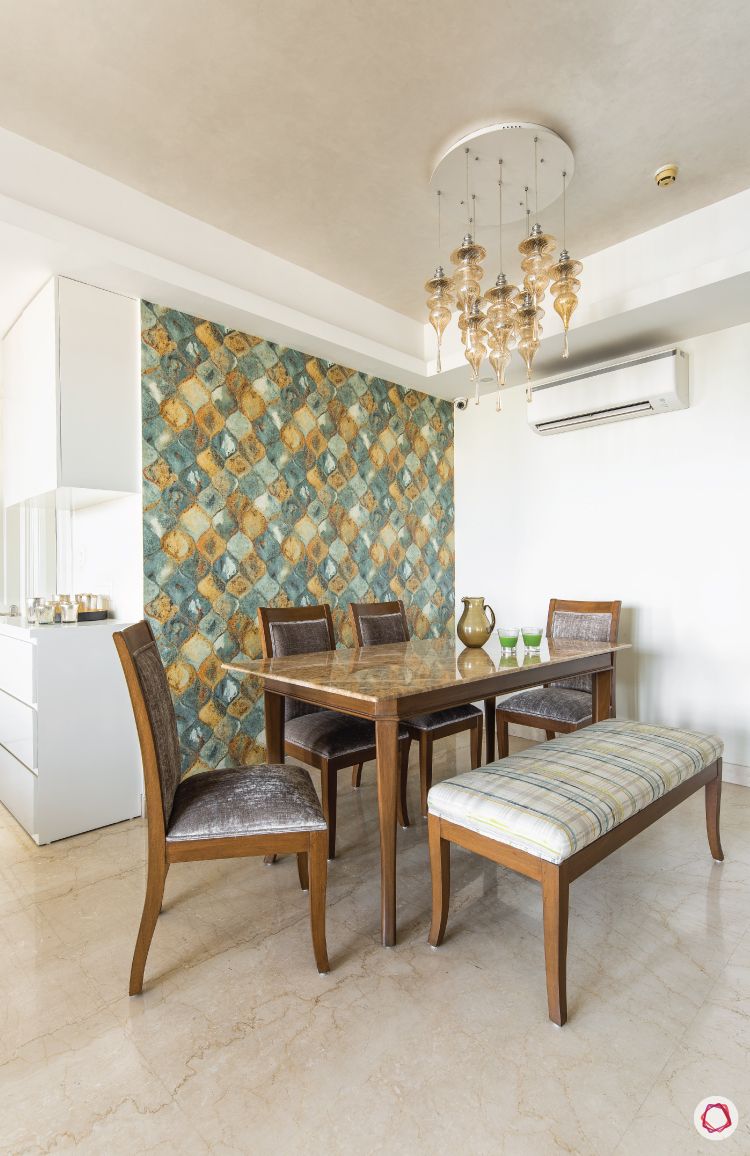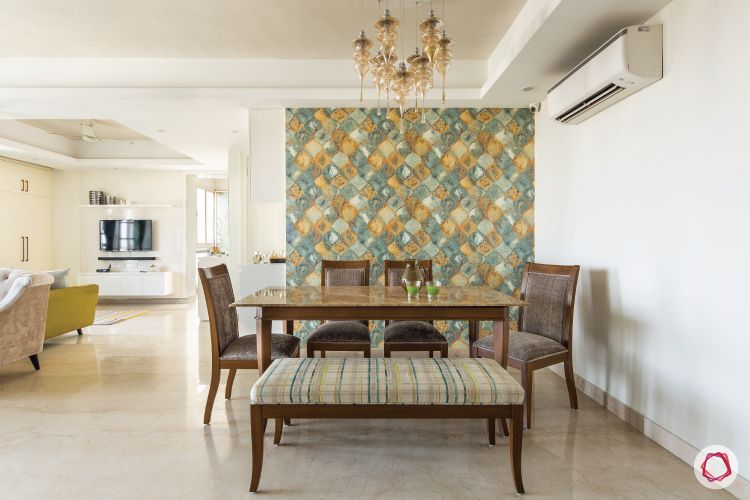 If you need inspiration for your dining nook, this flat in Faridabad won't fail you. With a patterned wallpaper and a regal chandelier paired with wooden table, a bench and chairs, this space is dressed to impress. Coupled with this, is a custom-made table top that stands in a beautiful brown quartz.

Flats in Faridabad: A Dreamy Pooja Space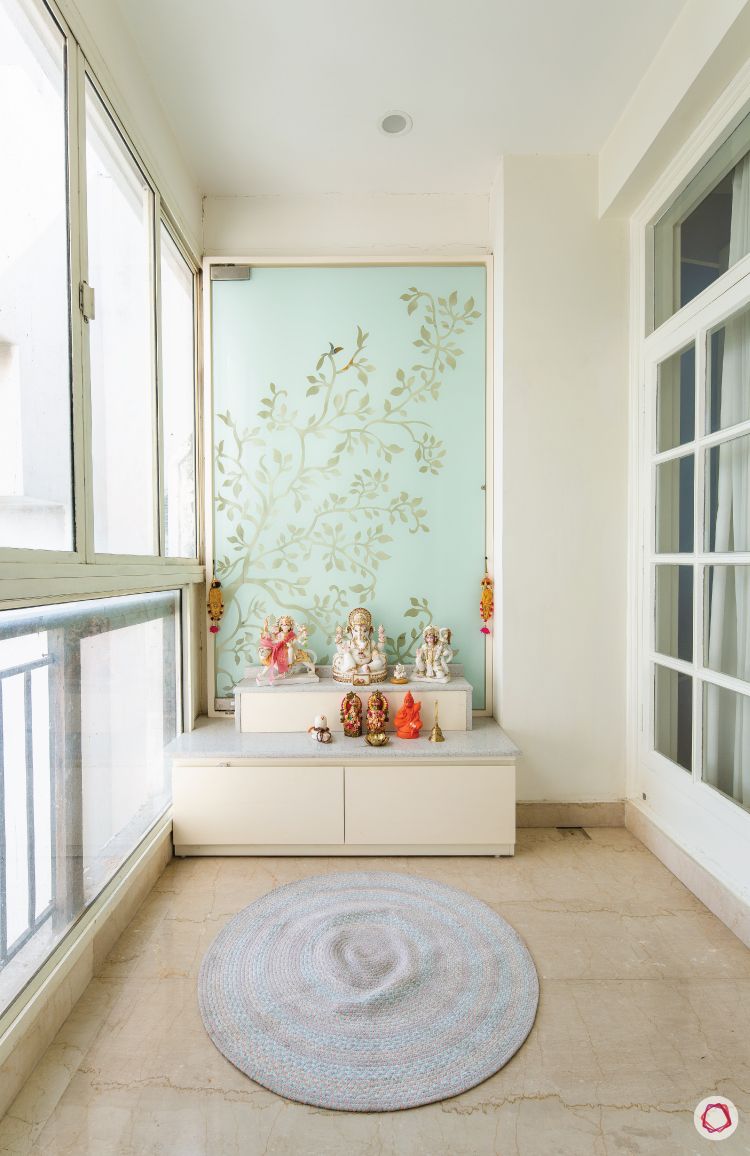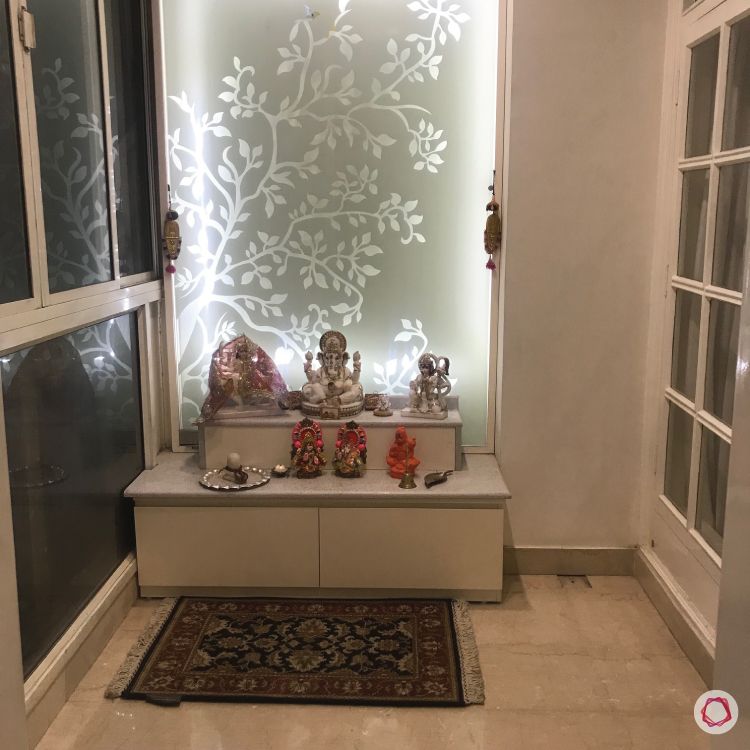 The pooja room is a dreamy space with a backlit frosted glass panel in floral prints. We love how it's placed right next to the balcony to pour in an abundance of sunlight. The pooja unit is also packed with storage. Standing in a white laminate, it's been topped off with an elegant quartz.

Flats in Faridabad: A Happy Kitchen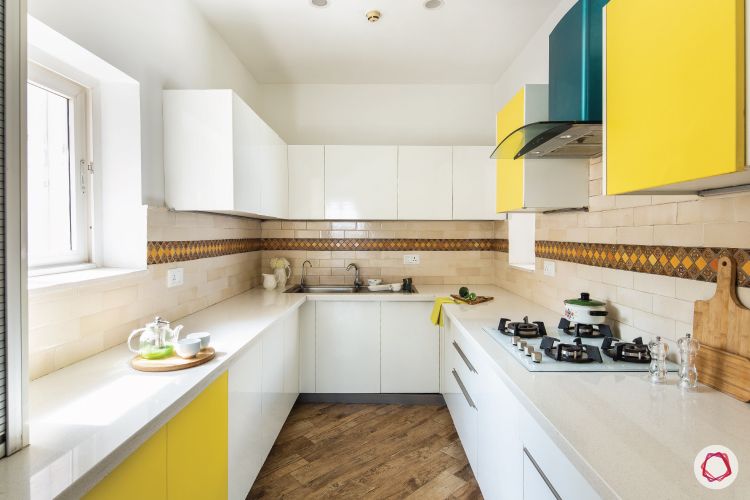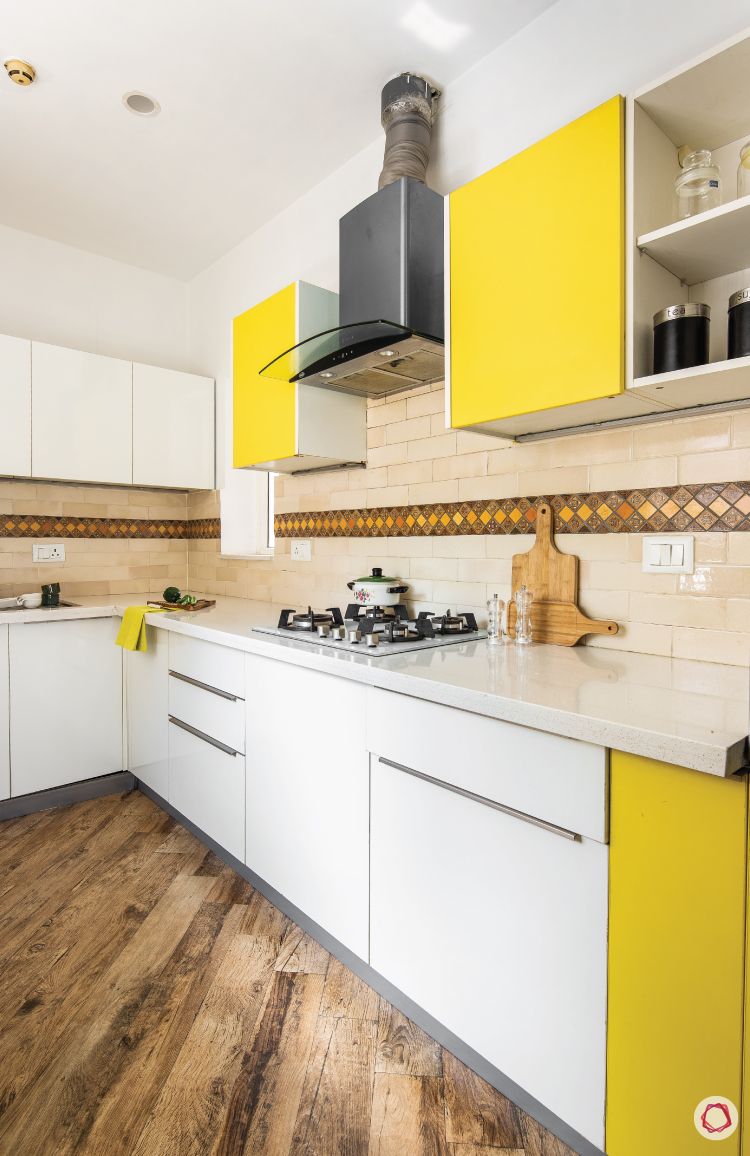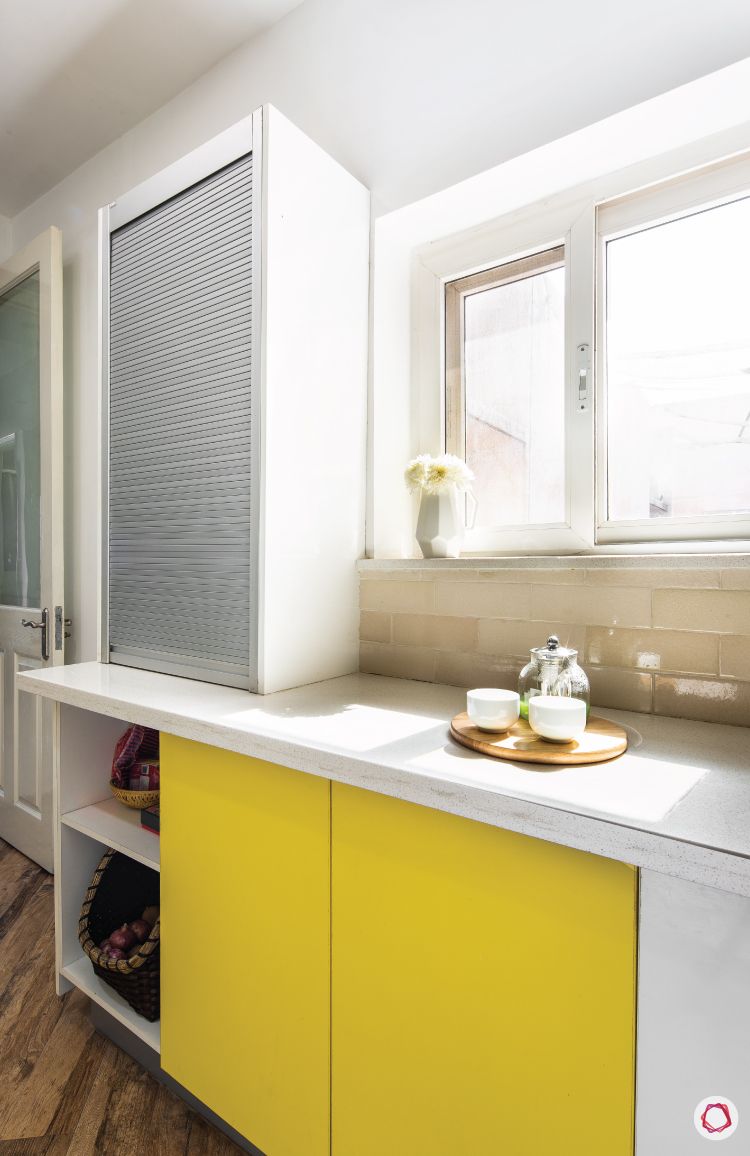 Besides being efficient, a kitchen needs to be a fun space as well. Afterall, it's probably the busiest space in most Indian homes! As a result, Kajal put in pops of yellow to bring in a little energy and vibrancy to the kitchen and paired it with pristine white to create a clean look. All the cabinets have been done up in laminate for easy maintenance. A roller shutter has been put in to neatly tuck in electrical appliances. Also, thanks to the handle-less single grooves, all the cabinets appear smooth and seamless.

The quartz countertop complements the handmade sand-coloured wall tiles. Doesn't the patterned strip of tiles running along the centre elevate the overall design?

Flats in Faridabad: A Soothing Bedroom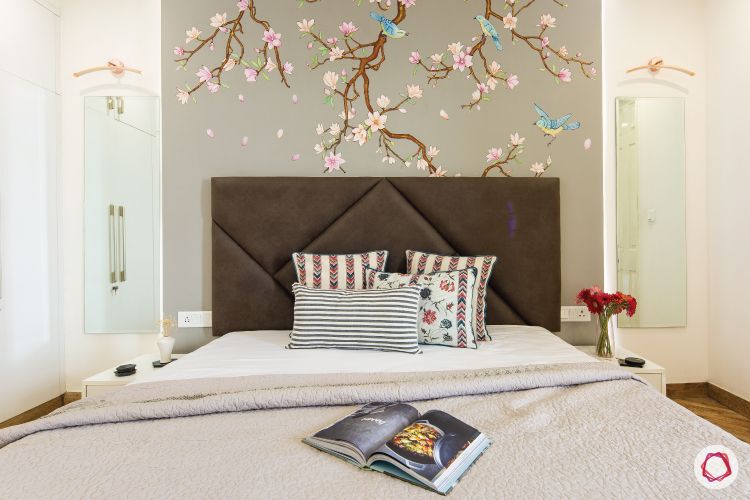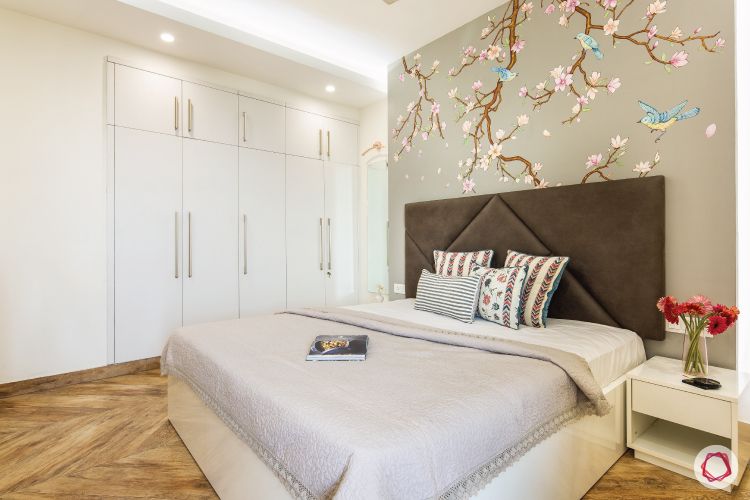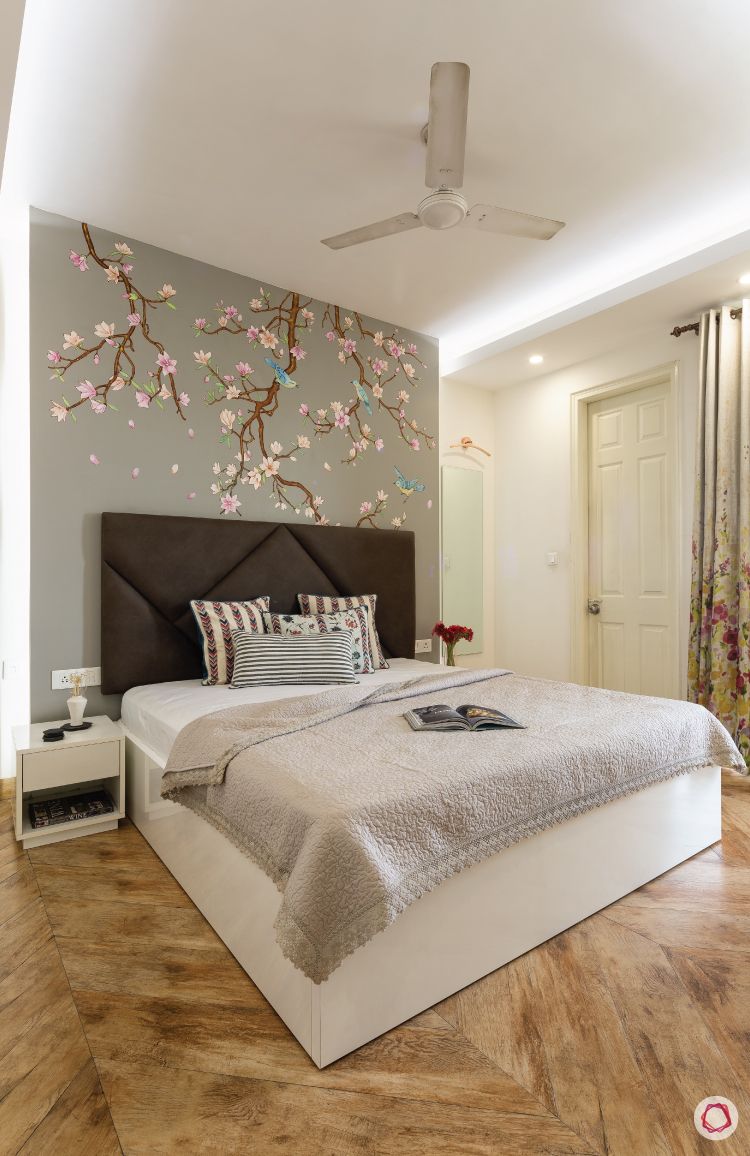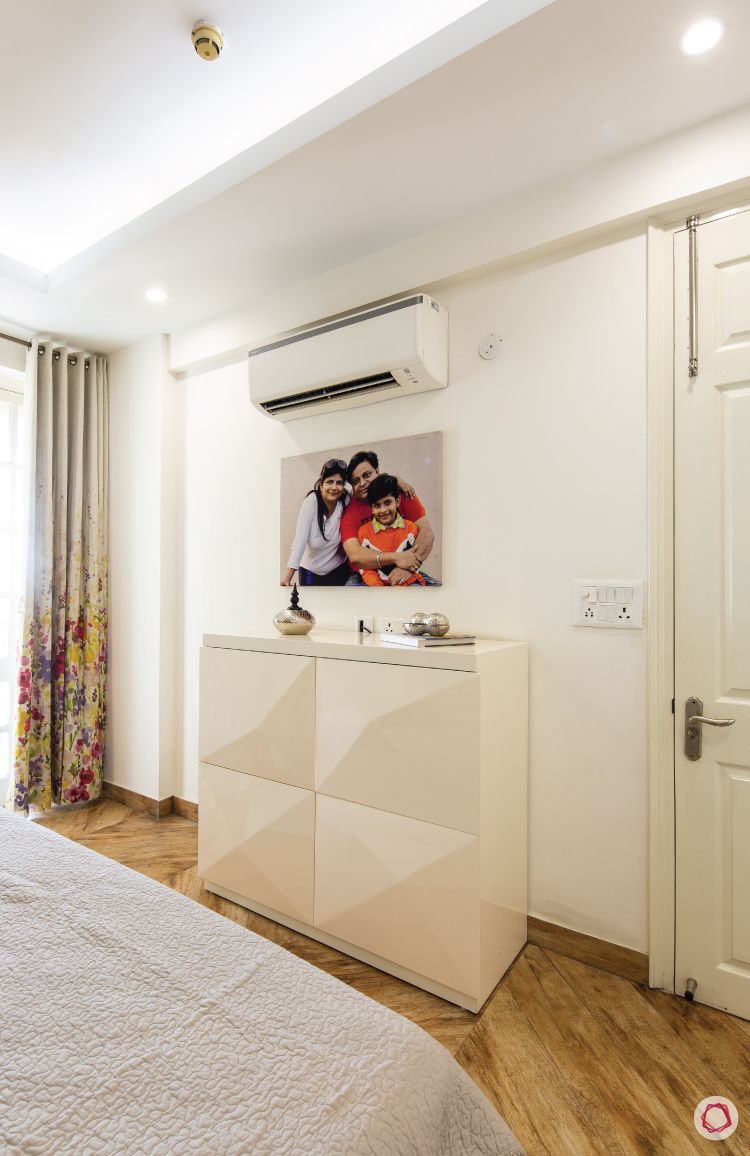 Aman and Tanu had one requirement for their bedroom, it had to be soothing. They only wanted essential furniture. So, that meant no TV, extra tables or frills. Of course, that doesn't mean you can't keep things interesting! Take a look at the hand-painted accent wall for example. Inspired from cherry blossoms, the grey floral wall features blue birds as well. "I absolutely love birds and I wanted my bedroom to invoke the same kind of calming vibe just like watching birds," explains Tanu.
The wardrobe stands in white membrane with lofts to stash away extra things. Also, for storage, Kajal put in a hydraulic bed fitted with a grey fabric headboard and minimal geometric cabinet in Duco paint. Notice the two full-length mirrors on either side of the accent wall? The couple didn't want a typical dressing unit. With this in mind, Kajal put in two mirrors and sleek side tables for essentials. Moreover, everything sits on vitrified flooring in a warm-toned wooden finish.
Flats in Faridabad: A Dash of Playfulness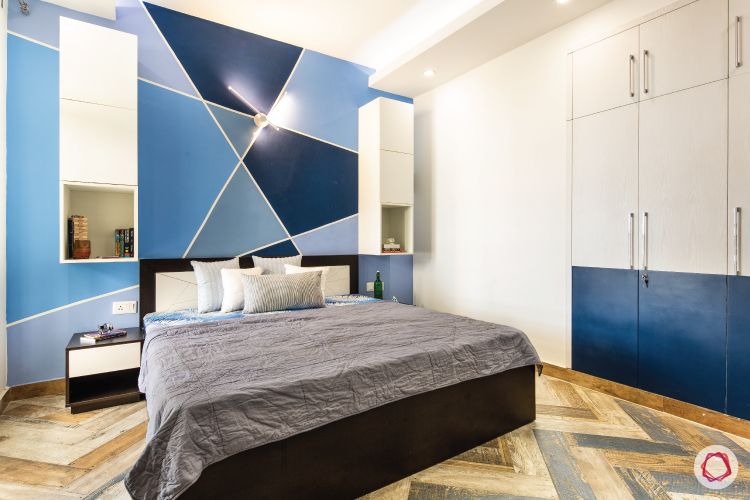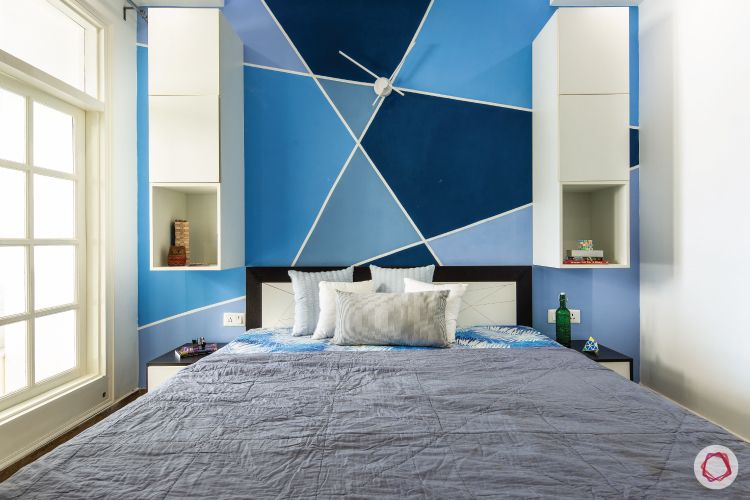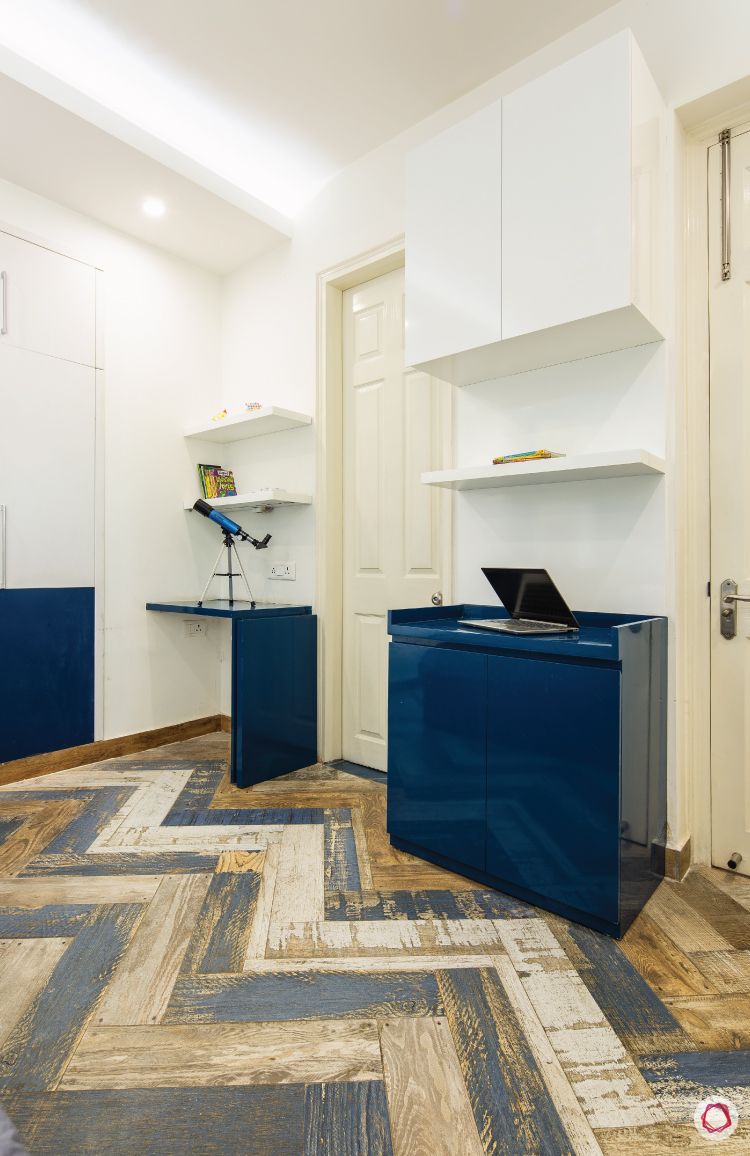 If you ask Kajal her favourite part of the home, she would readily point to the son's bedroom. While a hand-painted geometric accent wall can easily hold your attention, the flooring too is a work of art. In addition, a mesh of brown, grey, blue and white tiles have been used for the flooring.

Storage was extremely important for Rushil's bedroom. As a result, Kajal put in two cabinets in white laminate above the bed for books and toys. Opposite the bed, a lone table in Prussian blue has been mounted on the wall, which can be extended. In addition, an extra storage cabinet in the same beautiful hue of blue and overhead cabinets in white have been put in.

Flats in Faridabad: A Chic Bathroom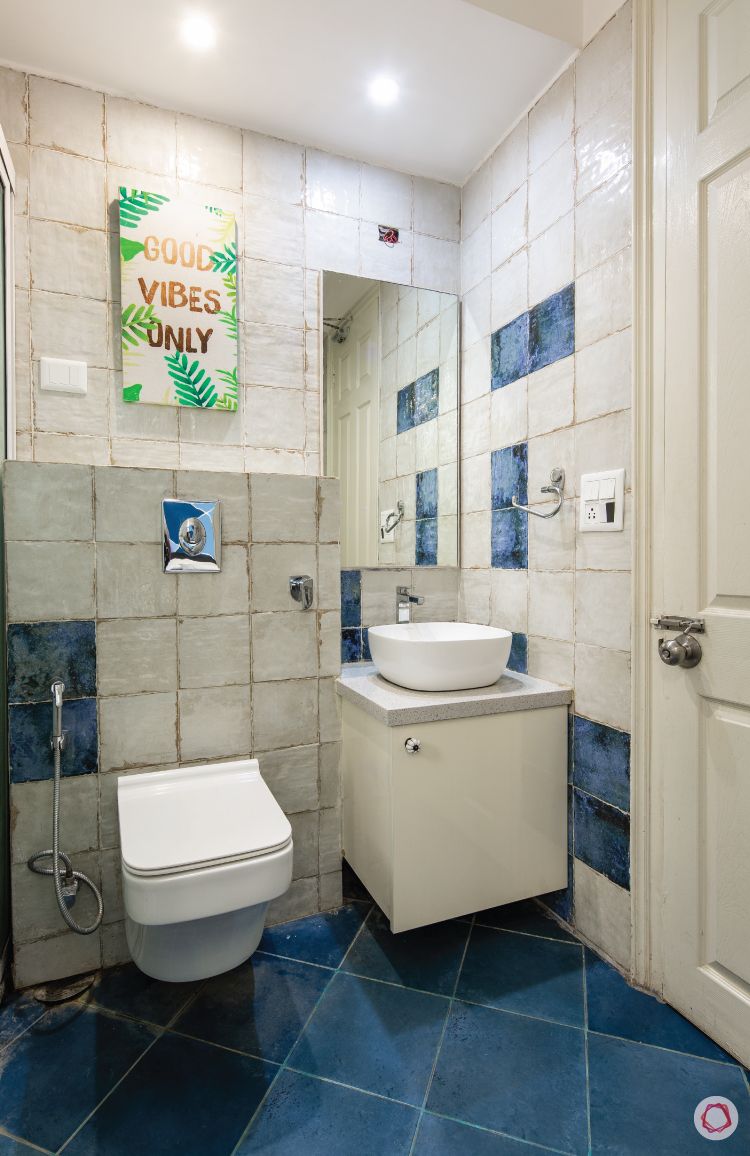 For the bathroom, Kajal added a white laminate vanity unit with a frameless mirror. We love the peacock-hued tiles for the bathroom flooring and touches of it on the walls as well.
"The Bhargavas are such an amazing family. Right from the get go, everything went smooth. It was fun designing a beautiful unwinding home."

– Kajal Sood, Interior Designer, Livspace
If you loved this modern home, take a look at this stellar Mumbai home that's Plush, Tasteful, Fresh, & Enviable.

Send in your comments and suggestions.