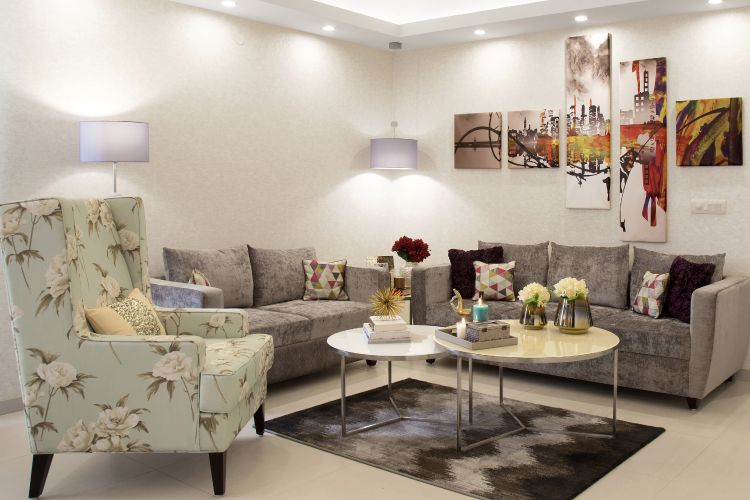 ---
Who livs here: Udit and Rohini Gera with their 1-year-old daughter, Prisha
Location: Ireo Uptown, Sector 66, Golf Course extension, Gurgaon
Home type and size: A 3 BHK home spanning 2,171 sq ft
Design team: Interior designer Kajal Sood with project manager Vipul Sharma
Livspace service: Full home design
Budget: ₹₹₹₹₹
---
A home decor and design enthusiast, Rohini Gera was eager to design her new family home in Gurgaon in a way that behooves the Geras' polished lifestyle that centres around entertaining. But soon she found herself overwhelmed with the daunting task. Scouring through the internet, looking for answers, the marketing professional finally chanced upon Livspace. And voila, her dream for a designer home beautifully unfolded over the next few weeks.
Keeping in mind the working couple's needs, interior designer Kajal Sood carved out an elegant, refined home by adding personal touches that reflect the Geras' impeccable taste though art and a collection of eclectic accent pieces.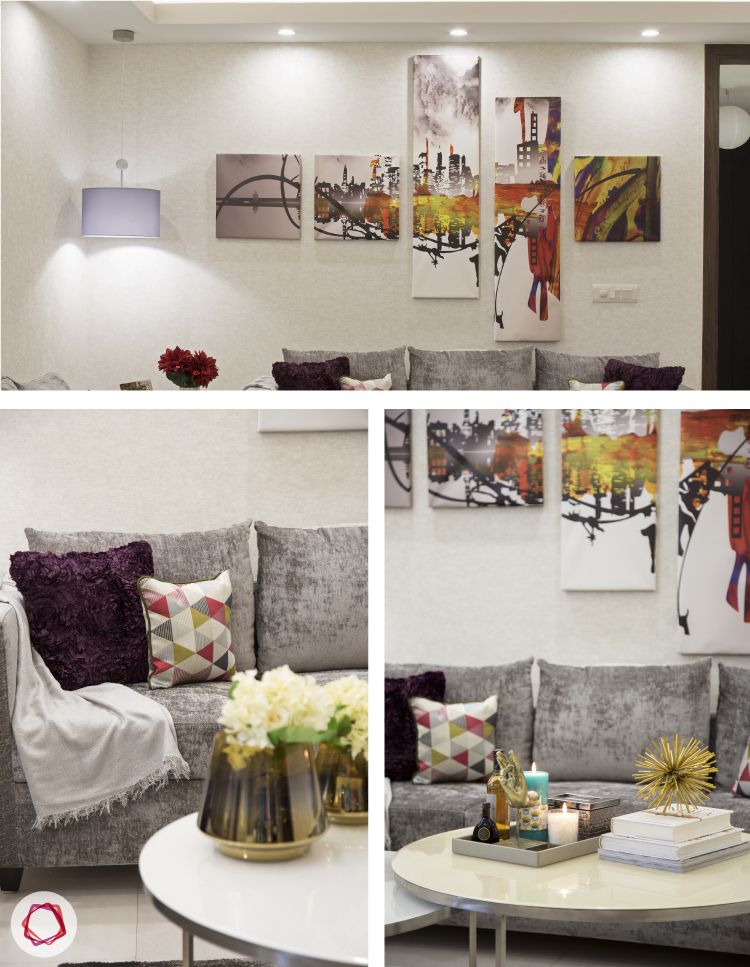 ---
An intense, vibrant five-panel art series breaks the monotony in a sea of greys. The overlapping nesting tables keep things visually light, while they're a god-send when entertaining.
---


Rohini was particular about furnishing their living room with easy-to-maintain, dark colored sofas since Prisha, their daughter, is only a year old and all their furniture are susceptible to spills. When asked about color preferences, the family said they felt most at home when neutral hues reigned.
To keep things light and spacious, Kajal gave the walls a soft, grey finish— a versatile shade that blends beautifully with sunlight and artificial warm lights. She and Rohini worked closely to pick out a host of accent pieces that added hints of eclecticism to spruce up the space.
In fact, the fern green wingback accent chair with granny florals was added to balance the demure greyscape, while providing a comfortable spot to lounge.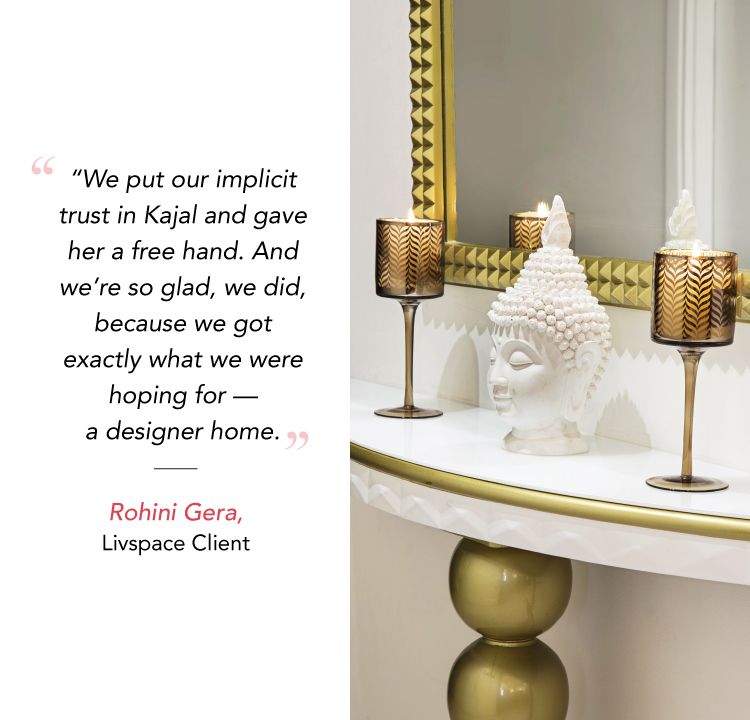 ---
The patina wall-mounted console paired with the antique gold leafed mirror sets the serene tone of the Geras' home. The Buddha head flanked by delicate candlestands add to the calm aura.
---
Cove lights also add a charming touch to the home. Mood lighting on the false ceiling and drum pendant lights, floor lamp and wall fixtures create a cohesive look.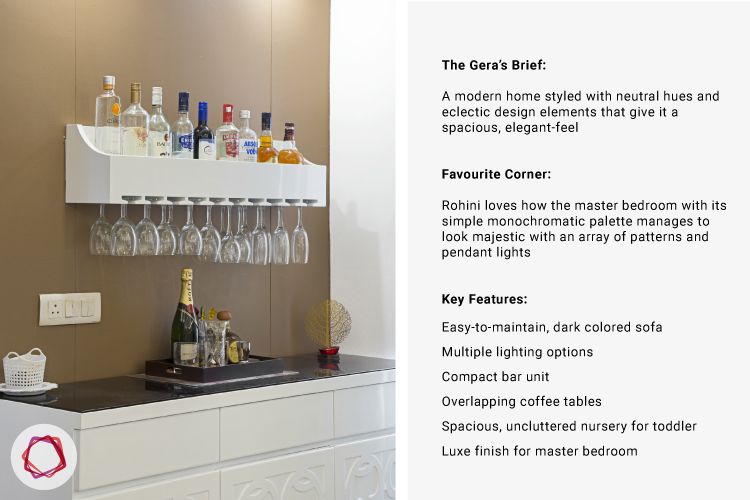 ---
The neat, compact bar unit makes entertaining a breeze as guests can now help themselves.
---
To match the existing sideboard, Kajal added a compact bar unit with a high gloss white finish. With an upper deck for prized liquor and a rack to gracefully hold stemware, the Geras could now regale their guests in style.
The overlapping coffee tables are another handy feature especially during large gatherings. The lightweight tables can be easily split apart and moved to hold drinks and finger food.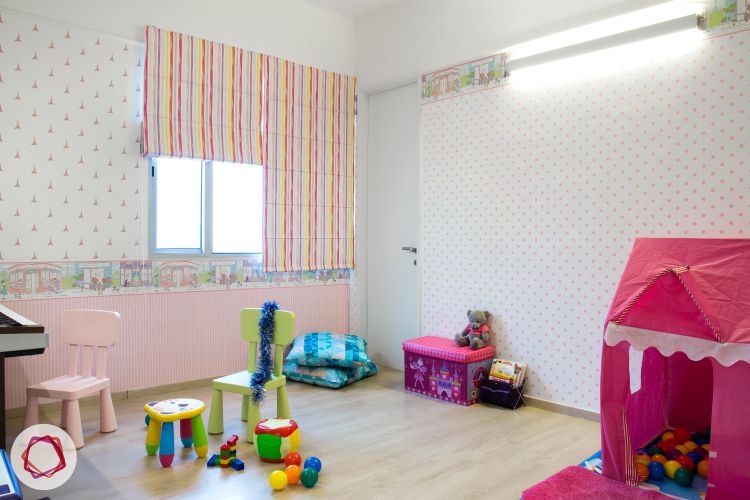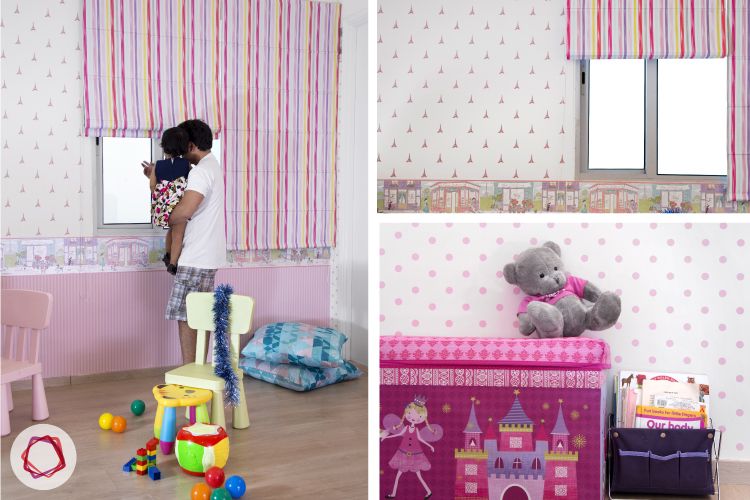 ---
Prisha and Udit enjoy their time in the delightful, pink nursery. A Parisian-themed wallpaper with Eiffel tower motifs is balanced with a pale polka-dotted wall.
---
For their little princess Prisha, Kajal weaves the Gera's intimate story on the nursery walls. Rohini and Udit had first met in Paris and instantly fell in love with the idea of styling Prisha's room with a piece of their romance — Eiffel tower motifs. Not just that, the borders depict daily life at French cafes. A polka-dotted wallpaper on the adjacent wall coupled with a cute playhouse and furniture complete the nursery.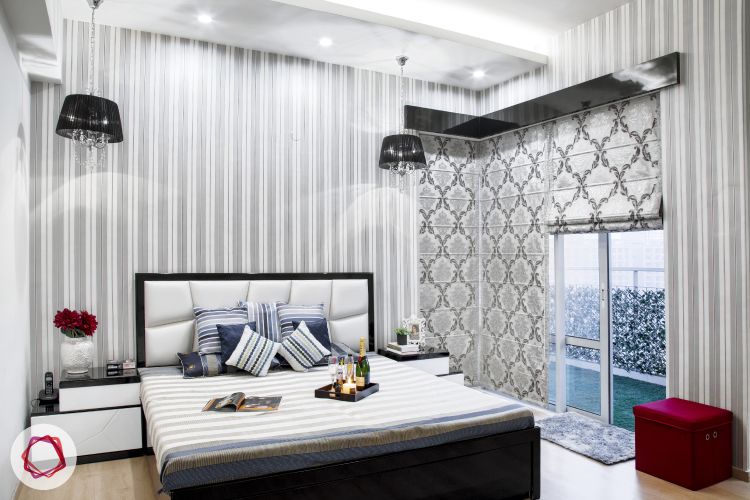 ---
An array of patterns in white, black and grey come together in this majestic master bedroom.
---
The master bedroom — Rohini's favourite spot — was entirely designed around the furniture. Striped wallpaper adds height to the room while a pair of pendant lights add a stately touch. Aristocratic motifs on the roman blinds further accentuate the room's opulent facade.
The Geras were a delight to work with. They had very simplistic design needs that centered on a relaxing palette. This project has been very close to my heart right from the very first time I met the Geras., I gave it my all and ensured they got stylish and functional design elements that are timeless.
– Kajal Sood, Interior Designer