A renovation for home interiors in Chennai that will make you reminisce.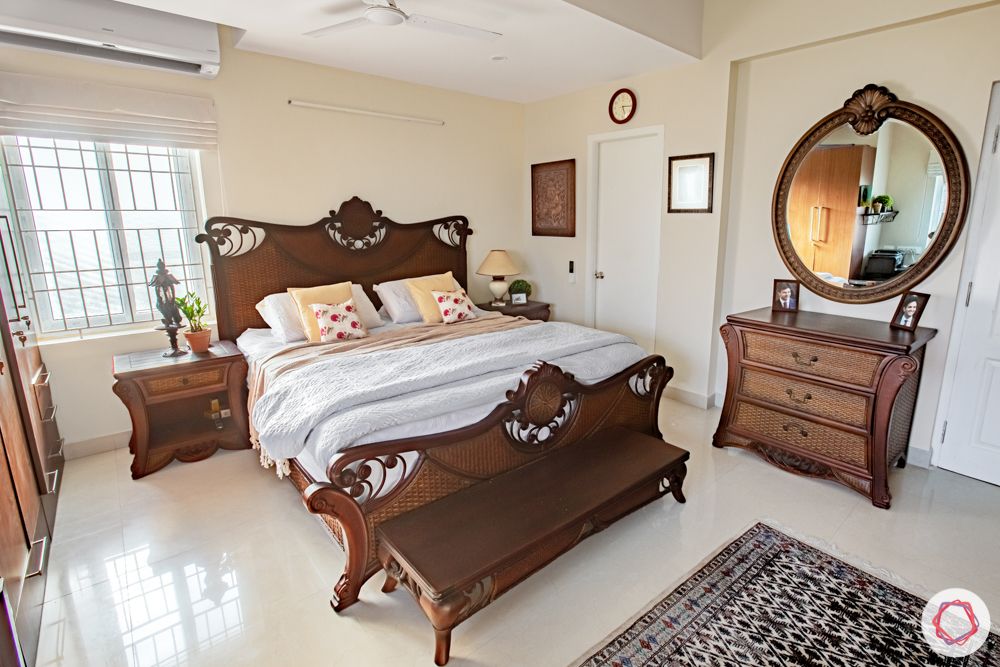 ---
Who livs here: Kamal Ram Mohan and her family
Location: Adyar, Chennai
Size of home: 4BHK spanning 2,250 sqft
Design team: Interior designer Padmavathi G & Project Manager Bharani
Livspace service: Full home design
Budget: ₹₹₹₹₹
---
Livspace is not just known for its end-to-end interior design services. It also has the ability to reimagine, remodel and recapture the magic your property deserves. And these home interiors in Chennai prove just that. Here, Interior Designer Padmavathi takes us behind the scenes of a renovation story that would turn a 15-year-old home into a yesteryear charming abode.
"One of the biggest challenges we faced while designing this home was to loop in the clients while they were residing outside the country. This involved a majority of online interaction. As a result, getting designs approved by Ram Mohan and her family were all done through emails", she says. Moreover, Padmavathi believes, for a home that should stand the test of time, high quality interiors are extremely important. And this carefully crafted home, whether it's the chic kitchen or the dreamy bedrooms is just that and more!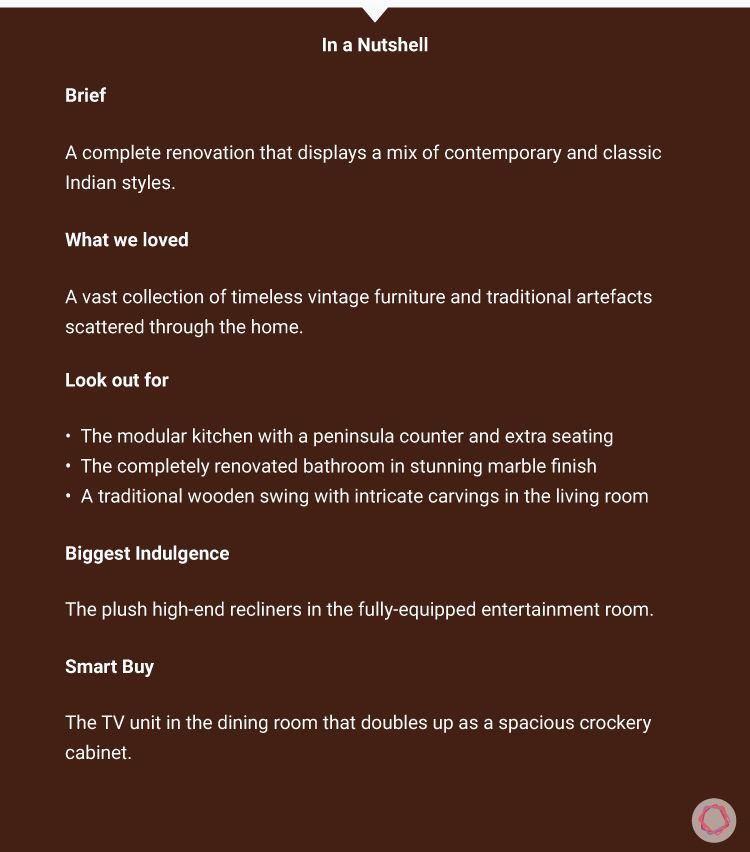 Grand Entryway Home Interiors in Chennai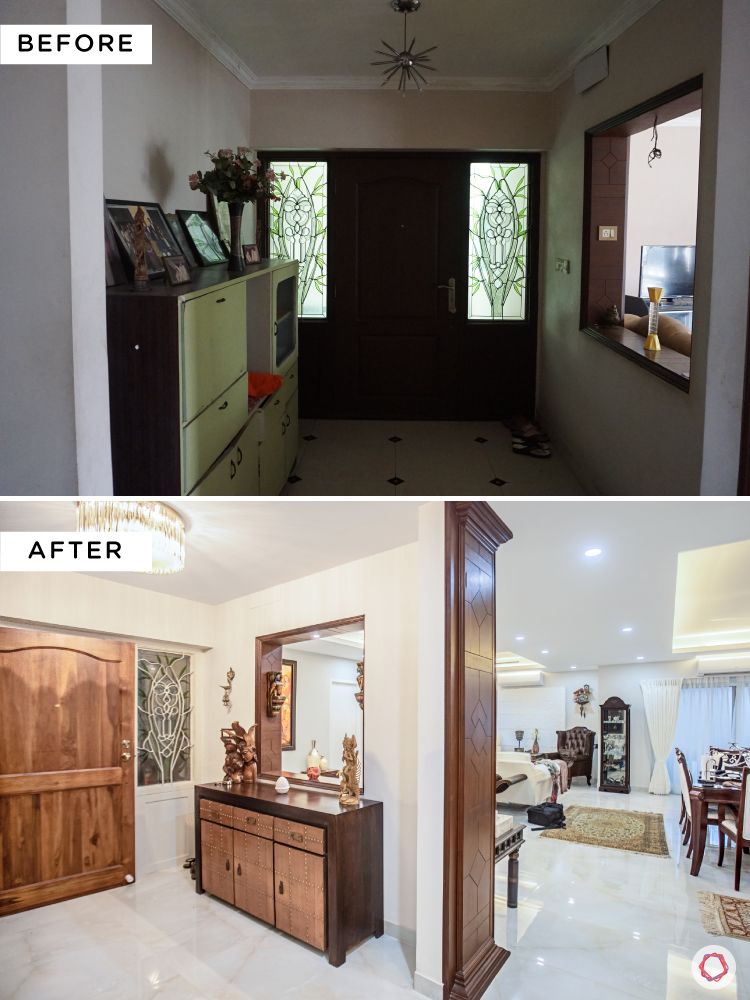 The home begins with a classic wood door leading to an impressive entryway. Furthermore, this space has a wooden cabinet, display unit and stunning artefacts. Also, take a moment to notice the swanky marble flooring.
Modern & Classical Living Room Home Interiors in Chennai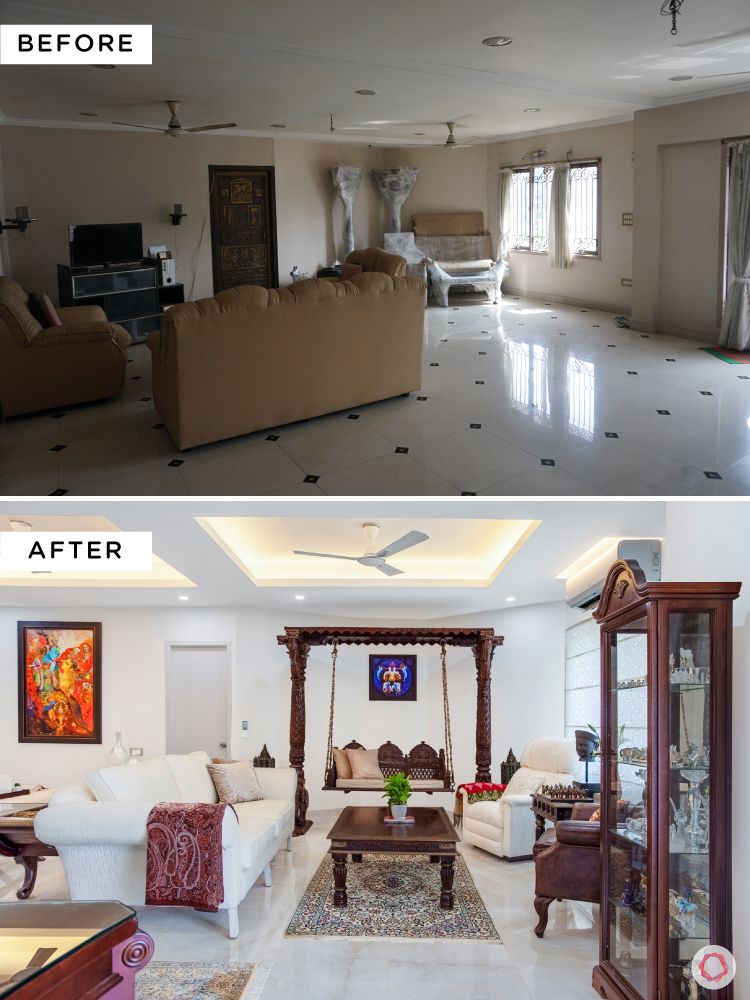 The living room is dominated by snowy white sofas and traditional wooden interiors. While one half of the living room has a grand wooden swing with intricate carvings, the other half features colourful artwork. This space is illuminated with a simple yet classy false ceiling design. Giving us major vintage feels is the delicate crockery cabinet and rich artefacts. Furthermore, the use of one paint and fabric colour strips the room off any clutter caused by these antiques.
Luxurious Dining Room Home Interiors in Chennai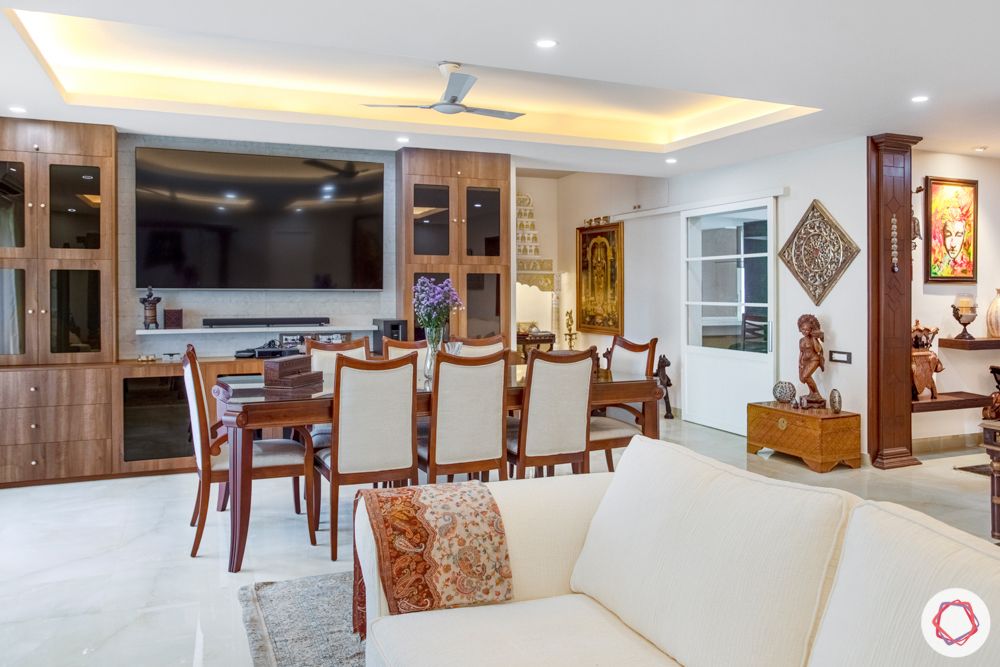 Here we have a modern rendition of a colonial dining table set. The polished hardwood table and white upholstered chairs are a timeless addition. In addition, a full length TV unit that doubles up as a crockery cabinet is adjacent to this eight-seater table.
The white marble pooja unit that was installed by the skilled team is a noteworthy element in this space too.
Sleek Modular Kitchen Home Interiors in Chennai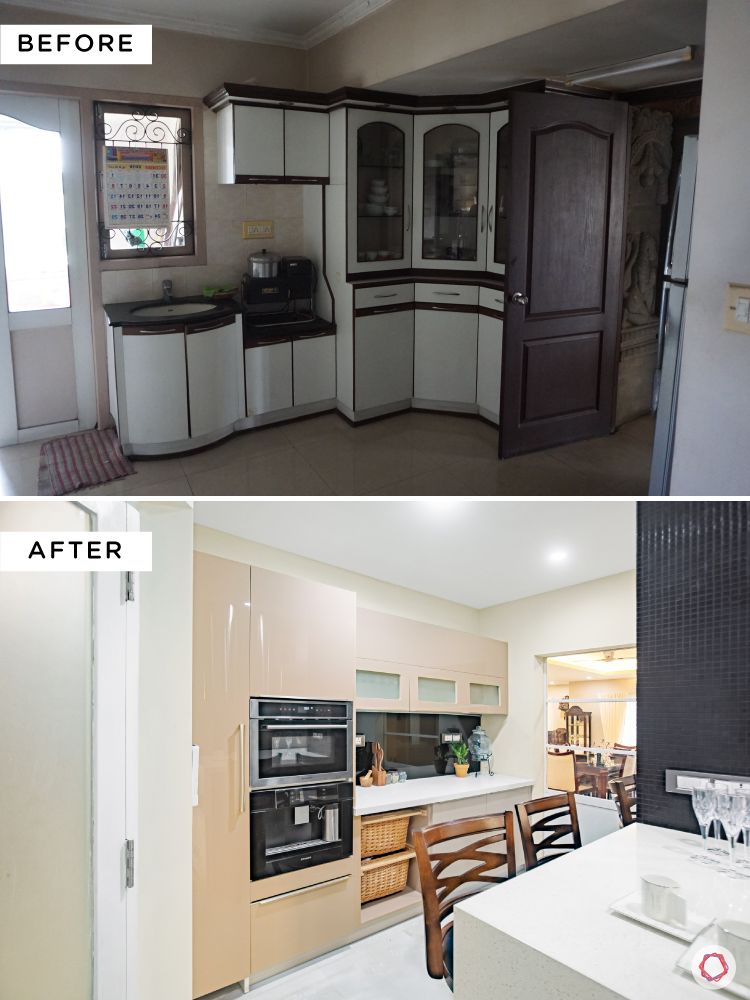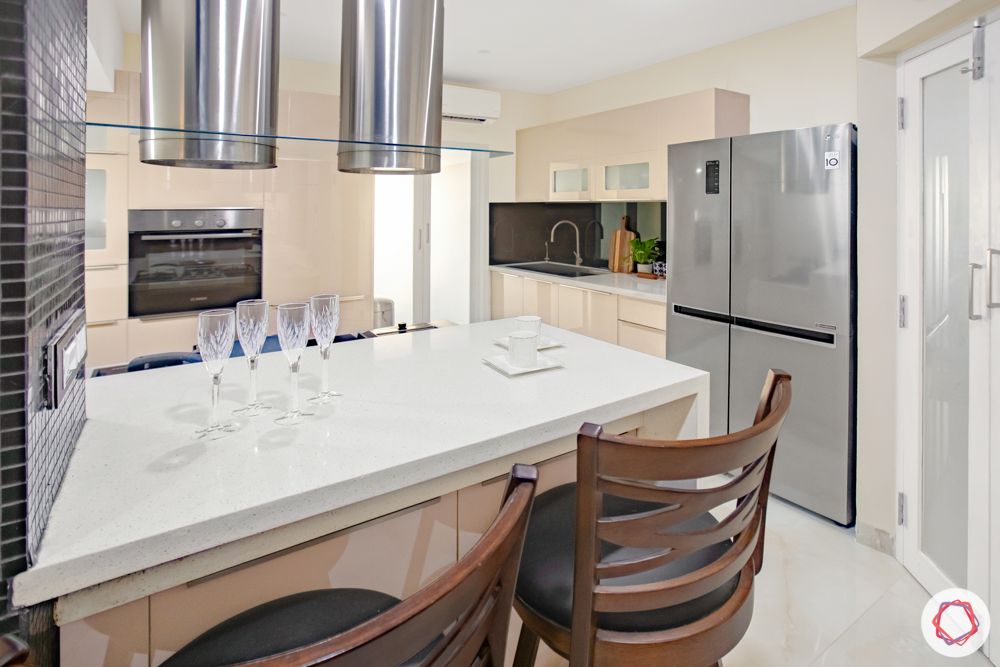 "Every nook and corner of the kitchen required a lot of civil construction", says Padmavathi. The modular kitchen has beige coloured pull-out cabinets as compared to the previous white hinged cabinets. As shown above, the old kitchen has a column which threw off the entire layout of the kitchen. Therefore, she suggested installing a peninsula island around it. Adding black mosaic tiles gives the kitchen more dimension.
---
"Padmavathi has designed a wonderful kitchen with a two-level island. This has got us a lot of compliments from people who have visited the home."
– Kamal Ram Mohan, Livspace Homeowner
---
Unique Bedroom Home Interiors in Chennai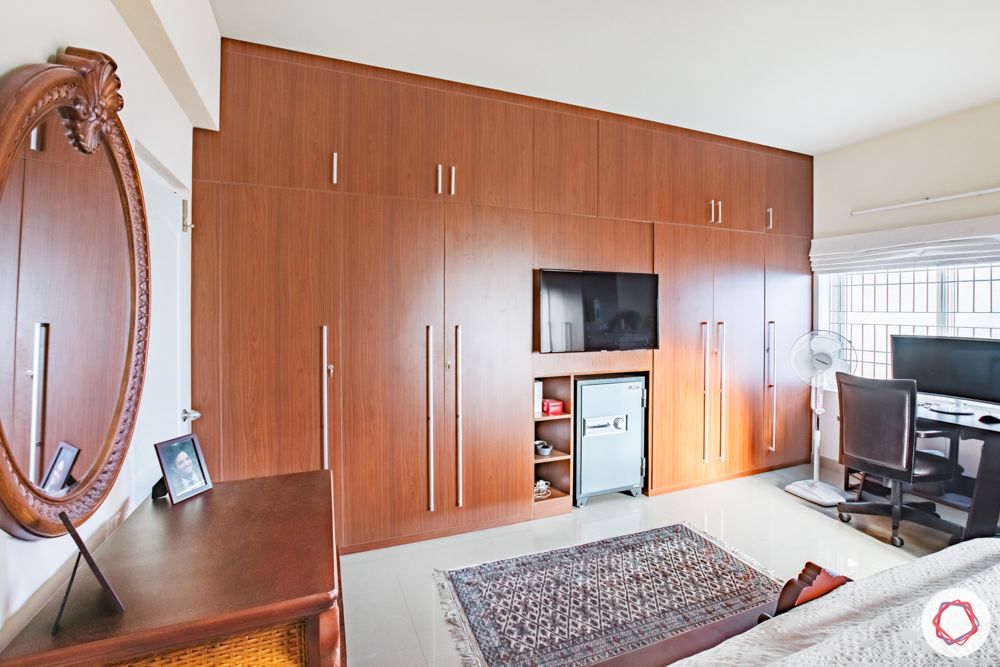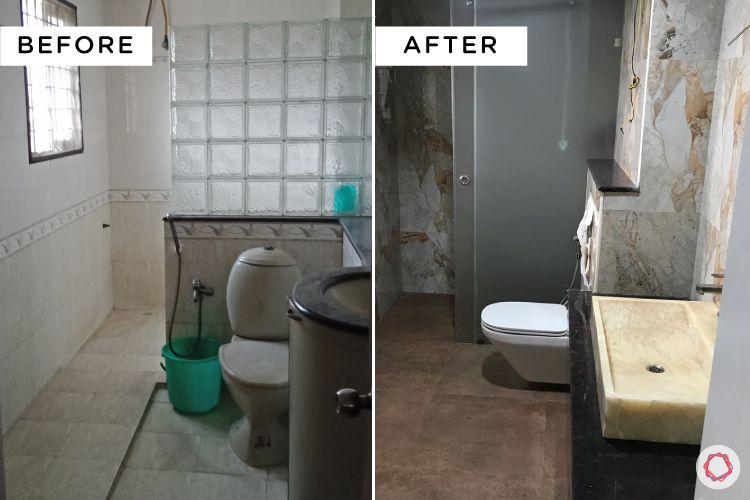 Colonial interiors surpasses French styles when it comes to designing a warm home. Subsequently, the oversized curvy bed and carved wooden mirror takes us back to a few centuries ago. Moreover, the wooden wardrobes in plywood were updated to maintain the toasty theme of the bedroom.
"We are very impressed by Padmavathi's commitment to our project. We had no hesitation to proceed even though, we were not present to supervise the project. Bharani, our project engineer has efficiently dealt with all unforeseen situations that came to light during the process. Lastly, city head, Braghadeesh ensured the process was flawless with no hiccups. Hence, we are extremely happy with the young and enthusiastic team of people at Livspace."

– Kamal Ram Mohan, Livspace Homeowner

Simple Parents Bedroom Home Interiors in Chennai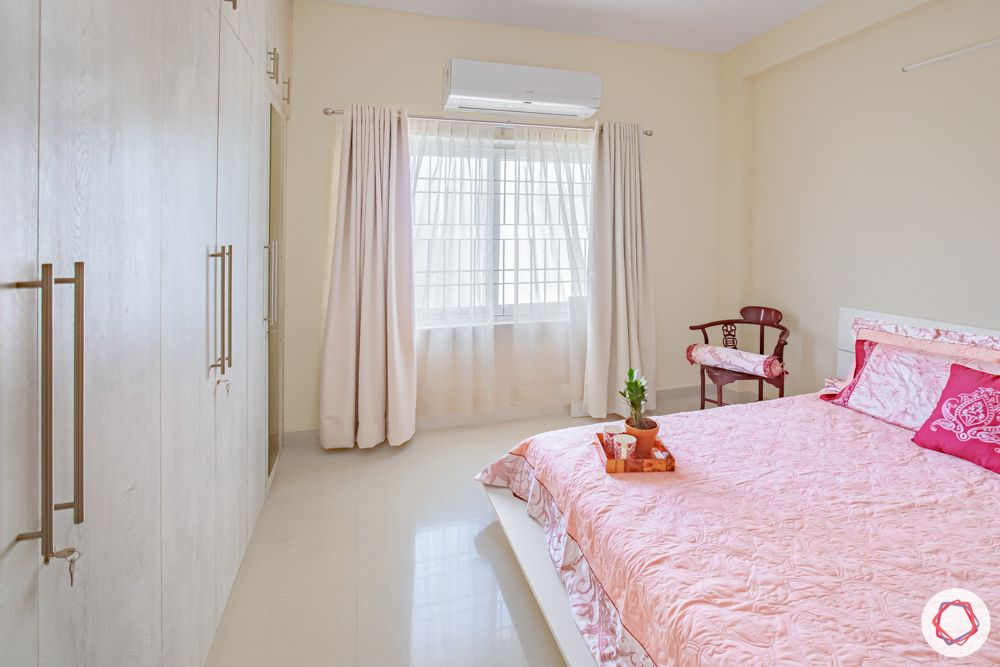 Ram Mohan wanted a simple design for her parent's bedroom. Therefore, a minimal bed frame from Livspace was installed. Moreover, this compliments the plywood wardrobes and beige toned walls. "Padmavathi kept us updated with drawings and progress pictures. She ensured everything was done to our taste", says Ram Mohan.
All-white Bedroom Theme Home Interiors in Chennai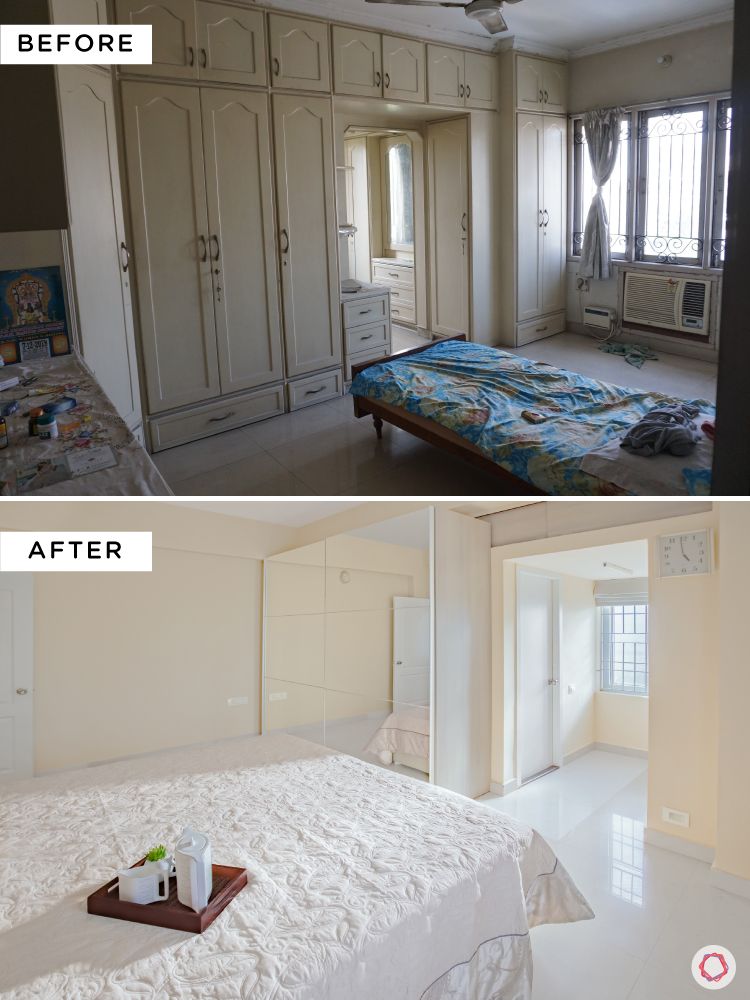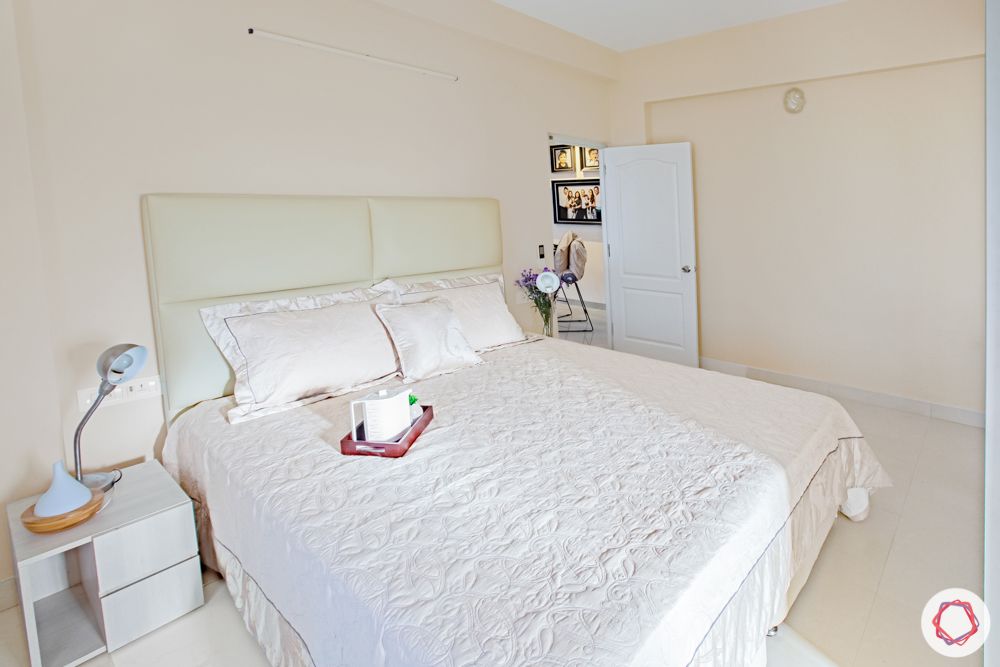 We love all white interiors. Hence, this guest bedroom is designed for a peaceful night's sleep. Subsequently, while working on the theme of this room, Padmavathi has also redone the wardrobe space. Moreover, this room did not require plenty of wardrobe storage. Therefore, mirror wardrobes with sliding door were installed to give it a sleek look.
Cosy Entertainment Room Home Interiors in Chennai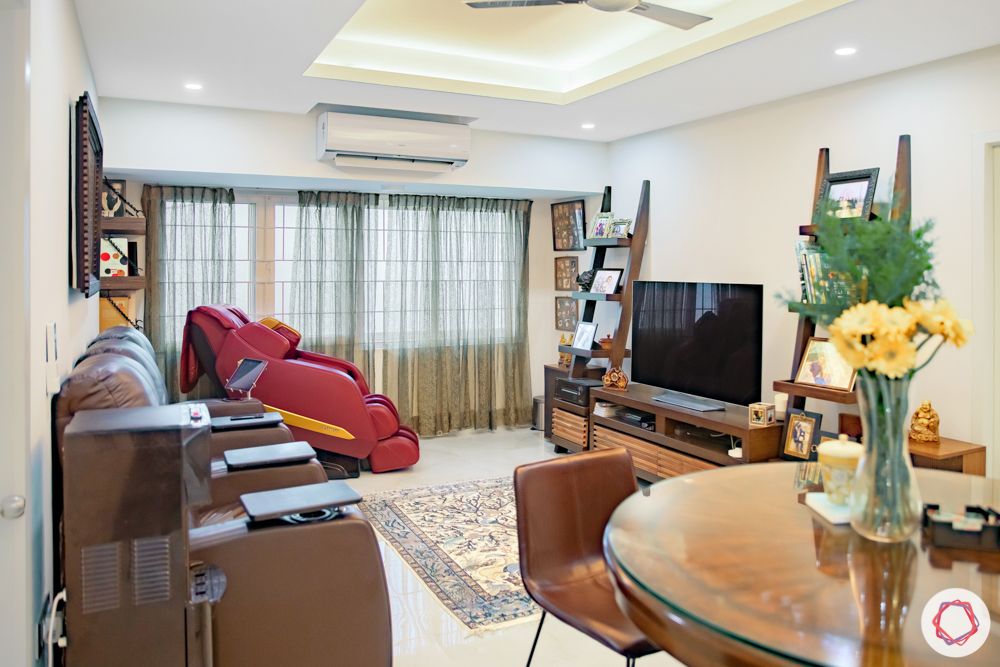 The old dining room is completely renovated into a plush entertainment room. Consequently, the floor space has also been extended by breaking down the balcony wall. In addition, Padmavathi also put in a false ceiling fitted with cove lighting.
" A complete renovation for clients that reside outside the country calls for a few complications. However, designing Ram Mohan's house was a delightful task. Moreover, functional requirements were to be fulfilled. They were of utmost importance so, every room was designed with great detail".

–Padmavathi G, Interior Designer, Livspace
Also, if you liked this Chennai home tour, take a look at: Traditional Touch for 3BHK at Asta AVM
Send in your comments and suggestions.