---
Who livs here: Annapoorna with husband Srikumar, son Vignesh and mother
Location: Grihapravesh apartments, Sector 77, Noida
Size: 3 bedroom apartment spanning 2,200 sq ft
Design team: Interior designer Isha Agrawal and project manager Vineet Sharma
Livspace service: Full home design
Budget: ₹₹₹₹₹
---
We all have, at some point in our lives, come across interiors that feel just right and make us feel perfectly at home. What we don't realize is that more often than not, we are drawn to spaces because they feel like an extension of our personality.
When Livspace interior designer Isha was approached by Annapoorna, she knew that the best way to go ahead with this project was by applying this maxim.
Sweet simplicity echoes at every turn in Annapoorna's home, reflecting her down-to-earth taste. The sprawling, three-bedroom apartment exudes timeless flair with its delicious mix of modern and traditional elements, made interesting with pretty details.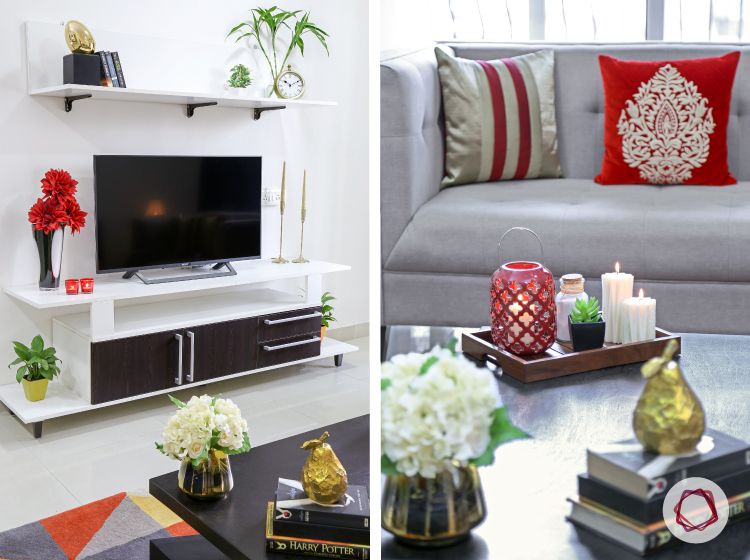 ---
Pops of red and blue energize this neutral hued living room. The TV unit boasts seamless design and appears to melt into the wall.
---


With plenty of comfortable seating options and a sleek entertainment unit this airy, light-filled living room hits the sweet spot for socializing and relaxing. Styles tend to change frequently and Isha generously used muted hues in the living room so it acts as the perfect canvas for trending colors.
Ravishing reds and royal blues are the flavor of the season and can be found everywhere from the cushions to the drapes to the pouf's upholstery. A colorful floor rug ties in the different elements and grounds the space.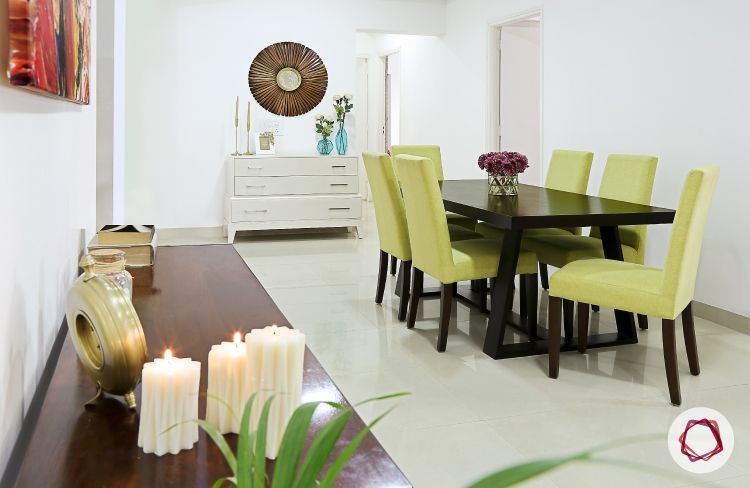 ---
Handsome, crisp furniture gives a streamlined feel to the dining area, leaving plenty of room for movement. Wooden finishes lend a classic touch.
---
Plenty of guests drop by at Annapoorna's, making the dining room the inevitable hub of her home. Chartreuse tinged dining chairs take center stage in this resplendent white room and provide utmost comfort during long mealtimes.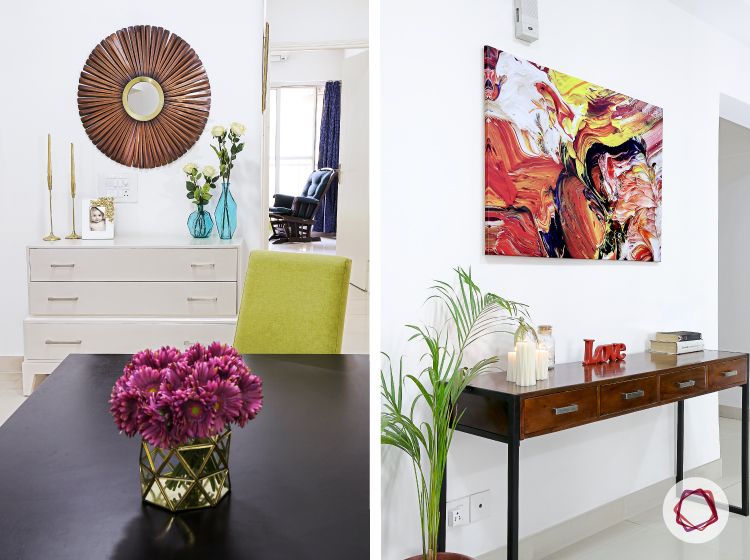 ---
The sunburst metal mirror and the abstract painting with its swirling colors make for attractive add-ons in this simply styled dining area.
---
By positioning a console table and eye-catching artwork against a wall, Isha transformed an otherwise dead space to a pleasant vignette.
Everyday items like keys and stationary make their way to the slim drawers while the tabletop acts as the perfect perch for books, family photographs and more.
To keep crockery close at hand, a contemporary sideboard was added right next to the dining table.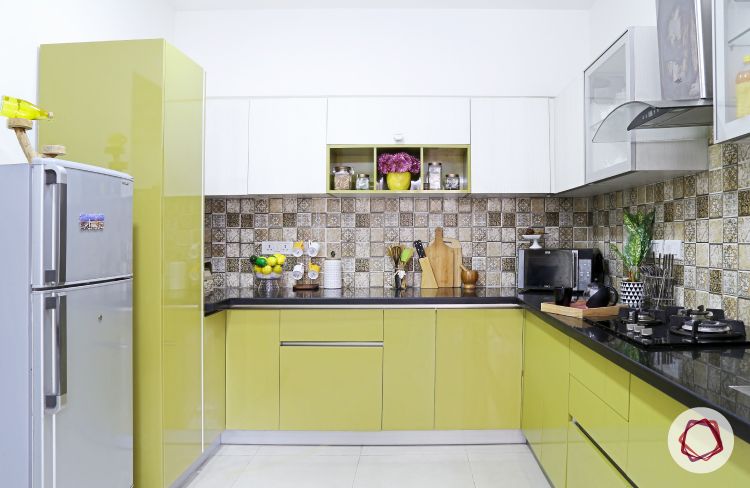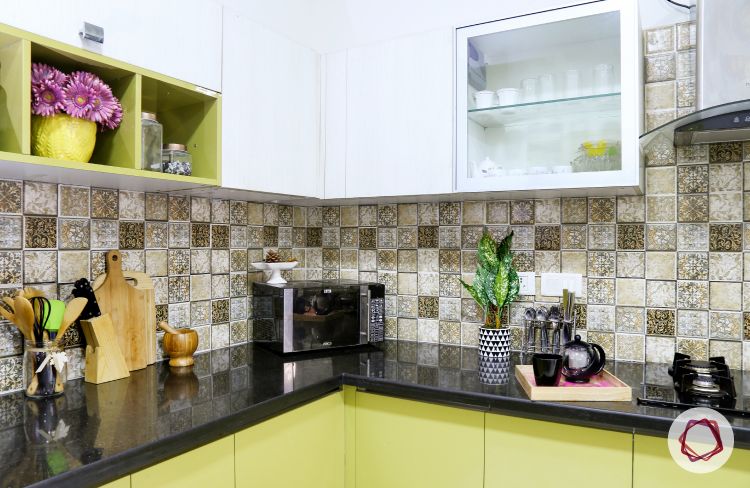 ---
Filled to the brim with modules, Annaporna's kitchen is the perfect mix of pretty and practical.
---
Open and closed shelves, pull-up cabinets and a tall unit provide plenty of scope for keeping kitchen items and ingredients organised. See-through shutters prevent the kitchen from looking boxed in while glossy laminate finishes on the cabinets bounce plenty of light around.
Isha ensured that every inch is perfectly utilized by adding zig zag trays to the corners. This allows Annapoorna to easily access items without having to uncomfortably bend over.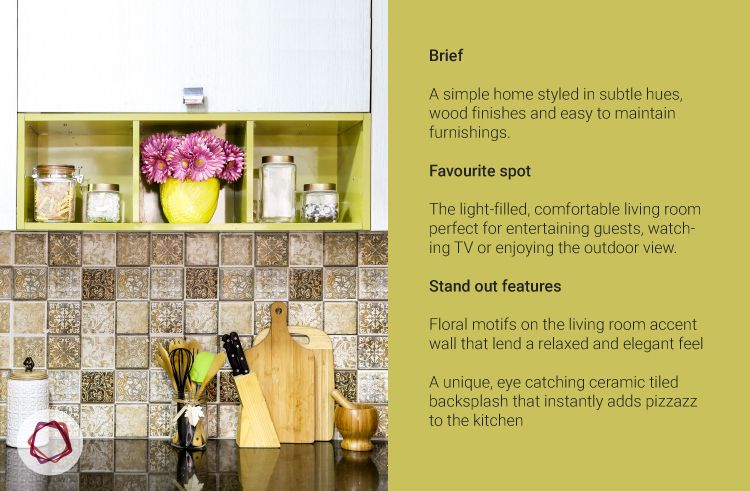 ---
A hypnotic backsplash adds life and character to this delicious citrusy kitchen
---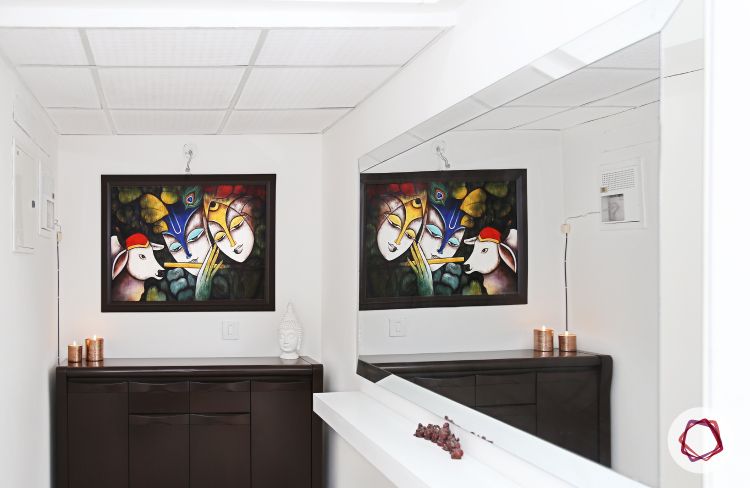 ---
A large mirror opens up the narrow foyer while the slim white ledge provides ample space for adding accent pieces
---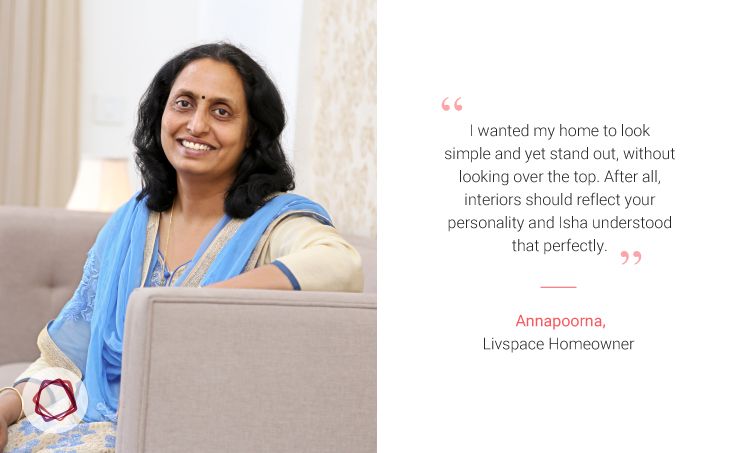 ---
"Annapoorna was great to work with. She had a clear idea about what she wanted and was at the same time receptive to my designs. With a few interesting details, the home looks charming as ever"

– Isha Agrawal, Livspace Interior Designer