When you're renovating your old home, don't stop at just making it beautiful. Make it functional and storage-intensive in this modern day and age where space is scarce and possessions are many. Now, you might think your home is too old to be renovated, or it might get too expensive to renovate such an old home. But that's not true. Take a few notes from this 28-year-old home renovation in Delhi and learn some important tricks and tips to breathe life into your old home within a low budget. After all, the memories might be worth spending on.
So without further ado, let's see what this 28-year-old renovation in Delhi is all about.
---
Who Livs here: Dhiraj Malhotra with his wife, Simran, their daughter, Saloni, their son Lakshya and parents
Location: Mayur Vihar, Delhi
Size of home: A 2-floor home spanning 1,300 sq. ft.
Design team: Interior Designer Radhika Thirani and Project Manager Vineet Sharma
Livspace service: Full home design
Budget: ₹₹₹₹₹
---
How Did Livspace Help Renovate This Delhi Home?
A comfortable modern vibe flows through every corner of this Delhi home, located in the heterogeneous and vibrant melting pot of communities, Mayur Vihar. The home belongs to the Malhotras, who love simplicity and elegance.
When Dhiraj, an investor by profession, visited his friend's home in the suburbs of Delhi, he was blown away with Livspace's impeccable design and clean lines. Thus, the seed to renovate his 28-year-old home was sown. The busy couple, who are self-proclaimed design novices, put their faith in the trusty hands of Livspace designer Radhika Thirani, who went on to give their home a new lease of life.
#1: A Colour-Blocking Approach to the Compact Living Room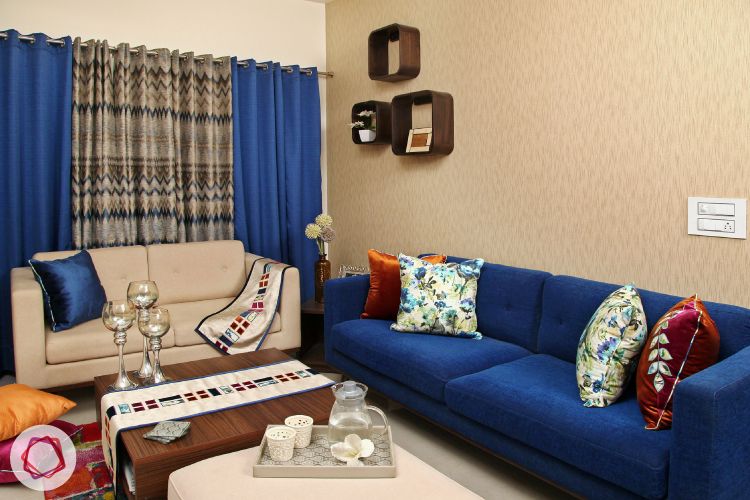 Functional wall shelves and sleek button tufted sofas lend the Malhotra's contemporary living room a very Indo-Scandinavian vibe. See how beautifully the blue colour palette plays with the beige.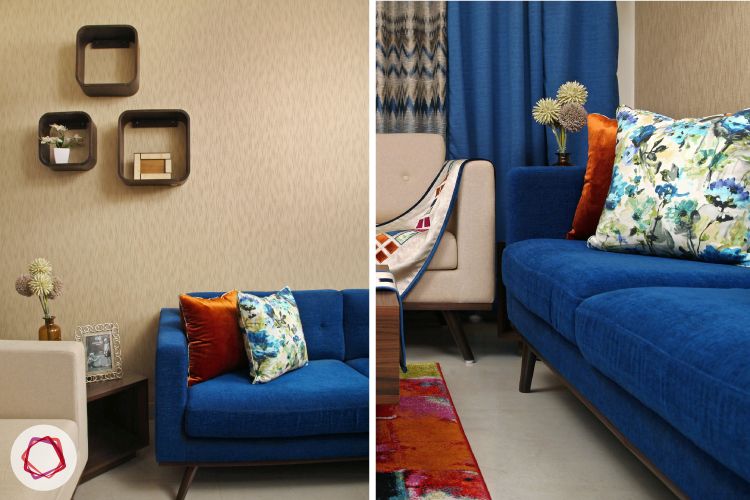 Colour-blocking is the key to this contemporary living room. Floral cushions add a wisp of drama. Their main entryway opens up into this cosy living room that has a contemporary mix of what one can only call Indo-Scandinavian – bold hues woven into clean, mid-century modern pieces. The design is further amplified through the muted hues of the blushing beige backdrop.
Also Read: Top 10 Homes From Delhi That Cover All Budgets, Sizes and Styles
Radhika employed a shrewd design layout to open up the limited space in the living room to allow movement and flow. She traded their hefty 90s sofas for trim furniture and finished the look with a modest coffee table and an ottoman pair, and uncluttered wall shelves.
#2: Buried Clutter With a Hydraulic Bed in the Kid's Room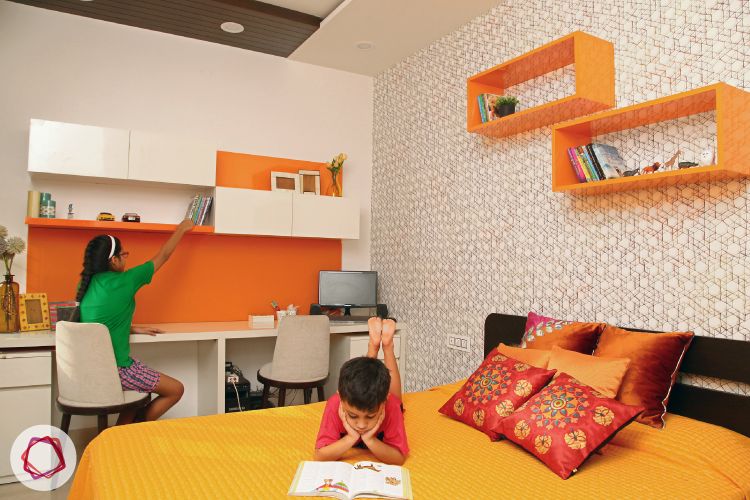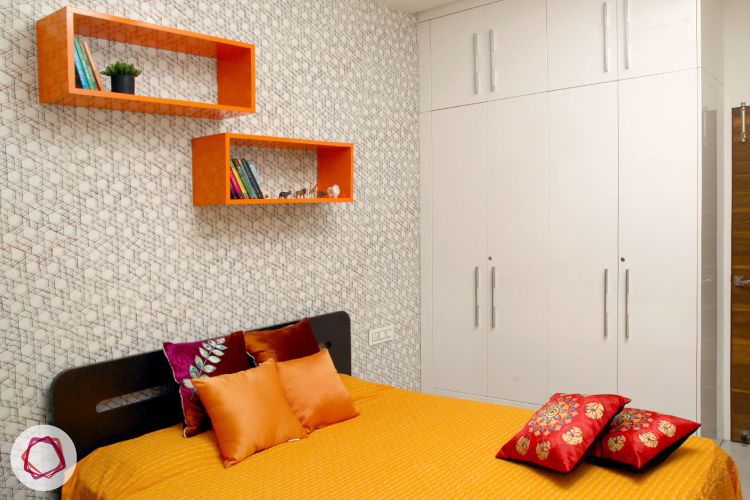 ---
Saloni and Lakshya enjoy studying and playing in their new bedroom. The modular fittings like their all-white wardrobes with lofts and hickory toned hydraulic beds afford the family the space to bury their unsightly clutter.
---
In fact, the bright and bustling kids' room is unanimously the family's most treasured space post the transformation. Through an application of apricot orange and a neutral ivory to cut through the vivid hues, Radhika gave the siblings a cheery spot that speaks of functionality and taste.
Shared between 13-year-old Saloni and 7-year-old Lakshya, the room is truly an unbiased space that the brother and sister won't outgrow for at least another five years.
Plan Home Renovation Like This Delhi Home Did
The living room and the kids' room share the floor with the kitchen that was once chaotic and awkward. A sweeping overhaul has now birthed a fully functional and organised kitchen for the family to enjoy cooking meals together. Complete with pull-out cabinetry and a well-structured cooking station, this modular kitchen is the dream of every food connoisseur.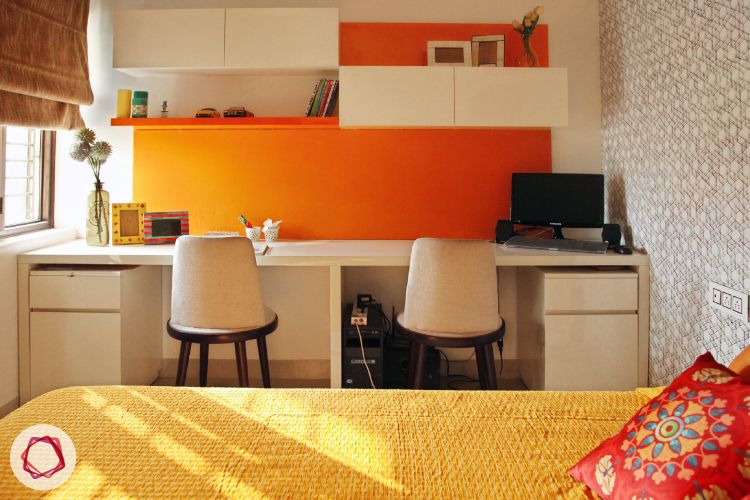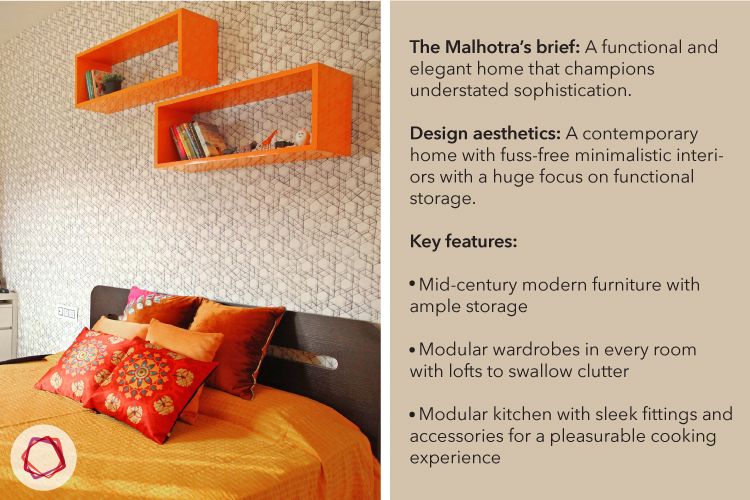 ---
What We Loved While Renovating This Delhi Home?
Plenty of sunlight through the large picture window brightens the kids' bedroom. Also, we love the sprightly interplay of apricot and white on the wall above the study desk and the abstract 3D wallpaper backdrop.
The top floor of the apartment houses the master bedroom, a relatively quiet cocoon that is mirrored in the choice of poised wallpapers, while functional wardrobes have thrust the pride of the age-old Godrej almirahs into dysfunctional repute.
Also Read: This Stunning 3BHK Flat Kitchen Remodel in Delhi Has a Multiuser Design
So, the Malhotra's home is proof that limited spaces can be stretched and optimised to create maximum dynamic movement without overshadowing the understated sophistication that runs throughout the home.
Hear the Designer Speak
"It was wonderful working with the Malhotras. In fact, they gave us full freedom and support to ideate and work through their functional conundrums. It was an absolute pleasure to design the kids' bedroom since we could experiment with colours. This project was a real challenge in terms of expanding their limited real estate to comfortably accommodate their family of six without selling out on aesthetics.''
— Radhika Thirani, Interior Designer
Tour a stunning 3BHK in Gurgaon:
How Can Livspace Help You?
We hope you found our ideas useful! If you want beautiful interiors for your home, then book an online consultation with Livspace today. Also, have any thoughts or suggestions you'd like to share with us? Drop us a line at editor@livspace.com.
Disclaimer: All contents of the story are specific to the time of publication. Mentions of costs, budget, materials, finishes, and products from the Livspace catalogue can vary with reference to current rates. Please get in touch with a designer for more details on pricing and availability.