With changing lifestyles and eating habits, what's the most obvious change we see in homes nowadays? Why, the kitchen, of course! And as we go from home to home, there's an interesting trend we cannot help but observe – the absence of wall cabinets in kitchens. So we dug deeper into this trend that's quickly catching on, and we assure you, it's quite interesting.
Kitchen Trends 2020 #1: Why are people opting for kitchens with no wall cabinets?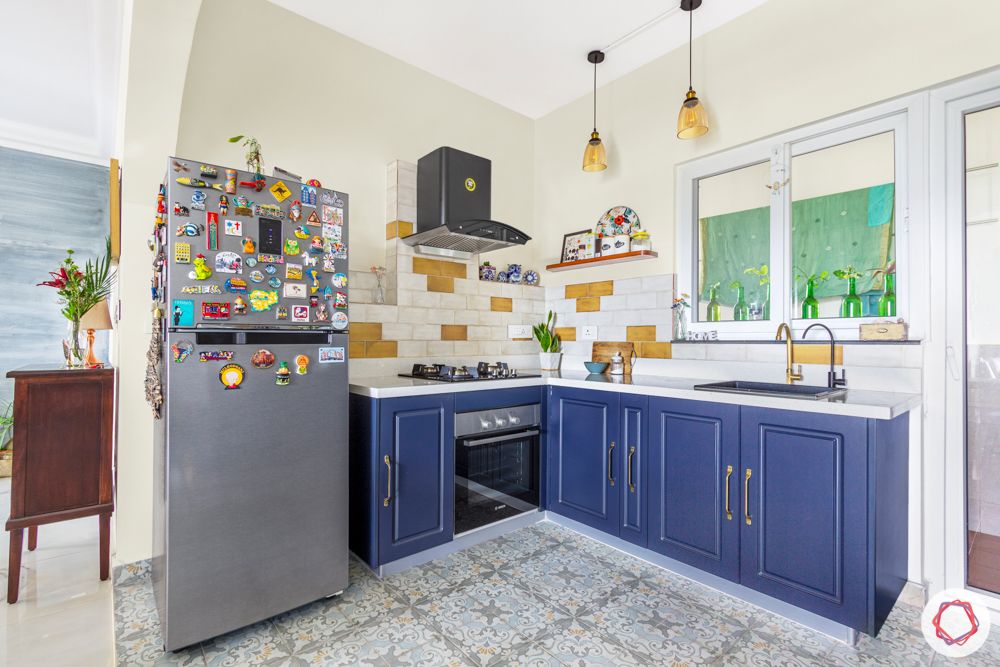 If you thought that kitchens with no wall cabinets are for those who typically do not use their kitchens too much, you're not completely wrong. Busy people with small families or people living alone typically consider this as their go-to kitchen design. This is because they do not require as much storage space. However, that's not all.
Kitchens without upper cabinets will save you a lot of time and energy that would otherwise have been spent on cleaning out these cabinets. Also, how much easier can your life become if you keep everyday ingredients within easy reach rather than behind closed doors? And let's not forget how much the kitchen opens up when you forego wall cabinets. With so much space, life only gets more fun.
Kitchen Trends 2020 #2: Who are the people opting for these kitchens?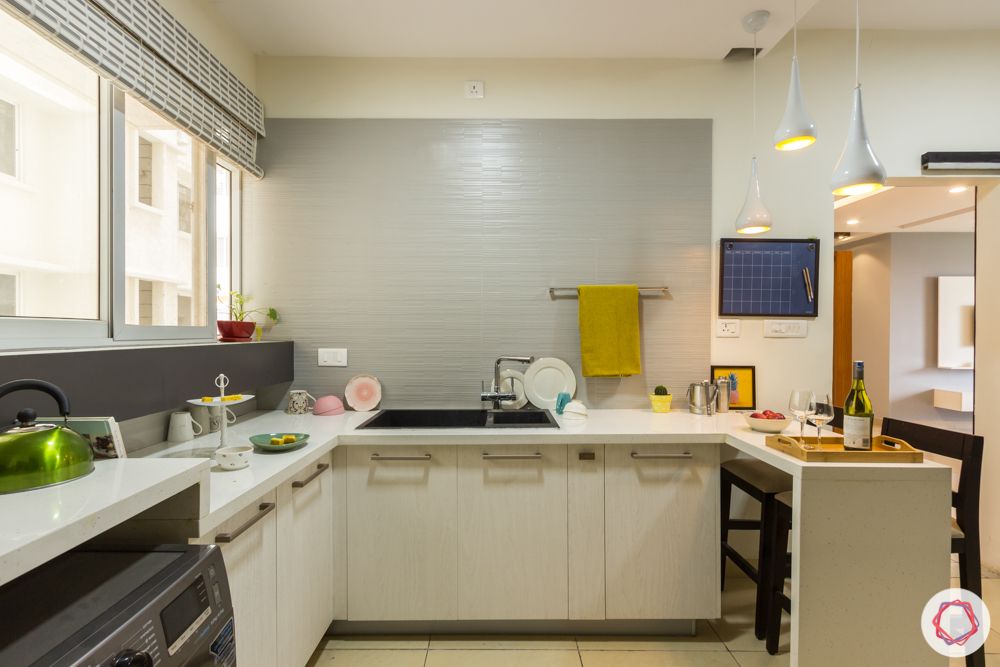 If you're wondering about the people who usually opt for kitchens without upper cabinets, we've done the research for you. And here's what we found. This kitchen trend of cutting down on wall cabinets and using the occasional open shelf has gained popularity among smaller families – bachelors and bachelorettes, or working couples. Doing away with wall cabinets is a great way to open up your kitchen, especially if you don't plan to cook too often!
Moreover, such kitchen designs can be very useful for elderly people. Here, you can completely cut down on the need to reach up for items stored at the back of a cabinet. With this kitchen, you can choose accessibility over seamless designs.
But what if you do not fall into any of these categories and still want an open kitchen? We suggest you go for it. And if you're thinking you need help with the details, don't worry, we've already got you covered!
P.S.: All you need to do is read on.

Kitchen Trends 2020 #3: How do you make up for the lost storage space?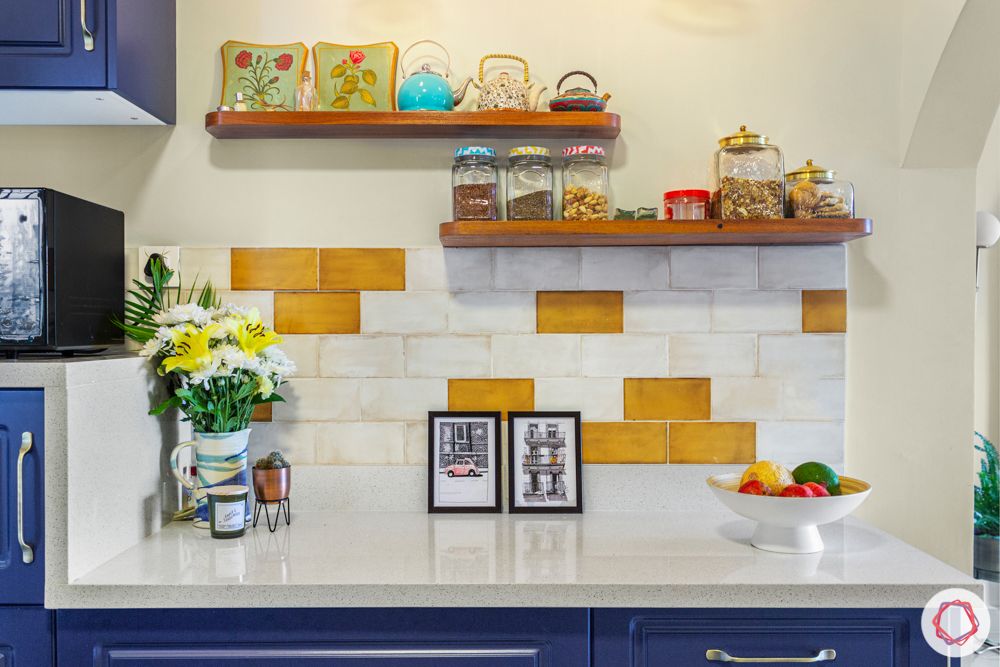 With storage space, we've always believed that more is less. And so we continue seeking more, not stopping to think if the existing space is enough for us. And where does this constant need for more storage take us? Our already compact kitchens start feeling more cramped with wall cabinets taking away any open space above the countertop. If you're nodding your head at this point, we have the solutions for you!
If you're apprehensive about cutting down on storage units on the walls of your kitchen, opt for shelves or ledges instead. With this, you will only keep the absolute essentials at hand, and they will stay in order as well. Furthermore, you can have more base cabinets, as well as a tall unit for your appliances. We'd suggest a pantry pull-out as well!
Kitchen Trends 2020 #4: How can you make it work for you?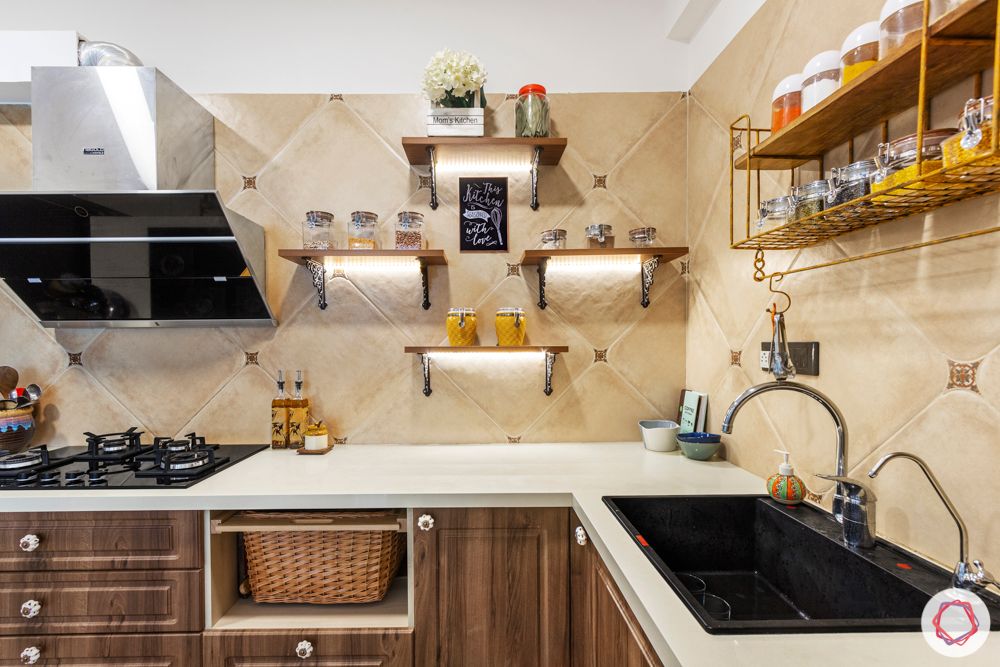 Now that you're hooked to the idea of kitchens without upper cabinets, let us tell you how to create one that's just right for you. Like we've said before, just because you're following the kitchen trends 2020, it doesn't mean that you compromise on the aesthetics or functionality of the kitchen.
Firstly, the moment you do away with upper cabinets in kitchens, a whole lot of space opens up. This calls for an interesting backsplash. Pick one with bright colours or an interesting pattern, and see how the vibe in your kitchen changes! Now you can focus on improving accessibility in your kitchen by positioning any shelves or ledges closer to the hob. This can save you a lot of time and energy, and you can reach for the right condiments effortlessly as you cook!
This kitchen trend calls for pretty containers that you can show off on open shelves. So, your kitchen turns into a work of art. But how to keep it all clean, you ask? Invest in a powerful chimney above the hob to control the spread of grime. Lastly, you can add to the beauty and functionality of the kitchen with profile lighting on the shelves. This way, you'll never have a dark moment in your kitchen!
Now that we've placed all the information at your disposal, you can go ahead and experiment with your kitchens. And if you're looking for interesting backsplashes that add the wow factor to your kitchen, Pick from 6 Gorgeous Backsplash Options.
Send in your comments and suggestions.