Have you ever wondered what the best kitchen colour as per vastu is? While white is a fan favourite among the best-suited vastu colours for kitchens, there are some other shades too, ones that might not be as well-known. So, we're here to break it down for you by giving you a glimpse of popular vastu-approved colours that can be the perfect match for your kitchen.
What's more, we've also put together some colours to avoid, as well as the go-to options for countertops, walls, and floors. Be sure to read all the way to the end, so you don't miss out on any detail!
Which Are the Best Kitchen Colours As per Vastu?
According to vastu, there are a handful of suitable kitchen colours you can explore when you're doing up your kitchen. Here's a simple guide on each colour and what it symbolises:
| | |
| --- | --- |
| Vastu Colours | What They Symbolise |
| Orange | Optimism |
| White | Purity and positivity |
| Green | Hope and harmony |
| Red | Happiness |
| Yellow | Energy and freshness |
| Pink | Love |
| Chocolate Brown | Warmth and contentment |
| Peach | Tenderness and nurturing |
| Metallic Hues | Productivity and tranquillity |
| Beige | Calmness and relaxation |
Now, let's take a look at each of these colours in detail:
1. Orange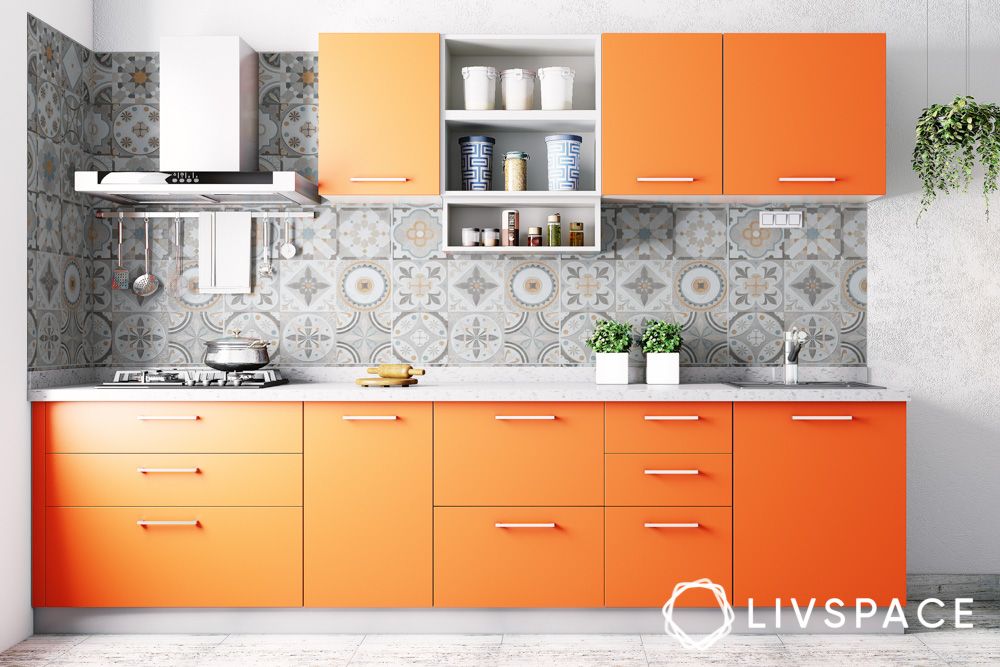 The colour orange nurtures optimism, influences relationships, and signifies power, making it a go-to choice for a simple kitchen design. Similarly, a saffron orange tinge reflects power and courage, while a muted brick orange channels energy and stimulation.
In fact, it's also a great colour for a south-east kitchen, as per vastu. Now that you have a better idea about the power of orange in channelling positive energy, you can select your kitchen colour to suit what you're looking for.
2. White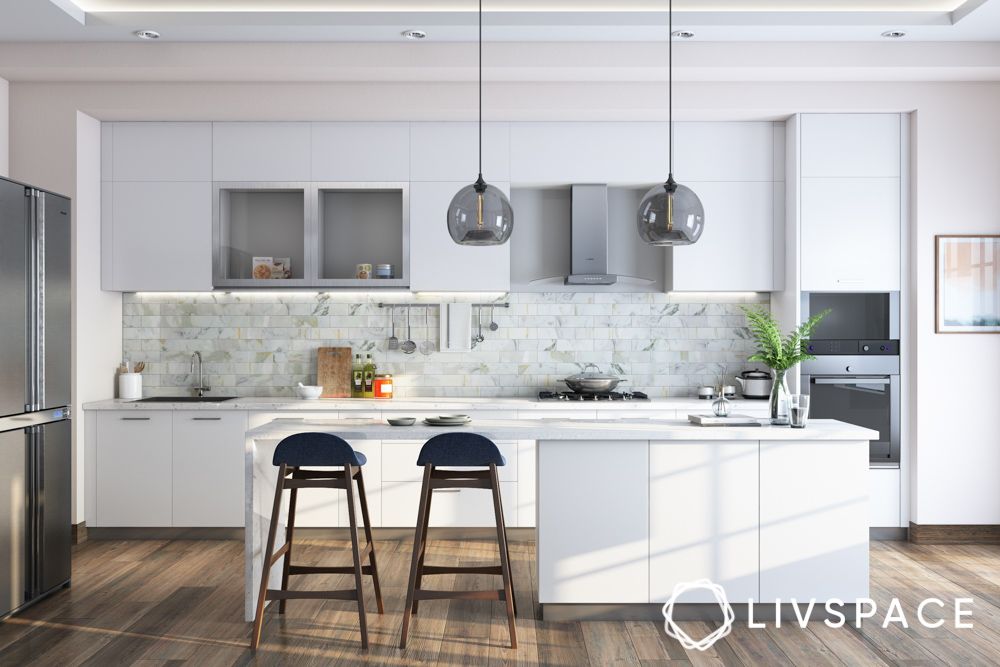 White is a pure and positive kitchen colour according to vastu. It's also associated with cleanliness and light, both of which are key factors of a functional kitchen.
This is why white can be one of the best colours for your kitchen, as per vastu. Moreover, if your kitchen faces the north-west direction, choose white as your kitchen colour to increase positive vibes.
Also Read: Top 5 Colours That Will Bring Good Vastu Vibes to Your Pooja Room
3. Green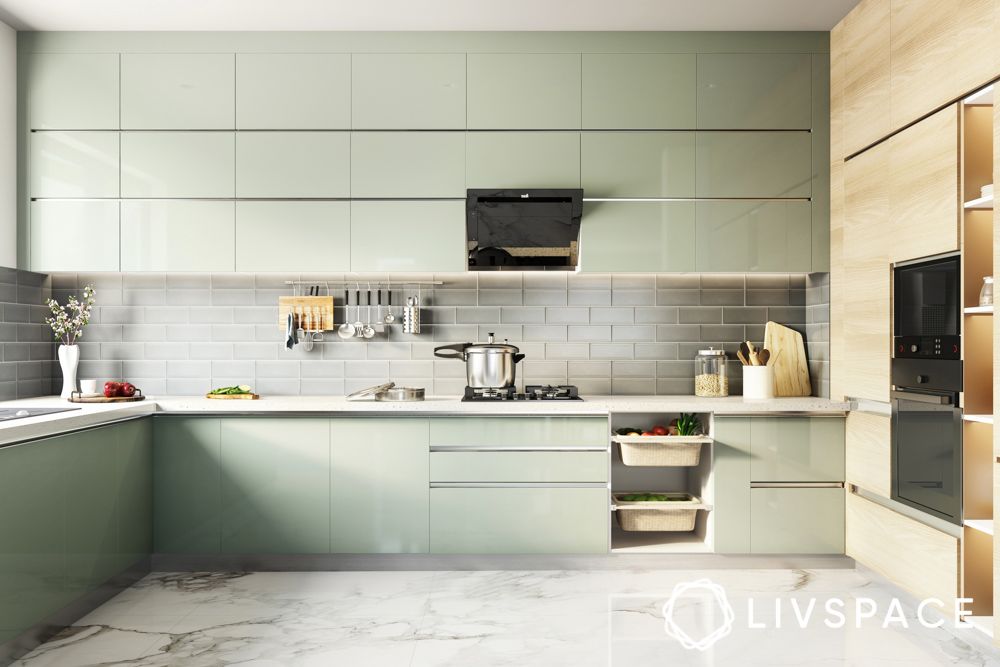 While choosing from the best-suited kitchen colours, as per vastu, consider green. It's the colour of hope and harmony. Additionally, it closely ties in with nature, which is beneficial in channelling a soothing atmosphere into your kitchen.
Using green by way of a kitchen island or other functional elements will also get you brownie points with Feng Shui, which suggests that the colour encourages proper digestion.
4. Red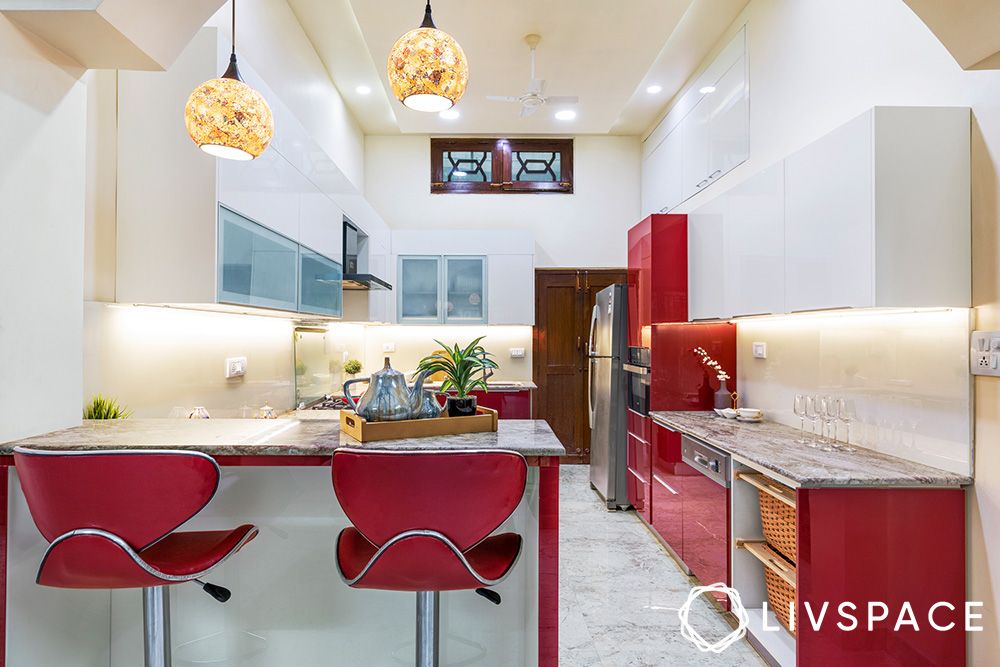 According to Hindu scripture, red is connected to the fire element. Similarly, it provides happiness and luck when used as a colour for kitchens, according to vastu. Applying red hues to your space helps emit positive energy.
Having a red kitchen also represents an unwavering attitude towards the challenges of life. Also, red is a wise decision for you if your kitchen faces the south-east.
5. Yellow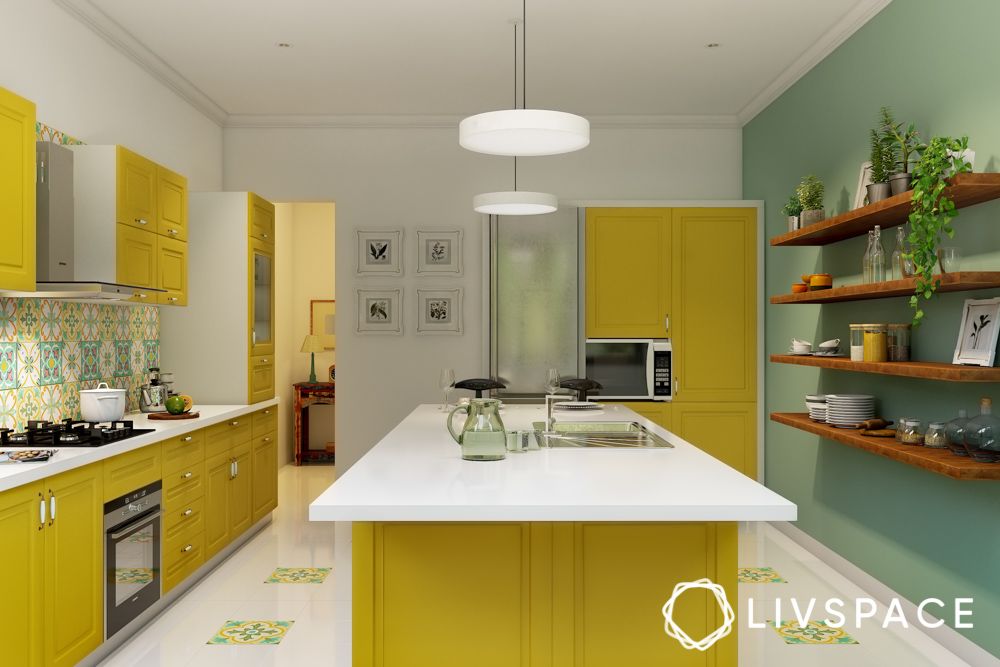 If you're wondering which colour is good for your kitchen, consider yellow. According to vastu, yellow exudes energy, freshness, and happiness—all key factors in building a positive atmosphere.
This colour also works especially well in kitchens that don't receive direct sunlight, as it mimics the warmth of natural light without reflecting it and causing harsh illumination.
So, when it comes to the best vastu colours for kitchens in dim spaces, choose yellow to channel positive energy and stimulate happiness.
6. Pink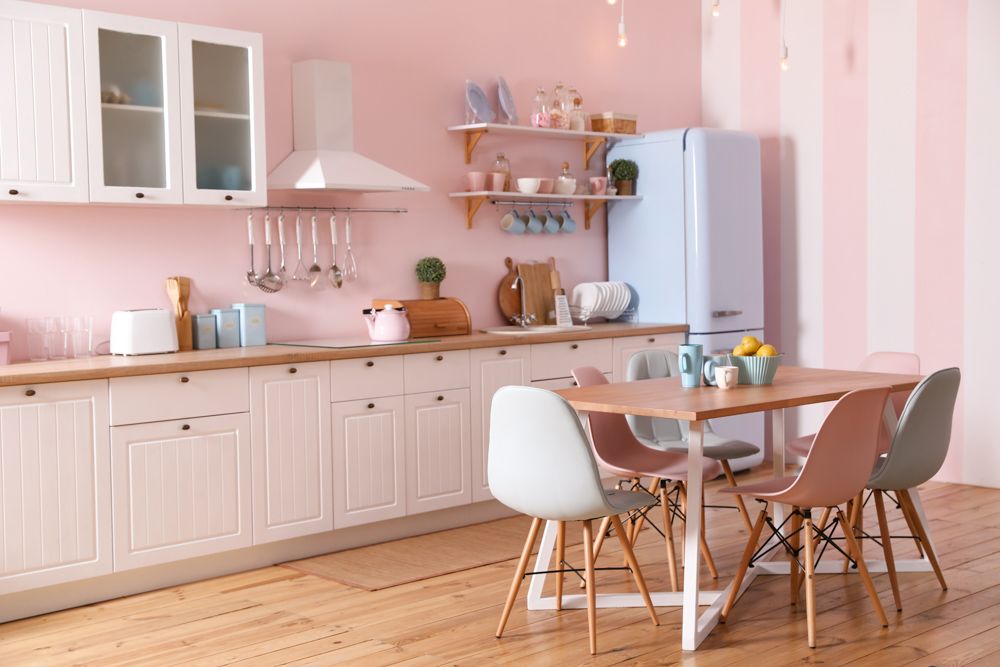 Which pastel shade is the best colour for kitchens as per vastu principles? It's pink! It represents love, a predominant emotion in kitchens of happy homes where people gather around delicious food and engage in conversation.
To increase this joyous mood and perpetuate it across the house, adding an element of pink to your kitchen is a great idea. Pink is also a subtle mix of sharp white and bright red, both being important vastu colours for kitchens.
7. Chocolate Brown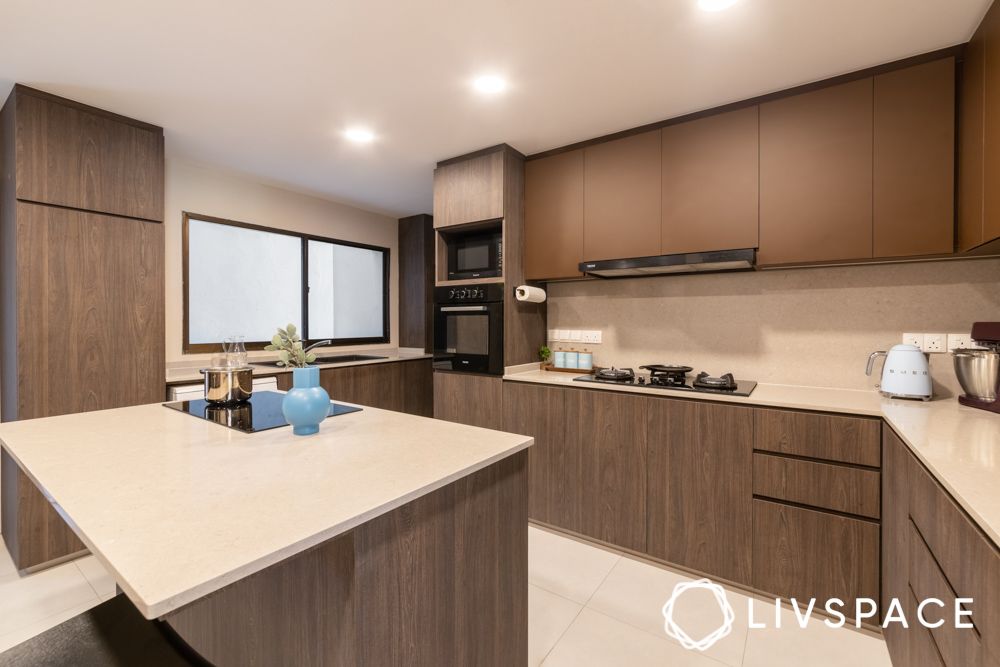 When deciding on a kitchen colour as per vastu, chocolate is an uncommon choice. However, this kitchen colour is perfect as it exudes warmth and contentment, ensuring a kitchen with positive vibes.
Brown tones are perfect for a kitchen facing the south-west direction and pair well with a modern kitchen setup.
8. Peach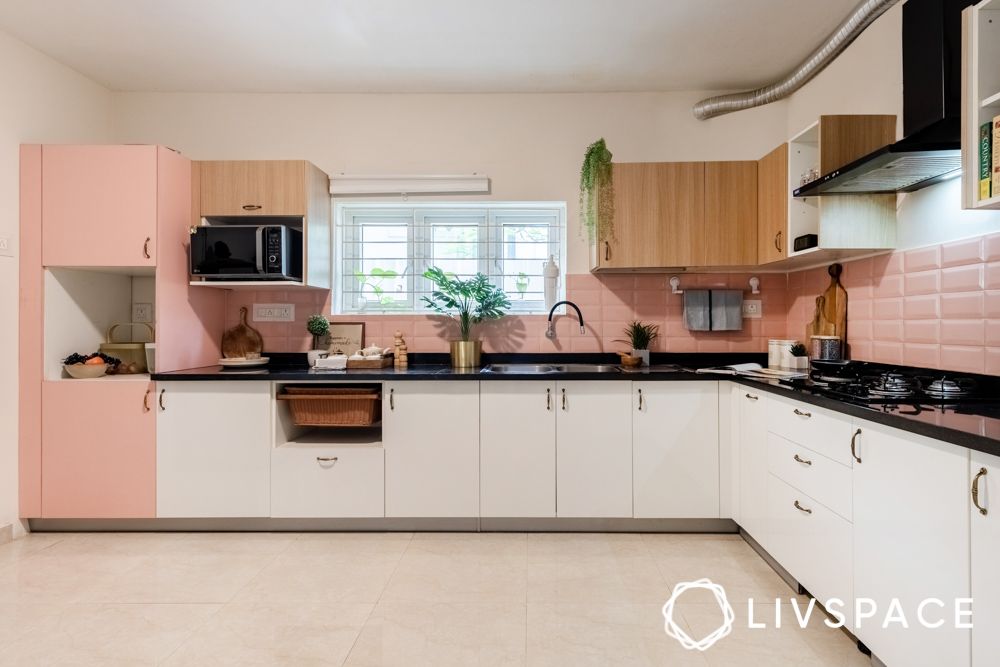 Choose the colour peach to infuse warmth and joy into your kitchen's decor. According to vastu, peach as a kitchen colour helps improve ties within families and signifies calmness, tenderness, and nurturing.
9. Metallic Hues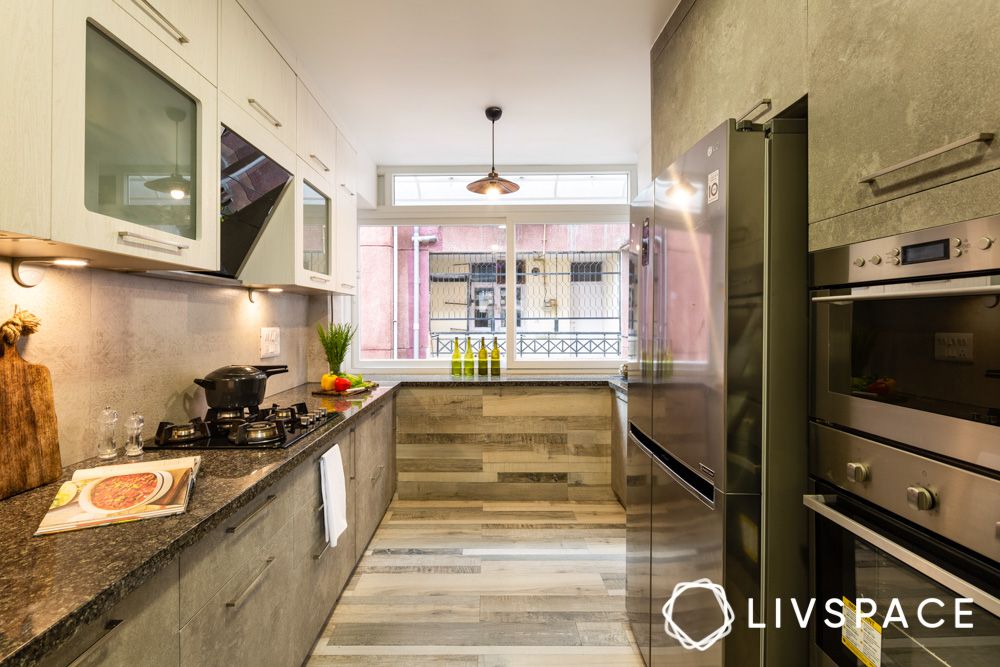 The presence of metal in the kitchen promotes productivity, tranquillity, and clarity of thought. Hardware such as light fixtures, drawer handles, and faucets are the best places to feature metal accents.
10. Beige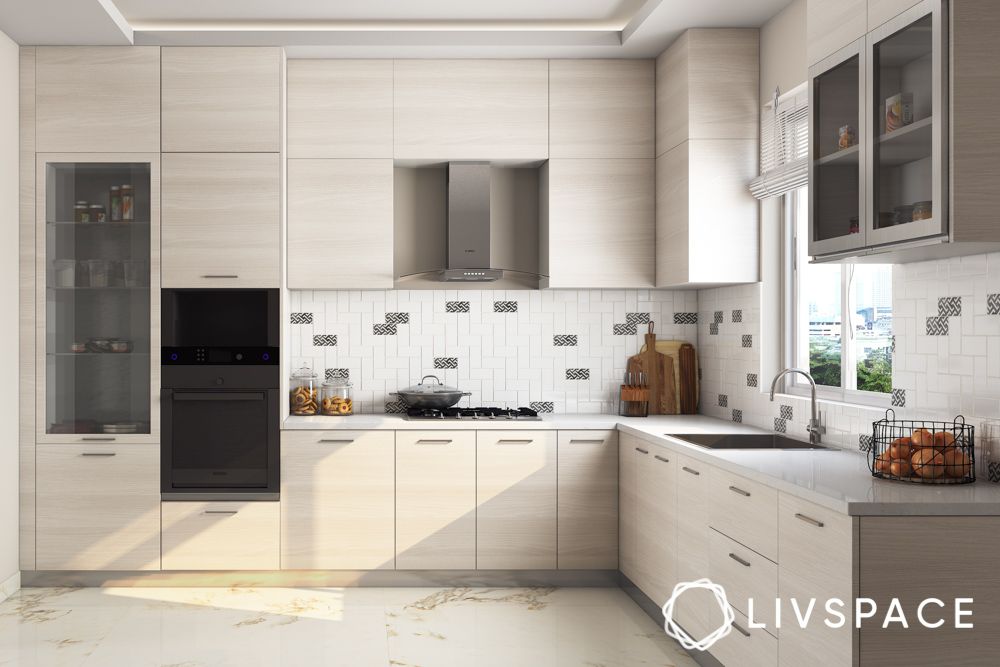 Besides the colours mentioned above, muted shades are often a popular choice for kitchen colours, according to vastu for Indian homes. If you aren't keen on white, but still want a neutral colour for your kitchen, beige is the way to go.
Wondering how to design your kitchen using some of these colours? Check out these modular kitchen design ideas for more inspiration.
Which Kitchen Colours Should You Avoid As per Vastu?
By now, you know which are the best colours for kitchens according to vastu, but here are the ones that you should avoid:
Black
Dark Grey
Dark Brown
Purple
Ideally, darker colours are best avoided for your kitchen. Instead, consider neutral or pastel kitchen colours for a vastu-compliant space.
Which Is the Best Kitchen Platform Colour As per Vastu Shastra?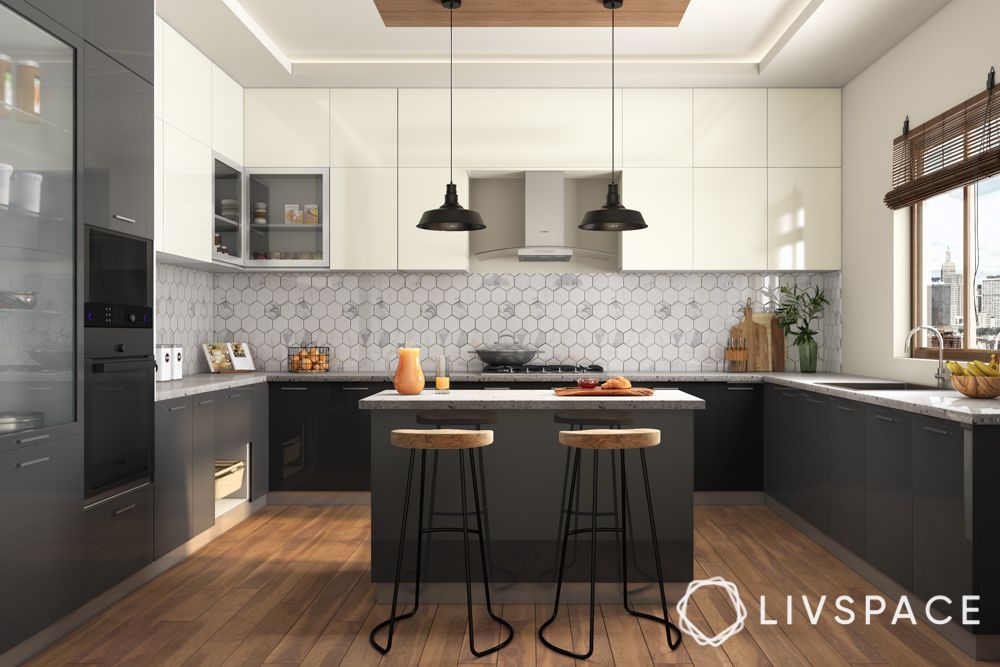 Vastu plays an important role in deciding the colour of your kitchen platforms and slabs. According to Vastu Shastra, your kitchen platform should be made of natural stones like quartz and granite.
Wood can also be a good option if you want to go for something fancy. You can choose your slab in neutral colours like beige, wooden tones, or white for the best results.
What's the Best Colour for Your Kitchen Flooring According to Vastu?
Use ceramic, wooden, or marble kitchen tiles to adhere to vastu guidelines. Avoid using dark colours for your floors as they may attract negative energy.
Light brown, cream, or beige are some of the best colours for kitchen flooring because they encourage stability and warmth in family relationships.
Also Read: 10+ Kitchen Vastu Tips to Bring Positive Energy in Your Kitchen
The Best Colours for Kitchen Cabinets According to Vastu
You can use two or three colours to design your kitchen cabinets. The colours you choose for your kitchen cabinets can help improve their aesthetic appeal and create a positive atmosphere.
While selecting the right shades, be sure to match them with those suggested for the direction of your kitchen as well. Here's a simple guide you can follow to choose the right kitchen cabinet colours in line with vastu:
North-facing kitchens: Blue, green, and brown
South and south-east facing kitchens: Red, maroon, pink, orange, or brown
West-facing kitchens: Silver and white
Which Colours Are Ideal for Kitchen Walls and Furniture?
Light shades are ideal for the walls and furniture in your kitchen to give the space a calming ambience. Avoid using bold or dark colours for the walls, as it may make the space look cluttered.
Since wood is a vastu-approved material, opt for furniture with a wooden finish for a curated look. Similarly, wooden accents are available in a range of neutral colours, making it the perfect pairing for light-coloured walls.
Check out kitchen design ideas:
How Can Livspace Help You?
No matter the style or budget you have in mind, we've got an amazing range of kitchens and offerings for you to choose from. Be it budget-friendly, premium, or semi-modular kitchens, we use the best quality materials and engineering to ensure your kitchen stands the test of time.
In fact, we also offer a *flat 10-year warranty on all kitchens (for modular and semi-modular products). Book an online consultation with Livspace today and get started on your dream kitchen journey. You can also check out these Livspace reviews to know how Livspace homeowners are loving the way they Liv.
*For the full scope of warranty, please visit livspace.com/in/interiors/service
Disclaimer: All contents of the story are specific to the time of publication. Mentions of costs, budget, materials, finishes, and products from the Livspace catalogue can vary with reference to current rates and designs. Talk to our designer for more details on pricing and availability.
---
Popular Services:
Modular Kitchen Designs | Wardrobe Designs | Bathroom Designs | Master Bedroom Designs | Living Room Designs | Pooja Room Designs | TV Unit Designs | False Ceiling Designs | Kids Bedroom Designs | Balcony Designs | Dining Room Designs | Foyer Designs | Guest Bedroom Designs | Window Designs | Flooring Designs | Wall Decor Designs | Wall Paint Designs | Home Wallpaper Designs | Tile Designs | Kitchen Cabinet | Home Office & Study Room | Home Interior Designs
Popular Locations:
Interior Designer Bangalore | Interior Designer Mumbai | Interior Designer Pune | Interior Designer Chennai | Interior Designer Hyderabad | Interior Designer Gurgaon | Interior Designer Delhi | Interior Designer Ahmedabad | Interior Designer Vadodara | Interior Designer Kolkata | Interior Designer Thane | Interior Designer Navi Mumbai | Interior Designer Coimbatore | Interior Designer Lucknow | Interior Designer Patna | Interior Designer Nagpur | Interior Designer Chandigarh
Popular Stories:
2 BHK Interior Design | 3 BHK Interior Design | 1 BHK Interior Design | Interior Design Cost In India | Painting Cost Per Square Foot | False Ceiling Cost | Bathroom Renovation | Sofa Design Ideas | POP Design for Hall | House Paint Colours | Main Door Design | Granite Countertops | Vastu For Home | Cool Wallpapers | Types of Kitchen Layout | Types of Flooring | What Is Plywood | Pooja Room Vastu | South Facing House Vastu | Which Plants Are Good for Home Vastu | Vastu Tips for Home