From memorable conversations, to happening parties, unforgettable movie nights, and the best naps, your sofa is with you all the way through. And today, it's not just about having a comfortable sofa, but about the character it lends to the room. Blue sofas are taking the world by storm with their versatility, as they complement styles and textures with ease to transform any living room. Here are the top sofa trends 2020.
Types of Blue Sofa #1: The Urban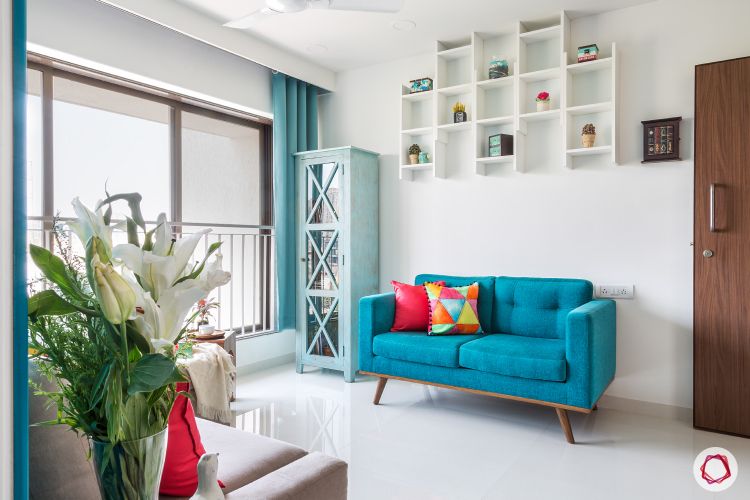 This retro, turquoise, love seat is topping the list of sofa trends 2020. Coupled with the accents in decor, distress-finished cupboard and curtains, it brings the whole room together.
Types of Blue Sofa #2: The Funky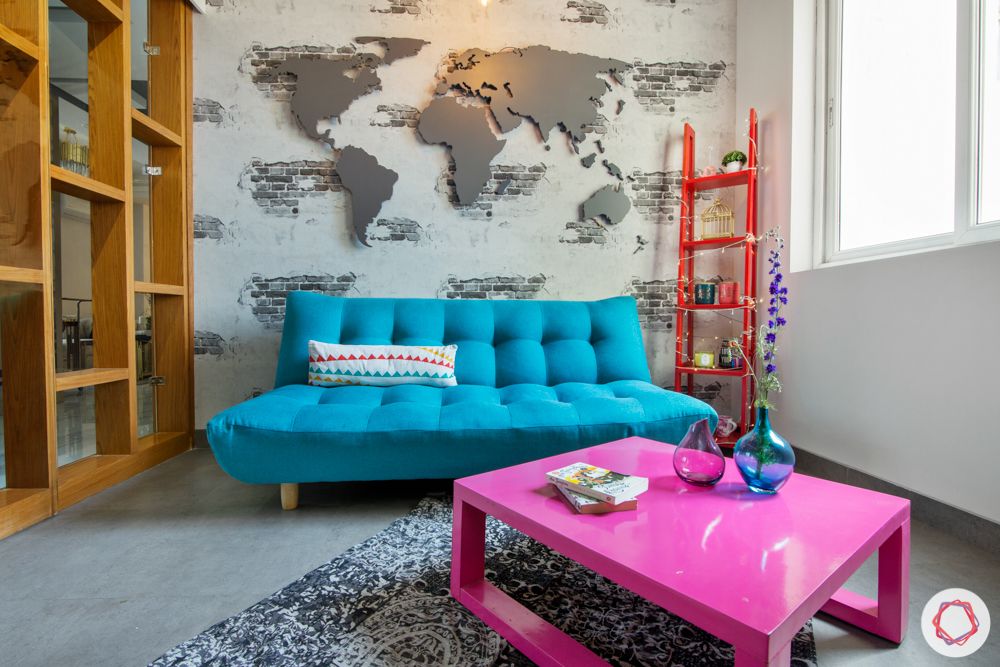 This lounge sofa-bed is an absolute stand-out against the other bright colors. The rustic wall with the embossed world map accentuates the sofa, making it a statement piece.
Types of Blue Sofa #3: The Functional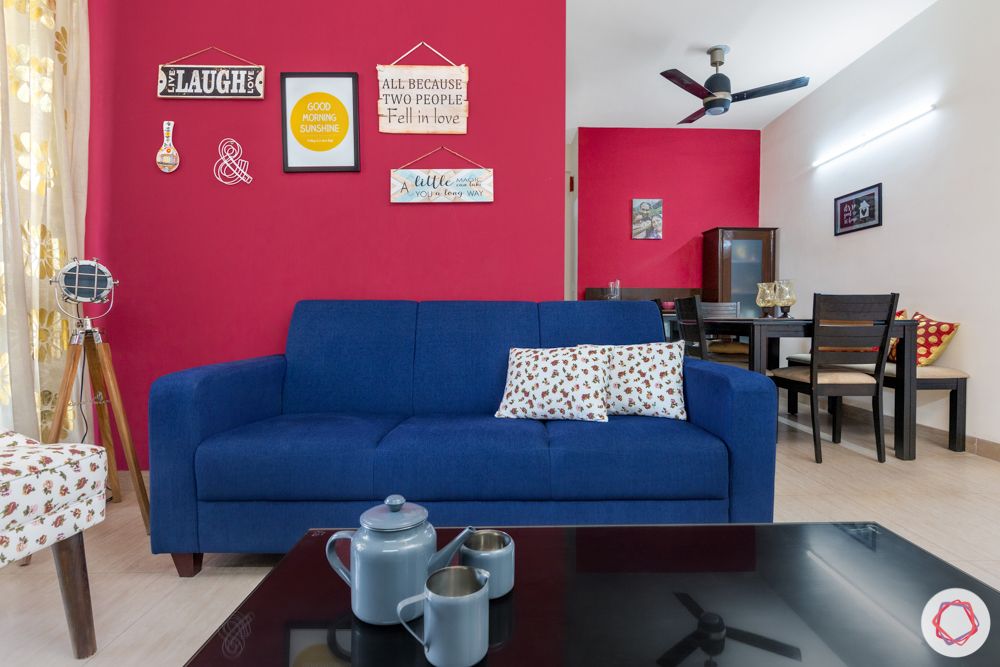 In stark contrast to the fuschia wall, this modern sofa design is elegant, homely and inviting. With patterned cushions, tasteful curios and a personalised wall space, we've got a winner.

Types of Blue Sofa #4: The Chic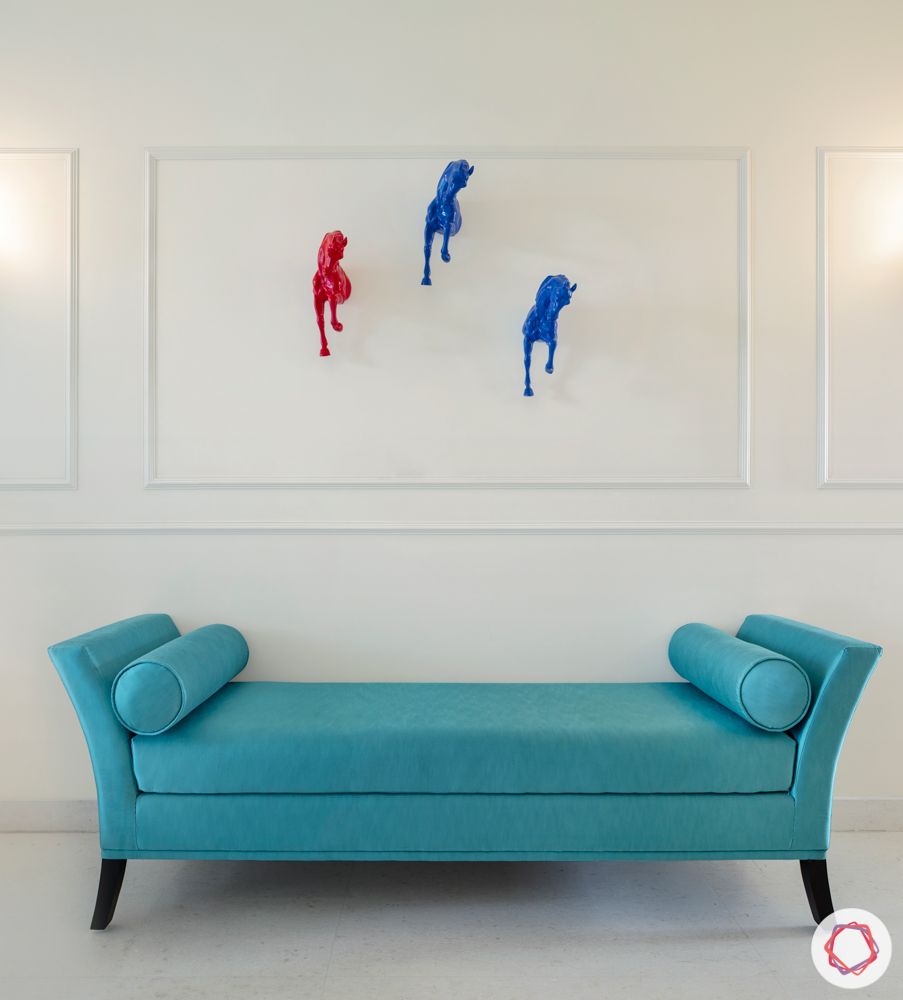 Subtle and chic, this divan with its dark wooden legs has sofa trends 2020 courting it. It's a refreshing sight against a plain wall with minimal décor.
Types of Blue Sofa #5: The Royal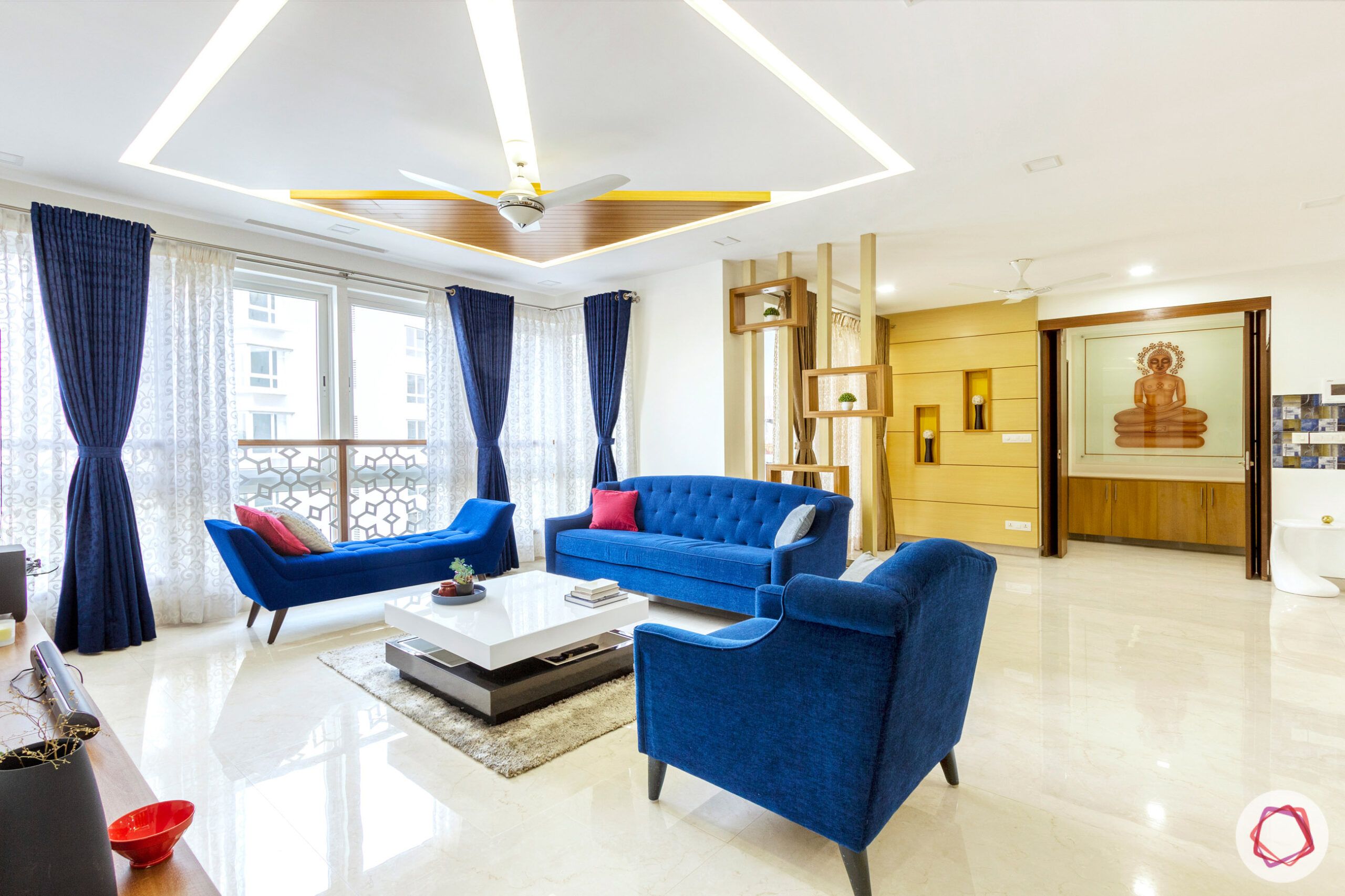 Add glamour to your large living room with this royal blue set that makes a statement for all those who enter. In combination with blue curtains and minimalist, contemporary, wooden furnishing you will create a space bathed in splendor.
Types of Blue Sofa #6: The Sophisticated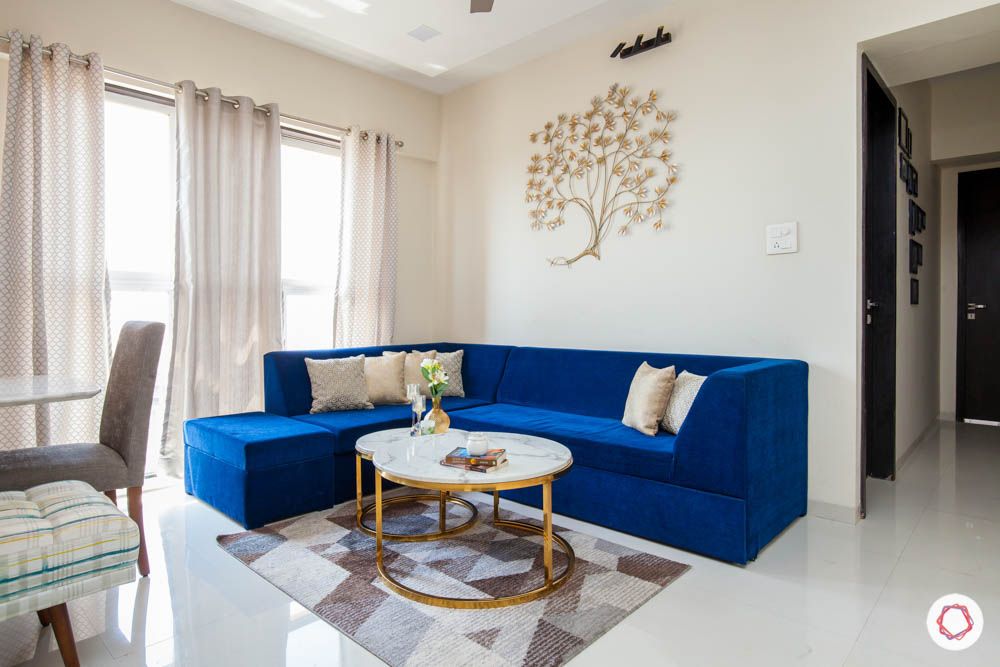 This modular, royal sofa fits spectacularly in any cosy living room. It adds a pop of color in a room with neutral walls and drapery, finding a top spot on the list of hottest sofa trends 2020.
Types of Blue Sofa #7: The Imperial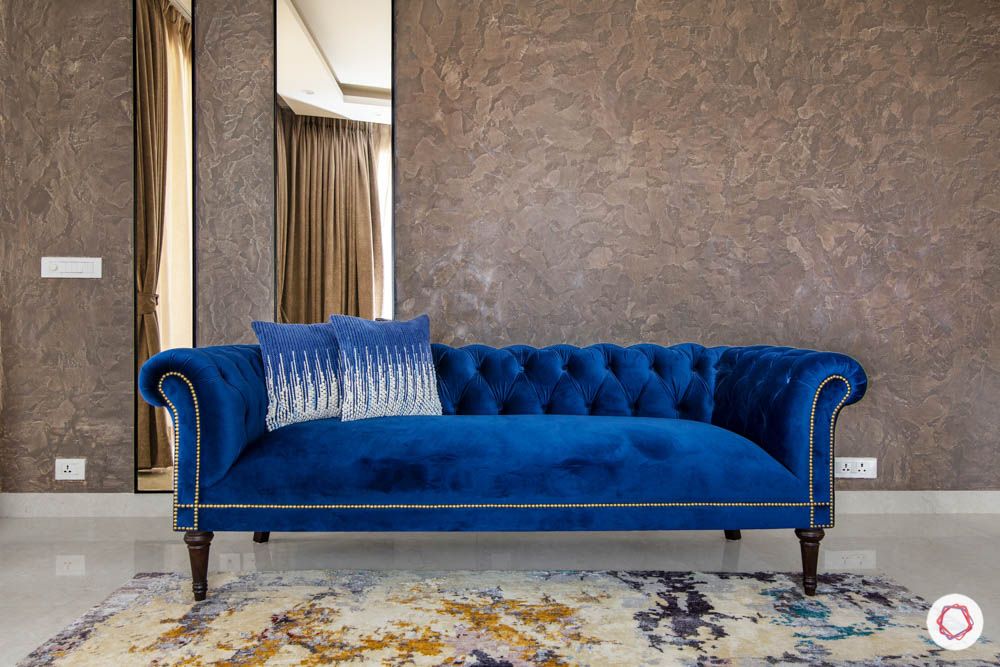 A standalone, majestic, chesterfield sofa with a crushed velvet plush brings a touch of richness, especially when paired with patterned cushions, set against an auburn motif-laid wall and completed with a marbled rug.
Types of Blue Sofa #8: The Vibrant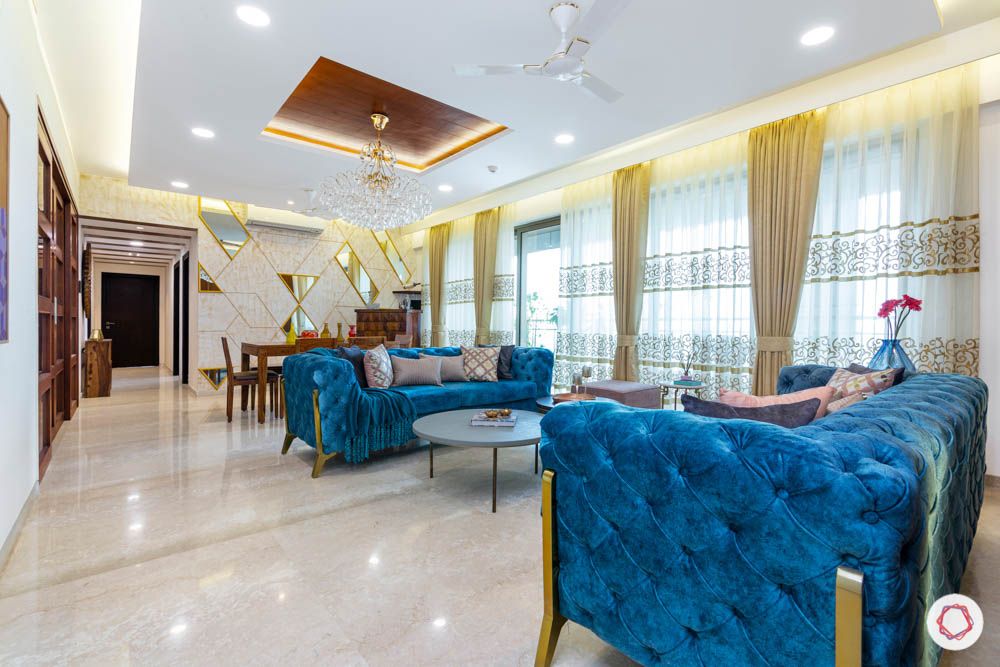 Set against airy golden drapery and beige flooring, these large blue sofas perfectly fit the bill in this expansive living room. The sofa's gold accents add a dimension of class, and work will with the mirrored accents on the far wall.
Types of Blue Sofa #9: The Pleasant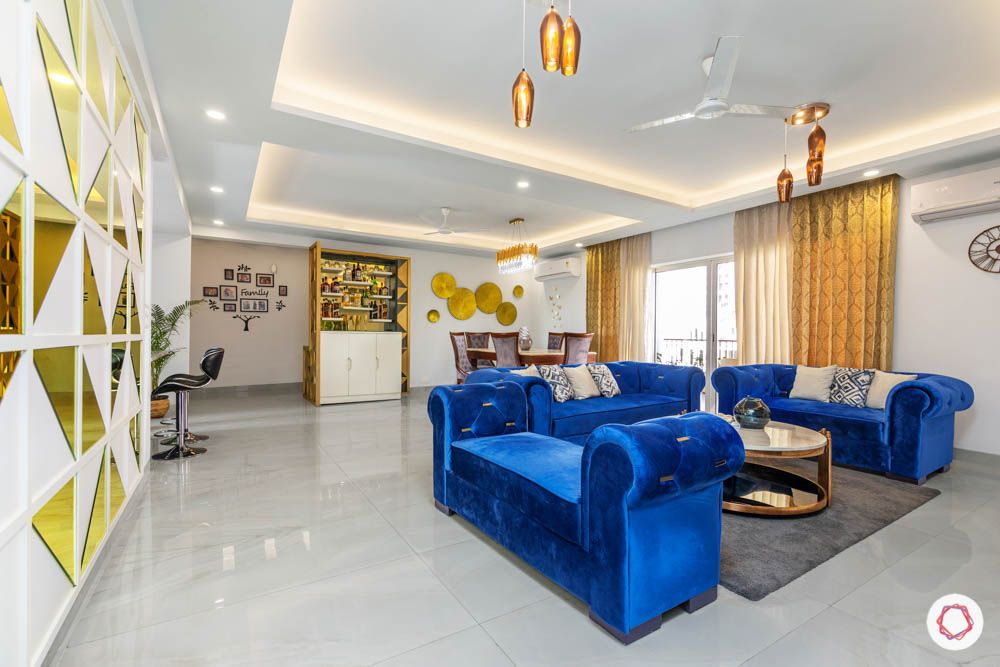 Known to have soothing, pleasing tones, these velvet couches work well with warm color palettes of gold and bronze, while white, patterned cushions provide a visual layer of contrast.
Types of Blue Sofa #10: The Upbeat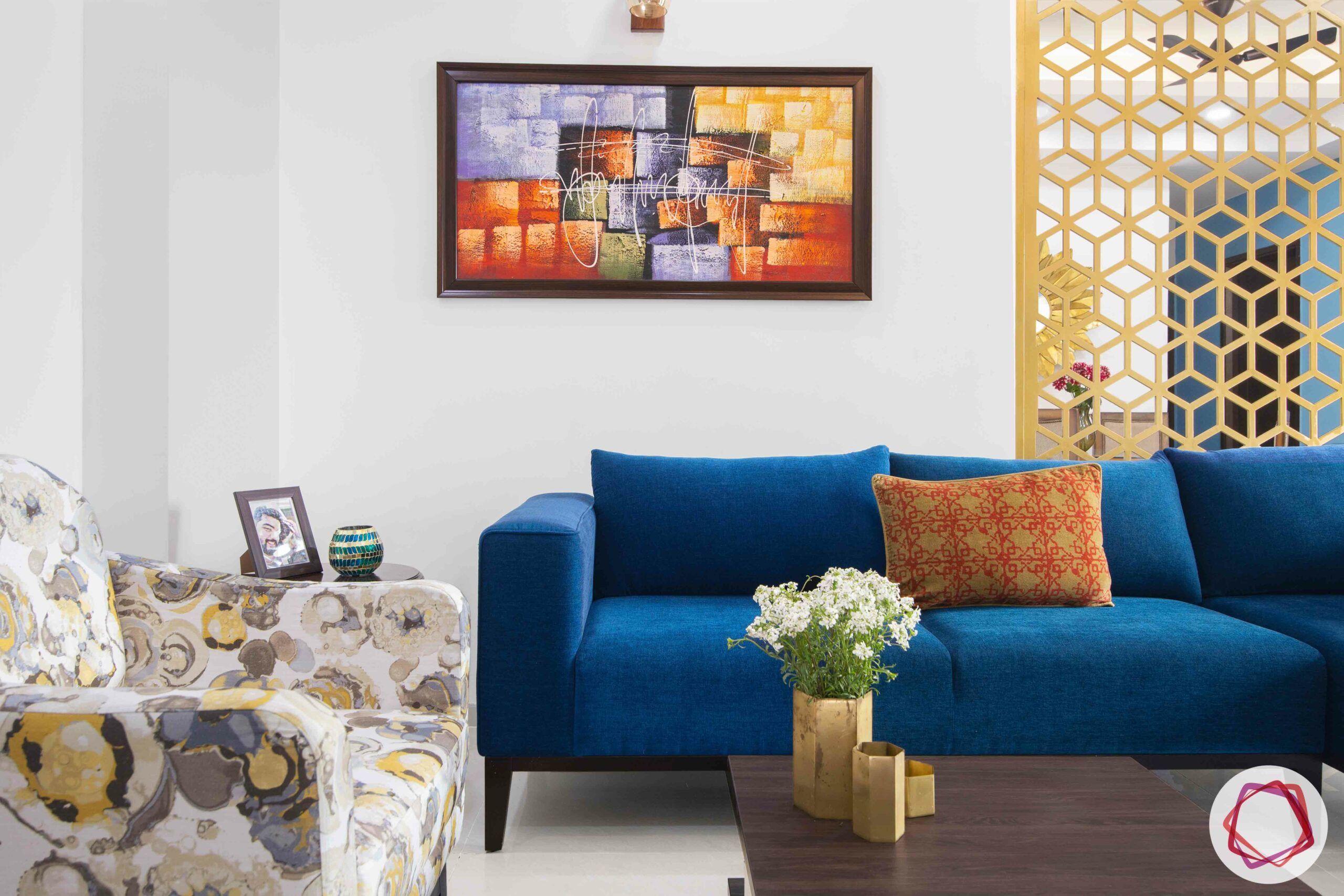 2020 trends had curated blue sofas as signature pieces because of their ability to layer and blend with different styles, prints, and color palettes. Play with the asymmetry in carefully chosen spaces such as in this #LivspaceHome.
Types of Blue Sofa #11: The Modern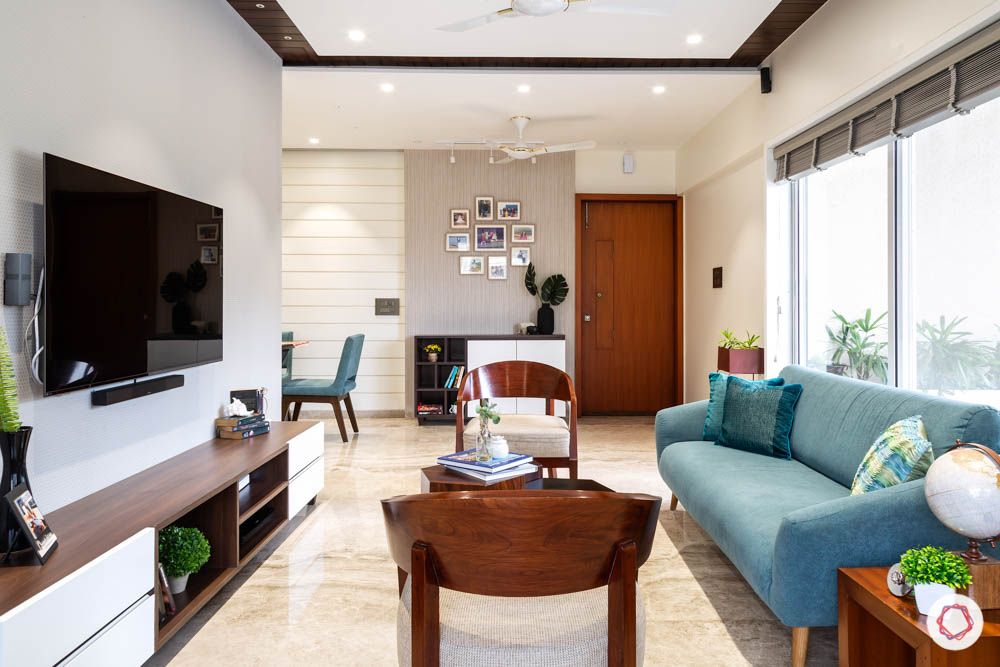 Light blue is an intoxicating shade, and it must be complemented by a large airy room, with wooden furniture that accents these stunning sofas. A touch of green makes for a refreshing and inviting space.
Types of Sofa #12: The Roomy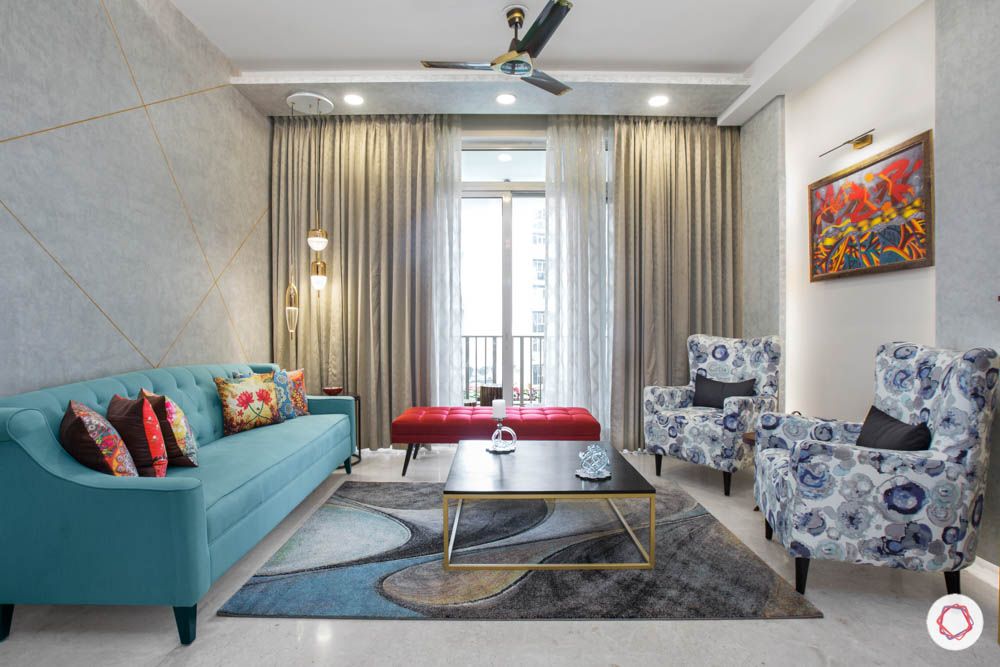 This colorful mix of elements and colors with the gentle sofa adds an eclectic vibe to the textured living room. The French windows with beige full-height curtains are playfully asserted by the patterned cushions and the printed armchairs.
Types of Sofa #13: The Dreamy
The sectional teal sofa paired with cross curtains and a printed chair, headlines dreamy sofa trends 2020!
Types of Sofa #14: The Magnificent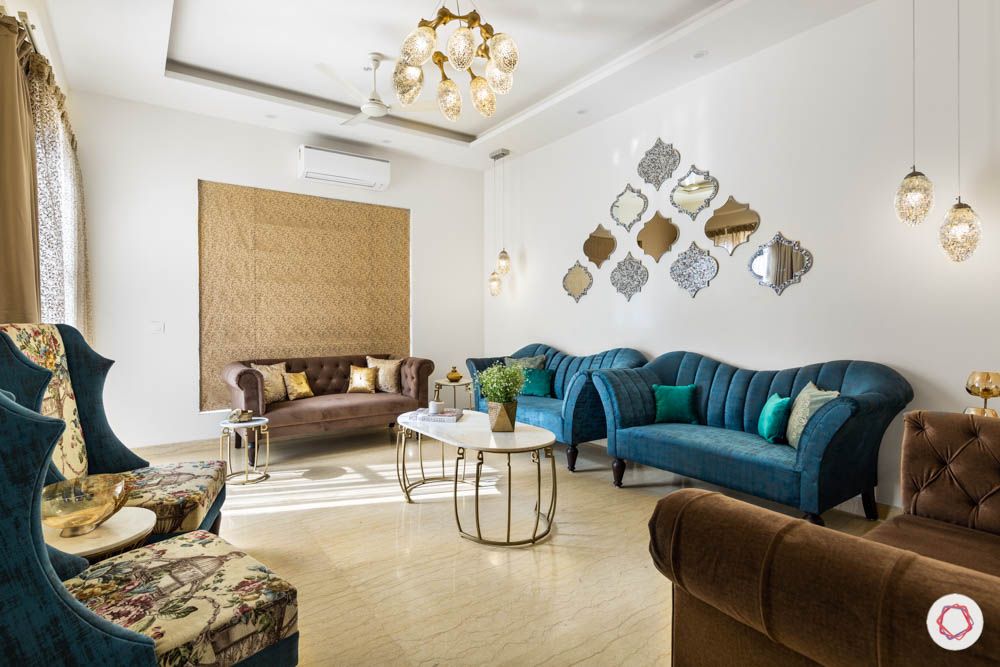 Sofa trends 2020 touts the sheer magnificence of these loveseats. With ethnic mirrors and artistic lighting, and contrasting brown chesterfield sofas this room speaks volumes!
Types of Sofa #15: The Casual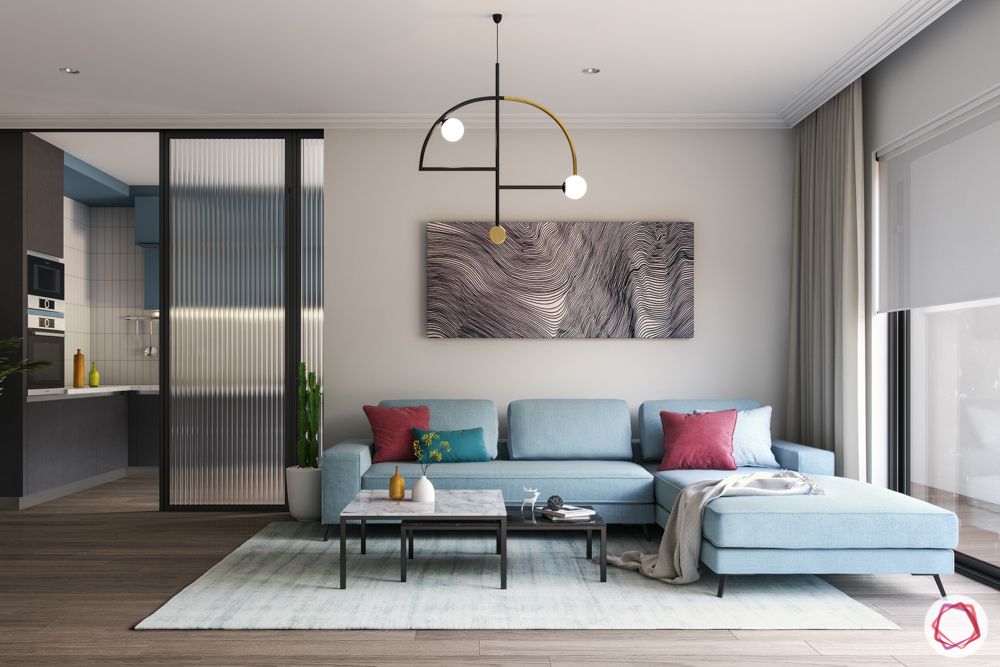 Casual vibes are featured prominently on couch trends 2020 with the L-shaped sky blue couch with a simple minimalistic rug, complete with abstract art and lights.
Types of Sofa #16: The Abstract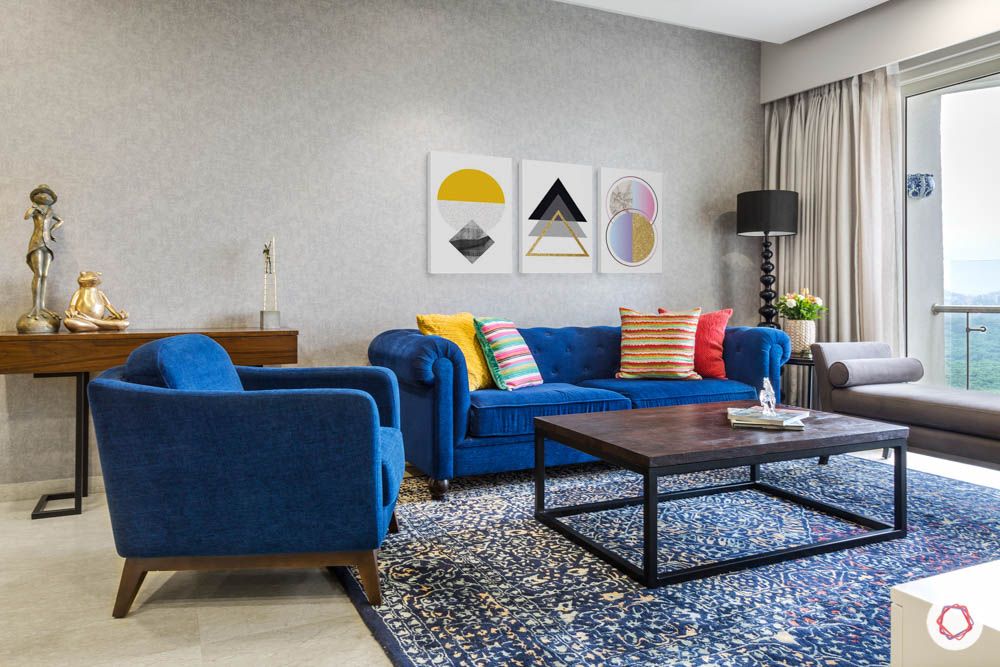 Creating an abstract vibe with patterns and shapes requires the prominence of a solid color, and what better foundation than a blue chesterfield with patterned cushions to pull it off!
Types of Sofa #17: The Crisp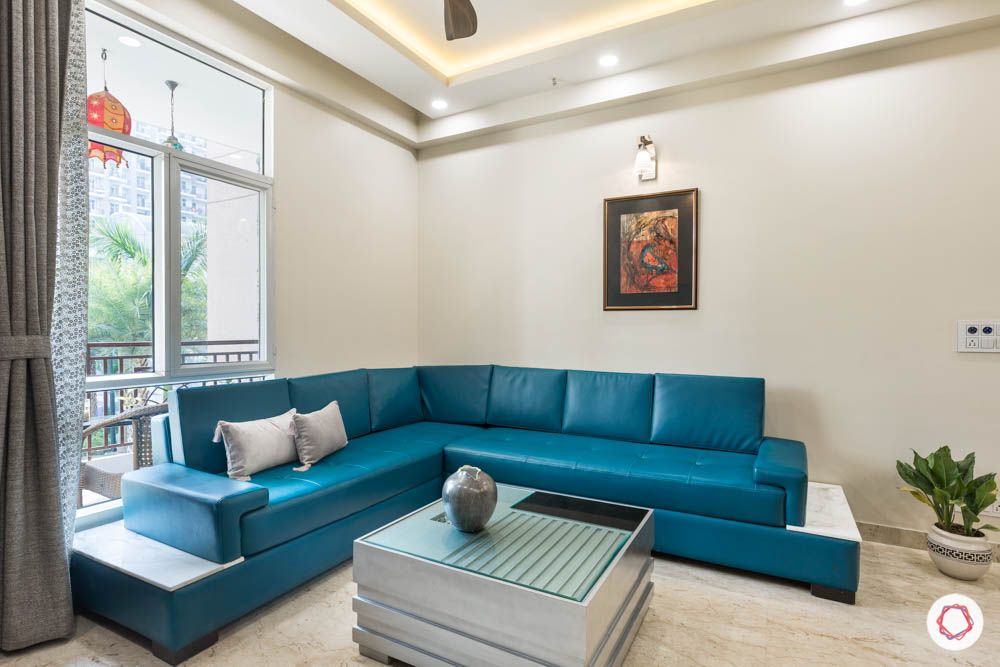 This teal sofa is everything you've dreamed of with luxurious covers, attached side tables, and low seating to make the space appear larger. It is best paired with small pops of art and neutral grey drapes.
If you've got your eyes on a lovely blue, we hope you now know how to make it work in your home! Also, if you liked reading about this, check this out: 12 Iconic Sofa Styles Explained.
Check out living room ideas:
Send in your comments & suggestions.