Picking kitchen designs isn't really like picking clothes out of a rack. You do not necessarily think of the latest fashion trends while picking a kitchen in India. However, just like all other design-related fields, kitchens too are subject to trends. More often than not, these trends bring with them a wave of change – in materials, way of cooking, storage and more. It's all about innovating ideas and some predictable trends post the year we all had.
2020 was a learning experience for all of us. However, what came out of these learnings was a new lifestyle; one that involves more of stay-at-home dinners and stocking up. And the kitchen design trends of 2021 are indicative of these learnings. Here they are:
Kitchen in India Trends for 2021 #1: Colours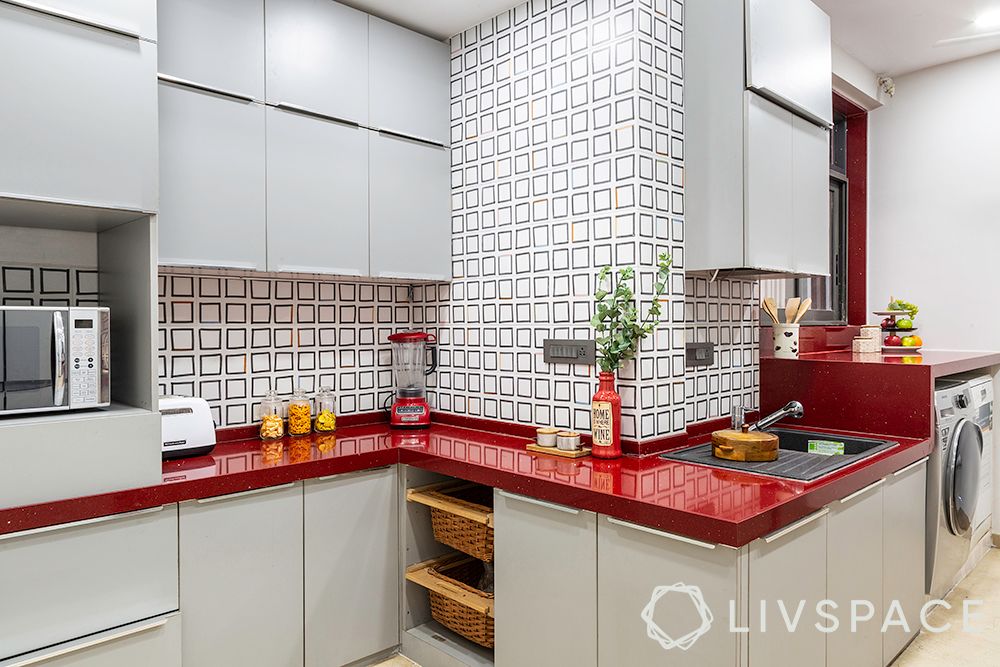 (a) Red kitchens
There is something inviting about a bright red kitchen and going by our years of experience, it's been a top favourite for years now! Also, red is a vastu-approved colour for kitchens, which works as an added advantage for the Indian audience. However, the presentation of reds will change; instead of cabinets, you might see reds in countertops and backsplash tiles, like this stunning red quartz counter.
(b) Emerald green kitchen
"Emerald green will be the new red when it comes to kitchens," says Vidhi Panchamiya, one of our prominent interior designers in Mumbai. Not only is it the colour of nature, which we dearly miss in our voluntary confinement, it also happens to be vastu-approved.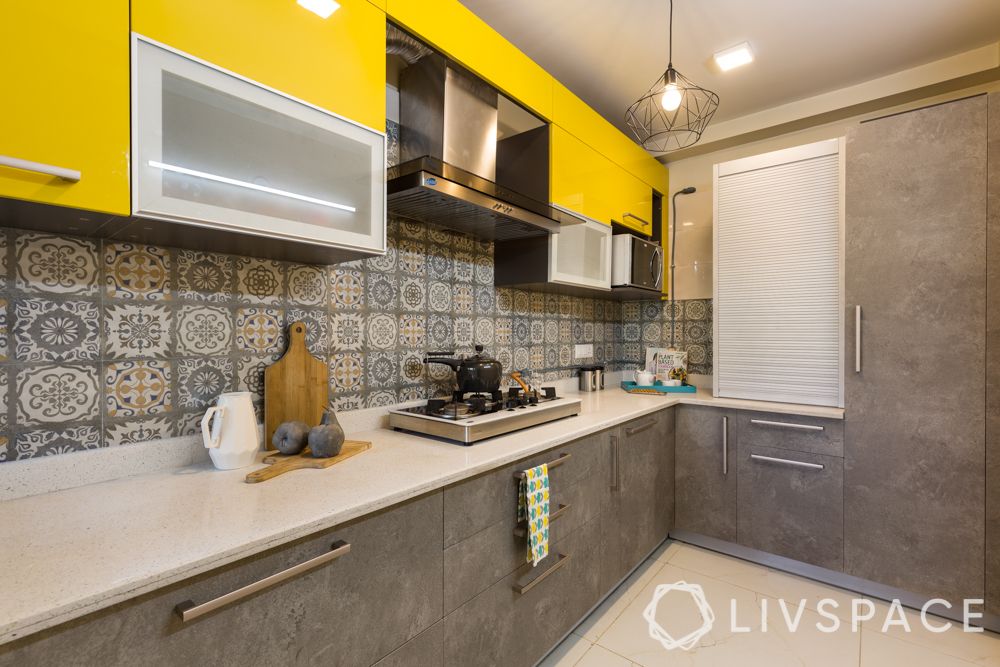 Pantone
Pantone made an unconventional choice to release two colours instead of one this year. And the Pantone pair — Ultimate Grey and Illuminating Yellow — form a rather striking pair. This combination will manifest itself in matte greys and glossy yellows in kitchens.
Kitchen in India Trends for 2021 #2: Anti-fungal & anti-rust materials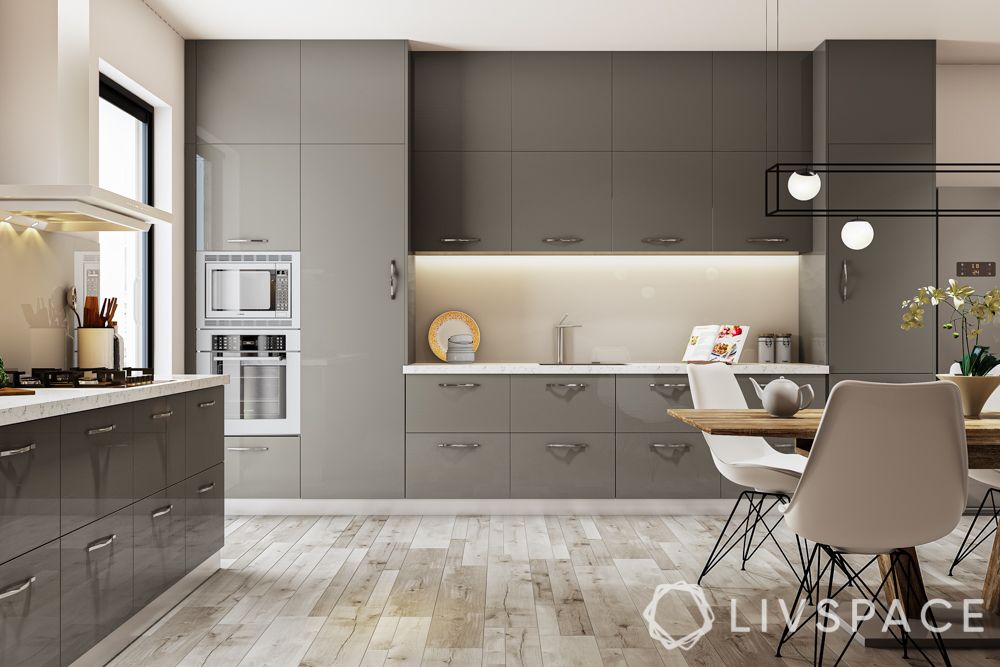 Most kitchens in India are made of plywood; the properties of this plywood differs. You might use boiling water-resistant ply in the wet areas and plain plywood in dry areas. But you may start seeing stainless steel kitchens for the first time in India in 2021. This could be because stainless steel is more durable, resistant to water and rust. But most importantly, it has anti-fungal and microbial properties. In a post-pandemic world, more and more people will opt for kitchens that can be easily santised.
Kitchen in India Trends for 2021#3: Structure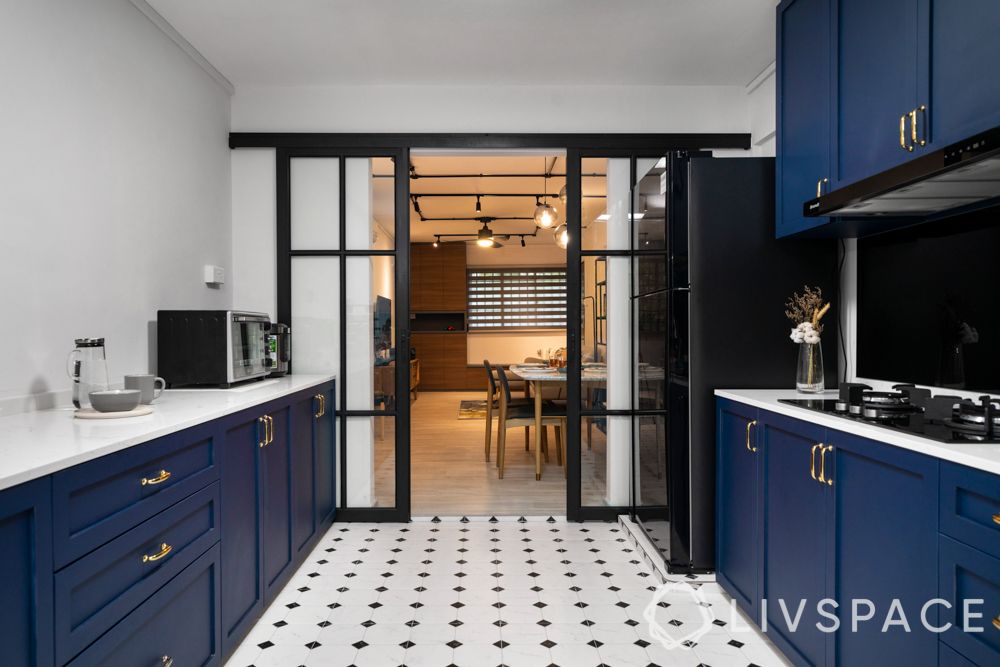 Our in-house designer Vidhi also told us that kitchens will change structurally in the post-COVID era. "The lockdown has essentially made all of us multi-taskers. We have learned to cook, look out for the kids and work at the same time. Hence, glass partitions and doors will define kitchens from 2021 onwards," says Vidhi.
You can check out some of our best see-through partition designs here.

Kitchen in India Trends for 2021 #4: Flooring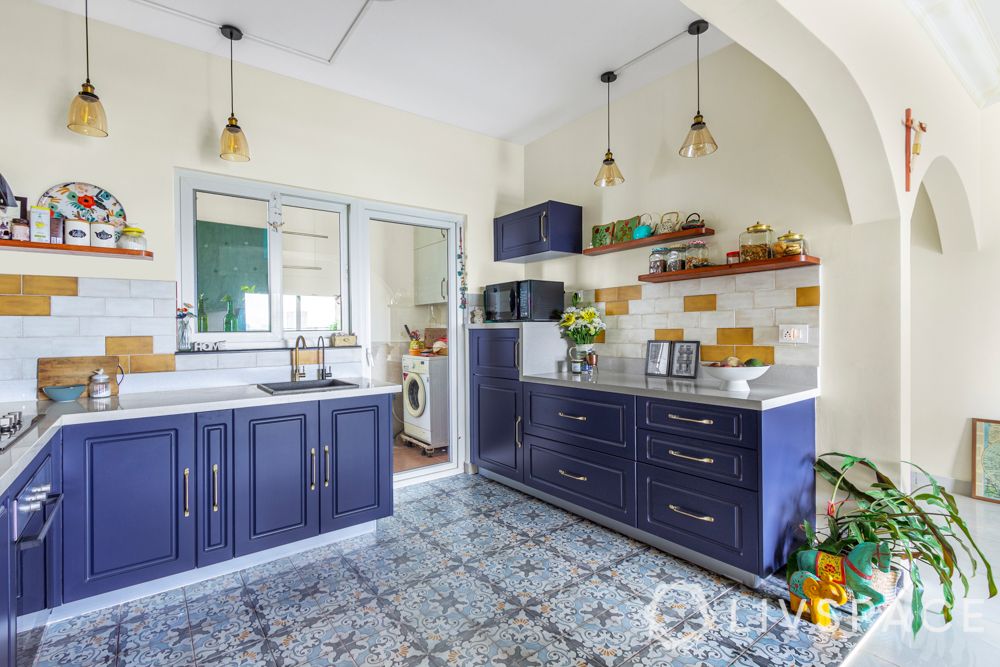 So far, kitchen flooring has been all about functionality. You have to opt for floors that are safe and not too slippery because kitchen accidents are second in commonality only to bathroom accidents. However, statement floors using Morrocan or Turkish tiles and even our native red oxide, are the new 'in' thing now.
Word of caution: Always add an anti-skid layer to the kitchen floor even if you opt for fancy tiles.
Kitchen in India Trends for 2021 #5: Style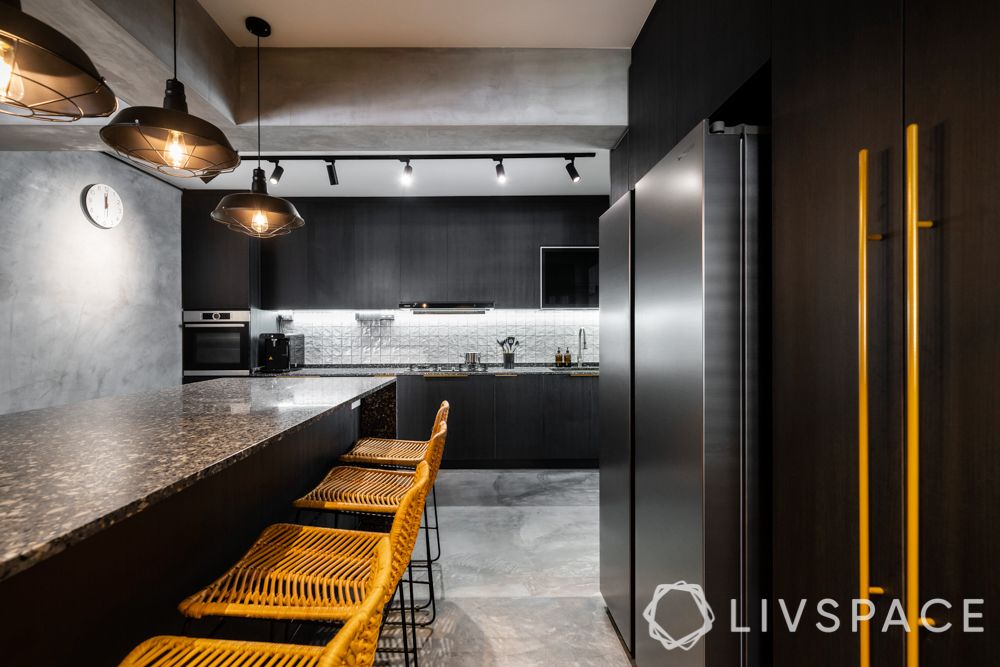 The industrial style made its way to India a decade ago. We saw it first in gastro pubs and cultural spaces. Slowly but steadily, it made its way into our homes in the form of exposed brick walls and rugged rope or metal lights. In 2021, the industrial style is all set to lay claim to kitchens.
Expect kitchens with tall ceilings decked with wooden rafters here and there. Metallic handles and lights will rule the roost, as will cement screed flooring and walls. The raw look for kitchens is here to stay!
Kitchen in India Trends for 2021 #6: Functionality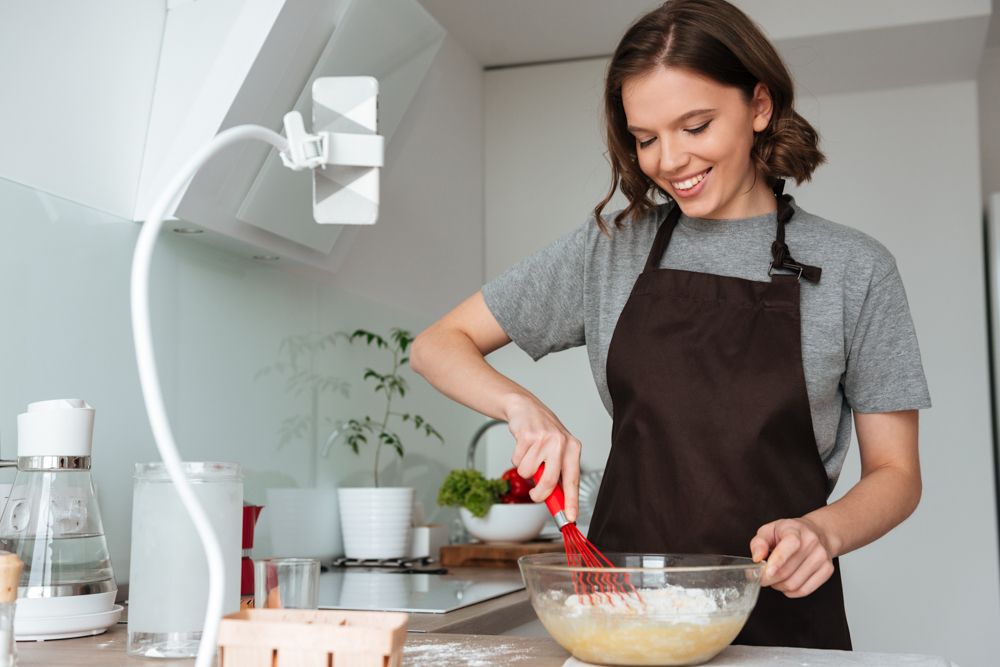 Now that we are all reconciled to cooking while we take Zoom calls, we must also make it convenient to do the same. The kitchens of the present and future will be more aligned with our work-from-home needs. Hence, they will embrace technology. Things like mobile phone or tab holders will be a must in kitchens with accessories like charging points following through.
Kitchen in India Trends for 2021 #7: Green Kitchens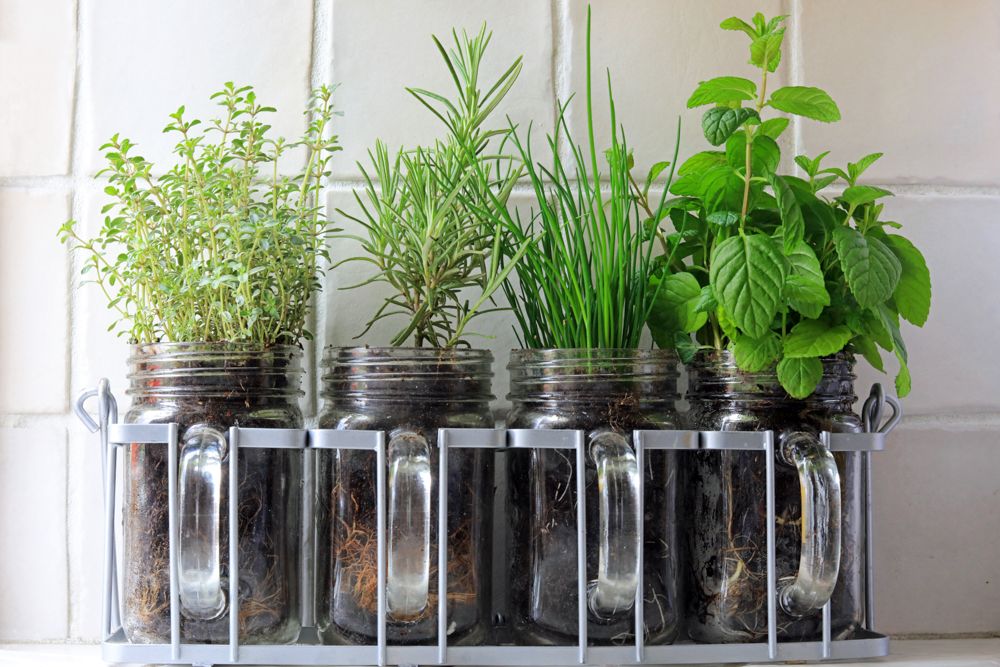 Pictures of celebrities getting their hands dirty in their gardens must have popped up on your social media feed during the last year. Growing our own food is a hobby that many people have discovered during the lockdown. And our kitchens must make way for this productive hobby.
You can expect to see shelves/windowsills for potted herbs or vertical gardens for microgreens in the kitchens in 2021. In general, kitchens will make space for potted plants if not vegetable patches in the future.
Now that we have taken a detailed look at what kitchens in 2021 will look like, you might want to explore the 7 Most Vital Interior Design Trends That Will Rule 2021.
Write to us: