This Prestige Lakeside Habitat homes whiffs of old Bengaluru charm.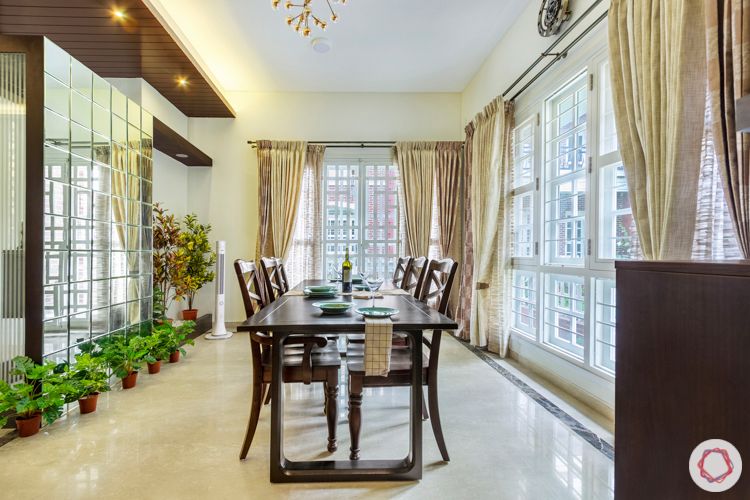 ---
Who livs here: Gopal & Smruti Devanahalli
Location: Prestige Lakeside Habitat, Bengaluru
Size of kitchen: 4BHK spanning 2,500 sq ft approx.
Design team: Interior Designer Sonika Shetty and Project Manager Karthik S
Livspace service: Full home design
Budget: ₹₹₹₹₹
---
Getting interiors for your home done is no mean feat for any family. However, NRIs have a particularly tough road ahead because they have to remotely coordinate with the vendors working on their home. So Smruti & Gopal Devanahalli, who are currently based out of the US, made the smart choice of hiring us to design their Prestige Lakeside Habitat home. The 4BHK duplex house is a sprawling property and required careful space optimisation. But Livspace designer Sonika Shetty has ensured that they have the best possible use of space.
The ground floor for this 4BHK duplex house has a living area connected to the dining space, one bedroom and the kitchen. On the second floor, there is a family area connected to three bedrooms. Let's take you on a tour of this spacious duplex to show you how Sonika tuned it to suit the needs of this family.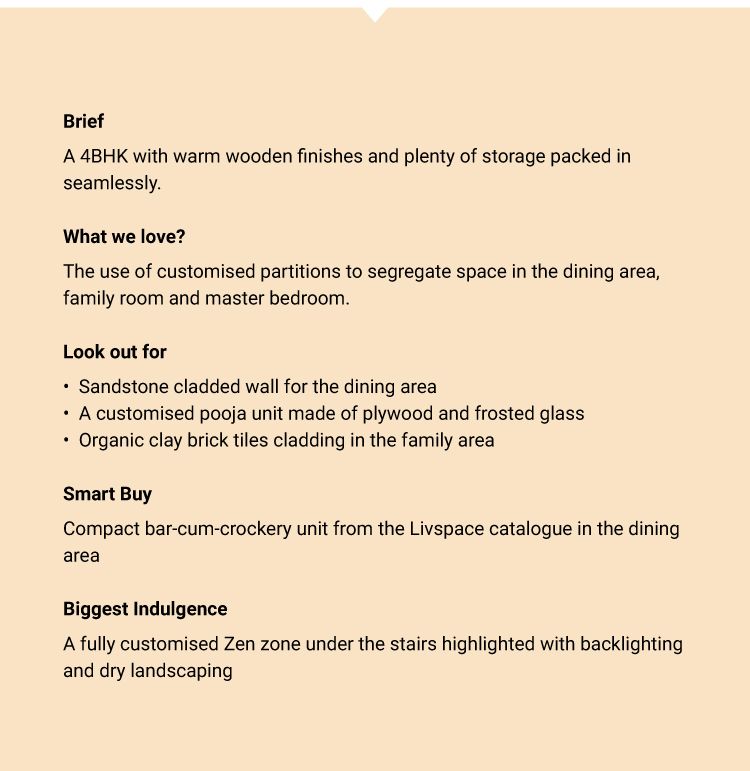 Prestige Lakeside Habitat: A Pool of Tranquility
Smurti had initially envisioned a meditation area in the nook under the stairs with a flowing fountain and landscaping. However, the couple have a pet cat that tends to disrupt things in this haven. So Sonika suggested dry landscaping here. The altar with a buddha statue is custom-made and highlighted with sandstone cladding on the wall, profile lighting as well as mosaic floor tiles that set this nook apart.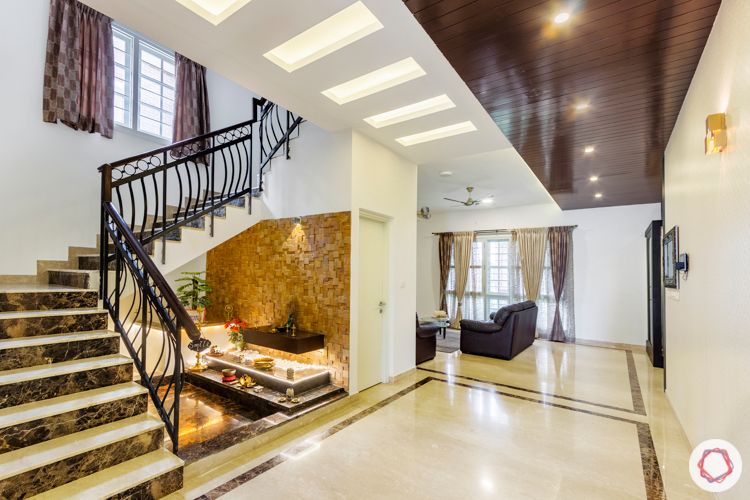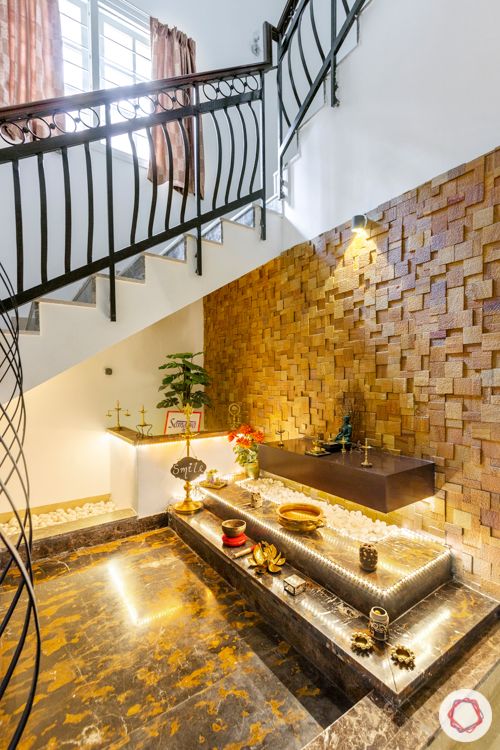 Prestige Lakeside Habitat: Stunningly Simple Living
The living area on the ground floor is a simple affair. Sonika used beige and brown to set a neutral tone for this room. The simplicity of the TV unit from the Livspace catalogue fits the monastic sparseness of this space.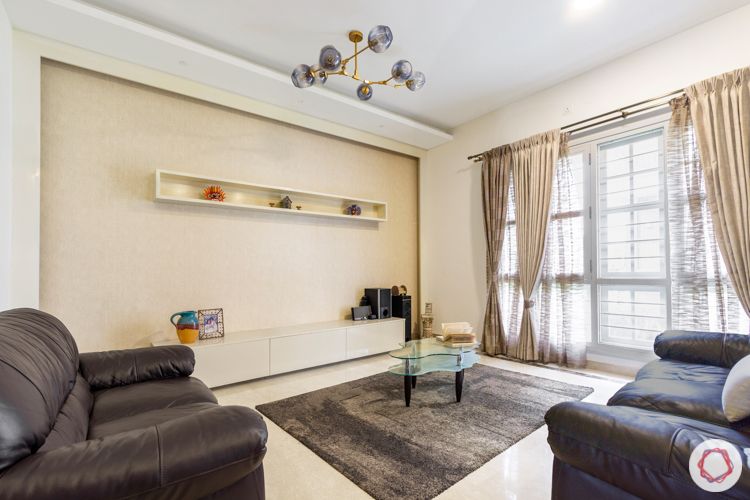 Prestige Lakeside Habitat: A Vivacious Pooja Room
So we are surprised to find a rather dramatic pooja room separating the living and dining areas in this 4BHK duplex house. This unit is a custom piece made of plywood and frosted glass. The space inside has an altar and a granite slab for rangoli. There is a backlit panel with the scared intonation 'om' etched on it here, adding to the glitz of this setup.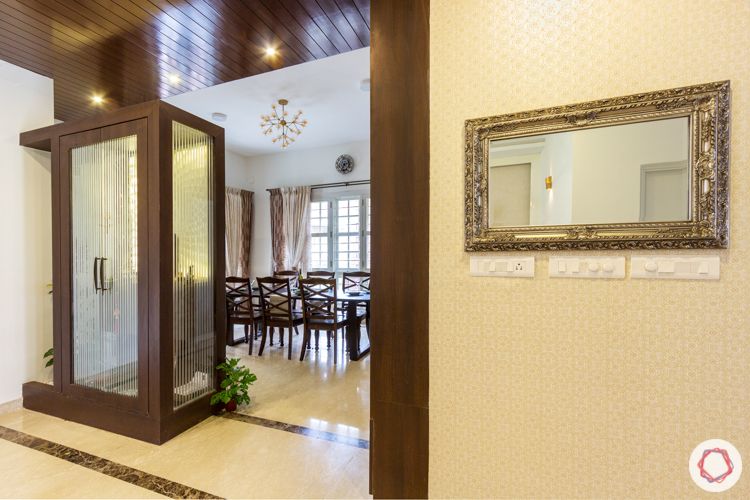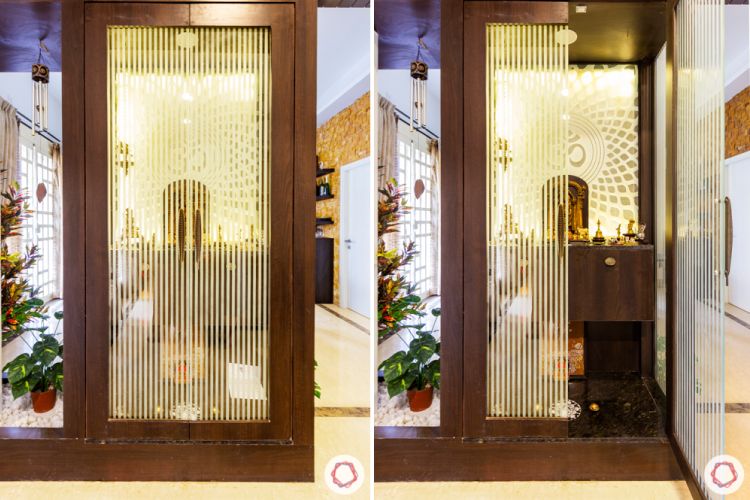 Prestige Lakeside Habitat: Old Bengaluru Vibes For Dining
The dining area is by far the most fascinating space on the ground floor. We love how the floor-to-ceiling windows bathe this space in sunlight. The solid wood dining set only adds to the classiness of this traditionally furnished room. The backside of the pooja unit culminates in a panelled mirror wall that faces the dining area. Sonika has added wooden ceiling details to tone down the glinting effect of the glass elements.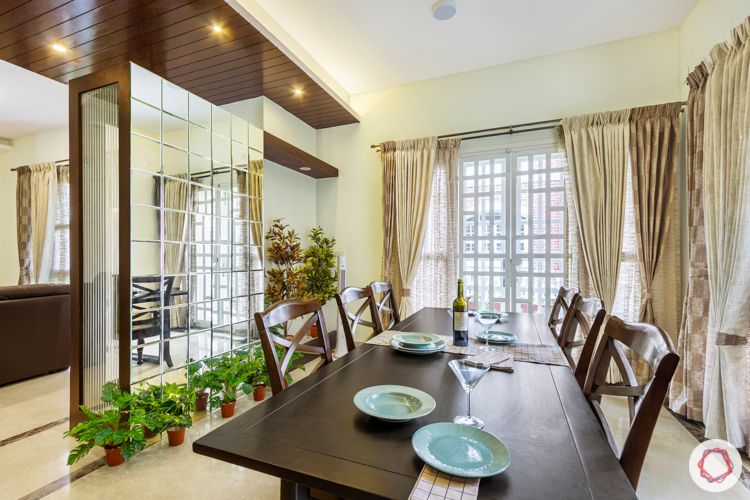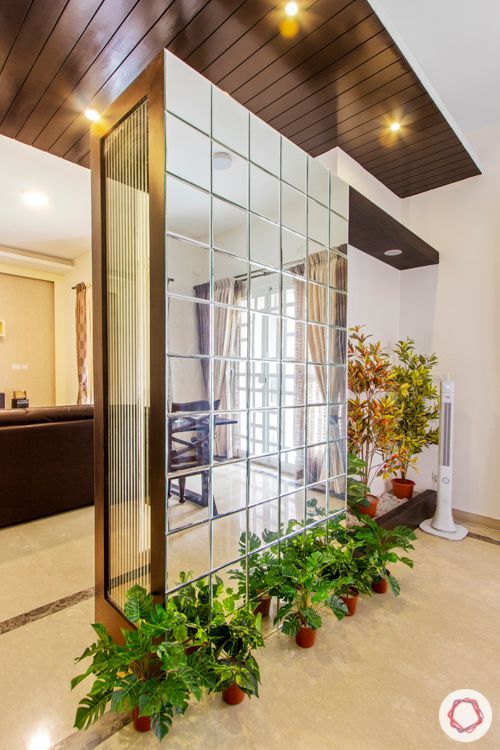 On the other end, the designer has installed a sandstone cladded wall on the couple's request. It is reminiscent of the wall cladding we see in the Zen zone. By this wall, we also see a bar unit from our catalogue that is fairly compact. We also see the door here that leads up to the kitchen.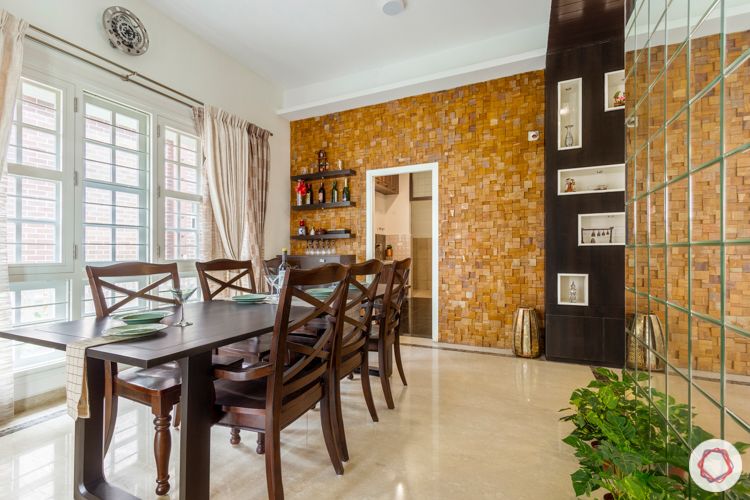 Prestige Lakeside Habitat: Cosy Country-style Kitchen
As Gopal and Smruti have lived in the US for many years, they had very specific requirements for their kitchen. They fancies a country style for their spacious kitchen. So Sonika has given them grooved shutters with handles in rosewood-coloured membrane finish. Coupled with the dark mosaic floor tiles and a white quartz countertop, this kitchen has a balmy vibe to it. What's more? Every inch of Smriti's kitchen is stocked with storage; we see end-to-end lofts on one side and two mid-tall units with appliances on the other. In terms of usability, this kitchen is a ten on ten!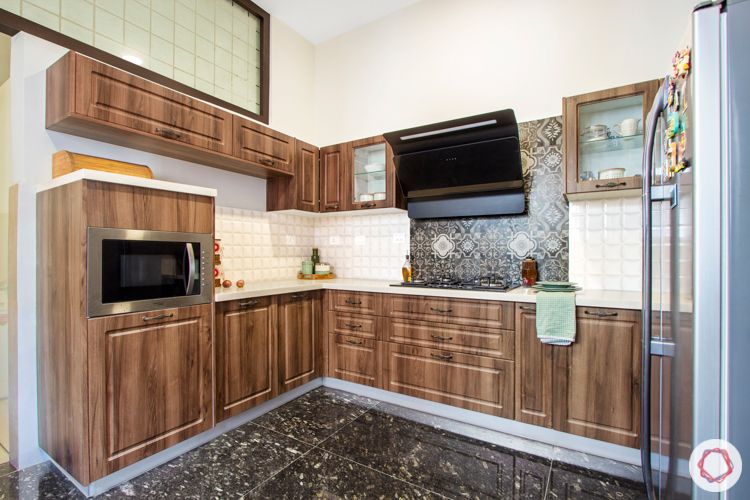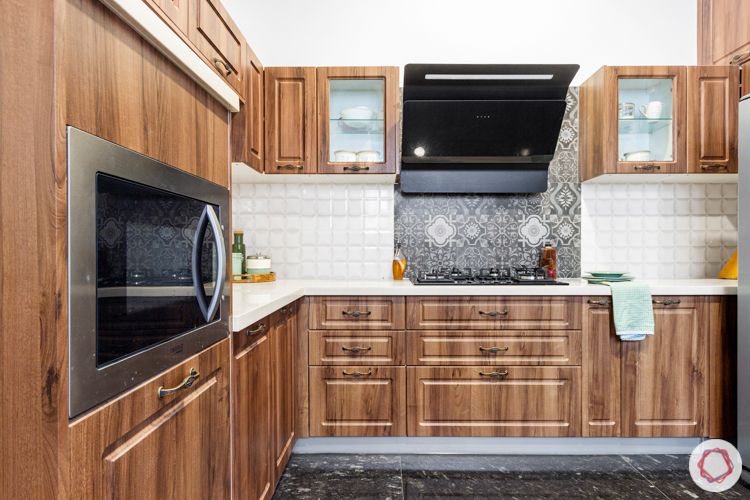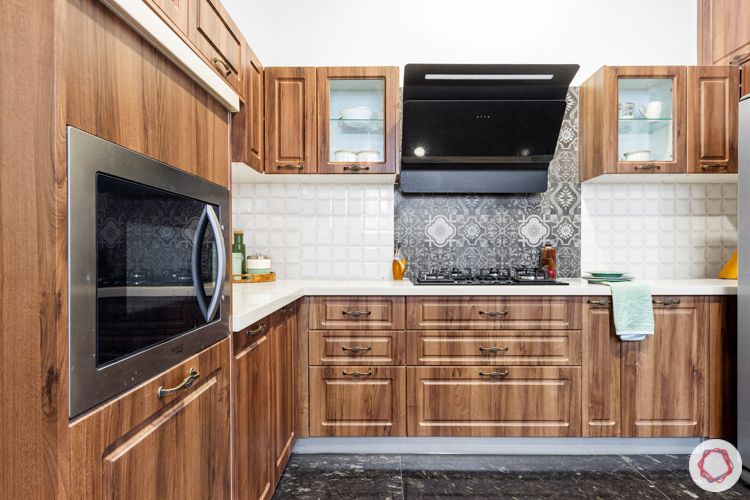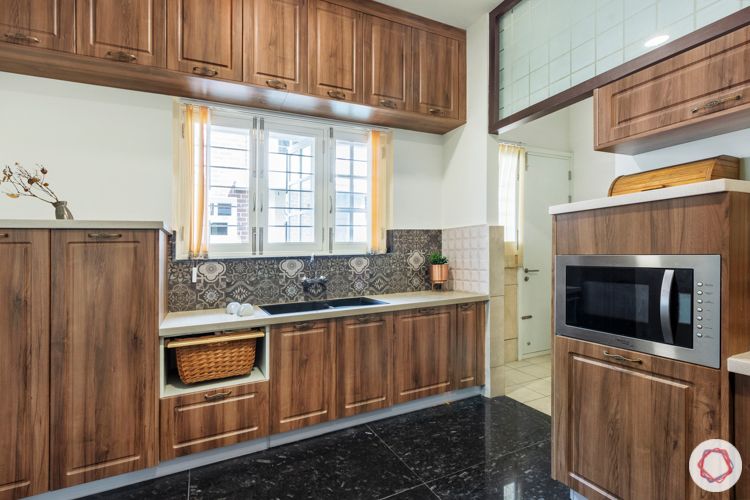 Prestige Lakeside Habitat: Stocked with Storage
The only remaining space on the ground floor before we move on to the first floor is a guest bedroom. Keeping in mind the couple's parents, Sonika designed this room with quite practically. The set up is a simple one but planned with a great sense of aesthetics. The white laminate-finish wardrobes from our catalogue accomodate a home office space in between them. Moreover, as this is a family of avid readers, they wanted additional storage space for their mammoth collection of books. Hence, Sonika has provided a custom wall-mounted bookshelf paired with a base unit for storage.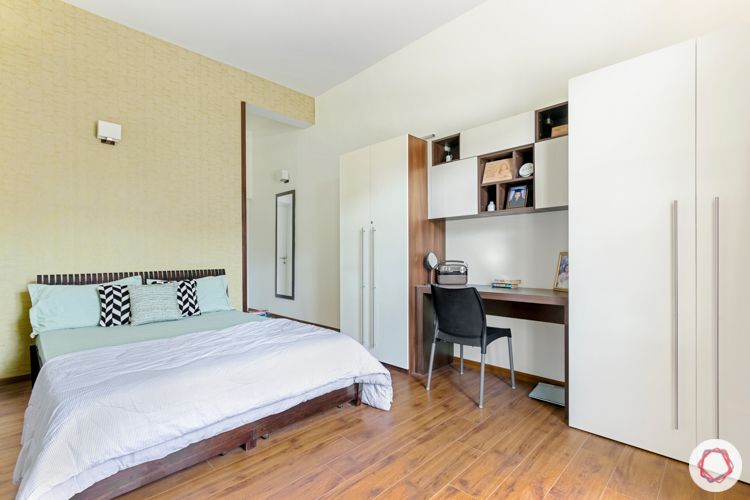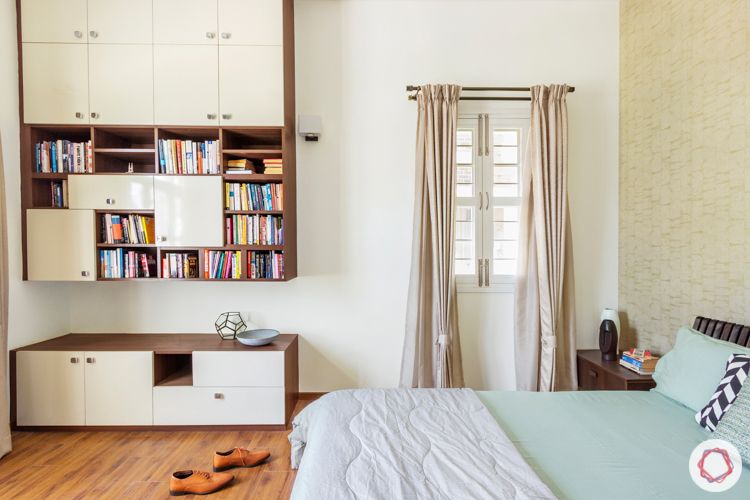 "Going with Livspace for our interiors was a good choice for us. The best part of the bargain was our designer, Sonika Shetty. She made herself available at all times and collaborated with us at every stage. The installation team was also very well organised. To sum it up, Livspace helped us make our cosy and comfortable without the need to coordinate with too many people."

– Smruti & Gopal Devanahalli, Livspace Homeowners
Prestige Lakeside Habitat: Warm Family Space High on Drama
As we climb the stairs to the first floor, we encounter the most striking space in this home, and our designer has also confirmed that this is also the most expensively decorated space in the area in this project. Gopal and Smruti call it their family room. It is like an informal living area where the family likes to read and and host close friends. Sonika has installed a custom-made partition here to ensure some measure of privacy. But before that, there are three panels of wooden rafters that cover the walls and ceiling forming a neat alcove. The accent wall here is highlighted with natural clay brick tiles. The couple has placed their existing wooden book racks here, and they match perfectly!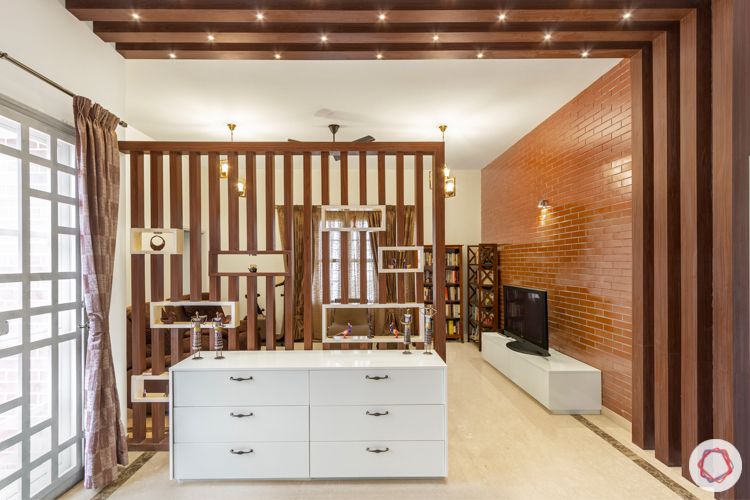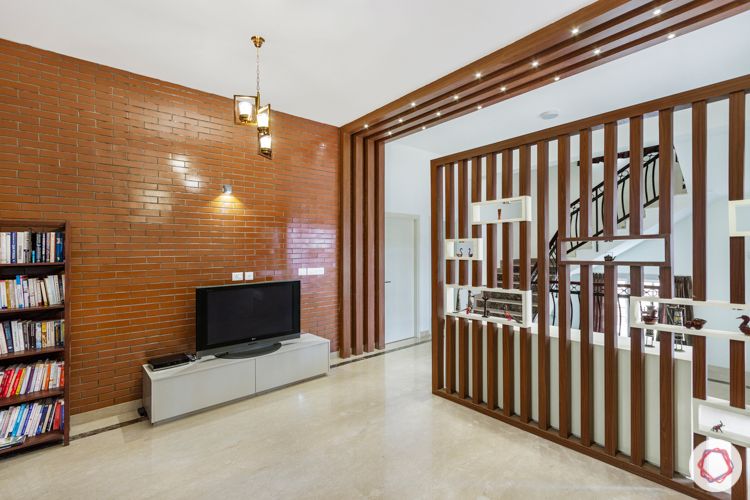 Prestige Lakeside Habitat: Bedroom with Home Office
Gopal and Smruti's bedroom is a spacious one, and it looks the part because Sonika has not over furnished it. In between the wooden flooring and solid wood bed, the room has a warm tone. However, the real head turner here is a customised bookshelf with open and closed units that segregates the home office from the bedroom. Sonika has tucked in the laminate-finish wardrobes into a niche that serves as a dressing area.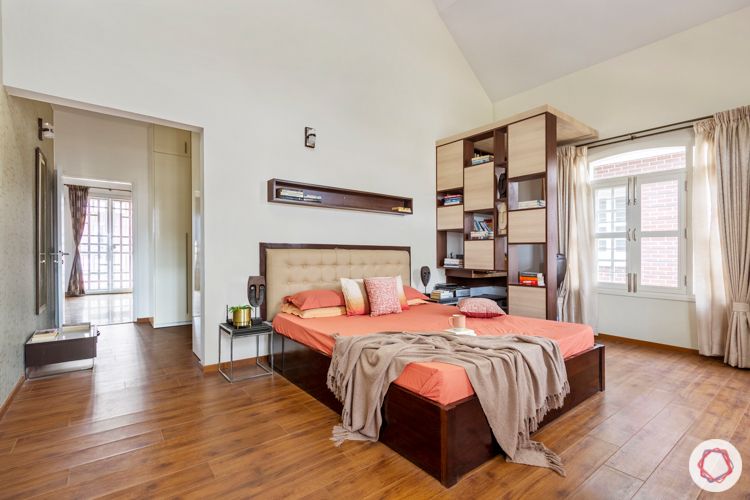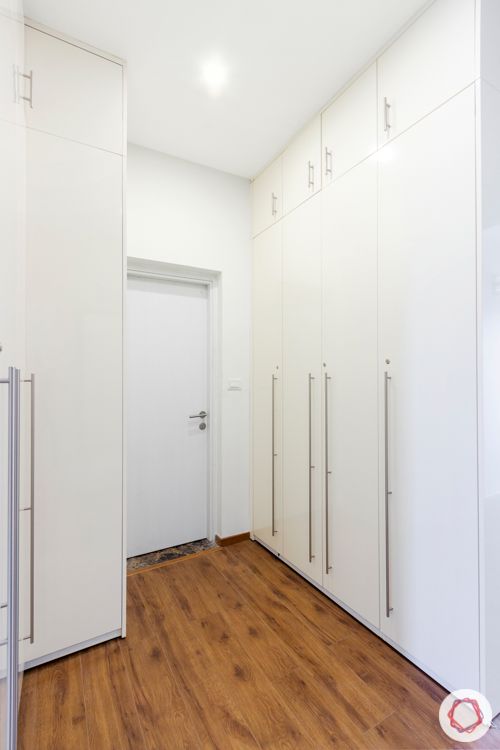 Prestige Lakeside Habitat: The Bare Essentials
The couple has two grown daughters, Mahima and Suruchi, who are settled in the US. So they gave an identical brief for both of them. Their bedrooms were furnished with the basics that one would find in a comfortable hotel room. Sonika had a classic solution; she furnished Mahima's bedroom with a bed from our catalogue paired with custom a peach-coloured headboard. She also added two chest of drawers from our catalogue to store knick-knacks and skipped using a dresser in favour of a full-length mirror. The two-door sliding wardrobe in this room has a rosewood-coloured laminate finish.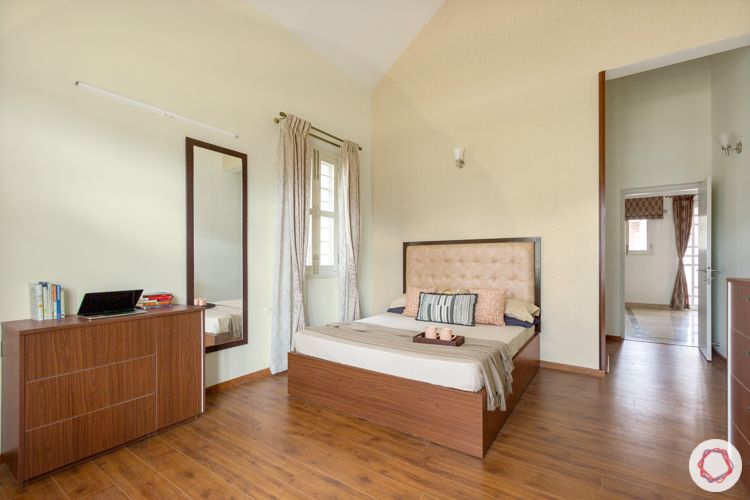 Prestige Lakeside Habitat: Beautifully Basic
Suruchi's room follows an almost identical format. The gleaming beige wallpaper is an addition on Suruchi's request as she favours whites and beiges. So the chest of drawers, wardrobe and frame of the mirror in this bedroom are also white in colour.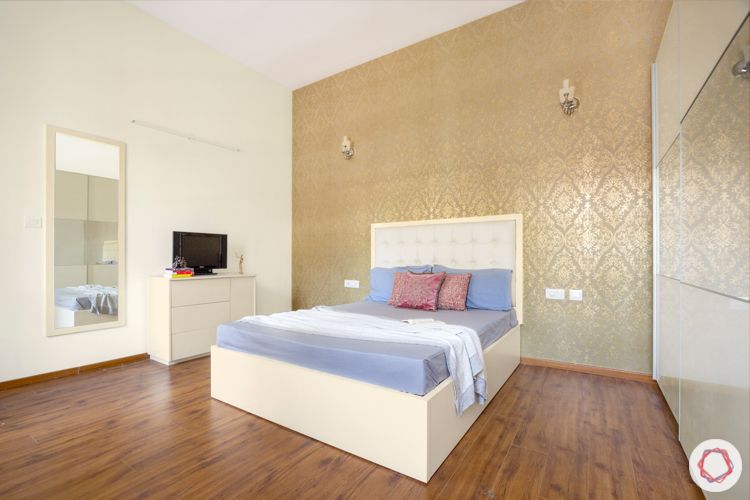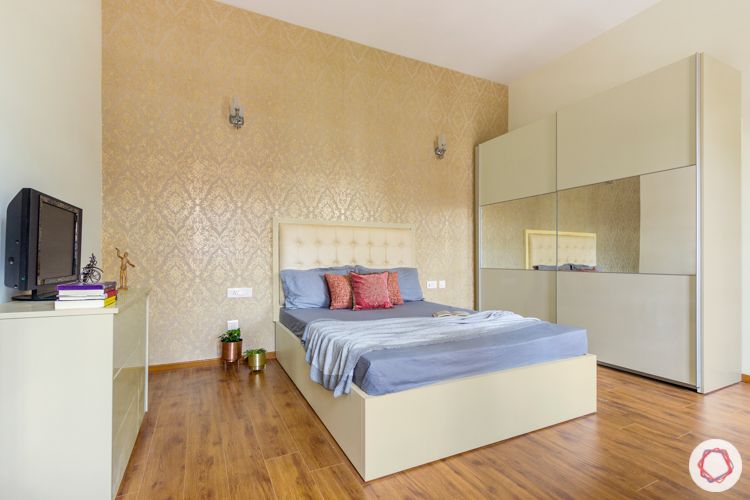 "Smruti and Gopal were idyllic clients for me because they were well-spoken and absolutely clear about what they wanted their house to look like. This smoothened the design and installation process considerably."

– Sonika Shetty, Interior Designer, Livspace
If you are enthralled by this spacious 4BHK duplex house, also explore Summery Decor for a Sprawling 4BHK in Bengaluru.
Send in your comments and suggestions.