Top interior designers in Hyderabad design this villa with stunning interiors.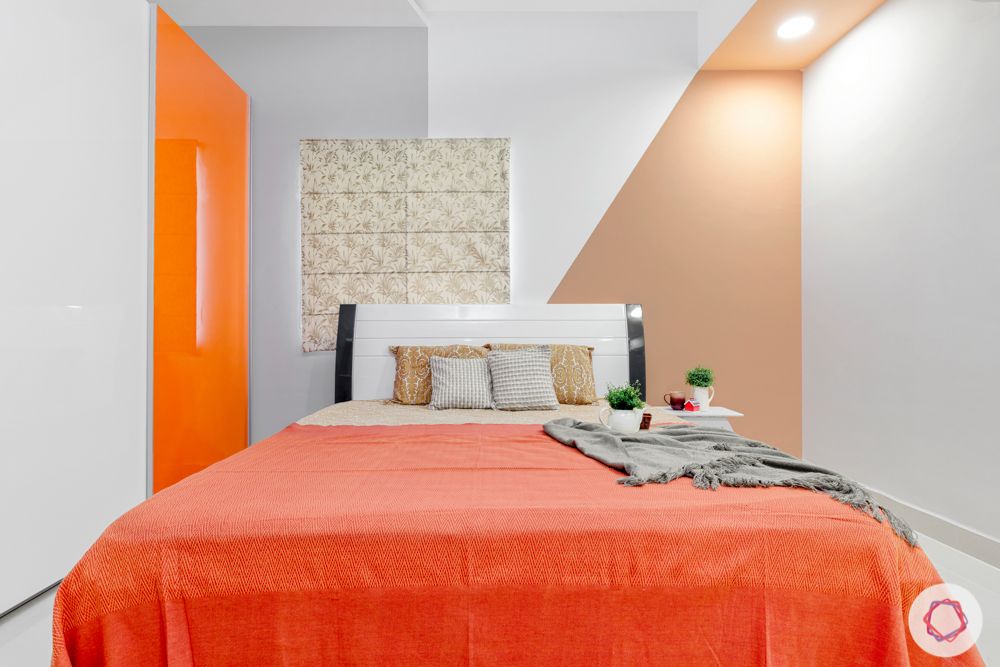 ---
Who livs here: Kalyani with her husband Raj and their two sons Pranav and Lalith
Location: Pranav Antilia, Bachupally, Hyderabad
Size of home: 3BHK spanning 3500 sq ft approx.
Design team: Interior Designer Kalyaani A & Project Manager Shaik Shariff
Livspace service: Full Home Design
Budget: ₹₹₹₹₹
---
As a talented singer and Kuchipudi dancer, Livspace homeowner, Kalyani is always on the move. Shuffling between home and work, Kalyani and her husband, Raj were in need of a home that would be an ideal escape from their buzzing life. They wanted top interior designers in hyderabad to design a home that would accommodate their children and parents all the while being modern and contemporary. So what could be better than a palatial three storey villa with enough space for a family of five? Located in a serene residential area of Bachupally, this villa is spacious with plenty of room for all its members while being cut off from the buzzing city.
However, they felt, their house was missing something. "Our new house didn't reflect who we are", Raj says. The couple wanted their home interiors to capture their taste and lifestyle. After some deliberation, the family opted for our end-to-end services from Livspace to design their dream home. Chalked out by Livspace designer, Kalyaani loves a good challenge when it comes to transforming a house into a home with her creative skills. Read on to witness her magic on this home.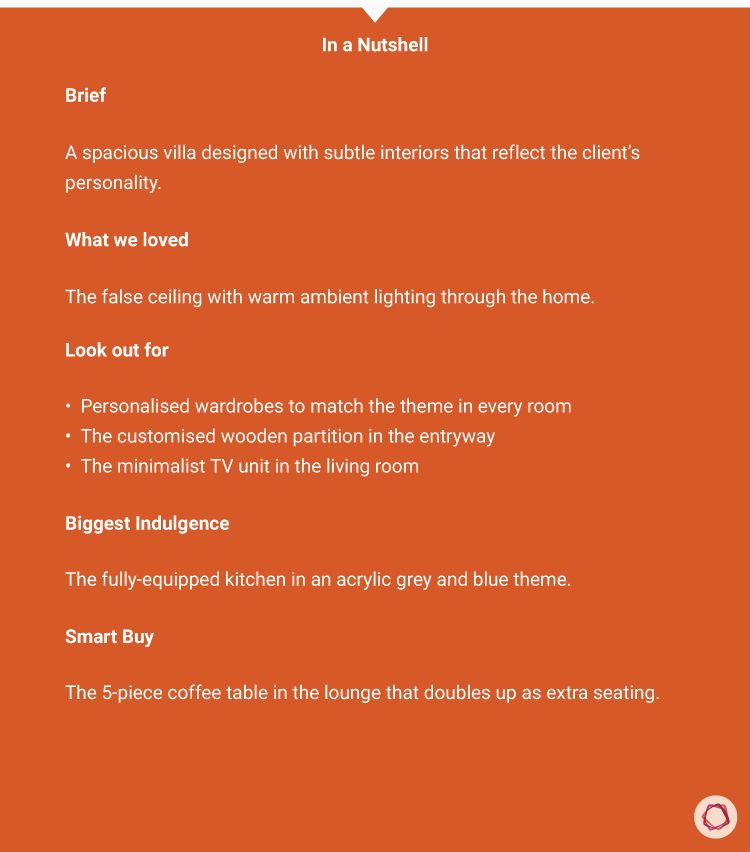 Top Interior Designers in Hyderabad Design a Quaint Living Room: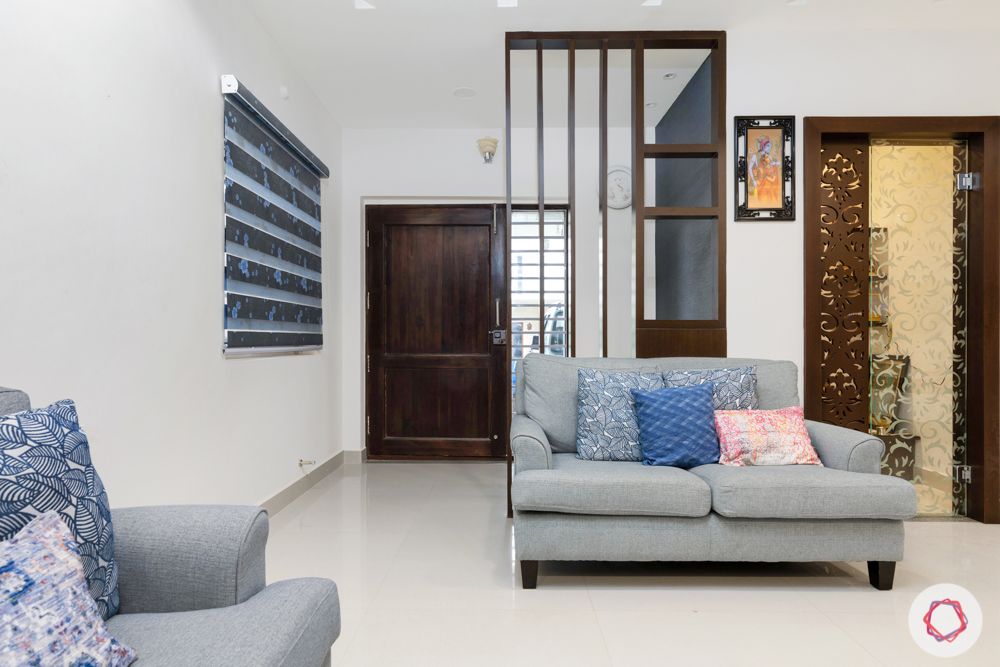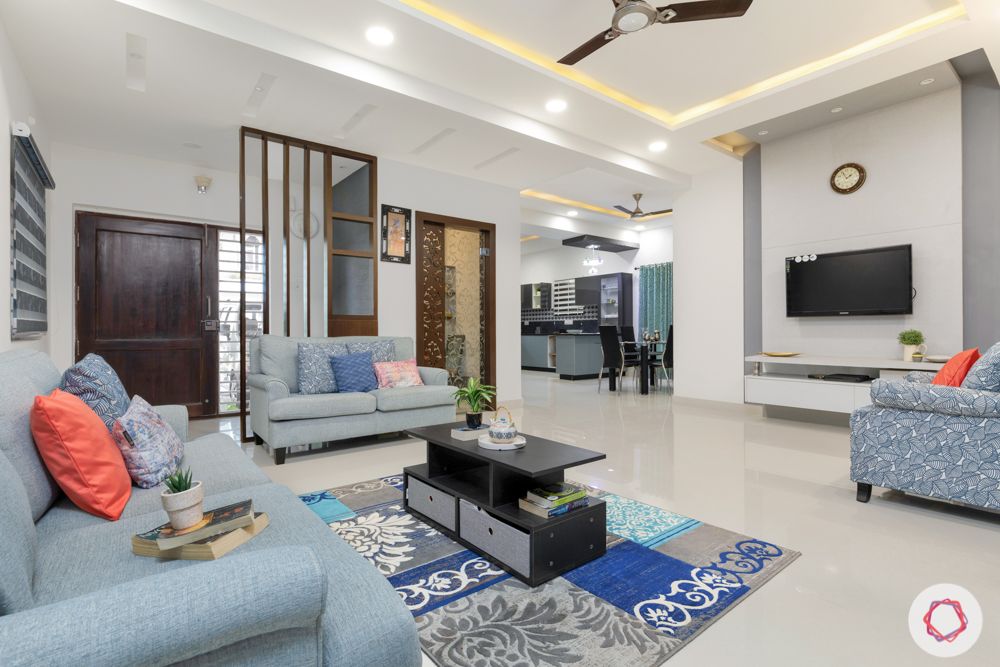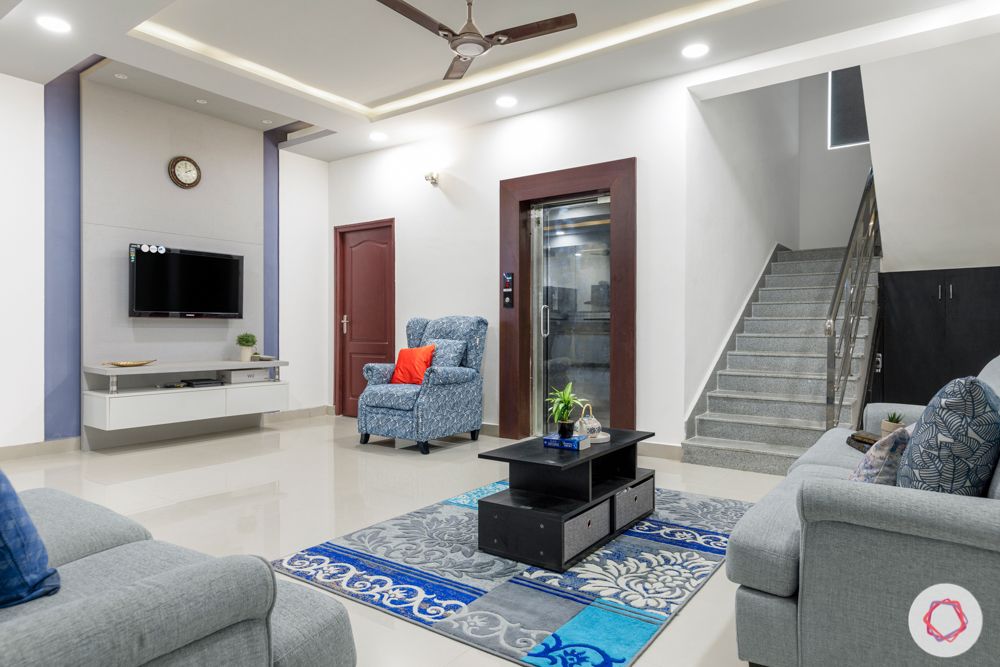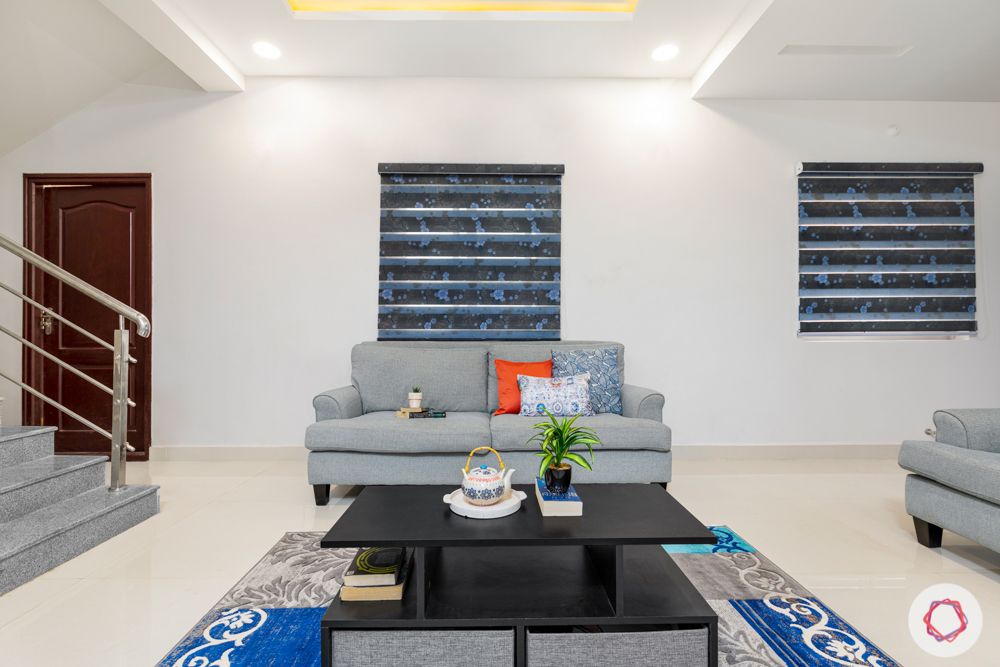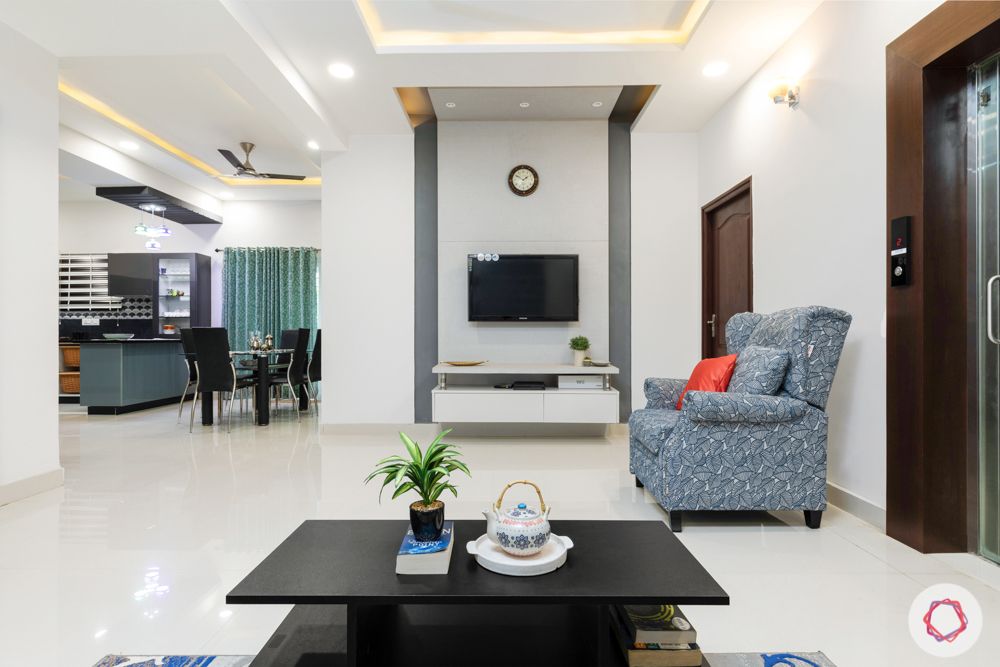 "The living room was a clean, bright and modern space. However, I wanted it to portray Kalyani and Raj's calming personalities", Kalyaani says. This concept lead to a cool and neutral themed living room with a substantial amount of wood work to add a touch of warmth. For example, the sizable partition made of wooden rafters encloses the entryway whereas, a wooden jaali design was installed for the pooja room door. Lastly, a wooden frame was added to the elevator entrance to tie all the wooden elements together.
After rearranging the layout of the living room, Kalyaani suggested installing a modular custom made TV unit on the empty wall, which turned out to be the perfect viewing spot for binge watching movies and TV shows.
Top Interior Designers in Hyderabad Design a Classy Dining Room and Kitchen: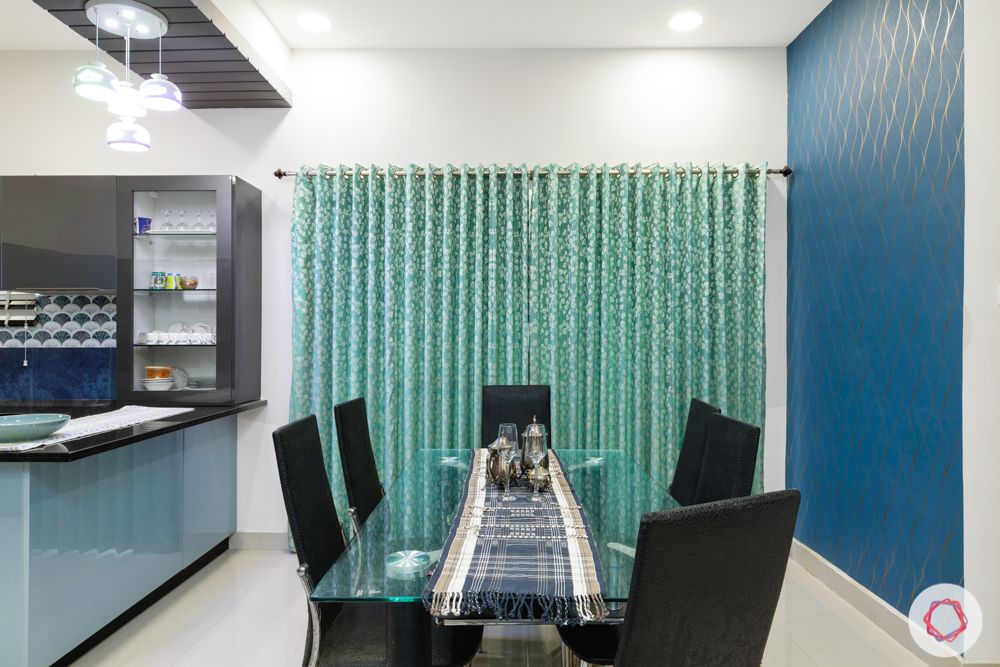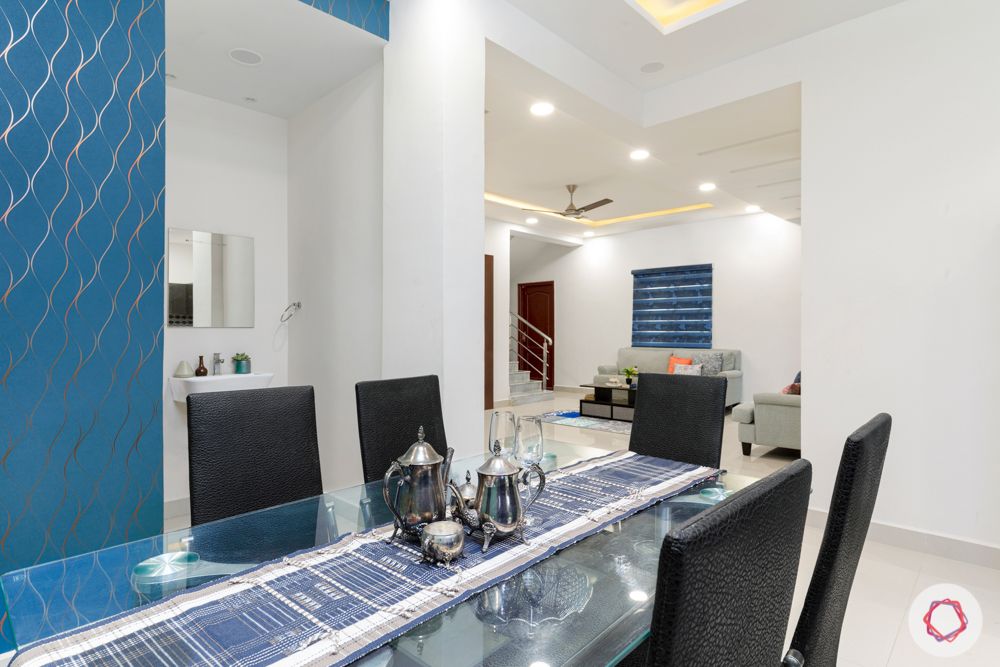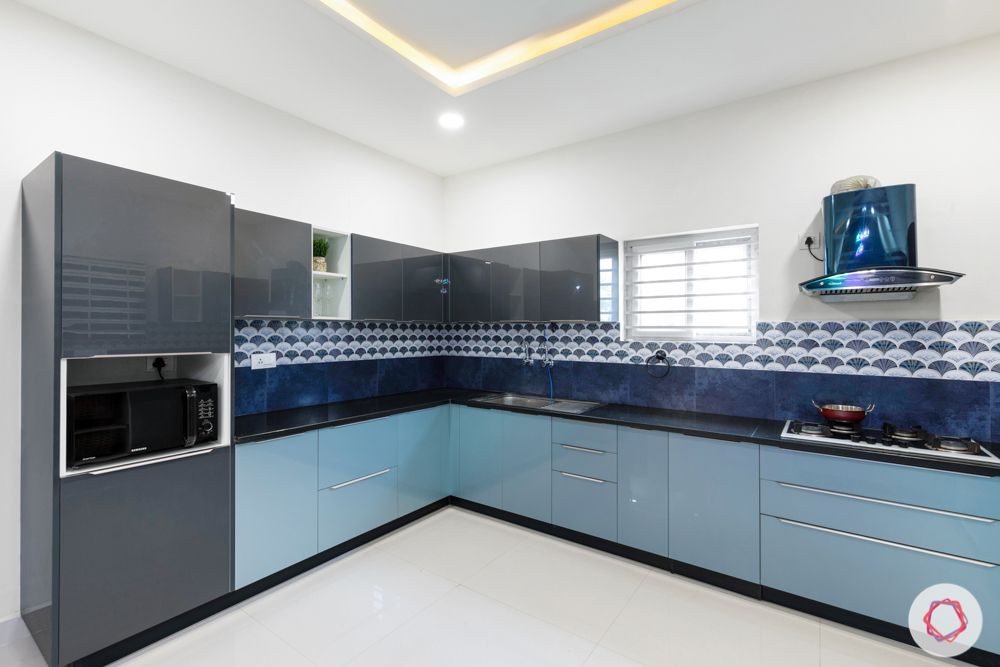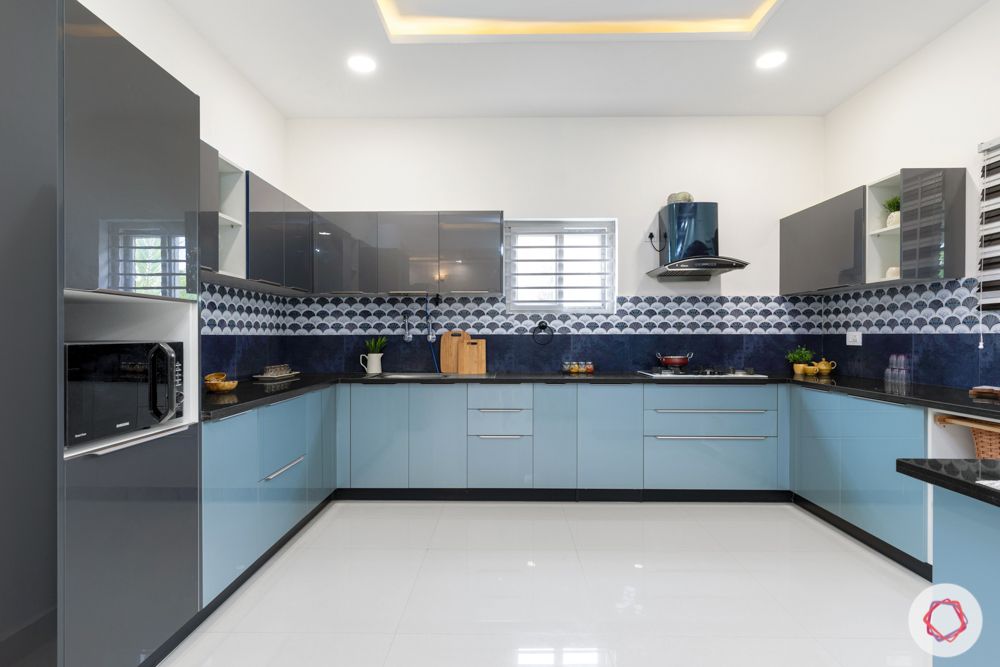 The dining room consists of a six-seater table and eye-catching wallpaper that goes perfectly with the theme of the home.
As the highlight of the home, the kitchen is simply stunning. This luminous modular kitchen is on the left of the living room, adjacent to the dining area. Here, Kalyaani wanted plenty of storage, given the size of the kitchen. Therefore, they opted for acrylic cabinets in blue and grey for a classy look. Equipped with everything one could need, such as, wicker baskets and a fully-stocked crockery unit, this space is sure to make you experiment with a few recipes.
Top Interior Designers in Hyderabad Design a Plush Master Bedroom: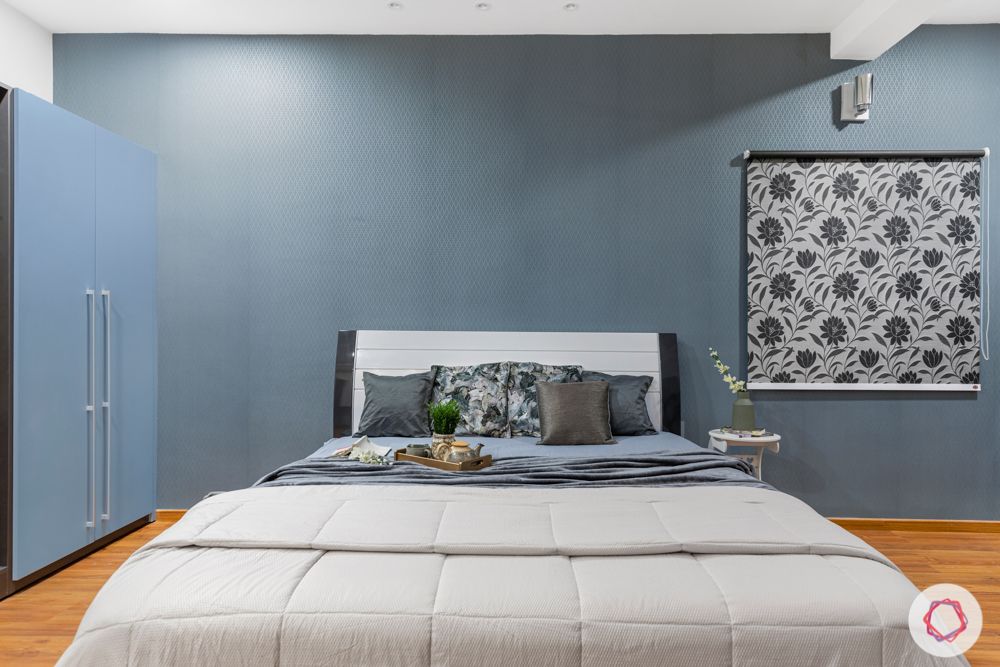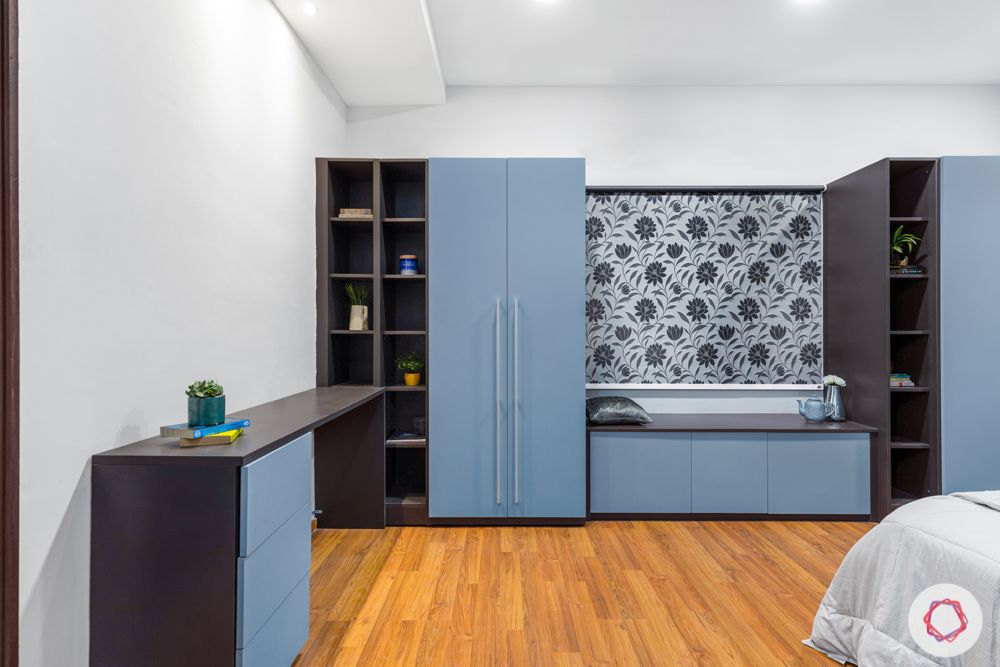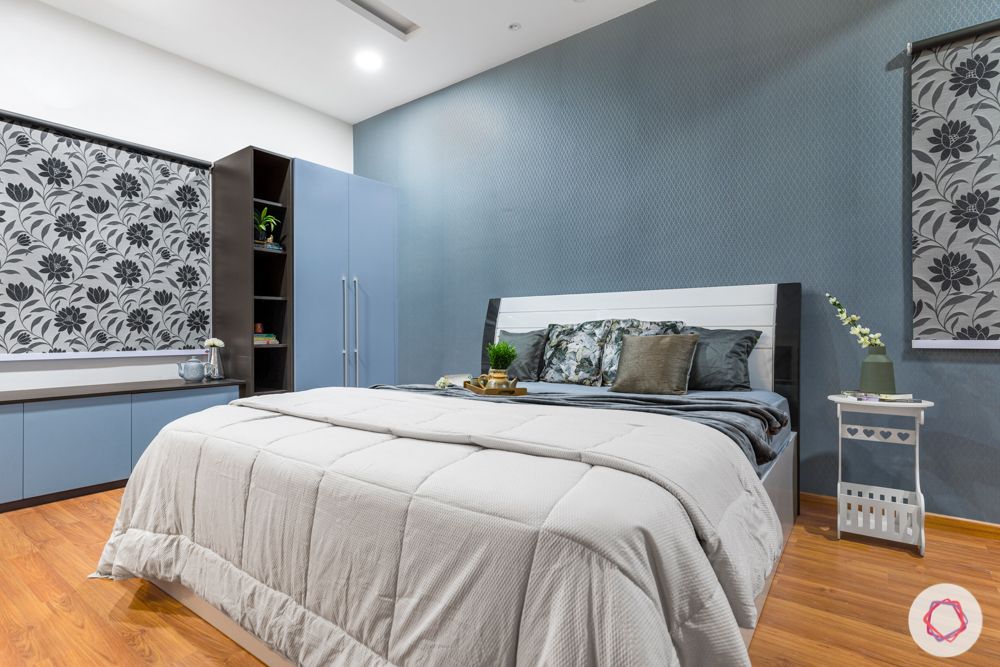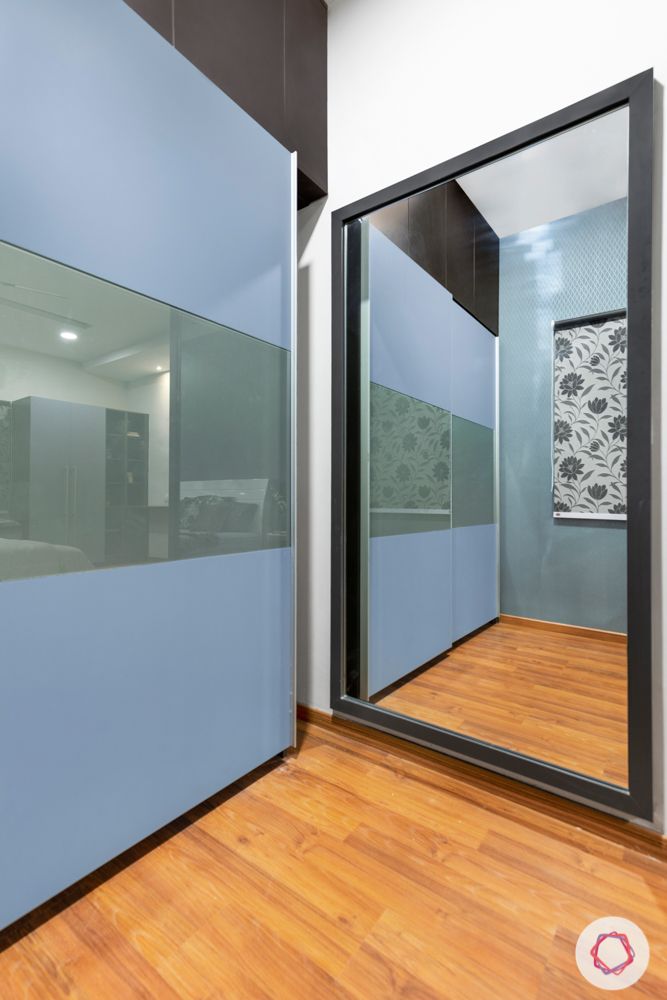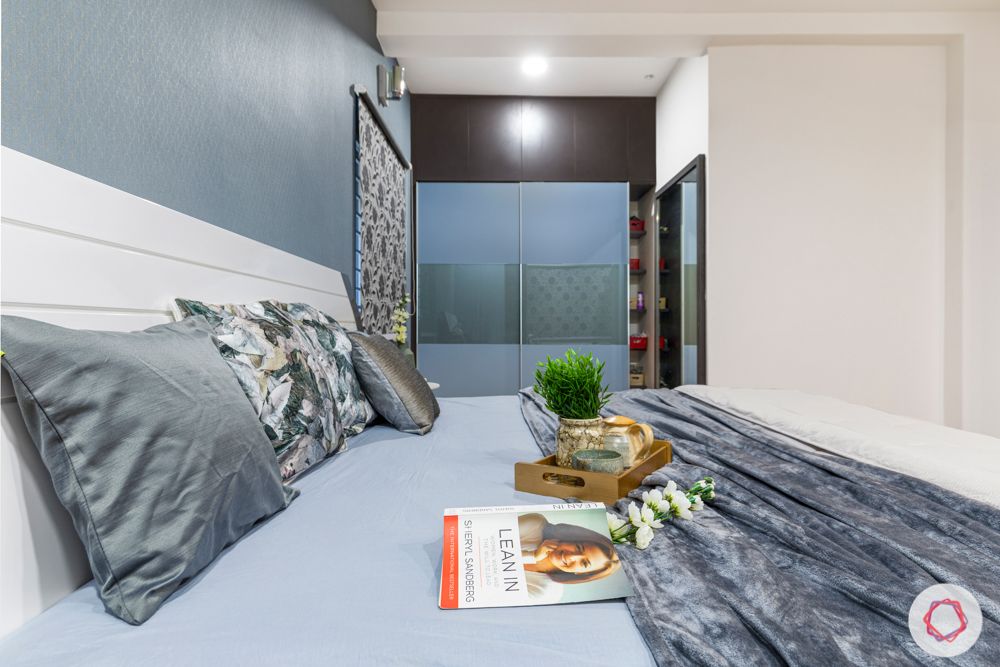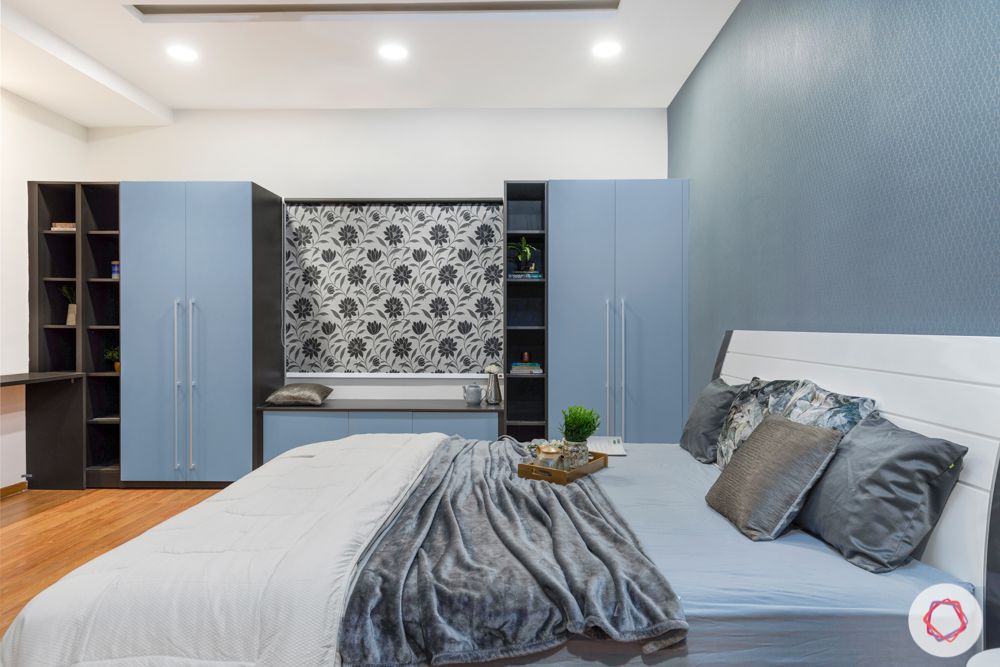 "The purpose of the master bedroom was to create a peaceful space for a good night's sleep", Kalyaani mentions, "We chose a cool blue palette with a handful of grey elements scattered all over." Hence, this room turned out to be a complete urban retreat. Subsequently, the main feature of this room is the storage in the form of wardrobes and open units. In order to utilise all the corners efficiently, a combination of swing and sliding door wardrobes were installed. Keeping true to the colour scheme, the wardrobes are all in denim blue. The swing door wardrobes are in membrane finish whereas, the sliding door wardrobes are in glass.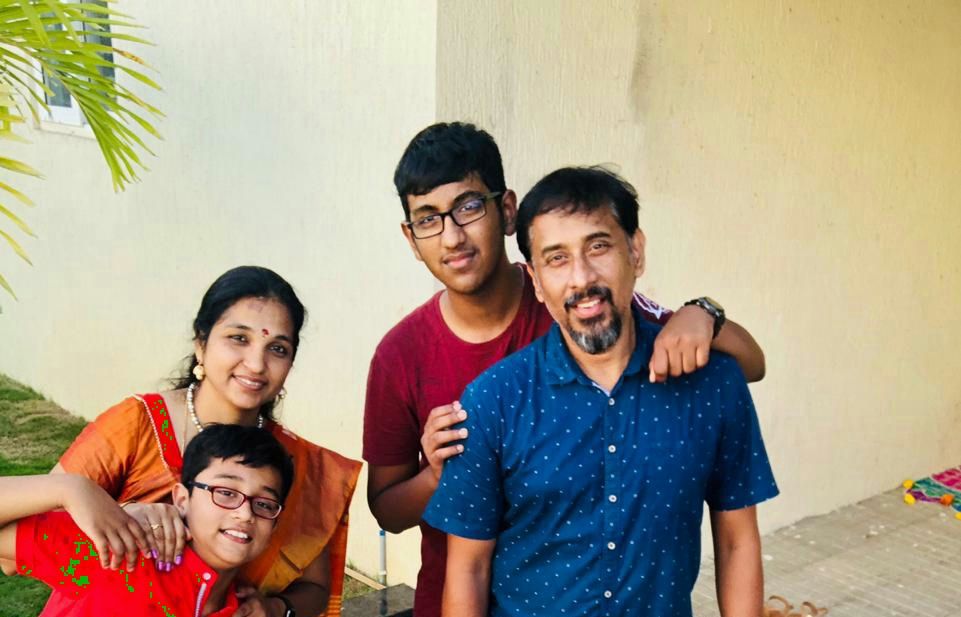 "Kalyaani had similar design ideas as us which made the entire process trouble-free. Without compromising on aesthetics, she has made our home as functional as possible. We have to say, we found the service impeccable from start to finish. Now, we all feel comfy, cozy and inspired when we are home".

-Kalyani & Raj, Livspace Homeowners
Top Interior Designers in Hyderabad Design a Lively Kids Bedroom: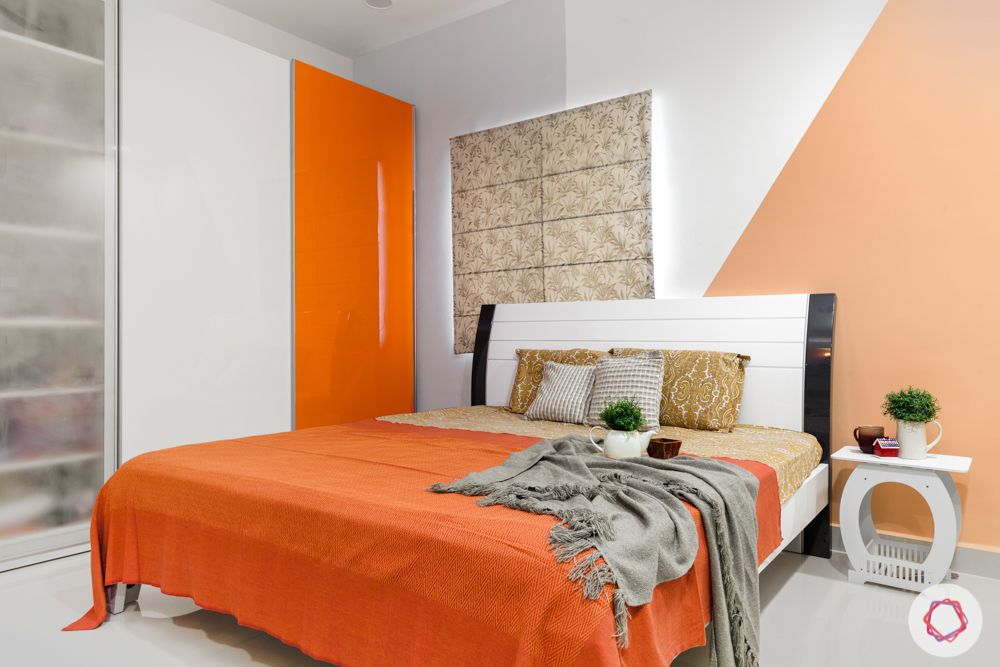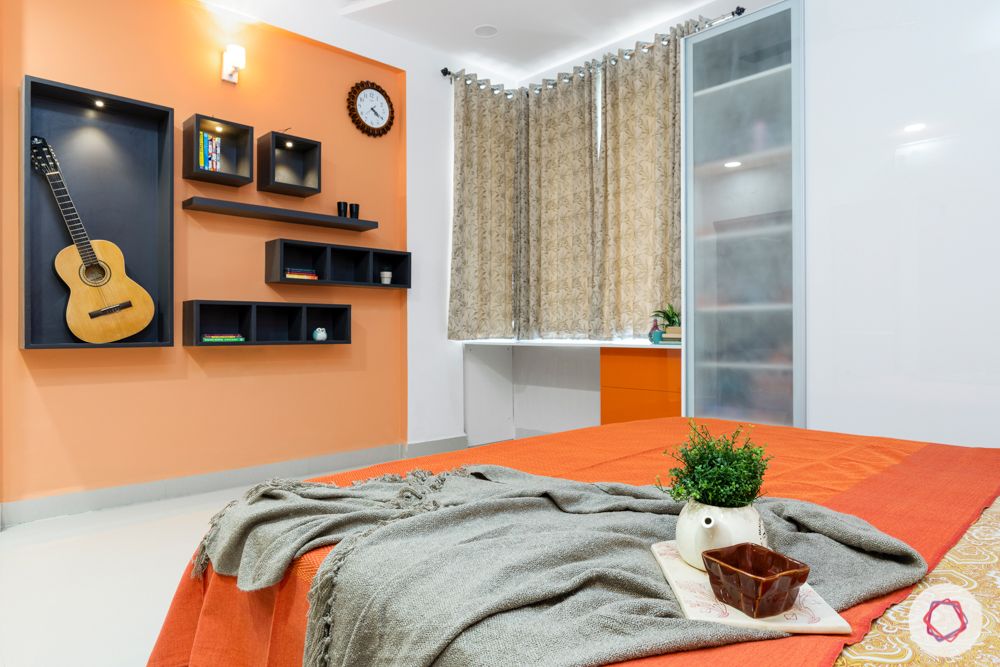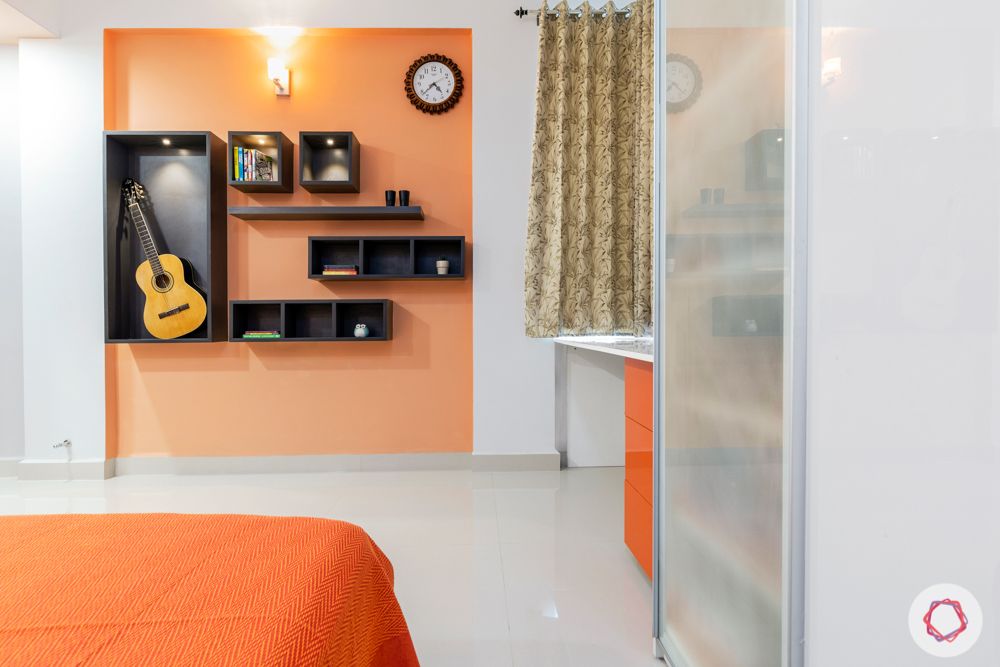 Having established a sense of calm and tranquility through the entire home, the Livspace team was ready to imbue a unique colour scheme into this bedroom. Kalyani and Raj wanted their sons, Pranav and Lalith to play an active part in the designing process. Therefore, they were given the freedom to pick a colour scheme of their choice and they picked a blazing shade of orange. This bedroom offers a more playful space with orange wardrobes in acrylic finish and a mix of open and floating shelves for the kid's books and musical instruments.
Top Interior Designers in Hyderabad Design an Elegant Guest Bedroom: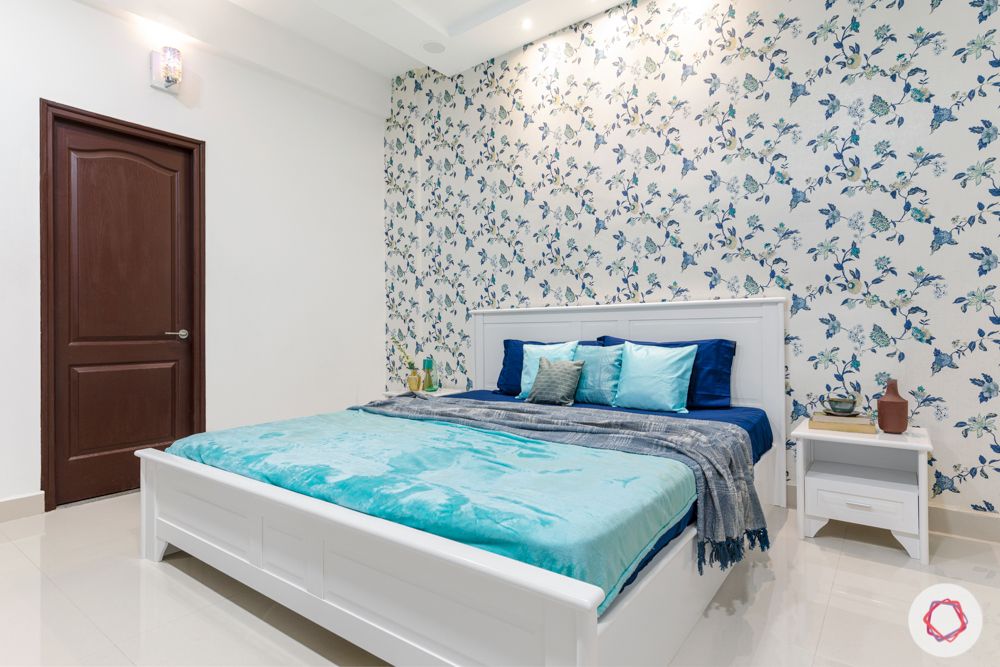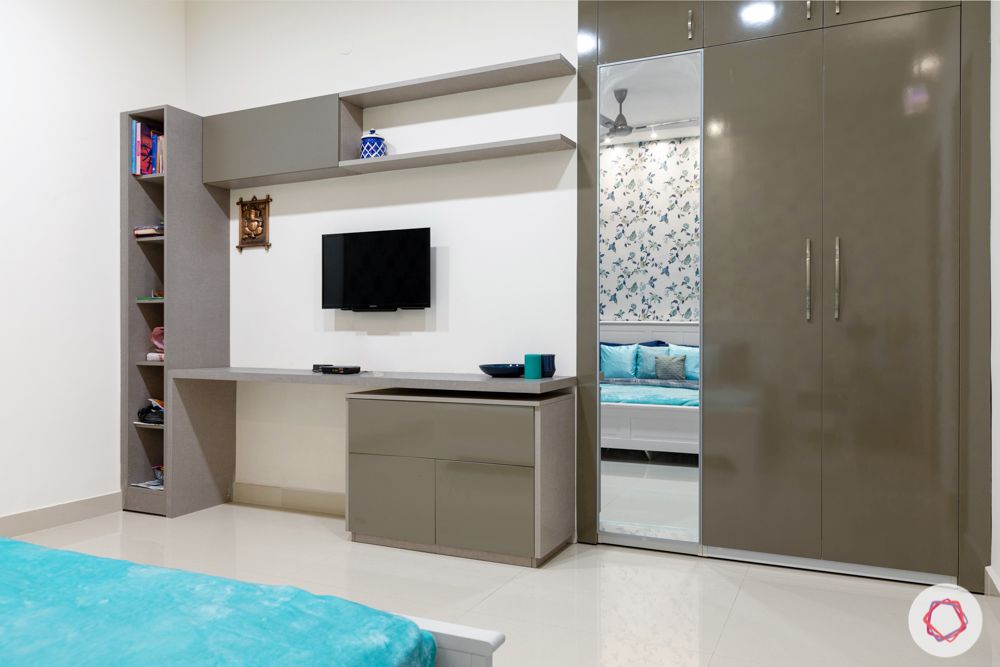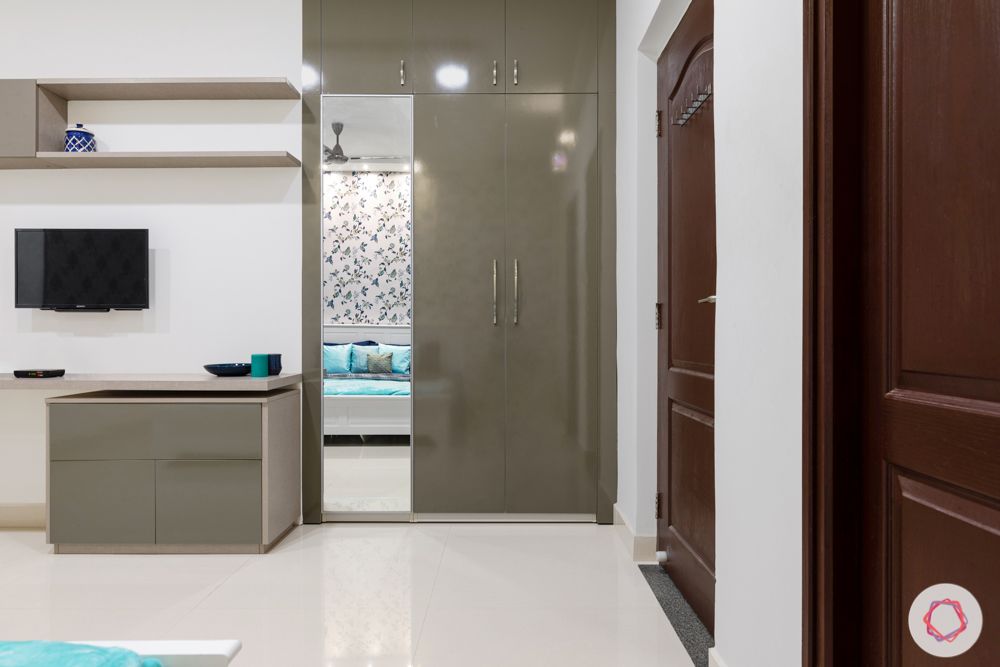 One can't go wrong with a blue and white colour scheme. They are colours most closely linked with peace and quiet. It has instant familiarity. For that reason, Kalyaani suggested using a colour scheme that would be suitable for Raj's mother or any visiting guests. Paired with this combination are a set of wardrobes and a bookshelf in a contrasting shade of greenish-brown.
Top Interior Designers in Hyderabad Design a Cheery Family Room: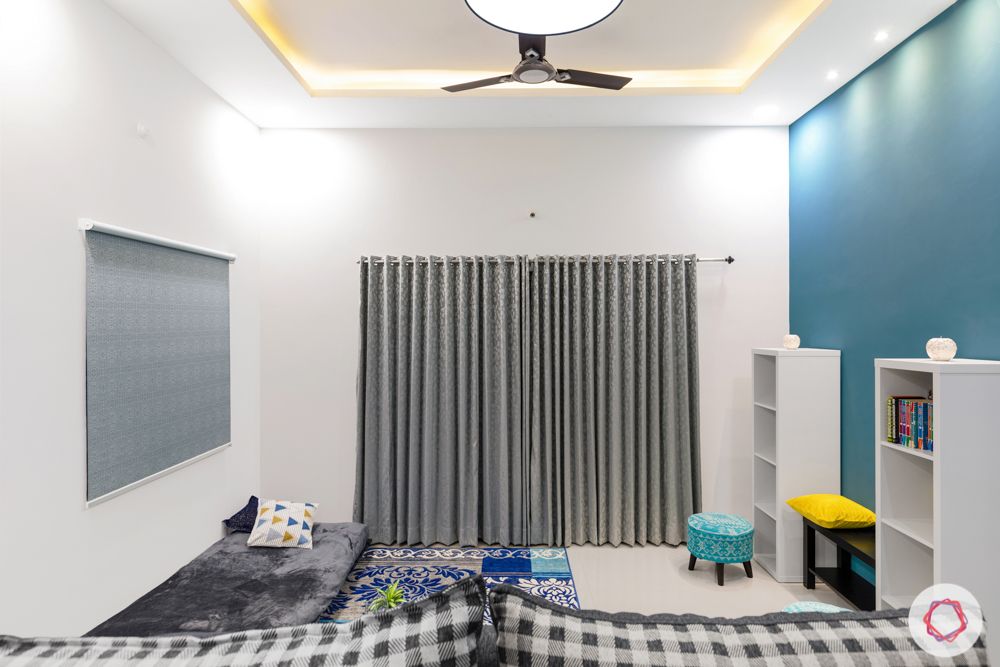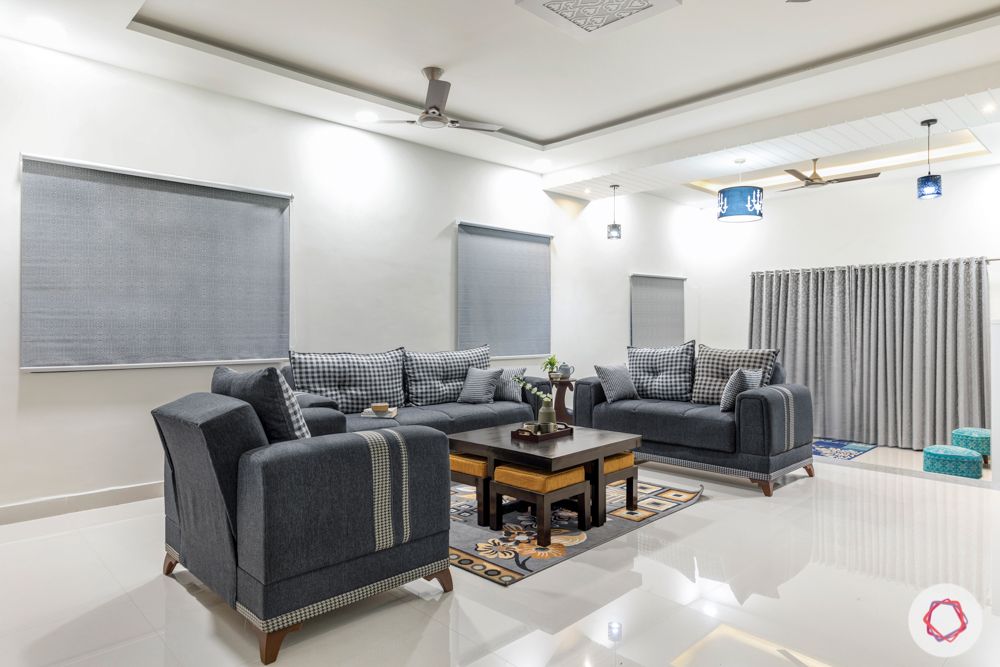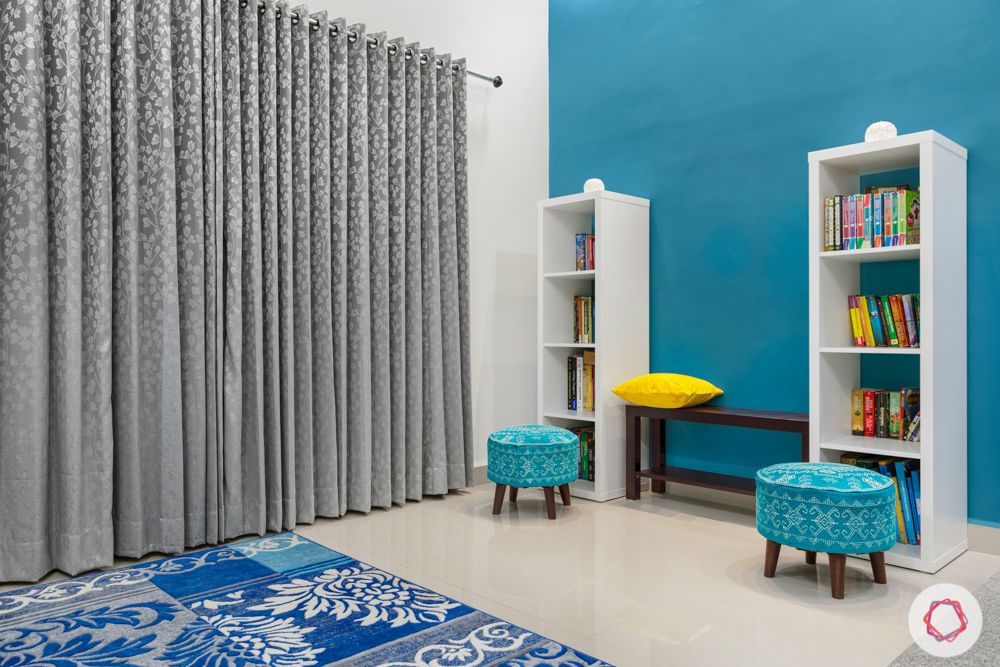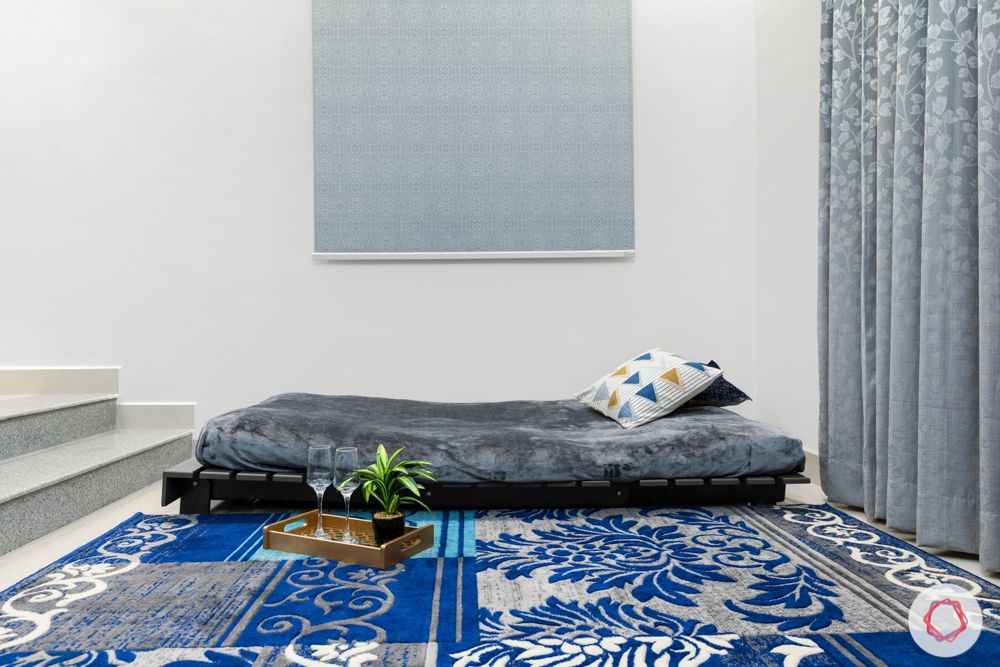 In addition to the living room, the first floor has a space dedicated for relaxation and quality time with family. With a futon bed, bookshelves and tasteful ottomans the room is full of elements that make it perfect for lounging around. "I love this cosy room. It turned out the be the perfect spot to snuggle up with a book and a hot cup of coffee", Kalyani says.
Top Interior Designers in Hyderabad Design a Comfortable Study Room: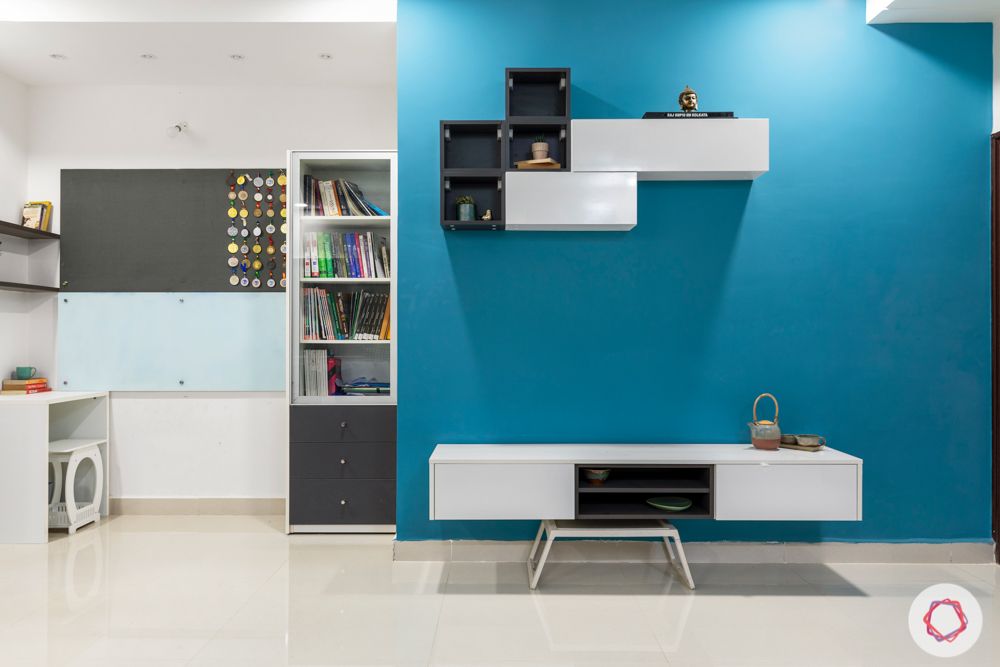 A spare room was designed to accommodate an undisturbed space for the kids. With a bookshelf, some storage cabinets and a study corner, this room is fully-equipped for a study.
"Kalyani and Raj had no design limits which invariably resulted in a great deal of freedom while designing the home. They were clear with their ideas which made the process easy. Their level of involvement until the end was admirable."
-Kalyaani, Interior Designer, Livspace
Want to check out another home we designed in Hyderabad? Check this out: This 3BHK is Minimal on a Budget.
Send in your comments and suggestions.