Tucked away into a calm residential locale is a 2bhk in Hyderabad owned by IT professionals Abhishek Guha and his wife. With help from Livspace designer Akansha Srivastava, the design turned out to be a perfect mix of elegant neoclassical elements and modern contemporary colours.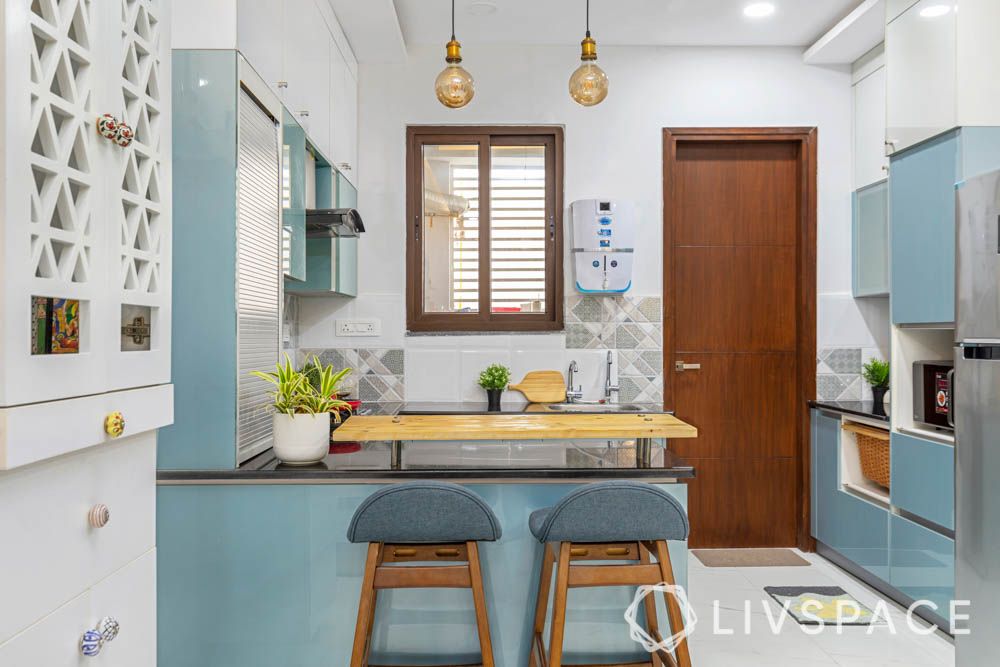 ---
Who livs here: Abhishek Guha with his wife
Location: Hyderabad
Size of home: A 2BHK spanning 1,400 sq ft approx.
Design team: Interior Designer Akansha Srivastava & Project manager Nagaraju N
Livspace service: Full Home Design
Budget: ₹₹₹₹₹
---
After moving into their very own home in Hyderabad, Abhishek and his wife spent countless hours brainstorming ways to design their forever home. The couple then decided to get it done by professionals who could visualise their needs perfectly. After all, loving your interiors is an important part of a happy home and not to mention, a major long-term commitment.
Since, Livspace designer Akansha Srivastava is well-versed in giving homeowners their dream interiors, she was entrusted with this unique project. The techie couple wanted to steer clear of played out neutral colours like beige and grey. Therefore, by adding colour and keeping it simple, Akansha mapped out a design with pastel yellows and blues. Let's see how she managed to design this calm and subtle space with a one-of-a-kind colour palette.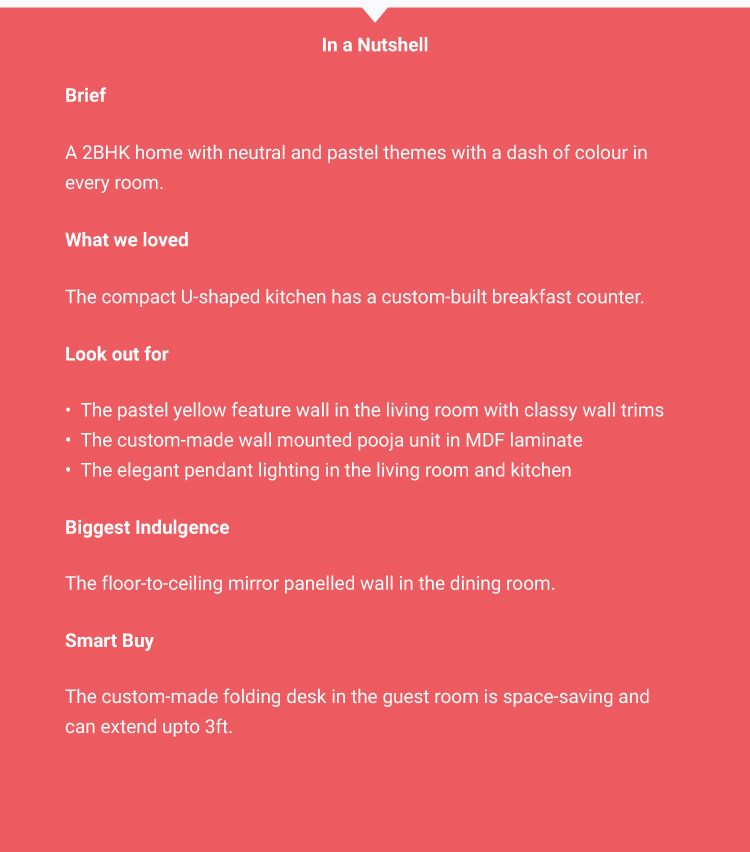 Living Room Design for a 2BHK in Hyderabad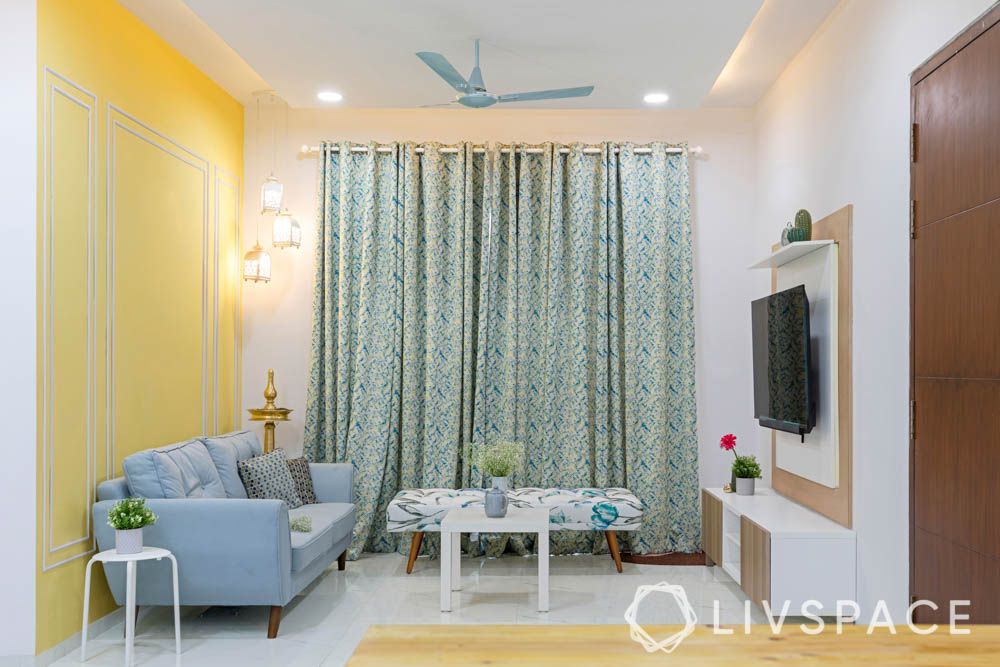 Since Abhishek and his wife were certain that neutrals were run-of-the-mill options, Akansha suggested pastel colours. Pastels open the doors to a sea of colours that are simple and subtle. Consequently, yellow and blue seemed to fit the glove perfectly. Moreover, the furniture as well as the TV unit is from the Livspace catalogue. To avoid sofas from obstructing the movement in and out of the balcony, Akansha suggested adding a floral bench for seating.
Designer's Tip
A great deal of neoclassical character can come from simply adding picture frame wall trims to any feature wall. Here, these POP wall trims are purely aesthetic and a budgeted design element.
Dining Room Design for a 2BHK in Hyderabad
The dining room is the first room you get a glance of as you enter the home. The homeowners wanted something that will make their family and friends go 'wow' as they step in. And that explains why Akansha has opted for a stunning cyan blue for the feature wall in this room. It also happens to be the only room with a solid colour this bright.
Designer's Tip
Nothing screams pizzaz more like plenty of mirror decor. We have created the most minimal design with a full mirror wall that opens up the dining space.

Kitchen Design for a 2BHK in Hyderabad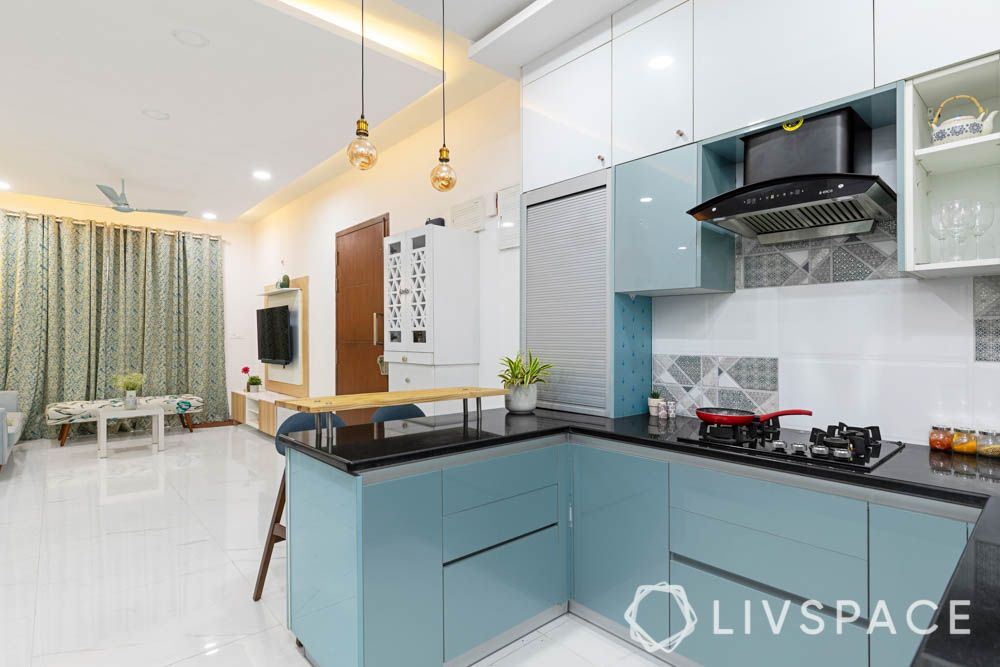 "The kitchen is definitely the highlight of the home", Akansha says. Abhishek had his heart set on a breakfast counter for his kitchen. Therefore, Akansha designed a counter that wouldn't look bulky and occupy too much floor space. The kitchen is packed with storage. The MDF acrylic cabinets are in a stunning metallic blue and white. However, what we loved about this space is the wall mounted MDF laminate pooja room with duco painted jaali.
Designer's Tip
Instead of constructing a bulky breakfast counter that is usually higher than the countertop of the kitchen, we have attached a platform table that gives it the same height as a breakfast counter without taking up any more space.
Master Bedroom Design for a 2BHK in Hyderabad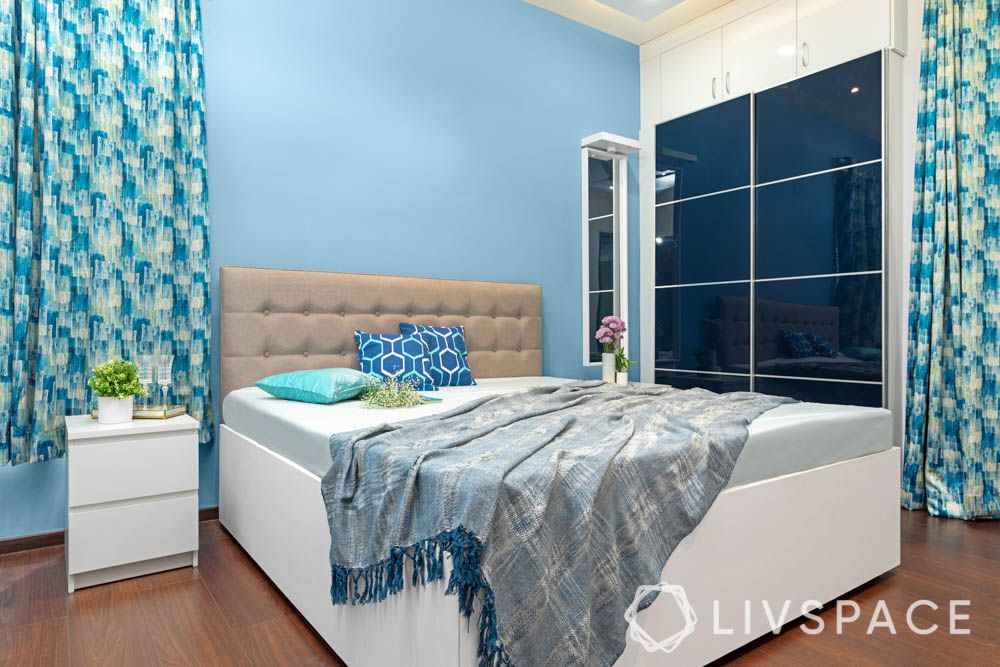 "We designed the master bedroom in a monochromatic theme with different shades of blue", Akansha says. This space was designed around the blue and white wardrobe unit .Therefore, the room wears pastel blue and white.
Designer's Tip
The custom-made vanity unit is a space-efficient addition to the room and is strategically placed next to the sliding door wardrobes.
Guest Bedroom Design for a 2BHK in Hyderabad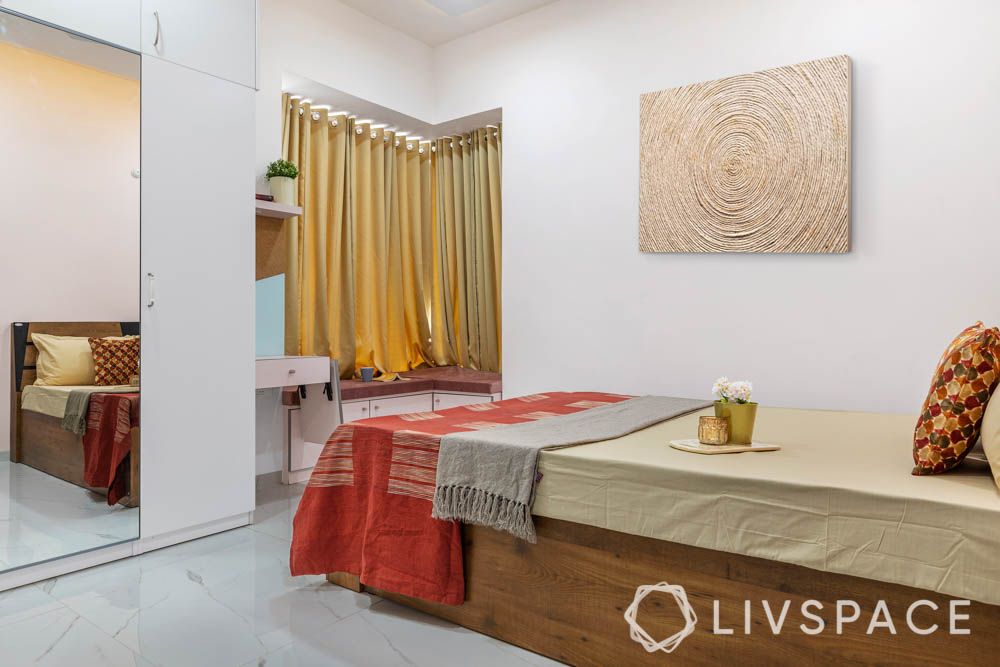 Apart from the pretty pastel pink wall, there are plenty noteworthy elements in this room. Often used as a study by the couple, this room is more than just a bedroom for guests. Akansha saw the L-shaped window in the corner and thought it had potential to be converted into a bay seating area. And that's what she did! However, what's space-efficient about this room is the folding table in the plywood laminate study unit. It goes from 1.5 ft to 3 ft when propped up.
Designer's Tip
When faced with limited space in a compact bedroom, opt for floating shelves instead of a standing bedside table.
"Designing a home for Abhishek Guha and his wife was a short and sweet process. The couple settled on a design quickly with minimal changes and then we went ahead with the project. Mapping out the colours and interiors of this home was a unique experience."

– Akansha Srivastava, Interior Designer, Livspace
If you enjoyed taking this Hyderabad home tour then, take a look at this home that has got a Kitchen & Wardrobe Design on a Budget
Send in your comments and suggestions.