As we stay at home during the lockdown, it's becomes quite a feat to ensure that we remain productive during our workday. Some of us may have a home office design in place to work out of, while others have set up makeshift spaces. But no matter how it came about, we at Livspace believe in keeping our home offices interesting. So we asked our designers what they were doing.
Here's a sneak peek into their home offices. We bet you'll find some ideas to steal!
#1: Home office design personalised to your taste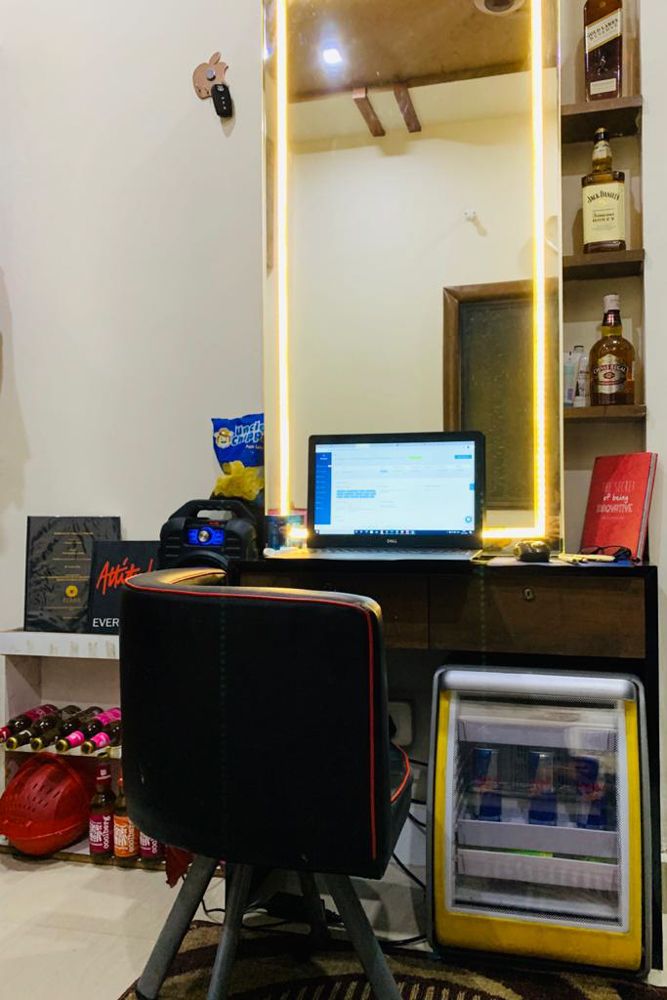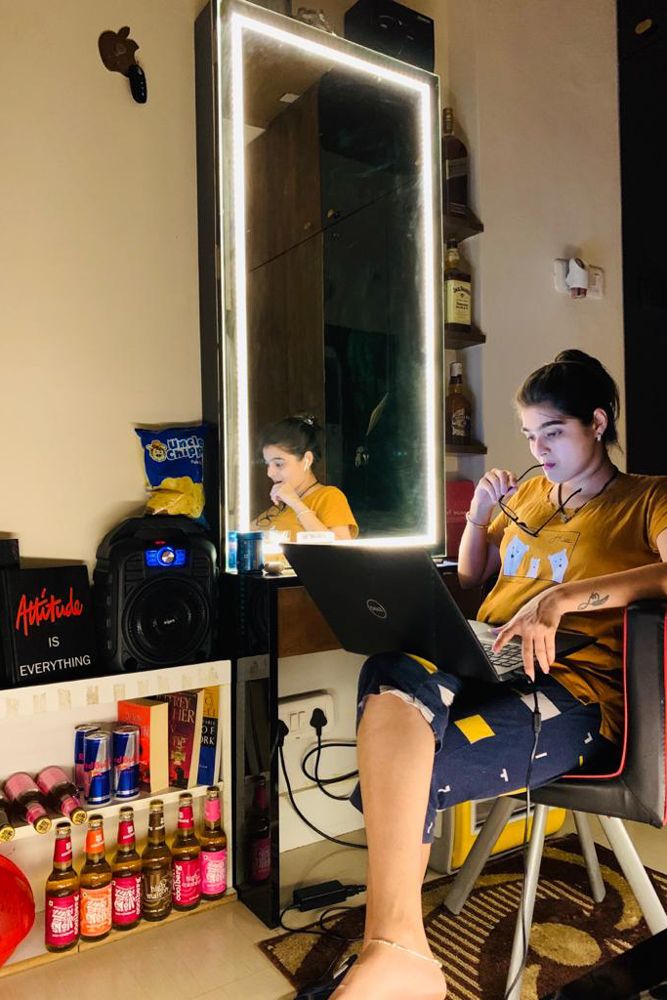 Who livs here: Gunja N. Golcha with her husband and his family – a total of 17 people live and laugh in this home
Location: Nagpur
Tidbit: Gunja likes being around her family – so they have meals together and play games whenever she takes a break!
Architect and designer Gunja N Golcha and her husband live and work in Pune, but they happened to be in their family home while the lockdown was announced, so she decided to make the most of this unexpected time with the family. She made a conscious decision to stay away from the family library in their bungalow, and instead work out of the bedroom, or the living room.
We also liked this study unit that Gunja has personalised to her own tastes. She loves having everything within an arm's reach. And the mirror in her workspace was an intriguing choice! Gunja tells us that she loves making a daily checklist of tasks and didn't want a boring background for it! That's why she has a classy mirror instead!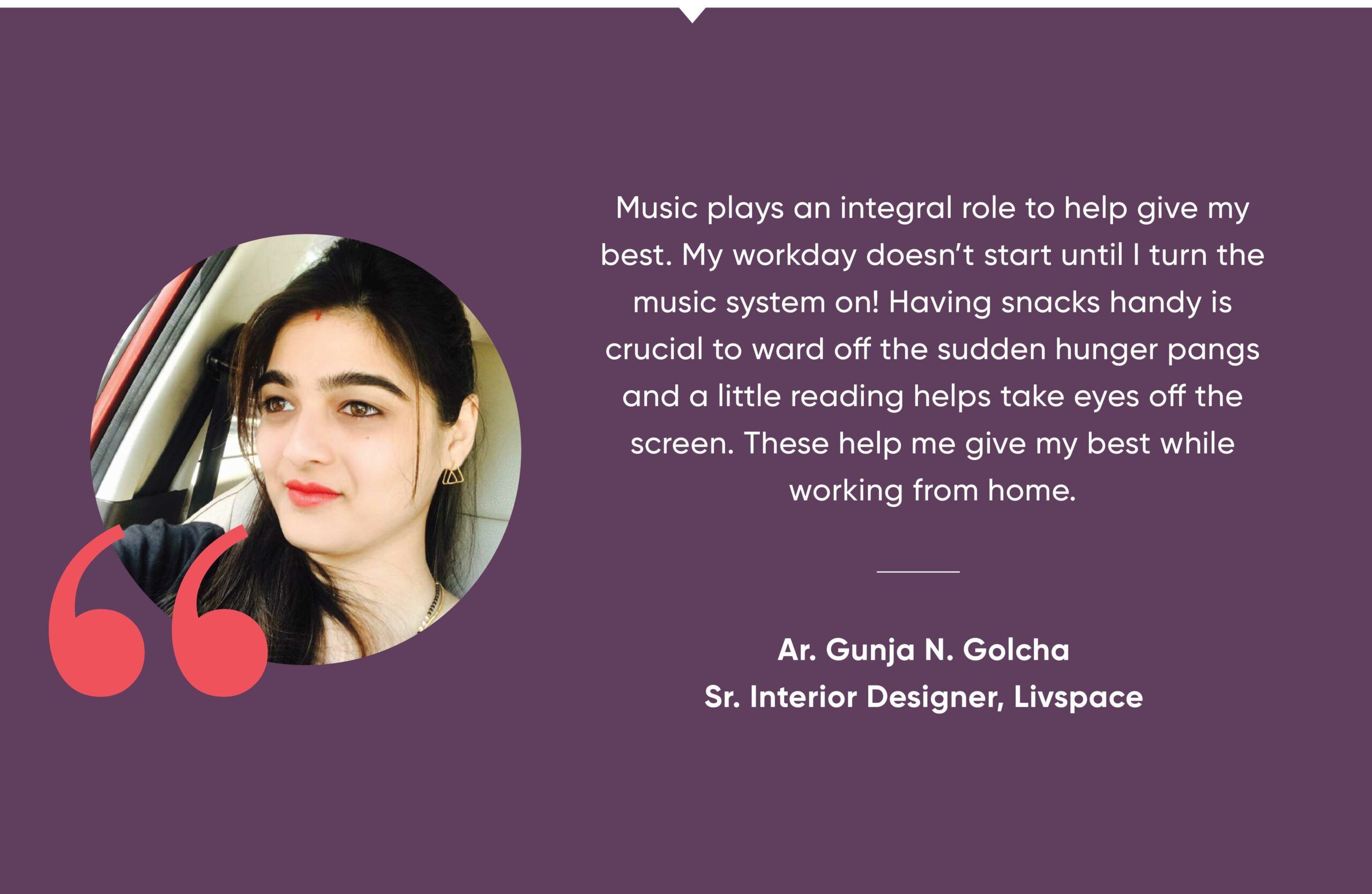 Steal-worthy ideas from this home office design:
A plain wall can also work wonders. You can use it to put up a checklist of tasks to be accomplished during the day, reminders for important meetings, or even motivational quotes. You can amp it up by using a sheet of clear glass, or even a mirror. "But use a mirror only if you do not look at it too often while working," emphasises Gunja
Keep the essentials handy. This includes bottles of water to cool drinks and snacks
Have charging points nearby. This ensures that you can use your gadgets optimally!
"With everything in easy reach, you are likely to stay focussed on your work. You will not have to get up in the middle of your workday, so you are less likely to be distracted from the task at hand," Gunja signs off.
#2: Flexible work spaces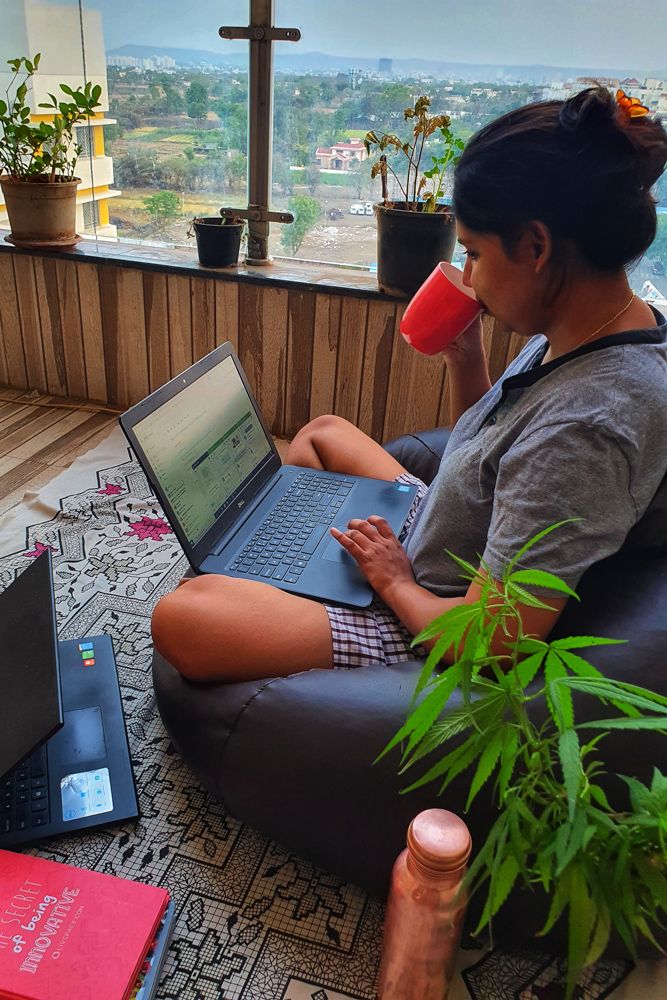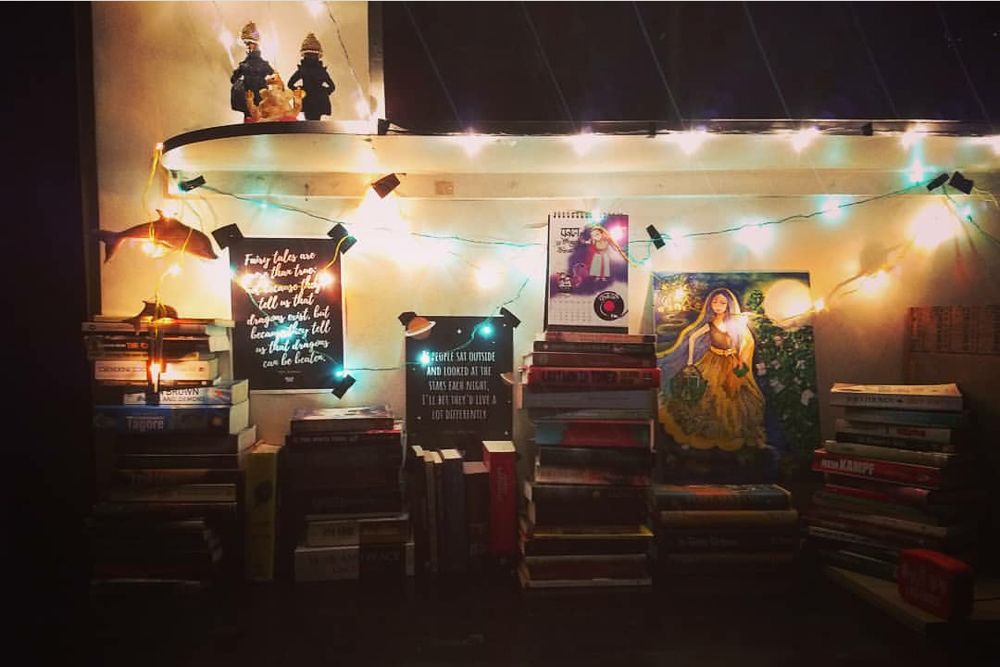 Who livs here: Namrata Pachori
Location: Pune
Tidbit: Namrata's creativity flows unhindered as she works peacefully through days or nights, as and when she wants!
Designer Namrata Pachori, who lives by herself, has a significantly different take on her work from home space. Since she lives alone, she likes to make the most of all available places in her apartment. She makes no secret of her love for lights, and so it's quite obvious that her workspace at home revolves around the same. Being a Livspace designer, she is used to a vibrant office environment, so her home office ideas revolve around the same. She loves being surrounded by books – in the midst of this lockdown, it makes her feel less lonely. So she's filled her study unit with plenty of books and a string of fairy lights that makes the place look straight out of a dream.
But why stay indoors when the morning is beautiful? We stay indoors while working out of the office, so while she has the choice, Namrata likes setting up her workstation on the balcony. This home office design comes with a rug on the floor, plenty of plants, and an unlimited supply of tea!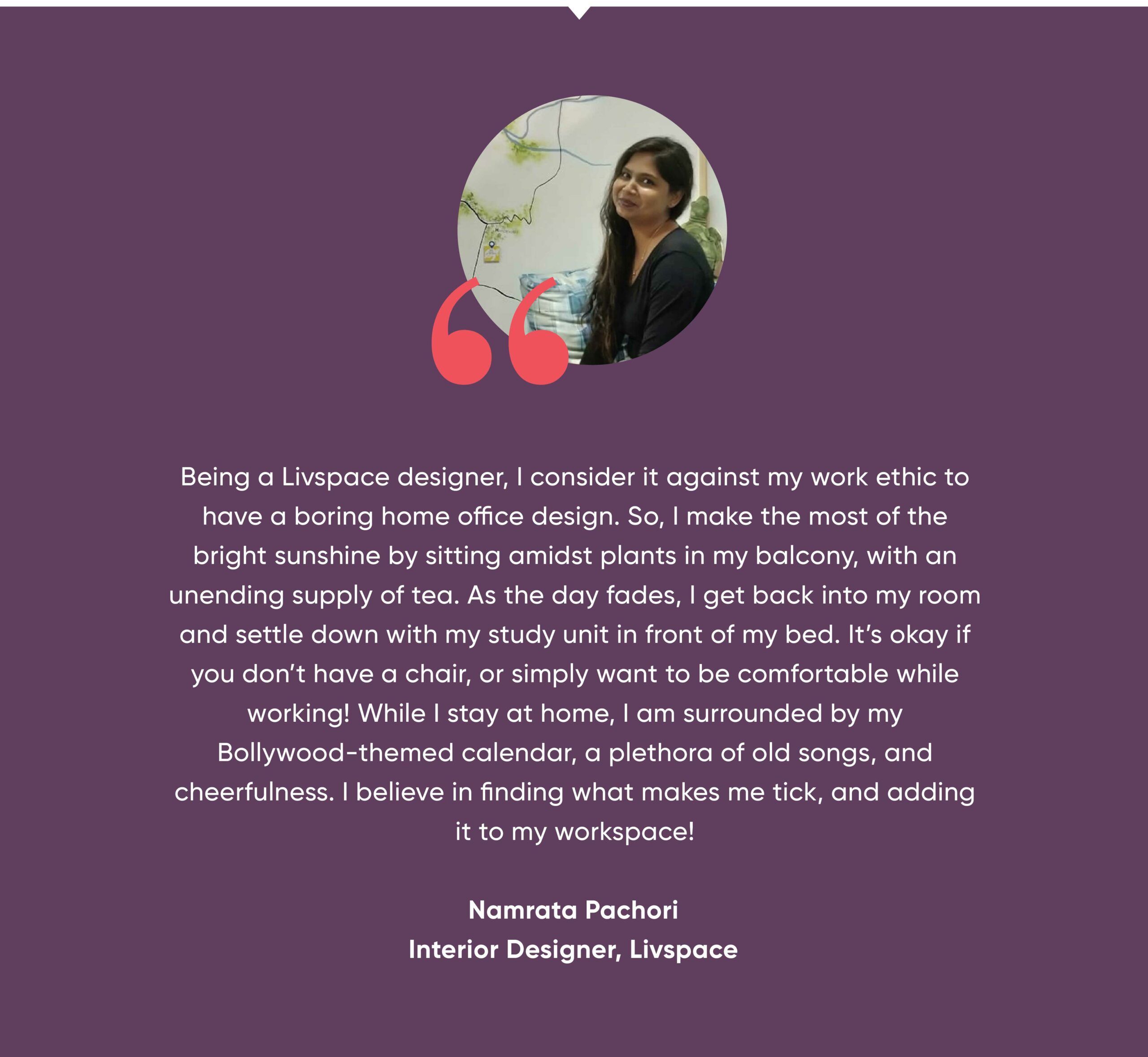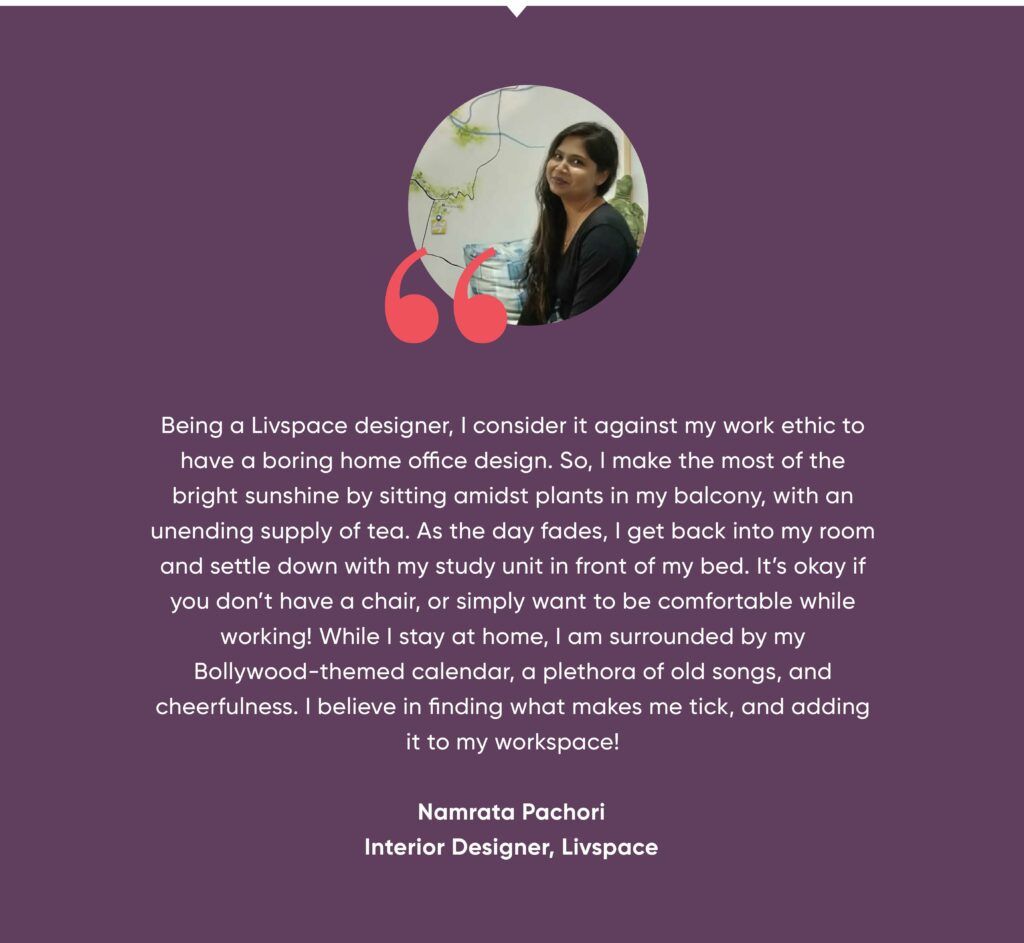 Steal-worthy ideas from this home office design:
You do not need to have one fixed place to work out of. While at home, you can choose to settle comfortably in the balcony or stick to the conventional table. You can even move from one place to another, as long as you carry all your essentials with you
Ensure your workspace has ample light. Insufficient light can make it hard for you to concentrate, or even give you a headache!
You do not need to have appropriate furniture. Mix and match to make the most of what you have! So whether you sit cross-legged on the floor, or place your study table in front of your bed, just ensure that you're comfortable!
#3: Transforming a study unit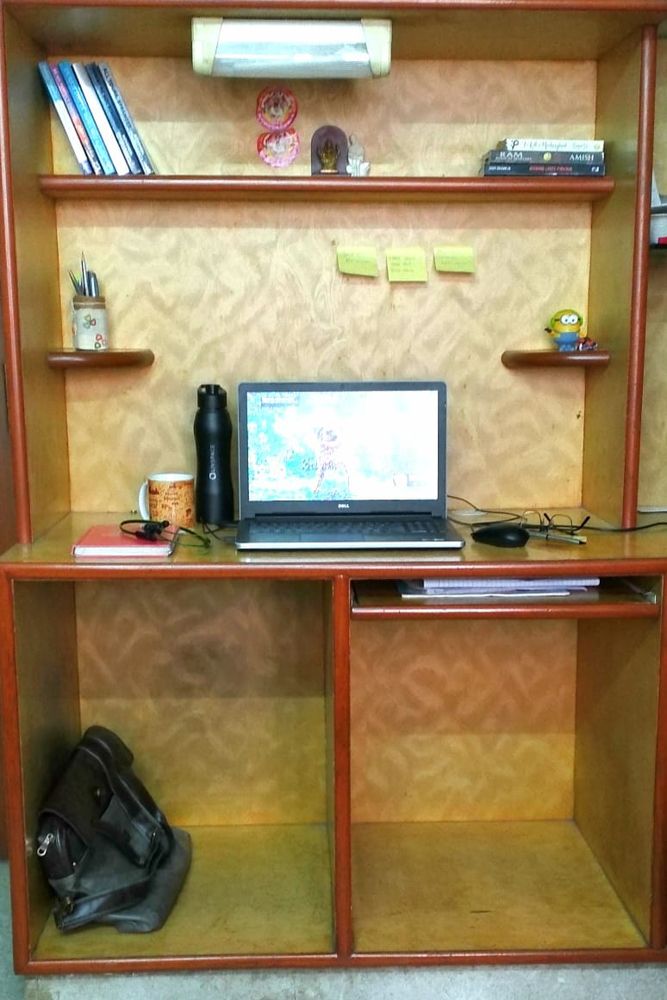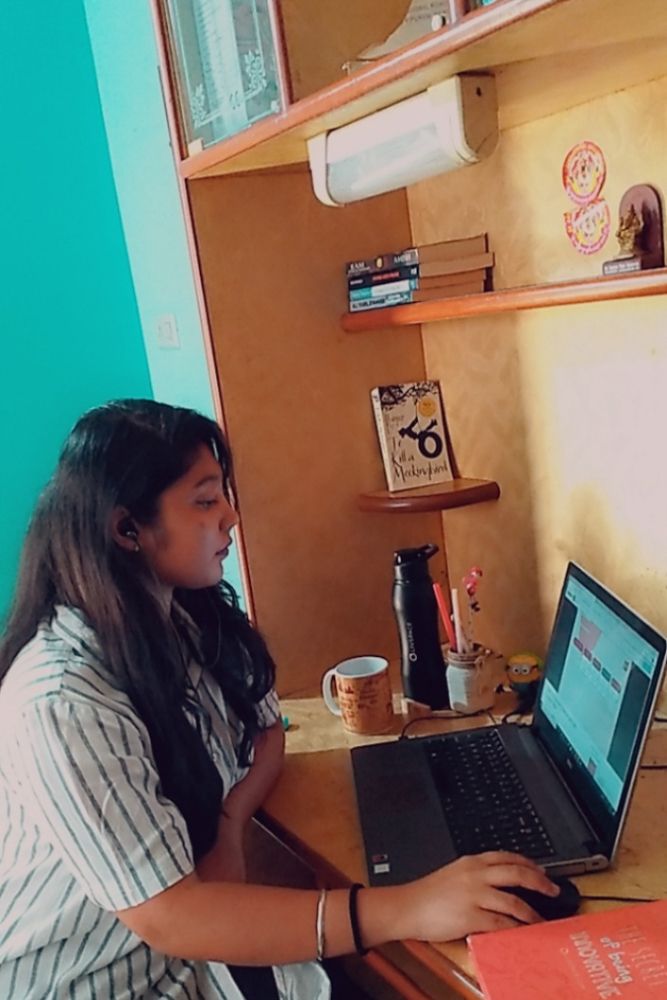 Who livs here: Nikitha V with her parents and siblings
Location: Bengaluru
Tidbit: Nikitha and her family are bonding over food – they finish work and whip up delicious dishes in the kitchen!
Designer Nikitha lives in Bengaluru with her parents and siblings. She tells us that while she has always had a study table in her room, she's never worked out of the space so consistently. Don't we all relate to the same? So we asked her about staying focused on work, even while staying at home. Nikitha tells us that working out of her study allows her to have her privacy, while minimising distractions. It also helps her in creating checklists for the day.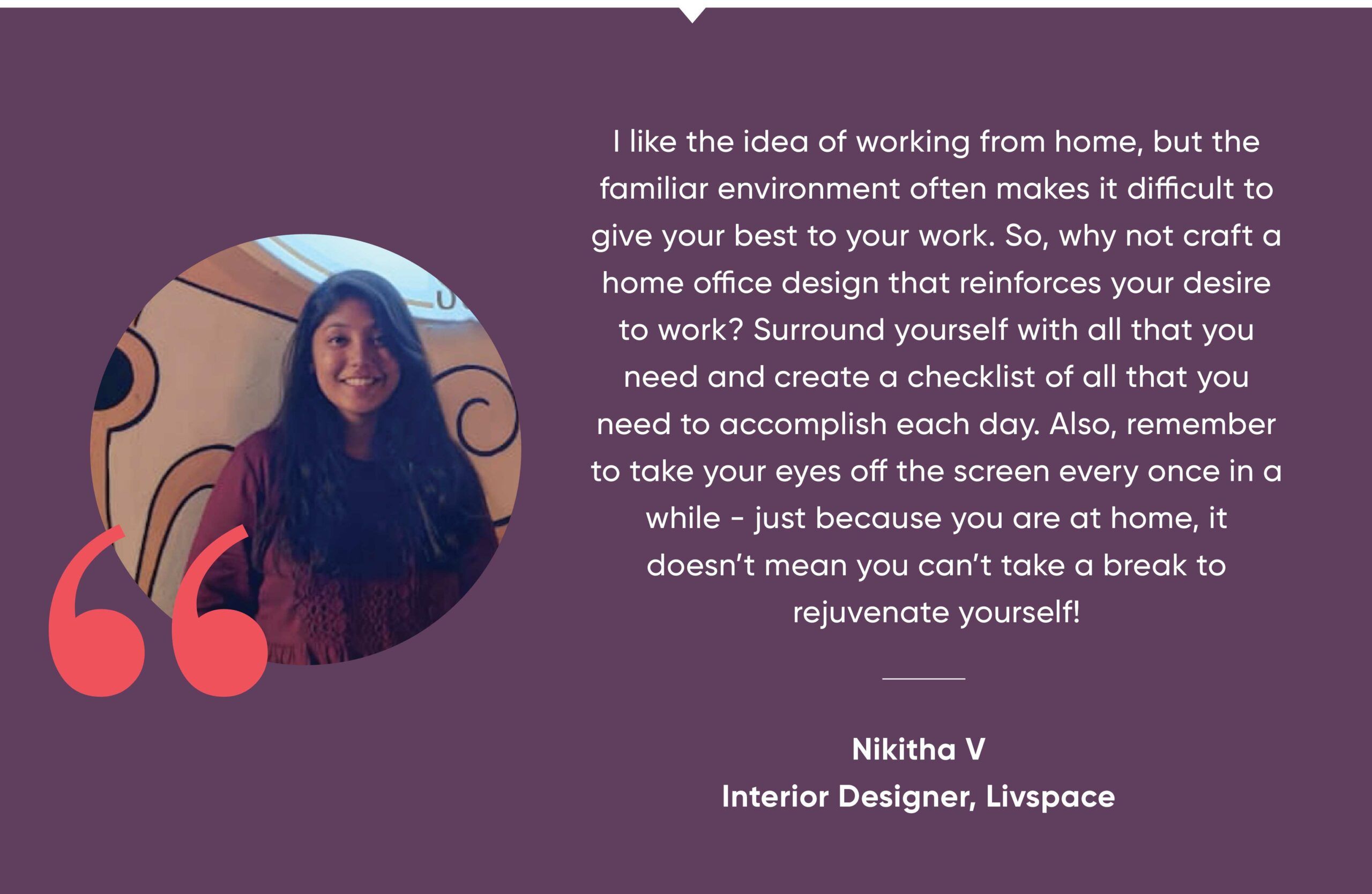 Steal-worthy ideas from this home office design:
If the familiar environment is hampering your productivity, make small changes to the space. You can use fresh cushion covers and curtains. Alternately, you can look for old chart paper or even gift wrapping paper and deck the insides of your study with it
Create a checklist of all the tasks you need to complete, and keep it in your home office
Take your eyes off the screen when you take a break. Read a book, listen to some music, or spend time with your family. But remember to take your eyes off the screen!
Bonus Tip: Your bed works as a comfy space, too!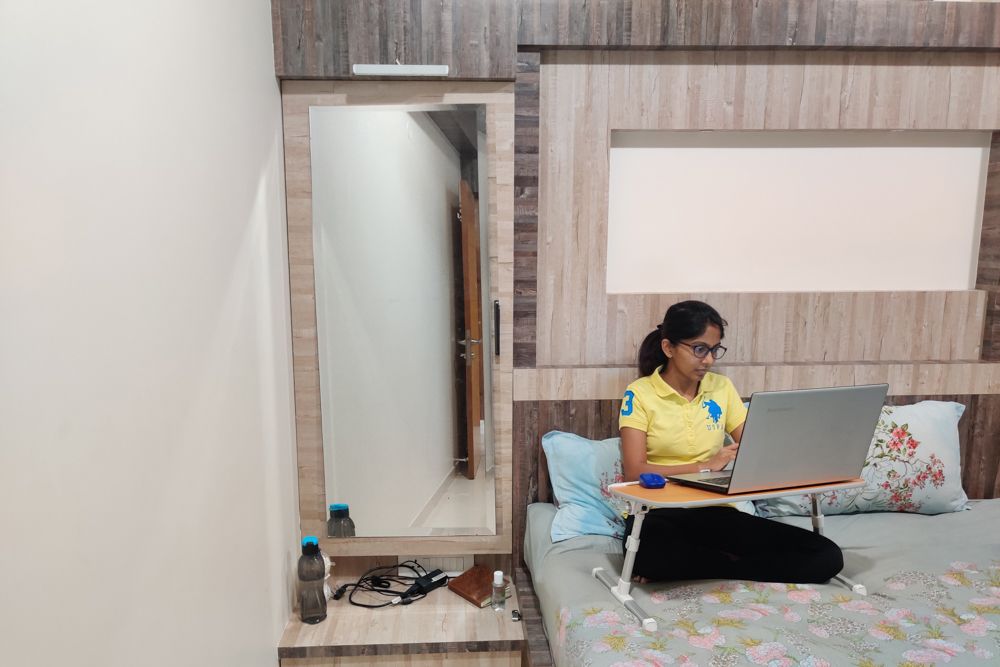 Who livs here: Sushritha Surya PS with her husband and brother-in-law
Location: Bangalore
Tidbit: "Netflix and chill" has become the motto of this family!
Designer Sushritha, who lives in Bangalore, has found her own way to work comfortably during the lockdown. Being newly married, she gets to stay at home and bond with her family. At the same time, she can work peacefully. Sushritha chose to do away with the traditional study unit. Instead, she enjoys working in her bedroom with a laptop table and pillow or two to cushion her back.
Does the setup look familiar to you? We bet a lot of you are working from a makeshift space right now, so it's essential to ensure that your home office ideas cover the basics!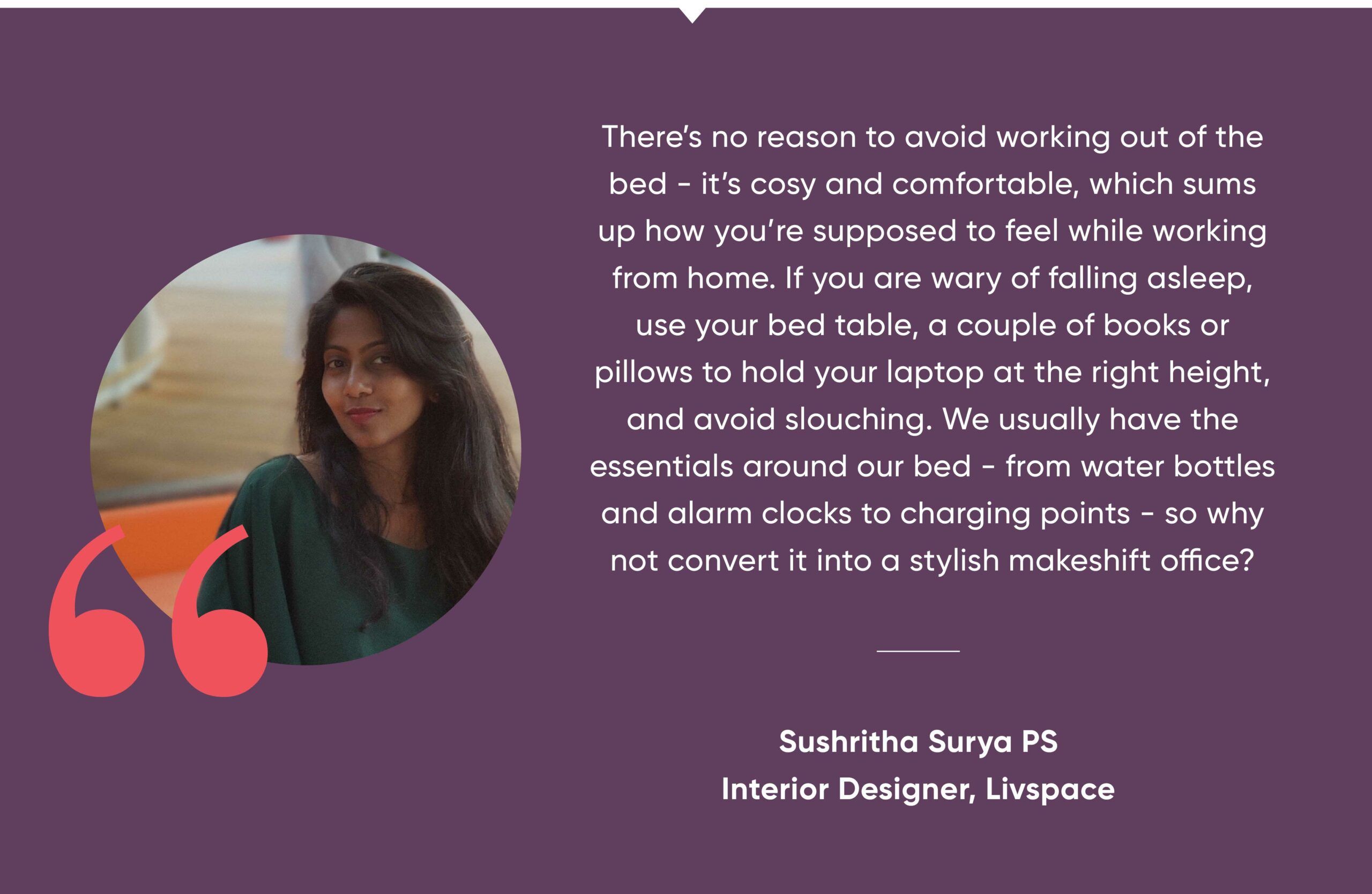 Steal-worthy ideas from this home office design:
Do not feel compelled to work out of a home office or study unit – even if you choose to skip the table, it's completely fine!
Ensure that you have a cushioned back-rest to stay comfortable.
Have the essentials close at hand like water and lip balm. If you want to avoid a mess, keep rarely used items in a drawer
Having a mirror helps open up the workspace. And if this is positioned where it's not easily visible, there will be minimal distractions!
We all might be at home, but who says we can't find innovative home office ideas to brighten your workspace? If you're looking for more ideas, also check out 9 Workspace Designs for Your Home.
Send in your thoughts and suggestions.