Sobha Forest View home with serene interiors.
---
Who livs here: Rohit Srinivasan with his wife Aanchal and their daughter
Location: Sobha Forest View, Off Kanakapura road, Bengaluru
Size of home: A 4BHK spanning 1,800 sq ft approx.
Design team: Interior Designer Rishab Jain and Akshay Jain with Project Manager Pawan Hongal
Livspace service: Full home design
Budget: ₹₹₹₹₹
---
What happens when one interior designing experience turns out to be a bummer? For our clients, Rohit Srinivasan and his wife Aanchal, residing in Sobha Forest View, one such experience did make the wary. But they bounced back and got in touch with Livspace! They were automatically impressed by the way our team communicated. That was the foundation to this beautiful partnership. We love it when our clients instill faith in us and it becomes increasingly important for us to live up to their expectations.
Spearheaded by designers Akshay and Rishab, this project took off on a high note. Having completely different preferences, with Rohit loving warm wooden tones and Aanchal biased towards colours, it was a tough call to take, initially. But there's always a solution and our design team took on this challenge and made sure that every member of the family is happy with the way their home looks. Read on to find out what this home has in store!
Sobha Forest View: A foyer filled with storage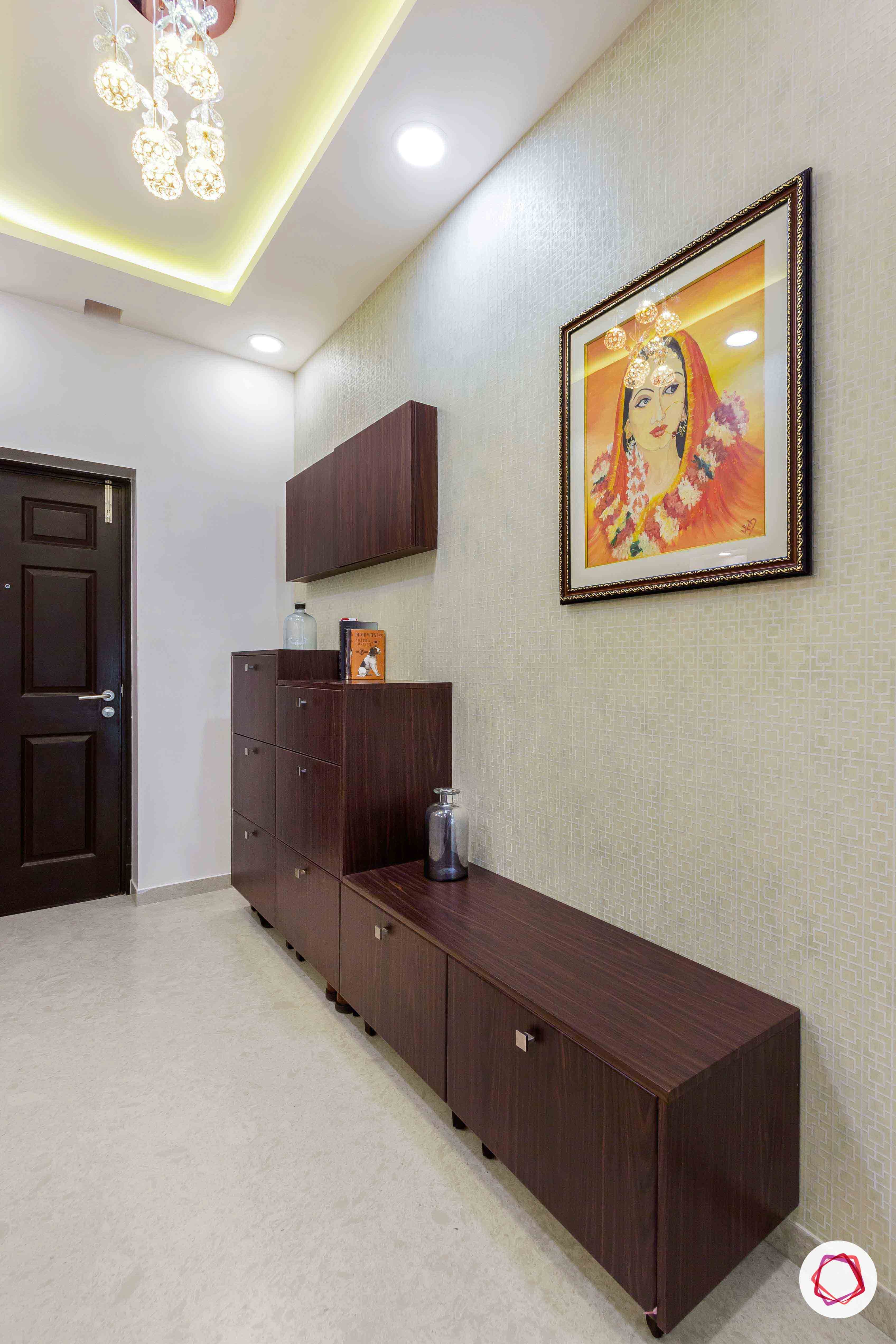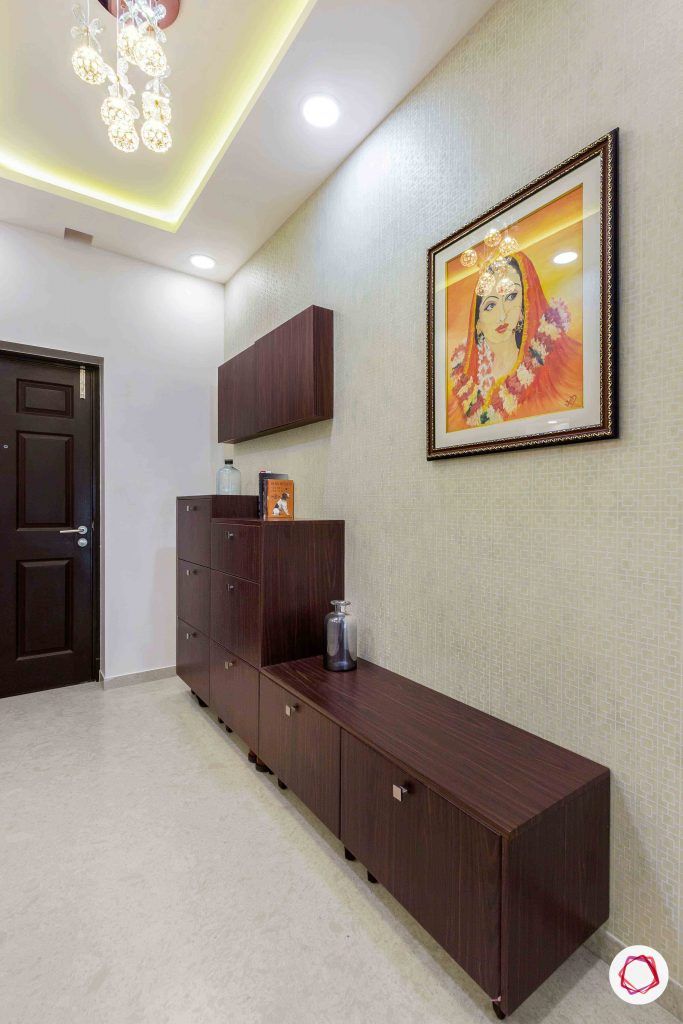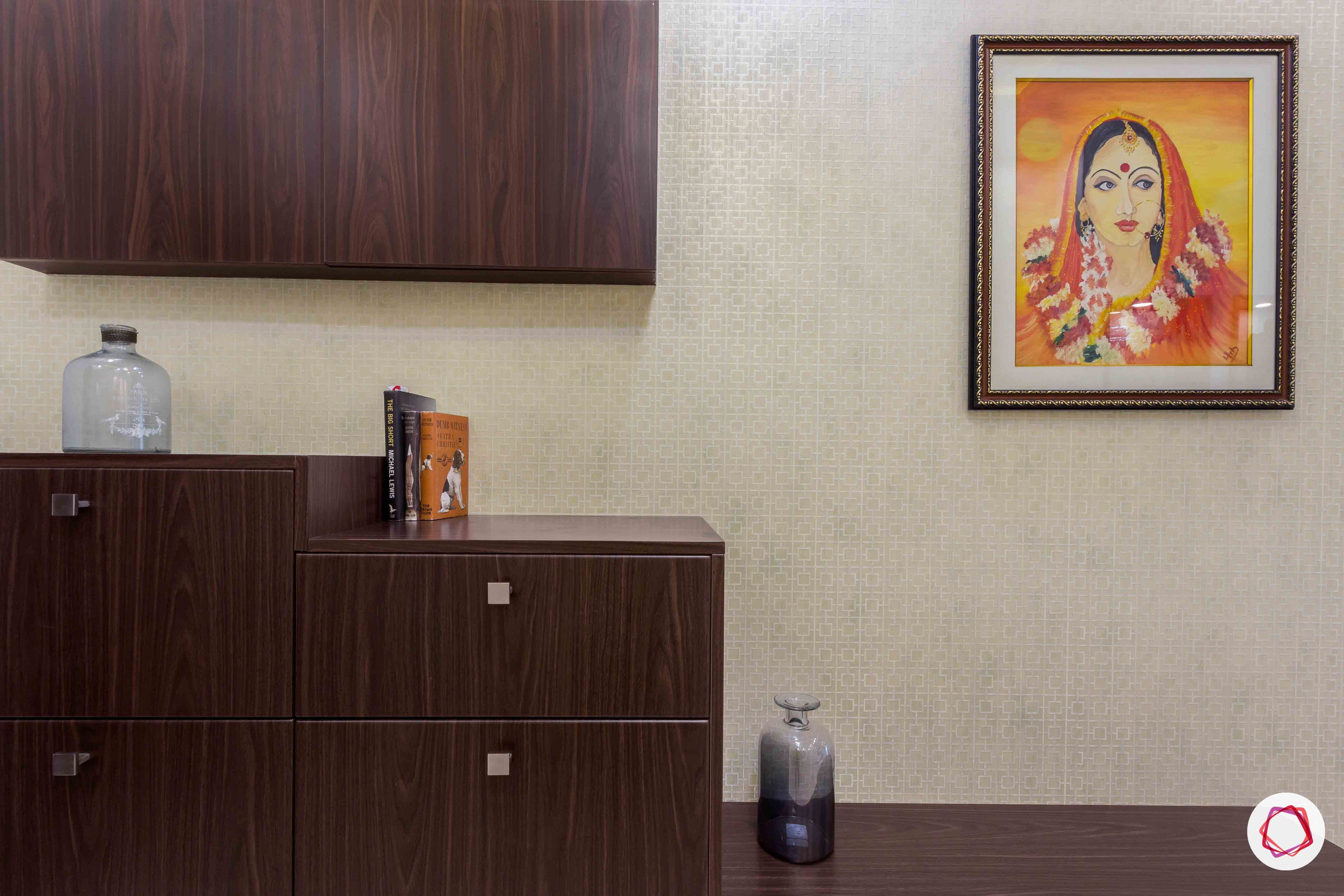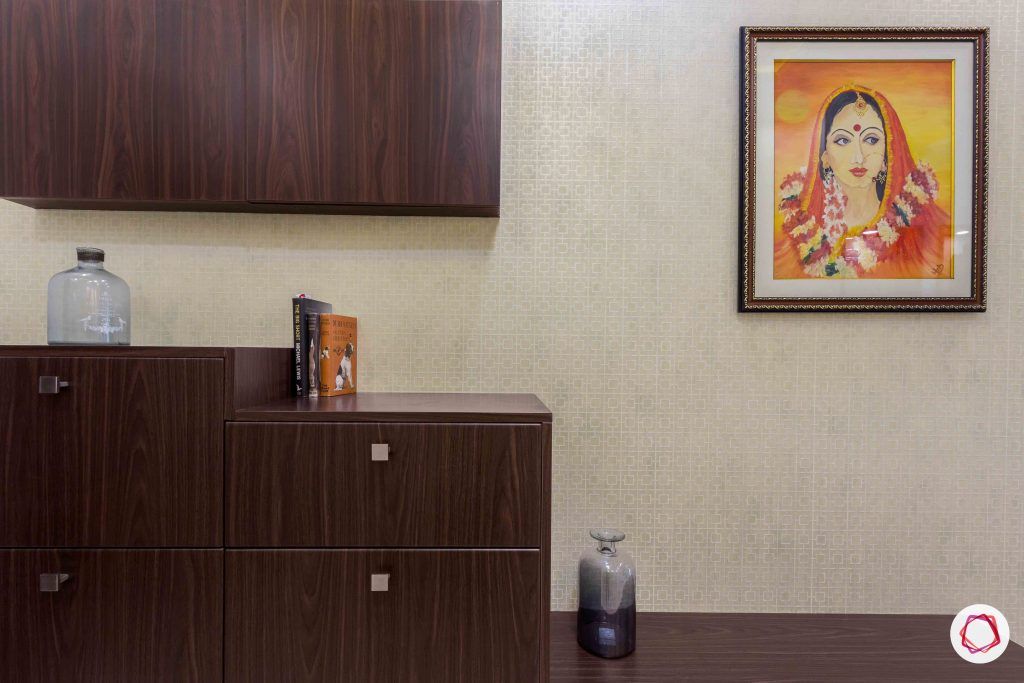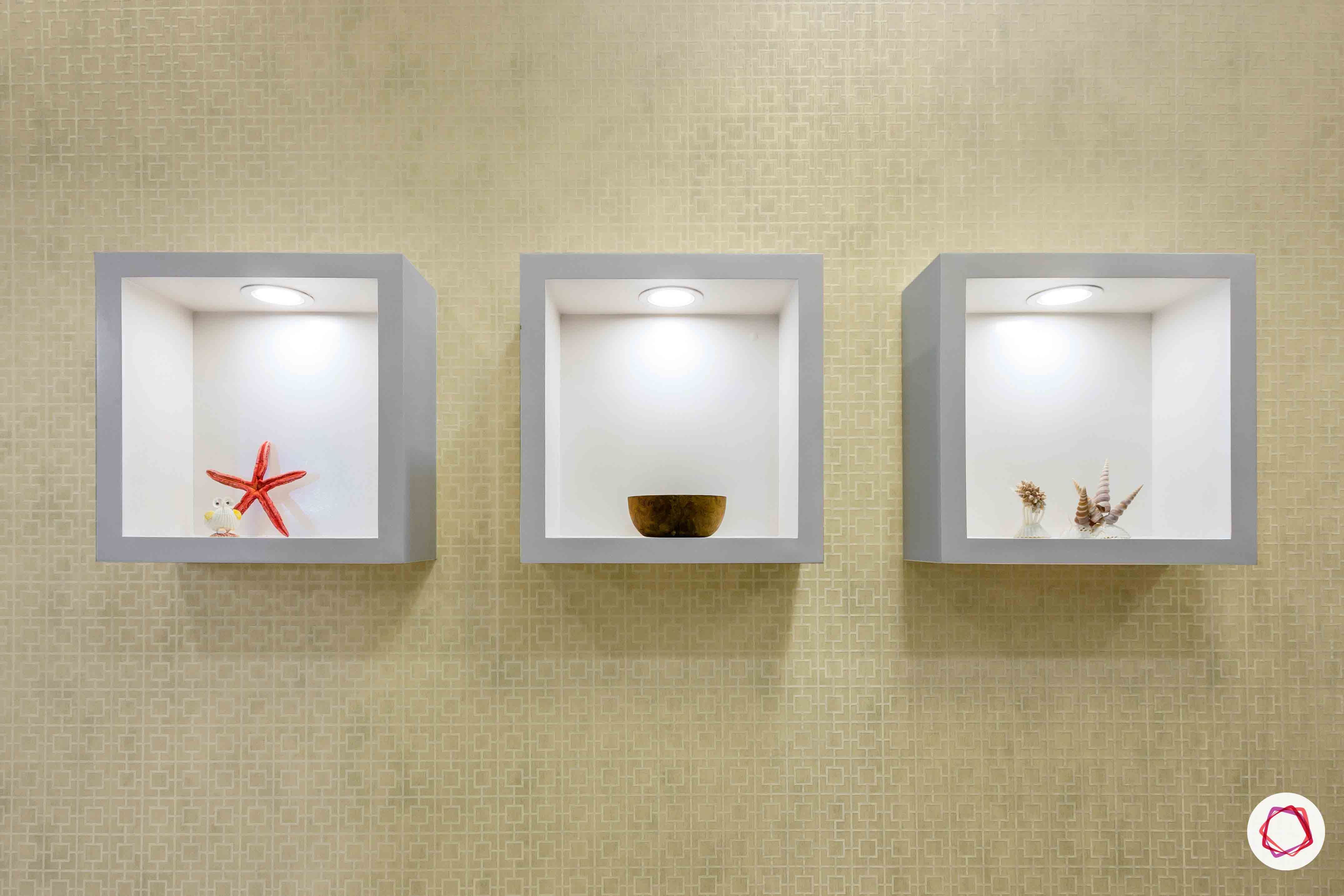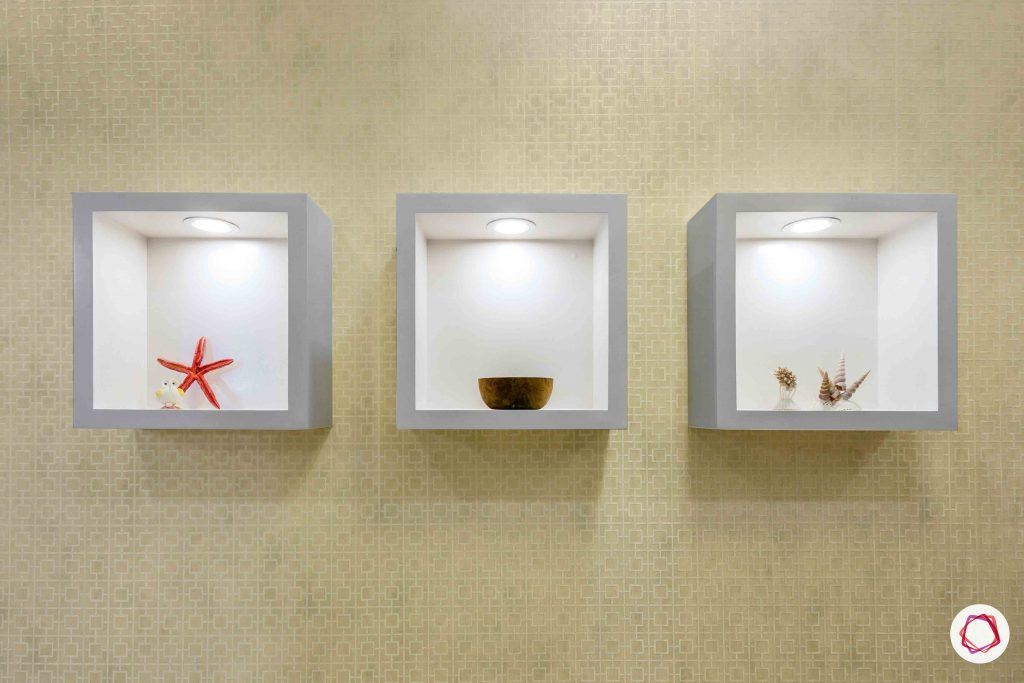 The entryway to this spacious 4BHK is nothing short of a power-packed welcome. A full-fledged shoe rack that can store considerable number of shoes and extra linen finds its place here. Display comes easy with a piece of furniture like this. Akshay and Rishab have highlighted this zone with wallpaper and a simple chandelier.
---
Sobha Forest View: Set in stone and cream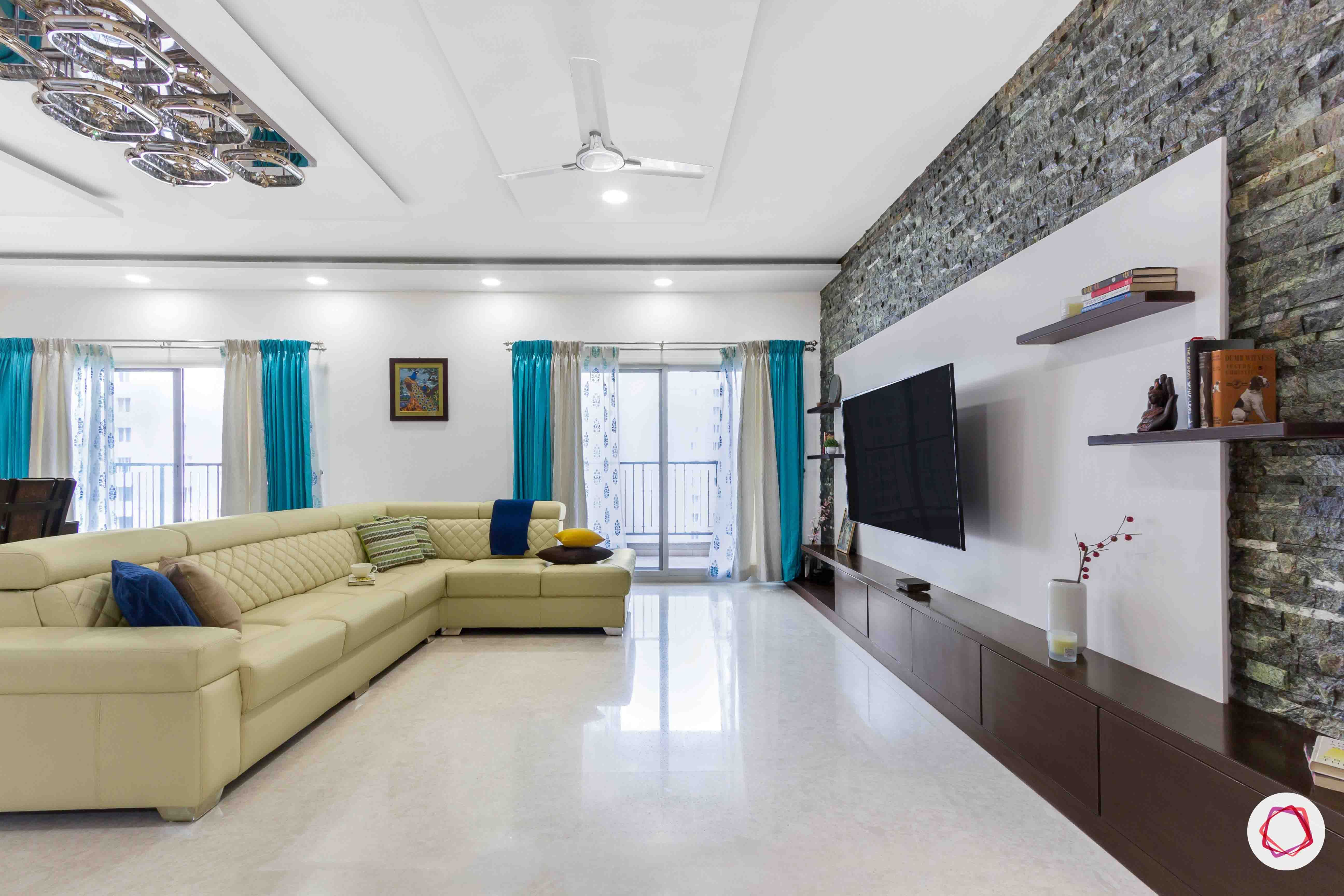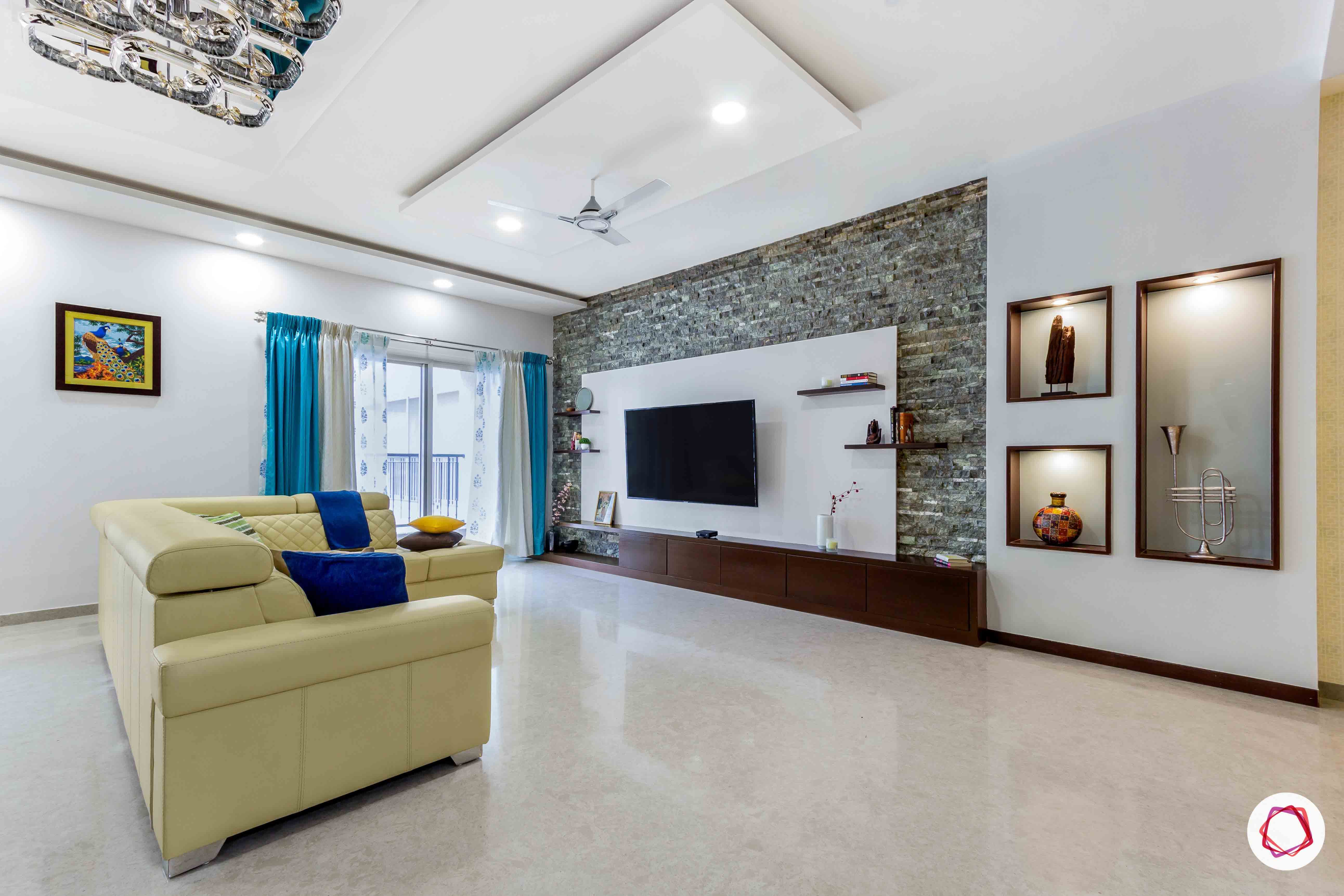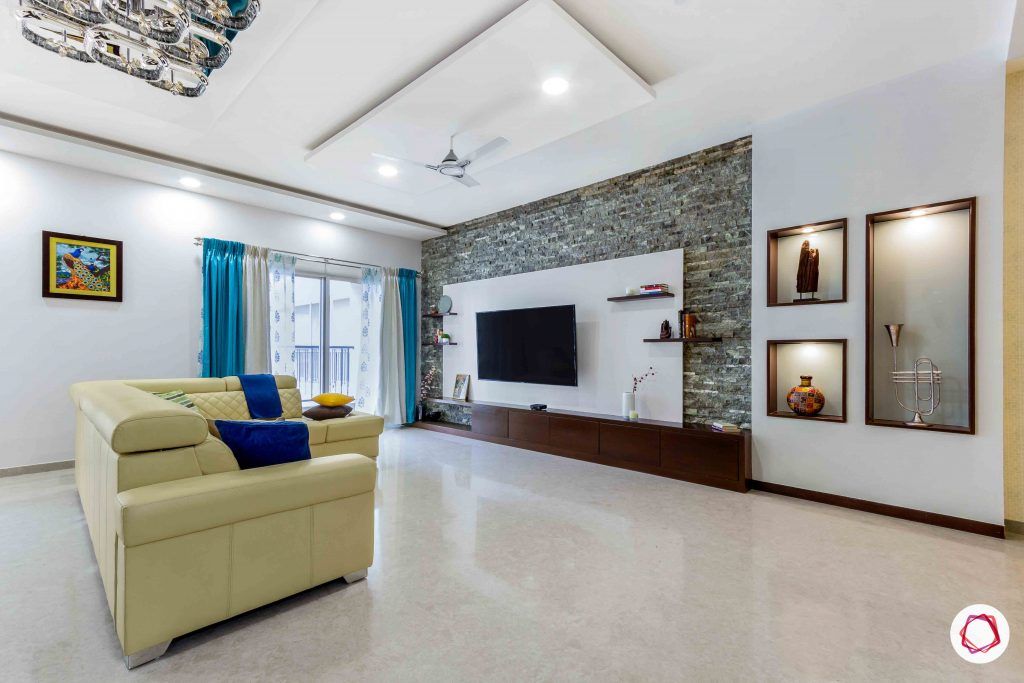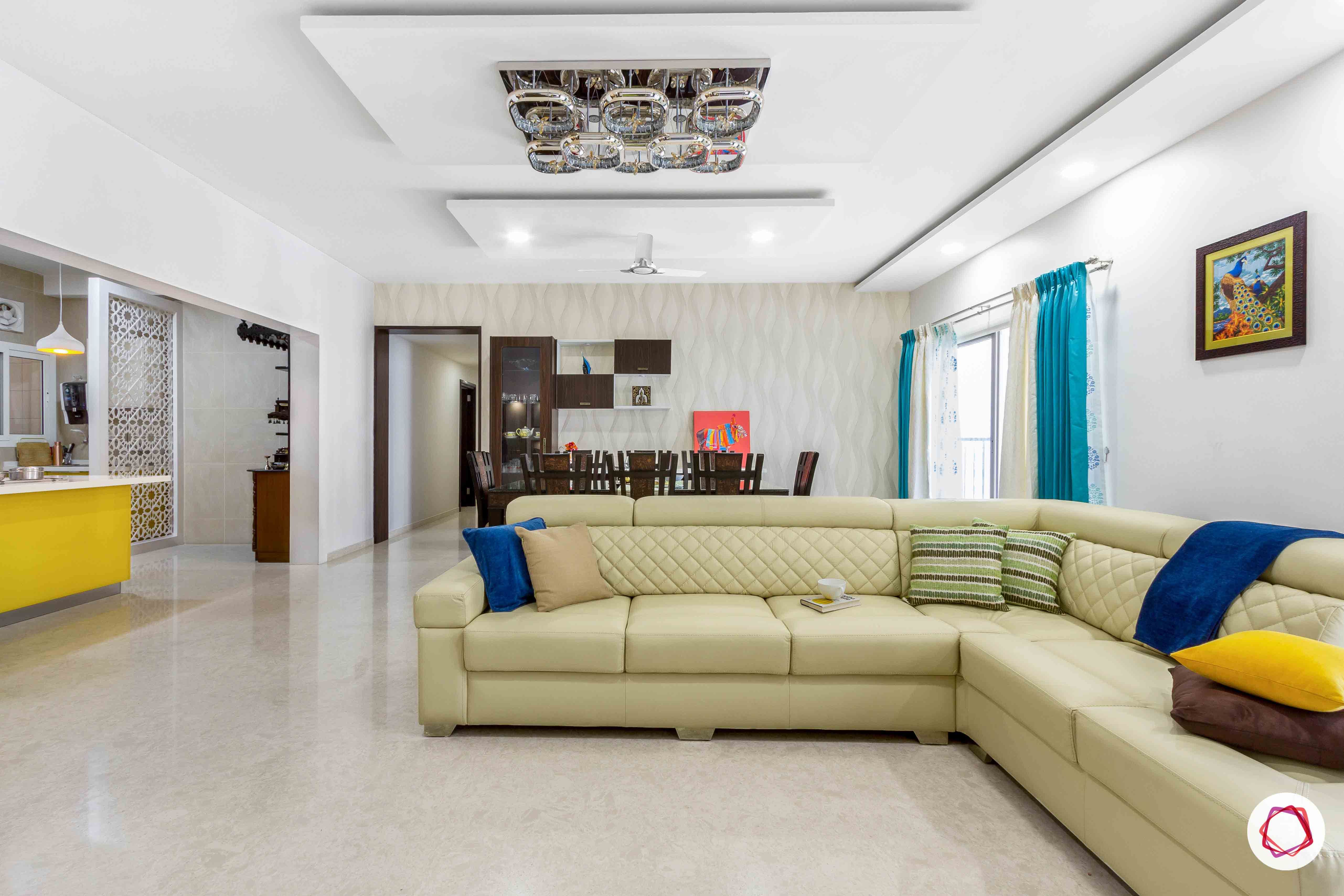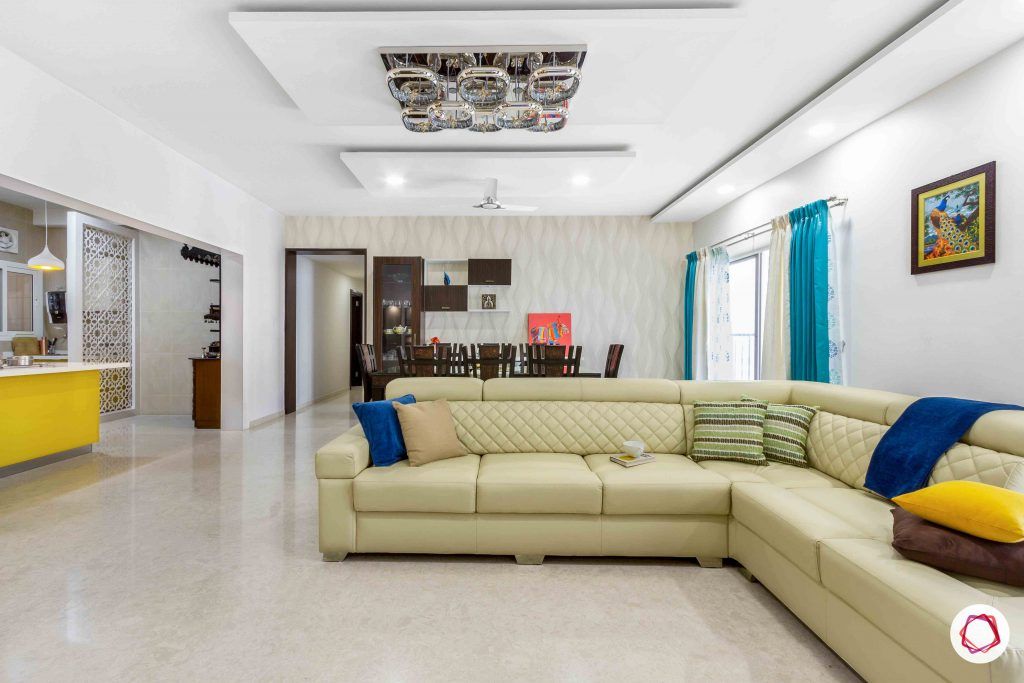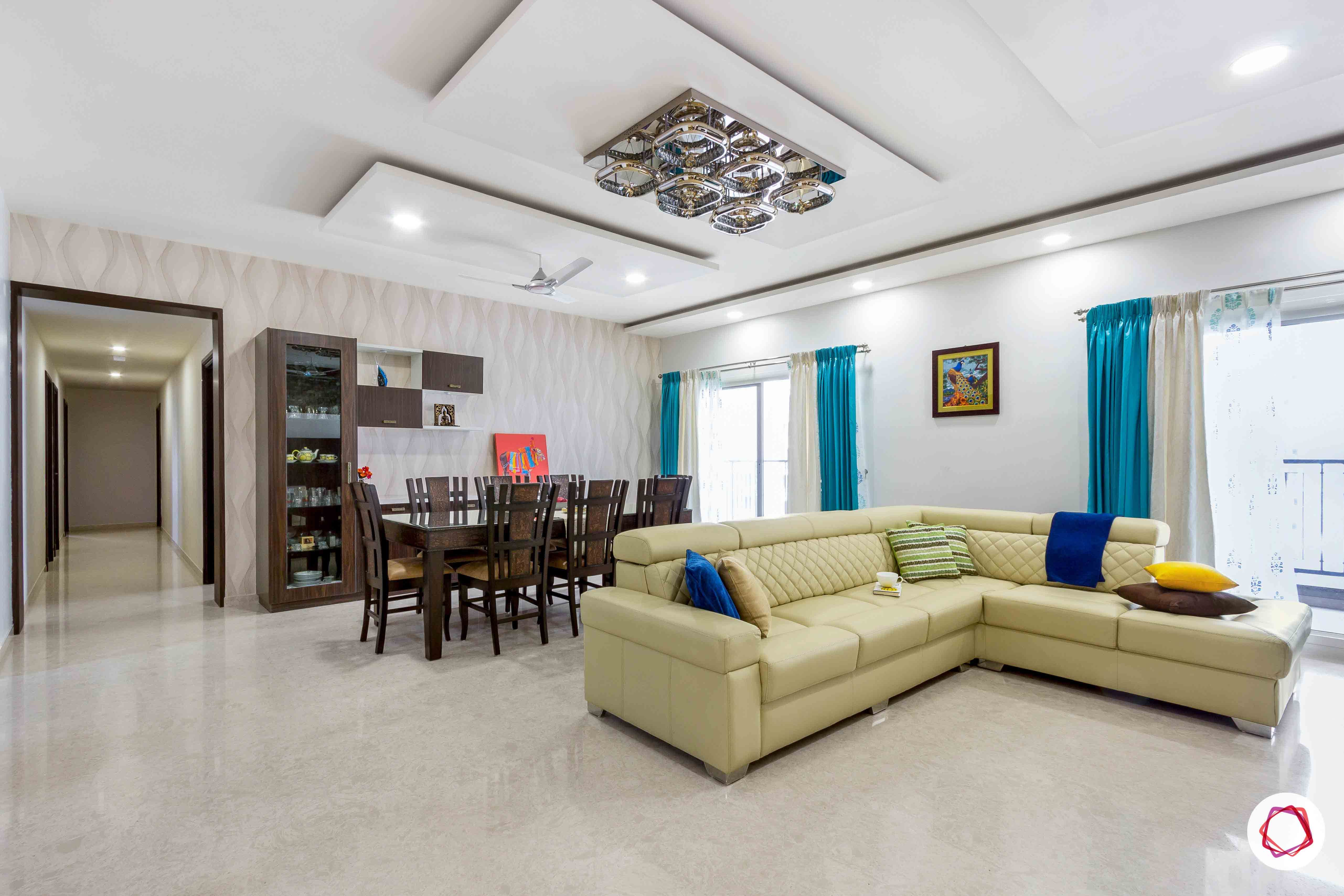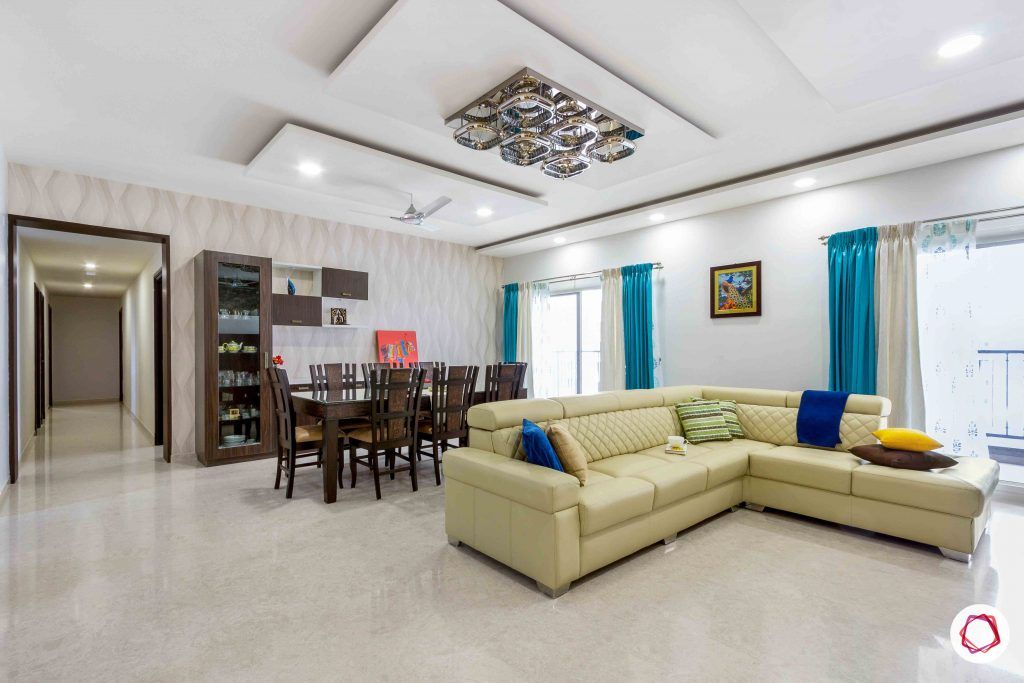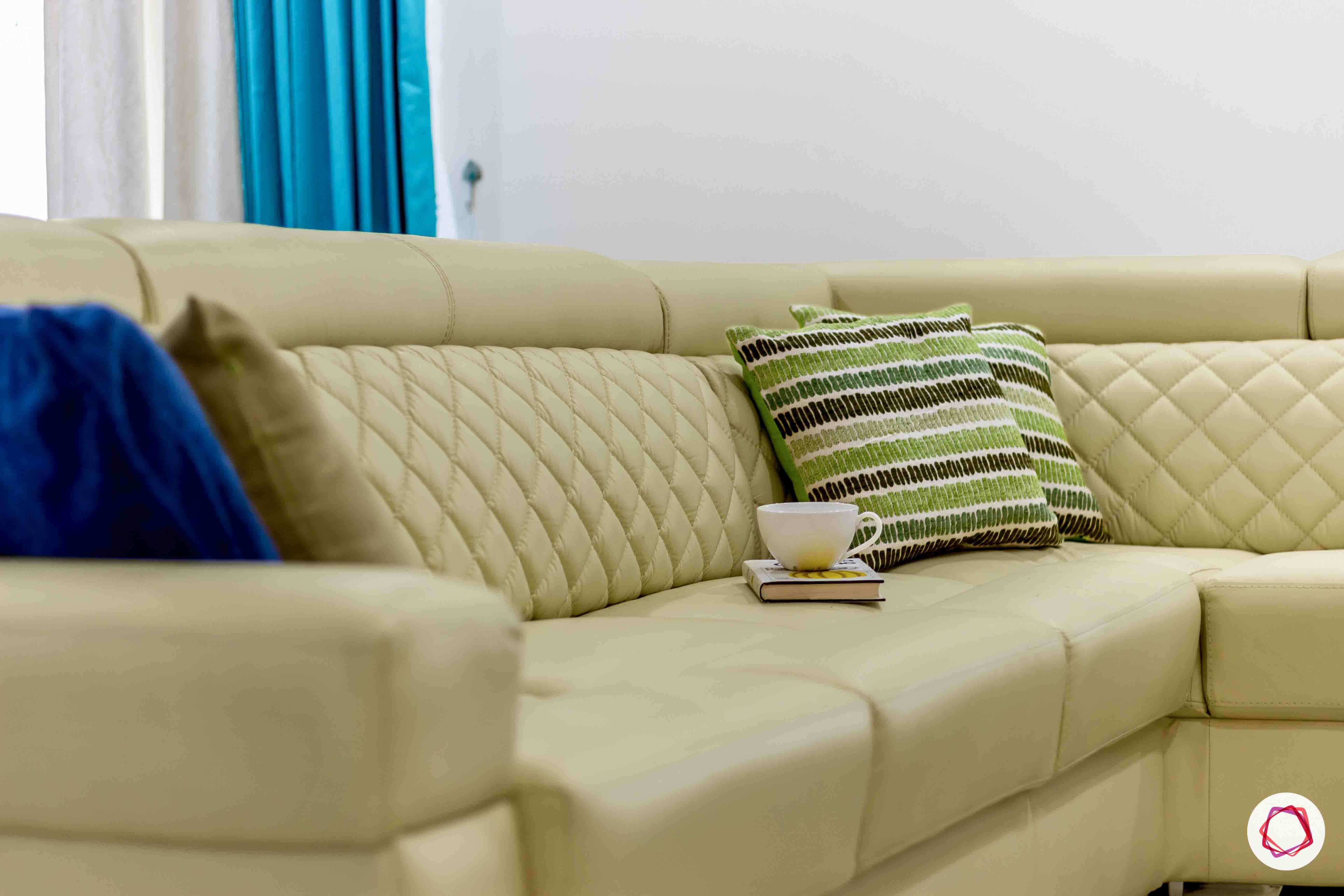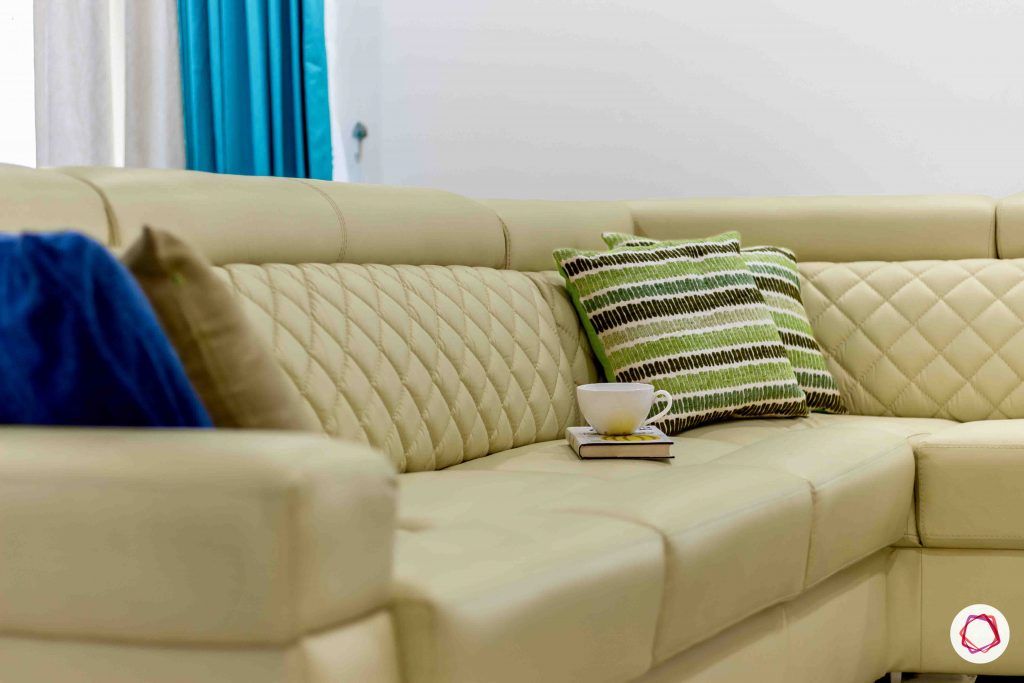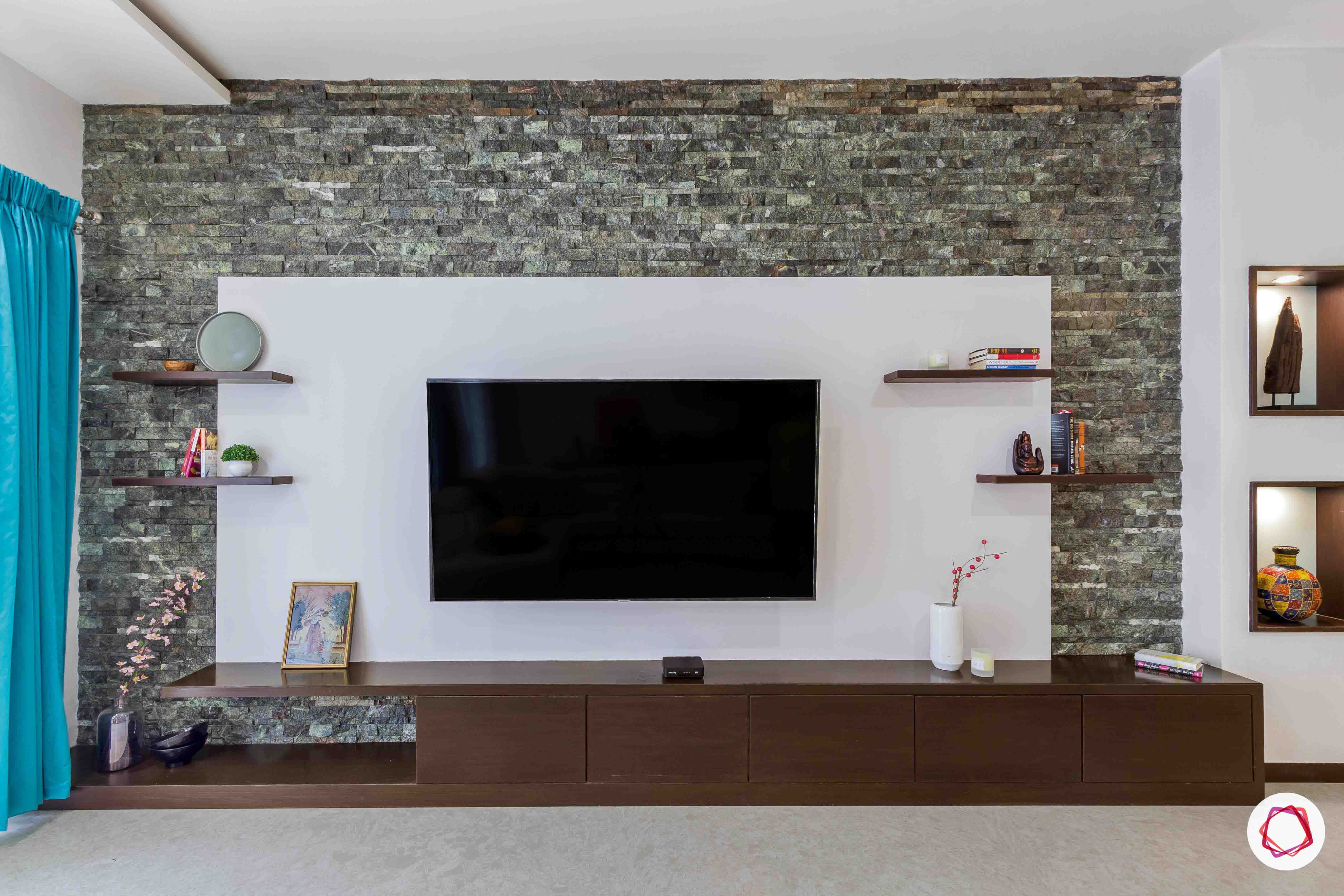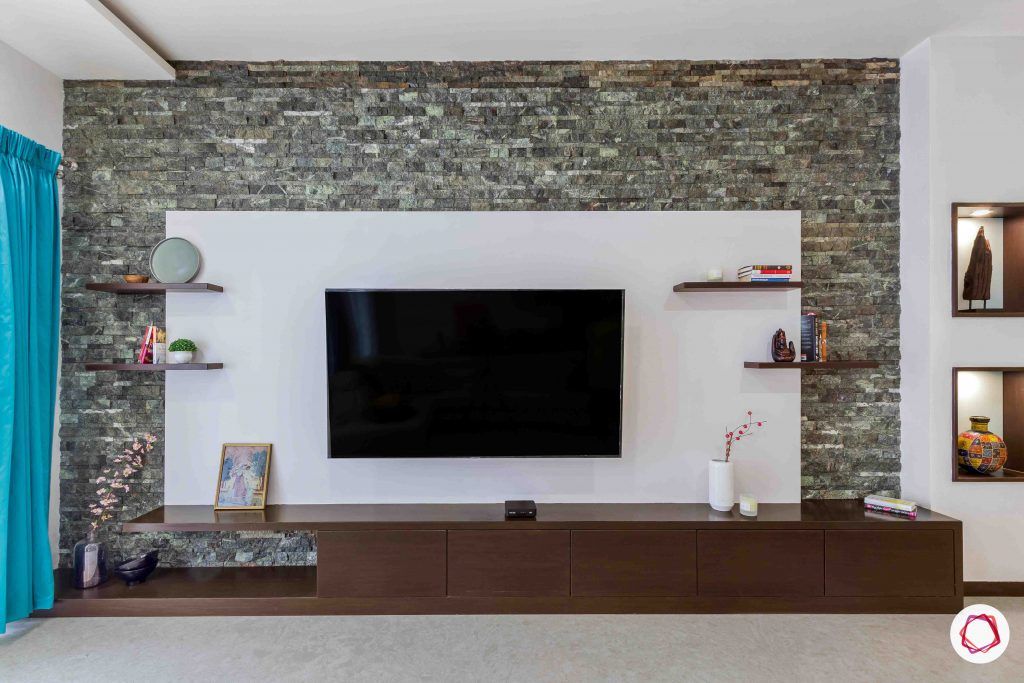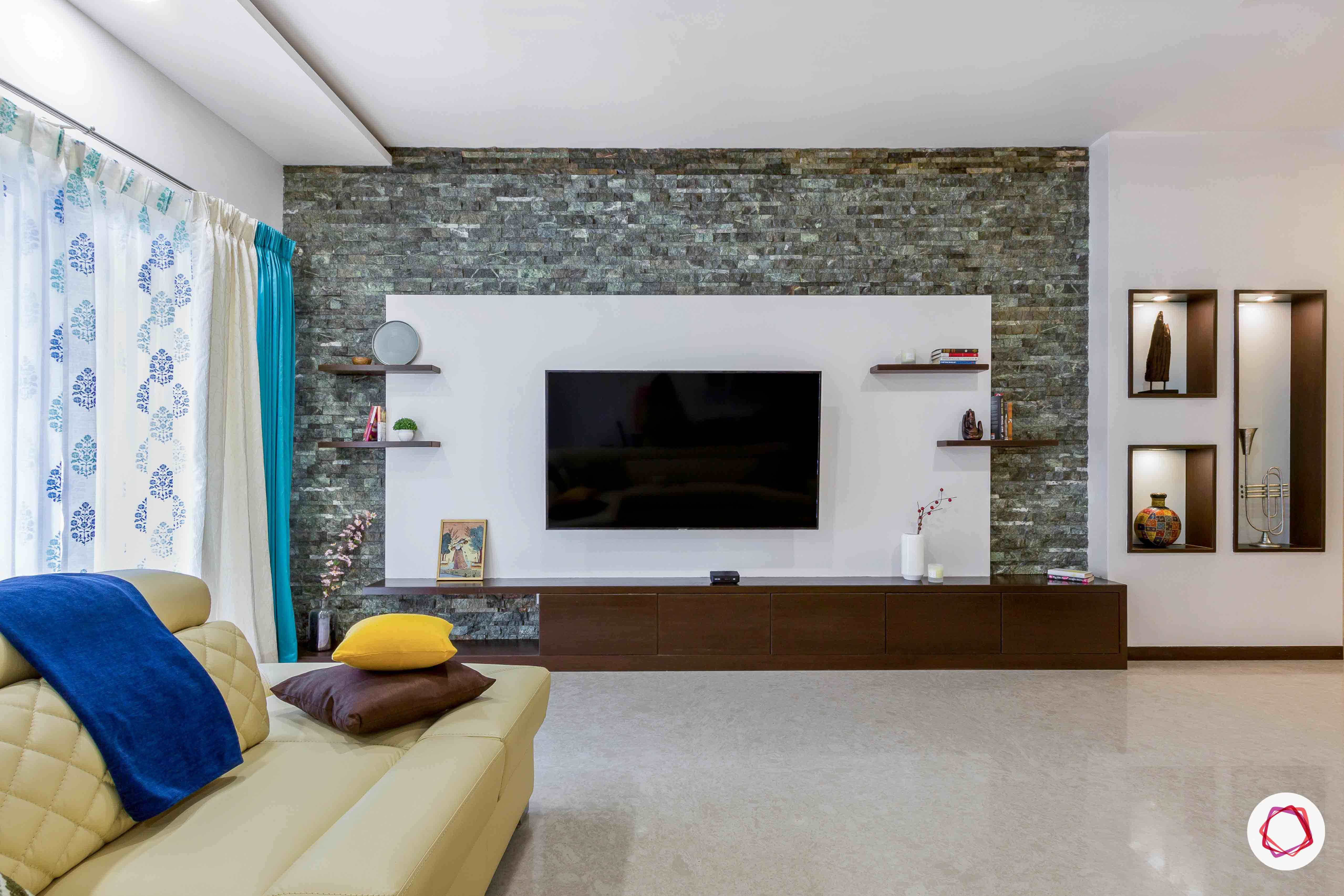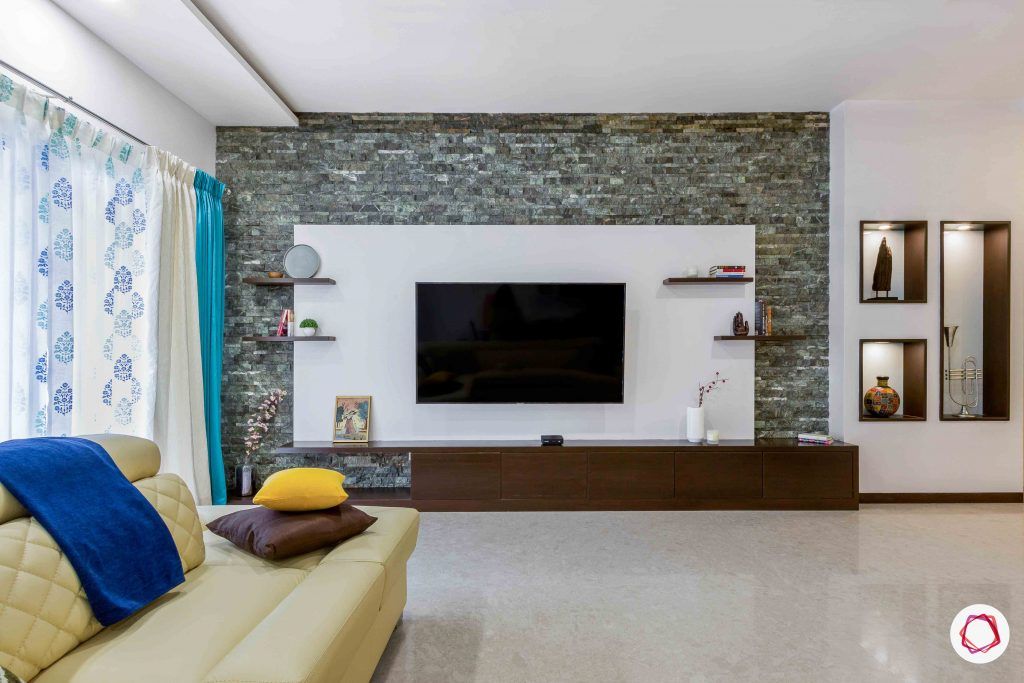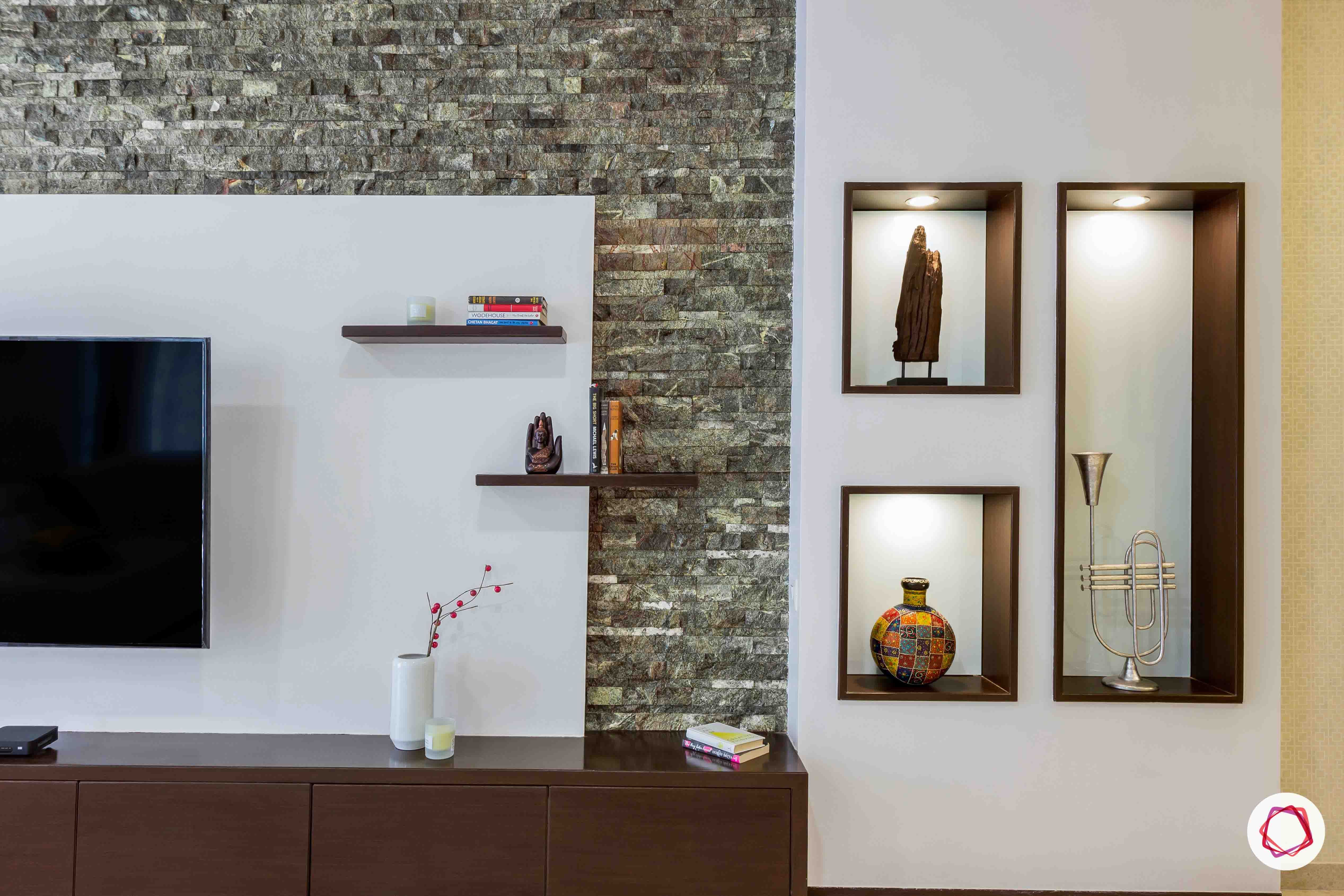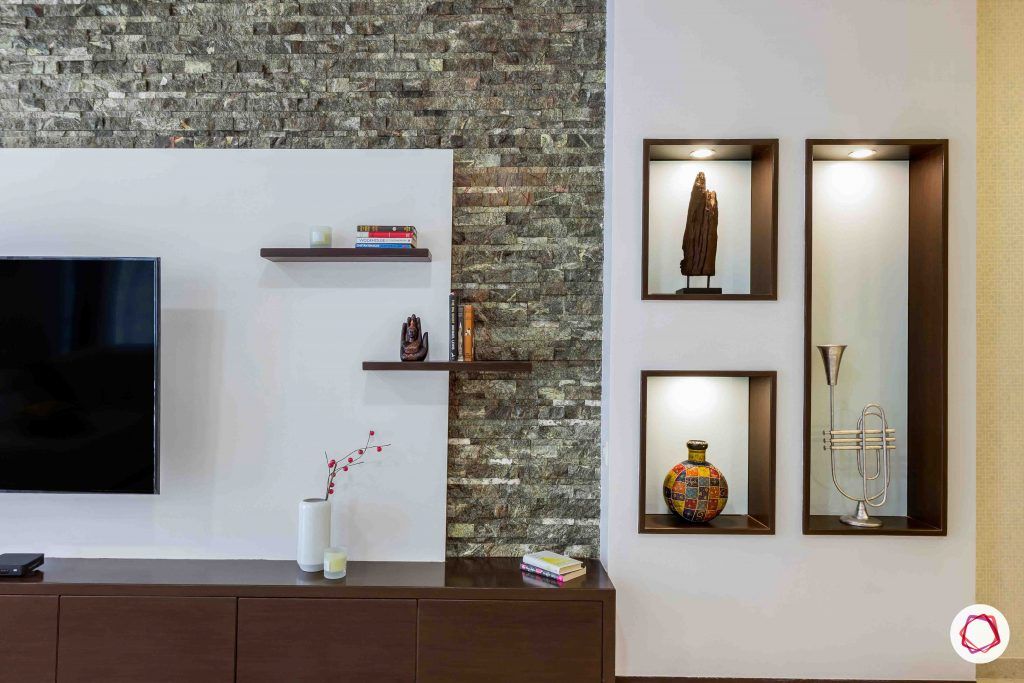 Aren't you already floored by this gorgeous living room already? We love how the designers have ensured an unhindered flow of sunlight, with sheer drapes in this space. The sleek L-shaped sofa is the ideal choice for people who want ample seating but do not want to clutter the room. Therefore, the family did not opt for accent chairs or other seating options for their living room. Just a simple cream, leatherette sofa leaves the room looking spacious and uncluttered..
The TV unit is an elaborate one with a 10 ft long cabinet that covers most of the wall. Akshay adds that to infuse this space with unique character, he gave the wall stone cladding as the frame and duco paint on the panel behind the television. Notice how display takes centerstage here, with wall niches and ledges around the TV unit.
---
Sobha Forest View: Dark wooden dining room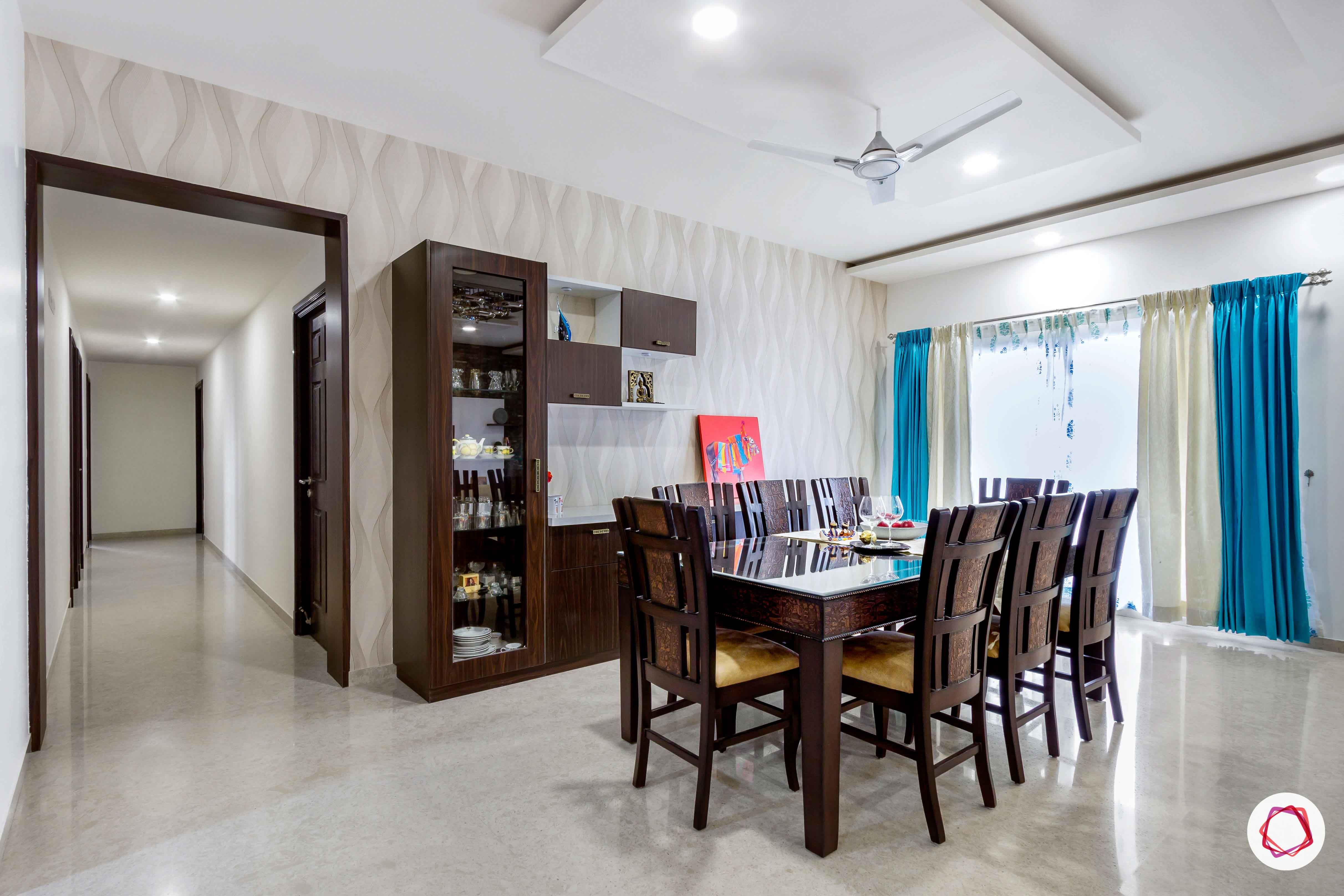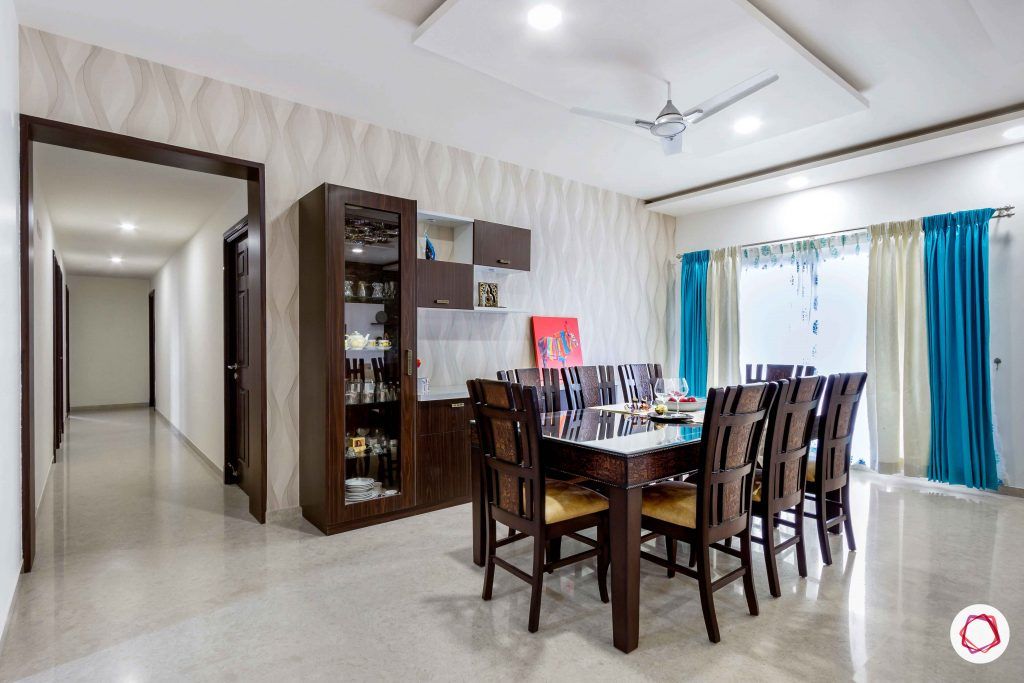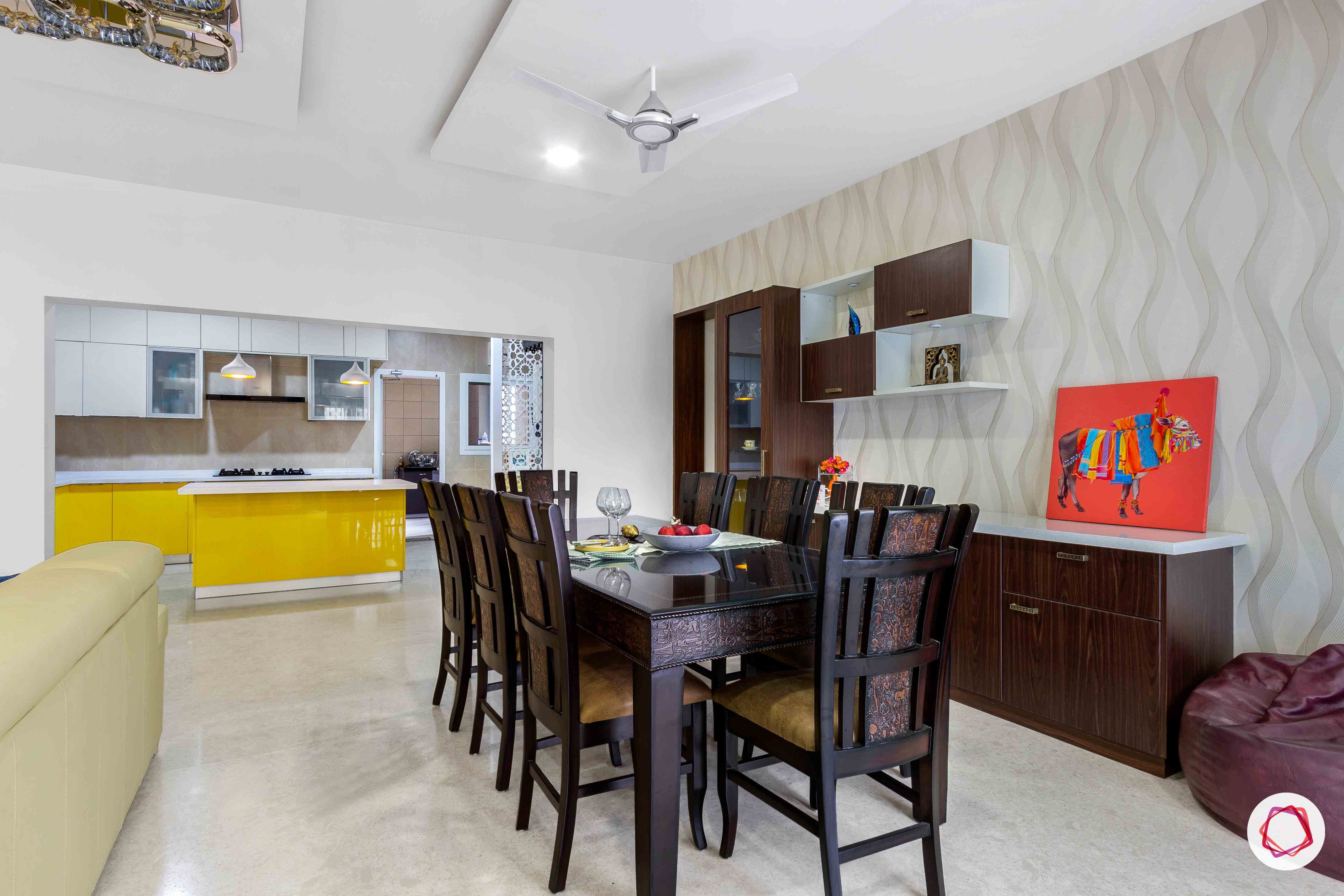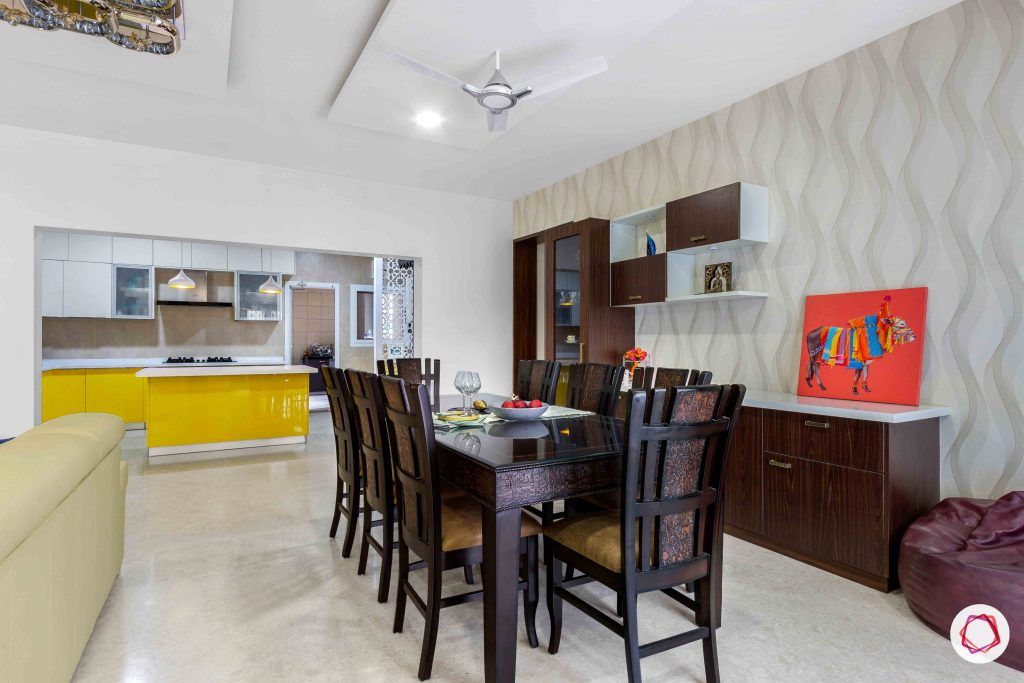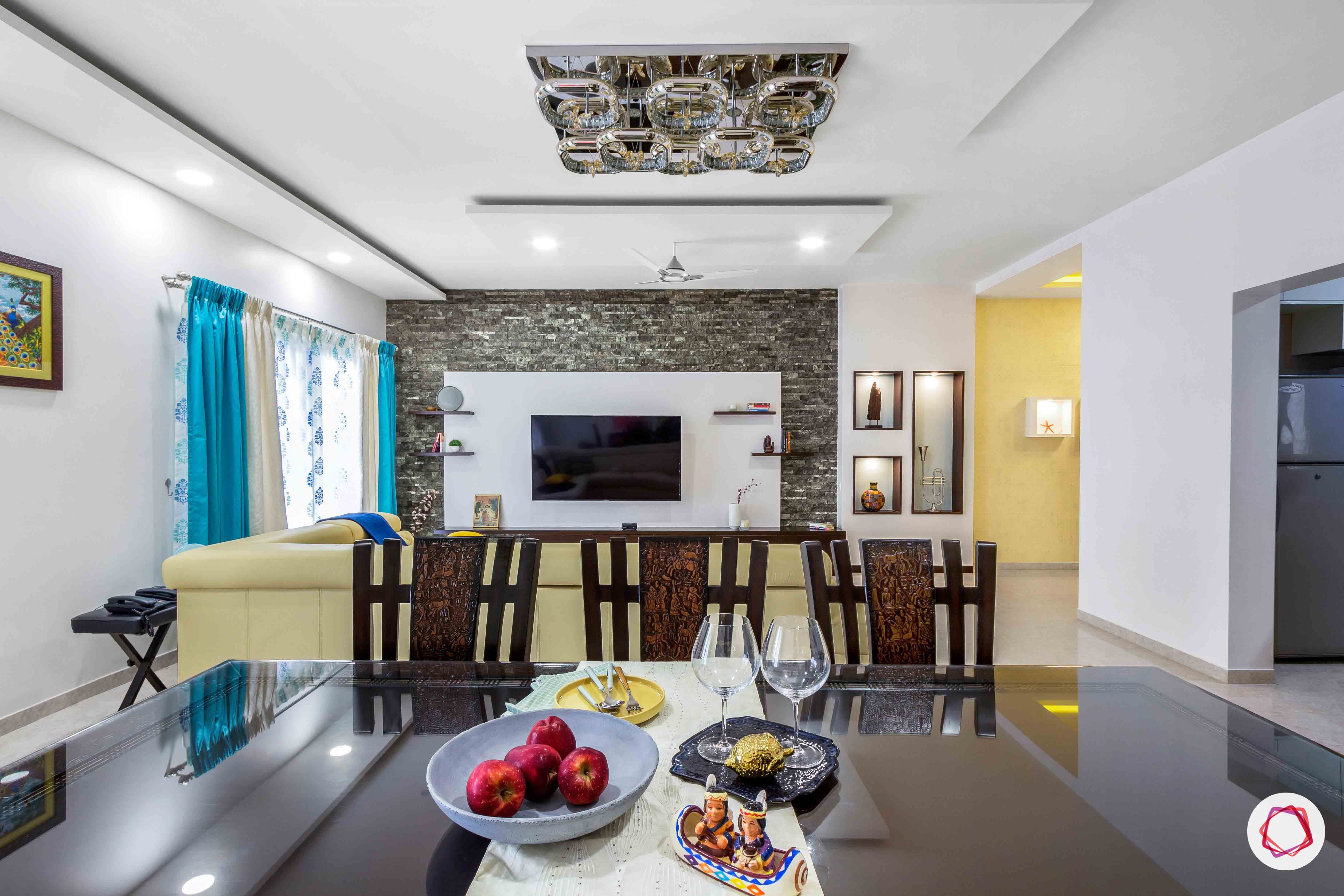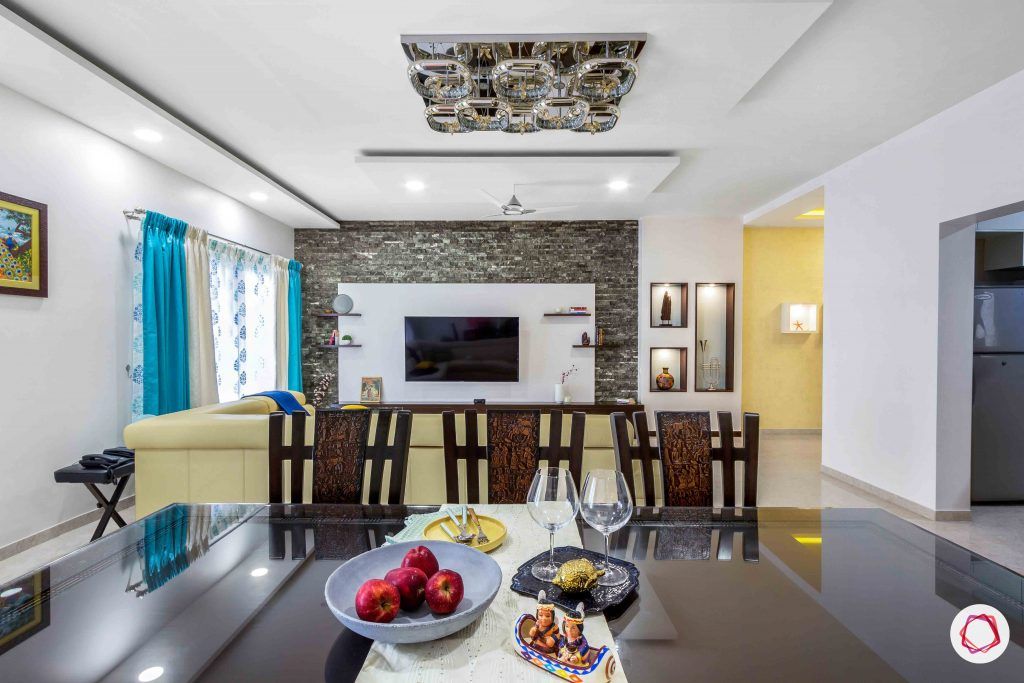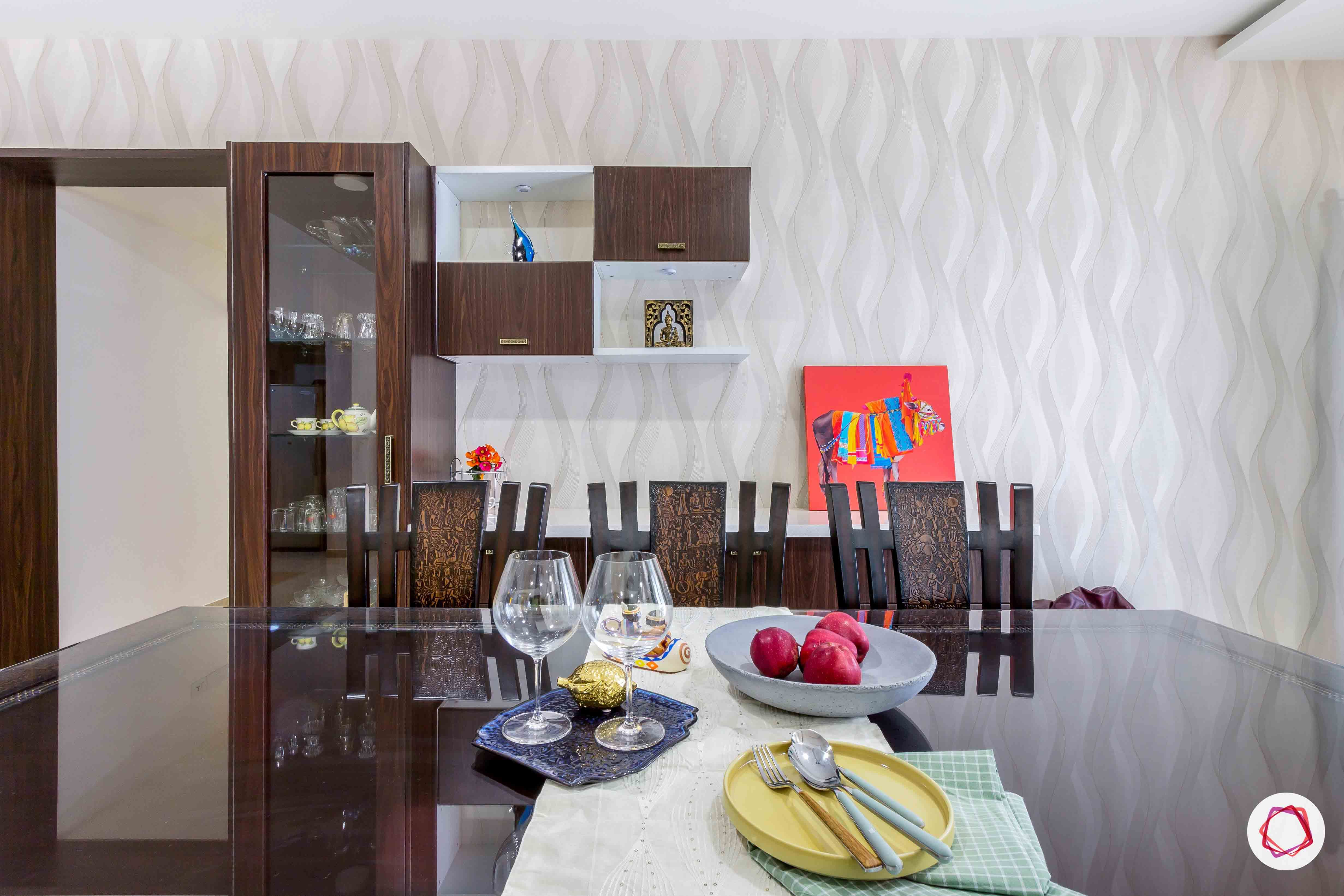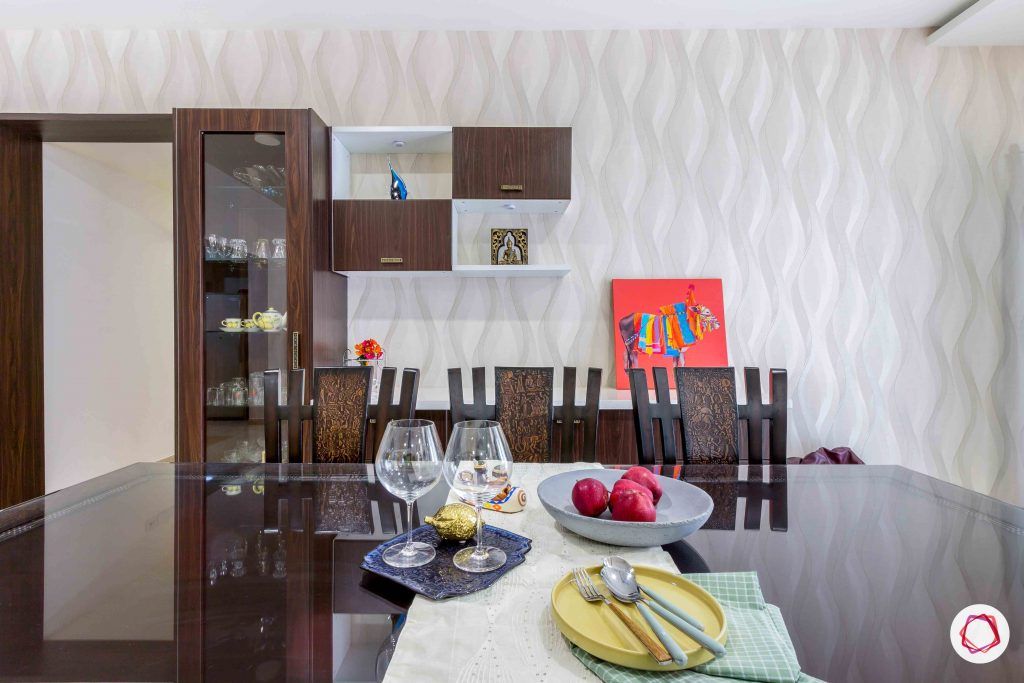 The dining room is a practical space with an 8-seater, glass top wooden dining table and matching chairs. The crockery unit is designed intelligently, with a stone countertop and overhead cabinets, paired with open shelves. A tall unit with glass shutter takes care of storage-cum-display of exclusive cookware. This crockery unit also serves as a buffet counter when needed. The wallpaper with a groovy geometric pattern completes the look.
---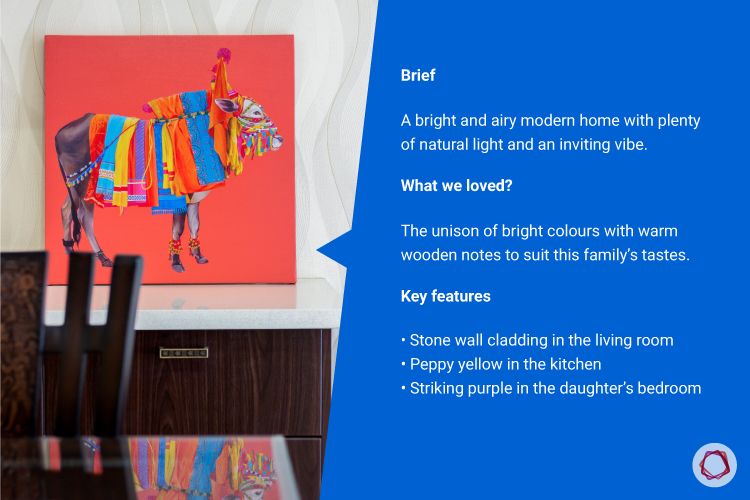 Sobha Forest View: Bright yellow kitchen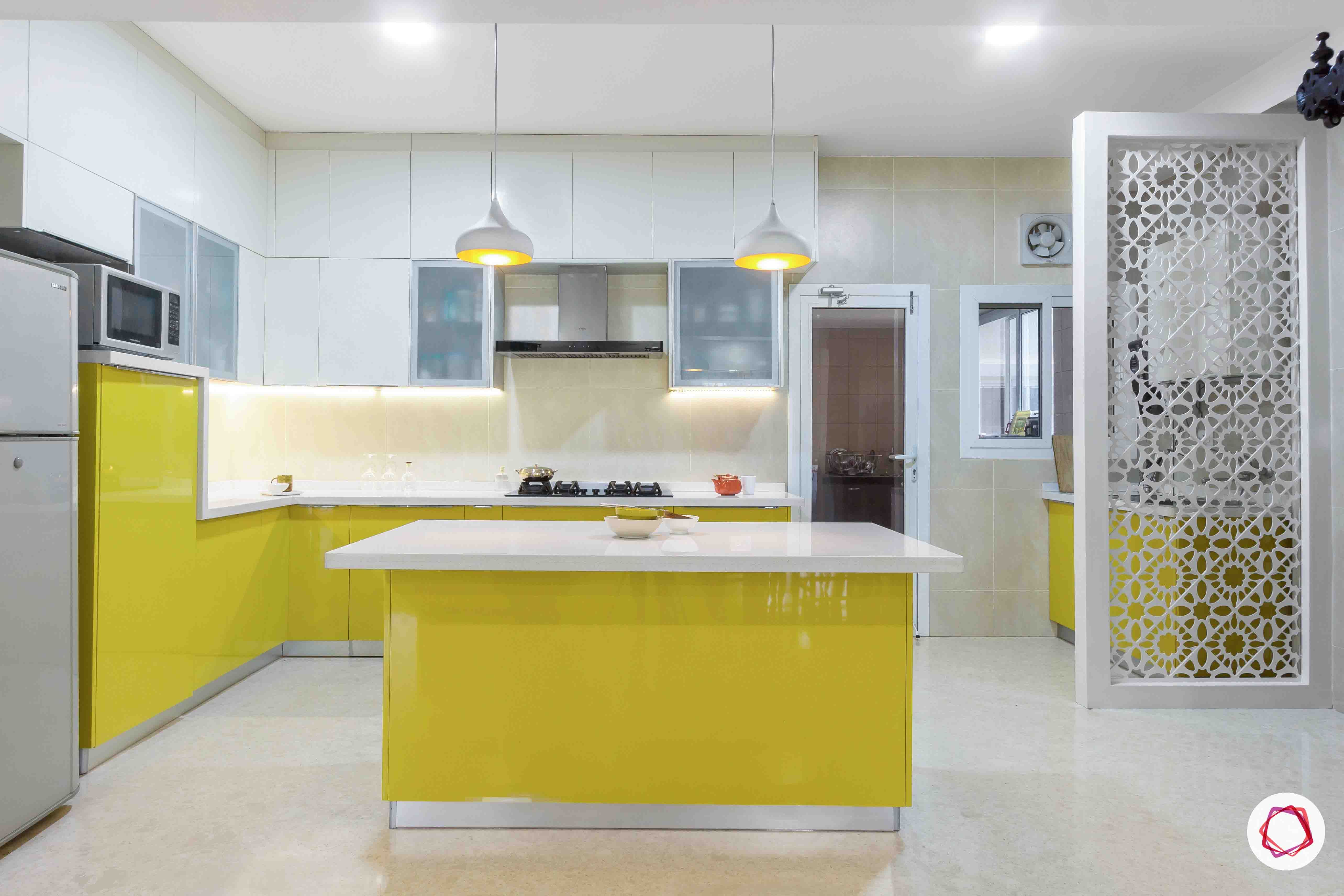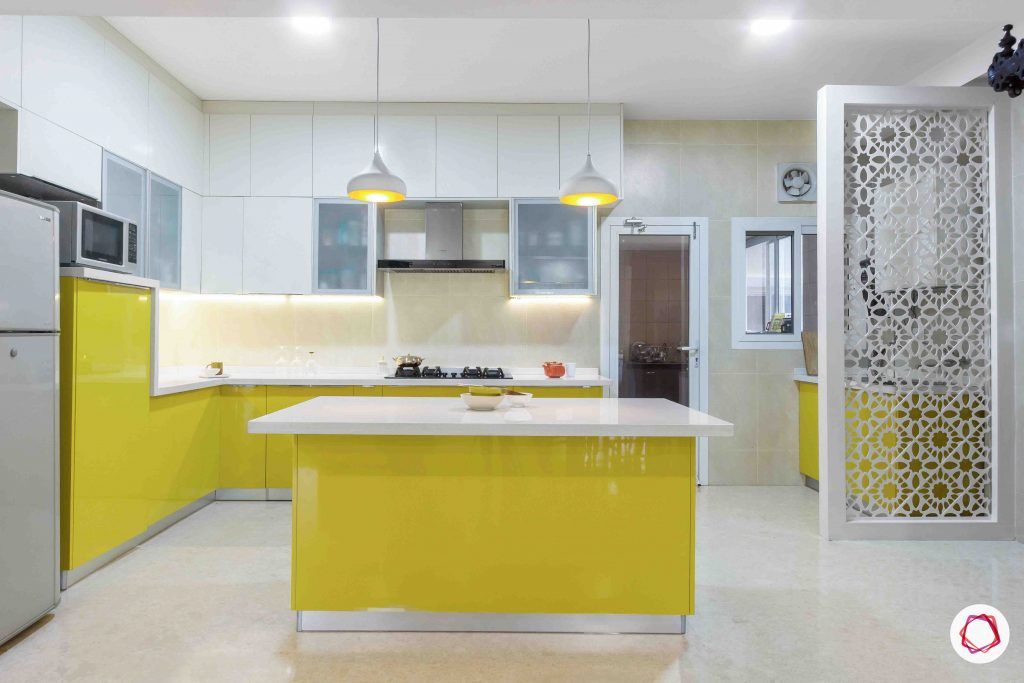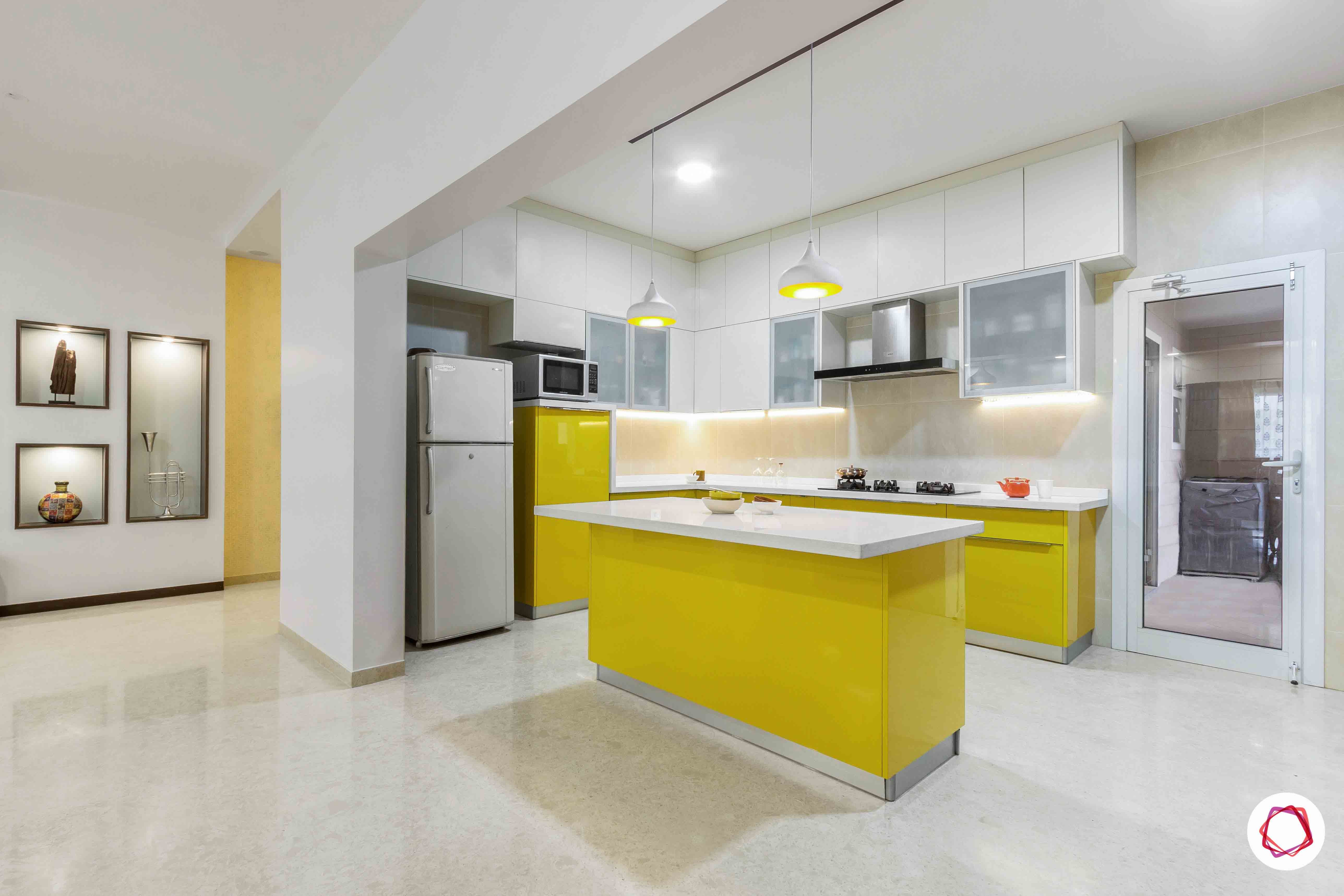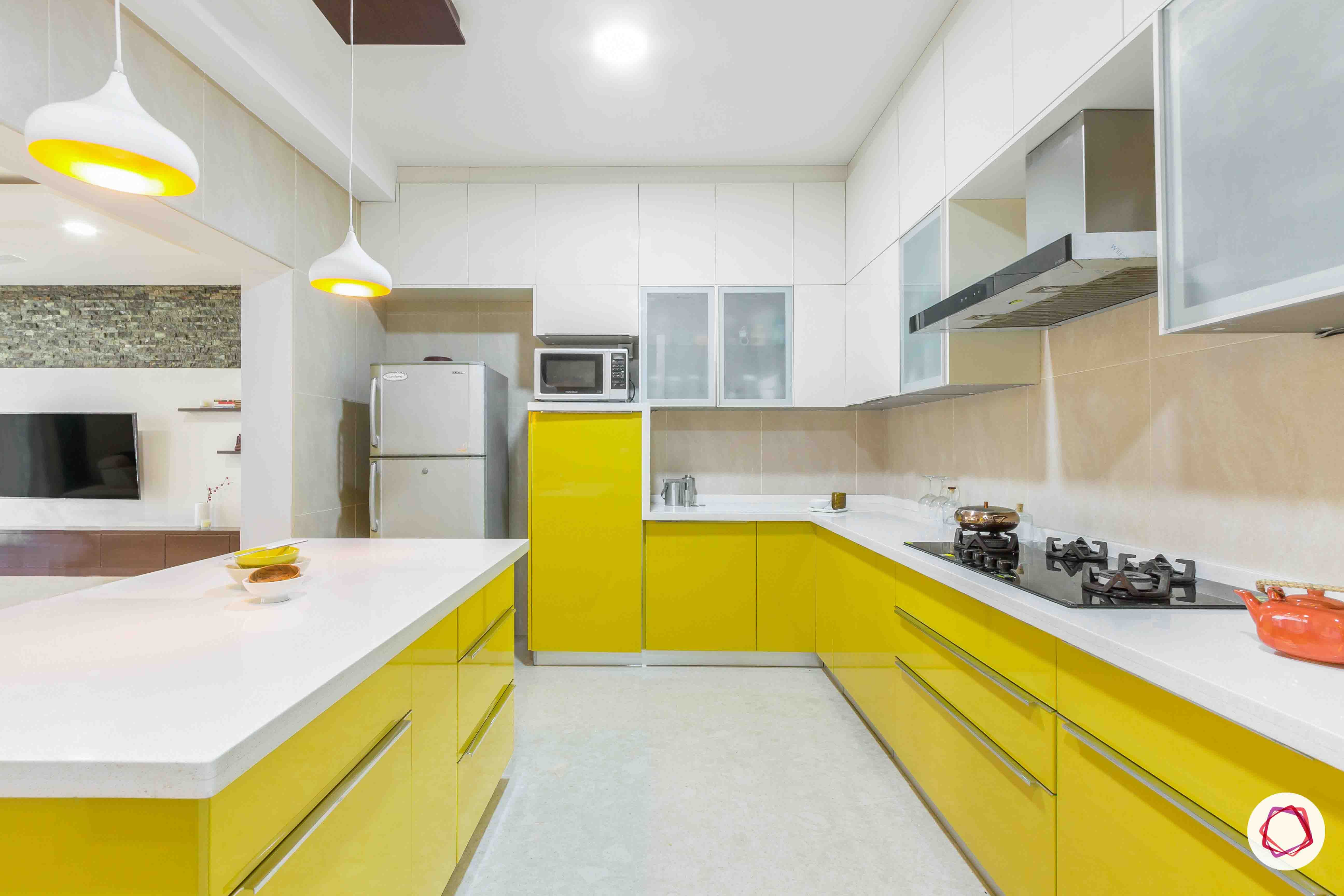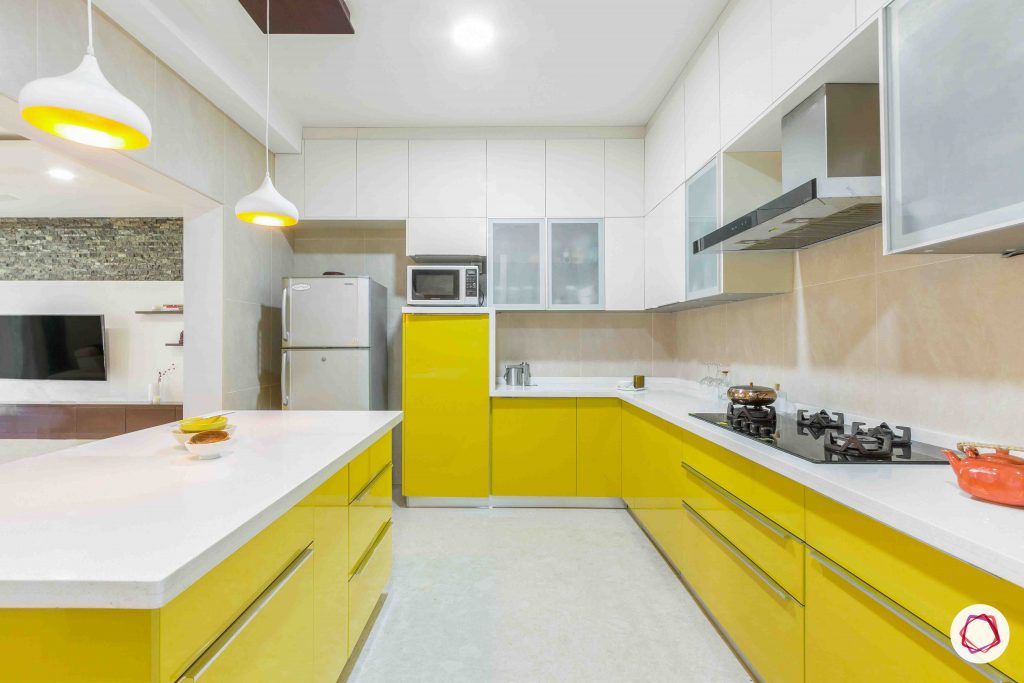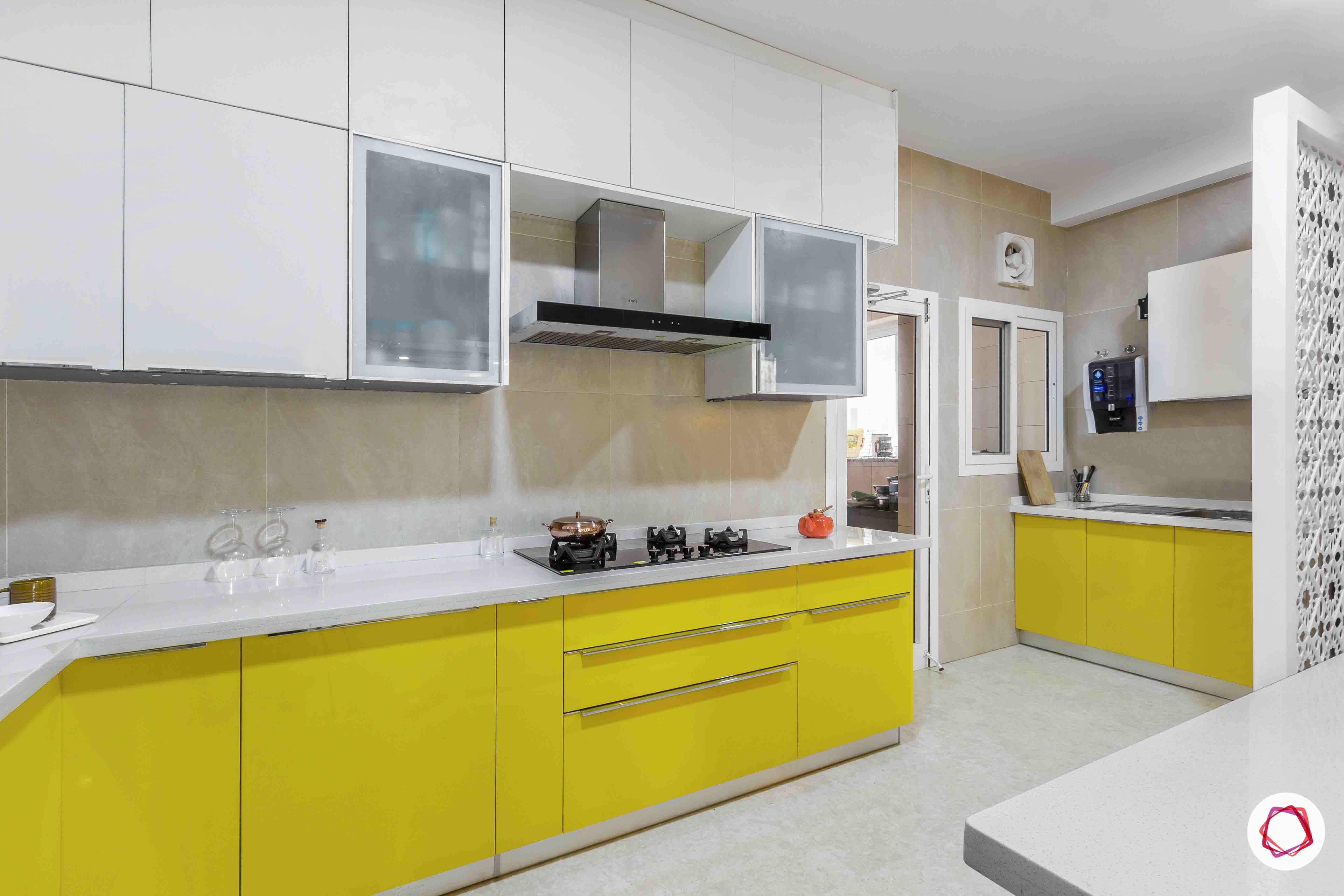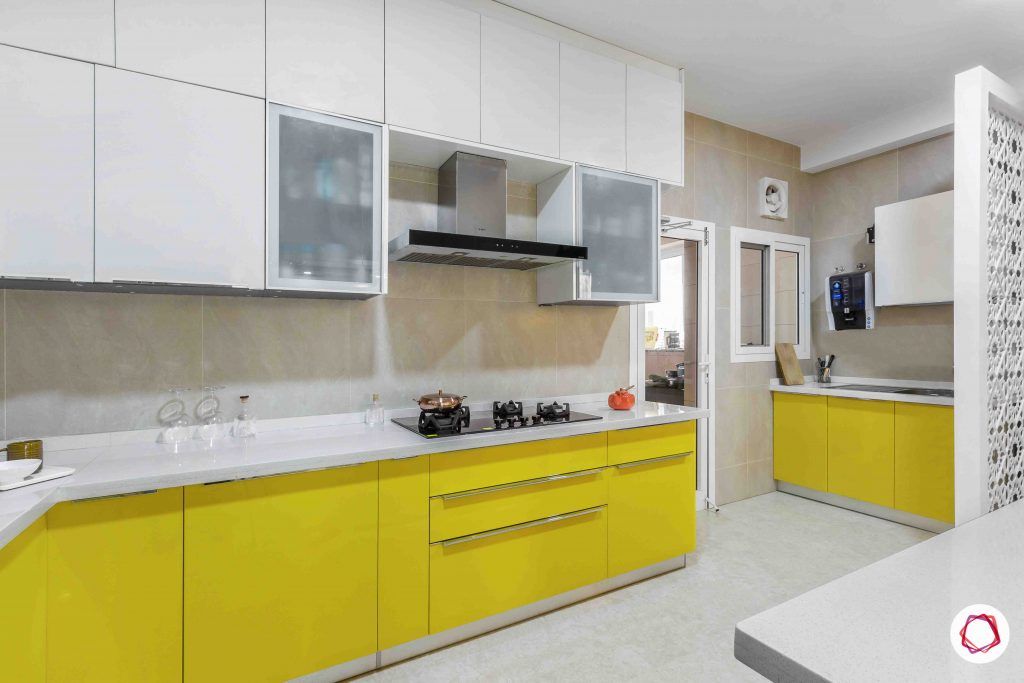 This bright yellow kitchen is Aanchal's favourite spot at home. She was very particular about having a yellow kitchen since she simply loves the colour. She has always dreamt of having an island kitchen and Rishab and Akshay were happy to oblige. A white kalinga stone is used for the countertop that complements this chirpy colour perfectly. With base units finished in PU and wall units in laminate, this kitchen is filled with storage.
---
Sobha Forest View: Intricately carved pooja unit
Taking care of vastu is a major requirement for a lot of our clients and Rohit and Aanchal want to do so for placing their pooja unit. Since their priest insisted on having the pooja unit inside the kitchen, Rishab and Akshay gave her an intricately carved piece, complete with cabinets right there.
---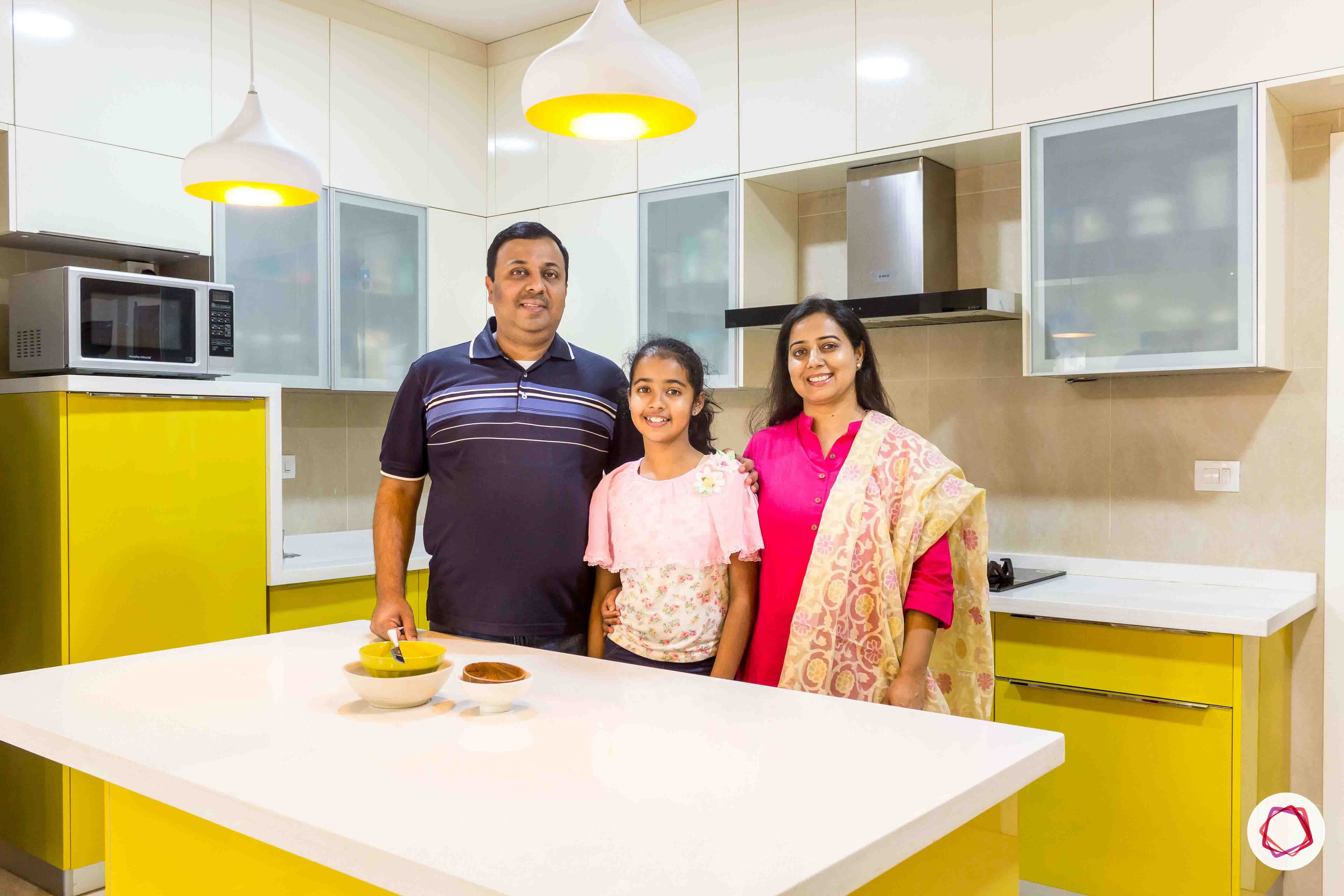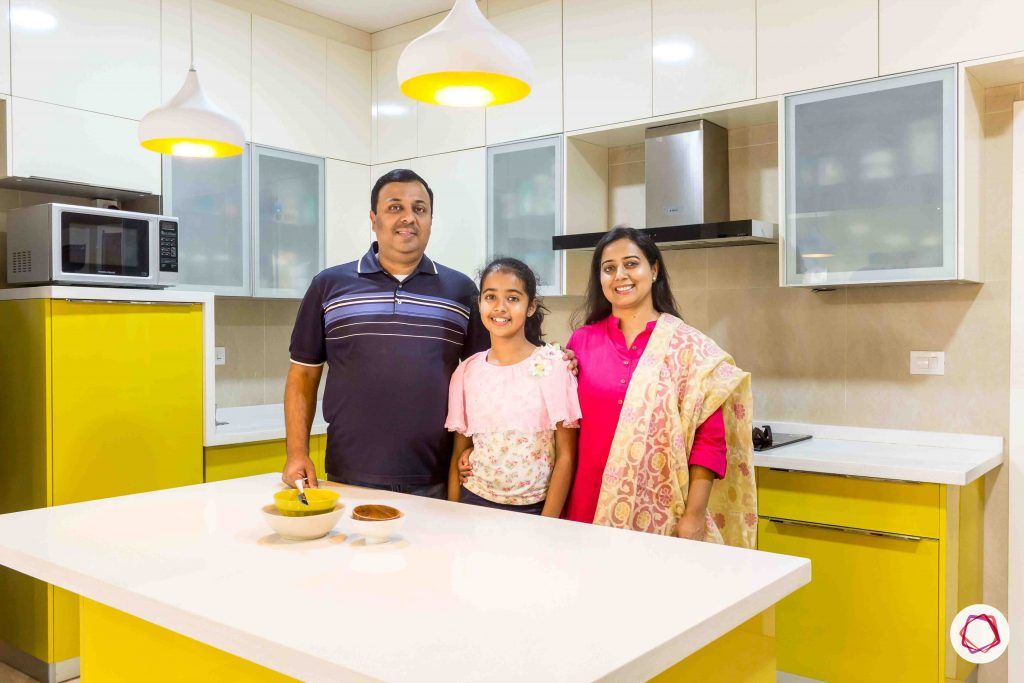 "We gave our ideas to designers Rishab and Akshay and told them what we had in mind. The way our thoughts gelled with the designs that they gave left us satisfied. Overall, it has been a very pleasant experience with Livspace and there's no doubt that we would recommend it to our friends and family."

-Rohit & Aanchal Srinivasan, Livspace Homeowners
---
Sobha Forest View: Rust orange dreams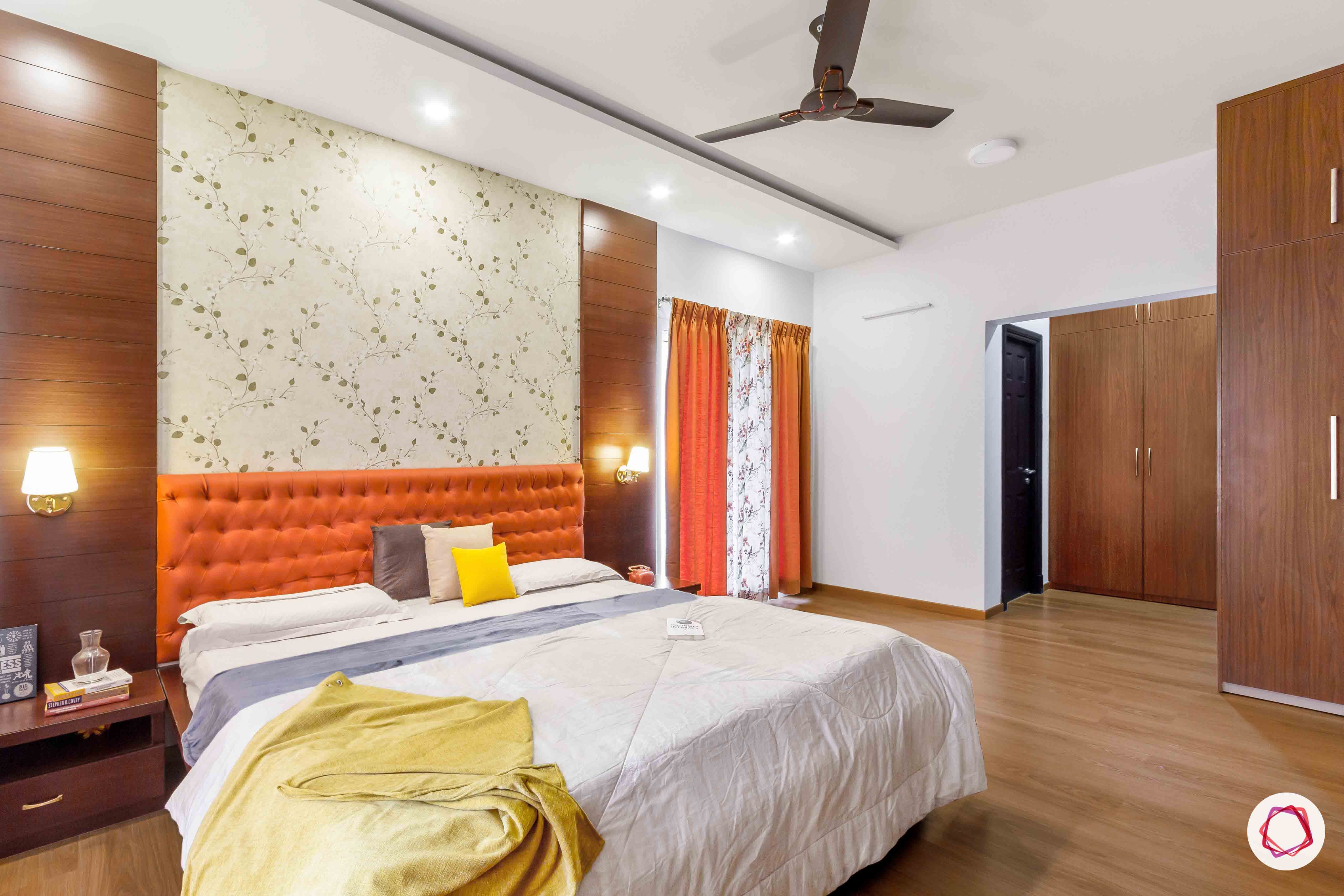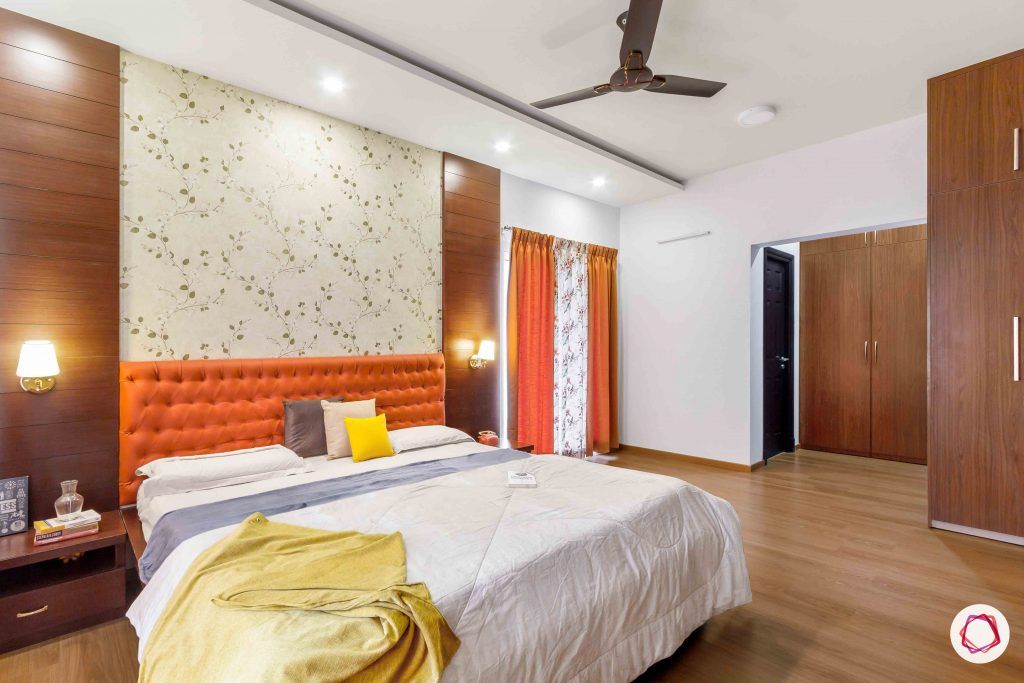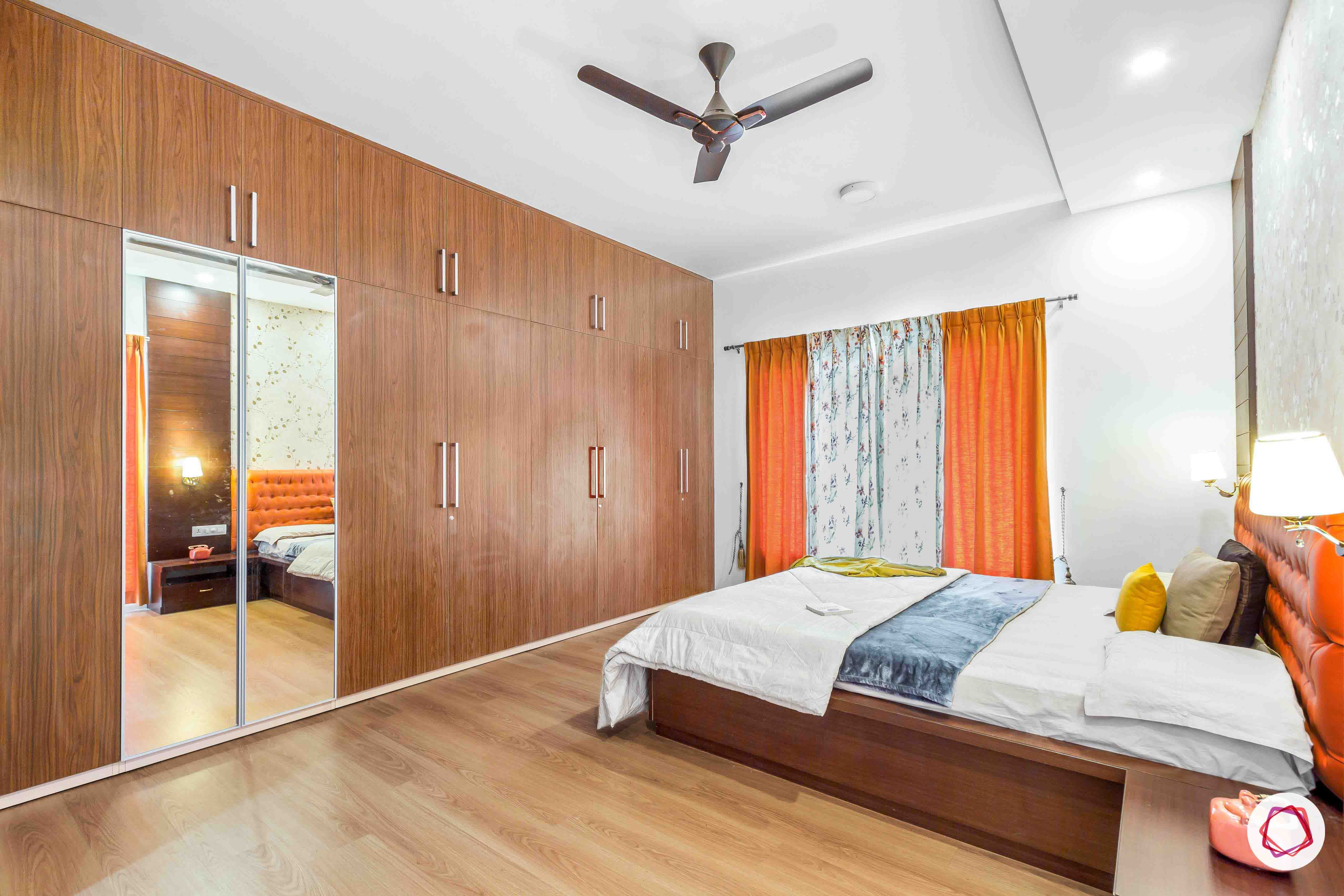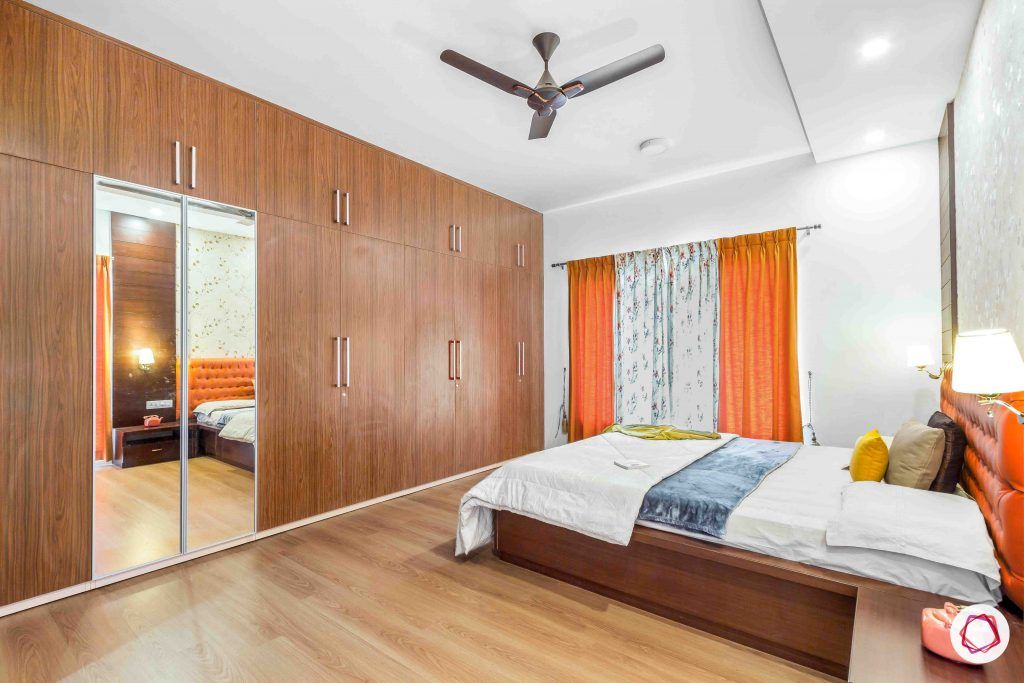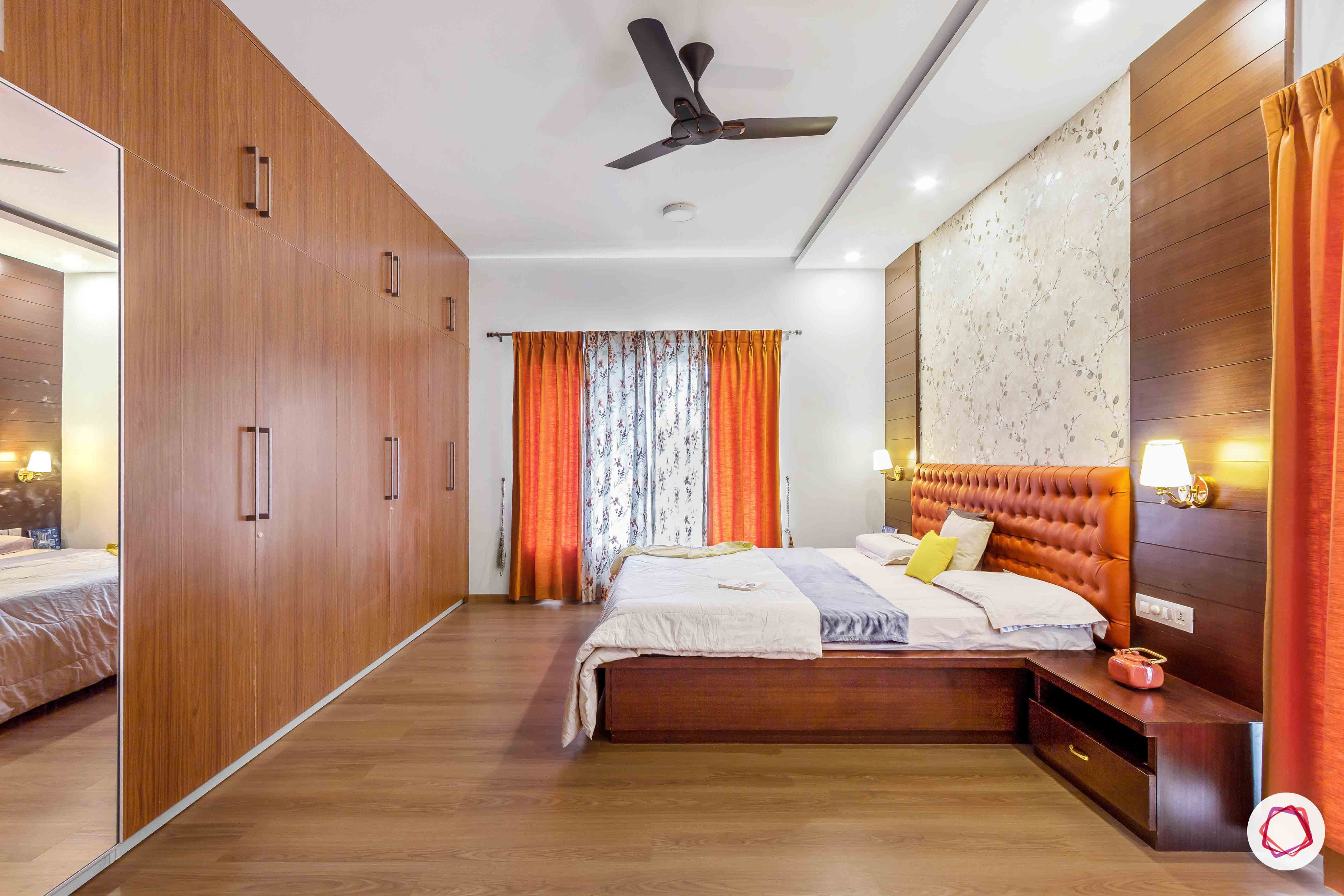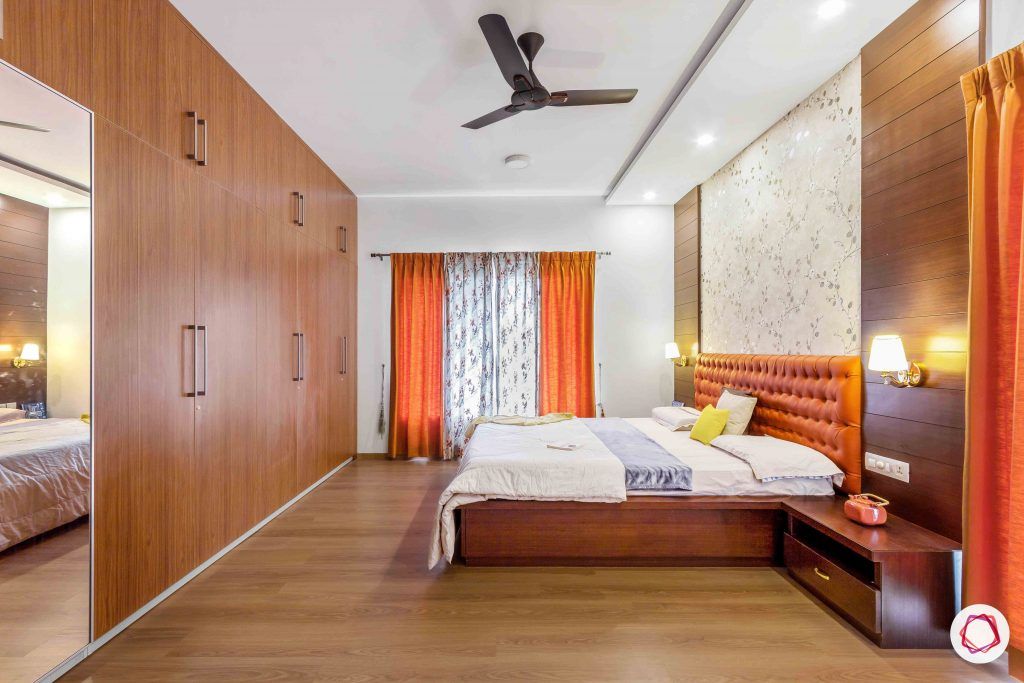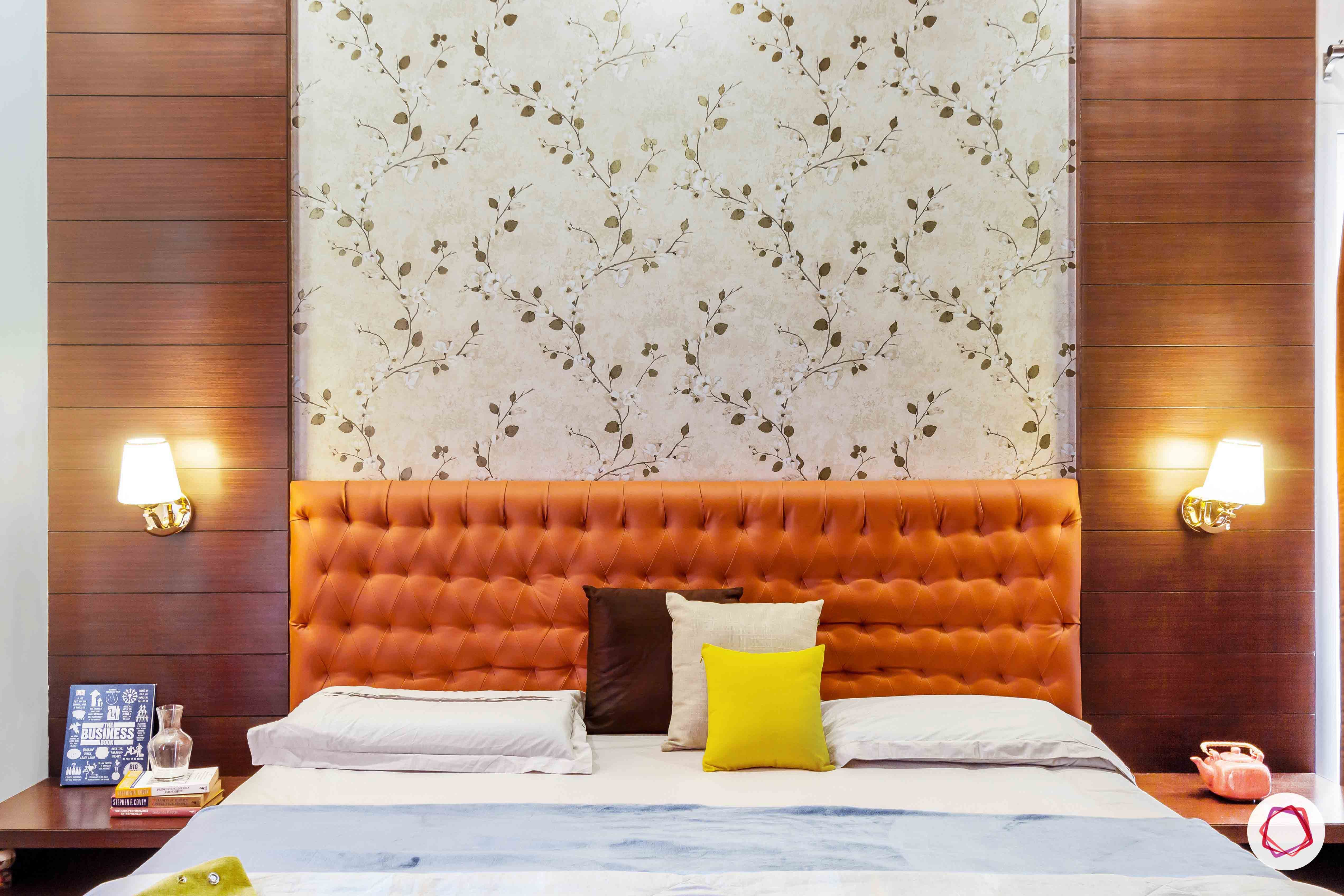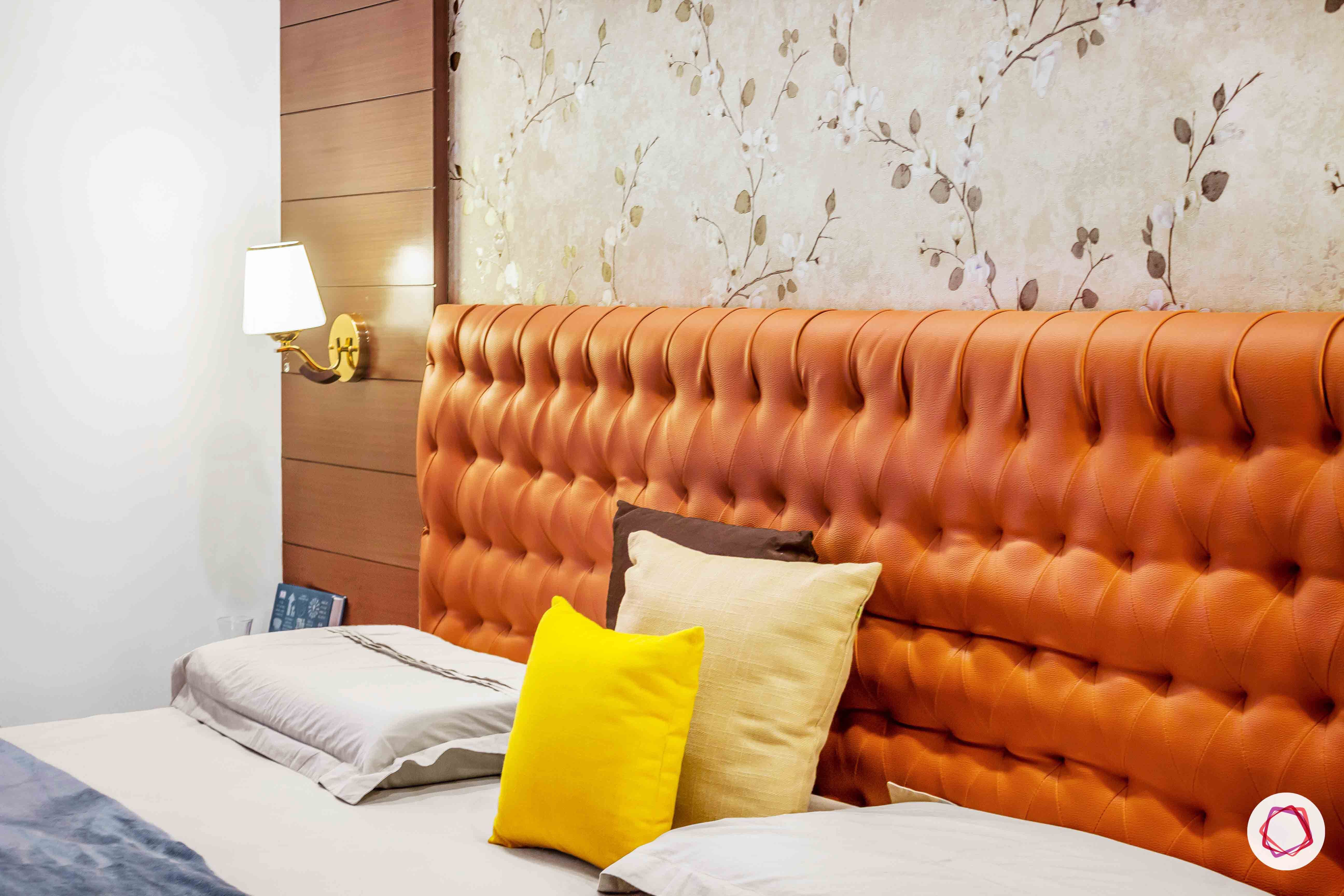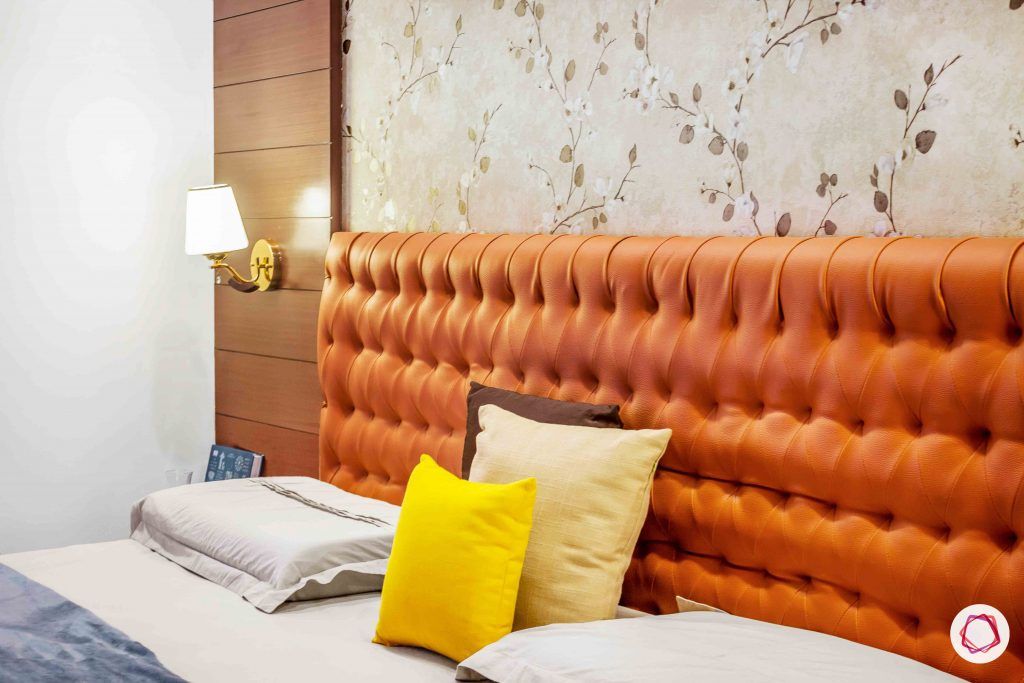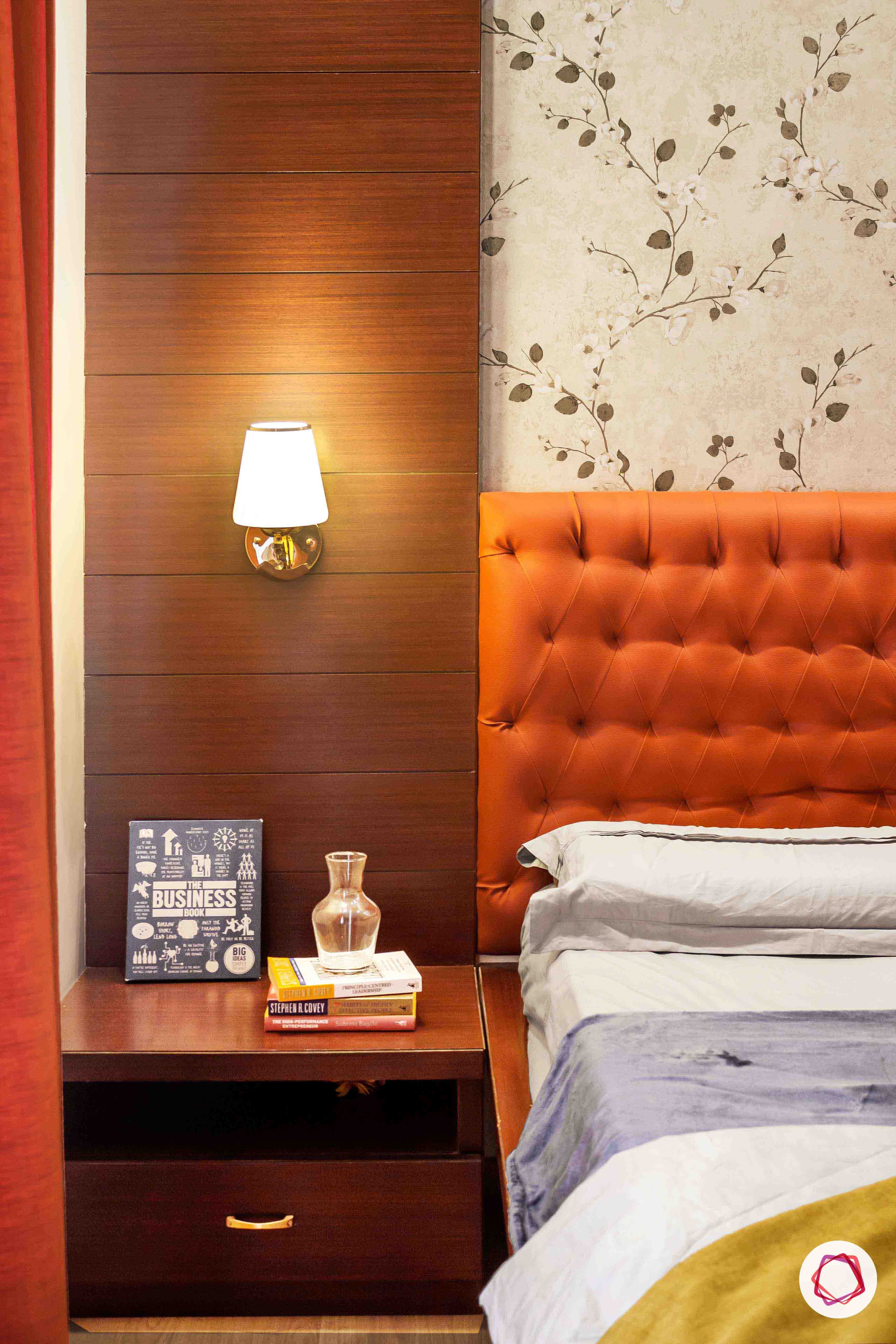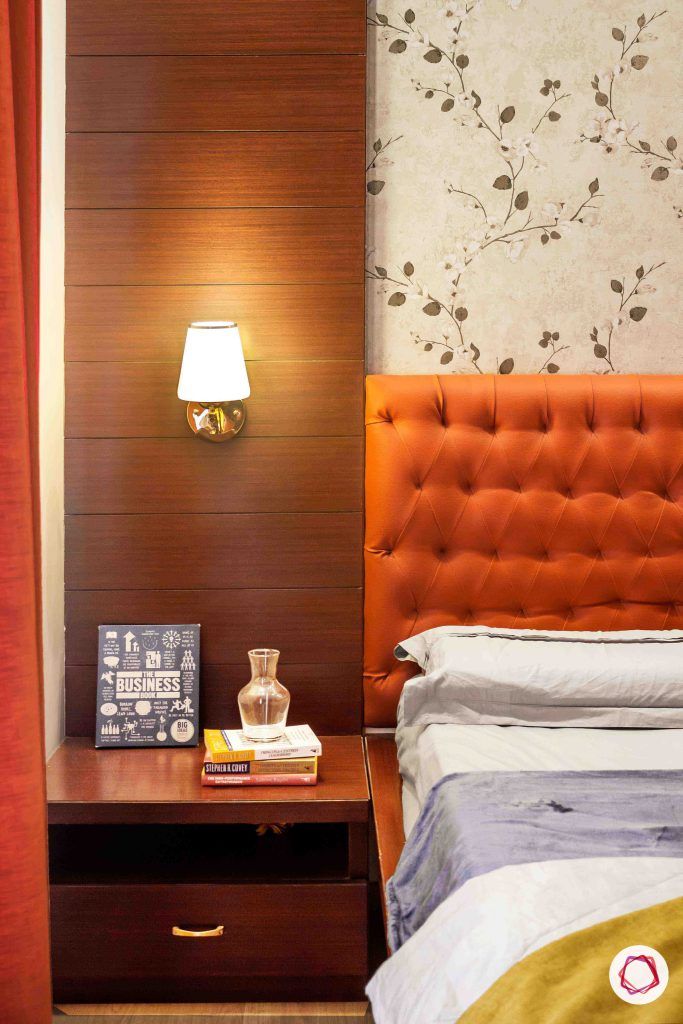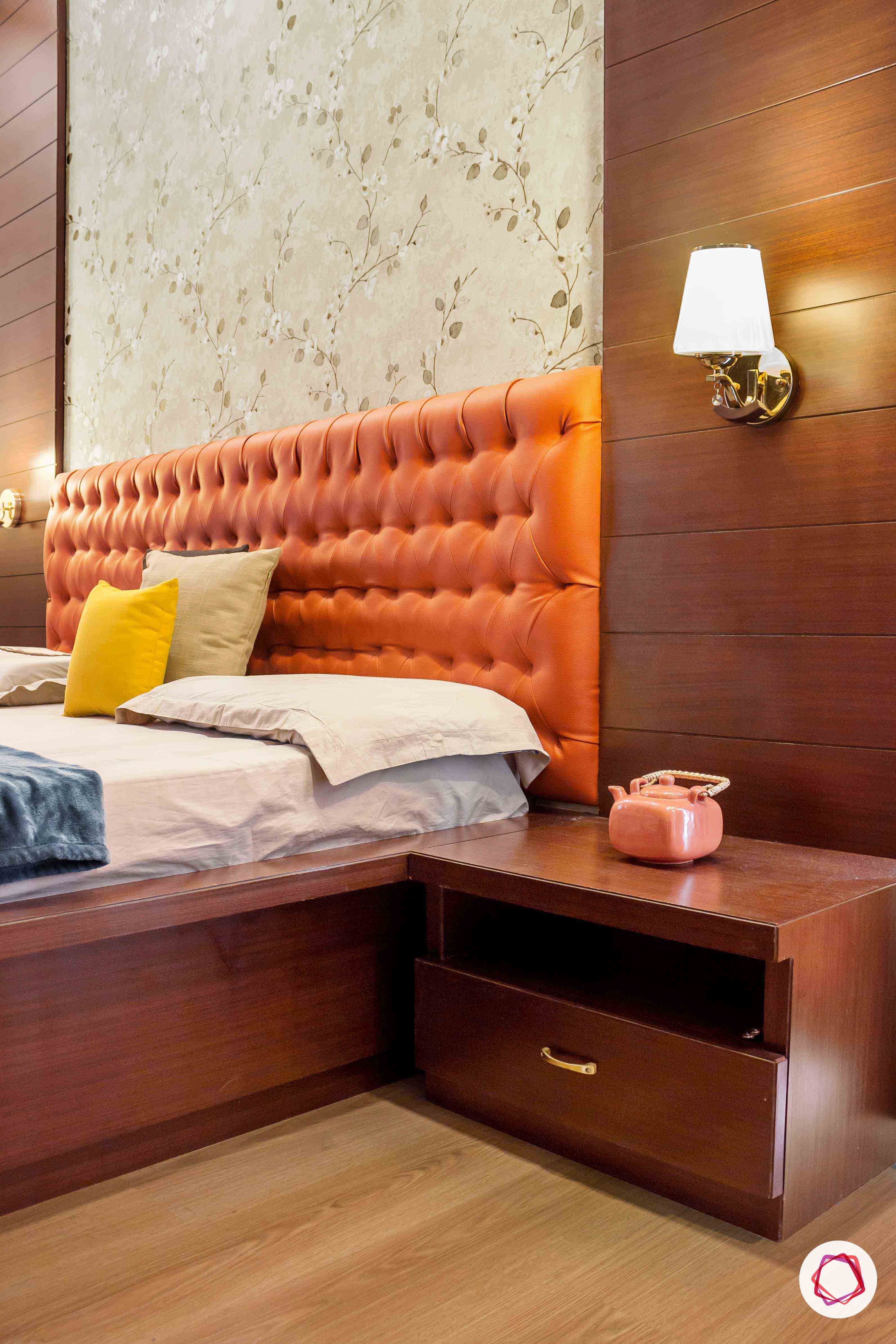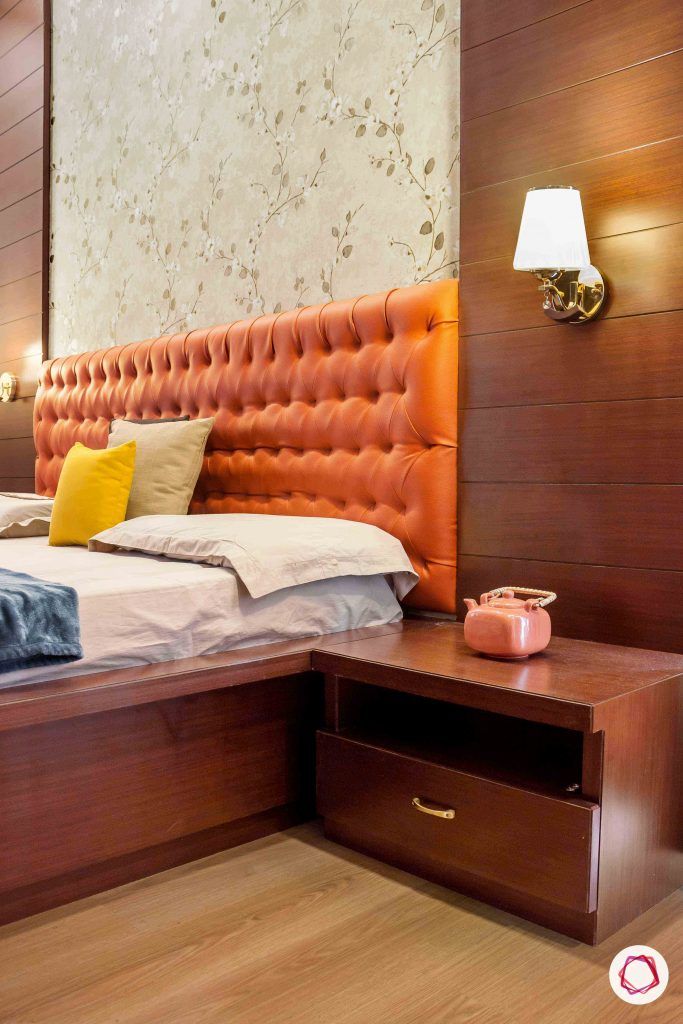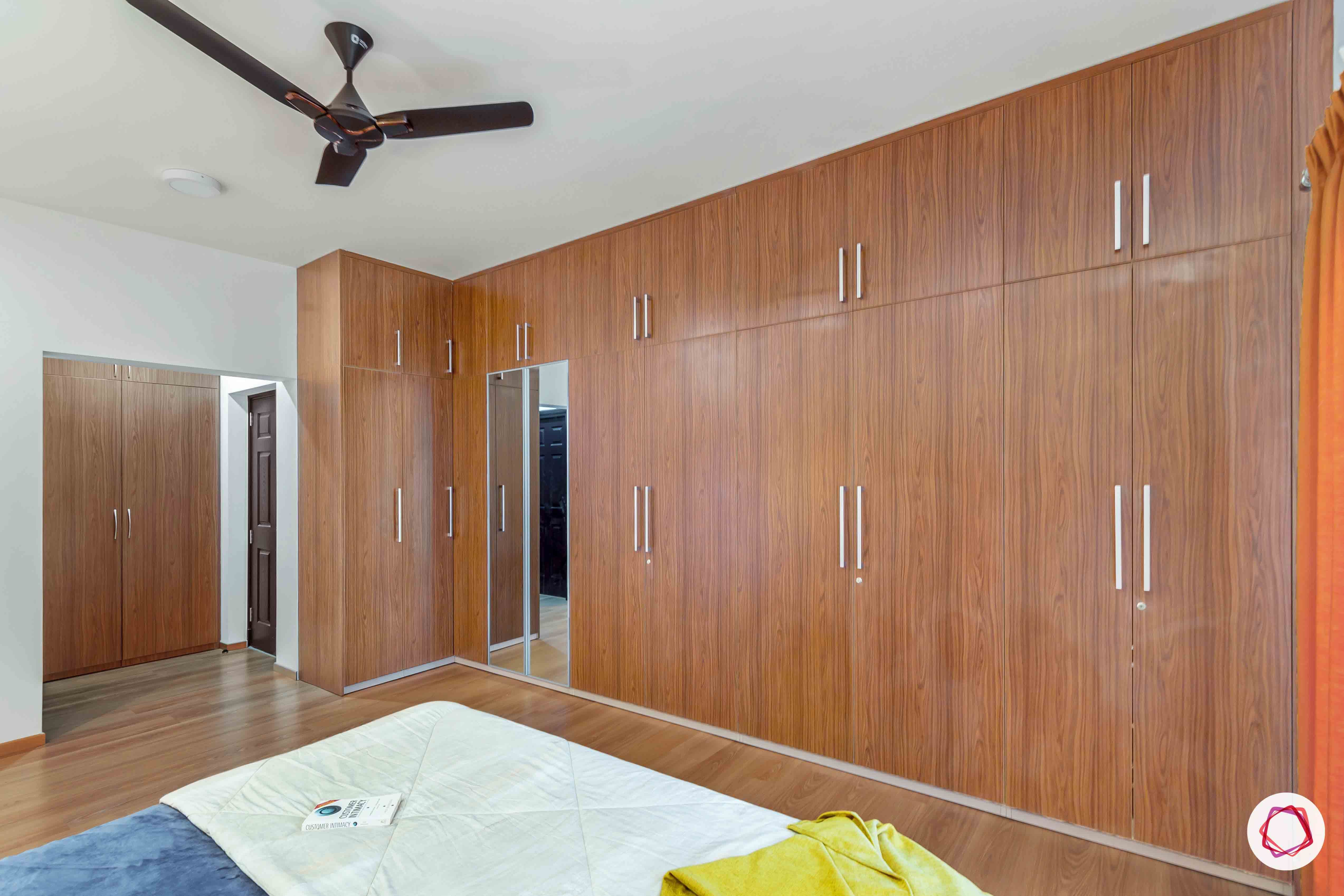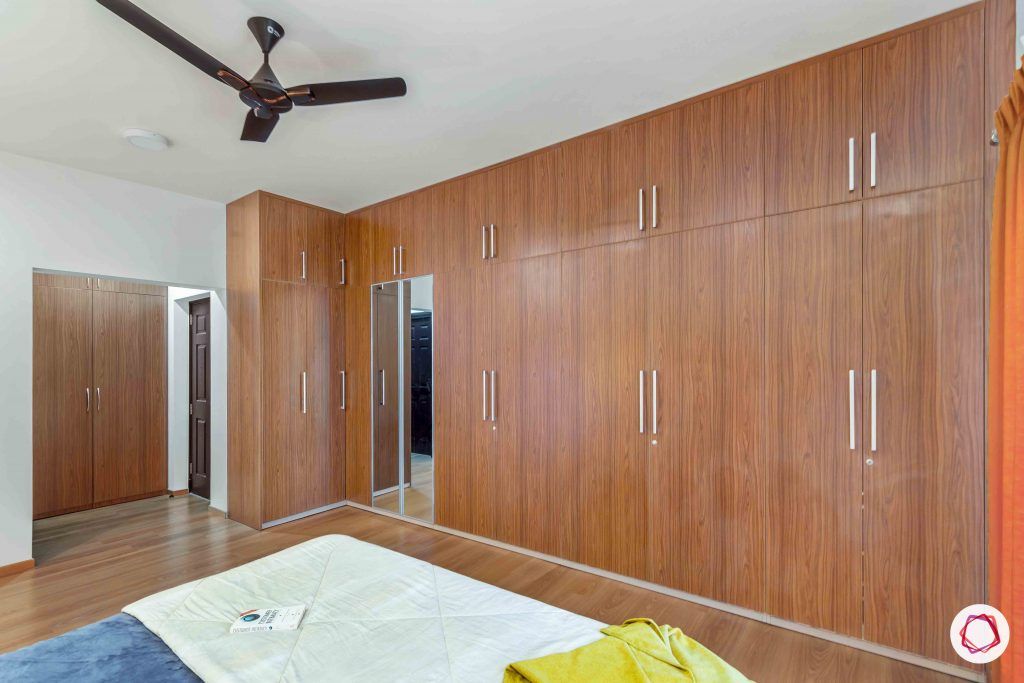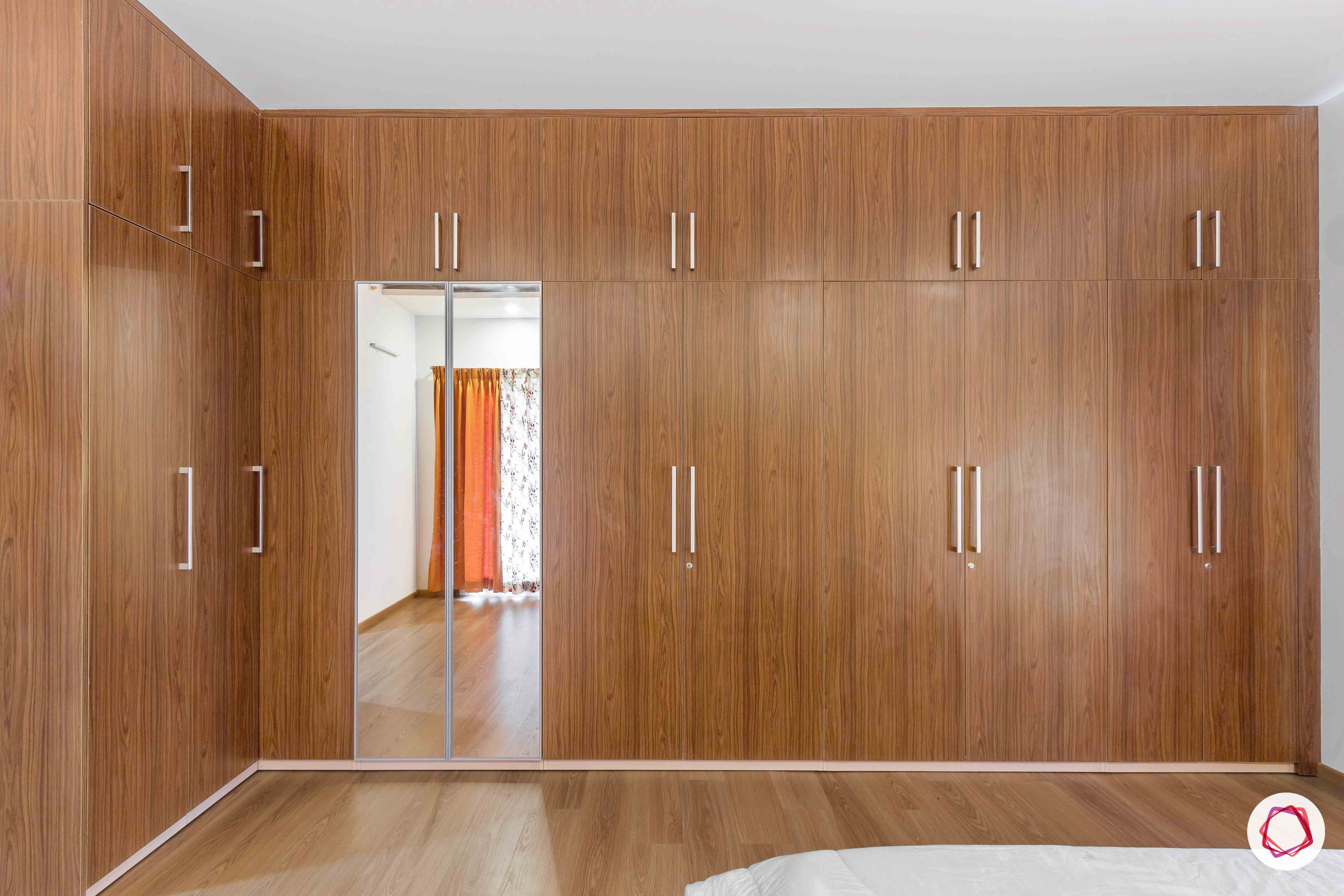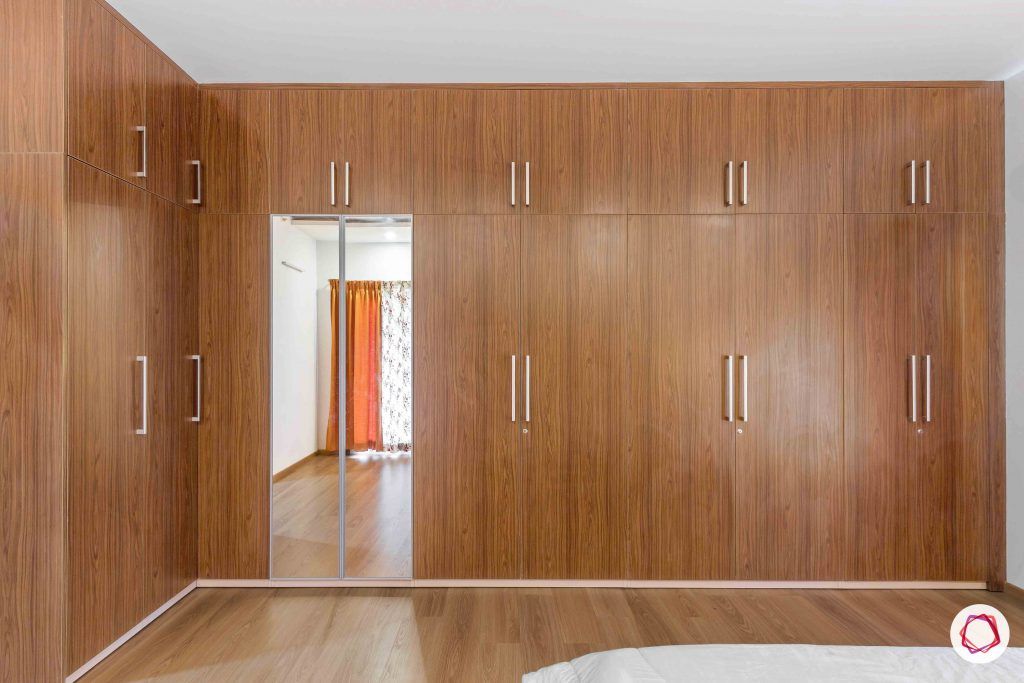 In the master bedroom, you will see glimpses of wood and colours used liberally in this room. It has a lovely combination of wood and rust orange that falls together impeccably. There's pretty pattern-play behind the bed and on the curtains that makes this room lively. The headboard is a bright rust, button-tufted one that stands out in the entire room. Veneer cladding with grooves, on either side of the bed extends to the side tables.
Do not miss the huge L-shaped wardrobe with swing doors and sleek handles that are enough to store all their possessions!
---
Sobha Forest View: Trendy purple room for the daughter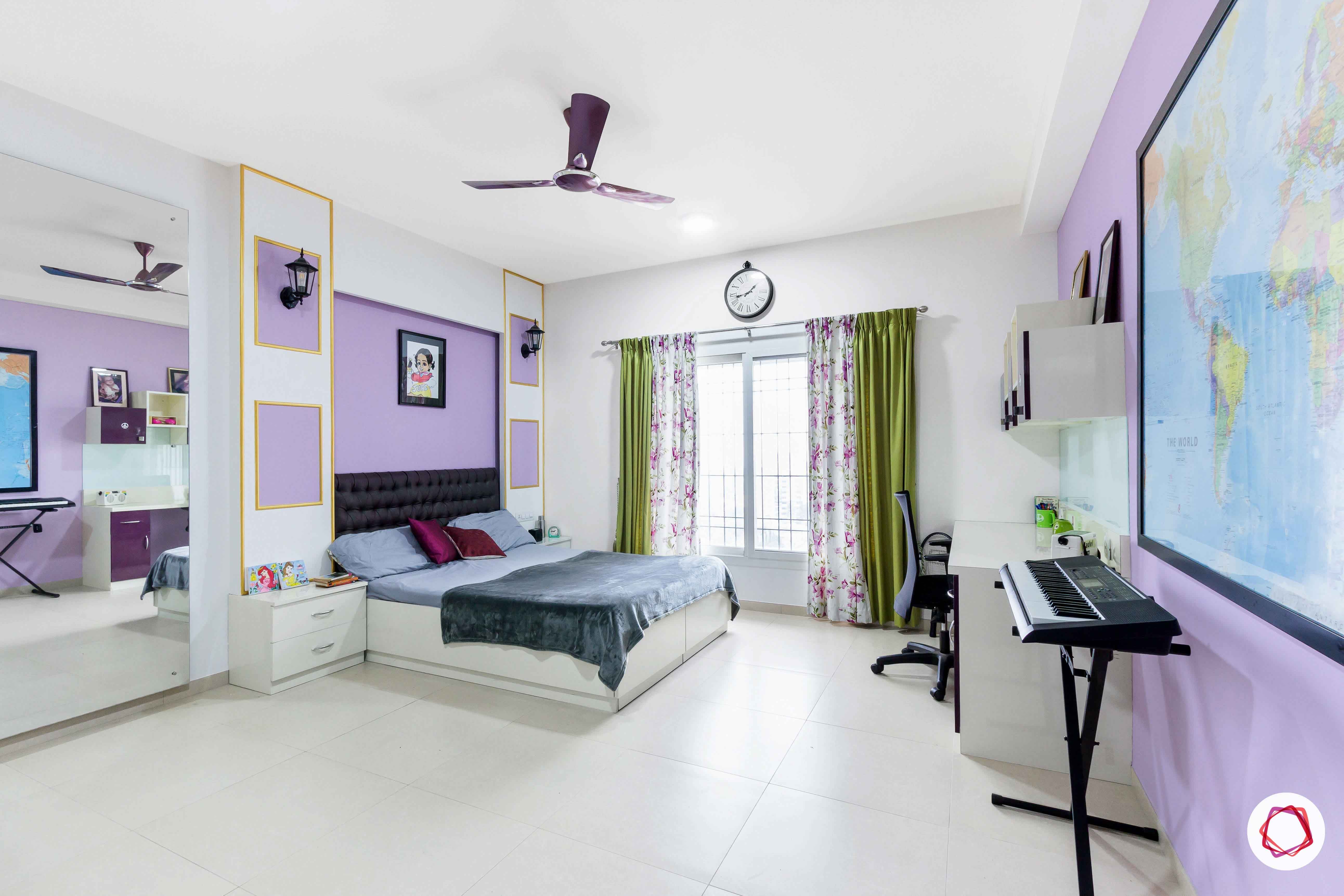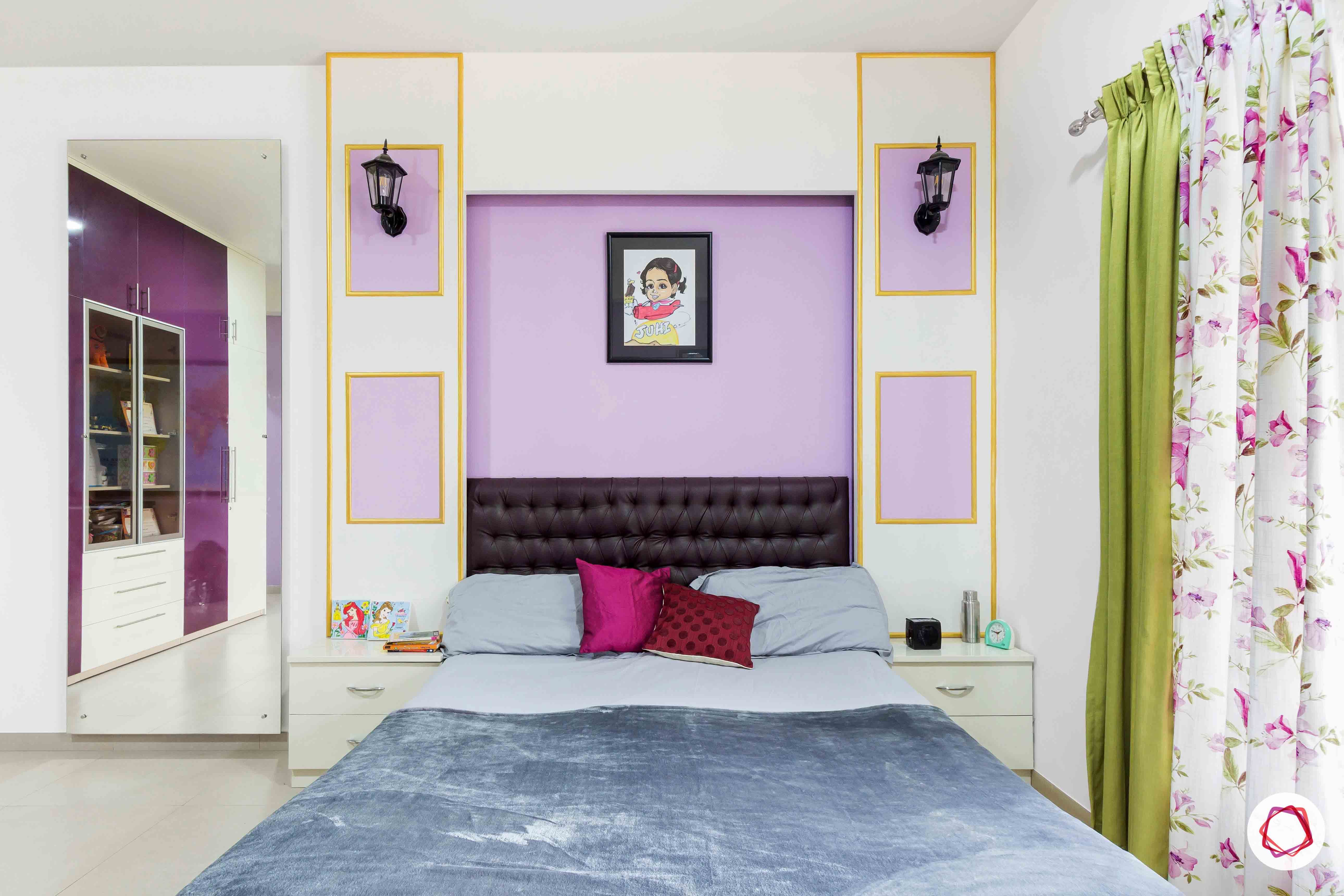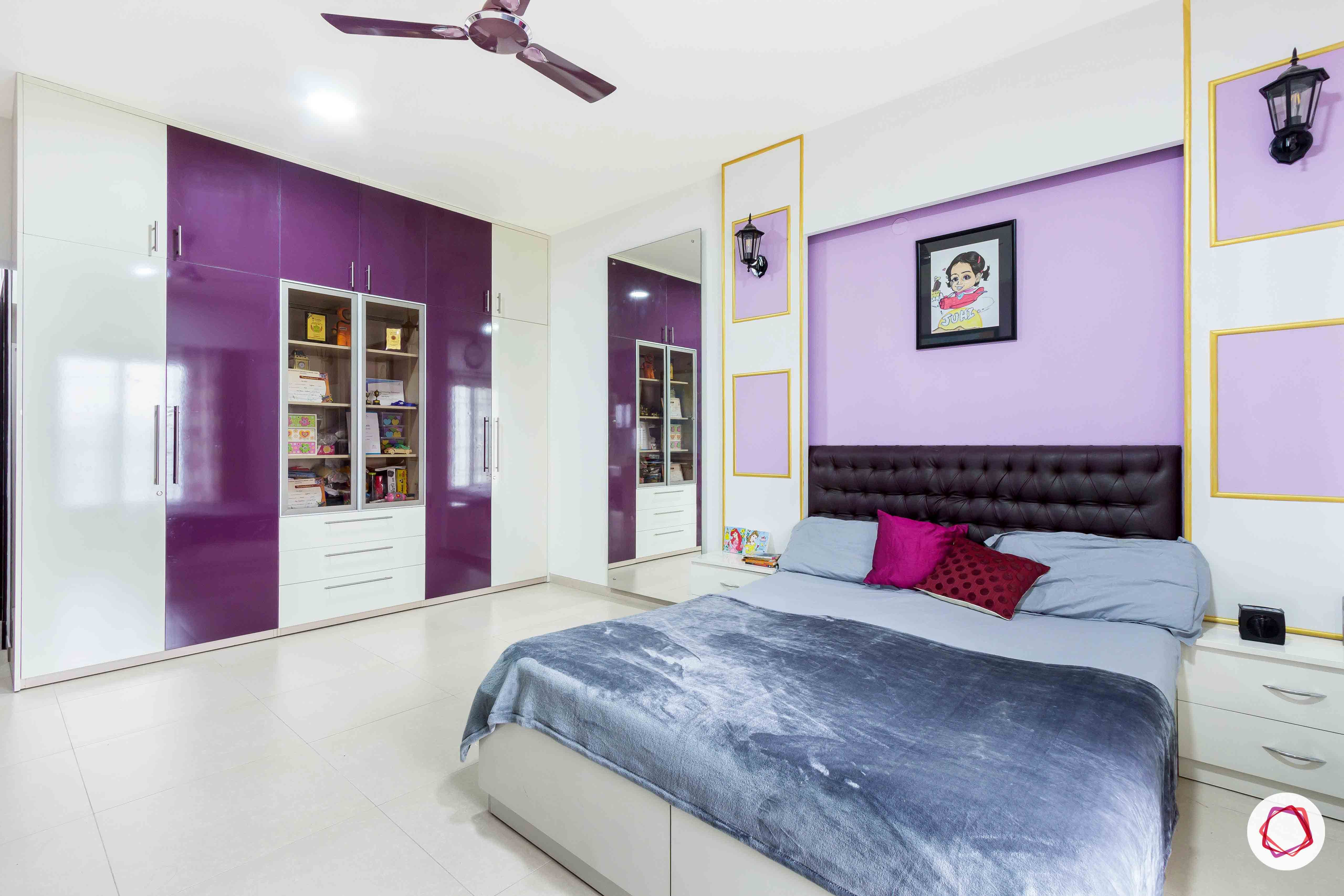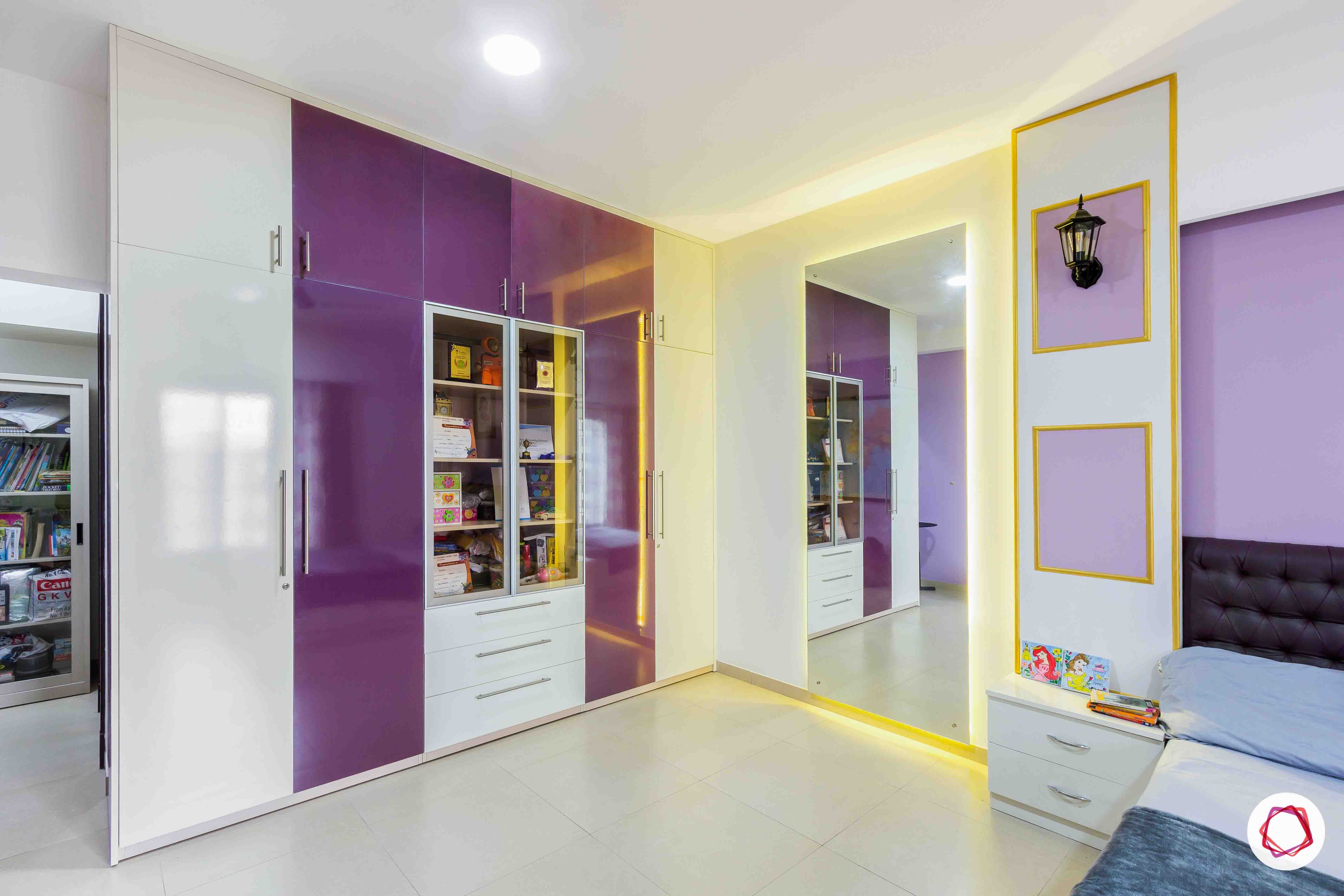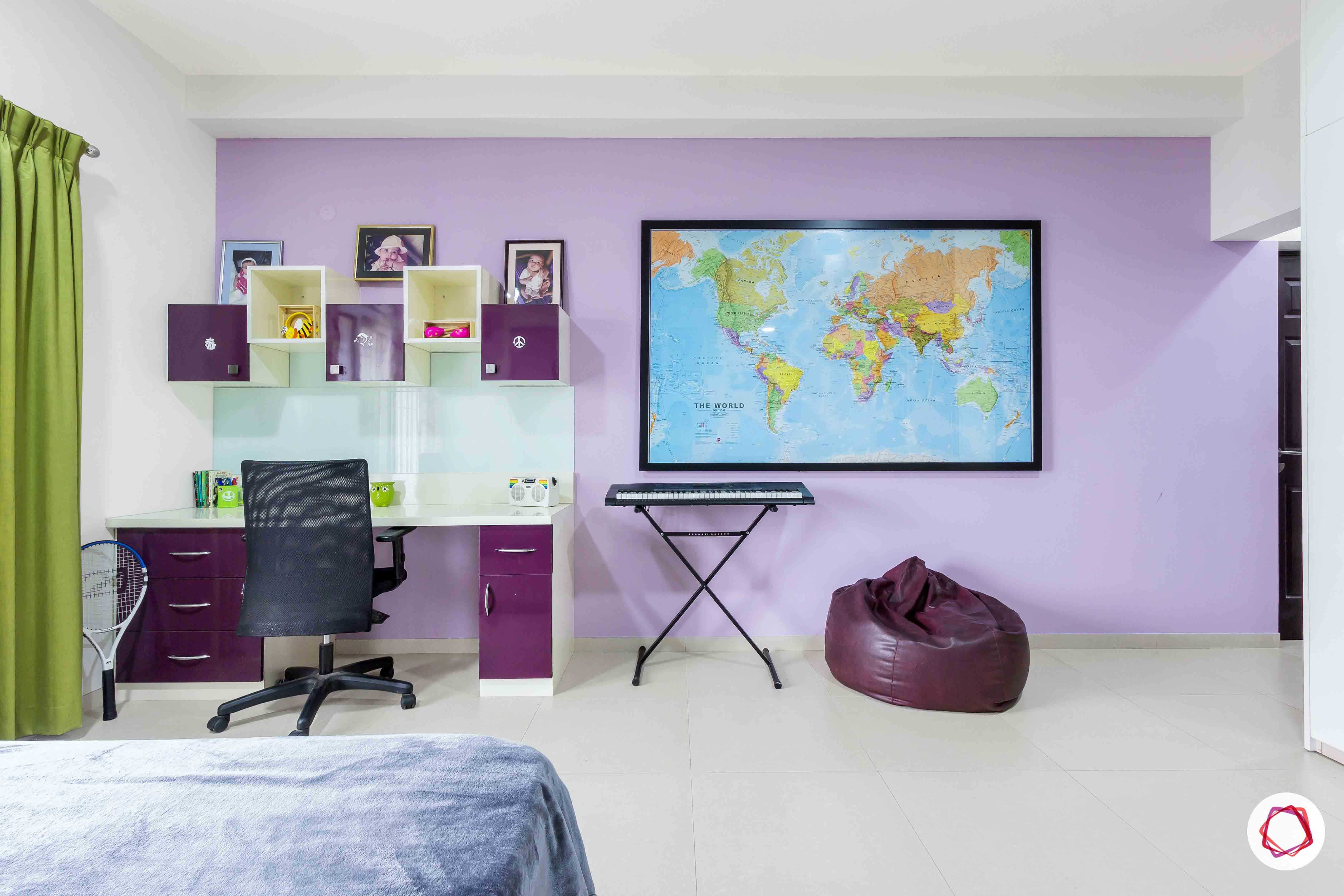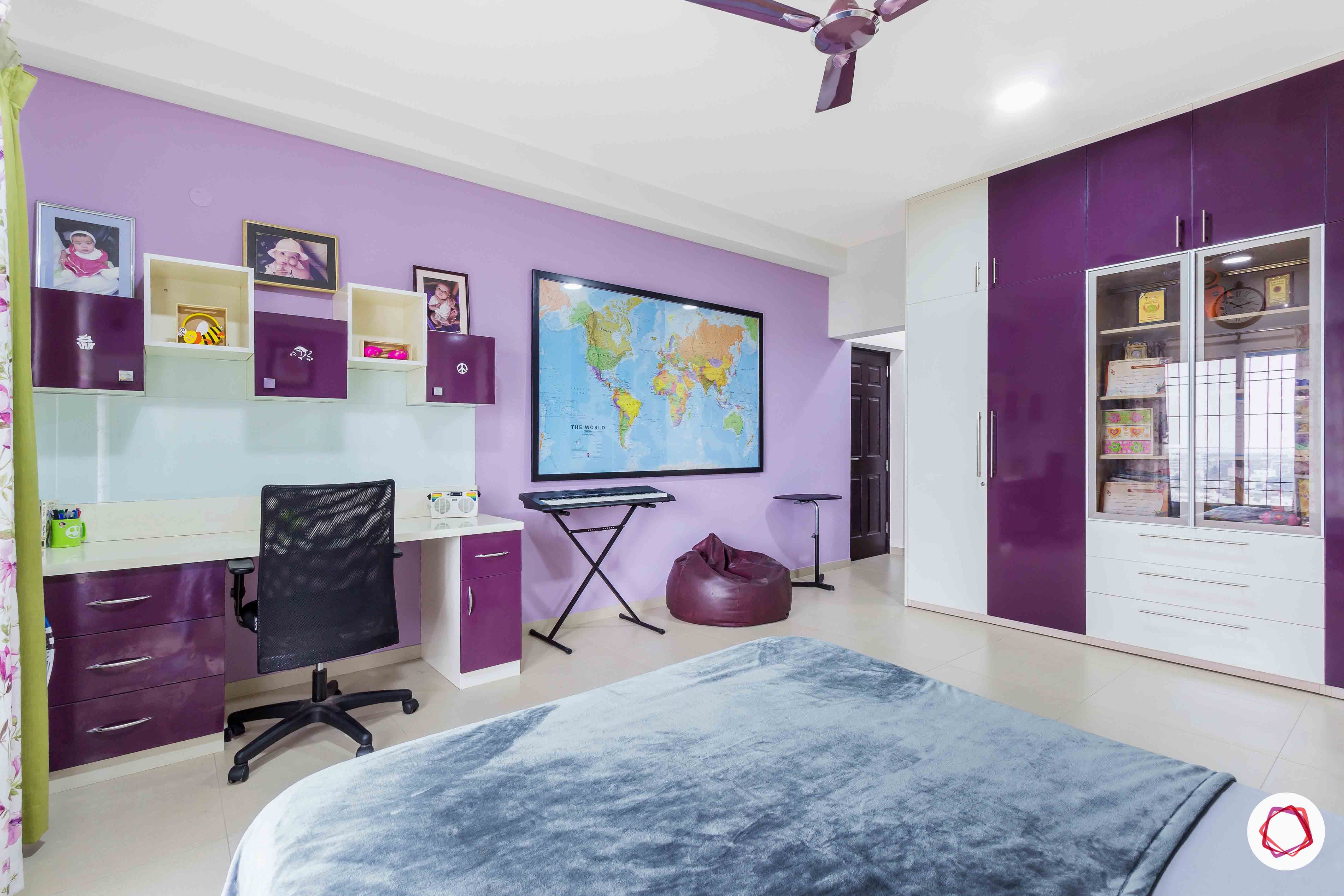 The daughter's room is plush in purple and who chose the colour, you ask? While purple is her favourite colour, the parents wanted to give her a surprise by not involving her in the entire process. From the design discussions to the ideas, it was all kept secret from her and we all hoped that she'd like it. The designers came up with unique concepts like full-size mirror with LED strips running around it and a huge space in front where she can dance to her heart's content.
Talking about hobbies and studies alike, she has a piano at her disposal in one of the corners of the room an elaborate study table right next to it. You can see cute pictures from her childhood displayed on the wall shelves. This room in purple and white is a breath of fresh air!
---
Sobha Forest View: A pop study-cum-office space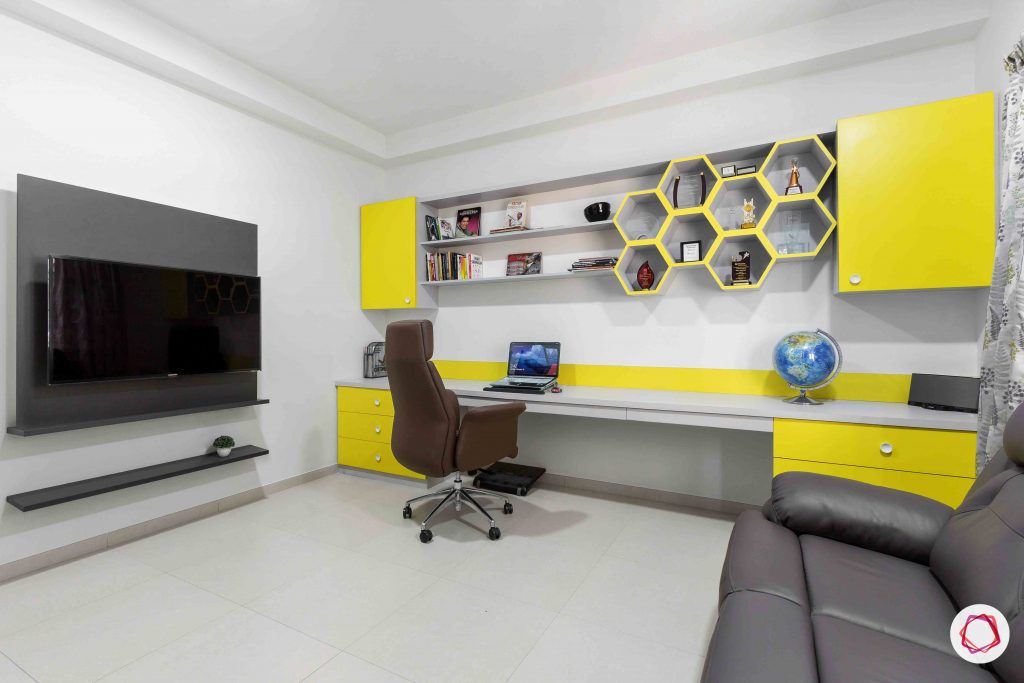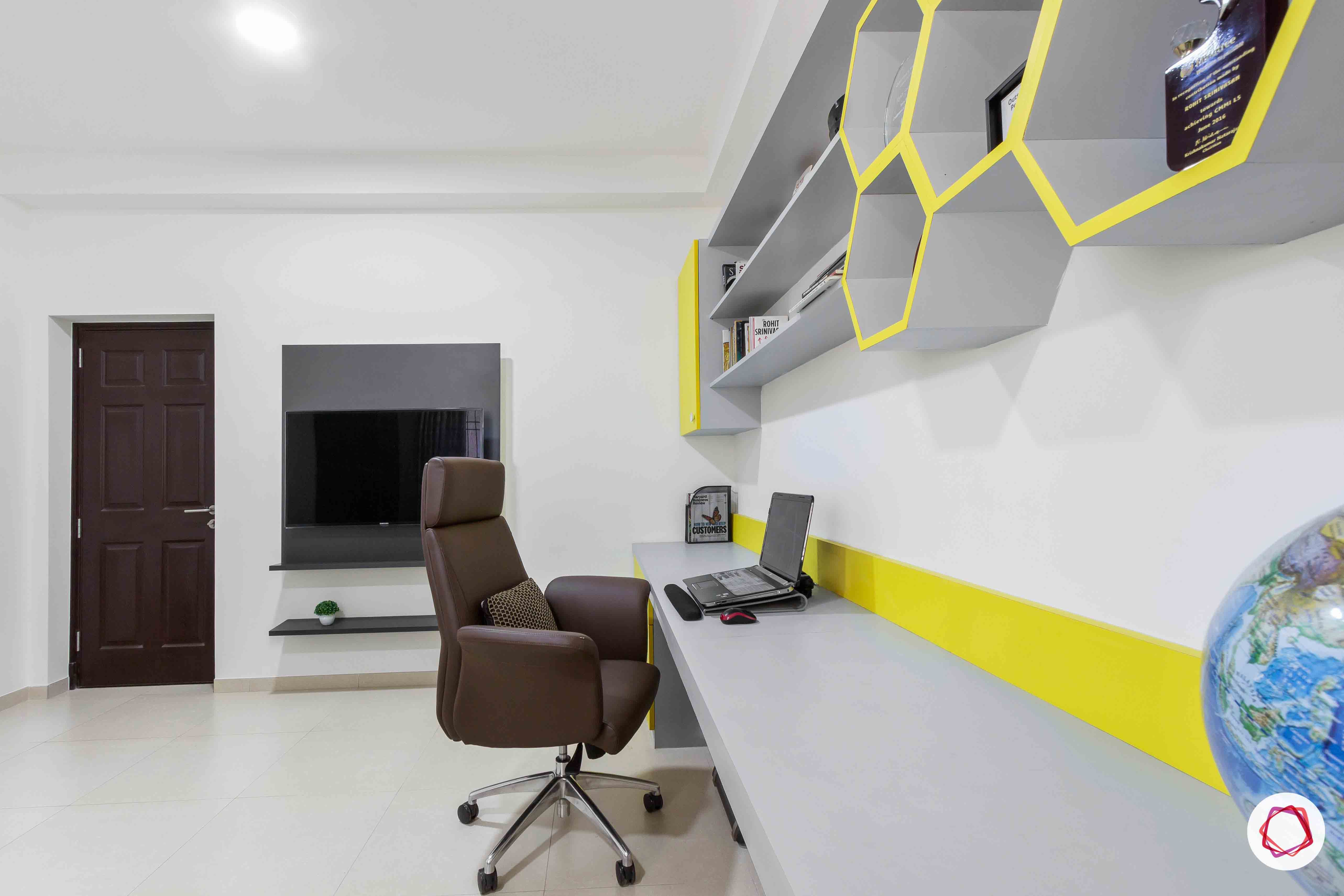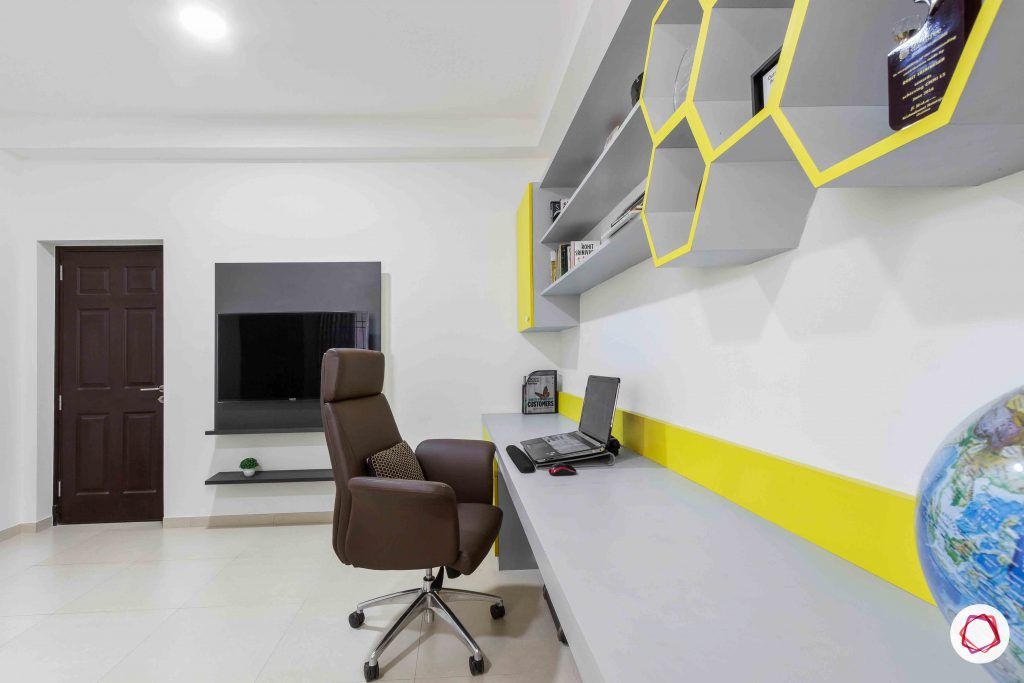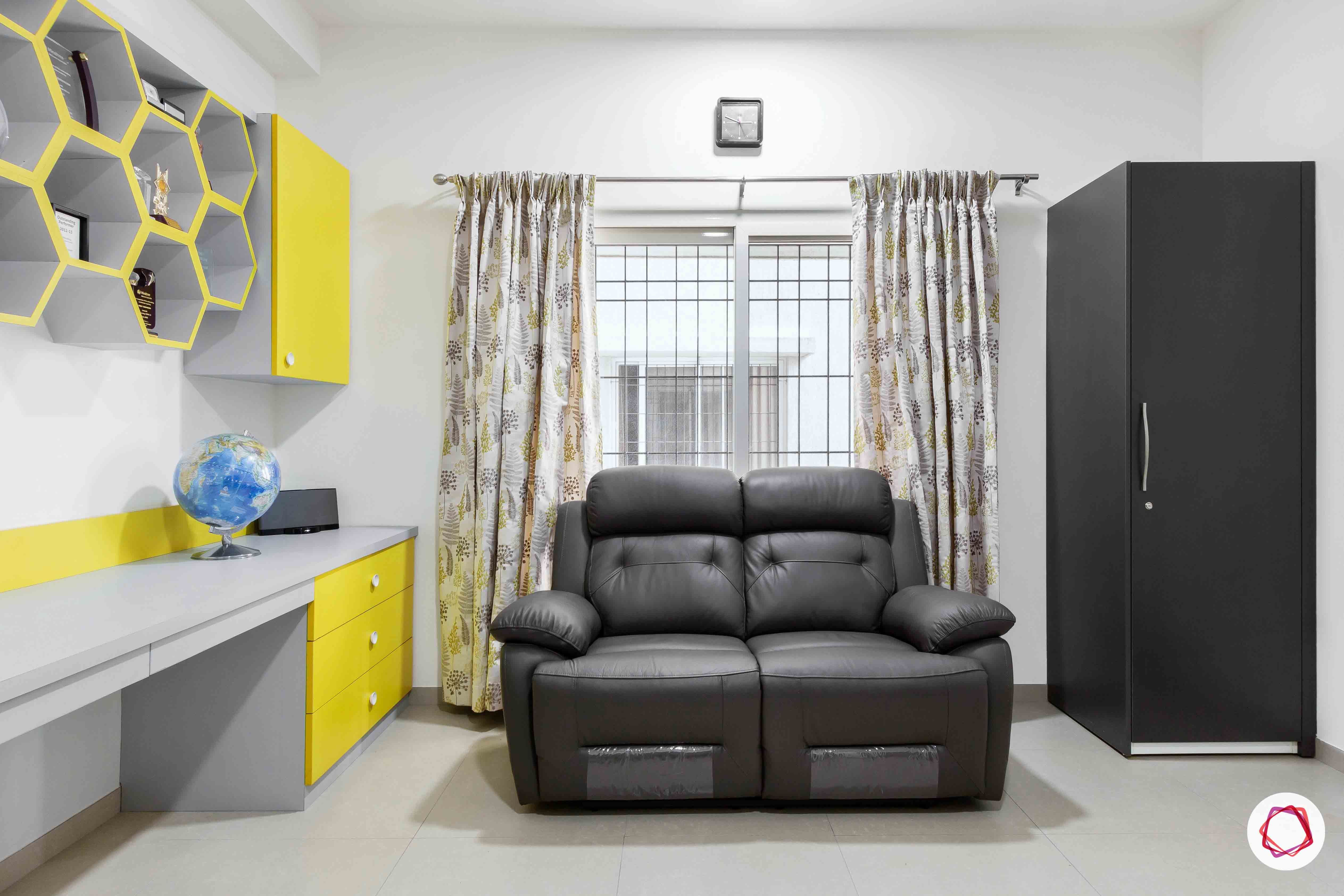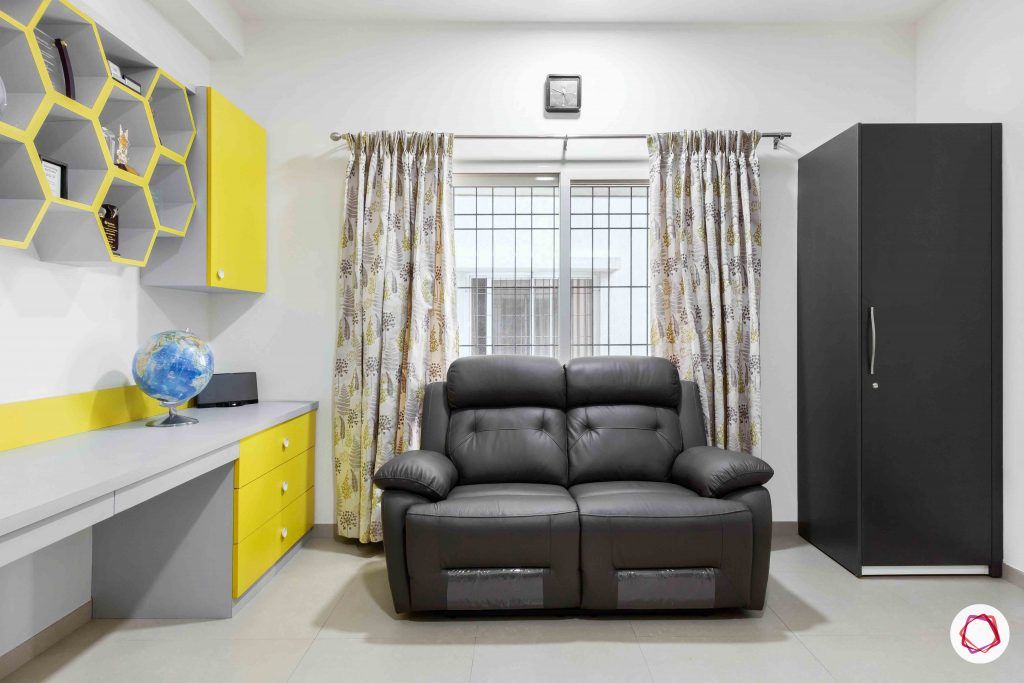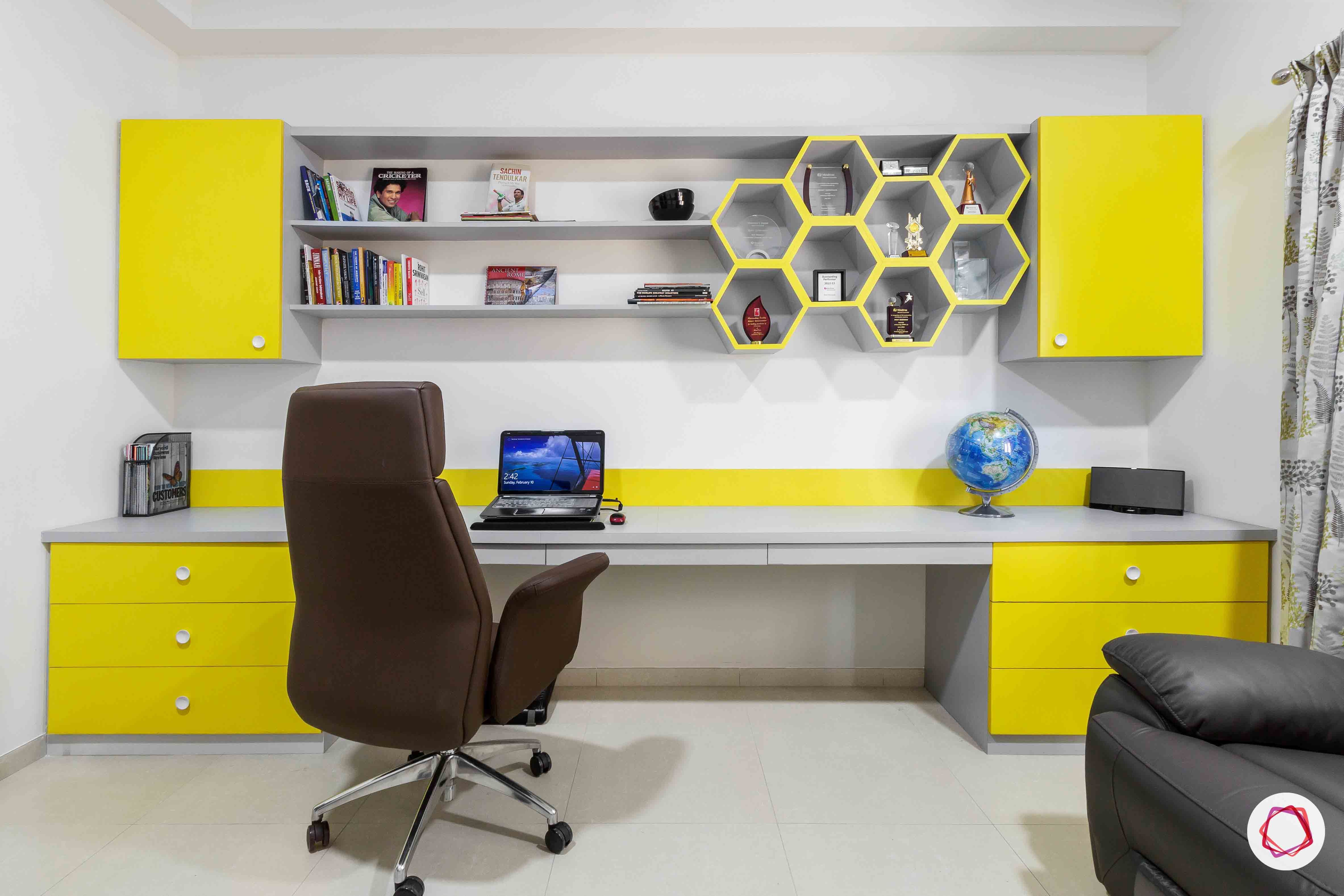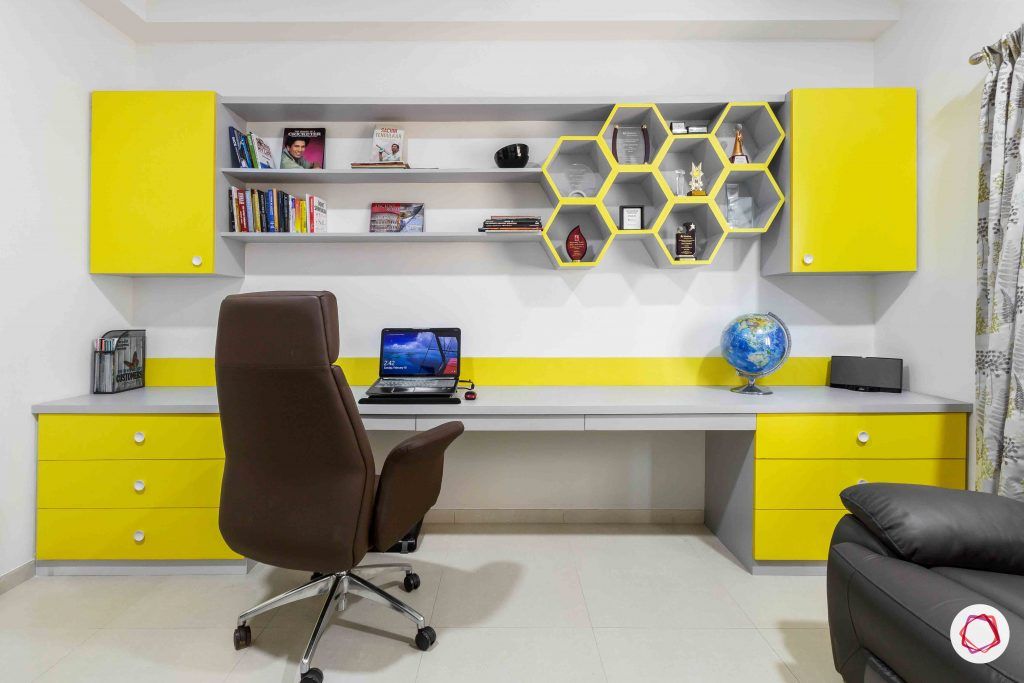 One of the hardest rooms to design at home, this is one space that had to be conceptualised and re-envisioned over and over again. There came a point when Rohit had to trust the designers and leave it up to them. The final outcome, with the honeycomb-shaped shelves and the wide study table is just on point. Rohit loves working out of here and occasionally chilling on the recliner.
---
"It was one of the most rewarding experiences to design for Rohit and Aanchal. They had varying tastes and preferences, but to put all of it together was quite exciting. From deciding the colours to finishes, we worked together to create their dream home just like they had envisioned."

-Rishab Jain & Akshay Jain, Interior Designers, Livspace
If you loved this design, then do Step Inside this Cosy & Minimal 3BHK that Livspace conceptualised for a family of three!
Send in your comments and suggestions.