This Mapsko Royale Ville home in Noida is stylish and colourful!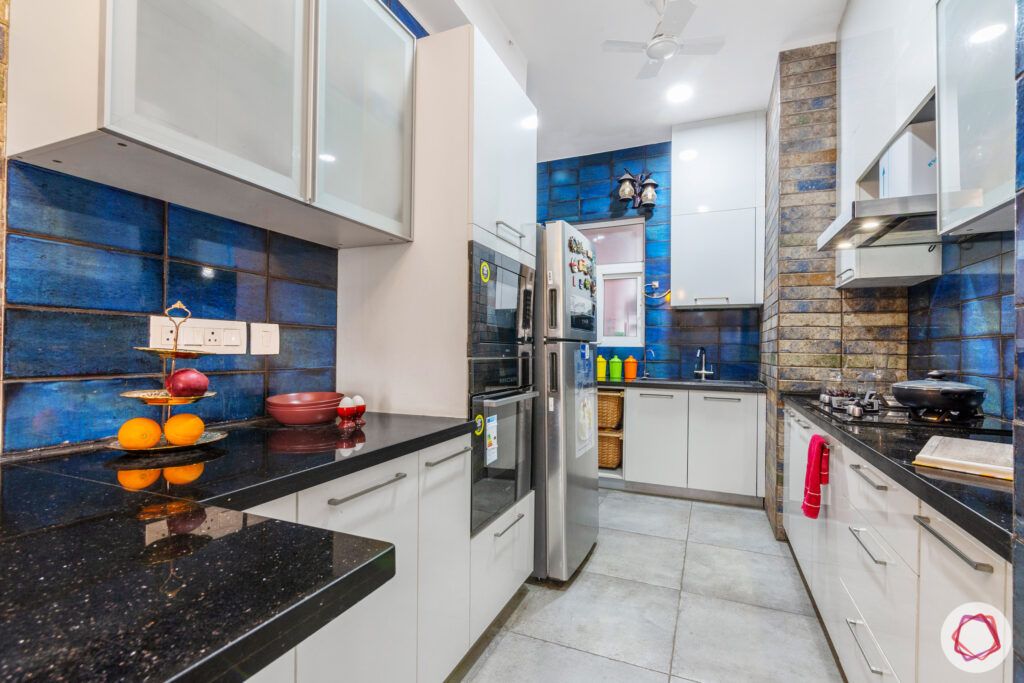 ---
Location: Mapsko Royale Ville, Gurgaon
Size of home: 4BHK spanning 2,300 sq ft approx.
Design team: Interior Designer Kajari Laskar & Project Manager Shashin Gundal
Livspace service: Full home design
Budget: ₹₹₹₹₹
---
We at Livspace love vibrant homes full of colours. And this 4BHK in Mapsko Royale Ville, Gurgaon resonates with our idea of colourful interiors. Our designer, Kajari Laskar, drew interior plans for a home that has a bright accent colour in each room. These peppy colours are hard to miss as they breathe life into this home.
With plenty of civil changes made to this house, Kajari and team have worked hard to make this home as functional as possible. Read on to find out how Livspace used a whole spectrum of colours in just one home.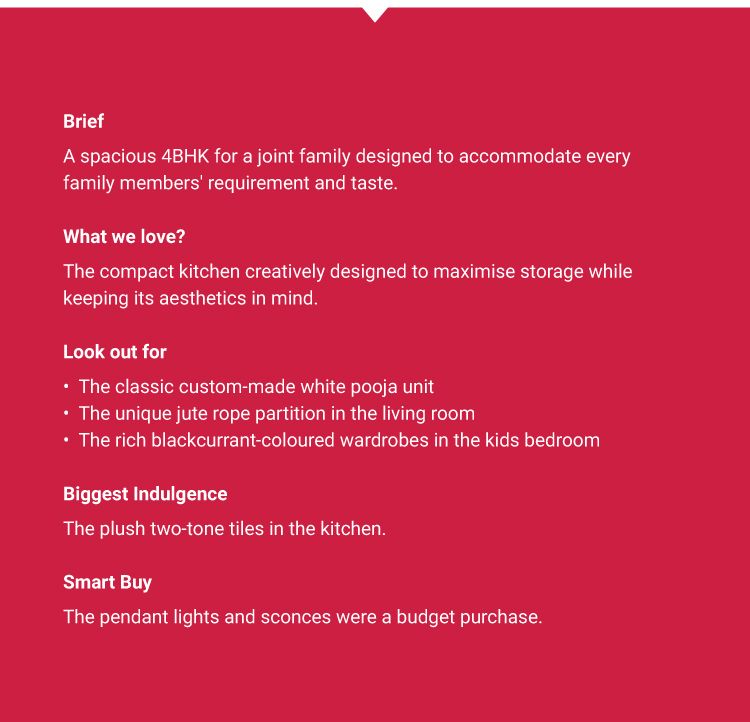 Warm Living Room at Mapsko Royale Ville
Illuminated by natural light
While entering this 4BHK flat, you are welcomed by warm wooden hues of wood and plenty of natural light, making the living room cosy and perfect for family gatherings. The family chose to retain and refurbish wood furniture to give the living room a traditional vibe. Subsequently, a noteworthy element in this living room is a one of a kind jute rope partition.
Kajari installed this see-through partition to separate the living area from the dining room without taking up much space. With future plans to add creepers and vines to it, the partition can liven up the space even more.
All Blue Kitchen at Mapsko Royale Ville
Blues and whites

Two toned tiles

Frosty whites

Stunning blue
Cute breakfast counters
"Designing the kitchen was a challenging task as it was compact and narrow. However, we managed to give it sufficient storage without compromising on space" Kajari says. Therefore, the kitchen turned out to be the highlight of the home because of its functional and aesthetic design.
What makes the kitchen so special? It has imported hand-baked Spanish blue tiles along with a galaxy granite countertop, which comprise a unique look for a kitchen. Consequently, to open up the space, Kajari has installed high-gloss laminate cabinets in frosty white. To top it off, the kitchen has a breakfast counter that was installed by Kajari's team. Subsequently, the two bar stools in blue match the kitchen tiles while adding some seating to the kitchen.

Fiery Dining Room at Mapsko Royale Ville
Light it up!

Classic white units

Vibrant in red

Bright and spacious

A pop of red
The dining room is an eye-catching space because of the fiery red accent wall. In addition to the sizable window, which is a source of natural light, there are lights that were a budget buy from Gurgaon's local markets. Adding more warmth to the room is the toasty wooden dining table set. However, adjacent to the dining table is a custom made pooja unit in PU white with MDF jaali doors. Blending into the white walls, this unit is an elusive addition to the dining space.
Soft Master Bedroom at Mapsko Royale Ville
A soft touch

Subtle accents

Elegant and evergreen

Nice neutrals
With subtle colours and a white wardrobe, the master bedroom is designed for a good night's sleep. Similar to all the other rooms, this room has one popping accent wall in a forest green. This complements the textured wallpaper in pastel green with trims. The minimal TV unit fits into the white walls seamlessly making this room a bright and comfortable.
Big & Bright Guest Bedroom at Mapsko Royale Ville
Colours and lights

Cosy and colourful

Classic whites

Blending pink and white
The guest bedroom is lively and bright with a fuschia pink accent wall. Storage is a major concern for every homeowner, therefore, Kajari has installed two wardrobe units in this bedroom. One in a frosty white laminate and the other is a beautiful grey high-gloss laminate, and in between them, they take care of all the family's storage requirements.
Multi-purpose Rooms at Mapsko Royale Ville
Pretty printed wallpaper

A perfect combination

Beautiful blackcurrant
Doubling up as a study room, this kids bedroom has a riot of colours and textures. However, the pop of colour in this room comes from the modular wardrobe unit. The blackcurrant laminate gives the room a fun and lively vibe. In addition to this, the printed wallpaper adds more character to this room. Subsequently, the sofa-cum bed is ideal for a growing child as it can be folded back to expand the play area.
"Designing this 4BHK flat in Gurgaon was creatively satisfying as I could experiment with colours and themes in every room. The entire Livspace team came together and worked hard to deliver a lively 4BHK flat to this family."
– Kajari Laskar, Interior Designer, Livspace
Also, if you enjoyed reading about this home, check out 3BHK Gets Plush & Glossy Interiors
Send in your comments and suggestions.