A well-designed dining room can become the focal point of your home. The star of this space is essentially your dining table. These are highly functional and they're quite a statement to make with their versatile styles. From size and shape to the type of material, there are various aspects to ponder over before choosing your dining table design for your home.
Choosing Your Dining Table #1: Size of the Dining Room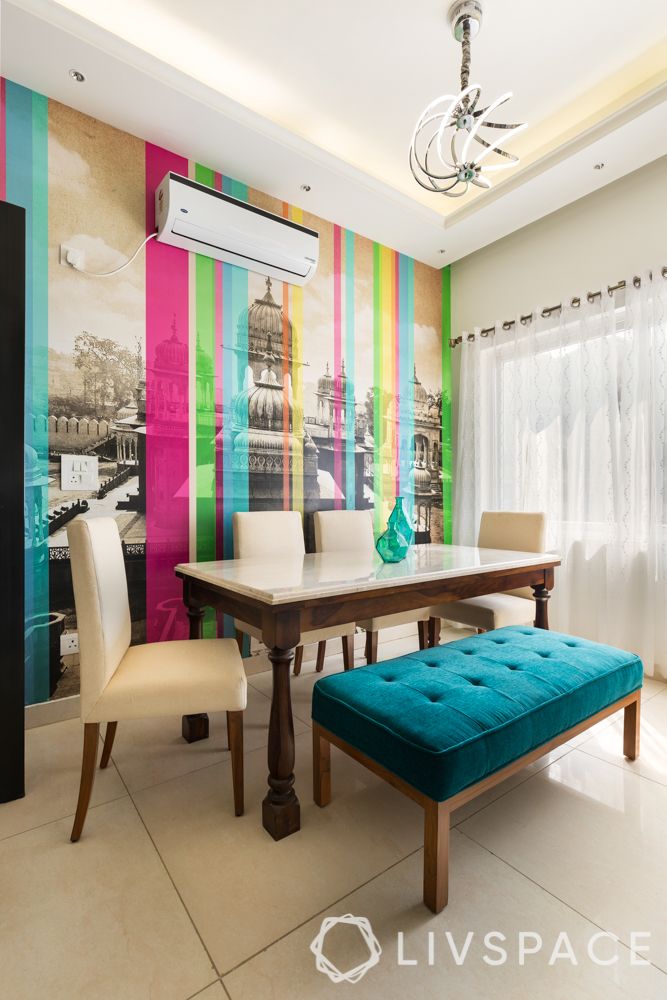 When you're choosing furniture for your home, the availability of space has to be studied. Inspect the size of your dining room or the open kitchen where your dining set will reside. This will give you an idea of the dimensions of a possible design you need the next time you head out to shop. Ideally, the distance between the edge of your dining table set and the wall, or any other piece of furniture, needs to be around three feet. This will allow enough space for you to move your chair and enough clearance while walking around the table.
Choosing Your Dining Table #2: Style of the Dining Room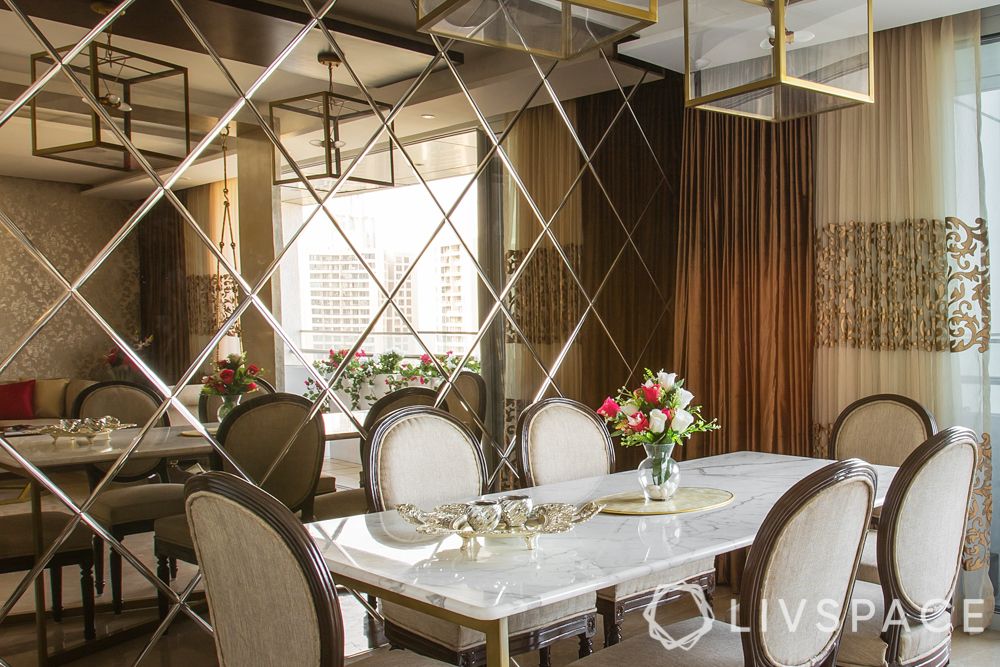 Depending on the style of the house, choose a dining table that will compliment your dining room. Whether it's a traditional, contemporary, Scandinavian or a rustic setting, choosing your dining table should reflect its surroundings. There are a number of dining table designs that will harmonise with your existing interiors.
Traditional country style: Heavy farmhouse style dining tables, exposed wooden surfaces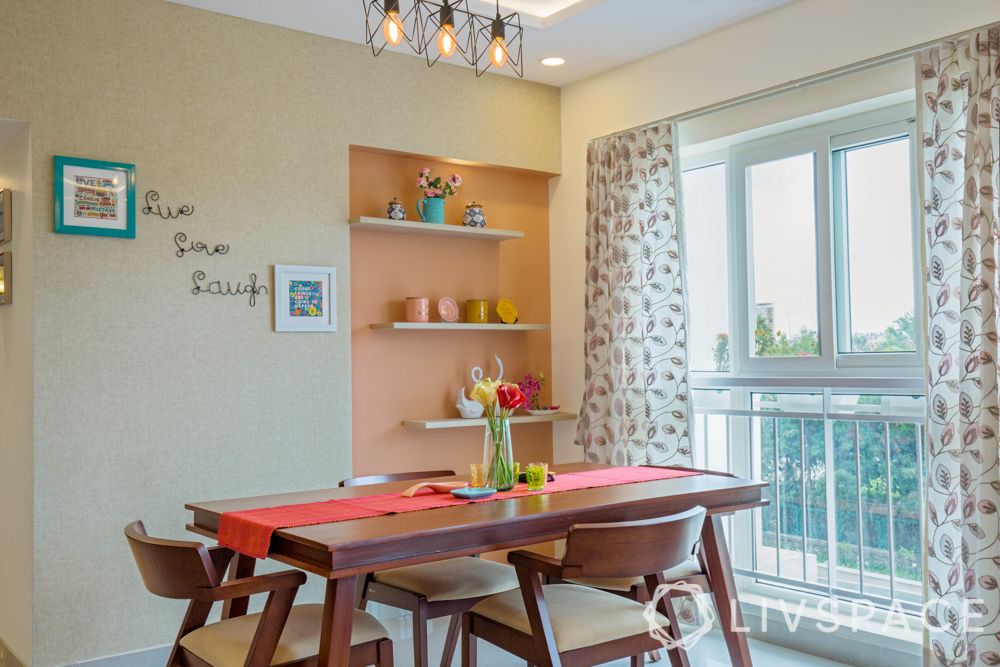 Classic or period styles: Pieces with distinctive elements like curved cabriole legs, embellishments, and shaped aprons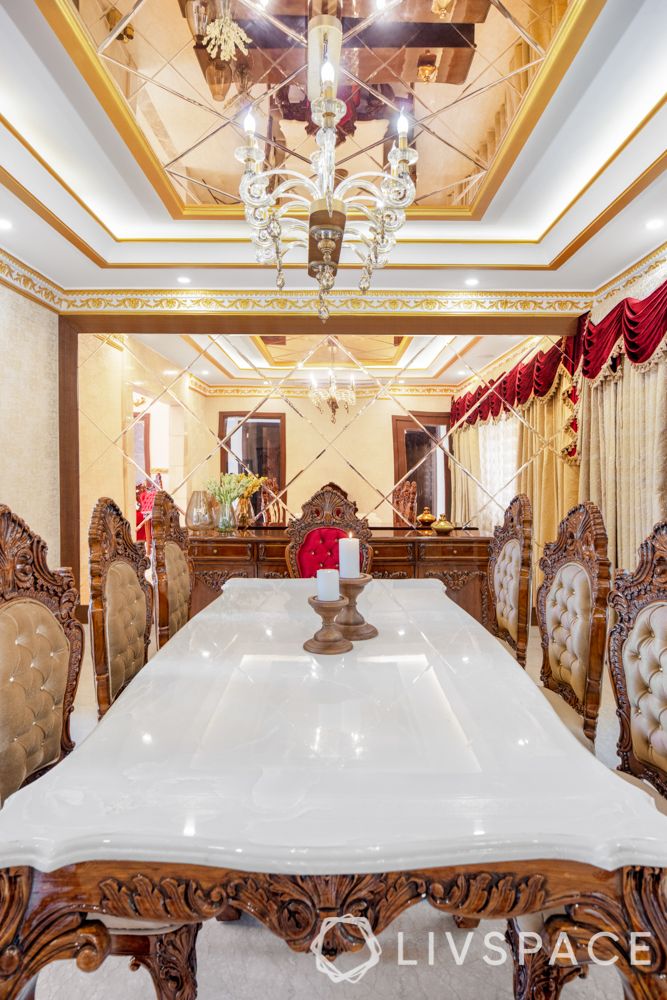 Modern and contemporary: Straight edged and clean-lined forms made from wood, glass or metal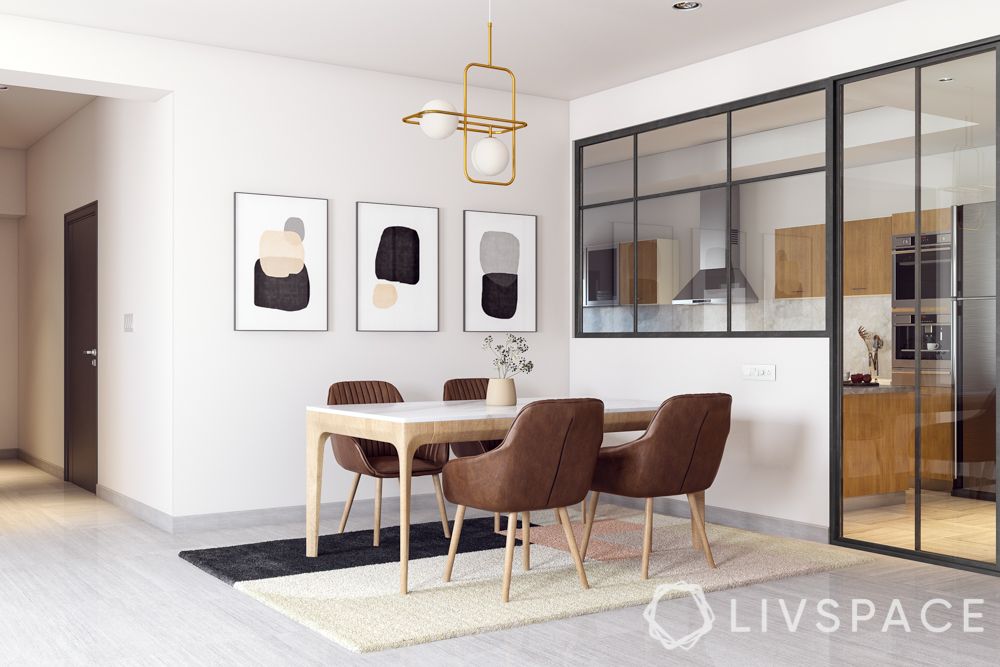 Industrial:Wood and metal dining tables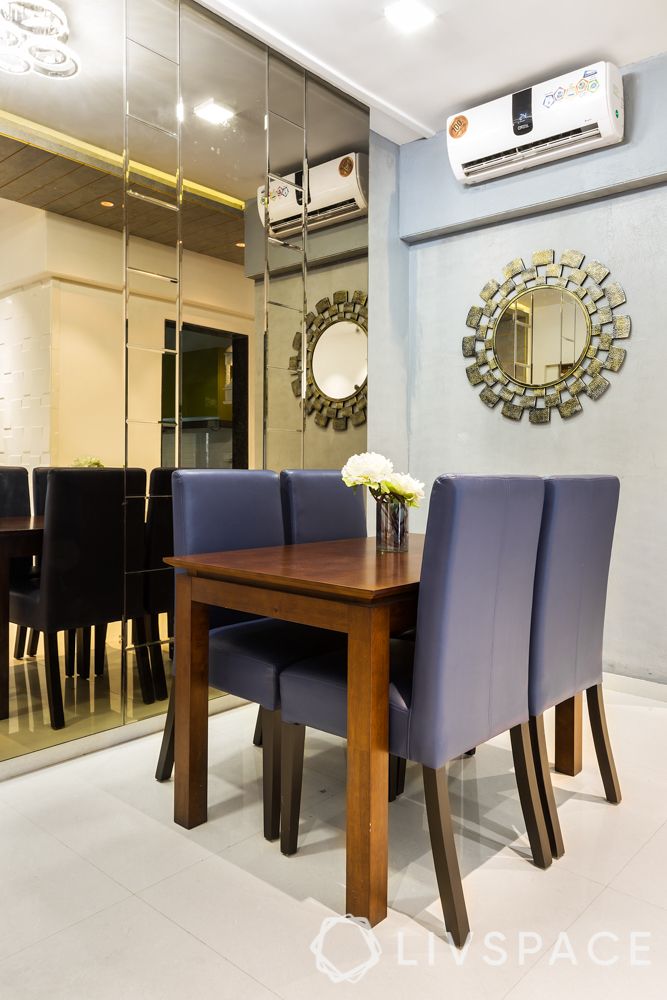 Scandinavian: Sleek and minimal pieces with slim table tops, angled or splayed legs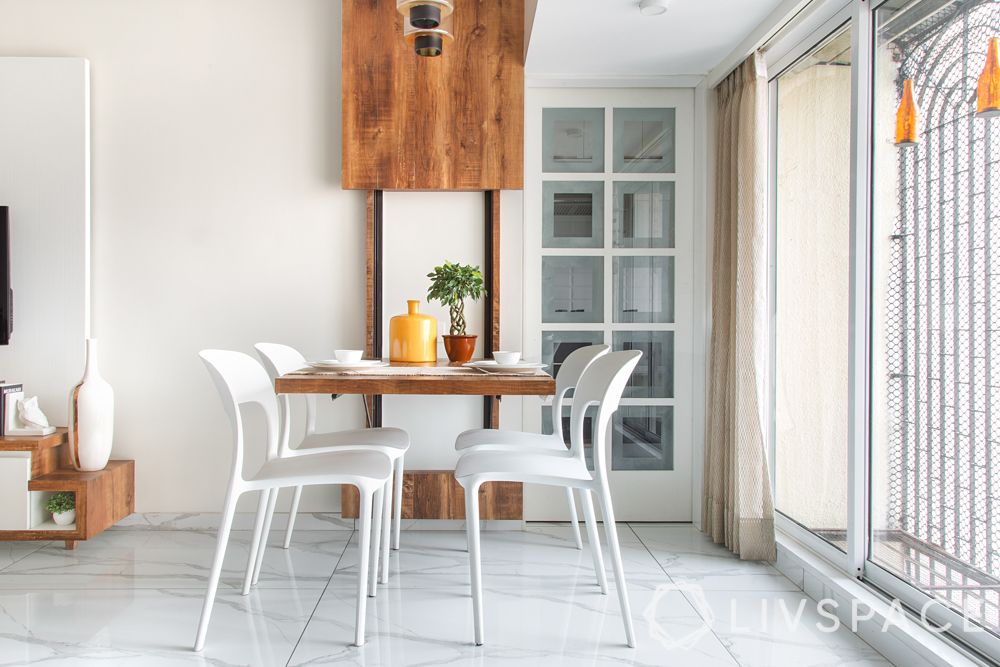 Even if you wish to go the eclectic way, your dining table design should work as an effective centerpiece and be complemented by each element in the room.
Choosing Your Dining Table #3: The Perfect Shape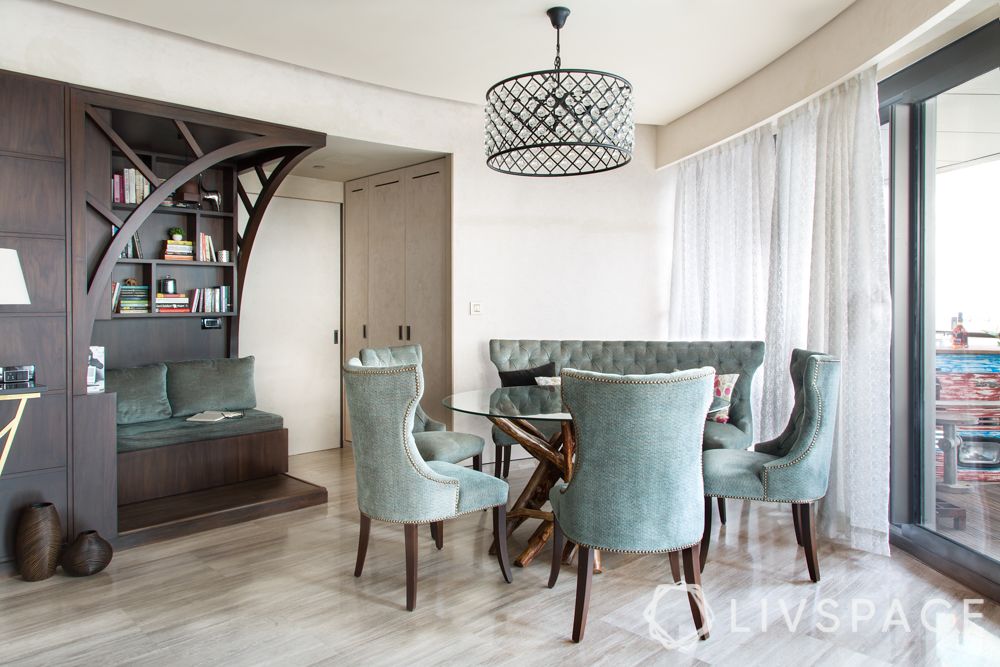 The size of your dining room does have a say in the shape of your table. If you have a small space, a 36-44 inch square four seater dining table or a round dining table with a diameter of 36-48 inch will keep the space from looking cramped. Additionally, you can also choose a triangular-shaped dining table design. These can accommodate upto 6 people depending on placement and dimensions.
Rectangular, oval or circular shaped dining tables are ideal for more formal spaces, the latter being better suited to classic styles. If you have enough space for traffic flow, a 72-inch long rectangular table will be an ideal pick to accommodate six people, while a 96-inch long rectangular table can comfortably seat eight people.
Considering a coffee table for your home? Here are the 5 best coffee tables that we recommend.

Choosing Your Dining Table #4: Material and Finishes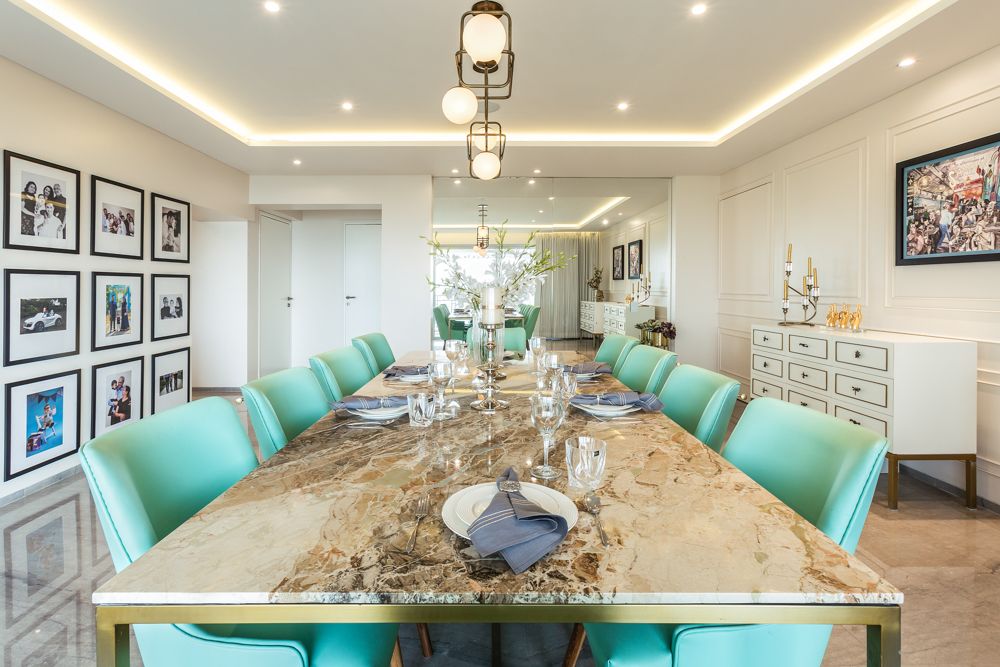 Choosing high quality, durable material is directly associated with the maintenance of your dining table in the long run. If you choose a wooden dining table, always opt for hardwoods such as walnut, mahogany, oak, or teak. On the other hand, the advantage of choosing your dining table with a glass top is that it works well with several decors. Moreover, since glass tables are reflective, they add a lighter and brighter feel to the room. While glass tops are moderately easy to clean, fingerprint stains and chipped edges are a common issue.
Another material that you can opt for is medium density fiberboard (MDF). Known for its durability and quality, treated MDF is also easy to clean. Granite and quartz tabletops are also an elegant, easy maintenance option for contemporary style interiors. If the wood is lacquered or painted, use a damp cloth to clean it. Avoid using furniture polish as it leaves a residue over time. Granite and quartz can be cleaned easily in the same method.
Choosing Your Dining Table #5: Type of Usage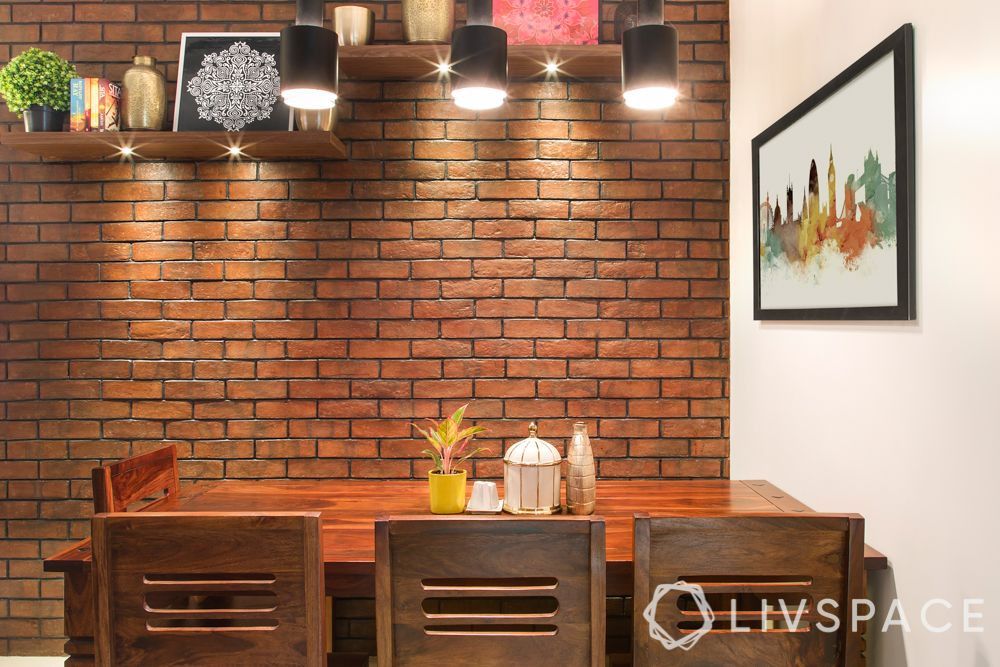 Before you make a purchase, consider how you use your dining table. For example, if your dining table is consistently used by the entire family, pick sturdy, medium to large size tables that are made of durable materials. However, if your dining table is used less frequently, opt more decorative finishes, such as a patterned veneer finished table top.
If you live in a rented home, we recommend choosing dining table designs that are lightweight and durable. Another option is drop leaf dining tables, where the table top can be extended depending on your requirements. For outdoor use, making plastic or rattan are stellar choices.
Choosing Your Dining Table #6: Type of Seating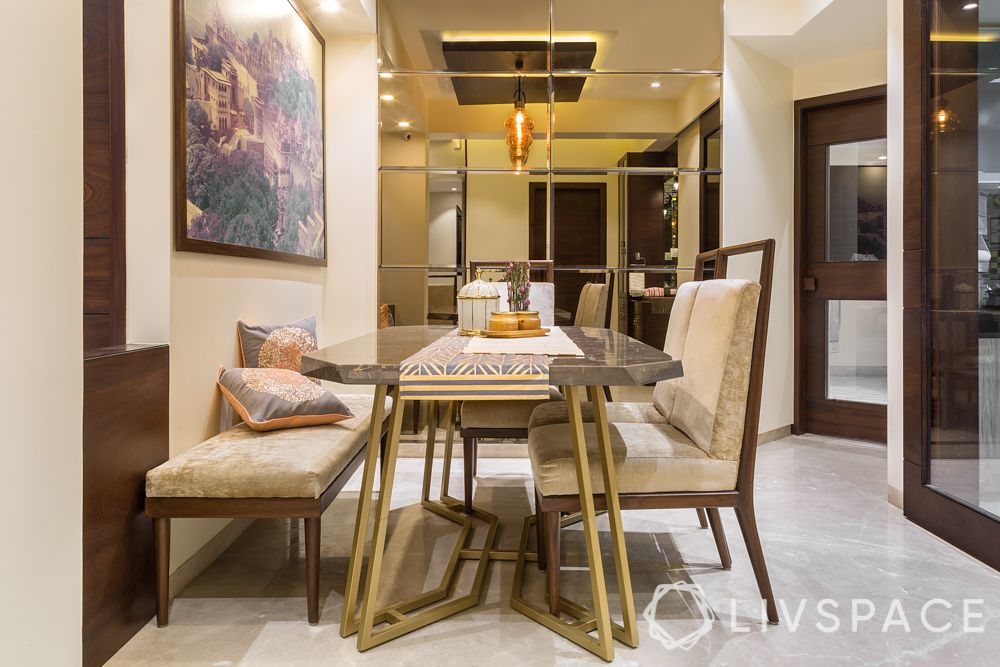 The ideal way to pick a dining chair for the table would be to purchase the entire set or go for chairs that match the table perfectly. But times are changing, and the eclectic style is gradually getting to be more popular. Get creative and experiment with the chairs – in form and shape – and add a dash of exclusivity in your dining room. Also, when it comes to choosing your dining table, you can mix-n-match seating options with a bench and different chairs.
Here is a quick guide to choosing the right design for dining table chairs.
Along with chairs for the dining table, you could also pick a bench to be placed on the other side of the table. It not only saves space but also adds a touch of freshness to your arrangement. Read this article for more ideas on pairing dining tables with benches.
With these handy tips, choosing your dining table shouldn't be a daunting task and you're all set to give your dining room a facelift.
Send in your comments and suggestions.