A stunning 3 bhk design for a family home in Gurgaon!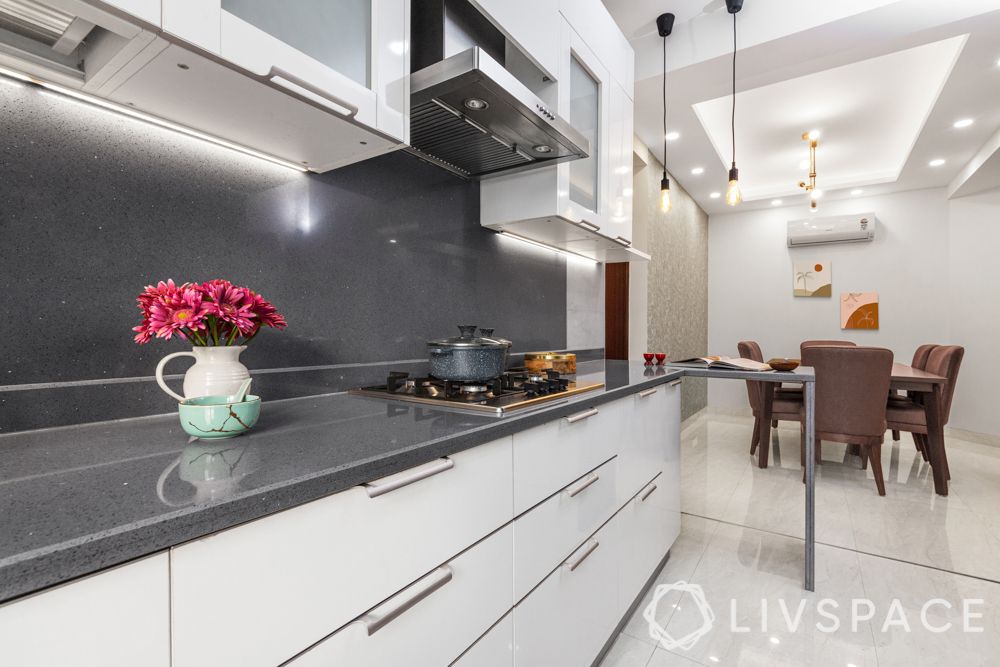 ---
Size of home: A 3BHK spanning 2100 sq ft approx
Design team: Interior Designer Tanu Anand & Ajay Chauhan Project manager
Livspace service: Full Home Design
Budget: ₹₹₹₹₹
---
A well-designed home should promote a balanced lifestyle more than anything else. There shouldn't be a constant need to declutter and clean every nook and corner. And that's what we love about this 3 BHK design in Gurgaon!
Livspace designer Tanu Anand shows us how detailed space planning, colour schemes, custom-made elements and essential furniture pieces can create an uncomplicated way of life. Read on to find out about the process behind designing a comfortable family home like this one!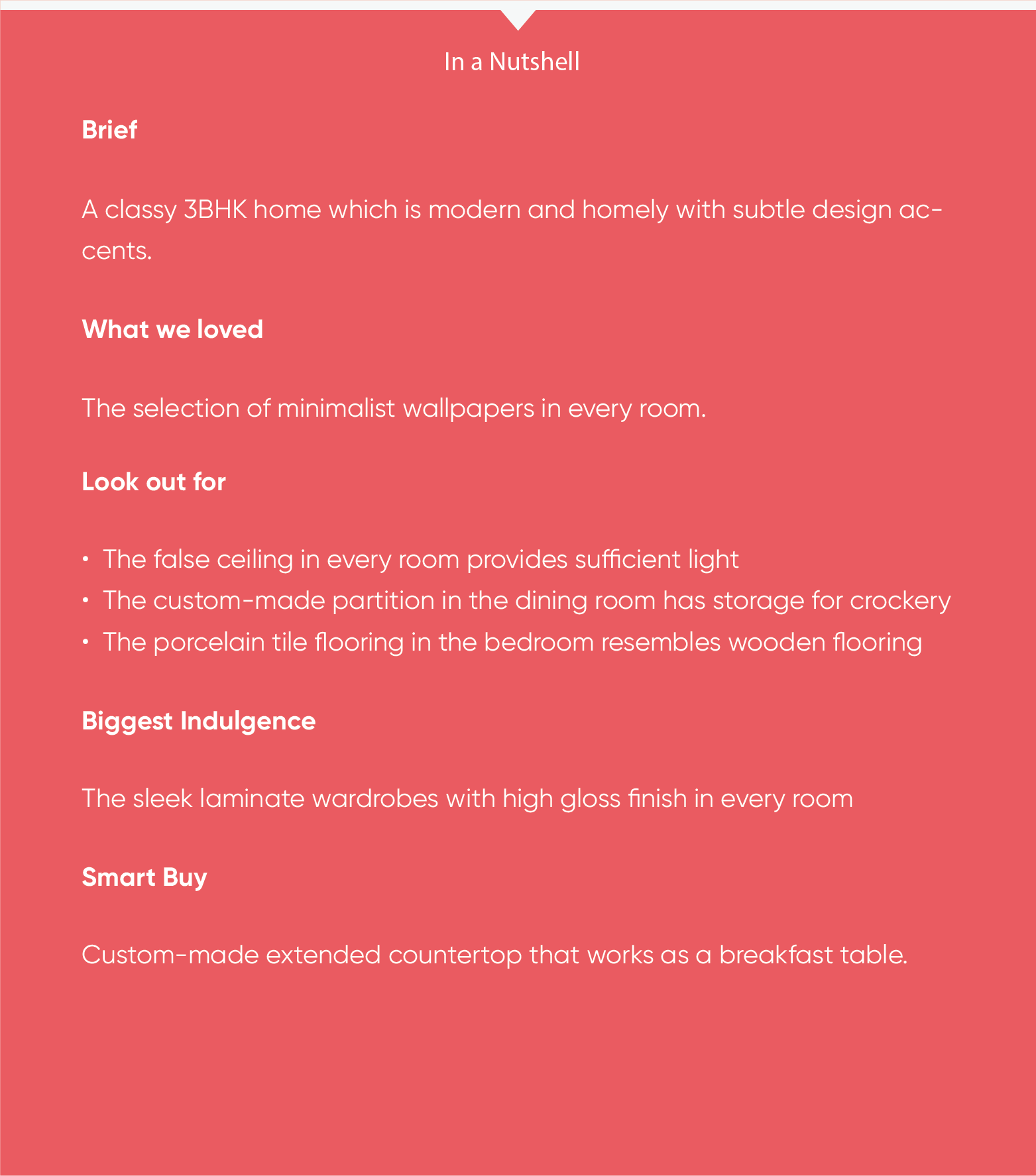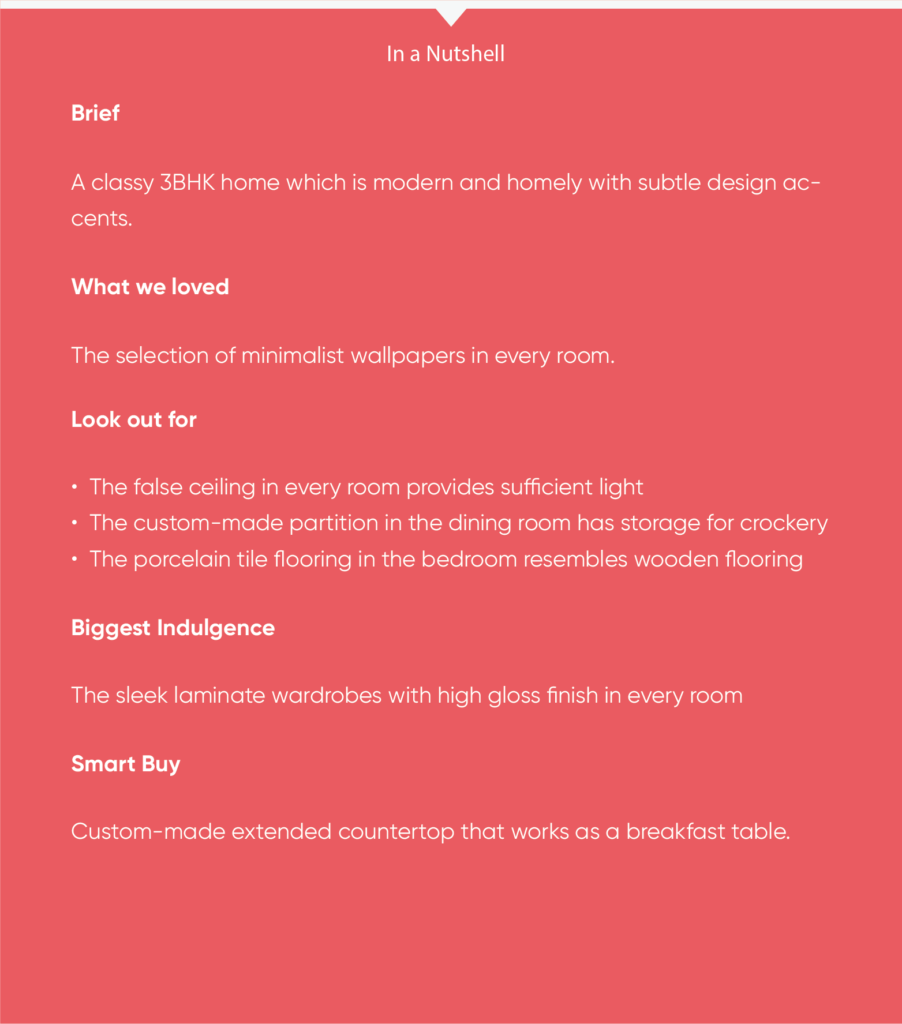 We redesigned the ceiling and flooring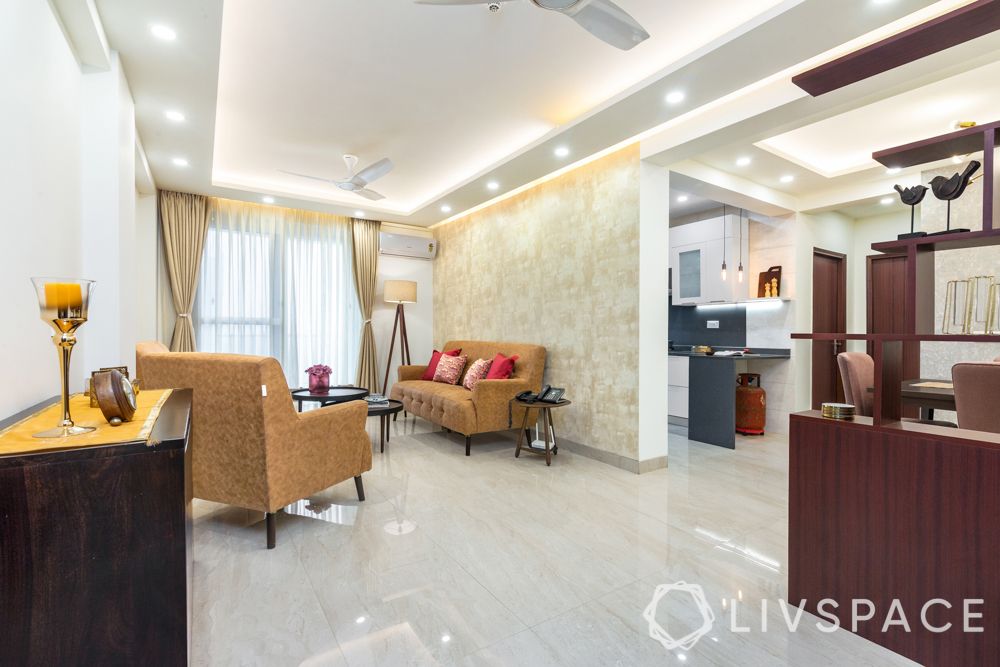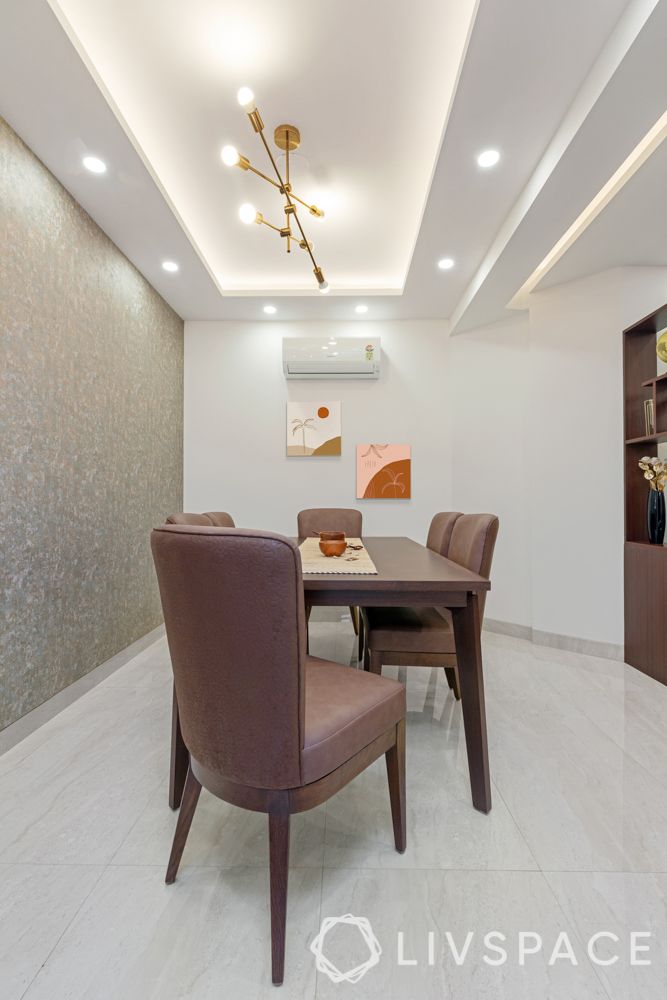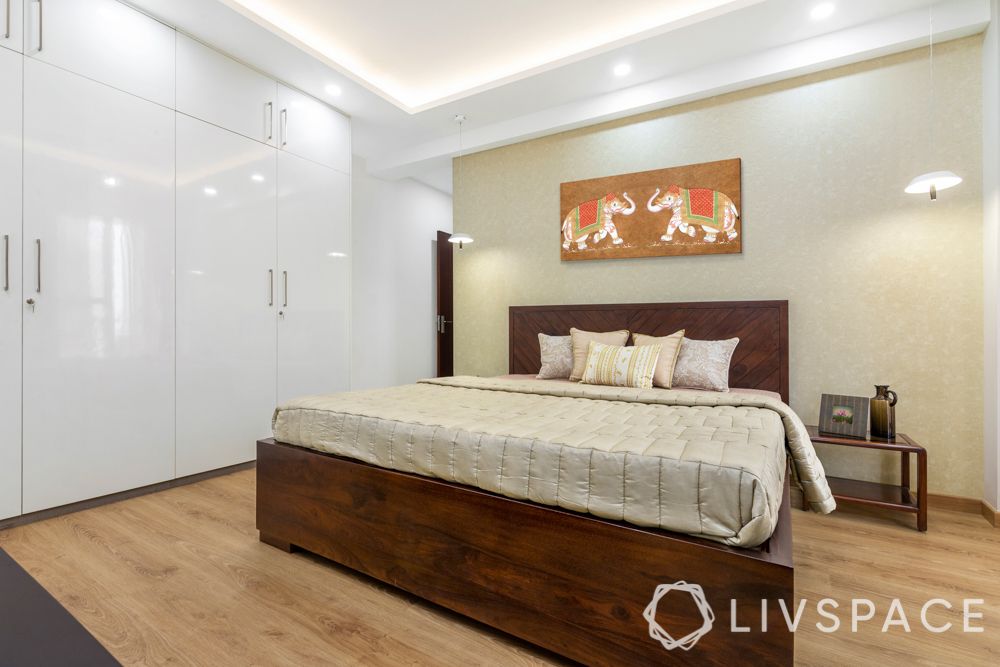 There are a few elements you can spot throughout the home that ensure uniformity and harmony in the design. The ceiling and flooring for this home have been redesigned for functional and aesthetic reasons. The home called for brighter lights that regular bulbs and tubelights couldn't achieve. Therefore, a basic POP false ceiling design has been installed in every room and it's been fitted with cove lights.
Take a look at the flooring in the bedrooms. Seems like wood, doesn't it? It is actually ceramic porcelain tiles from Kajaria that mimic wood-like design.These are highly durable and low-maintenance too!
We handpicked soothing wallpapers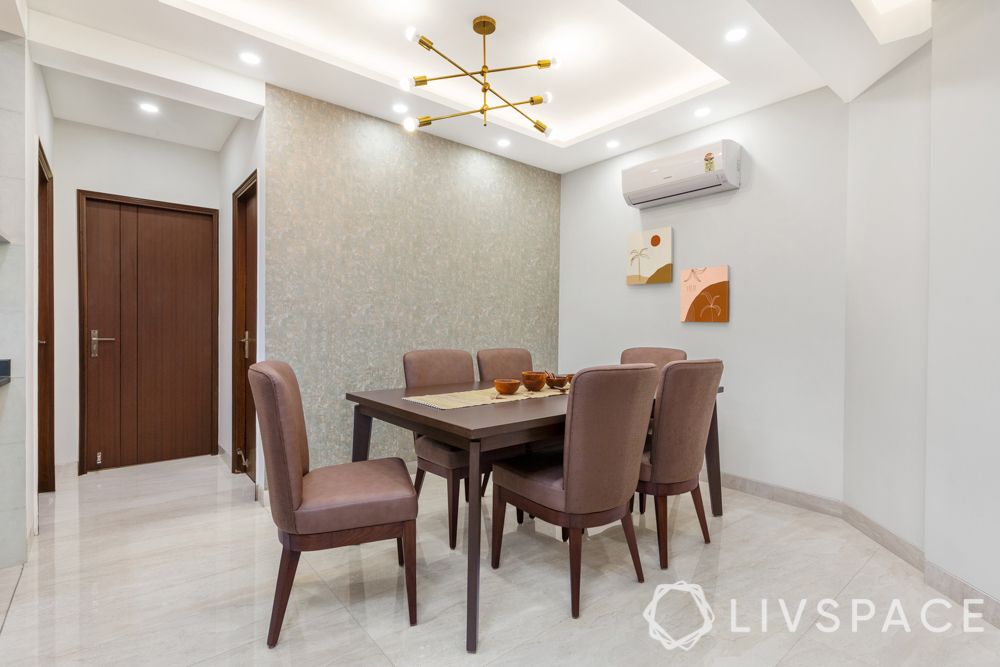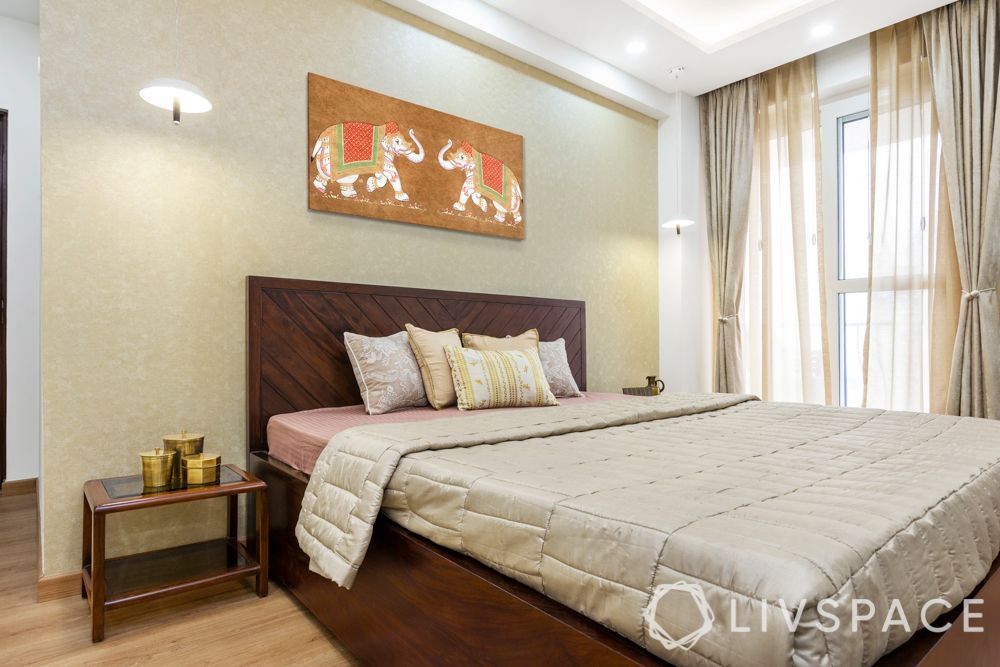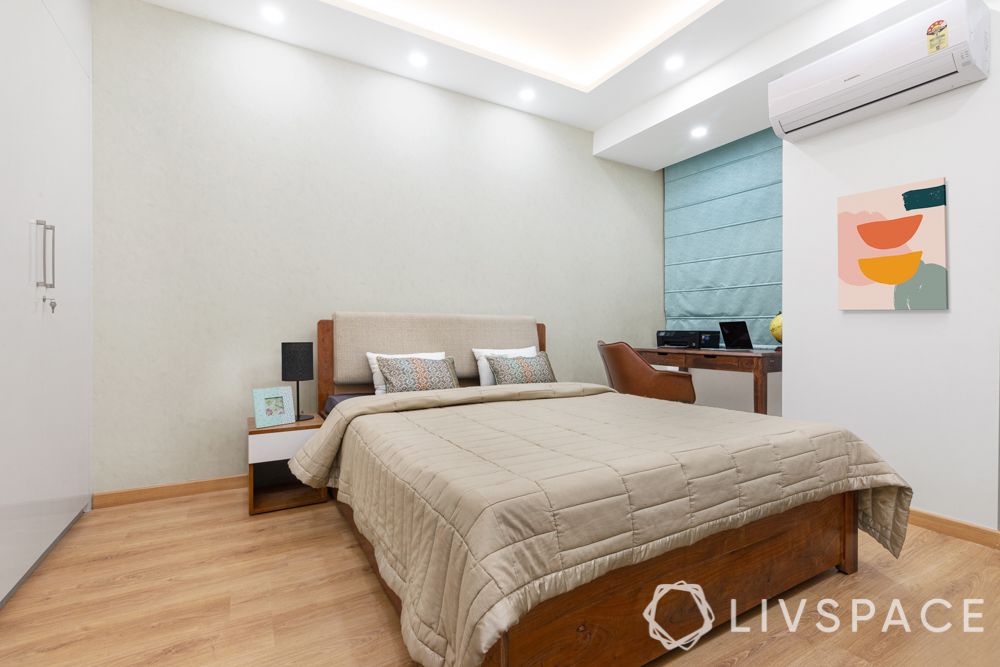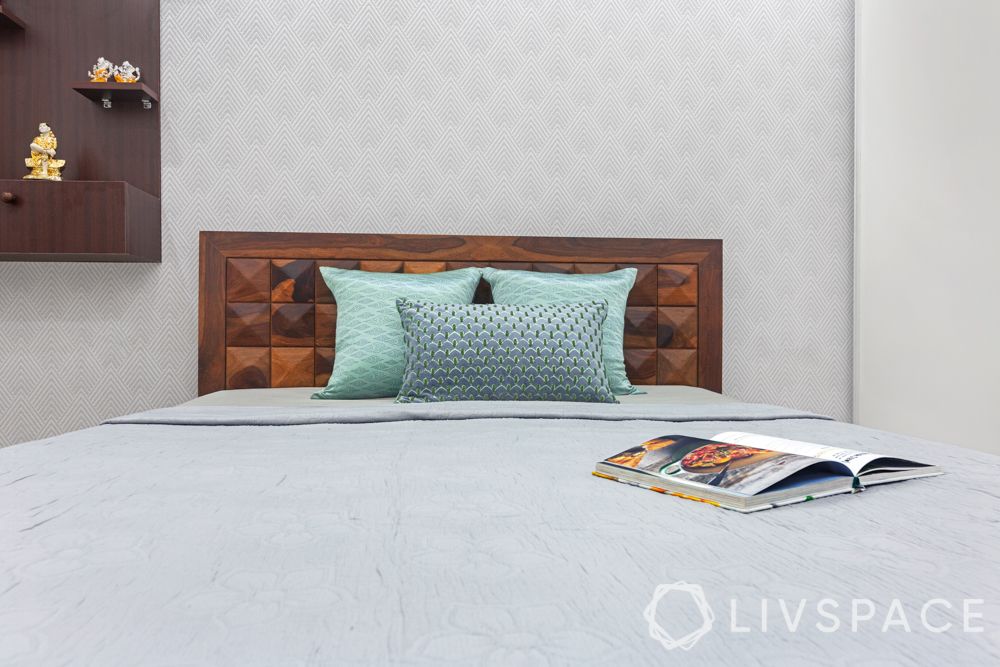 The home displays a neutral theme with a variety of handpicked wallpaper designs in every room. The living room features a gold and beige textured wallpaper whereas the dining room is in a darker shade. The master bedroom and daughter's bedroom have beige wallpapers while the son's room has a light blue accent wall with patterned wallpaper.
Moreover, Tanu's attention to detail can be seen in every room.
All the previous doors featured a dull yellow paint. They were retouched with dark wooden laminate finish for a classy look that matched the wooden furniture in the home. Lastly, these stunning curtains were selected from D'decor to match the theme of the design.

Check out the custom-made units we designed for this home
A stunning partition-cum-display unit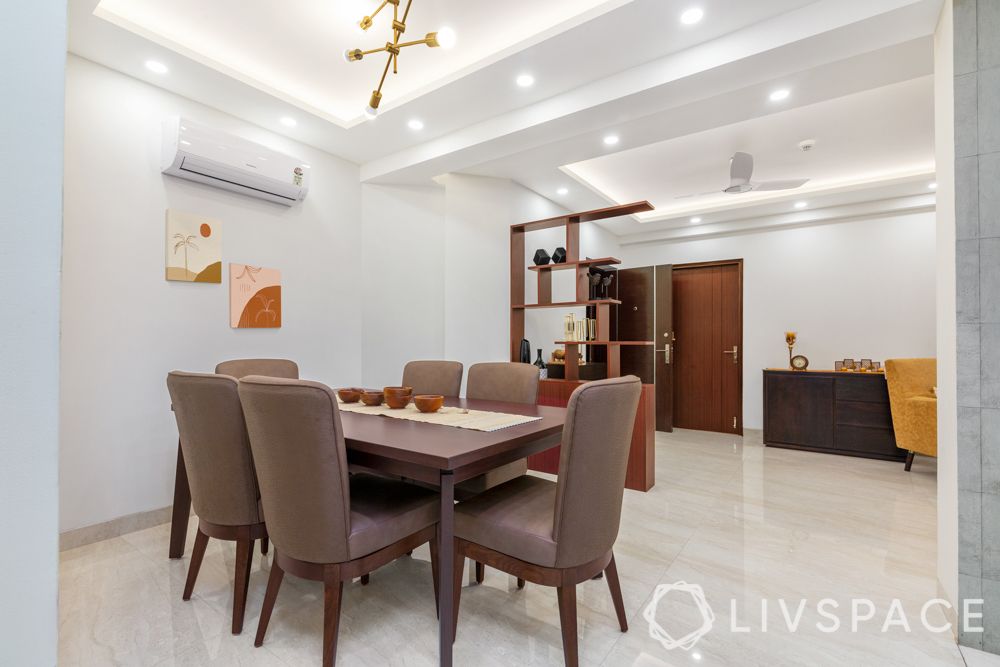 As you enter the home from the main door, you walk into an open layout 3 bhk design. Tanu took the opportunity to section this layout with her designs. She suggested installing a custom-made partition next to the door to create a faux foyer with a shoe cabinet from the Livspace catalogue. Moreover, this creates a dedicated space for the dining table.The laminate finish fixed partition doubles up as a crockery unit, too!
Extended breakfast counter for a compact kitchen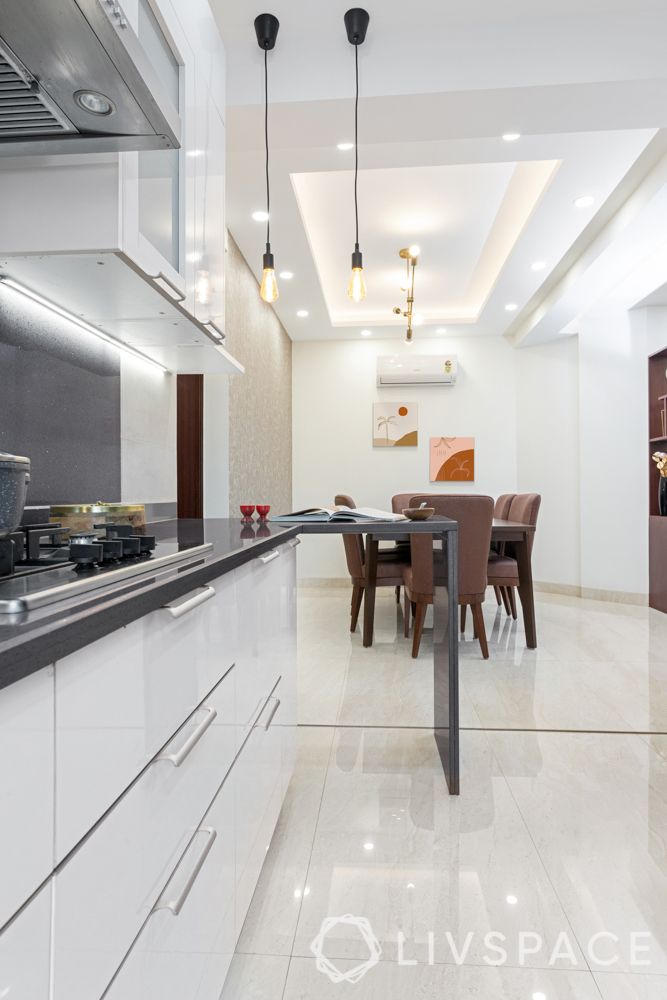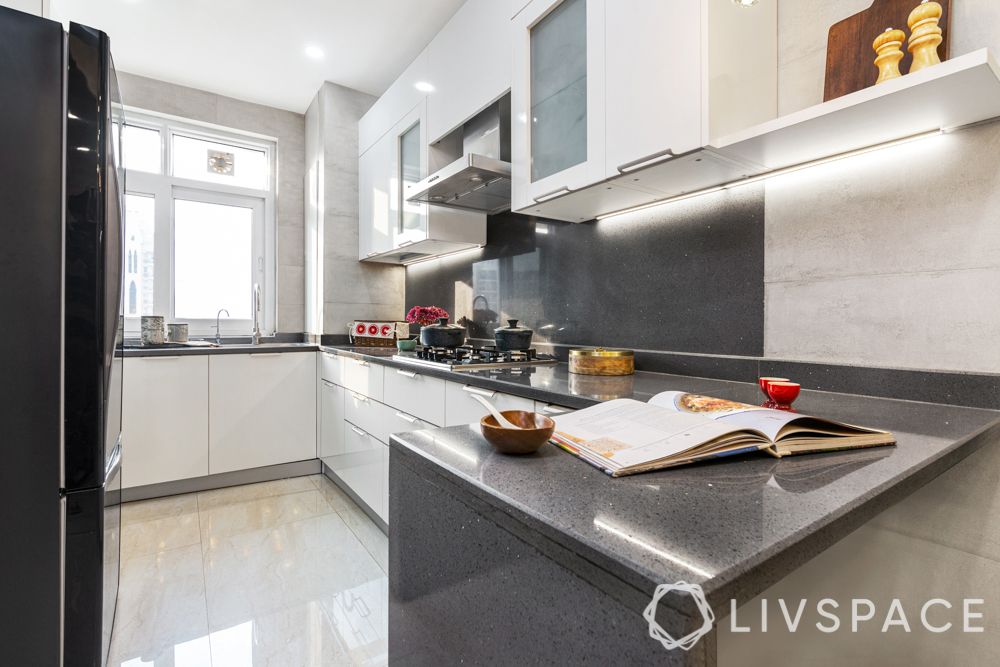 With an increase in demand for breakfast counters and kitchen islands, Tanu has found a way to incorporate this trend into compact kitchens as well.
Here the quartz countertop from the modular kitchen is extended to create a tiny yet functional breakfast counter. This also happens to be her favourite custom design as it's economical and a great way to create a trendy design!
Minimal study unit and wall-mounted pooja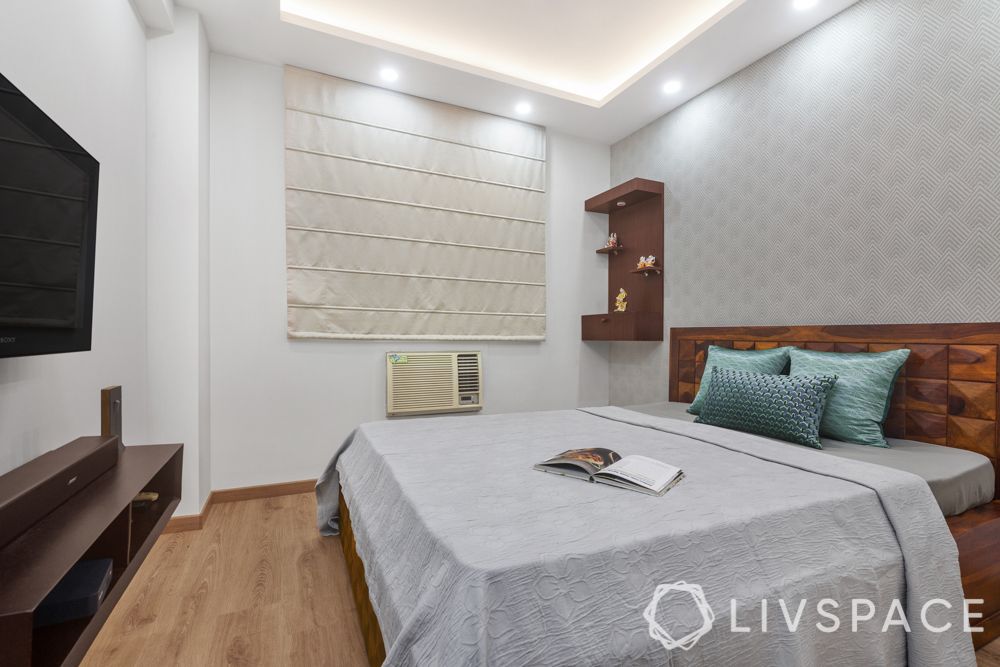 One of the most important factors in the space planning stage of an interior design is making sure every nook and corner is utilised the right way. The daughter's room has a wooden study table that fits the empty window nook like a glove. Along with this, the bare wall in the son's room was perfect for a minimalist pooja unit in dark brown laminate.
We also packed in plenty of storage into every room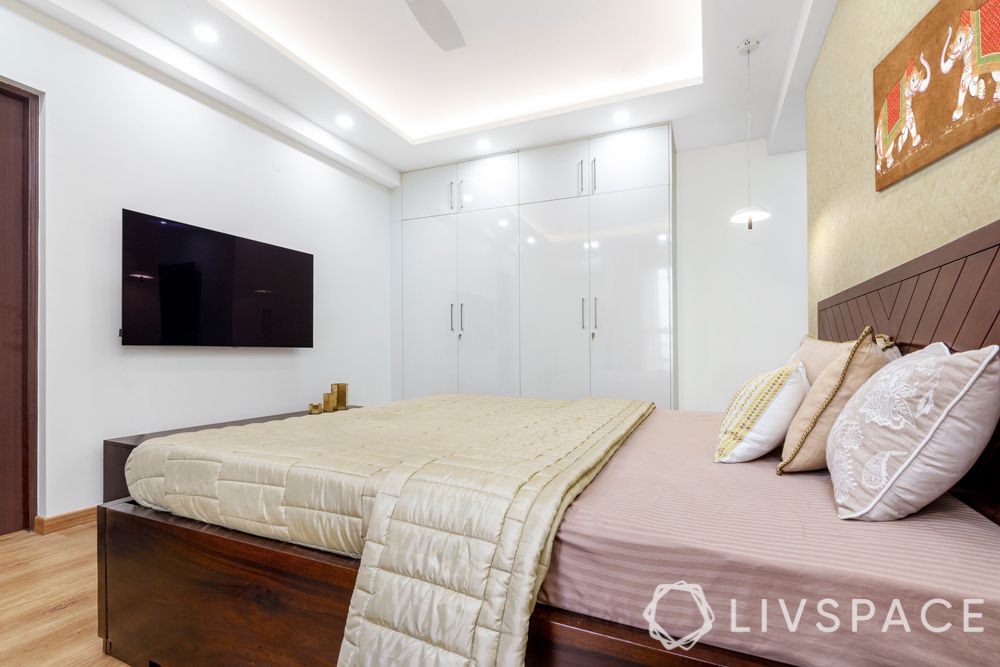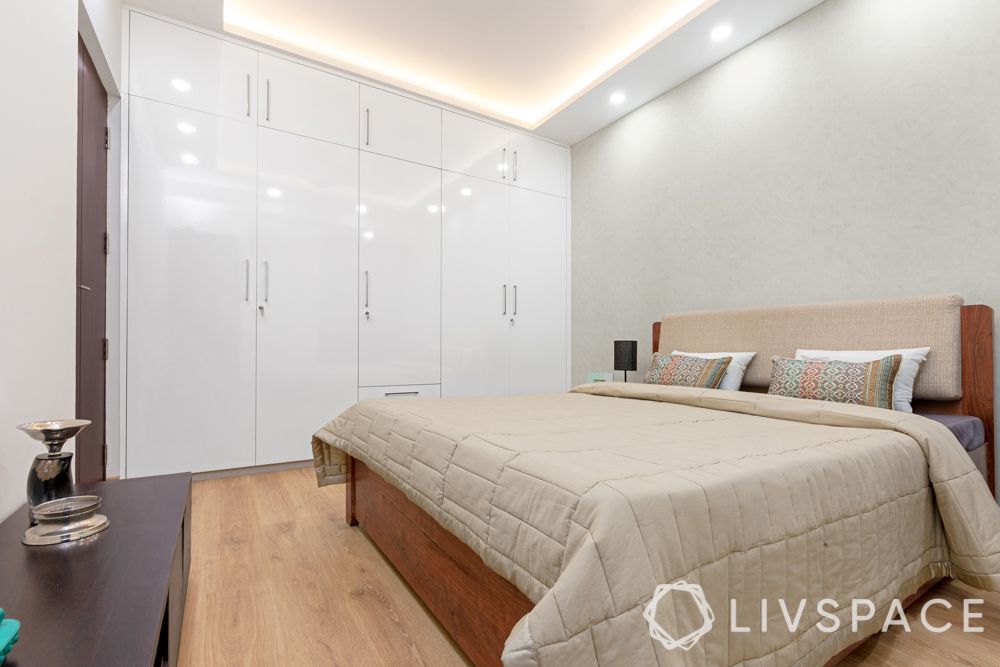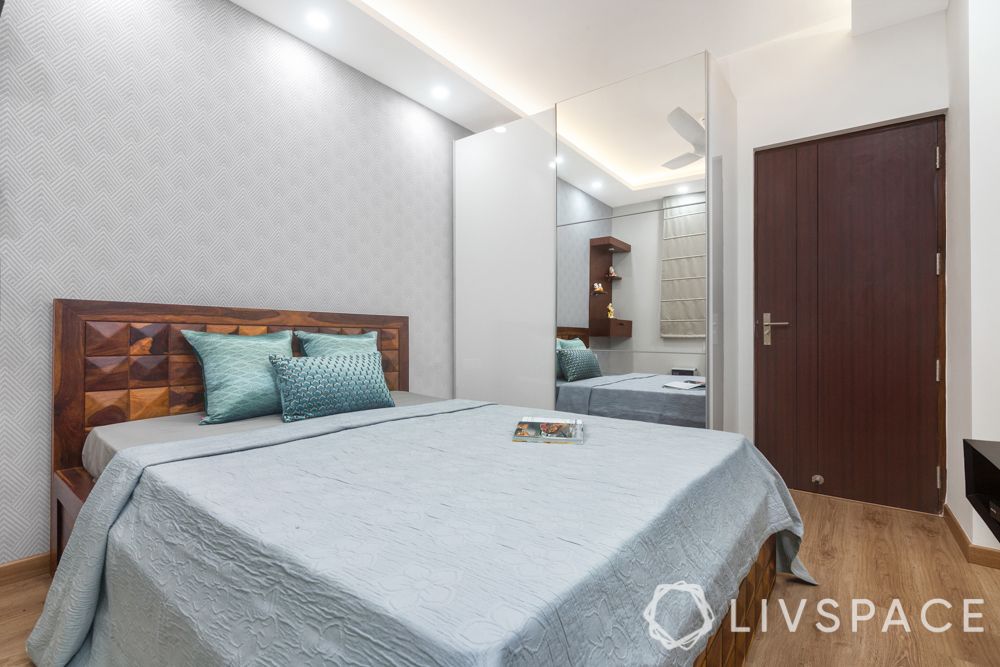 Not having enough storage is a homeowners biggest problem. Faced with both compact and spacious rooms, Tanu has put in sleek and sufficient storage units in every room. Starting with the kitchen, this classic white and grey modular design has laminate cabinets with stainless steel handles neatly done in a U-shaped layout.
While the master bedroom in this 3 bhk design features a laminate finish high gloss hinged wardrobe in frosty white, the son's bedroom flaunts a sliding door wardrobe to save up on space.
Want to peek into another Gurgaon home? Take a tour of A Classy Home Design and How You Can Get this Look.
Send in your comments and suggestions.