Livspace interior designer in Thane Ismail Nek gives this 3BHK family home a bright and colourful look!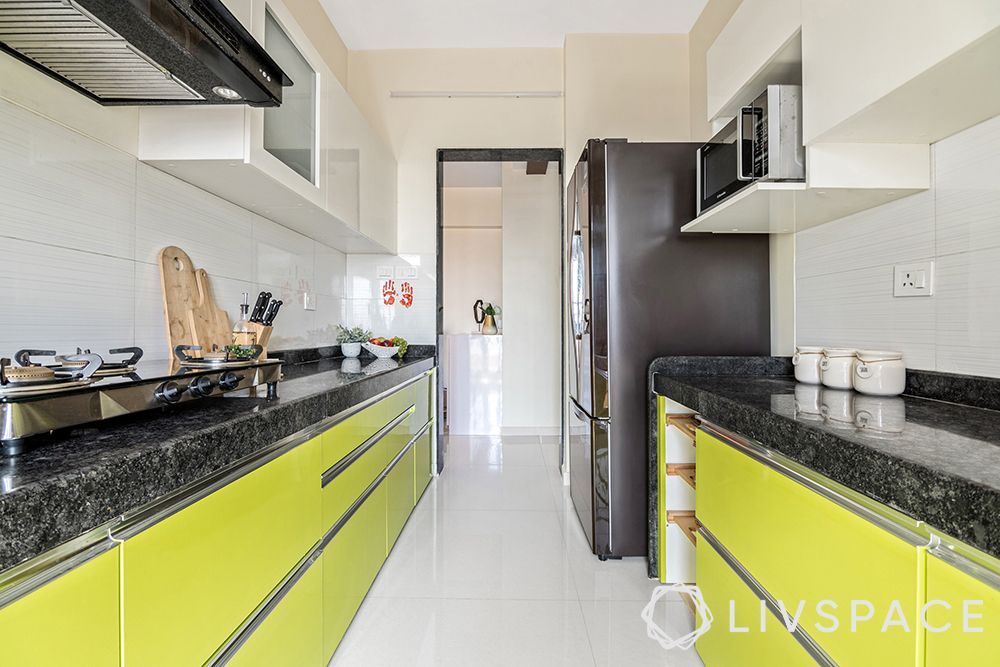 ---
Who livs here: Umesh with his wife Karuna and their son Shreyas
Location: Thane
Size of home: A 3BHK spanning 1700 sqft
Design team: Interior designer Ismail Nek and Project Manager Chandan Singh
Livspace service: Full Home Design
Budget: ₹₹₹₹₹
---
For the Churis, moving into a new home was a whole new experience and so was getting interiors done from scratch. Originally, this new home was a blank canvas, making it perfect for the family to express their creativity and preferences. When homeowners Umesh and Karuna met up with our interior designer in Thane, all they wanted was a lively and functional home for their small family.
Livspace designer Ismail Nek knew exactly what the homeowners wanted and found unique ways to incorporate all their preferences into the home. Umesh, Karuna and Shreyas had clear colour preferences for their rooms. They also wanted fuss-free and functional furniture in each room. Take a look at how our interior designer in Thane gave the family just that!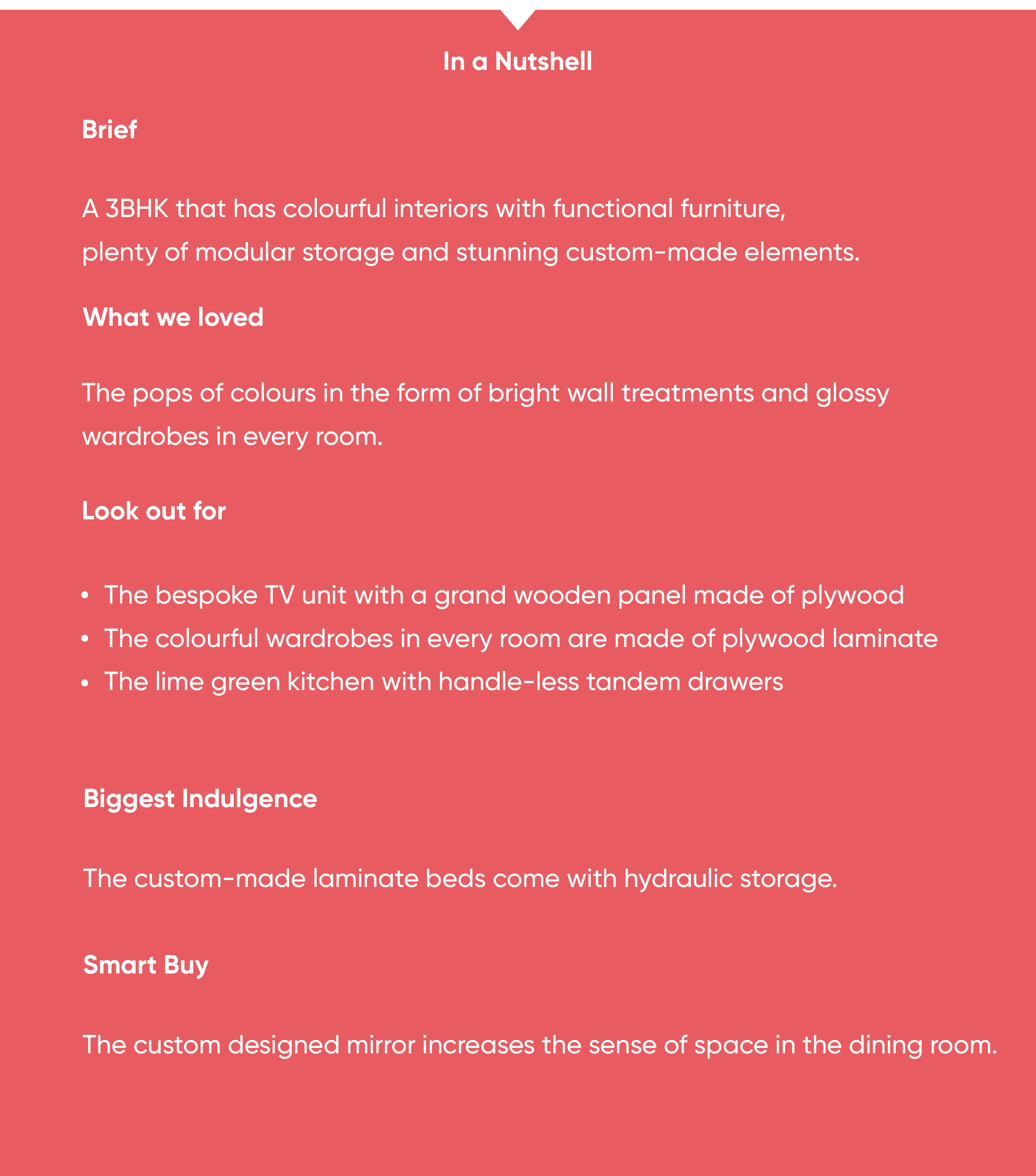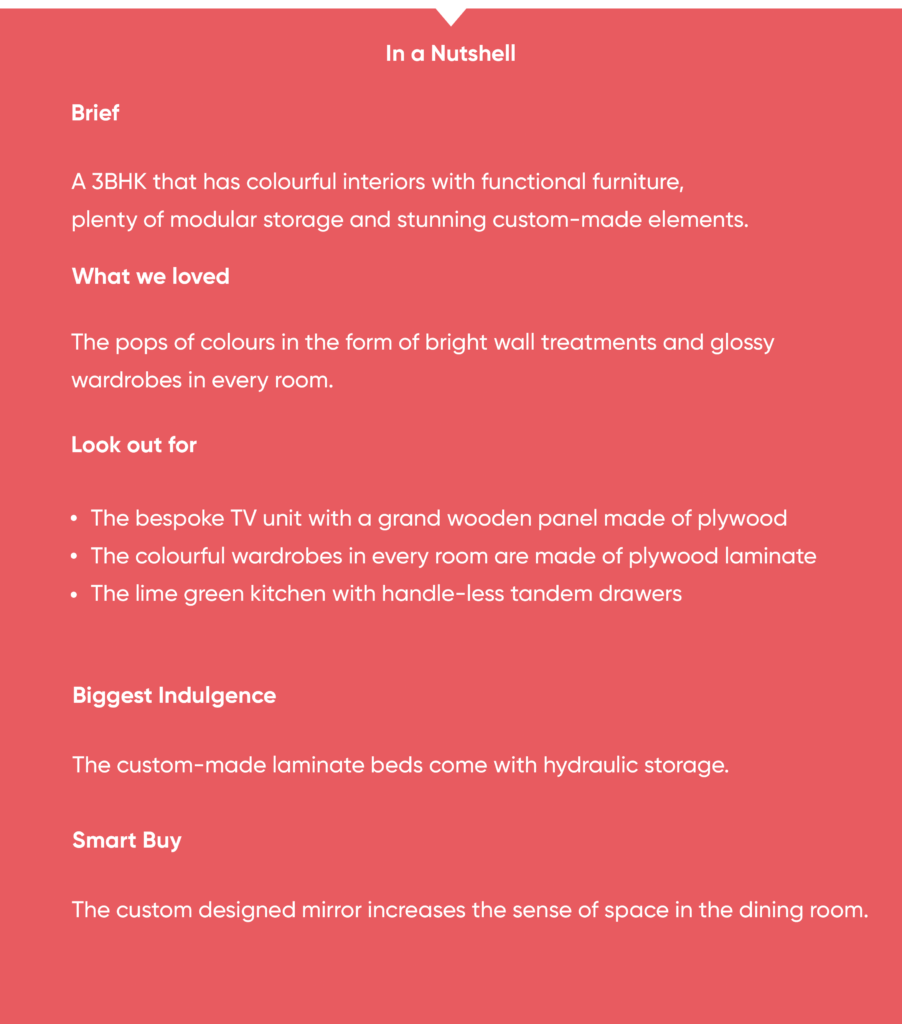 A mix of custom-made and ready-made features for the living room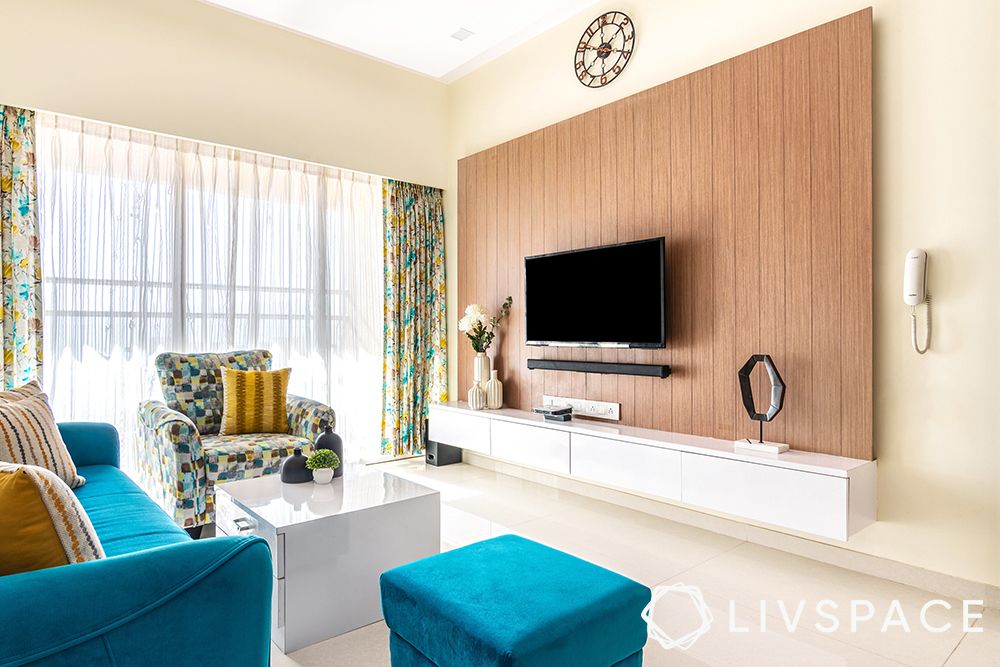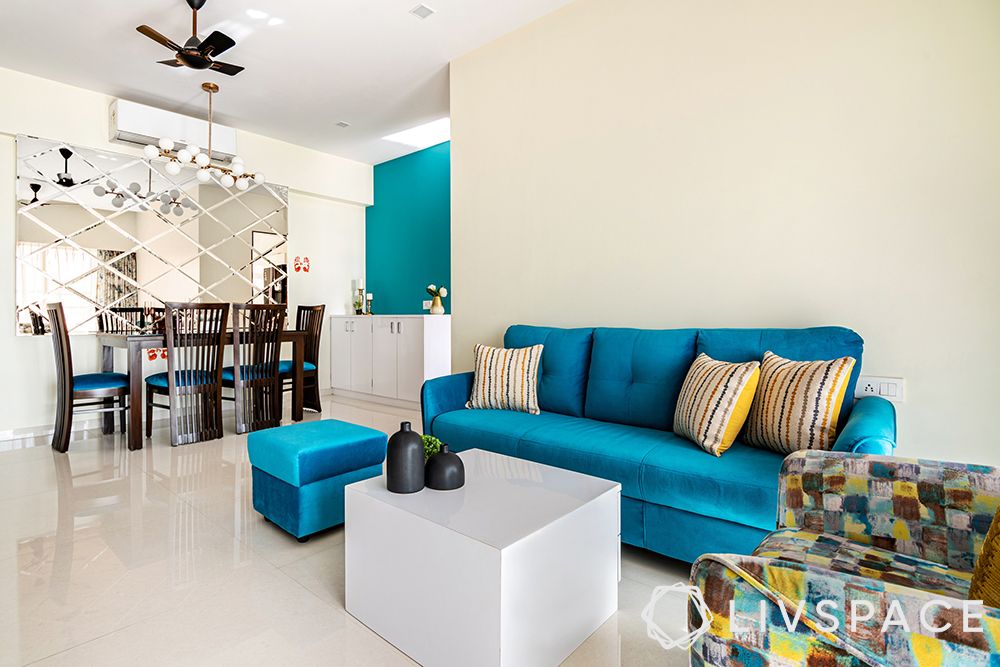 To begin with, the family wanted an overall simple and spacious vibe. This is clearly visible in the living room with the neutral walls and colourful furniture. If you're wondering where the loose furniture is from, you can find it in the Livspace catalogue. However, the TV unit is custom designed by Ismail. It is made of stunning light coloured plywood panels and includes a modular storage unit in laminate finish.
Finding a cosy dining nook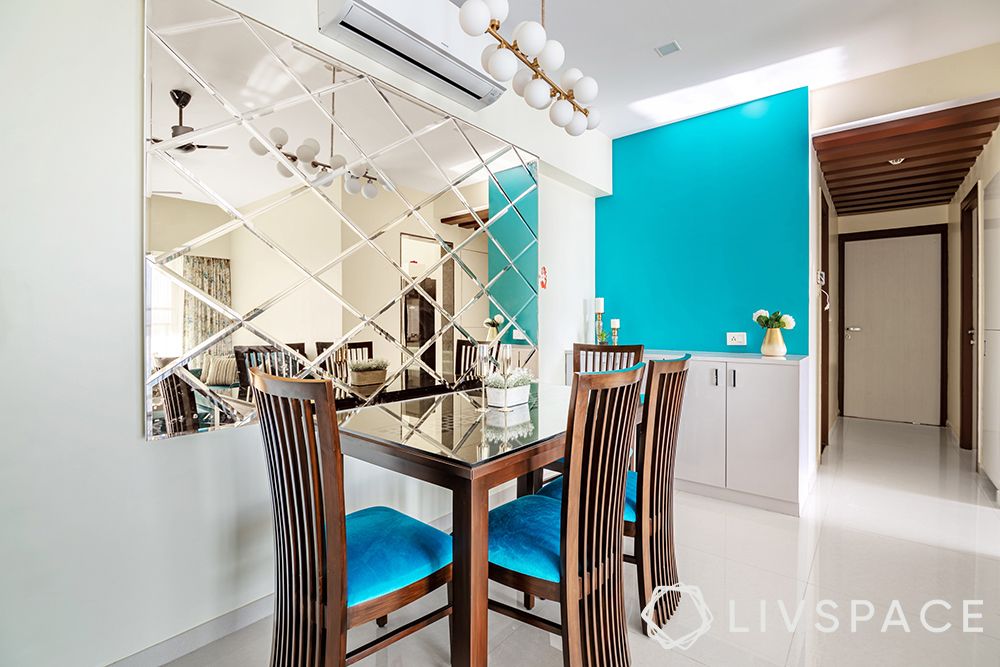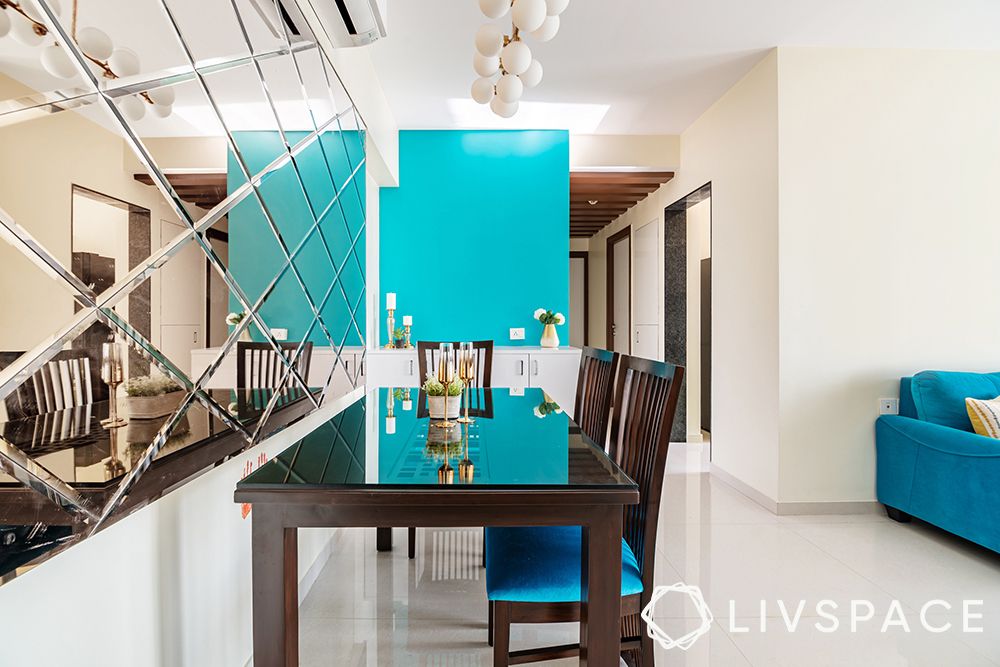 As you enter the home, you will notice that the entryway has an eye-catching ceiling treatment. This was designed by Ismail to lower the height and cover exposed and unsightly pipes. Furthermore, he added a wooden panel design to the POP false ceiling to match the dining room furniture that can be seen from the entryway.
Moreover, the dining room was positioned here since it has sufficient space for a crockery cabinet. Subsequently, what makes this space look stylish and spacious is the sizable mirror that is placed opposite the balcony to reflect light and give the appearance of a bigger room.
Lime green kitchen with hi-tech storage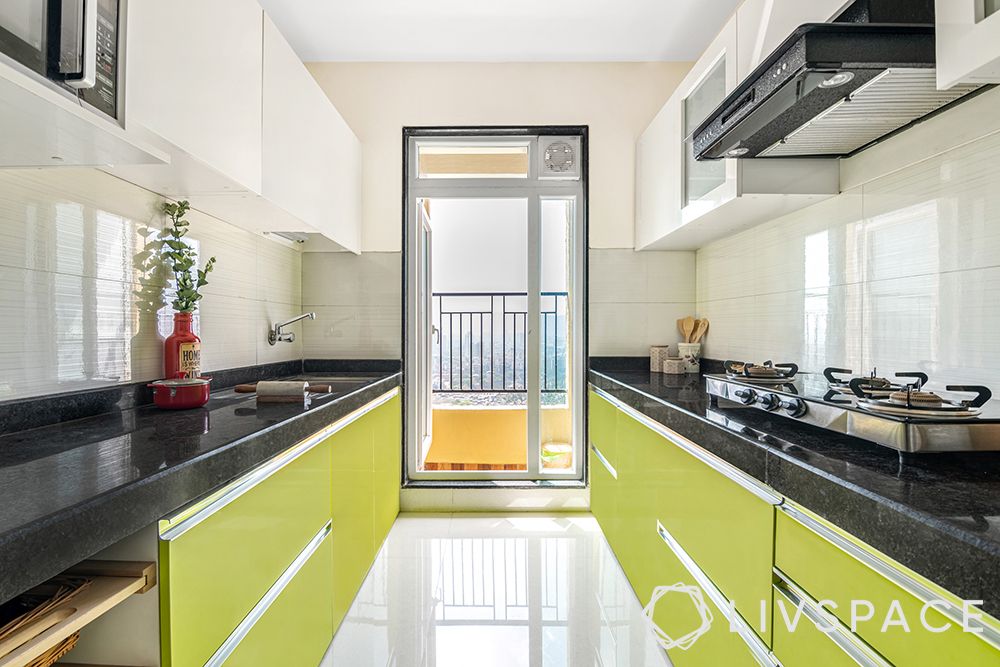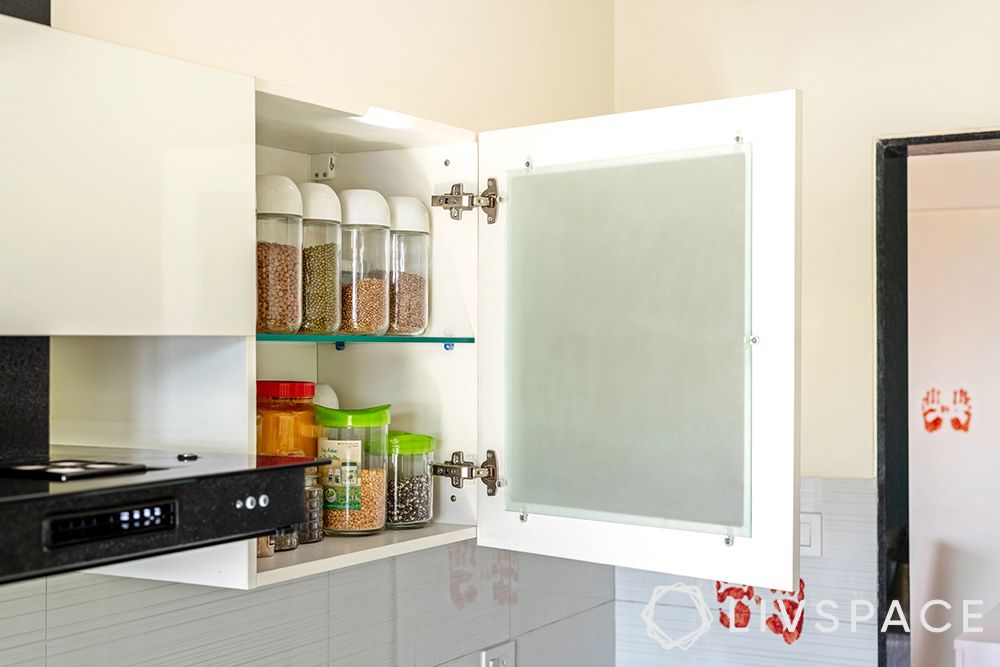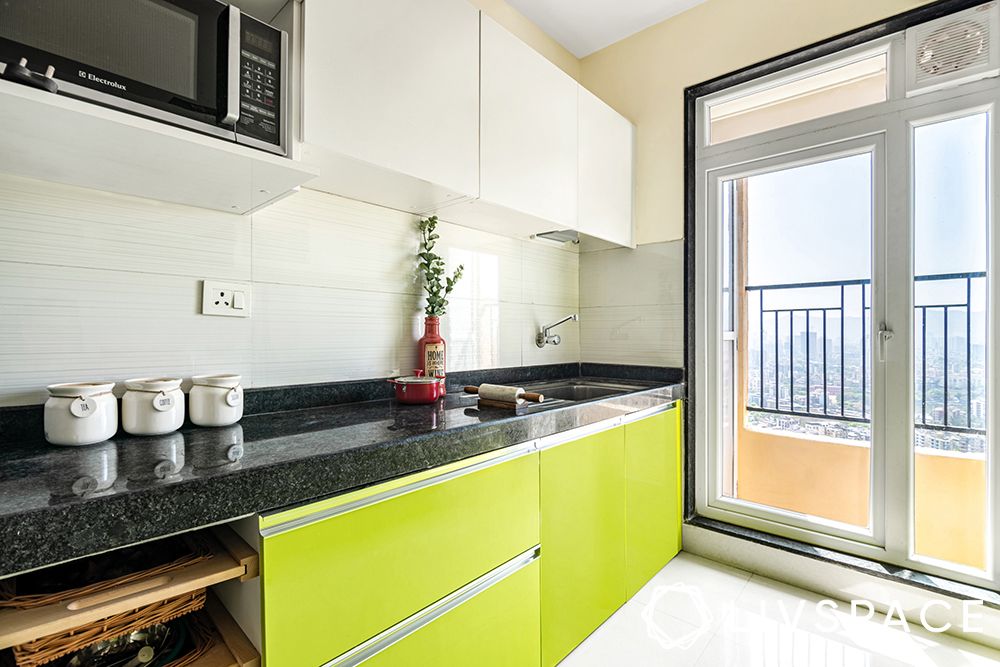 Ismail has given this home one of the brightest and happiest kitchens with a unique lime green colour combined with classic white wall cabinets. Furthermore, these cabinets are made of durable marine ply with laminate finish and glass shutters.
But there's more to this space than its stunning colour! Umesh and Karuna spent their time picking out this high quality semi-modular design and wanted tandem drawers for a seamless cooking experience. These high tech boxes come with a special sliding mechanism making it highly functional and perfect for organised storage. Moreover, the cabinets are handle-less giving it a sleek look.

https://www.livspace.com/oembed/magazine-details-more-articles?slug=livspace-homes&title=More Articles
Homeowner's experience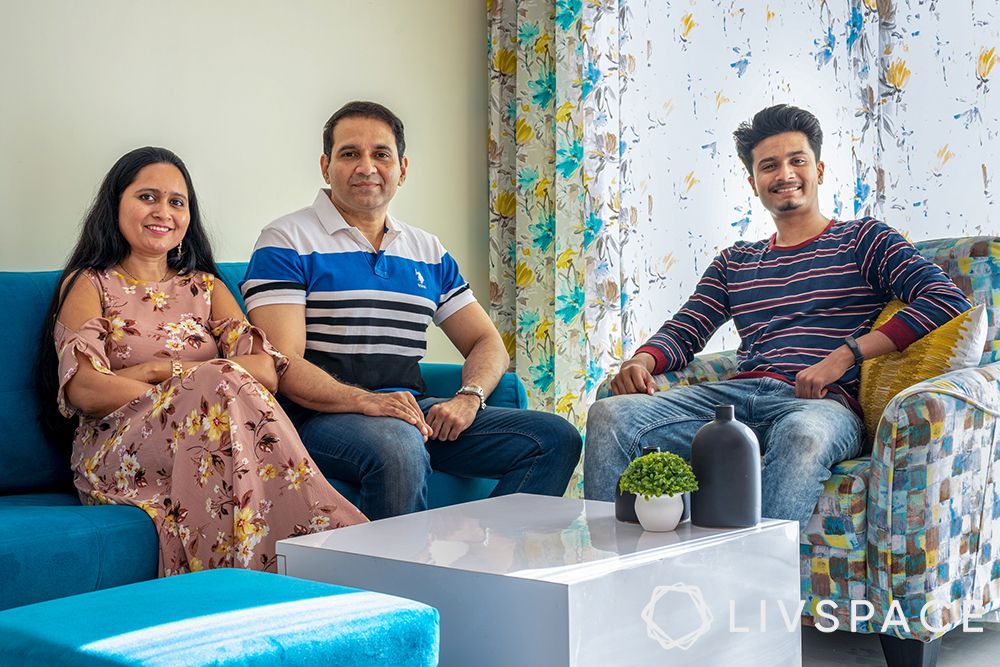 "We've enjoyed the entire process with Livspace thanks to its great designs, flexibility and amazing client service. Ismail worked with great passion.We thank the entire team who gave their full dedication and support to complete the project in the same spirit."

Umesh and Karuna Churi

Livspace Homeowners
Designing a purple and white themed master bedroom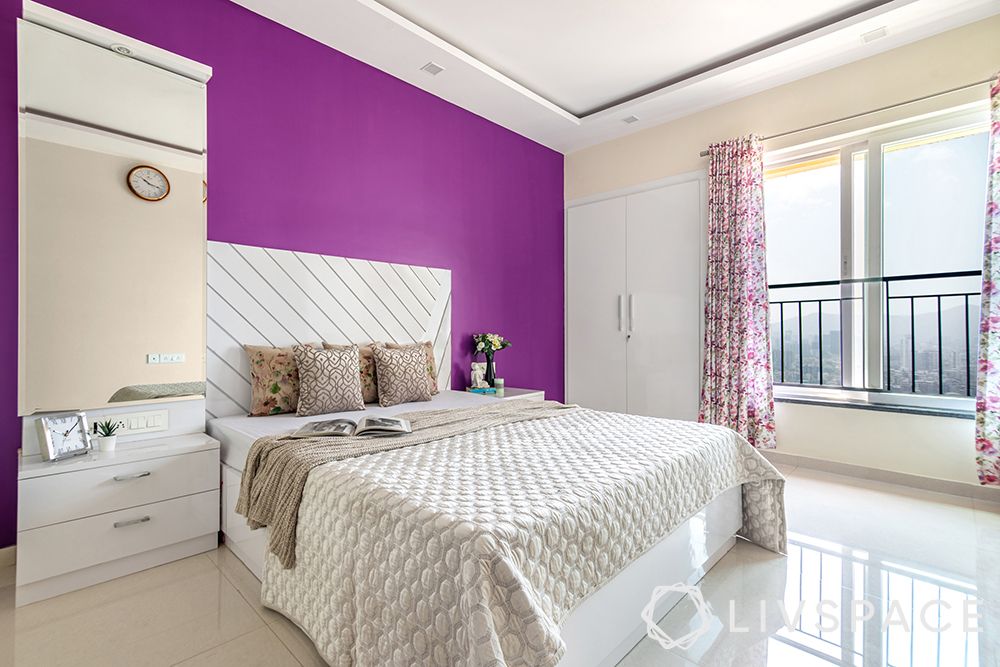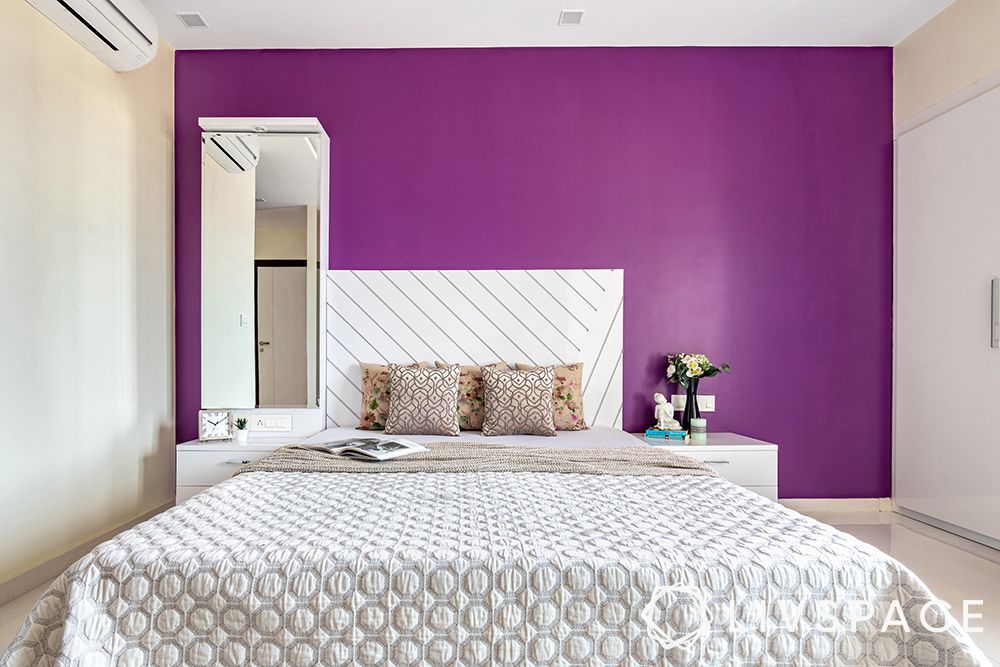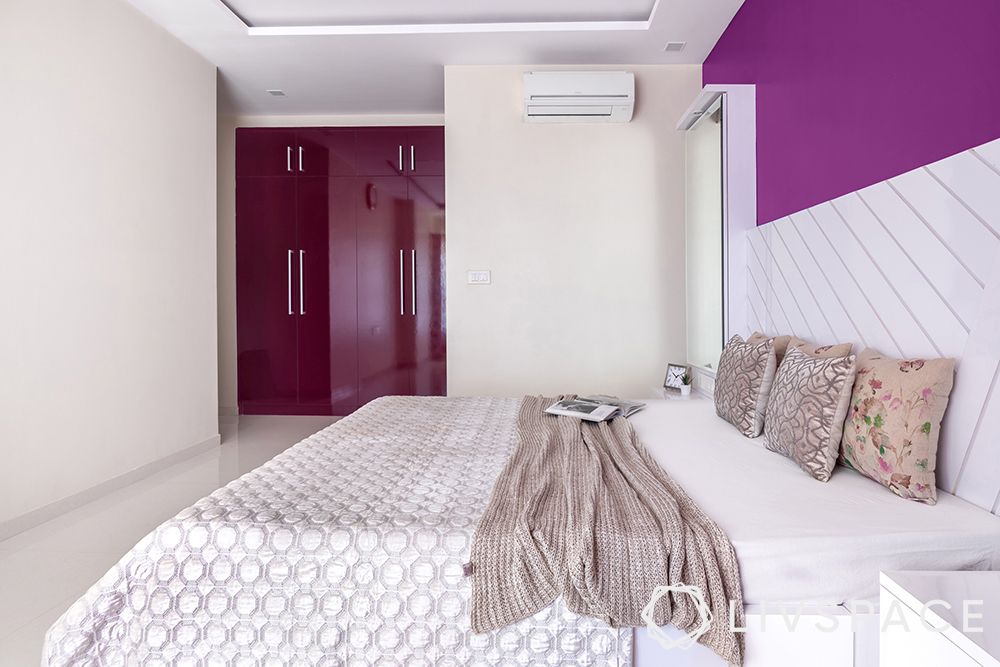 The bedrooms have a fairly breezy design that you too can recreate. Umesh and Karuna were certain they wanted their bedroom to be governed by the colour purple. Therefore, Ismail opted for purple wall paint and glossy hinged wardrobes. The white furniture provides the base for the colour to pop. The homeowners also wanted custom-made laminate beds with hydraulic storage for both the bedrooms. Another noteworthy feature is the minimal false ceiling that was installed throughout the home.
Keeping it classy with a pop for the son's bedroom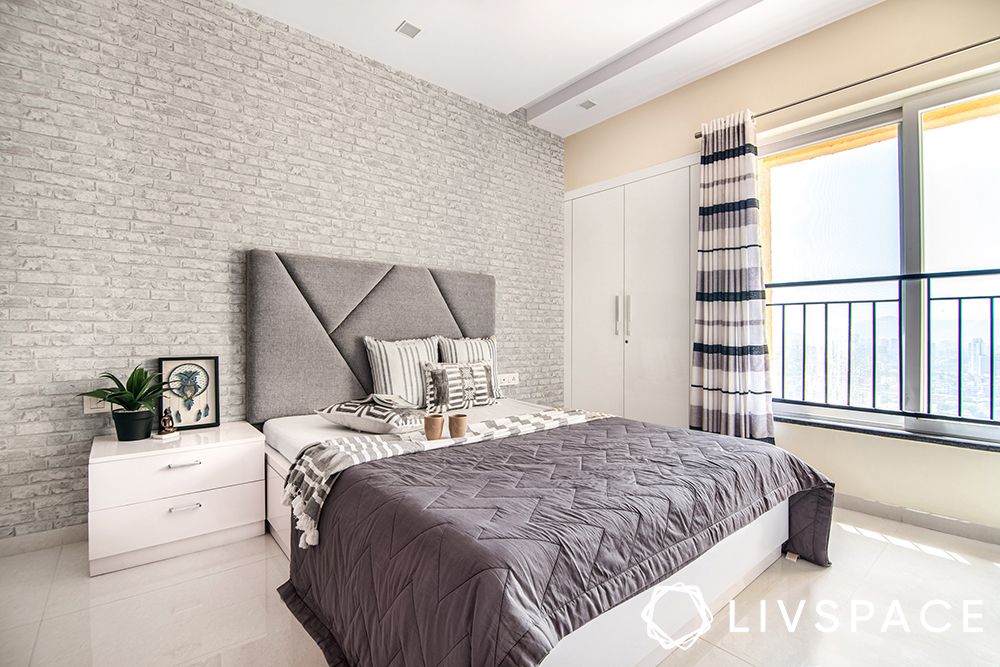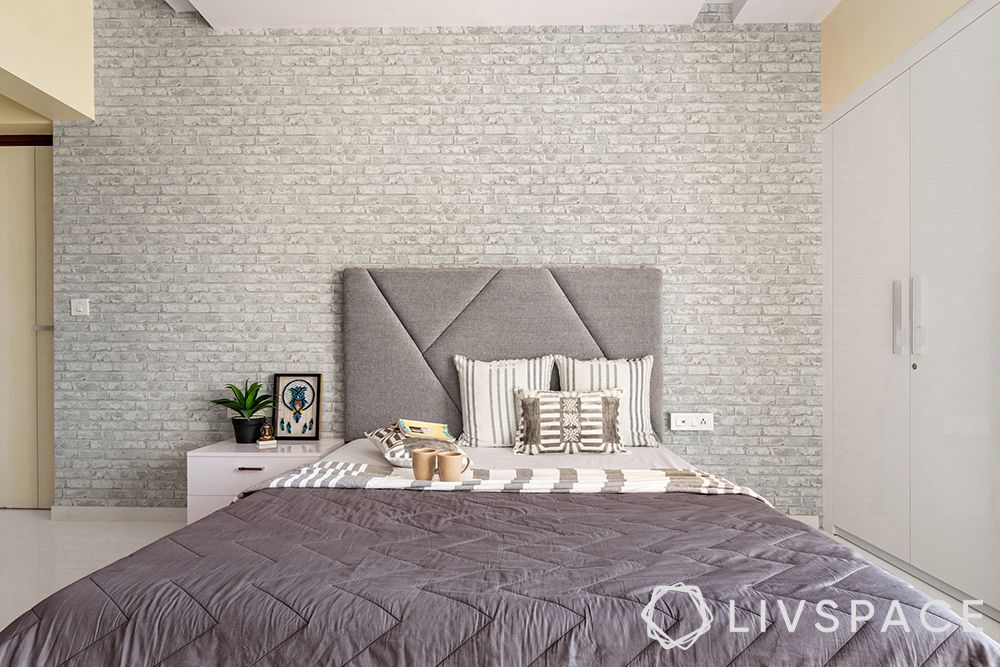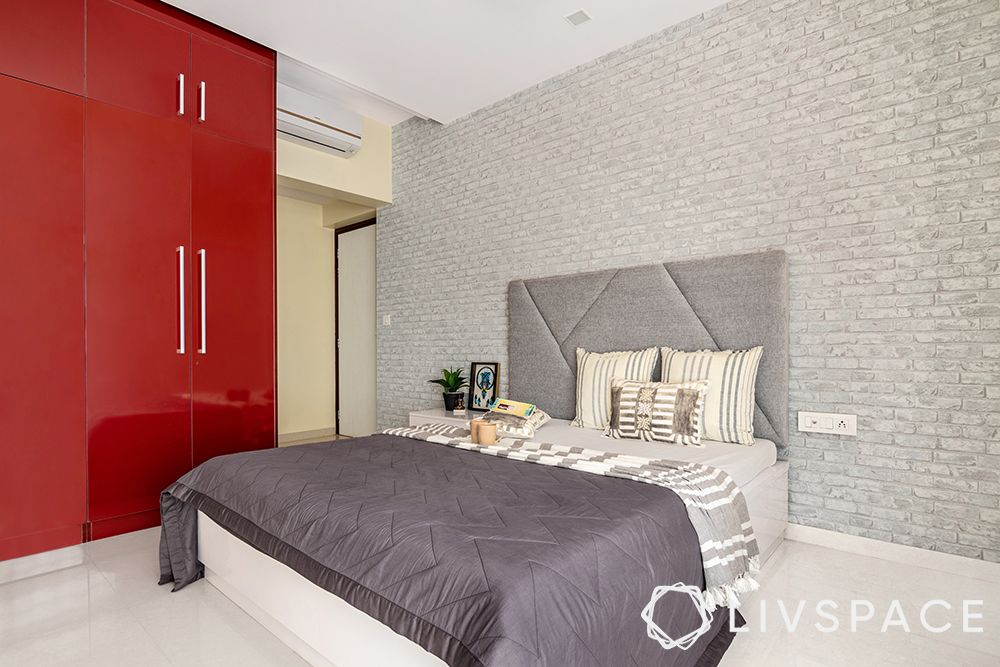 This cool grey-toned bedroom is every modern minimalist's dream! Shreyas' room features just the essentials of a bedroom. Firstly, it has a bed with an upholstered headboard and plenty of storage in the form of plywood laminate wardrobes. Then, the slightest bit of texture comes from the wallpaper in a brick wall design. Subsequently, the cherry red wardrobes add just the right amount of colour to the room.
Can't go wrong with a classic blue and white combination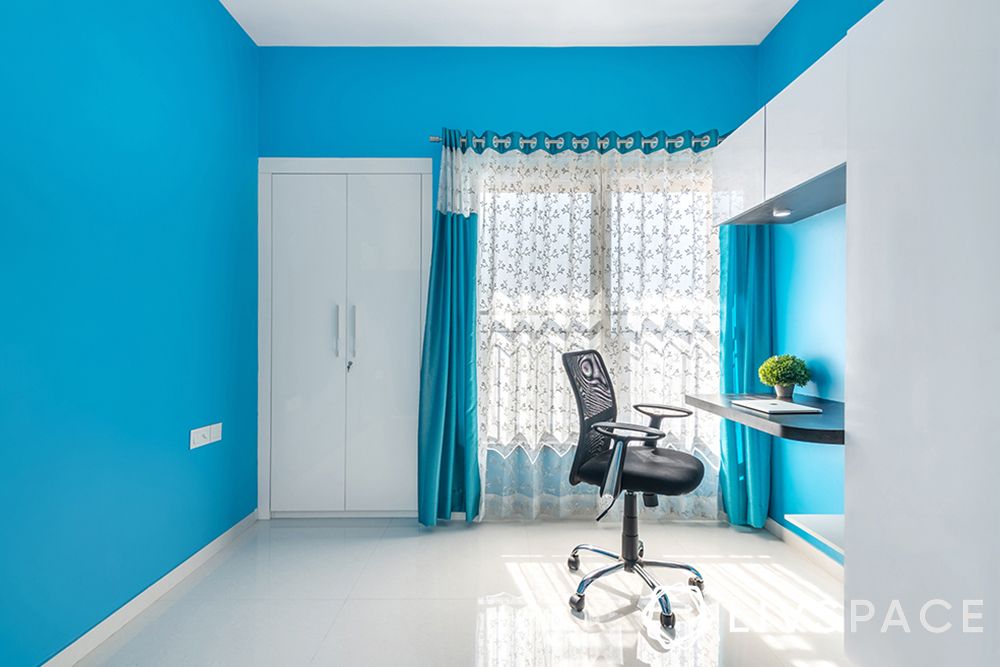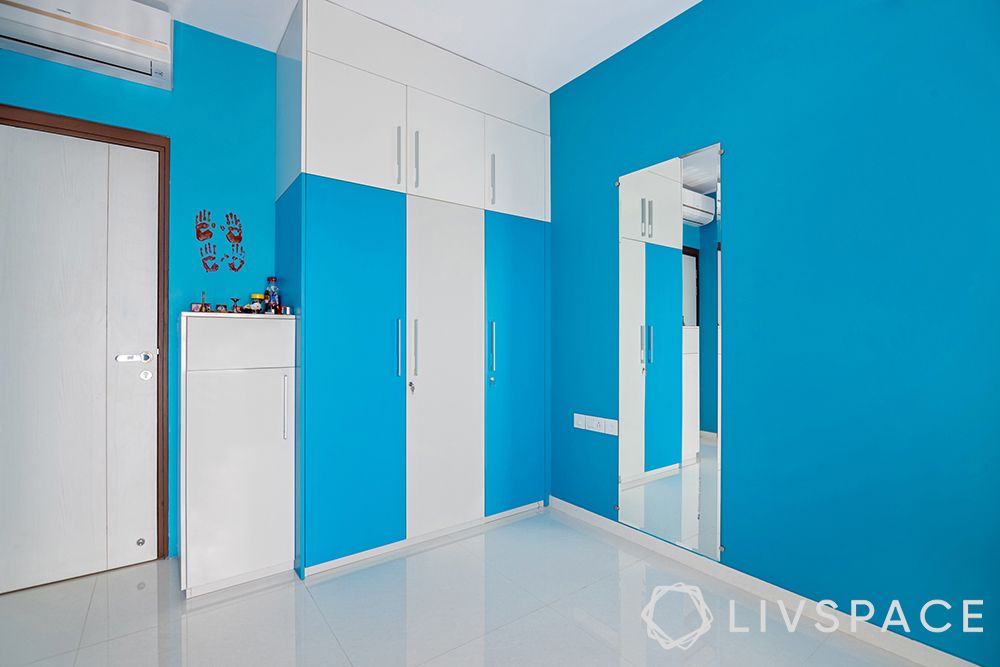 The third room in the home was initially a bedroom that the family turned into the perfect distraction-free study and workspace. Subsequently, interior designer in Thane Ismail custom designed this laminate finish study unit to fit their storage needs. The room also features a set of lofty wardrobes in a white and blue combination with an additional unit that doubles up as a pooja space.
Designer's experience
"Working with the Churis was a great experience as they were creative and ready to experiment with colours and textures. They encouraged me to use unique solutions to their design problems that resulted in this stunning home."

Ismail Nek

Interior Designer, Livspace
If you liked this Thane home, take a look at this 2BHK in Thane gets spacious revamp for some more isnpiration!
Send in your comments and suggestions editor@livspace.com.