The best interior designers in Bangalore designed this retreat.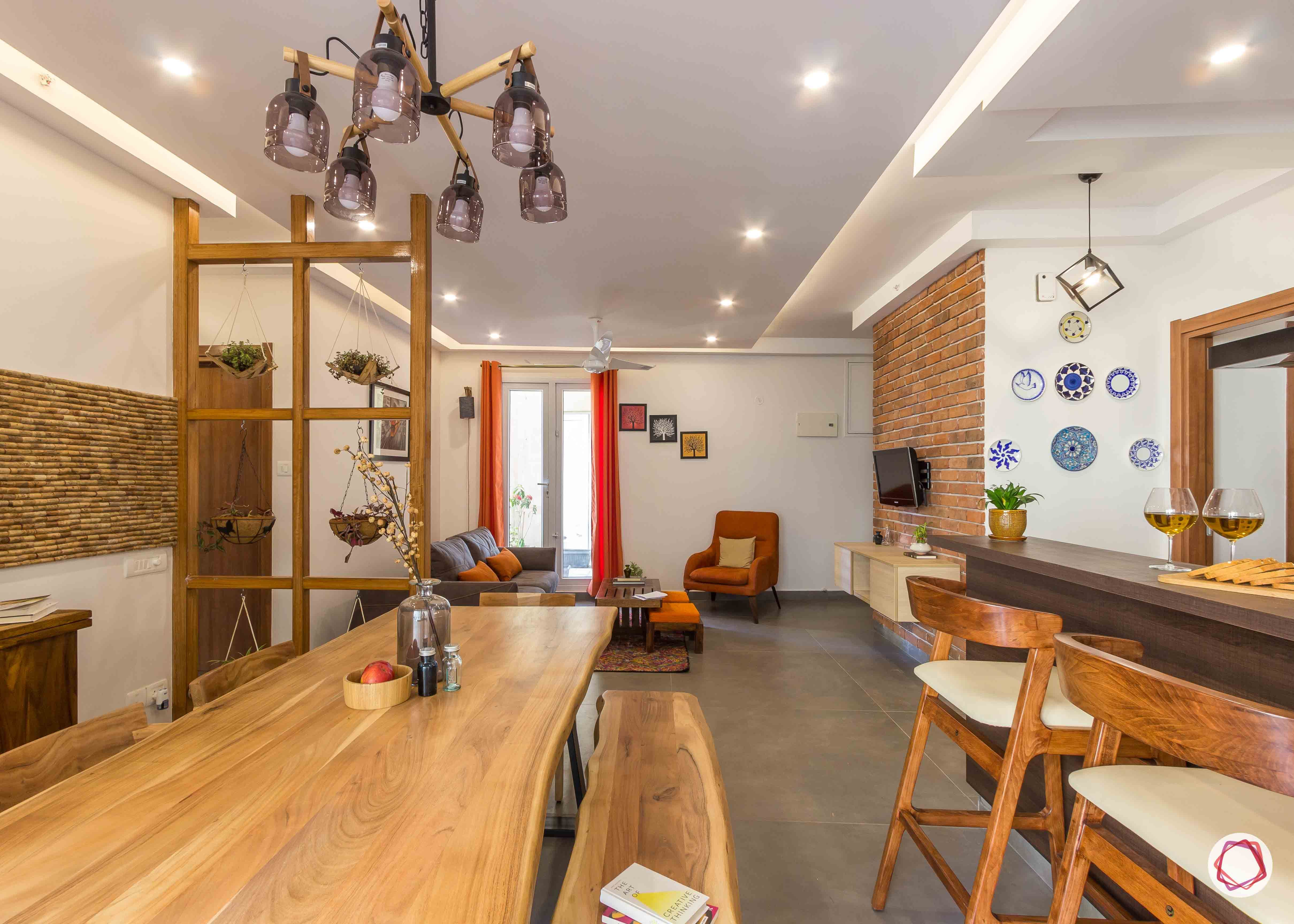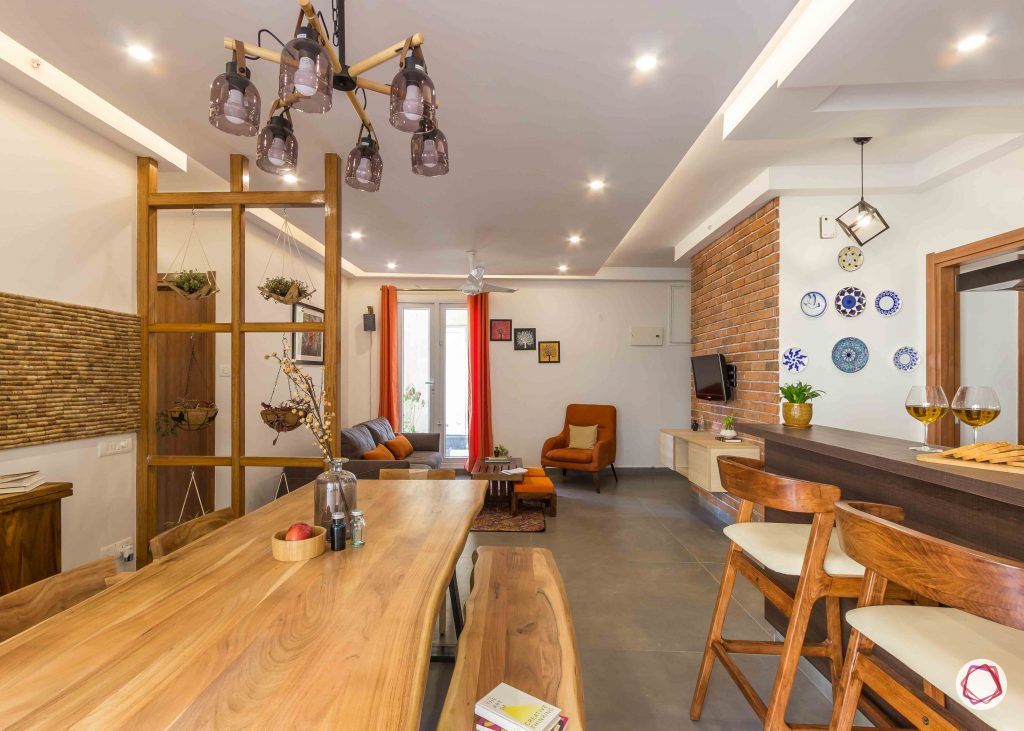 ---
Who livs here: Nikhil Kumar with his wife Pritika and their dog Joy
Location: Bhartiya City Nikoo Homes, Thanisandra, Bengaluru
Size of home: A 3BHK spanning 1,400 sq ft approx.
Design team: Interior Designer Anjali Murali and Quality Manager Gnanendra GM
Livspace service: Full home design
Budget: ₹₹₹₹₹
---
We've had a long running obsession with the "raw and earthy" feel in interiors and finally we have something to talk about. Industrial or rustic interiors, as a lot of us know it, are the next big thing in interior design.
Our clients, a young couple, Nikhil and Pritika, are well-travelled and possess an amazing taste in interiors. When they approached Livspace, they were brimming with ideas and needed someone to put it all together for them.
Anjali Murali, who spearheaded this project, was more than delighted to know what this couple had envisioned for their home. They told her that they wanted their home to look "naturally designed". And yes, Anjali caught their pulse and designed a rough look for their home which was the actual starting point of all of this.
Lovely LED bulbs, exposed brick walls, pretty tiles and a lot of natural-looking wooden finishes followed suit. This home is filled with warm colours and some stand-out elements that makes it a truly unique design. Scroll down to see how this home was done by the best interior designers in Bangalore.
Subtle with Pop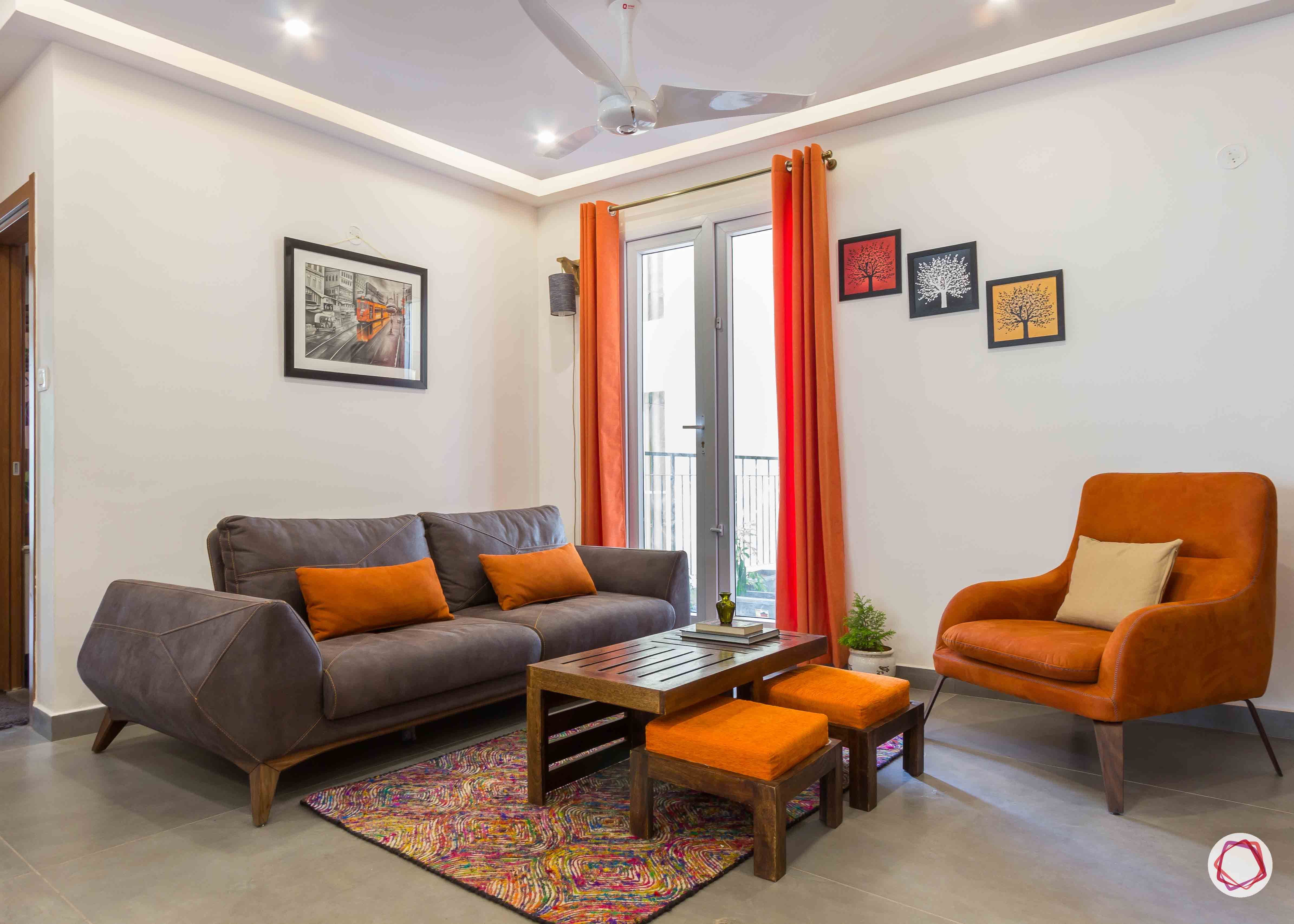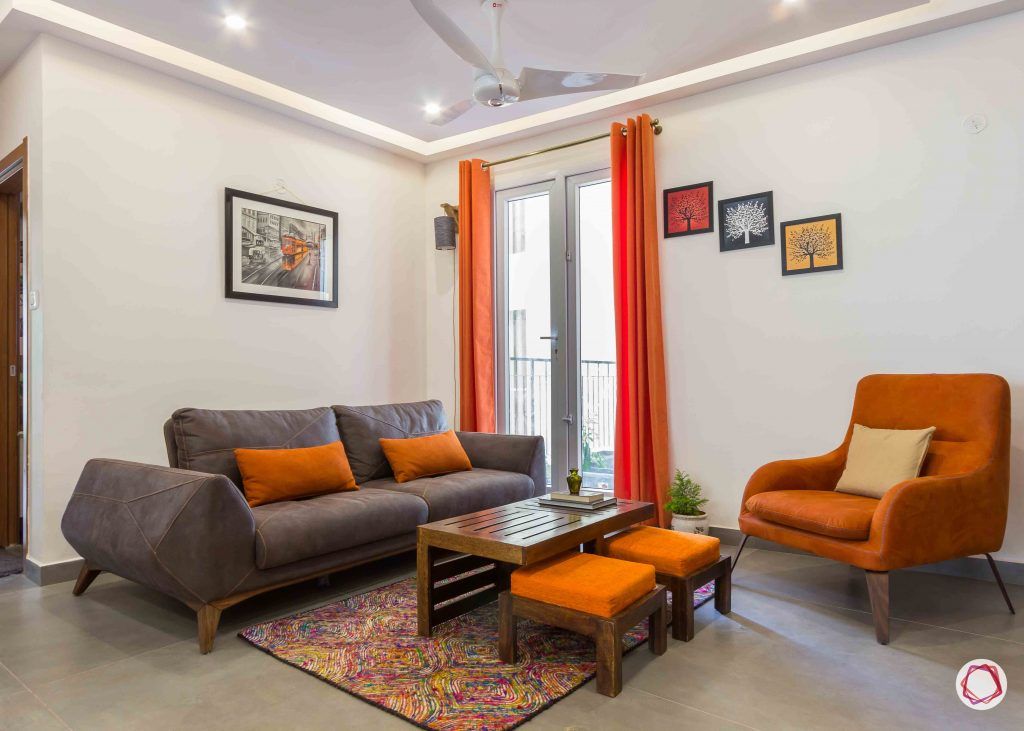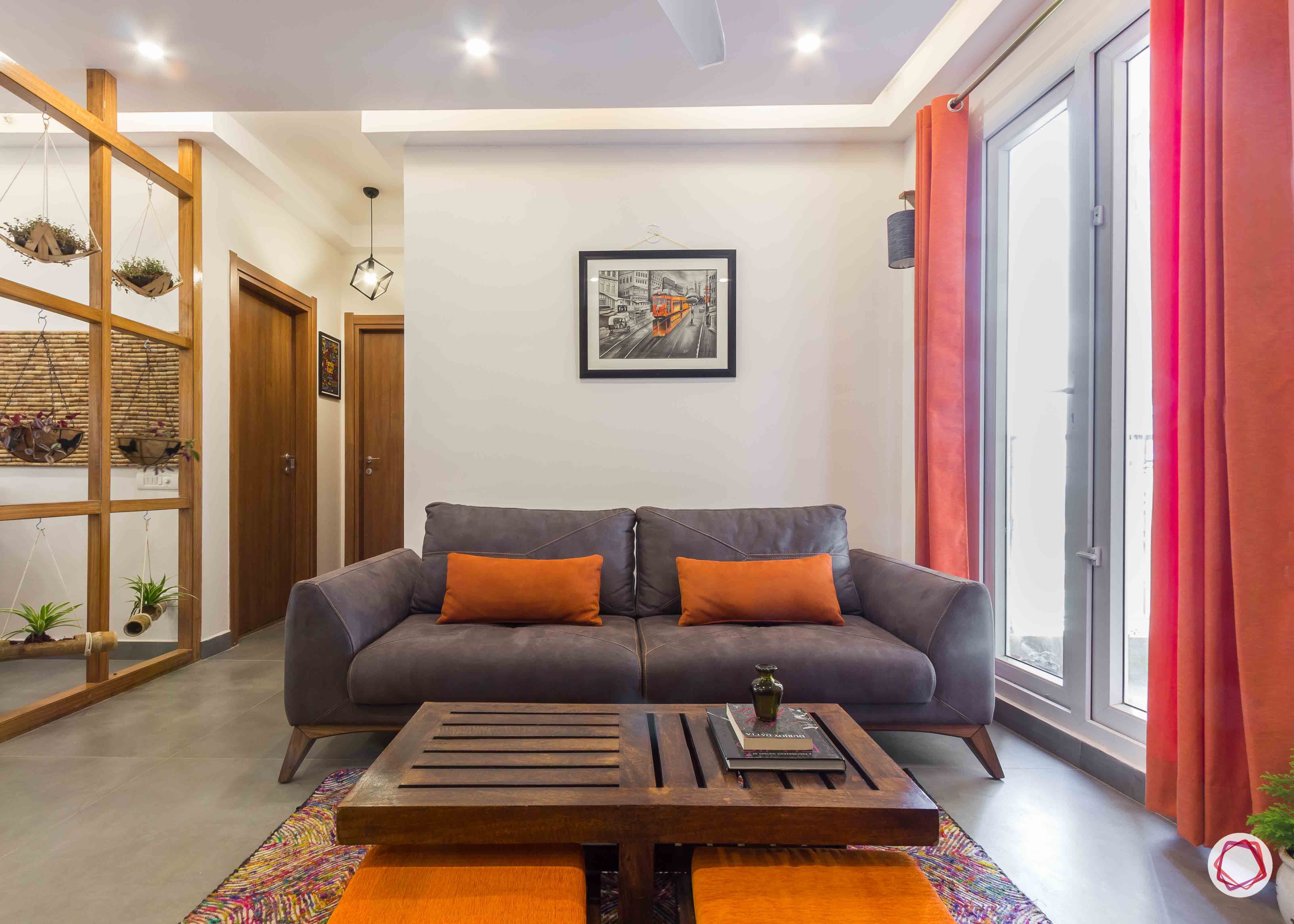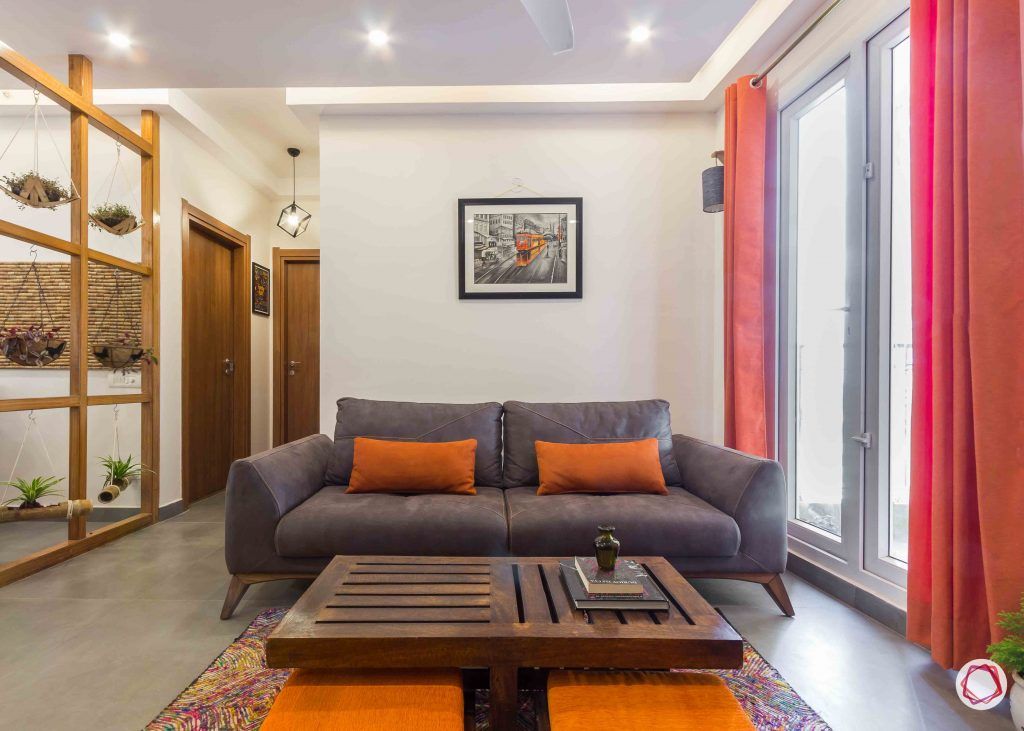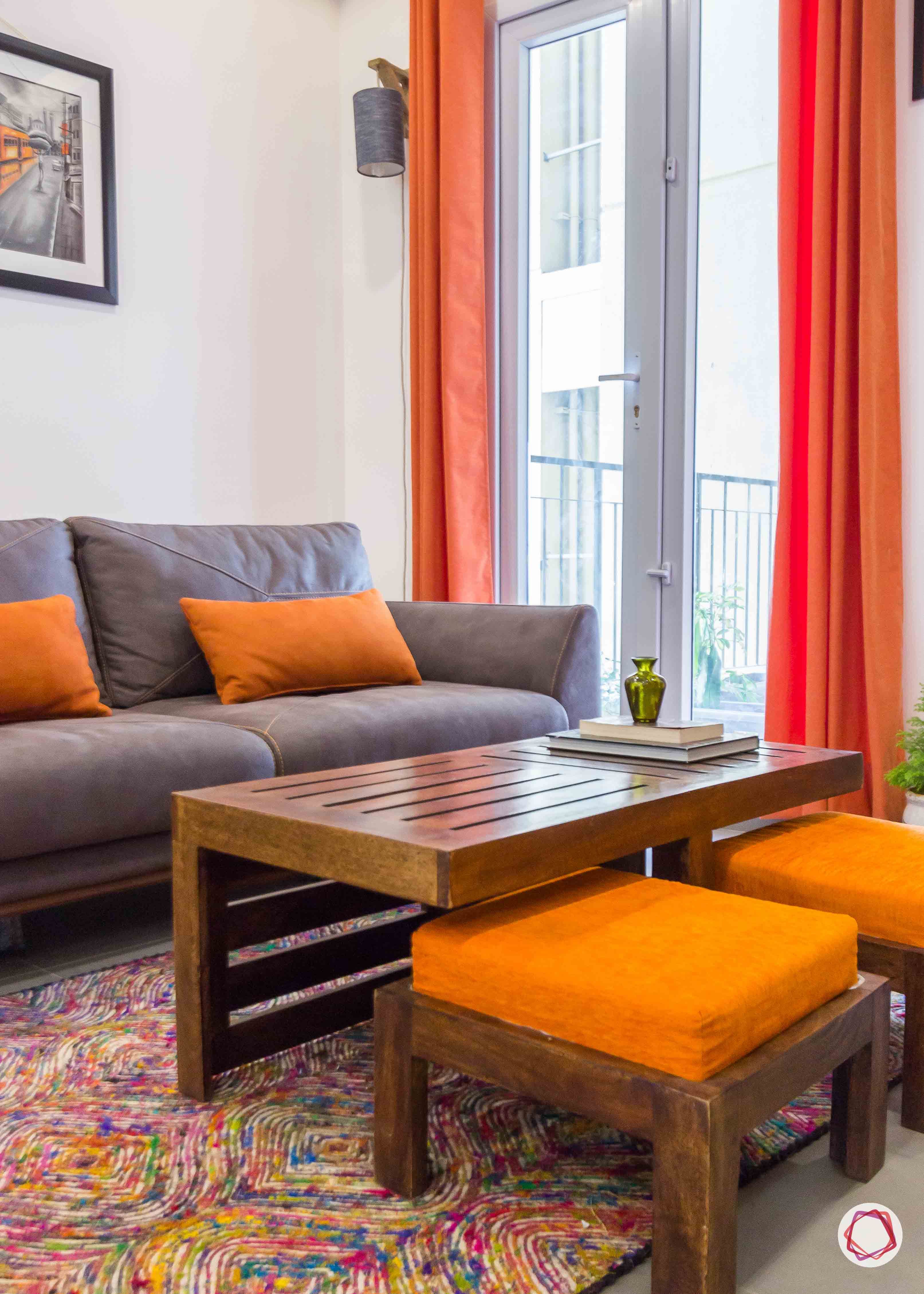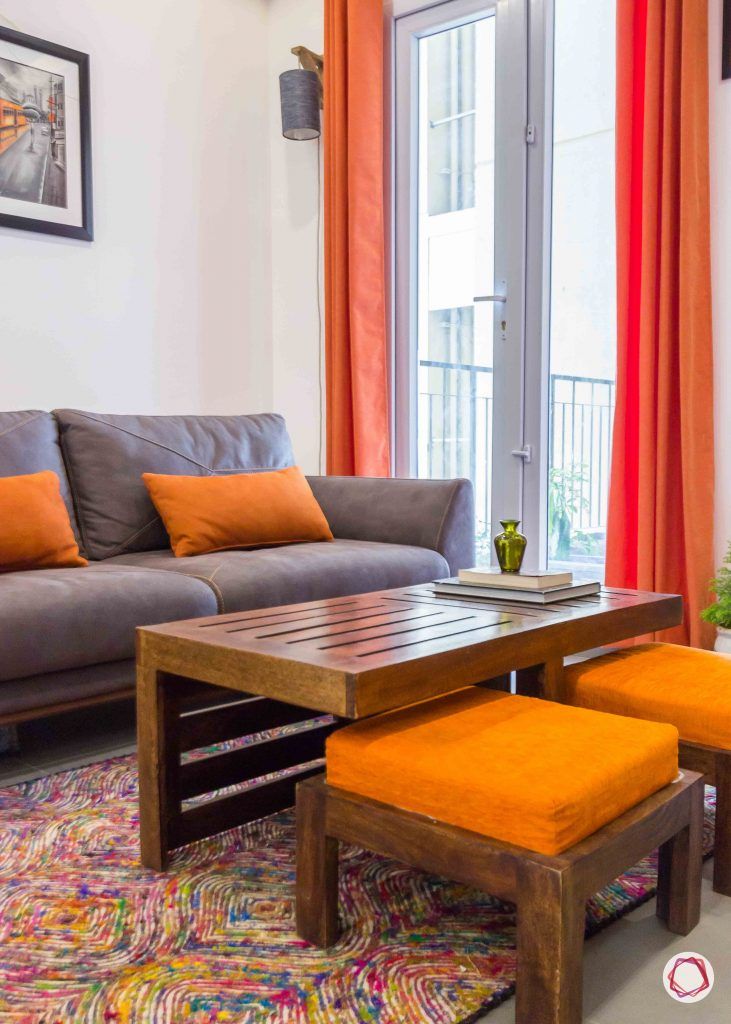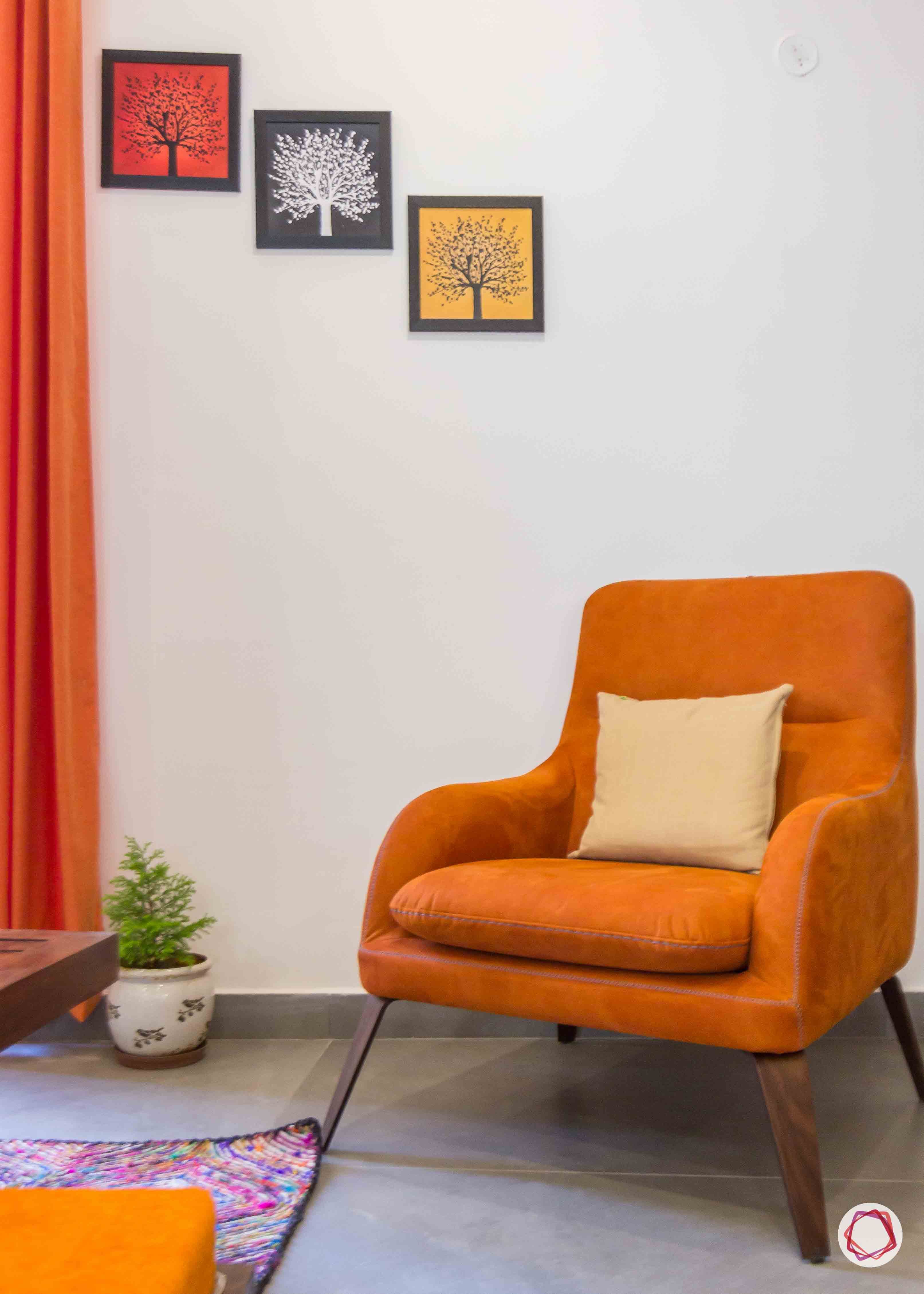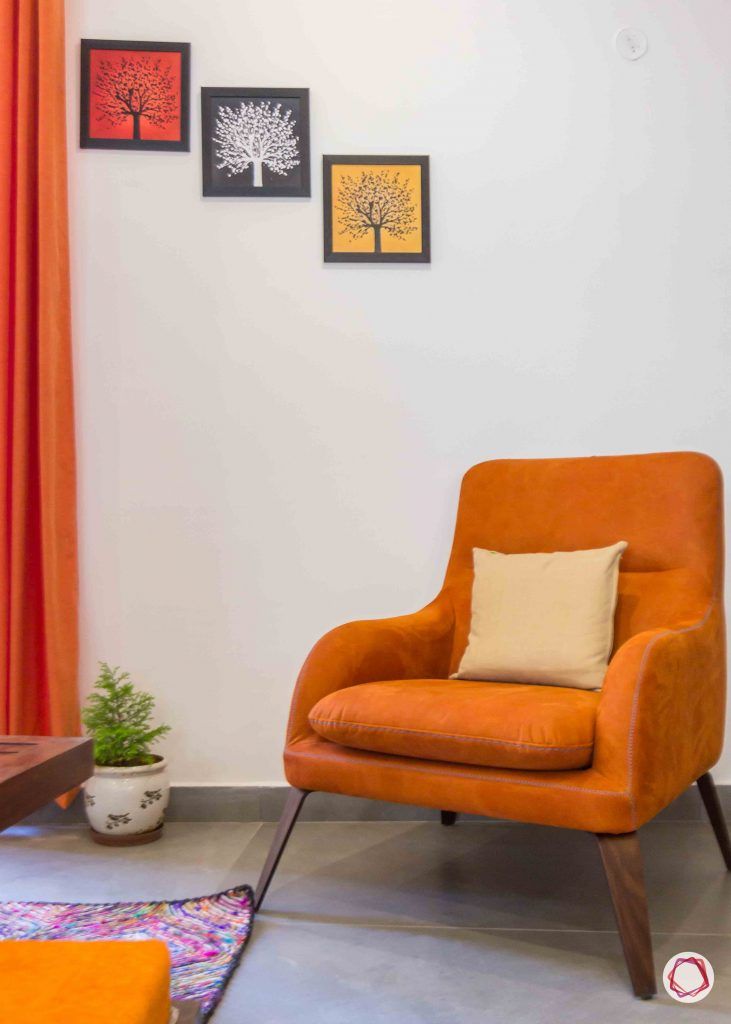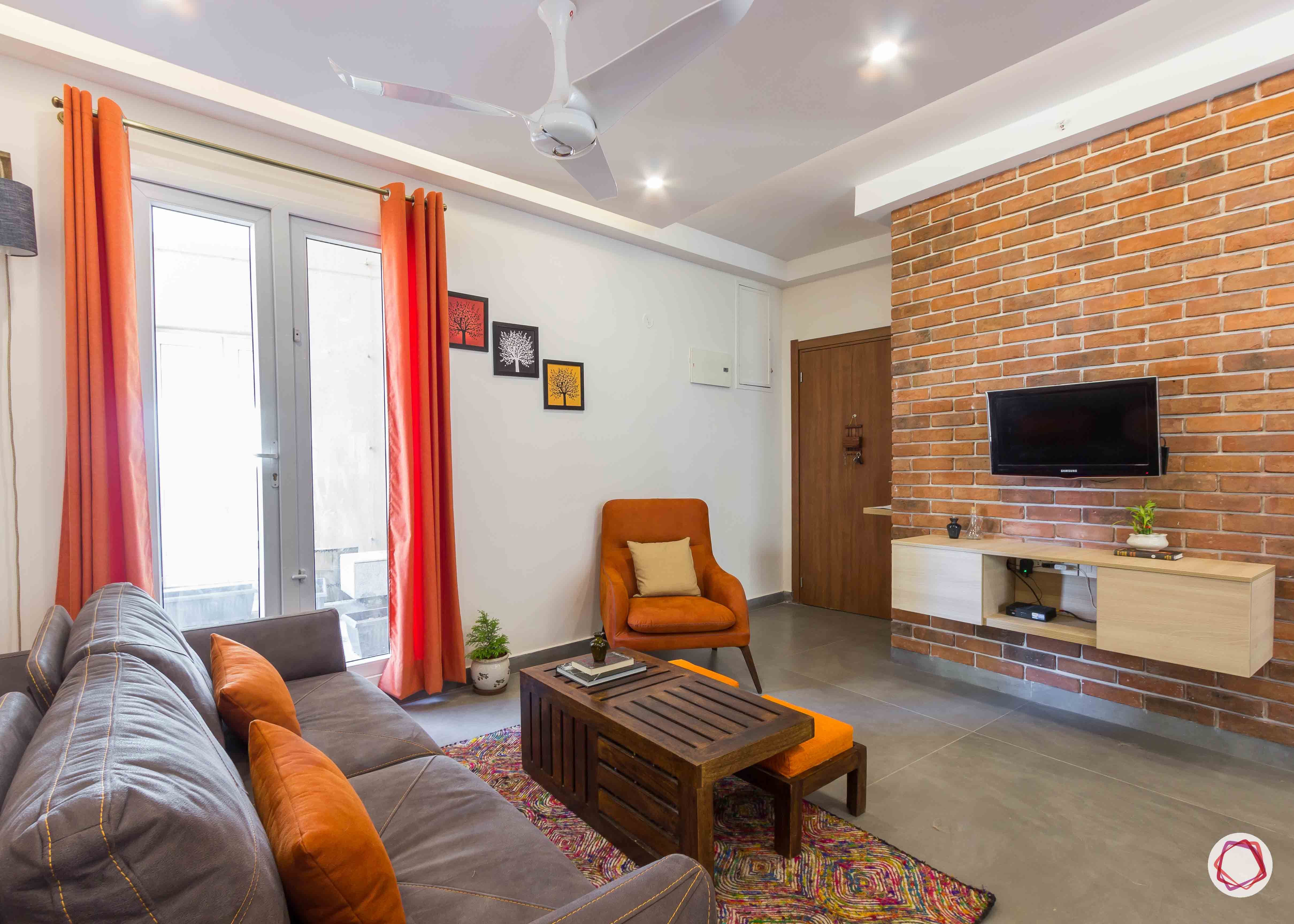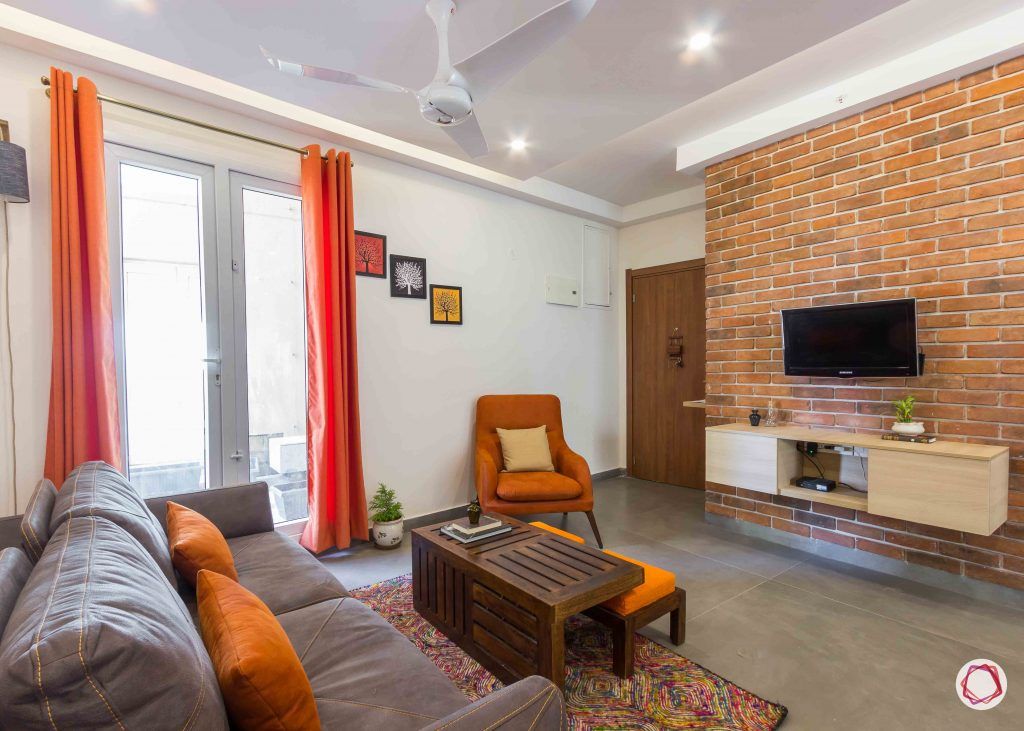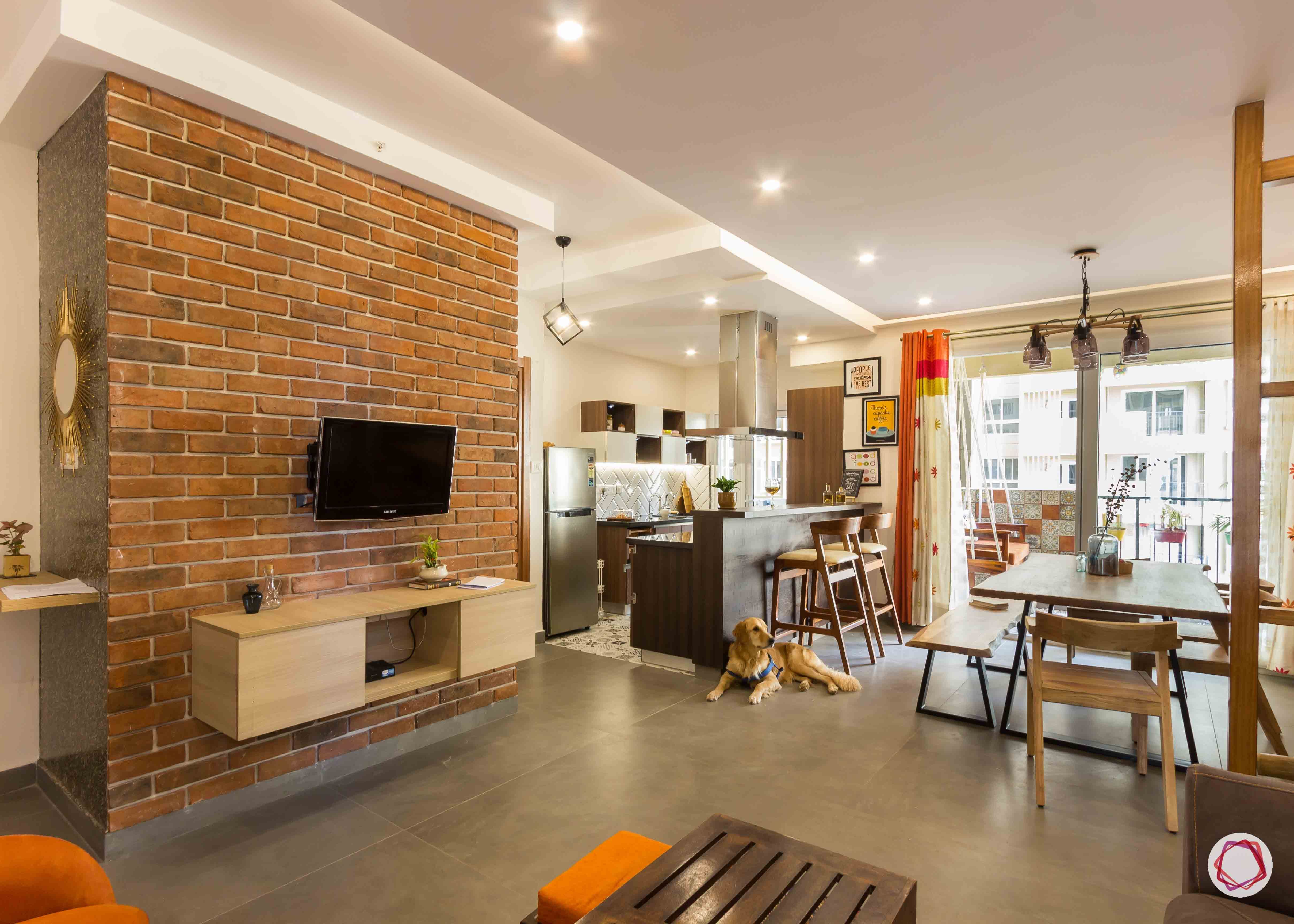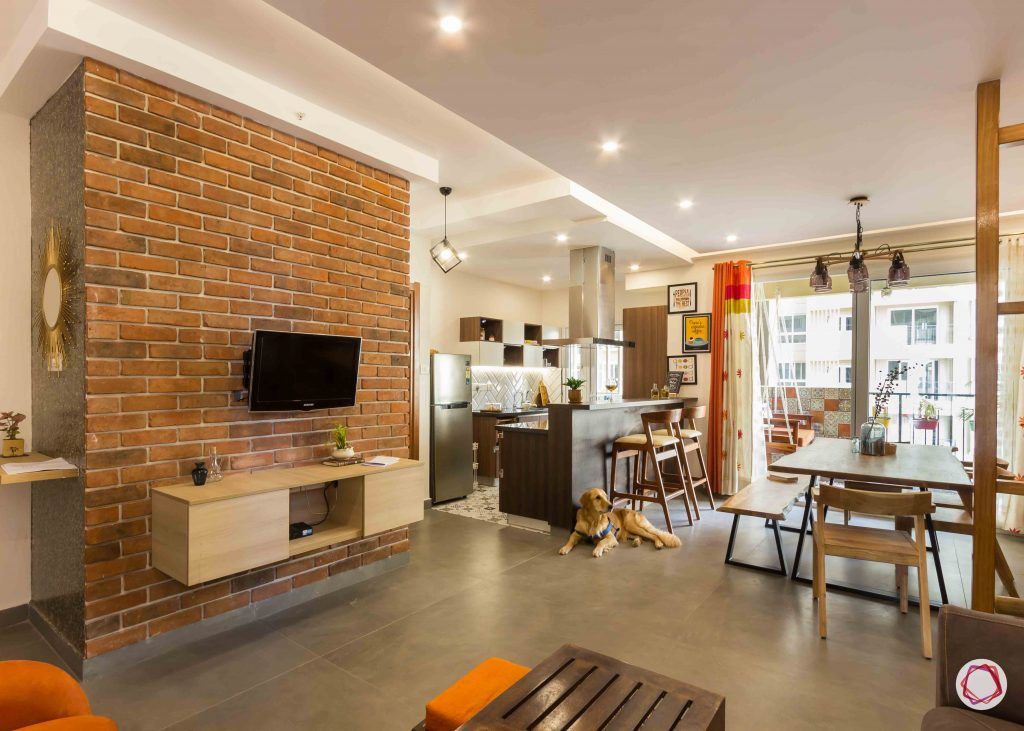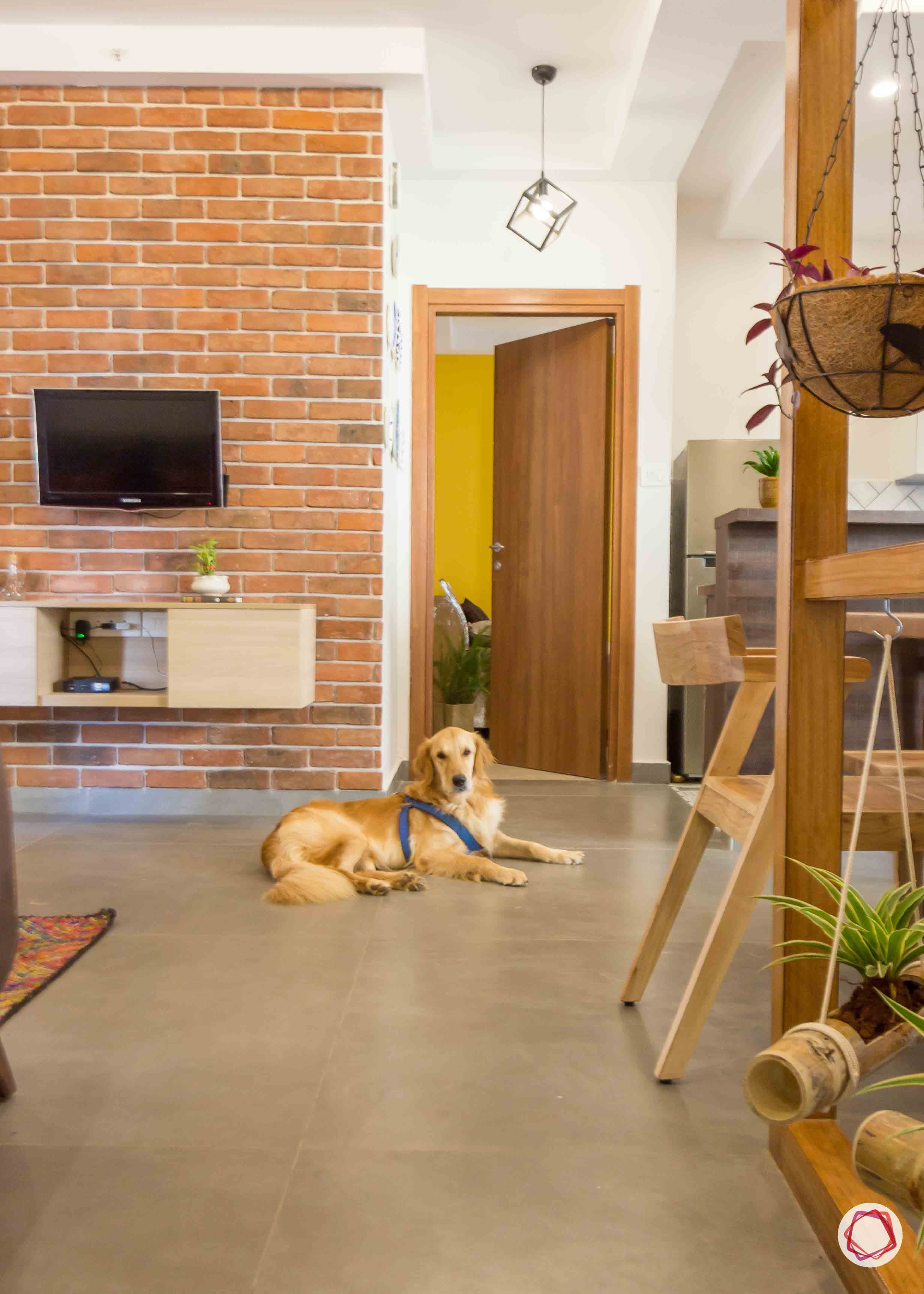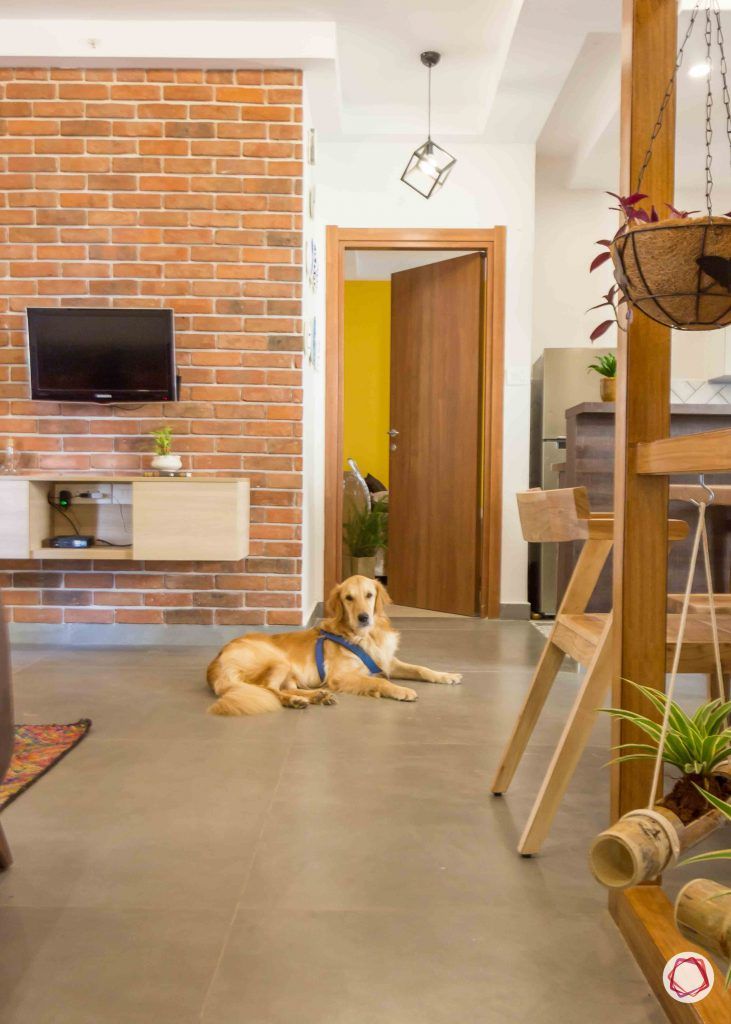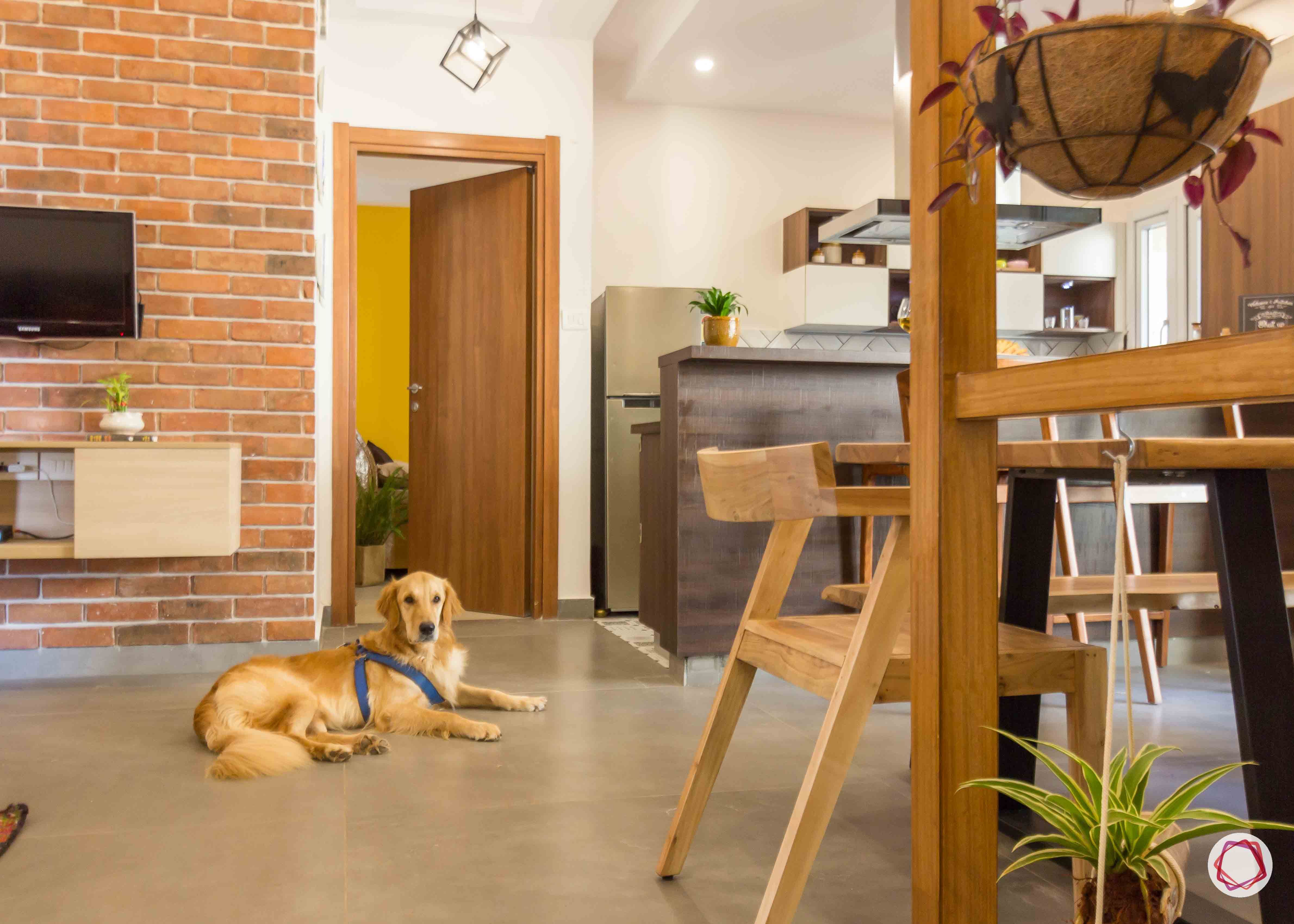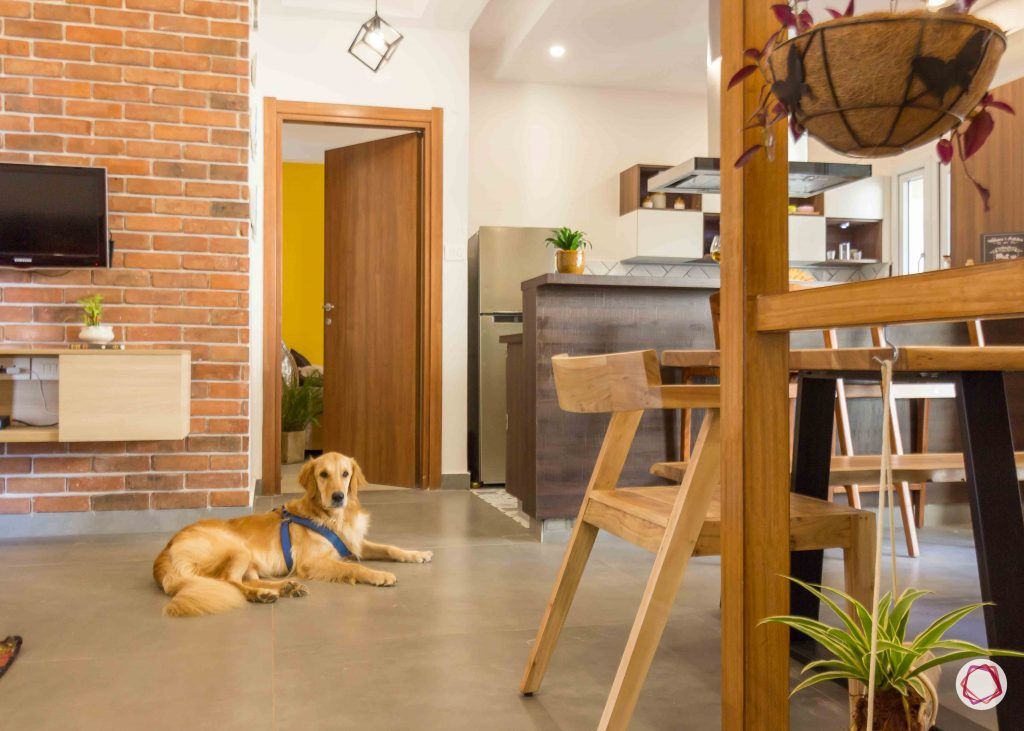 The living room in this endearing 3BHK is a mash-up of some stunning industrial elements that you'll see in every nook and cranny. While most of the furniture was procured by Nikhil and Pritika, it follows a theme mastered by Anjali. From the moment you enter the home, you can feel a rustic warmth flowing through the space.
Since the couple likes to keep to themselves most of the time, Anjali suggested having a sofa-cum-bed, ottomans and an accent chair for seating. The upholstery is a mix of warm oranges and dull greys to blend in with the surroundings. The striking exposed brick wall on the TV unit wall will grab your attention next. The young couple loves surrounding themselves with fresh green plants, so Anjali came up with the idea of having a solid wood divider with hooks that can hold all their lovely planters. This is an amazing trick to introduce greenery inside the home and make it functional by employing it as a divider.
An Earthy Experience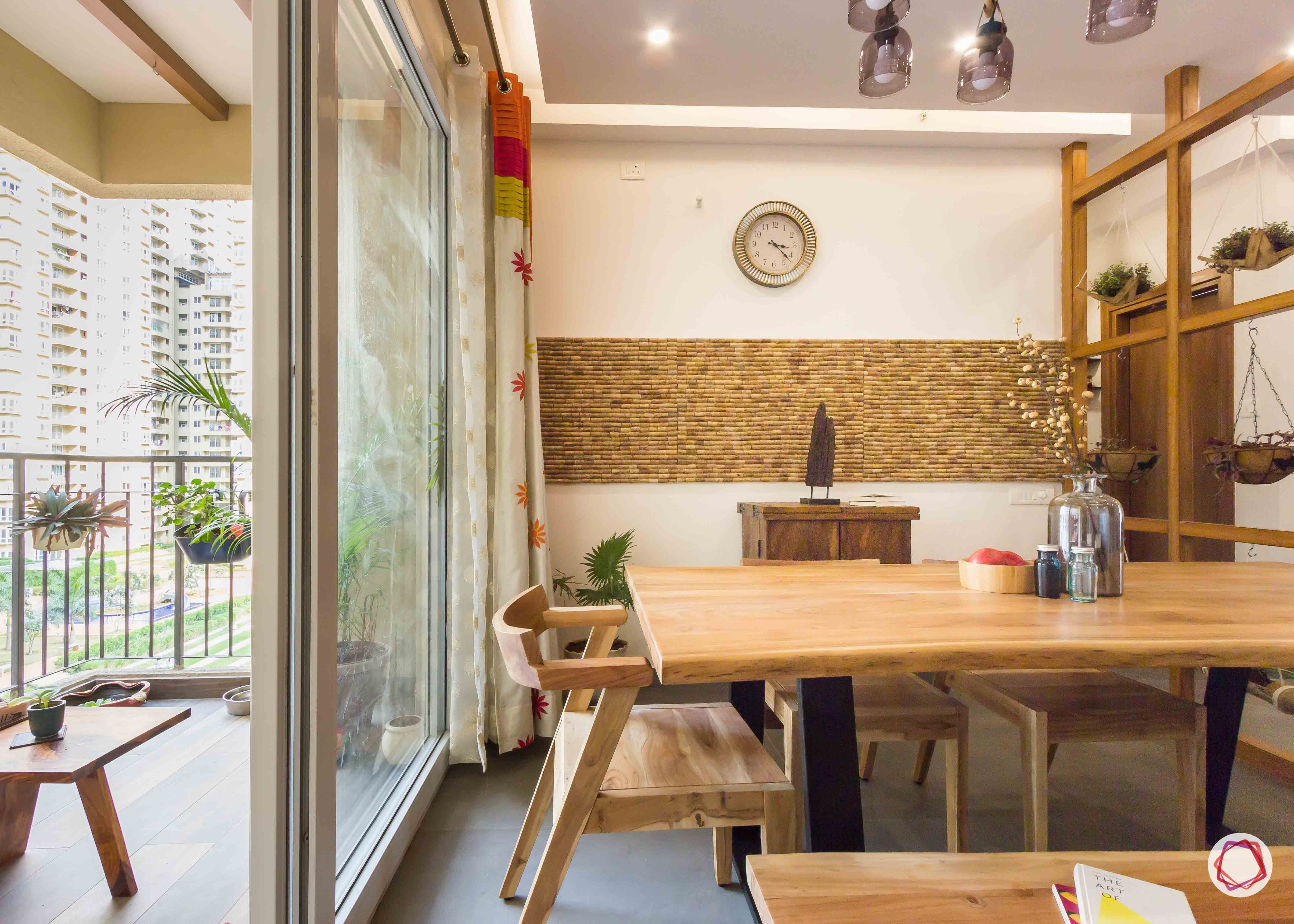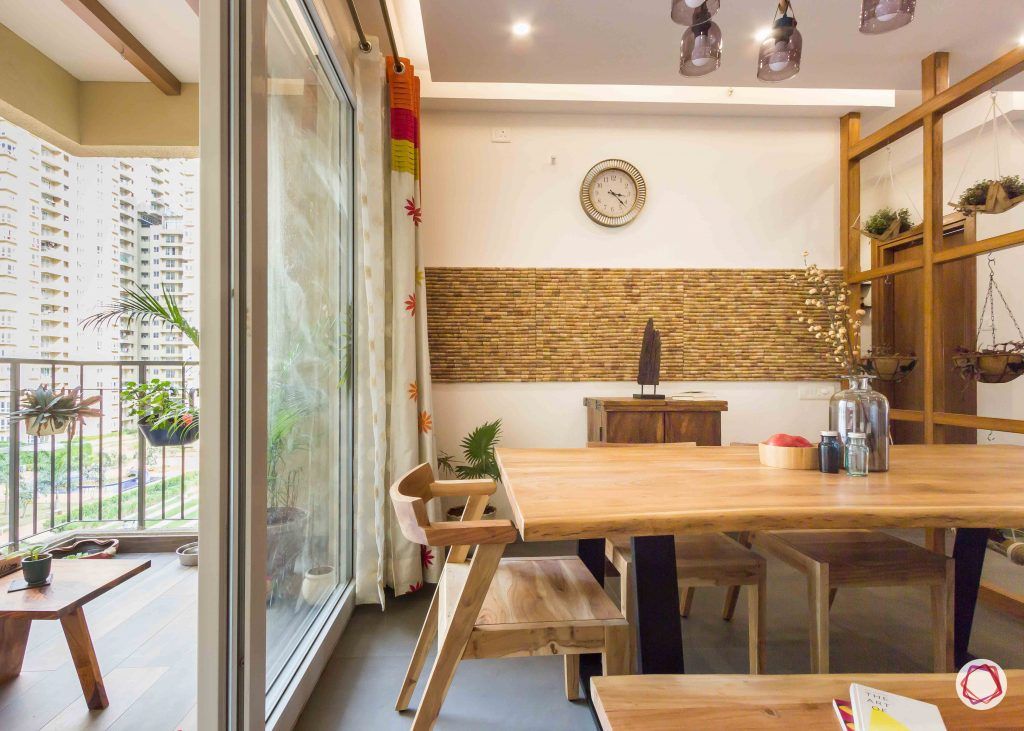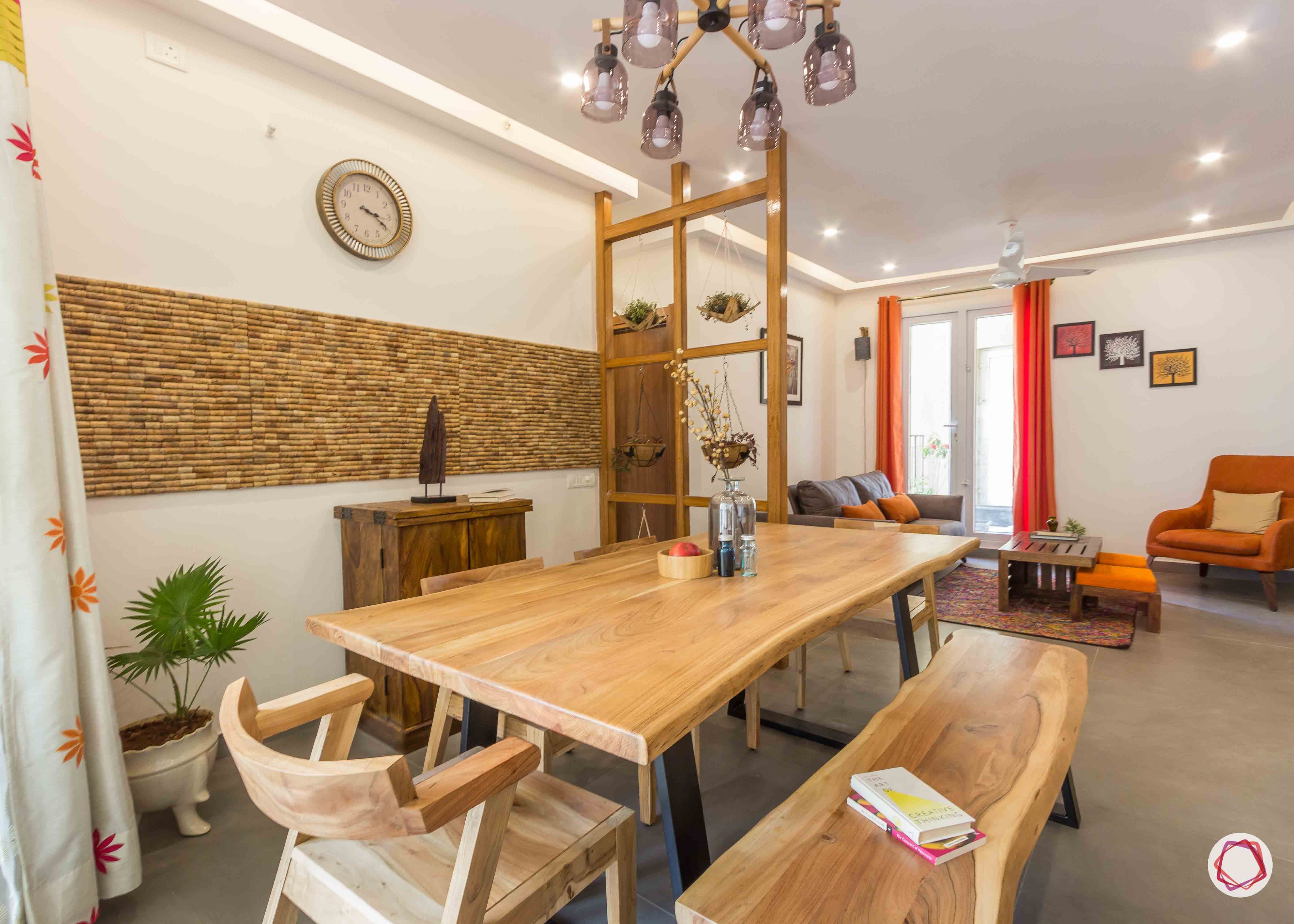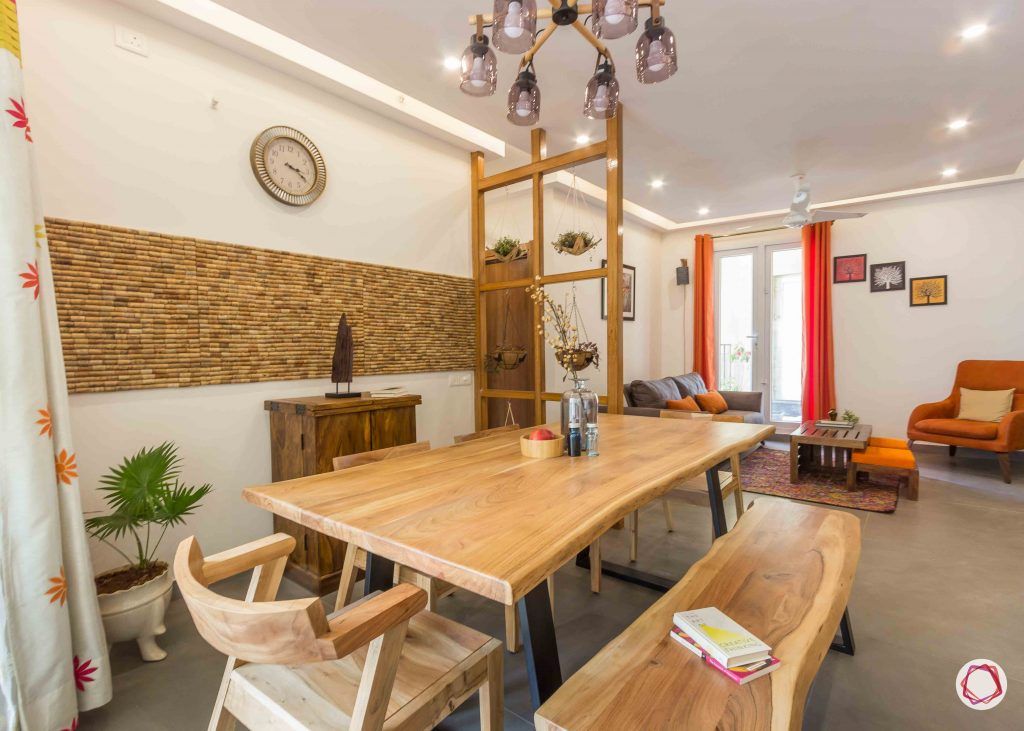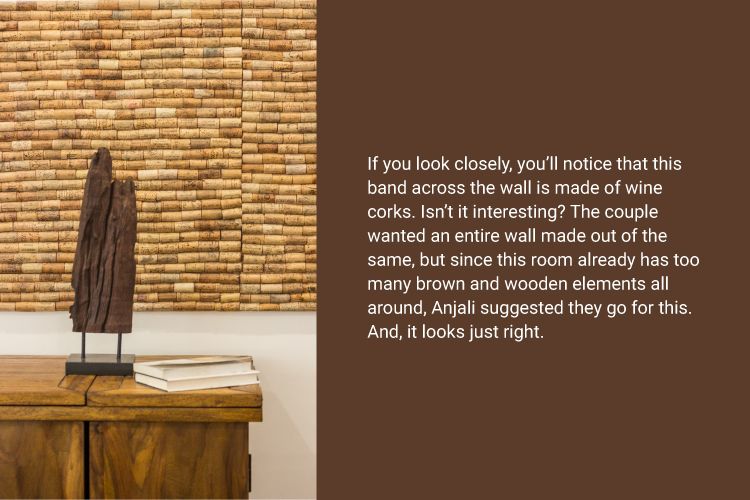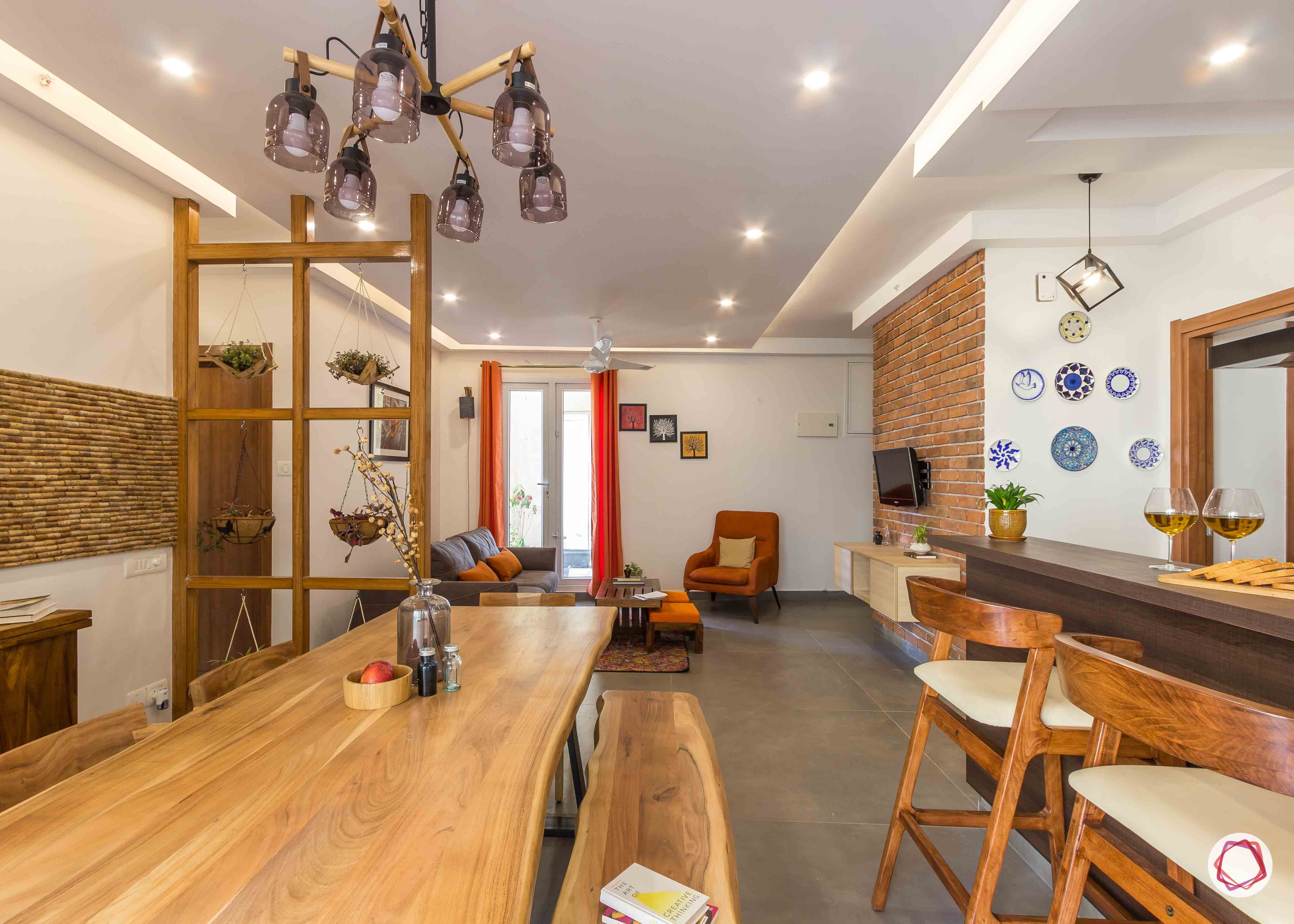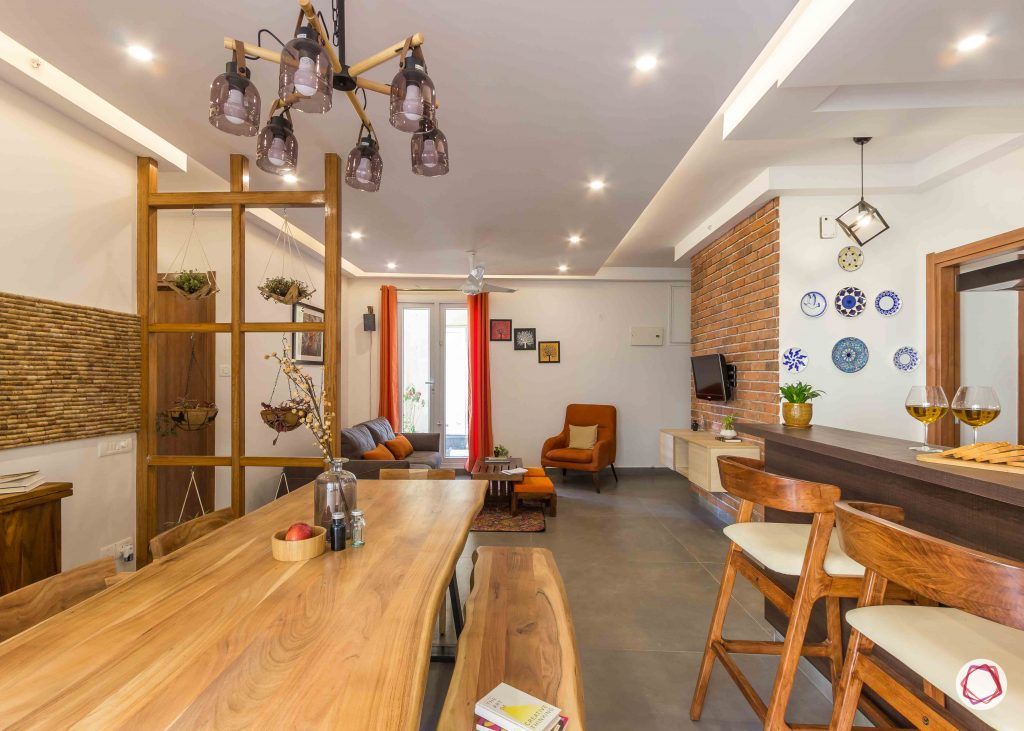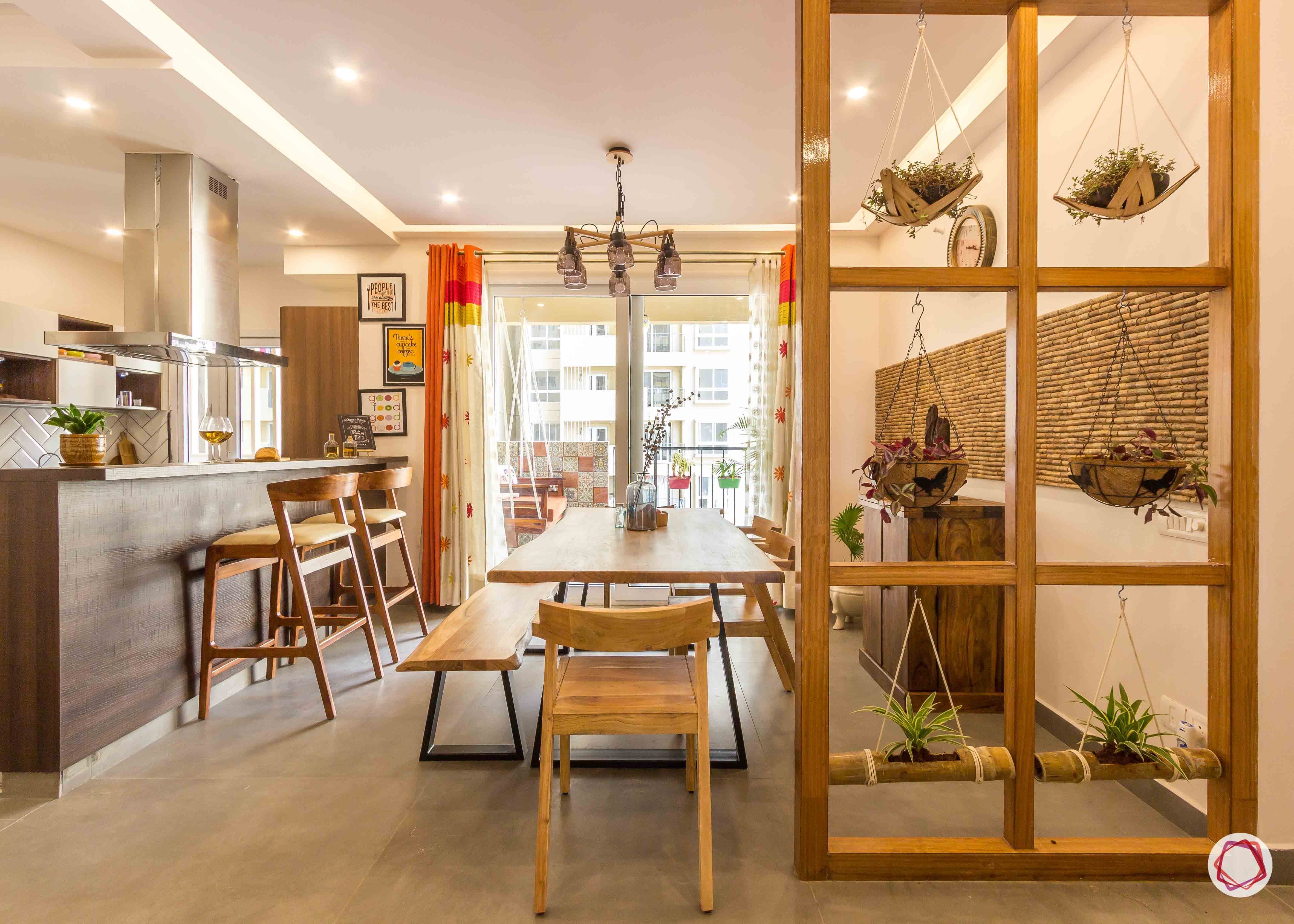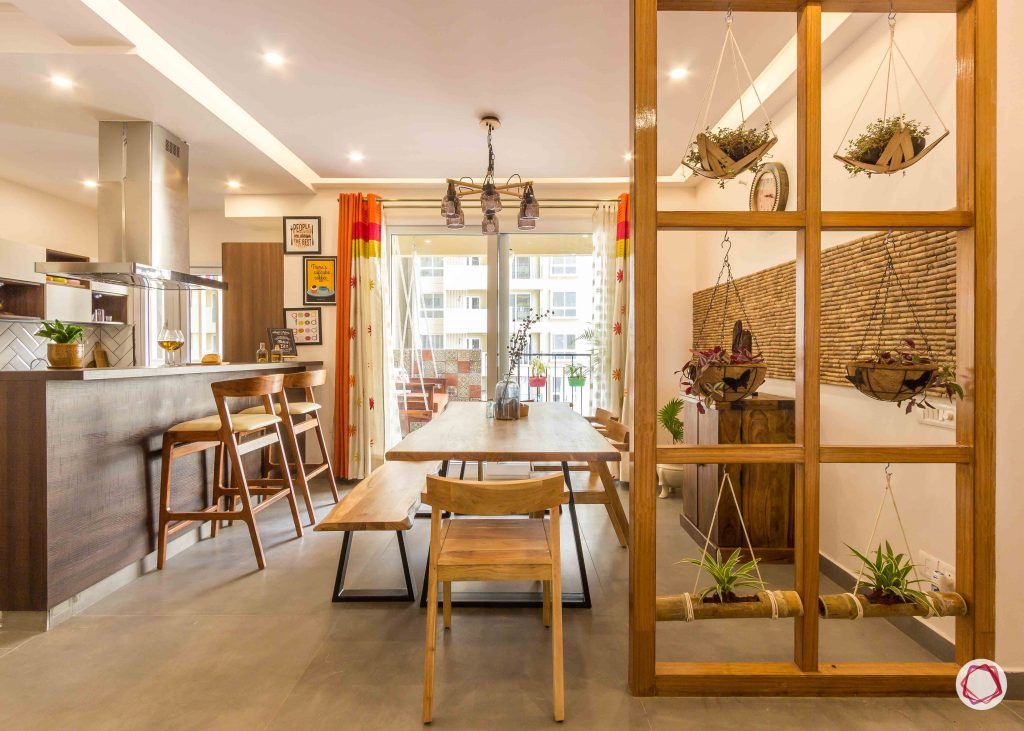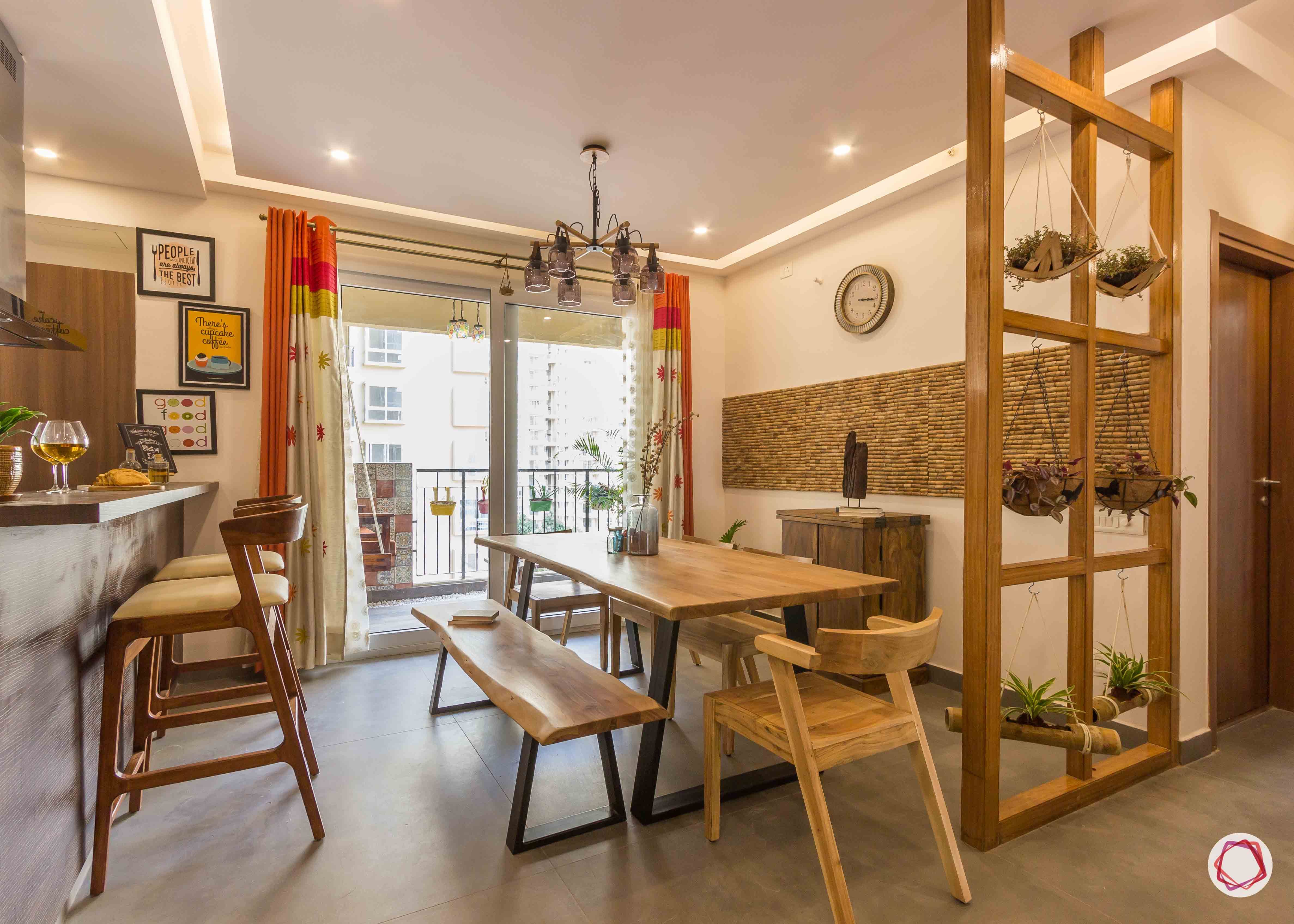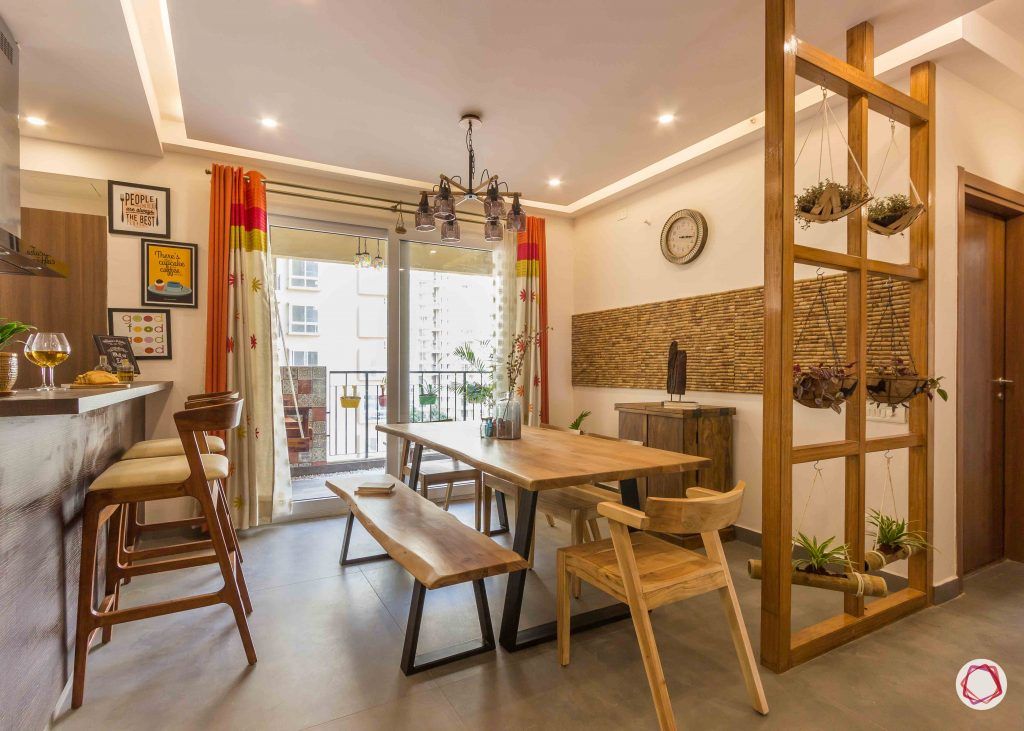 The dining room sports a distressed look with a natural oak finish dining table, supported by sturdy metal legs, flanked by similar chairs and a bench. The flooring in the living and dining area is also changed and it now flaunts lovely wooden-style tiles, that belong to Nikhil's own venture. You will see a lot of tiles all around the home as you read further. The pendant lights here also wear a rustic look with wooden holders and LED bulbs suspended from them. The wall clock with a railway track was gifted by Anjali to the couple and the frame is a nice addition to this space.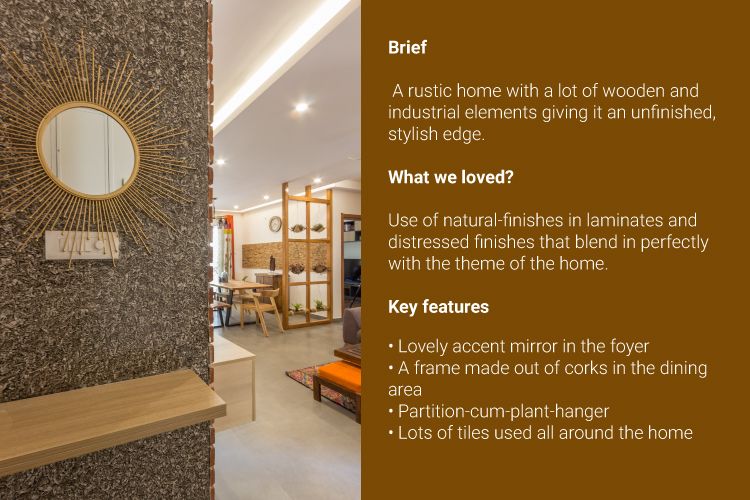 Airy Open Kitchen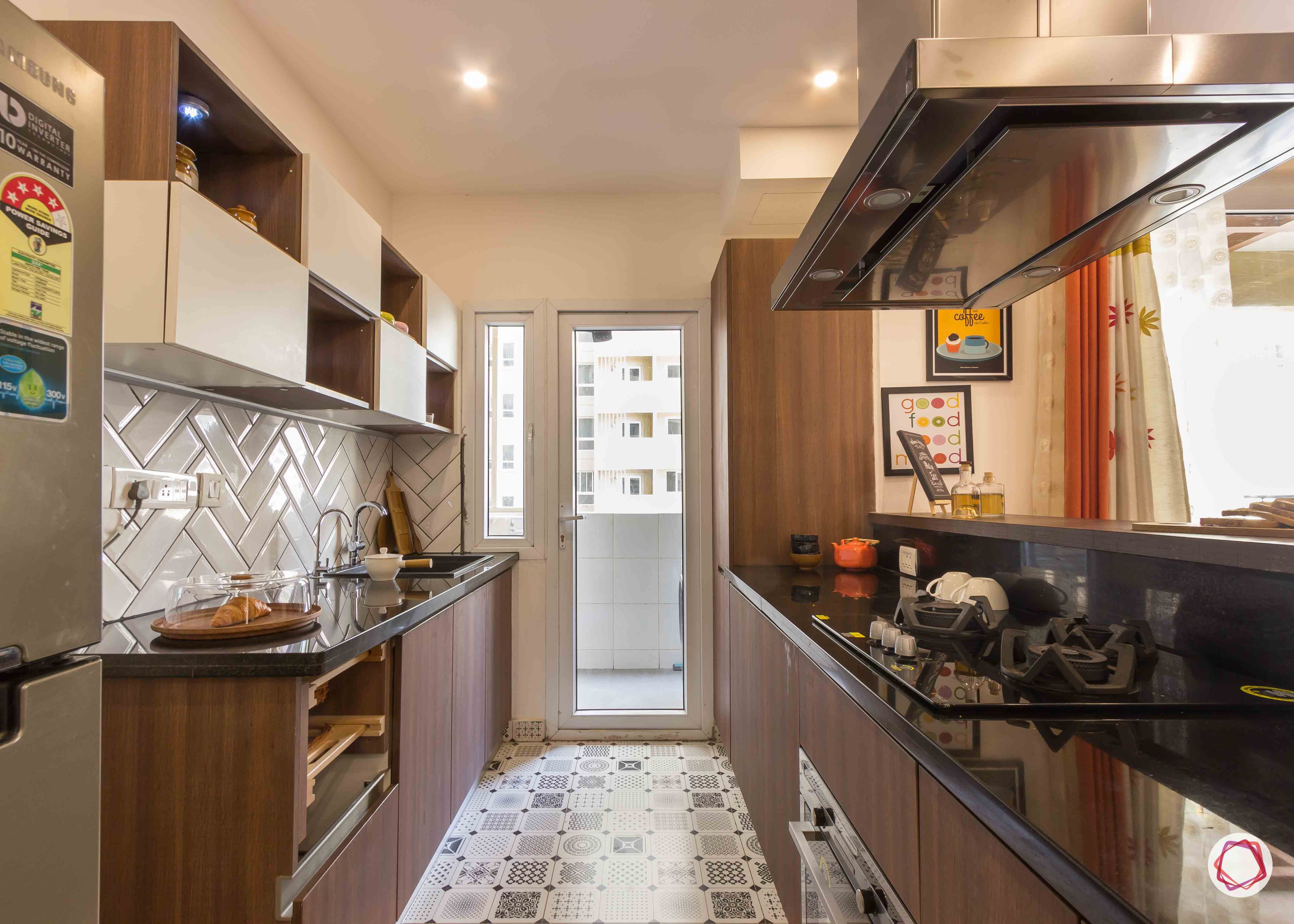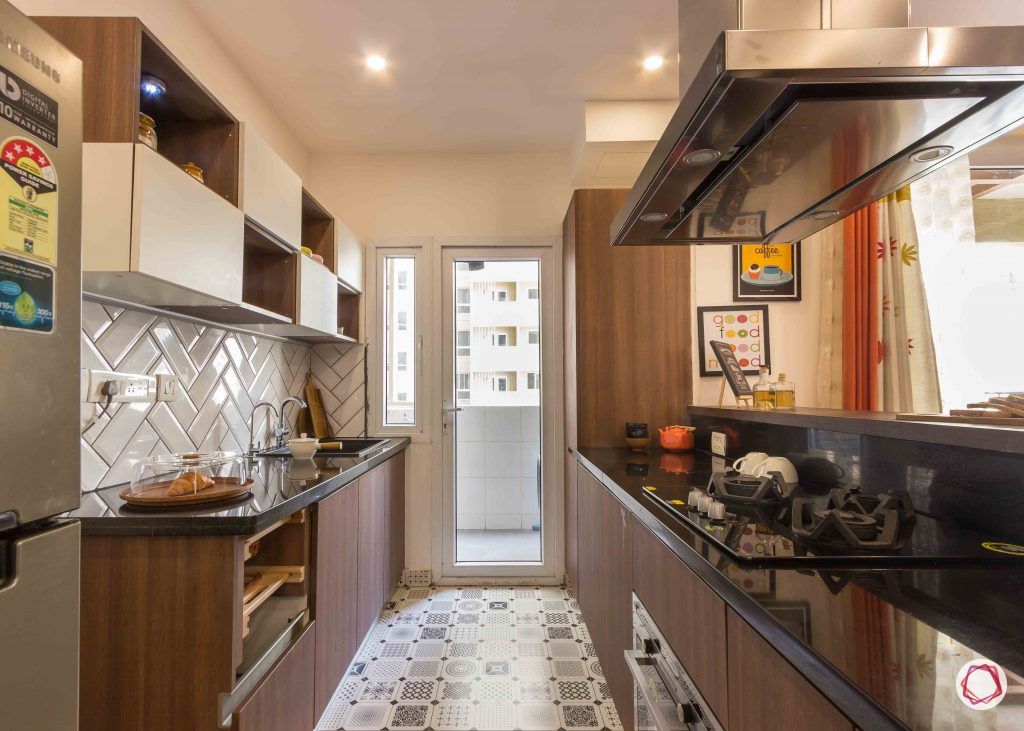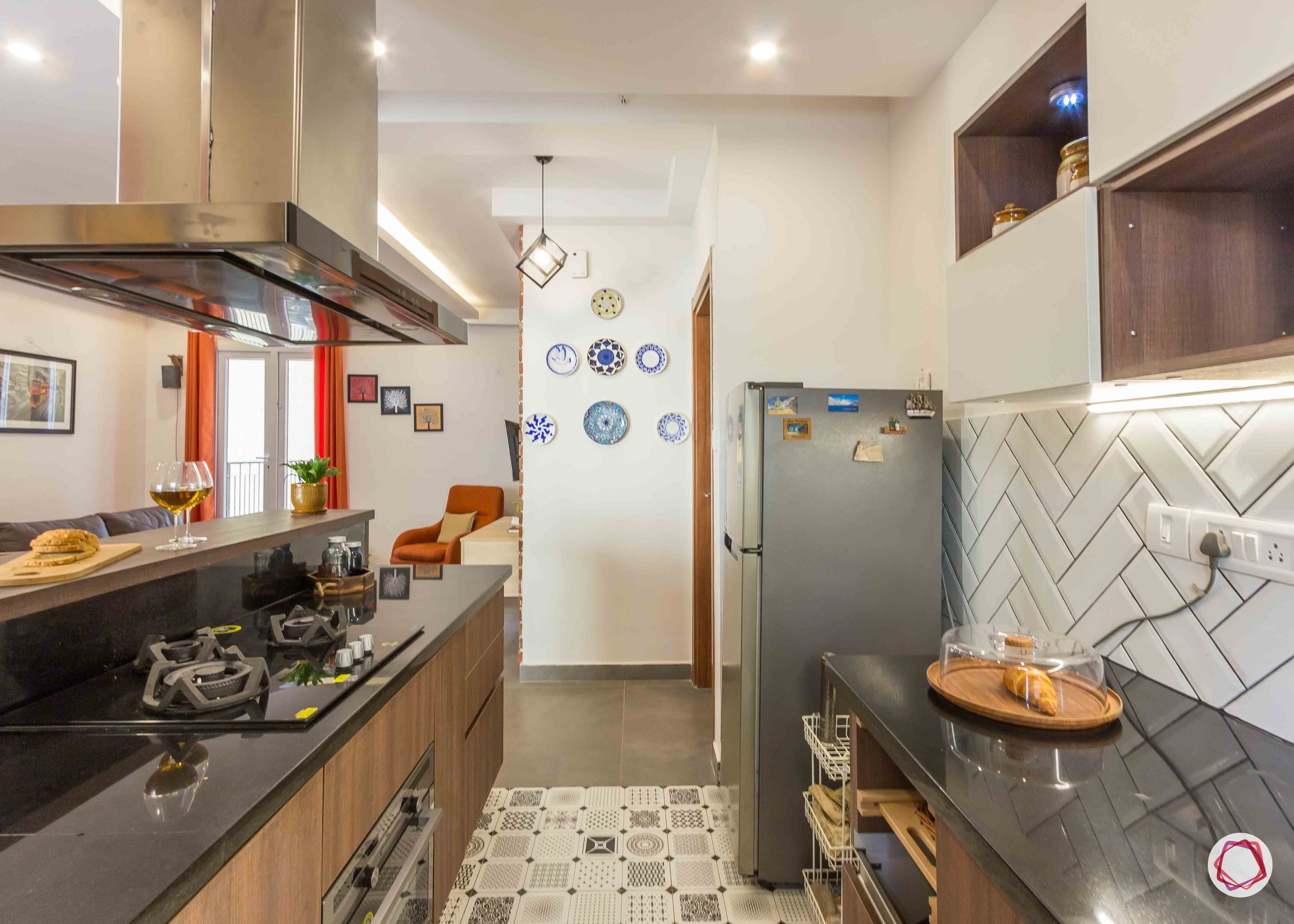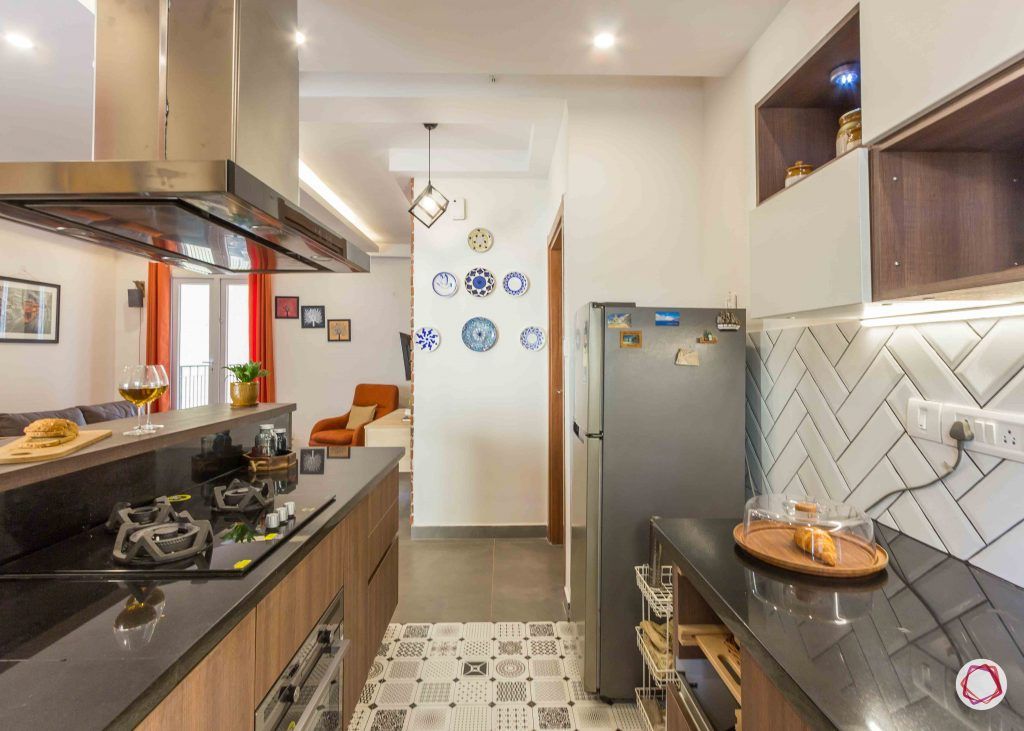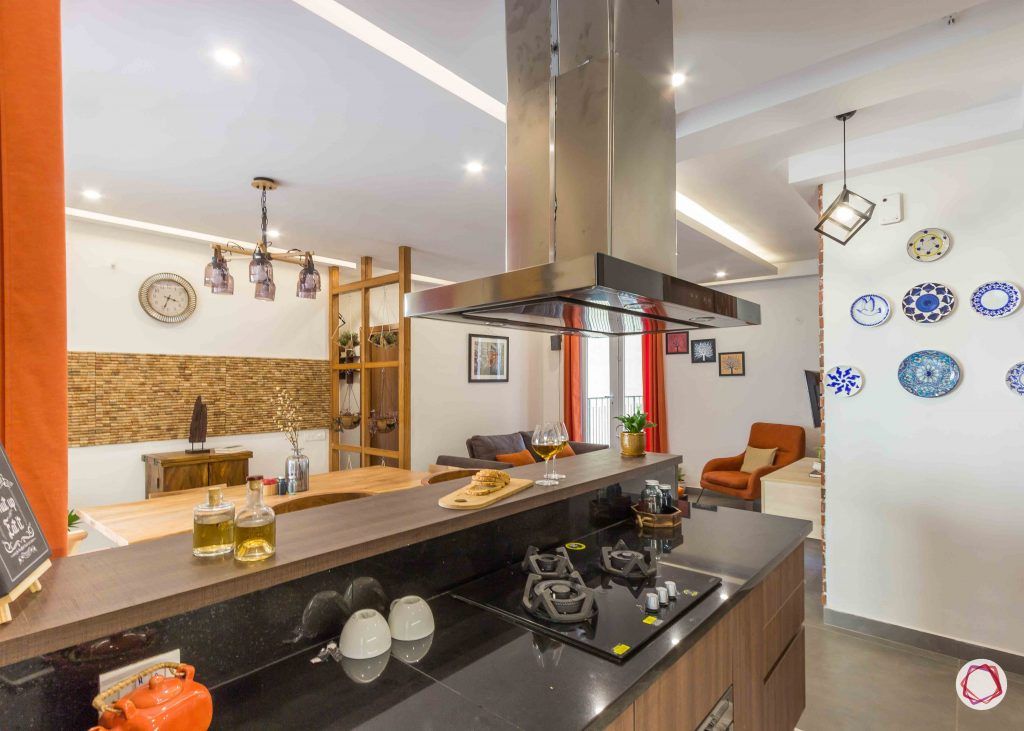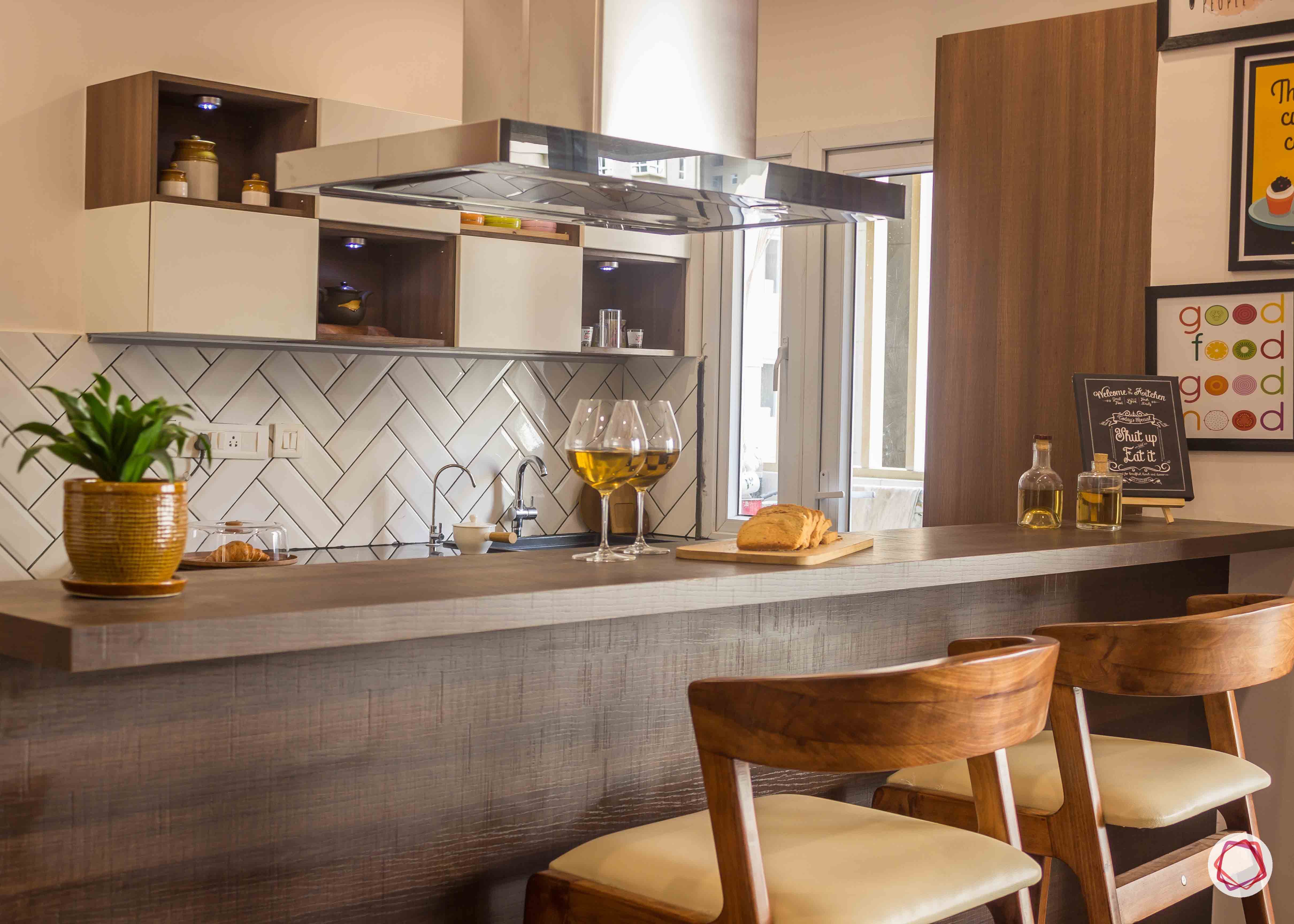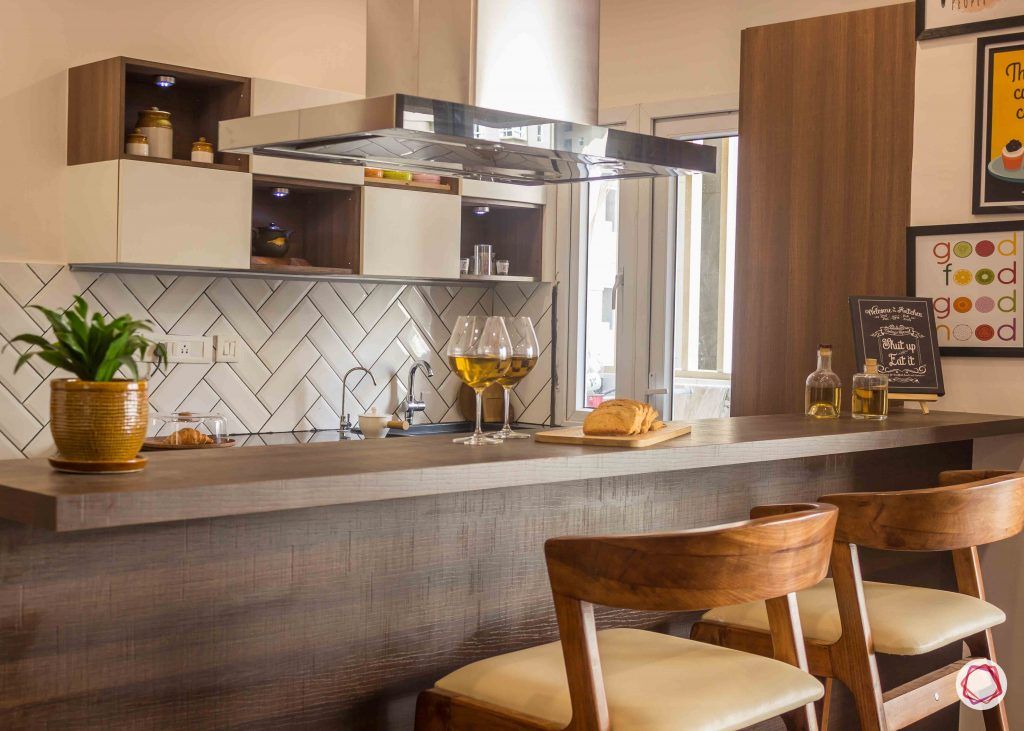 There are so many things about this kitchen that scream for attention. Let's start with the lovely herringbone pattern tiles on the backsplash and the chessboard-style cabinets sitting atop it. Anjali broke the wall that divided the kitchen and the dining area and converted it into an open kitchen. This was done to ensure that the space opens up and looks breezy. A breakfast counter is something that the couple always wanted and this one is just perfect for two. The built-in hob unit with a stainless steel chimney looks sleek.
For Breezy Mornings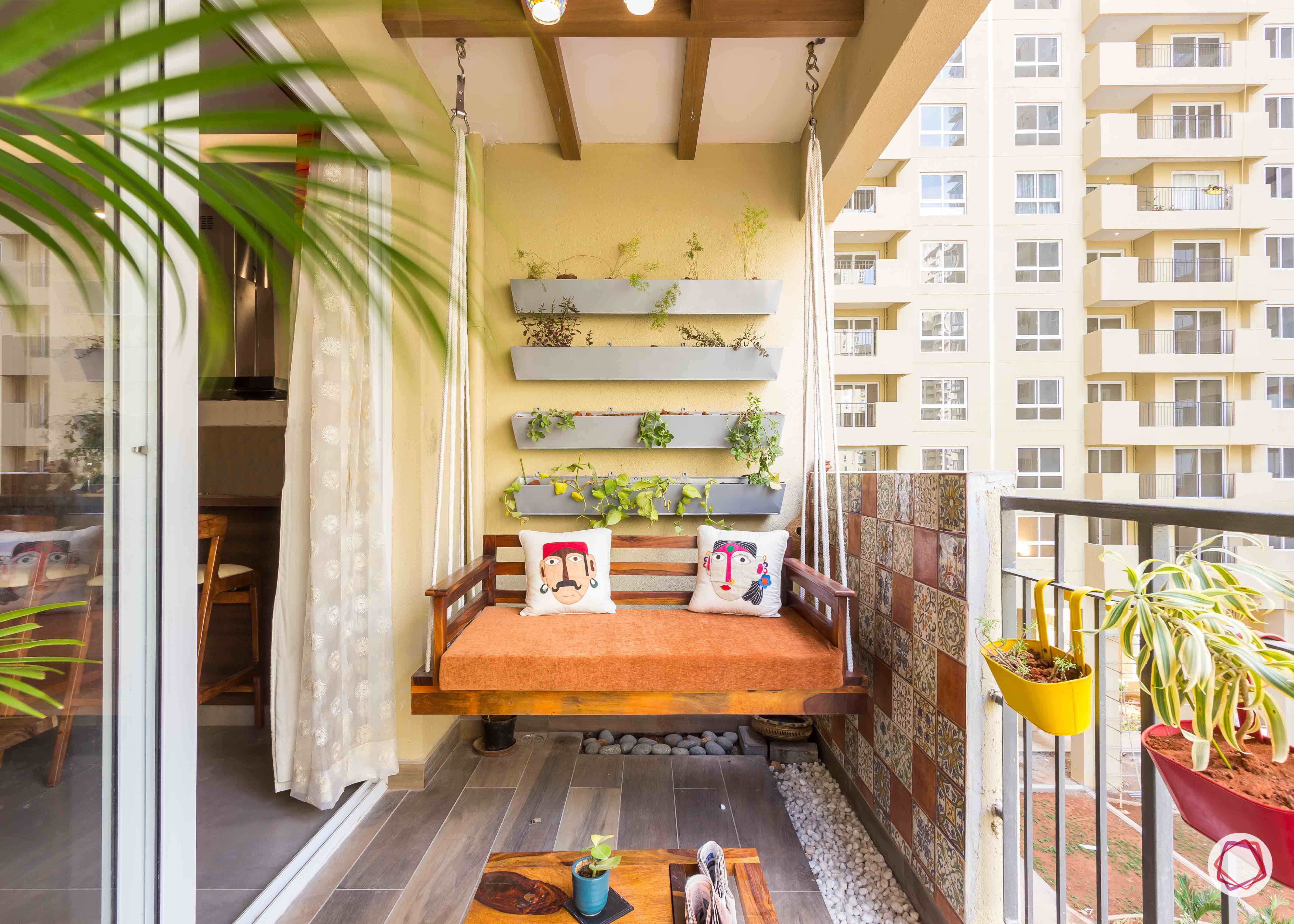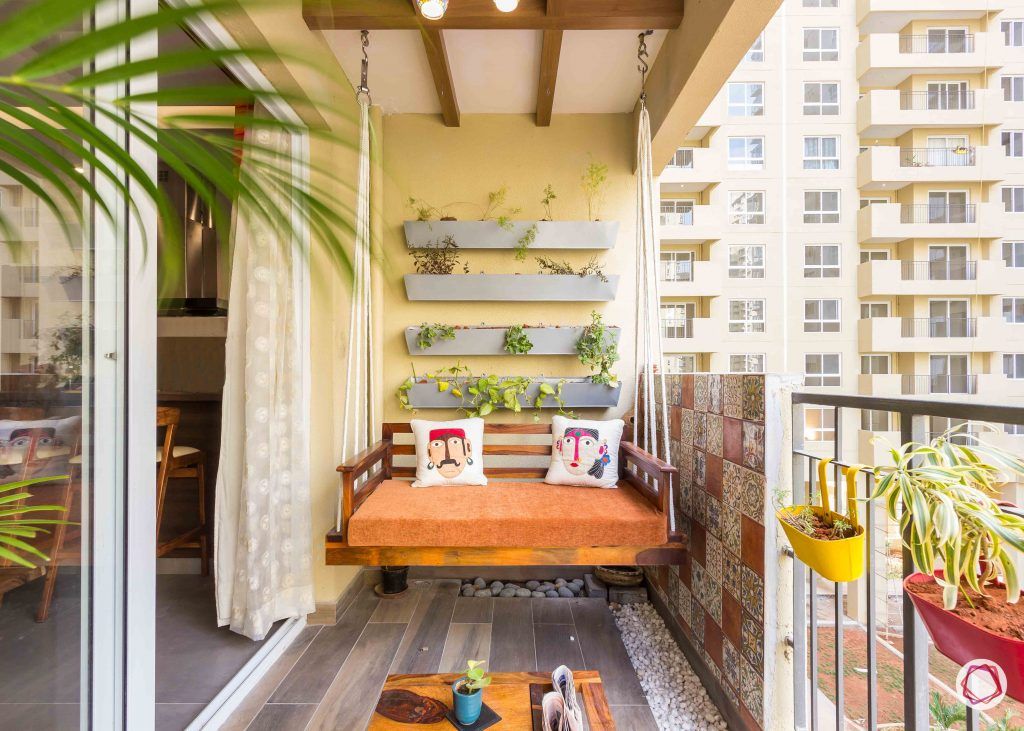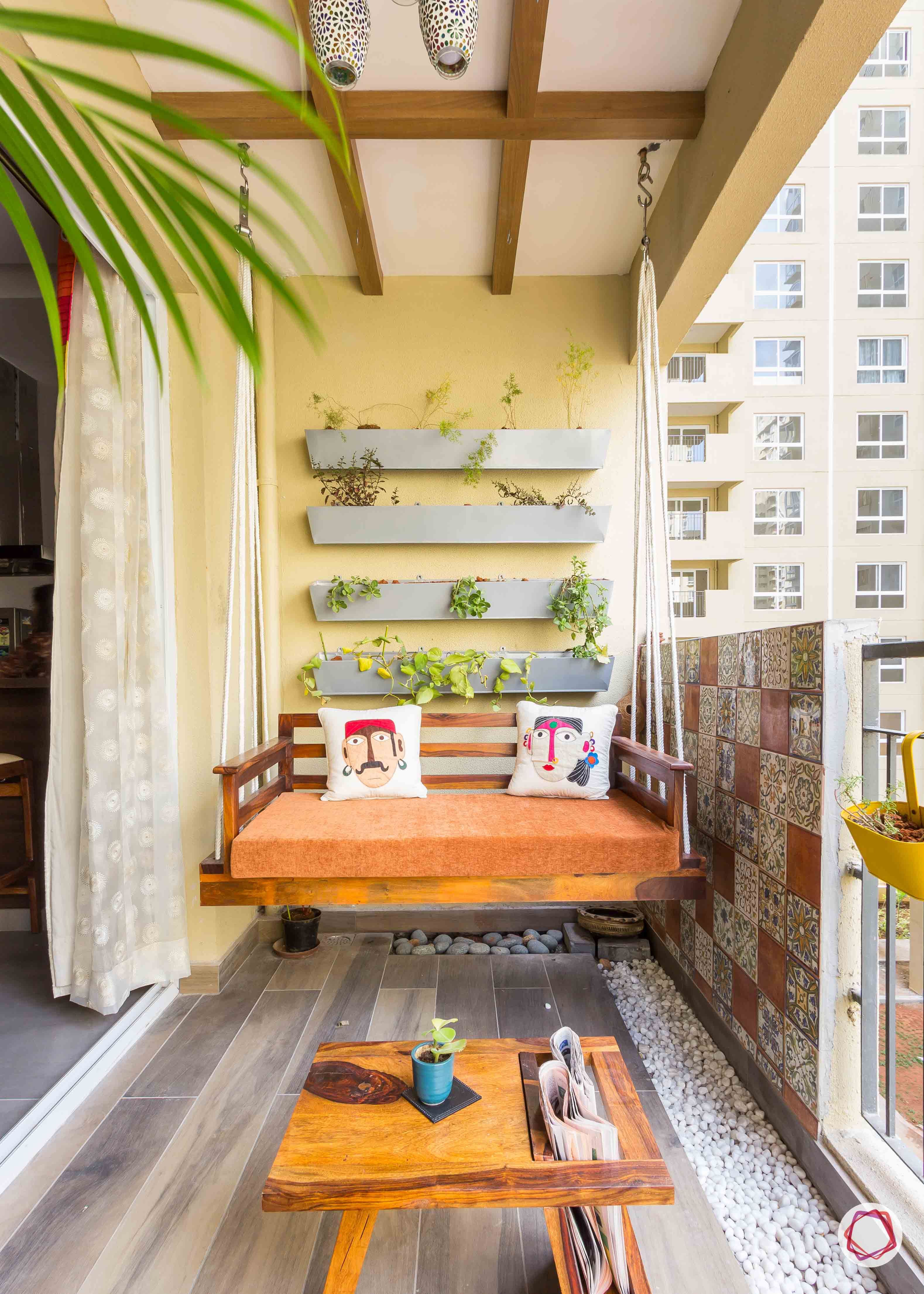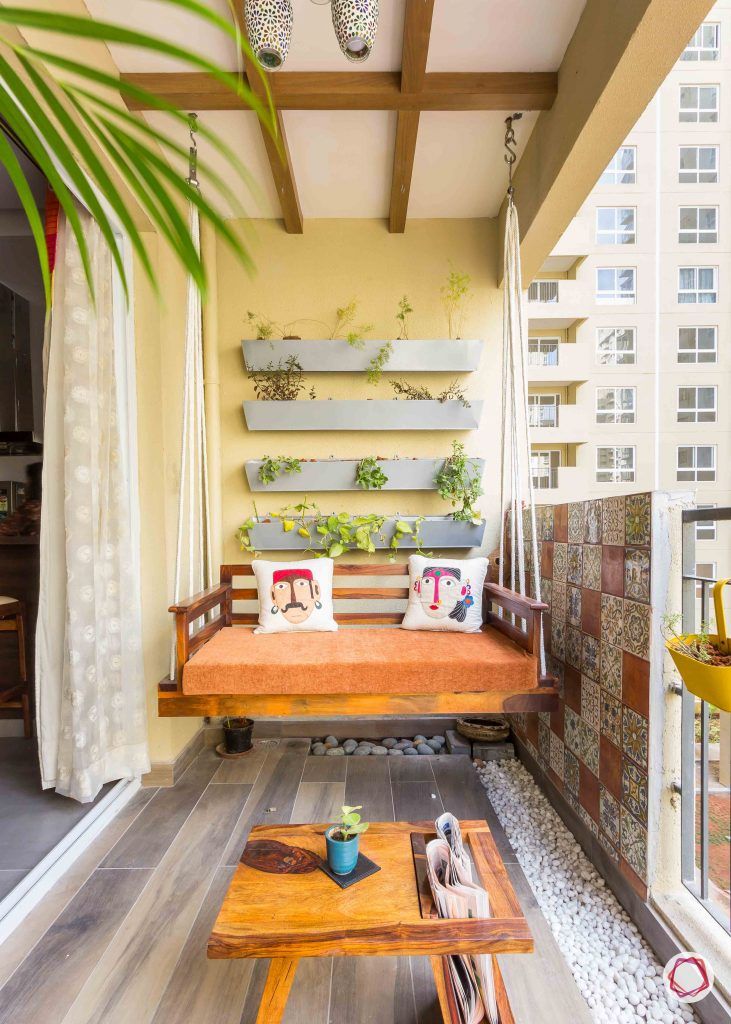 Finally, we come to the spot at home that literally belongs to Joy, the retriever. He loves chilling here and sitting by the railing staring down at the kids below. For him, there's a special patch of pebbles where this furball can rest. Talking about the rest of the look for the balcony, instead of giving the regular vertical garden, Anjali gave them plant boxes on the wall. Wooden rafters run across the ceiling and once again, you can see interesting tiles on one side of the railing. Also, the swing steas the show here.
Purely for Entertainment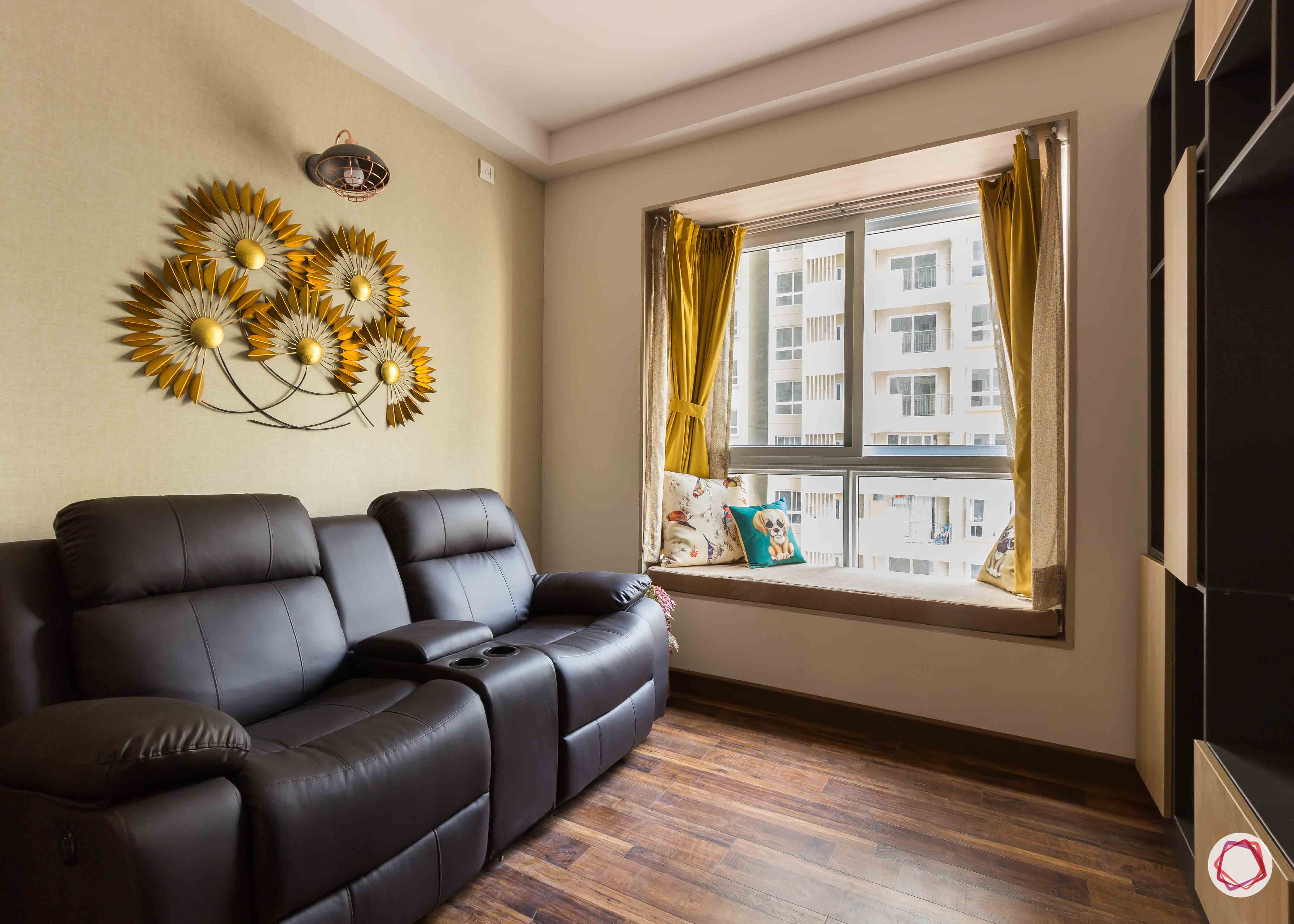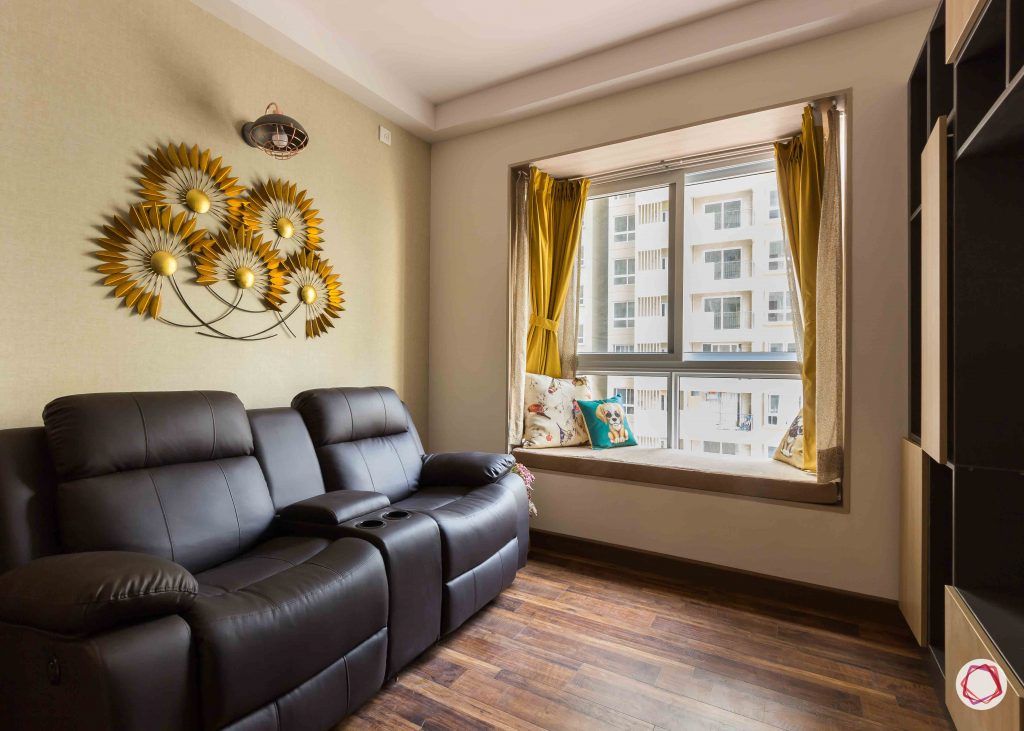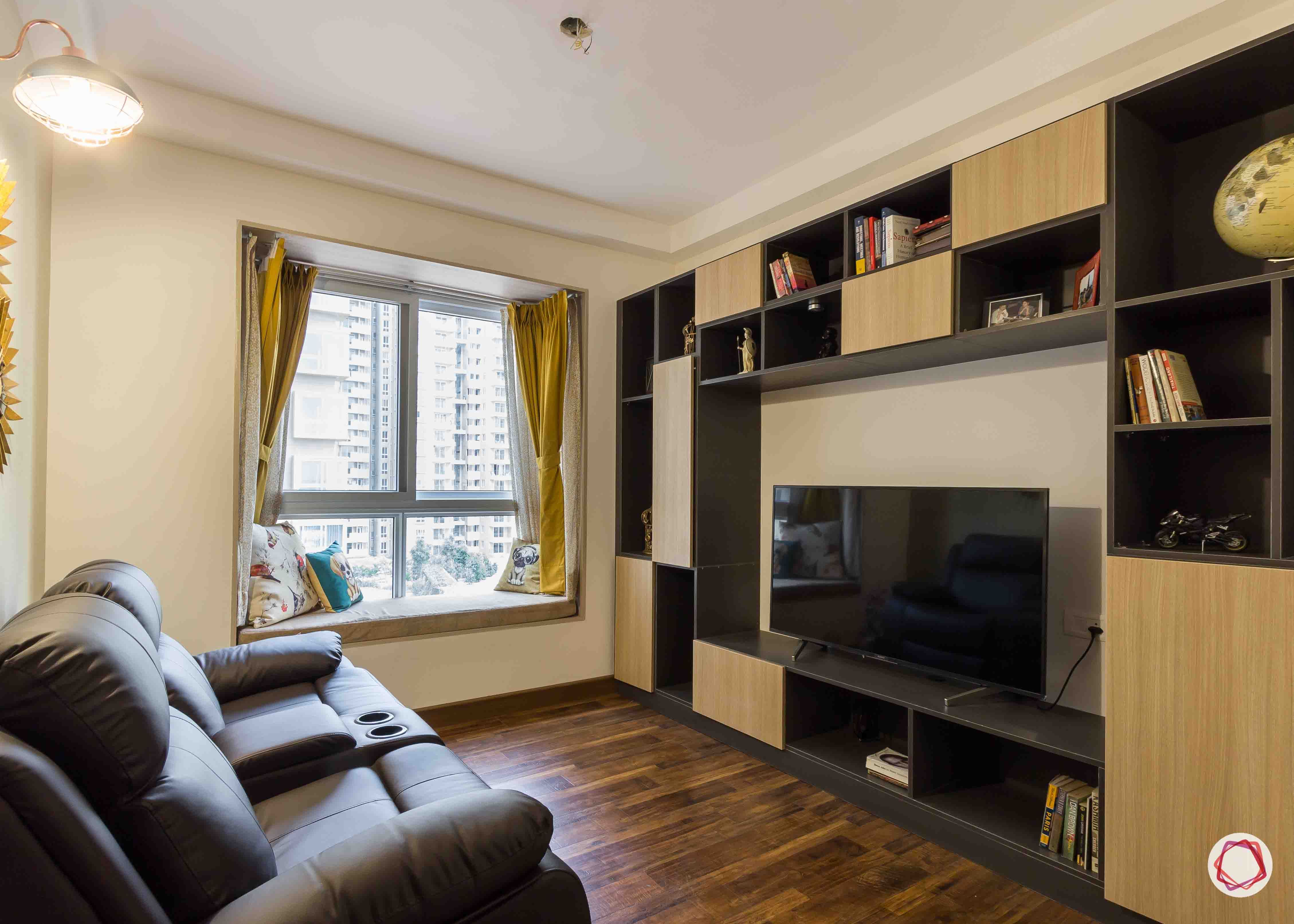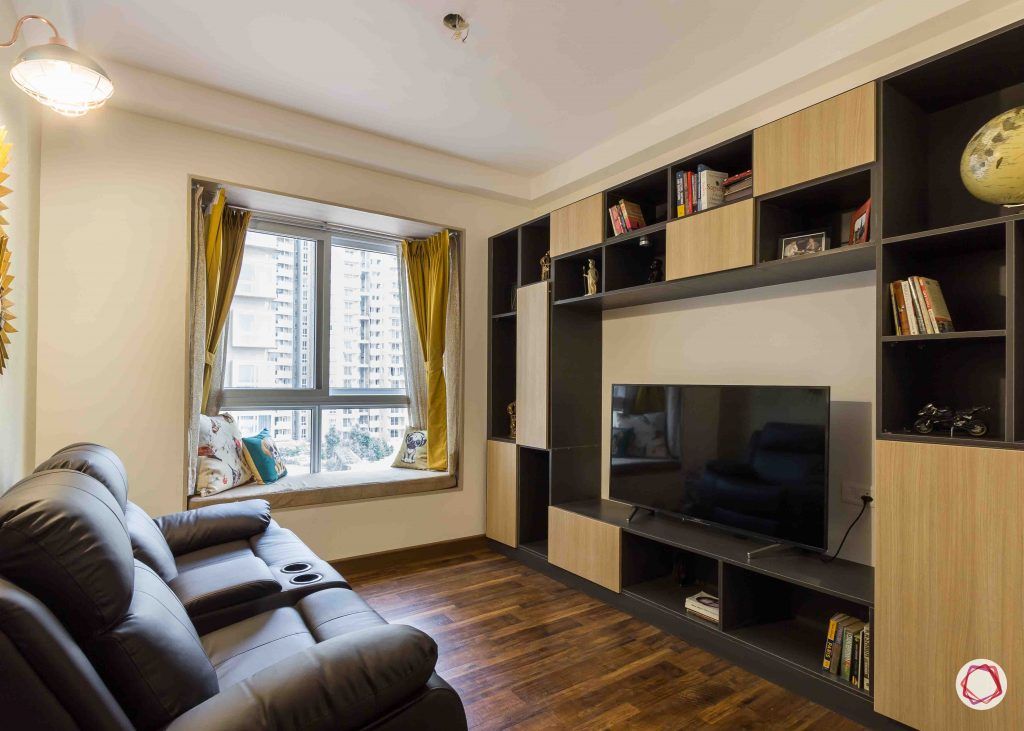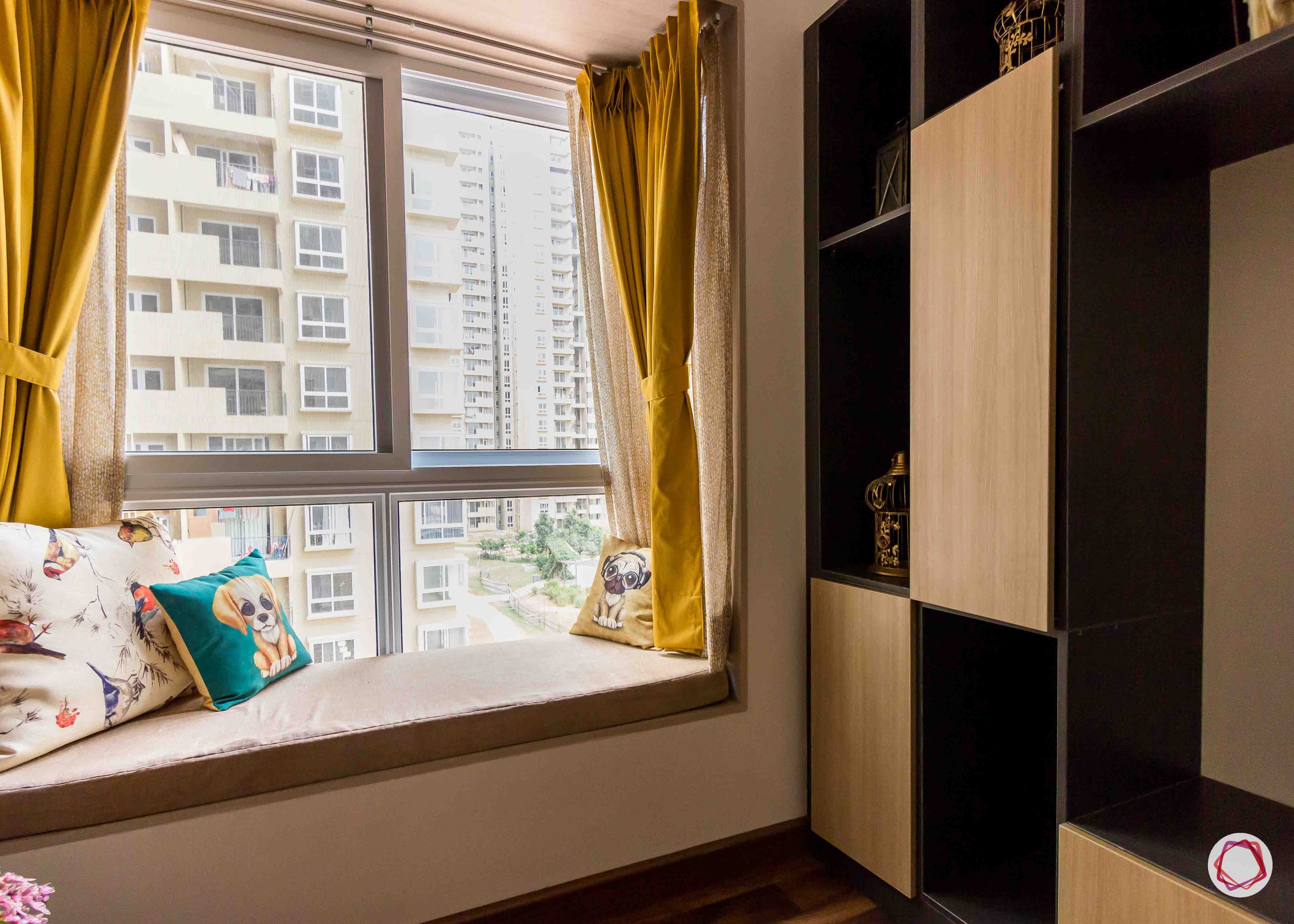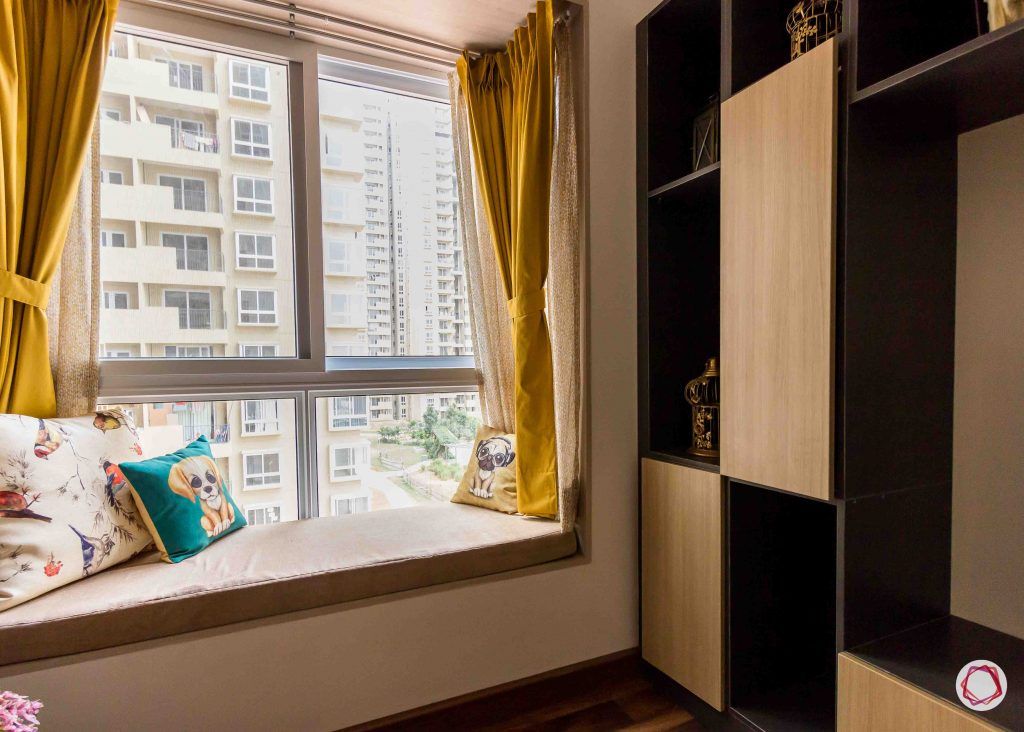 Both, Nikhil and Pritika love watching their favourite television series and movies together and sometimes with friends. Thus, this entertainment room is totally dedicated to this and houses two lazy boys that recline for ultimate comfort. In addition, the TV unit is elaborate, with cabinets and shelves for storing all their books and displaying curios. There's a tiny bay window that can be utilised by the couple as well.
Bright & Happy Bedroom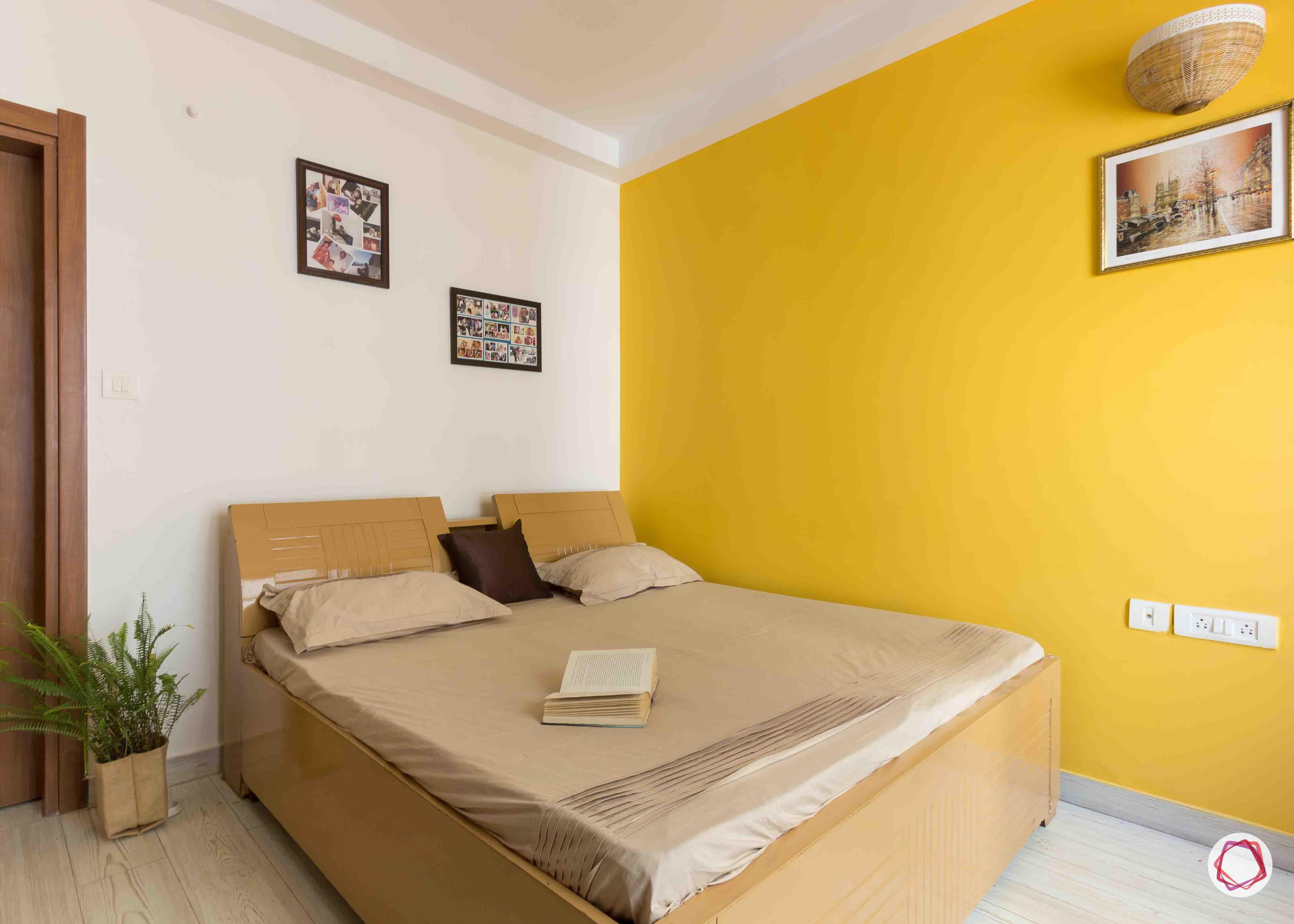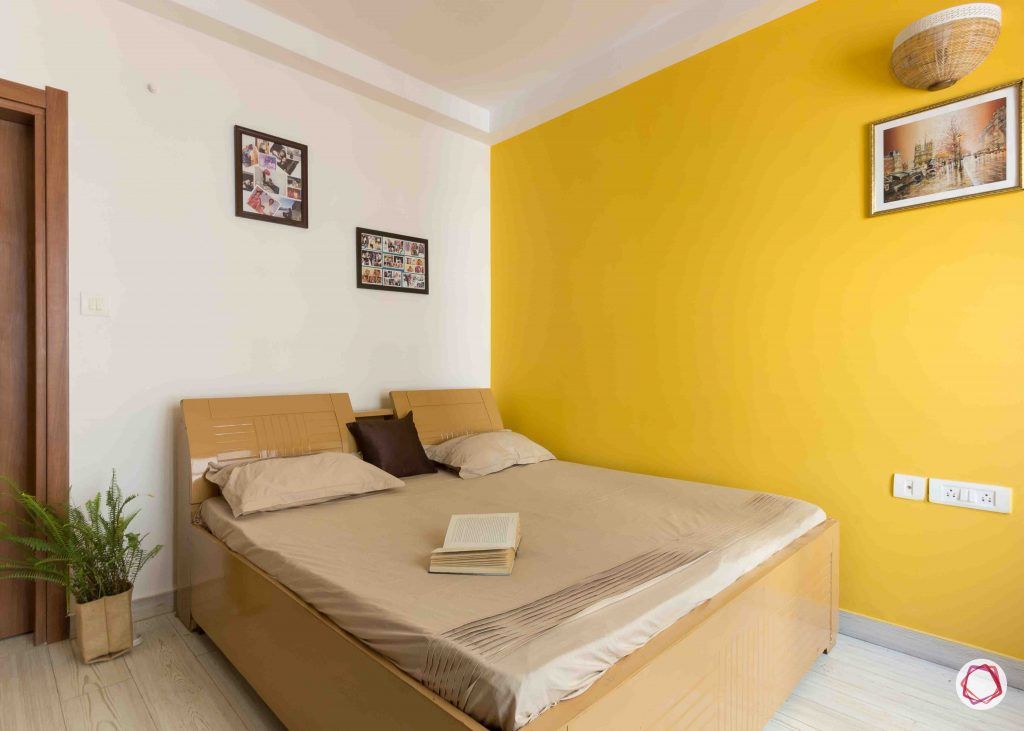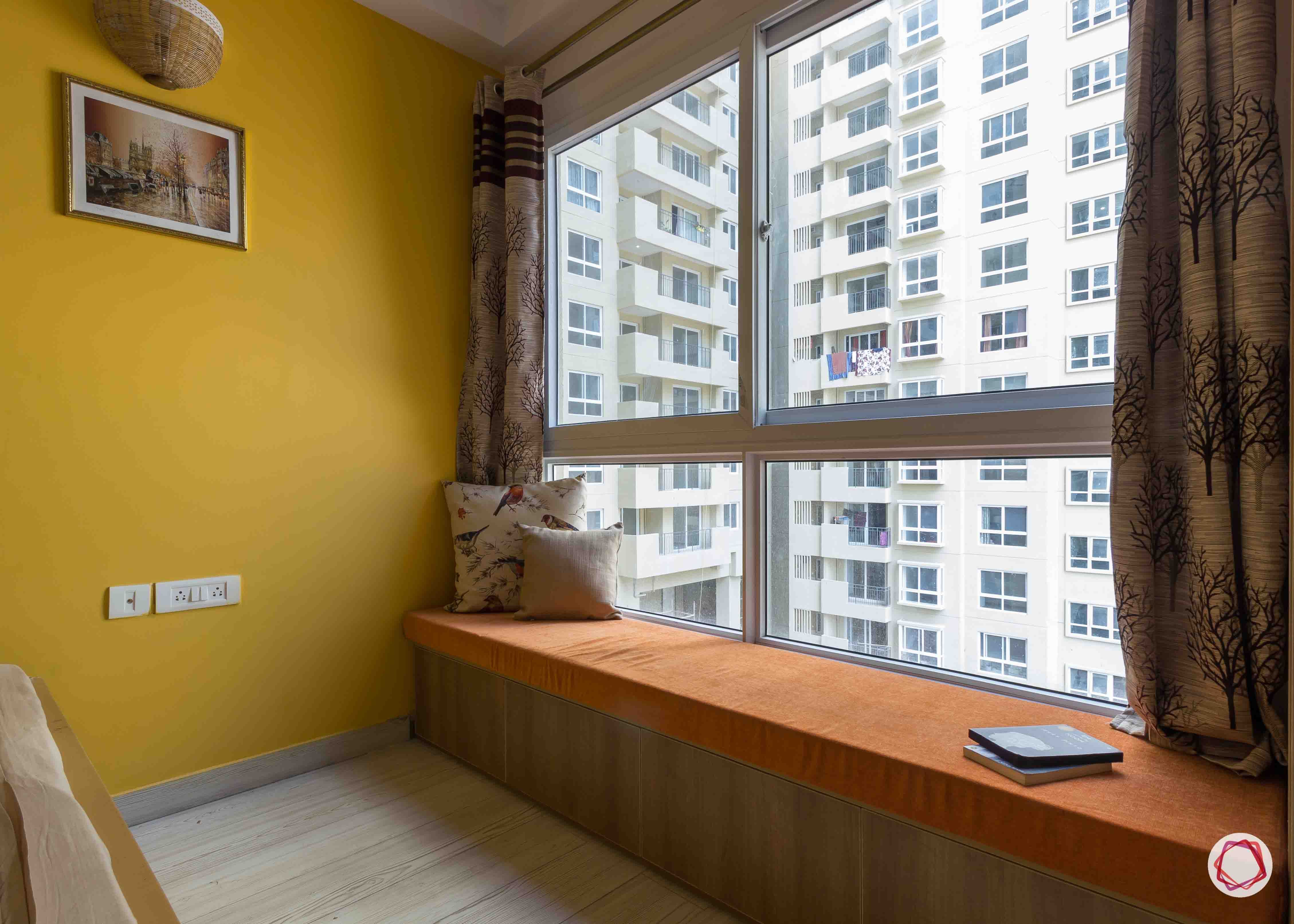 The guest bedroom which is used by Pritika's mom when she's visiting is painted in a cheery hue, while the rest of the look is kept very minimal. The best interior designers in Bangalore created this bay seating in this room to maintain harmony in design throughout the home.
Timeless Beauty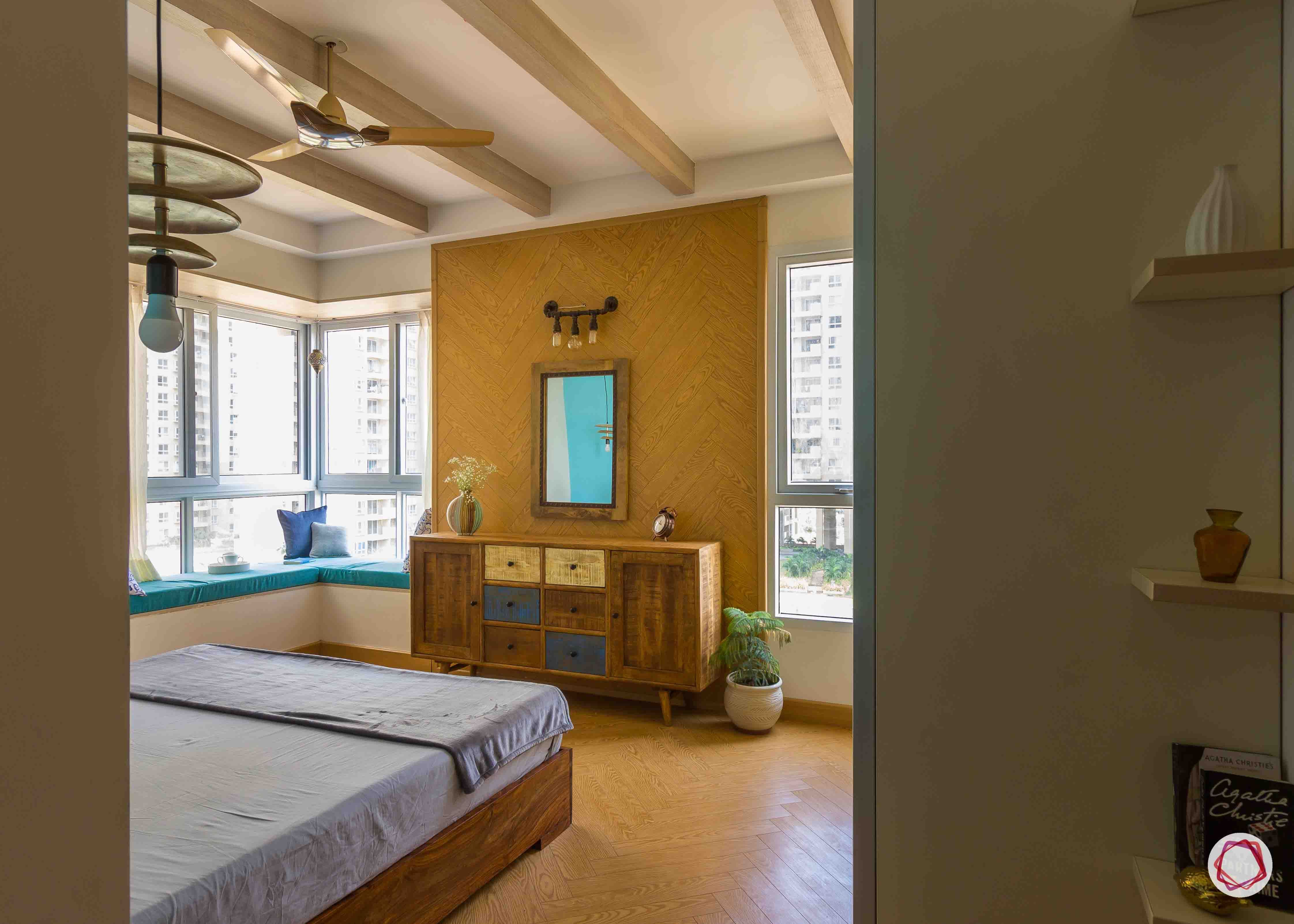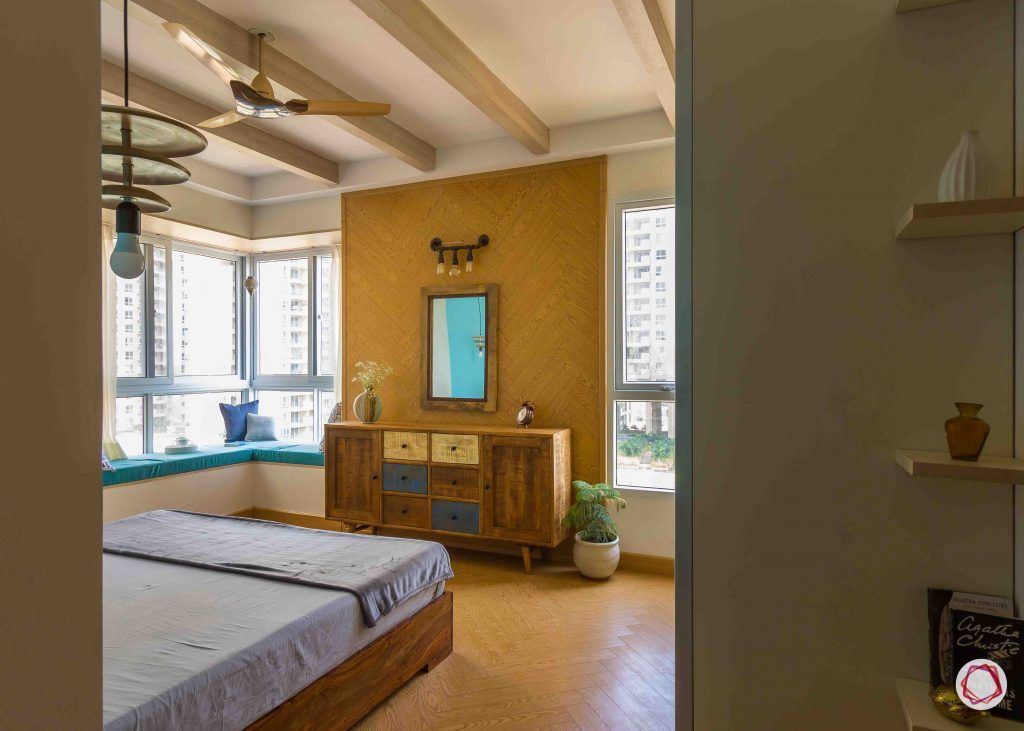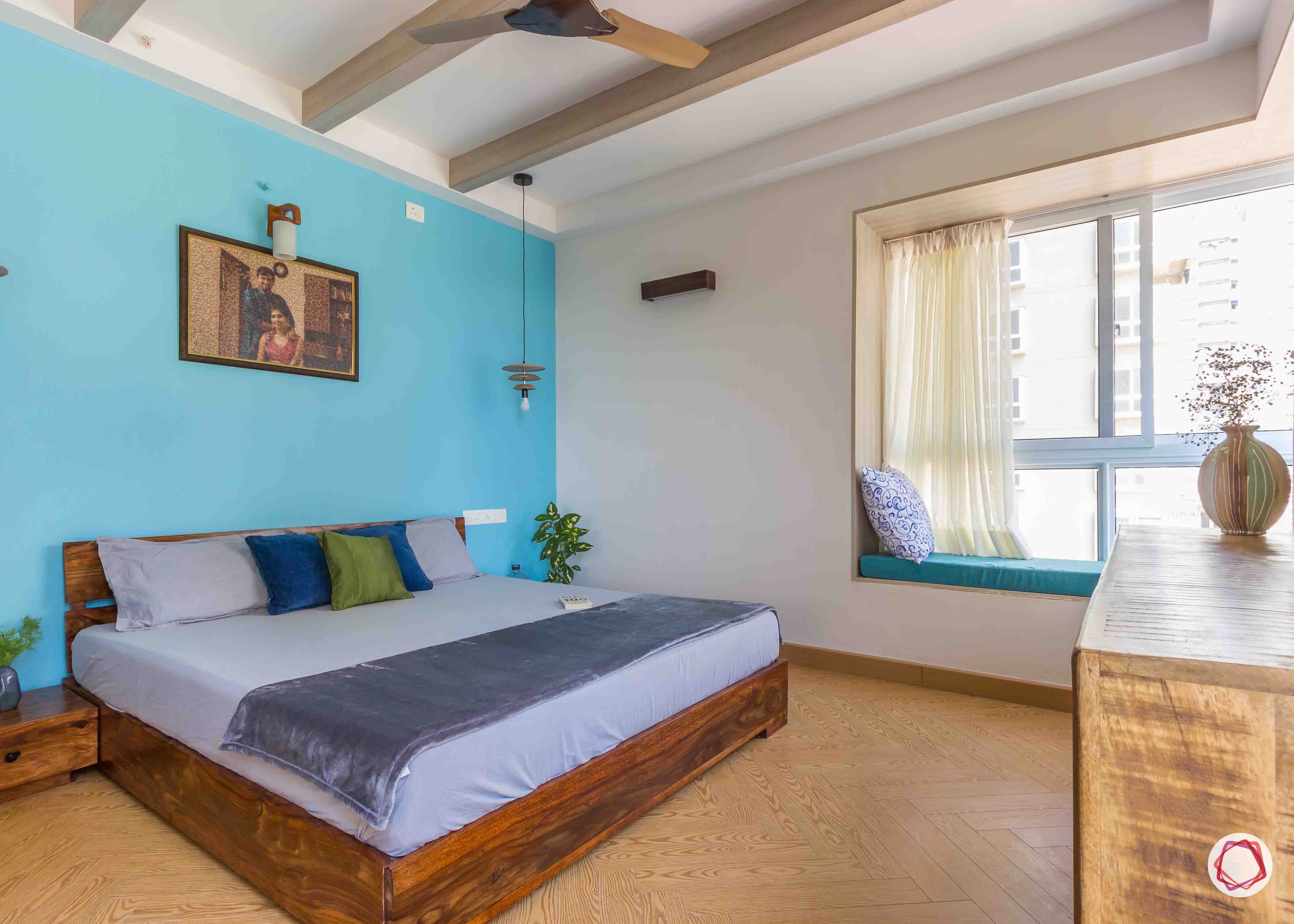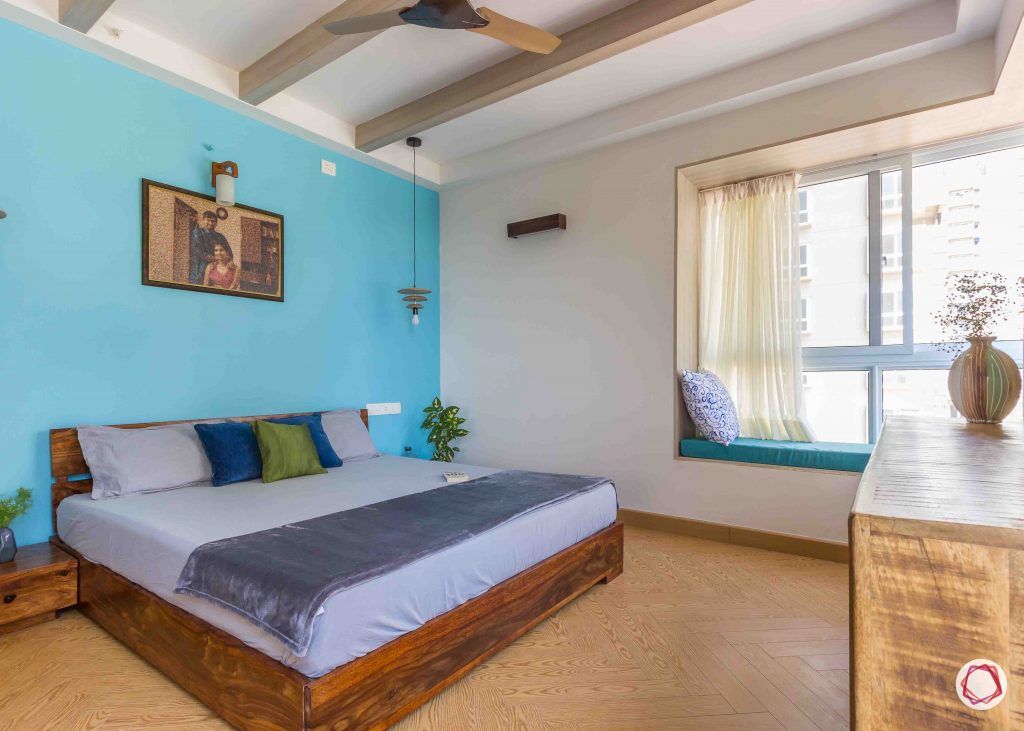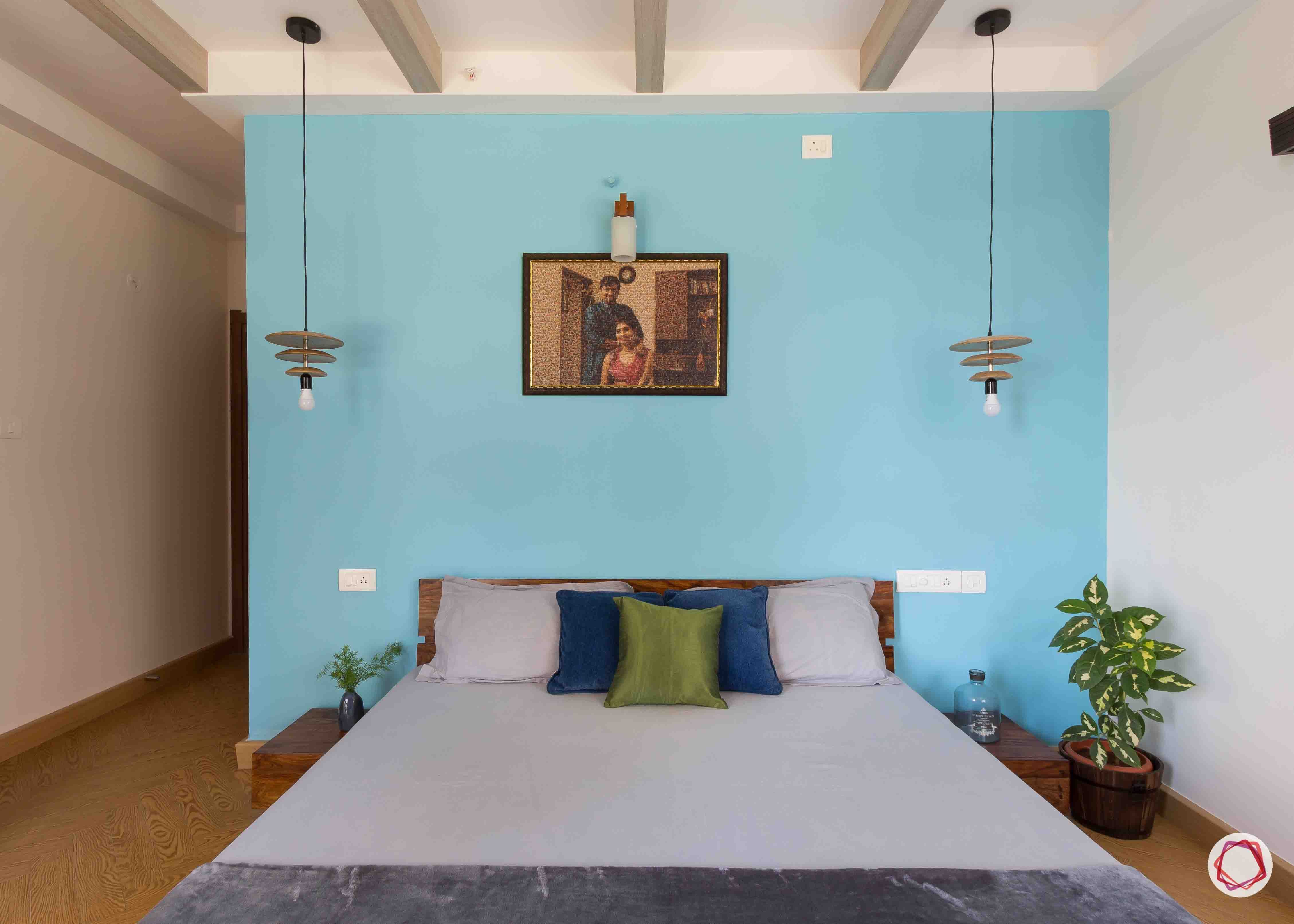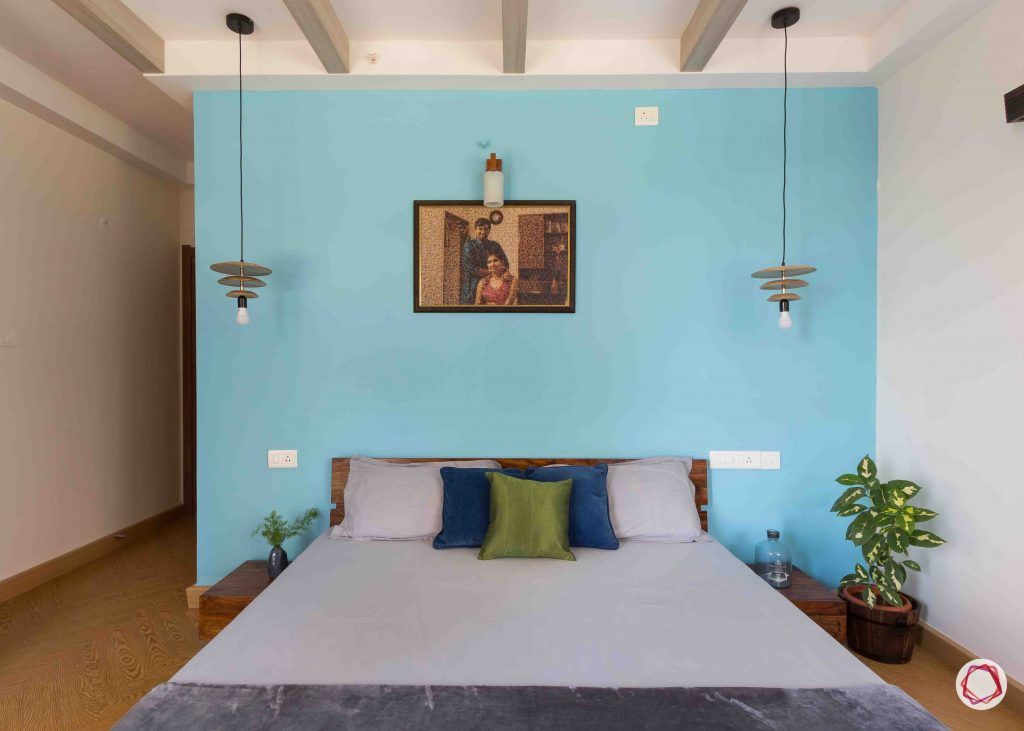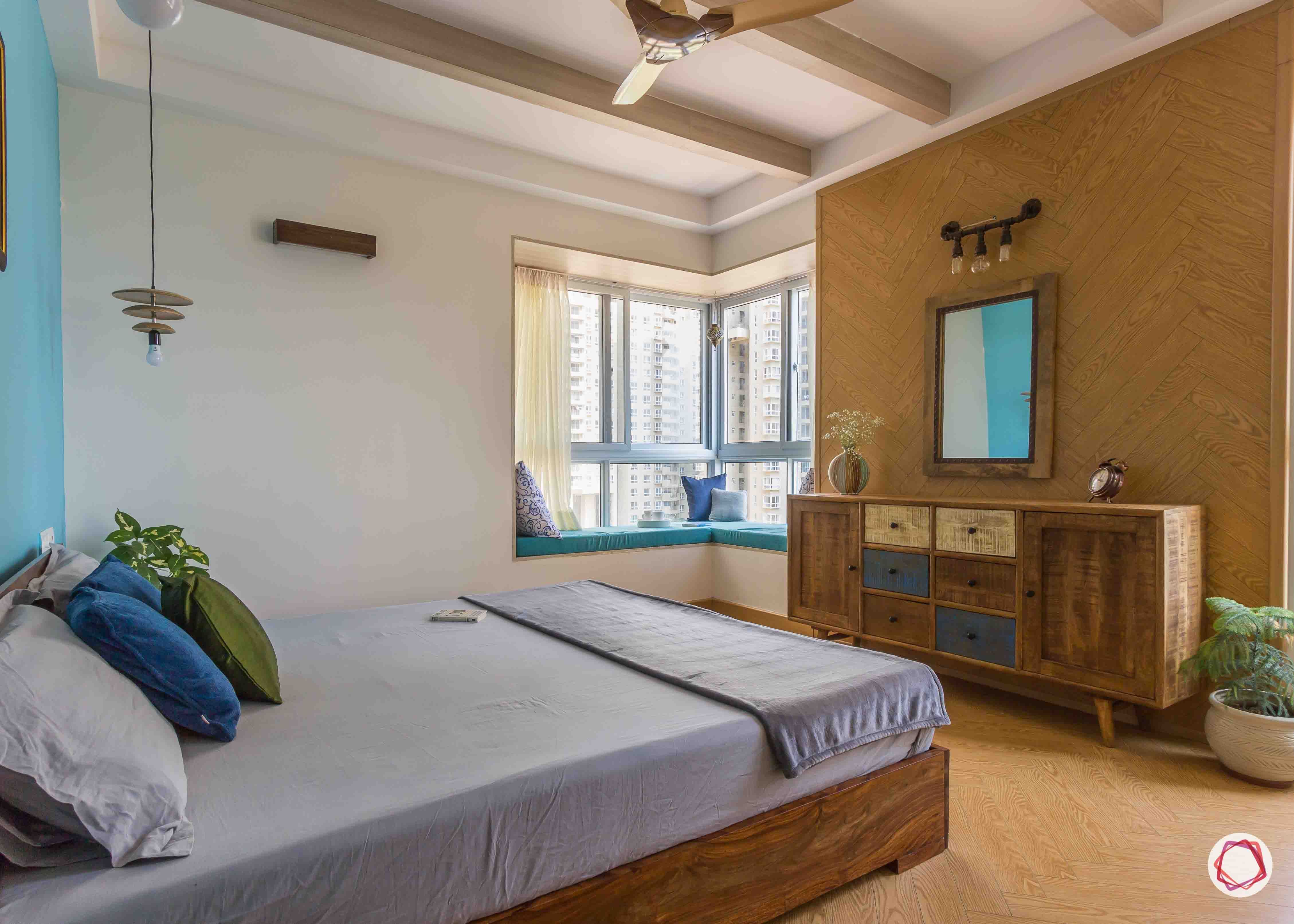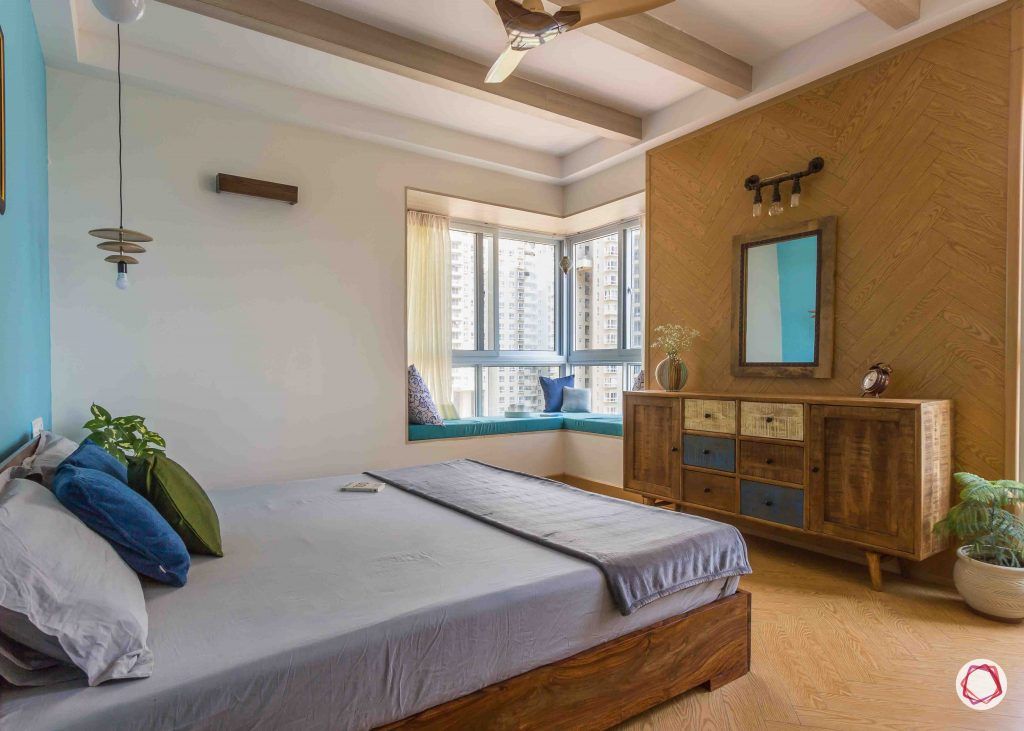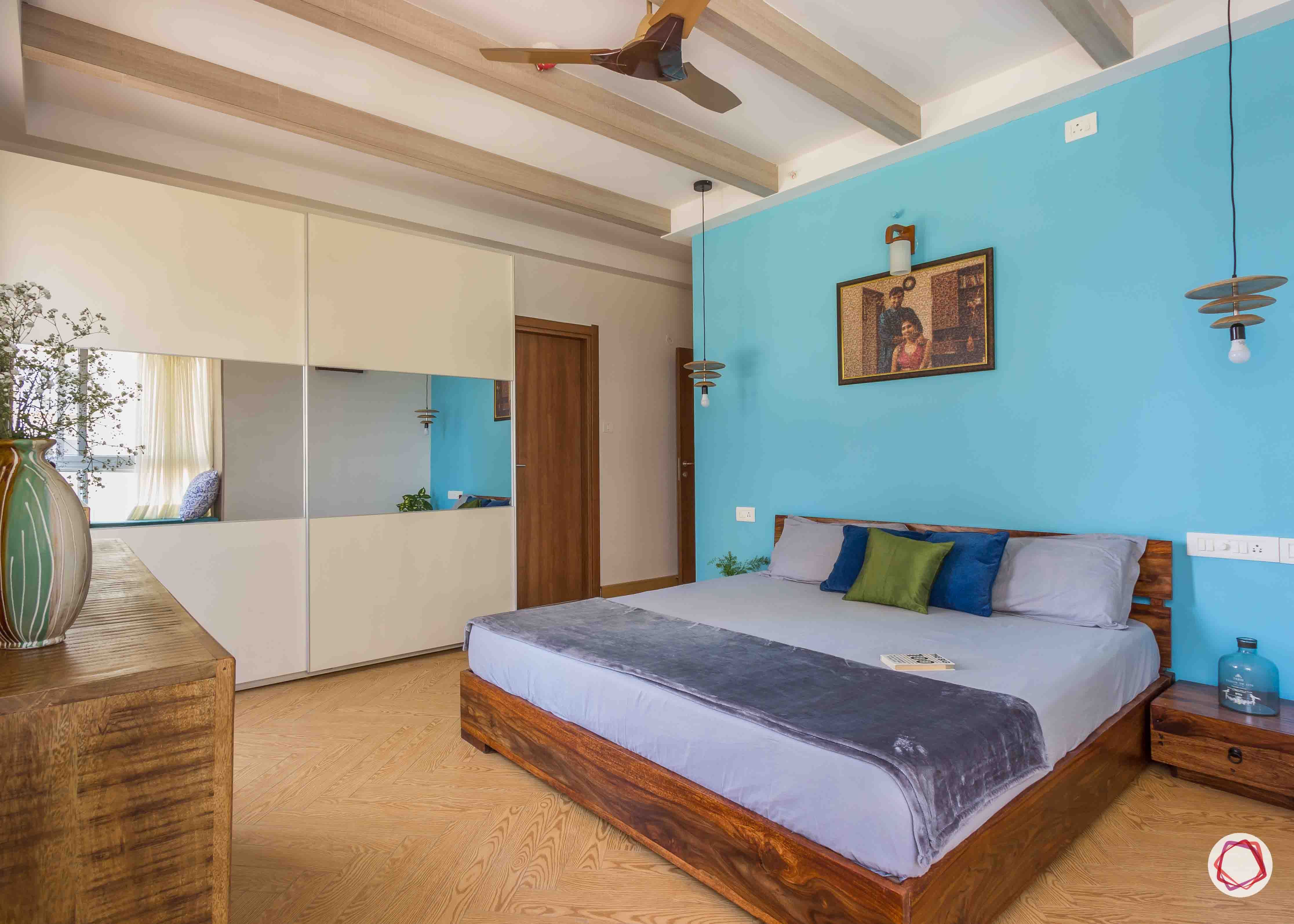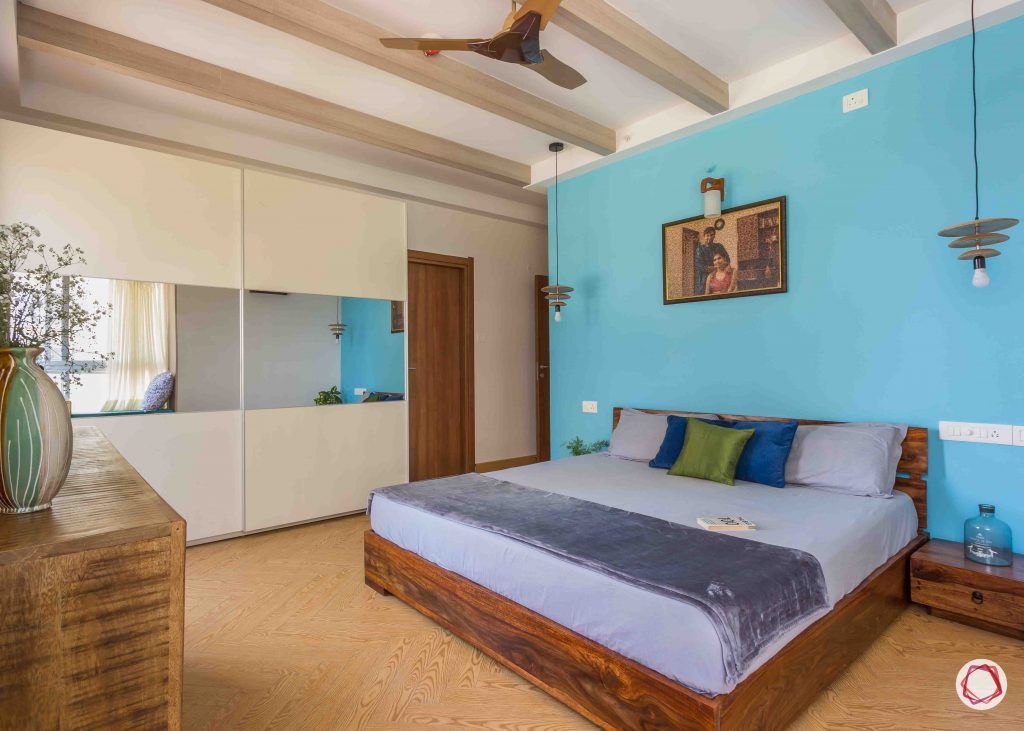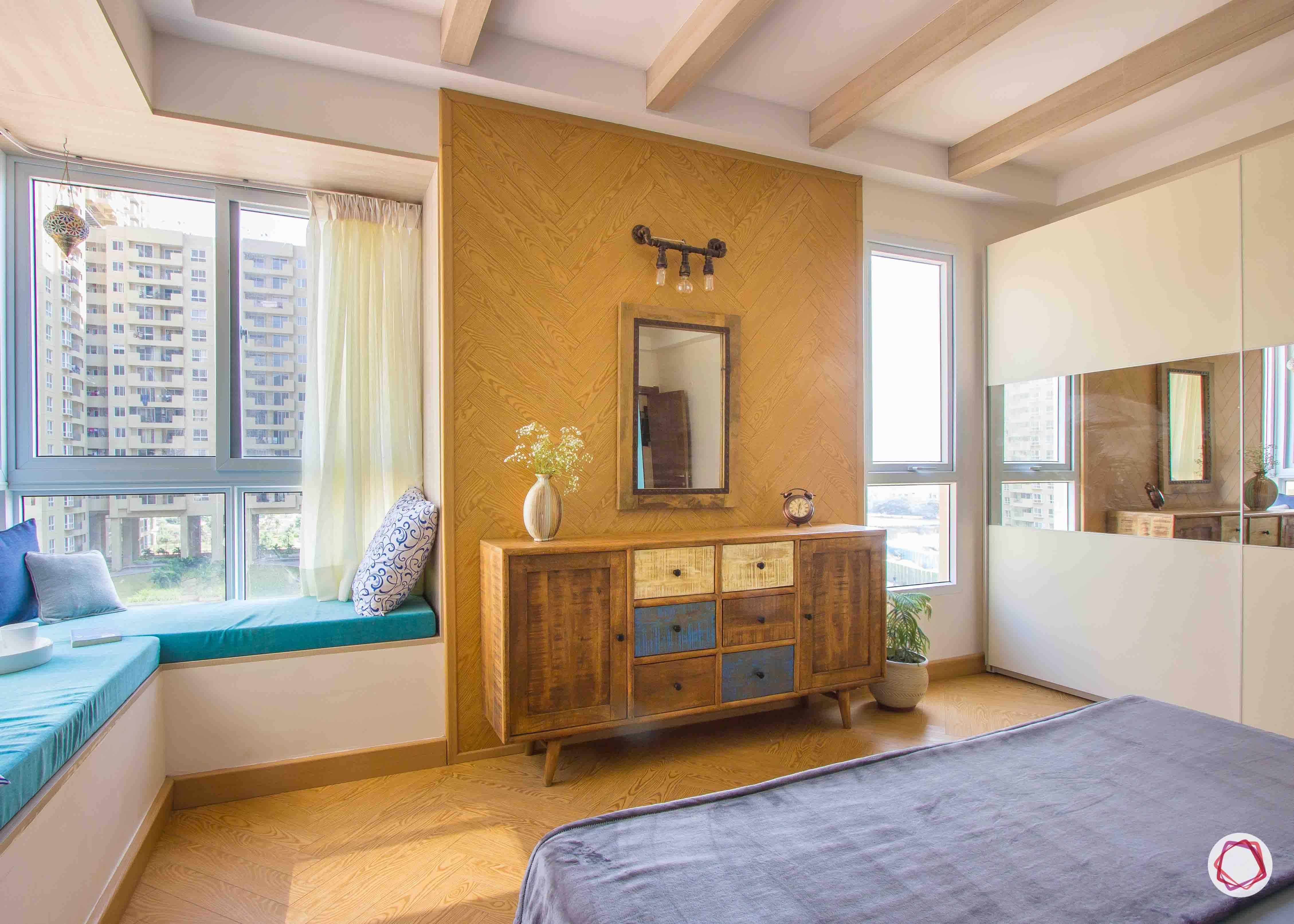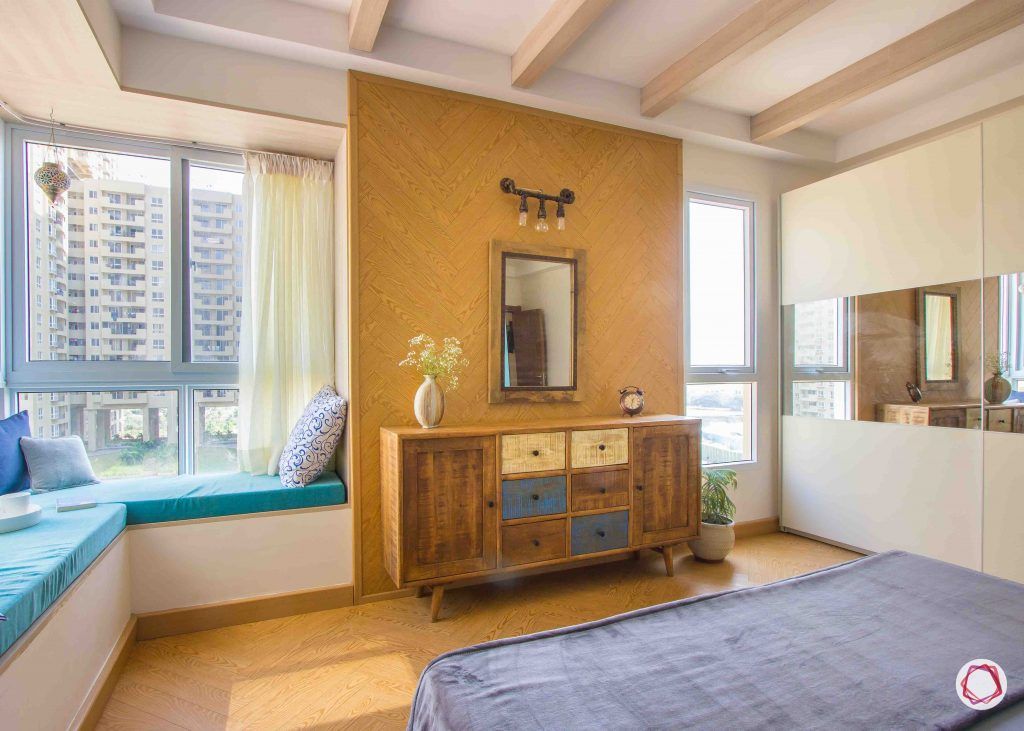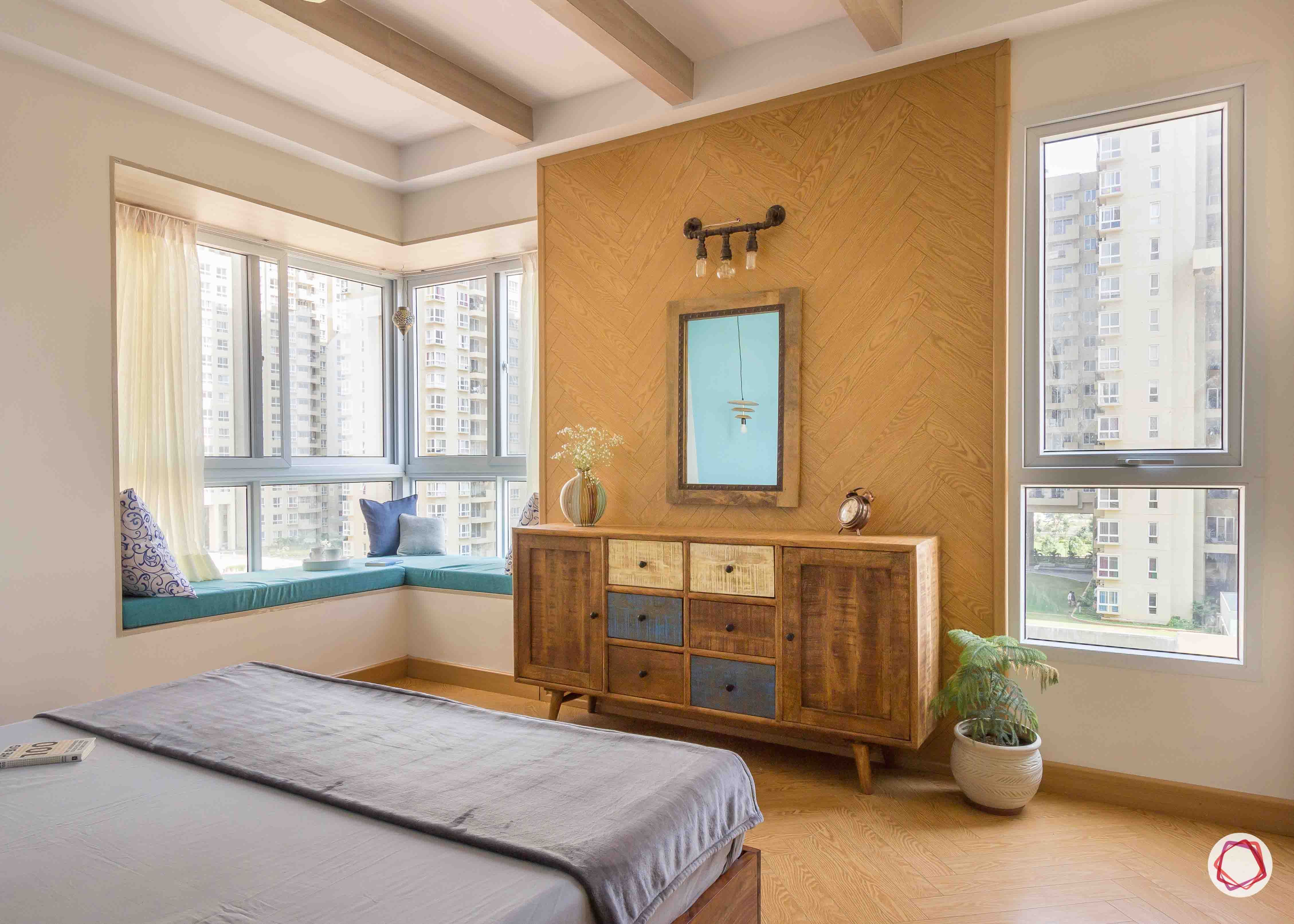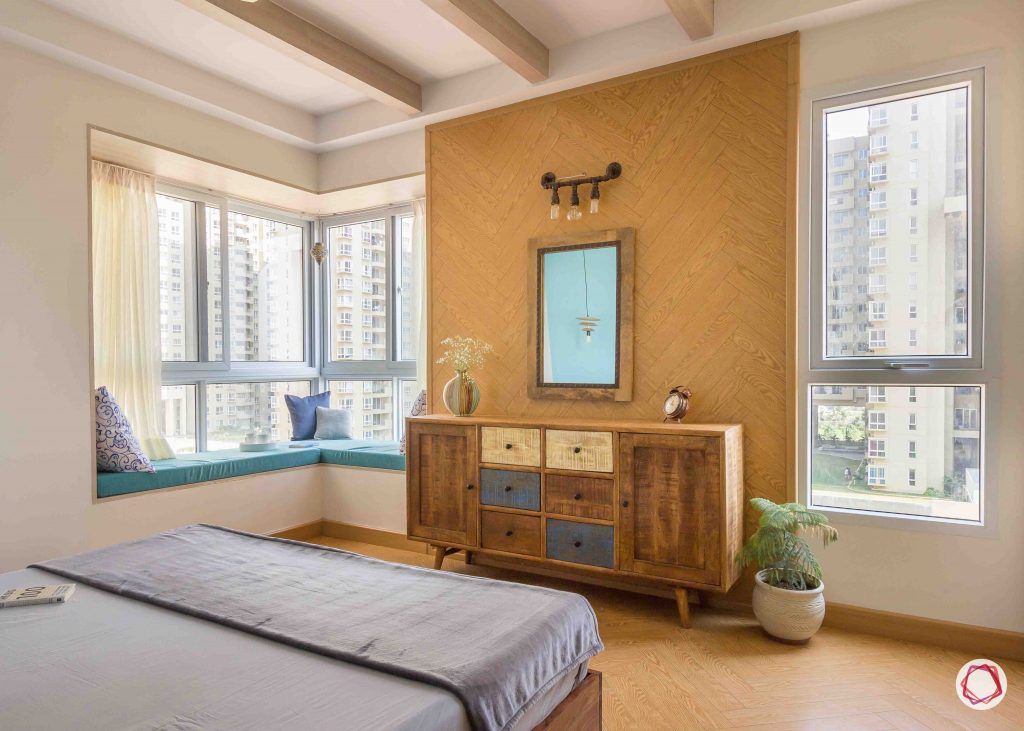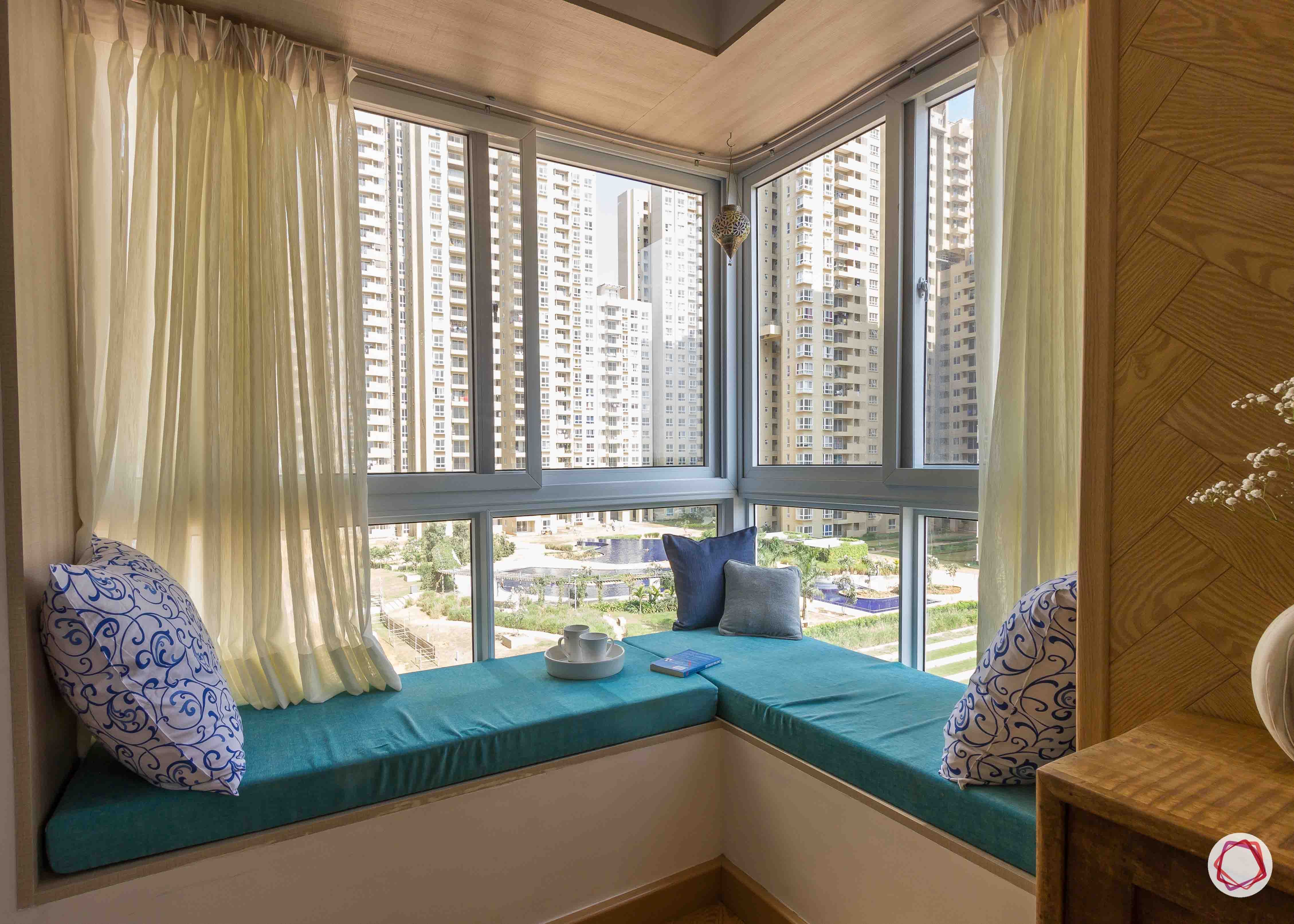 Coming to the master bedroom, one can just not say that this room looks "rustic" without going into the details. For instance, check out the blue coloured wall behind the bed, not an exact giveaway of industrial themed interiors, right? But if you look at the finer details like the wooden rafters on the ceiling or the distressed chest of drawers, you will immediately guess that this room follows a rustic theme. Notice how the the herringbone pattern wall behind the chest and the wooden framed mirror are highlighted by LED bulbs.
The wardrobes are kept simple, with a champagne finish and a mirror panel running across it. The corner bay seating is yet another great idea when the view from your home is breathtaking. The perfect spot to enjoy your morning cuppa over a book or the newspaper!
Vanities that Matter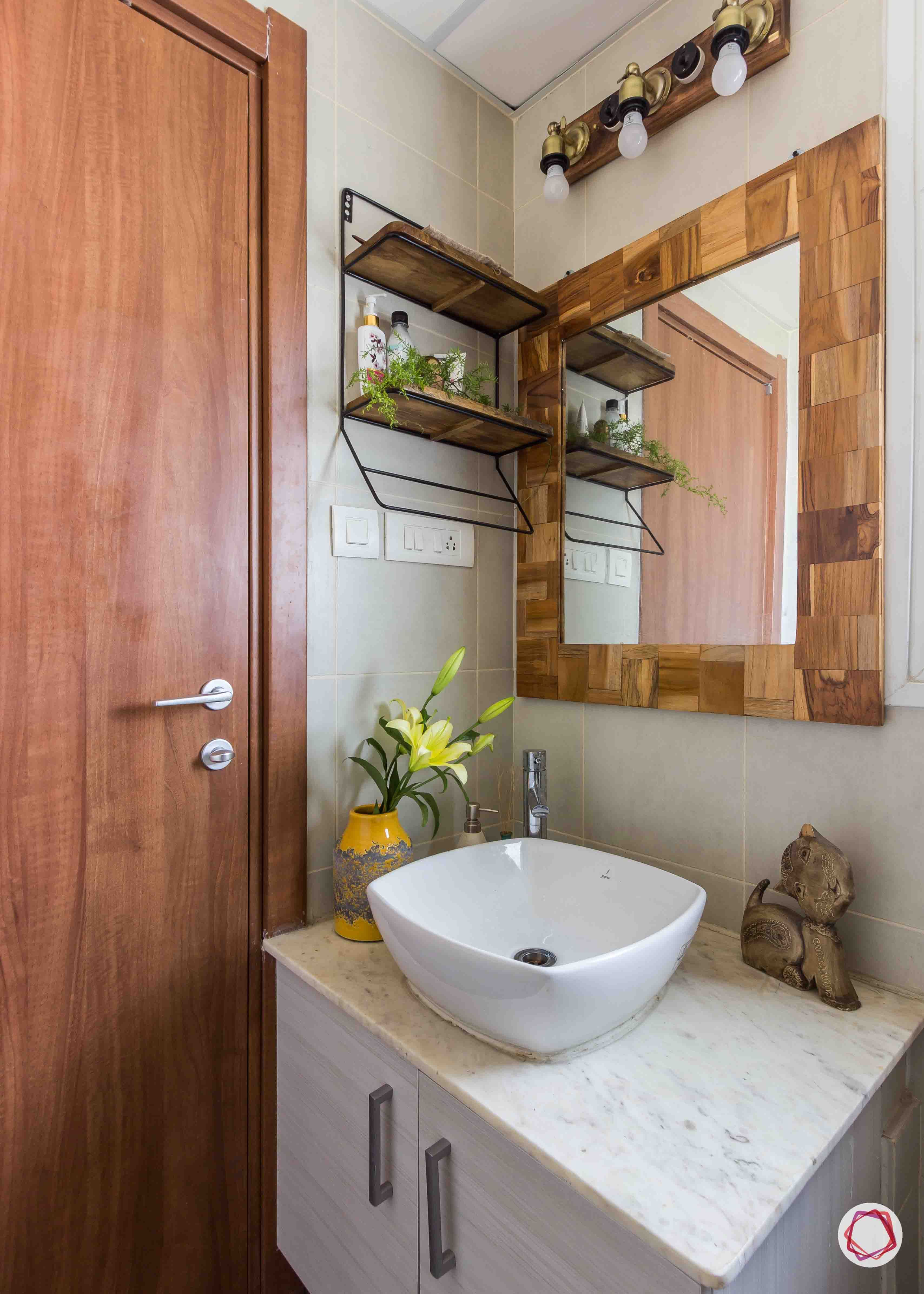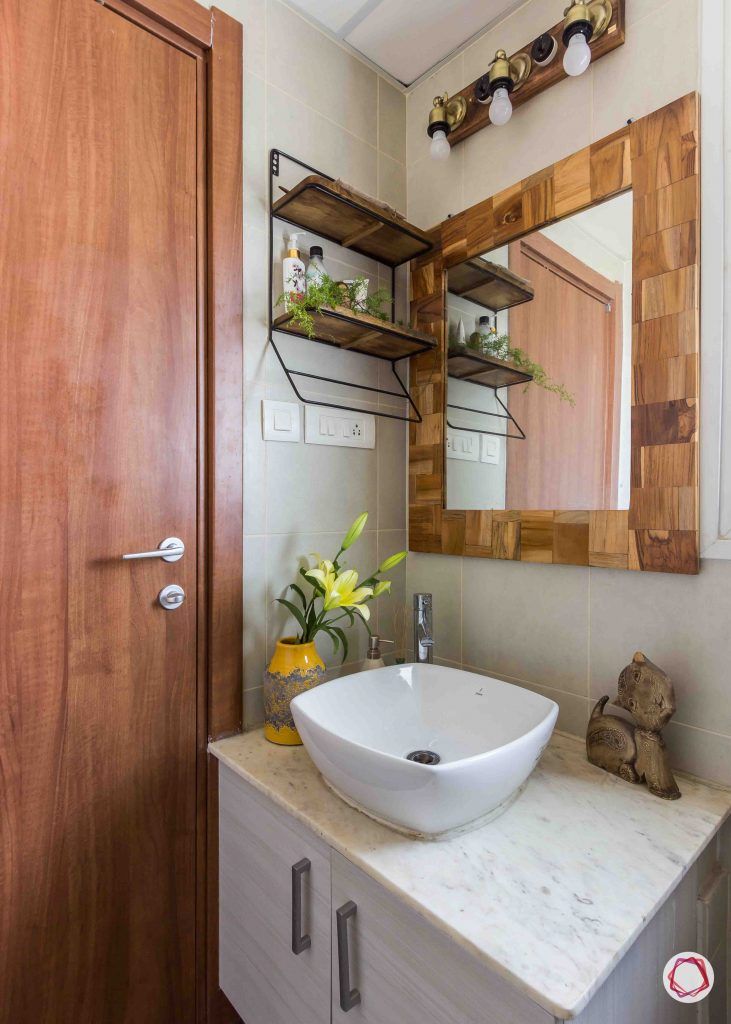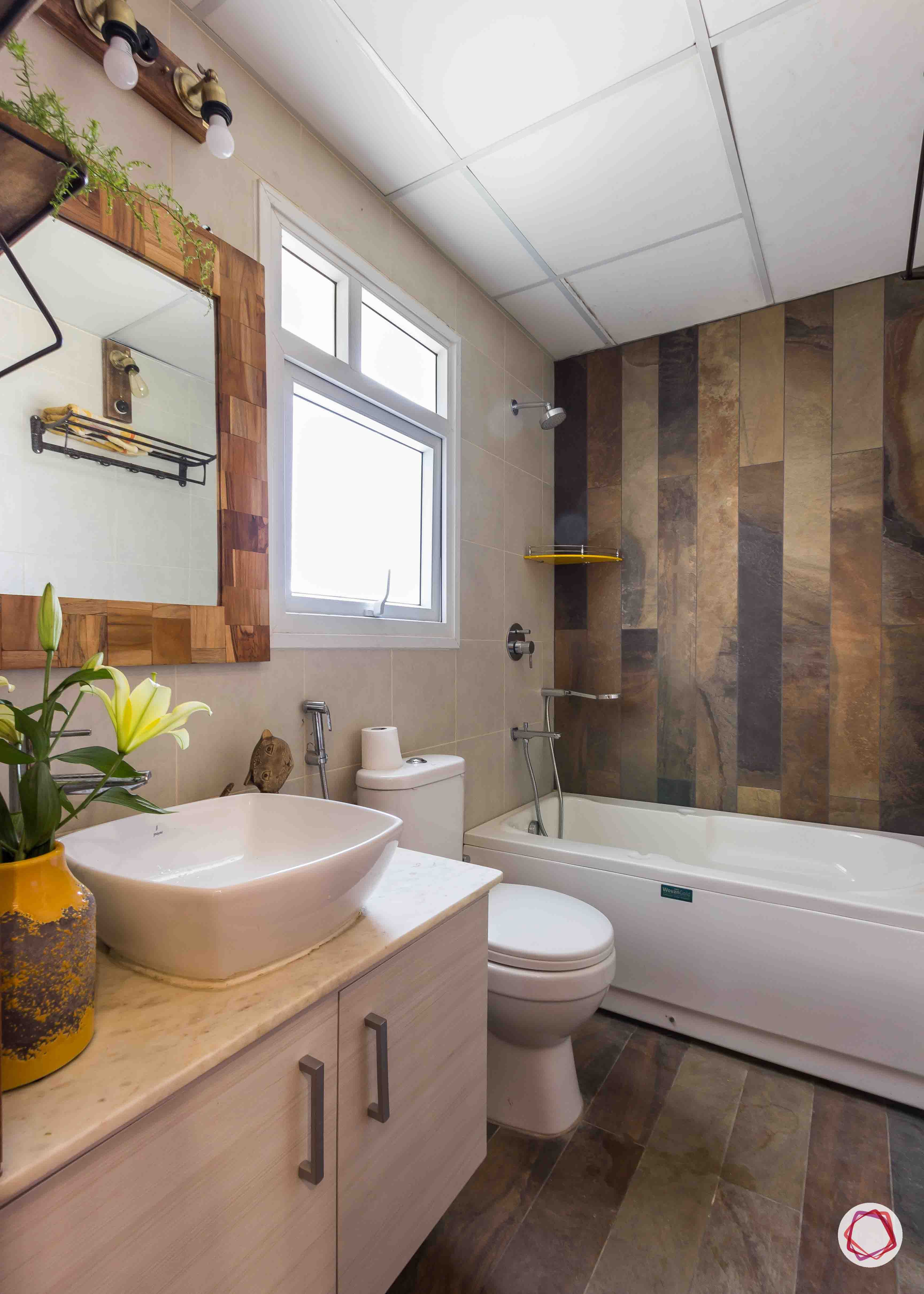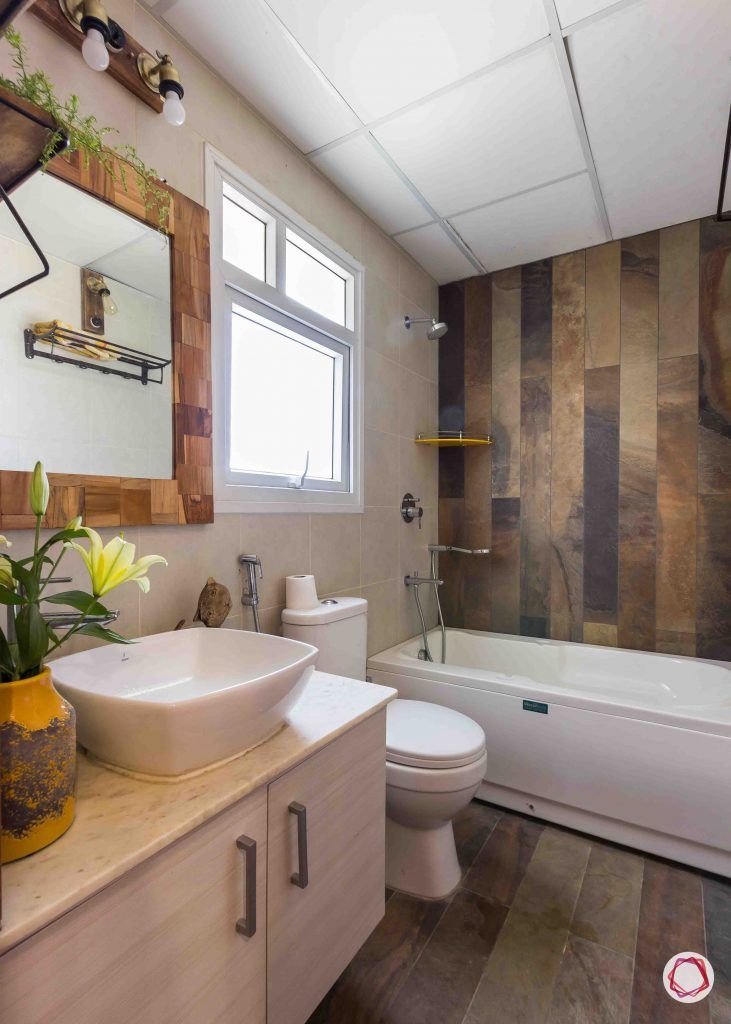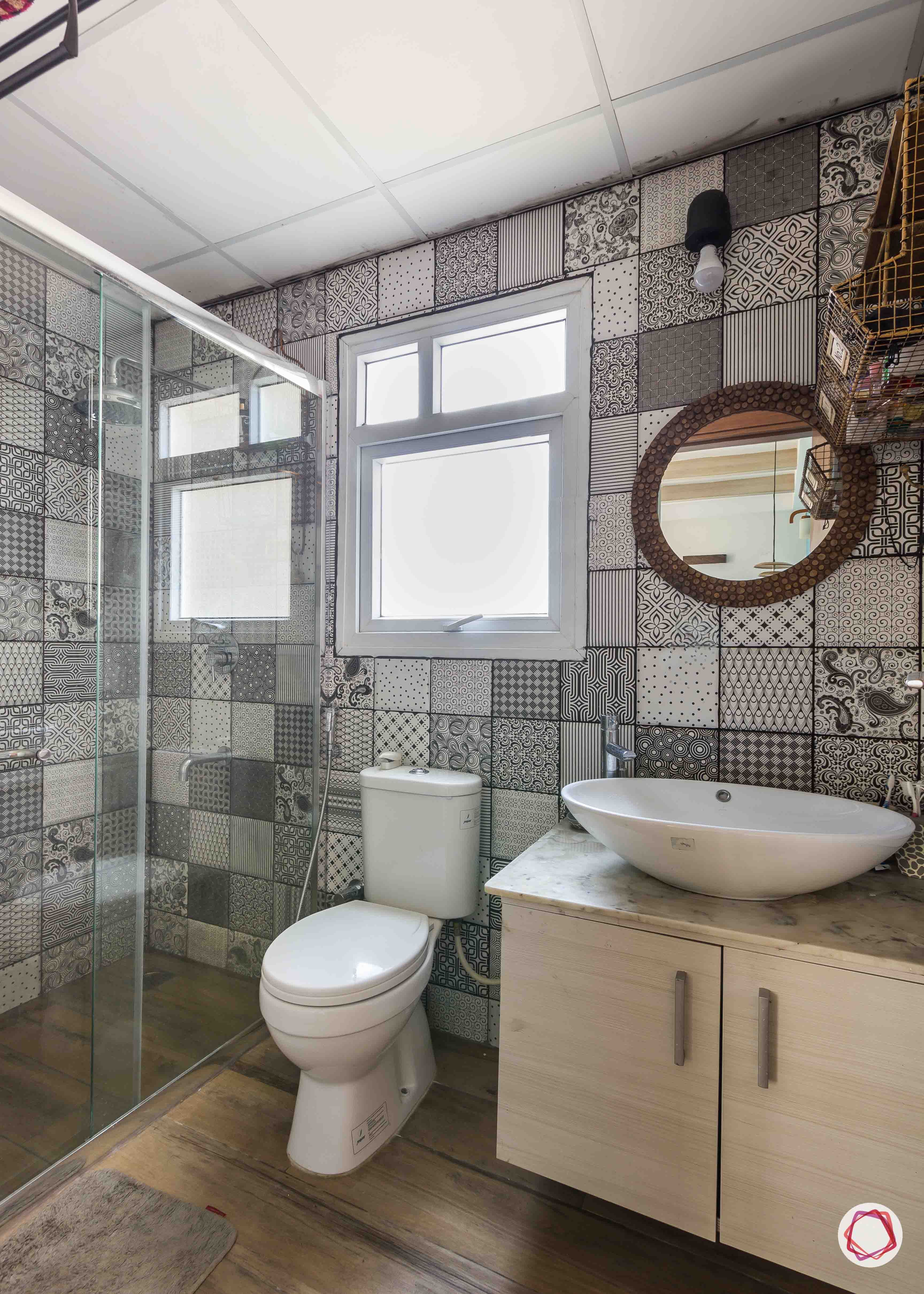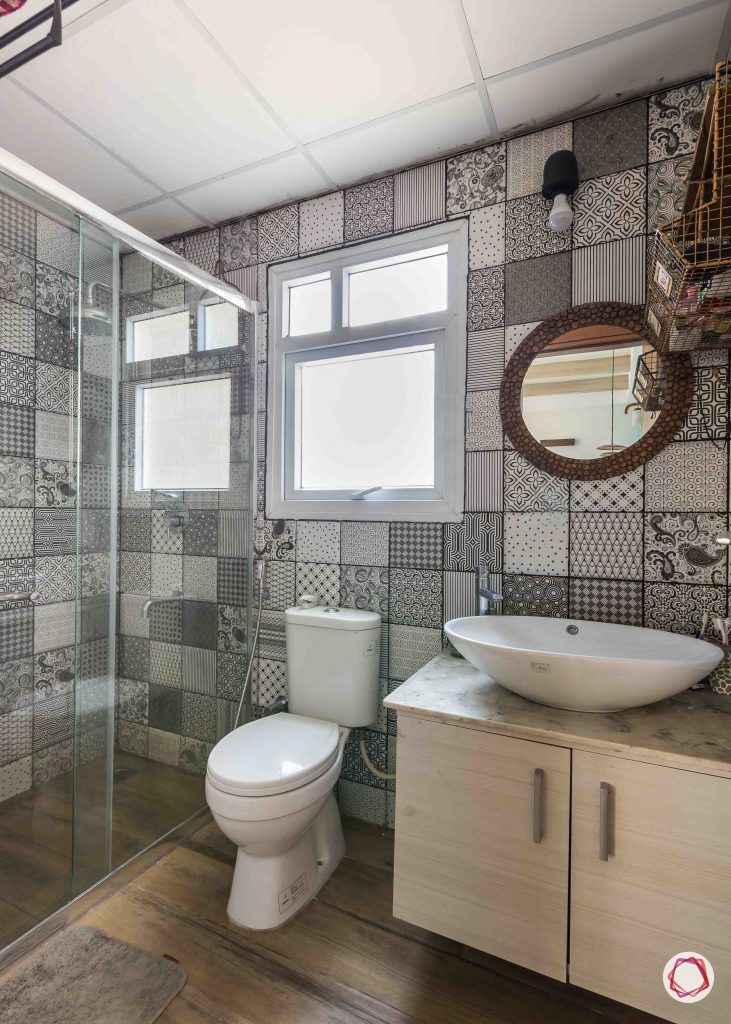 The bathrooms in this 3BHK are also designed by Livspace and Anjali has done a great job with it. Tiles are the hero in each of the bathrooms and the rest of the look plays match.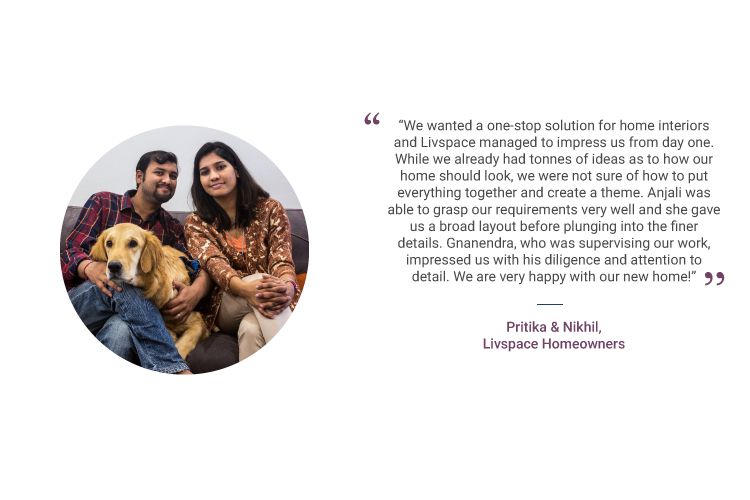 "This was my first project with Livspace and I must say it such a delight to work for Nikhil and Pritika. They had a rough image of their home in their mind and I had to put things in the right perspective to achieve the desired result. Radhika, my Design Manager, really helped me through the entire process. I love how their home looks and I now share a great relation with the couple. It was a great experience for me as a designer."

-Anjali Murali, Interior Designer, Livspace
You could take a walk-through of the home as well. Click here.
Also, if you loved this home done by best interior designers in Bangalore, A Chic 4BHK Decked up in Luxurious Interiors, is definitely going to impress you too!
Send in your comments and suggestions.