Getting your interiors done is quite a big feat for any Indian family. What's even bigger is choosing which interior designer to go with. This 3BHK home design in Amrapali Dream Valley, Greater Noida will show you why Livspace should be your go-to solution for all your interior design needs. When Lalit from Noida approached Livspace, he wanted to design his dream within just 30 days!
We, at Livspace, brought his dream home to life in less than a month. Not only that, we made sure that this 3BHK interior design in Amrapali Dream Valley was completed within ₹12 lakh! Can you believe that? You better! So, let's tell you how we did it while giving you a tour of this beautiful home.
---
Who Livs here: Lalit, his wife and their two little sons
Location: Amrapali Dream Valley, Greater Noida
Size of home: 3BHK
Livspace service: Full home design
Budget: ₹₹
---
A 3BHK in 30 Days: How Did Livspace Achieve This?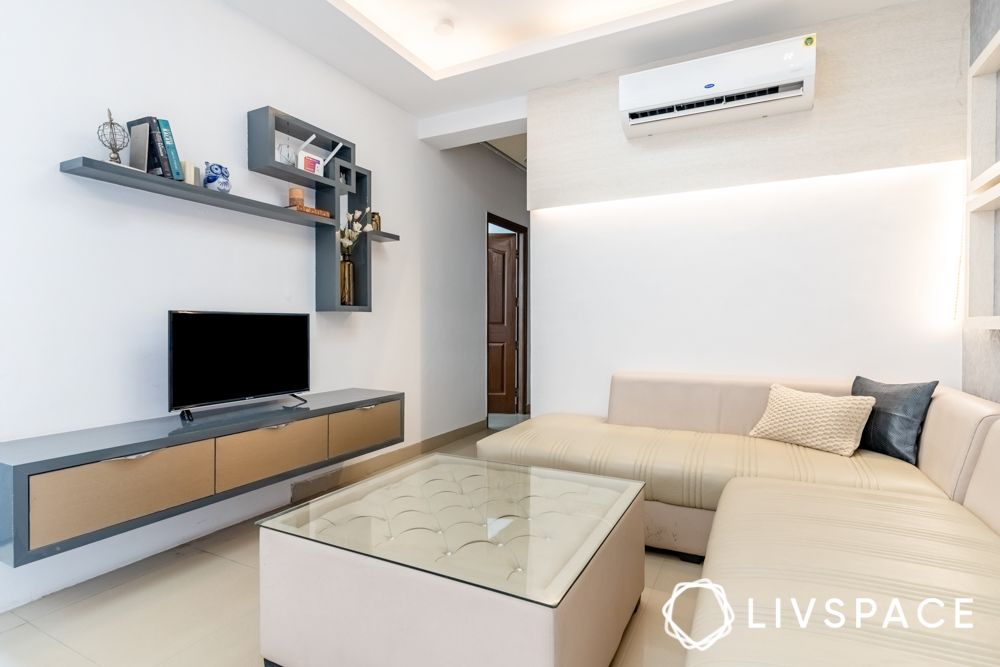 This 3BHK interior design in Amrapali Dream Valley was no small project that Livspace undertook. Althought it had a tight timeframe, we like keeping our promises. Hence, with all hands on deck, we burnt the midnight oil. Confused?
In simple words, our design team stayed beyond work hours to ensure that project delivery was on time (read: within JUST 30 days). In fact, hear it from Lalit himself:
Installation team did an unexpectedly fabulous job under my timeline pressure. In a very short time duration, they have delivered the product.

Special thanks to Mayank from Livspace Modular and Faizan from Livspace Operations. Mayank designed a beautiful kitchen, while Faizan and the installation team worked beyond their working hours to deliver my dream home.

Even the delivery was out of the box. I'm extremely happy with the procedure and quality.

Lalit from Amrapali Dream Valley, Greater Noida
IN A NUTSHELL



Design Brief:
To design an aesthetic home with maximum storage

Look Out for
The living room that has a trendy TV unit,
a big L-shaped sofa, an accent wall, a false ceiling & more

What We Loved
The parallel kitchen with membrane shutter finishes

Biggest Indulgences
The vanity unit in the master bedroom,
the king-size bed and the bunk bed in the kids' room

Smart Buys
The wardrobes


A 3BHK Within ₹12 Lakh: What's Included & What's Not
While you might think that interior design is an expensive affair, we at Livspace would like to disagree. We delivered Lalit's dream home (which is a 3BHK, by the way) in just ₹12 lakh.
Our scope of work included a beautiful kitchen, a master bedroom, a guest bedroom, a kid's bedroom, a living room with a false ceiling, a lot of civil changes, a bathroom remodel and more. Come, take a closer look at all that's included.
The Parallel Kitchen That Just Cost ₹2.5 Lakh
One of the things Lalit and his family loved while working with Livspace was the kitchen design. And, we agree! It has a gold metallic glint and a beautiful golden shade that reeks of regality.
Design Objective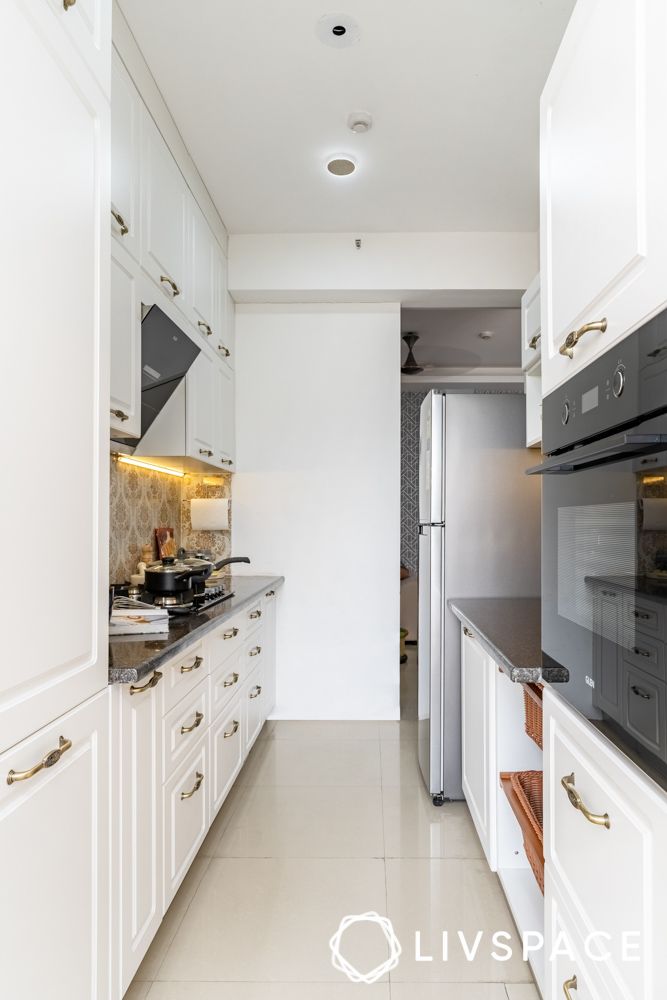 Increasing space, adding more storage and ensuring the kitchen remained an organised and a fully functional space were the three objectives laid out by the lady of the family. To do that, we chose a parallel kitchen design, as it helps you make the most out of the space!
In fact, this 3BHK's kitchen design in Amrapali Dream Valley has a mix of open and closed shelves for most convenience. In a parallel kitchen like this, there's space for everything: appliances, cooking essentials, utensils. You name it – this kitchen has it!
Cabinet Materials & Finishes
The preferred choice of material for the cabinets was HDF-HMR. We must say that it's a smart choice as it brings down costs while giving you the finesse that your kitchen needs.
Also Read: What Is HDF-HMR?
The all-white kitchen has a membrane shutter finish in off-white, which gives it a contemporary yet modern look.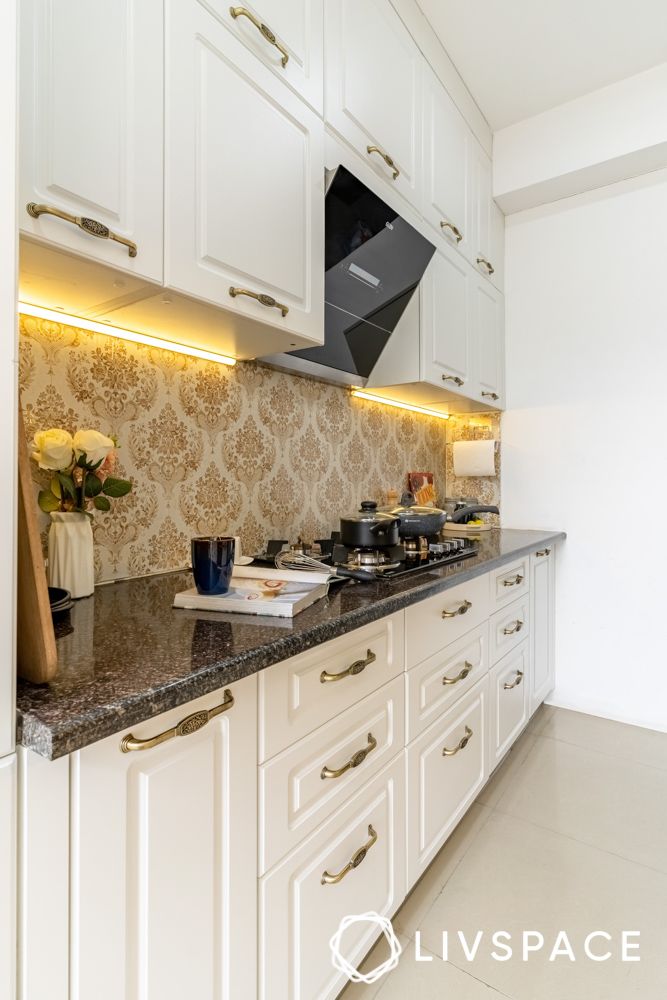 Countertop Material & Finishes
As for the countertop material, we've used granite. That's because granite is one of the hardest surface materials that's naturally heat-resistant, stain-resistant and scratch-resistant. They can last for many years (with the right maintenance) and they don't absorb water.
The sink is stainless steel, and the chimney has been wall-mounted in this home to help free space.
We Factored In Storage & Aesthetic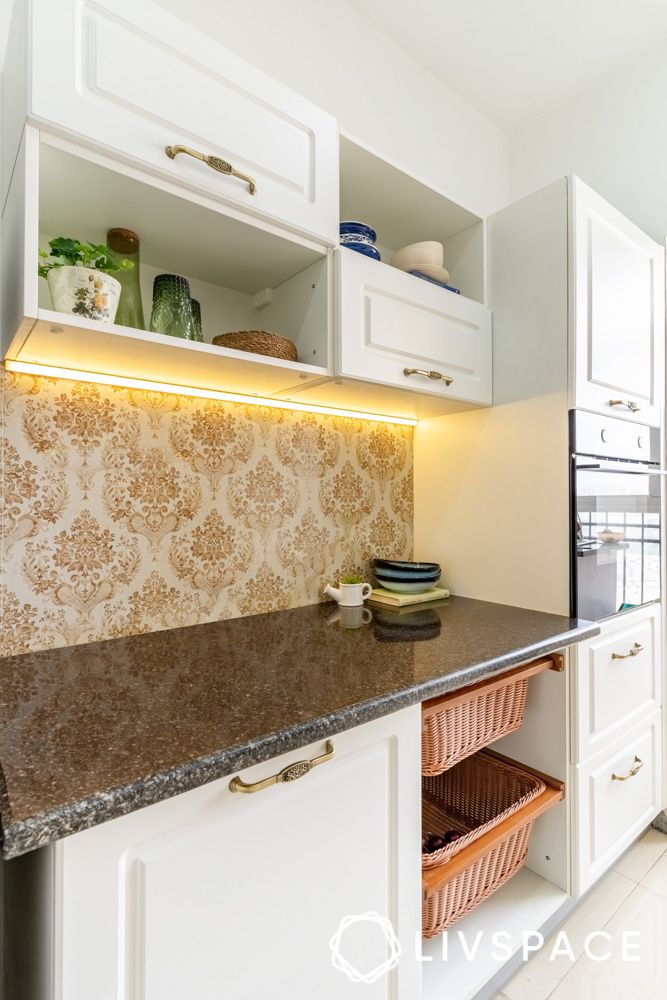 To add more storage, the family opted for backsplash accessories (the shelves, as you can see) and have also added a pair of wicker baskets. It all comes together with the brass finished antique cabinet handles. Not to mention, we also added a gas hob with a glass cook top and a built-in oven. And, to think all of this was done within ₹2.7 lakh is amazing, isn't it?
The Master Bedroom of this 3BHK Designed Within ₹12 Lakh
The 3BHK Home Design in Amrapali Dream Valley, Greater Noida included a master bedroom, a guest bedroom and a kid's bedroom. While they kept the colours subtle and stuck to neutrals or blues, there's a lot of work that went into the decor.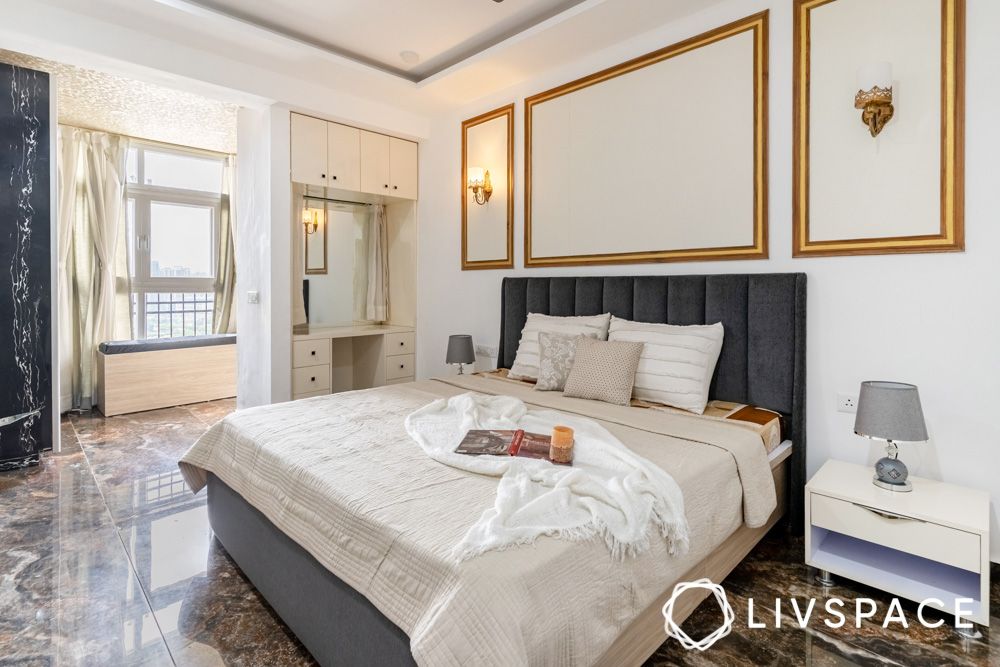 For the master bedroom, Livspace provided a gorgeous, grey king-size bed with box storage, a pair of bedside tables in white and a vanity unit that's efficient and elegant. The preferred material for the vanity unit is laminate.
You might also want to look at the balcony this bedroom opens up to. But before your eyes go there, look at the beautiful wall panelling that this rooms has. The pendant lights only add up to the aesthetic, creating a warm vibe.
The Wardrobe That's Wow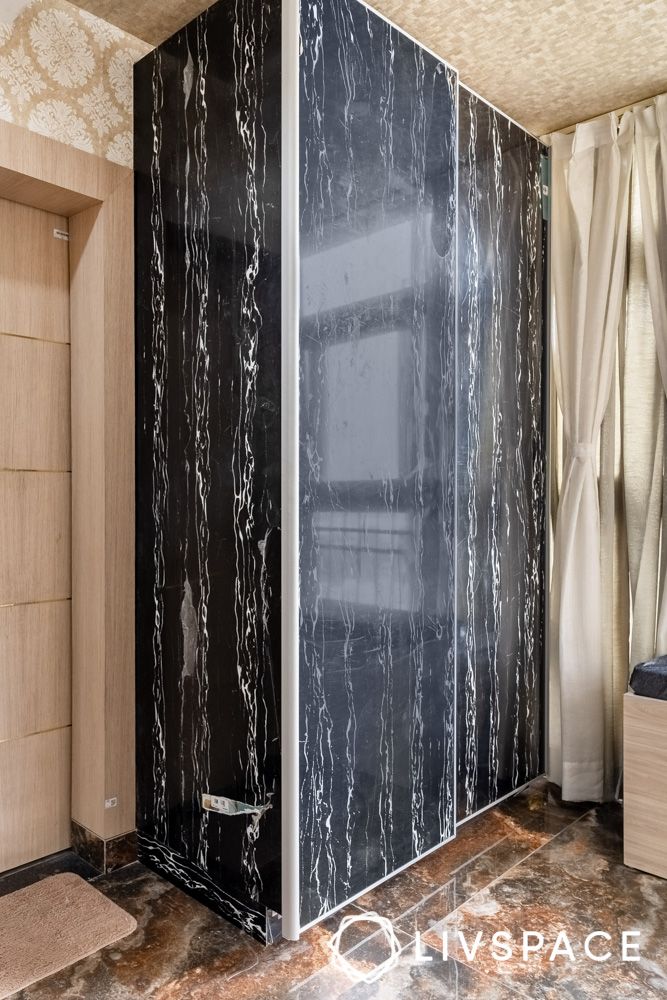 It has a seating and a laminate wardrobe finished in black swirls that packs in the punch. Though we don't have a picture for the bathroom, Livspace also did quite a great work of remodelling their bathroom.
The Office Space With the Breezy Vibe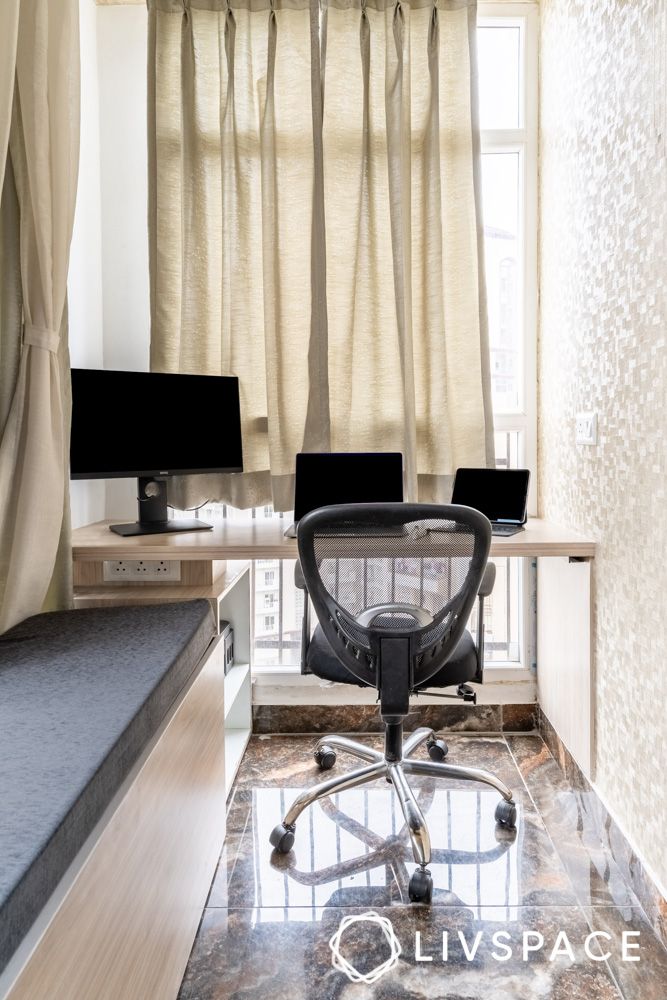 The master bedroom opens up to this beautiful work space with a view. With work from home being the norm, it's only sensible to have a work from home set up. Lalit's office space is giving us some dreamy vibes. We love how it factors in additional seating too! You can just draw the curtains when you want to focus and have some privacy.
And, yes, if you're thinking all of this was done within ₹12 lakh, you're right! Wait till you see what's more in store!
The Guest Bedroom or the Parents' Room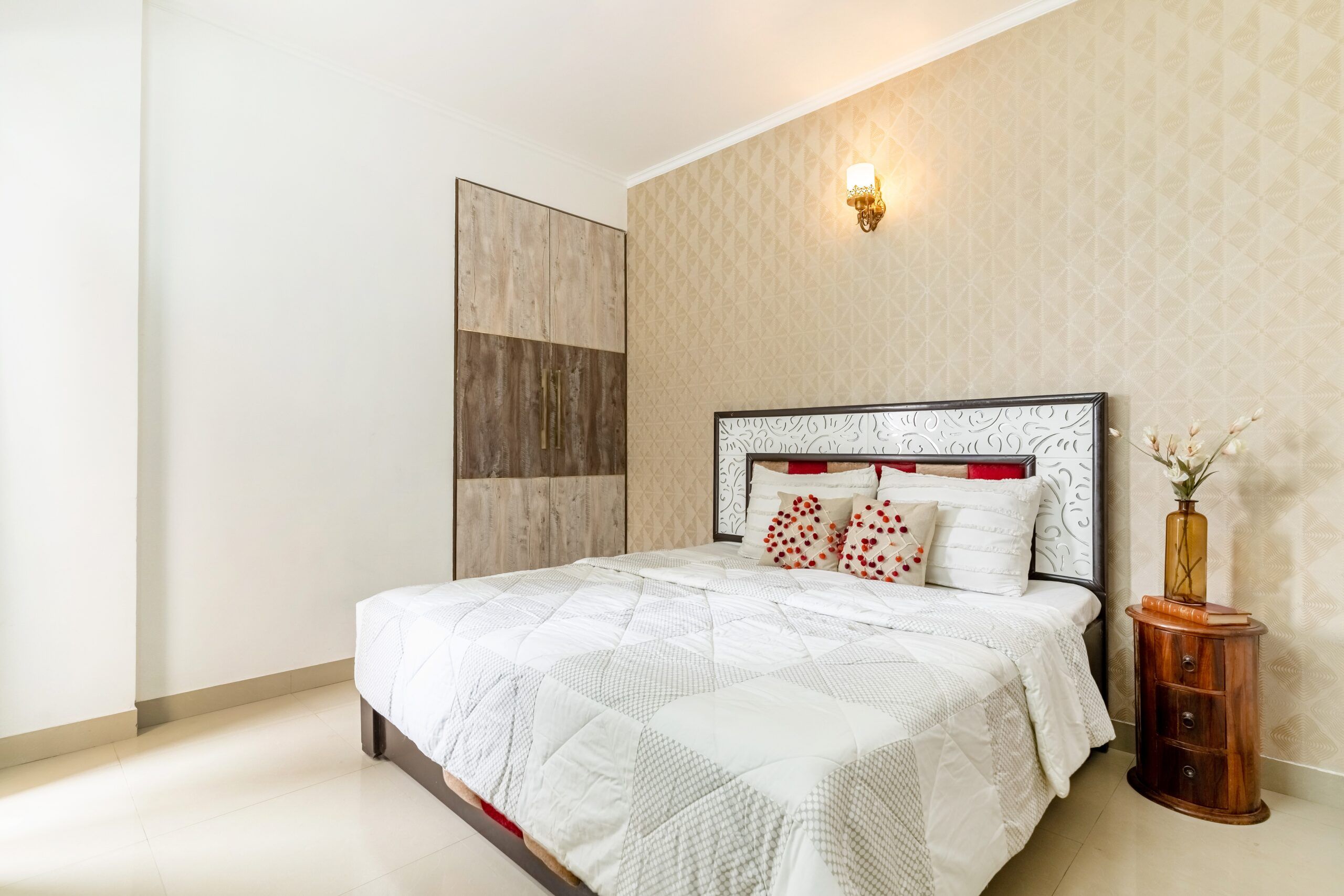 The parents' room has a beautiful wallpaper in golden hues that pairs very well with the white walls and the wooden bedside table. While the bed was already with Lalit's family, we added the wall-fitted wardrobe, the bedside table and did a magic with the walls.
Also Read: Home Renovation Ideas to Copy From This 3BHK Princeton Estate Apartment Interior Design
The Kid's Bedroom With a Double Bunk Bed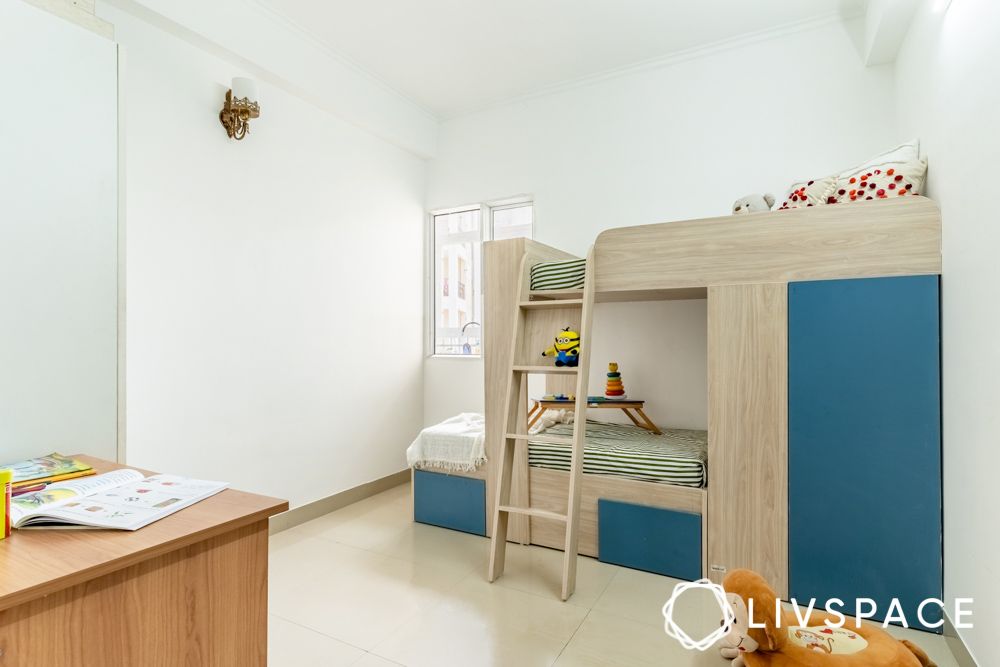 A double bunk bed. Wasn't that the dream when we were growing up? Well, lucky for the little ones of this family! Their parents helped design a cool room for them that they're going to grow up in. Livspace also added a study table for the kids and kept the walls white, thereby maintaining design consistency.
The Living Room That "Livs It Up"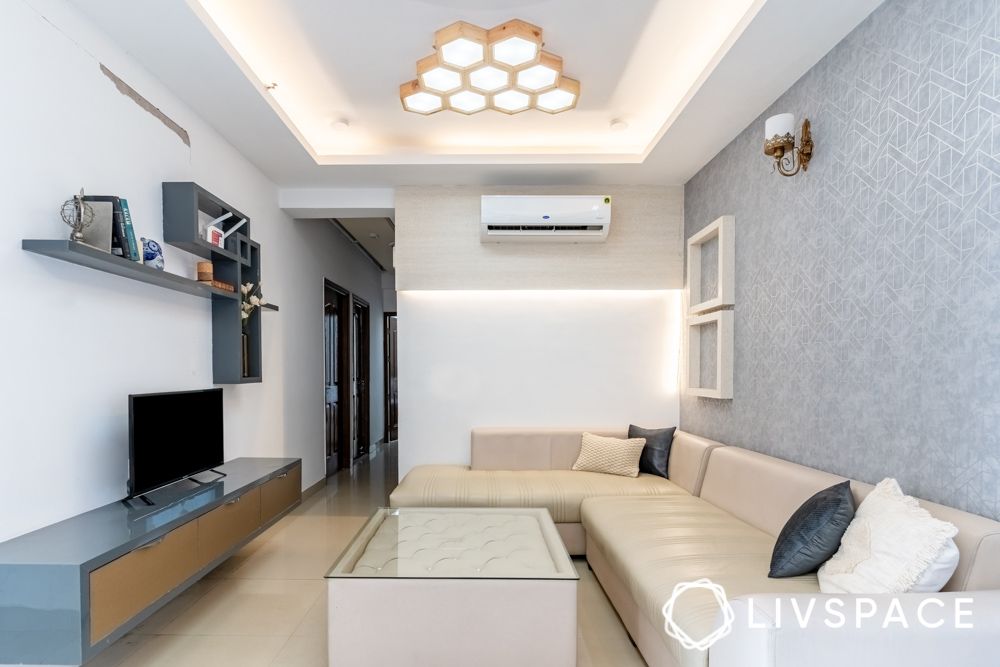 This living room screams elegance! Look at the L-shaped sofa, the glass centre table and the trendy TV unit that Livspace designed. If that wasn't a lot, there's a beautiful light fixture complementing the false ceiling design in this Amrapali Dream Valley, Noida home. All in all, we're loving the chill vibes of this living room.
Plus, the back wall has a very subtle accent feature (thanks to the geometric wallpaper) and it ties all the different design elements of this larger-than-life living room.
Recap: 3BHK in 30 Days in Just ₹12 Lakh
Just in case, you've been as mesmerised as we've with the beautiful design of this 3BHK, we'd like to remind you that this home was delivered in less than 30 days and didn't cost the family more than ₹12 lakh! Interior design doesn't have to be costly, it just has to be right.
How Can Livspace Help You?
We hope you found our ideas useful! If you want beautiful interiors for your home, then look no further. Book an online consultation with Livspace today. Have any thoughts or suggestions you'd like to share with us? We're all ears! Drop us a line at editor@livspace.com.
Disclaimer: All contents of the story are specific to the time of publication. Mentions of costs, budget, materials, finishes, and products from the Livspace catalogue can vary with reference to current rates. Talk to our designer for more details on pricing and availability.