When we think of home interiors, the first few aspects that come to mind are modular kitchens and wardrobes. These are essential to making a home inhabitable. But is a kitchen and a pair of wardrobes all there is to designing a home? Certaining not. You need much more than that to turn a bare apartment into a cosy home like this one. Samhita Singh's apartment was furnished with a kitchen and wardrobes by the builder. But she also needed a detailed 3BHK furniture plan and that's where we stepped in!
---
Who livs here: Samrita Singh's parents
Location: Rajouri, Delhi
Size of home: 3BHK spanning 900 sq ft.
Design team: Interior Designer Sumit Atrish and Project Manager Shashank Gupta
Livspace service: Full home design
Budget: ₹₹₹₹₹
---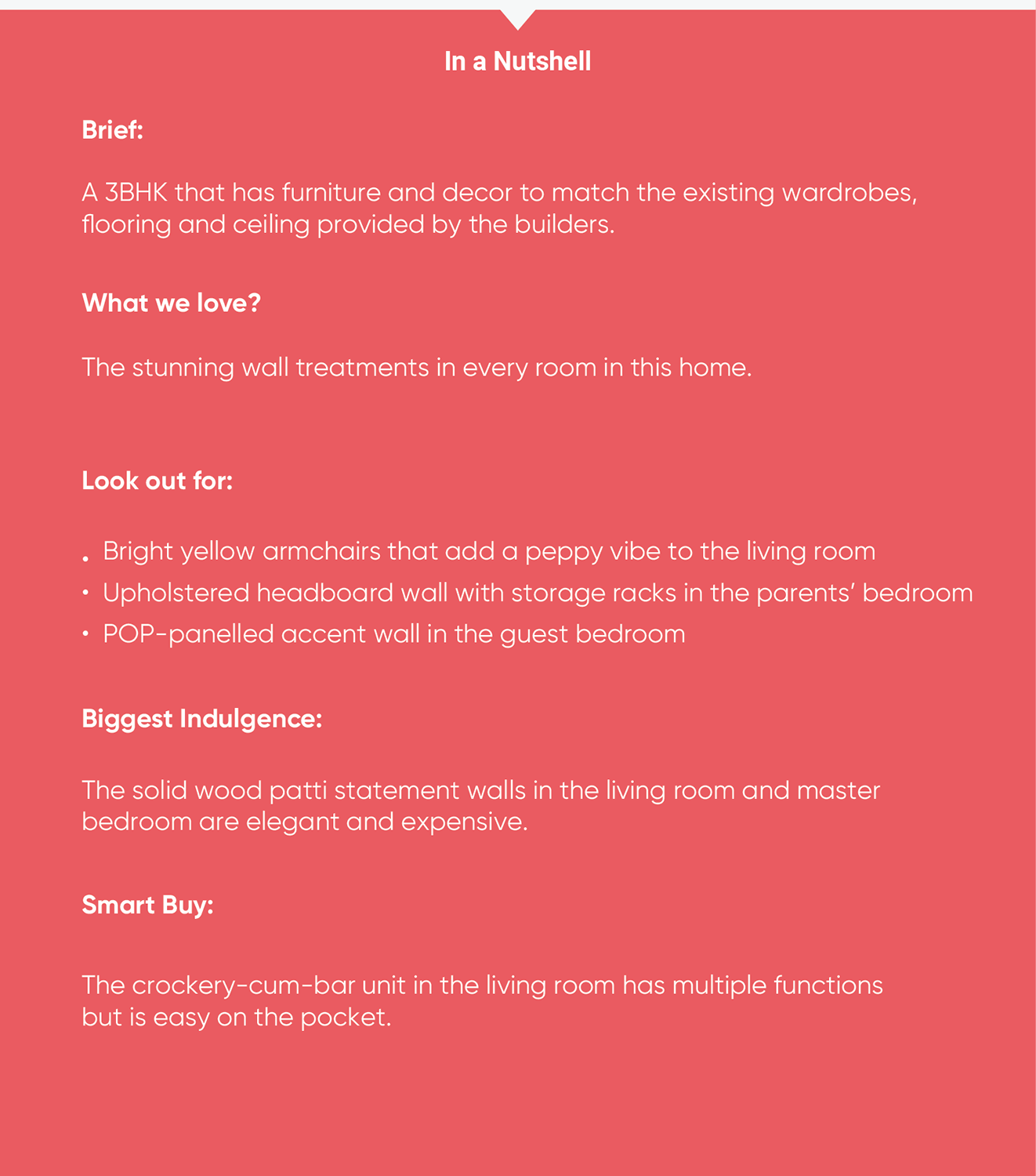 The 3BHK furniture plan for this Delhi home was drawn up by designer, Sumit Atrish, who is a self-professed fan of the eclectic style. No wonder we get to see this style in its full glory here. In his own words, Sumit reiterated
"We were very careful to ensure that our 3BHK furniture plan does not clash with the already existing furniture provided by the builder."
#1: From bare walls to STAR walls
One of the most noteworthy aspects of this home is its accent walls. Each room has one and they are all different from each other.
Solid Wood Pattis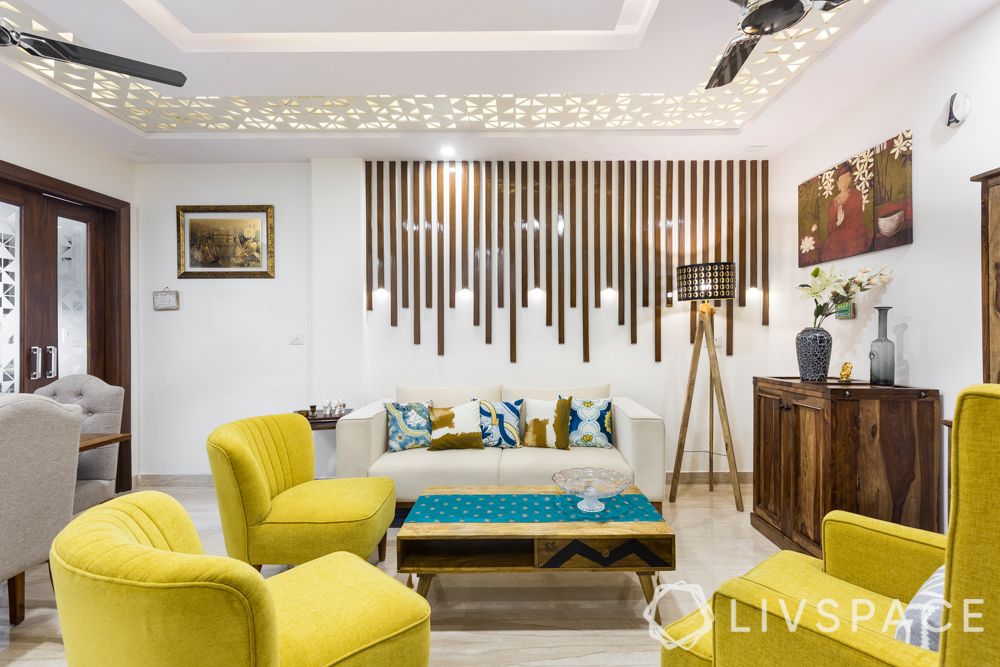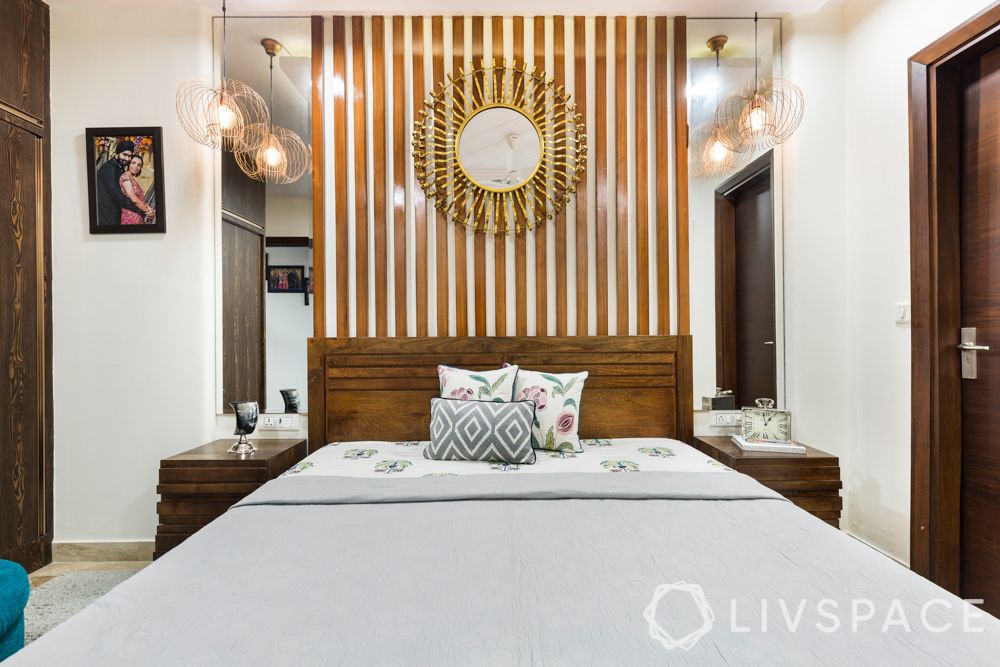 We see two statement walls in this home that are panelled with solid wood pattis. The first is in the living room where it forms an asymmetrical pattern. The second is the master bedroom where it has been used in conjunction with mirror panels. That's not where the difference ends, though. The wood pattis in the living room are dark wood while those in the bedroom are a lighter hue, so the dark wood bed and side tables stand out.
POP Panels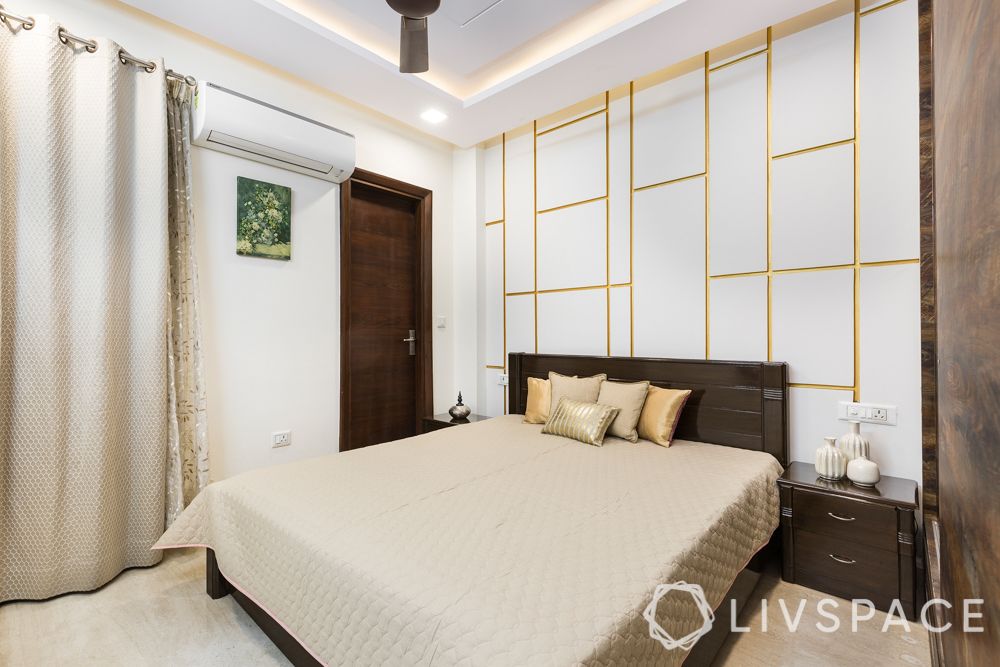 In the guest bedroom, Samrita wanted an accent wall that would be both budget-friendly and unique. Hence, Sumit suggested and finally executed this POP wall panel with metallic grooves. This gives texture to the room while providing visual interest.
Upholstery + Storage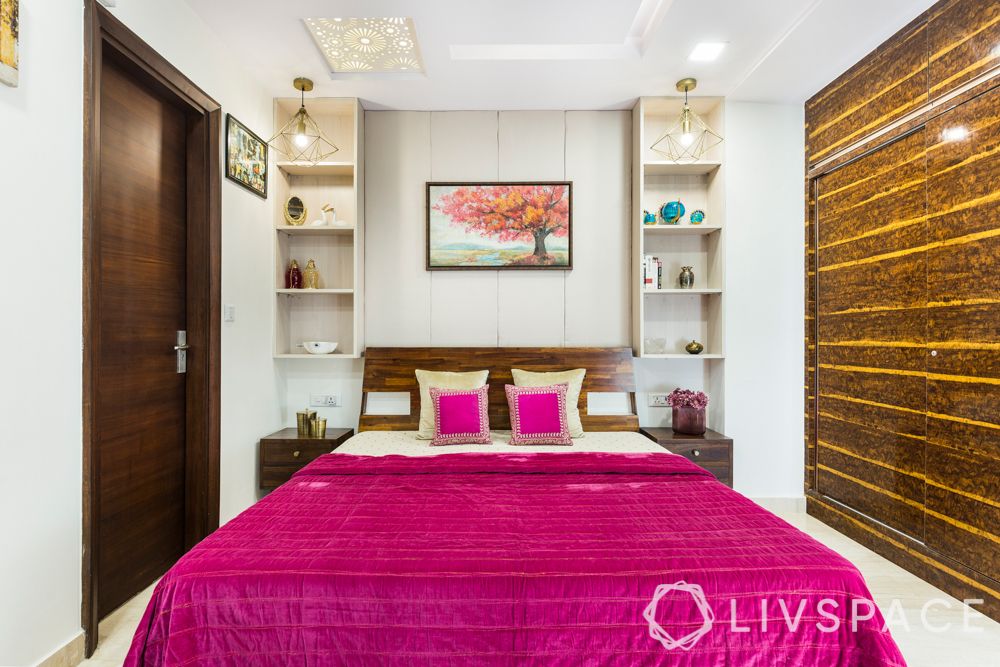 The 3BHk furniture plan for the parents' bedroom can be defined in one word, and it is 'utilitarian'. As Sumit says quite accurately, "designing a space for eldering people is all about comfort and utility". And this fabric upholstered wall with a storage rack on each side is the perfect combination of both comfort and utility.

#2: Why look anywhere else when you have all this in the Livspace Catalogue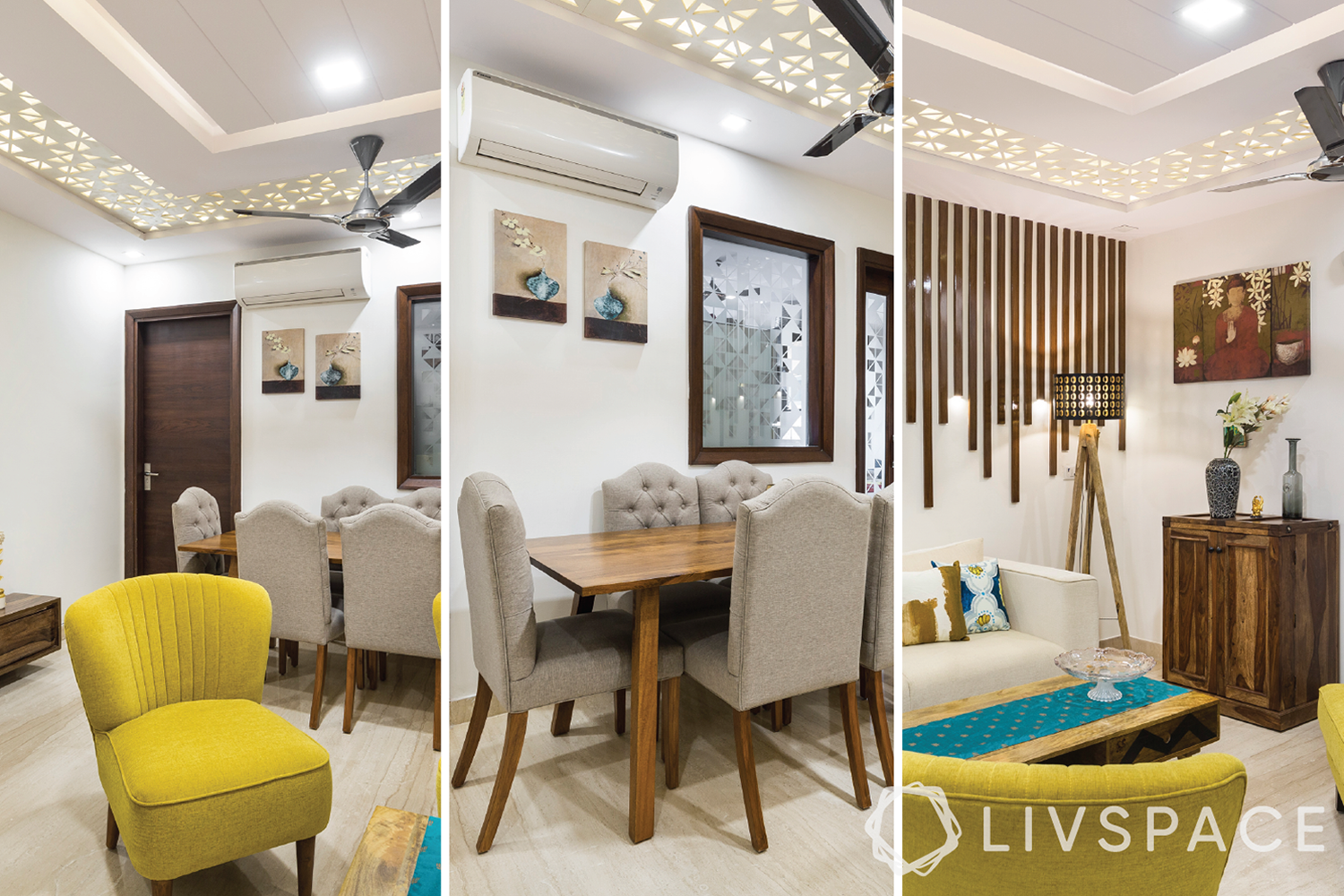 It is pertinent to point out that Samrita lives in Hong Kong with her husband and son. She collaborated on this 3BHK furniture plan remotely for a major period of time. Naturally, she enjoyed the sheer convenience of picking loose furniture from our catalogue. Whether it's the mustard yellow chair, the white couch or one of the beds and side tables in the bedrooms, all of it comes from our catalogue.
#3: And there is decor, too!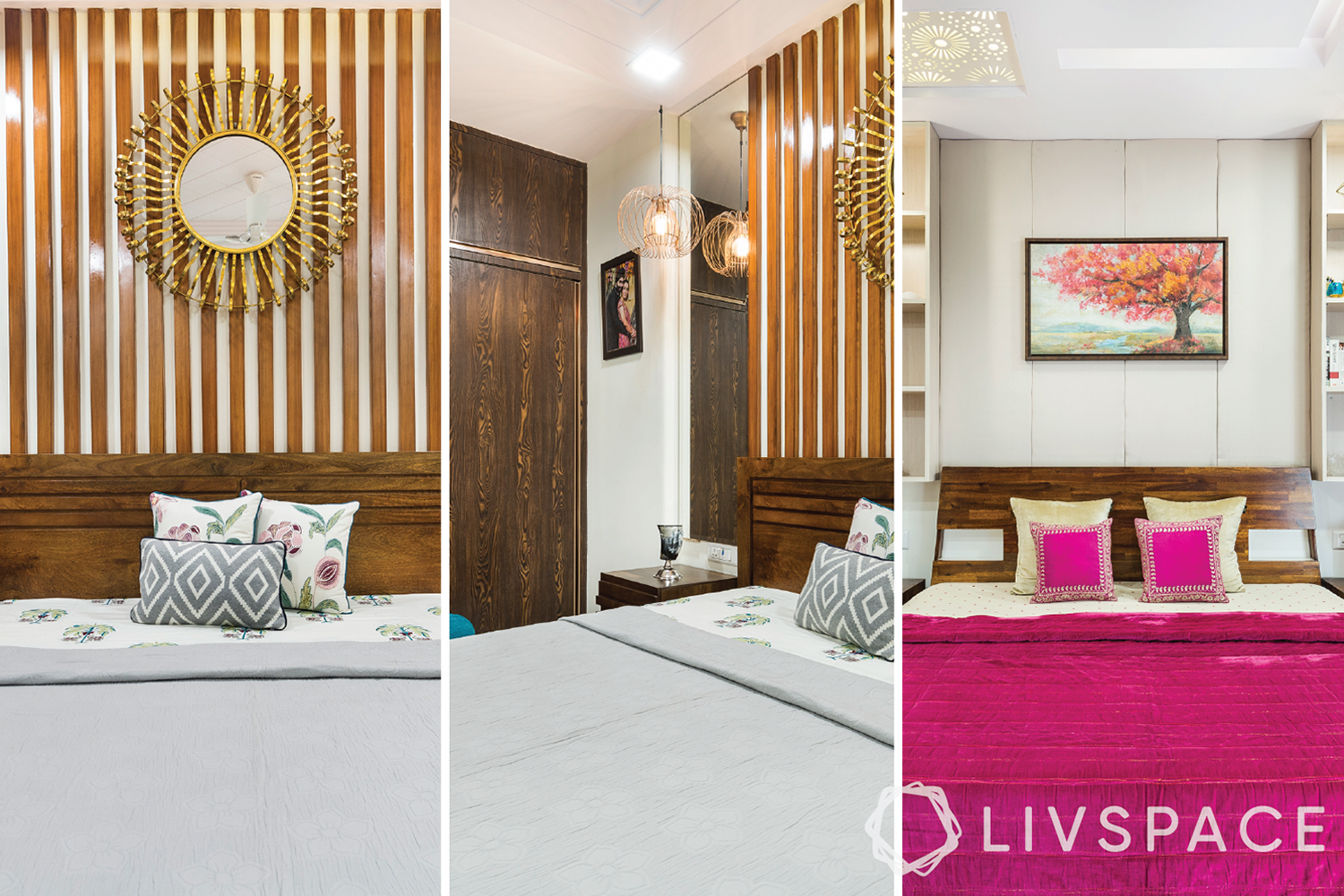 And that's not all. She even picked the decor items from our catalogue with some guidance from Sumit. The tripod floor lamp in the living room is one of our favourites. We also took an instant liking to the metal-framed round mirror in the master bedroom. Even the paintings you see on the walls have been picked online from our collection!
Did you see just how hassle-free your home design process can be? Check out another one of our homes furnished completely from the catalogue.
Send in your comments and suggestions.