Over the years, we at Livspace have transformed dreams into realities for hundreds of homeowners across India. Every home we design holds a special place in our hearts, some more than others. So, while we would love to talk about all our homes, we have curated the top Livspace 2BHK house design that are our favourites!
Cost of 2BHK Interior Design: Rs 7 lakhs to Rs 30 lakhs (depending upon the extent and intricacy of design)
Designing 2BHK homes has some special challenges. Most 2BHK homes do not come with a lot of space. This makes it difficult to execute all the design ideas that the client may want for their home. And this is why we love our 2BHK homes — they help us prove our mettle as experienced designers! So, let's dive in and check out our top 2BHK Livspace homes.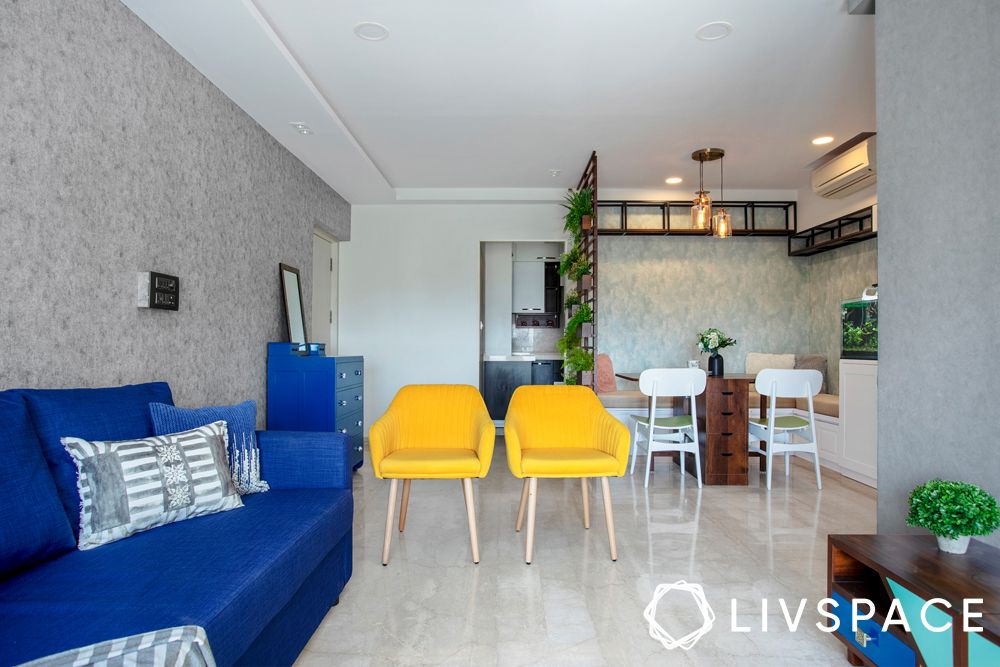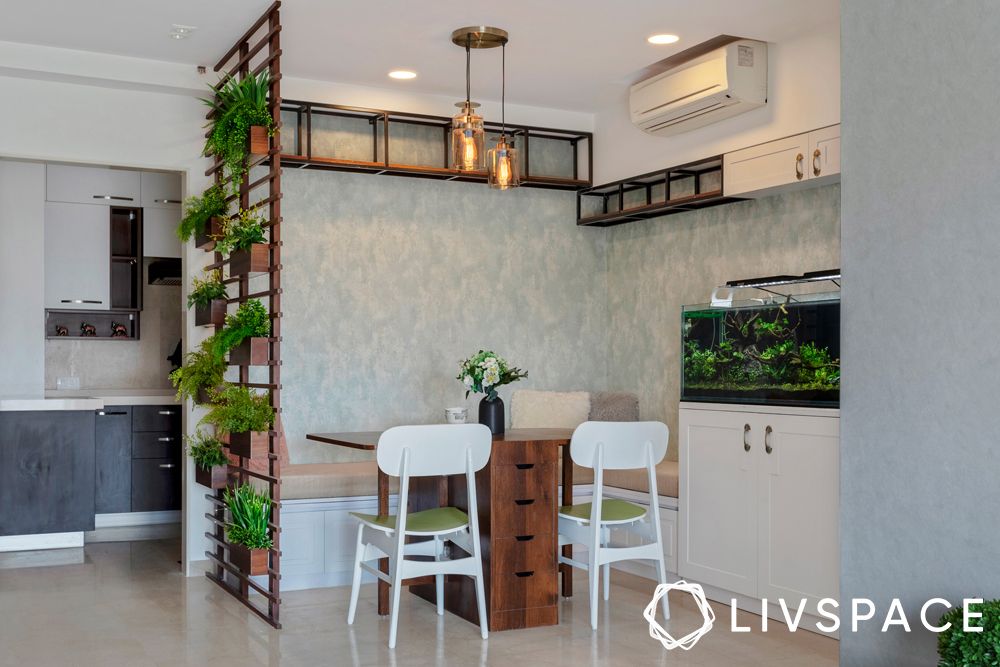 Location: Mumbai
Size: 960 sq. ft.
Budget: ₹₹₹₹₹
What is a perfect home? A home is perfect only when it can make room for everyone living in it. And that is what we did for this 2BHK which is home to a family of five. If you consider the size, it is quite spacious for a 2BHK house design in Mumbai. However, the client Chanda Varma wanted maximum storage to fit a family of five, that includes two kids and a senior member. So, our designer Meenakshi Sabarad implemented some smart space-optimisation hacks. For instance, she created a see-through partition that also served as a vertical garden between the living and dining areas. This not only takes up minimal space but also prevents the area from looking cramped. Sliding wardrobes, storage under seating and trundle + Murphy beds ensure ample storage without compromising on the space.
What we Love: The use of refurbished furniture to keep everything within budget.
Smart Hack: Meenakshi extended the single slab kitchen into an L-shaped one to create more space and storage.
Read the full home tour here.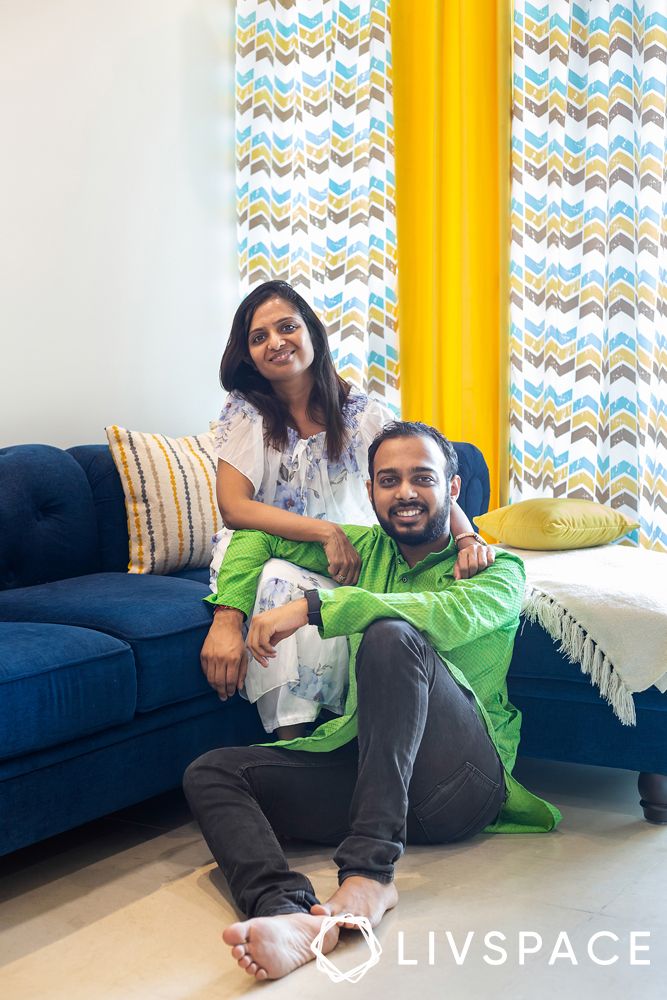 Location: Mumbai
Size: 800 sq. ft.
Budget: ₹₹₹₹₹
Time and space constraints are the biggest enemies of interior design. But not for us! Dipti and Parag Shah wanted their 2BHK flat to have modern, clutter-free interiors. The twist — the compact size of their home and a fixed timeline! So, how did we do it? Our designer Neha Desai extensively used space-efficient furniture to fit into the compact space. Be it the buffet-cum-crockery-cum-pooja unit in the dining area, hydraulic beds in both the bedrooms or the vanity-cum-storage units in the master bedroom, every element in this home saves space.
What we Love: The sleek TV unit that looks plush but takes up minimal space.
Smart Hack: Almost all the furniture in this home serves more than one purpose. This is the basic principle of space-optimisation.
Check out the home here.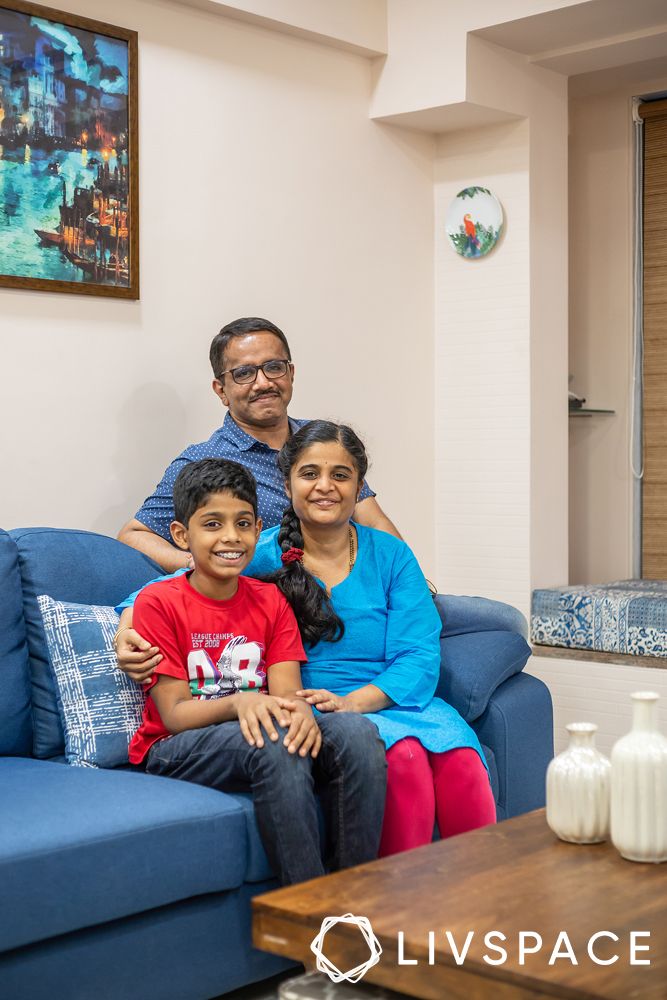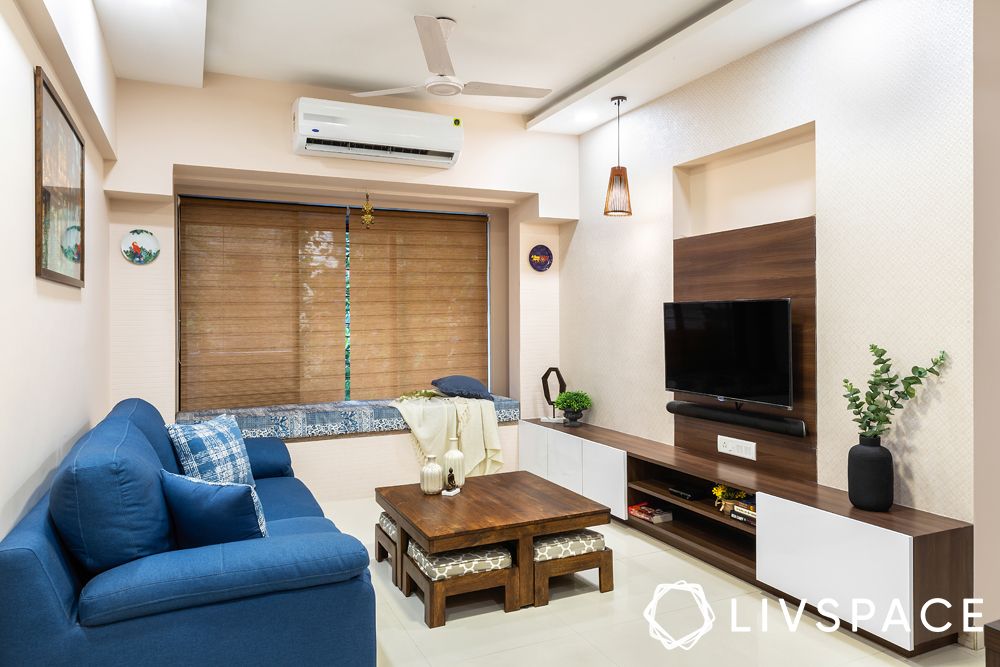 Location: Mumbai
Size: 800 sq. ft.
Budget: ₹₹₹₹₹
There's something special about renovating homes and giving them a complete makeover! When Shalini Kamath and her family visited our Experience Centre, they were impressed and wanted a full transformation of their 2BHK house design. We gave their kitchen and bathrooms an entire facelift. Our 3D renders helped the Kamaths get an idea about how the furnishings and decor would actually look. This, combined with our stylish modular furniture from the Livspace catalogue, transformed the entire look of their home!
What we Love: The window seating that was carved out from the balcony spaces.
Smart Hack: 3D renders helped in the decision-making process.
See how we renovated this home.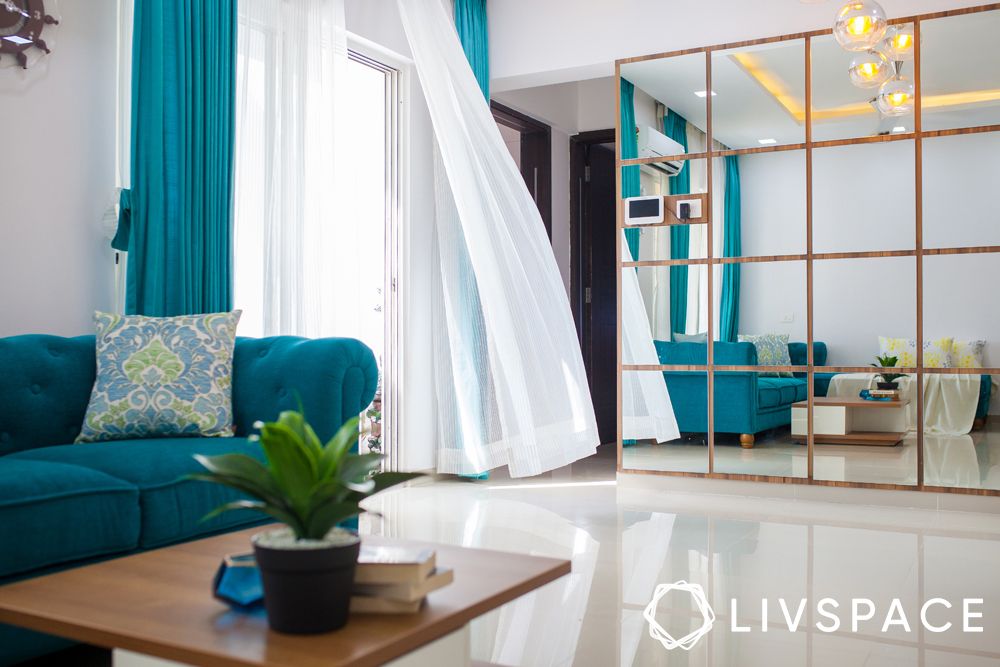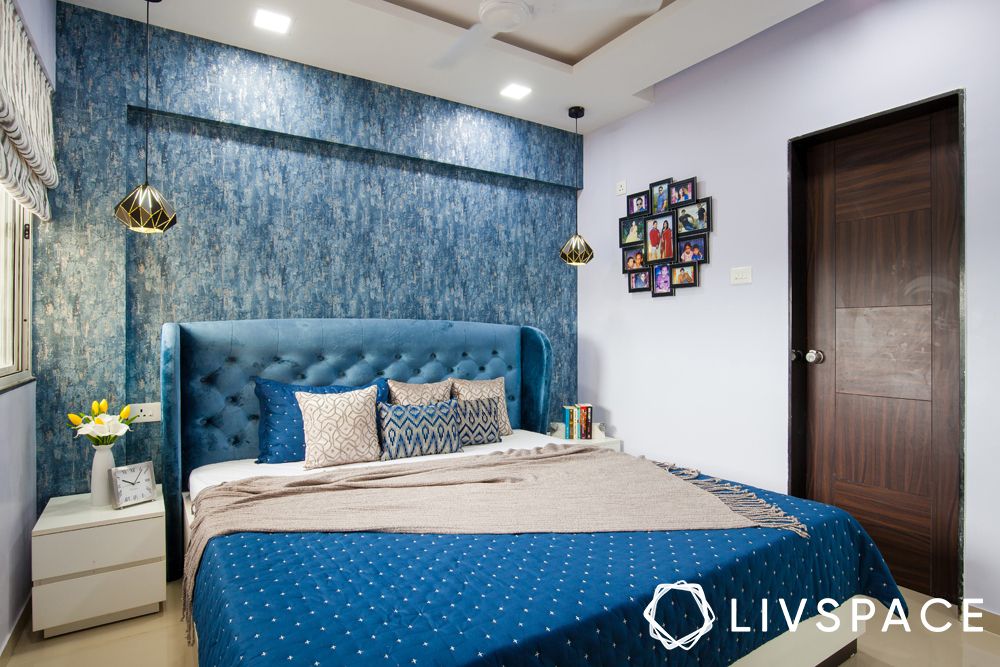 Location: Pune
Size: 750 sq. ft.
Budget: ₹₹₹₹₹
Your first home will always be special. So was the case for Nikhil Kurothe and his wife, a young couple who had bought their first home in Pune. Their 2BHK house design was quite compact and they had a tight budget. Plus they wanted their home to be child-friendly for their daughter. Our designer Sravani Ayyagari went above and beyond all their requirements! A smart tip here to make your home look larger is to use mirror panels. Sravani has used mirror panels and shutters to make this 2BHK look bigger than it actually is. Furniture with rounded edges and tufted upholstery kept things childproof. Finally, to ensure that the design stayed within budget, Sravani opted for affordable finishes like laminate and MDF.
What we Love: The pleasant shades of blue and pink make this home look spacious and airy.
Smart Hack: The reflective glossy acrylic finish in the kitchen cabinets makes the space look large.
Take the tour of Nikhil's first home here.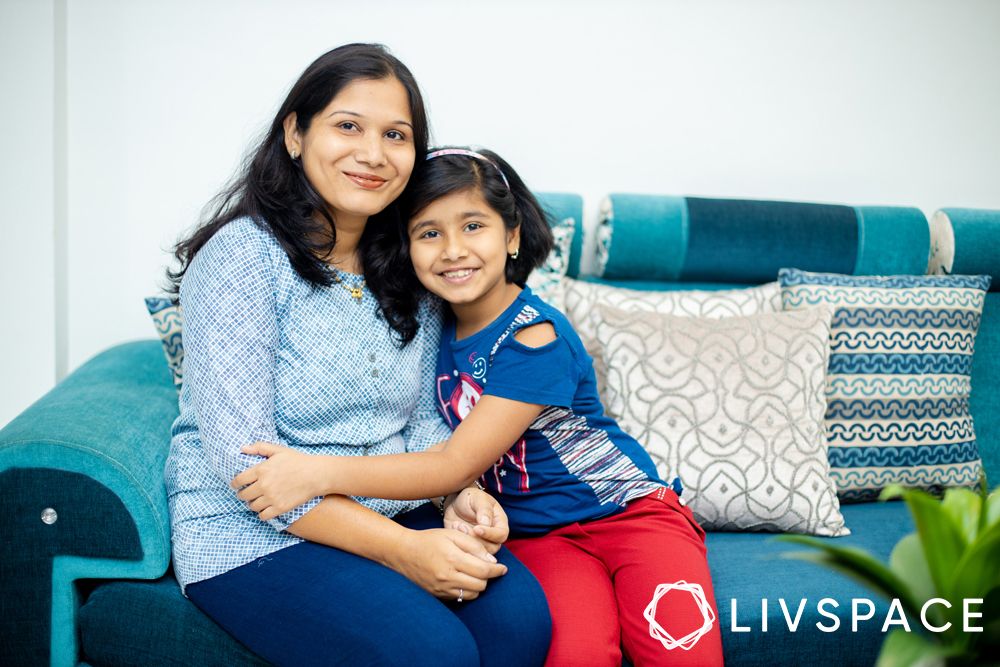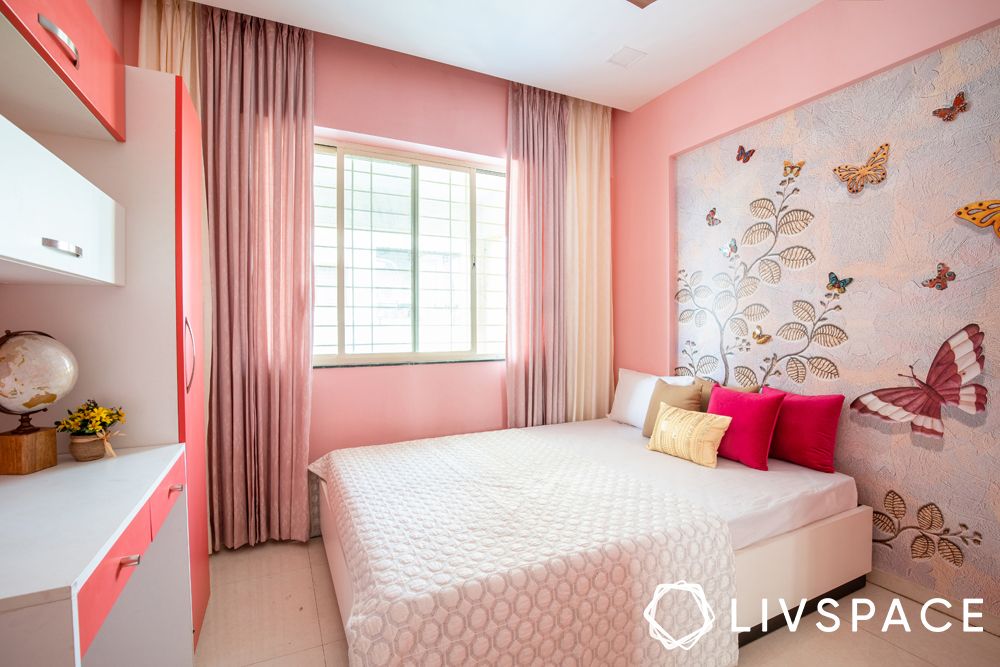 Location: Pune
Size: 750 sq. ft.
Budget: ₹₹₹₹₹
Simple, functional and budget-friendly design — the dream of every Indian homeowner! The Kulkarnis wanted a space that they could call home. Snug, homely and with plenty of storage — our designer Prateek Saraf ensured that they got everything that they wished for! For everyone looking for budget interiors, take notes from this house! Laminate finishes, wallpapers, modular furniture — all help in keeping the cost down. As for storage, Prateek added lofts, cabinets and wardrobes so that all the needs of the family of three are met!
What we Love: Wallpapers create stunning but cost-effective wall treatments.
Smart Hack: By picking furniture from the Livspace catalogue, Prateek managed to keep costs low.
Check out the entire home tour.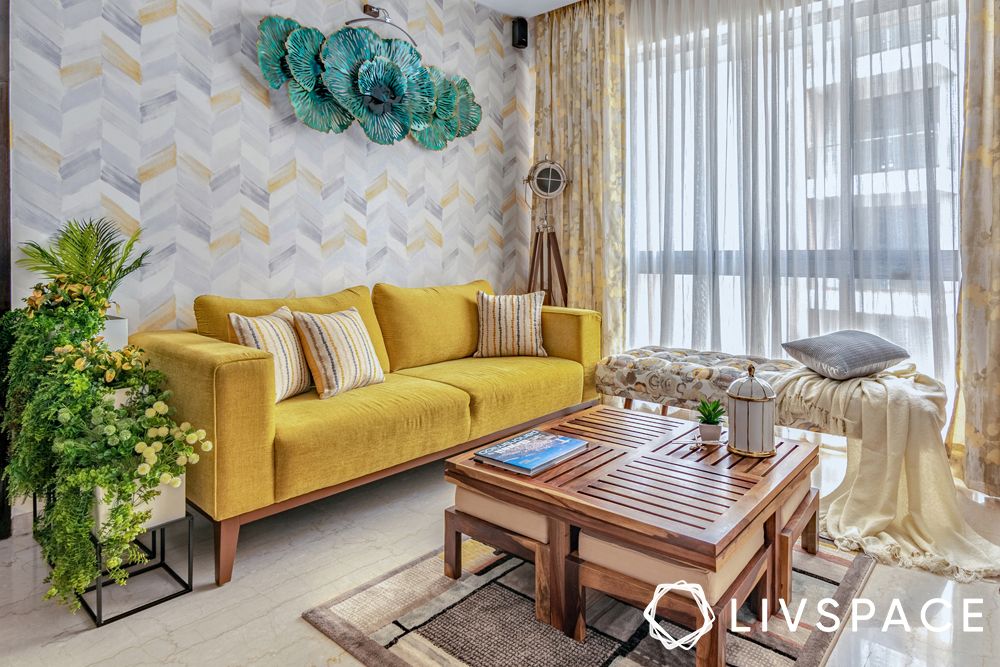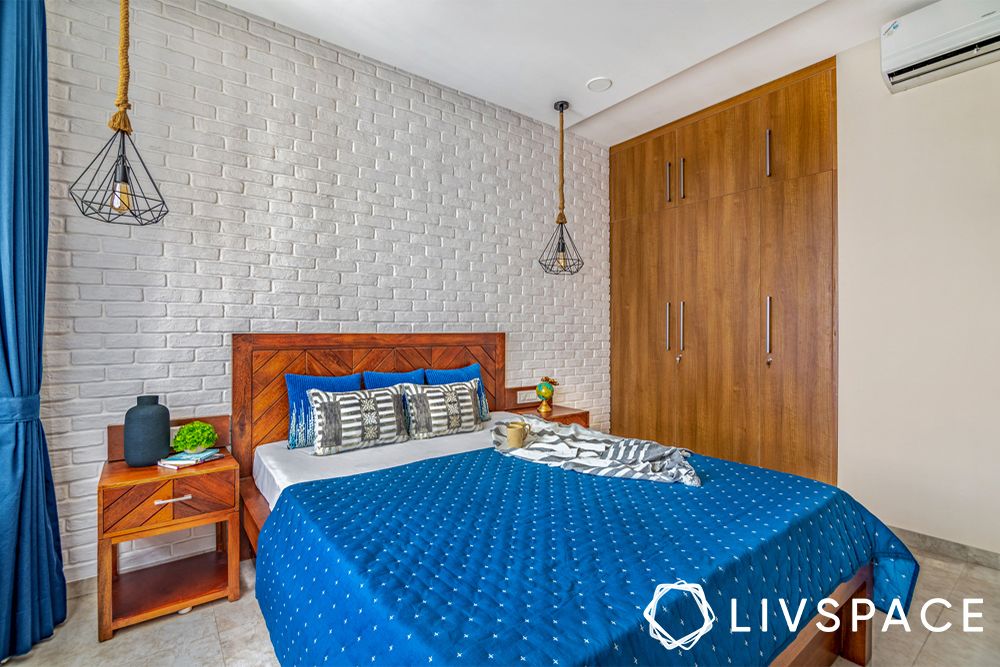 Location: Mumbai
Size: 580 sq. ft.
Budget: ₹₹₹₹₹
Designing a home that is only 580 sq. ft. is a challenging task as it is! Add to it the fact that the owner of this home, Sumeet Roy, was not available to supervise the design. Our designer Pooja Gurav, focused on getting the basics of this home right before incorporating Sumeet and his mother Maitrayee's preferences. Full of wooden textures and bright colours, this 2BHK gives off a warm and homely vibe. The icing on the cake? The space-optimised storage solutions — a TV unit with nested stools, the crockery-cum-bar unit and sliding wardrobes.
What we Love: The one-wall wonders in all the rooms.
Smart Hack: Furniture like the wardrobes and bar unit has been cast into a niche to save space.
Take a tour of the Roys' bright home.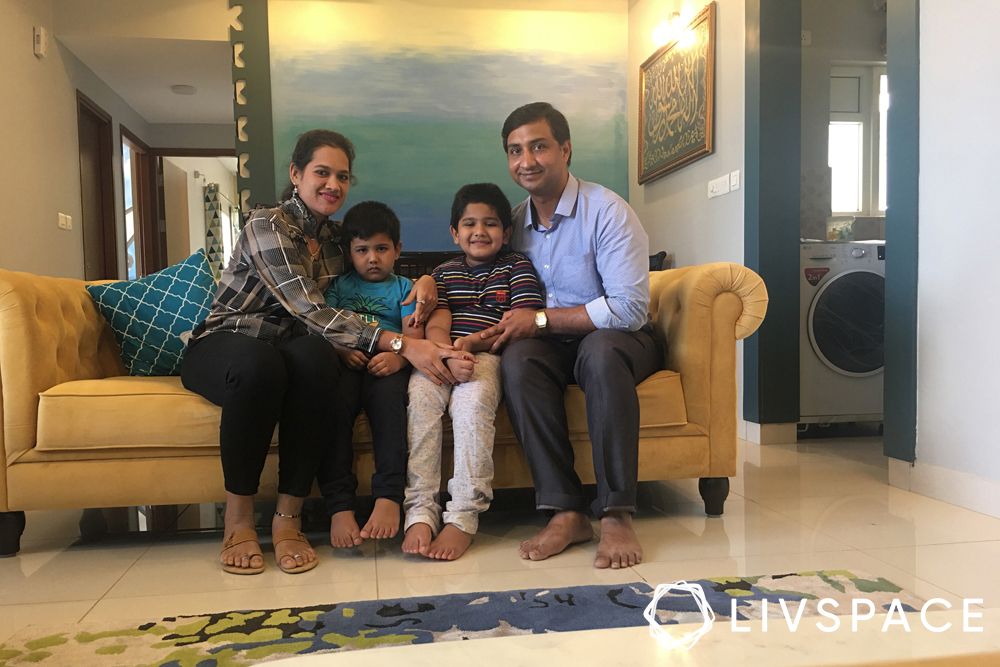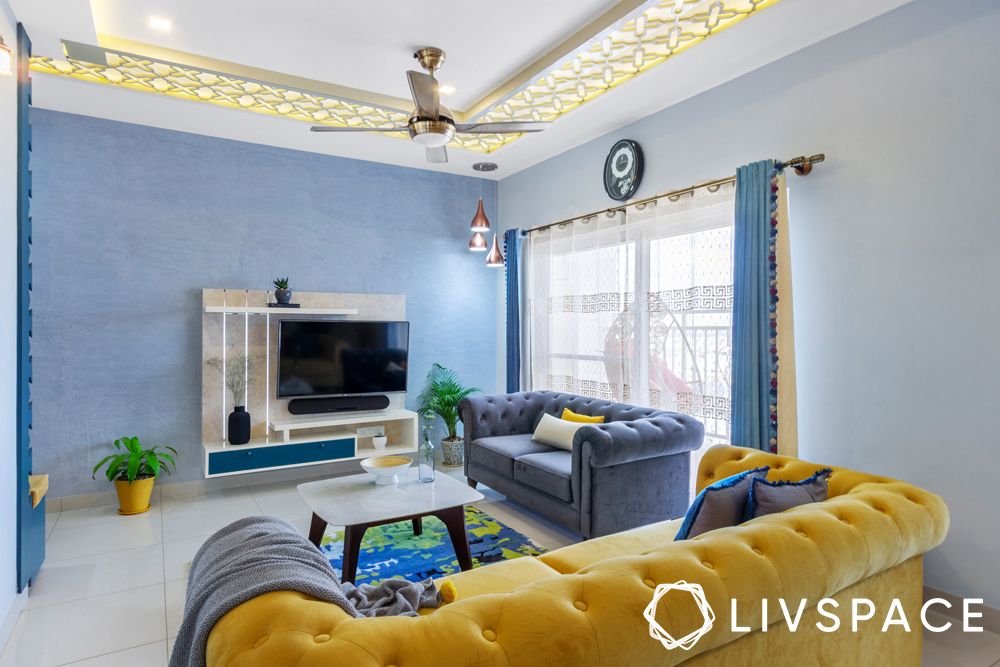 Location: Bengaluru
Size: 1,400 sq. ft.
Budget: ₹₹₹₹₹
Not all 2BHK homes are compact. Nayeem and his wife had a sprawling 2BHK in Prestige Gulmohar, Bengaluru, and they wanted their swanky home to be unique in every sense. And that's exactly what they got! Our designer Chitwan Mahipal focused on giving this 2BHK house design eclectic wall treatments. Textured paint, artist-painted accent walls — this home has it all! For that homely feel, Chitwan used personalised elements to add that 'WOW' factor! Special mention for the gorgeous false ceilings that look classy and stunning!
What we Love: The jaali false ceiling in the living room.
Smart Hack: The shoe rack in the foyer doubles up as seating space.
Check out this eclectic home.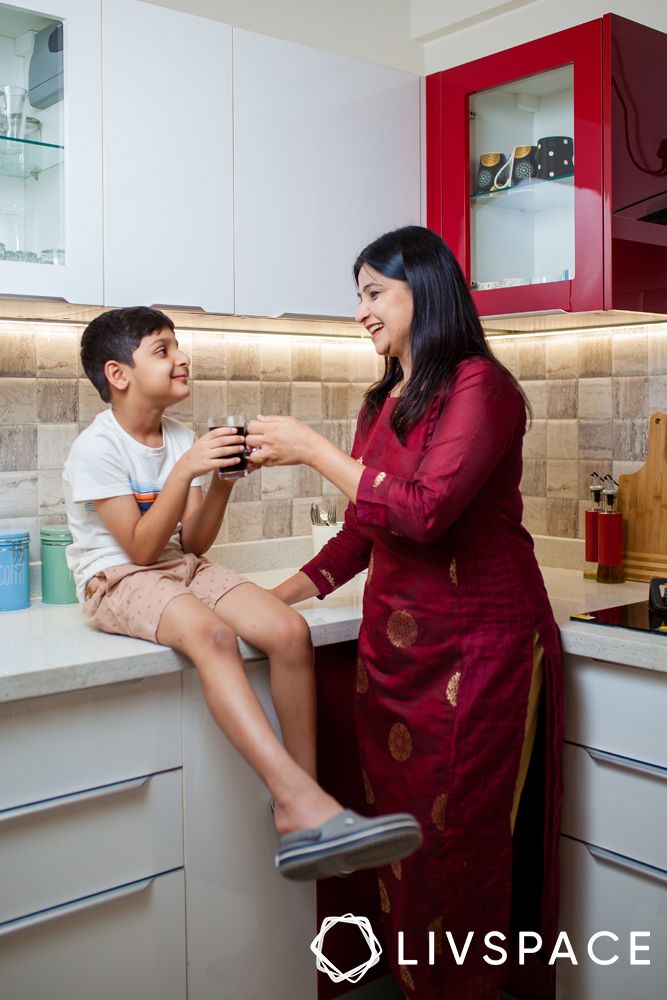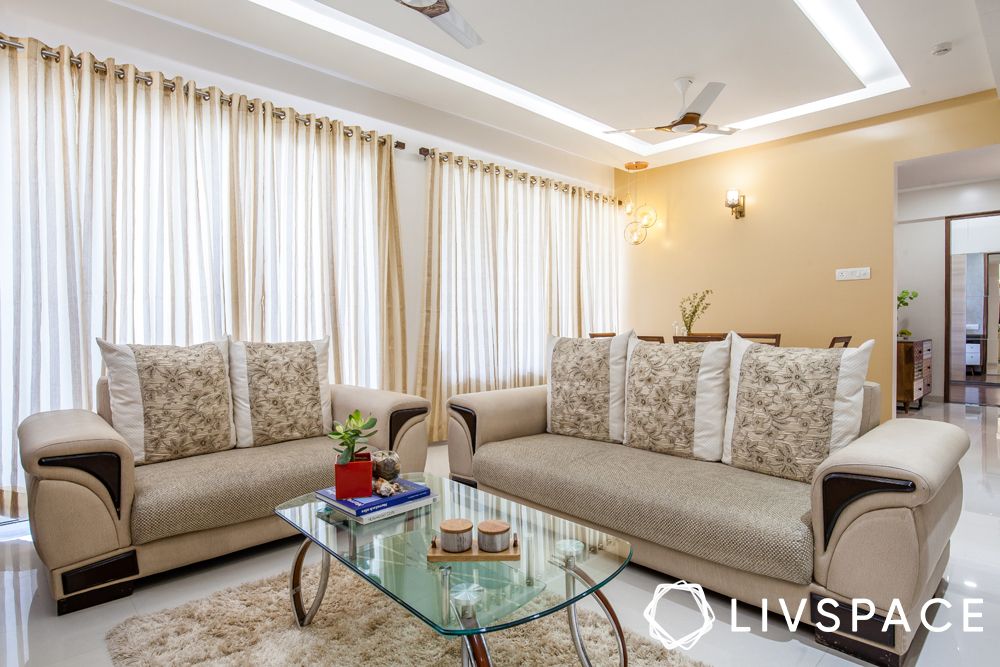 Location: Pune
Size: 1,050 sq. ft.
Budget: ₹₹₹₹₹
Home to Bhaskar Trivedi, his wife Ruchi and their son Sparsh, this 2BHK in Pune is simple, elegant, budgeted and comes with pretty ambient lighting. When you enter their home, the first thing that you notice is the classy interior design. Livspace designer Ila has used subtle colours and corner lighting to create a romantic ambience. The master bedroom comes with plenty of storage in the form of a hydraulic bed and wardrobes with lofts.
What we Love: The pretty chandeliers!
Smart Hack: The anti-scratch cabinets in the kitchen ensure convenience.
Take the tour.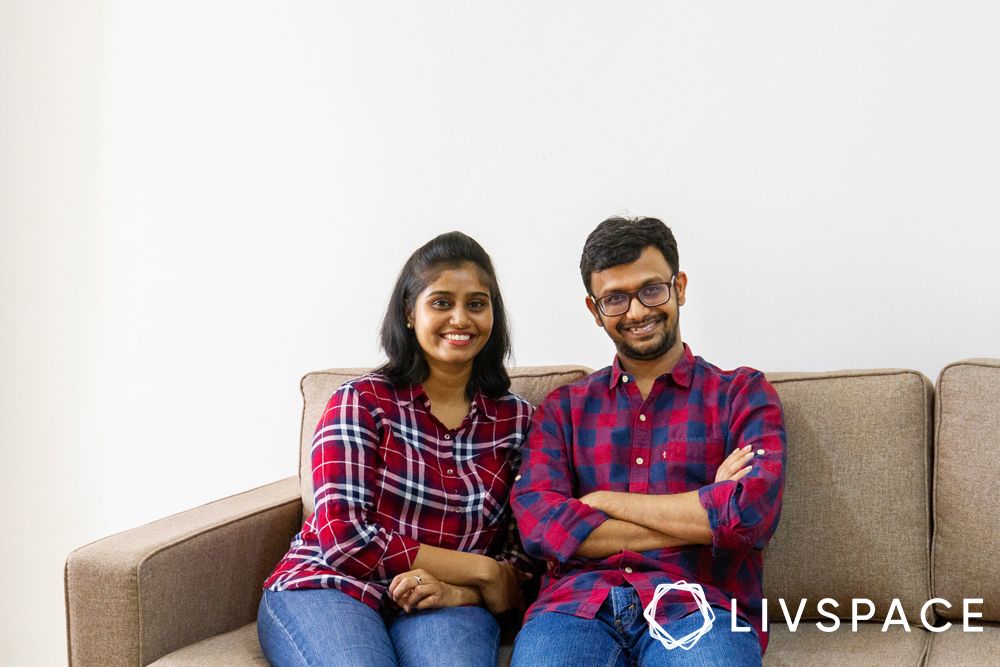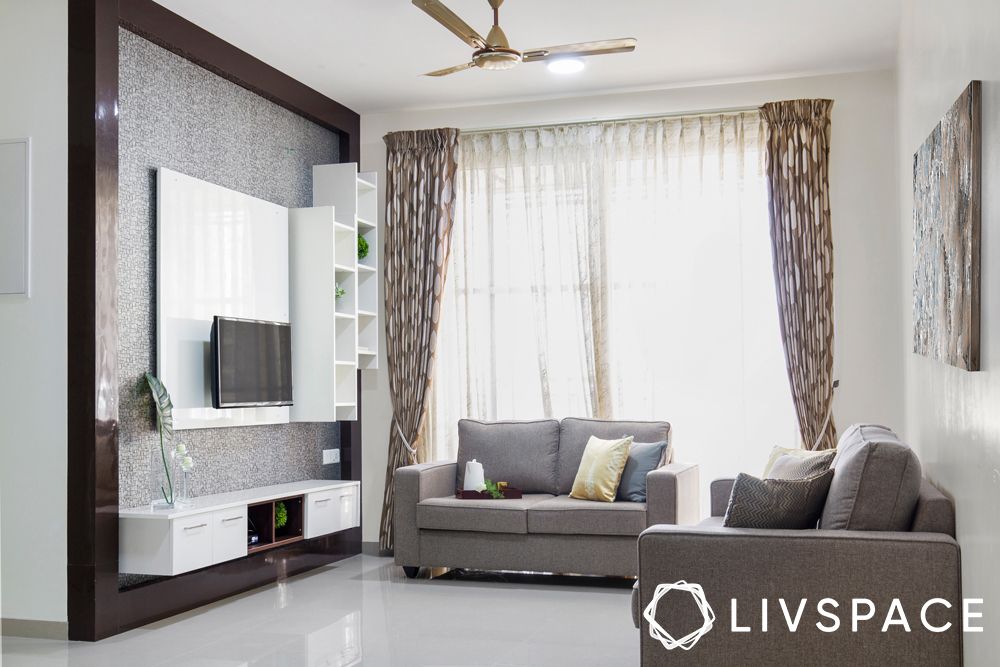 Location: Chennai
Size: 960 sq. ft.
Budget: ₹₹₹₹₹
After a long day at work, all you would want is to come back home and relax! This is exactly what Priya and Suresh wanted for their 2BHK in Chennai. A working couple, they wanted their home to be their retreat. Also, the interiors had to be low-maintenance, child and budget-friendly. And this is how Livspace designer Meljin Mano did it! Considering the space and budget constraints, Meljin used furniture that served more than one purpose. For instance, the TV and pooja units both come with storage. Also, the crockery unit doubles as a study table. Laminate finishes kept the costs low.
What we Love: The child-friendly crockery unit.
Smart Hack: The wardrobes come with loft storage to utilise vertical space.
Check out this low cost home in Chennai.
Did these gorgeous 2BHK homes motivate you to redesign your home? If yes, then also check out these design ideas for 2BHK homes.
We love hearing from you! Write to us with your comments and suggestions at editor@livspace.com