You might think a home that is more than 2000 sq ft has sufficient space for every design you've ever wanted. However, sometimes space planning and layout can make or break a home design more than its square footage. Just like this 3BHK Bangalore interiors.
Home to a young couple, Neetika and Mohit Kaul wanted their new Sobha City flat to have everything they have ever wanted. Livspace designer Charul M Lodha was the perfect fit for this project.
This home required zone planning, design solutions and multi-purpose furniture options which happened to be a challenging task on its own. Read on to find out more about Charul's smart design solutions for this spacious home!
Design Problem #1: No dedicated space for a foyer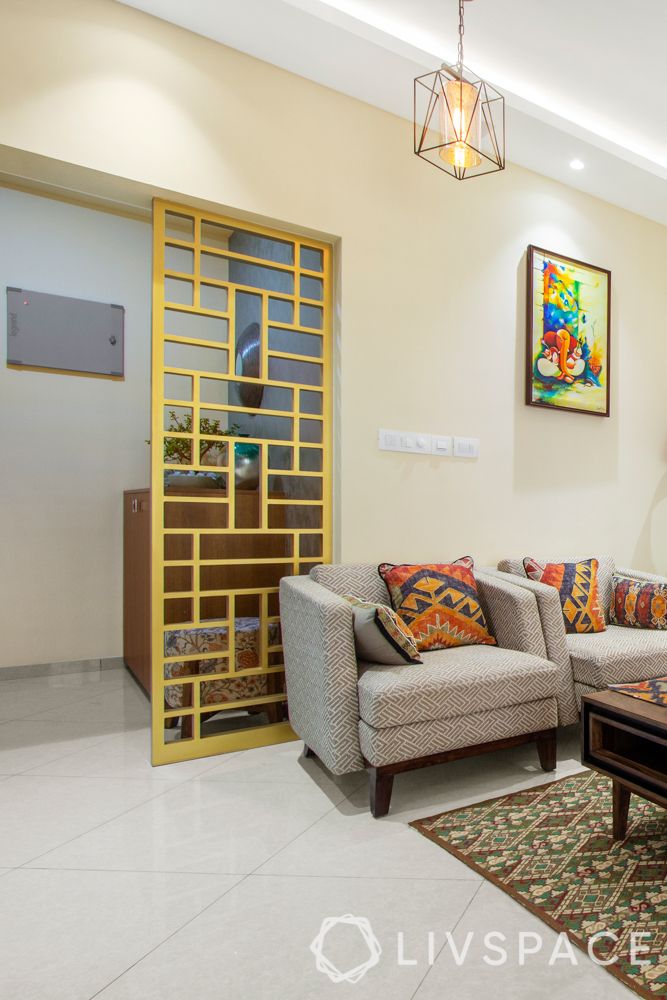 As you step into this home, you notice that this space was evidently assigned for an entryway. However, this compact space appears to be a part of the living room. This design seemed to render the foyer pointless. Not only is a foyer a space to greet guests and store shoes, but also works as a transitional space to the inside of the home.
Solution: Charul found the perfect solution to create a space like that for these Bangalore interiors. She designed a custom-made MDF partition in gold duco paint that provided the right amount of privacy while being minimal for a compact space. A partition is a quick and easy way to define zones in a home. It works as an opportunity to use every part of the floor space wisely.
Design Problem #2: The couple wanted a TV unit, wardrobe and vanity unit in one room—all in one wall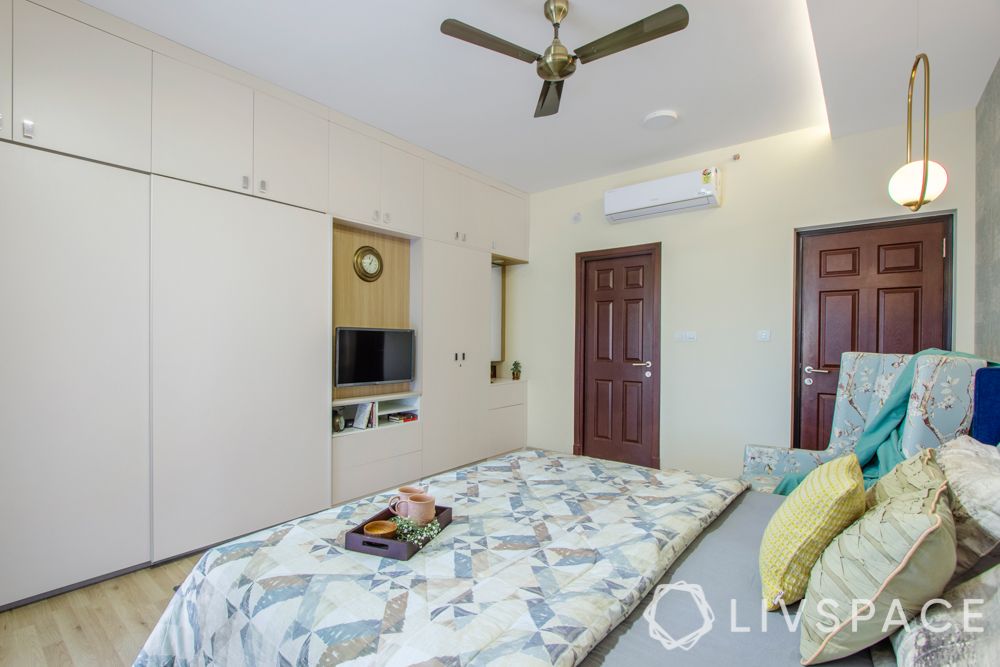 It's fairly obvious that the master bedroom is the biggest room in the house and often occupied by the homeowners. However, that doesn't mean the bedroom is always the easiest to design.
In this case, Neetika and Mohit wanted a TV unit, vanity unit and sufficient wardrobe space all in one room. The problem arose when Charul had only one wall to work with for the entire design.
Solution: While one wall had windows and the other doors, the only wall available was opposite the bed. So Charul crafted a sleek floor-to-ceiling ensemble with sliding and hinged wardrobes, a TV unit in the middle and a compact vanity on the other end. Nifty, isn't it?
Design Problem #3: The couple wanted space for pooja, study, entertainment and extra storage—all in one room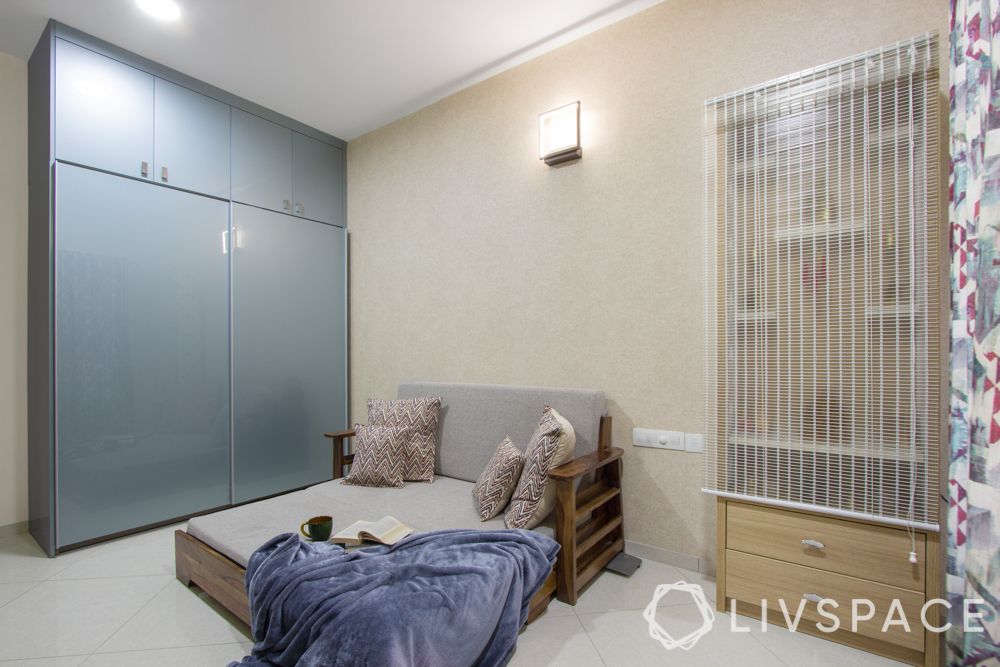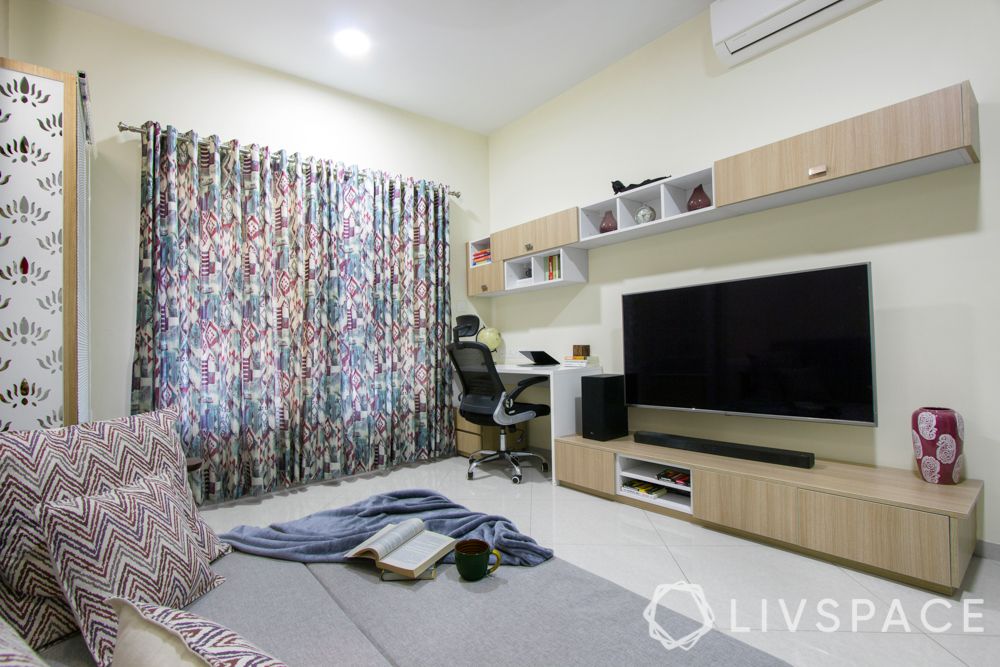 Oftentimes, home interiors with design issues go beyond the layout and planning of a room. In this case, the Bangalore homeowners wanted the guest room to be the most multi-functional room in the home. They wanted the room to include all the essential modules that were missing from the other rooms.
Solution: Charul made the most of the room by allocating every corner with a practical element. This room has acrylic finish wardrobes in glossy blue, a laminate study-cum-TV unit and a stunning jaali pooja unit. Not to mention this room was designed to host guests and family members with the minimal sofa-cum-bed.
Design Problem #4: No door to the kitchen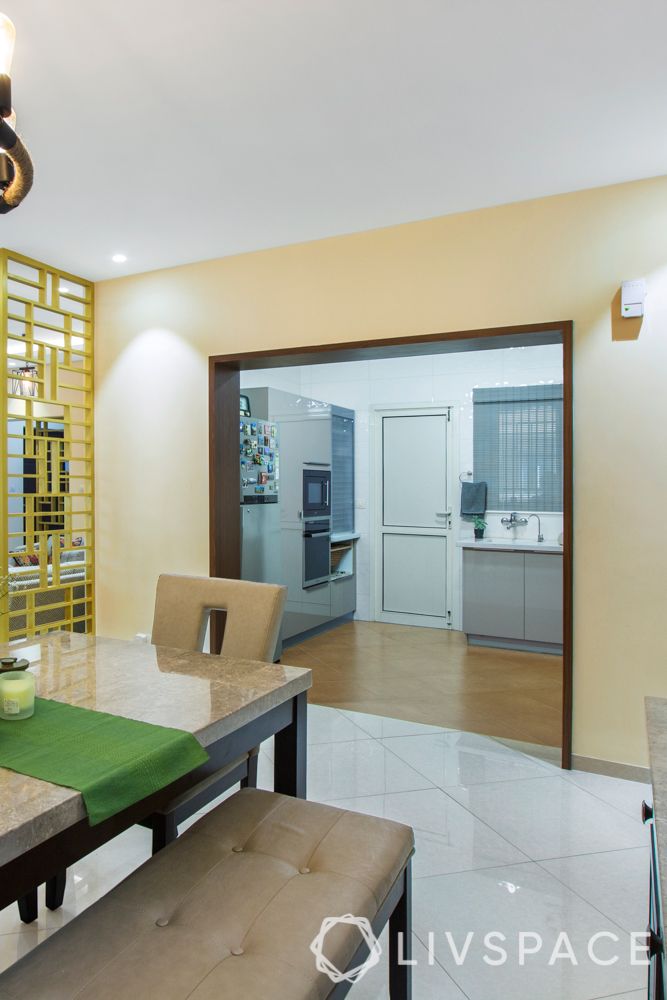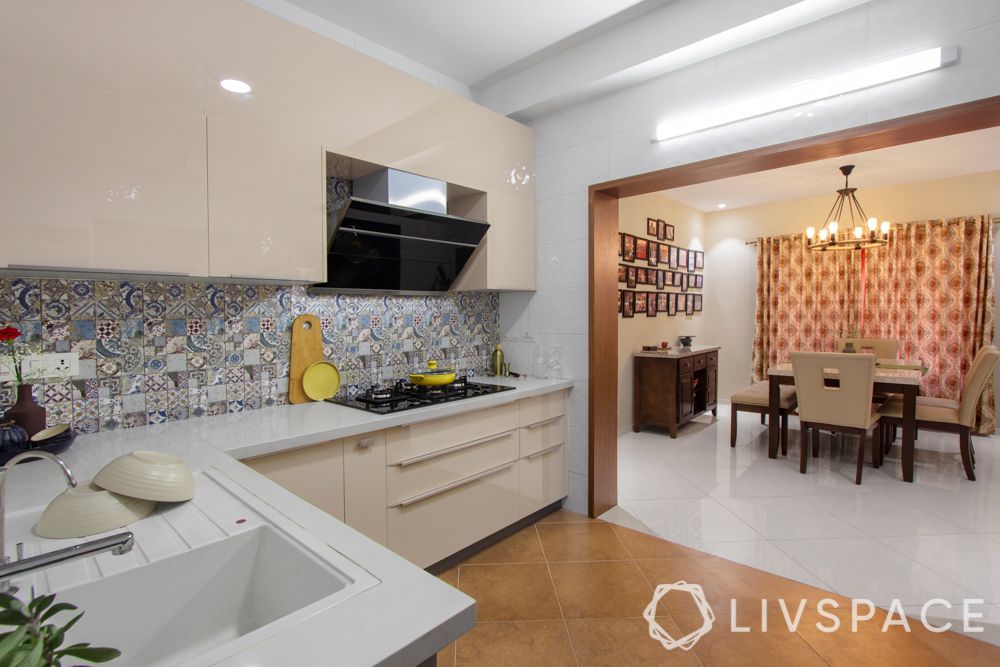 Lastly, the kitchen required a few aesthetic elements. Since the kitchen is an open kitchen and almost a part of the dining room, the couple wanted it to have a distinct design and entryway for this part of the home interiors Bangalore.
Solution: Similar to the rest of the Bangalore house, Charul opted for a subtle design that would do just that. The laminate wooden panelling around the entrance wall is a fine way to separate the two zones.
If you found this article interesting, take a look at How 3 Spectacular Walls Changed The Look of This Home.
Send in your comments and suggestions.
Disclaimer: All contents of the story are specific to the time of publication. Mentions of costs, budget, materials, finishes, and products from the Livspace catalogue can vary with reference to current rates. Please get in touch with a designer for more details on pricing and availability.