Just like no two people are the same, we believe that no two kitchens must ever be alike! As every person is different, so are their culinary needs. That is why a Livspace kitchen design takes into consideration the unique requirements of every family or individual during the design process. And guess what, a Livspace modular kitchen is ready-to-cook-in! Don't know what that means? We are happy to explain!
What is a Ready-to-cook-in Kitchen?
When we say that a kitchen is 'ready', it is an ambiguous statement because it means different things to different people. To put it simply, a kitchen is ready-to-cook-in only when it meets the personal requirements of the individual cooking in it. So if you require open spice racks while cooking, your kitchen will be ready only when you have them. For someone else, completely covered storage might be necessary.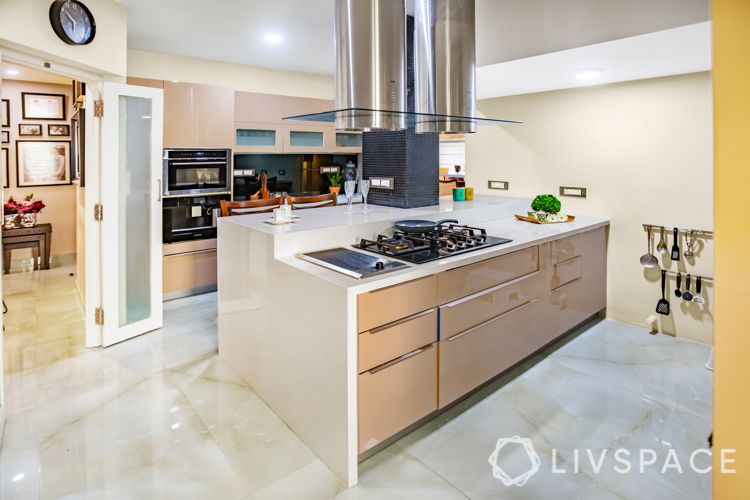 What does it include?
Essentially, a kitchen is ready only when you are absolutely at ease using it. So we have put together a list of Livspace kitchen designs that include all these different elements, which people usually look for.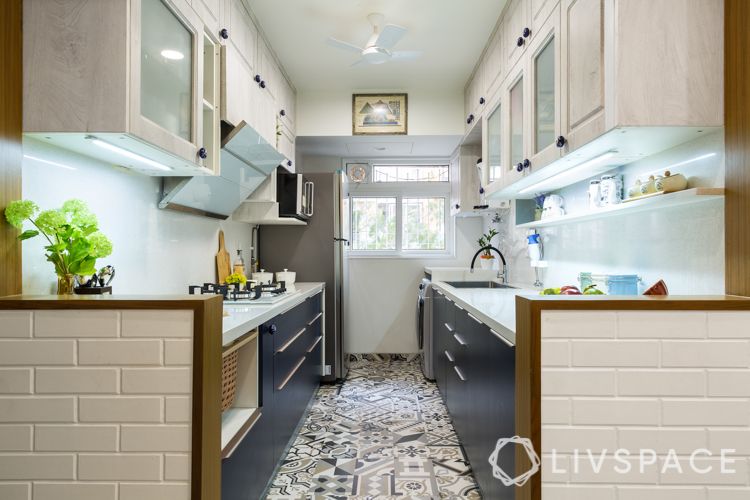 #1: A suitable layout
The first thing we see in a kitchen is its layout. Does the kitchen have a open or closed? Is it U-shaped or parallel? Is there an island or a breakfast counter? While most builders these days provide kitchens in a certain layout based on space and design considerations, many people are very particular about the way they want the layout to be as it is the basic framework of the kitchen.
So some modular kitchen designs have to be opened up. Some people opt for an island counter when there isn't one. But mostly, people want to design the kitchen to make the best use of the available layout.
#2: The right kind of storage
Storage is one of the prime considerations for any kitchen. But every family/individual needs a different mix of storage modules. Some want more drawers while others opt for shelves. Some do away with wall cabinets completely, and some need more storage that comes in the form of tall units and pantry pull-outs.
#3: All essential appliances
It has become compulsory for modern kitchens to have some basic appliances like a chimney, hob and refrigerator. Some families also include built-in ovens and dishwashers in the scope of their Livspace modular kitchen.
#4: Enough counter space
Space on the countertop is an element that is often underrated while defining a ready-to-cook-in kitchen. But it is given its due respect in a Livspace kitchen design. This is your working space in a kitchen so there needs to be enough room on your countertop.
Why is a Livspace kitchen ready-to-cook-in?
Now that you know what a ready-to-cook-in kitchen entails, the logical question would be how does Livspace give you a kitchen that can be used right from the word go. So let us take you through the process of arriving at a Livspace kitchen design, and mind you, it is a rather comprehensive one.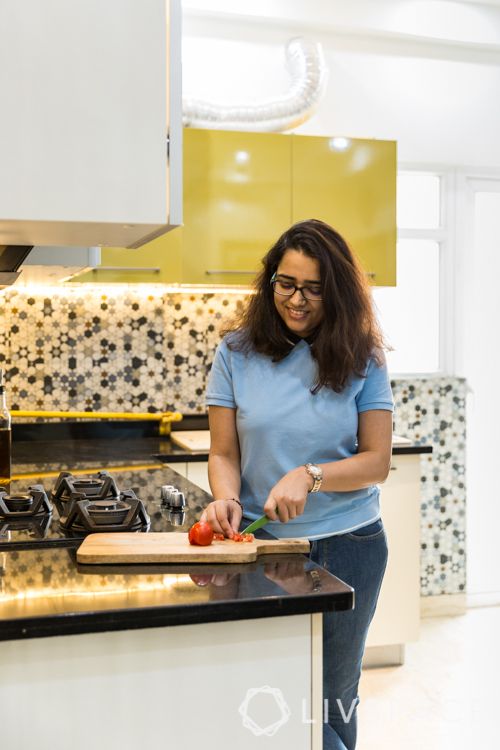 Step 1: Take a cooking personality quiz
The first thing that we do before suggesting a Livspace kitchen design, is understand your requirements. For this, the person who will be using the kitchen to the greatest extent is give a personality quiz. The results of this quiz determine how much you use your kitchen, what are the specific requirements of your lifestyle, does your household help use your kitchen or do you and several other nitty gritties of your culinary routine.
Step 2: Meet a kitchen expert to design your own kitchen
Now it is time to meet a Livspace designer who specialises in designing kitchens. Based on the results derived from the quiz, the designer makes certain suggestions. For example, if you host a lot of parties, we might suggest a Livspace modular kitchen that has an island counter. If you have elderly folks using the kitchen, we may suggest drawers instead of base cabinets that do not require you to bend.
Step 3: Visit Experience Center to touch and feel what you buy
While all these personalised design propositions might sound very alluring, the kitchen is still a very high-value purchase. Would you really want to invest your money without actually seeing what you get? Well, you don't have to! At this point, our kitchen expert will schedule a visit to the nearest Experience Center where you get to touch and feel the elements that will compose your Livspace modular kitchen.
Step 4: See 3D kitchen renders
Still not convinced how it will end up looking? The designer can present 3D renders of exactly how your kitchen will turnout. And you can hold us to our word that it will turn out just the same!
Why is the Livspace Experience Unique?
Delivered in 45 days
Your kitchen goes from render to reality in matter of 45 days if you pick a majority of our kitchen cabinet finishes. Only if you choose PU or membrane finish, will your kitchen be delivered in 60 days. Moreover, this applies to fresh kitchens being designed and installed from scratch. Any demolition or change of layout will involve the requisite cost and time.
Our kitchens are made for India
The concept of modular kitchens is essentially foreign. However, the unique element about getting a Livspace kitchen design is that we give you a kitchen for Indian families. So our kitchen designers take into consideration oil spills and curry stains. Our kitchens are designed for you to add tadka to your sambar and kadhi, not just bake or roast.
10-Year Warranty
Don't believe us? That is why our kitchens come with a 10-year warranty! So you get to bake your cake and eat it too in a kitchen designed specially for you in a matter of 45 day!
If you still haven't made up your mind, we can give you 146 More Reasons to Choose Livspace.
Send in your comments and suggestions.