Looking for inspiration to design your new kitchen island? If you have enough space for one, an island kitchen can be an immensely practical and stylish choice for your home. Take a look at the benefits of this layout and explore a selection of fabulous island kitchen designs.
Modern modular kitchen designs are stylish, functional as well as versatile, built to suit every taste and need. Island kitchens are rapidly gaining popularity among urban homeowners, and rightly so.
Functional and visually appealing, island kitchens provide solutions for a number of common problems.
If your kitchen does not have enough counter and cabinet space, an island can add workspace as well as extra storage. It can house appliances like microwaves, OTGs, toasters, water purifiers, food processors etc.
For those who need extra space for food preparation, an island can be the perfect solution. If two people working on the same counter or preparing large meals on a single counter feels somewhat crowded, the island offers elbow room for more people to work together in the kitchen.
If you have a straight kitchen or galley kitchen, the hob or sink can be placed separately on the island to accomplish the much-desired kitchen work triangle.
Here are some modular kitchen designs that are sure to make you want to plan an island kitchen right away!
Kitchen island design #1: Chocolate brown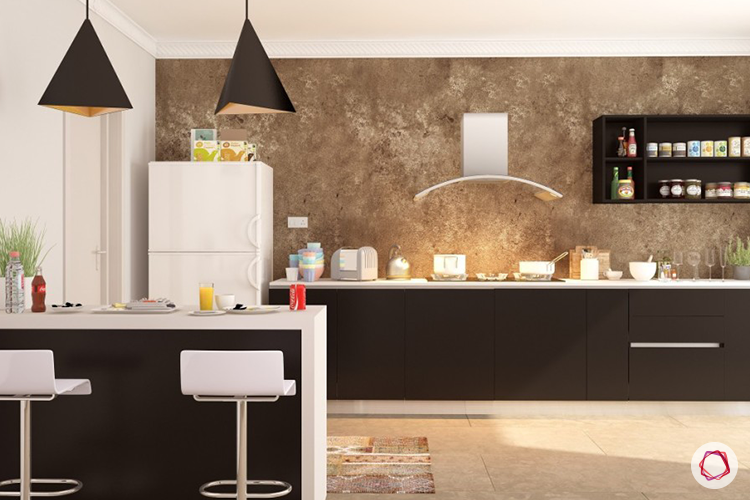 This stunning island kitchen is rendered in luxuriant brown and white tones. Here, the island serves as a breakfast counter, and the lighting arrangement is pleasant, adding to the visual appeal as well as functionality of the counter. The single straight counter of the kitchen can be used for cooking and washing while the island provides space for chopping or serving food for informal guests. Why stick to just breakfast, this counter is good enough for a romantic dinner for two!
Kitchen island design #2: Classic oak
This classic oak and white kitchen features a central island supplementing an L-shaped counter. The island is positioned such that it sections the kitchen space according to traffic movement and also provides extra cooking, preparation and storage space. The island essentially anchors the space while perfectly blending in with the rest of the kitchen.
Kitchen island design #3: Monochrome magic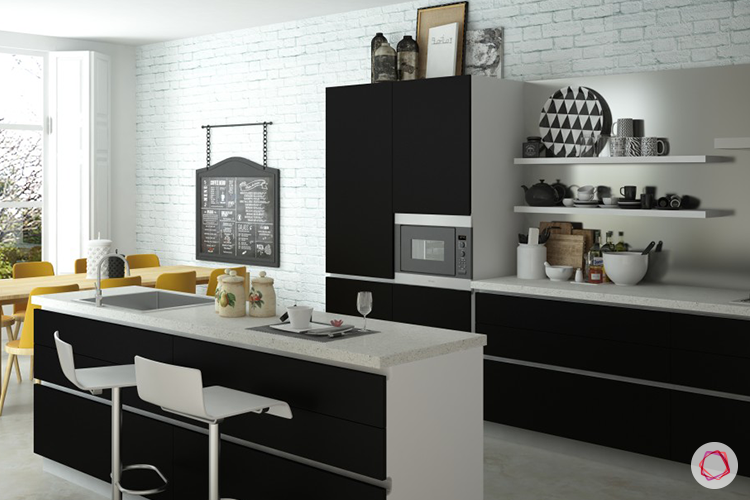 Designed with a stylish black and white scheme, this island kitchen maximizes storage and accommodates multiple functions. The island houses the sink, and is good not just for chopping and washing, but also offers cozy seating for friends and family. The space beneath the sink also provides storage for kitchen supplies.
Kitchen island design #4: Warm undertones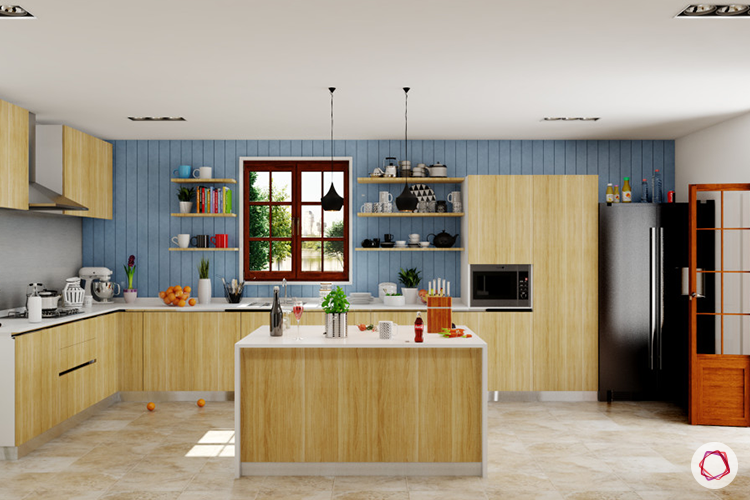 You'll love cooking in this warm, homely and spacious island kitchen. The island here houses the hob, and provides a separate cooking section, freeing up the remaining counter space for other activities. The island also offers storage for utensils and other frequently used items, eliminating any waste of time or effort while cooking.
Kitchen island design #5: Functionality at it's best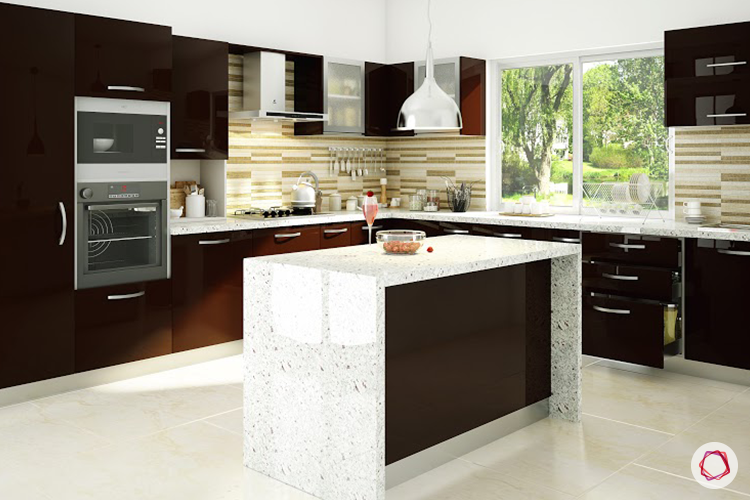 Another modular kitchen design that combines looks with functionality, this sleek arrangement has everything you need. The central island acts as a storage area as well as breakfast counter, providing your family every opportunity to spend time together. Kids can study here, while you can cook with your partner and supervise the children simultaneously. A low hanging pendant light provides plenty of light on the surface for all activities.
Kitchen island design #6: Contemporary chic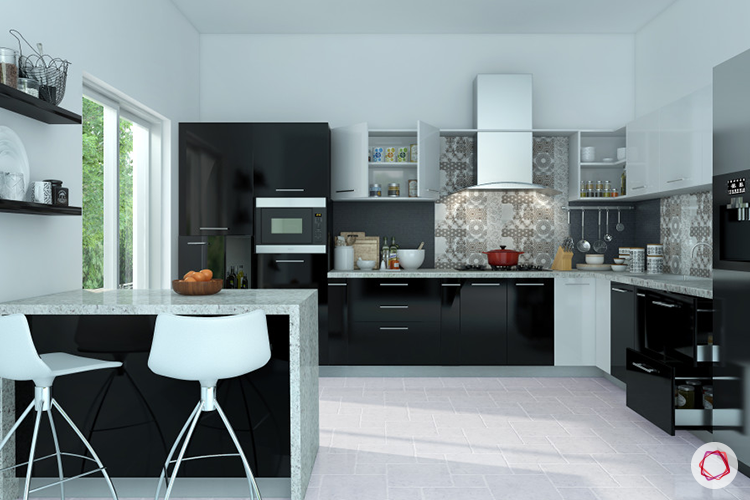 Delectably stylish, the counter in this contemporary island kitchen is positioned off to the side, defining the cooking area while providing a neat little nook for breaks between chores. Anyone would love to sit here with a mug of coffee and a book in hand, with some music for company!
Check out kitchen design ideas: