What's a home without a kitchen? While many people might be happy simply with a functional space that allows them to cook their food and warm their meals, we at Livspace believe that your kitchen needs attention too! From the shape of the kitchen to the handles on the drawers, everything reflects your personality. So at the end of the year, we bring you our favourite kitchens from Livspace homes in 2019.
We're sure these modular kitchen designs will capture your heart! From the sleek and seamless to the peppy and colourful, we've found something for everyone. Read on to fall in love!
Livspace Kitchen #1: Open Kitchen Design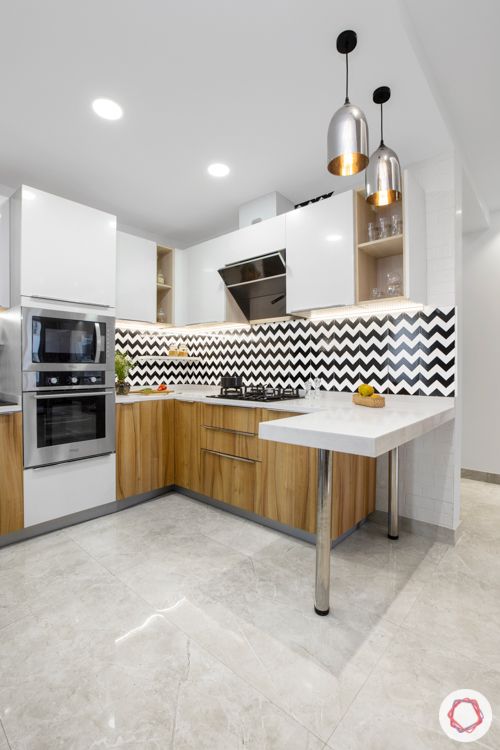 Budget: ₹₹₹₹₹
How often do you find a kitchen that's the perfect blend of classic and modern styles? We've found the perfect kitchenette for you. Check out this compact kitchenette with high gloss wall cabinets and laminate base cabinets. A backsplash of tiles with a zigzag pattern ties the two together. Moreover, the backlighting under the wall cabinets and the three pendant lights over the breakfast counter ensure that there's never a dull moment in this kitchenette!
If you love the kitchen, you can check out This 4BHK is the Perfect Blend of Styles.
Livspace Kitchen #2: Renovation Done Right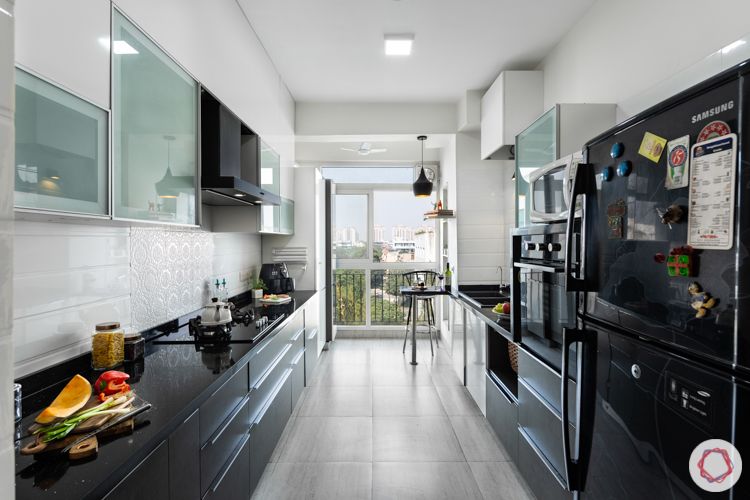 Budget: ₹₹₹₹₹
Oftentimes, the biggest problem with older kitchens is their cluttered appearance. Insufficient storage space leads to the piling up of things in plain sight, which becomes an eyesore. This is precisely the problem that has been fixed when this parallel kitchen was renovated.
With clearly segregated areas for cooking, dry storage, wet area and the like, this parallel kitchen is perfect for the organised! Throw in a breakfast counter, and there is nothing more you could ever ask for!
The white and stone grey coloured modular kitchen design comes complete with profile handles, retracting drawers and soft-close glass shutters. Also, don't miss out on the backsplash of Parisian deco tiles behind the hob!
Check out A Kitchen Makeover For A Passionate Chef to know more.
Livspace Kitchen #3: Seamless Kitchen & Island Counter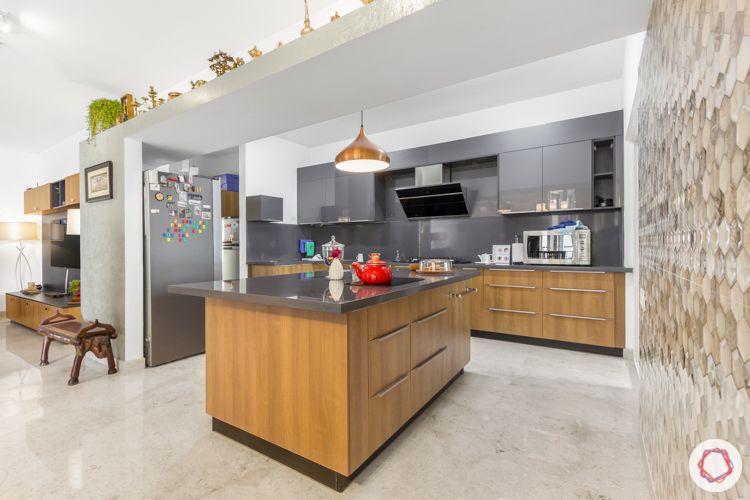 Budget: ₹₹₹₹₹
This open kitchen with an island counter is a class apart. This kitchen has three separate zones – utility area, a pantry space and a cooking area with a hob and chimney.
If you look closely, you'll also notice that this kitchen is adapted for the elderly. So it has obtained drawers below waist level, finished in walnut membrane. The grey Kalinga stone countertop perfectly matches the wall cabinets, giving a seamless look to the space.
However, the star of this kitchen is undoubtedly the island counter. It comes complete with an induction cooktop and concealed charging points for appliances. And of course, it has modular storage. Isn't that amazing?
Check out Turnkey Interiors for Techies for a home that's as gorgeous as the kitchen.
Livspace Kitchens #4: Pretty Parallels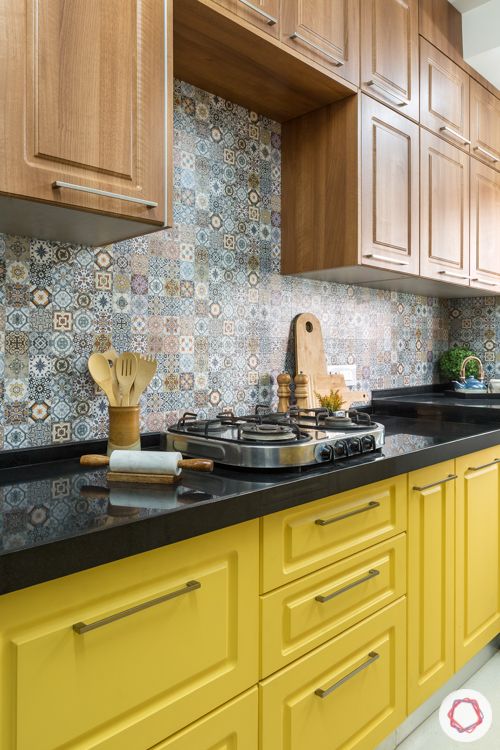 Budget: ₹₹₹₹₹
If you're looking for a ray of sunshine on a cold winter day, this kitchen is exactly what you need. With cheerful yellow base cabinets and classic wooden tones on the wall cabinets, this kitchen will drive away gloom in seconds! What's more, it's vastu-friendly too, with the sink and hob on different counters. A jet black granite countertop and a backsplash of Moroccan-inspired tiles completes this kitchen.
This compact, budget-friendly kitchen has separate work zones for hassle-free cooking. An array of cutlery trays, bottle pull-outs, spice trays, drawers and the like ensure that this kitchen is as functional as can be. Also, modular kitchen designs with soft close mechanism minimises operational noise and ensures the longevity of your kitchen.
This Vastu-Compliant Kitchen in Bandra is High on Storage. Check it out for some inspiration!
Livspace Kitchen #5: Modern and Functional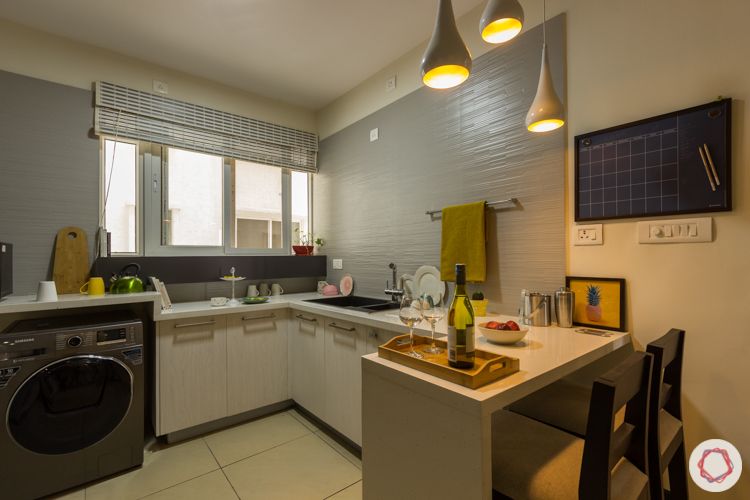 Budget: ₹₹₹₹₹
At first glance, you'll notice something very different about the modular kitchen designs used here. And when you look close, you realise that the lack of wall cabinets makes all the difference! However, there's no skimping on storage space in this modern kitchen! You can comfortably store all your groceries in the custom-made tall units with double doors made of glass. Sleek and classy, isn't it?
The pearly white modern kitchen brightens your kitchen and makes cooking fun. Also, don't forget to watch out for the gorgeous lighting in this kitchen! From the tall units to the roller shutter unit, the lighting in this Livspace kitchen is a study in combining the best of aesthetics and functionality. And if you're looking for statement lighting, you won't be disappointed either! Check out the pendant lights above the breakfast counter. The soft glow from these pendant lights will brighten up even the worst of your days!
A Modern Home for a Young Globetrotting Couple will give you goals for your entire home, not just the kitchen! Check it out!
If you enjoyed reading this list, take a look at The Trendiest Wardrobes This Year.
Send in your comments and suggestions.