Have you ever wanted to take a seat and sip some wine as you cooked dinner? Cooking at home is much more than just whipping up meals. Kitchen furniture can help you not just be efficient but also kick back, relax and entertain company while you cook.
Most modern kitchens are built for maximum storage, functionality, and efficiency, but not as spaces where you can relax. These kitchen furniture ideas are sure to make your kitchen a functional space that can also act as a conversation zone. They also help create areas to just sit and wait while your dish gets cooked to perfection.
Is Kitchen Furniture Different From Cabinetry?
Now, many confuse kitchen furniture with cabinets and modules. But we're talking about furniture like tables, chairs and more that can add some character to the space and personalise it according to your choice.
What Are the Benefits of a Good Kitchen Furniture Design?
These days, people are looking for more social kitchen designs where they can interact with their family and guests while they are cooking. Homeowners have now started using coffee tables, breakfast counters and bar chairs in their kitchens. There is also the need for efficient and quick cooking support in many kitchens, so some people also opt for open spice racks, pans or spatula holders that are within easy reach from their stove.
Which Type of Kitchen Furniture Design Is The Best?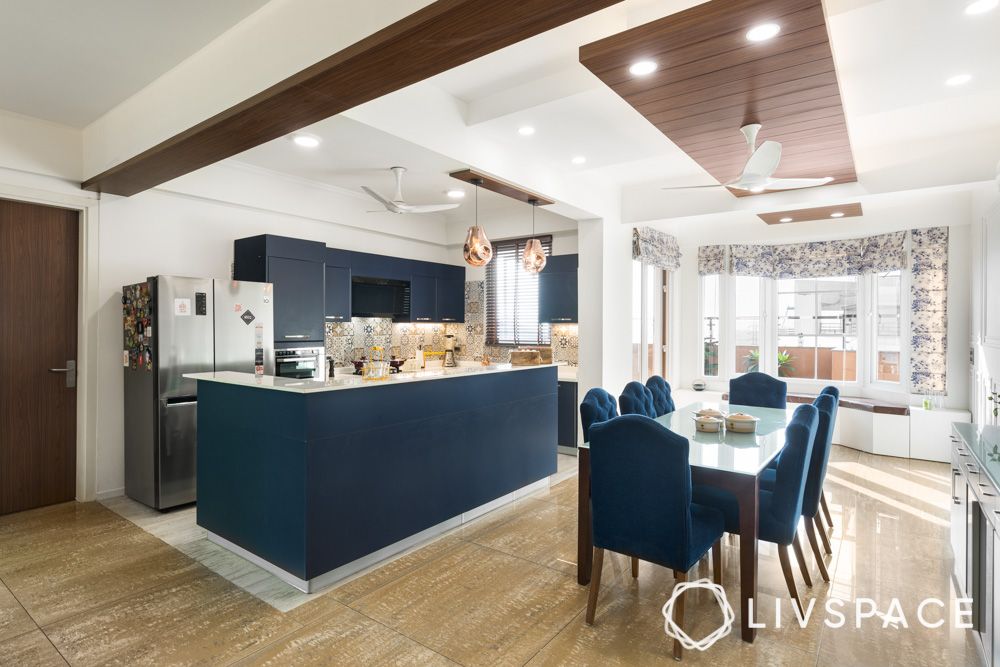 Given the compact kitchen and dining spaces in flats these days, the best kitchen furniture design is with a breakfast counter and bar stools. It also helps to use various kitchen furniture designs for storing your spatulas, ladles and spices. Moreover, if your kitchen can also accommodate a tall crockery counter, the result will be the most efficient modular kitchen furniture design in your home.
What Are the Primary Kitchen Layout Shapes?
The primary kitchen design layouts are open, parallel, L-shaped, U-shaped and G-shaped. They each have their benefits and drawbacks when it comes to the golden triangle in a kitchen.
Kitchen Furniture Ideas for You
#1: A Table Perfect as Small Kitchen Furniture Design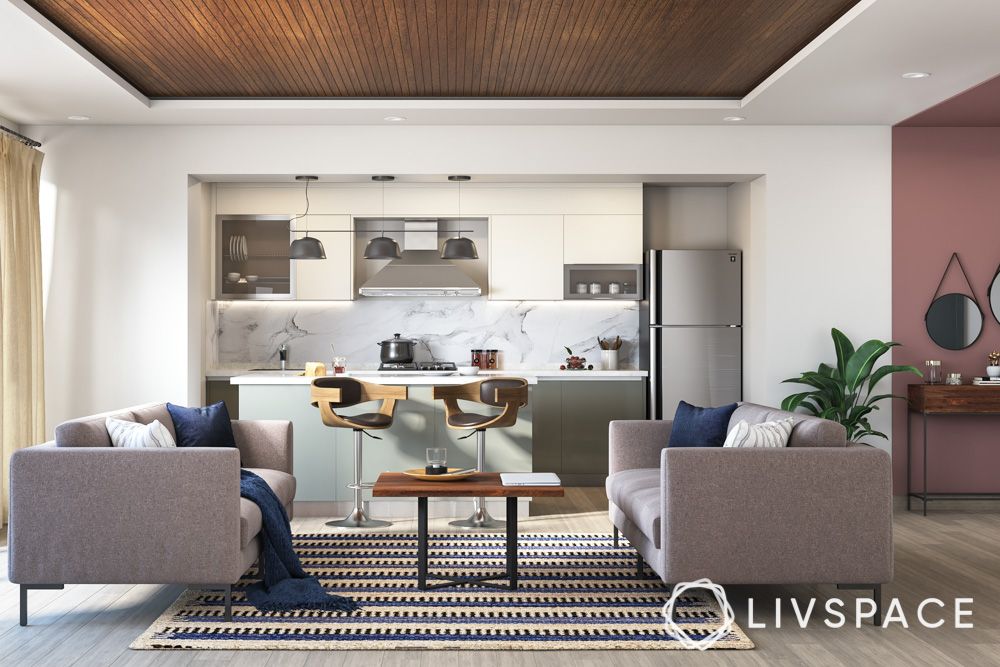 A table in the kitchen? For real? While many Indian households are battling for storage space in their kitchen, the idea of a kitchen dining table may sound absurd. We get you! But a two-seater dining table tucked into a corner can lead to a good small kitchen furniture design. With some tact, your interior designer can also use a wall-mounted table to save space.
A table as a small kitchen furniture idea can also double up as an additional workspace where you can clean your greens or chop vegetables. In open kitchens, a kitchen dining table breaks up the space and acts as a well-planned partition. Kitchen island tables are quite popular in large spaces. In Victorian homes, you would often find pictures of kitchens with a dining table that hosts fresh farm produce, baskets of bread, and more. So, this kitchen furniture idea is really not a new one.
#2: Barstools for a Modern Kitchen Furniture Design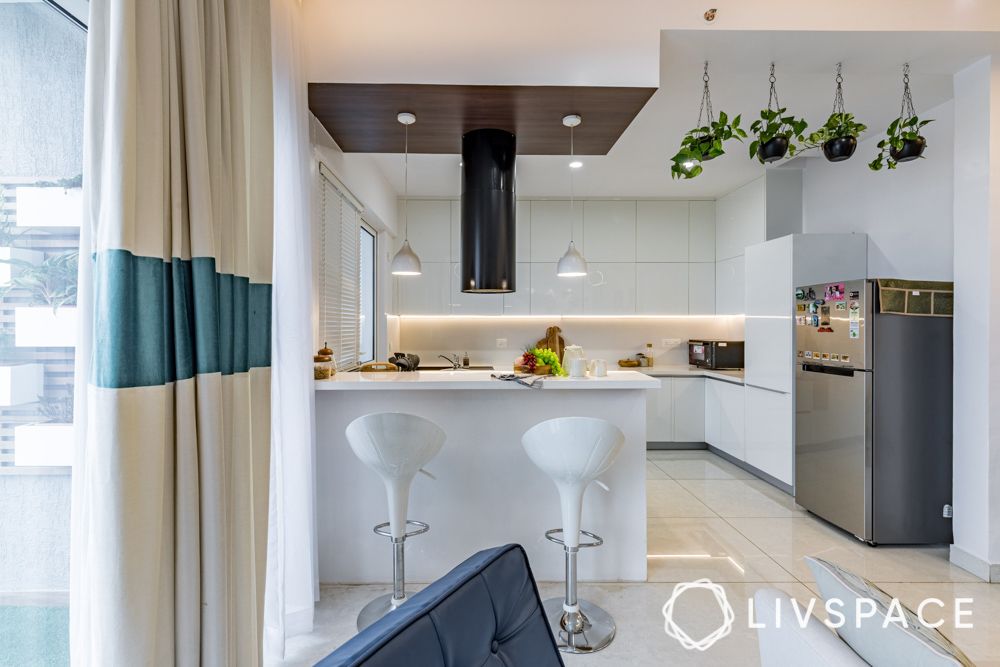 Quite a few homes have a breakfast counter as part of the minimalist and simple kitchen furniture design. Adding some barstools can complete your breakfast bar counter. You can also invest in some high chairs as they add a casual vibe to the space.
When it comes to choosing furniture for a small kitchen, barstools help build a conversation zone. While you cook for guests and family, they don't have to be relegated to the living room. In fact, they can take some load off and sip refreshments while they keep you company as you get the food ready.
It also gives a space for kids to do their homework; that way, you can always keep an eye on them as you finish up in the kitchen and help them with homework when they are stuck.
#3: Open Spice Racks for an Efficient Kitchen Furniture Design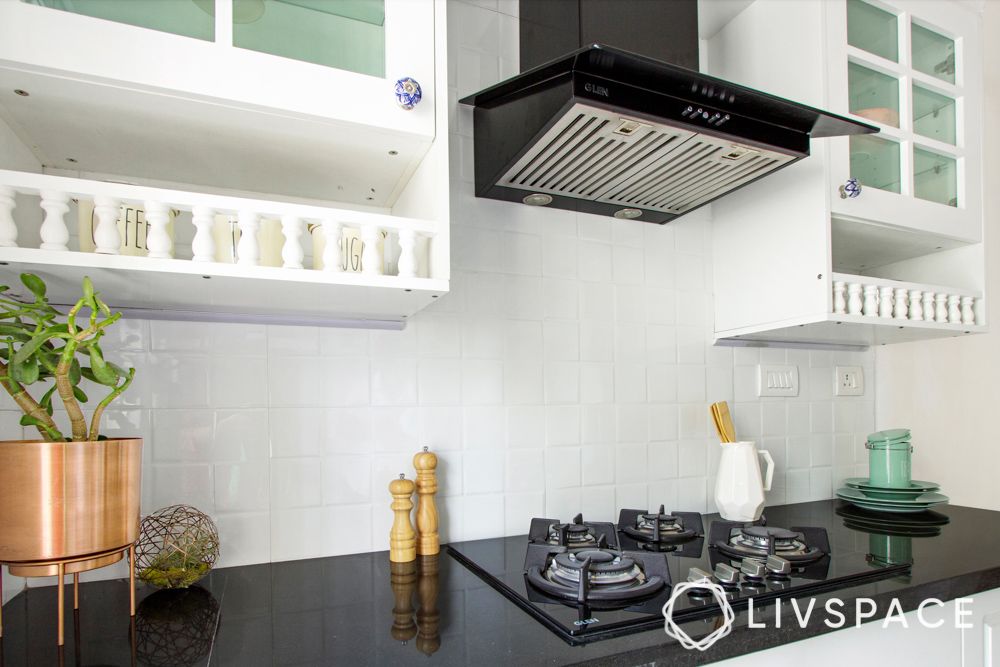 Don't have a spice rack built-in to your cabinetry? Don't worry! You can invest in an eye-catching spice rack to keep on your counter. In addition, these are within an arm's reach when you need them. Organising spices in pretty containers on the rack gives a chic and clutter-free look. These types of modular kitchen furniture designs are easily available online and in stores.
Pick a spice rack that enhances your latest kitchen furniture design. You can find spice racks with wood finishes or colourful ones which complete your quirky furniture design for the kitchen. They're affordable—depending upon the material—and quite small. They can easily be placed on the counter or mounted on the wall without taking up too much space.
#4: A Crockery Cabinet for a Modular Kitchen Furniture Design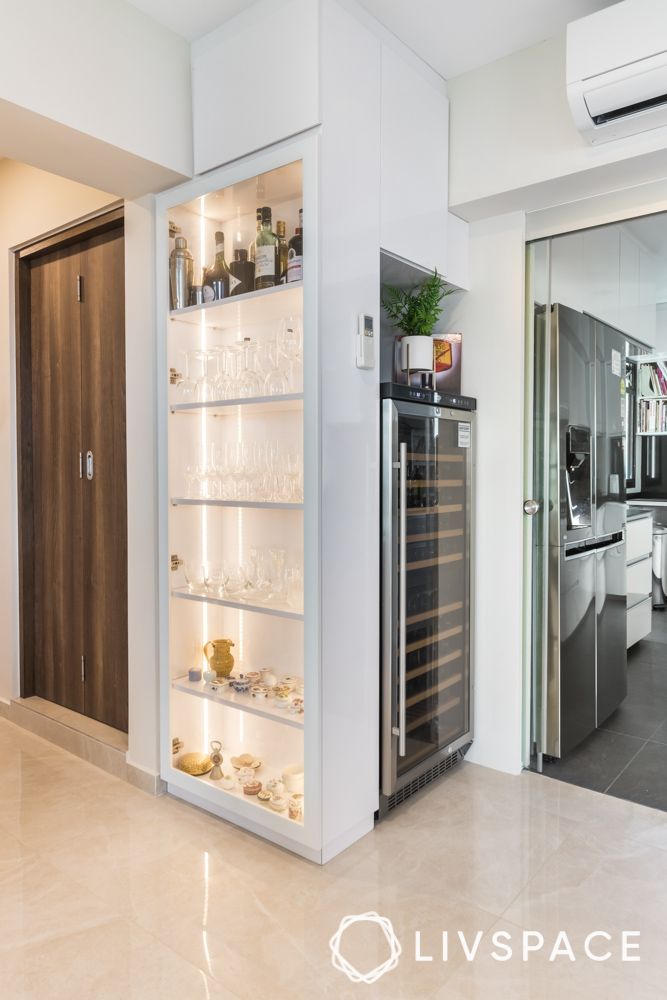 Many designers often place crockery cabinets in the dining room. However, plating of dishes mostly happens in the kitchen. Bowls, ladles, and rarely used china need to be cleaned before and after you serve food. When guests come over, having to bring crockery items from the dining space can be distracting and awkward.
Save time and effort by moving your crockery unit into the kitchen. You can easily re-plate your meals and serve them piping hot to your friends and family. Also, crockery units as latest kitchen furniture designs bring in a classic charm. If you see period films set in the 1900s, you'll notice crockery units in the corner of the kitchen. Bring back this traditional furniture design for the kitchen by adding crockery units to your kitchen furniture list.
#5: A Kitchen Coffee Table for a Relaxing Kitchen Furniture Design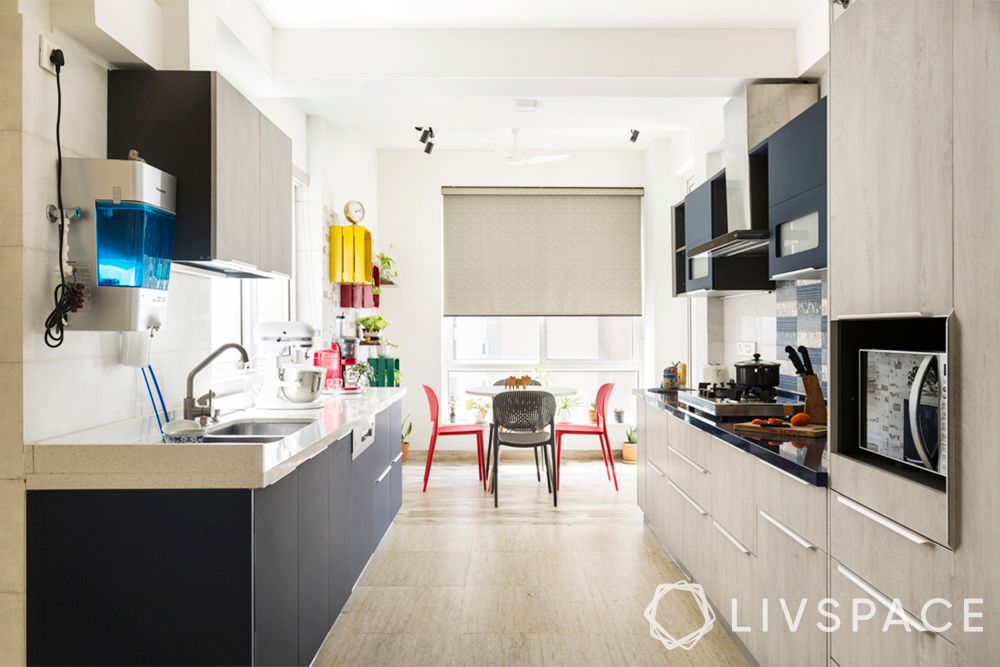 As we go through kitchen furniture design ideas, you might think a coffee table is an unusual choice of furniture for the kitchen. However, this small yet elegant piece of furniture for a spacious kitchen can give your space a cosy vibe. Imagine sipping your morning coffee while you plan the day's meals. It sure is a scene straight out of the movies. Pure bliss, isn't it?
A coffee table can also help you put your feet up (metaphorically) after a long day. Add in some scented candles on the table, play some music and voilà! Your kitchen doubles as a classy space while you put together dinner. It can also be a hangout location when you have friends over, grab a cup of coffee or eat some appetisers while the mains are getting done.
#6: Kitchen Counter Extension for a Contemporary Kitchen Furniture Design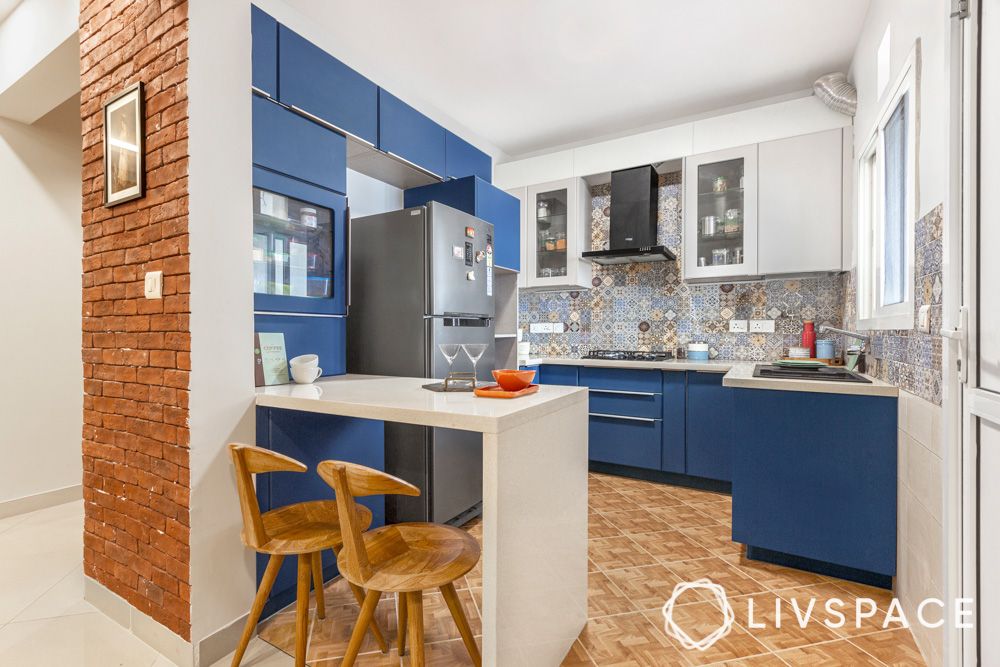 Well, breakfast counters are an example of extended kitchen counters. But, having a portable kitchen platform can make it easier to cart your meals and prep work to an alternate location. The idea is to think outside the box and see how extended kitchen counters can be put to use.
An extended kitchen counter can become your bar zone with all the glasses, bottles and other details tucked into the corner. It can also be a spot for appliances with handy electrical sockets for easy plug-in. This small kitchen furniture design idea can be converted to anything you want based on your lifestyle. It gives you more space and can be used efficiently.
At first, kitchen furniture may seem too much for the space you have. But, if planned well, you can convert your kitchen into a functional space with some multi-purpose furniture. Kitchens often see a lot of action whether it is cooking or eating or scouting for food. Also, it encourages guests to be more informal and you can just invite them over to have a chat in comfort.
If you enjoyed reading about furniture for the kitchen, also explore 5 Accessories that All Kitchens Must Have.
Check out more kitchen designs:
How Can Livspace Help You?
We hope you found our kitchen furniture ideas useful! If you want your home to be just as beautiful, then look no further. Book an online consultation with Livspace today.
We love hearing from you! Write to us with your comments and suggestions at editor@livspace.com