Buying a home and then getting its interiors done is an expensive investment. We all want the best for our homes but what discourages most homeowners is that expensive-looking interiors come with an expensive bill too. This is especially true for budgeted small homes, where the space can also present a constraint. But it doesn't have to be like that. You can get tasteful interiors for compact homes and you can get it within budget! Here are six items from Livspace-designed houses that cost under a lakh and are super-functional for small homes.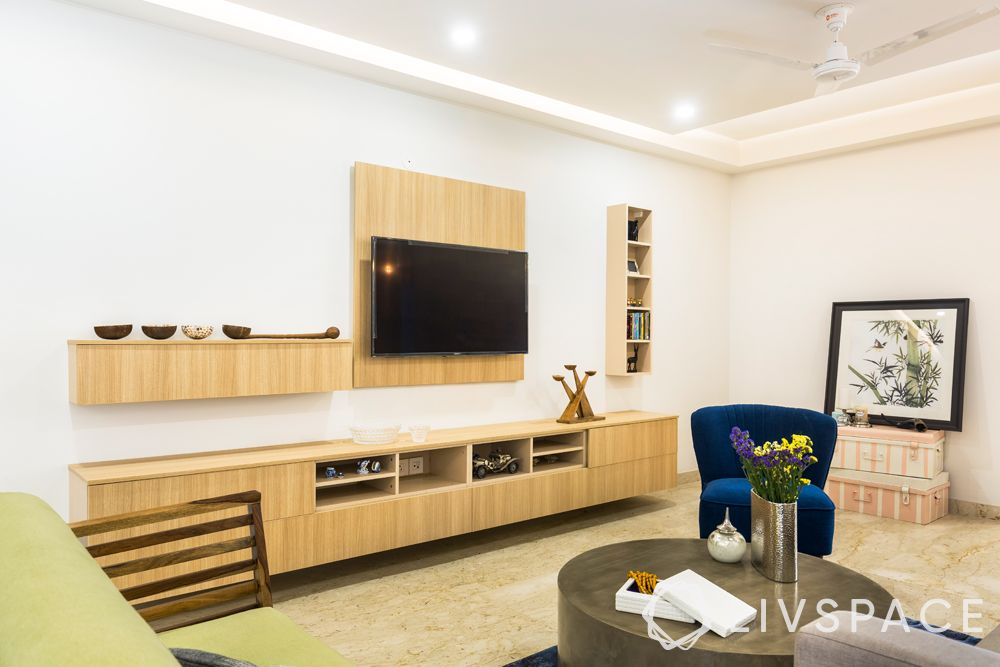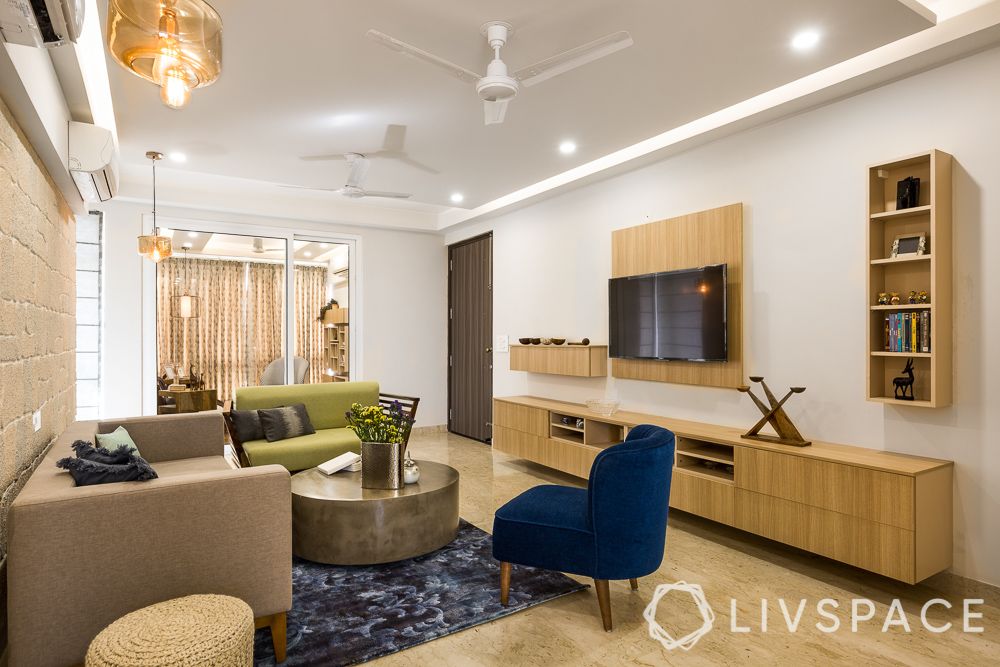 This TV unit looks pretty huge, doesn't it? It is and it has got all the essential accessories that make it a plush piece. However, there's more to it than that. Livspace designer Sakshi Sharma created this unit as custom furniture and pieced it together with modular units. , making it perfect for space saving in small homes.
Budget Lesson for Small Homes:
Modular units can be combined together to make a custom furniture of any size. This is a cheaper alternative to fully custom furniture as modular units are comparatively cheaper.
Cut down on accessories such as handles and additional hanging shelves to make the design compliant.
Check out budget TV unit designs: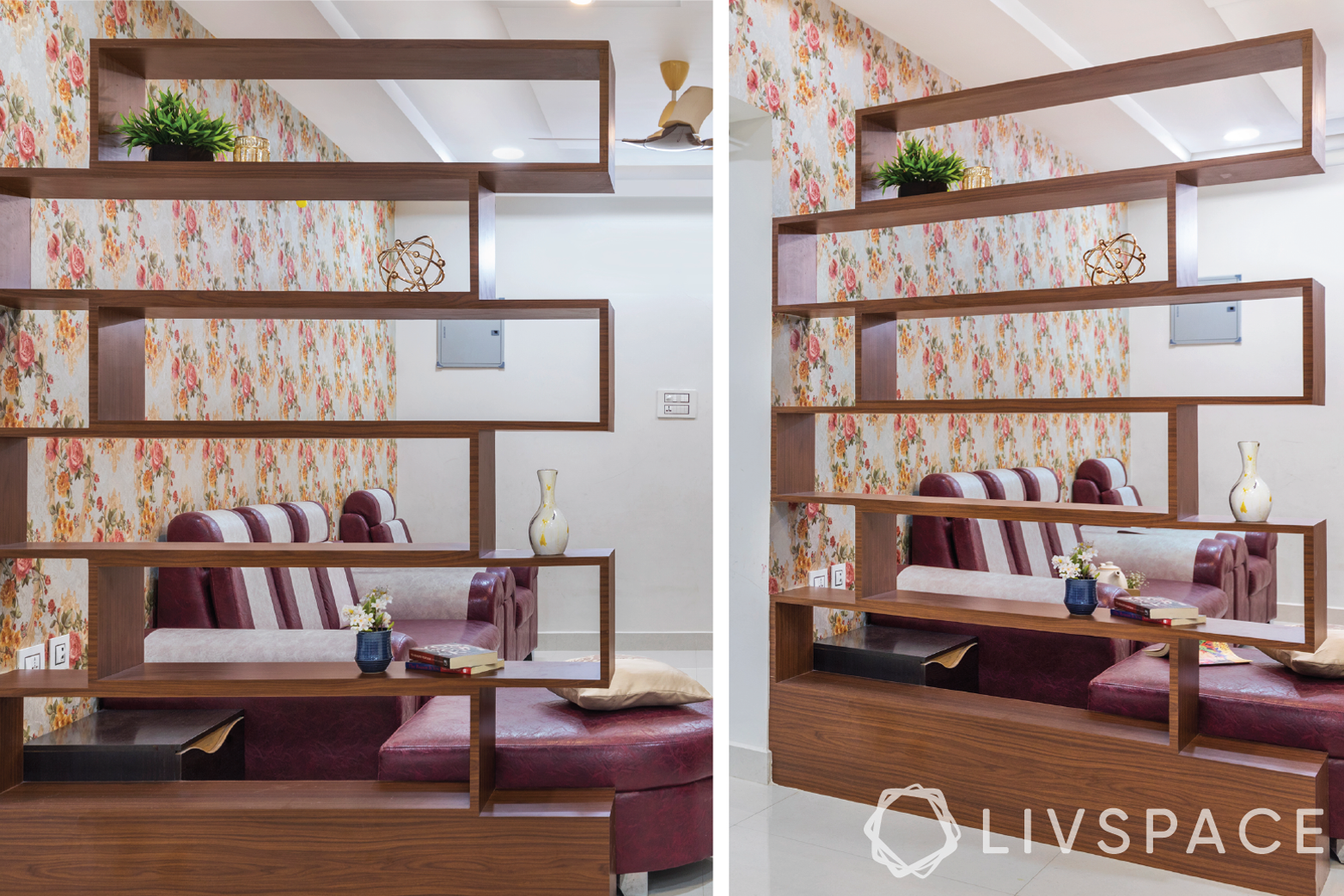 This budget Hyderabad home flaunts many custom furniture as well as modular furniture pieces and is built under a budget of ₹ 10 lakh! This partition-cum-storage-unit is a custom piece that keeps the living area demarcated from the dining area. It also gives the homeowners storage and display shelves to adorn it with accessories of their choice.
Budget Lessons for Small Homes:
Make sure your custom furniture can wear several hats. This helps to cut down the budget and also play around multifunctional pieces.
Choose cost-efficient materials. For example, the laminate finishes in this house are cost-effective.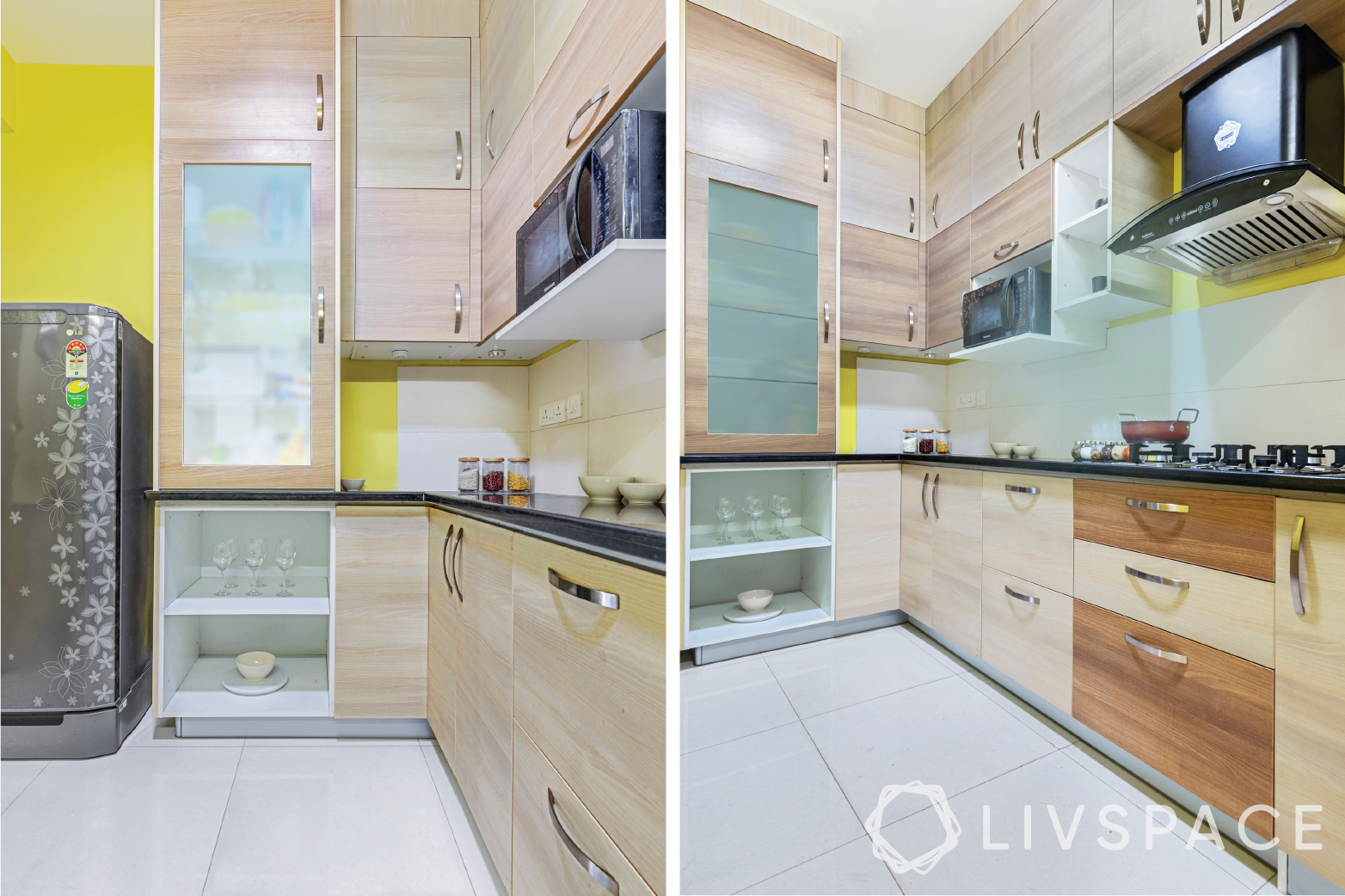 Everyone has heard of a tall pantry unit that can house an army of kitchen essentials. It is hard to disagree that it is not a blessing in a small kitchen. However, tall units can account for a hefty sum in your budget. We recommend this mid-tall pantry unit that these Hyderabad homeowners invested in with almost the same storage capacity.
Budget Lessons for Small Homes:
The kitchen can benefit from a medium-tall unit in small homes as it is a custom furniture bound to fit in a small space.
This mid-tall pantry unit is versatile enough to even be placed on the kitchen countertop to save up space.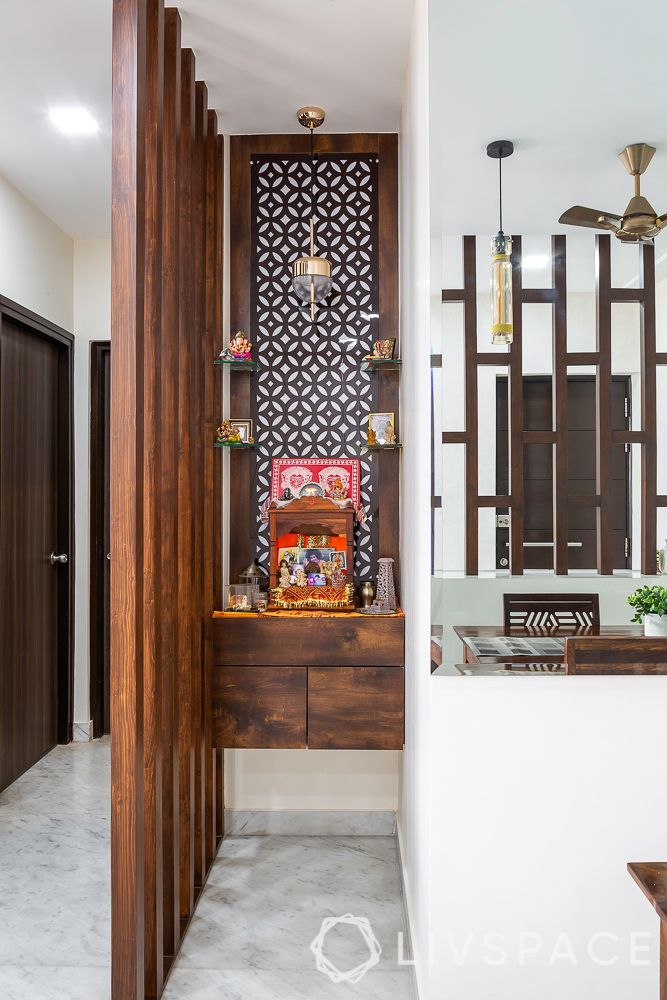 This crafty mandir tucked in a niche was made for a millennial couple that wanted it all in their 2BHK. For small homes, using every nook and cranny is important. Thus, when Meghna asked for a mandir, the designer decided to make it as elegant as it was possible to on a budget. The modular furniture units work as storage for the puja room. What makes this a luxe piece is the jali design behind the idols.
Budget Lessons for Small Homes:
Use sleek partitions to save up space and maximise storage in small homes.
Go for an open mandir design to save up on your budget. If you need to have a closed mandir design, opt for curtains or sliding doors so they can be accommodated in small spaces.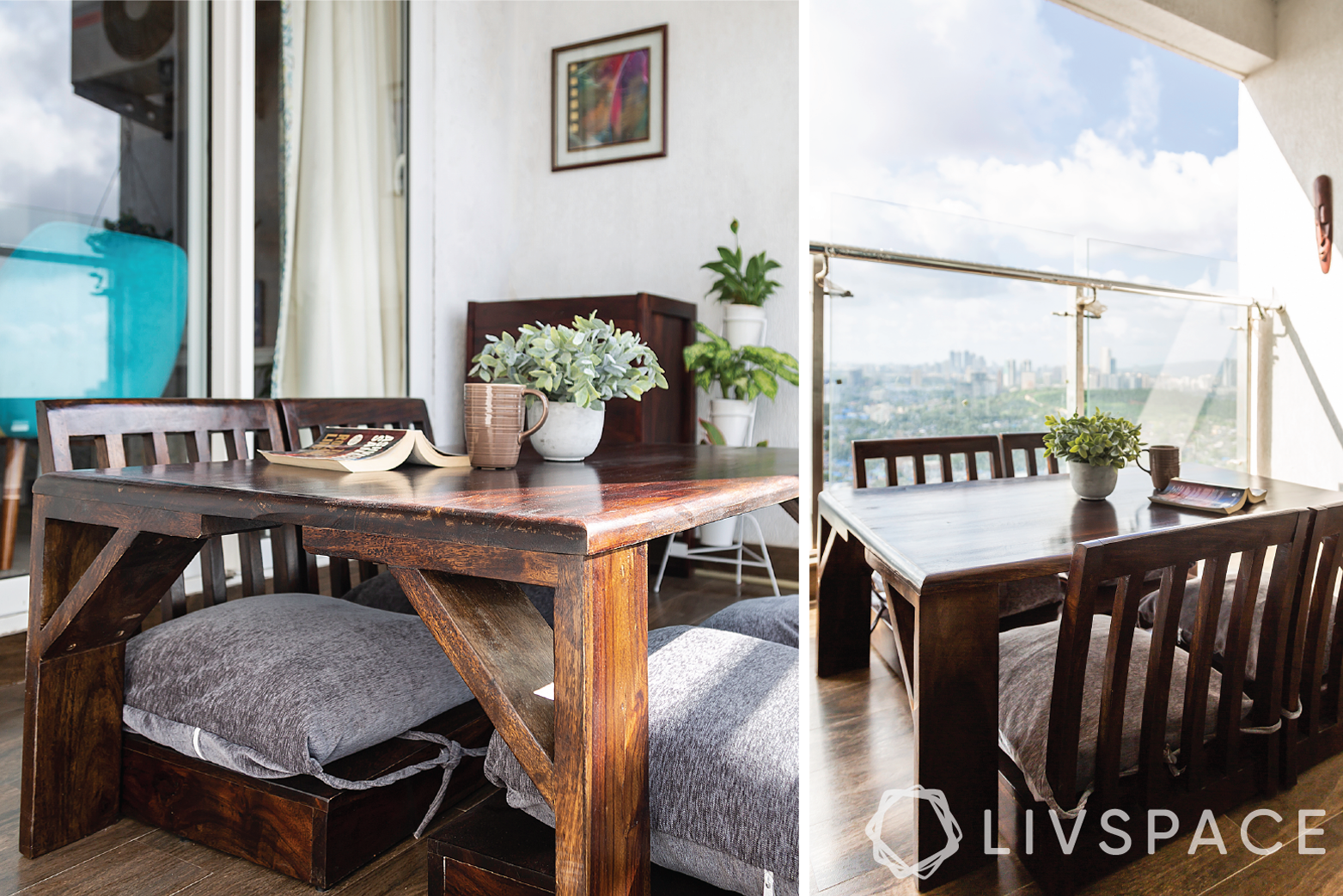 Small homes can still play up their balconies to give you a soothing corner for your evening tea. This balcony seater for four in this Mumbai 2BHK spanning over 650 sqft. is an eye-catching element for small homes. The balcony is partially covered, making this seating option a hit.
Budget Lessons for Small Homes:
Choose seating that can be moved. The chairs above can be easily taken into the living room, lest extra seating is required.
If you are getting custom furniture, make sure you take the correct measurements. This will save up space and budget.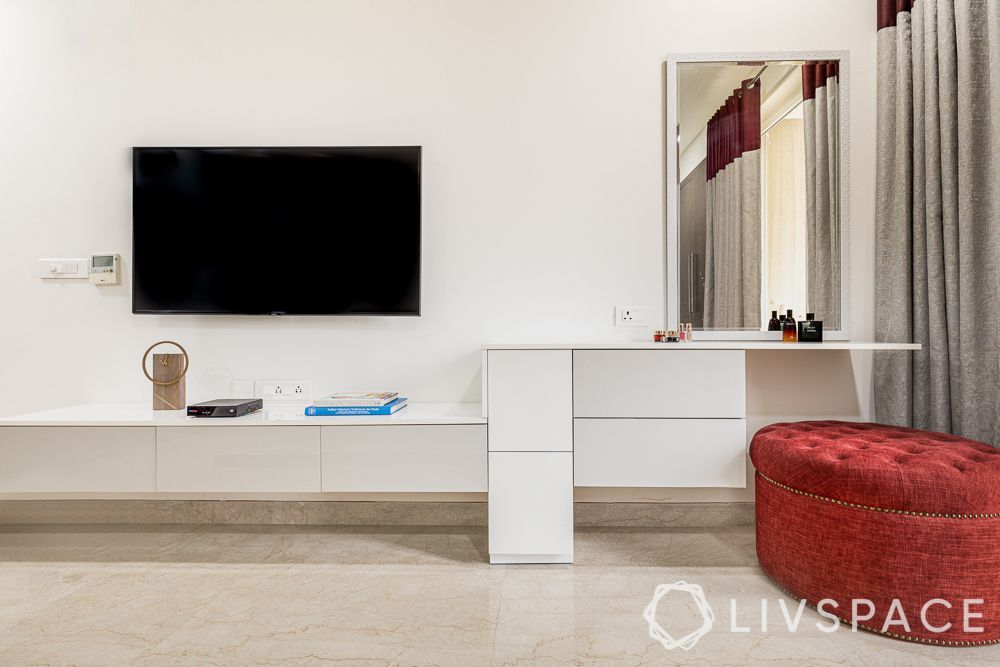 Custom furniture can be easily made to fit into a small space. But did you know that custom-built pieces can be tailored to your budget too? The master bedroom combines the essentials in this master bedroom. This Gurgaon home plays cleverly with its custom pieces to give us some budget goals. This acrylic-finished TV-cum-dresser-unit, for instance, is a great addition to small homes.
Budget Lessons for Small Homes:
Acrylic finish is cheaper than laminate and hence makes for a better budget buy.
Keep it minimal with a few accessories. Going over the top in small homes can make the home look cluttered, not to mention you run the risk of overshooting the budget.
We hope you enjoyed reading this article and found some inspiration to furnish your small homes to give them luxe appeal! Also check out these 7 Budgeted Homes That Will Win Your Heart.
Wondering how our customers feel about working with Livspace? You can check out the Livspace reviews here!
How Can Livspace Help You?
We hope you found our ideas useful! If you want your home to be just as beautiful, then look no further. Book an online consultation with Livspace today. Delivering safe home interiors has been our No. 1 priority. Click here to find out how interiors are being delivered following all safety protocols.