Buying your own home in an expensive city like Mumbai is nothing short of a dream come true. Still, for most first time buyers, their homes end up being really compact because real estate prices in the maximum city are still shooting through the roof. However, if you invest a little judiciously in home design interior, even tiny apartments like this 2BHK in JP Decks spanning 650 sq ft. can be done right! And the Nayaks had just that in mind when they approached Livspace with the mission of turning their compact apartment into a home that fits their needs!
---
Who livs here: Manoh Nayak with his wife and daughter
Location: JP Decks, Goregaon, Mumbai
Size of home: A 2BHK spanning 650 sq. ft. (approx.)
Design team: Interior Designer Yasin Shaikh and Design Manager Chandan Parimal Jha
Livspace service: Full home design Budget: ₹₹₹₹₹
---
From our end, Yasin Shaikh, a designer who specialises in turning compact apartments into breezy living spaces, left no stone unturned for this home design interior project. He made sure that this 2BHK offers everything that a busy working couple (and parents) need and more. Now how did that happen? Let's break down this home's design plan one space optimisation trick at a time to see just how.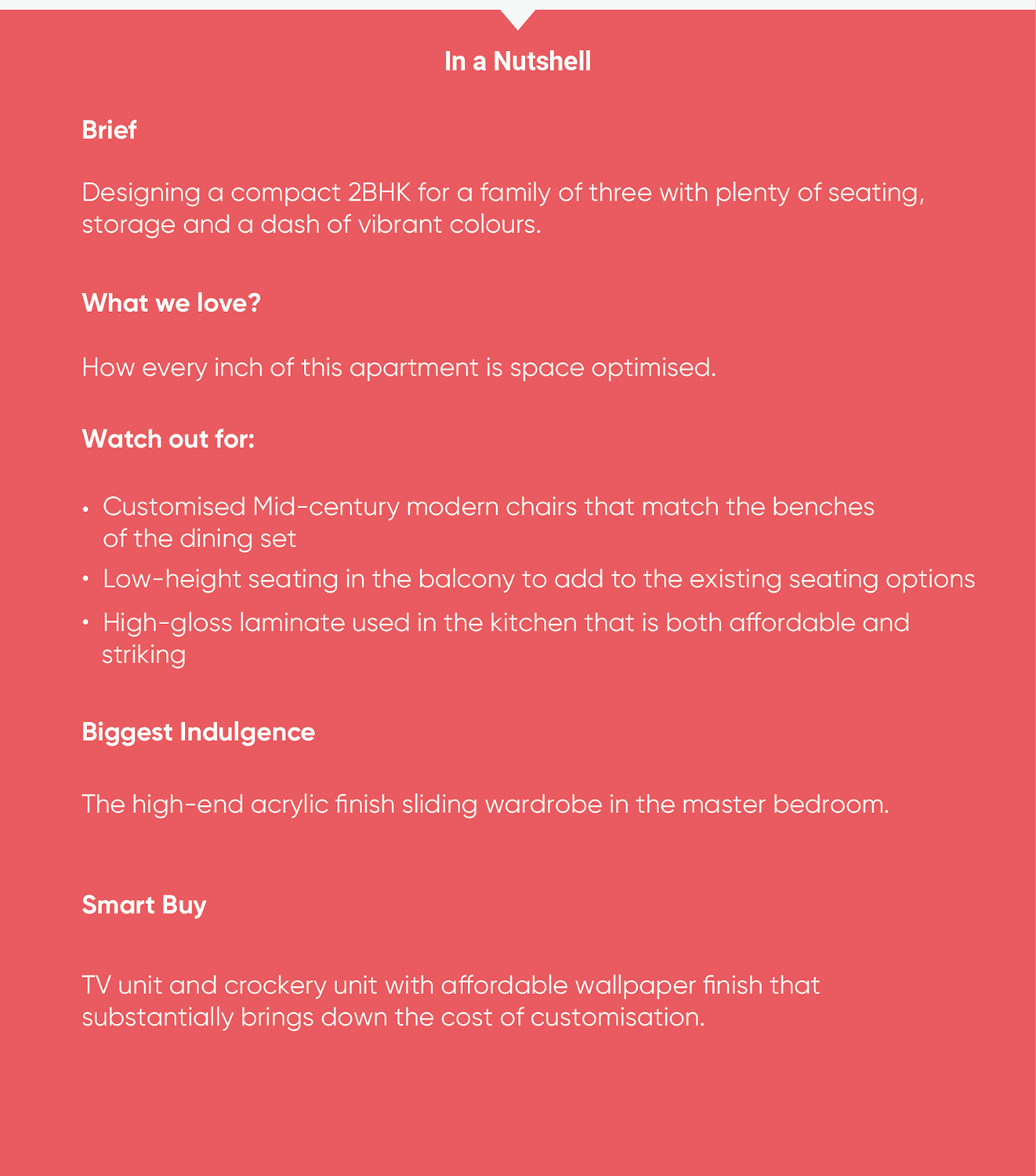 #1: Customised furniture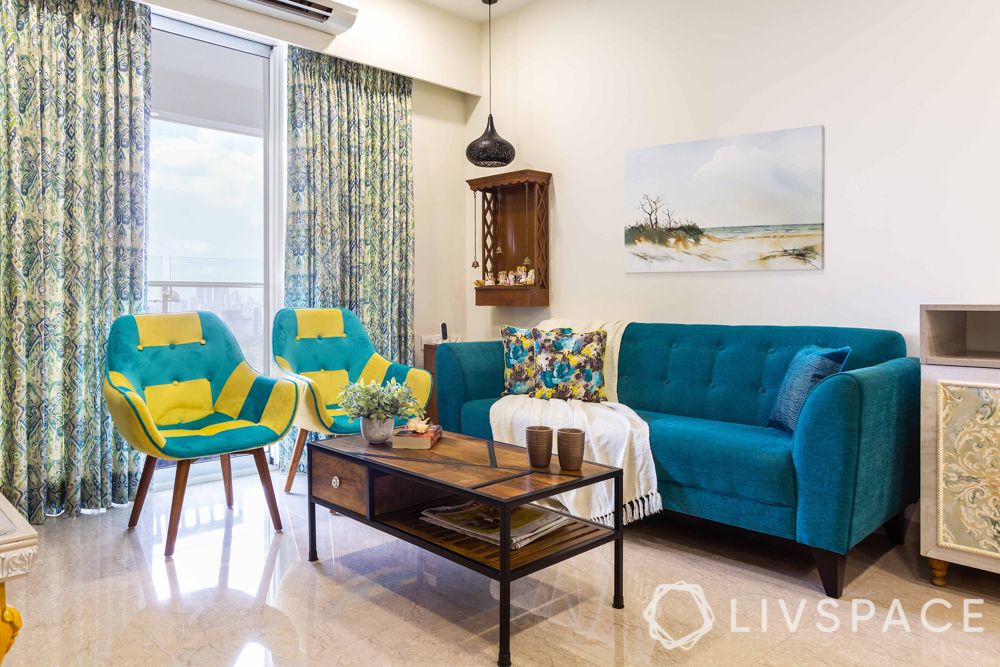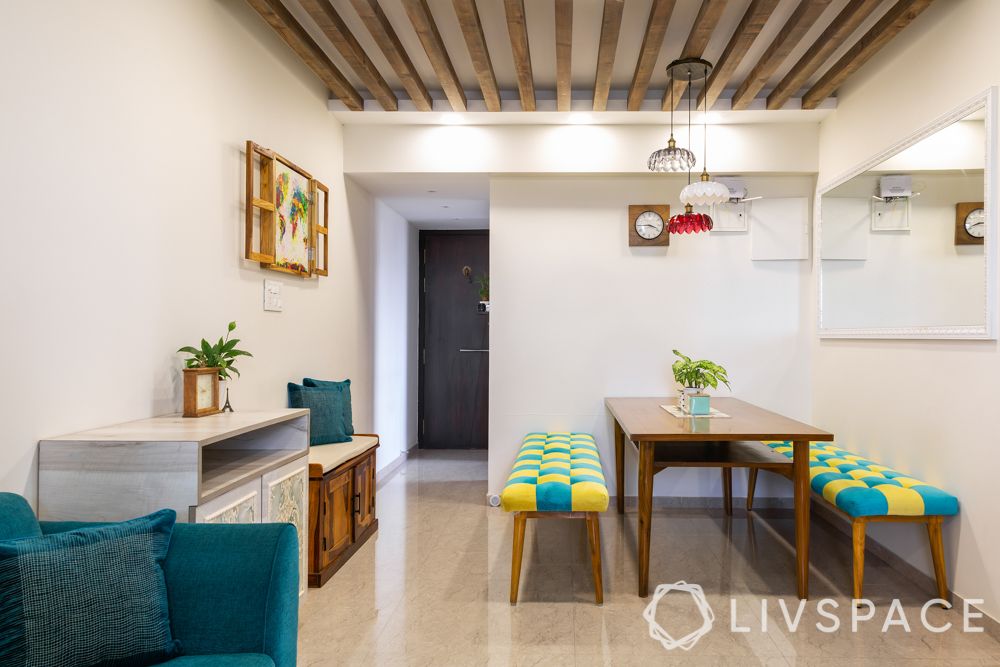 When do you think people opt for customised furniture? It is either when they have picked a fancy furniture design off Pinterest that can't be brought off the shelf Or when they need their furniture to fit perfectly into a limited space. This home design interior project makes a great case in the second instance.
If you look closely, the two mid-century modern accent chairs and the benches of the dining table have matching upholstery. It's because both have been made-to-order to fit perfectly into the available space. This automatically leaves more open space for the designer to play around with.
Tip for Homeowners
While picking customised furniture, the most important factor is dimension. This is followed by design and materials used.
#2: Variety in seating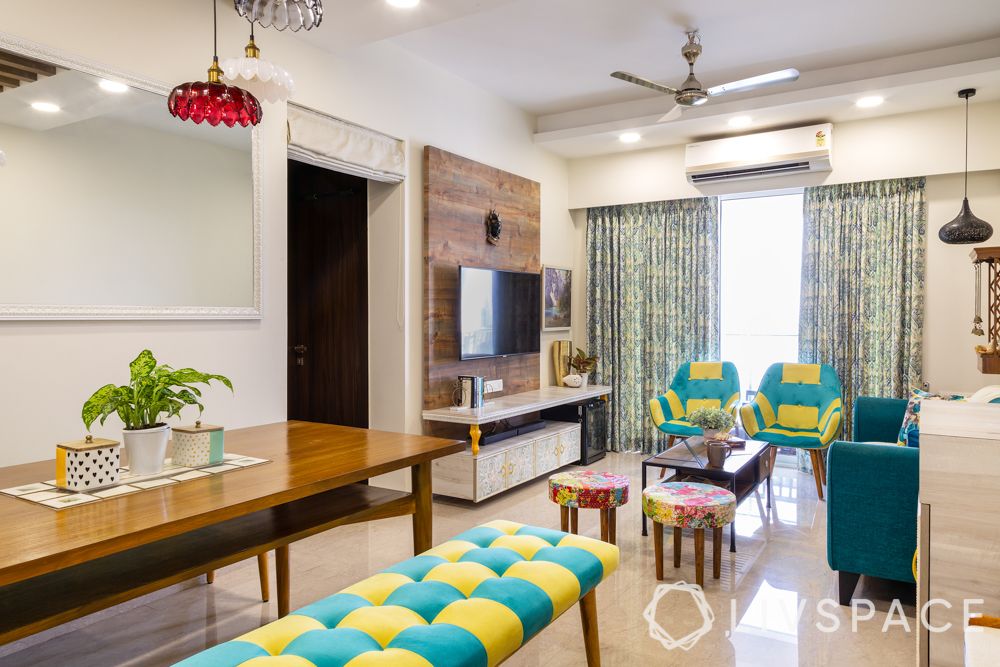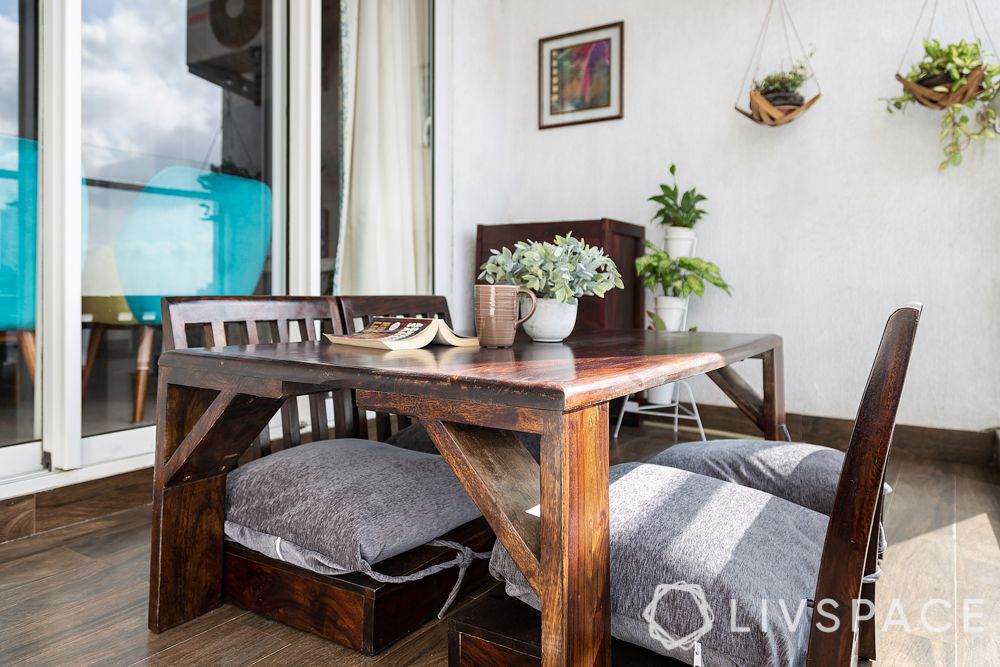 The Nayaks may be a family of three but they are natives of Maharashtra and have plenty of family living close by. Naturally, they host gatherings quite often and wanted their new home design interior to be able to seat enough people at once. Yasin was clear that it would not suffice to cramp heavy furniture into the compact living area.
The solution? It was variety that came to the rescue! So, Yasin added a regular couch from the Livspace catalogue for lounging and watching TV. Then, there are two accent chairs that draw attention instantly and two boisterously-coloured stools, which separate the living area from the dining space. Here, there are benches on both sides of the long table that can easily seat 6 adults. Additionally, there is a zen-style low-height table and chairs in the adjoining balcony, which is partially covered.
Tip for Homeowners
Always prefer seating arrangements that can be moved around easily within compact spaces.

#3: Floating units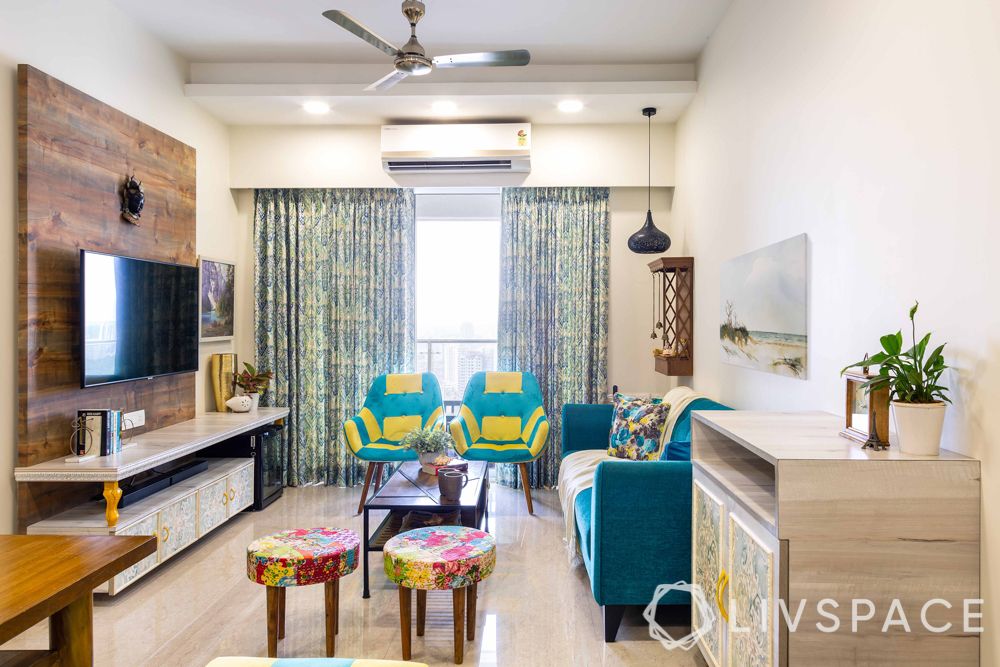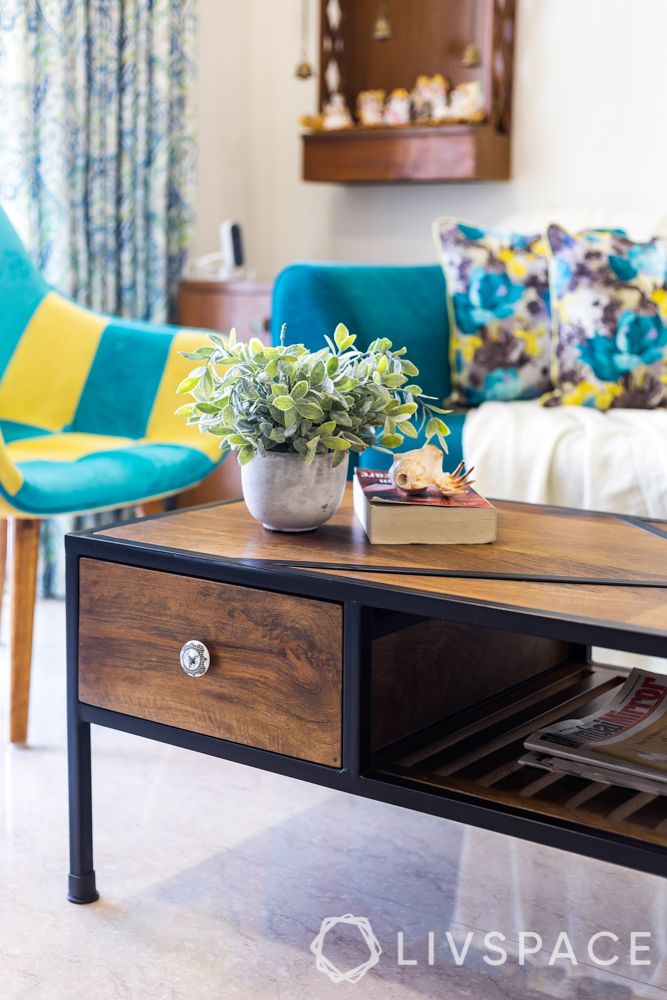 Space is more perception than actual square footage. So, when you can see the legs of a piece of furniture, or you see free space under a cabinet, your perception of space expands. Hence, it is no surprise that Yasin opted for a floating TV cabinet that matches the design of the crockery unit. What's more, these two cabinets have a wallpaper finish, which makes them very affordable. Moreover, even the centre table has clearly visible legs that enhances the sense of space in this area.
Tip for Homeowners
Wall-mounting furniture like pooja units or shelves for storage will save you plenty of floor space to utilise in other ways.
#4: Reflective finishes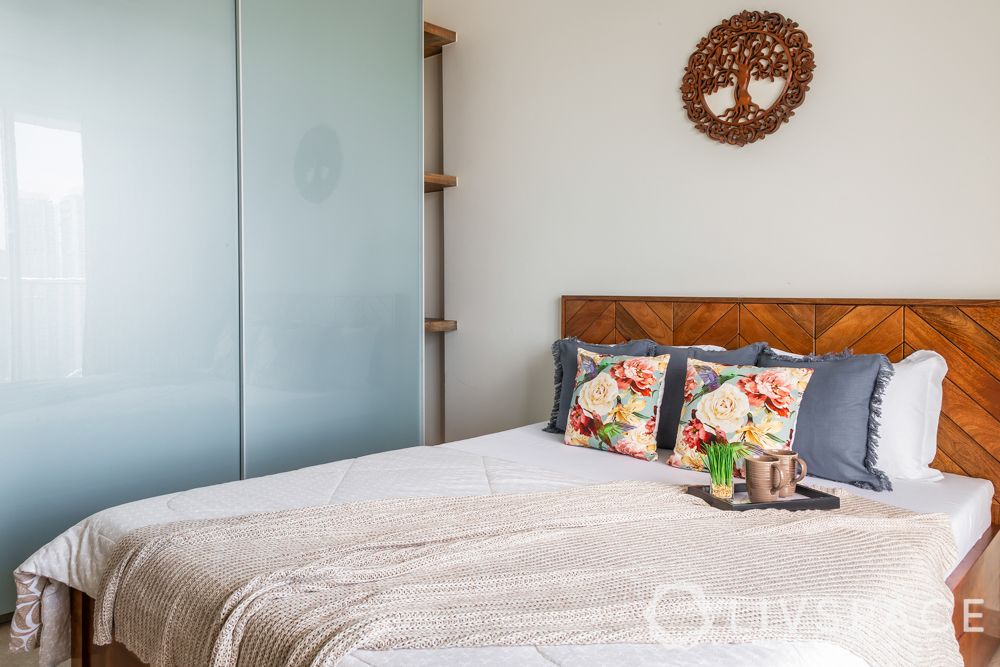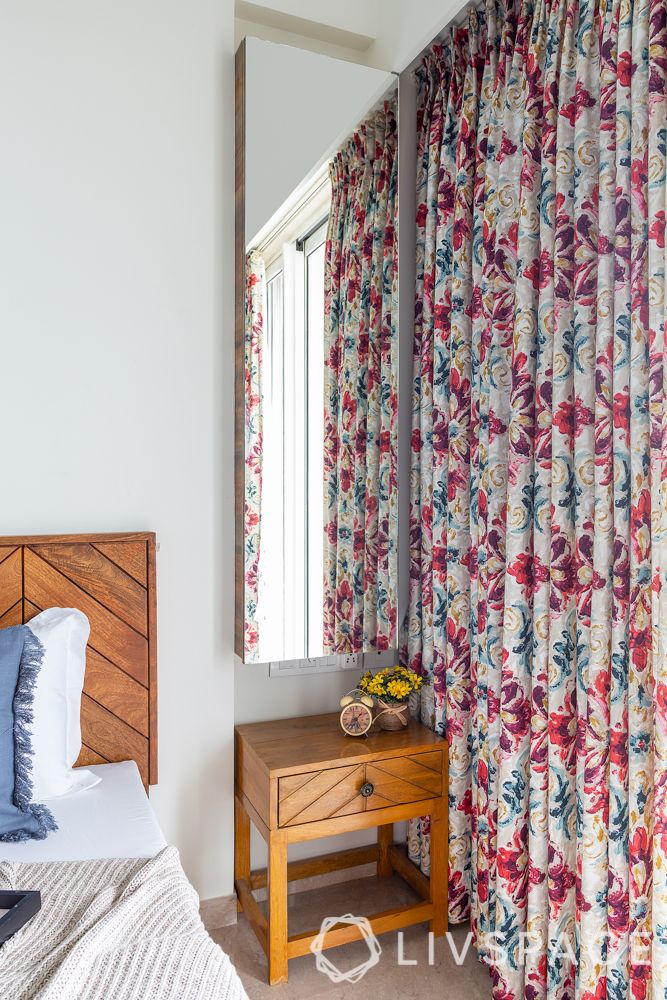 The kitchen in this home design interior project posed an unique challenge. Not only was it small but the entire layout was parallel, which made it look more cramped. Yasin went by the book for this one. He suggested high-gloss laminate in a fiery red colour to make the kitchen look larger than it is. A lighter shade cloud can make the kitchen look roomier but the Nayaks had set their heart on this vibrant red. Yasin compensated by keeping the backsplash simple with just one patch of Morrocan tiles.
Tip for Homeowners
When space is scarce and you have to choose a finish, always opt for glossy and reflective ones. It naturally enhances the sense of space.
#5: Using vertical space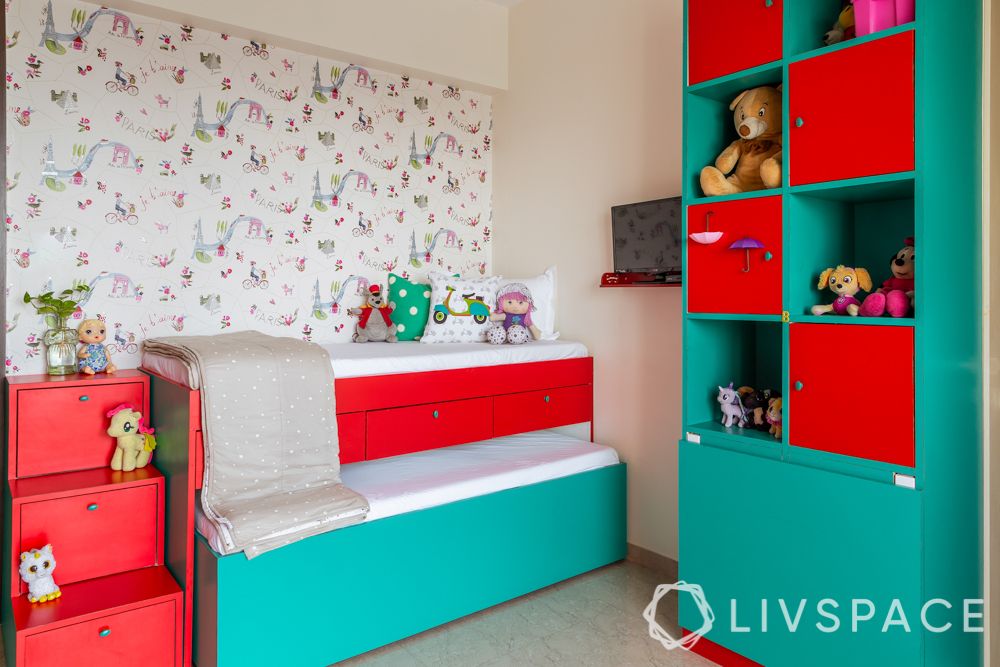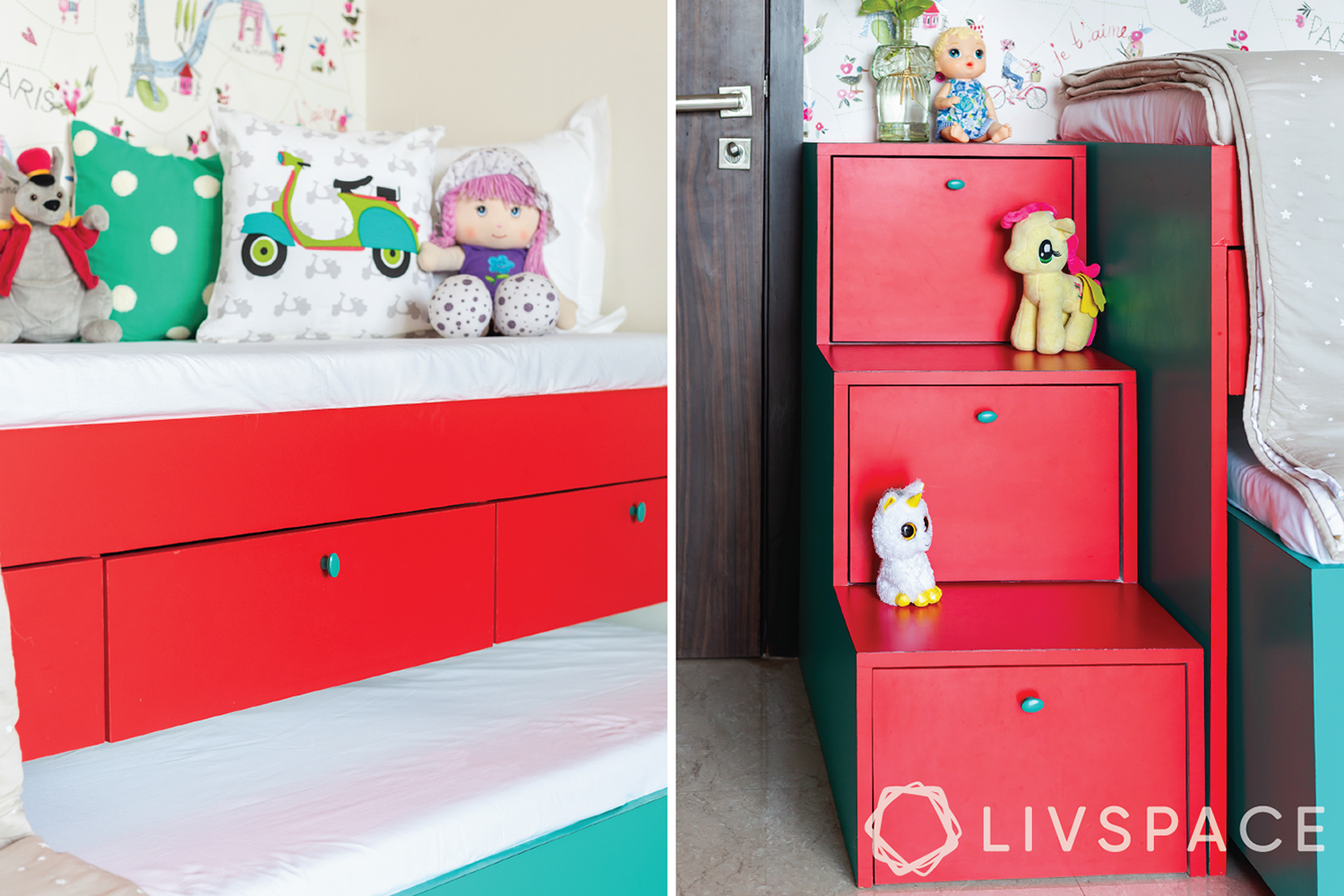 "When you don't find space around you, look up" says Yasin! But he isn't talking about divine intervention; just smart design using vertical space. The daughter's bedroom in this home is a classic example of using a vertical space right. The bed here is a tall trundle with a pull-out bed and storage underneath each one. There is also a stack of steps with hidden storage and a full-height shelf with a with a pull-out study table
Tip for Homeowners
There are different ways to use vertical space. You need to choose the combination that best suits your needs.
Designer Speak
"The Nayaks were a very sweet couple. They had some ideas about the colour scheme of their home but left the design details to me. When you get that kind of creative license from the homeowners, the outcome is always great!"

– Yasin Shaikh, Interior Designer, Livspace
Yasin has also designed this 3BHK that is a potpourri of styles fitted into compact space. Do explore this home too for more ideas!
Send in your comments and suggestions.