Most of us have sighed dreamily at images of Shah Rukh Khan's plush mansion, Mannat, or Amitabh Bachchan's house, Jalsa. We all dream about living in luxurious homes, not unlike the ones that A-list celebrities have. For the majority of people, however, luxury mansions in bustling metros tend to remain fantasies; indeed, we would probably have to sacrifice our firstborn and sell both our kidneys before we have enough at our disposal to make that dream home happen! But what if we tell you that luxury can also be low-cost? Unbelievable, right? That's exactly how we felt when we first stepped into Dr Prabhat and Dr Harpreet's budget home in Gurgaon.
The busy doctor couple were very clear about their needs — lively colours, clutter-free design and a plush look but on a budget, with minimal involvement on their parts. We got in touch with our designer, Niriti Negi, to know her secrets behind designing this home. And these were the 4 tips she revealed.
#1: A wooden lookalike finish instead of solid wood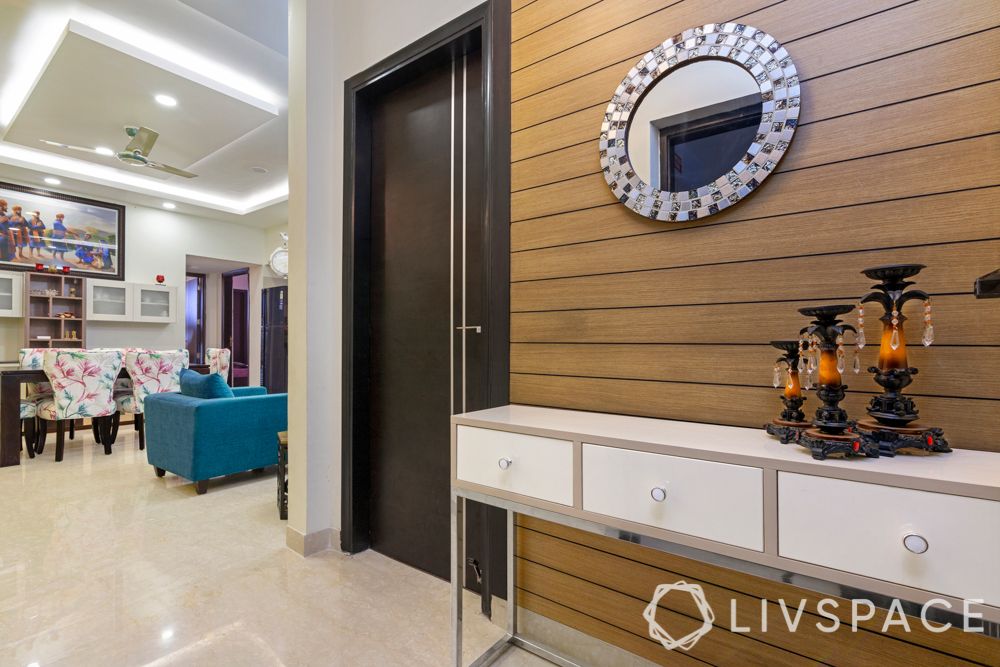 Traditional and old school, wood is a must-have for your home interiors. But it's rather expensive, isn't it? So how do you fit wooden elements in a low-budget home plan? Niriti shows you how! Notice the classy wooden wall in the foyer? Would you believe that it's not actually wood but just a wood-like laminate? By simply opting for laminate strips that look like wood, Niriti ensured a sophisticated look that is low cost.

#2: Jaali for a touch of glam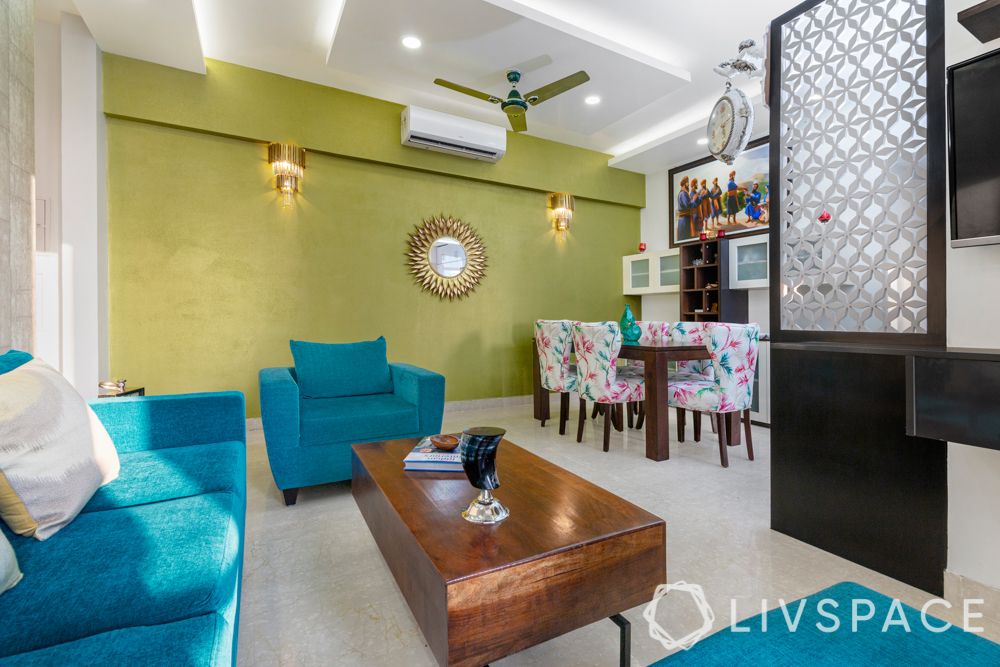 That the jaali can add beauty to a space is a well-known decor idea. Be it as a partition or for a pooja room, the jaali can take your interior design to the next level. And if you are looking for budget home design tips, the jaali can be a lifesaver! Jaali decor comes in a variety of designs and materials, ensuring that you can choose something that fits your budget. And the best part? Just a simple jaali partition can unmistakably glam up the entire room. Niriti added this jaali partition to segregate the living room from a passage leading to the private spaces.
#3: Trendy false-ceiling designs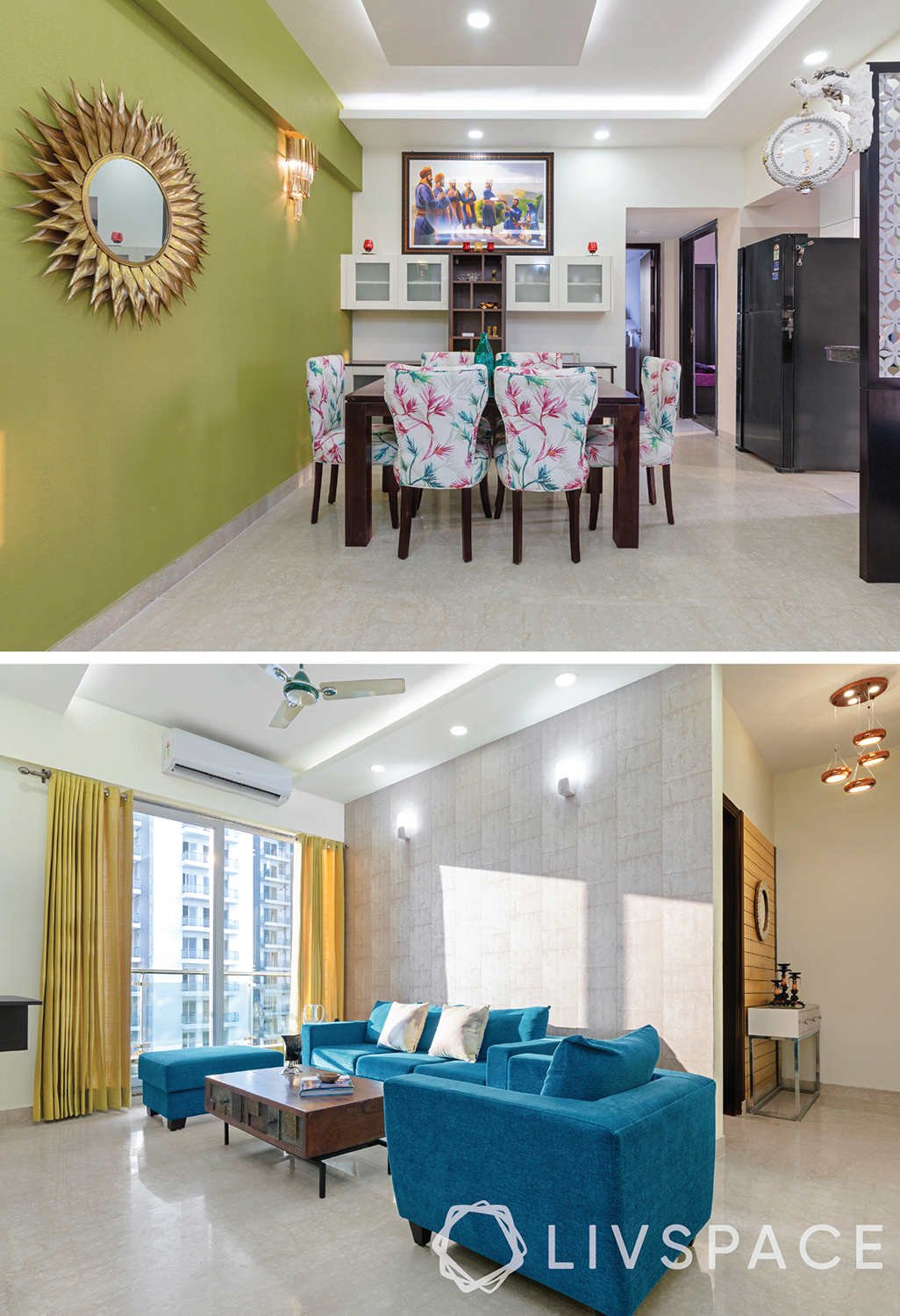 Modern homeowners are increasingly opting for false ceilings due to the luxurious and hotel-like look they offer. One question, though, that makes most people hesitate and ask is — aren't false ceilings expensive? They don't have to be! The cost of a false ceiling depends on the design and the material used. A simple false-ceiling design will keep the costs low while also looking stunning. You can also add a few spotlights and recessed lighting, like Niriti did, to maximise the brightness of the room.
#4: An elegant colour palette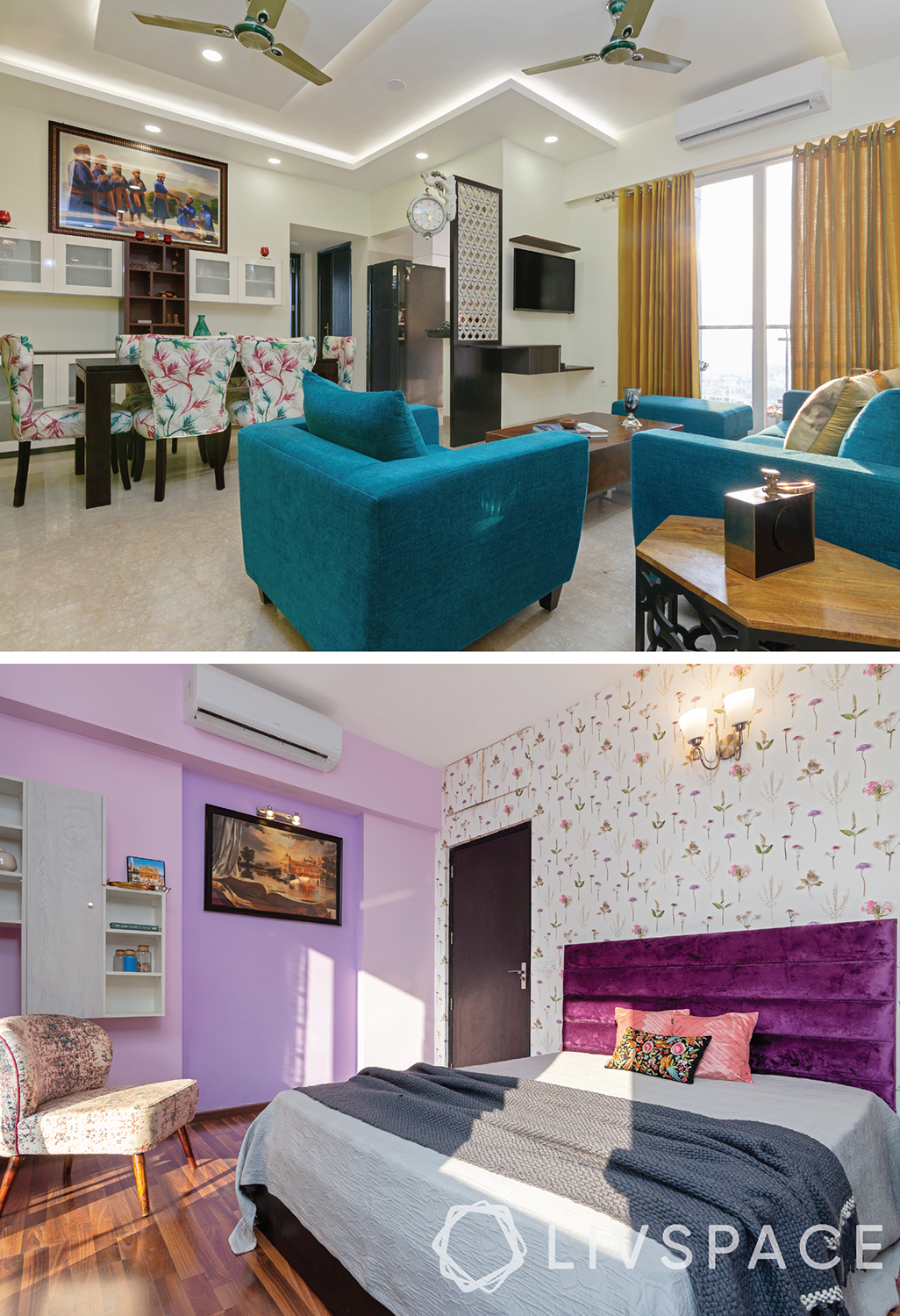 And last but not least, consider the colour palette. When you are designing a budget home, the colours you choose can be your biggest advantage in creating a plush look. Prabhat and Harpreet wanted bold and happy colours for their home. Be it the sea-blue sofa in the living room, the olive green accent wall in the dining area or the dainty lavender walls in the master bedroom, Niriti doused the home with lovely colours without compromising on elegance.
By following these 4 tips, you too can design a budget home and make it look plush and luxurious. Liked this article? Check out these 3 tips that will help you make a small home look spacious.
We love hearing from you! Write to us with your comments and suggestions at editor@livspace.com