Designing the interiors of your home can be daunting. However, when you have a 2+2BHK, you tend to become all the more jittery about getting the right design for your home. Such a home design is made by combining two flats to create one spacious home.
So when the Sanghvis decided their 2+2 BHK in Mumbai deserved a new lease of life, they decided to renovate it in parts. And how did the journey to getting the perfect 4BHK flat design become easier? When they found a like-minded designer in Vidhi S at Livspace, of course!
Amit and Ami Sanghvi approached Livspace with a basic brief, which allowed Vidhi the freedom to create something truly unique for their home. So, despite being doused in warm neutrals, this home is jazzed up with its share of metallic accessories.
What we loved about these pieces is the fact that they tie in with the decor seamlessly like they always belonged in the home. And if you're a huge fan of metallic elements but wary of using them in your home because you can't find the balance, take a look at this home that does it right!
What's immediately visible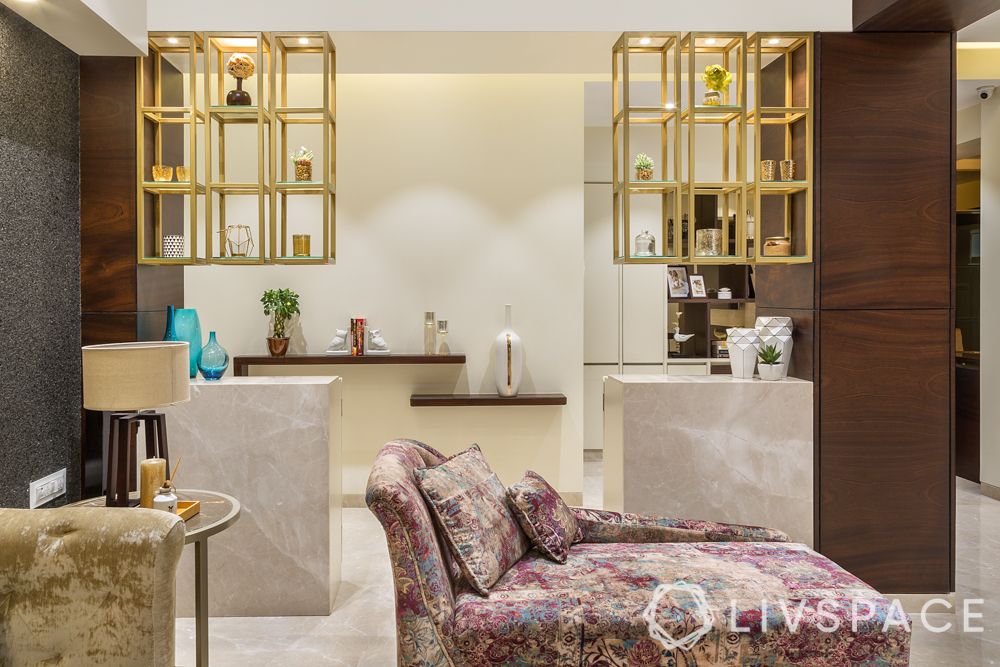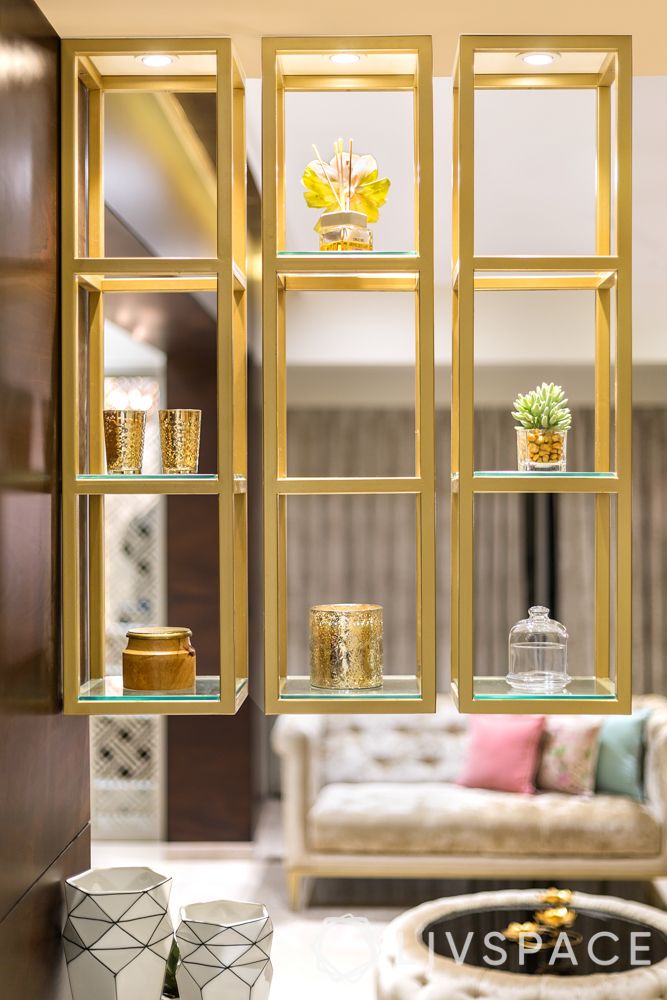 Vidhi added these pretty bronze-hued display shelves to their 4BHK flat design. This expert opinion segregates the living room from the foyer and provides ample space to show off accessories.
Considering that the living room is filled with neutral hues, the bronze shelves add a muted punch to the space. However, this only adds to the elegance of the space. Don't you think it looks perfect?
Also Read: 35 Creative Wall Shelf Designs for Your Home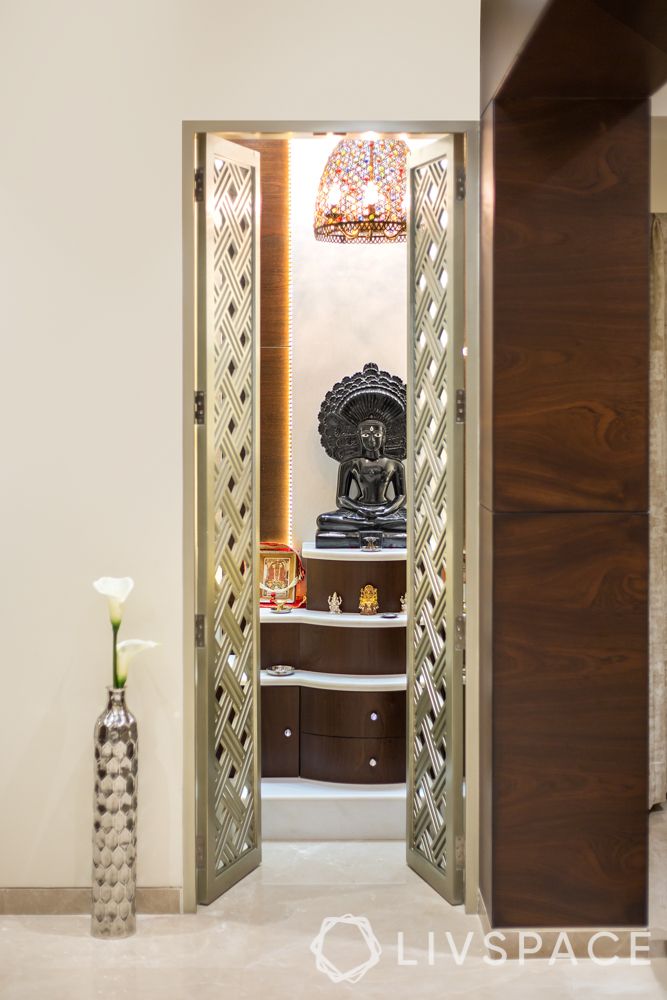 Your space of prayer deserves its fair share of shine, and this pooja room with jaali doors is a perfect example. Amit and Ami were keen on intricate jaali doors, so that's what they got! Amit and Ami wanted the design to come complete with a coat of paint in oxidised silver, so that's what they got. Against a neutral backdrop and a black idol, the subtle shimmer of these doors makes them stand out. And the best part—it doesn't take attention away from the idol either!
The subtle elements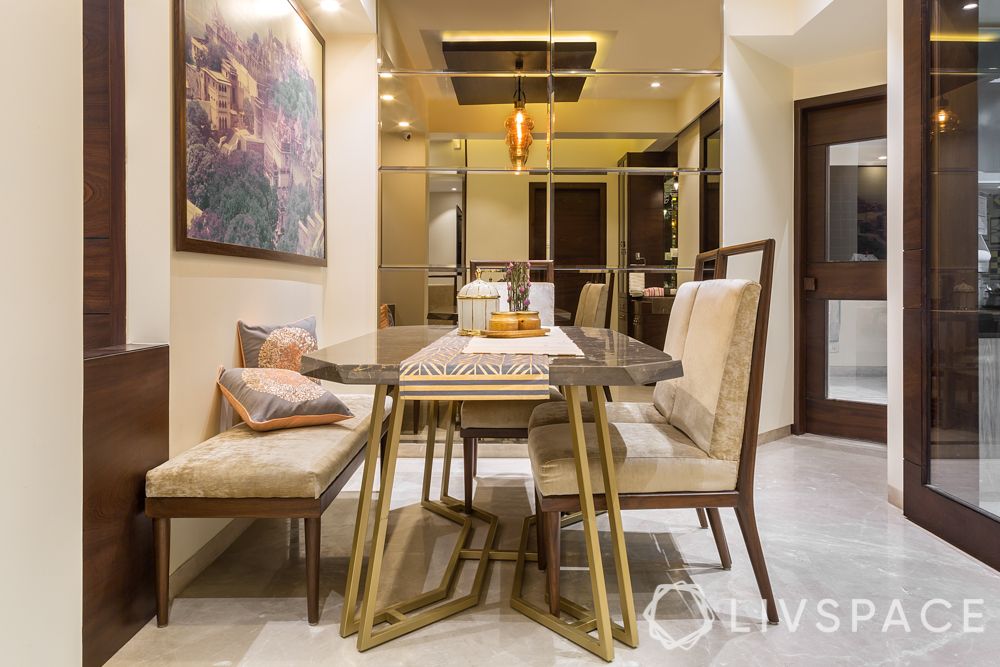 If you're planning to use metallic elements in your home, you must know that not all of them can be the centre of attention. You can use some pieces that are not even immediately visible. If you're wondering how that makes a difference to your interiors, check out this dining table in the Sanghvis' 4BHK flat design. A subtle golden tinge on the table's legs makes it intriguing. However, the pendant lights shine softly on the metal tones, drawing your attention to it ever so subtly!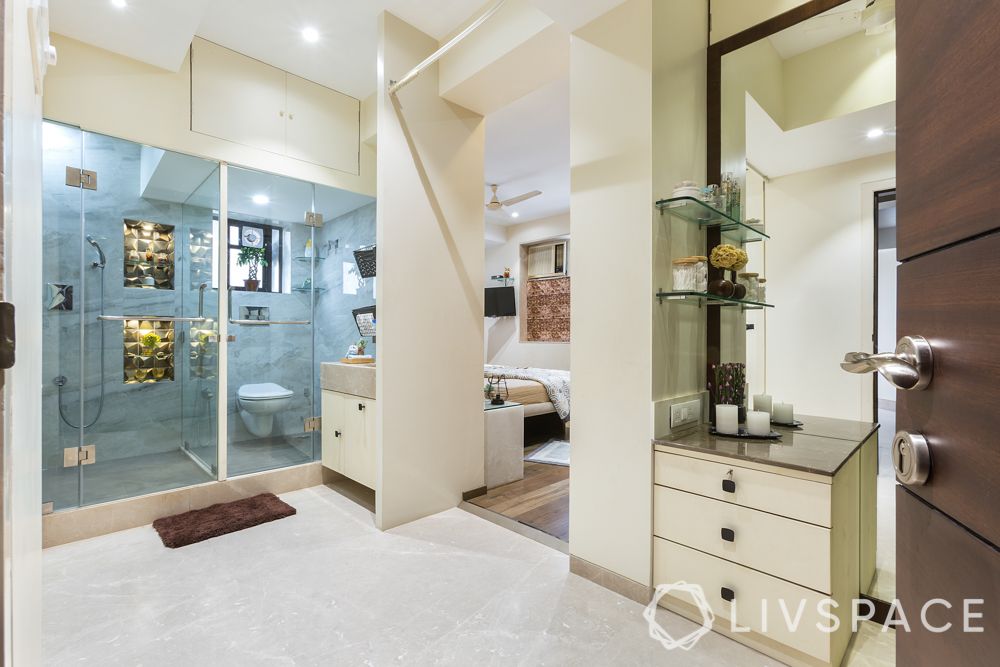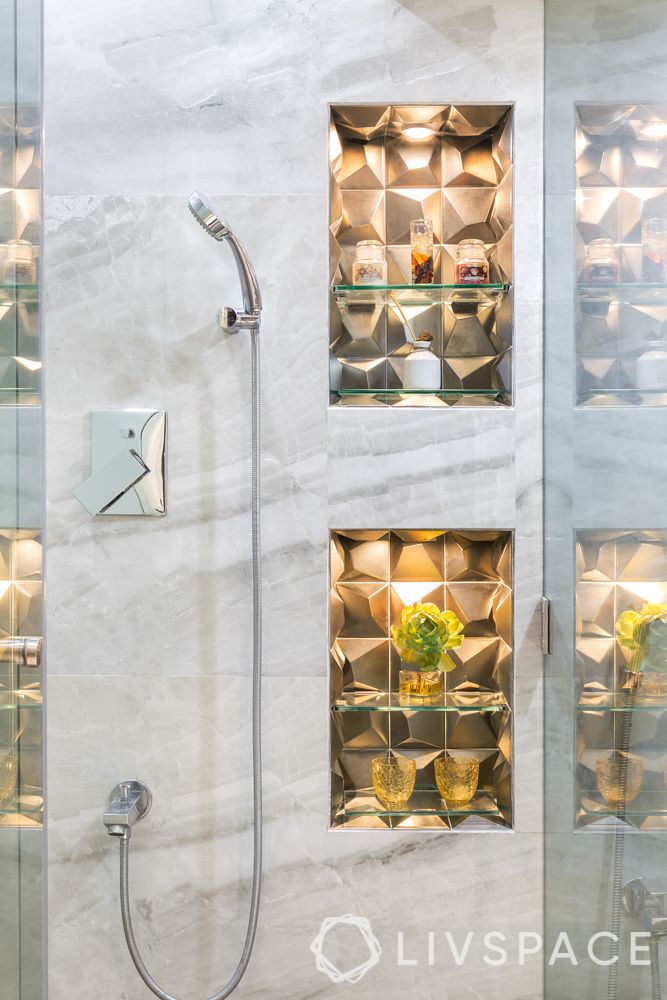 If you thought metallic elements could never fit into your bathroom, you're in for a surprise! The bathroom in this 4BHK flat design comes with neat niches to store toiletries. 3D tiles bring this unique feature to life. It's off-beat, but it can make storing your bath essentials interesting while brightening up the space simultaneously!
How to use metal accessories in your home?
Metallic elements in clean lines add the much-needed sparkle to your home. What's more, cleaning it up is a breeze! Moreover, you don't have to struggle with maintaining these elements. However, if you're wary of using metallic elements at home because you're afraid of overdoing the glitz and glitter, we understand completely.
And that's why we put together some pointers for you to decorate your homes with just the right amount of shimmer.
Find the right amount of metallic accessories you can use in home decor without going overboard. Livspace designers suggest 10% of metallic elements in the entire home. This allows you to break the monotony of design, and make a space look elegant.
Choose the right background. You can opt for warm neutrals, wood, or even black. You can decide on this based on whether you want the element to be immediately visible, or make a subtle difference to your home.
If you want to add metallic hues to your bathroom, you can opt for toilet fixtures in such tones. Alternatively, you can opt for taps and shower heads in such colours. Leaning away from the standard stainless steel fixtures will make your space look unique.
Love the metallic elements? Check out the Sanghvis' full home!
How can Livspace help you?
Our team of seasoned and creative designers is ready to collaborate with you to bring your vision to life. Whether you aspire to replicate the exact ambience of this space or desire a bespoke design tailored to your preferences, Livspace has you covered.
With a flat 10-year-warranty, 45-day move-in guarantee, and easy EMIs Livspace is a platform service that includes personalized design consultations, life-like 3D rendering to visualize your dream home, efficient project management, and seamless installation. We understand the importance of every detail in creating a home that truly reflects your style and personality.
Book an online consultation with Livspace today. To know how our customers feel about working with us, check out these Livspace reviews for more details!