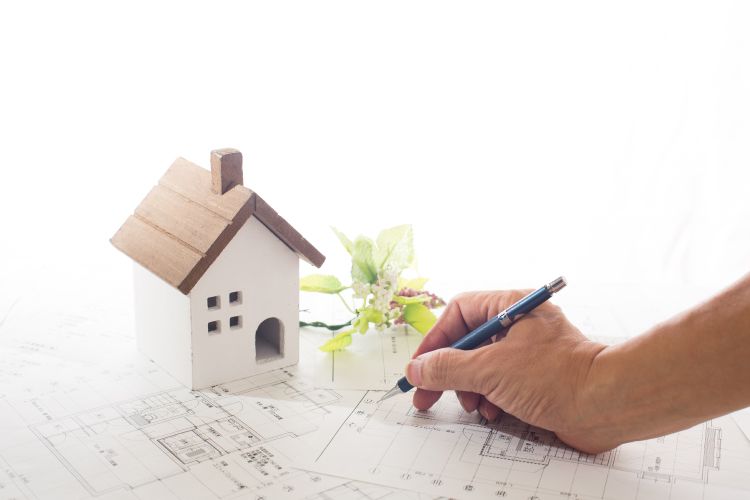 When you speak of interiors, many homeowners have a mix of excitement and worry at the same time. The glitches and bottlenecks in the process have delayed and sometimes even brought the whole process to a halt, leaving them tired and frustrated. Here are some interior design issues that can help you prepare to avoid or troubleshoot.
Interior Design Issues #1: Hiring the Right Designer
While you fight these thoughts in mind, you might decide to compromise and settle on an average experience. We know how stressful it is to make the right choice which caters to your every need from aesthetics to the finances.
Solution: Here is a checklist that will help you weigh your choices and make the right decision.
Interior Design Issues #2: Tastes and Preferences
Does this sound familiar? Many couples try to convey ideas like this. And, if it is a family of four or more, we're sure the chaos is endless especially with respect to the common rooms like living and dining. Everyone loves to get their favourites in the home they call their own.
Solution: Know what you and your family members have in common and love the best, and plan your interiors accordingly. Look for inspiration from various sites like Pinterest for it before you meet the designer. But make sure you don't go looking for more once you've come to a conclusion. It just adds to the confusion.
Interior Design Issues #3: Finance and Costing
So the process comes to an abrupt halt as you fight through all odds to get an alternate source.
Solution: It is said that on an average, people spend 10% of the project cost on their interiors. While this should suffice, we recommend you set aside a buffer amount to cover contingencies. Ensure you have an alternate source too, just in case. You can also avail an EMI option with companies like Livspace. You may never know what you'll decide to add to your interiors or how the prices vary as you dive deep into the design.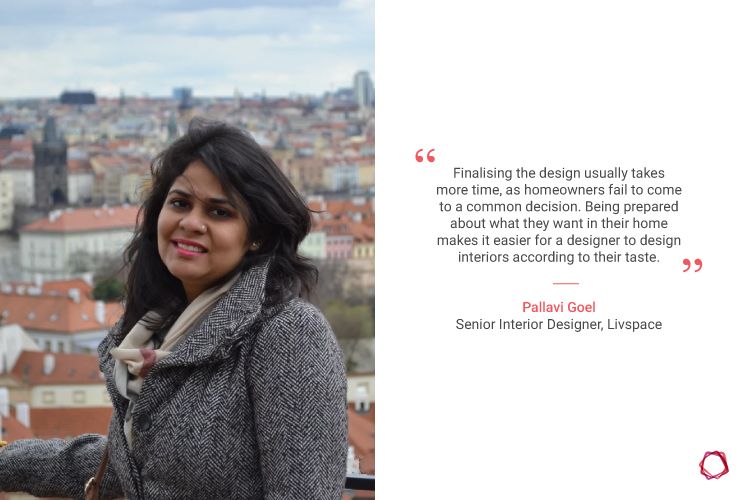 Interior Design Issues #4: Materials and Quality
Now you debate with your designer about the difference but it seems to be too late. You have no choice but to wait for another couple of years to change your interiors.
Solution: Swatchpads and samples can help you decide on the actual colour of the material as opposed to 3D renders. When in doubt, compare the sample with another shade of the same family to differentiate. Also a written warranty on the durability can save you time and money.
Interior Design Issues #5: Builder's NOC
Many apartments today, have a definitive floor plan with plug points and pipelines intact. This makes your designer's job a little tough as they are not at freedom to tweak the design according to your taste.
Solution: Get an idea from your builder about the flexibility of civil work, electrical and plumbing. If the builder doesn't agree, inform your designer, so that they need not change the plan in the end.
Interior Design Issues #6: Execution and Installation
This is a familiar panic situation among homeowners, which may cause some chaos. Materials don't reach the site on time, the workers delay the progress, and most importantly, there might be damage to walls and other interiors. While you fret and run all over the place looking for the right explanation, the problems don't seem to cease anytime soon.
Solution: A weekly progress report by the supervisor and a written statement of the timelines can save you the running about. Check if the company provides deep cleaning services once the work is completed.
It is better to be prepared than to experience unexpected setbacks. Make the process seamless by watching out for these bottlenecks. Despite all the preparedness, there are plenty of chances for things to go wrong. What you need is a reliable interior design partner who exhibits ownership of their misses and responsiveness to your concerns to make the process as stress-free as possible. Choose wisely and enjoy the process of setting up your dream home!
If you're a new homeowner, this checklist should also help you out.
— editor@livspace.com