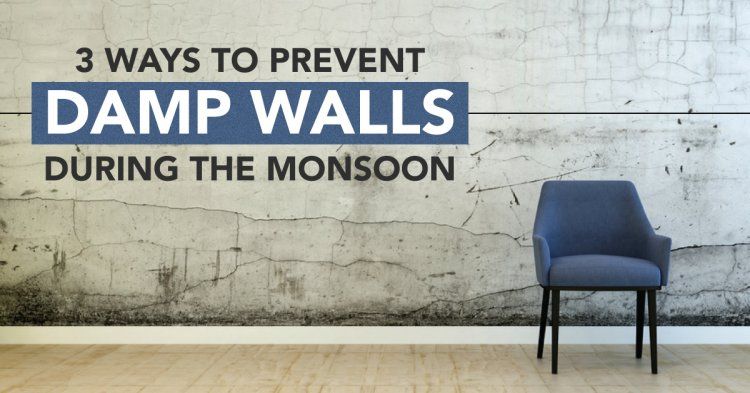 Numerous Indian homeowners complain about damaged walls with the onset of the monsoon season. To prevent damp walls is an all-important task meant to be completed before leakage due to the rains wreak havoc on homes. During the rainy season, moisture seeps through the exteriors of the house and causes damp patches on the internal walls. This results in peeling paint, leakage, mould, fungus and also makes your home feel cold and dank. Often, these patches remain long after the rainy season has passed.
Prolonged exposure to moisture can do serious damage to your walls and to the structure of the house, so it's essential to prevent damp walls effectively.
What Causes Damp Walls?
Moisture from the ground can rise above ground level and damage walls
Splashing rain water can cause walls to dampen
Sloping roofs can collect water that can percolate into the home and cause cracks
Blocked drainage pipes can collect water and cause damp walls
How to Prevent Damp Walls?
Here are three quick and easy ways to prevent damp walls:
Check for any Cracks in the Walls and Seal Them
Over time, the walls of your house can develop cracks, which typically start near the door and window frames. These cracks allow moisture to get into the structure of your building and cause damp patches and wall seepage. All these gaps need to be filled with crack-fill putty. Once the gaps and cracks are filled, all the loose plaster must be removed and the wall repainted. Just make sure you do this before the monsoon starts.
Waterproof the External Walls and Roof
Many exterior paints used on buildings are permeable and allow water to seep from into the interior walls. To prevent water seepage in walls, exterior waterproofing coats are required to be applied on the external walls. A waterproof coat will create a barrier to the rainwater and moisture, and prevent damp walls in your home.
Waterproofing the roof is just as crucial. The terrace is exposed to harsh weather conditions and water easily accumulates on the surface, resulting in leakage and damp patches on the interiors. Roofs should ideally have a waterproof roof coating that acts as a sealant and prevents seepage of water.
Install a Damp-proof Course
Sometimes you will notice wet patches all along the lower portion of your walls, close to the skirting.
A damp-proof course is a preventive measure to stop groundwater from rising up through the walls of your house and resulting in wall seepage. In a damp-proof course, a preventive barrier of an impervious material (something that doesn't allow water to pass through) is constructed into the brick wall about 150mm above ground level. This prevents any moisture from the ground rising through the walls and causing damage.
Most buildings are usually constructed with a damp-proof course in place. However, if you've noticed damp patches on the lower portion of your walls, the course may need replacing. This is an intensive job that needs to be done right. Therefore, it's best to get a professional to evaluate the damage and replace the damp-proof course if necessary.
Remember to keep your home well-ventilated during this season. Take quick steps to remove any mould or fungus on walls due to rain as their presence can cause respiratory issues. If you notice excess moisture or deep cracks in your walls, consult a professional immediately to prevent damp walls.
What is Guniting and Pressure Grouting and Why Is It Important?
Guniting: It refers to the process of spraying a layer of concrete mixture onto pipes and walls, making it waterproof.

Pressure Grouting: This process refers to applying a mixture of cement and sand with a jet into cracks, voids or fissures present in a structure.
ALSO READ: Get your home monsoon-ready with these 8 simple steps.
How Can Livspace Help You?
We hope you found our ideas useful! If you are looking for aesthetic and functional interior design solutions, then look no further. Book an online consultation with Livspace today. Delivering safe home interiors has been our No. 1 priority. Click here to find out how interiors are being delivered following all safety protocols.
Did we miss out anything? Let us know at editor@livspace.com