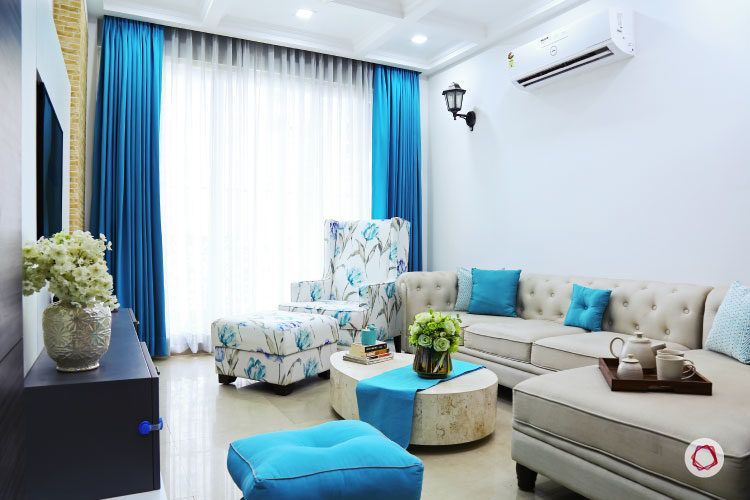 ---
Who livs here: Piyush Arora with wife Nidhi and 1-year-old daughter Samara
Location: Great Value Sharnam, Sector 107, Noida
Size: 3 bedroom apartment spanning 1,800 sq ft
Design team: Interior designer Shikha Agarwal and project manager Nilutpal Baruah
Livspace service: Living area and master bedroom
Budget: ₹₹₹₹₹
---
Upgrading from a rented apartment in Noida's sector 17 to a spacious three bedroom apartment of their own in the prominent Great Value Sharnam in sector 107 became a necessity for the Arora's with a growing family. Livspace designer Shikha Agarwal made this journey easy and beautiful for them thanks to her impeccable taste.
Their brief had a huge emphasis on creating a safe, child-proof space since Samara loves prancing about and Piyush and Nidhi were concerned about sharp, protruding edges. The rest of the home is splashed in a nice mix of cool blues and warm woody tones toeing contemporary aesthetics.
When Shikha met Piyush, a country manager for a pharmaceutical firm and Nidhi, who previously used to work at the Embassy of the Kingdom of Jordan, she knew it would be a breeze to work with the easy-going couple.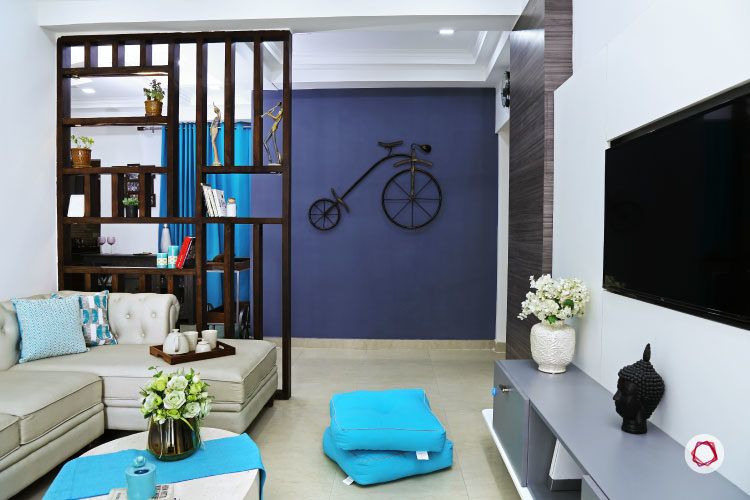 ---
Cool blues and shades of ivory welcome you into living room that has a host of intriguing accent pieces.
---
As you walk into this sprawling apartment, a sense of calmness encompasses you. Snowy cerulean hues run through the living room, while plenty of seating options and a streamlined TV unit make for an elegant space to entertain.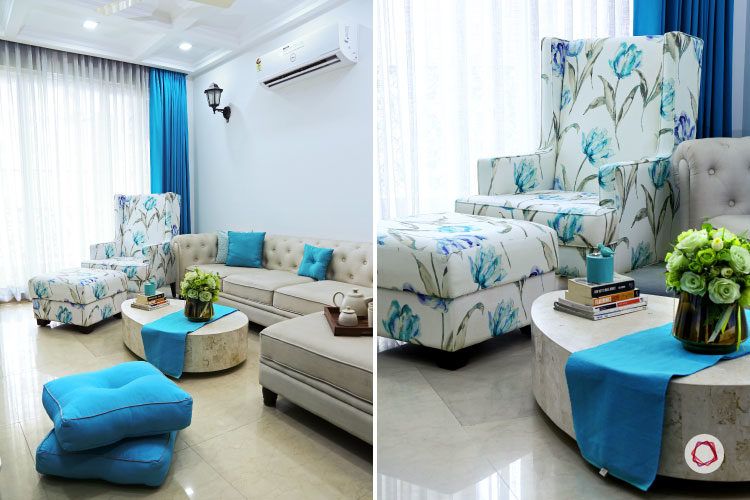 ---
Colors of the ocean come alive in this impressive corner thanks to the floral accent chair and ottoman pair.
---
Sometimes, a single piece of furniture can make or break a room. The wingback chair and ottoman pair instantly grabs our attention. Piyush lets us in on a secret; the quiet corner was made to encourage Nidhi to read. Piyush hopes the mother and daughter will be able to spend some quality time on the cozy chair.
The false ceiling has copper slabs and lights. The pearly white walls are complemented by dreamy blue and white drapes that transport one to a pristine beach with white sand.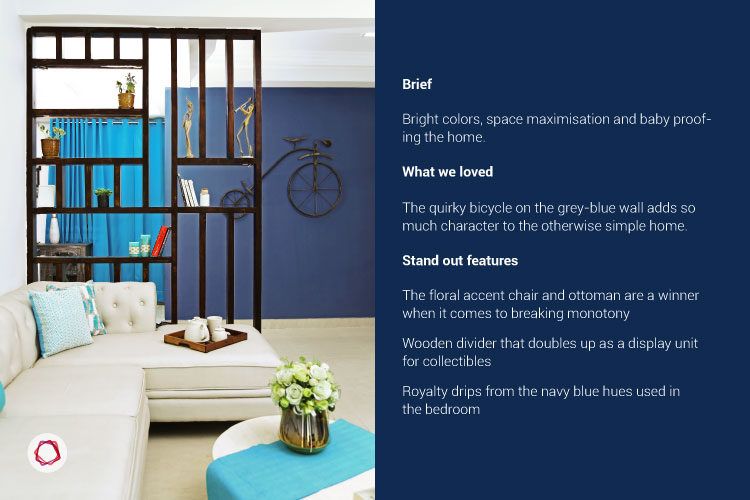 ---
The greyish-blue wall features a bicycle that's a refreshing break from the rest of the walls. The wooden divider keeps things interesting and acts as a pretty shelf for odds and ends.
---
Every home deserves a quirky twist in one small corner, the only difference here is that instead of something small, the Arora's have gone big. Shikha felt that the wall at the entrance looked bare and unattractive. After a brainstorming session, it was decided that a penny-farthing cycle, which has a large front wheel and tiny rear wheel, would be installed to add oodles of drama.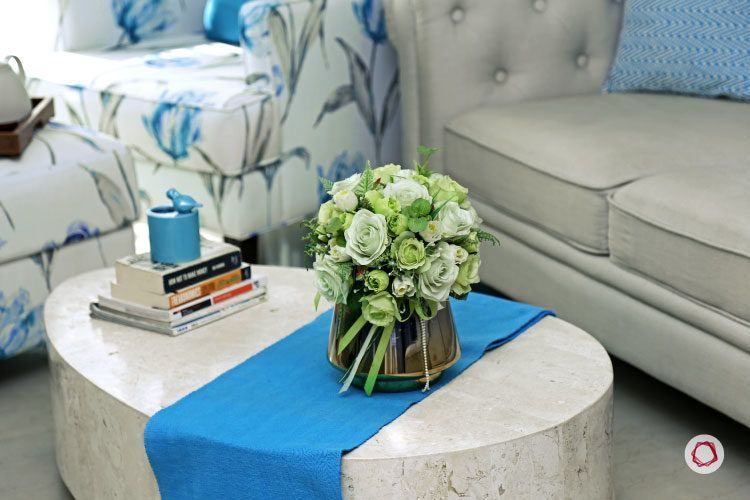 ---
Round edges on the egg shaped coffee table keep the toddler safe from sharp edges.
---
One of the worst nightmares for parents is seeing their kid bump into protruding furniture and getting injured within the confines of their home. Piyush and Nidhi wanted to make sure that Samara doesn't hurt herself while frolicking around the house. The egg shaped coffee table blends in seamlessly and poses no threat to the toddler. The plush L-shape Chesterfield is soft yet sturdy and allows Samara to jump on it.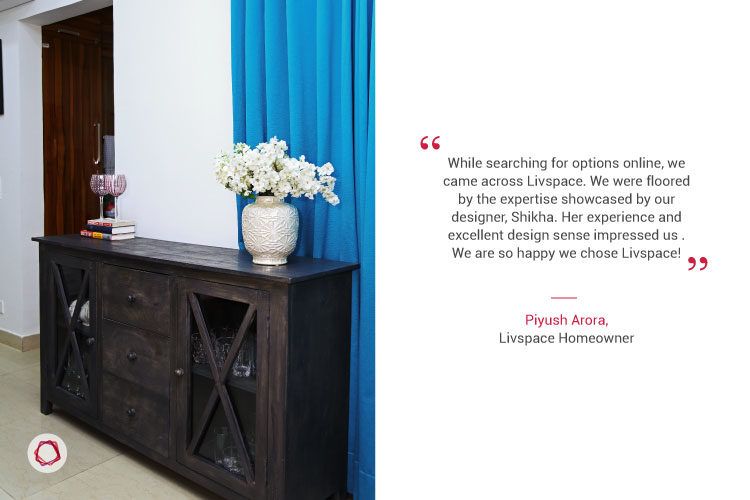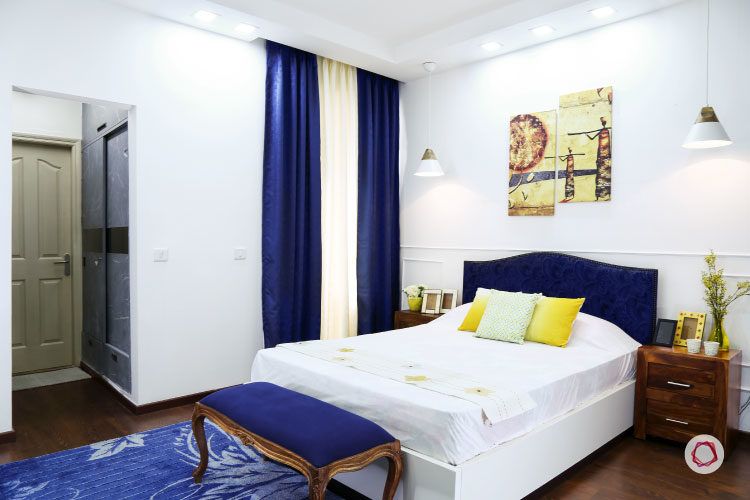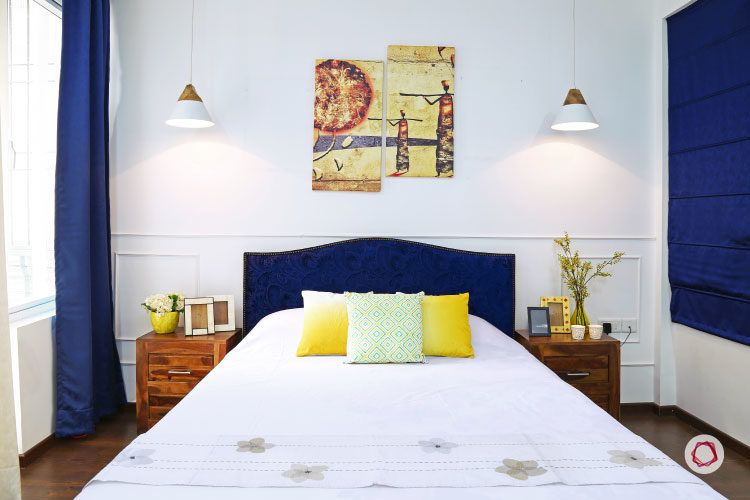 ---
Royal blue rules the master bedroom that has a bed adorned in pretty nailhead trims. Delightful pendant lights flank the bed.
---
The master bedroom is a reflection of the couple's taste. Their personality is resonated through the simplicity and elegance in the interplay of whites and royal blue. Pendant lights create the ideal ambience for some quiet time together. We especially love the French-provincial bench with curvy legs at the foot of the bed.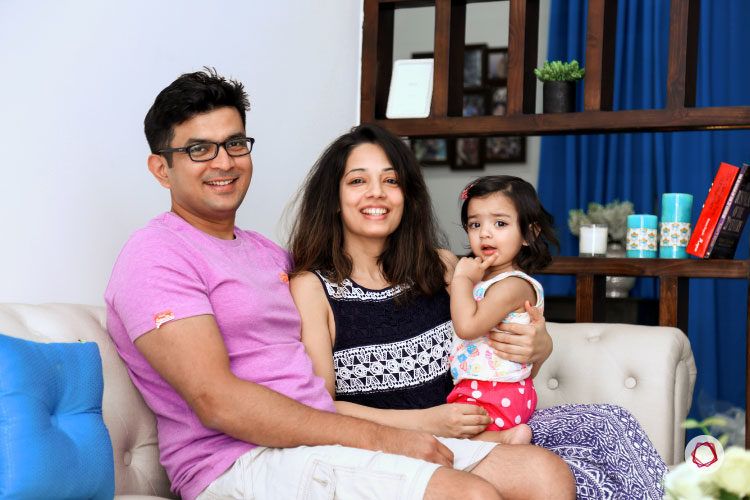 ---
"The Aroras are very warm people and were extremely easy to work with. They were very particular about the baby proofing bit. The other design details just kept falling into place. It was an absolute pleasure designing their home."

– Shikha Agarwal, Livspace Interior Designer
---