A simple and stunning home at Sunworld Vanalika.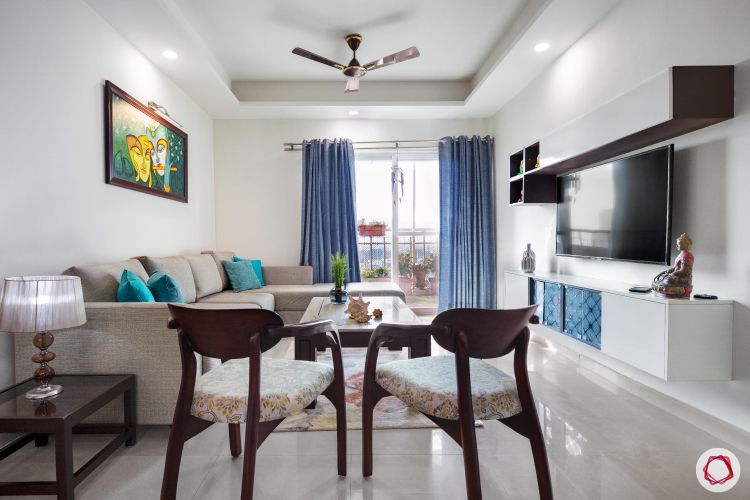 ---
Who livs here: Ankit Agarwal with his wife Madhuri Gupta, their son Idhant and his parents P.K Aggarwal and Anita Agarwal
Location: Sunworld Vanalika, Sector 107, Noida
Size of home: A 4BHK spanning 2,650 sq ft approx.
Design team: Interior Designer Ojasvi Gombhar and Project Manager Srijan Sharma
Livspace service: Full home design (kitchen not included)
Budget: ₹₹₹₹₹
---
Just on the outskirts of New Delhi lies Sunworld Vanalika, where the Agarwal family found their abode. A lot of factors like convenience and comfort, contributed to their decision to change their earlier residence. But, just one factor was enough to convince them to get their home designed — the wish to come back home to comfort and personal space. This working family has members who love having their own corners at home and individual tastes and preferences.
After a brief discussion with Ojasvi, their designer, they were convinced about going ahead with her. Thanks to her quick thinking and superb design skills, they were able to communicate their thoughts clearly. While Ankit and Madhuri wanted a splash of colour here and there, his parents were more inclined towards simplicity. Read on to find out how Ojasvi took this forward and made sure that the tiny one at home gets ample space to run around as well.
Sunworld Vanalika: A Charming Foyer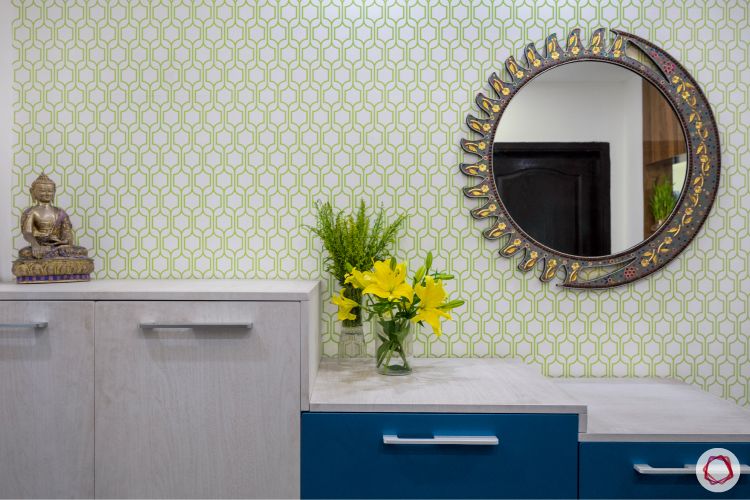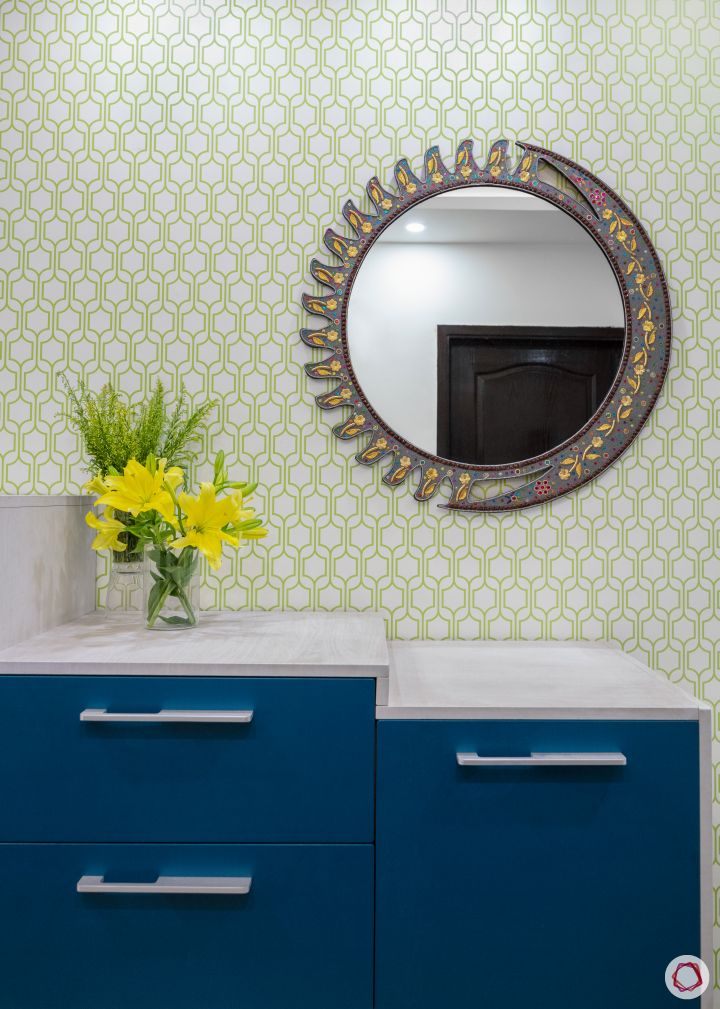 Ojasvi believes that the best introduction to a home lies in the hands of a great entryway. The foyer at this Sunworld Vanalika home features abundant storage that comes in the form of a shoe rack-cum-storage unit. A step-like design and sleek handles make it both beautiful and easy to use. A simple printed wallpaper acts as the perfect background for the statement accent mirror in this space.
Sunworld Vanalika: A Simple Living Room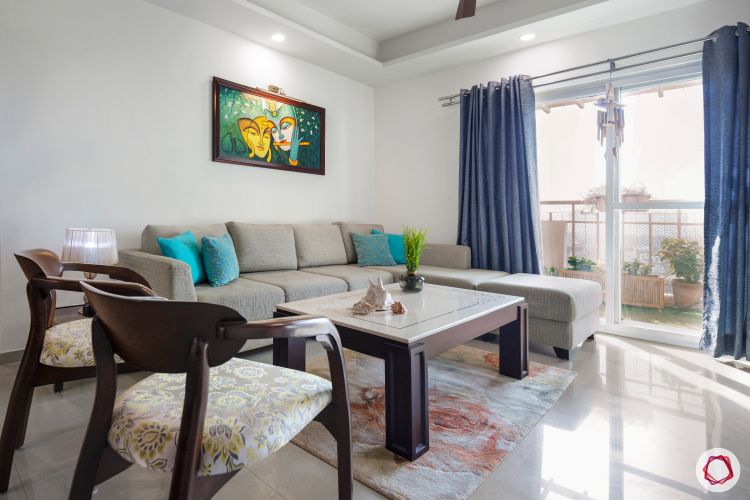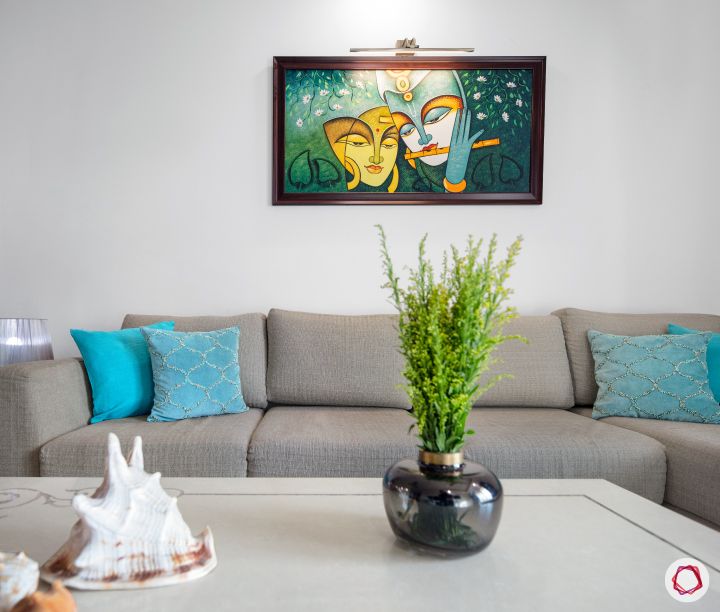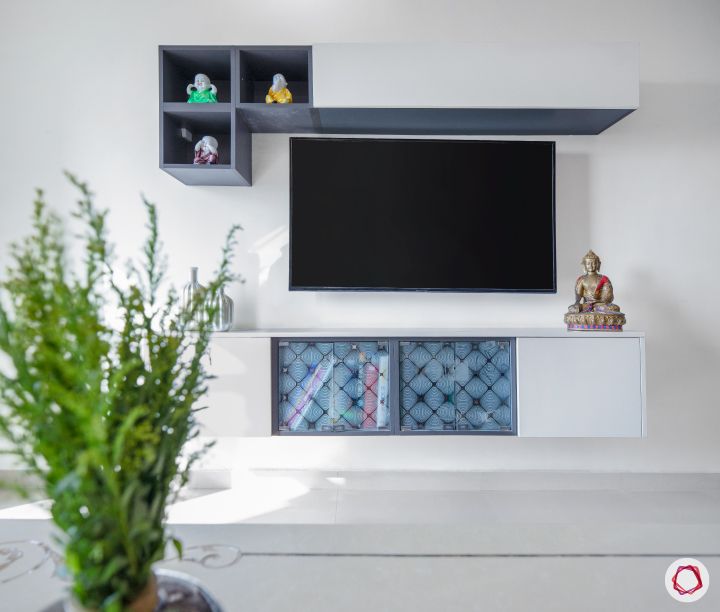 The living room at this Sunworld Vanalika home paints a simple but pretty picture in our minds. The moment you step in, the pristine white floor and sunshine seeping in through the balcony welcomes you. A subtle beige l-shaped sofa and a couple accent chairs take care of seating, while the centre table hold everything together.
This family was a little biased towards blue when it came to the common areas at home. Therefore, the TV unit is flaunts a classic combination of blue and white finished in glossy membrane. With push-to-open cabinets and a pretty frosted glass shutter, Ojasvi made sure that the toddler does not knock things down.
Sunworld Vanalika: A Flashy Bar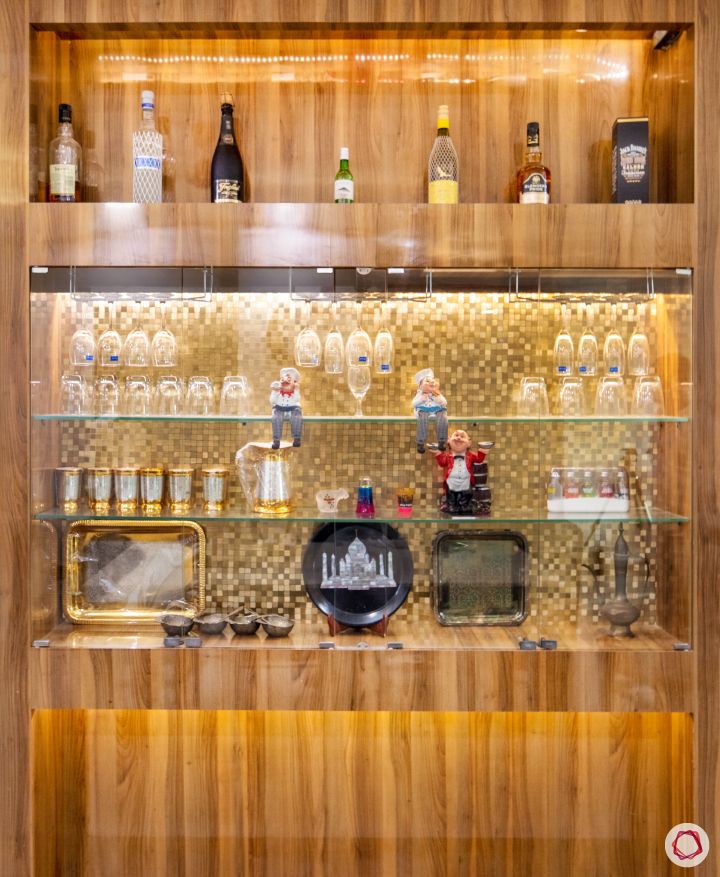 Since the family entertains a lot of guests, they were clear about having a full-fledged bar unit. Finished in laminate and accentuated by cove lighting, this piece is perfect to flaunt exclusive glassware. The family has also displayed some curios and collectibles that deserve a special place here.
Sunworld Vanalika: To the Open Skies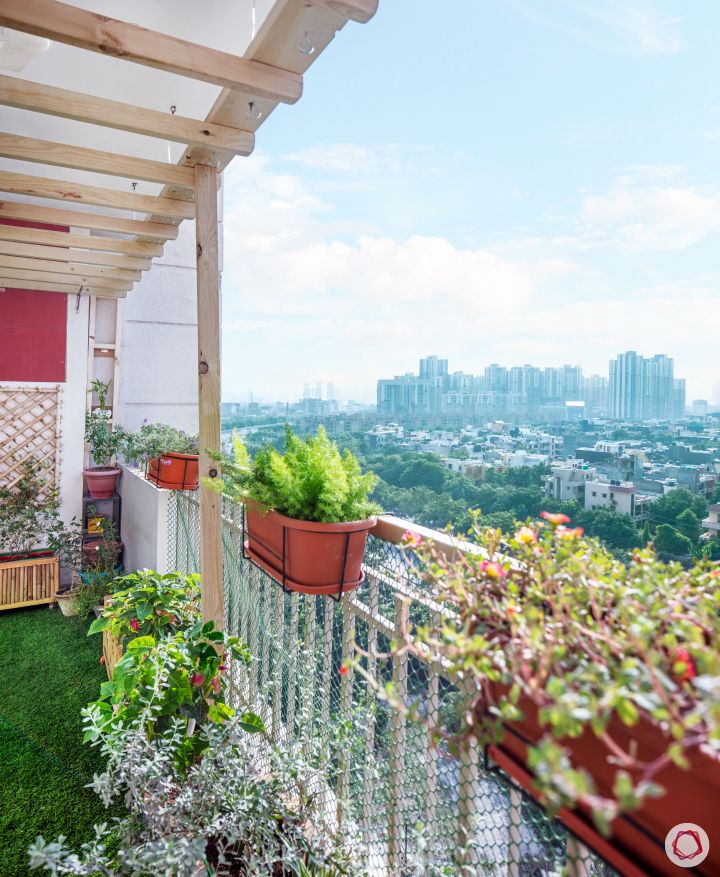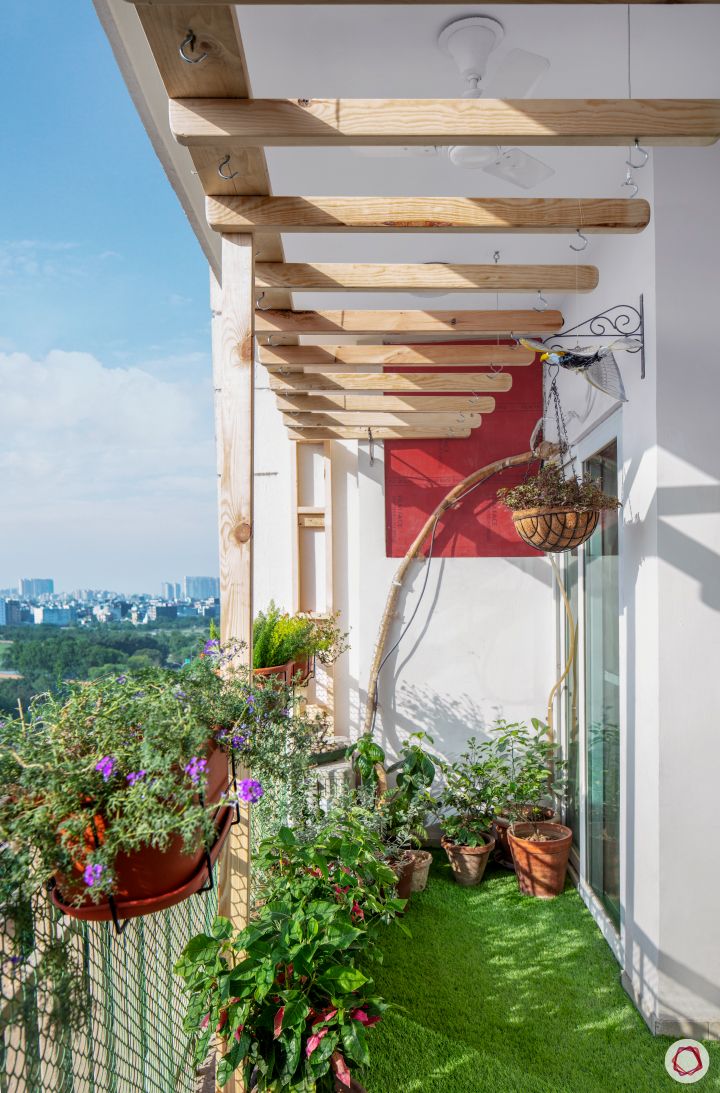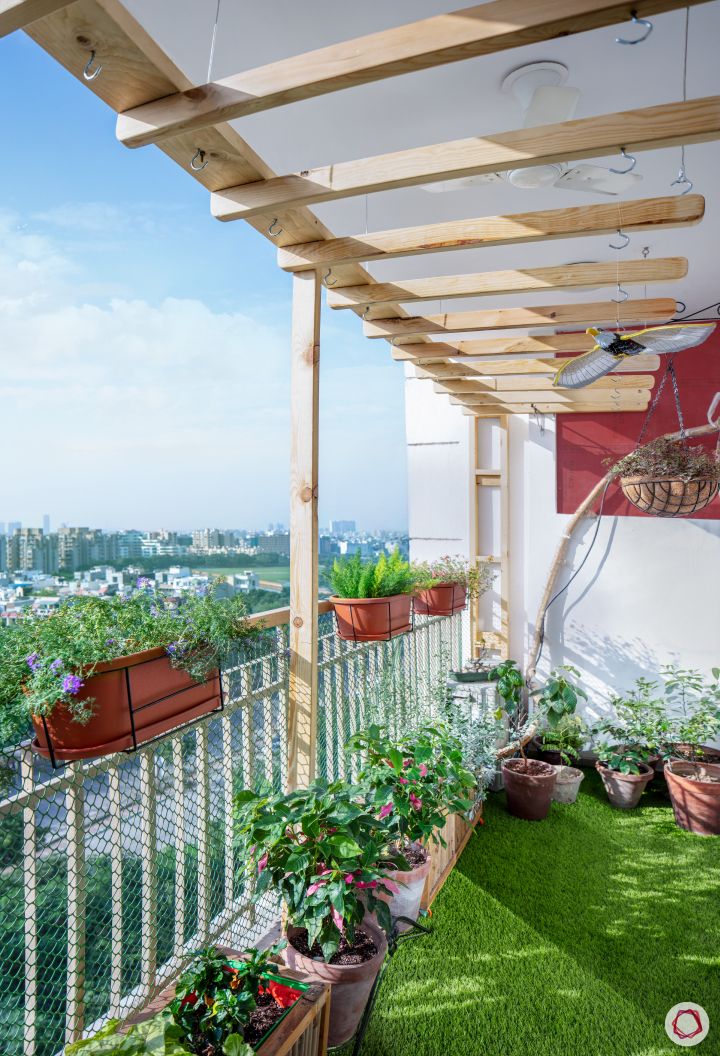 Nestled on the 10th floor of this Sunworld Vanalika apartment, the balcony offers a nice and breezy spot to relax in. Carpeted with artificial turf and spotted with ample planters, this is a green haven. It is essentially the highlight of this home, where get-together shift once the party gets started.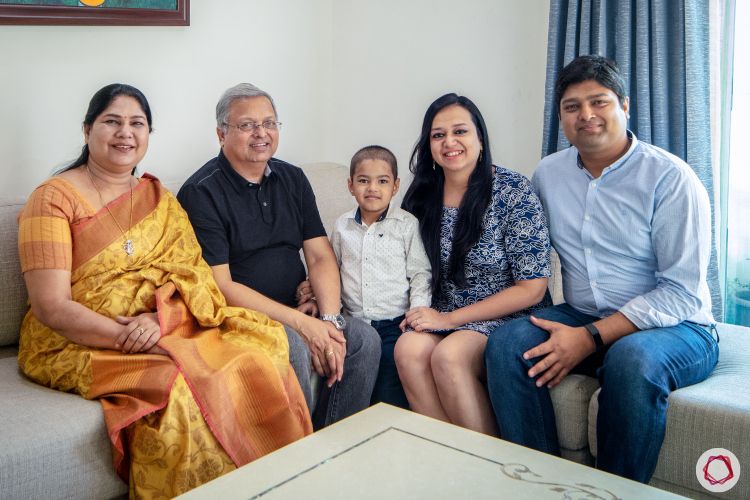 "We moved to a bigger home and had a certain budget in mind when we approached Livspace for designing our home. Ojasvi was perfect when it came to giving us suggestions and ideas for each room. She was very receptive and came forward to help us in every crisis situation. I personally love the room that she has designed for me. Our home was handed over to us right in time and I would recommend Livspace to everyone who wants their dream home!"

– Ankit Agarwal, Livspace Homeowner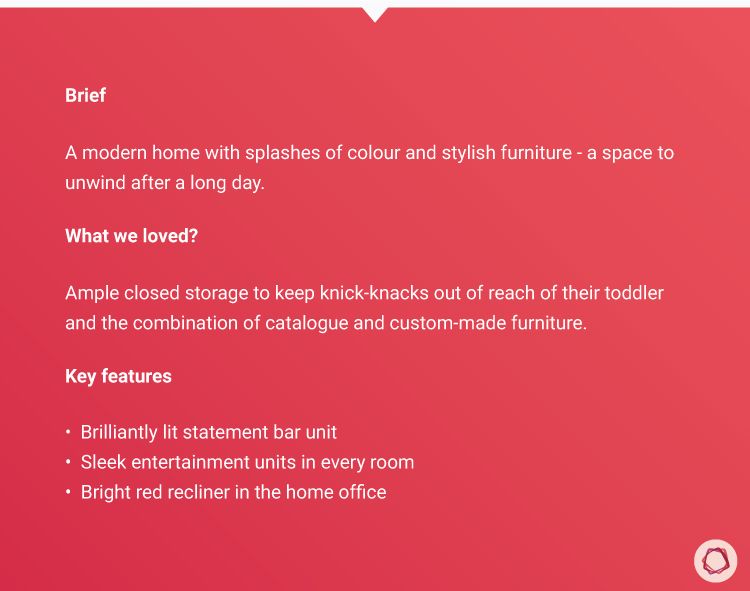 Sunworld Vanalika: Serene and Stunning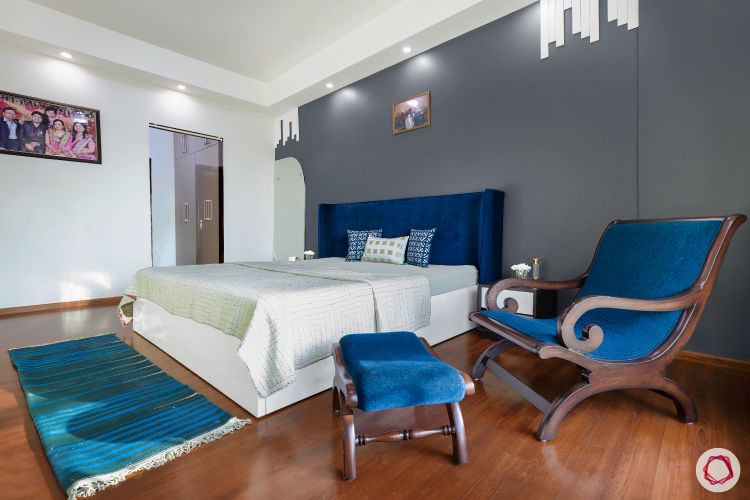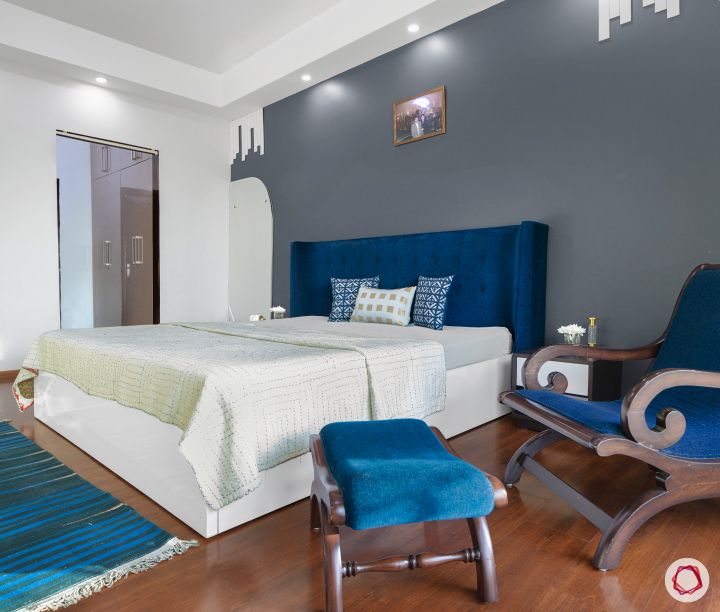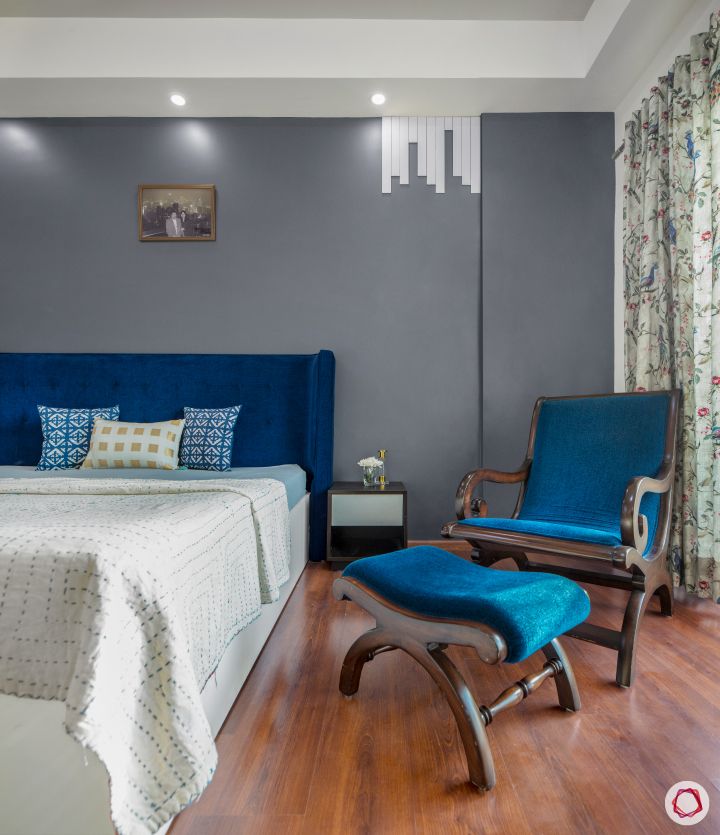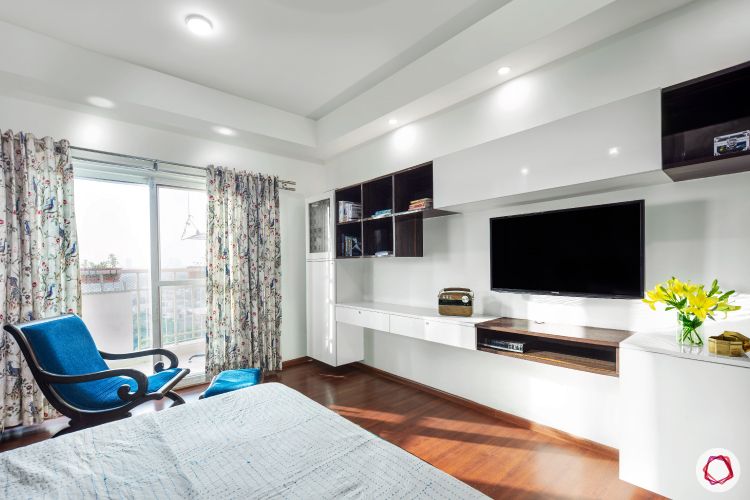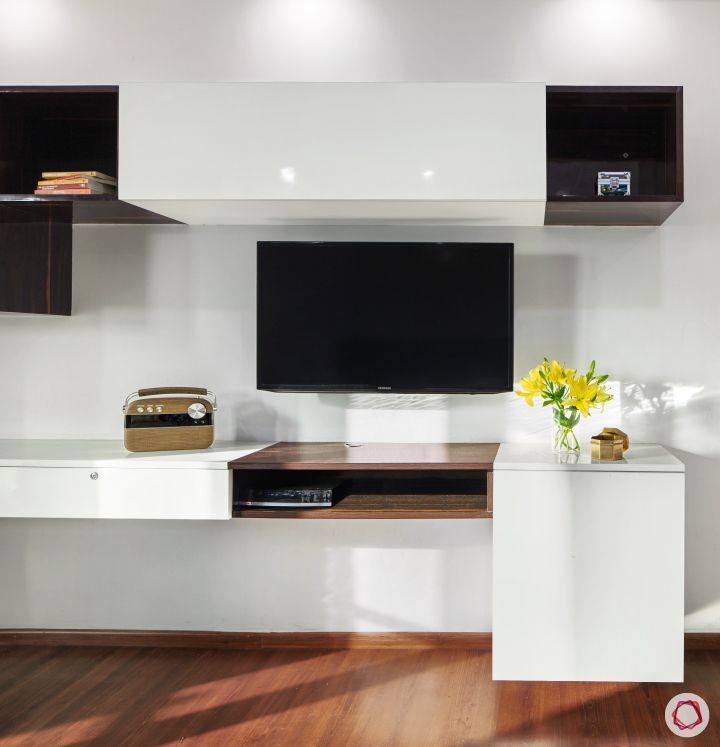 The master bedroom at this Sunworld Vanalika home is a sight to remember. We are crushing on the subtle colour palette used by Ojasvi, just like they wanted. Blue was the chosen colour for the upholstery and it matches perfectly with the slate grey wall. In Ojasvi's words, "The white mouldings are like snowflakes on the wall." We couldn't agree more. And look at all the sunlight shining through the balcony.
The elaborate TV unit finished in glossy white laminate occupies the entire wall. This is where Mr. Agarwal stores all his books and files. A combination of sleek handle-less cabinets and open shelves dictate the storage in this unit.
Sunworld Vanalika: Gold Rush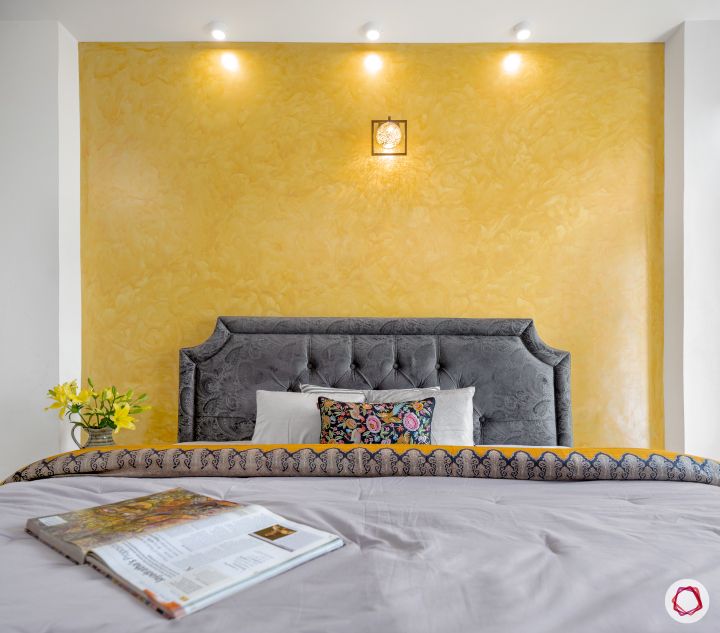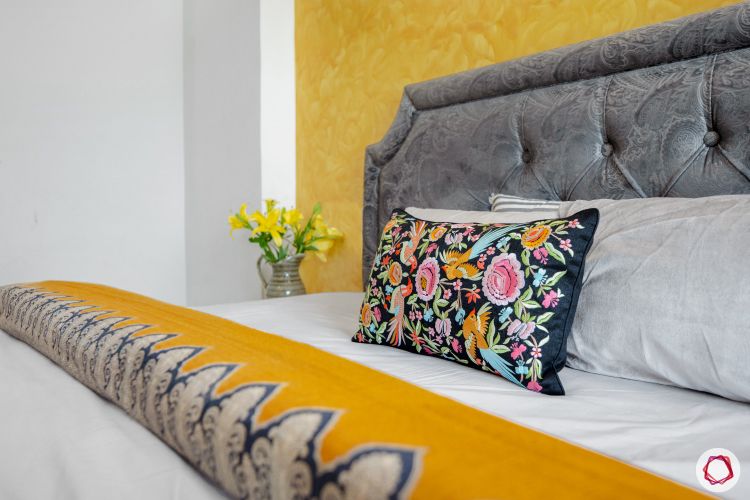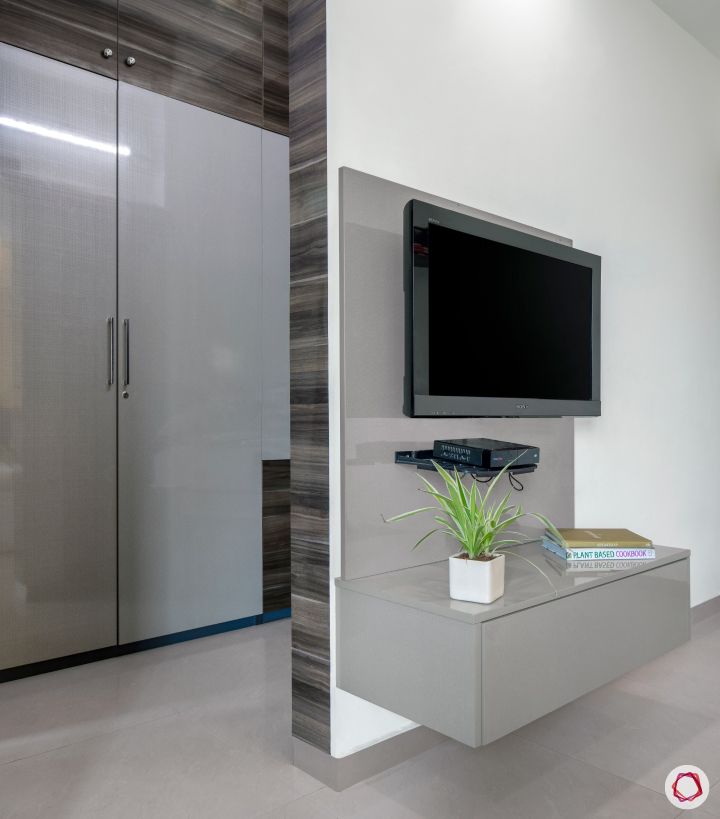 Ankit and Madhuri wanted a pop of colour in their room, so Ojasvi gave them this stunning golden yellow texture paint. It acts as the right accent in this subtle bedroom. A grey button-tufted headboard plays match with the TV unit and the wardrobes. Since Idhant goofs around here a lot, Ojasvi made sure that there is ample empty floor space here.
Sunworld Vanalika: Subtle Symphony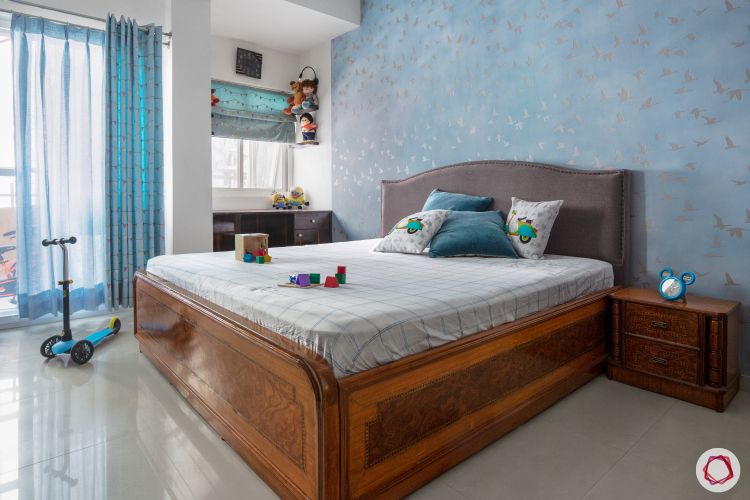 This bedroom acts as a guest bedroom when guests are staying over and turns into Idhant's playground otherwise. The family retained an existing bed for this room and Ojasvi brought it to life with the pretty blue wallpaper. The study corner is vastu compliant and receives enough sunlight coming in through the window.
Sunworld Vanalika: A Blogger's Paradise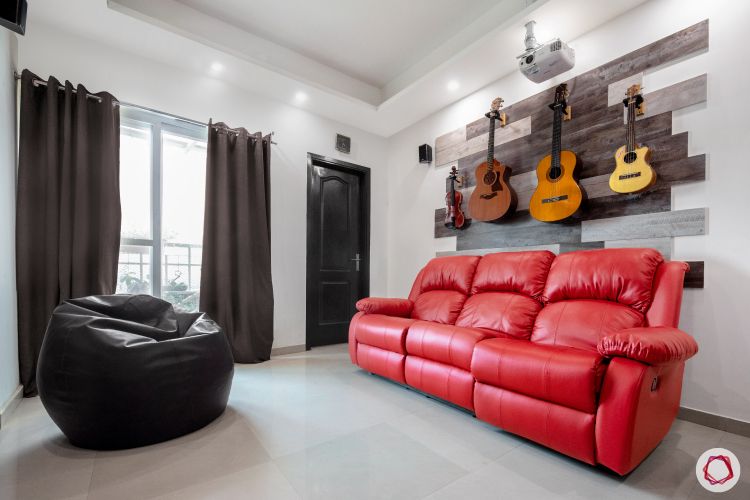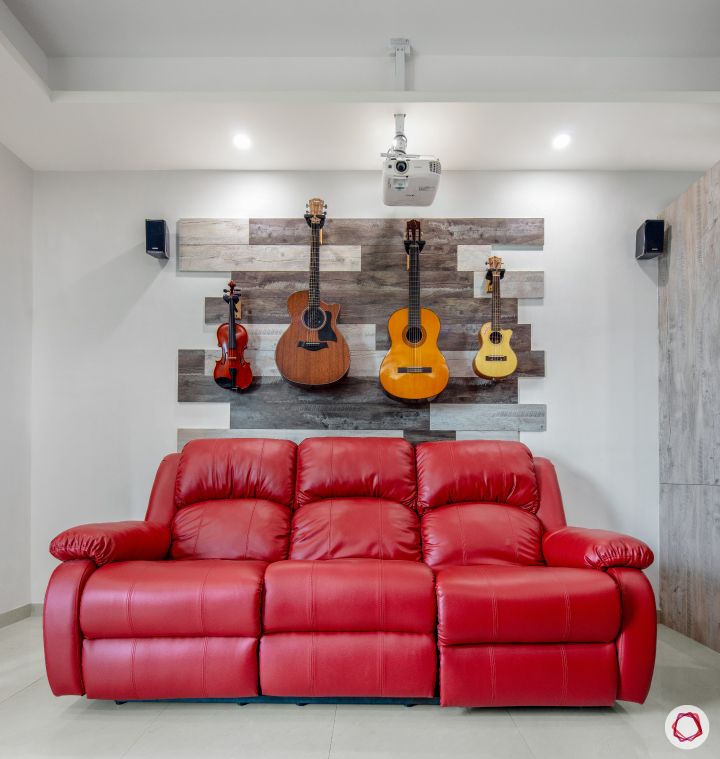 In his free time, Ankit loves blogging and for that he wanted his own room at home. This is his den and he enjoys working out of here since this room houses his favourite red recliner. This room has provision for a projector that makes his work easy. Another striking element here is the accent wall with his favourite guitars, violin and ukulele along with laminate wall panels as the backdrop.
"Residential projects are never easy but clients like this family, make our job worthwhile and satisfying. And, that smile on their faces and the warm welcome that we get whenever we meet them is just so gratifying. I loved designing for this amazing family."

-Ojasvi Gombhar, Interior Designer, Livspace
If this home inspired you, you must take a look at how our designer transformed a home in Gurgaon: Colourful & Contemporary Home.
Send in your comments and suggestions.