This bedroom design is serious goals!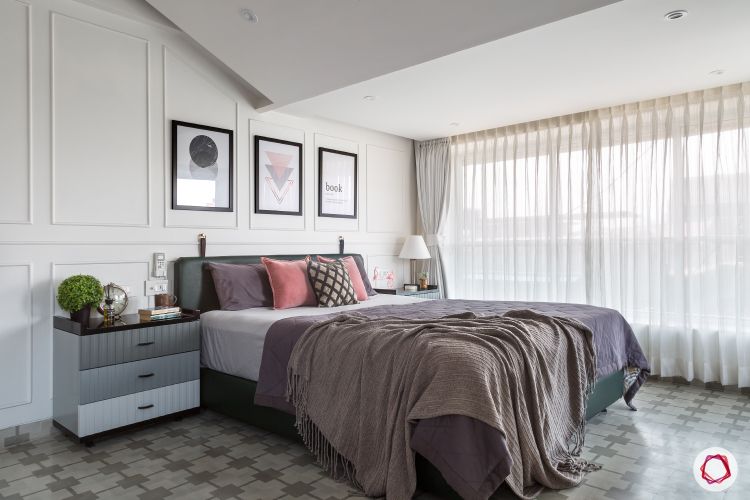 ———
Who livs here: Siddharth Kothari
Location: Church Gate, Marine Drive
Room Size: 1 bedroom spanning 335 sqft
Design team: Interior Designer Preetu Muley with Project Manager Lokesh and Head Project Manager Trinath Kapal
Livspace service: Bedroom and bathroom design
Budget: ₹₹₹₹₹
---
Happy customers usually show their appreciation by spreading the word to their friends and family. Our client Siddharth Kothari did us one better! He hired us again to decorate his bedroom design, which badly needed a revamp!
The first time around, Siddharth Kothari had employed our services to remodel his living, dining, kitchen, pooja room and powder room. This project saw Siddharth and Livspace designer Preetu Muley join forces for some stunning results! Don't believe us? Take a look at Going Scandinavian in a South Mumbai Home.
Out with the old & in with the new
Siddharth requested to work with the same team again for Phase 2. He had a few basic requirements – modern and classy aesthetics, a spacious bedroom and bathroom and design solutions to address his lifestyle needs. Preetu came up with some fantastic ideas and Siddharth decided to roll with it since they both had developed an easy camaraderie between themselves. Keep scrolling to see how that turned out.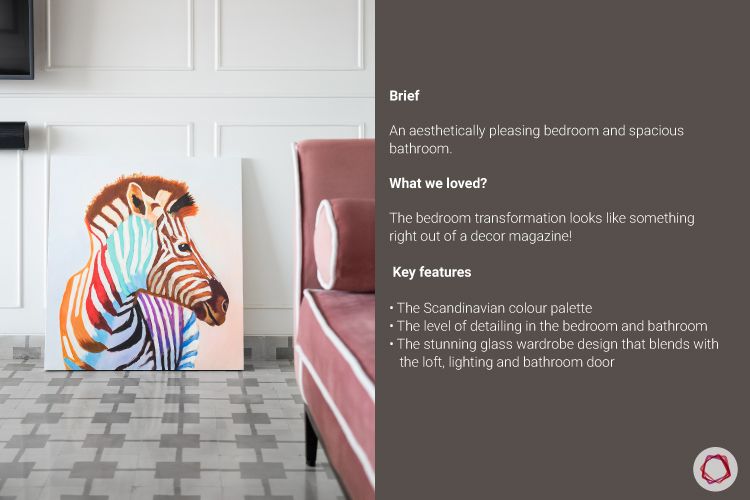 Beautiful Spaces Reimagined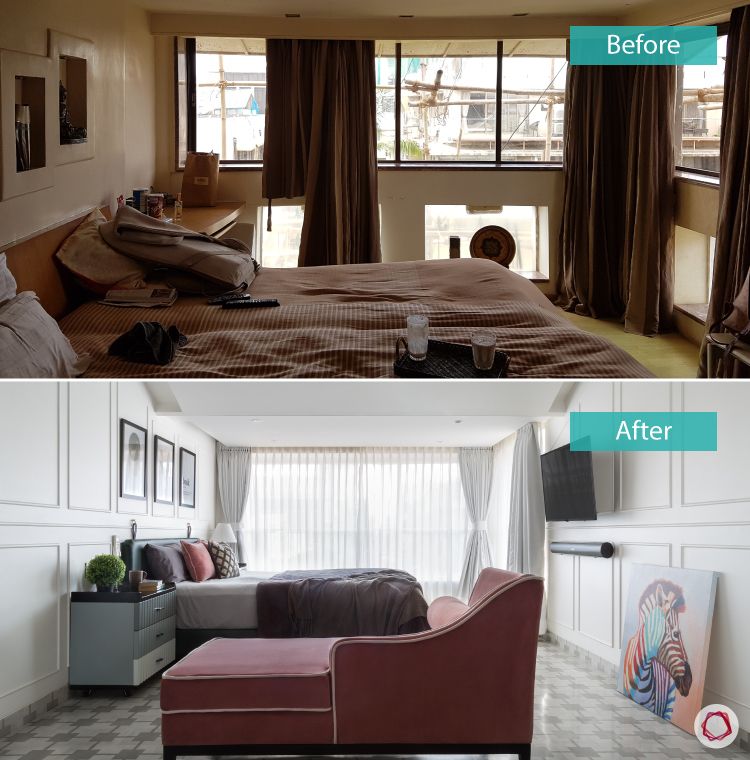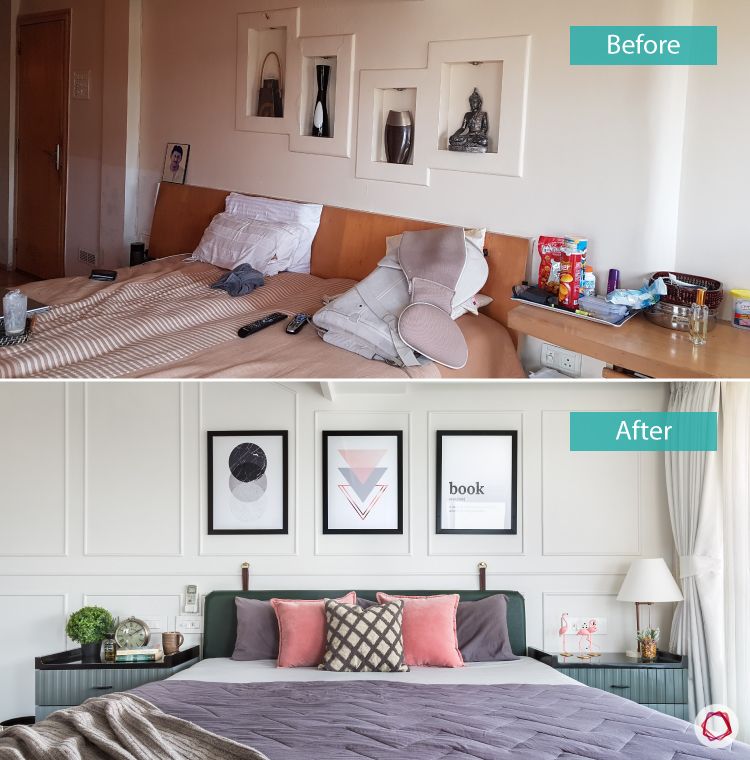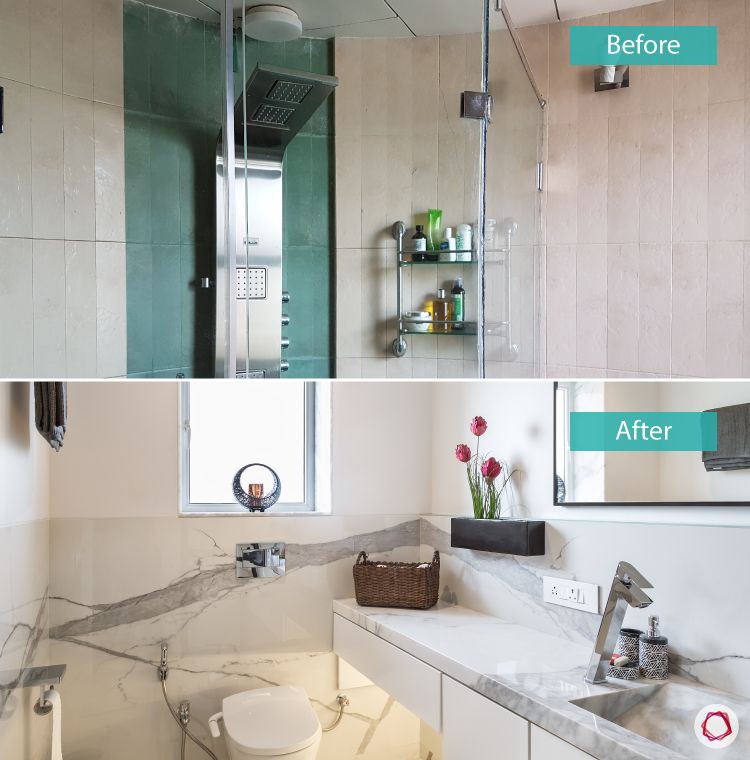 If you're done being amazed at the transformation, let's talk design! Firstly, one look at these should convey the extent of changes in this room. From the ceiling to wall panelling, flooring to windows, furnishings to storage, Preetu stripped the room clean, knocked down the bathroom and made space for a bigger bathroom, a wardrobe and a more spacious looking room. This was made possible by clients like Siddharth who are willing to experiment and place utmost trust in their designers.
A Contemporary Bedroom Redesign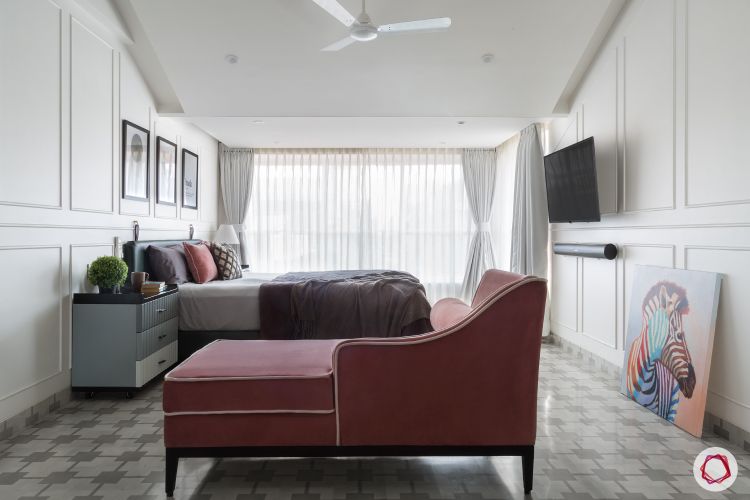 Preetu's first job was to lighten the feel of the room. First, she opened up and lowered the windows to let in more light. Then she retained the ceiling slope and went with a white base for her canvas. While Siddharth was initially skeptical about the flooring design she suggested, now he gushes over the patterned vinyl tiles! The use of white and the colour palette chosen has made the space brighter and visually lighter.
Furthermore, Preetu has added a light panelling to the walls with pop mouldings that are delicate and sharp, just like him! Take a look at the lights along the periphery of the false ceiling for soft lighting.
Let's talk detailing!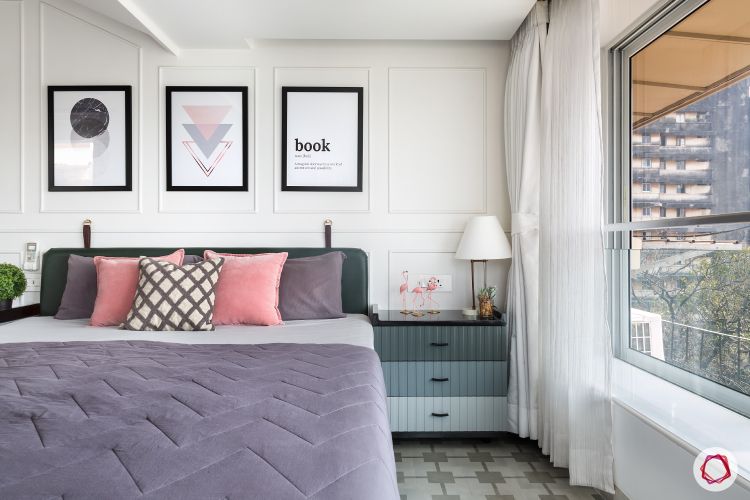 Part of the many customisations in this home is the design for the bedside tables in three shades of grey matte PU. Preetu converted the top to a tray to comfortably hold his nitty gritties without anything falling off. In addition, we ensured there were ample charging points within reach.
The bed is a beautiful piece in deep green leather upholstery, while the headboard is anchored to the wall using burgundy-hued straps with brass fittings! Furthermore, a beautiful chaise in dusty pink adds style and extra seating, making it the perfect pick for Siddharth who loves to lounge and read. It's always the small things that matter, isn't it?
Wardrobe Wonder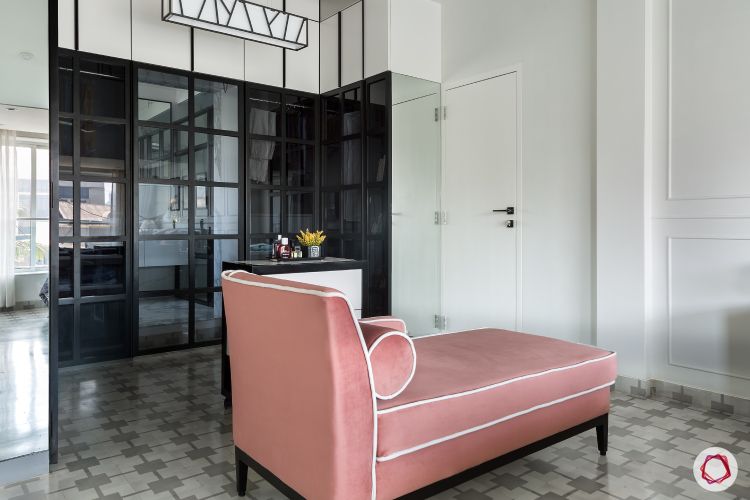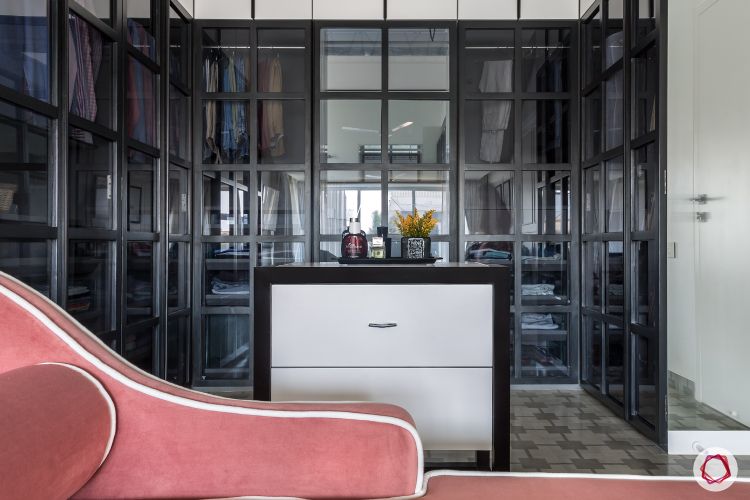 This was an essential part of the makeover – giving an organised person like Siddharth a large wardrobe. Preetu knocked down the bathroom wall in between to make space for this beautiful glass New York-style shutters for the wardrobe. While the glass is tinted for a hint at its contents, it has a wood profile and even the drawers have a glass face. The profile handles have also been extended to the ceiling.
Keeping with the black and white notes, the lamp overhead and the loft shutters have also been given the same tones for continuity. Moreover, these edgy and smart details add to the vibe of this room. The door in between now leads to the bathroom, which is also quite a stunner.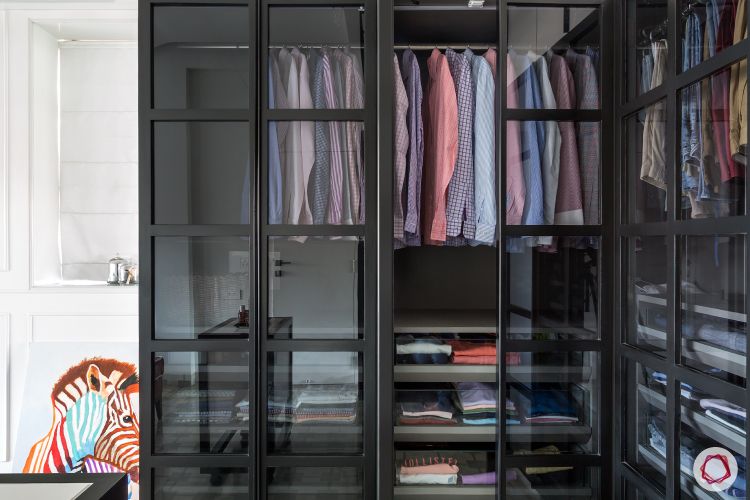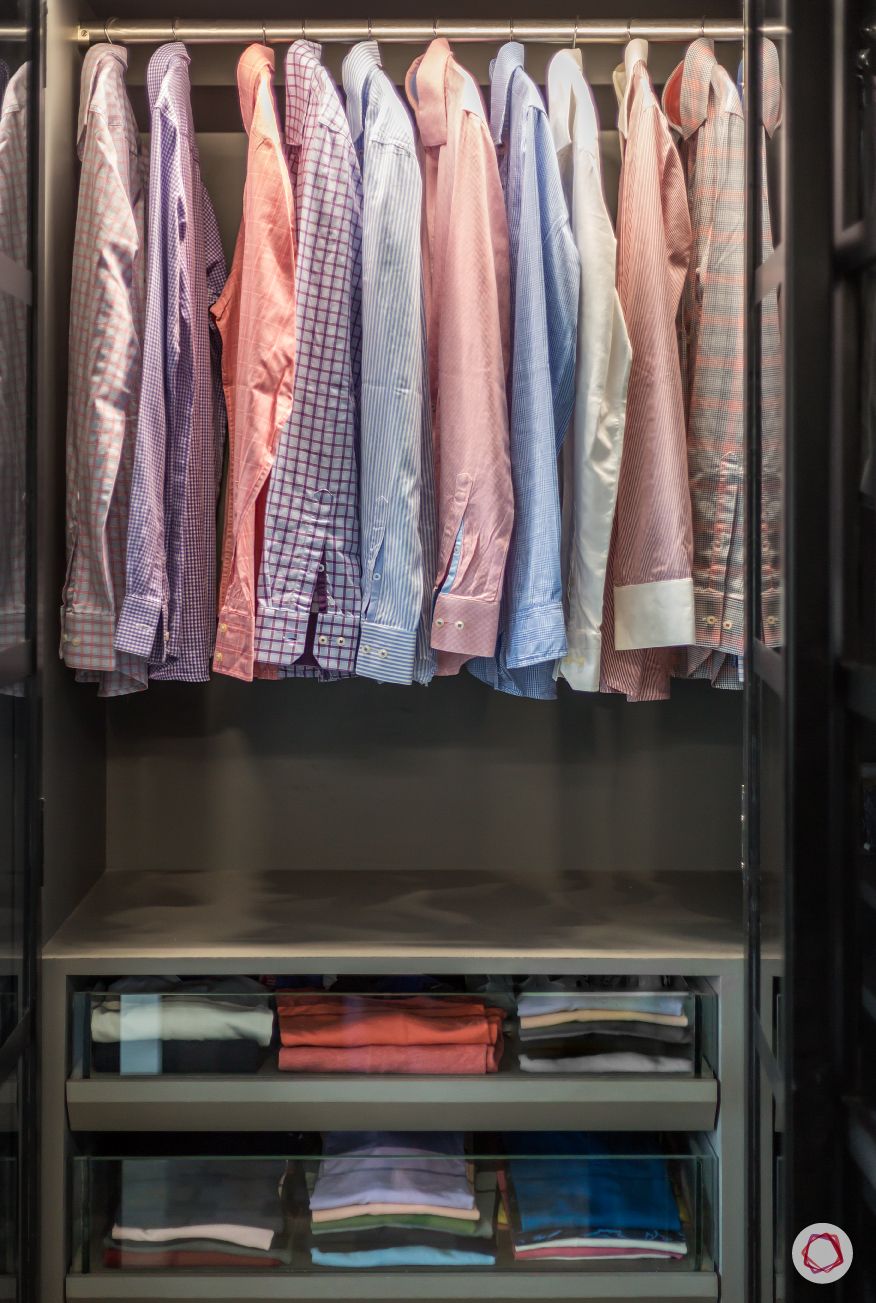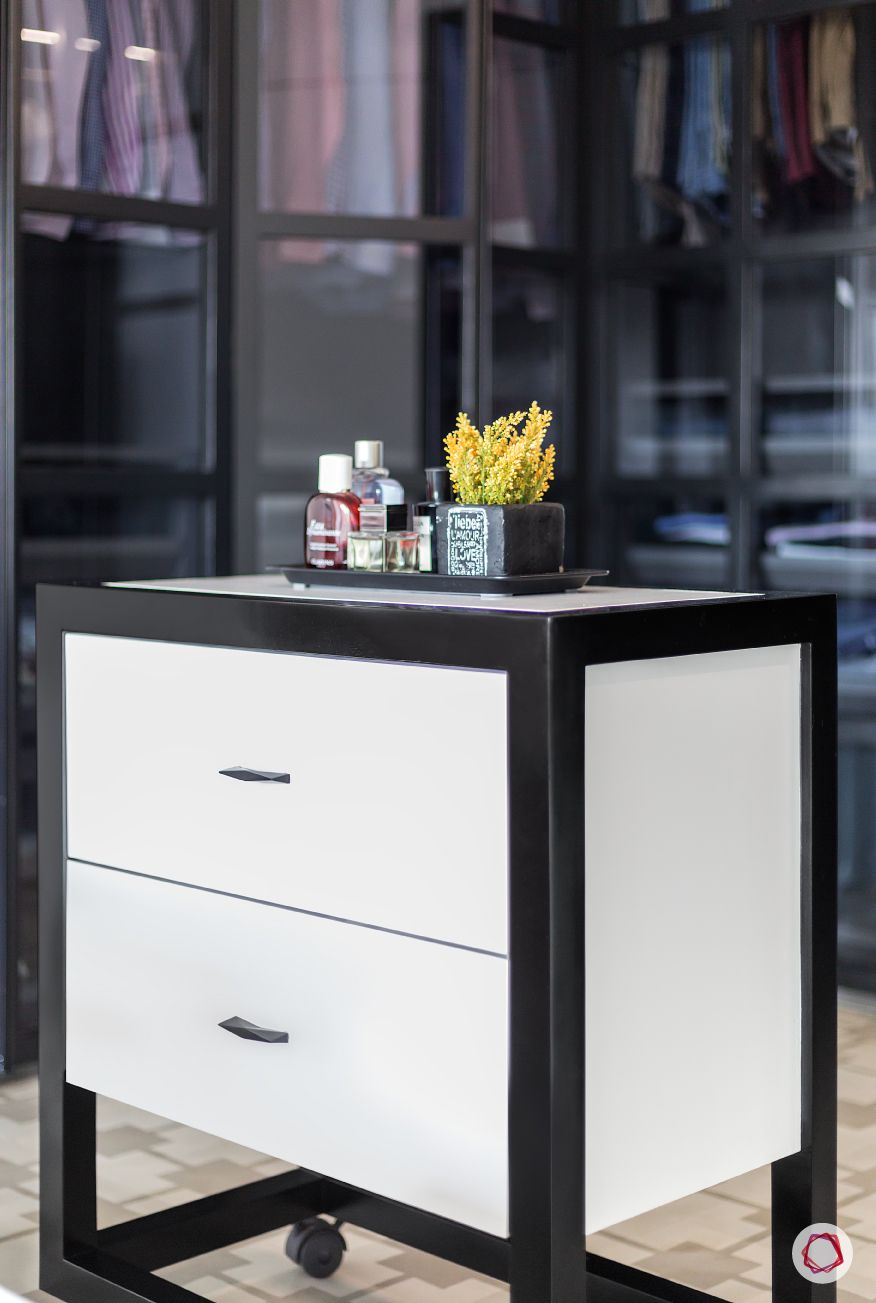 What you see here is a trolley for his perfumes and grooming articles for the meticulous Siddharth. Knowing Siddharth is rather particular about designated spaces for all his things, Preetu found it fun to come up with unique solutions like this.
Big, Beautiful Bathroom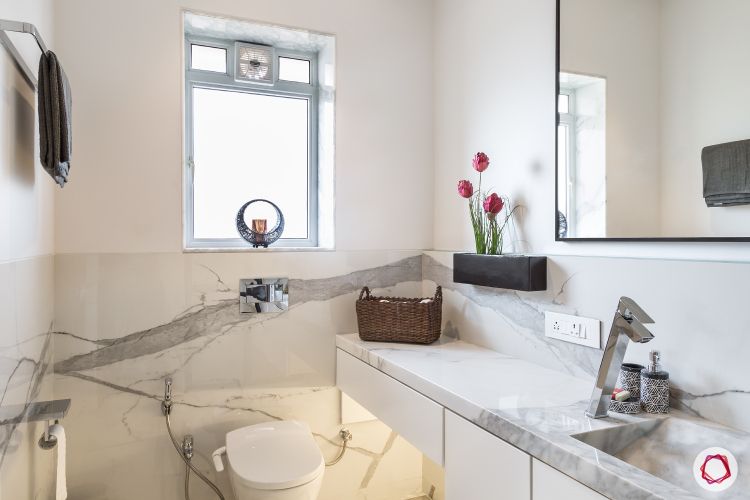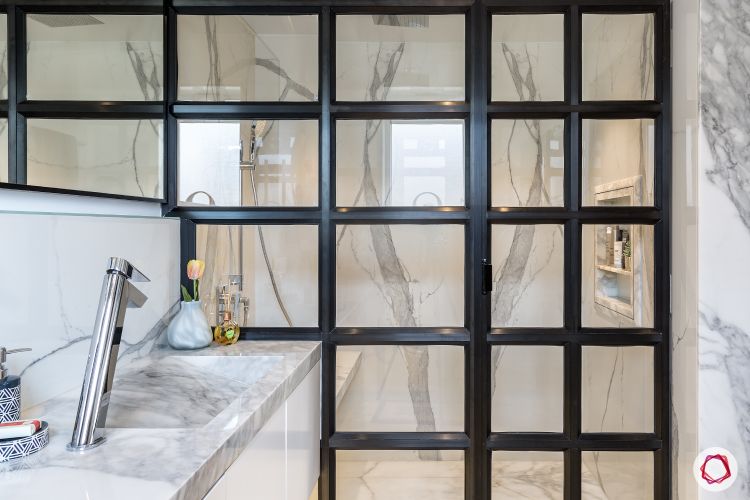 Take a look at this wonder in black and white! The language of the wardrobe has been extended to the door of the shower cubicle. The counter has been done up in marble and seamlessly blending into this is the specifically picked out tiles for the walls. What you'll also enjoy knowing is, Preetu has put in sensor-activated lights below the counter for when the bathroom needs to be used in the middle of the night, without disturbing anyone's sleep.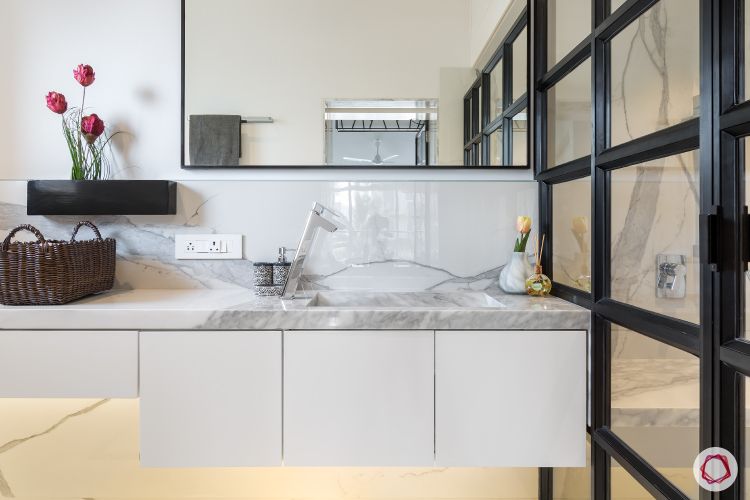 In Siddharth's words, "There are so many wonderful details I love about my room – the hook on the bed, the colour palette, the beautiful flooring, the side tables, the panelling in the bathroom. Her ideas are so good, I referred her to friends of mine too."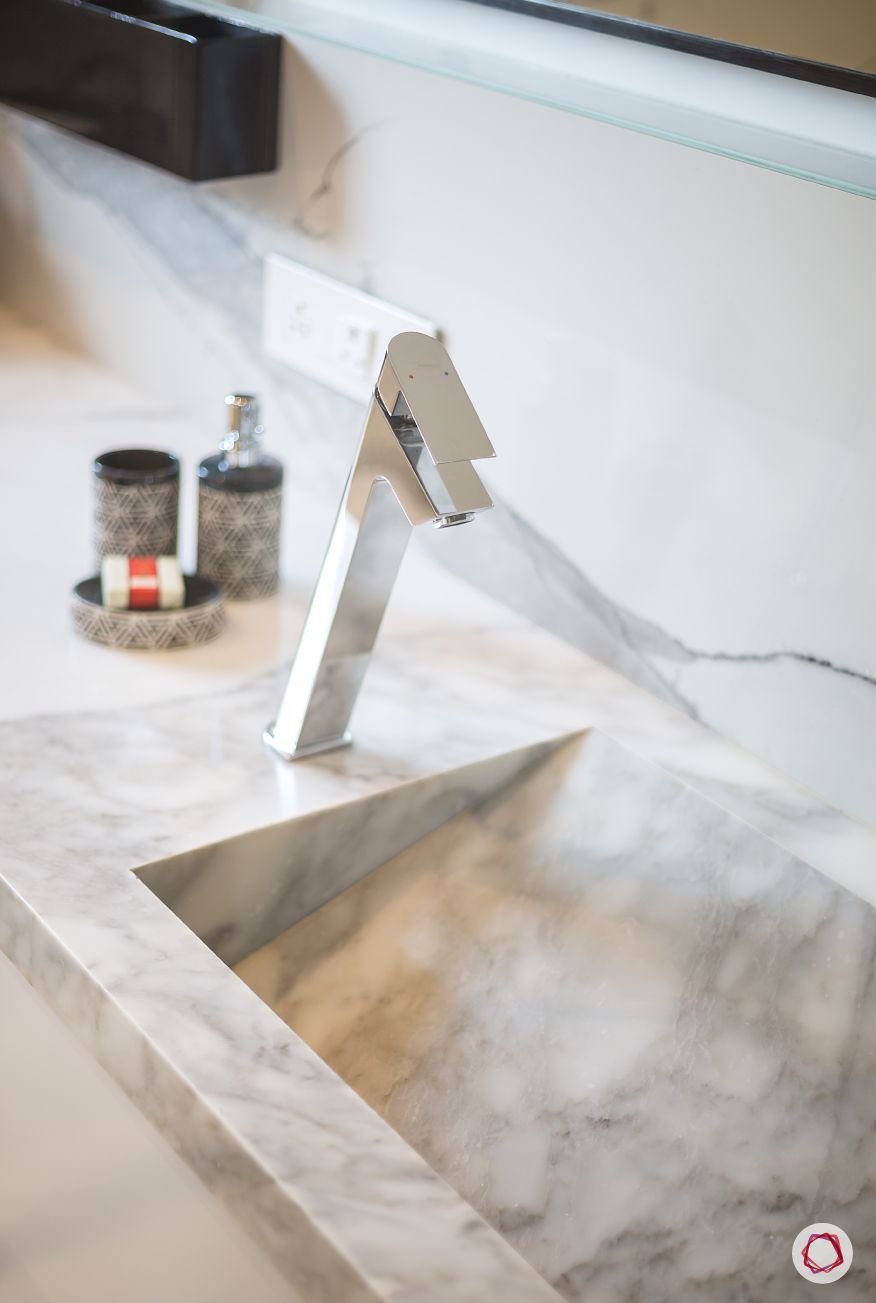 As a result of all the unconventional choices in this room design, Preetu proposed cutting the marble counter and sloping to give him a stunning sink. In addition, the toilet paper holder also comes with a phone holder top! Now this is the level of customisation one would love in their home, isn't it?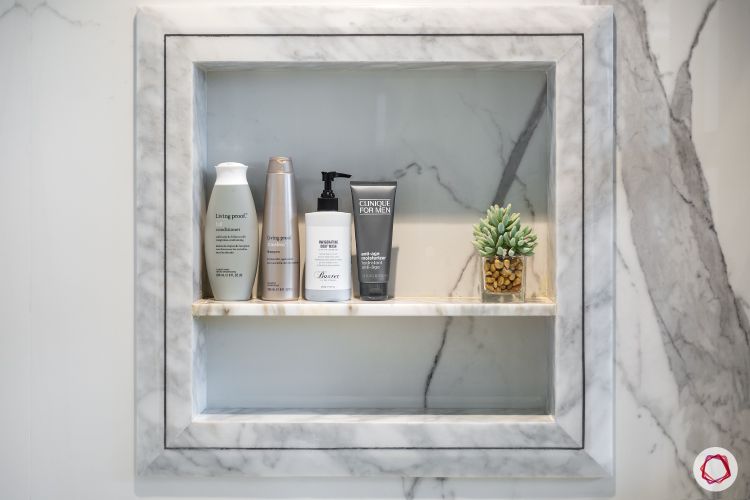 There's even a bench in the shower cubicle cut extended from the marble counter. Another thoughtfully designed aspect is the niche in the shower with marble detailing and epoxy in the grooves. This is not just an aesthetically appealing project, it's also one with personalisation, attention to detail and clever use of space.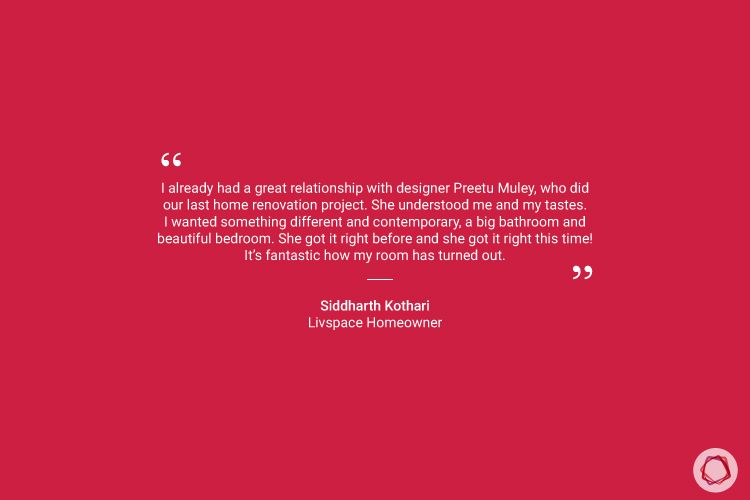 "Siddharth was a pleasure to work with both times! He was so receptive to my ideas and extremely easy to work with. Our shared rapport is visible in the final product. It's so great to work with someone who is willing to experiment and is appreciative of your efforts!"

— Preetu Muley, Interior Designer, Livspace
Also, if you loved this bedroom design and makeover, take a look at 5 Incredible Home Makeovers by Livspace
Send in your comments & suggestions.