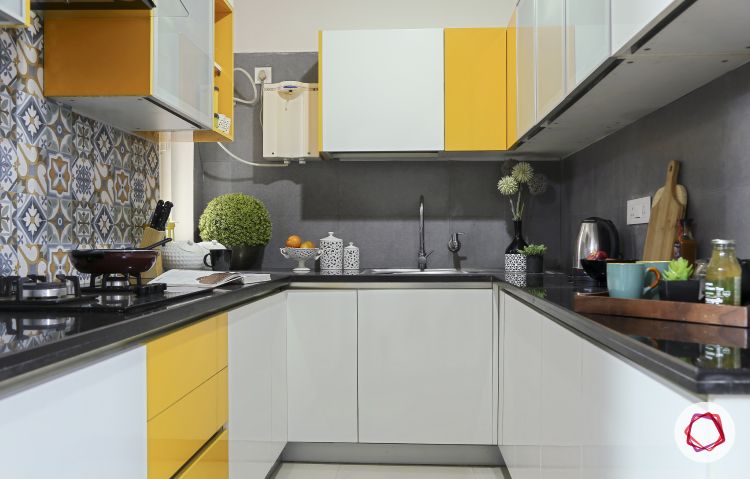 ---
Who livs here: Vasanth Shetty with his wife Elsy and daughters Monica and Meha
Location: Mayur Vihar, Delhi
Design team: Interior designer Riya Bhaskar with Design manager Siddharth Gupta and Project managers Gurpreet Singh Sagoo and Anil Singla
Livspace service: Kitchen makeover
Budget: ₹₹₹₹₹
---
The Shetty's Delhi kitchen had seen 15 years of spills, grime and stains. Every nook and cranny, screw and bolt were creaking and screaming for a change.
A huge problem area was the cramped layout. Lack of customised storage only further catalysed the Shetty's kitchen woes. Out of sheer desperation for a bright and user-friendly design, Vasanth and Elsy sent a cry of help to their daughter Meha, who is a Bangalore-based furniture designer.
Being a design industry insider, Meha instantaneously knew Livspace would deliver a handsome kitchen transformation with a quick turn around. Her expectations weren't far from the truth. In under two months, interior designer Riya Bhaskar was smoothing out the final touches to the Shetty's brand new Livspace modular kitchen.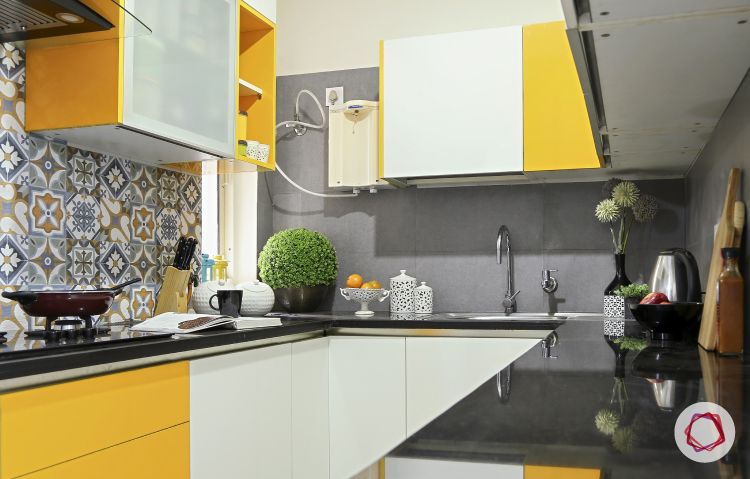 ---
The Shetty's bright white and canary yellow kitchen feels radiant and welcoming.
---
The decade and a half old traditional kitchen was transformed with a contemporary twist. Old, gloomy cabinets were replaced with canary yellow and bright white glossy shutters with an ash grey backdrop, giving the kitchen a cheery update. Since the kitchen enjoyed only a single source of natural light, Riya opted for a colour scheme that amplified the feeling of summery charm.
An inconvenient L-shape kitchen made way for a spacious U layout with a range of open and closed cabinets. The contrasting play of colors and the new layout opened up the Shetty's kitchen visually.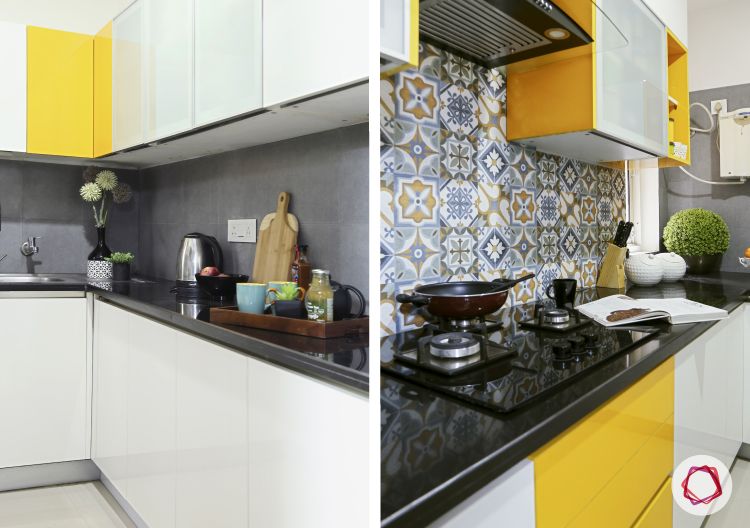 ---
Riya Bhaskar gave the Shettys a Moroccan backsplash that aesthetically stands out and also shields the wall from grimy stains. Grey wall tiles anchor the vibrancy of the yellow-white cabinets.
---

Riya paid close attention to the kitchen's workflow, ensuring at least three members could work side by side, thus changing the way the Shetty family whipped up their meals, together.
Due to space constraints, the family, in their earlier kitchen had left their grain containers lying on the countertop. Riya measured their storage requirements and installed a plethora of customised options to store their kitchen essentials.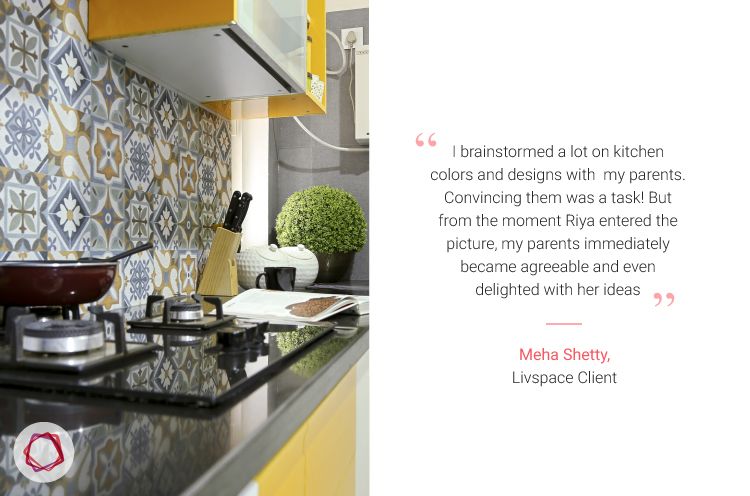 ---
Meha's back and forth visits from Bangalore to Delhi proved fruitful as both Riya, and Meha would purchase crucial items needed for the kitchen. The family's involvement and Riya's undivided support and attention paved the way for a classy, functional kitchen, which the Shettys very happily call their own.
---
"The Shettys were instantly on board with my design suggestions. Meha and I picked up some essentials for the kitchen together, and we got along pretty well as far as our design aesthetic was concerned. A big pain point was storing their grain boxes. We made sure their new kitchen has plenty of storage to keep unsightly clutter at bay".
– Riya Bhaskar, Livspace Interior Designer