A beautiful home design with velvet and gold take the centrestage!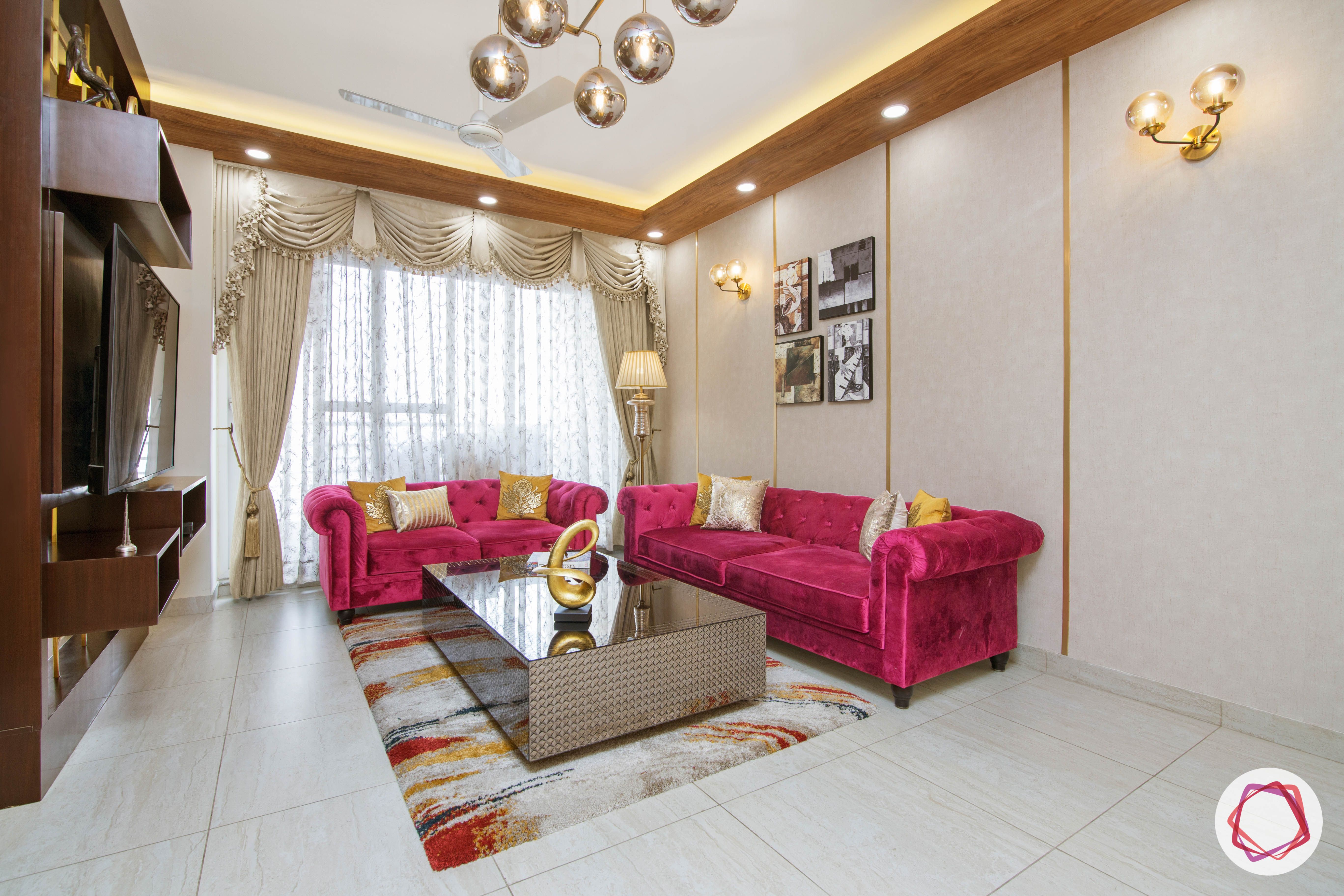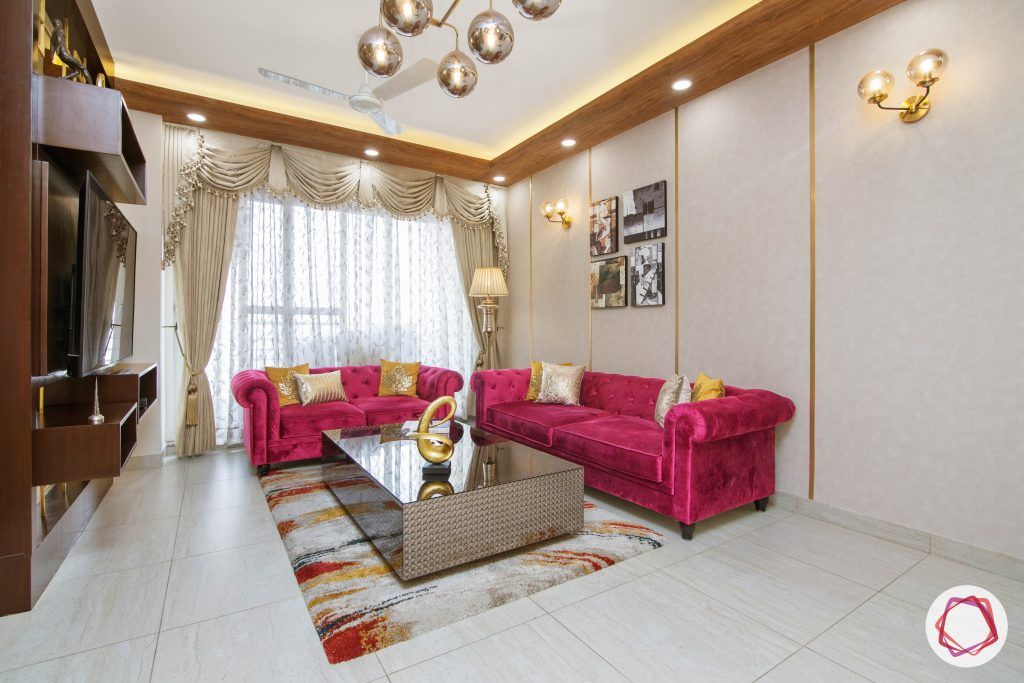 ---
Who livs here: Nadeem Khan, his parents and sister
Location: ABA Cleo County, Noida
Size of home: 3BHK 2,080 sq ft
Design team: Interior designer Saijal Jain and Project Manager Sandeep Jain
Livspace service: Full home design (not including kitchen)
Budget: ₹₹₹₹₹
---
What would it take for a beautiful home design? If you ask Nadeem Khan, he would beamingly say colours! Growing up, he was always surrounded by traditional, wooden interiors. However, this time he wanted a break from it. In addition, he wanted something modern and full of colour for his family.
So when he approached us, he had a clear idea of what he wanted for his swanky new flat at ABA Cleo County, Noida. In a discussion with our designer Saijal Jain, he also revealed he wanted interiors that would play and be fitting for his 2,080 sq ft 3BHK. He wanted his home to make a statement. As a result, Saijal put in elements that certainly make an impression!
With dazzling interiors and lots of statement pieces, this home crafted by Saijal's deft hands perfectly captures Nadeem's energy and spirit. Let's walk right in!
Beautiful Home Design: A Plush Living Room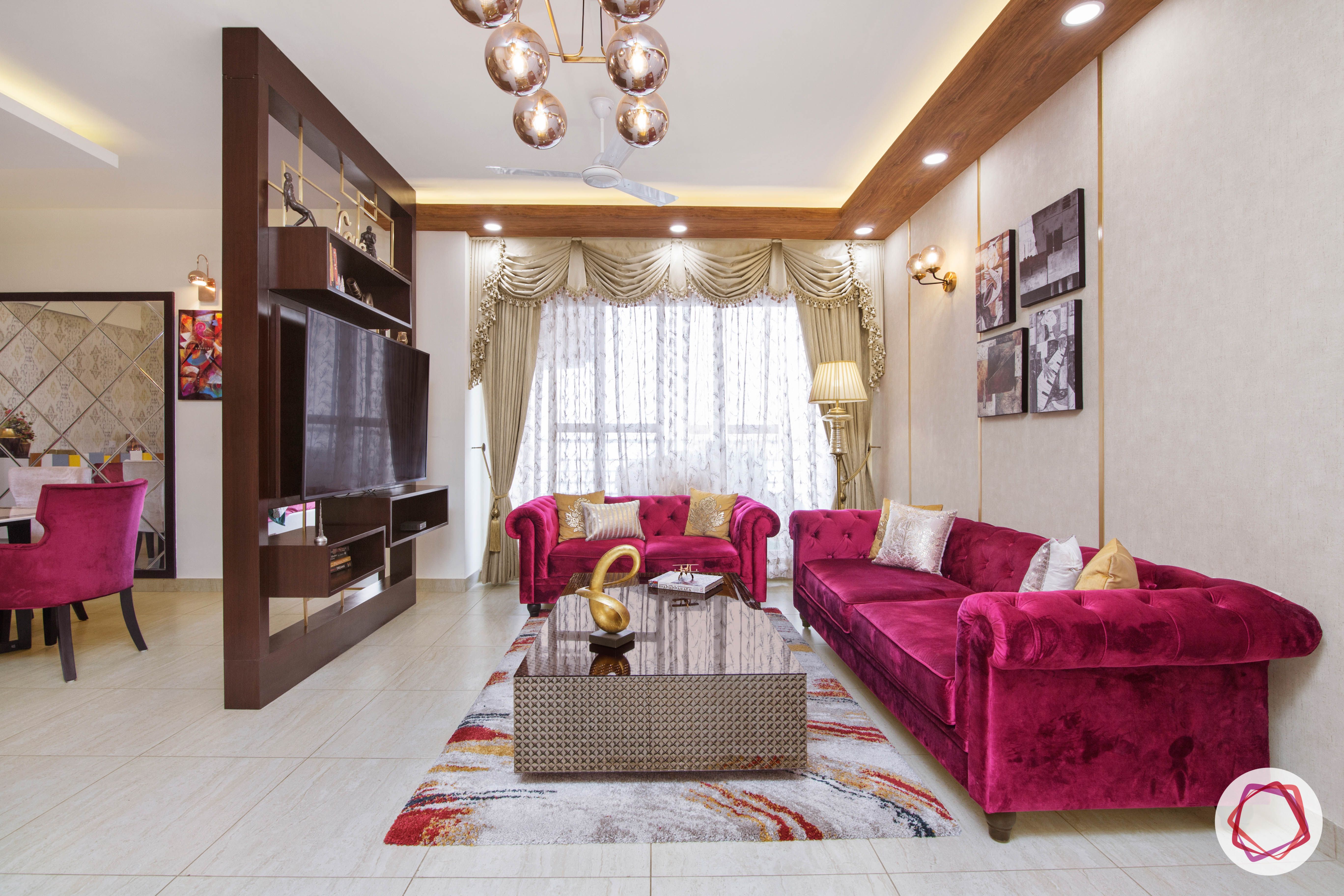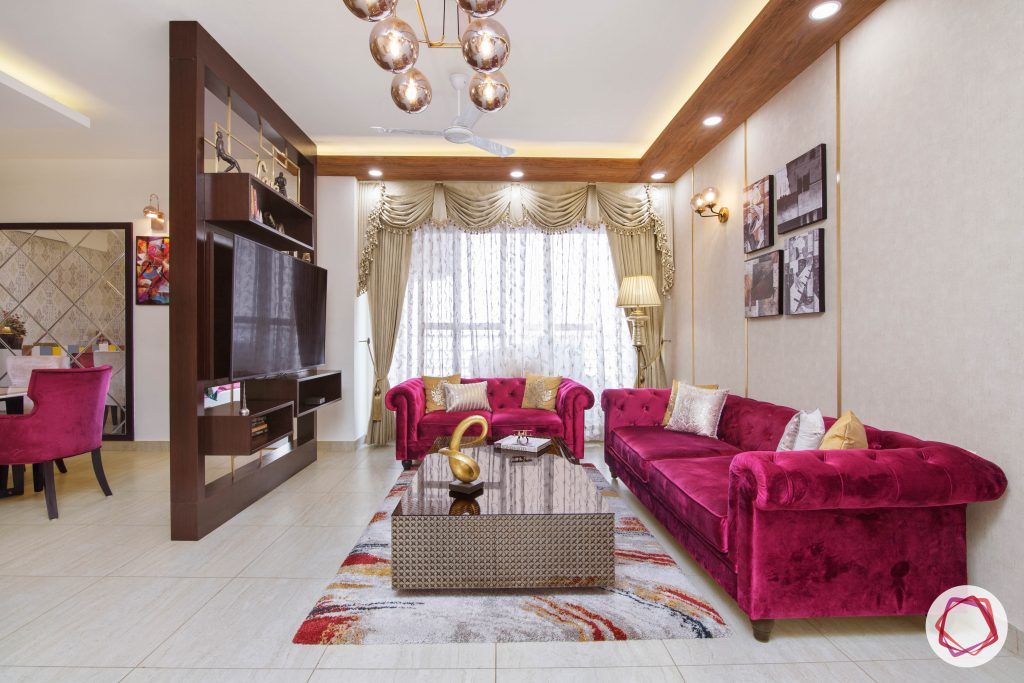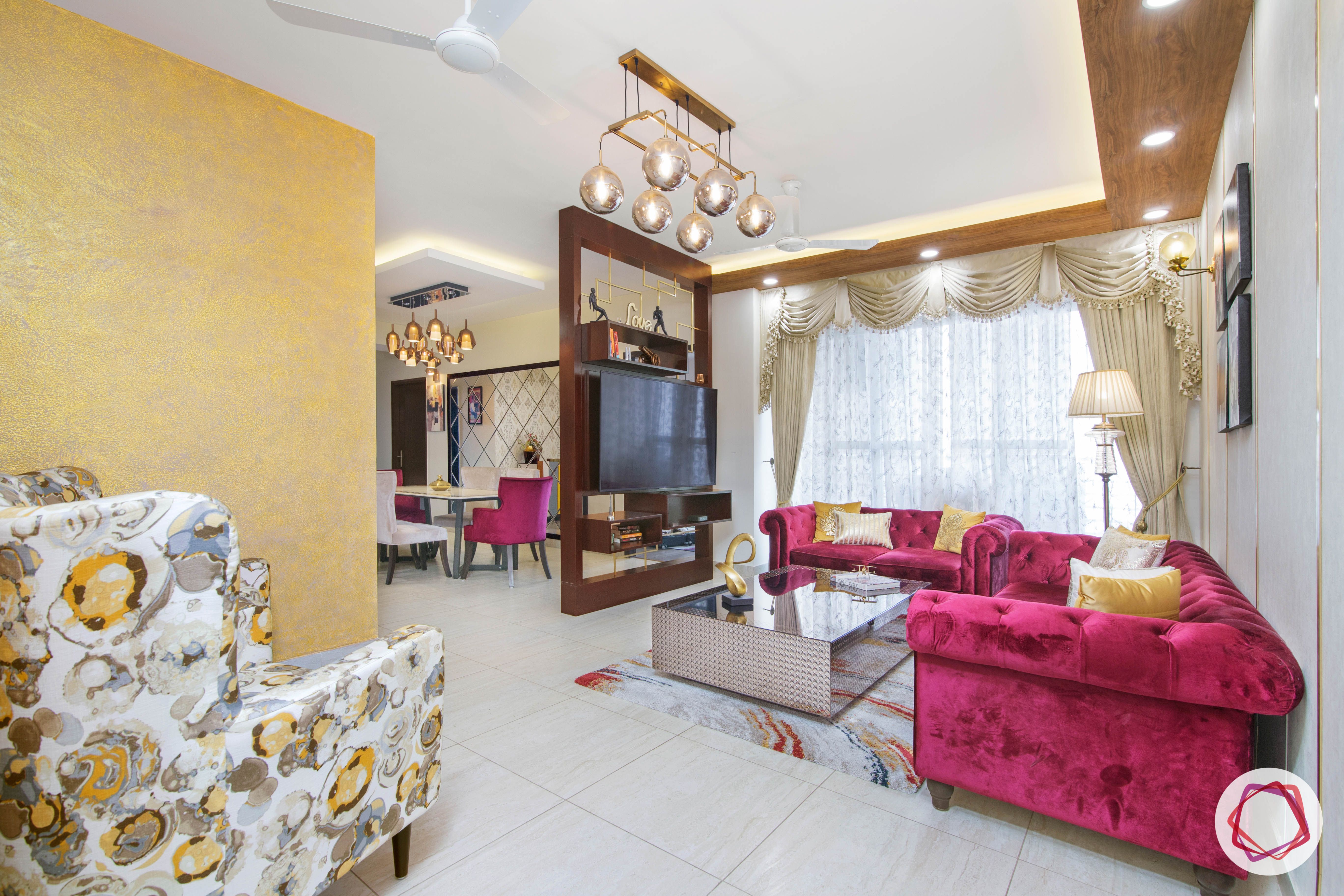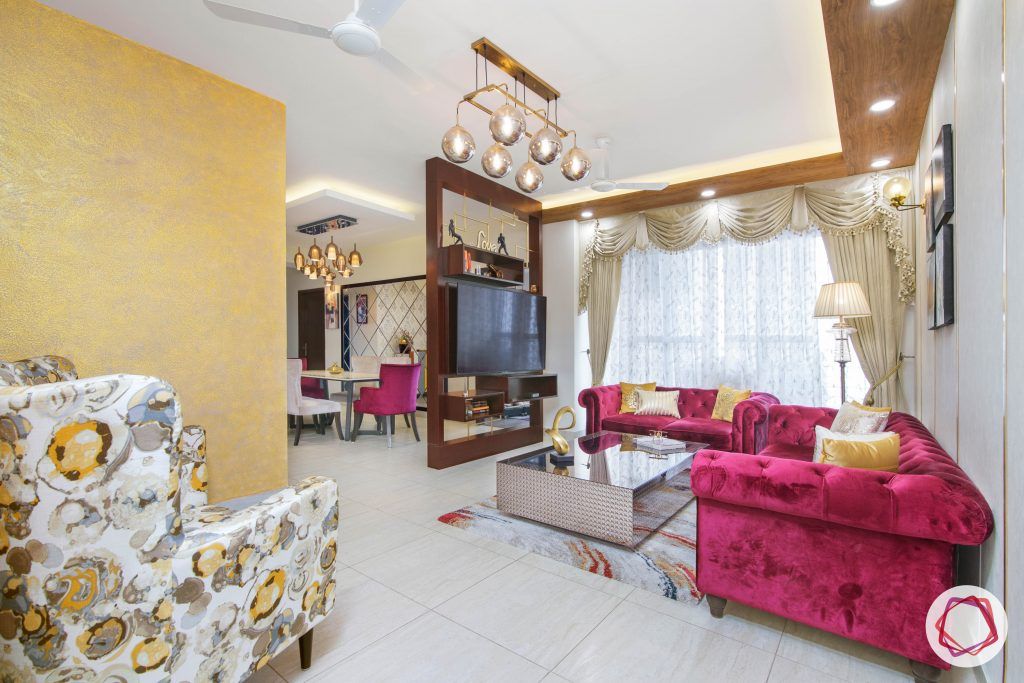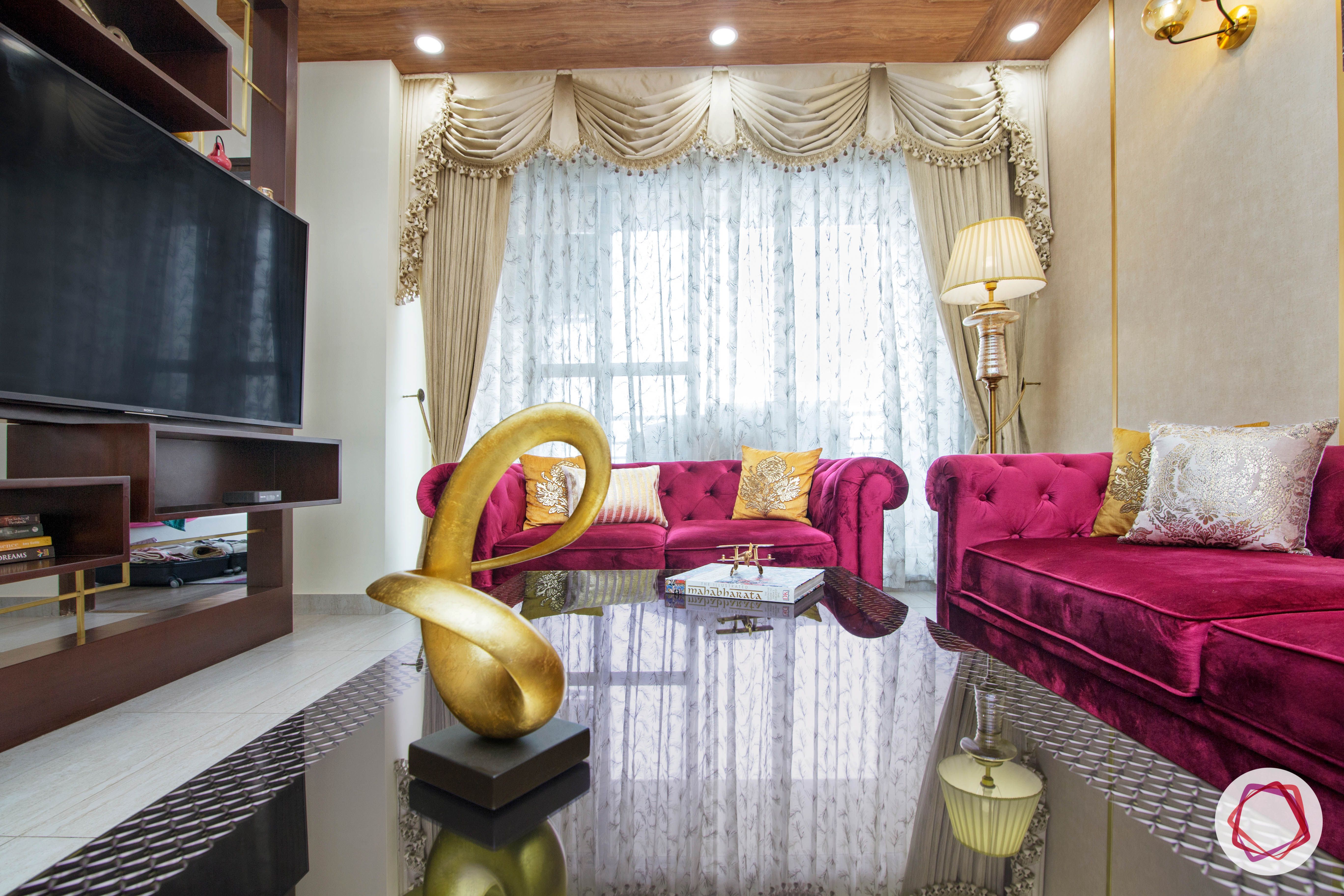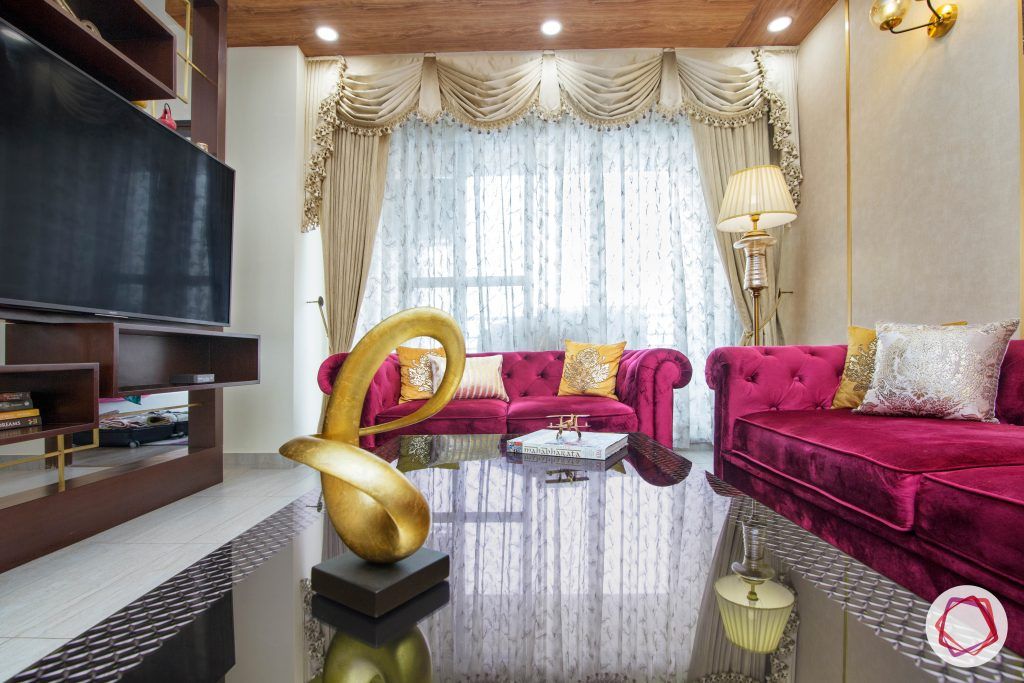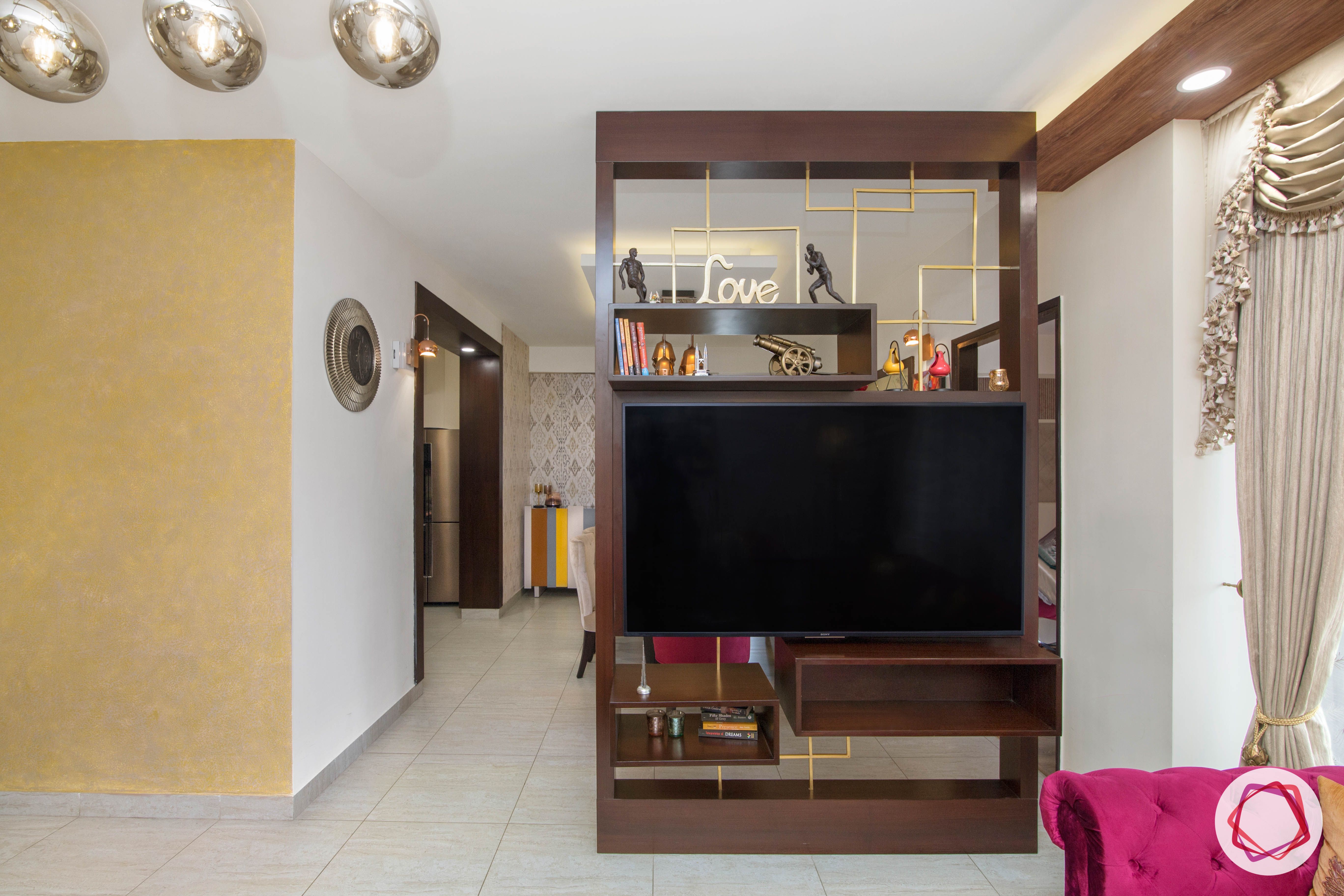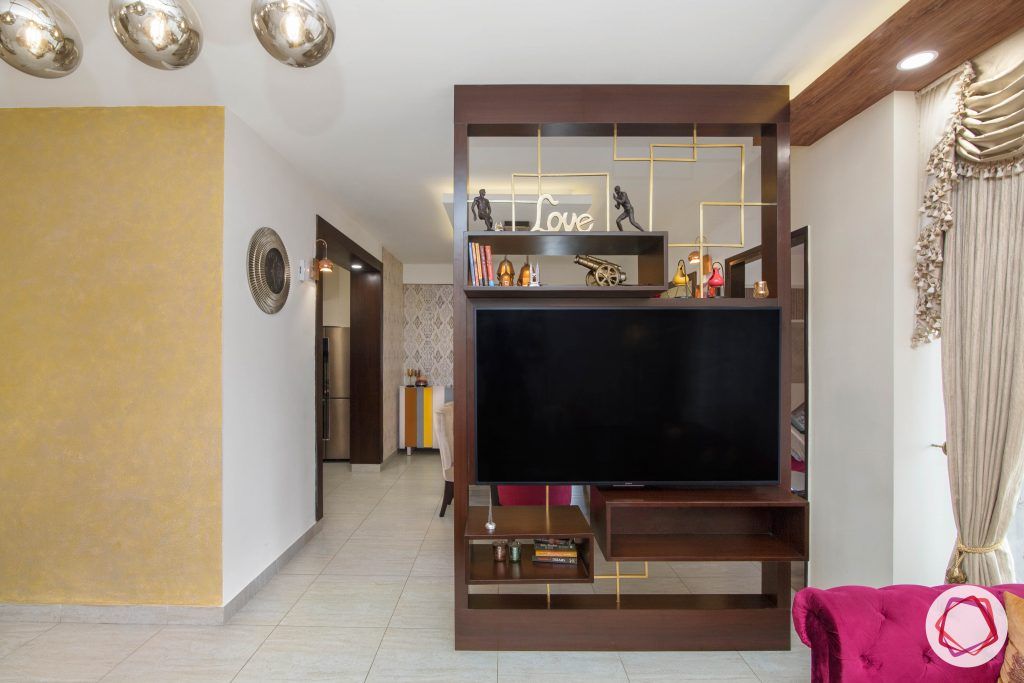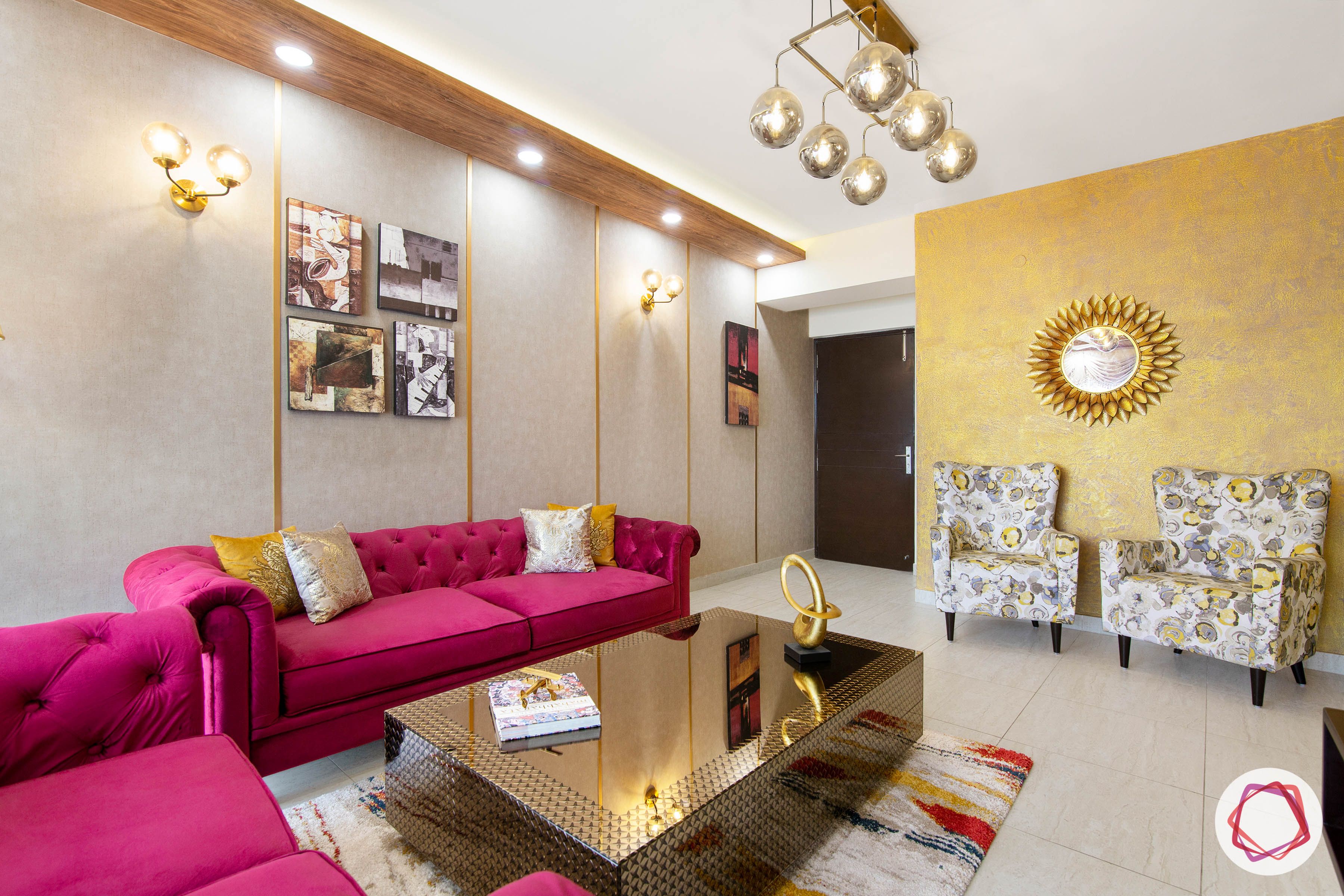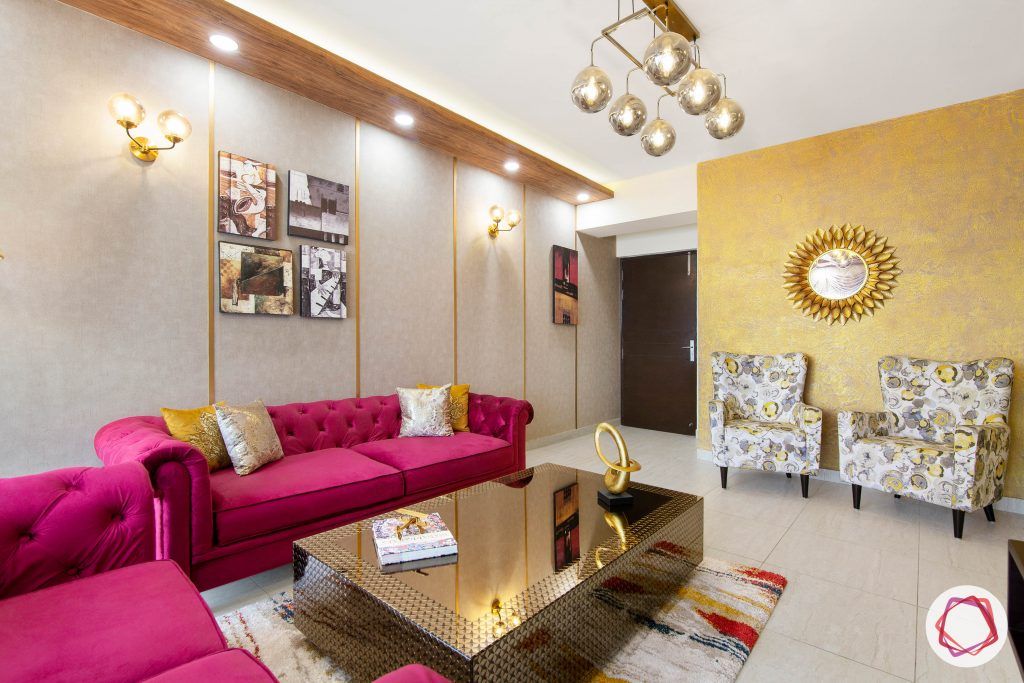 Stunning entrances are always a game-changer. For instance, this living room captivates your attention with comfy velvet maroon sofas and industrial-inspired lights. In addition, Saijal also put up a subtle and elegant wallpaper with wooden strips that's been painted in metallic gold. Take a moment to notice the false ceiling. It features a wooden wallpaper to give the room a touch of warmth.
Nadeem wanted to separate the living room from the dining section. As a result, Saijal put in a compact TV unit done up in veneer with gold-toned frames to give it a touch of bling.
We love how a separate corner has been designed with textured gold paint, two floral armchairs and a statement mirror. Has a corner ever looked so snug? Above all, the room definitely makes an impression!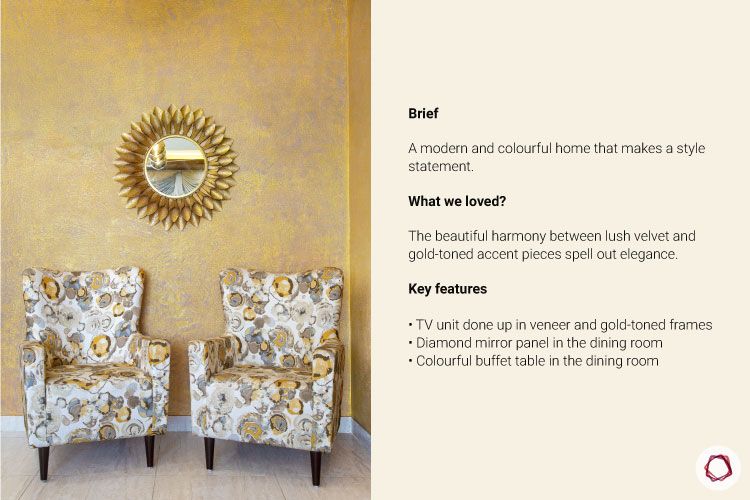 Beautiful Home Design: A Glitzy Dining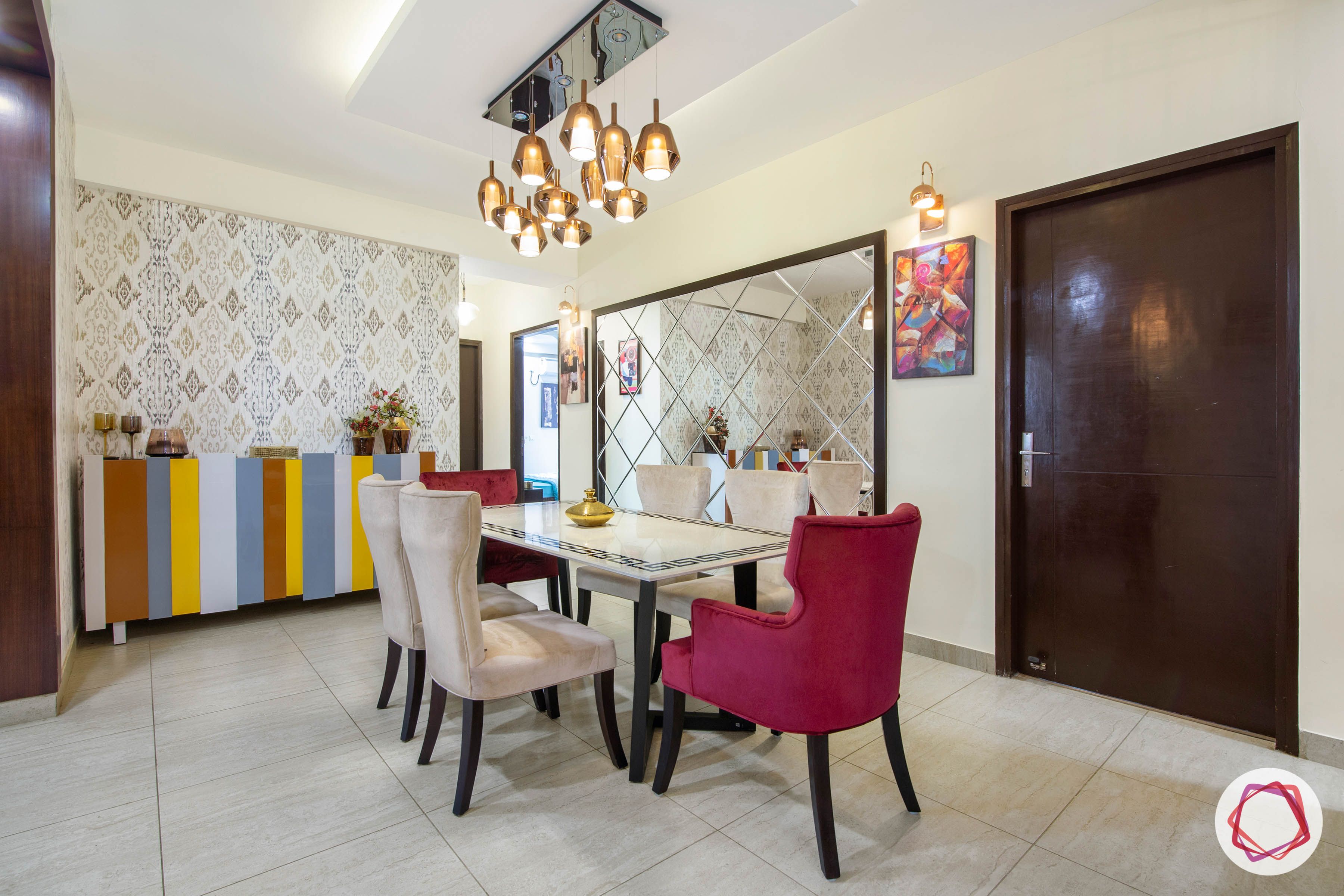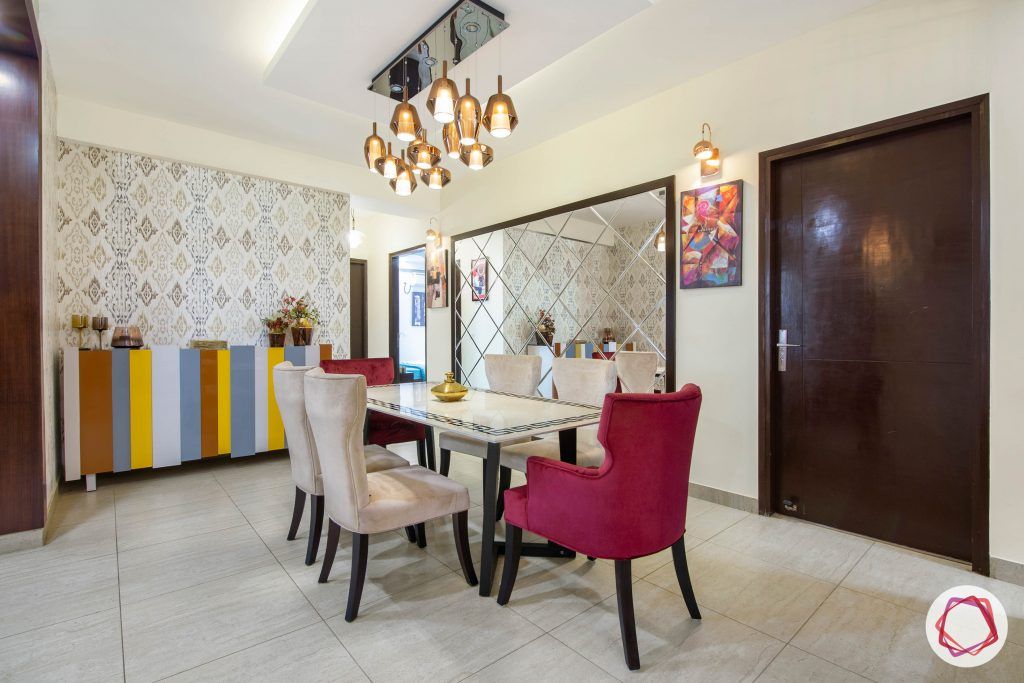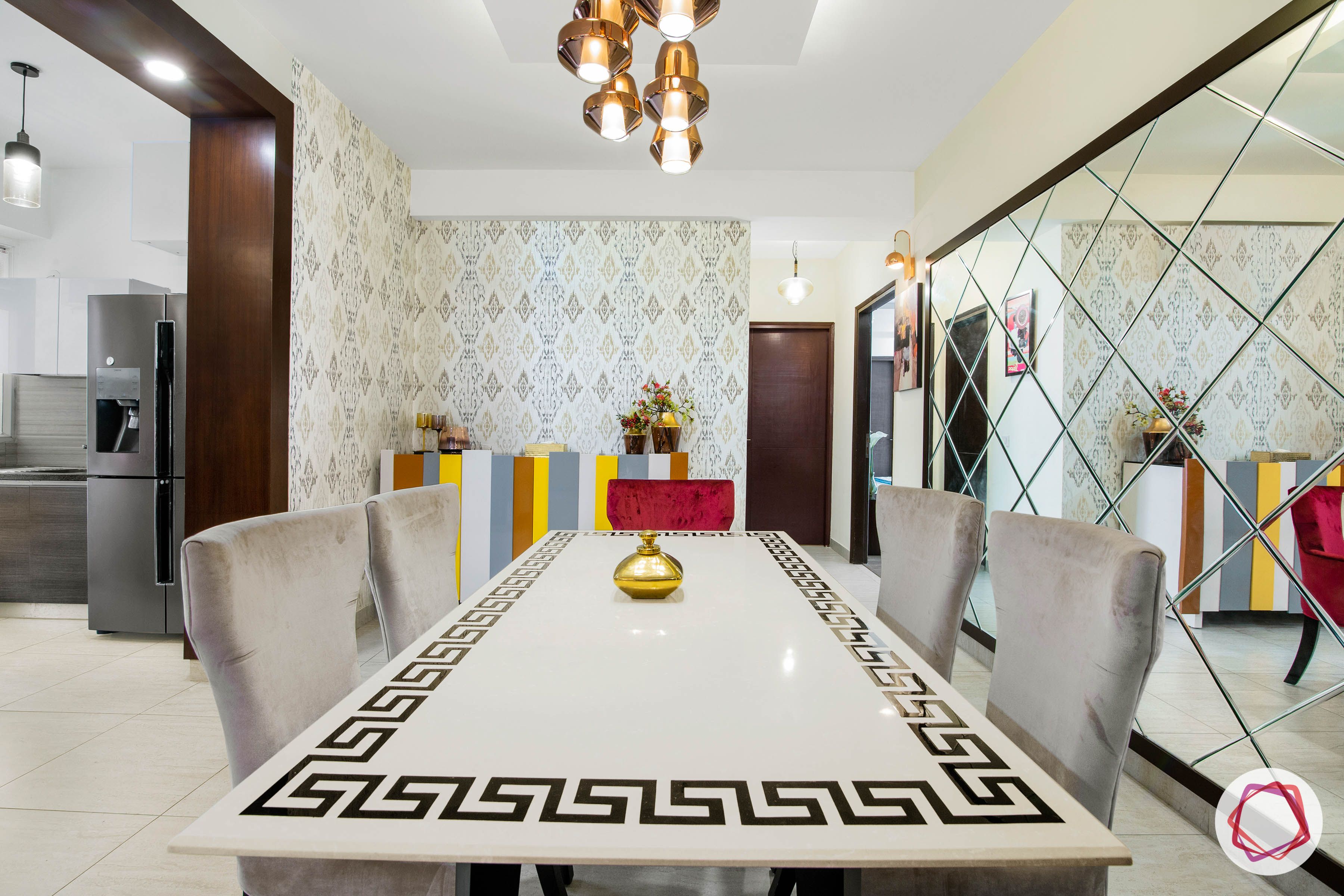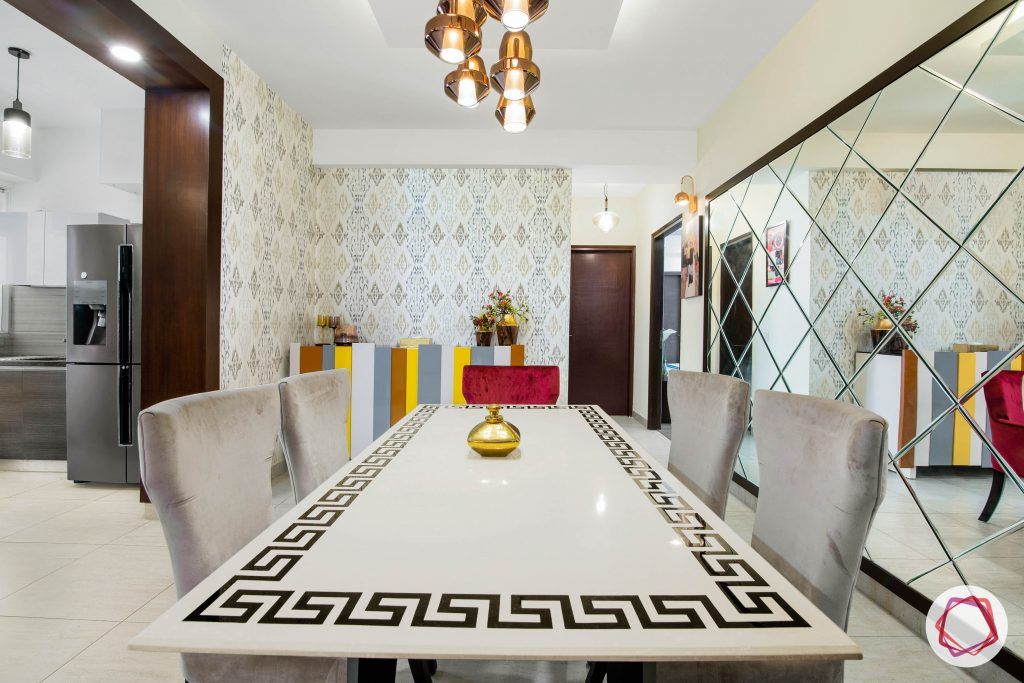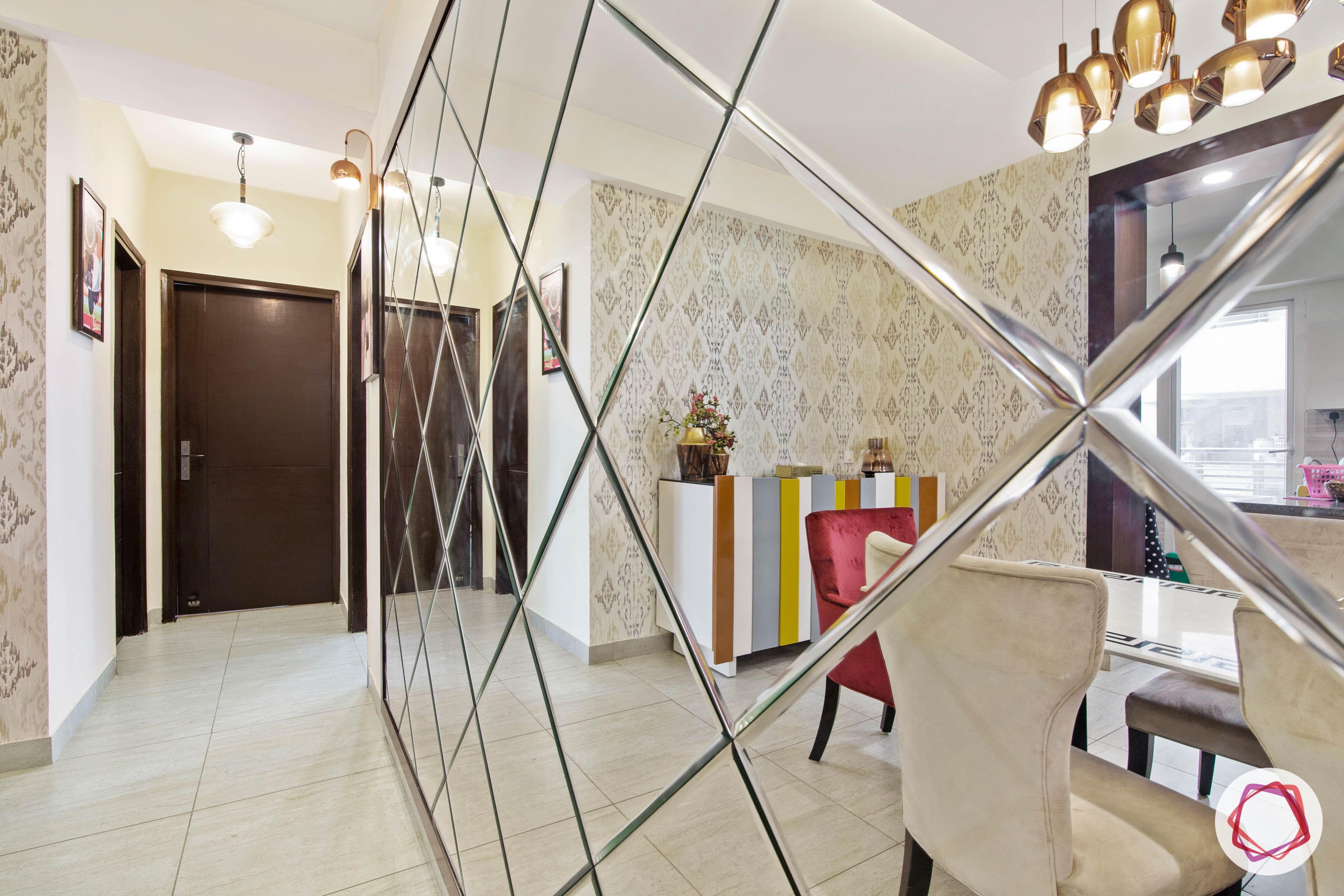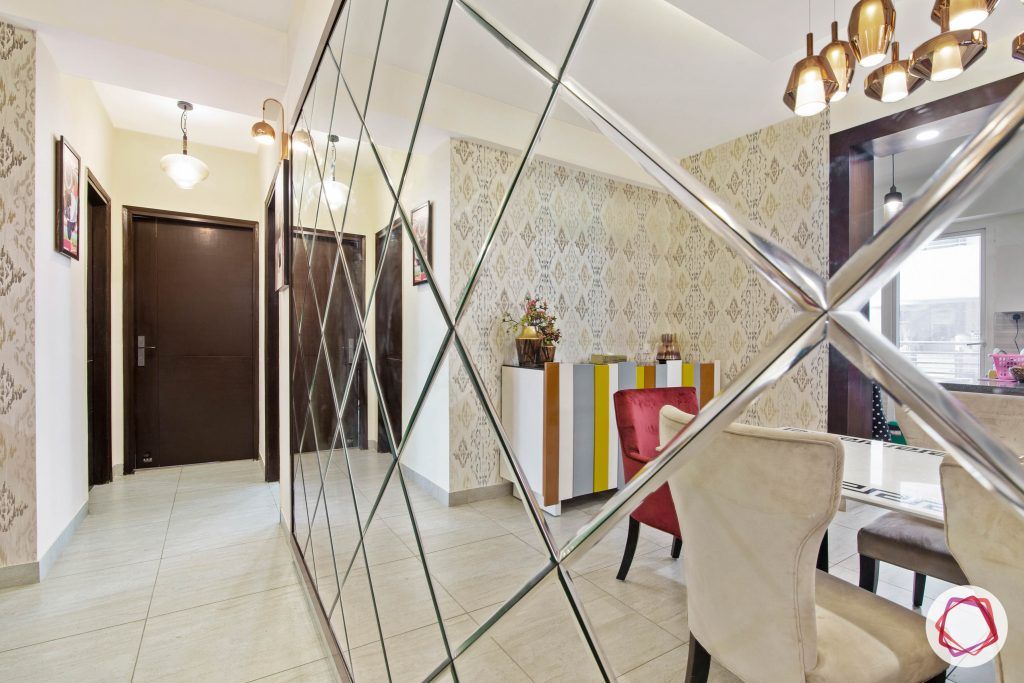 The dining room too is styled to make a statement. The table is a sleek marble top with versace inlay. These have been paired with upholstered chairs in maroon and grey. Doesn't the accent light above it elevate the space?
Also, when it comes to design, don't you love the right balance between functionality and eclecticism? Saijal put in a colourful buffet table that's fitted with ample storage. An abstract yet subtle wallpaper helps to keep the focus on the buffet table.
In addition, Saijal also put in a diamond mirror panel. Because of this, it gives an illusion of continuity to the space.
Beautiful Home Design: A Blissful Bedroom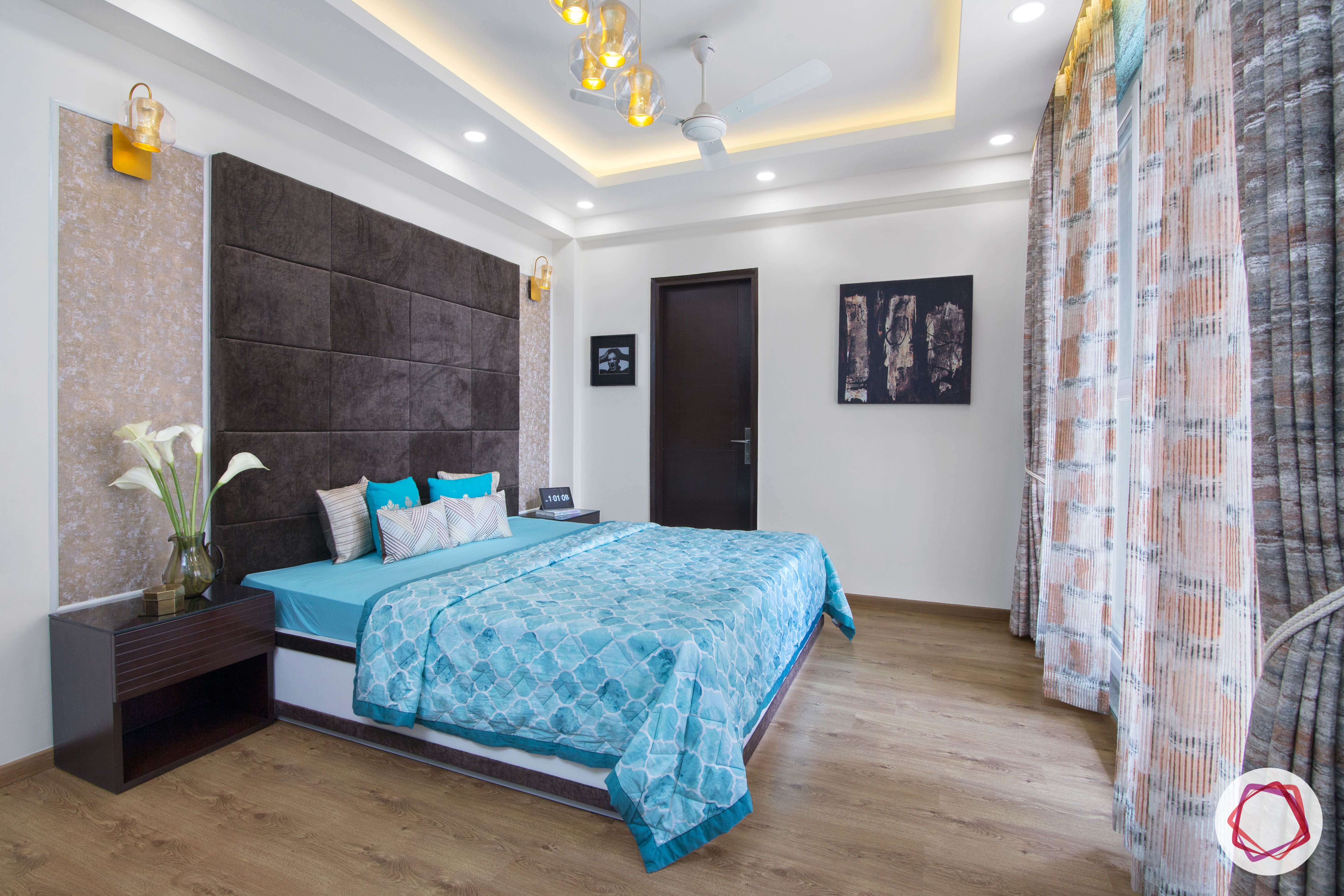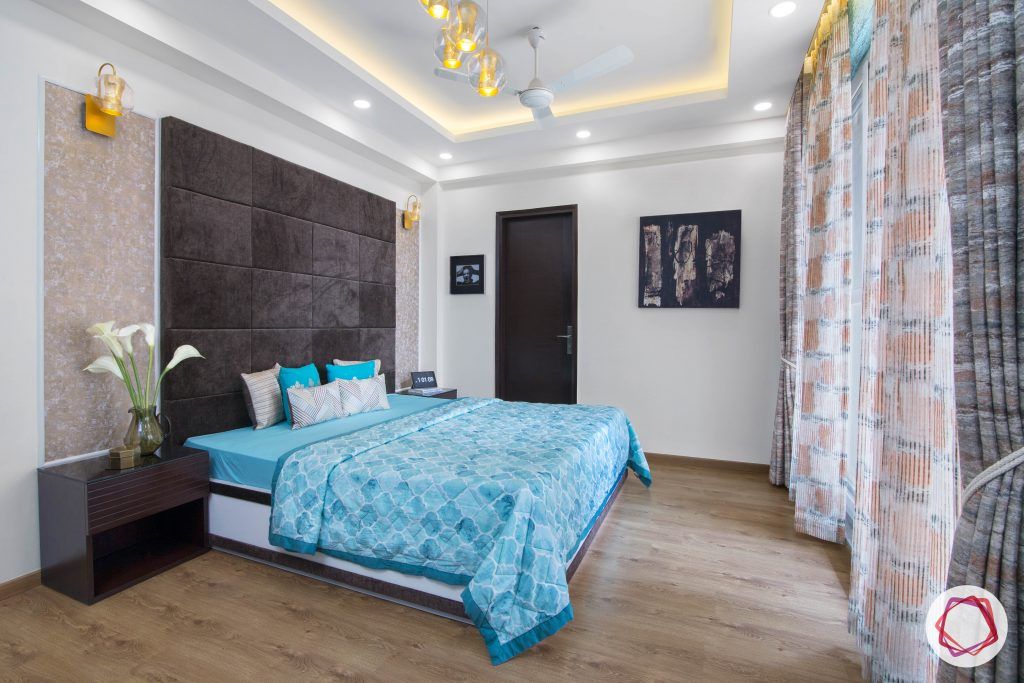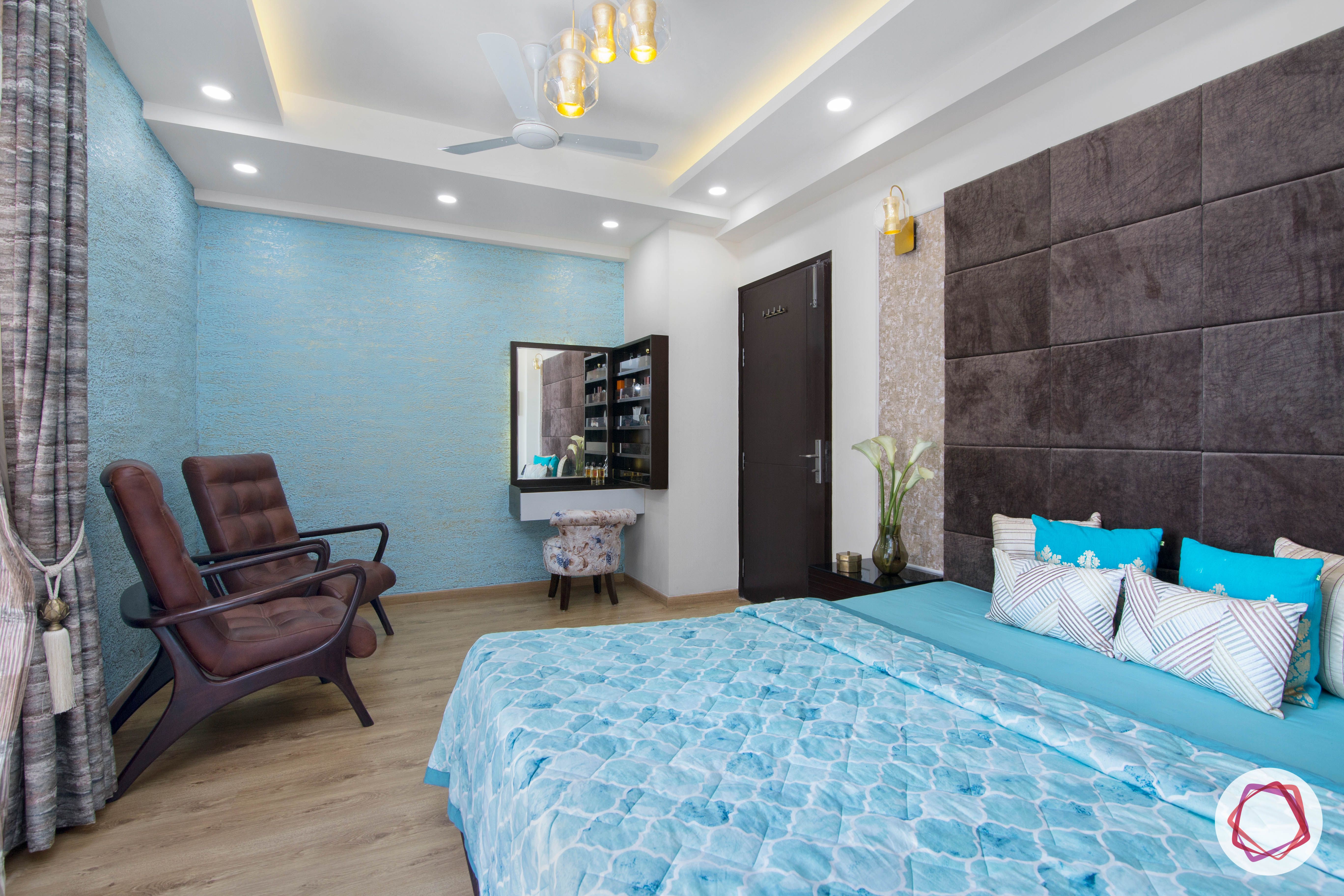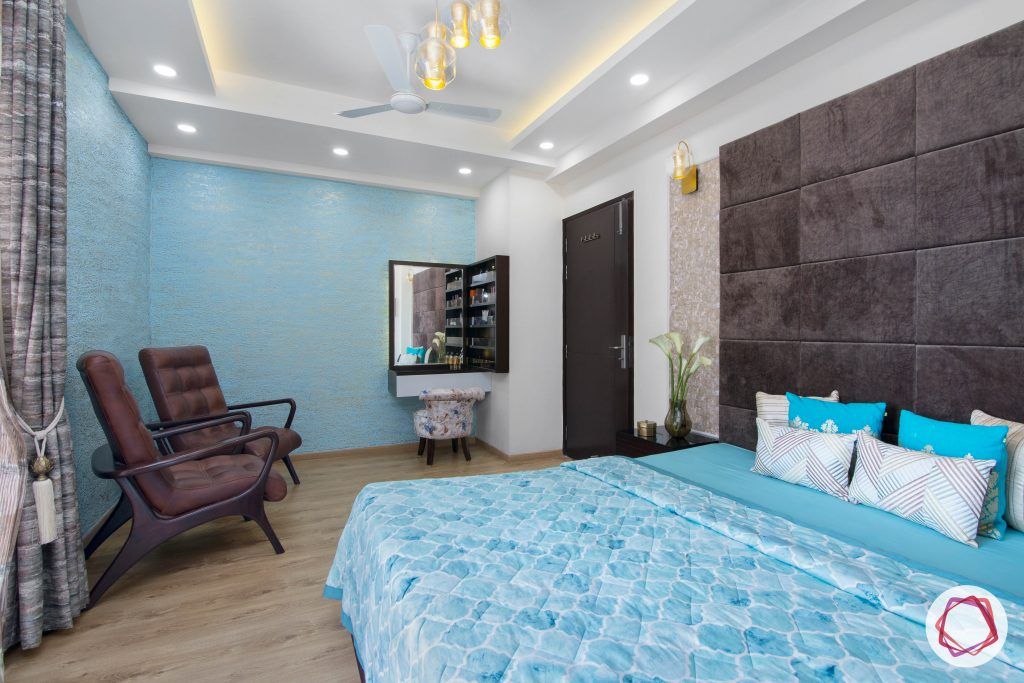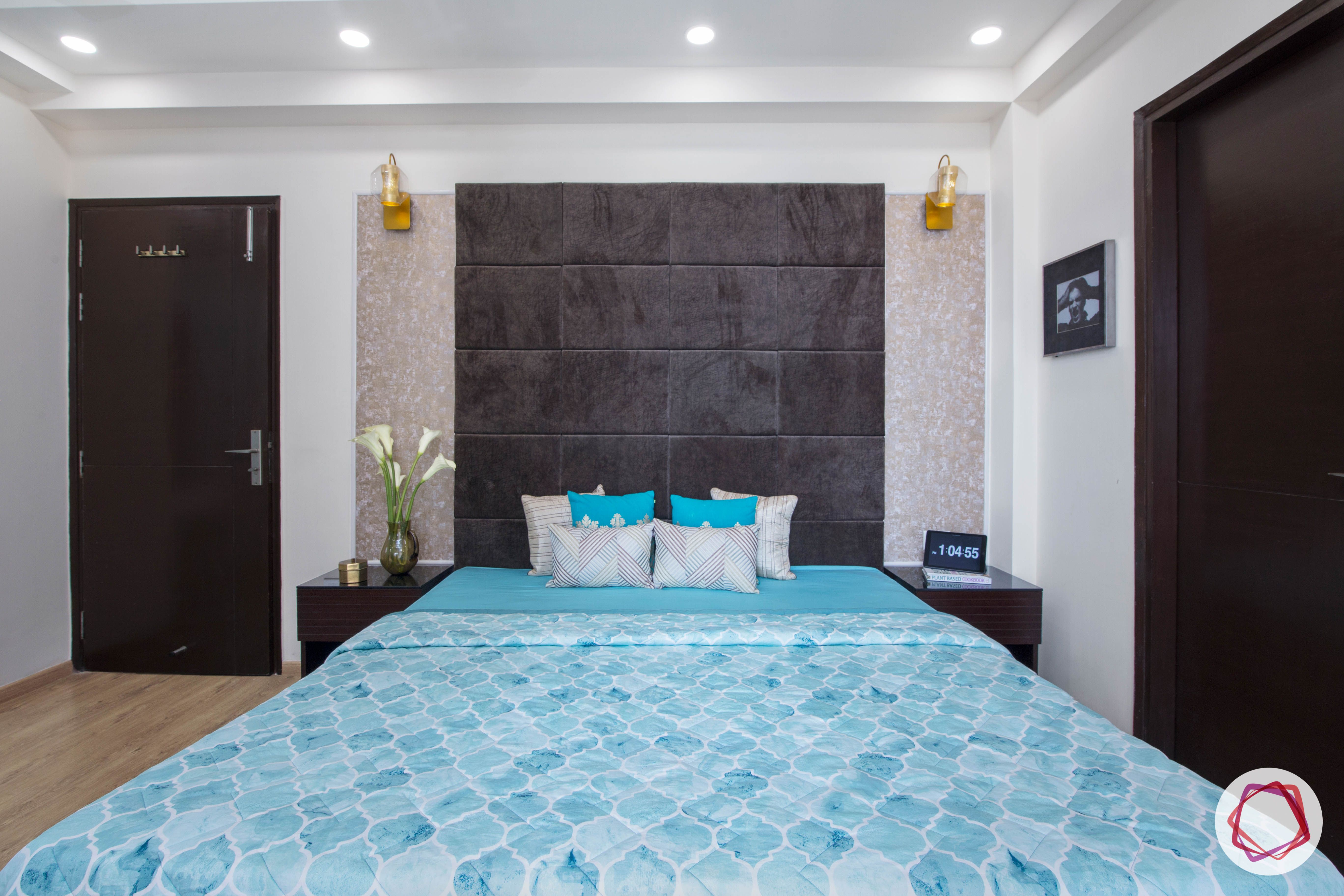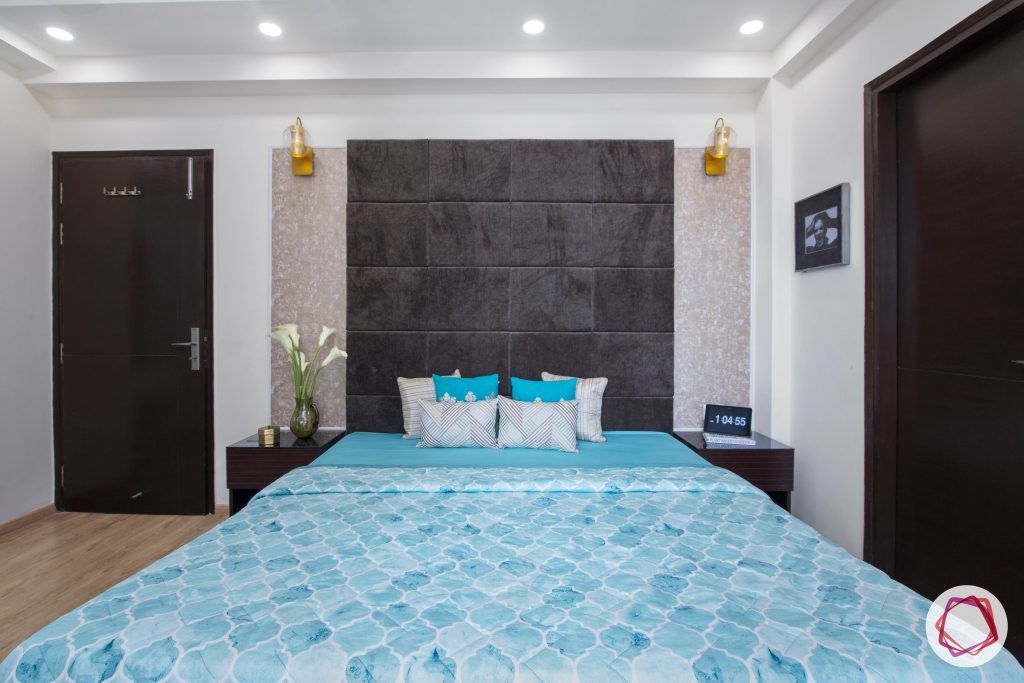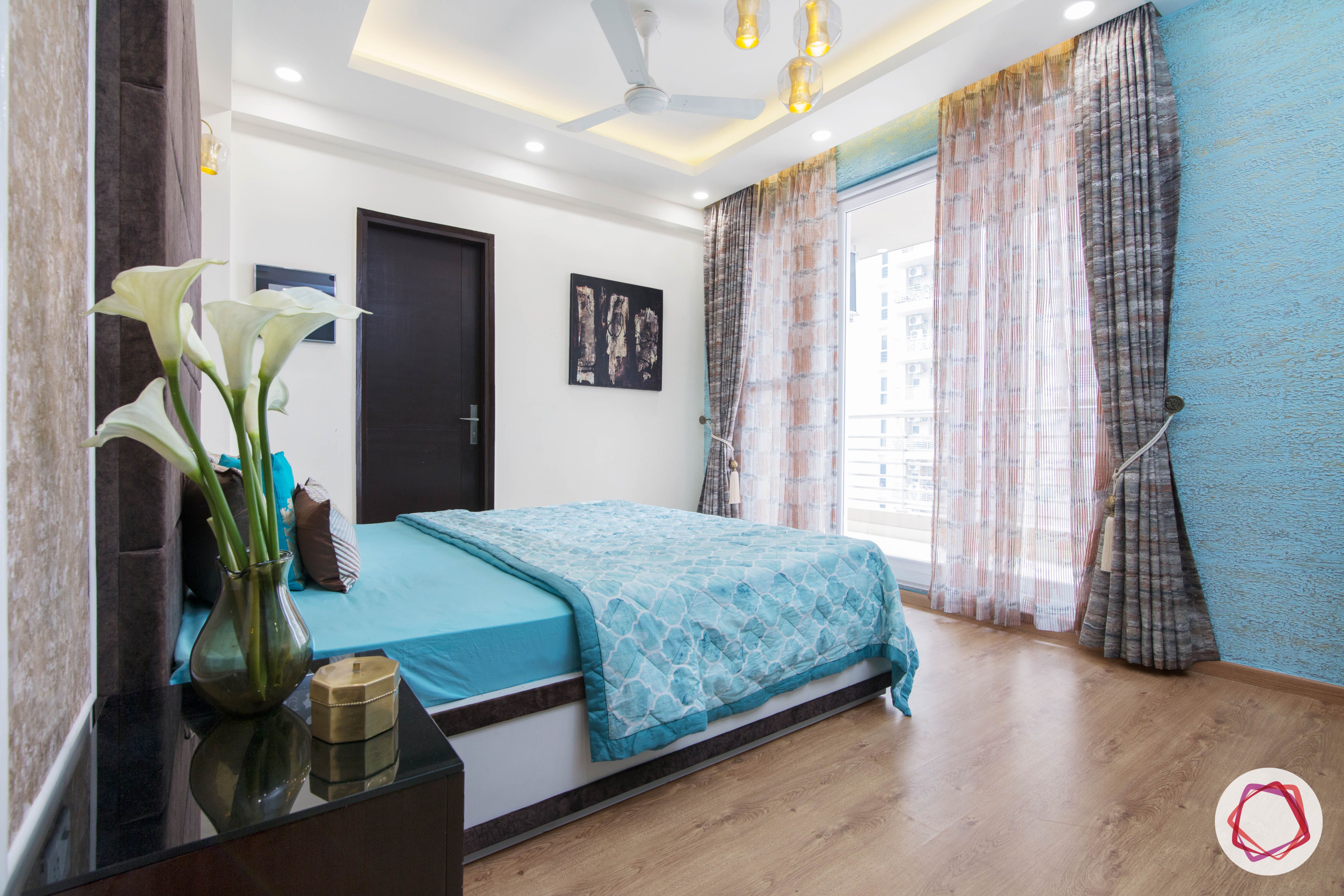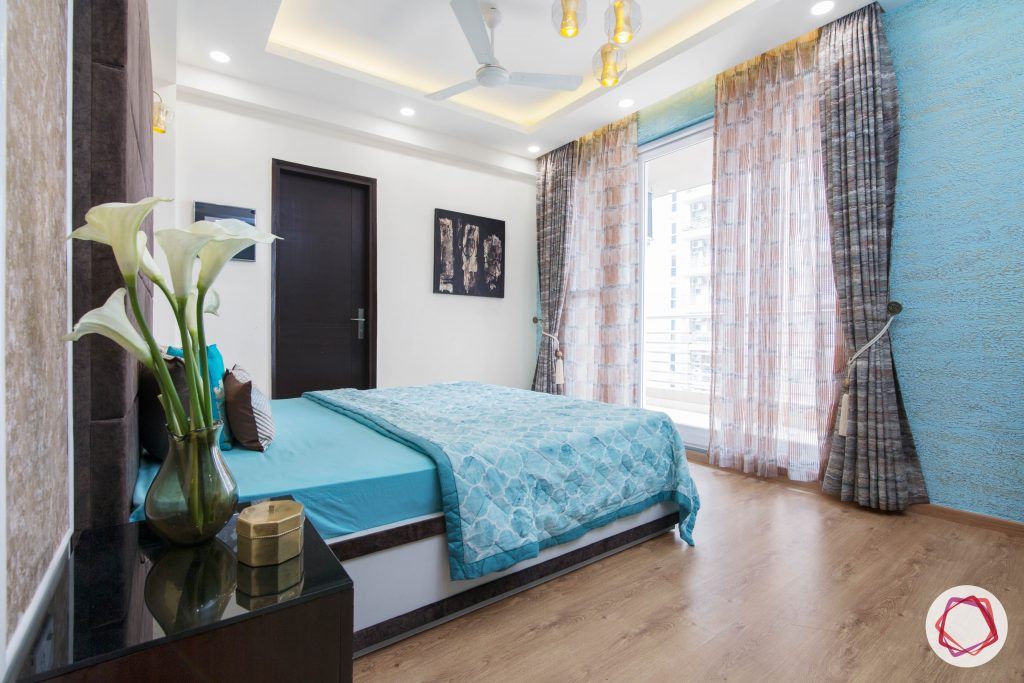 The master bedroom is doused in blue and deep brown shades. To keep things intriguing, Saijal added a dark brown headboard with light-coloured wallpapers on either side. The bed has hydraulic storage to stash extra things. She put in two accent chairs in the same headboard colour to create a cozy corner. The walls here are a textured paint. The look is complete with an elegant false ceiling and recessed lights.
Beautiful Home Design: Neutral Charm for the Parents' Bedroom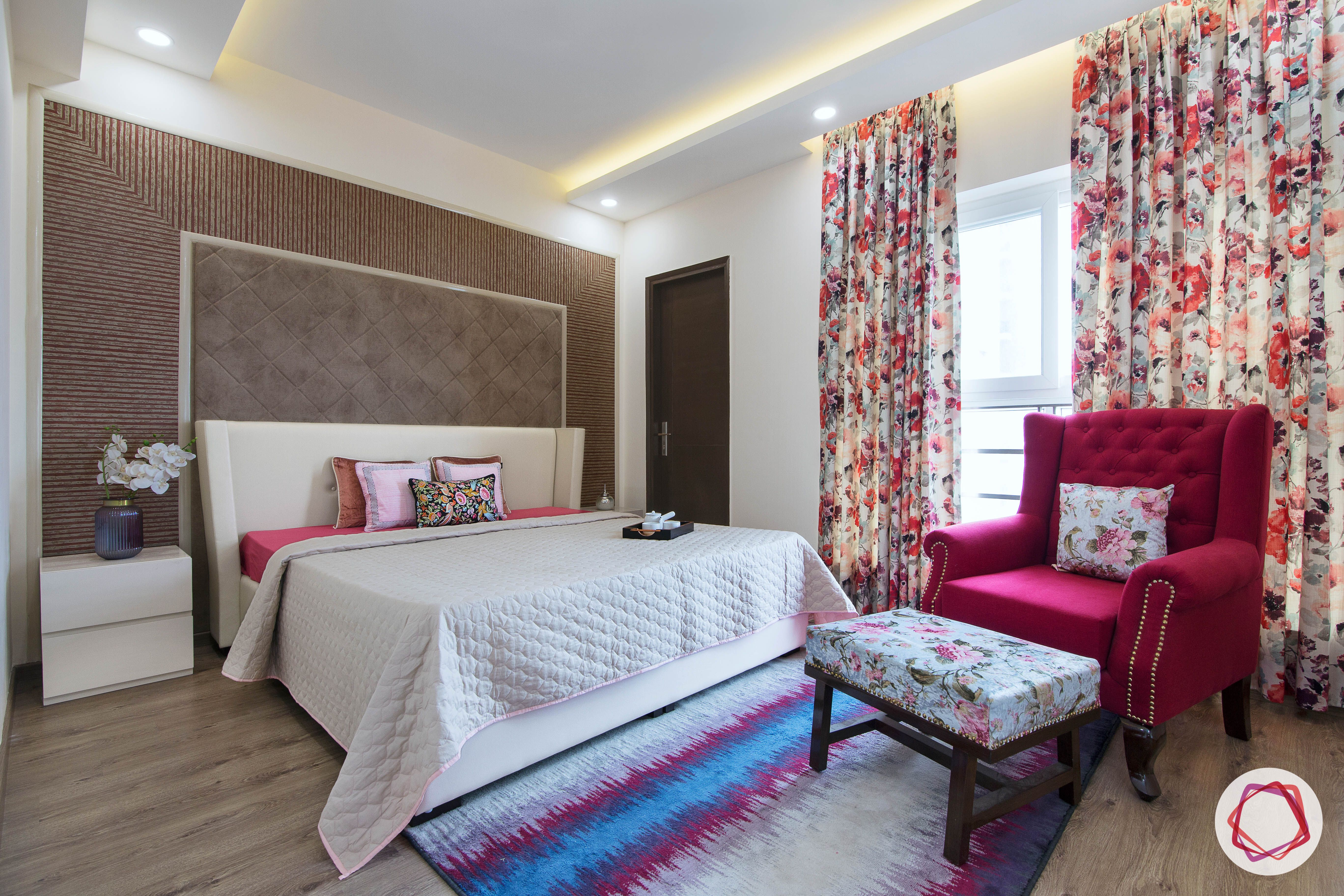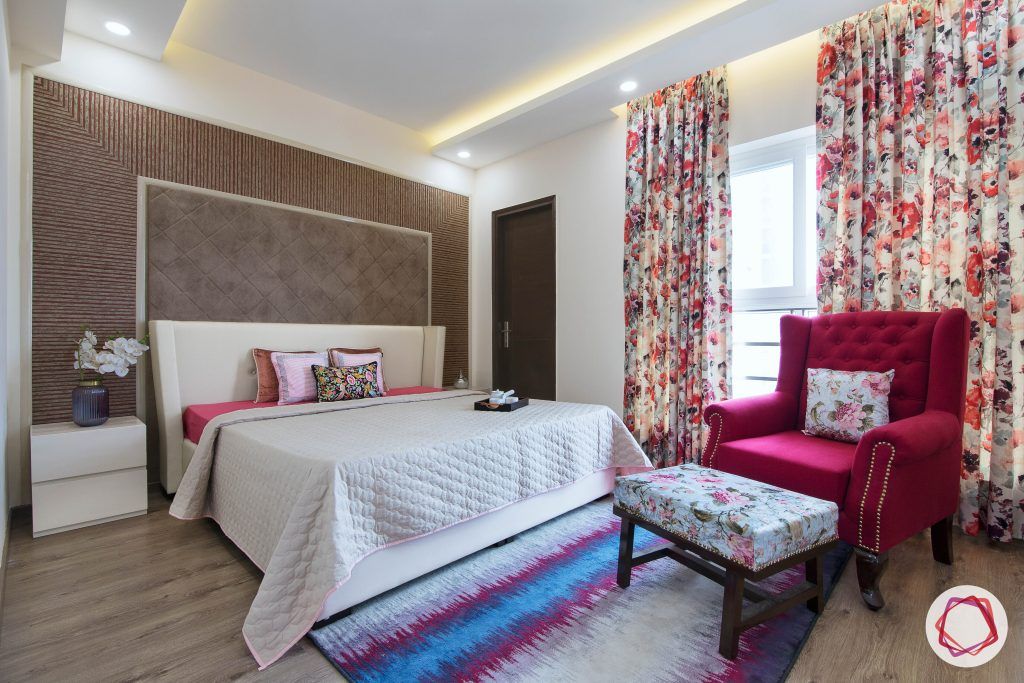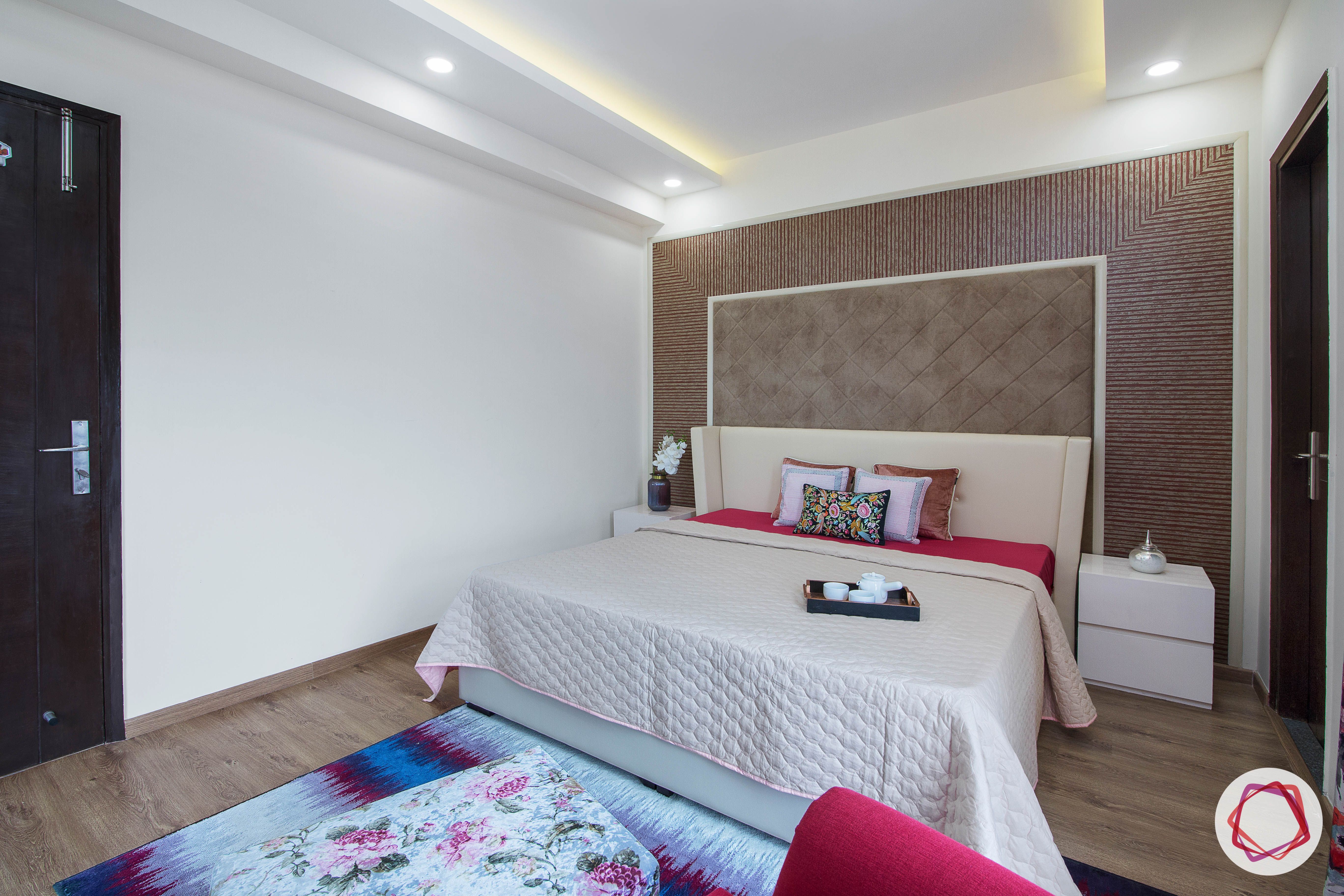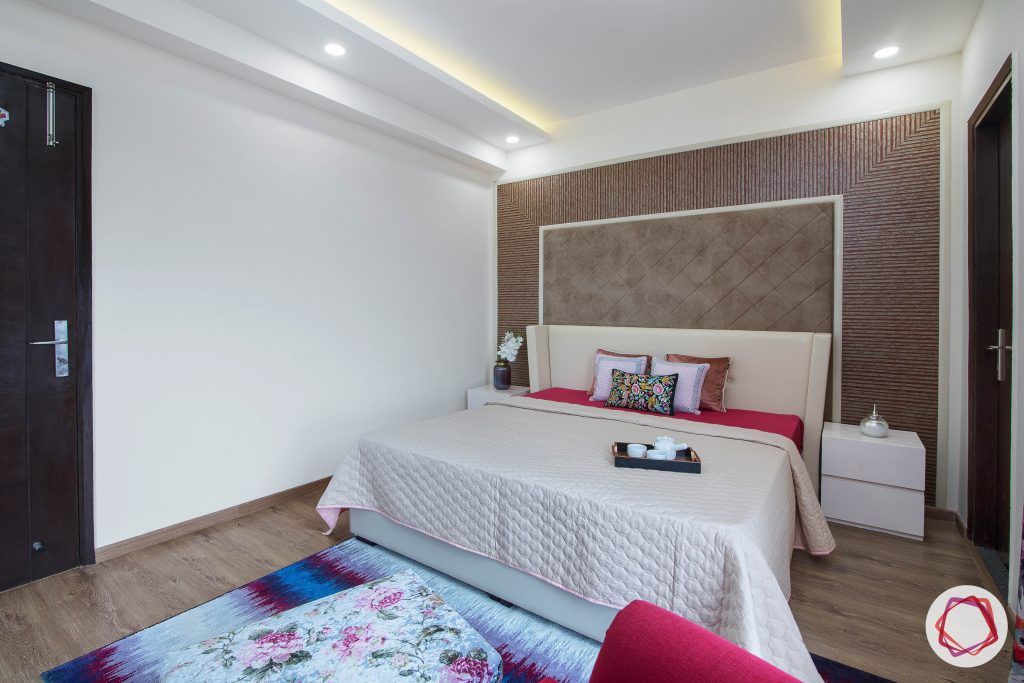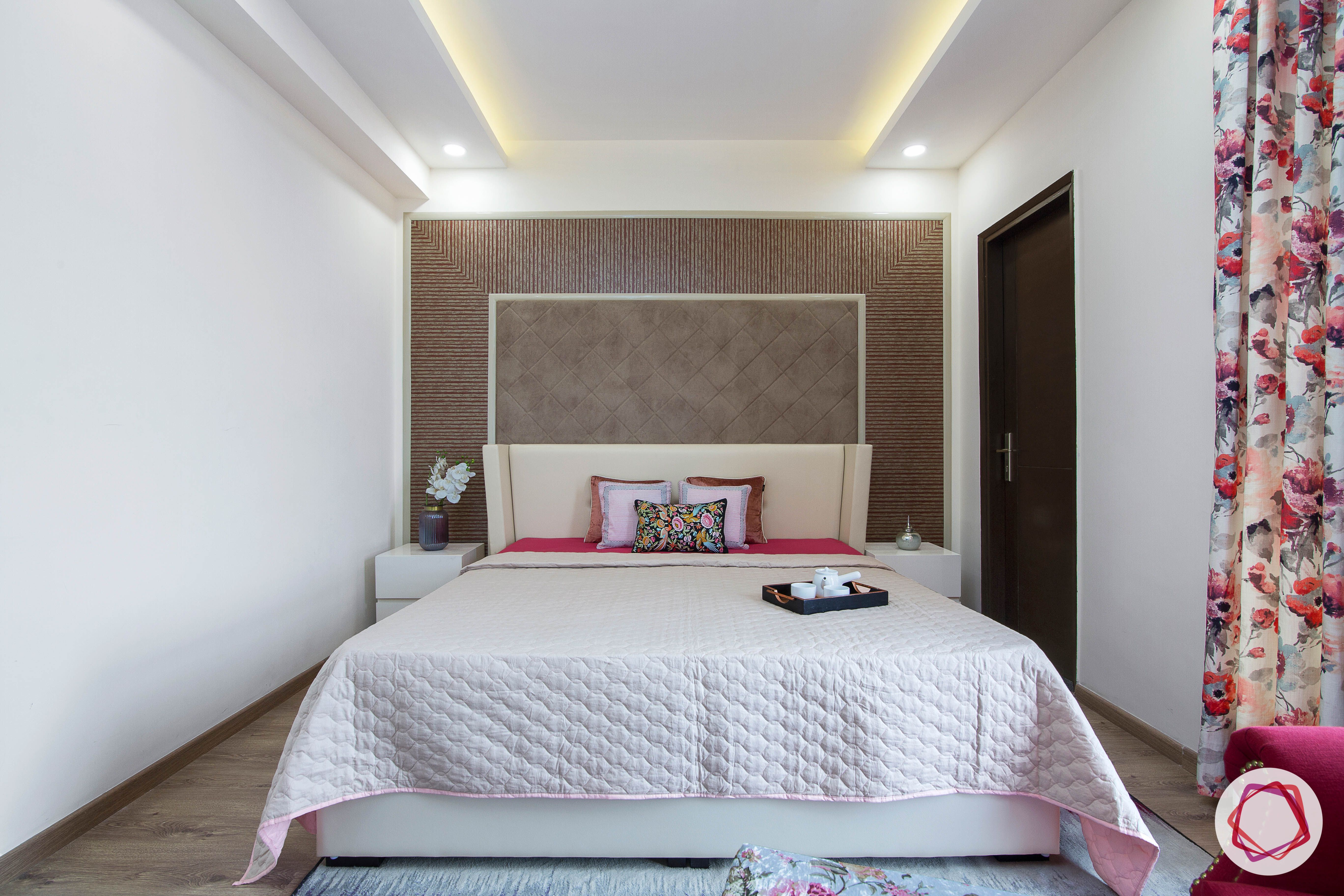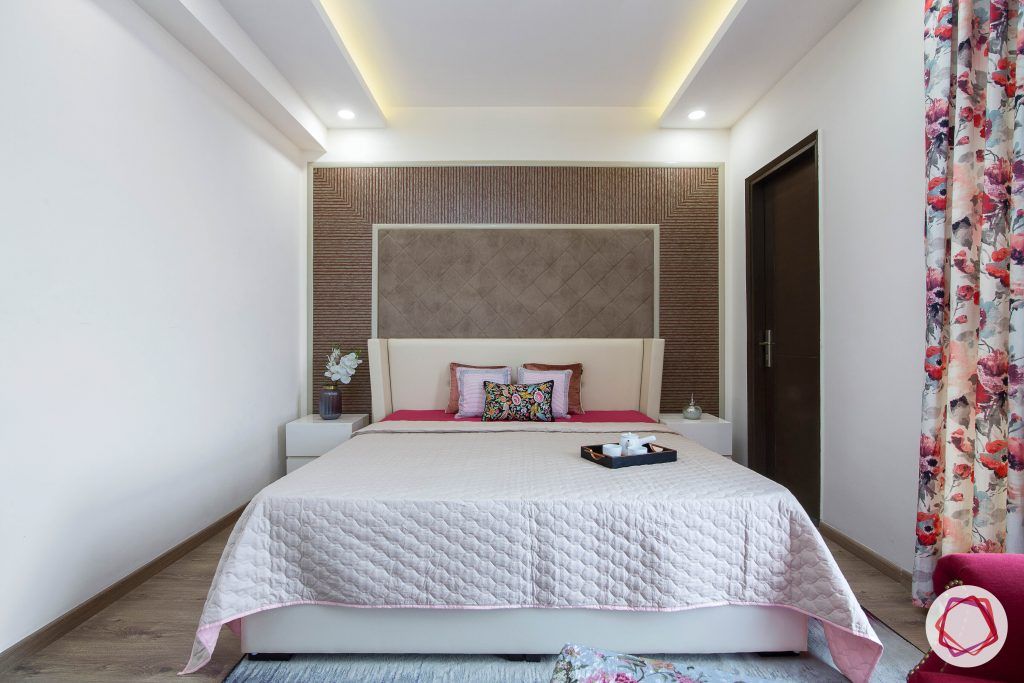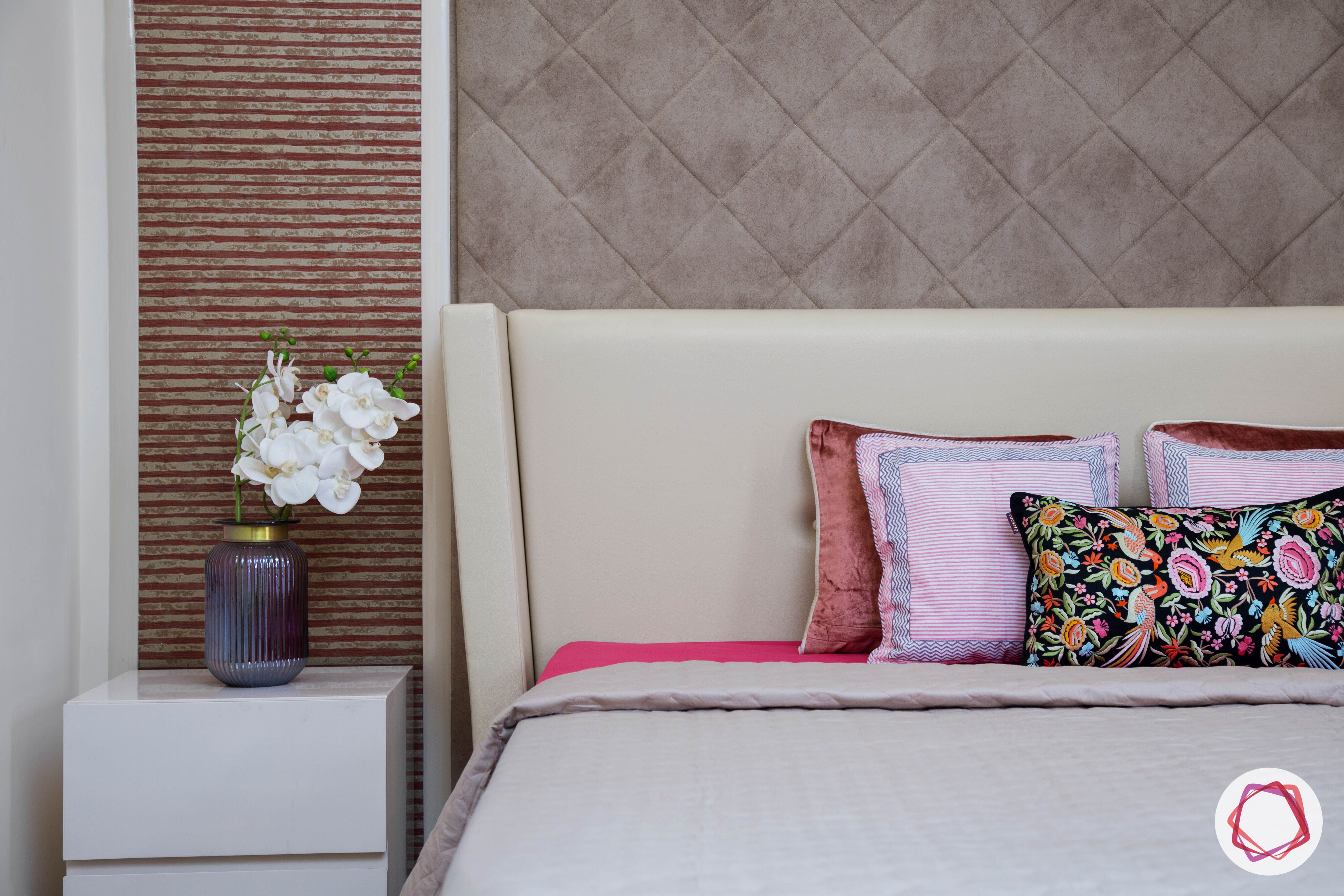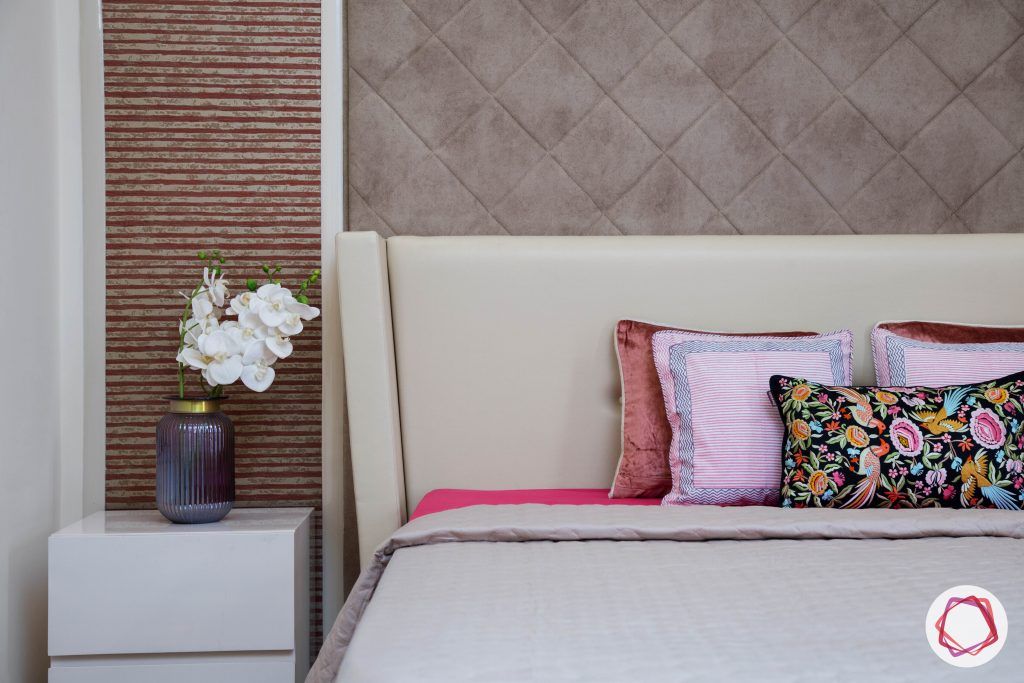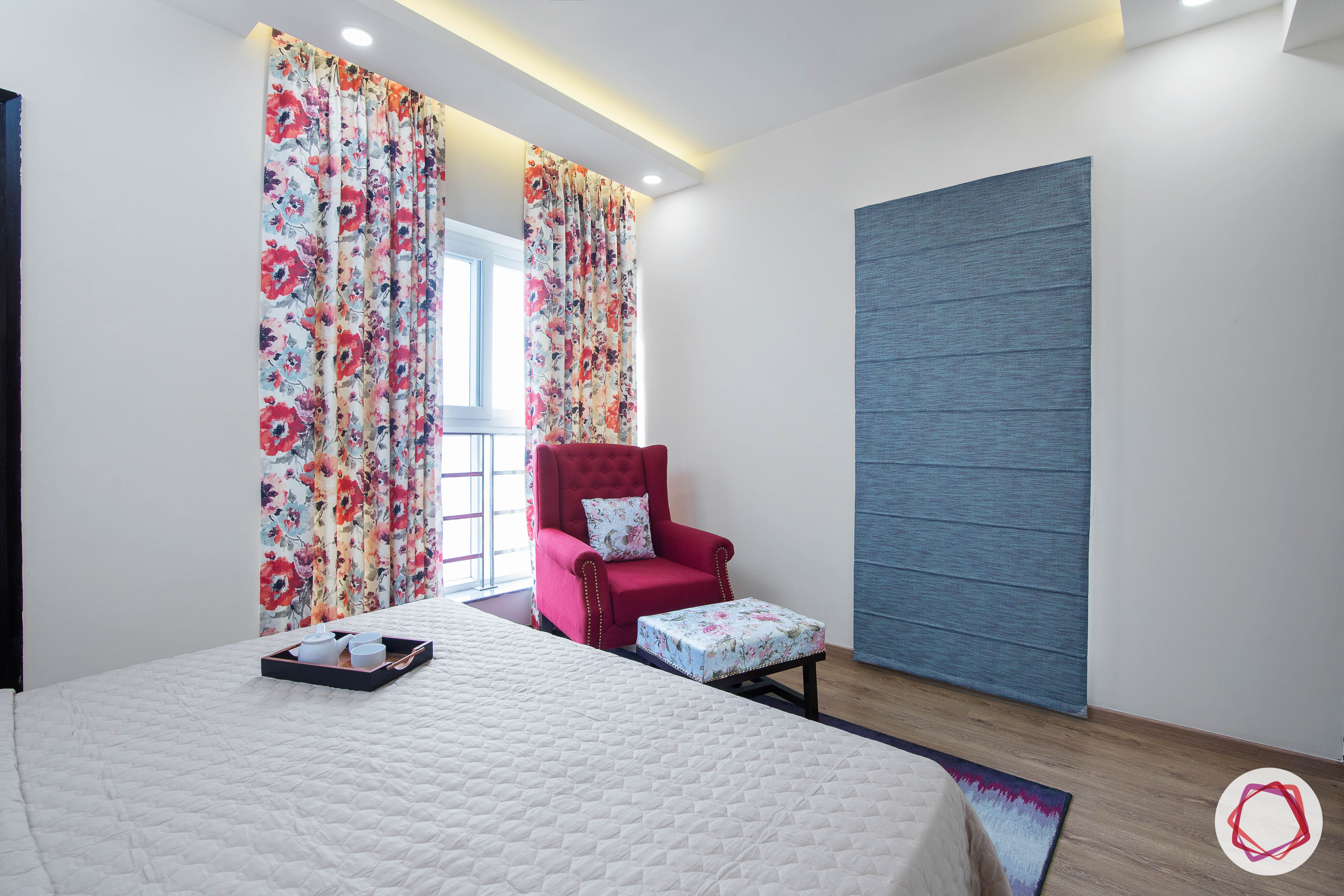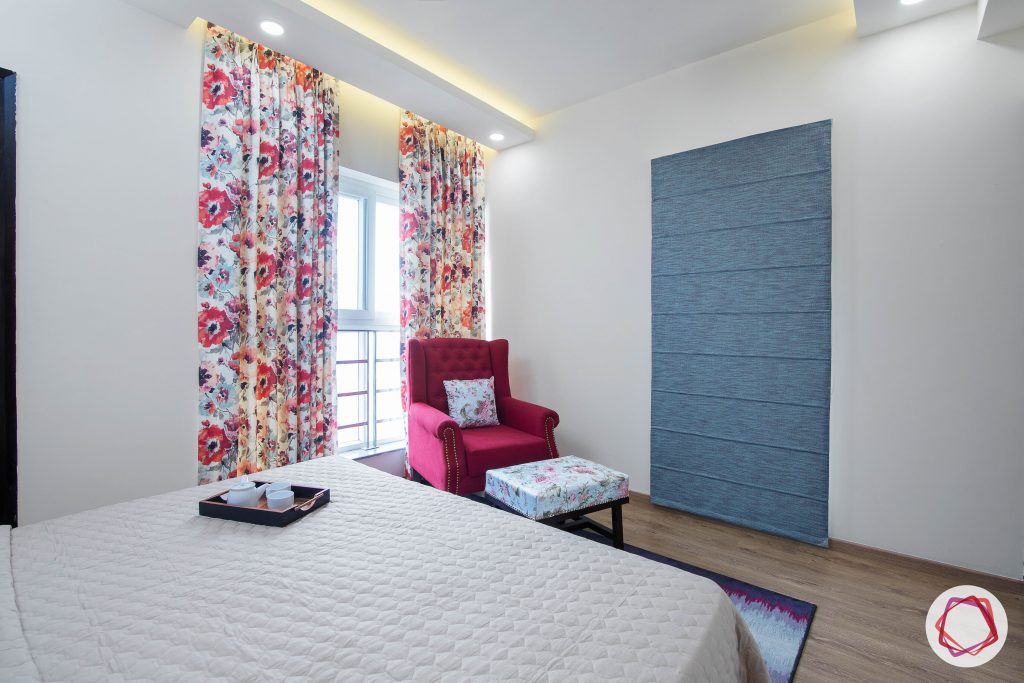 Nadeem wanted a floral yet neutral vibe for his parents' room. As a result, the centre wall features two panels: the inner one features an ivory fabric while the outer panel is a wooden-toned wallpaper. The white headboard adds a touch of softness to the space. Just like the master bedroom, this room too features a cozy personal corner, featuring a maroon velvet armchair with a floral-patterned ottoman. A blue textured blind covers the balcony door.
Beautiful Home Design: A Pretty Bedroom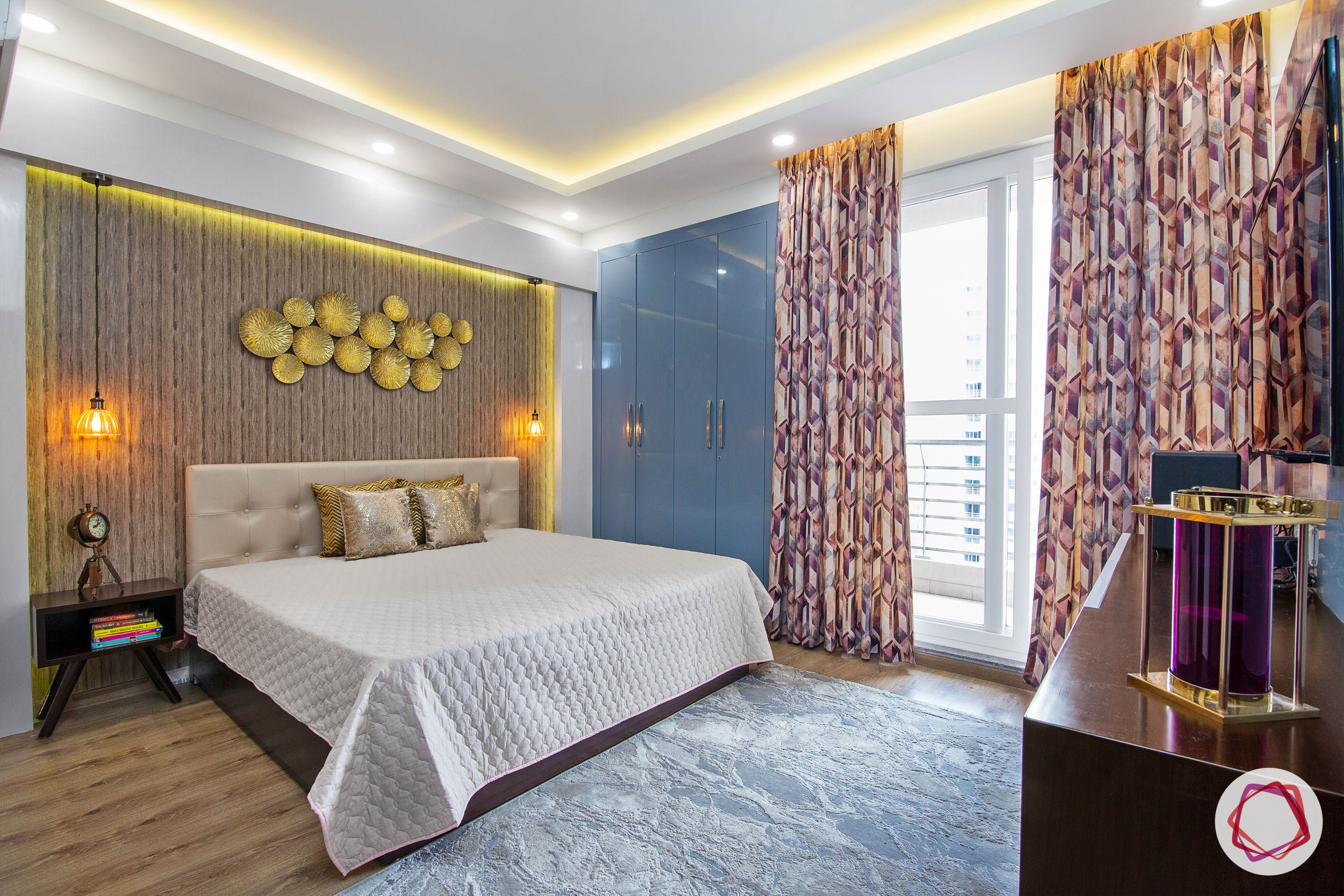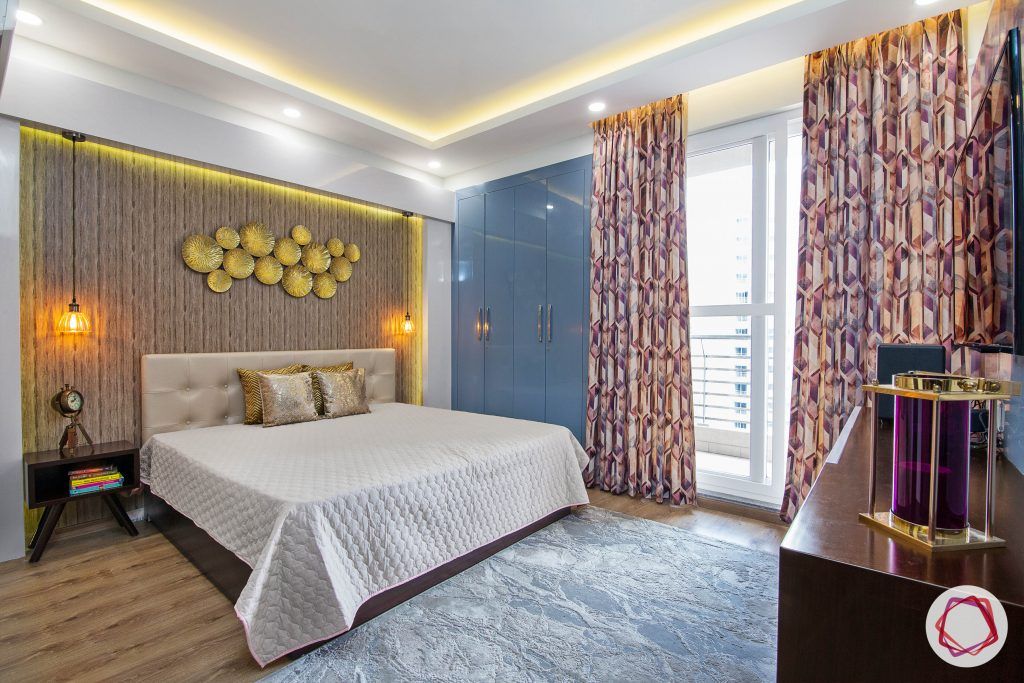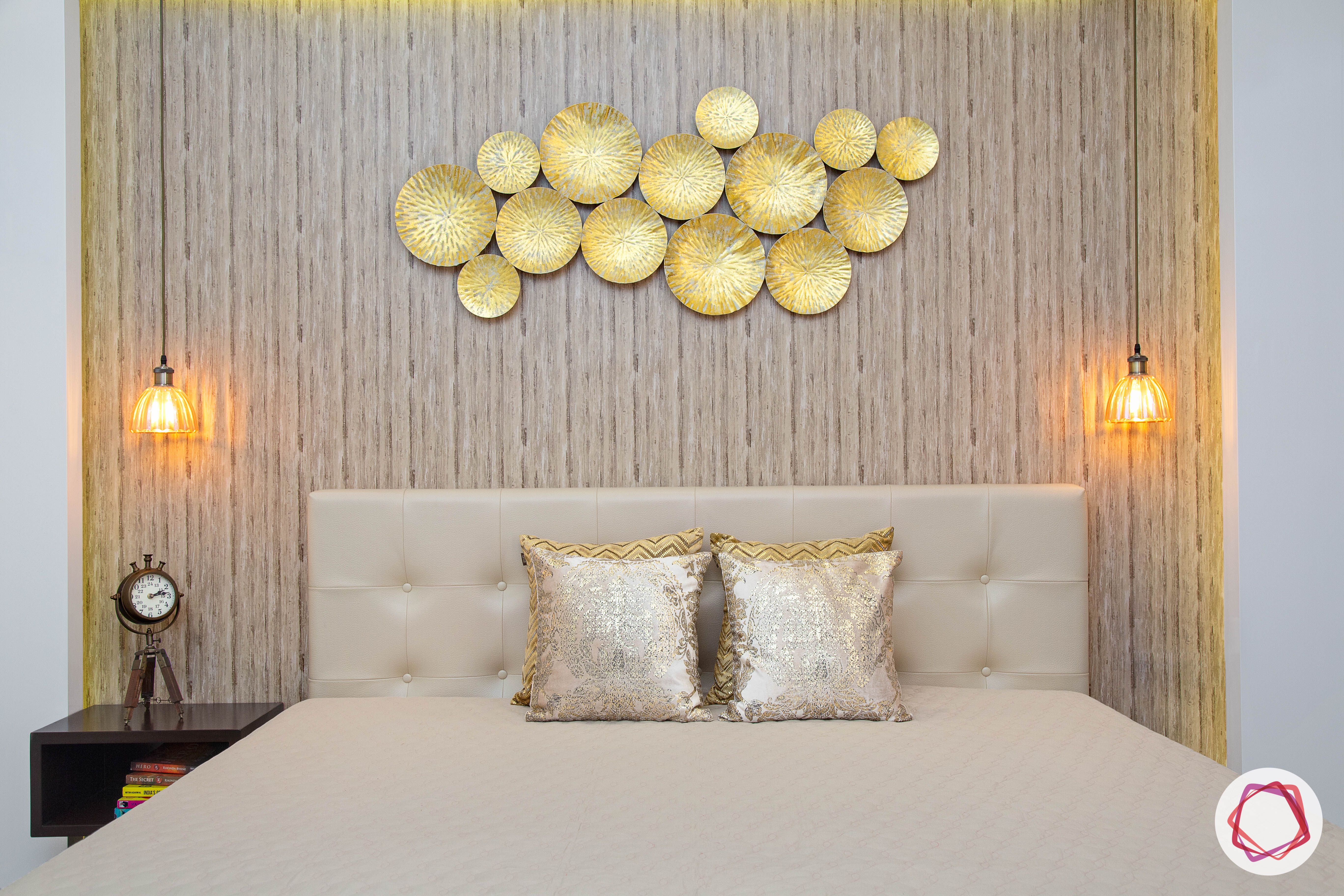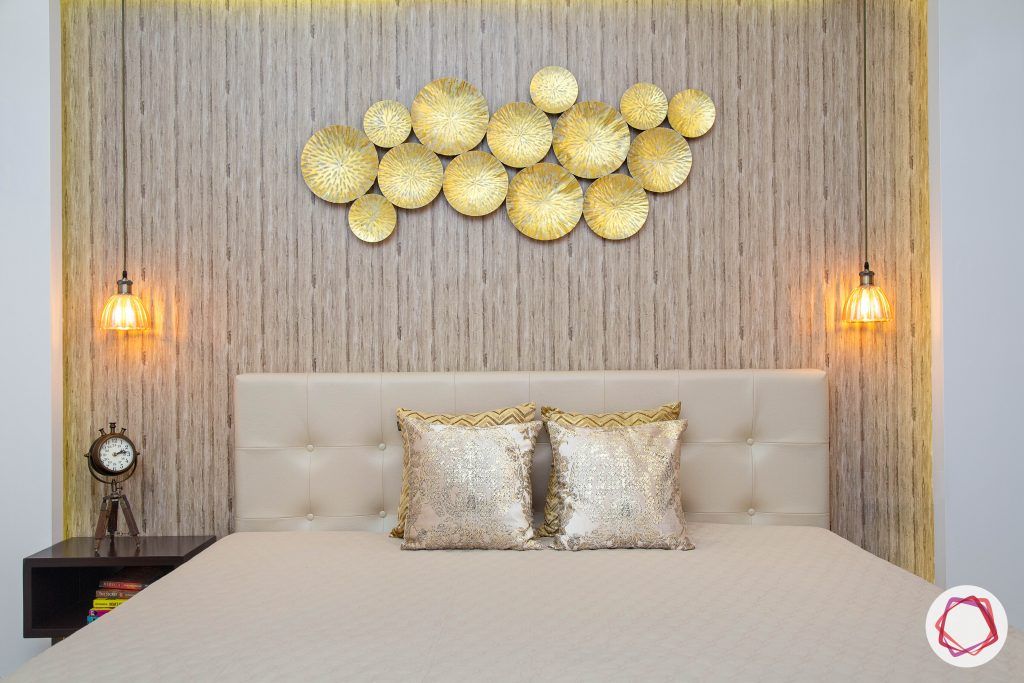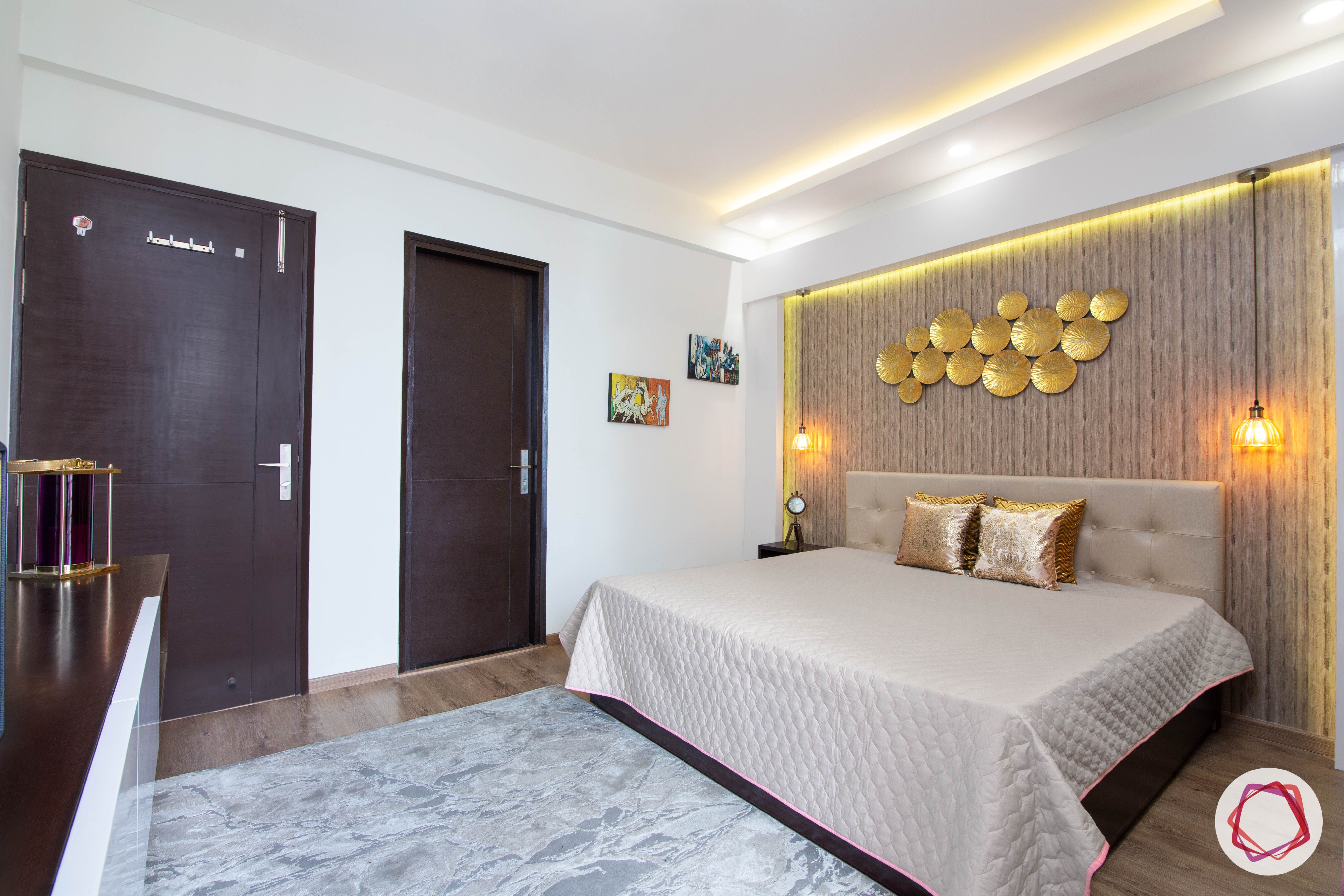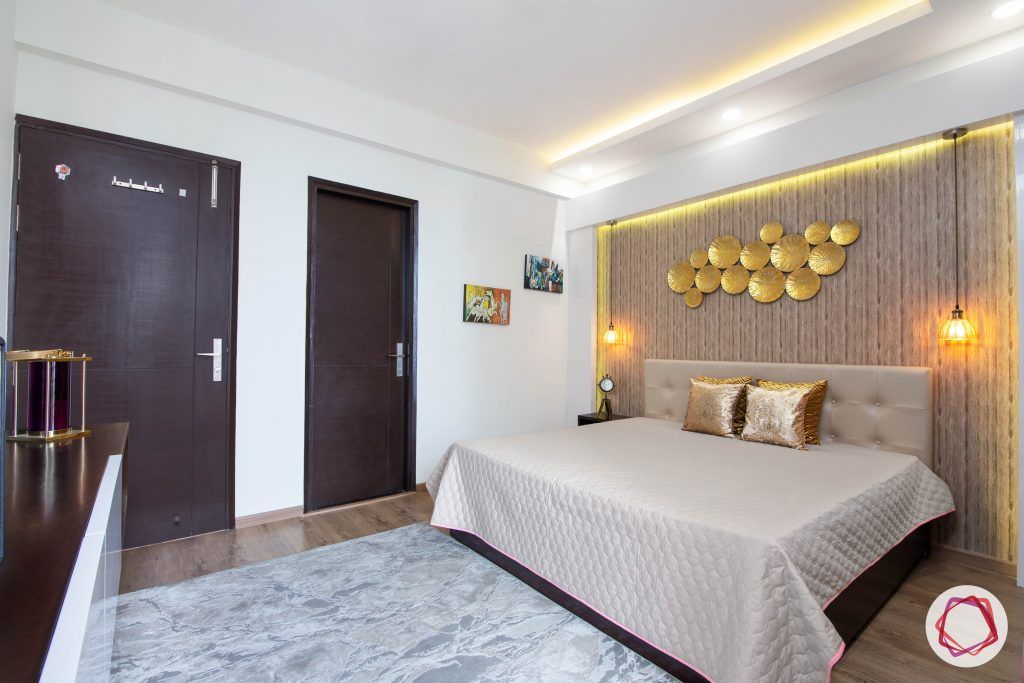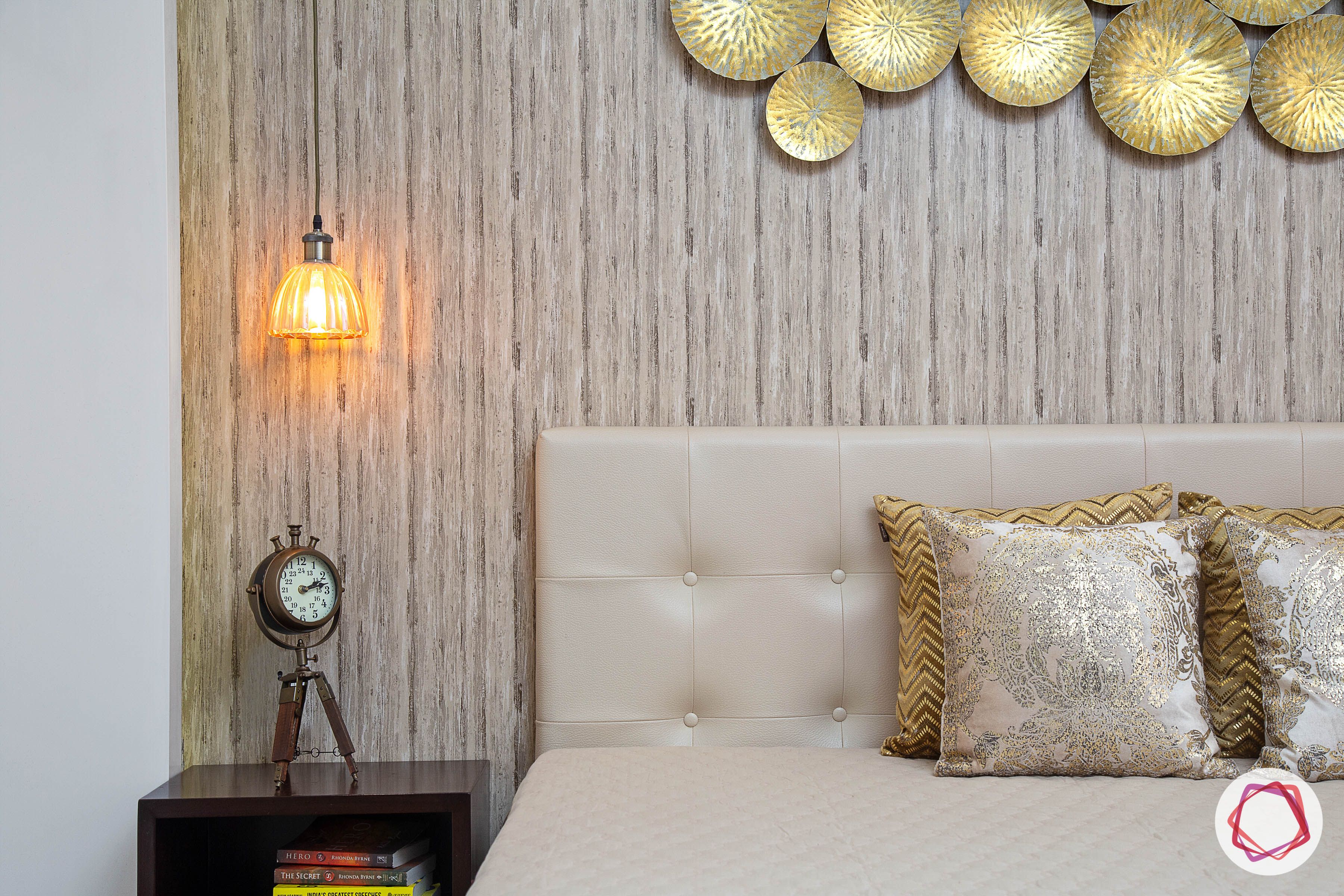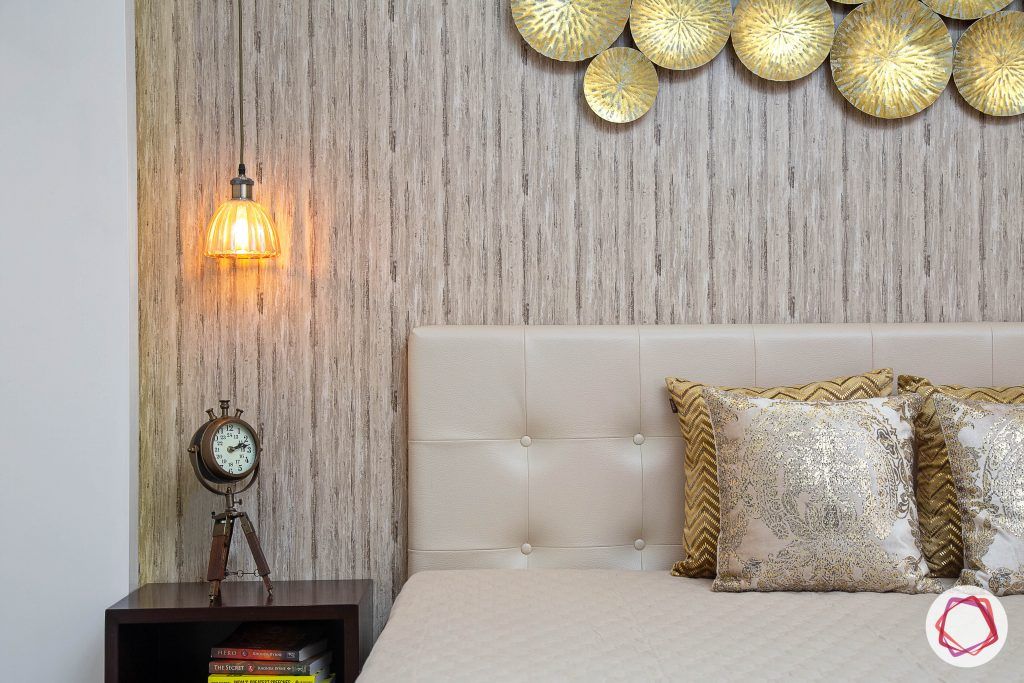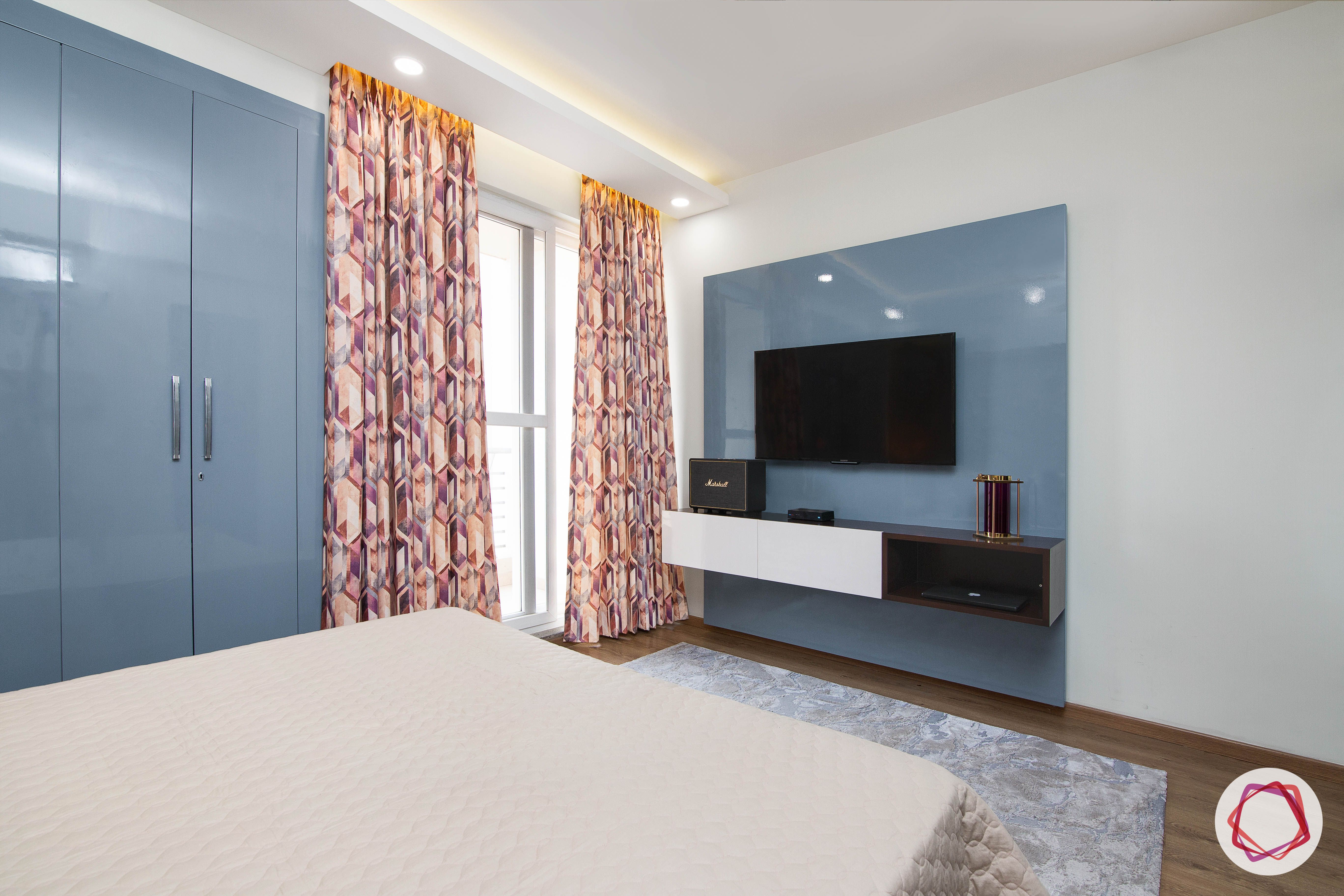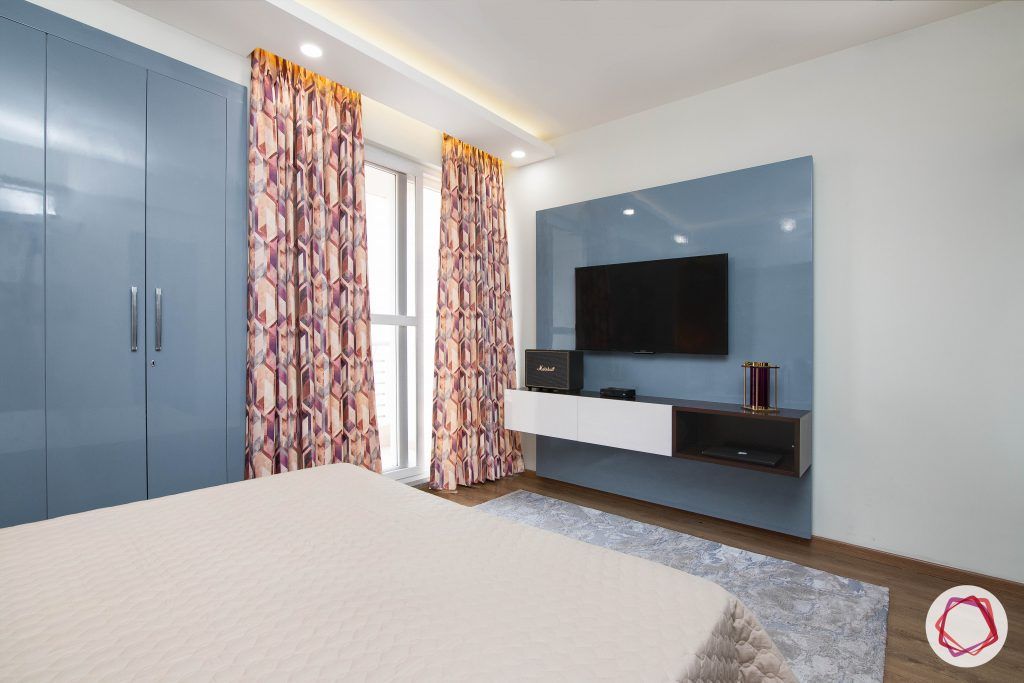 Nadeem's sister bedroom is in shades of brown and a bluish grey. The centre wall is a light wooden-toned wallpaper. We love the metallic accent piece that's been used a touch of bling. Notice how the wallpaper is nicely lit around its frame? This is thanks its backlit feature.
Since the room already had a swing door wardrobe, Saijal spruced it up with new shutters in a bluish grey semi gloss paint. In addition, a matching panel has been fitted for the TV unit that's been done up in white and grey veneer.
Beautiful Home Design: An Artsy's Bathroom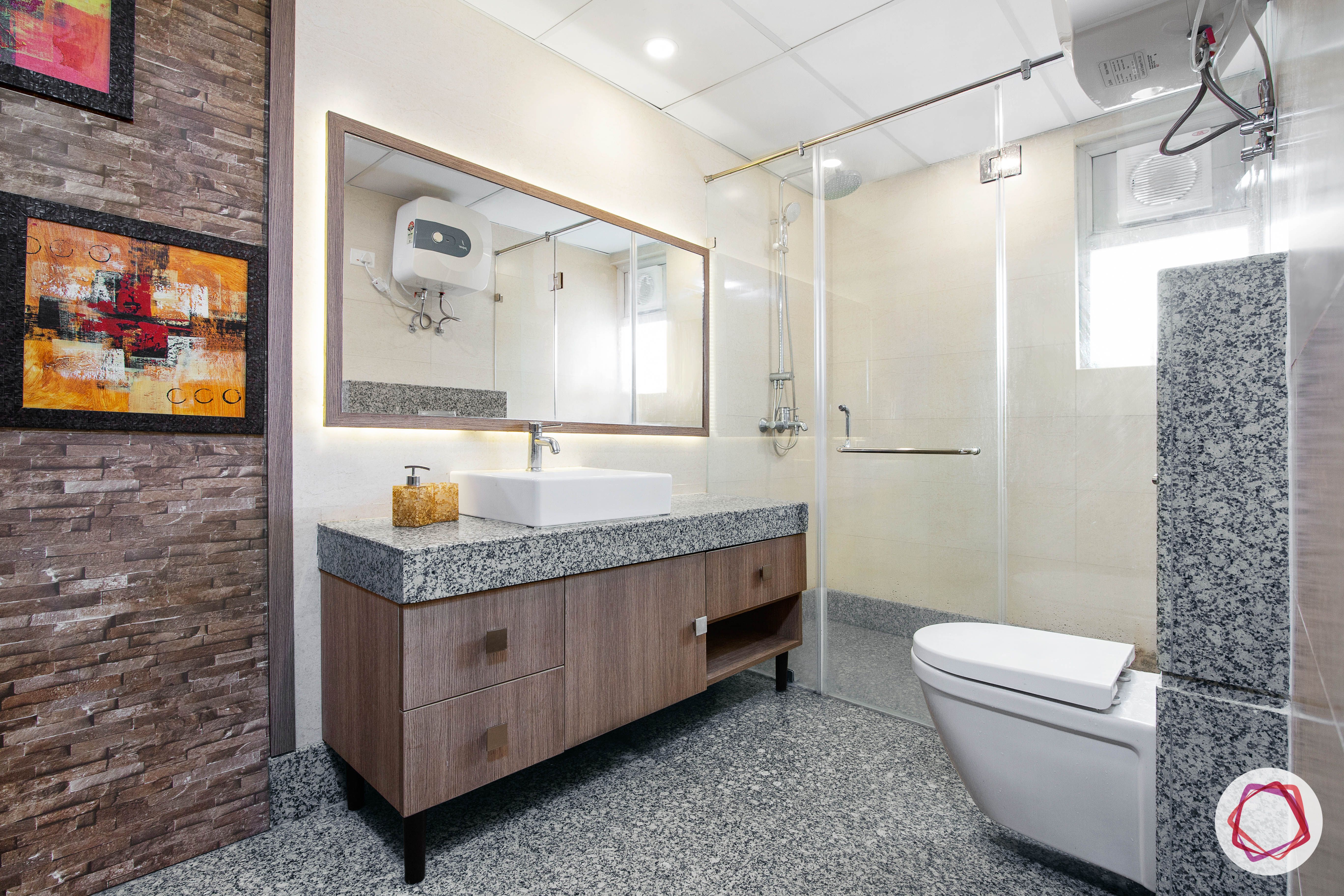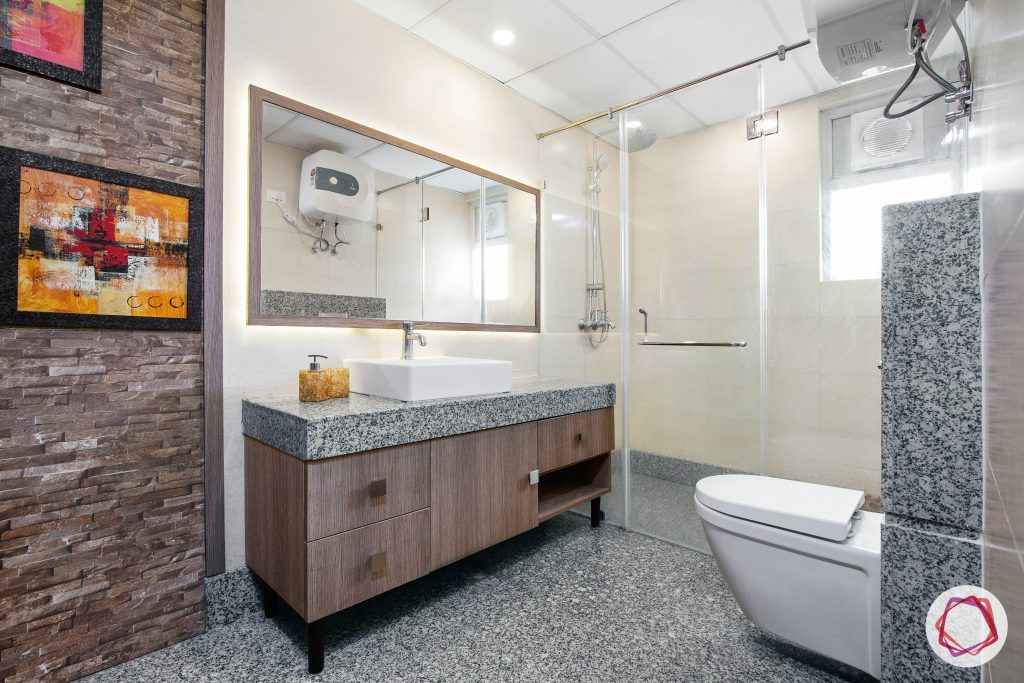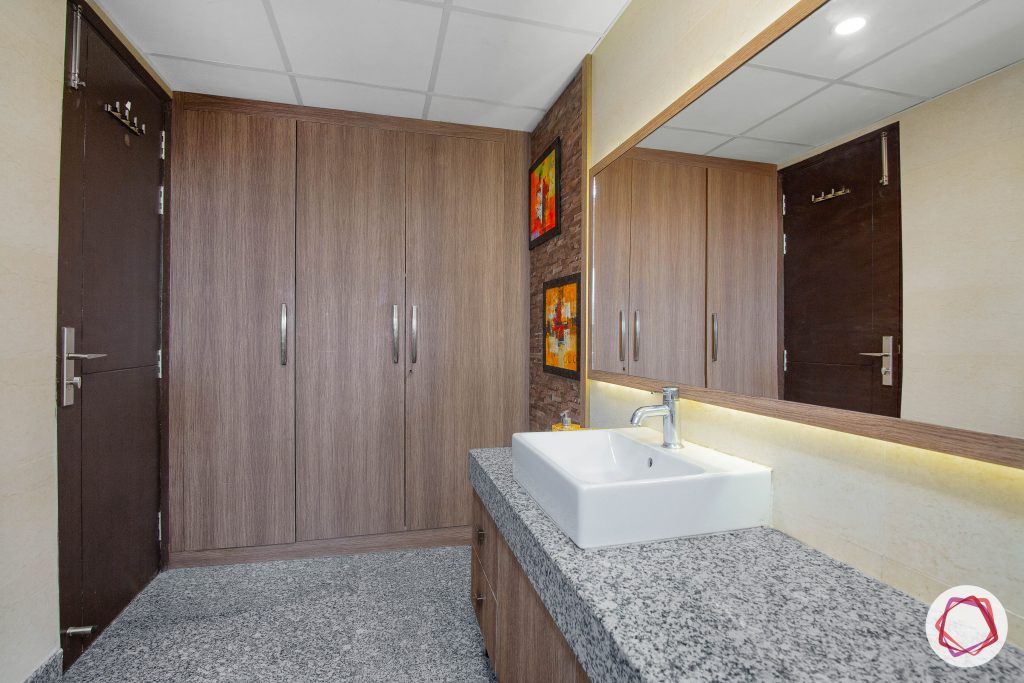 For the master bedroom's bathroom, Saijal added a wooden laminate panel. As a result, the family could hang artwork or accent pieces to highlight it. Moreover, she also spruced up the vanity space with a brand new mirror that's backlit for a touch of warmth.
"It was a wonderful experience designing Nadeem Khan's home. Since he already had a clear picture of what he wanted for his home, the entire process was smooth."

– Saijal Jain, Interior Designer, Livspace
If you loved this beautiful home design, you might also like Compact Home with Space-saving Ideas at Rustomjee Urbania
Send in your comments and suggestions.