The boundary between work and home has faded for many in the last year. Most of us are getting work done from our couches, beds, etc., doing our best with what we have. If you are tired of this and on the lookout for minimal office room interior design, this guide is for you.
The key to having a dedicated workspace is not to find a separate room for the same, which most of us don't have the liberty to do. You can create a minimalist but aesthetically appealing and highly functional space by being smart about the design. Read on to learn about minimalist and space-saving study or office room interior design.
Why minimalism?
One simple reason— to avoid distractions. (Also, because it looks so good!)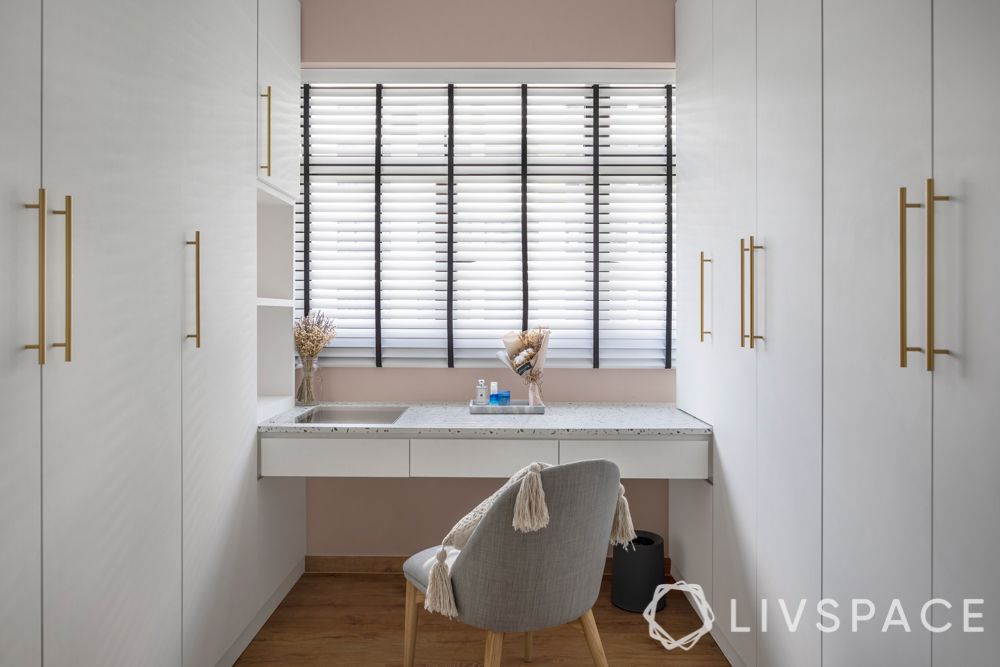 The objective of a dedicated workspace is to improve productivity and avoid any distractions that come in the way. To make that possible, what better study room interior design idea than minimalism? Simply put, minimalism is possessing only the things you need and cutting out the distractions that impede you from focussing on the essential matters.
Now that you know why, let's look at the how.
How to achieve a minimalist office room design?
#1. Find a space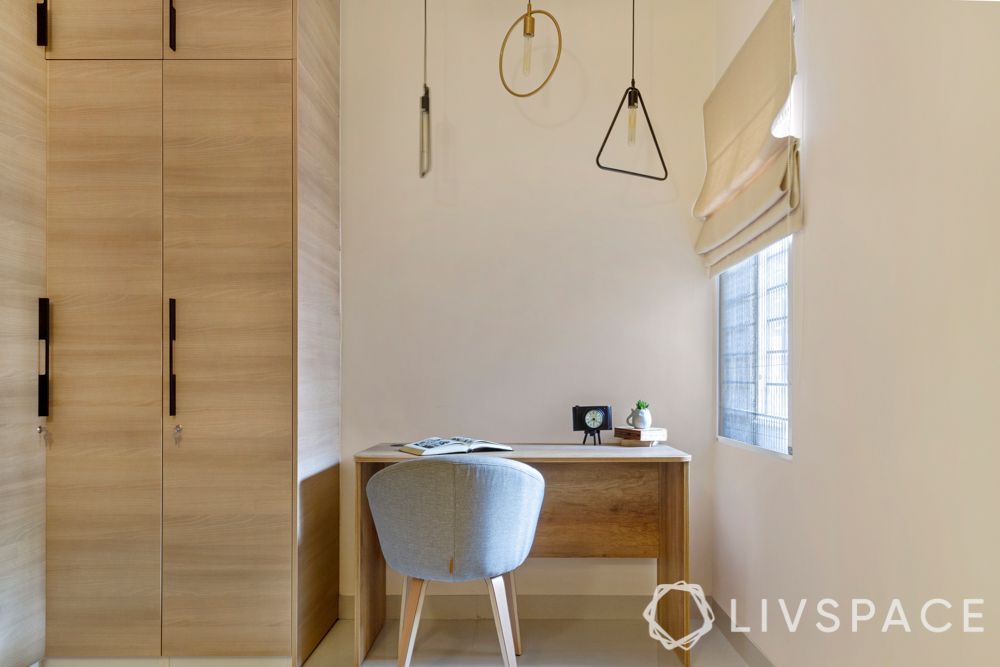 Select an area that is preferably spacious, a little away from the daily hustle-bustle of every household and gets ample light. An empty nook near the window in your bedroom or study or entertainment room is best. Also, make a note of the dimensions of the space. This is office room interior design 101, and many tend to overlook it. Understand that the measurements are essential to get perfectly fitting furniture.
#2. Stay neutral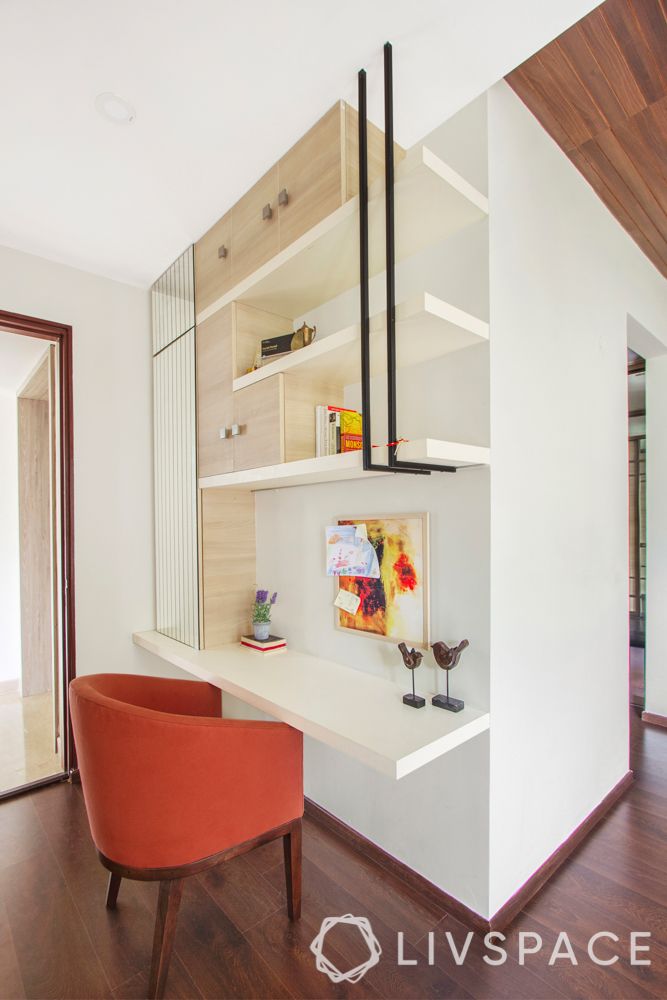 A palette comprising neutral, white and pale colours is a minimalist-approved study room interiors idea. Choose a simple finishing, devoid of any patterns, for a tidy appearance. You can add a pop of colour with your chair or plants or other accessories.
#3. Pick wooden furniture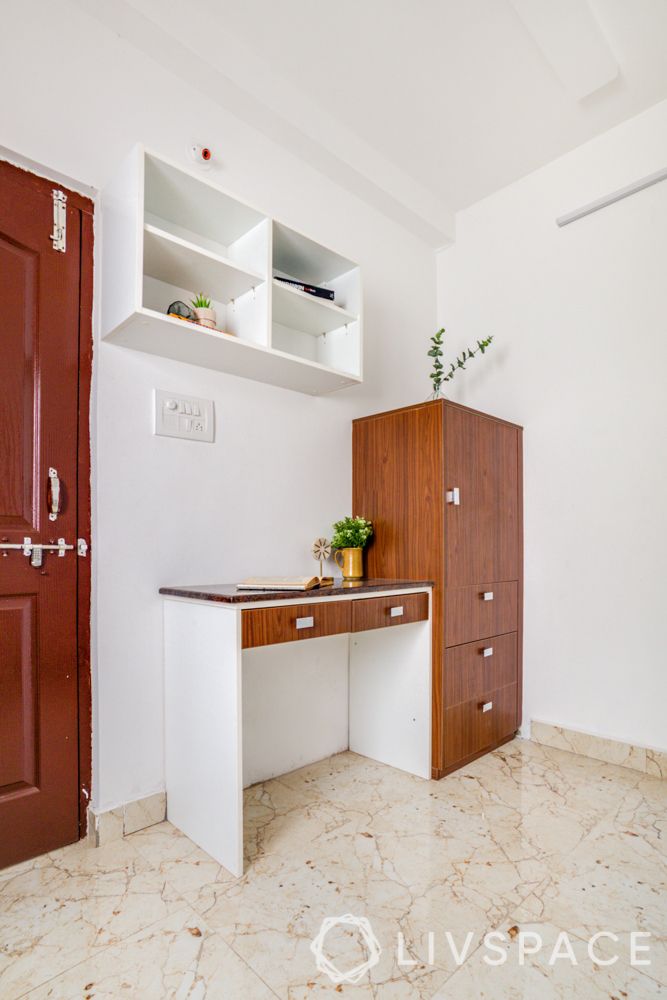 For a minimalist set-up, we recommend wooden furniture. It stands out against the neutral background and exudes a warm and pleasant vibe. The furniture you need to get your hands on is a desk and office chair. Both are important and need to comply with your working style.
The office chair is used more than one intends to. So invest in a durable, ergonomic and stylish one. Go with a colour that complements your walls.
As for the desk, some minimal and space-saving options are floating desks, fold-out desks and slim desks. Choose a sturdy desk that is wide enough to fit in your essentials and of ergonomic height.
#4. Invest in storage and organisers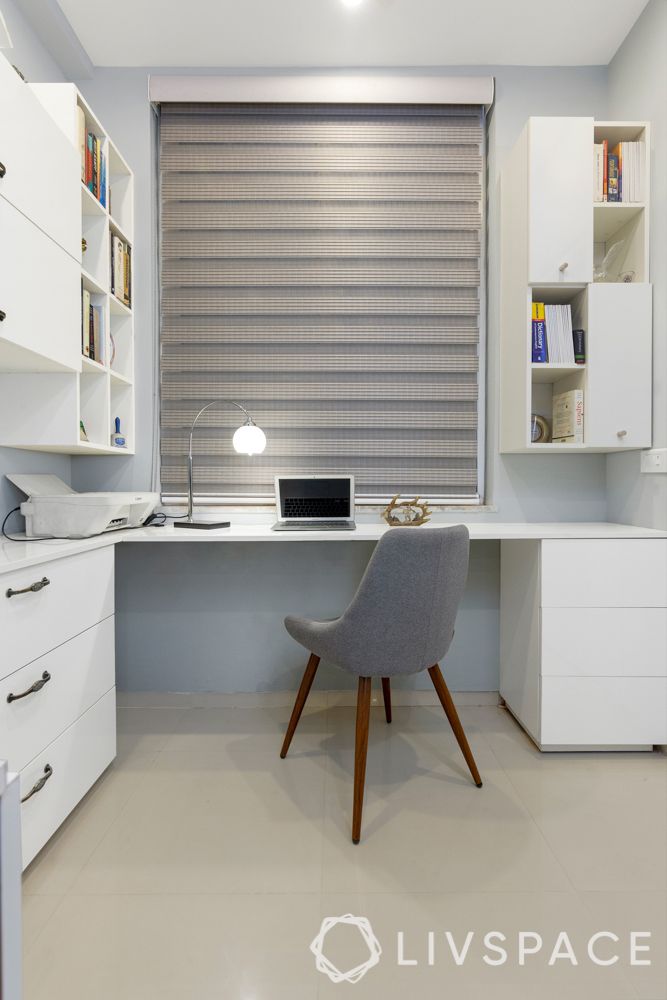 Minimalism calls for a neat and clutter-free space. So, efficient and space-saving storage units and organisers are necessary to achieve that. If you don't have built-in storage units, consider investing in wall shelves or modular cabinets, or a mix of both, depending on the number of items you use regularly and need in your workstation.
Prefer not to shell out extra cash? Makeshift storage using wooden, plastic, or even cardboard boxes is definitely an option.
#5. Get plenty of light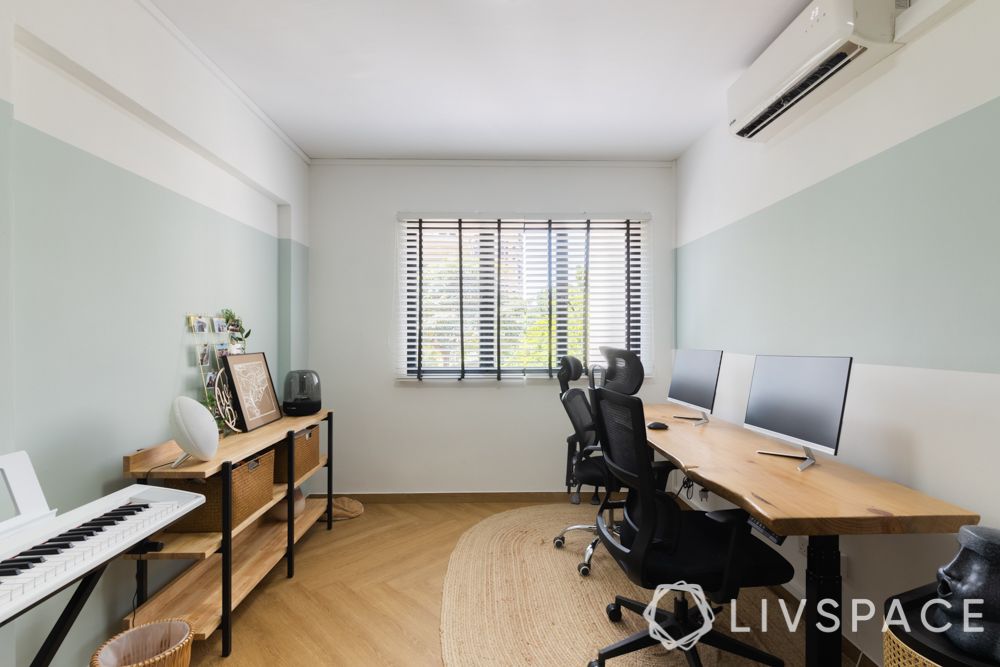 Not receiving enough light can affect your energy and productivity levels. Natural light is most preferred for a minimalistic study room. So, as mentioned earlier, choose a bright space. You can add a table or floor lamp and overhead lights to make the area more well-lit in case you can't get a lot of natural light.
#6. Personalise your study space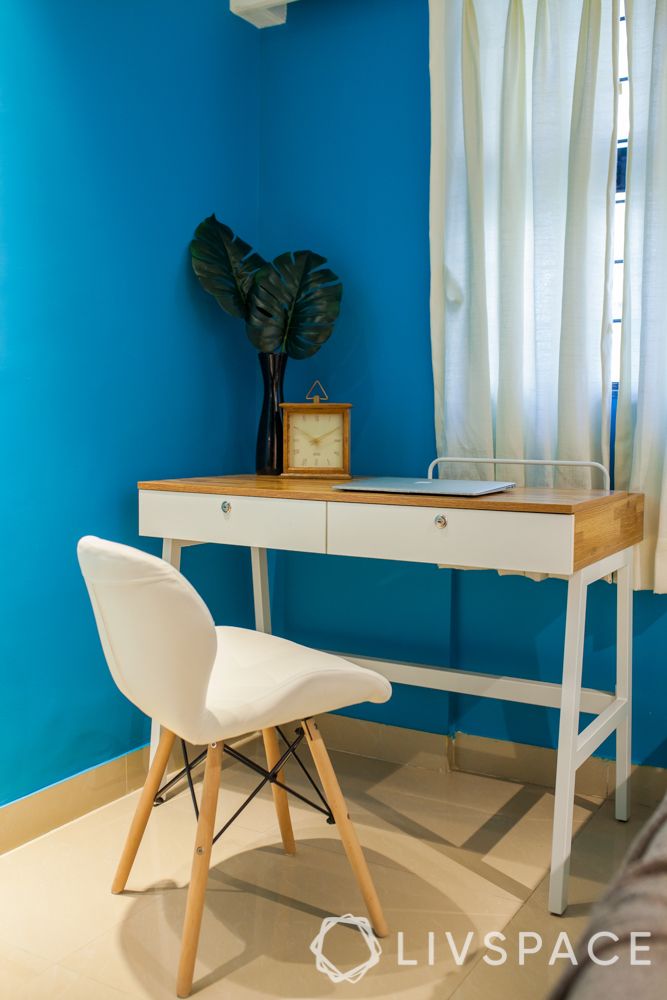 Next is to personalise your workspace with artwork and accessories. It could be a poster, clock, rug, plants, anything that helps you feel comfortable and focus on work. But do not clutter; the number of decor items on walls, shelves, and floor must be limited. The decor is only to elevate a rather plain-looking office room.

Vastu tips to set up home offices
To optimise your productivity, vastu shastra recommends the right directions, placement and colours. Here are some easy vastu tips you can follow for study room interiors.
#1. Which direction?
Most vastu experts suggest the southwest or west side of the house for setting up a home office. It is believed that these directions ensure stability and efficiency in work or business.
#2. What colours?
Vastu shastra and minimalism agree on using neutral and lighter colours for a home office. It is believed that lighter palettes positively affect the mind, body, profits, and productivity.
Light yellow, light gold, cream, silver, grey and light green are some of the most recommended colours for an office room. Black is a big no as it signals negative energy.
#3. About the placement
For desk placement, the west or south-west direction is ideal; it must face the north, east or north-east. Vastu shastra too suggests using wooden desks because it is a natural material and boosts energy.
#4. Maintain cleanliness
The vastu shastra and minimalism unanimously advocate maintaining a clutter-free space to ensure productivity and improve concentration. So, clean your workstation and throw out unwanted things regularly.
Get inspired
Below are some minimalist office room interior designs by Livspace.
#1. The right balance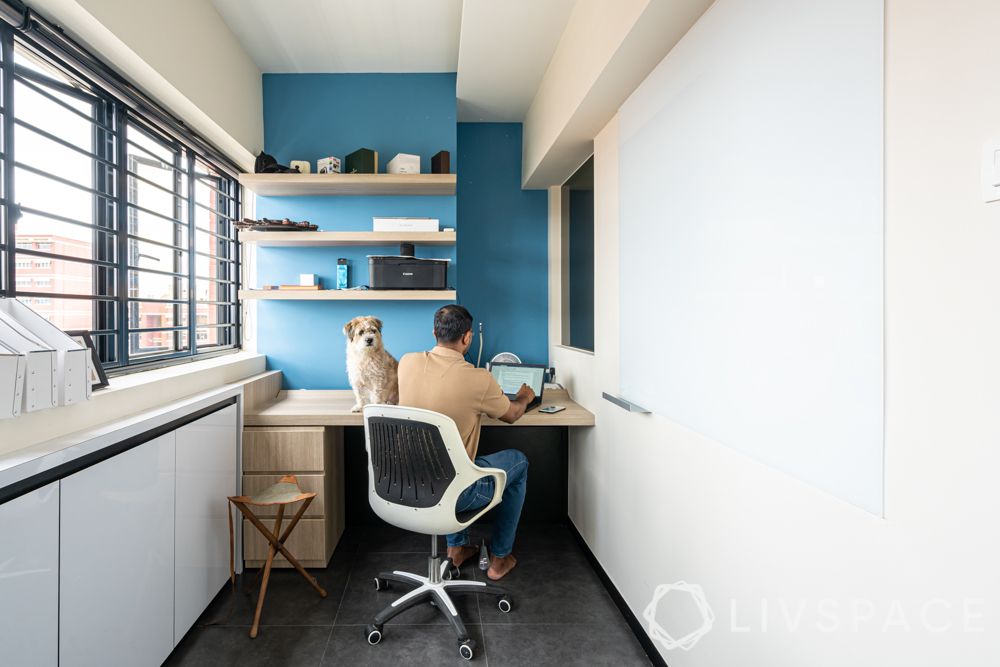 This workspace is neatly done in a narrow area near a window. The element of interest here is the colour scheme— the sober blue wall and the beige furniture hit the right note. While the white on either side makes the area appear roomy and allows more light.
#2. Tidy brown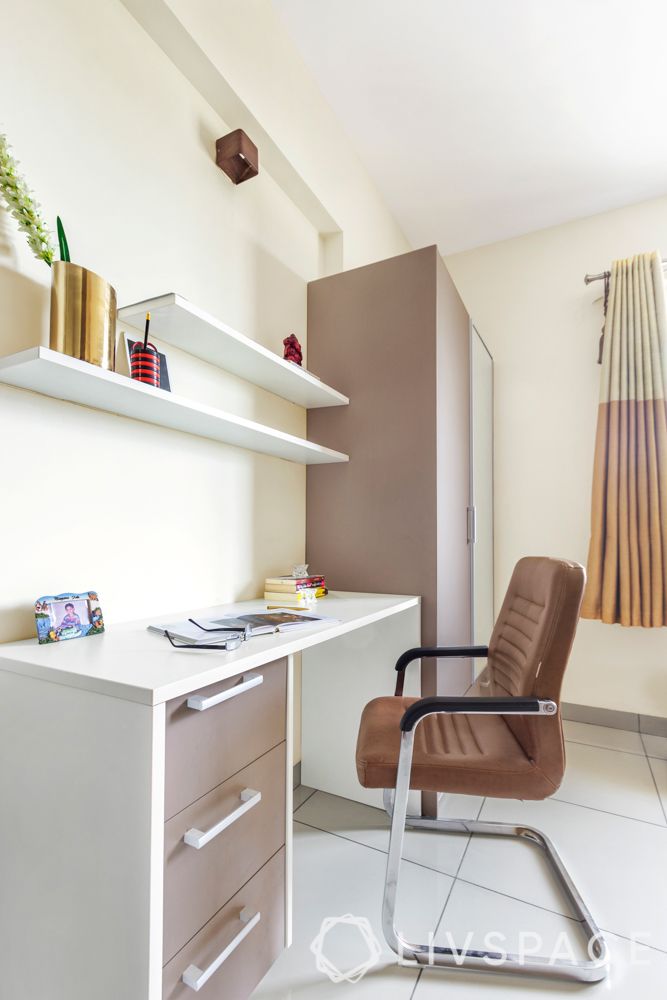 A dash of brown against the white backdrop is pleasing to the eye. Storage is sorted with wall shelves and built-in desk drawers.
#3. Clean, white and basic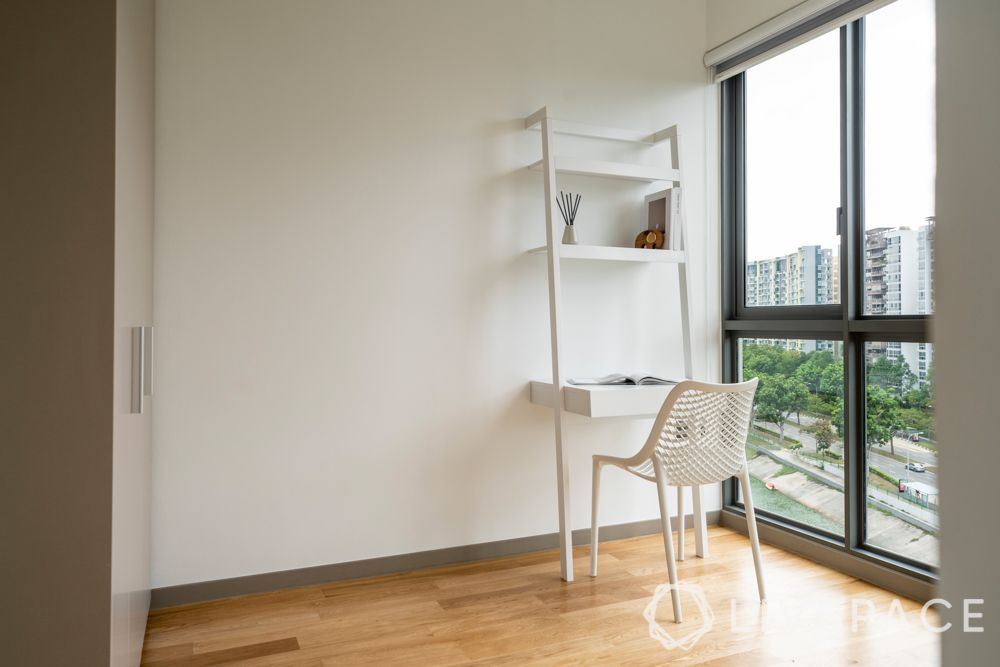 This is a go-to minimal office room design. While the minimal white unit (with ladder shelves) blends with the white wall, the wooden flooring is what stands out. The placement of the unit near a window ensures that the workstation receives ample natural light.
The best part of this home office is that the whole unit can be moved around.
#4. Bright and spacious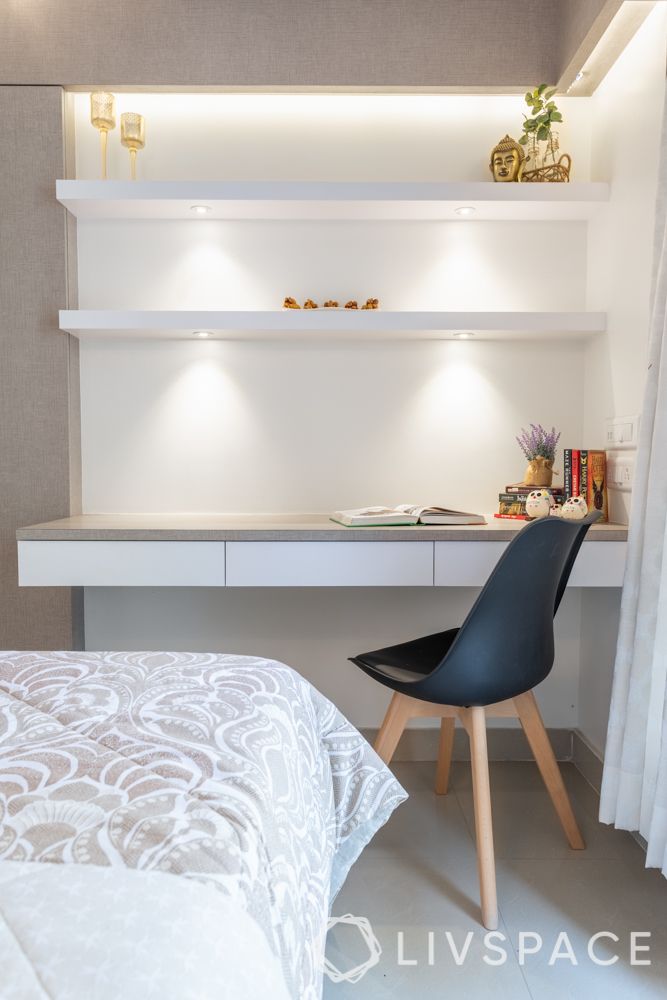 Built in a bedroom corner, this study corner has recessed lights. It proves optimal when you are up working late nights. The work area is also roomier with the decor and supplies within easy reach.
#5. Cosy corner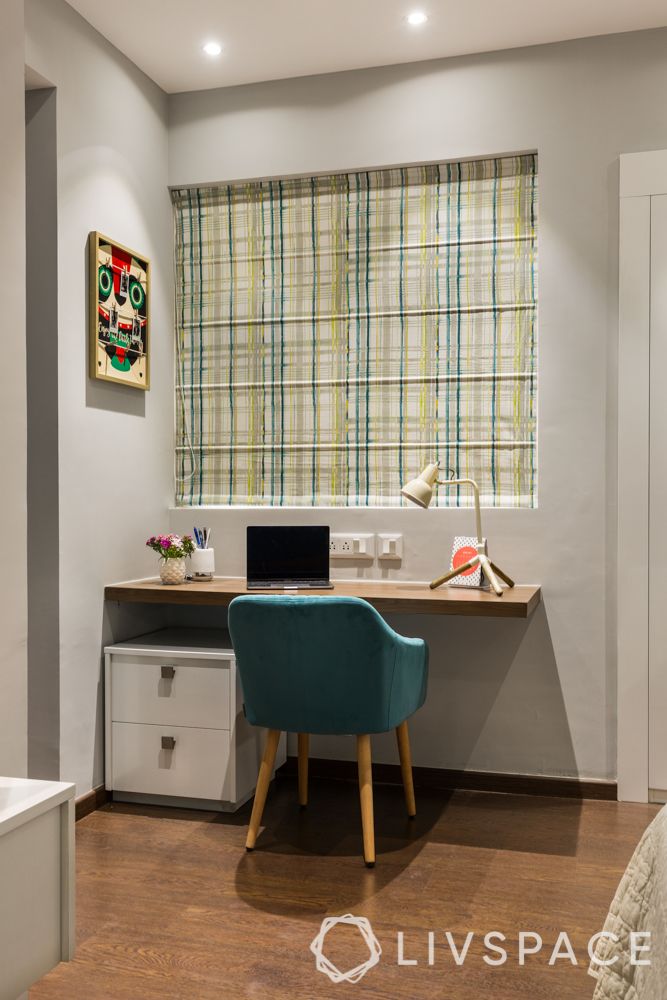 This study room interior is Pinterest-inspired and built keeping convenience and comfort in mind. The white wall, wooden flooring and teal chair make the space cosy.
Work can be stressful, so the space you work from must provide a sense of calm and motivation. Our favourite minimalist office room interior designs aim at that.
If you like the idea of minimalism, check this out: How to Design a Minimal Home That Indians Will Fall in Love With?
Write to us with your comments and suggestions to editor@livspace.com