The Novel Coronavirus Pandemic has sent panic waves around the globe. Every country is coming up with their directives and one of them is definitely social distancing. While your office has advised you to work from home, you do not need to work in an uncomfortable situation. If you already own a home office, then we have home office design tips that will make it a better place to be in, during your quarantine.
More often than not, decorating a home office is often overlooked. It's often a cramped corner in your bedroom or an overly sterile spare room that's purely functional. Working in a dull, lifeless space can impact your productivity. But with a few nifty home office design tips, you can create a space that will inspire you for days on end.
Tip #1: 'Office Furniture' can be anything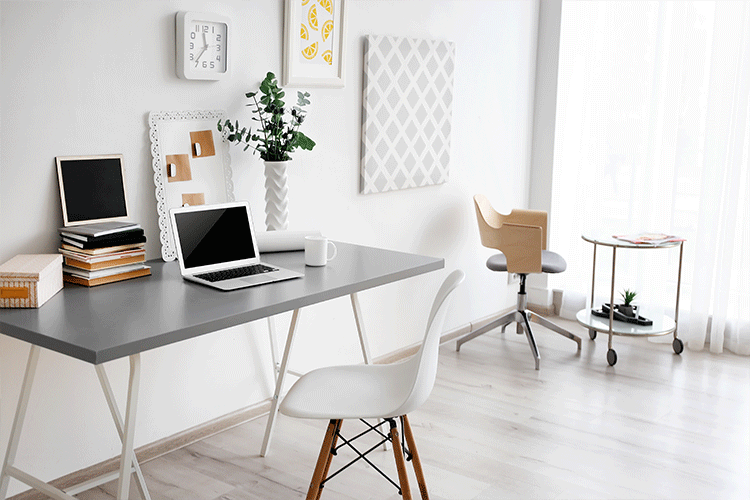 One of the advantages of having a home office is that you don't have to create a formal setting like traditional workspaces. So choose pieces according to the work you do. For example, a long dining table might be ideal if you need to spread out raw materials like fabric samples etc. Invest in a plushly padded accent chair if you need to spend long hours reading. Don't restrict yourself!
However, if you prefer something more similar to a conventional office setup, opt for stylish study tables and chairs.
Tip #2: Bring in the right lights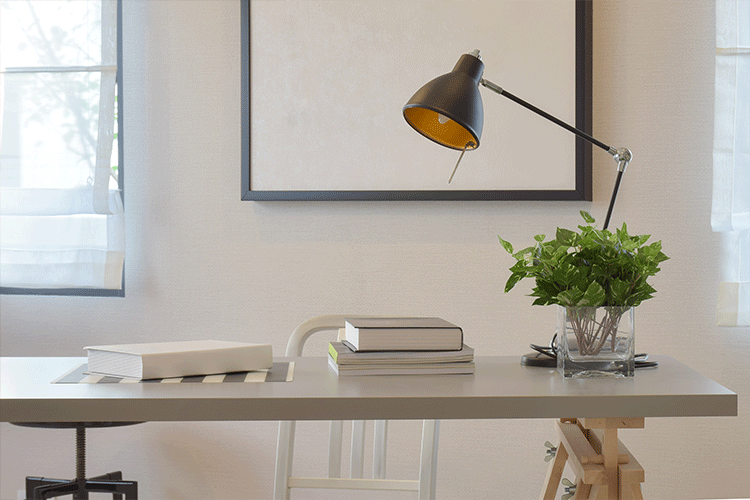 The right lighting can greatly improve your mood and productivity. Steer clear of mood lighting and opt for overhead lights, pendant lights, table lamps, floor lamps as they can keep you focused and alert.
Also, make sure that your office corner receives plenty of sunlight and a great view, as it keeps you from feeling lethargic. In case you're left facing a blank wall, use mirrors to bounce light around the room but take care to avoid glare.

Tip #3: Storage for files and documents is important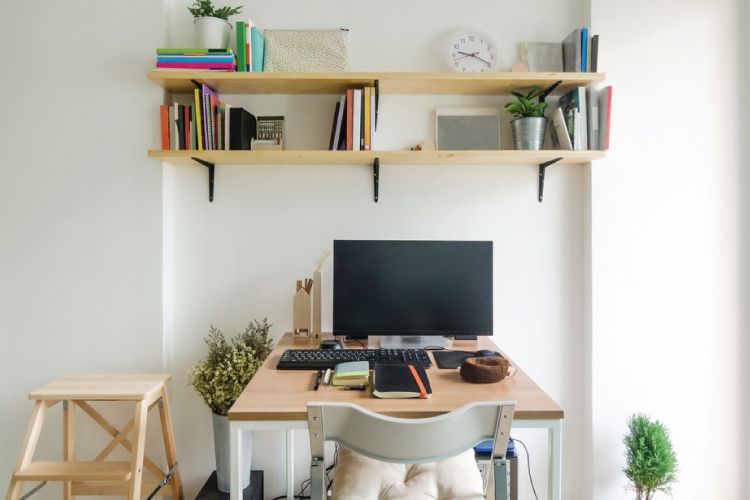 You'll be surprised at how storage can add an interesting dimension to the home office. Do away with blocky cabinets and opt for floating shelves or display units that let you see and quickly access items you require.
For example, a wall shelf and storage unit will provide plenty of storage space and can be used to theme your home office. Also, it helps declutter and organize, thus making way for fewer distractions. However, if you prefer closed storage, you can opt for labelling drawers for easy access.
Tip #4: Change the wall colour for a fresh look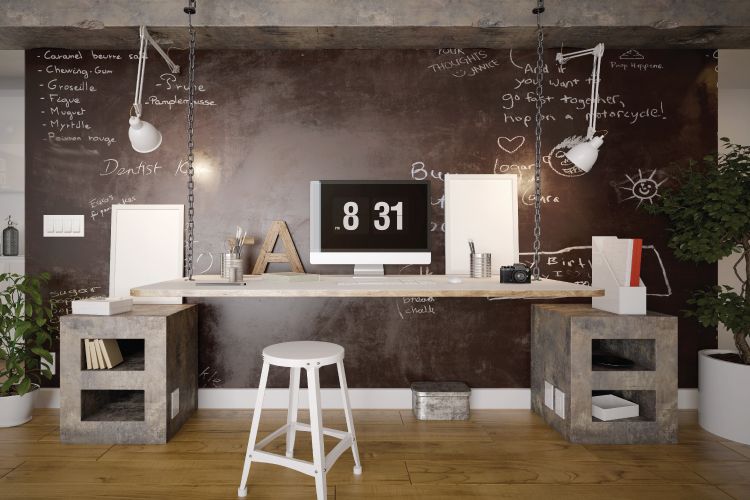 Painting walls in a different color is a great way to demarcate the office space from the rest of your home, especially when you don't have a dedicated room. With an accent wall, you can add a luxe touch to your home office. Blues and greens set a relaxed tone while reds and yellows create vibrancy. Neutral tones like white and greys can be paired with any accent colors of your choice. Experiment with what works best for you.
You could also make a statement with a pin board or blackboard to chalk out work schedules. These small additions help one psychologically differentiate between the two spaces.
Tip #5: Add a personal touch with curios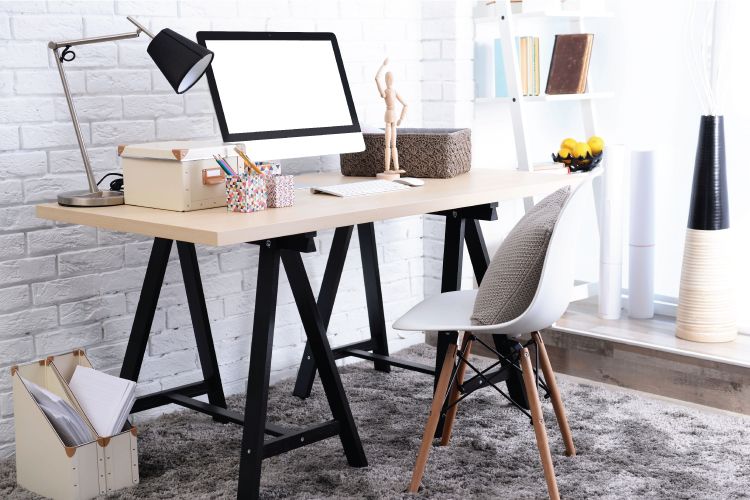 Last but not least, don't hesitate to infuse personality into your office with a few accent pieces of your choice. It can be travel curios, terrariums and succulents, photographs of colleagues or maybe just a stylish rug to ground the space. This will not just make your home office look good but will also create a positive, inviting mood.
Other tips to keep in mind:
Choose a space that is free of distractions – away from the TV, game stations or a noisy corner overlooking a busy street.
Secure wires for electronic items with a rubber band or create a makeshift box to hide them. This will give your home office a de-cluttered look.
Dividers, blinds, and curtains are budget-friendly options to keep noise, distractions at bay
If you can't afford to paint an entire wall, use a large art piece or a collection of small prints that motivates you. Same if your home office does not have a view of the outdoors.
Theme your home office with the rest of your home to give a warm, inviting feel and add a sense of continuity. This way, work does not feel like a chore.
The thumb rule for designing a home office is that it must be warm and inviting with some personal touches without being too casual. This takes a certain amount of experimentation but with a bit of patience and our hand picked products, we're sure you will enjoy setting up your workspace.
Check out our home cleaning article to keep your home safe: WHO & Other Experts Recommend These Steps to Clean Your Home.
Send in your comments and suggestions.