Coronavirus disease or COVID-19 as we know it, is fast growing and has been declared a pandemic now. With schools and offices shutting down, there is panic in the air. While we know that it is a major cause of concern across nations, we believe that there's a lot we can do to protect ourselves. There are plenty of coronavirus safety measures that one can take in order to protect themselves against this.
One of those measures is staying indoors and avoiding unnecessary contact with people, as you all know. But as you're working from home or keeping children indoors, have you thought about how sanitary your own home is? If you haven't, we have. We did in-depth research to put together the best practices recommended by health authorities like WHO (World Health Organization), Red Cross, CDC (Centers for Disease Control and Prevention) and NCDC (National Centre for Disease Control). Take notes!
Planning & prepping to make your home to be a safer place
Before anything else, lay down a plan and make your home a sanitary place to be in, if you have to stay indoors. To do this:
Start by talking to each member of the family in advance. Ask them their needs and basic requirements so that you can stock up on the same and avoid last-minute hustle
Plan ways to care for those who might be at greater risk for serious complications. Older adults and persons who have underlying chronic medical conditions may be at risk for more serious complications
Get to know your neighbours. Talk to them about emergency planning
Red Cross recommends having a supply of food staples and household supplies like laundry detergent and bathroom items, and diapers if you have small children. But don't wipe out the aisles in the market!
Identify local aid centres. Create a list of local organisations that you and your family can contact in the event you need access to information, health care services, support, and resources
Create an emergency contact list. Ensure your household has a current list of emergency contacts for family, friends, neighbours, etc
Choose a room in your home that can be used to separate sick household members from those who are healthy. Identify a separate bathroom for the sick person to use, if possible

Cleaning recommendations for your home by WHO, CDC and Red Cross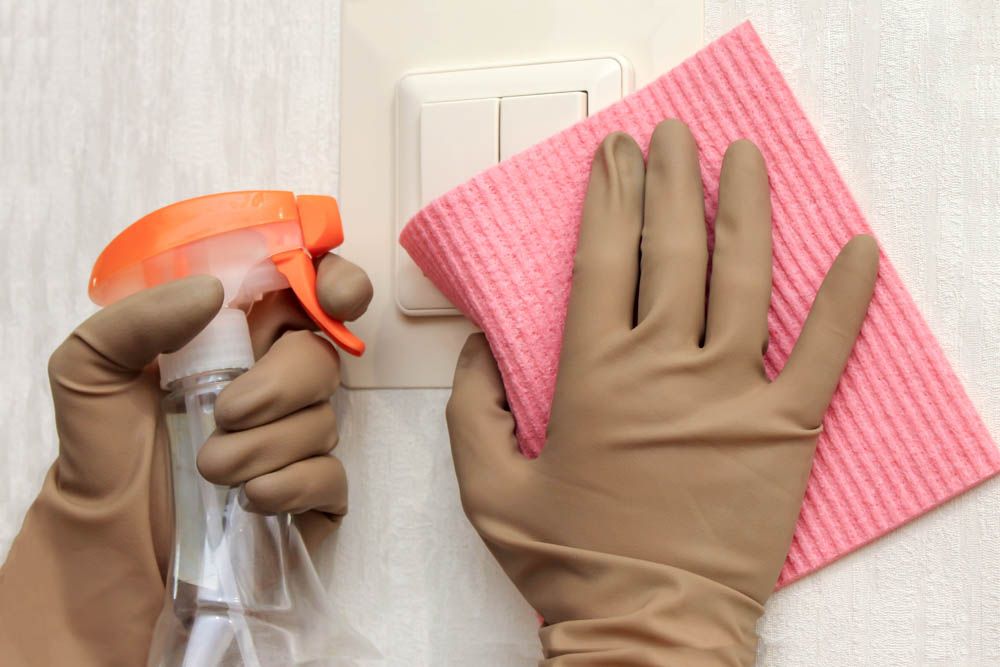 It is very important to clean surfaces at home that you know are going to be used frequently. Whether someone at home is sick or not, ensure you follow these rules:
Practice everyday preventive actions now. Remind everyone in your household of the importance of practicing everyday preventive actions that can help prevent the spread of respiratory illnesses
Clean frequently touched surfaces and objects daily (eg: tables, countertops, light switches, doorknobs, and cabinet handles) using a regular household detergent and water
If surfaces are dirty, they should be cleaned using a detergent and water prior to disinfection. Some cleaning products that destroy coronavirus are soap and water, bleach, isopropyl alcohol and hydrogen peroxide
Wash your hands often with soap and water for at least 20 seconds, especially after going to the bathroom; before eating; and after blowing your nose, coughing, or sneezing. If soap and water are not readily available, use an alcohol-based hand sanitizer with at least 60% alcohol.
Remember to clean first, disinfect later. Cleaning refers to the removal of germs from surfaces. Disinfecting refers to the use of chemicals to kill germs on surfaces. For disinfecting, you can use alcohol solutions that contain at least 70% alcohol
Wear gloves and make sure the place is well-ventilated while cleaning. If you are using disposable gloves, make sure you do not use it for any other purpose. Clean your hands immediately after removing your gloves
Warm water should be your go-to. Make sure you clean dirty laundry in the warmest water possible. Also let them dry completely after washing. Damp clothes are bad news
Make sure to clean your electronics as well. As we all know, phones and tablets are homes to viruses and bacteria. Therefore cleaning them is the foremost thing to do
Do not ignore the kitchen. Practice proper hygiene while cooking. Wash your hands often and make sure sick people do not come near food that is being prepared for everyone. Clean dishes thoroughly with soap and water
Ensure bathroom cleanliness as well. Frequently clean all surfaces, including the toilet, shower and sink. Keep toothbrushes separate from each other. Regularly wash hand towels, and don't share hand towels with a sick person.
What if someone at home is sick?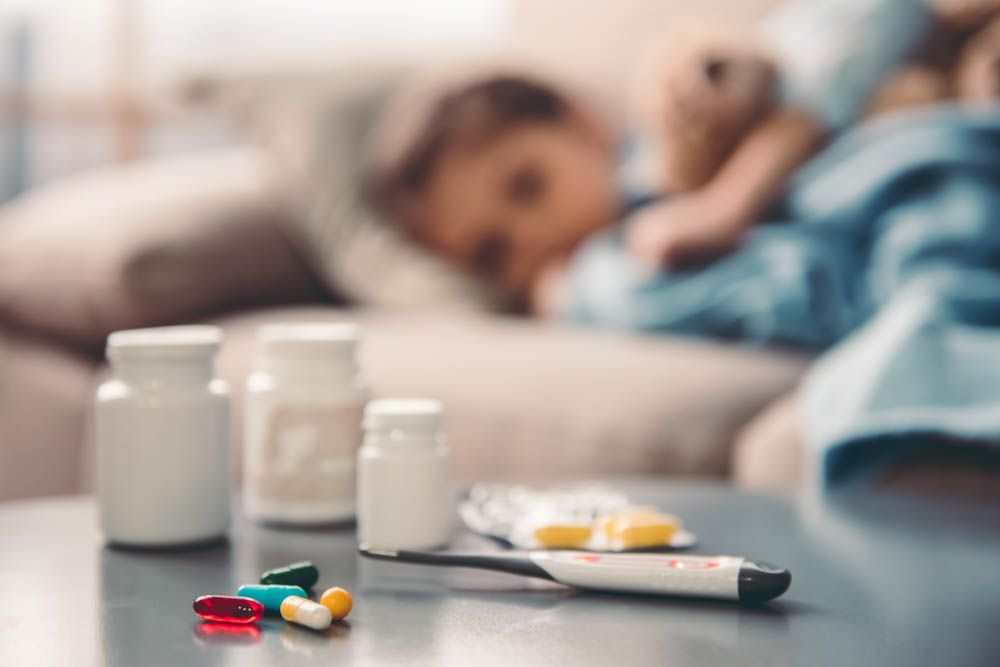 The coronavirus can spread between people who are within about 6 feet of each other, according to the CDC. So, if someone in your family is infected:
Move the sick person into a separate bedroom with a bathroom if possible
The sick person should avoid contact with others at home and should go out only to seek medical help
It is also a good idea to limit the number of visitors at home, to protect the sick member and others from any transmission of the disease
Wash your hands immediately after coming indoors. Whether you went to work or to a nearby store, do not touch any part of your face without washing and sanitising your hands
Have household help at home? While they are at equal risk or maybe more, since they visit numerous homes, you should make sure every household help follows proper cleaning and sanitisation procedure. If they are showing signs of sickness, please allow them to go back home until they recover completely
Make sure they get the right medication and help that they need at this time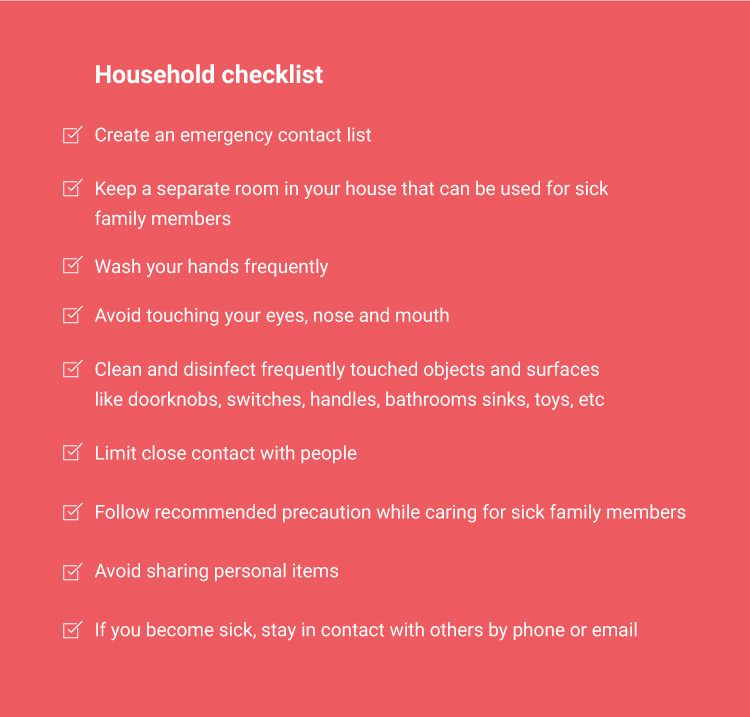 These are just some coronavirus safety measures to keep your household clean during this time. This will not only help you and your family but will also help contain the spread of this disease. With this in place, your home can become the safest place to be during COVID-19. It's important to remember not to spread panic or false information during these trying times. Above all, be kind to one another.
Do you know what else one can do to make their home a safer place during coronavirus? Write to us.