Kids may be small, but their stuff certainly takes up a lot of space! If your child's idea of a neat room is stashing everything under the bed, it's time you started looking for storage solutions. Figuring out practical and attractive storage spaces for your kid's room can be a challenge, but that doesn't mean there aren't any options.
Check out these excellent space organisation ideas that'll help your kids create and maintain a clutter-free zone.
1. Organize the area under the bed
When it comes to shoes, toys, and tit-bits, there's no better place to stack them, than under the bed. The bed pictured above has designated compartments for specifics like shoes and stuffed toys along with pull-out drawers that can be used to store extra bedsheets, quilts, and winter-wear.
2. Add dressers and display units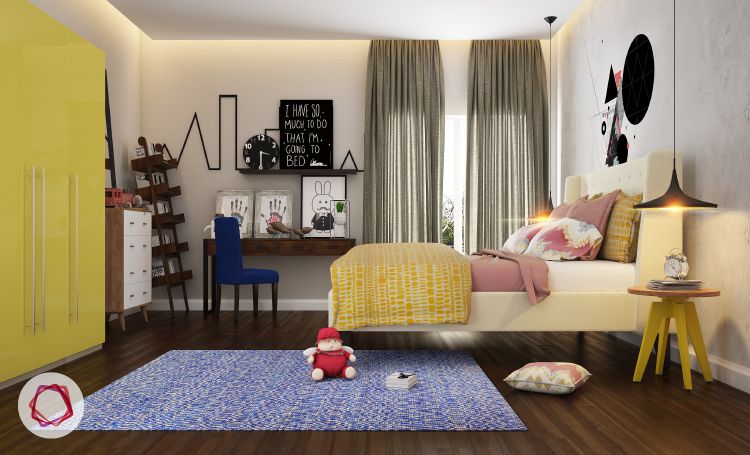 Children's rooms are usually small and lack built-in storage spaces. Therefore, it becomes increasingly important to add storage options to organize the space. Quirky ladder-style floor standing shelves, like the one shown here can be installed to store everyday items like study and crafting materials to facilitate easy accessibility. A chest of drawers can be used to organize your kid's favourite toys and clothing essentials. The height of the chest is perfect since it allows your child to get his hands on his belongings without having to trouble you!
3. Go for beds with mounted shelves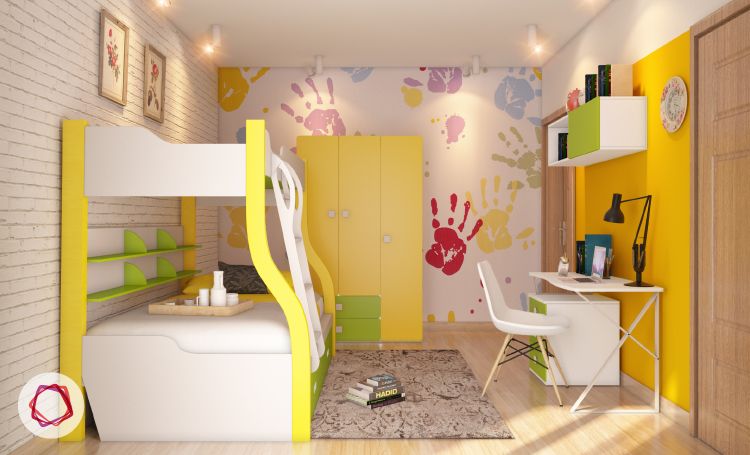 Who said shelves could only be installed on walls? This bunk bed, with built-in shelves, maximises the wall space which would otherwise be dead space. Your kids can keep their books on the built-in shelves after they are done reading, while extras like bed sheets, etc., can be stocked in the drawers at the base of the bed.
4. A combination of beds, wardrobes and drawers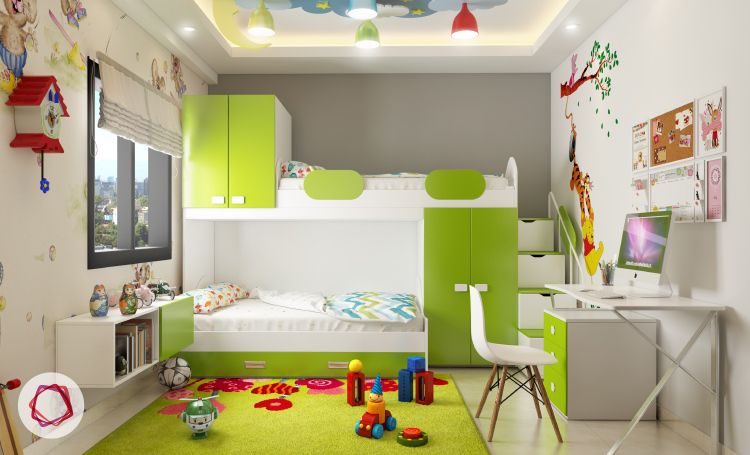 If you have more than one child, a bunk bed with built-in storage is the way to go. Introduce a stylish addition, such as the one shown above, to your kids' room. The minimalist bunk bed comes with built-in wardrobes, drawers at the base and even cleverly concealed storage areas under the stairs! With this single piece, you can save on space by eliminating the need for separate wardrobes.
5. Say yes to wall mounted shelves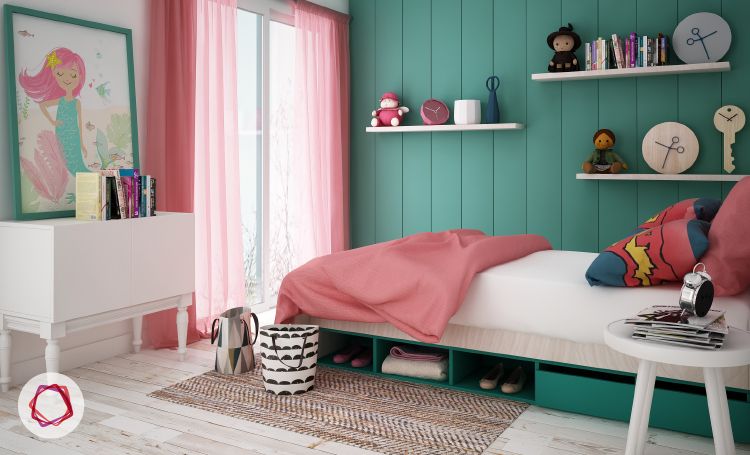 An easy storage idea is the wall mounted shelf, which can be used to store books, toys, and other lightweight stuff which needs to be kept within arm's reach. You could also place a cute clock on the shelf instead of hanging it on the wall. Also, keep your eye out for beautiful baskets, that can double up as laundry baskets and reservoirs for stuffed toys and Legos.
6. There's always room for storage trunks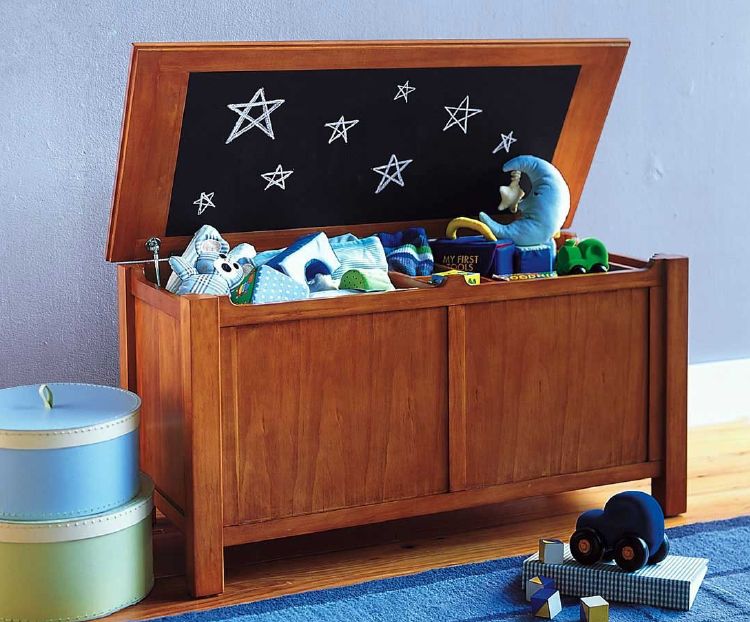 A storage chest is an excellent addition to your children's room because they can just toss in their toys without having to organize them in the true sense of the word. They can dig in for the toy of the day when they need it and cram it back once they're done. If you have a deep chest, you can stack winter garments, which take up a lot of space, at the bottom of the chest and place the toys on top. It's a win-win situation for both you and your kids!
7. Do consider storage benches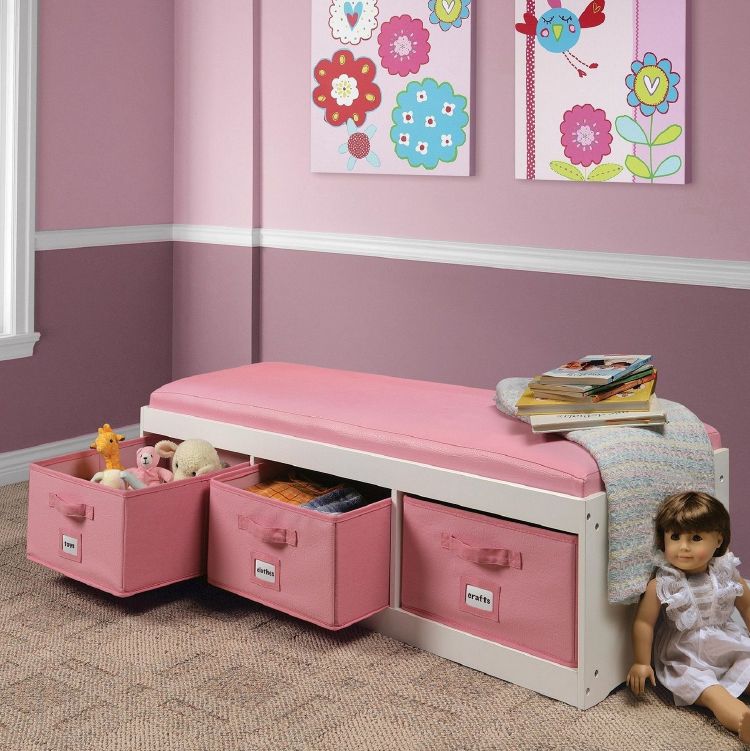 This space-saving two-in-one bench doubles as a storage space for your kid's toys and as a convenient spot where they can sit and play. You can label each pull-out compartment to make it easy for your kids to identify the right compartment for their clothes, toys, books, etc.
8. One huge floor standing shelf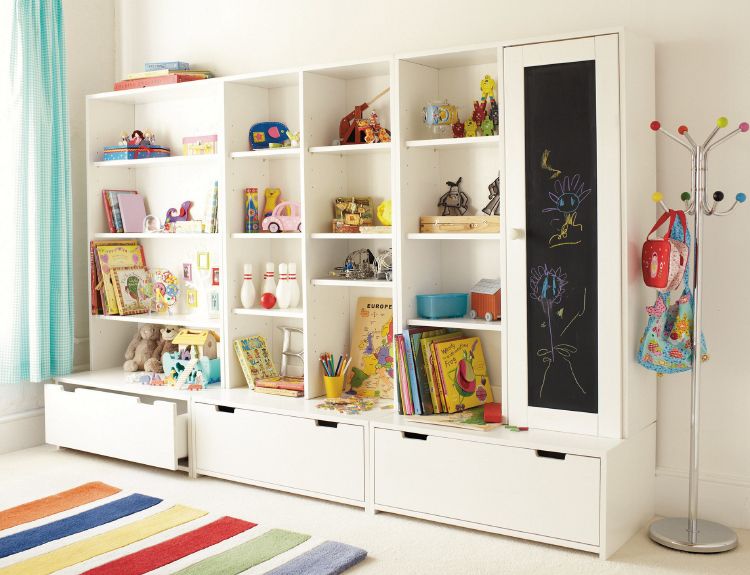 Floor standing shelves outfitted with numerous cubbies, drawers, and cabinets are an ideal organisation solution for a kid who has a lot of stuff but minimal storage space. The open shelves can be used to store your child's school material, puzzles, stuffed toys, etc. that are used on a daily basis. The pull-out drawers at the bottom and the cabinet on the side can easily accommodate their clothes and shoes.
Children's rooms are hosts to out-of-season clothing, surplus toys, and even household overflow from other rooms. These storage solutions can help your kids organize their belongings better and save you from the daily task of picking up after them. Try them out now!