Decorating your kid's room always presents a unique challenge, whether you're dealing with a feisty seven year old football fan or a pre-teen princess obsessed with everything glam. The trick is to bring in a fresh, youthful energy to the decor without ignoring the essential practical aspects. These kids room decorating tips will help you create a beautiful and functional haven that your child will love to spend time in.
Kids Room Decorating Tip #1: Add Graphics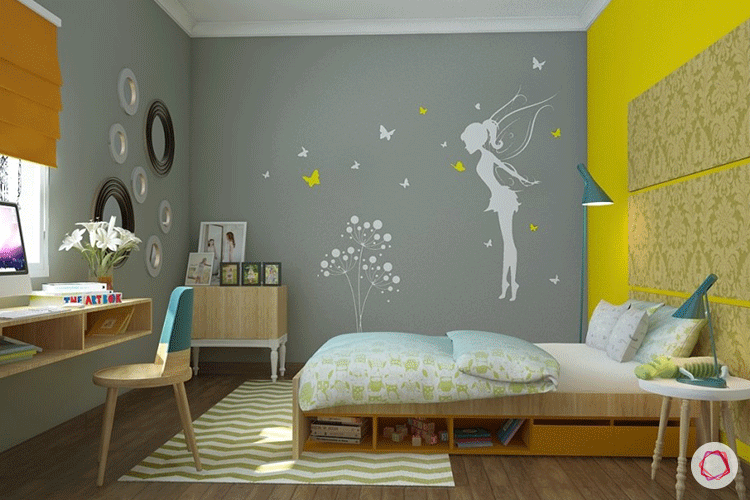 Whether you do it through wallpapers, decals or the plain old paint and brush, adding graphics can brighten up your kid's room. Graphics add zest to a particular setting, and according to the method you choose, they can fit various budgets too. Pick a cheerful theme and incorporate some of your child's favourite motifs, animals or cartoon characters. That said, kids grow up fast and so do their tastes. So opt for something that won't be embarrassing just in a year or two.
Pro tip: Framed posters featuring comic art or real life icons are another option that can be easily replaced as and when your child grows older
Kids Room Decorating Tip #2: Get Creative With Storage
It's always practical to incorporate tons of storage in your kid's room. Get creative and inculcate the storage pieces into the decor. Make appealing, functional choices such as a cabinet that blends with the theme of the room or a sleek, moveable storage cart. Colorful baskets and chests are another option to house frequently used toys and clothes. Opt for beds with shelves and drawers underneath to tuck away linen, toys and other odds and ends. This will keep all the clutter out of sight.
Kids Room Decorating Tip #3: Color It Up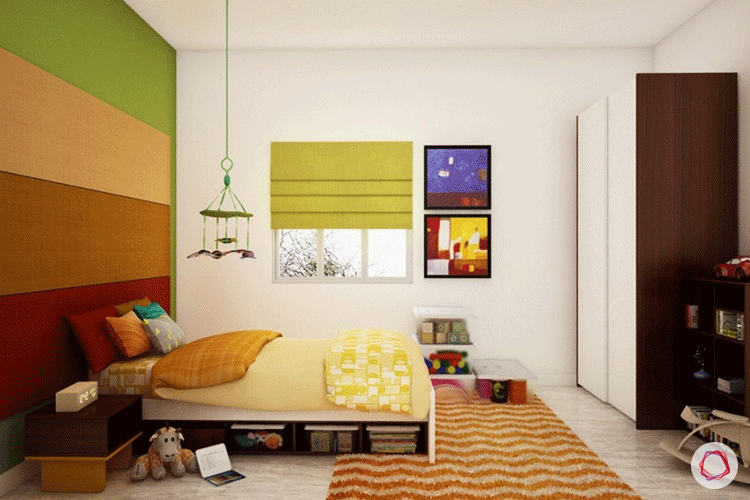 Picking a peppy color scheme will go a long way in bringing that upbeat, youthful vibe to your kid's room. Do up the room in your child's favourite colors or pick any palette that has two or three primary or pastel shades. Use colorful bedspreads, blinds, rugs and wall panels to brighten up your kid's room and give it a distinctive flavour. Be sure to balance out bold colors with spots of soothing neutrals for a pleasing visual.
Kids Room Decorating Tip #4: Rug-ged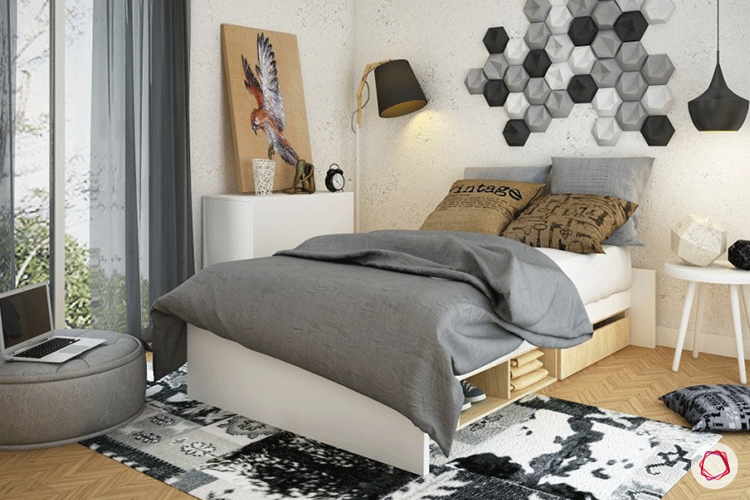 Rugs are a great way to bring in more color and warmth into your kid's room. Placing a rug by the bed will give your child space to stretch out and play with toys, board games, puzzles and let them work on art projects. Rugs are a better choice than wall to wall carpets as they can be removed and cleaned easily. If your child is young, you can use double-sided tape to keep your rug in place. Co-ordinate the rug with other elements in the room – you can even pick one with fun elements and cartoon characters. Be sure to choose a rug with material that can be washed and cleaned easily.
Kids Room Decorating Tip #5: Smart Shelving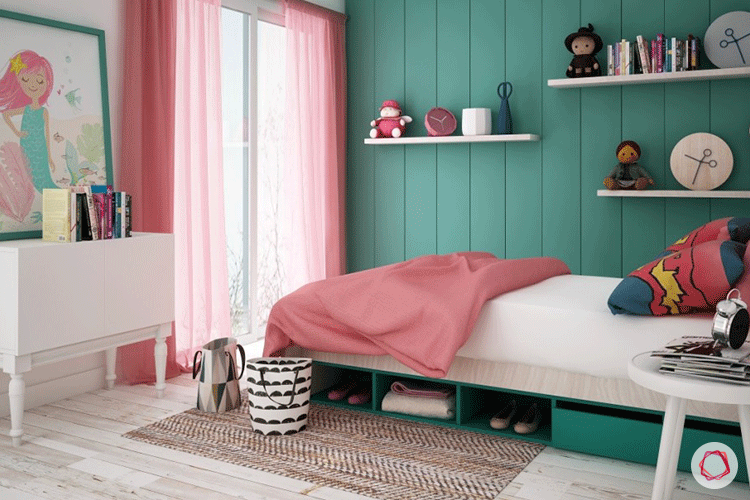 Open shelves are a smart storage solution for your kid's room. While they keep things out of reach of younger children, they also help you display various decor pieces in the room. As an added benefit, being off the floor they hardly take up any space at all. You can get creative with the placement of the shelves – stack them up in staggered arrangements to add interest to your walls.
Kids Room Decorating Tip #6: Work and Play zones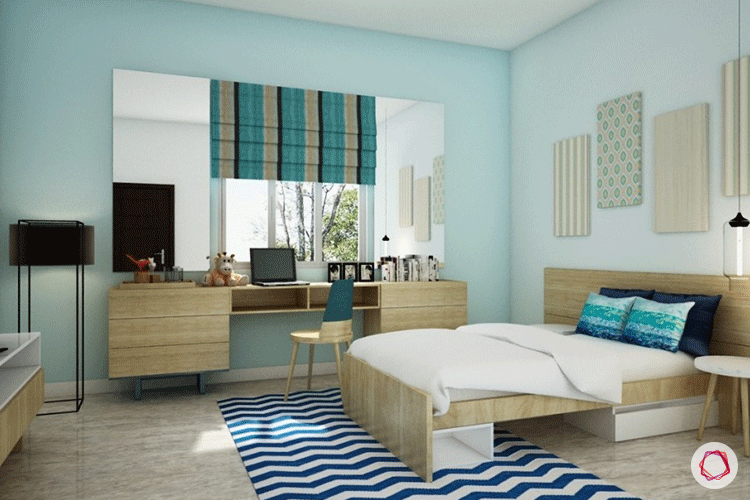 To help your child stay organized, define work and play zones in his or her room. Set up one area with a designated work surface with cabinets – for homework or creative art and puzzle projects during summers. Place the study table near a window to ensure plenty of natural light and fresh air – this will help make study time pleasant. Make sure that you have enough storage for books and stationery to keep surfaces looking uncluttered and tidy. Opt for neutral styling in this area, to help your child focus better. For playtime, create a bright corner with your child's toys, video games and stuffed animals.
Kids Room Decorating Tip #7: Leave room for upgrades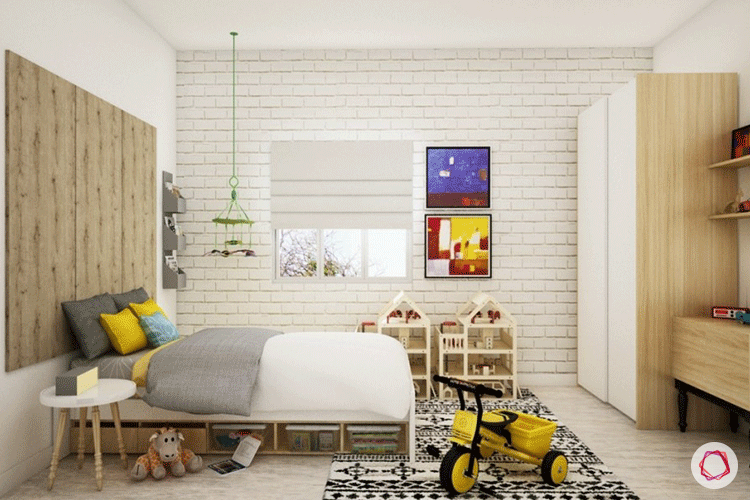 One of the biggest challenges of decorating your kid's room is the need to upgrade frequently – your child's needs and preferences are sure to change as he or she grows up. Make sure that there's enough room to change the décor to a scheme that is age appropriate as and when necessary. One way to do this is to opt for a neutral scheme and accessorize with spots of colored wall panels, bedspreads and artwork that you can modify according to your child's evolving tastes. Always leave extra space to add on more storage or move in a bigger bed.
While styling your kid's room, make sure to take his or her preferences and habits into account. Every child is unique in his or her own way, and it's always great to go with a look that captures tons of personality. So encourage your child to get involved in the process – it's bound to be fun and is also the perfect way for you to spend time together and bond!
Check out storage ideas for kids' room: